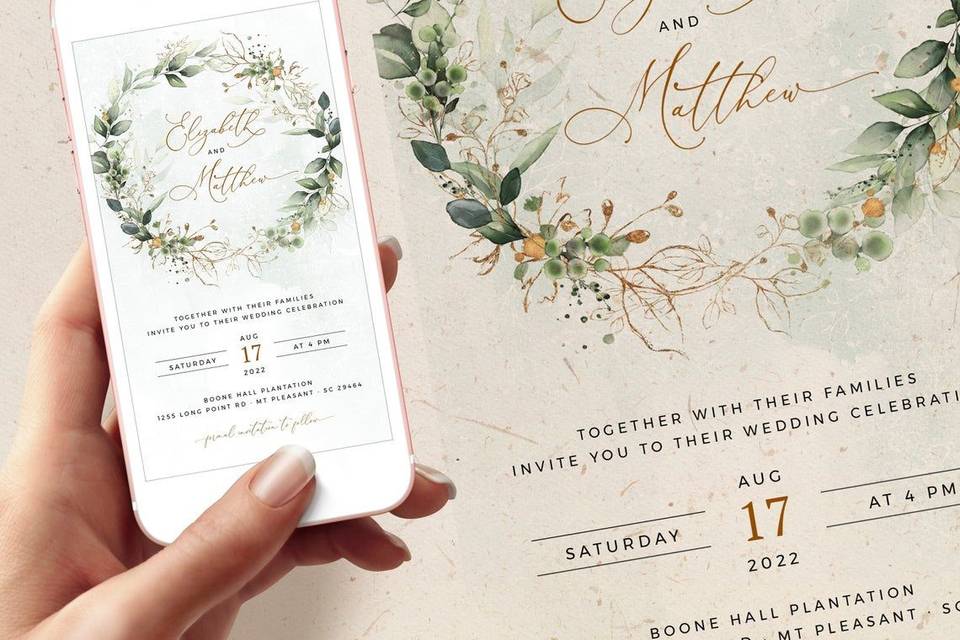 The best wedding invitations don't necessarily arrive through the letterbox these days.
Over the last few years the world of online stationery has come on leaps and bounds, and wedding e-vites are easily as stylish as their printed sisters. Most importantly, they're just as effective at building anticipation for your big day. You can get all kinds of digital designs, from enchanting florals to paired-back minimalism, as well as traditional styles.
But wedding e-vites are practical as well as pretty. Firstly, they'll save you money, giving your wedding budget a boost. Many companies offer automatic RSVP tracking, and as you're paperless, you won't have to worry about addressing endless envelopes and working out the postage. Going digital with your invitations is also eco-friendly, helping you make your day more sustainable.
Of course, some people love printed wedding stationery, and if that's you, check out the amazing wedding stationery suppliers on Hitched.
But if you are willing to consider taking your invitations online, we'll show you how wedding e-vites can work for you, from finding the right design to choosing your wording.
READ MORE
Is It Ok to Send Wedding Invitations Online?
Absolutely! The quality of the best wedding e-vite designs is undeniable. What's more, many companies have developed the guest experience to make reading digital invites feel special. It doesn't have to be as simple as opening an email - it can be clicking on a link to see a virtual envelope addressed individually (which you have customised to perfectly fit your colour scheme and style) and watch the invitation emerge. One thing to consider is that some of your less tech-savvy guests may not have an email account - sorry, but we're looking at you, grandad. If that's the case, we'd suggest using a downloadable wedding invitation template and printing as many as you need for those guests.
What Wording Do You Use for Digital Wedding Invitations?
It's pretty much the same as for printed wedding invitations - you need to start by deciding whether you want to go formal and traditional or informal and fun.
READ MORE: Wedding Invitation Wording: 17 Example Templates to Make Your Own
The most traditional invitations come from the bride's parents, but you can add both sets of parents, and any step-parents: Mr & Mrs Tom Jones request the pleasure of your company at the marriage of their daughter Sasha Jones to Owen Hughes at Asylum Chapel, London, on 14th September 2021 at two o'clock, and afterwards at AMP Studios.
If you're hosting (i.e. paying for) the wedding yourselves, perhaps with contributions from your parents, you can start with this: Ms Sasha Jones & Mr Owen Hughes, together with their parents, request the pleasure of your company at their marriage. Informal wording ideas include: Eat, drink and be married! Sasha & Owen are tying the knot. Let's celebrate... the marriage of Sasha & Owen! She said yes! Sasha & Owen would love you to attend their big day. But enough of Sasha and Owen. Keep information to a minimum on the wedding e-vites themselves, and direct guests to your wedding website for further information.
How Do You Make a Wedding E-Vite?
There are three main options. You can create your own for free using a graphic design website such as Canva, then email the finished wedding e-vite to your guests. The advantage of this is that there are simple templates you can customise and it's free.
For around £10, you can also buy downloadable wedding invitation templates from sites like Etsy, which you edit yourselves. These can often be formatted to be sent as emails or text messages. You can also use a specialist wedding invitation website. Some of them have free templates, but even if you do have to pay, the cost is still smaller than for printed invitations. You'll get access to beautiful, professional designs, as well as, in some cases, stress-reducing services such as previews you can check and RSVP tracking. We've rounded up some of our favourites below.
Wedding E-Vite Templates and Designs
1. Rosemary Lines at Etsy Electronic Wedding Invitation - £8.26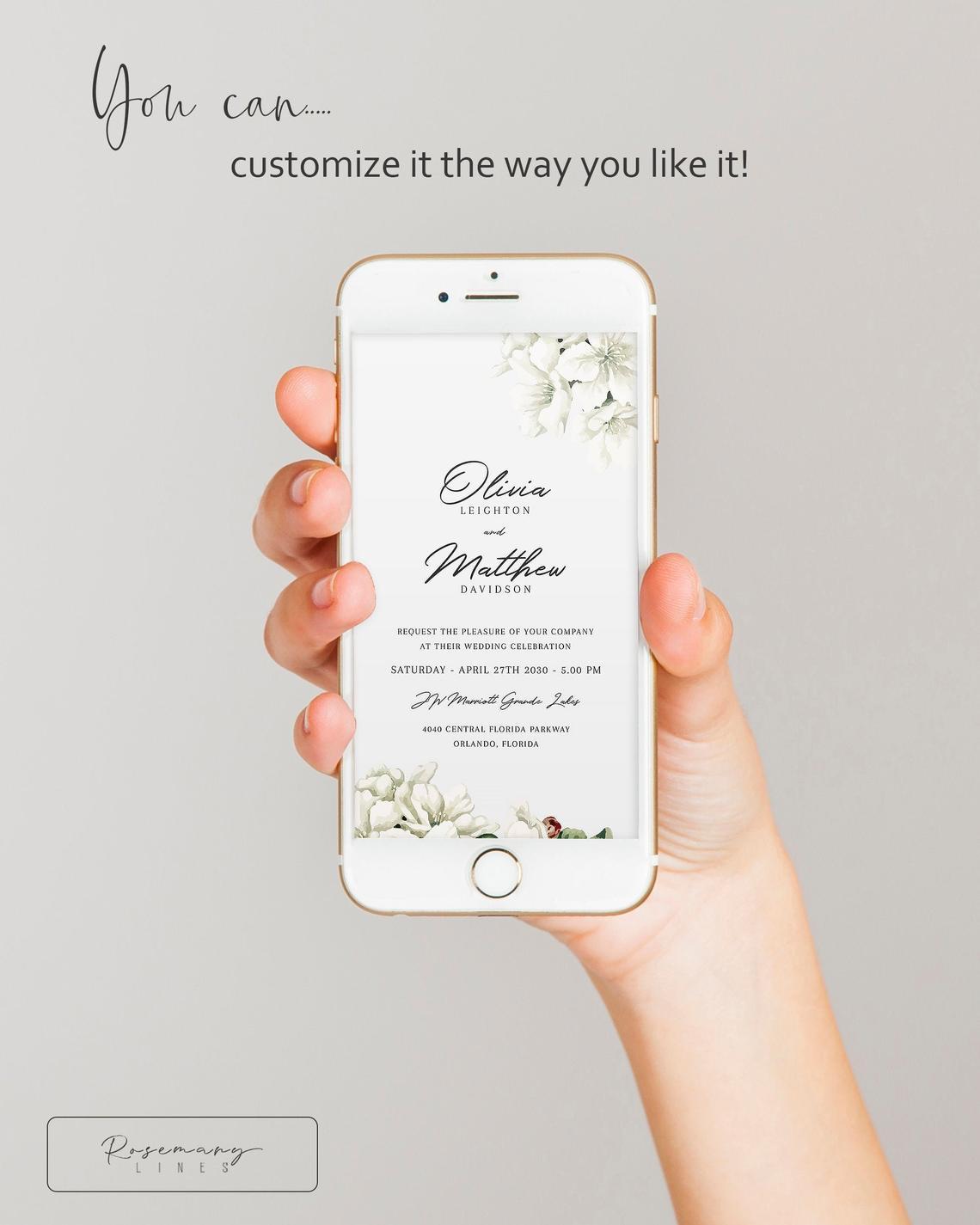 An easy-to-customise wedding e-vite with a simple yet effective design.
2. Vera Wang at Paperless Post Principle Invitation - From 2 Coins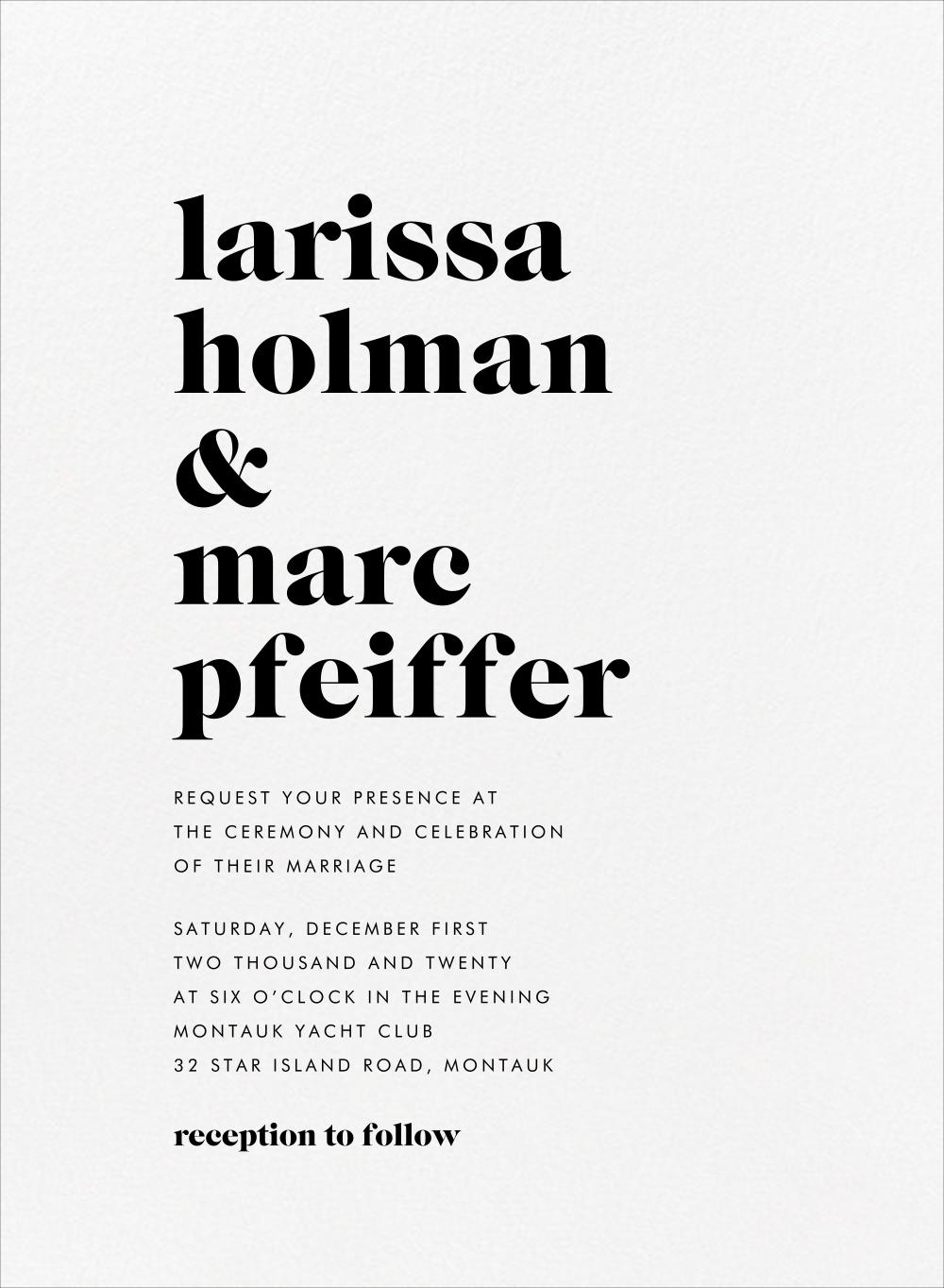 Paperless Post are one of our favourite destinations for wedding e-vites. Their designs cover a range of styles, and they do regular collabs with cool designers across art and fashion. Cards are paid for with 'coins' - you get 25 for free when you register (you can then buy more as needed), and you can use these to add premium elements to your invitations, such as digital envelope liners and reply cards. There are also some free templates.
3. Greenvelope Layered Florals E-Vite - from £29 for 40 People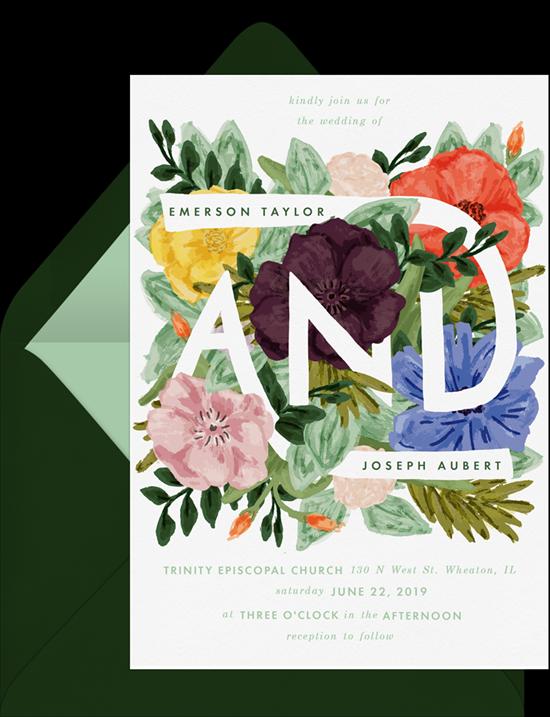 With Greenvelope you can upload your own design or customise one of their gorgeous digital stationery suites. You can get matching virtual envelopes and include a details panel, and they'll take care of RSVP tracking.
READ MORE: The 14 Best Websites to Buy a Wedding Dress Online
4. Evite Once Upon A Time Design - £POA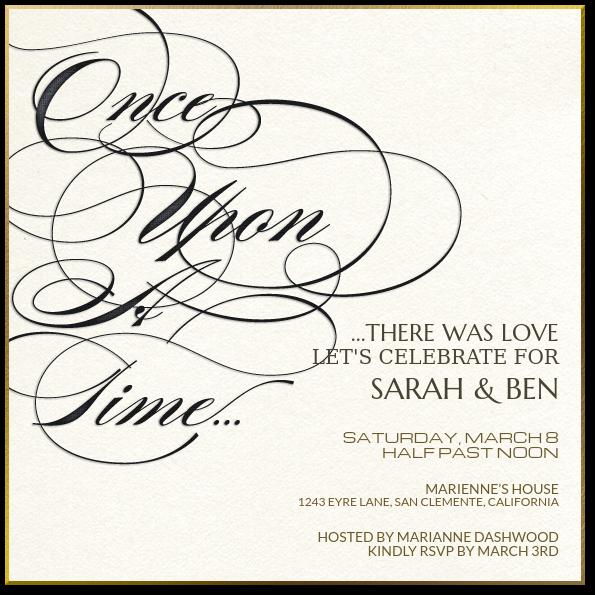 Evite have several free wedding invitation temples you can customise, but perhaps inevitably, we were most drawn to the premium designs that you pay for, like this fairytale-inflected e-vite. The price varies according to the features you select.
5. Punchbowl Winter Rose - Free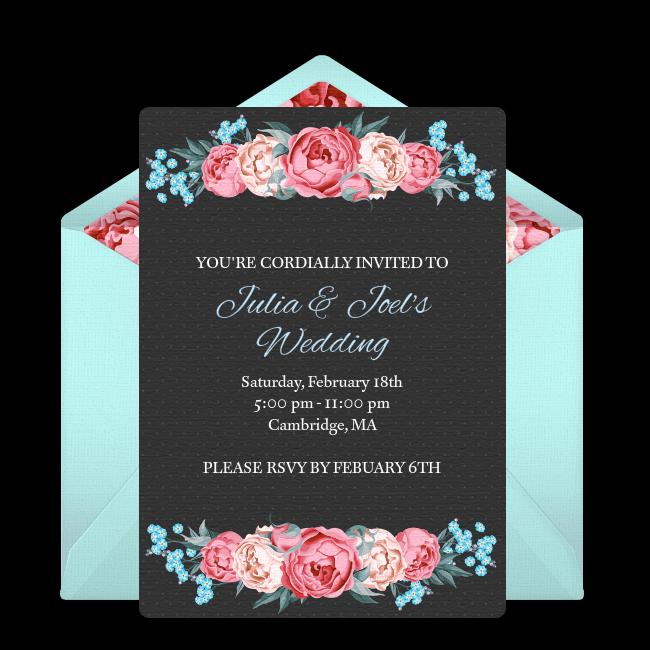 Punchbowl have a good range of customisable wedding e-vites that you can send for free if you sign up for a trial period - if you stay on after the trial period, you'll be charged a subscription fee.
6. Paperless Post Chincoteague E-Vite - From 2 Coins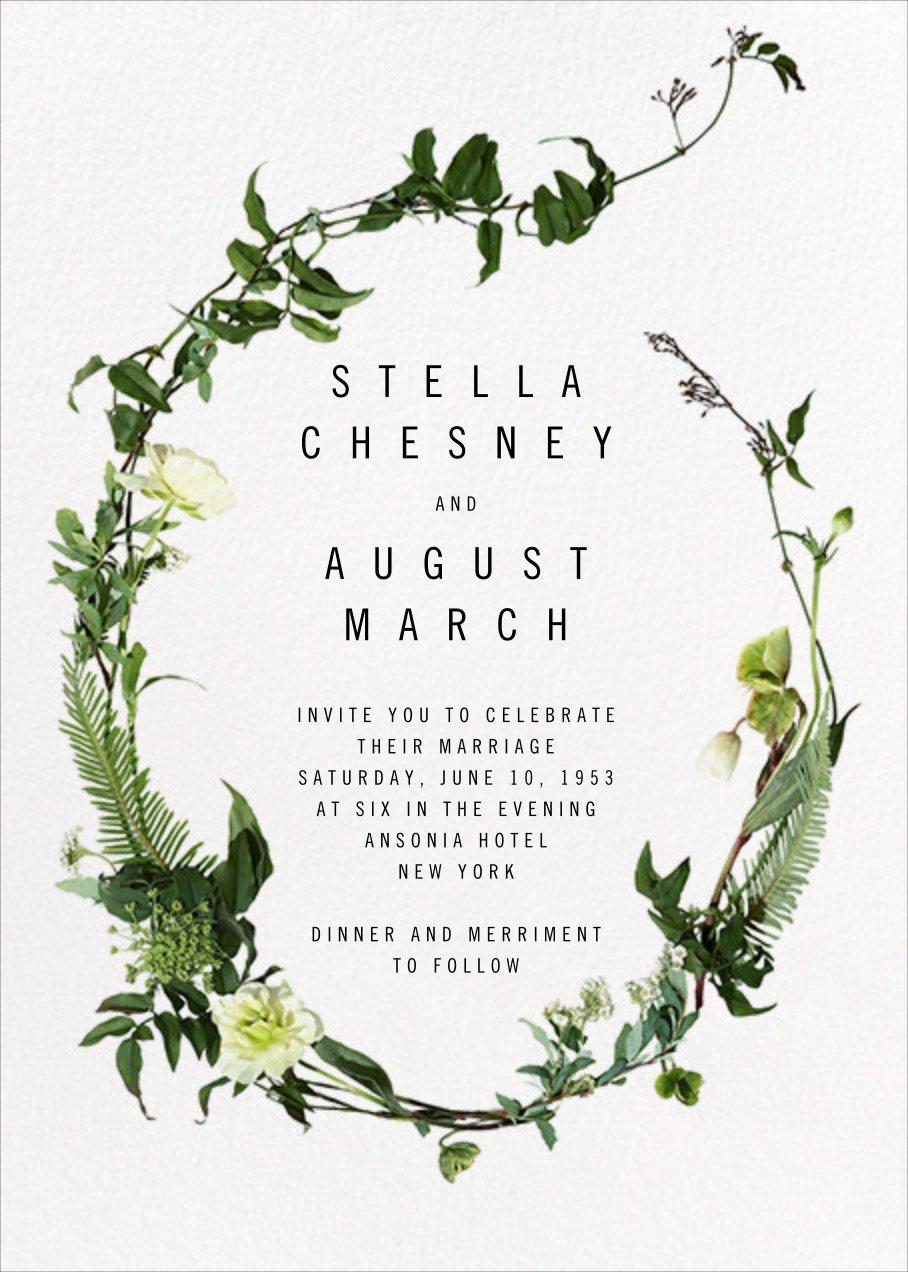 A botanical design always feels fresh, and we particularly like the delicate details of this design.
READ MORE: 16 Best Places to Buy Bridesmaid Dresses Online
7. Bliss & Bone Undone Design - £POA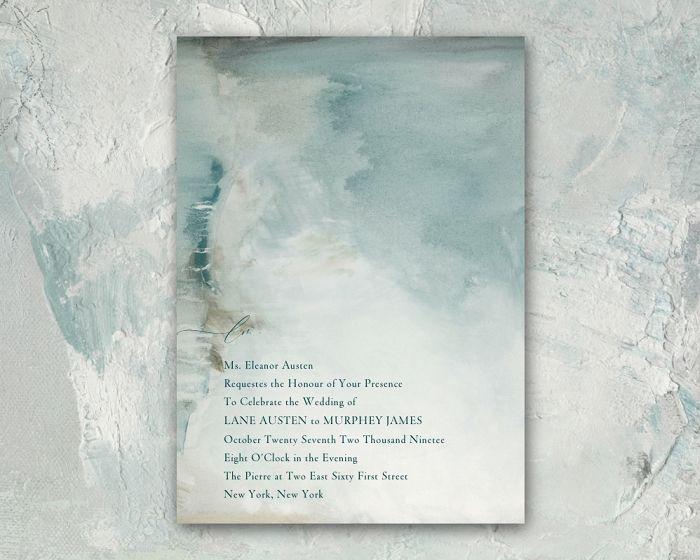 You can use Bliss & Bone to design both your paperless wedding invitations and your wedding website, which is rather handy. Designs range from crisp and modern to ethereal and pretty. Prices vary depending on guest numbers.
8. Greenvelope Scripted E-Vite - From £29 for 40 People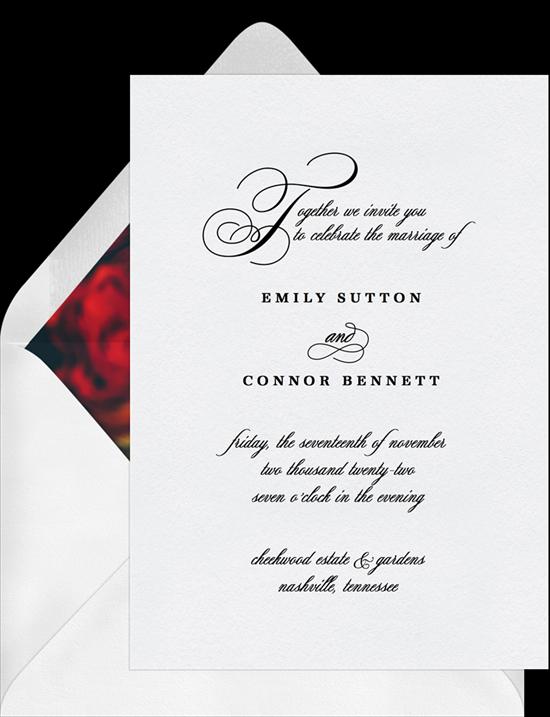 If you're looking for a classic style, with the emphasis on the calligraphy, look no further than this chic design.
9. Kate Spade at Paperless Post Confetti Invitation - From 2 Coins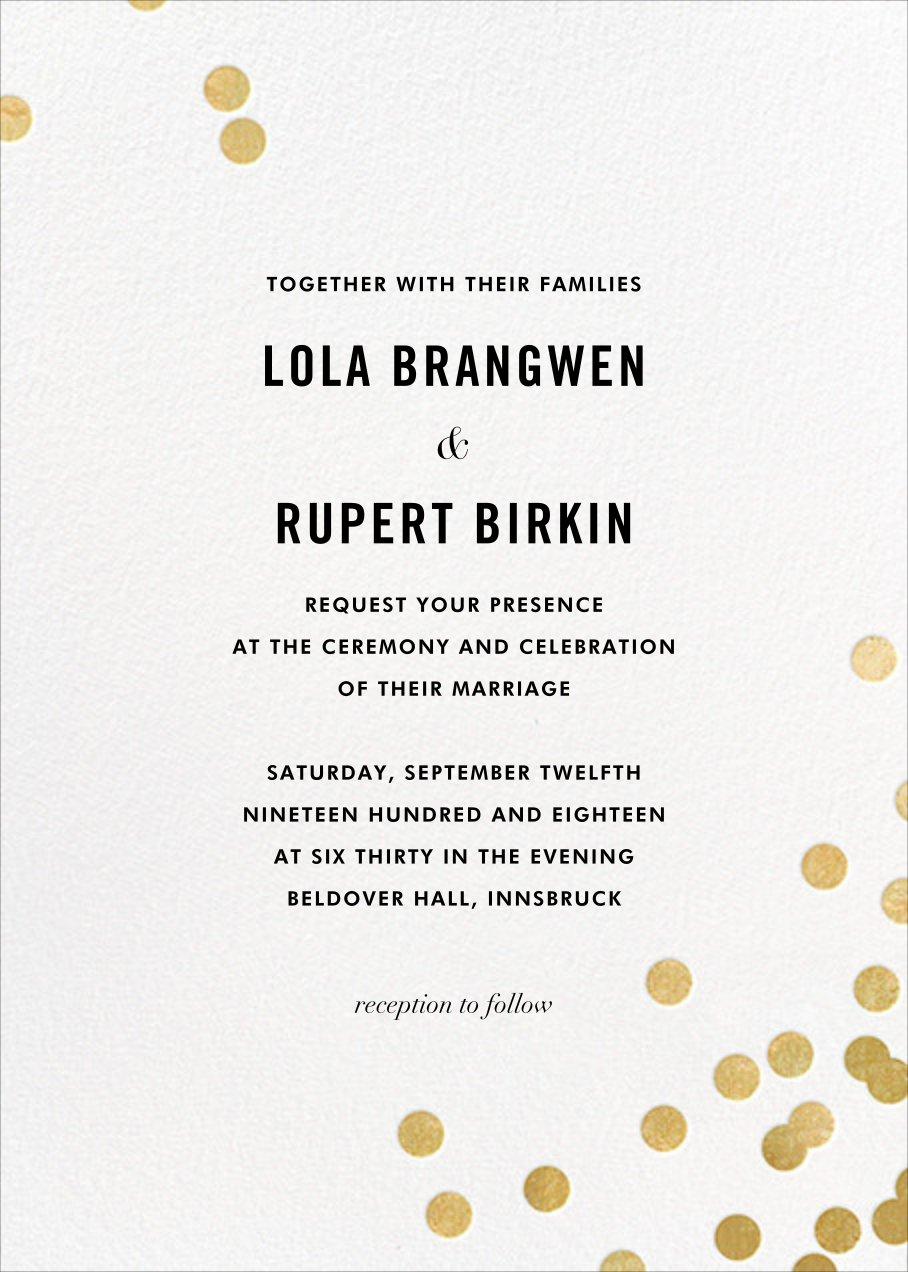 We love how the pops of gold really elevate this elegantly simple digital wedding invitation.
READ MORE: From Venue to Makeup Artist: How to Plan Your Entire Wedding Online
10. Bliss & Bone Realm Design - £POA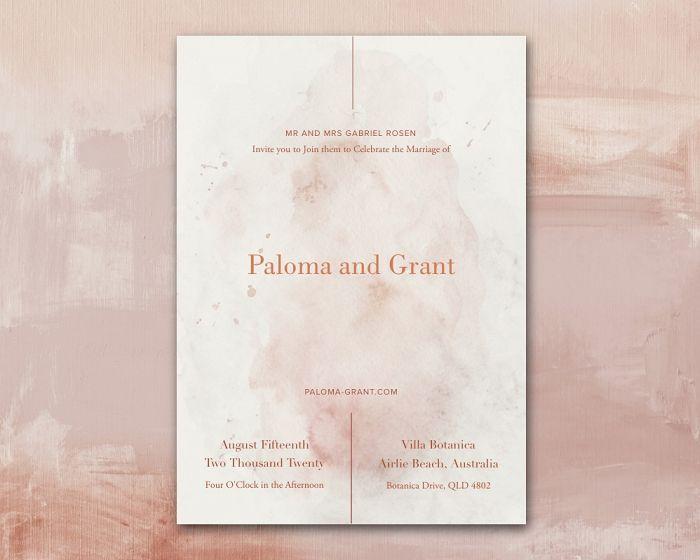 The blush pink colour wash feels romantic and contemporary, and you can customise the background using the same hue.
11. Greenvelope Rangeela E-Vite - From £29 for 40 People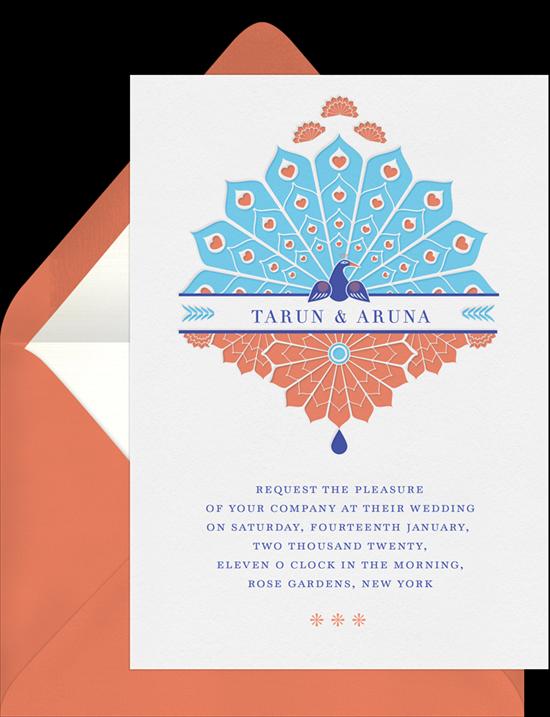 Created by Mumbai designer Kiss By Kohl, this Indian design brings together bold colours and a peacock motif for an exuberantly joyful look.
12. DIYPaperBoutique at Etsy iPhone Wedding E-Vite Template - £7.22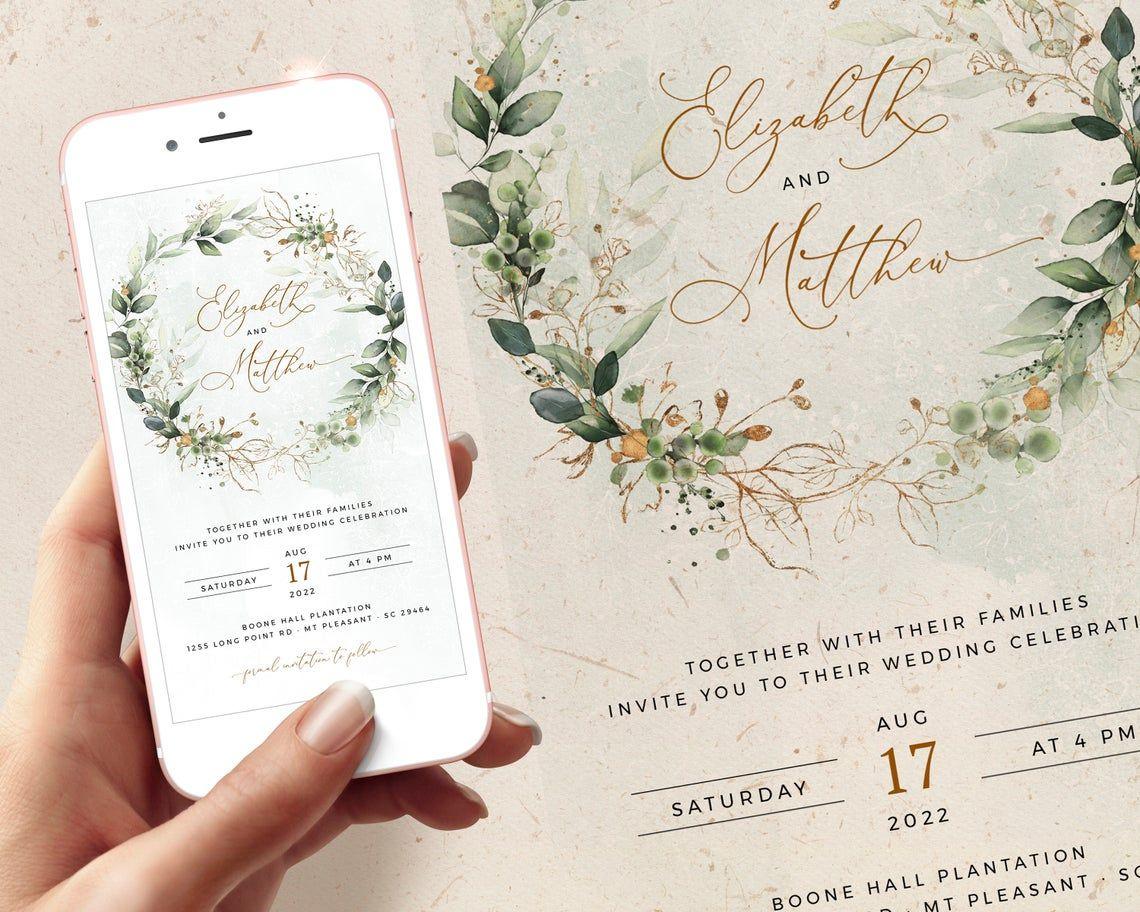 This editable template is designed to display on smartphones, to send via text or email. It would particularly suit a rustic-chic celebration.
READ MORE: 27 Enchanting Winter and Christmas Wedding Invitations
13. Paperless Post Hedcut Digital Invitation - From 2 Coins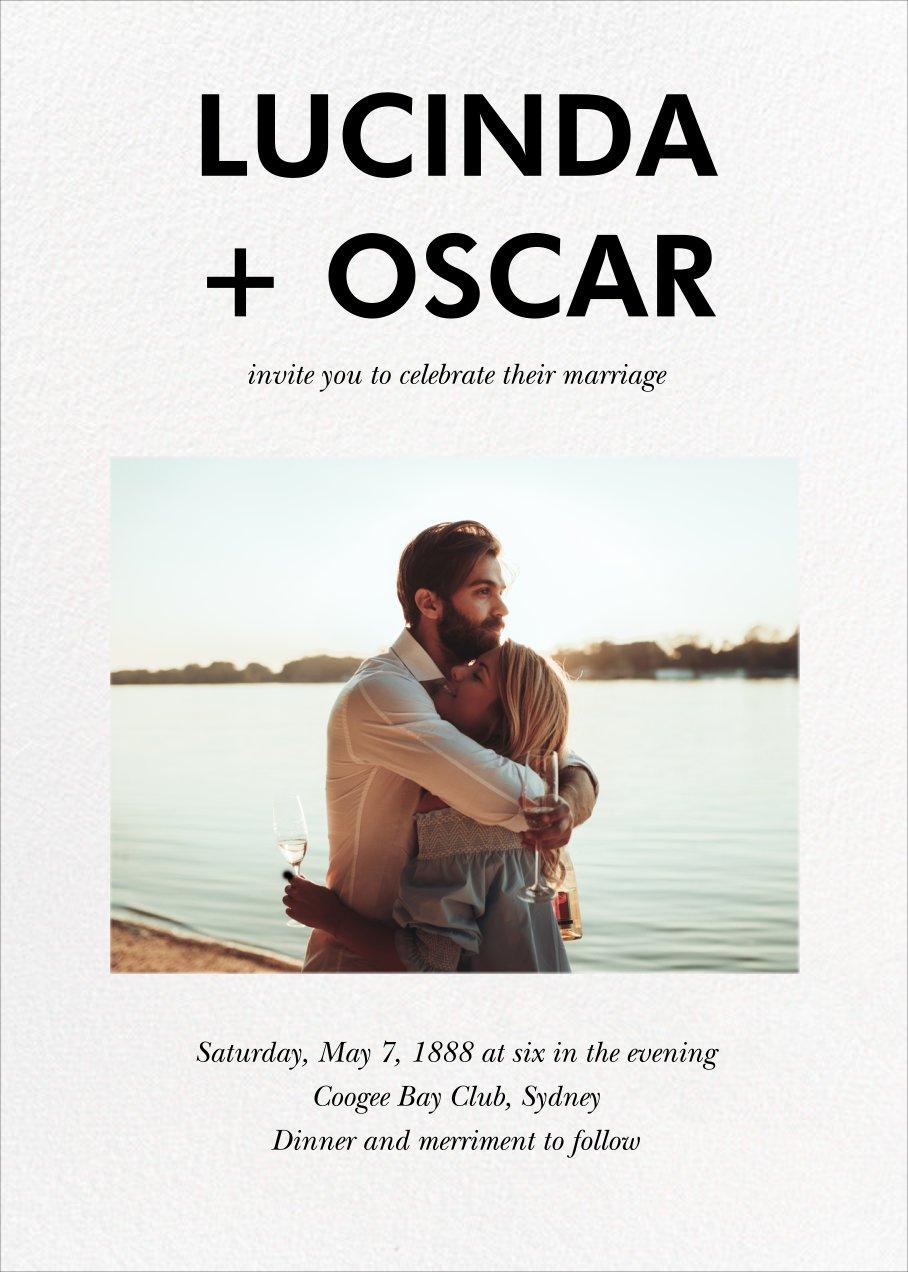 If you're a couple that likes personalisation, use a photograph from your engagement shoot to customise this design.
14. Greenvelope Everglades E-Vite - From £29 for 40 People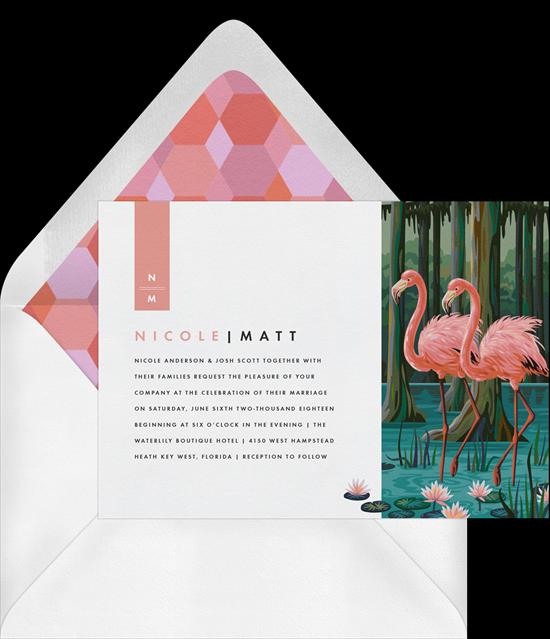 We're suckers for a tropical design, and these beautifully wrought flamingos are so eye-catching.
15. Oscar de la Renta at Paperless Post Floral Trellis II E-Vite - From 2 Coins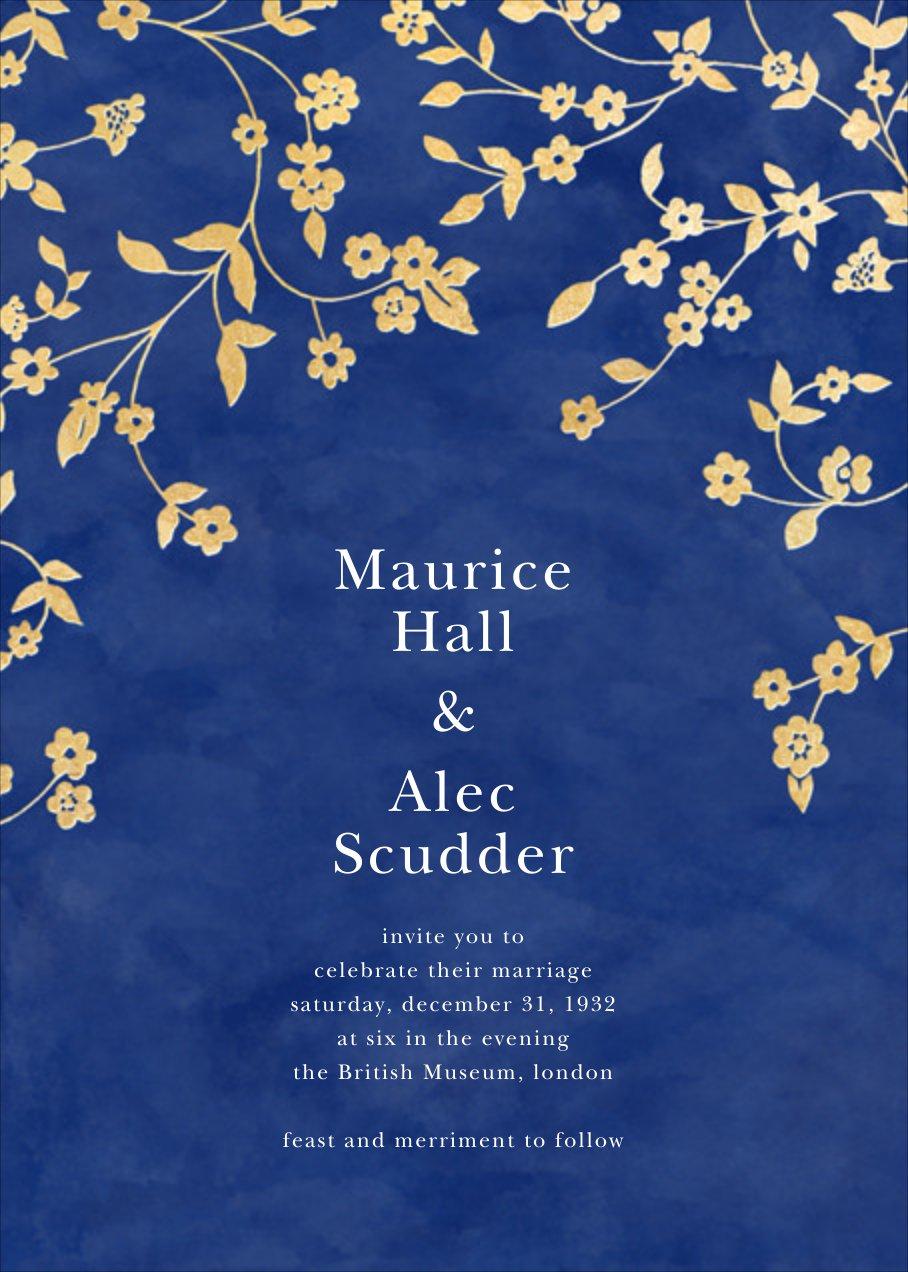 It doesn't get much more chic than a wedding stationery design from one of the world's leading luxury fashion houses.
Of course, you don't have to go entirely paperless at your wedding if you don't want to. To decorate the table and keep guests in the know, these are our favourite place card ideas.