15 Online Wedding Invitations You Can Edit & Send Yourself
Go completely paperless with these modern and stylish digital wedding invitations you can simply download, edit and send yourself
We have included third party products to help you navigate and enjoy life's biggest moments. Purchases made through links on this page may earn us a commission.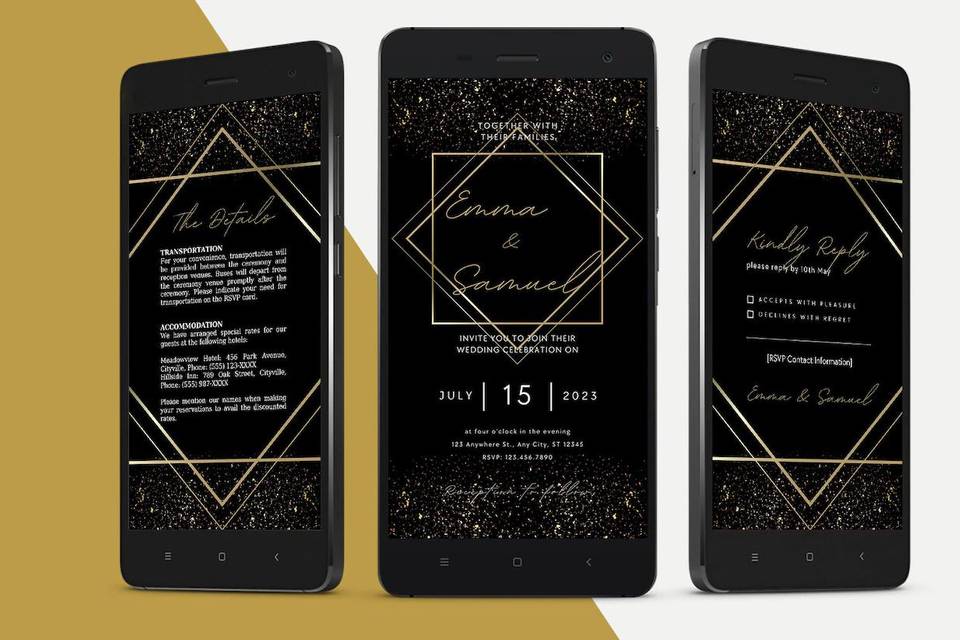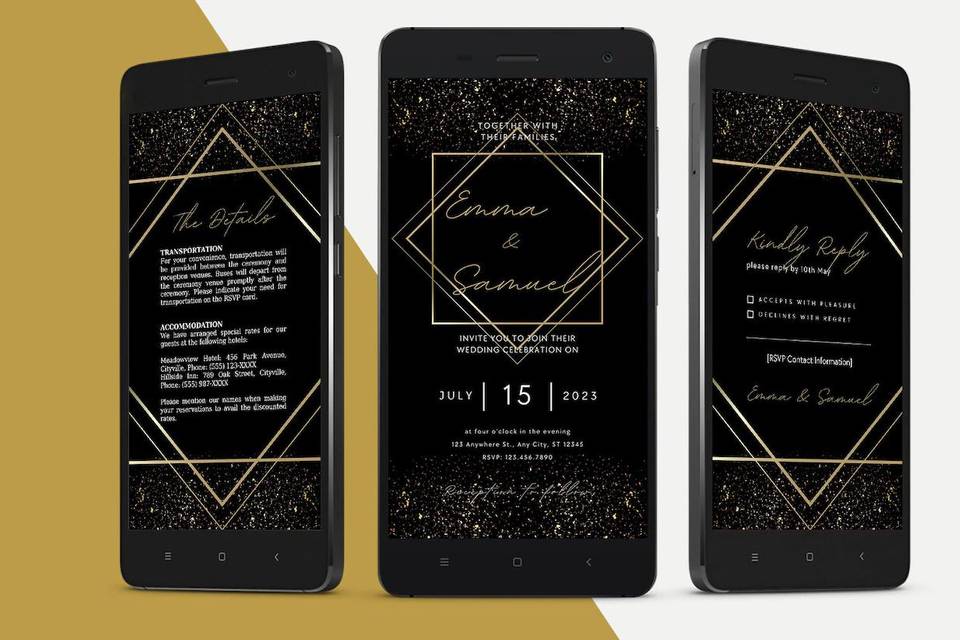 Over the last few years the world of online wedding stationery has come on leaps and bounds, and online wedding invitations are easily as stylish as their printed sisters. Most importantly, they're just as effective at building anticipation for your big day. You can get all kinds of digital wedding invitations and designs, from enchanting florals to pared-back minimalism, as well as traditional styles.
Digital wedding invites are practical as well as pretty. Firstly, they'll save you money, giving your wedding budget a boost. Many companies offer automatic RSVP tracking, and as you're paperless, you won't have to worry about addressing endless envelopes and working out the postage. Going digital with your invitations is also eco-friendly, helping you make your day more sustainable.
Digital & Online Wedding Invitations to Download, Edit & Send Yourself
Of course, some people love printed wedding stationery, and we have plenty of designs you're bound to love if you're not a fan of a wedding e-vite.
But if you are willing to consider taking things online, we'll show you how electronic wedding invitations can work for you, from finding the right design to choosing your wording.
1. Pampas Grass Electronic E-Vite - £8.42, Etsy
Pampas grass has made a huge comeback in weddings of recent years and we're here for it. This elegant pampas e-vite from Etsy is easy to customise and has a simple yet effective design, and if you're a funny pair, you could even include puns like, "We can't wheat to see you at our wedding!" - sounds even better in a Northern accent...
For couples who want to have a play around with this invitation first, there's a 'try before you buy' option with a demo link so you can get a feel of what can be done with this digital wedding invite before commiting to the purchase. How cool is that?
Customers who followed through with the buy were more than happy what they got with one saying, "It was perfect for my wedding," and another adding, "This is a beautiful design and easy to edit."
If you love this, you'll love our pampas grass wedding decor ideas.
2. Rustic Greenery iPhone Wedding E-Vite Template - £10.63, Etsy
This editable template from Etsy is designed to display on smartphones, to send via text or email. Gorgeous greenery, calligraphy and gold lettering mean it would particularly suit a rustic themed wedding or anyone opting for a botanical style.
The online wedding invitations are free to edit and adapt to your own style and preferences and there are lots of matching items here that you can purchase alongside the e-vites.
Like the above design, there is a 'try before you buy' demo link so you can ensure it's easy for you to edit, although the reviews should quash any concerns you have. One customer wrote, "Very clear instructions and it was easy to edit the design," and another added, "I had so many compliments on the wedding invitations and they were so easy to send out. Definitely recommend."
3. Celestial Online Wedding Invitations Design - £24.06, Etsy
We love celestial wedding invitations here at Hitched - anything with a star on has our vote - and that goes for this magical star themed invite from Etsy. The design includes three parts - a digital wedding invitation, details card and an RSVP card, giving you everything you need to keep you and your guests fully informed.
What's more, there are matching products you can buy for other aspects of your wedding, and when you buy five or more products, you can get 50% off your order using the code SAVE50 - what a bargain that'll turn out to be!
A happy customer of this product gave it five stars and said, "This was the perfect solution for me and it was super easy to edit."
4. Autumnal Bohemian Digital Wedding Invitation Set - £6.28, Etsy
When a rustic wedding theme meets bohemian chic - this design is what you get. We just adore these online wedding invitation designs - the use of colour and graphic illustrations gives the e-vite such a modern feel, despite the overall theme being quite boho and rustic.
We love this for an autumn wedding and can see this being recreated in a number of colour skews to suit a range of wedding colour schemes. And speaking of editing, you can change the text in the boxes, as well as upload your own images to add an extra personal element to the look and feel.
And anyone fearing that online wedding invitations are too techy for them will be pleased to hear just how helpful the seller is should you need any.
One reviewer stated that, "I had a wonderful experience with customer service. I needed help to figure out how to change some spacing and the font on a couple of items and he graciously fix them for me. I highly recommend this shop, especially if you are in the mid-life generation!"
5. Custom Wedding Video Invitation - £50.15, Etsy
Why not take things up a notch by sending your guests a personalised video digital wedding invitation? This Etsy design will use pictures and music of your choosing to create a totally unique invitation that's sure to make a big impression.
You can even add your favourite song and have it play in the background - just tell the designer which 40-50 second period of the song you want played and these guys will make it happen.
The final version of your online wedding invitations will be sent to you within 48 hours of your order being confirmed, so you can have them out in no time.
Customers rave about this product, too, with one saying, "This item is so beautiful, and with the right song, it can really make you get emotional. The seller was easy to work with and responsive. I'd highly recommend."
6. Lavender Leaves - £POA, Joy
Online wedding invitations website Joy lets you choose between online only invites or print and online invites, making them a great choice for couples who want to send digital wedding invitations to most guests, but a few hard copy ones to more traditional family members. It's also nice to have a handheld copy of your online wedding invitations as a keepsake of your own.
Lavender is said to represent calmness and devotion, which makes it the ideal way to introduce your wedding to your guests, and a lovely design for your invites.
7. Baraat Elephant Mandala E-Vite - £POA, Joy
Colour-loving couples will want to take a look at this bright and cheery digital wedding invitation template by Joy. This Indian design is based on Baraat, the celebratory wedding procession for the groom at an Indian wedding. A digital wedding invitation is a great idea if you're having a traditional Indian wedding with a large guest list, and you want to keep your costs down.
As well as being able to order hard copies as well, Joy can match your digital wedding invitation design to your save the dates and even your wedding website should you choose to have one - we highly recommend that by the way!
Discover more colourful wedding invitations here.
8. Minimalist Online Invitation - £7.45, Etsy
Minimalism is a wedding trend that will never get old and we love it as a wedding theme. This invitation from Etsy is the ideal introduction to a minimalist wedding, with its elegant fonts and black and white theme.
All of the text wording, font and colour can be edited, as well as the placement, so you can really make these wedding invitation templates your own and match them to any colours or ideas you have for the overall theme.
Reviews state that these online wedding invitations are, "So easy to set up," and are "Very cute and easily customisable."
The downloadable digital wedding invitation is perfectly sized for iPhones and even has matching stationery products that go with the theme which you can view here. You can buy everything from unplugged wedding signs to table plans and RSVPs.
9. Kate Spade Ampersand Online Wedding E-Vite - £POA, Paperless Post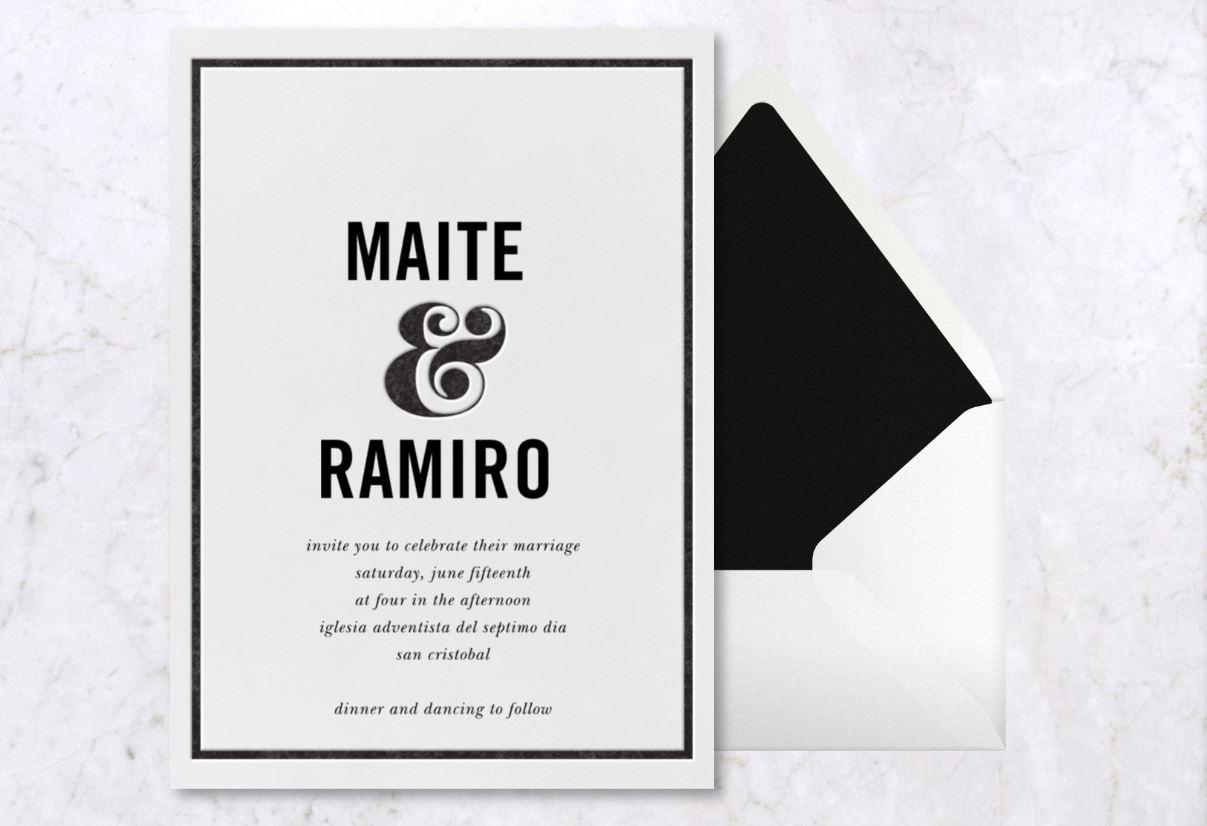 Paperless Post are a great destination for wedding digital wedding invitations. Their designs cover a range of styles, and they do regular collabs with cool designers across art and fashion, and this particular online design is part of the Kate Spade New York collection.
Cards are paid for with 'coins' - you get 25 for free when you register and you can use these to add premium elements to your digital invitations, such as digital envelope liners and reply cards. There are also some free wedding invitation templates for you to choose from as well.
This design is available in the monochrome style above, as well as a white and hot pink hue which is particularly tempting - it's giving Barbiecore does weddings and we're here for it.
10. Oscar de la Renta Floral Trellis II Digital Wedding E-vite - £POA, Paperless Post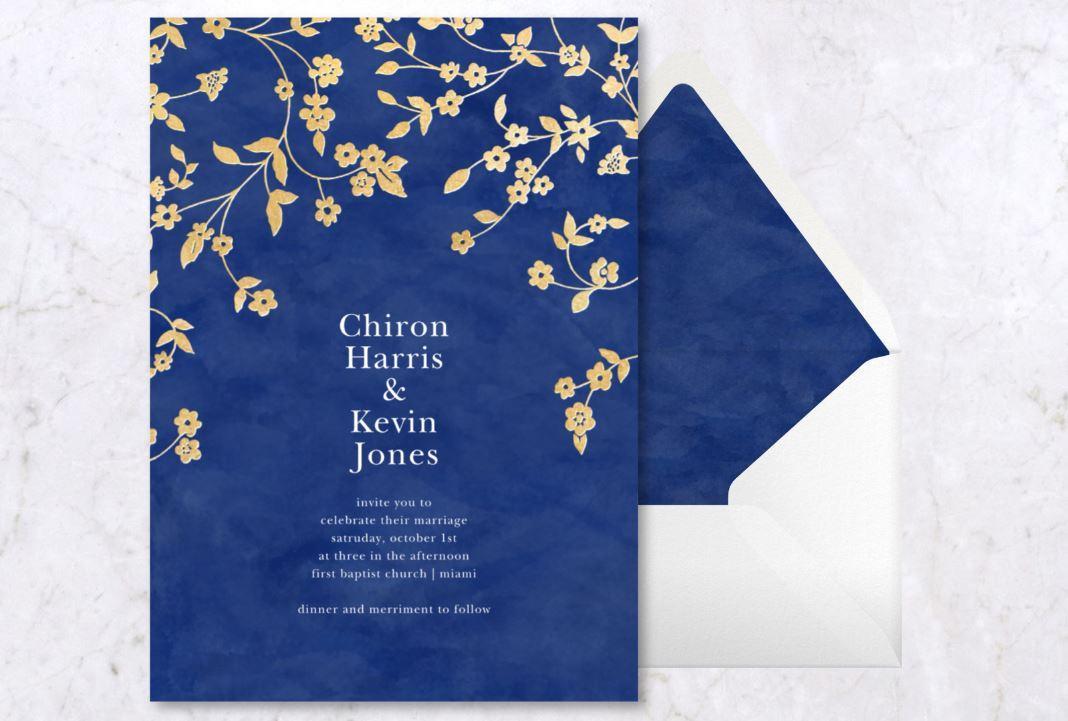 Online wedding invitations really don't come much more chic than a wedding stationery design from one of the world's leading luxury fashion houses - Oscar de la Renta. Deep blue and gold tones in this Paperless Post design come together to create a truly luxurious introduction to your big day.
However if you'd like to change things up, a number of colour combinations are available in this design. Choose from colour combinations that include white, gold, pink, silver and either a floral or rustic theme - the world really is your oyster with this one.
11. Celine Digital Wedding Invitation Design - £POA, Bliss & Bone
You can use Bliss & Bone to design both your paperless wedding invitations and your wedding website, killing two birds with one stone. Designs range from crisp and modern to ethereal and pretty, and this one really resonates with the latter.
The Celine online wedding invitation takes ethereal to a whole new level with their blush pink and gold foil design. The combination of modern capitalised font against the majestic gold branches is giving that quiet luxury that we're all into right now and it's a great colour scheme to work with for a wedding at any time of year.
Prices vary depending on guest numbers.
12. Dark Floral Raitha Online Wedding Invitation - £POA, Bliss & Bone
We're used to seeing floral wedding invitations in pinks, oranges, yellows and bright hues, which is why this dark floral Raitha design stood out to us so much. The monochromatic floral illustrations are so captivating, and could be a lovely way to incorporate flowers when sending out digital invites to a winter wedding.
13. Quinn Digital Wedding Invitation With Neon Ombre - £POA, Bliss & Bone
From no colours at all to the brightest of them all, and possibly one of our favourite online wedding invitations ever. The Quinn wedding invitation from Bliss and Bone is beyond eye-catching, and showcases perfectly how bright colours can be used in the chicest of ways.
The ombre effect is executed perfectly and the brand have managed to portray the illusion of textured paper on this invitation, making it feel less digital and more real-life.
We also love the juxtapositioning between the bright bold colours and the thin, fancy font - they marry together beautifully to create a really memorable and modern design.
14. Layered Florals E-Vite - from £29, Greenvelope
With Greenvelope you can upload your own design or customise one of their gorgeous digital wedding invitation suites. You can get matching virtual envelopes and include a details panel, and they'll take care of RSVP tracking. This colourful floral design is a great example of the fun designs you can find there. Discover more floral wedding stationery here.
15. Scripted Calligraphy Wedding Invitation - from £29, Greenvelope
If you're looking for classic styled online wedding invitations, with an emphasis on calligraphy, look no further than this chic Greenvelope design.
The black and white colour theme is the perfect introduction to any couple's elegant day. It's a perfect way to bring some old-school style to your contemporary digital invitation.
Are Digital Wedding Invitations Tacky?
Absolutely not! The quality of the best wedding e-vite designs is undeniable. What's more, many companies have developed the guest experience to make reading digital invites feel special. It doesn't have to be as simple as opening an email - it can be clicking on a link to see a virtual envelope addressed individually and watch the invitation emerge.
One thing to consider is that some of your less tech-savvy guests may not have an email account - sorry, but we're looking at you, grandad. If that's the case, we'd suggest using a downloadable wedding invitation template and printing as many as you need for those guests.
What Wording Do You Use for Digital Wedding Invitations?
It's pretty much the same as for printed wedding invitations - you need to start by deciding whether you want to go formal and traditional or informal and fun.
The most traditional invitations come from the bride's parents, such as: Mr & Mrs Tom Jones request the pleasure of your company at the marriage of their daughter Sasha Jones to Owen Hughes at Asylum Chapel, London, on 14th September 2021 at two o'clock, and afterwards at AMP Studios.
But you can make your wedding invitation wording your own by including both sets of parents, step-parents, or choosing to not include them at all and just having your own names on there.
Of course you can jazz things up with more informal or funny language - just remember to keep information to a minimum on the wedding e-vites themselves, and direct guests to your wedding website for further information.
How To Make a Digital Wedding Invitation?
There are three main options. You can create your own for free using a graphic design website such as Canva, then email the finished wedding e-vite to your guests. The advantage of this is that there are simple templates you can customise and it's free.
For around £10, you can also buy downloadable wedding invitation templates from sites like Etsy, which you edit yourselves. These can often be formatted to be sent as emails or text messages. You can also use a specialist wedding invitation website. Some of them have free templates, but even if you do have to pay, the cost is still smaller than for printed invitations.
You'll also get access to beautiful, professional designs, as well as, in some cases, stress-reducing services such as previews you can check and RSVP tracking.
Of course, you don't have to go entirely paperless at your wedding if you don't want to. To decorate the table and keep guests in the know, these are our favourite place card ideas.
How To Send Digital Wedding Invitations?
A popular way to send digital wedding invitations is over email. Here you'll have all the contact details for all your friends and family - from there, it's as easy as attaching your invite and pressing send.
Keeping things paperless? Check out these elegant online save the date ideas.