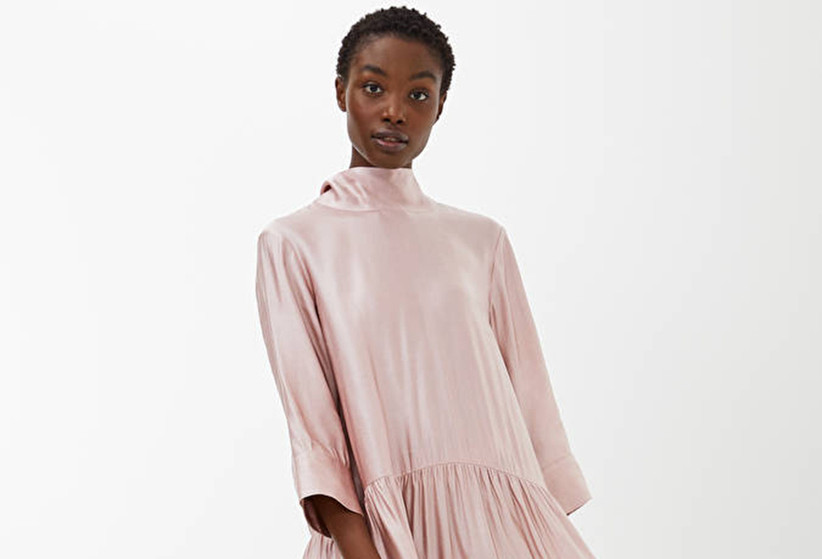 If you're buying the bridesmaid dresses or asking your girls to buy their own, you'll want to pick a dress that balances looking good with a great price tag. Sound impossible? It's absolutely not.
There's so many high street and online brands that do budget bridesmaid dresses really well: think ASOS, Boohoo, New Look, Miss Selfridge and more. Choose wisely and high street bridesmaid dresses can be great quality and good value – plus you can buy your accessories at the same time, win-win!
Top Tips for Buying High Street Bridesmaid Dresses
If you're buying bridesmaid dresses from a high street store, do a recce online first and call the shops ahead to see if they have the styles and sizes you like – if not, order them in to try on.
When you're ordering online, think about upgrading to a one-off delivery fee that'll get you free delivery for a whole year. It'll make buying several sizes to try on and return a much easier and cheaper experience!
Brands like ASOS and Oasis often do the same style dress in different lengths and across their petite and tall ranges. If your bridesmaids are lots of different heights or body shapes, this is your best bet for finding a dress they feel comfortable in.
Don't assume that just because you're buying different styles of navy dresses from the same shop, they'll be the same shade of navy. Lots of brides love the mix-and-match looks, but if consistency is key for you make sure you compare the dresses in real life in good lighting.
Starting from just £20, here's our pick of the best cheap high street bridesmaid dresses.
High Street Bridesmaid Dresses Under £50
£50 is actually a very reasonable budget for a bridesmaid dress, you just have to be savvy with where you shop. Online sites are your key players here, like ASOS, Quiz or Boohoo, but high street stores like New Look and H&M are also great places to find a bargain!
H&M Smocked Chiffon Dress – £39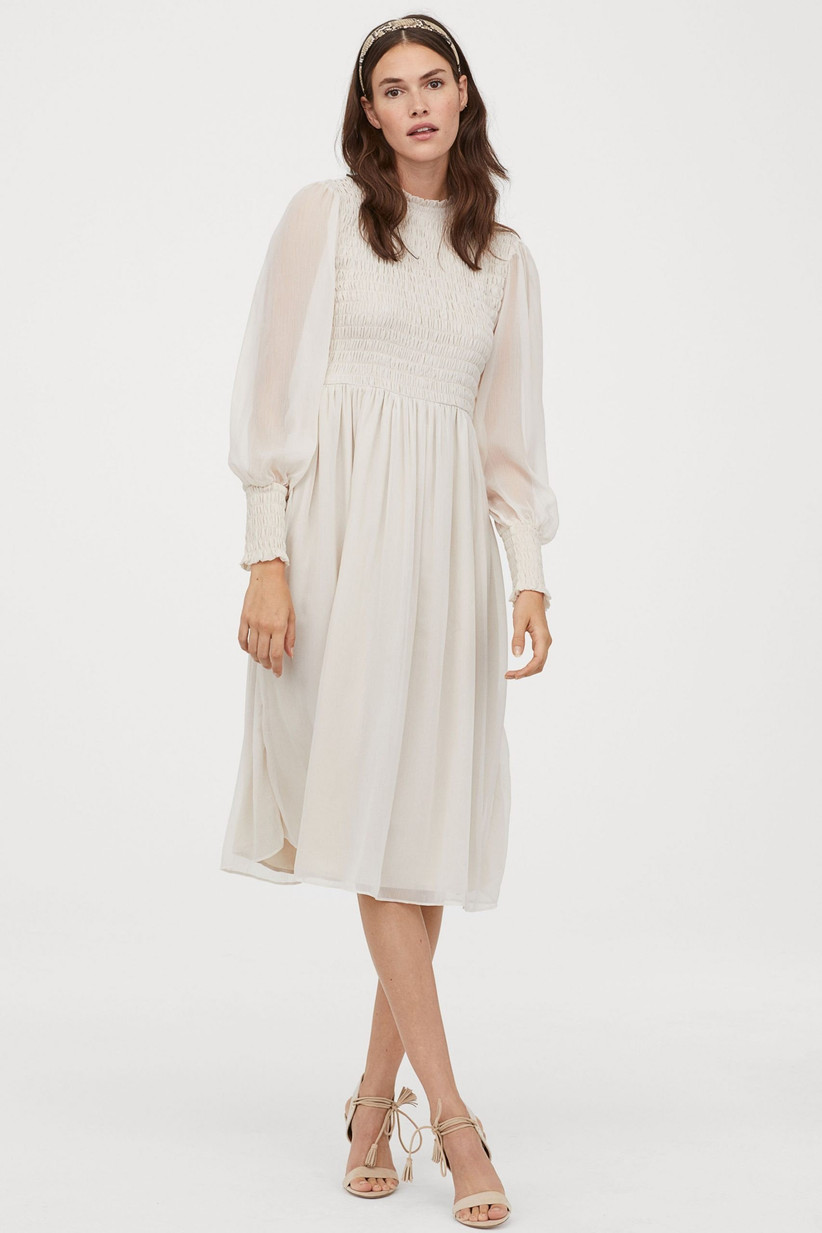 This light beige, puff sleeved dress from H&M will give your group a gorgeous ethereal look, especially if you tie it in with nude accessories. The details, like the stand-up collar and frilled cuffs, make it look far more expensive than it is, and the long-sleeves and knee-length mean that everyone will feel comfortable in it too.
New Look Navy Satin Frill Hem Dress – £27.99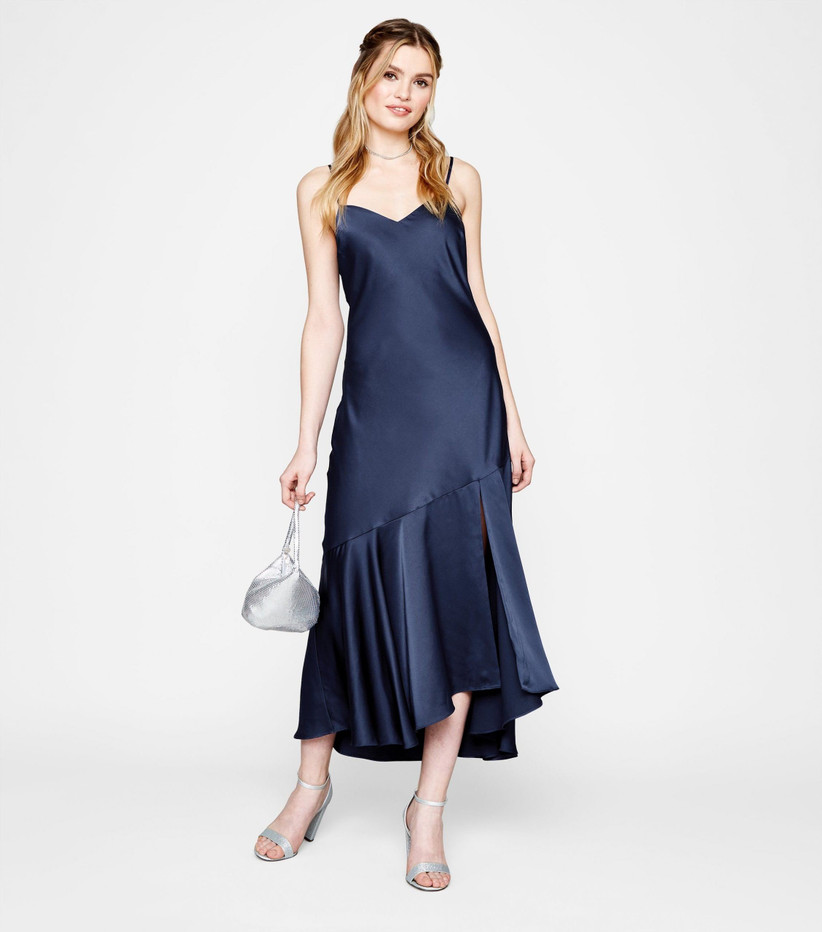 A slinky satin dress with a fishtail hem for under £30? We're head-over-heels for New Look's navy number. Set off the rich colour with subtle jewellery (try our favourite bridesmaid jewellery sets for affordable inspiration) and coordinating metallic shoes.
Boohoo Fitted Fishtail Maxi Bridesmaid Dress – £25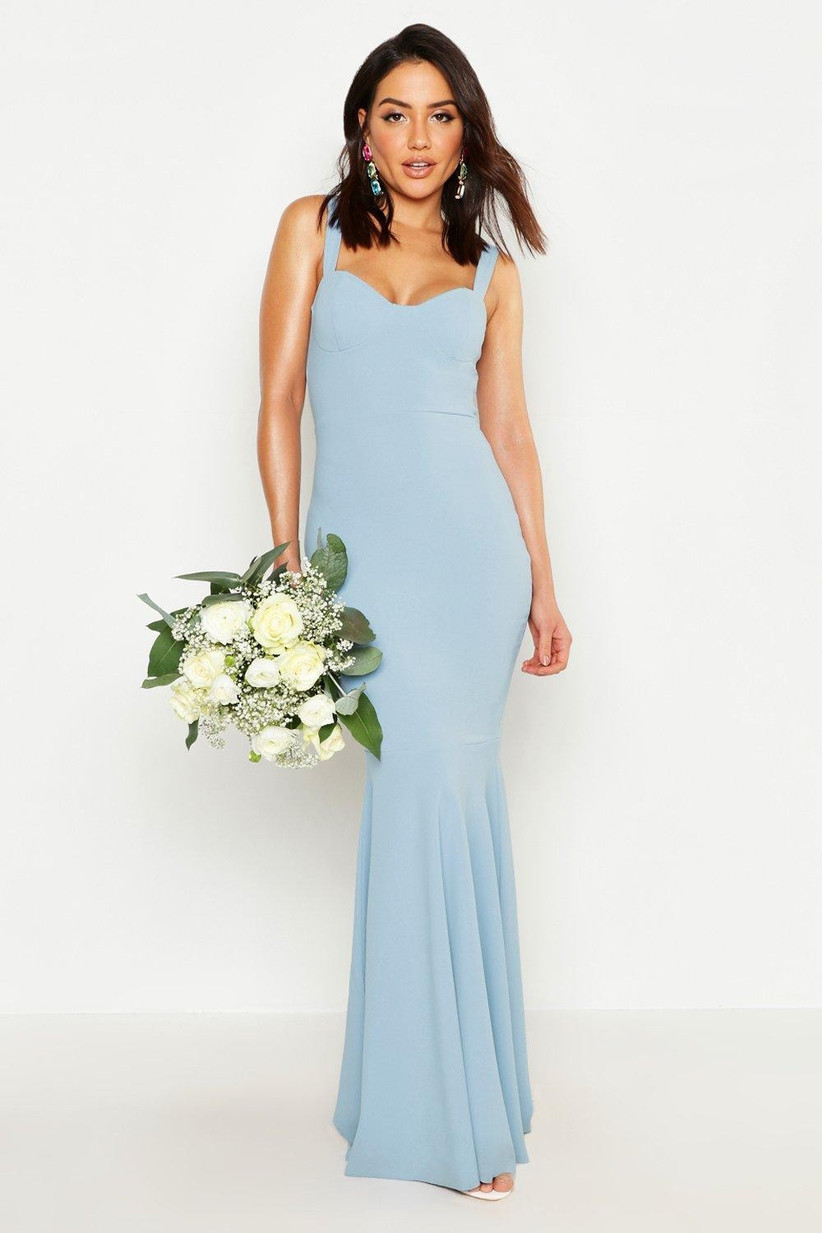 Not only is Boohoo's fab fishtail maxi an absolute bargain at £25, Boohoo often runs whole-site discount codes and other promotions, meaning that if you're vigilant you might be able to score it for even less. There are six colours to choose between, from this cornflower blue to a teal, berry and a blush pink.
H&M Pleated Maxi Dress – £49.99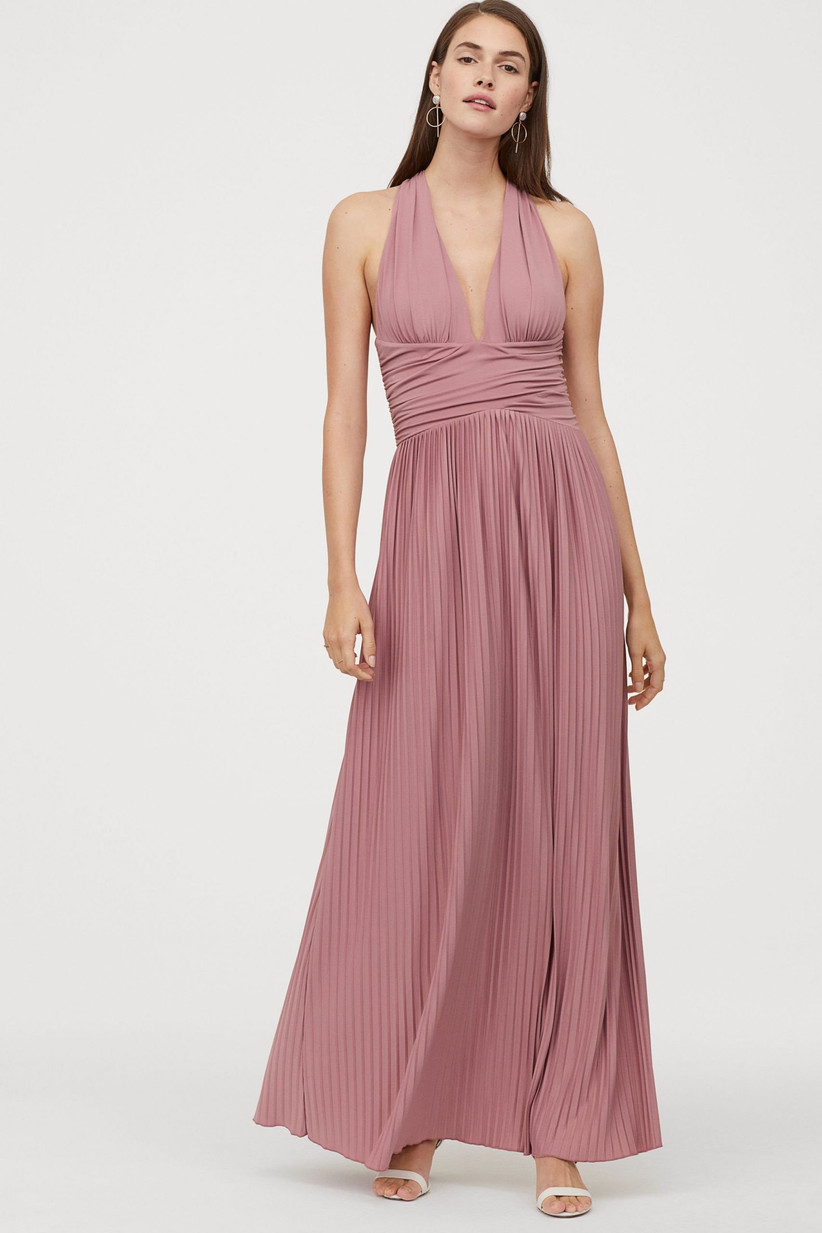 Soft jersey hangs beautifully in this maxi dress, which also comes in a lovely dark turquoise. The plunging neckline and pleats add to the wow factor, while the wraparound waist will cinch everyone in, but is also elasticated, so they can enjoy the wedding breakfast just as much as the rest of your guests.
Missguided Tall Blush Satin Cowl Neck Midi – £20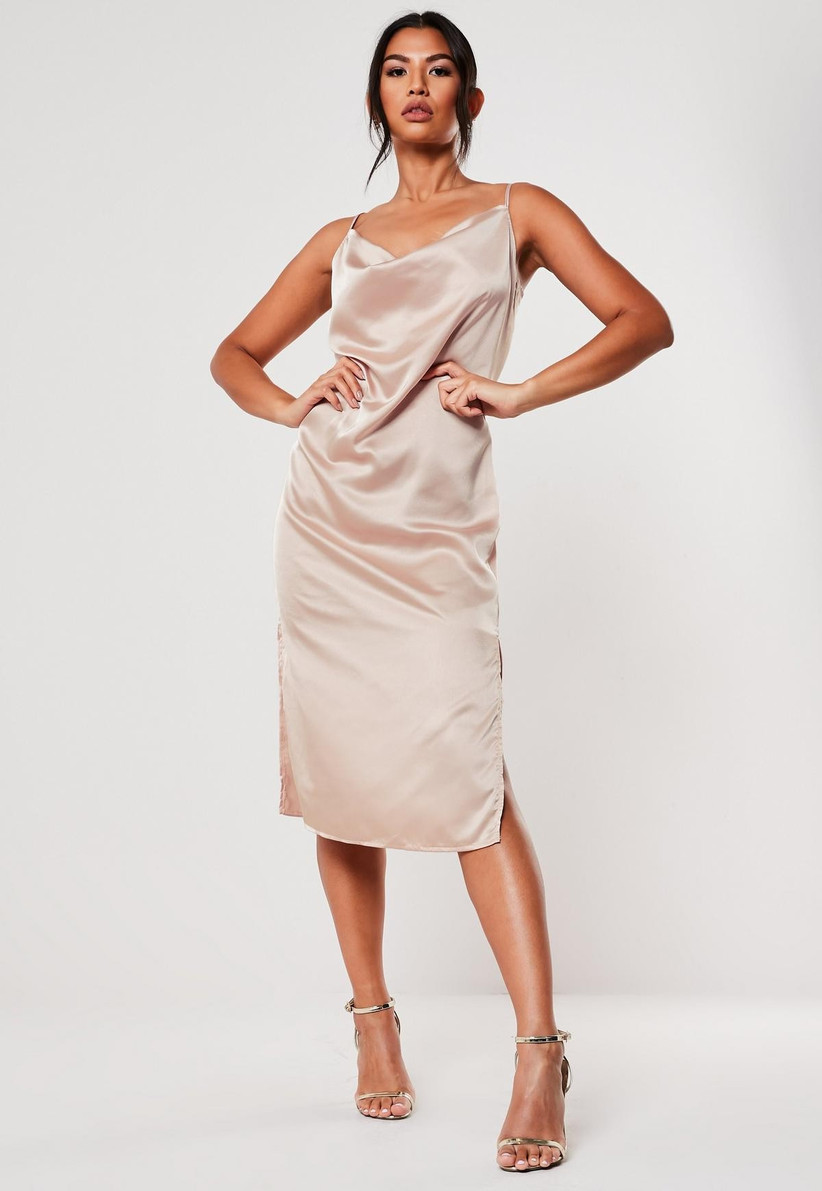 Satin is our favourite fabric of the season. This soft blush midi dress is just £20 but looks way more expensive. The delicate straps and slight side-splits make this look really elegant, and we can see it at any elegant wedding.
New Look Blue Satin Pleated Midi Dress – £27.99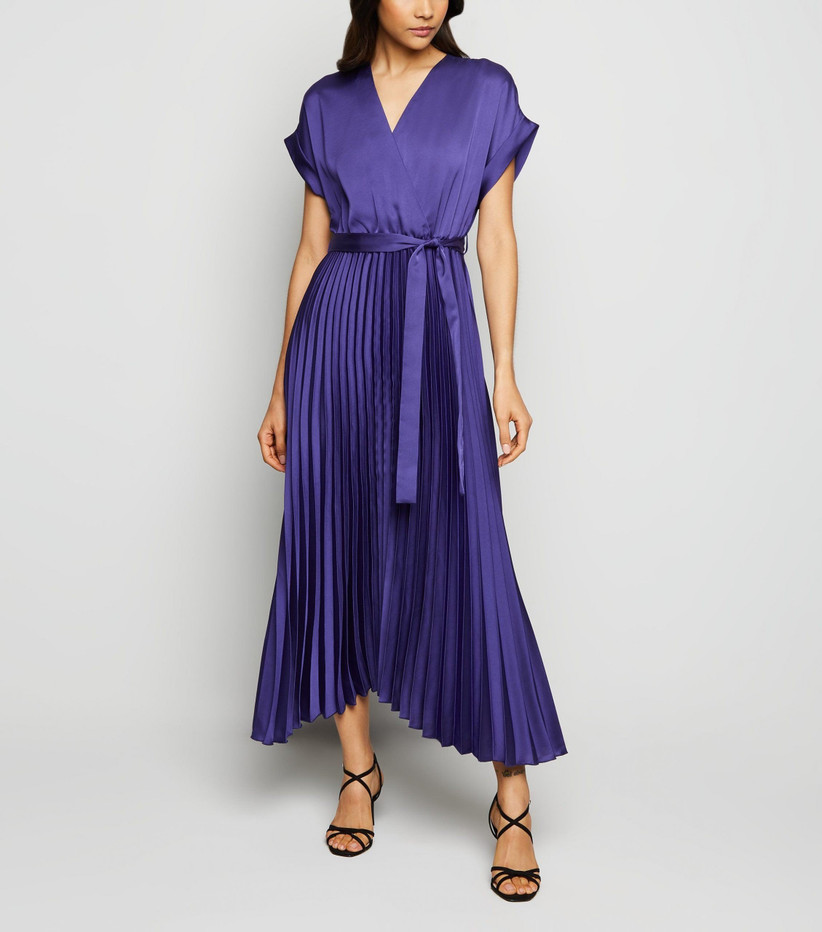 This bold sapphire blue bridesmaid dress is a gem – for under £30, no less! – and it comes in a variety of other hues, including a soft grey. Regardless of what colour you choose, the pleated skirt, tie waist and chic v-neckline will ensure your girls are the stars of the show.
Dorothy Perkins Green Lace 'Taylor' Midi Dress – £38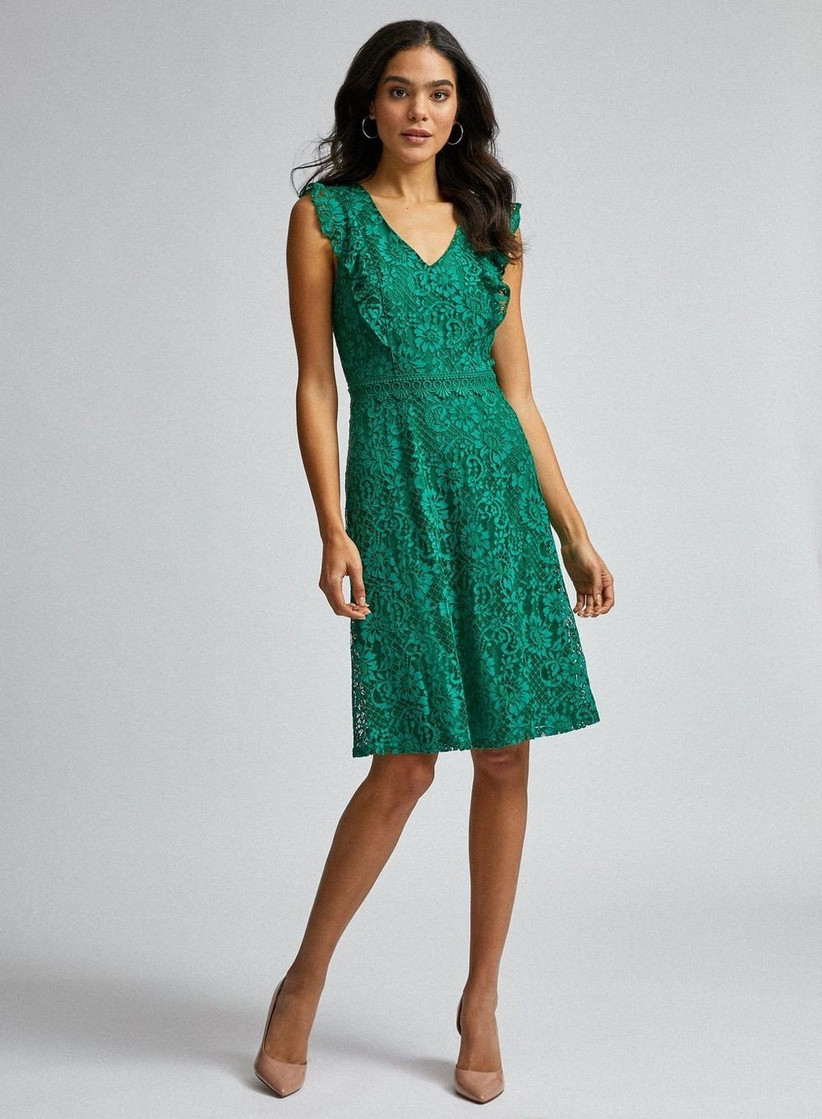 Short and sweet is the name of the game with this Dorothy Perkins Taylor dress, the vibrant green of the lace providing the ideal contrast to any spray of flowers you might have your heart set on. Make everyone's legs look even longer in this dress by suggesting neutral pumps to complete the outfit.
Missguided Yellow Cold Shoulder Maxi Bridesmaid Dress – £35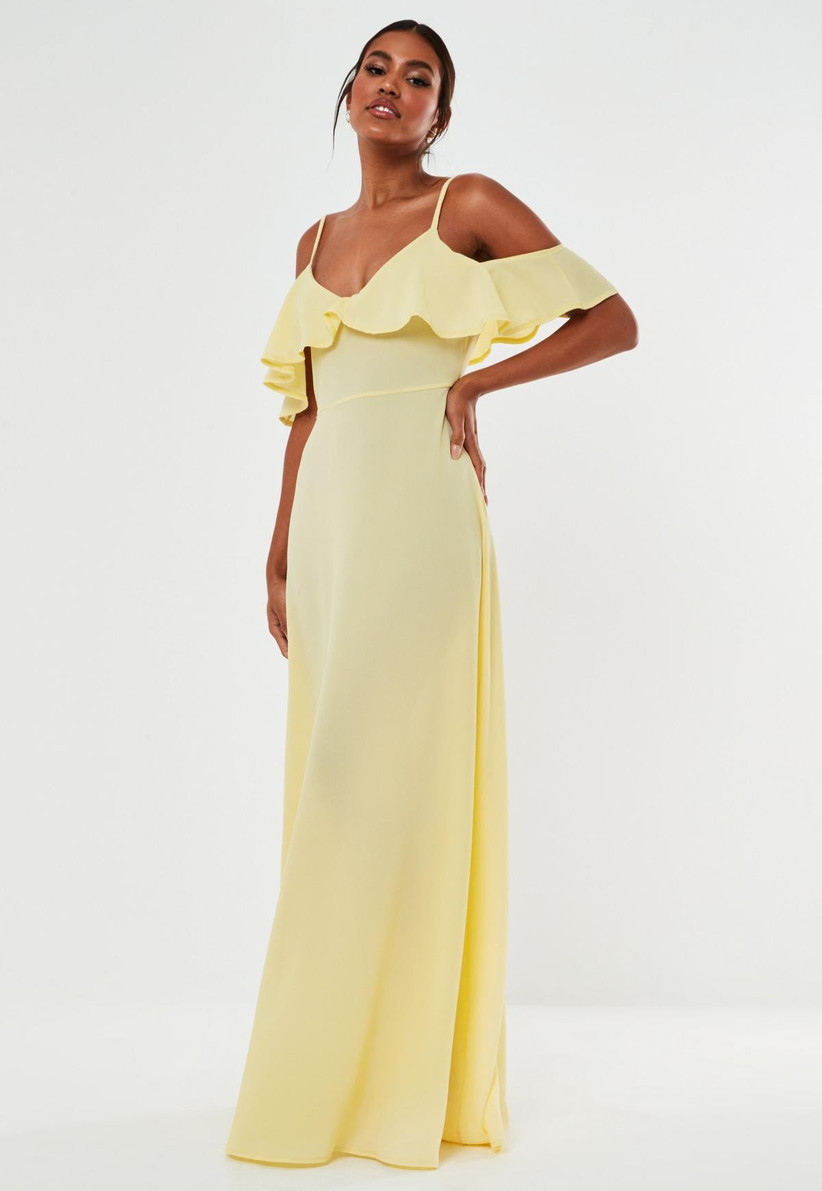 Yellow is the perfect summery shade that actually suits a lot more skin tones than you might think. We love a cold shoulder dress as a look for bridesmaids because you get a little sleeve coverage but you won't get too warm if the temperature soars.
Quiz Green Bardot Knot Front Dip Hem Dress – £30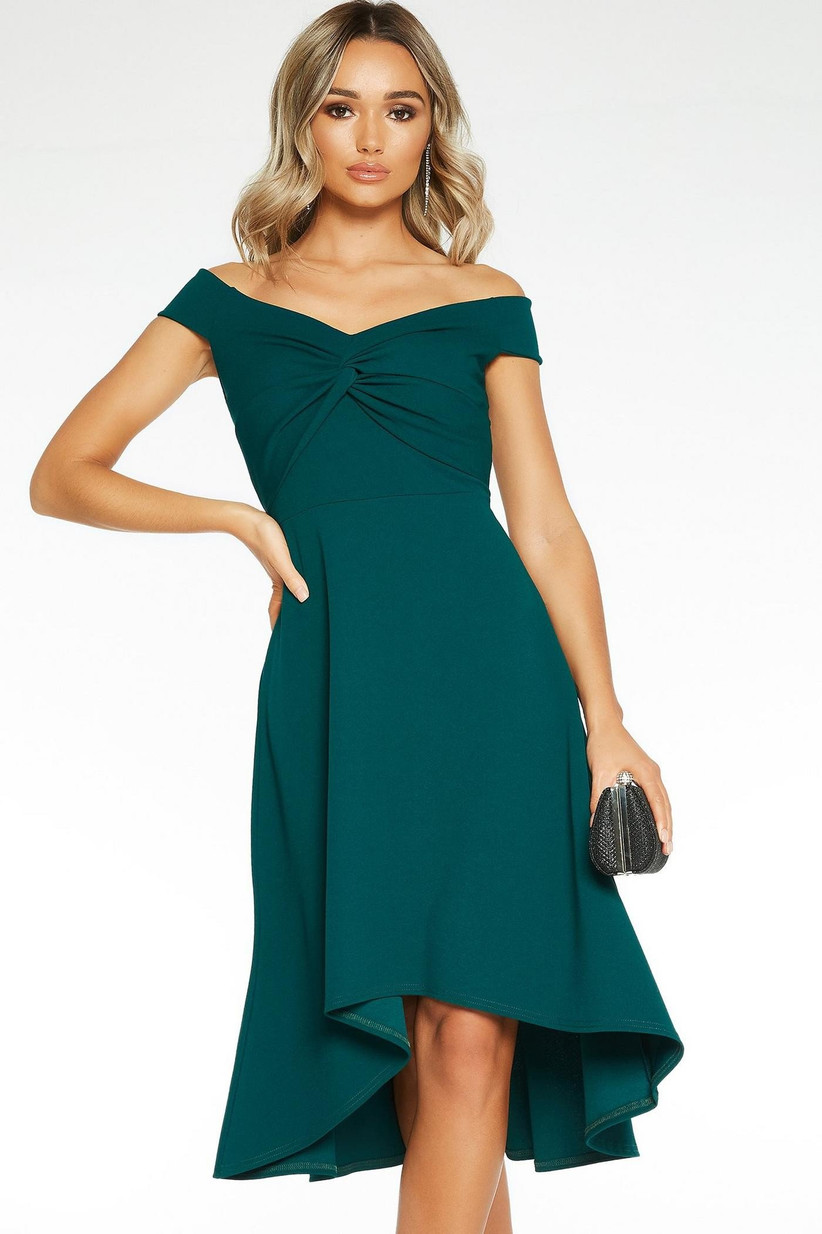 Bottle green, berry, pink and navy: four equally worthy colour options for your Quiz bridesmaid dresses, which are a steal at £30 each. Let the bardot neckline do the talking by forgoing a necklace and opting for statement earrings instead.
Dorothy Perkins Khaki Long Sleeve Wrap Maxi Dress – £39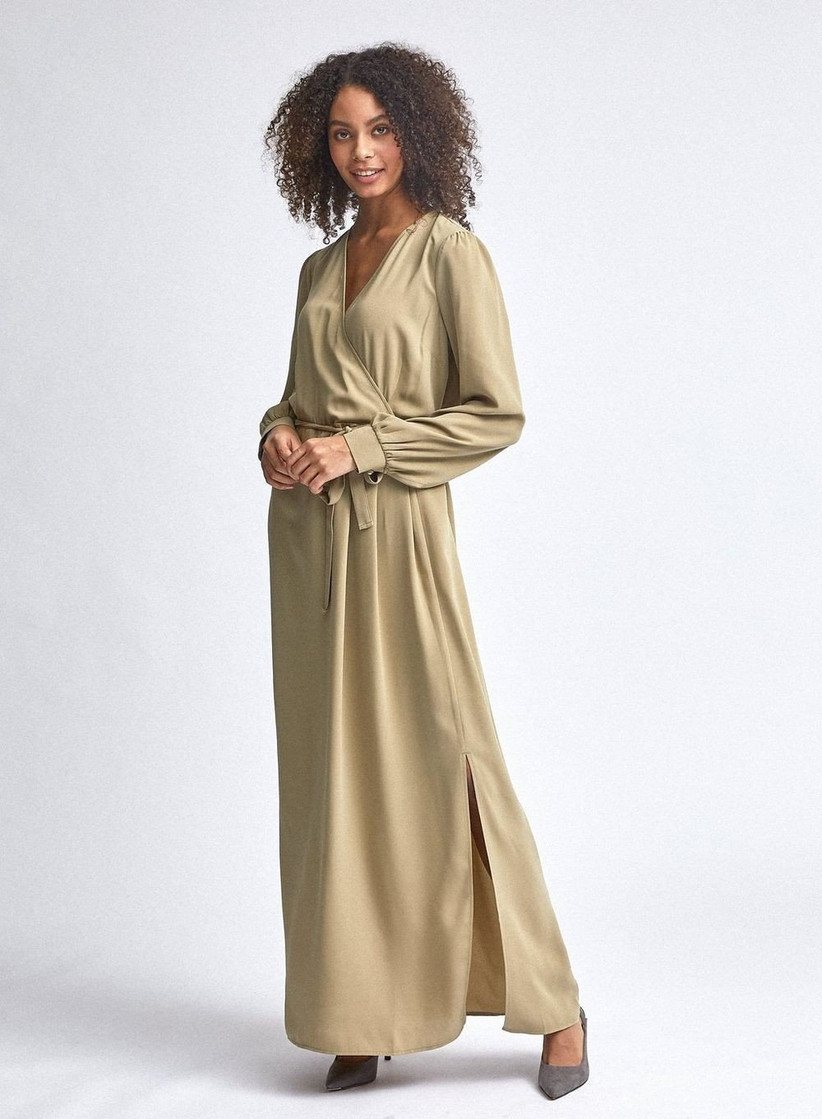 Khaki isn't often a colour you see in bridesmaid dresses very often, but looking at this Dorothy Perkins buy, we found ourselves questioning why. It would look great with a muted autumn palette, or with bright splashes or colour for spring and summer. The balloon sleeves and adjustable belt will look beautiful on all shapes and sizes, which is excellent news, because it runs from a 6 to a 22.
H&M Pleated Long Dress – £49.99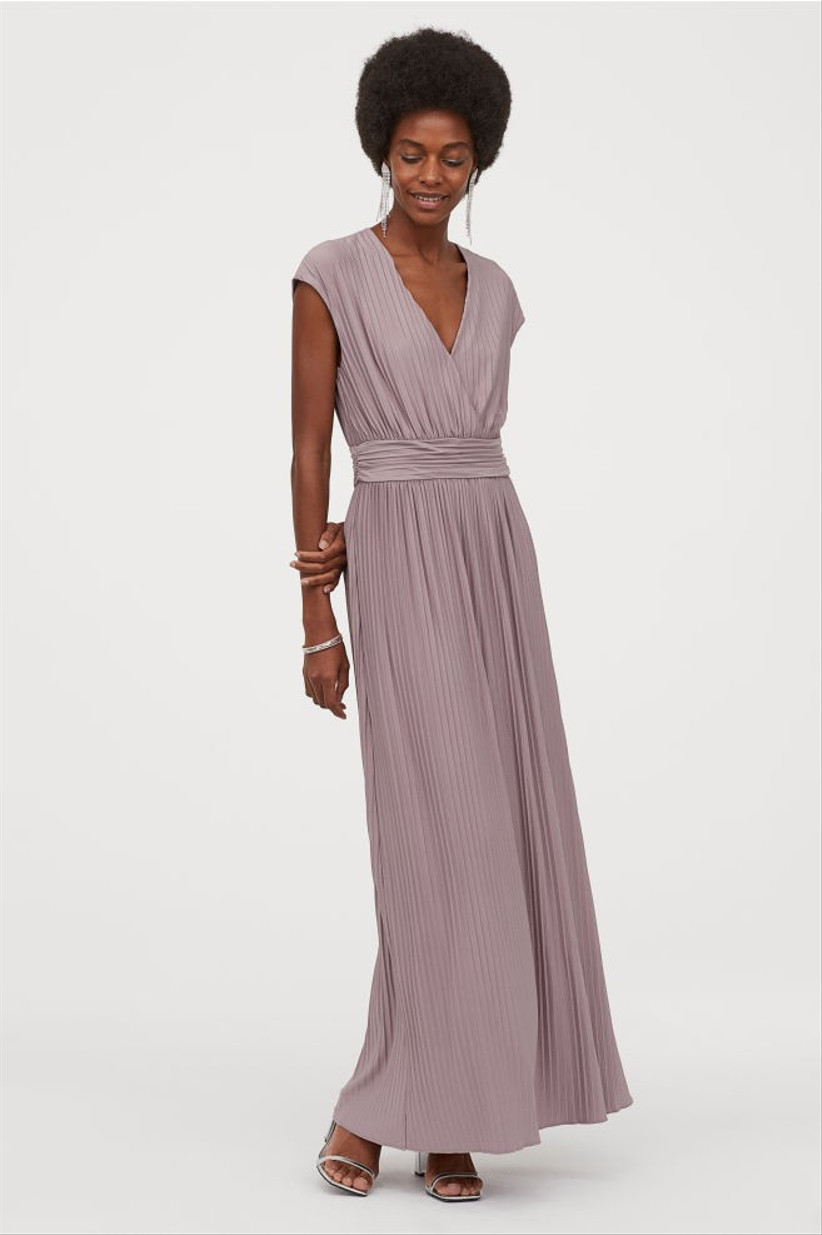 H&M has really pulled out all the stops for bridesmaids dresses in 2020, dropping multiple elegant options that all come in under the £50 mark. Heather purple makes a sophisticated alternative to the wash of pinks you'll find elsewhere on the rails, and the pleats give off serious Grecian goddess vibes. There's a mint green version too.
Missguided Blue Cape Sleeve Fishtail Maxi – £28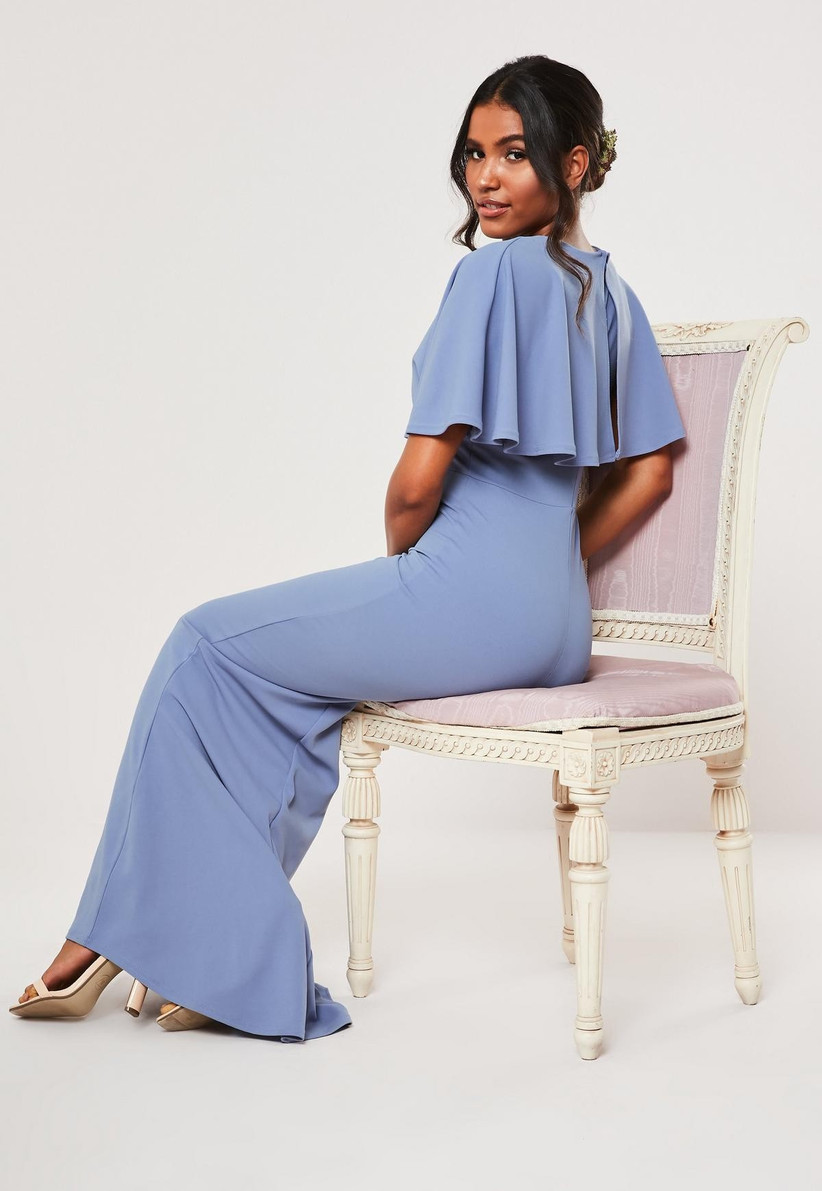 This lavender-hued fishtail maxi has the most wonderful cape sleeves! You forget that a lot of the first view your guests get of the bridesmaids are them walking down the aisle where they'll see a lot of the back of their dress. Add some flair with this fabulous cape look!
High Street Bridesmaid Dresses Under £80
You'll find the bridesmaid dress-worthy range of most shops in this price bracket, and some of the premium collections from the budget brands. Warehouse, Oasis and Topshop are fantastic for this price range.
H&M Dress With Appliques – £79.99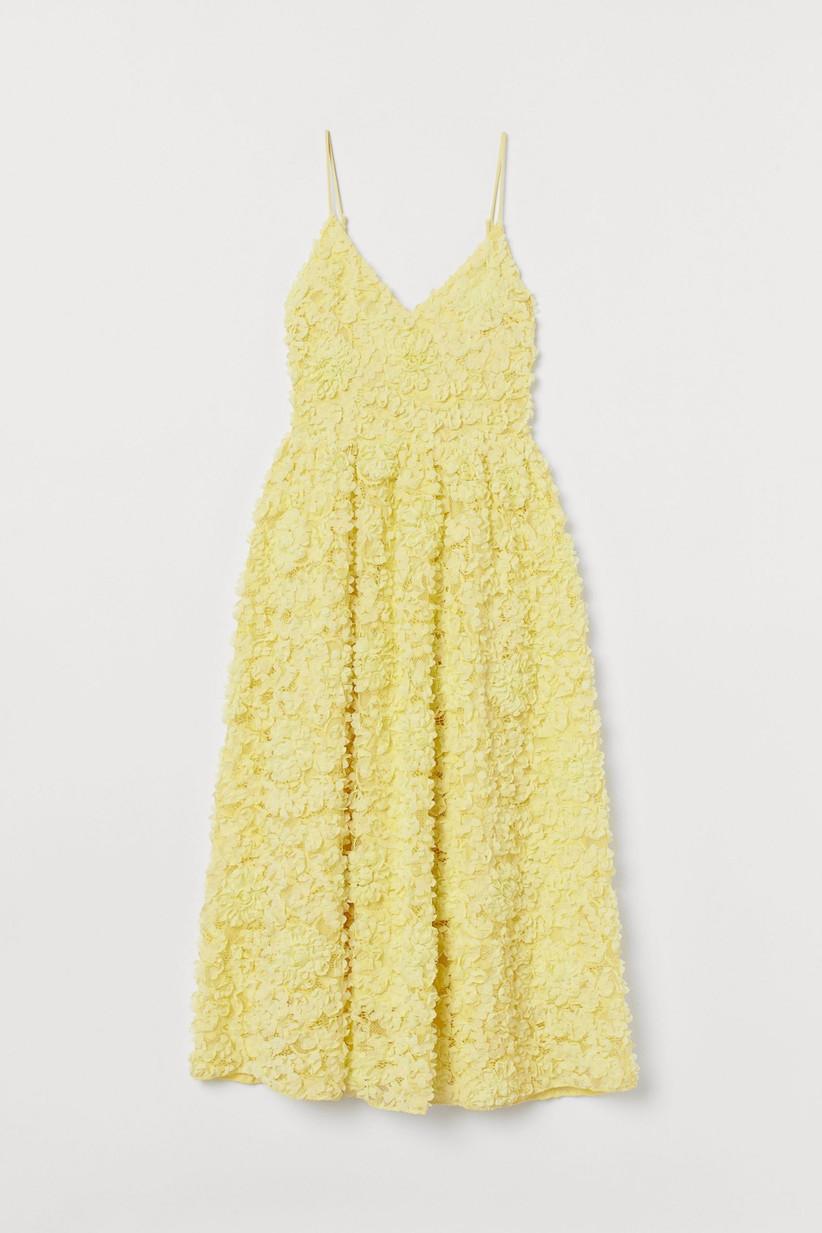 H&M's strappy yellow dress is a spring wedding come true, from the pastel lemon colour to the chiffon floral detailing that covers both the bodice and the skirt for a full-bloom effect. Prefer a sunnier shade? It also comes in a soft lilac.
ASOS DESIGN One Shoulder Tulle Midi Dress – £58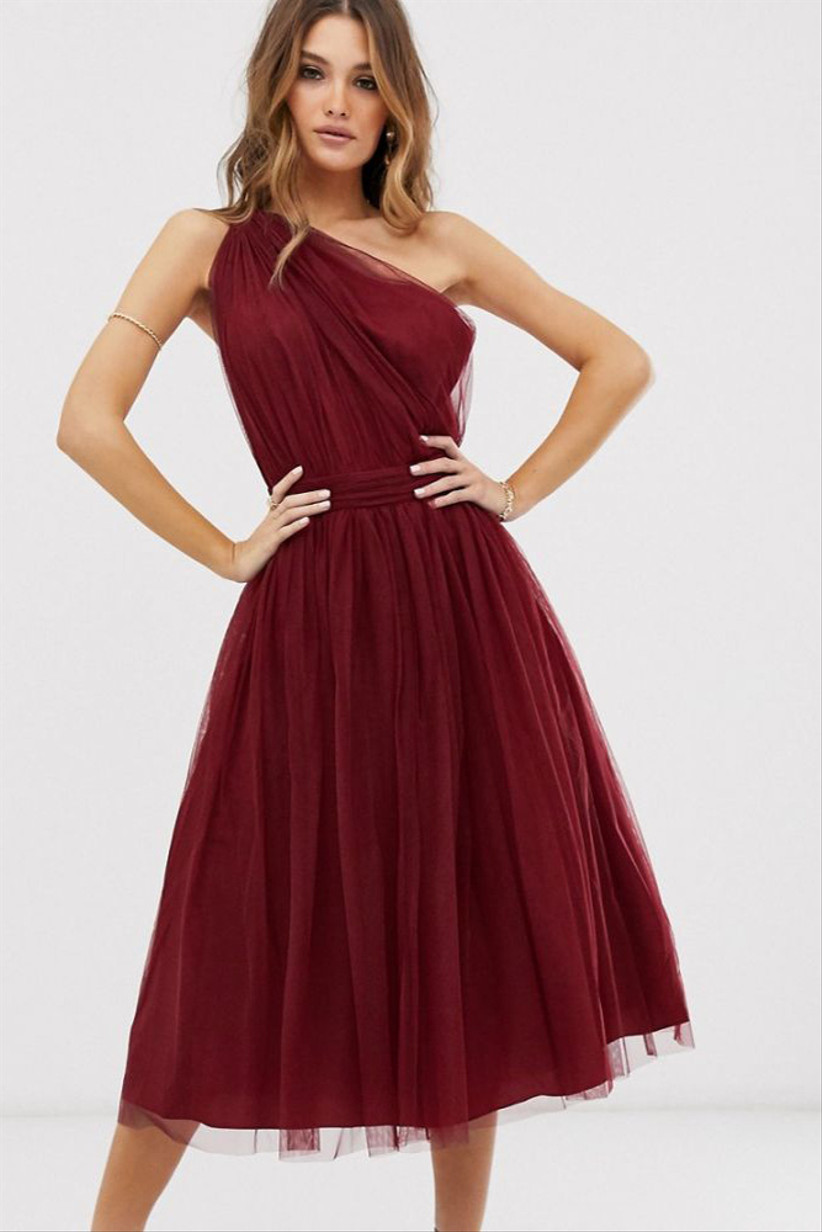 The all-over tulle and one-shoulder shape ensure that this ASOS design is a bridesmaid dress with a difference. When it comes to bouquets, opt for seasonal wedding flowers that complement that striking oxblood colour.
& Other Stories Criss Cross Linen Blend Midi Dress – £75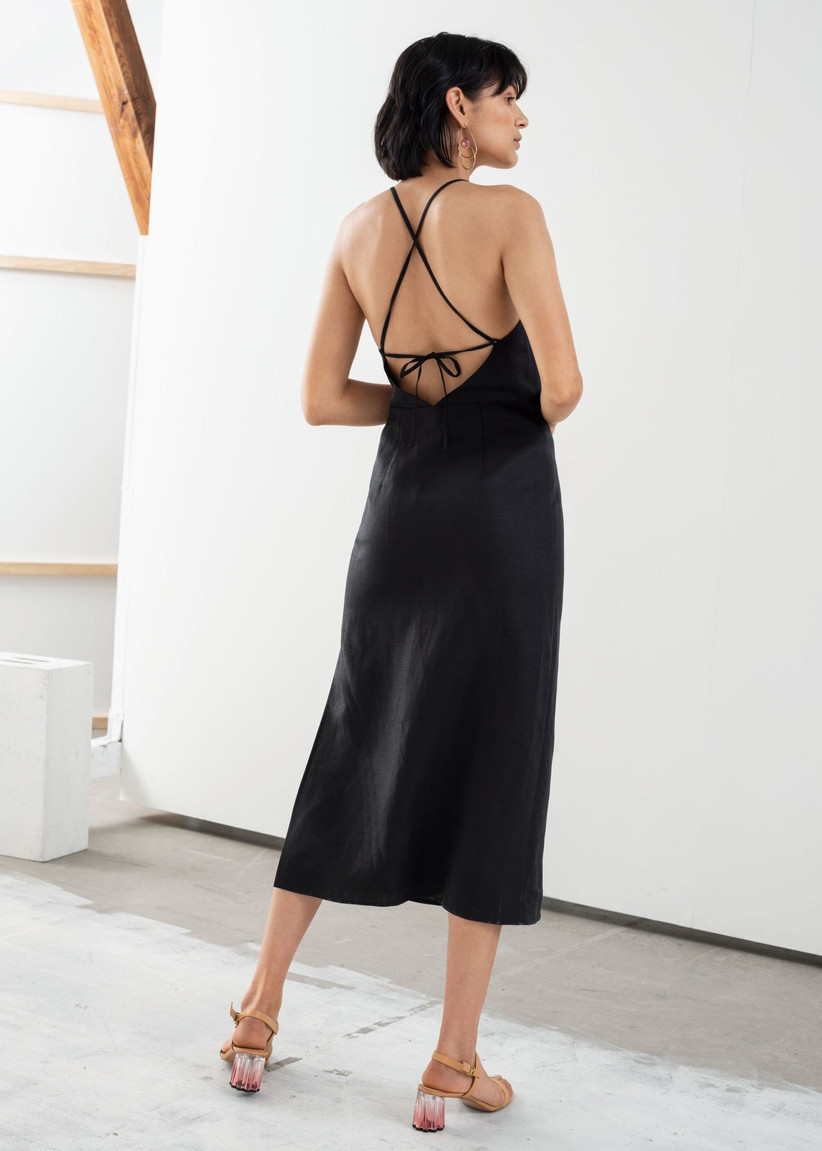 If you're going for black bridesmaid dresses, this & Other Stories dress is an excellent option: smart enough for a special occasion, but cool enough that your 'maids will want to wait over and over again. The linen fabric means it's even great for summer ceremonies and beach weddings as well.
H&M Calf-Length Lace Dress – £59.99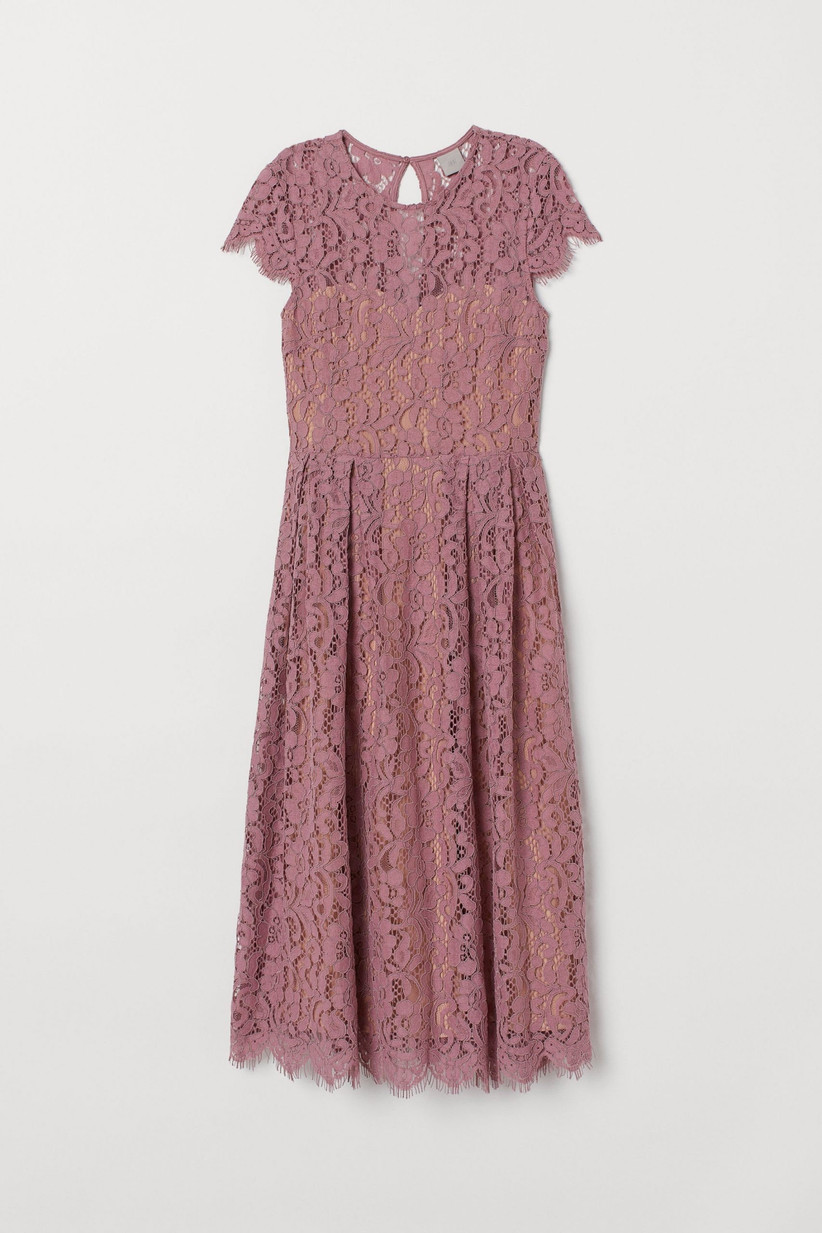 Throwing a ceremony with vintage inspiration in mind? Your bridesmaids will look beautiful in this lace dress from H&M, which comes in both turquoise and this pretty-as-it-sounds old rose colourway. Add a bold lip and sleek low bun for ultimate old Hollywood glamour.
Warehouse Angel Sleeve Bridesmaid Dress – £79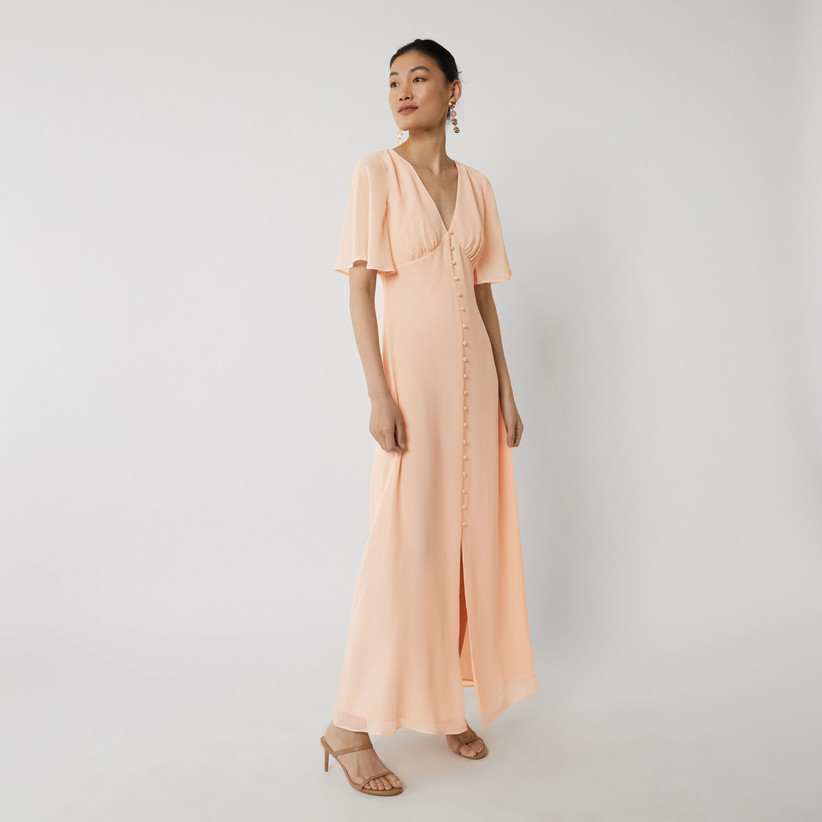 Warehouse is your ultimate mid-price destination for bridesmaid dresses this year – it just released dozens of to-die-for gowns for under £100, all in the same shades of blush pink, navy, mink and grey, meaning they're a dream if you're planning to mix and match. Our advice is to let your gang pick their favourite style, safe in the knowledge that they'll all go together. But although we know you shouldn't have favourites, this angel sleeve one is ours.
Lavish Alice Satin Midi Dress in Light Cantaloupe – £70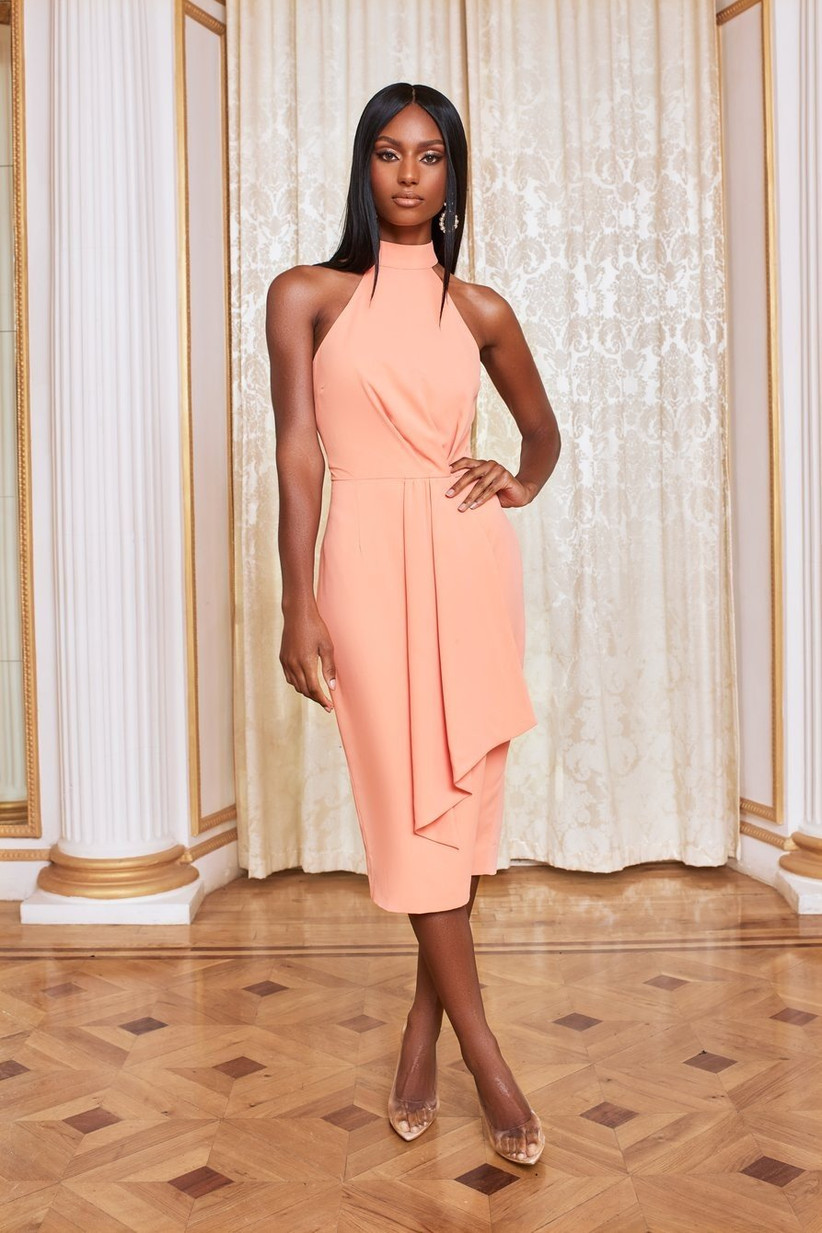 If you prefer a more bodycon bridesmaid dress, look to Lavish Alice, which boasts countless purse-friendly, fitted designs. We're obsessed with the high neck and exquisitely-draped ruffle on this peachy-keen satin midi – add heels as high as you dare and pastel flowers to make it pop.
H&M+ Pleated Satin Dress – £69.99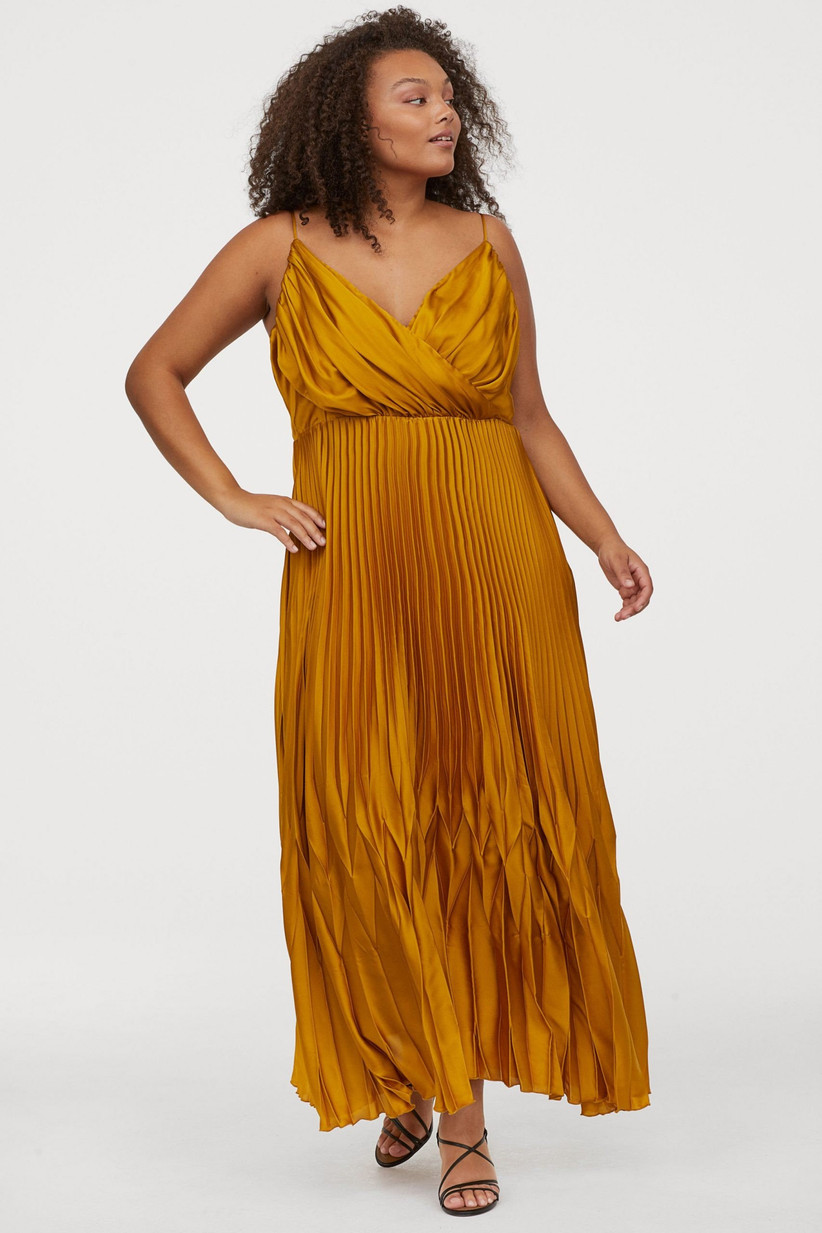 As you might have gathered from the rest of this article, satin is big news for both wedding guests and bridesmaids for 2020. This dark yellow plus-size bridesmaid dress (up to 4X) does it justice by making your squad look like a literal human embodiment of the fire emoji – slinky, sexy and totally stunning.
High Street Bridesmaid Dresses Under £100
That little extra push in your budget to £100 opens up lots of high street bridesmaid dress potential. Monsoon, French Connection and Phase Eight are excellent places to start your search. If you want lots of options in one place, consider going to a personal shopper service at a department store like John Lewis, where concession stands for Coast and others can often be found.
Warehouse Cold Shoulder Bridesmaid Dress – £85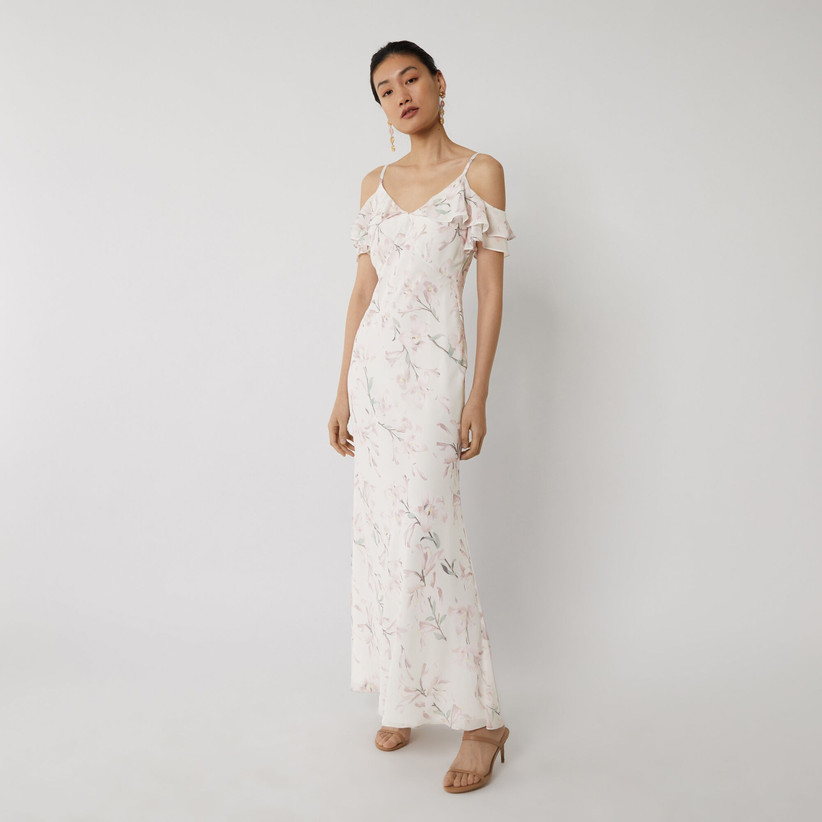 Remember that Warehouse collection we just mentioned? Well, in addition to the block colours, there's also a delicate floral print line that ties the others together in the most gorgeous way. They cost a little more, but in our books, it's worth every penny. Pick one out for your maid of honour and she'll feel a million dollars.
Oasis Multiway Bridesmaid Dress – £95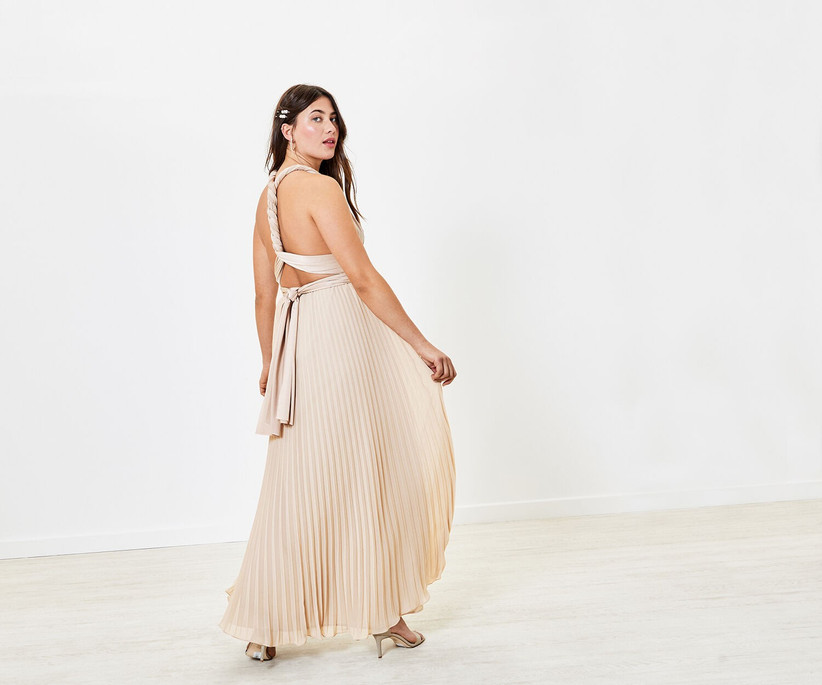 If you want a one-size-fits-all solution for under £100, Oasis's multiway bridesmaid dress is the genius solution you've been searching for. There are five colours, including this distinctive gold, two lengths (regular and long), and countless different ways to twist, tie and wrap it, so everyone can shape it to fit them in the way they like best. Done and done.
ASOS Design Maxi Dress With Linear Embellished Bodice And Wrap Skirt – £95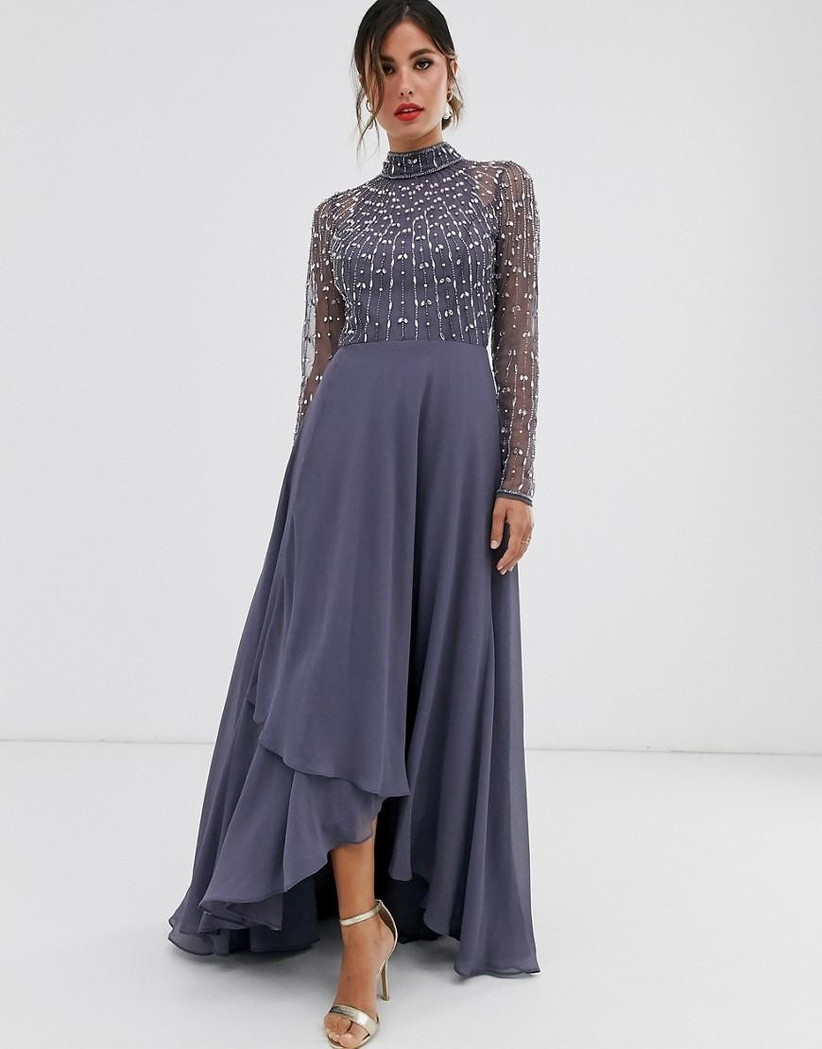 Jaws are guaranteed to hit the floor as soon as this glitzy ASOS dress walks through the door. The long sleeves and extra glitz would be particularly suited to a winter wedding, with silver shoes and jewellery to really bring out the sparkle.
Little Mistress Bridesmaid Layla Nile Blue Embellished Lace Sleeve Maxi Dress – £82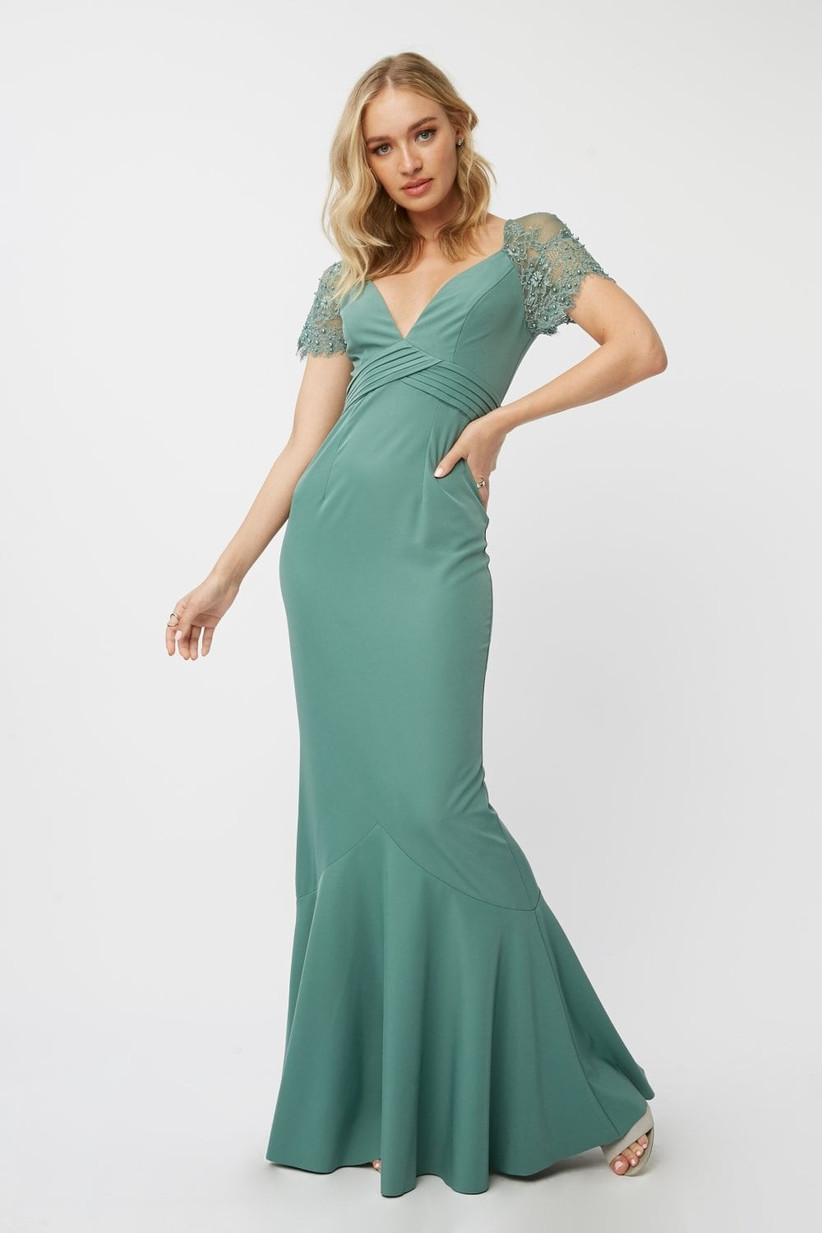 Just sneaking above the £80 price point, this budget-friendly Little Mistress bridesmaid dress is fit for a seriously grand big day. The little details, such as the beaded sleeves and fishtail finish, make it a big hit – not forgetting the keyhole back, which makes it just as charming from behind as it is from the front.
Chi Chi London Julianna Dress – £80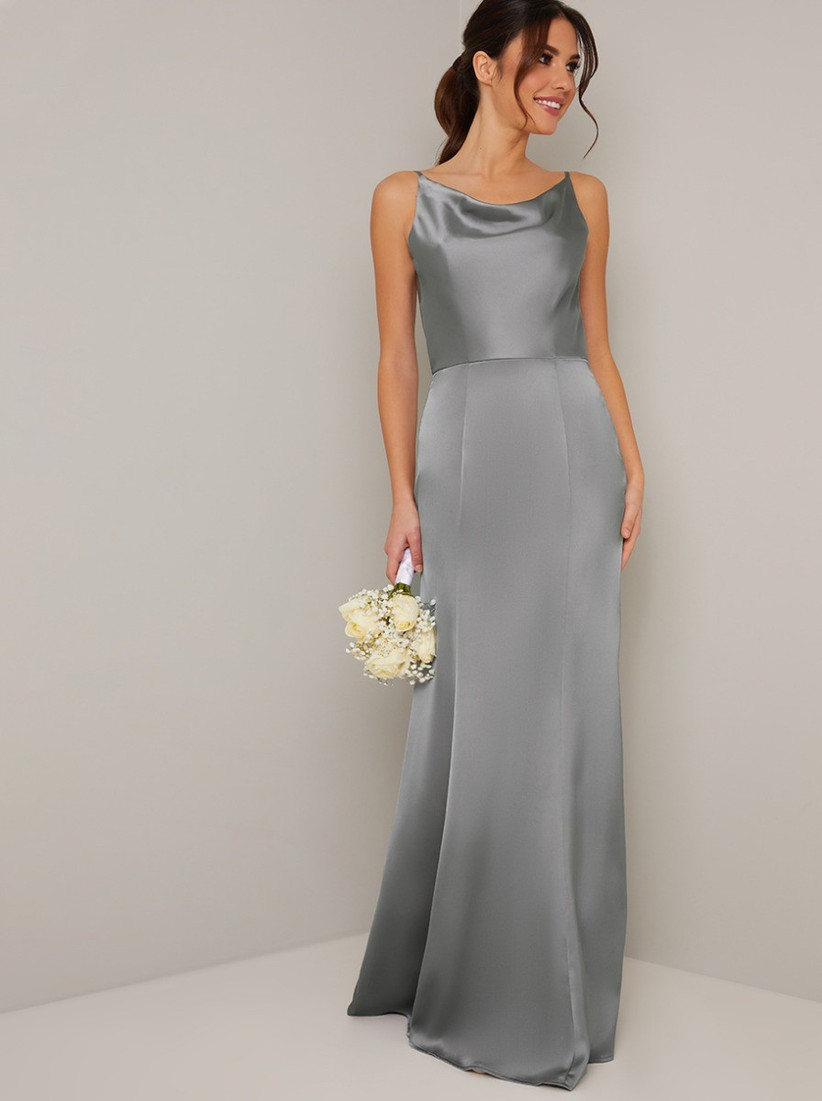 You can't go wrong with a satin slip – especially in Chi Chi's standout grey-green. A simple white posy and pared-back hair and makeup are all your bridesmaids will need to see out the day in style. When a dress is this opulent, it can stand on its own two feet.
Maya Bridesmaid Bardot Maxi Tulle Dress with Tonal Delicate Sequins – £90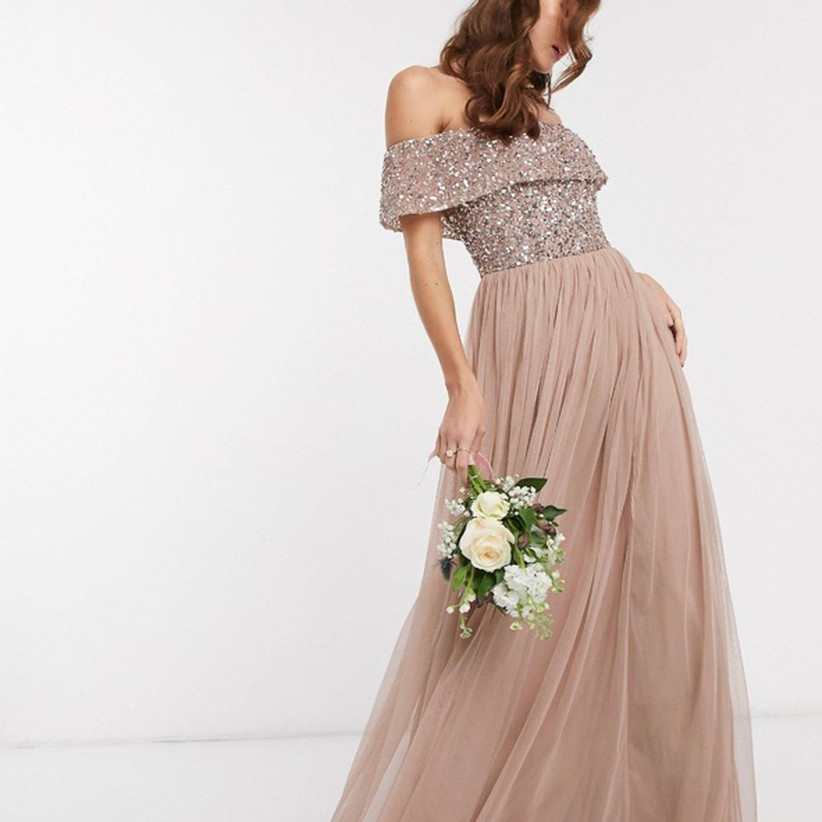 Okay, so we know your wedding is the day that you're meant to get to wear your princess dress, but you might want to consider getting a few for your bridesmaids too. Maya's bardot bridesmaid dress is super inclusive; it comes in taupe blush, soft grey and green lily, various heights and plus-size and maternity incarnations. With its sequin top half and to-the-floor tulle skirt, it's straight out of a fairytale.
Arket Lustrous Gathered Dress – £89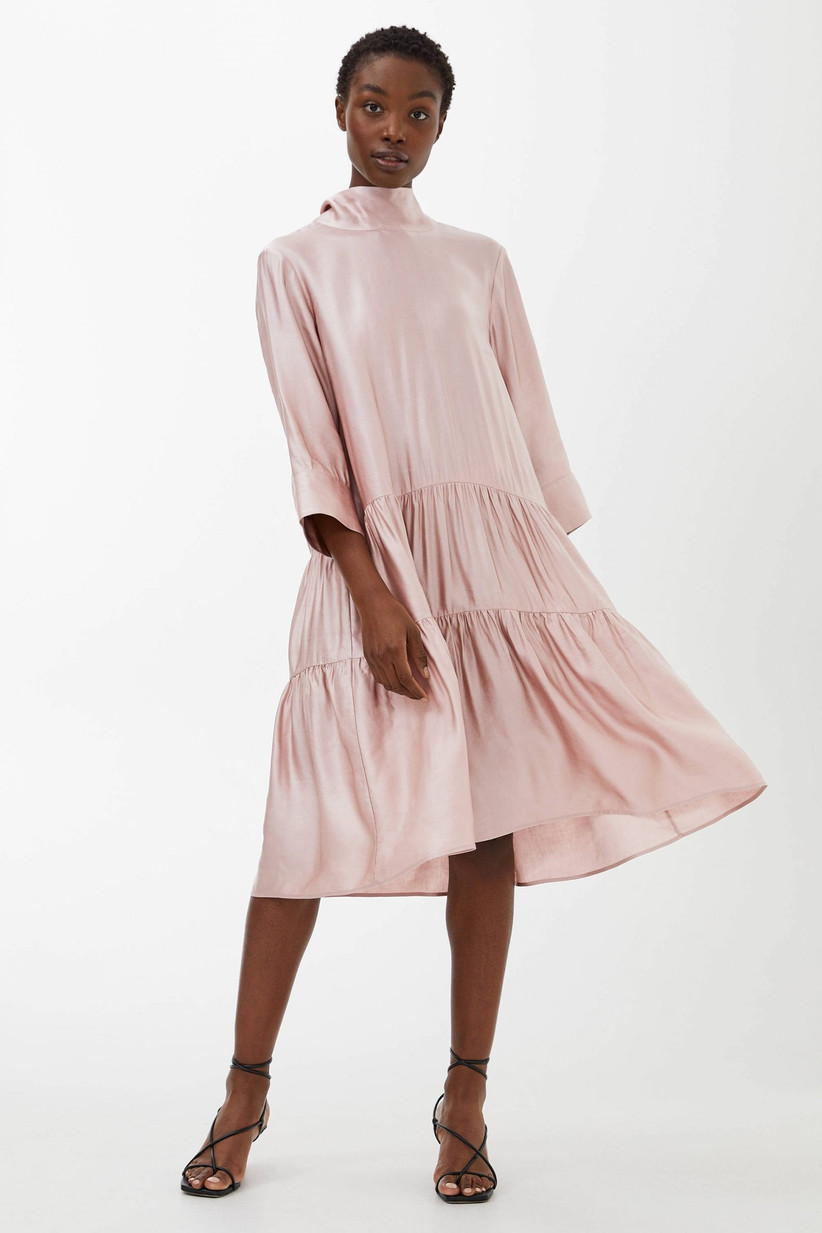 You don't always have to go traditional with bridesmaids dresses – for something more contemporary, try Scandi brand Arket. The dusty pink lustrous gathered dress, with its dropped waist and high collar, feels very current, but has the right colour and fabric to still feel like a special occasion piece. Plus, more room for scoffing wedding cake.
Oasis Bardot Bridesmaid Dress – £90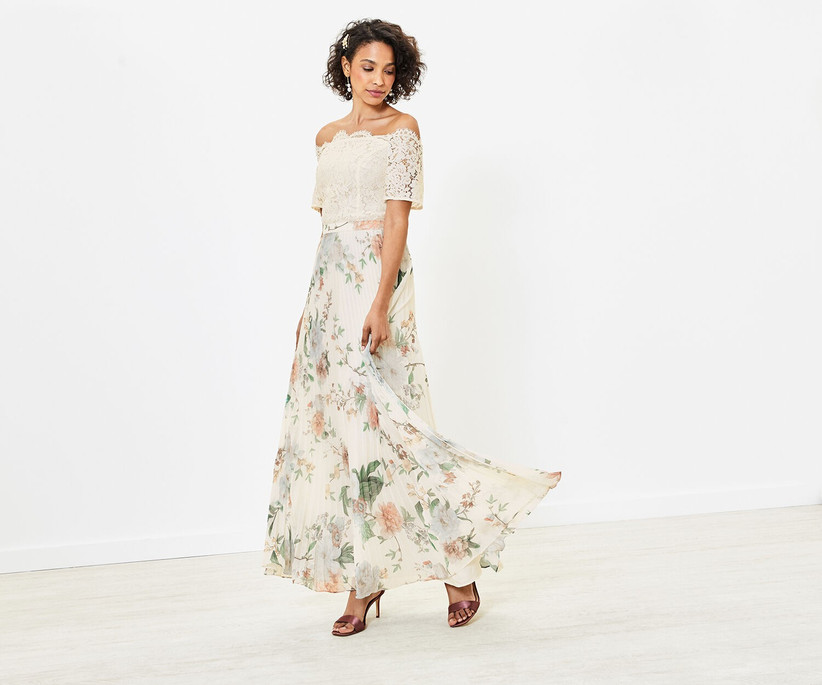 Oasis is no one-hit wonder – their entire bridal collection is a winner, but we couldn't finish this round-up without giving a mention to at least a little lace. The unusual contrasting top and skirt looks like a two-piece, but with all of the comfort of one, with regular and long lengths both available.
High Street Bridesmaid Dresses Under £150
Similar brands can be found in this price bracket, but you can also look to Uterque, Whistles and concession brands in designer department stores like Selfridges. House of CB are a celebrity favourite that specialise in sexy showstoppers if that's what you're after!
Monsoon Savannah Twist Neck Satin Midi Dress – £120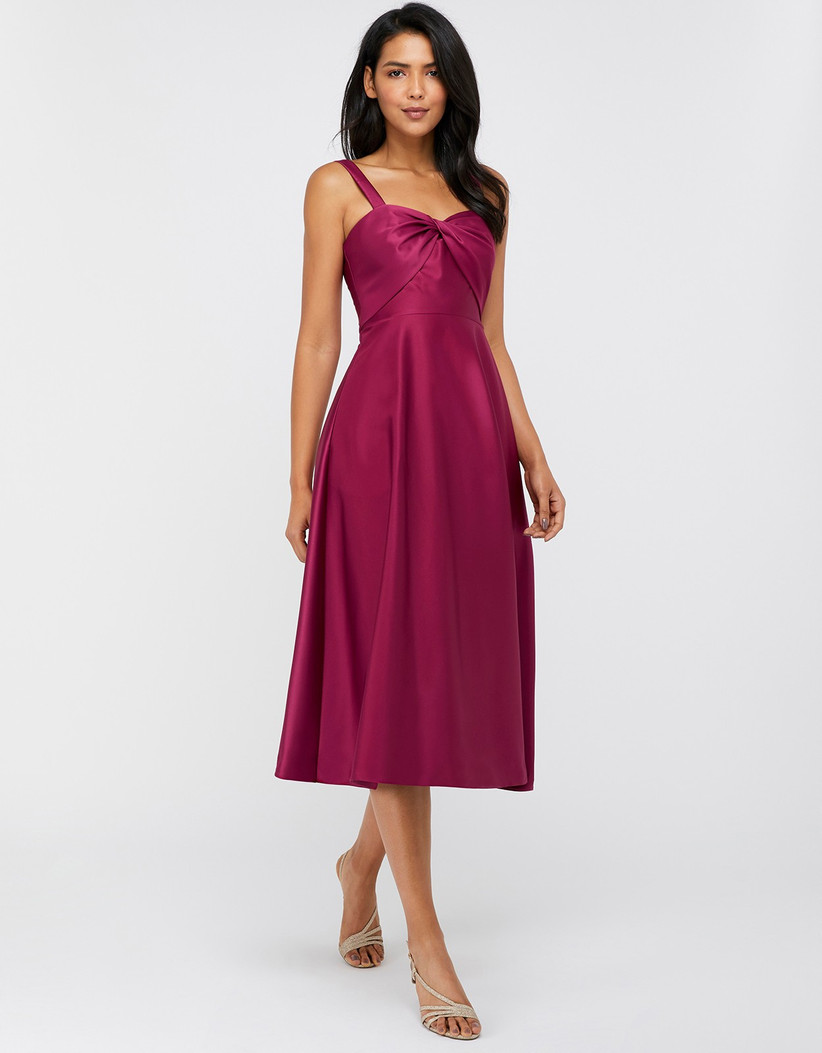 Occasionwear specialists Monsoon know what they're doing when it comes to creating a great bridesmaid dress – just look at the Savannah. The sweetheart neckline, thick-enough straps to conceal any bra and just-below-the-knee hem make it the epitome of what any fancy frock should be. Plus, that magenta colour is exquisite.
Anthropologie Zoza Floral Jacquard Dress – £148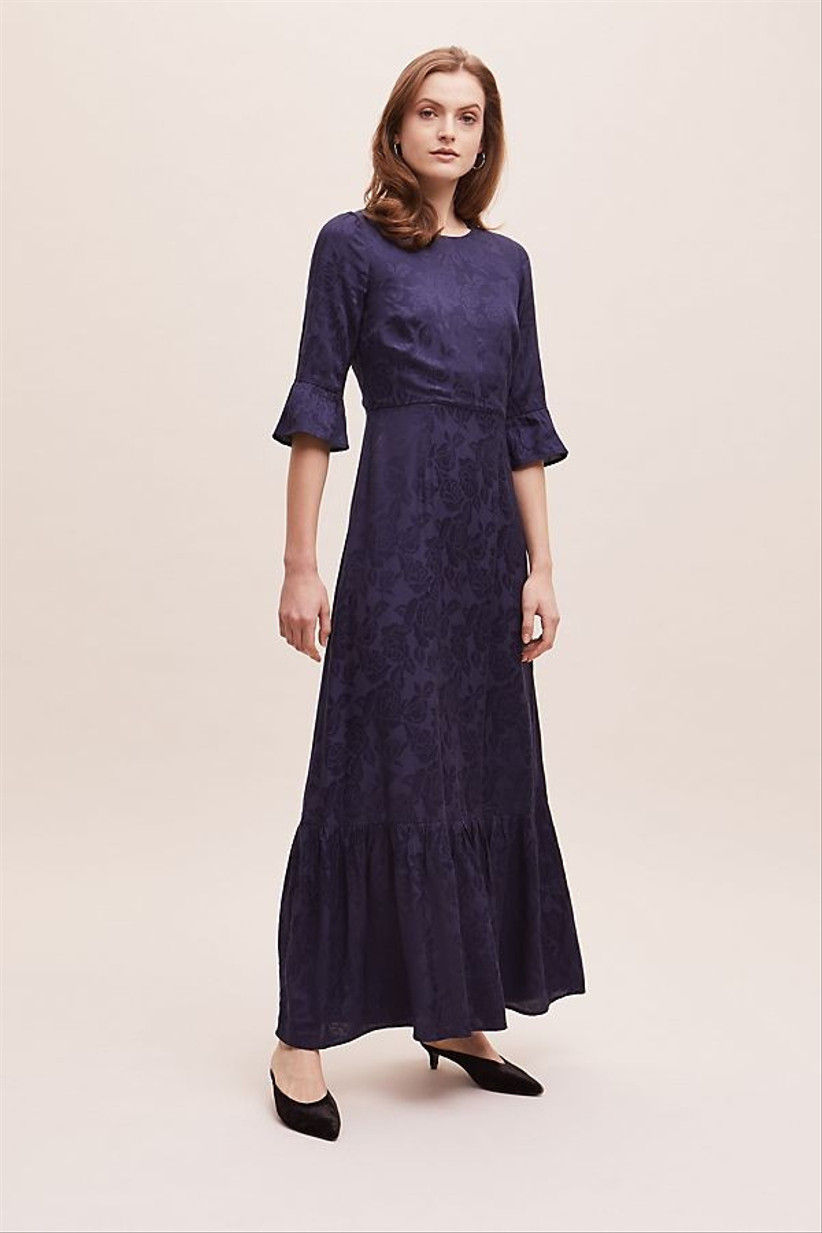 Boho brides – and their bridesmaids – will probably already know and love Anthropologie's relaxed tunics and babydolls. But the brand also does the occasional more formal dress too, like the timeless jacquard Zoza. This should be top of the list for anyone that covets The Vampire's Wife's signature silhouettes but can't quite stretch to their four-figure price tag, emulating the feminine ruffled cuffs and skirt for just shy of £150.
Coast All Over Sequin Cross Over Back Maxi Dress – £119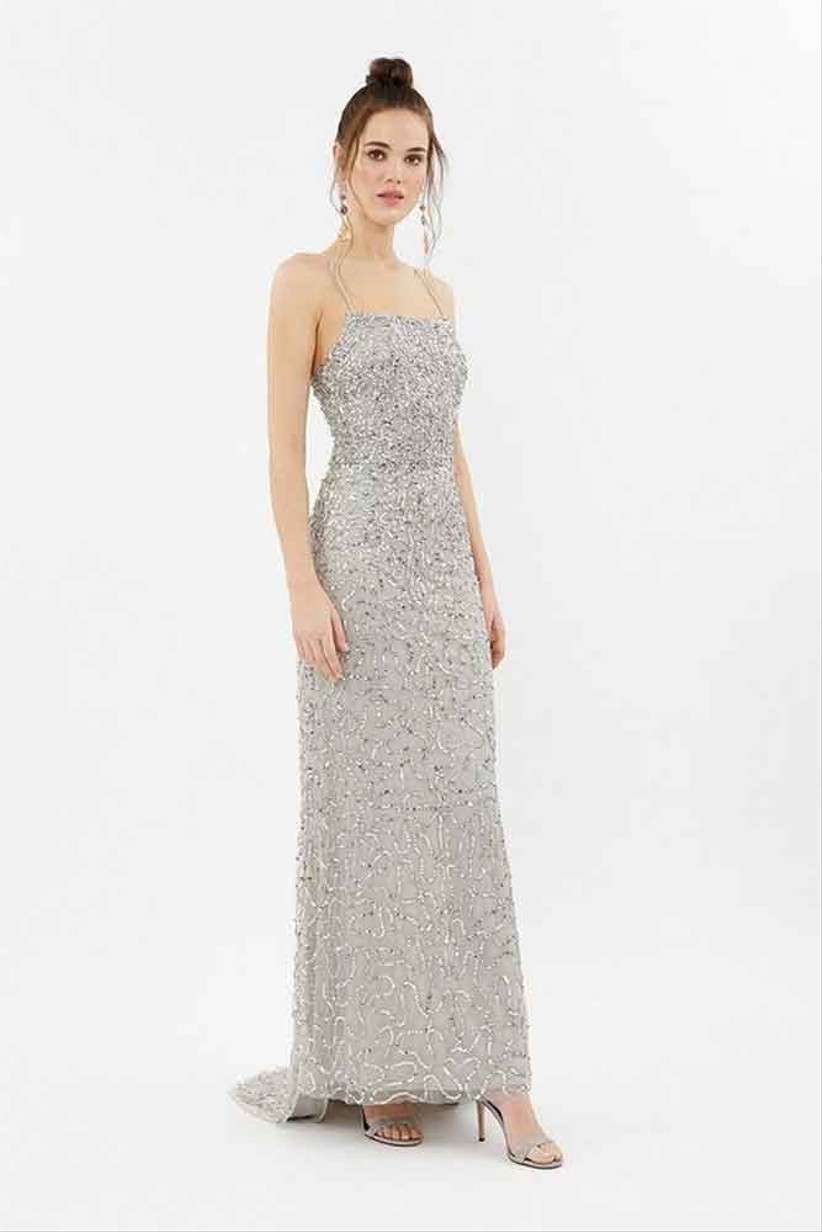 A word of warning: only pick this Coast bridesmaid dress if you don't mind sharing the spotlight with your nearest and dearest, because all eyes will definitely be on them! From the spaghetti strips down, it's positively dripping in beads and sequins, right down to the hem of its maxi length. Silver doesn't work with your scheme? There's also black, blush and sage green colourways up for grabs.
Ghost Meryl Dress – £145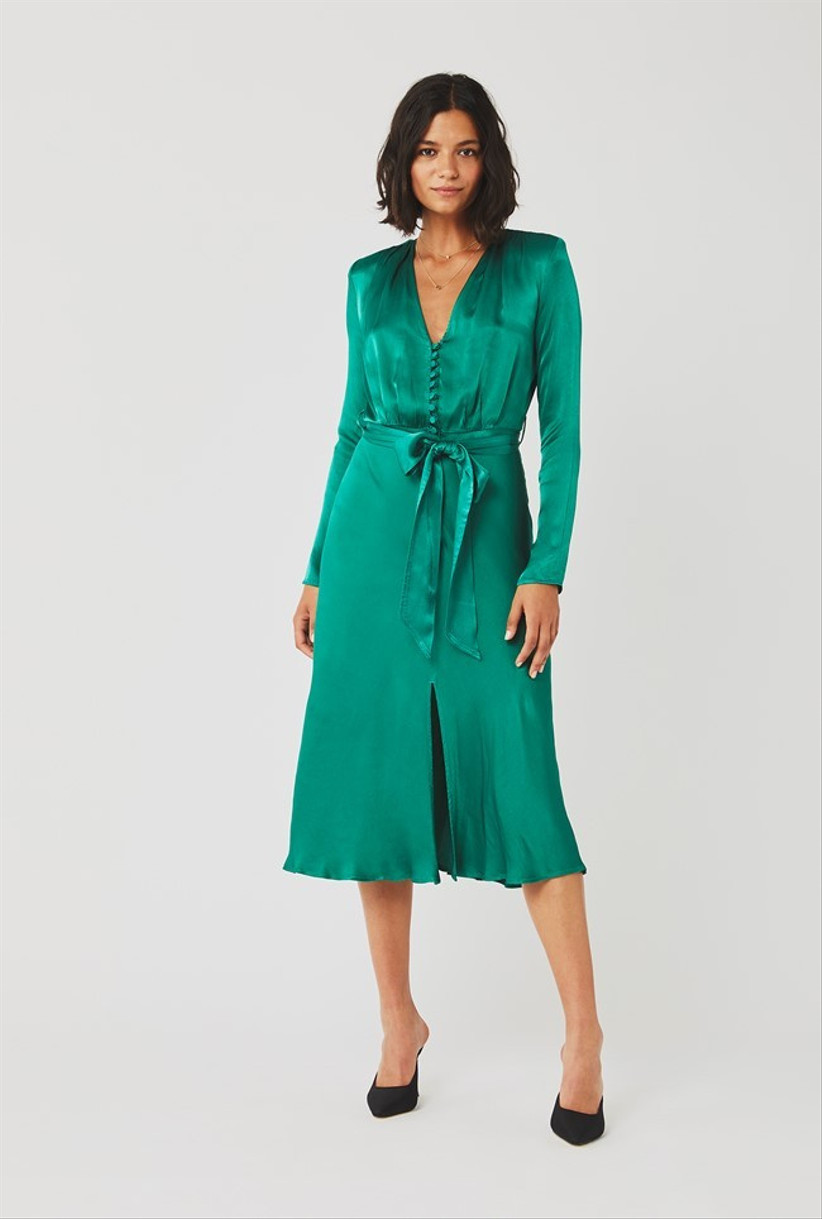 The dresses Ghost actually labels as 'bridesmaid' typically retail for upwards of £200, but don't discount its slightly cheaper main collection. We're big fans of the long-sleeved Meryl and Annabelle designs, which come in complementary shimmery greens – teamed with block heels, they're both pretty and practical if you're tying the knot in the city.
SilkFred Gabby Ruched Berry Fishtail Maxi Dress – £129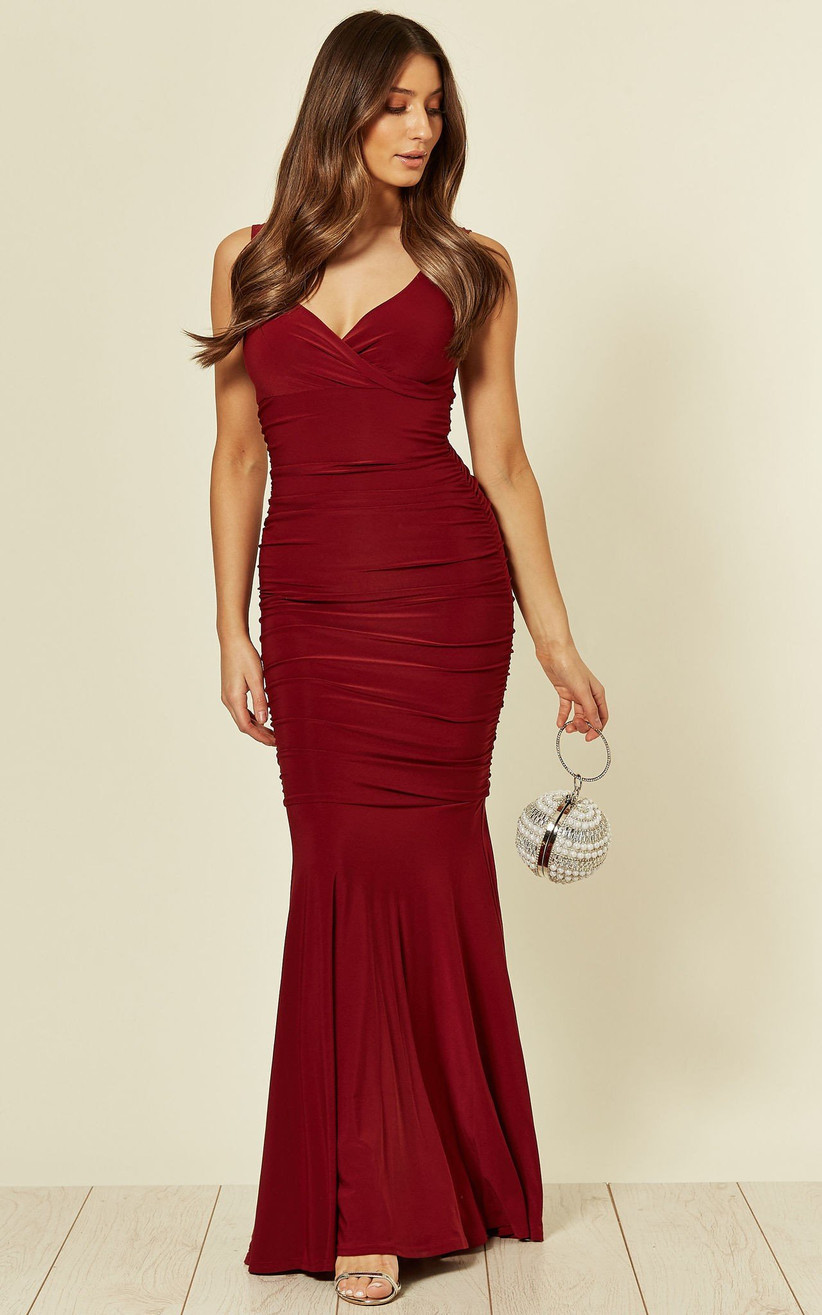 Can you imagine anything more Marilyn than this curve-skimming scarlet gown from SilkFred brand Honor Gold? It's one of their bestsellers, and with good reason. The weighty fabric and tailored shape are of the highest quality, meaning your bridesmaids will look truly sensational as they make their entrance.
Frock & Frill Daevy Duck Egg Dipped Hem Embellished Midi Dress – £135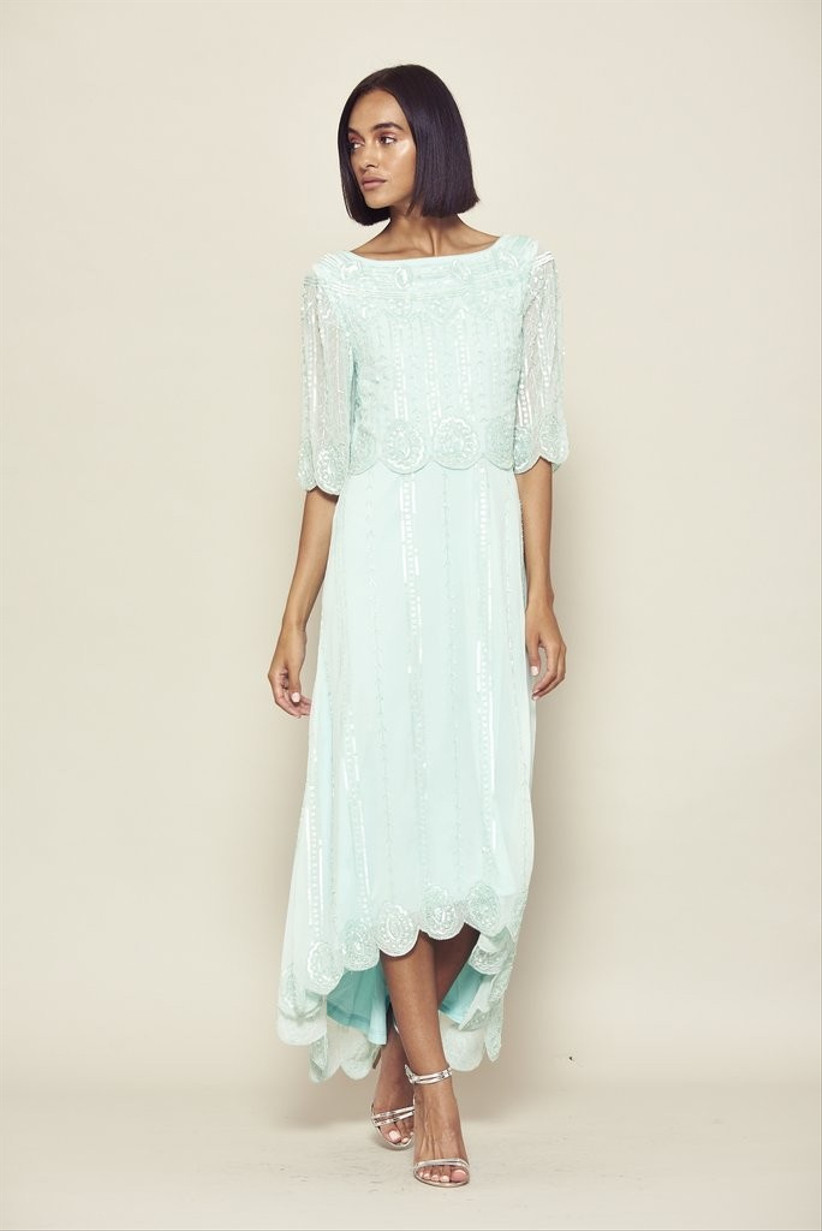 This glitzy midaxi is a vintage-inspired jewel of a dress; in person, the duck-egg blue is amazingly dainty and delightful. The Daevy is definitely the one for you and your bridesmaids if you're going a little Gatsby with your decorations at the reception. 2020 is the start of the new roaring '20s, after all.
Looking for plus-size bridesmaid dresses? Don't miss our round-up of the best bridesmaid dresses for curves.