Eloping: What is Eloping and How Do You Elope in the UK?
Eloping is an incredibly romantic and intimate way to get married but there's some practicalities and legalities you need to know about too.
We have included third party products to help you navigate and enjoy life's biggest moments. Purchases made through links on this page may earn us a commission.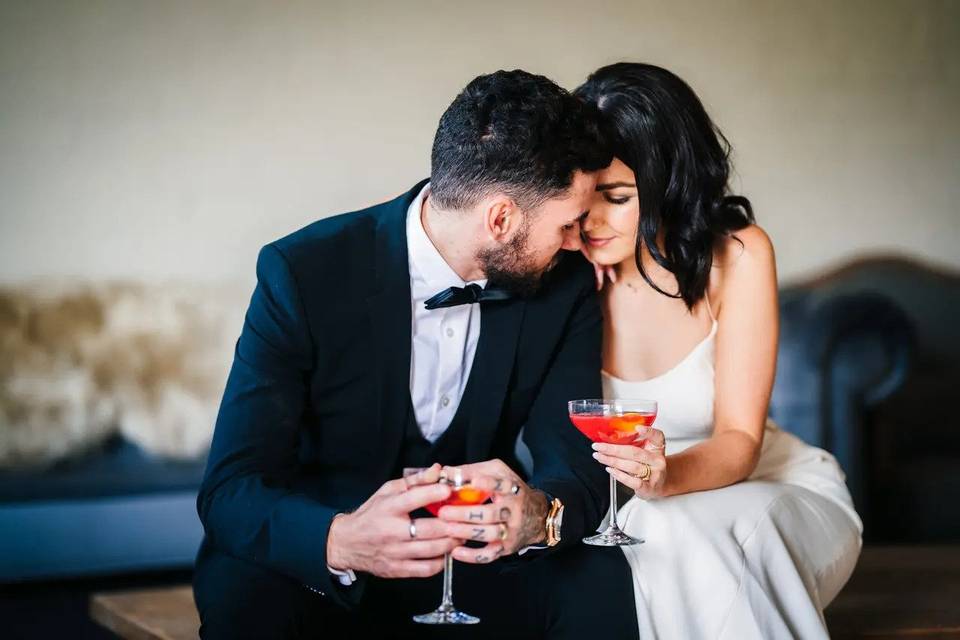 It's becoming more and more popular for couples to elope instead of having a big wedding day. In Gretna Green alone, more than 3,000 couples elope every year, and 2021 was the year of elopements and micro-weddings, thanks to the COVID restriction rules. As more couples love breaking traditions and wedding costs are on the rise, the trend of throwing small, quick weddings sees no sign of slowing down. But eloping is nothing new. People have been doing it since forever. Even celebrities do it. Remember when Ryan Reynolds and Scarlett Johansson were still a thing? Yep, they eloped.
Kourtney Kardashian and Travis Barker hit headlines when they eloped to Las Vegas and had an intimate ceremony just the two of them. There's plenty of reasons – from saving money to avoiding family politics – why you might choose to have a personal ceremony with just the two of you (plus witnesses).
But what does it really mean to elope? Where are the best places to elope? What do you wear to elope? What will your families say? Are there any planning services to help you elope?
We've got your complete guide to elopement so you can make the best choice for you, and we've answered all your eloping questions - complete with expert advice - below!
What Does It Mean to Elope?
Forget the outdated idea of young couples sneaking off to Gretna Green or drunkenly doing a Ross and Rachel in Las Vegas. While the technical meaning of eloping is to "run away secretly in order to get married", there's lots more nuance today to the definition.
The new understanding of elopement is more accurately a couple travelling somewhere to legally get married, without telling or inviting any/many of their friends and family. It's quicker, more informal and definitely romantic, but unfortunately you need to be prepared that it isn't quite as easy as it looks in the films.
Don't worry if that sounds a little overwhelming or confusing. You'll probably already have a feeling whether a big wedding bash is right for you and this guide can help solidify your gut instinct.
What is Eloping?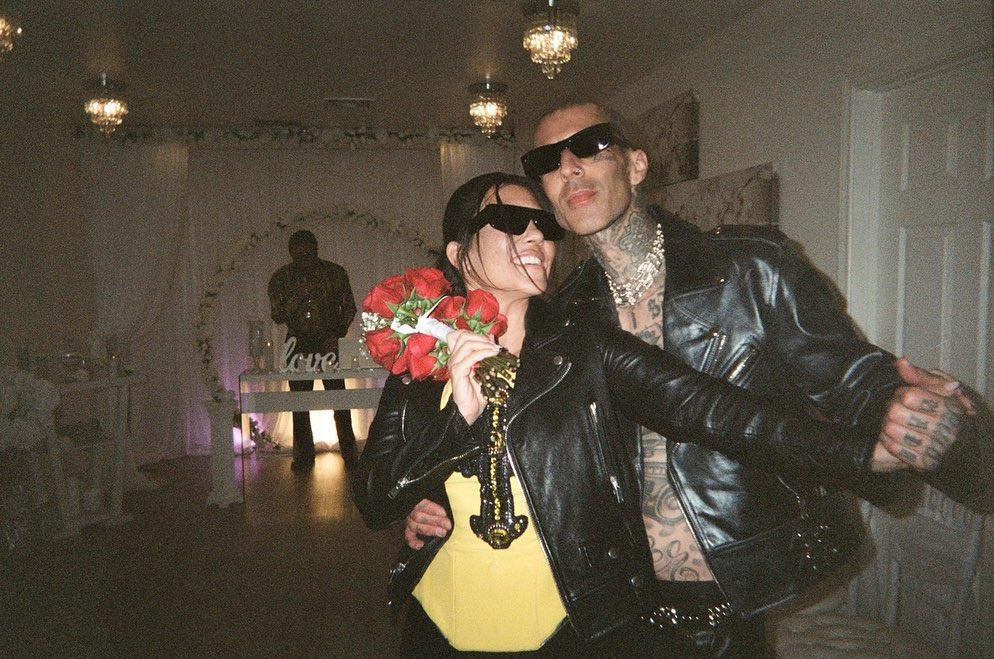 Eloping traditionally meant running away in secret to get married. But, nowadays, elopement doesn't have to be a secret. It simply means that the couple travels somewhere to tie the knot without having to tell a soul about it.
That said, you can elope locally or abroad – it's totally up to you. You can invite no one or bring a handful of family members and friends to witness your private ceremony, like Ryan and Scarlett did. They hid their whole courtship from the press and only confirmed their marriage after privately exchanging vows at a remote wilderness retreat outside of Vancouver, B.C. like it was no one else's business. Kourtney and Travis shared pictures of their elopement on Instagram and later revealed it wasn't a legal ceremony - they're still planning their big party and you could do exactly the same (maybe with a slightly smaller budget).
Celebrities likely elope because they wanted their privacy and love the thrill of it. But the average couple opts for elopement for various reasons. A big one is to save money and the associated stress. The average wedding cost in the UK in 2021 was £17,300, a big chunk of which was spent on venue hire and wedding catering.
Having virtually no guests means no need to pay for expensive sit down meals and catering staff. Meanwhile, to elope, you only need to spend hundreds on a few absolutely essential items such as your venue hire for the ceremony and registrar or celebrant. Some people like to splurge on the wedding photographer as it's always worth having your memories captured to the highest quality, but it would still be a fraction of the cost of a full-on wedding.
Why Do Couples Elope?
It's a big decision to ditch tradition and elope, but there are lots of really positive reasons couples are doing so. Read through these and see how they sit with you - for some people, they'll immediately know an elopement sounds right for them, but it's fine if you realise it isn't what your want.
1. You Want to Save Money
The average UK wedding now costs £17,300. If you're saving for a house deposit, raising a family, or don't earn a lot, saving yourself tens of thousands of pounds can be very appealing.
An elopement in the UK is likely to cost hundreds not thousands – in Gretna Green, an elopement package including a photographer starts from £490!
2. You Want to Avoid Family Politics
This doesn't mean you don't get on with your family. It could be that you and your partner can't decide on whose family to marry near, one set of parents might live abroad and not be able to make the trip, or inviting certain members of the family might cause drama with others.
3. A Traditional Wedding Doesn't Make Sense to You
Some aspects of the traditional wedding ceremony, such as being given away, the white dress or even being the centre of attention for an entire day, just don't work for some couples.
4. You're Not the Planning Types
No denying it, wedding planning is stressful. Not many of us have the experience planning a party for 100+ guests nor do we want that responsibility. You can hire an elopement service to take away all the fuss of organising a wedding, but it's also pretty simple to do yourself. It'll also save you a heck of a lot of time, and you can be married within the month rather than the average 13 month planning process.
5. You're Marrying Later in Life or Having a Second Wedding
Maybe you've already had the big wedding once. Maybe you both have children and you'd just like it to be you and your kids. Maybe you just want a smaller, simpler affair.
6. You Can Make the Day More of an Event
You don't necessarily have to save all the money from not having a huge party; you can spend it on you! Combine your elopement with your honeymoon and splurge on fancy hotels, expensive meals, bucket-list experiences and a whole new honeymoon wardrobe. An elopement can still be extraordinary.
7. You Get to Share a Special Secret
Until the time you decide to tell family and friends, there's a really special time that no one knows you're married except you. That secret can be precious and sacred for some couples.
8. You Still Want a Legal Marriage
An elopement is just as meaningful, legal and valid as a big white wedding in a church or licensed venue. Eloping is an excellent alternative to going to your local registry office too. It is as unique, individual and memorable as you make it.
Do You Get Engaged Before You Elope?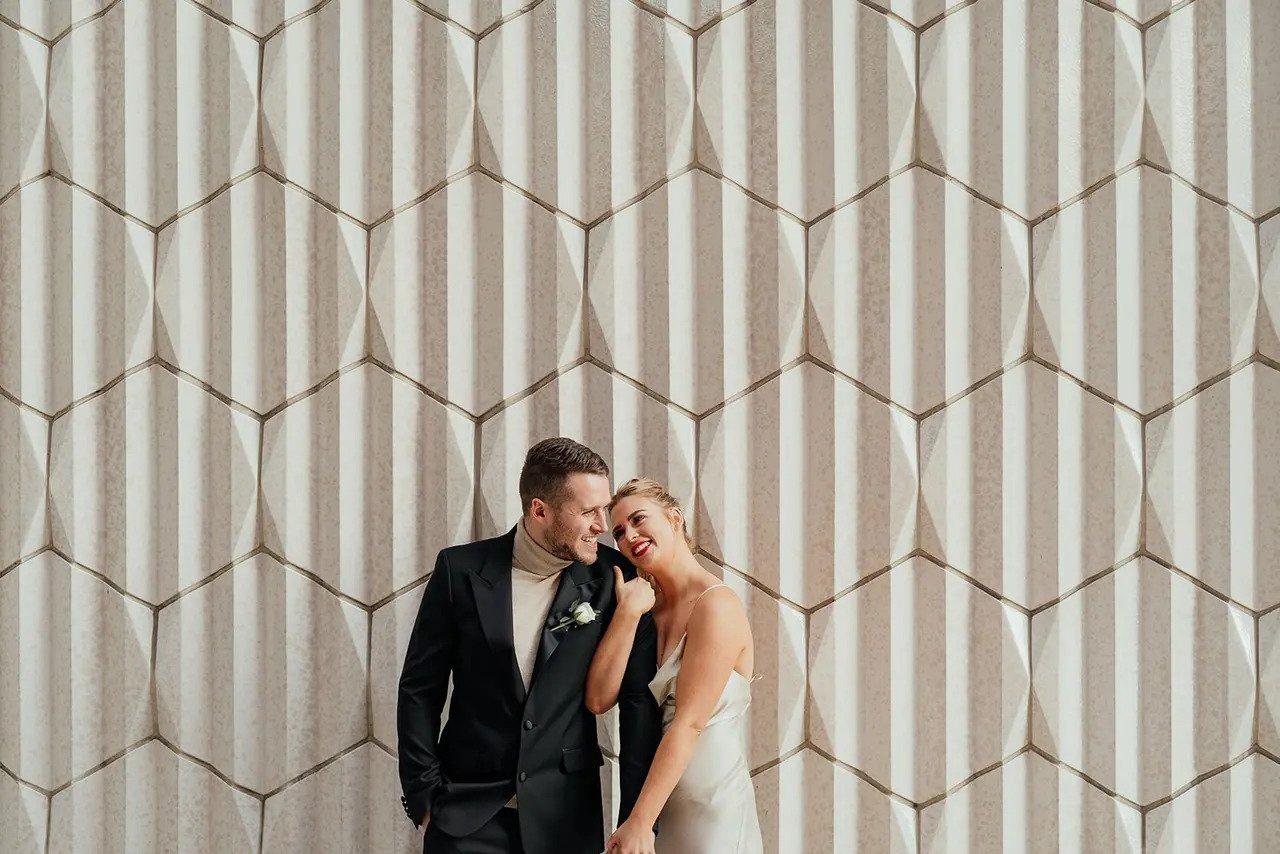 One question that often comes up is whether you have an engagement in the same way as you would with a traditional wedding if you elope.
The answer is yes, you can, but you don't have to; an elopement, at its heart, is about getting rid of all the wedding expectations and traditions and choosing to marry in a way that feels right to you as a couple.
Some couples will want to elope entirely in secret and won't get engaged beforehand - they'll just decide to jump straight to the wedding part. Other couples will have a public engagement that all their friends and family know about but want to have an intimate elopement instead of a large, formal wedding. There's lots of couples who only realise they want to elope during their engagement and planning process. There aren't any set rules you need to follow.
How Do You Elope?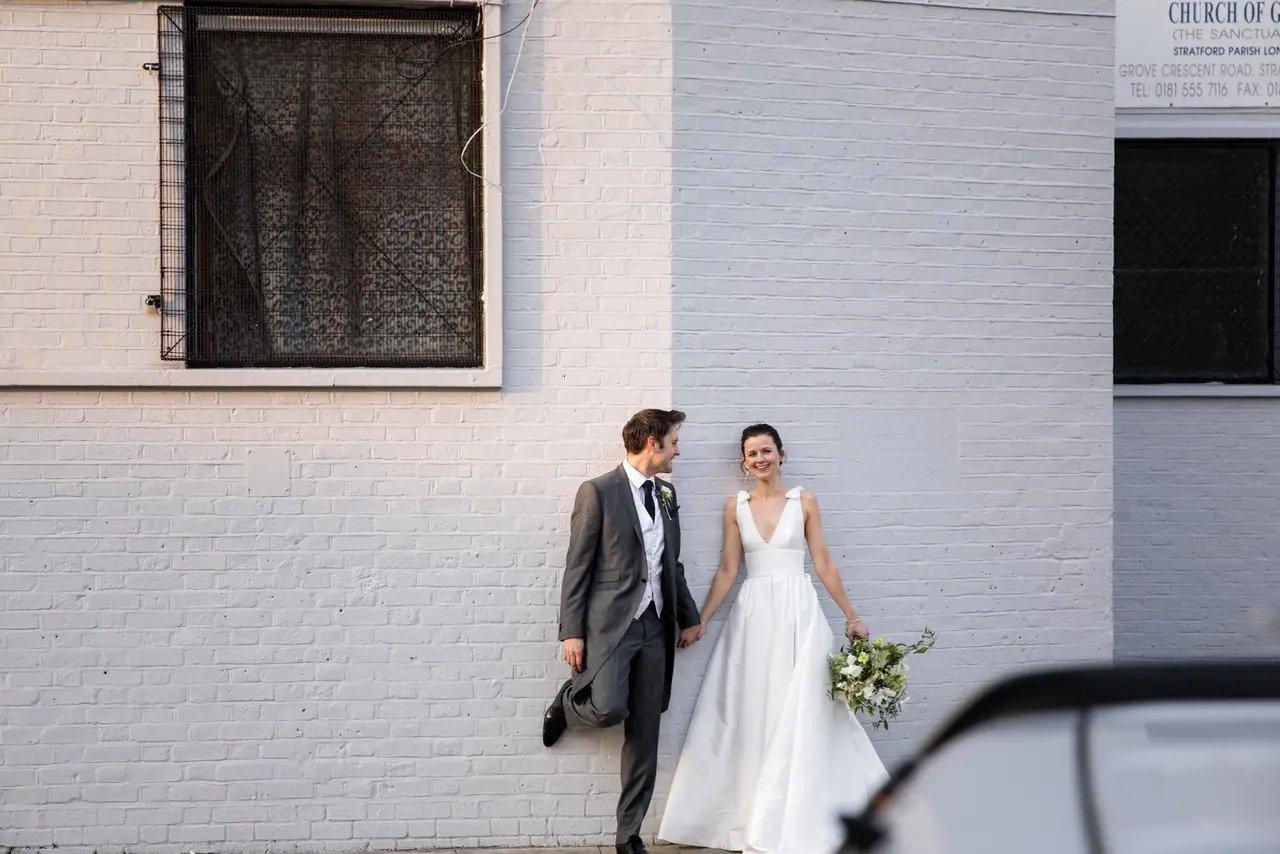 How to Elope in the UK
1. Check the Legal Requirements
We hate to break it to you but you can't elope quite as spontaneously as you might think. Regardless of which part of the UK you are marrying, you must 'give notice' to marry at your local registry office at least 29 days before, which includes details of your final venue. This means you'll need to know where you intend to marry already - find you venue and officiant in advance (this could be a registry office, licensed wedding venue, celebrant on the beach etc) and get them booked in.
For those who want a church elopement, in the Church of England, the equivalent of giving notice is having the 'banns of marriage' read on three Sundays at any point during the three months before your marriage. Once you've given notice you most hold your ceremony within 12 months, but you cannot marry with less than 29 days' notice.
You can give notice outside the UK to marry in the UK if the country is part of the British Subjects Facilities Act (find a full list of countries here) and your partner is a UK citizen.
In the past, eloping was associated with young couples running away to marry without their parents' permission. That isn't the case now, but legal age limits do stand if you happen to be under the age of 18. You must be over 16 to marry in England and Wales, and will need parental permission if you're under 18. Different rules apply in Scotland (e.g. where parental permission isn't needed under 18) and Northern Ireland, so make sure you read the laws carefully.
Non-religious elopements officiated by a humanist celebrant are only legally recognised in Scotland and Northern Ireland. In Wales and England, you will still need to marry at a registry office, which can be done before or after the wedding and won't take more than ten minutes.
Now that your registry and venue are sorted, you will need to find two witnesses (who can be complete strangers because there are no rules when it comes to elopement, remember?). But winging it can cause unnecessary stress. That's why you should plan who will be your witnesses and have them ready at your elopement.
How you want to celebrate your elopement is your choice. Diana Patient, an experienced fine art and wedding photographer, commented, "I have photographed elopements where there was a full hair and makeup team on site, and we even had an editorial style shoot surrounding the ceremony. I have also photographed elopements candidly in rock-and-roll, in-and-out-of-the-registry-office-in-ten-minutes style."
Remember that it's your chance to design your special day completely to your liking without anyone's influence–literally no one is there to influence you. Make it count.
2. Plan the Ceremony
You need to know where you're marrying to get your marriage license so hopefully the destination part of your elopement is settled. Remember that you don't have to go to a different part of the country to elope, you can do it in your local registry office if you want.
What you need to do next is decide what your ceremony will look like. Do you want to keep any traditions like exchanging rings? Do you want to hire a photographer to capture this special moment? Will you carry a bouquet? What will you wear? (Check out our favourite elopement outfit ideas here).
3. Choose Your Witnesses
Now that your registry and venue are sorted, you will need to find two witnesses (who can be complete strangers because there are no rules when it comes to elopement, remember?). But winging it can cause unnecessary stress. That's why you should plan who will be your witnesses and have them ready at your elopement, as you need two witnesses to be present at a marriage in the UK.
Bear in mind that it will make it less stressful if you have your witnesses planned in advance rather than trying to find two people off the street. That said, having complete strangers as your witnesses can be a wonderful experience - you can read here what happened when the Hitched editorial team went to be witnesses at a couple's wedding
4. Decide How You'll Celebrate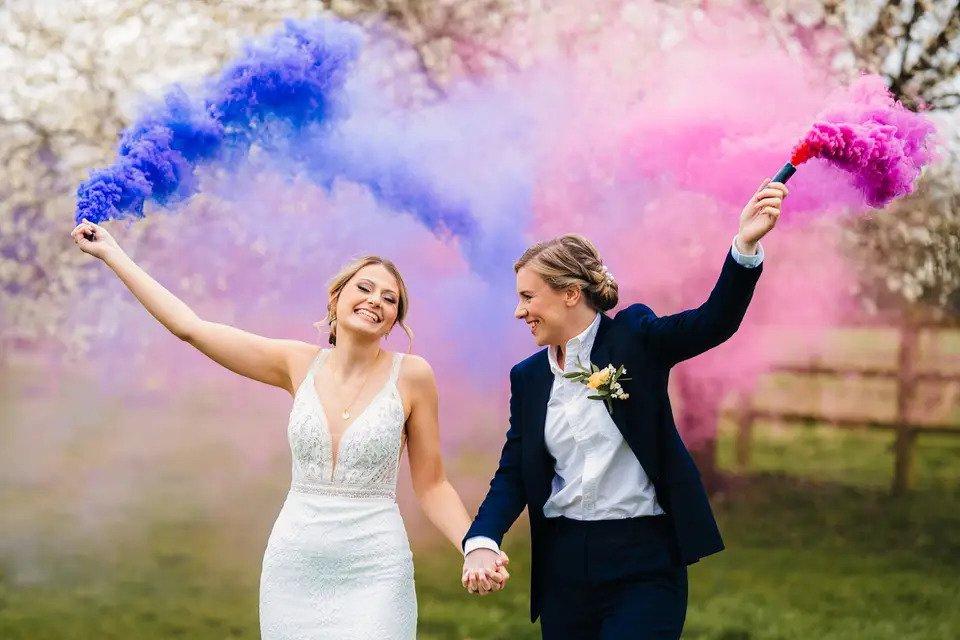 After the ceremony you'll want to continue your celebrations. This could be a fancy meal for just the two of you, a big reception with all your friends and family, or a small celebration with some of your closest loved ones. It's completely up to you and how secret you want to keep your wedding.
If it's just the two of you celebrating, you could head to a Michelin star restaurant, fly straight off on a weekend break or check into a posh hotel and spa. If you want to reveal to loved ones you just got married, how about inviting them for a special dinner under the guise of celebrating a birthday or promotion and then reveal you actually tied the knot? If you're not ready for celebrations just yet, throw a party on your one year anniversary.
5. Announce Your Elopement
Again, the way you tell people is up to you but you will need a reveal plan. Your loved ones will be upset if they find out by accident. Here's some ideas for announcing you got married:
Call your closest friends and family and tell them on the phone, then announce to everyone else on social media
Send an email with romantic photos from the day and explain why you chose to elope
Throw a party (it can be informal, like a summer BBQ in your garden) and reveal it to the group in person
READ MORE: The Top 10 Spots to Marry Abroad
Eloping Abroad: What You Need to Know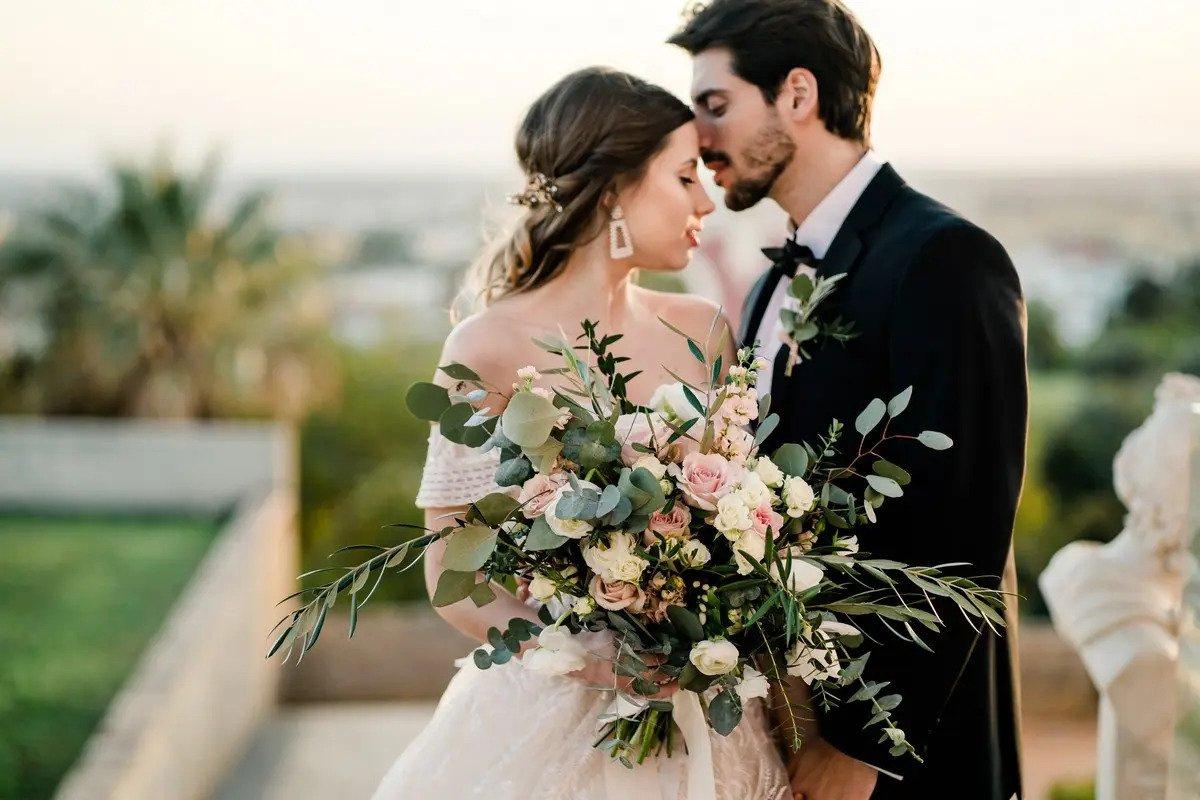 The same basic plan follows, but be aware that legal requirements can be vastly different to the UK. One of the biggest appeals about elopement is the travel to another country–it all sounds so thrilling and romantic. But, in reality, it's not so straightforward.
You need to check the legal requirements of the country where you want to elope. For example, if you're a British citizen in France, you need to live in the country for 30 days before being able to legally elope. But not all countries are the same. Some other countries such as Italy, Gibraltar and Cyprus have no residency requirements while America and the Caribbean are popular elopement destinations.
Elopements abroad will be subject to the laws of that country. You can use this gov.uk tool to find out exactly what documents you'll need, any legal and residency requirements, and if the marriage will be legal under UK law. Be aware that certain countries, like Mexico, and some US states even require blood tests.
An experienced wedding planner – preferably living in the country you wish to elope to – may make dealing with paperwork and practicalities easier.
A hot elopement spot in 2022 is the Maldives. Emilio Fortini, a general manager at Sheraton Maldives with over 35 years of experience looking after five star hotels in dream destinations across the world, shared, "The beauty of an elopement is that it can be whatever you want to be, so my only advice would be to go for it! Without the logistical stresses of traditional wedding planning, it's just a matter of saying yes."
At Sheraton Maldives, couples can say I do in paradise with just 24 hours' notice, for as little as $1,400. They don't even need to wear traditional wedding attire. Instead, they can get married underwater in swimsuits and have their portraits taken among sea creatures by their dedicated photographer – what an epic ceremony! Fortini added, "Using an elopement package like Elope & Escape at Sheraton Maldives eliminates the stress of decisions like choosing a venue, décor, music or food or worrying about who to invite - it's all about you and your partner." All you need to do is book and show up!
However, if you're worried about the legal aspect of elopement, it might be worth hiring a wedding planner. Even though it's supposed to be a small and intimate affair, making an elopement happen can still be stressful and time-consuming, especially if you want that international wow factor. Don't just turn up and prepare nothing as you'd likely face disappointment or even fail to get married on the day you want. Speaking of preparation, you might want to run through how you want to announce your marriage to friends and family so they won't get too shocked. Remember you don't have to justify your life decision to anyone
Same-Sex Elopements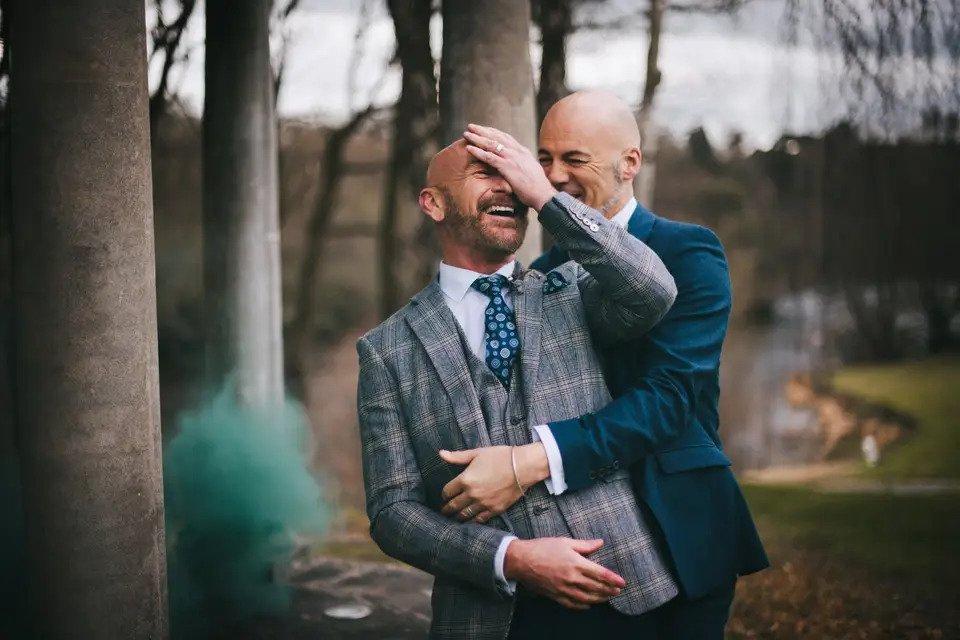 If same-sex weddings or civil partnerships are legal in the country you're eloping to, you won't have a problem.
Same-sex weddings became legal in Northern Ireland in January 2020, finally making it legal across all the UK. If you marry in NI, Scotland, Wales or England, your marriage will be valid when you return home.
Where Is the Best Place to Elope?
It's not always easy for British citizens to marry in other countries, e.g. in France, residency requirements mean you must have lived in the country for 30 day prior to your marriage for it to be considered legal, which can make it difficult. However, destinations like the USA and the Caribbean are fantastic elopement destinations.
Explore our list of the 19 best destinations to elope around the world. One of the most popular is New York where there's only a 24-hour waiting period between getting your license and saying 'I do' in the Big Apple. In Barbados, you can marry on the same day you arrive in the country, while it's less than a day to process the license in the British Virgin Islands. In Antigua, you can stop off on a cruise, compete the form, pay the fees, find a marriage officer and you're done! Think outside the box too: Iceland, Australia, South America.
If you'd prefer a European elopement, easy countries include Italy, Gibraltar and Cyprus where there are no residency requirements. There are plenty of great venues that specialise in elopement packages in the UK too that are ideal for your private wedding day, like BoHo Cornwall, Millbrook Estate in Devon, Roulotte Retreat in Melrose, Scotland, and Nantwen in Pembrokeshire, Wales.
How Much Does Eloping Cost?
If you're asking what's the difference between an elopement and a wedding, cost is going to be the biggest factor!
An elopement in Gretna Green can start from as little as £195 for the ceremony; a pop-up wedding in the UK from £3,300. A basic ceremony package in Las Vegas will start from $500 (£400) and your basic registry office wedding in New York at less than $100 (£80).
Considering a UK wedding now comes in at an average of £17,300, an elopement could save you a lot of money.
How Many Guests Can You Have at an Elopement?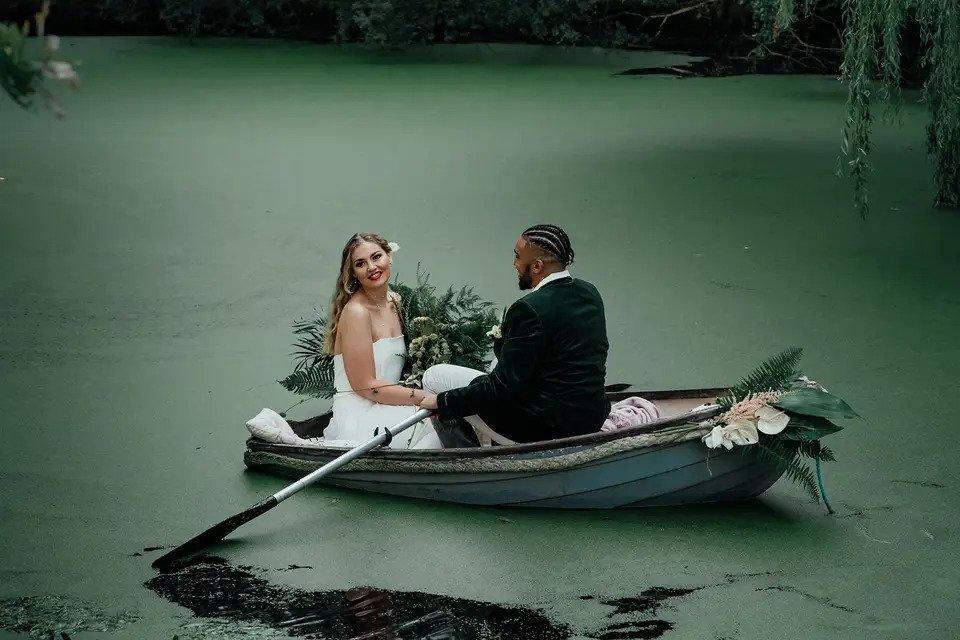 The point of an elopement is to keep your wedding day small. While there are no rules on guests at an elopement, any more than 12 strays into micro-wedding territory. Between two guests (who can act as witnesses) and 12 guests is normal for an elopement.
If you're marrying secretly, you don't need to have anyone you know invited as guests! You can find two strangers to be witnesses.
Are You Legally Married If You Elope?
As long as you are following age of consent laws, have a valid marriage license and adhere to any other marriage requirements of the country you're in, your elopement will be legally valid.
Remember that you can only get legally married by a humanist celebrant in Scotland and Northern Ireland; in Wales and England, humanist ceremonies led by a celebrant are not legally recognised yet. If you wish to have a humanist wedding in Wales and England, you will need to legally marry at a registry office before or after the wedding - this is a very quick process that takes less than 10 minutes.
READ MORE: 17 Reasons to Marry in Italy
What Do You Wear When You Elope?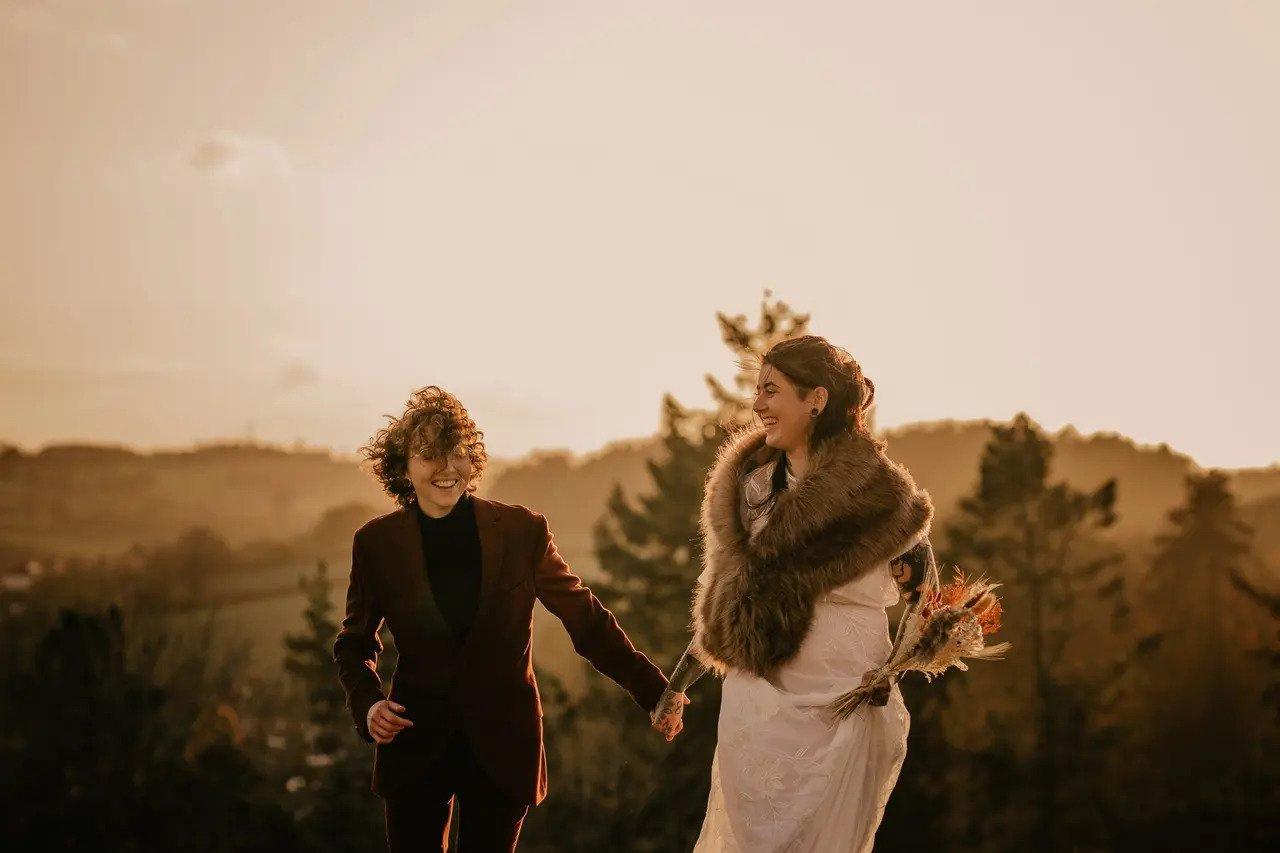 Because you're not having a traditional wedding, you don't need to go for the customary formal suits or a white dress. That said, if you'd like to wear a big white wedding dress, you can do that too! The only rule is that you love what you wear.
For brides, think jumpsuits, short dresses, sequinned gowns, silk slips, and boho dresses in off-white, ivory or even bright colours. The high street and designer stores are great for this; you can find beautiful dresses from £100 as the likes of ASOS, Whistles, Monsoon, Phase Eight, Ted Baker, Needle & Thread, Kitri Studio, Reformation and Ghost.
For grooms, linen suits, and pastel tailored shorts and shirts look amazing for destination elopements, while suits in cool prints will travel well across the UK.
See our favourite elopement wedding dresses here.
The Dos and Don'ts of Eloping
DO: Have a Reveal Plan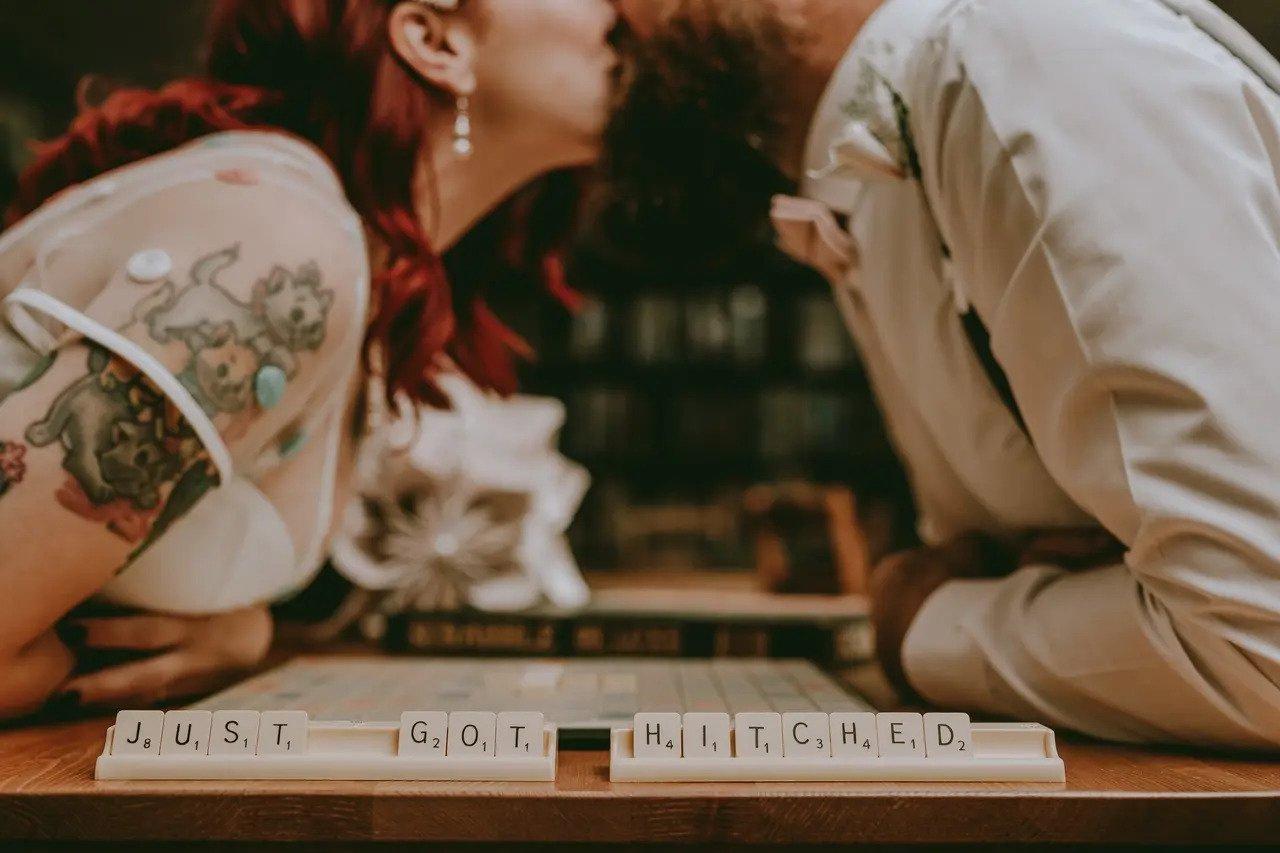 You'll have to tell everyone at some point. Announcement cards are a nice idea, as is a big party to celebrate with all your friends. Just telling your nearest and dearest might be enough for you. Remember that your close family will want to hear the news in person.
DO: Prepare Yourself for Your Family and Friends' Reactions
You don't need to justify what you did to anyone – an elopement is about what's right for you as a couple. You do need to anticipate that it will come as a surprise to your family and friends, and some of them may be offended or upset that they didn't get to share in the day with you. As mentioned above, don't let your family find out through Facebook, and plan a little script about how you want to break it to them.
READ MORE: How to Plan an Amazing Wedding for £3,000
DO: Know Whether You Need to Arrange Witnesses
Every ceremony will need two witnesses to sign the marriage register. If you arrange a wedding through an elopement planning service or a popular elopement destination like The Little White Chapel in Las Vegas, they can provide witnesses. If you're going to a registry office, they won't.
You can risk finding two people on the street who'll be willing to spend the 20 minute ceremony with you, but better is to take two friends/family members, arrange for two strangers to attend (Facebook, Gumtree or even the Hitched forum can be great for this, but be aware you can't necessarily rely on strangers!) or see if the venue offer a witness service.
DO: Decide If You Want to Use a Planning Service
If you have a budget, invest in a local wedding planner – they can be invaluable. If you're keeping costs down, then make sure you've thoroughly done your research or use an online service.
An online planning service like The Elopement Collective specialises in elopements around the world. They arrange the venue, paperwork, celebrant, photographer, videographer and florists – whatever you need – so the day is just about "an epic location, meaningful vows, and capturing the memory".
The Wedding Pop organise stress-free elopements and 'pop-up weddings' in the UK's coolest venues. Their 'pop-up weddings' offer a gorgeous styled venue with an allocated two hour slot for each couple for the ceremony, photos and drinks reception (including a live musician, Prosecco, canapes and more) so you get all the glamour of a big wedding and expertise of an industry-expert planner for the budget of a small wedding. It's a pretty genius idea if you'd still like a couple of guests.
Consider a planning service if you want to combine minimal stress and a tiny (or non-existent) guest list with an unforgettable day.
DON'T: Forget a Photographer
The memories and photos will be all you have left of the wedding day, especially if you're eloping. For any family or friends who are upset they couldn't be part of the day, having photos to show might be really helpful in helping them still feel part of it.
DON'T: Just 'Turn Up'
You'll still want to meet your suppliers beforehand; you'll want to feel comfortable and familiar with the city/venue you're in; you'll still want the day to be special.
A little bit of planning ahead can change the whole experience. Think about personalised vows, splashing out on a dress or fancy hotel and dinner, or paying for a local photographer to do a once-in-a-lifetime shoot with you.
DON'T: Expect Gifts
This one should go without saying. An elopement isn't the right choice for you if you still want all the trappings of a big wedding.
READ MORE: 17 Genius Wedding Budget Hacks
If you're interested in marrying abroad, make sure to check out our complete guide to destination weddings for more tips about preparing for your big day – however spontaneous!