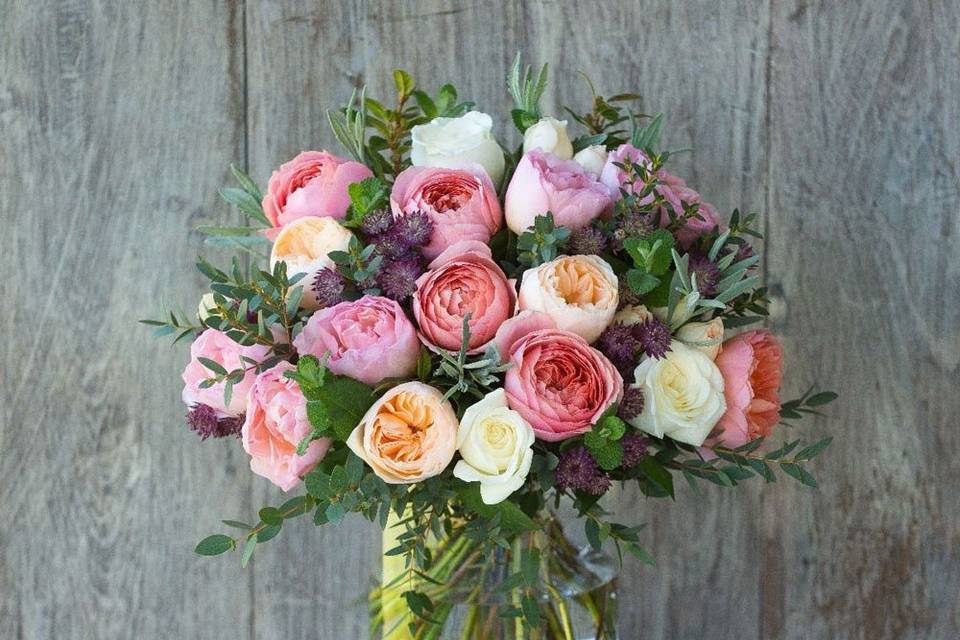 Birthdays, anniversaries, Valentine's Day – a beautiful bouquet is a fantastic gift.
Even better, with many online flower delivery services you can get them delivered the same day… just in case a special date might have slipped your mind.
We've rounded up the best online florists – from the cheap ones to luxury, same-day to special occasion, all across the UK.
Use our guide to the 11 best online flower delivery services to guarantee a gorgeous, fresh bouquet for your partner.
NB: We have included third party products to help you navigate and enjoy life's biggest moments. Purchases made through links on this page may earn us a commission.
Waitrose Florist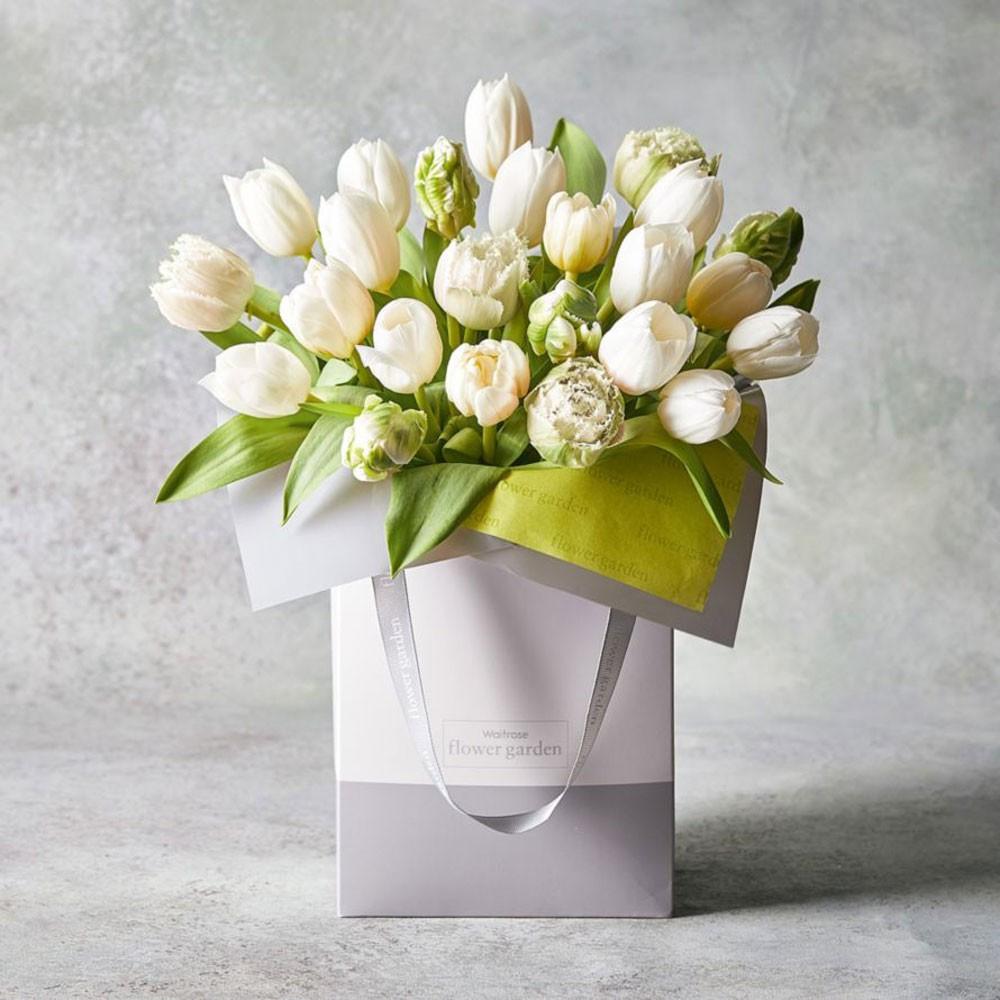 You can trust that a supermarket known for quality also does quality flowers. And Waitrose doesn't only do flowers, but everything from potted bay trees through to flower, wine and truffle gift sets. With bouquets starting from just £16, Waitrose Florist is a great value online delivery service that offers same-day and next-day delivery nationwide, including on Sundays. Include add-ons such as champagne, Emma Bridgewater goodies and other gifts depending on the season.
Bouquets from £16
READ MORE: Romantic Valentine's Day Gifts from Just £1.50
Floom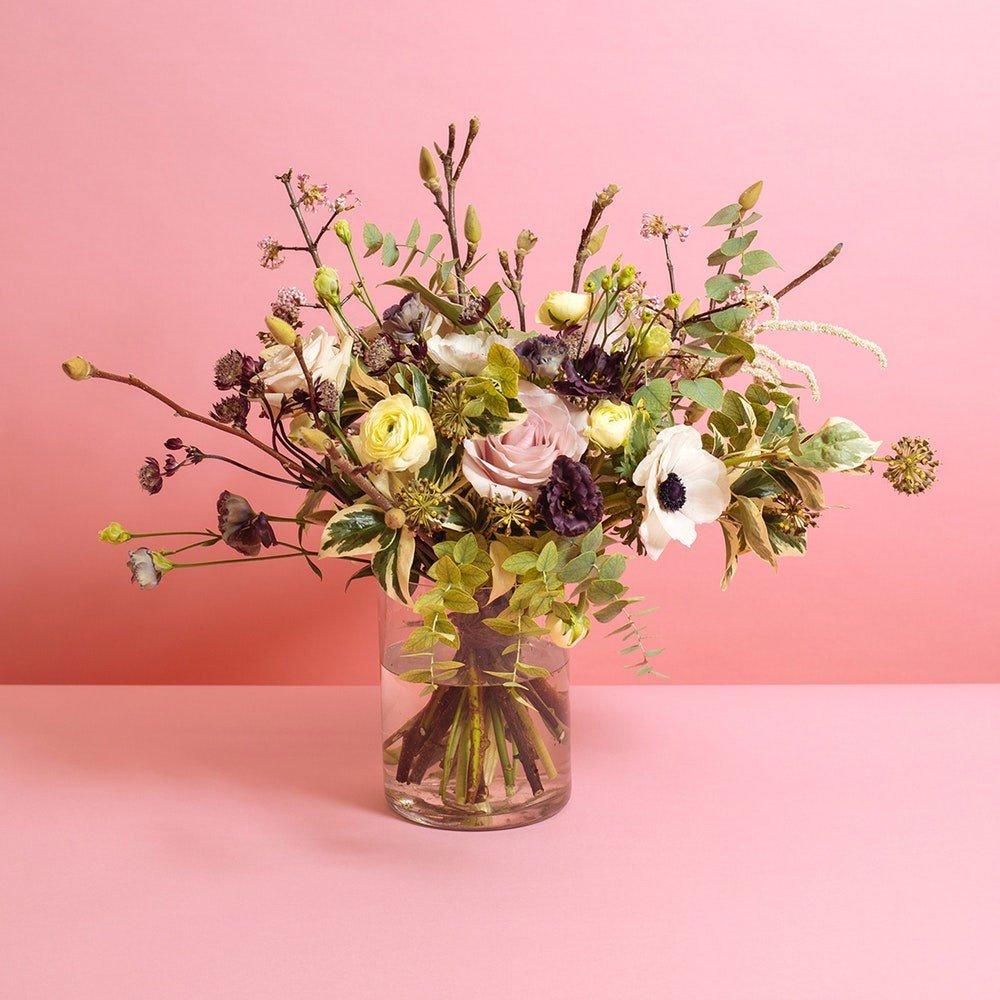 Positioning themselves as a Deliveroo for fresh flowers, Floom partner with local, independent florists so you can get a unique, beautifully crafted, fresh bouquet across the UK. They handpick each florist to ensure the highest quality and it means you get to support a local business from the comfort of your sofa. The service is really easy to use and most of the UK is covered, including same-day in select big cities. You can even order flowers in LA, New York and San Francisco too if you have a transatlantic relationship!
Bouquet prices dependent on florist
The Real Flower Company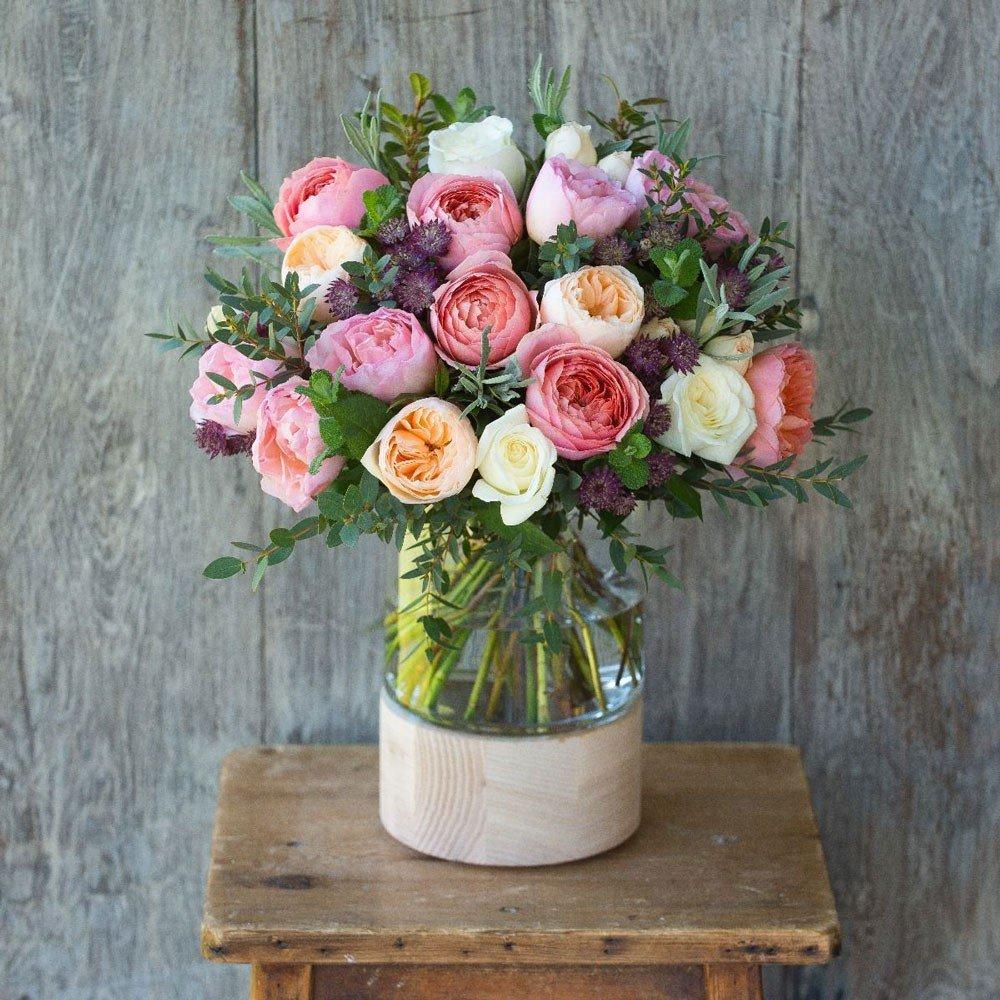 Specialising in scented garden roses, The Real Flower Company grow English flowers, herbs, foliage and the aforementioned amazing smelling roses on their farms here and Fairtrade farms in Kenya. With a focus on sustainability, you'll feel good as well as make your house smell good with these bouquets. We love their scented flower collection – a fragrant range that'll remind your partner of their gift every time they walk into the room. Next-day delivery nationwide; same-day in London.
Bouquets from £40
READ MORE: The Complete Anniversary Gift Guide
Bloom & Wild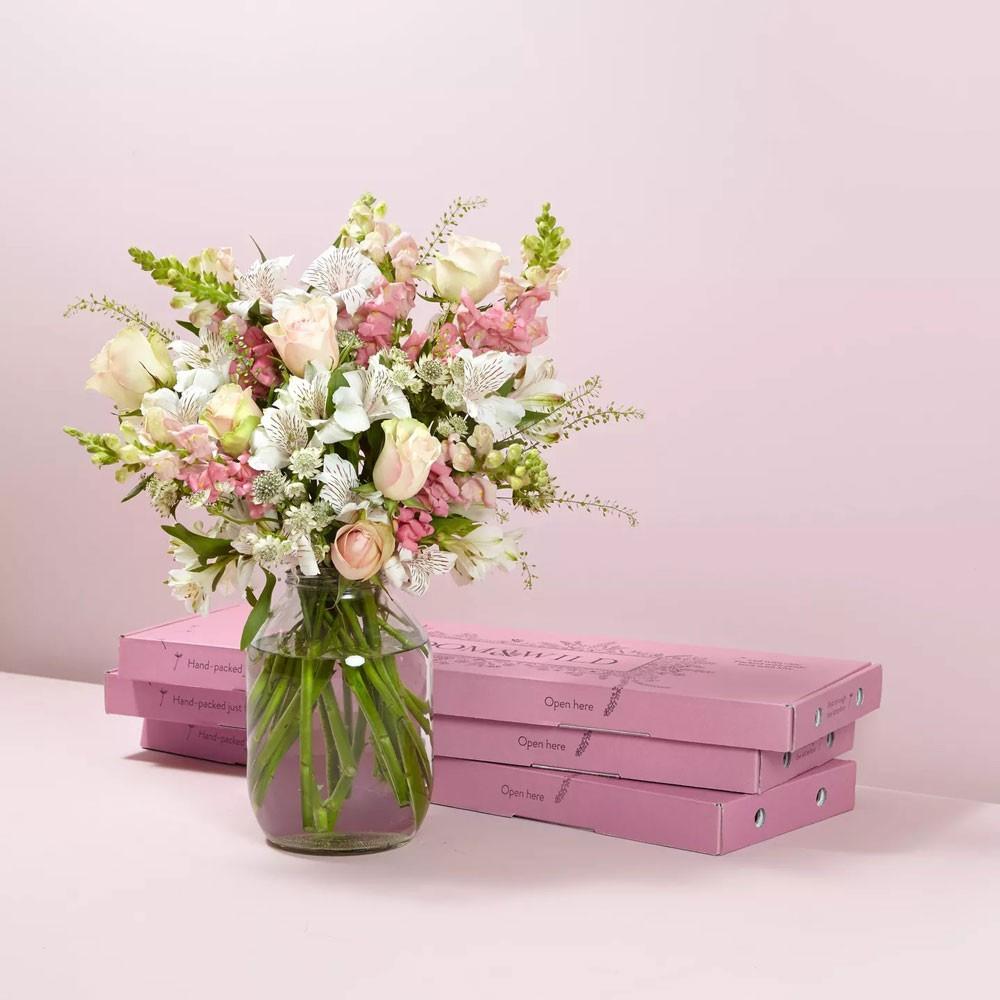 Best known for their letterbox packaging, you can get a beautiful wildflower-inspired bunch of blooms delivered right through your door whenever you need. Bloom & Wild deliver the bouquet flat in a recyclable cardboard box, and they're guaranteed to last at least a week. There's loads of choice of arrangements, free next-day nationwide delivery, and same-day delivery in London. Partner not a fan of cut flowers? You can send a plant too, like ferns and orchids, to pot.
Bouquets from £23
Bunches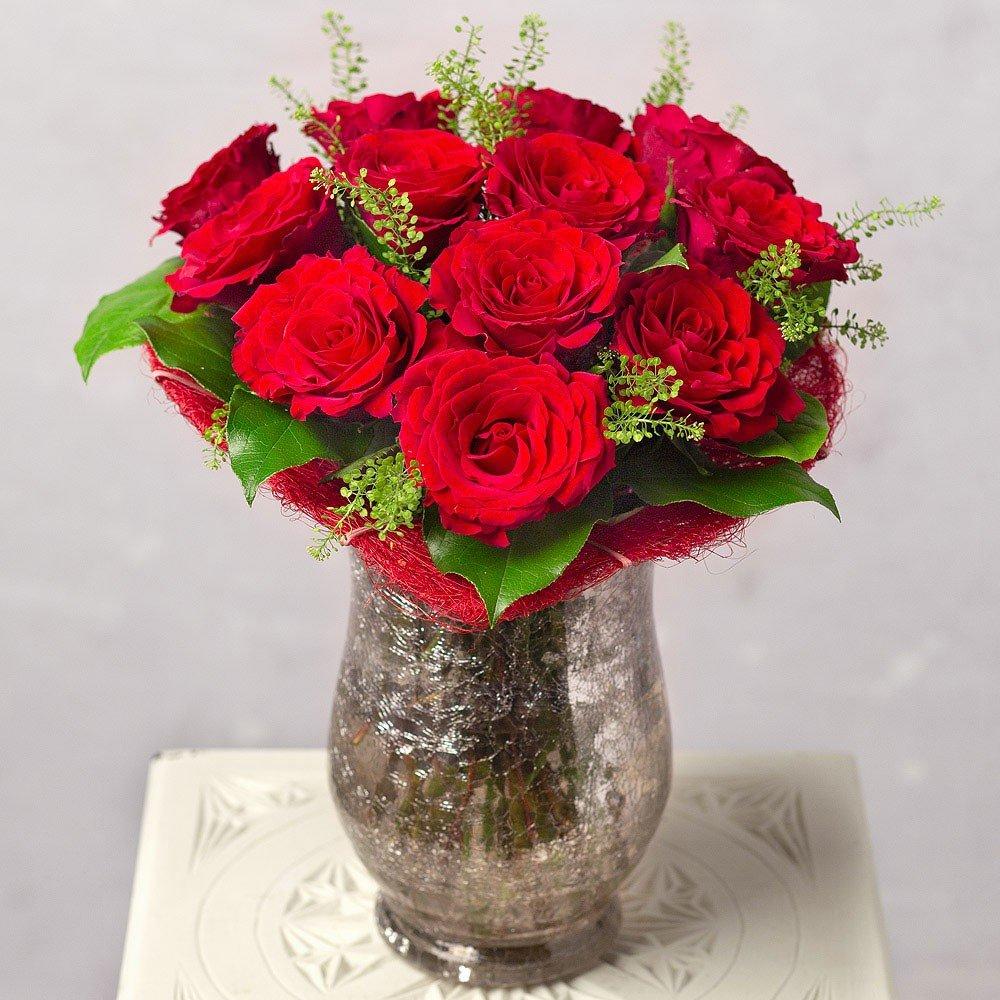 Need cheap flower delivery? Bunches is your go-to. Their bouquets begin at just £14.99 and most sit under the £30 mark, including hand-tied and seasonal ones. If you're after a romantic arrangement of red roses for Valentine's Day, these will be some of the best value around. You can order in advance if you're organised, but there's also next-day delivery available across the UK. With 25 years experience, they're reliable and the flowers are fresh. Hampers and balloons also available to send.
Bouquets from £14.99
READ MORE: Valentine's Day Cards Your Other Half Will Love
Grace and Thorn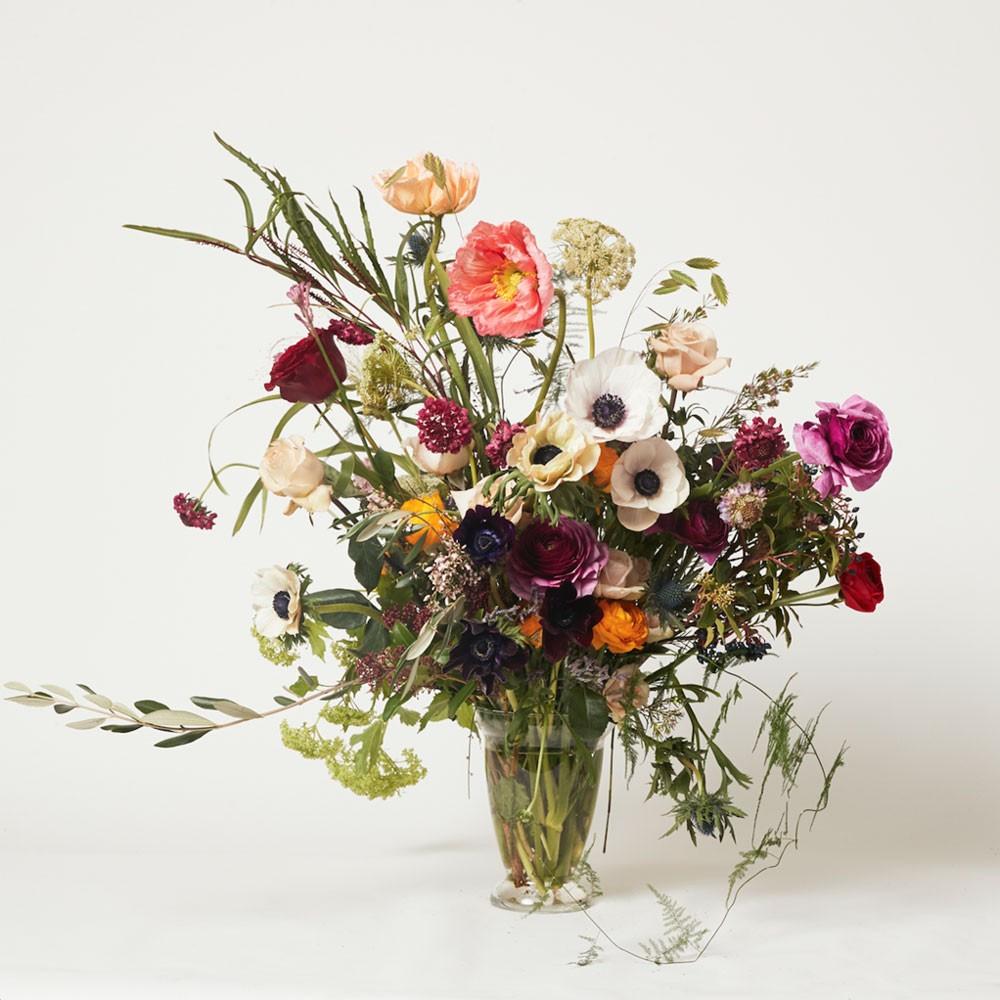 Inspired by the Dutch Master, Grace & Thorn's bouquets are wild, asymmetric, textured creations that you'll wish could live forever. In addition, there's their best-selling jam jar collection, which come in a handmade wooden crate and can be dispersed throughout your home, and their amazing succulent selection box (both London delivery only). They even have a 'Get What You're Given' florist's choice option for a truly bespoke gift. Bouquets delivered next-day nationwide.
Bouquets from £45
Appleyard Flowers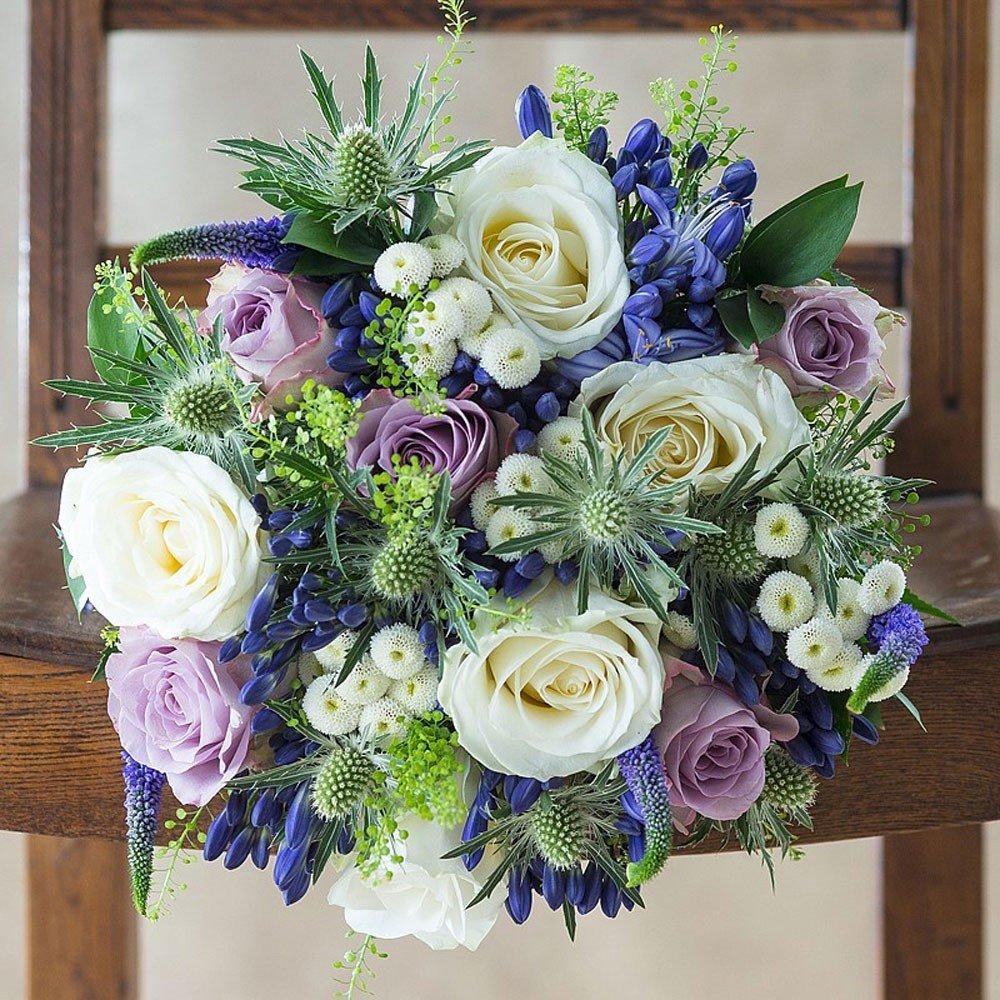 Based in London, this boutique florist specialises in using seasonal flowers in their luxury bouquets. Appleyard Flower's couture collection features unusual varieties of flowers for vibrant, distinctive displays, but simpler lily and rose bouquets can be arranged by letterbox post and come in at under £30. Delivery is next-day nationwide and same-day delivery in London. If you want something different, this is the place to go. Flower subscriptions also available.
Bouquets from £25.99
READ MORE: 21 Romantic Ways to Surprise Your Partner on Your Wedding Day
FLOWERBX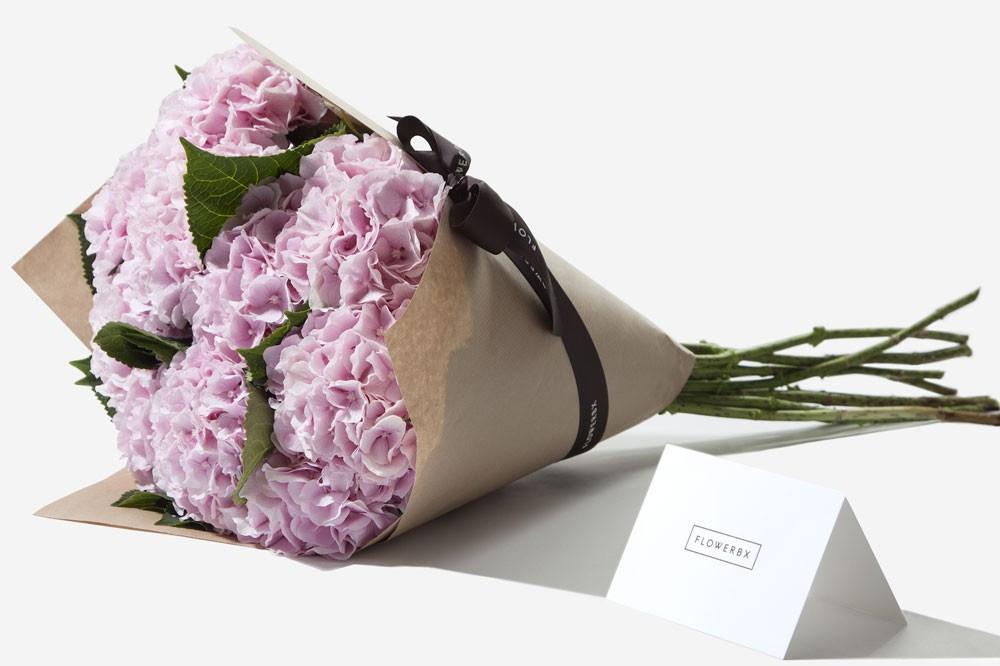 Delivered in refrigerated vans right to your door, FLOWERBX promise the freshest, highest-quality flowers at a lower price than most florists, by cutting out the middle men. You choose a specific flower and how many stems of it you want. These single flower bouquets make for striking, clean and very modern arrangements. If you want something in your partner's favourite colour or just the very freshest selection of their favourite flower, FLOWERBX delivers. Same day available in London; next-day nationwide.
Bouquets from £25 for 10 stems
Wild at Heart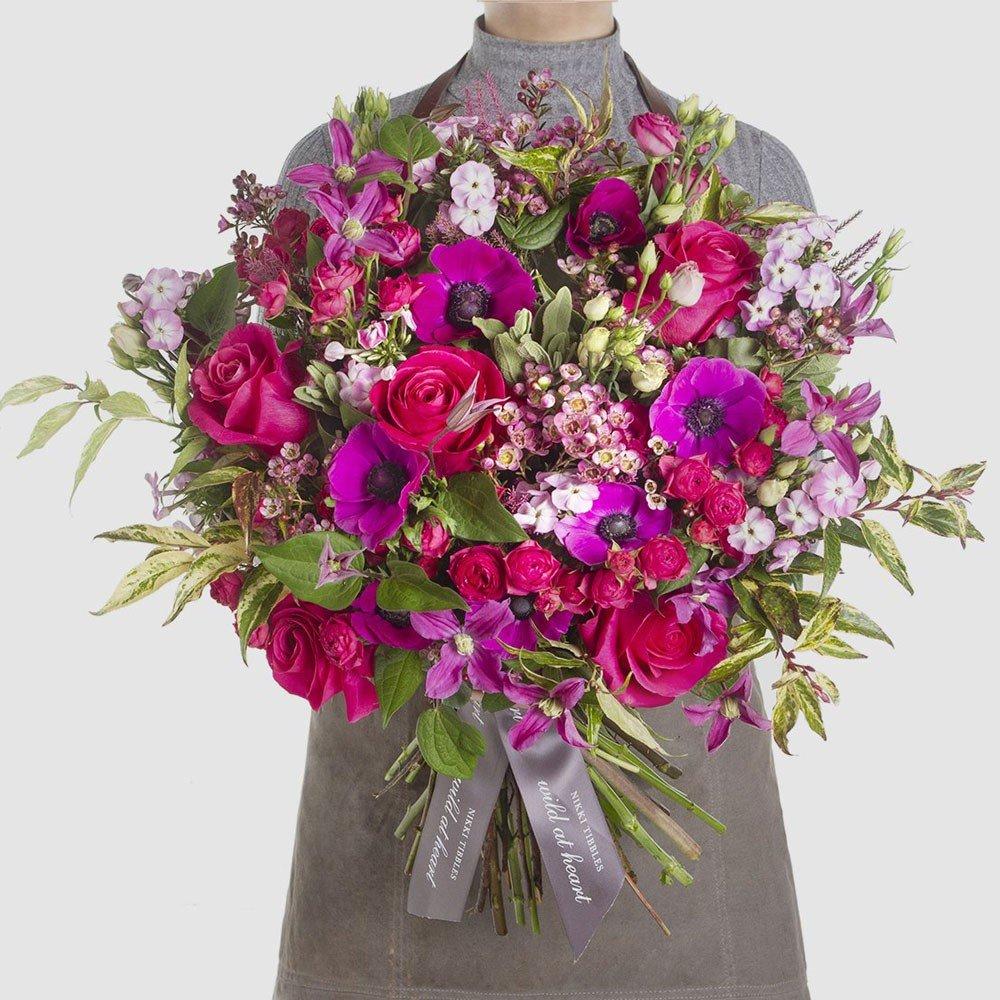 If you live in London, you've probably seen florist Nikki Tibbles' amazing displays flanking the entrance to the Liberty London department store. And her massive, stunning individual bouquets are pure luxury. If you're looking for the ultimate in curated, opulent designs, you can't do better than one of Wild At Heart's hand-tied bouquets. She's quite the dab hand at wedding flowers too if you're interested.
Bouquets from £60
READ MORE: 23 Valentine's Day Date Ideas
Postabloom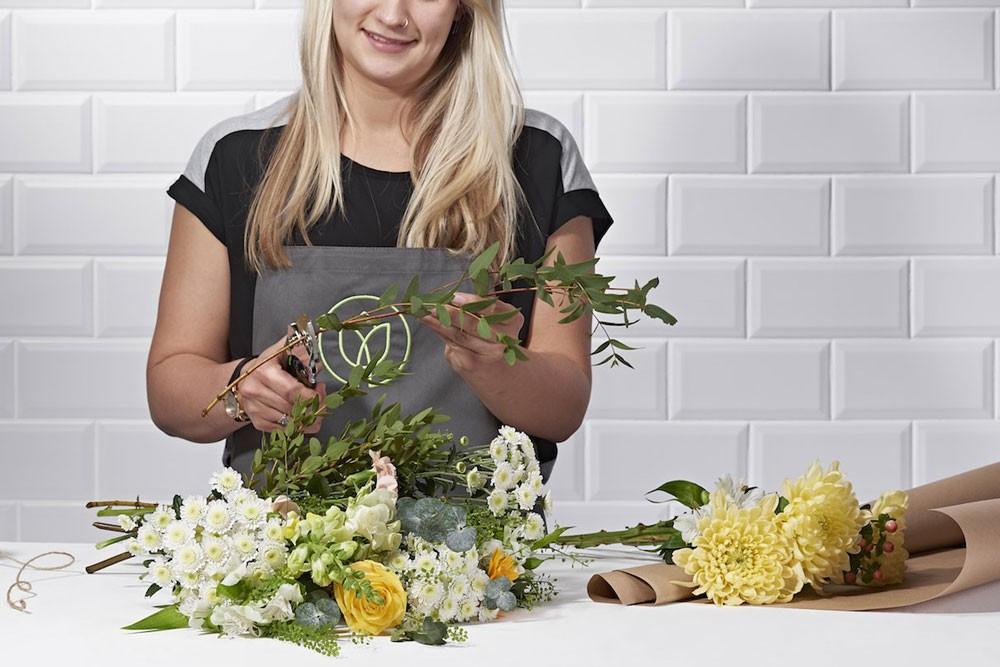 Similar to Bloom & Wild, Postabloom is all about letterbox flowers with free nationwide delivery and a gift card included. They can take up to two days to be delivered so take that into account, but their luxury bouquets and plants are guaranteed next-day delivery. It's a simple, easy concept and a great way to get flowers to someone if you can't guarantee they'll be in to collect them.
Bouquets from £19.50
Interflora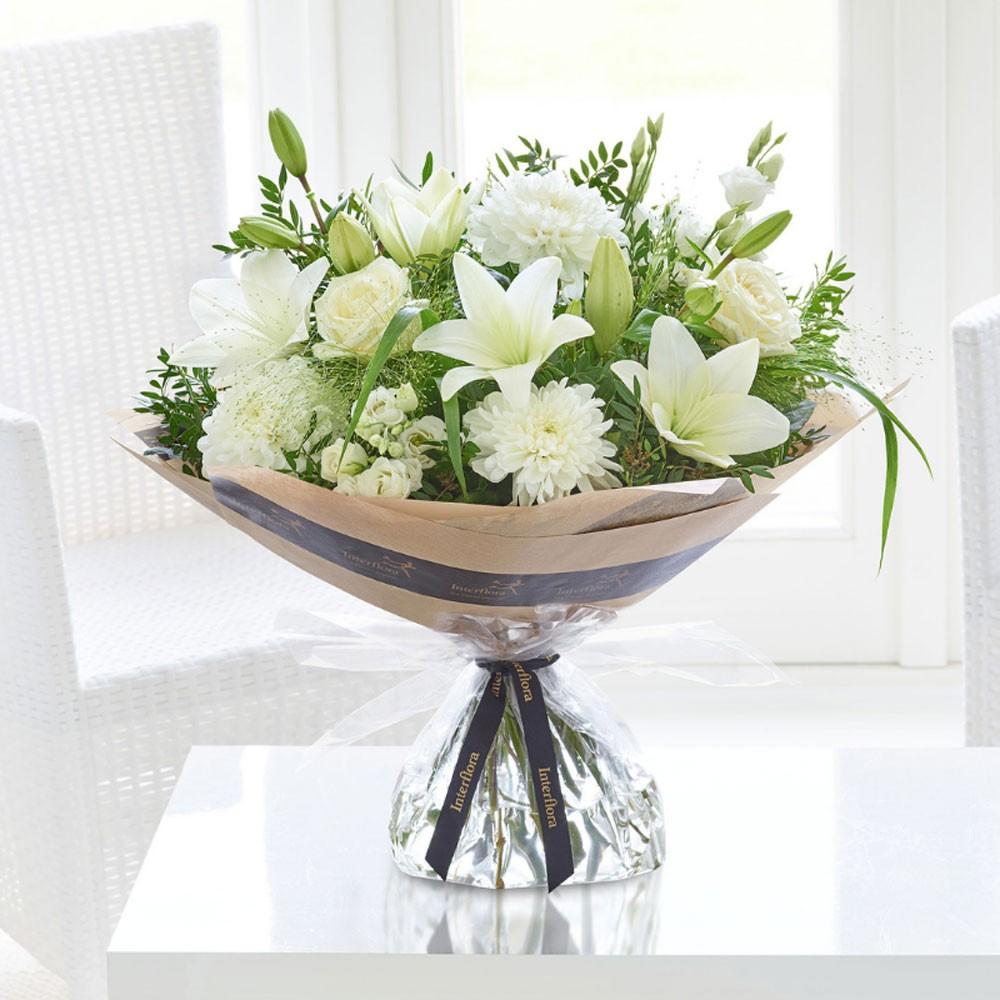 If you need flowers delivered internationally, Interflora are the market leaders. They'll have the flowers arranged and delivered by a local florist so you're ensured freshness and quality. In fact, they're so good at getting you flowers where and when you need them they even have a Flowers in 3 Hours service (just as the name describes) as well as same day, next day, and click and collect services.
Bouquets from £26
If you're looking for gift ideas for your first, second or even 30th anniversary, make sure you check out our complete wedding anniversary gift guide.