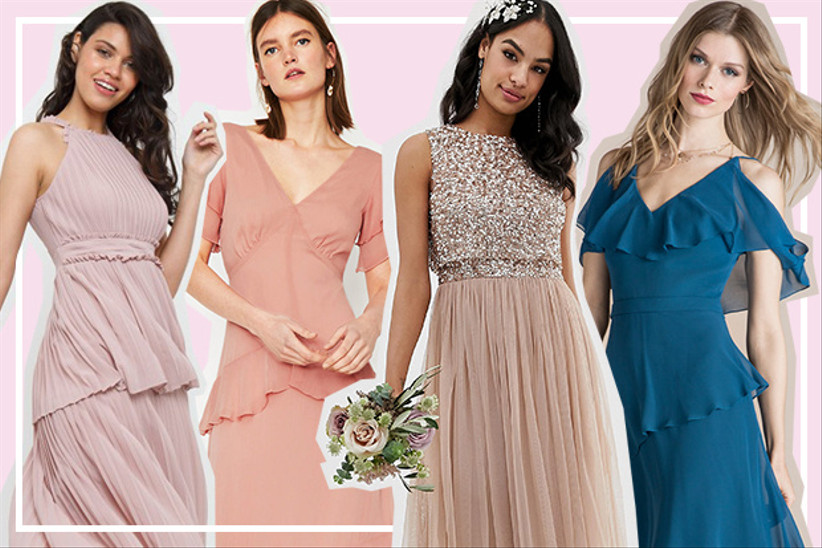 Choosing bridesmaid dresses can be nothing short of a nightmare. We know. Not only does the dress have to suit your taste and the theme of your big day, but it has to suit the tastes and body shapes of your best friends too. In short, the journey to finding the perfect bridesmaids dresses is often a rocky one.
We've already whittled down the best high street bridesmaids dresses and the best bridesmaid dresses for every theme, but today, our focus is on boho bridesmaid dresses.
Bohemian weddings are relaxed and often outdoors, featuring all things ethereal, earthy and floral. If thoughts of dream catchers, an abundance of drapery and outdoor seating areas compiled of cushions fill your heart with joy, then it just might be the theme for you. You'll obviously need boho bridesmaid dresses to match, so once you've found your dream boho wedding dress, feast your eyes on this lot and choose your favourite.
NB: We have included third party products to help you navigate and enjoy life's biggest moments. Purchases made through links on this page may earn us a commission.
READ MORE: The Ultimate Guide to Inspirational Wedding Themes
1. Marika Embellished Tiered Maxi Dress – Monsoon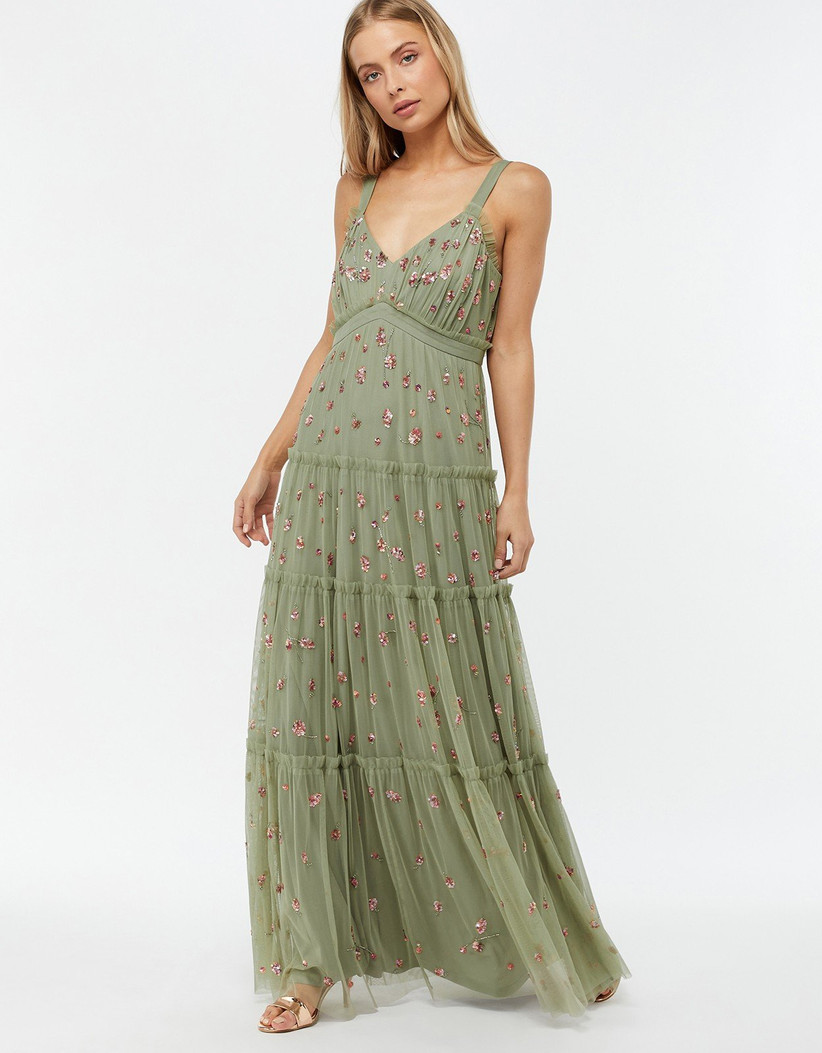 This beautiful dress encapsulates everything that a bohemian wedding is about. Tiers of graceful tulle and hand-placed sequins give the piece an ethereal quality while the V-neck and empire waistline are super flattering.
Thanks to its understated green hue and floaty skirt, your bridesmaids will look perfect as they walk down the aisle at your outdoor wedding ceremony.
2. Peppermint Dress – Reformation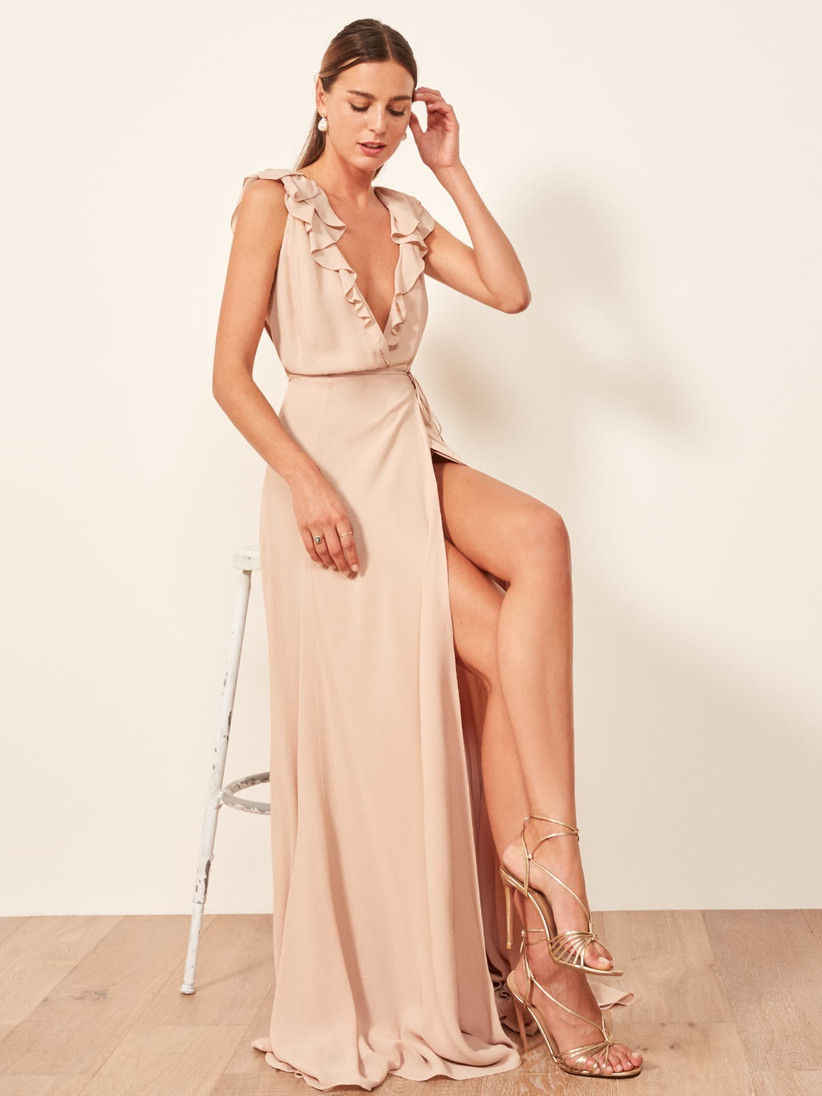 Reformation is a brand we quite simply can't get enough of here at Hitched HQ, and their beautiful Peppermint dress reminds us exactly why.
With its plunging neckline, flattering wrap silhouette and ruffled detailing, this bridesmaid-appropriate dress screams boho chic and would work wonders alongside your wedding theme.
3. Verbena Dress – Reformation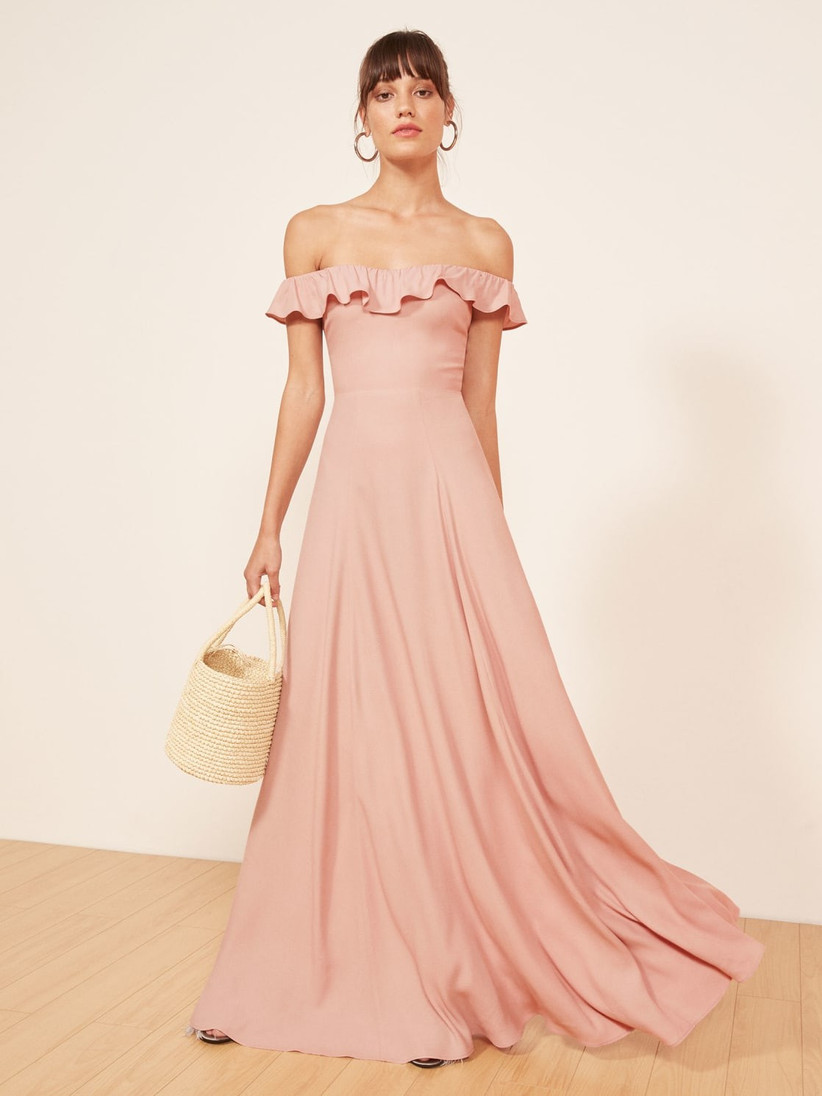 Up next is another show-stopping dress by Reformation, this time in the form of their off-the-shoulder Verbena dress.
It boasts a graceful floor-length skirt, ruffled edge neckline and fitted bodice. Oh, and it also comes in a beautiful floral print if you really want to push the boat out.
READ MORE: The Best Rose Gold Bridesmaid Dresses
4. Valentina Sequin Gown – Needle & Thread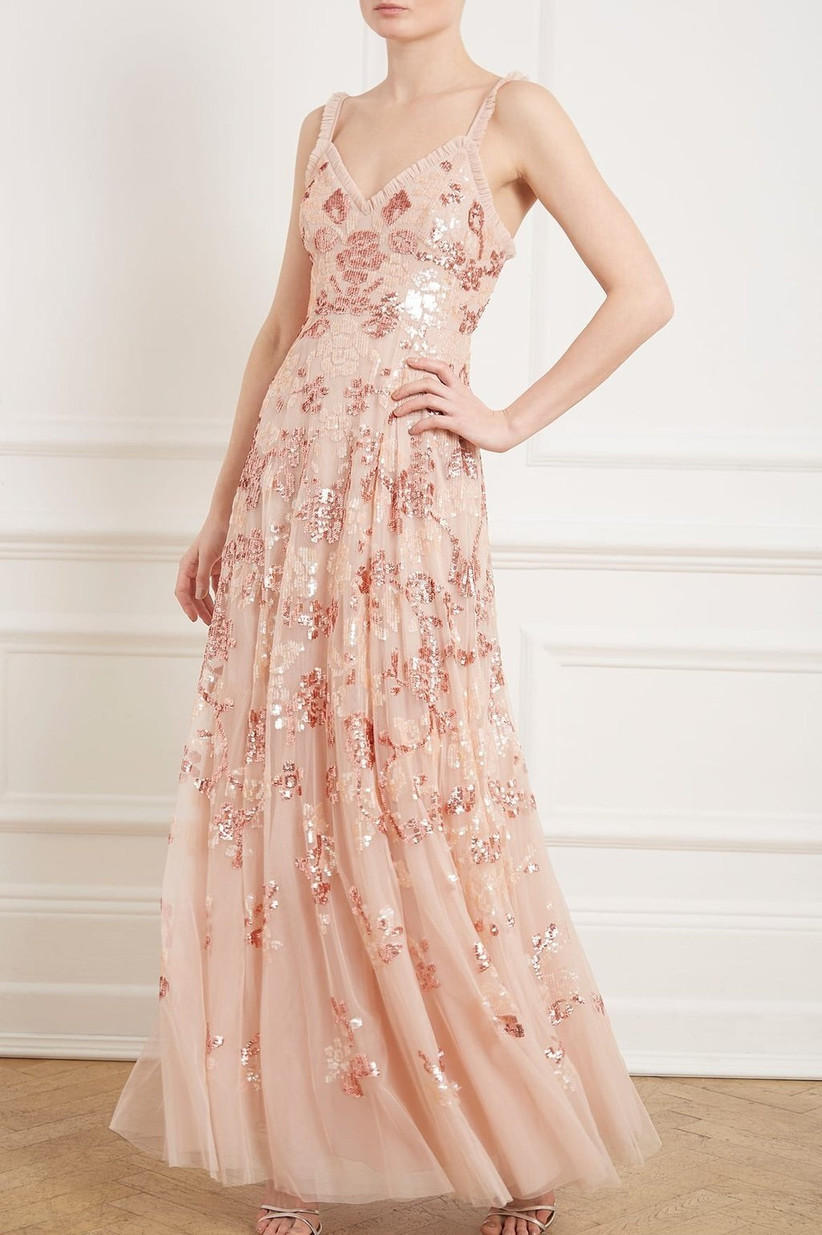 Needle & Thread are the queens of the bohemian bridesmaid dress thanks to their pastel, (heavily) sequin-clad designs.
Their Valentina gown is available in both pink and lemon yellow and is adorned with shimmering sequins. Made with an inner layer of frothy tulle, your girls will blend right in with your floral theme and abundance of drapery.
5. Ally Embellished Wrap Dress – Monsoon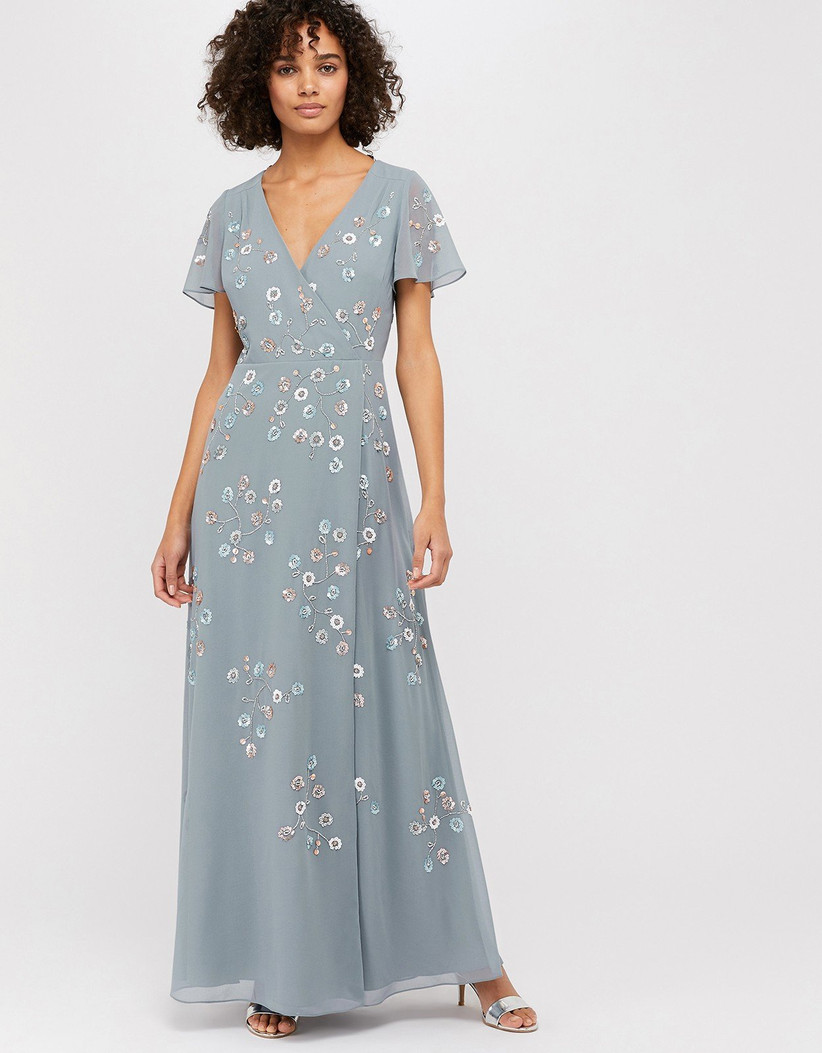 Succumb to the romance of a bohemian wedding and choose the Ally midi dress by Monsoon – a boho bridesmaid dress full of glamorous beading.
It's the wrap-style silhouette that really draws us to this dress – it would look great on all body shapes and flatter your girls perfectly. What's not to love?
6. Boho Chic Bridesmaids Dress – Morilee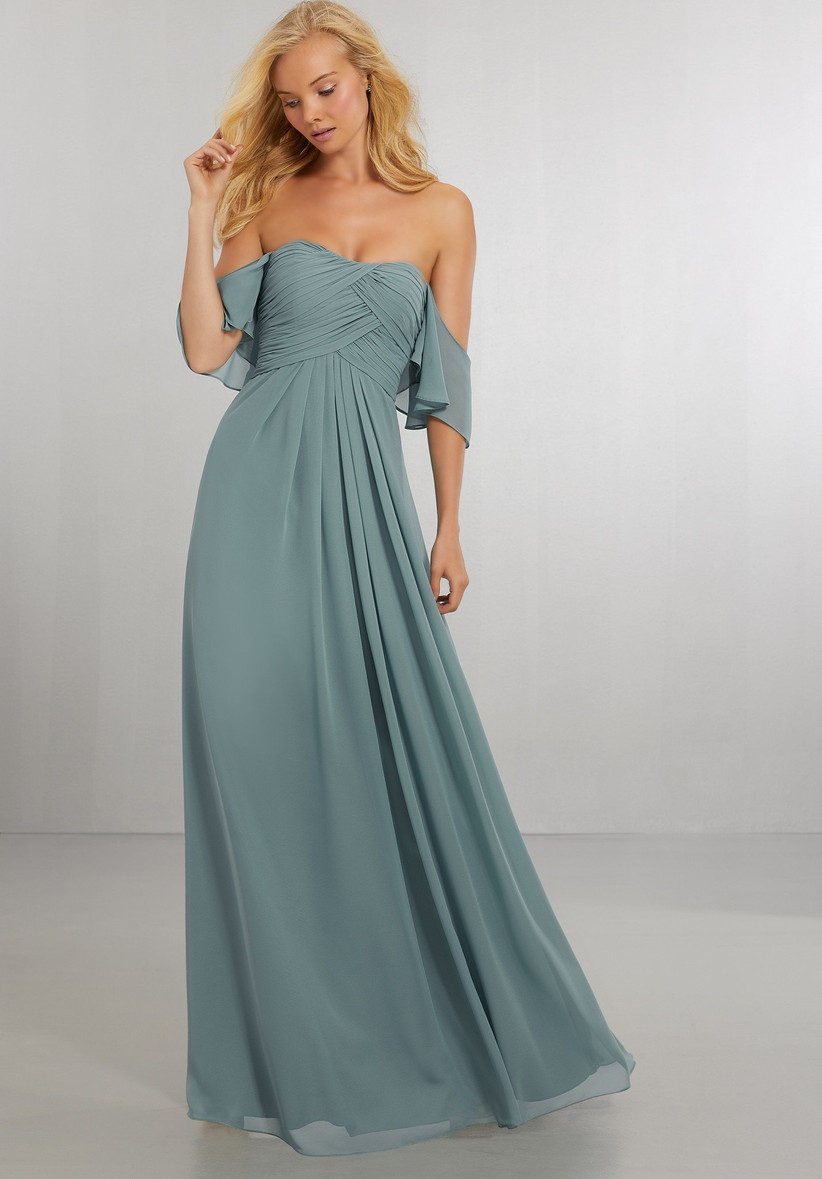 Pretty and softly draped, the Morilee Boho Chic bridesmaids dress has even been named after your wedding theme.
It is available in a whole host of colours – from berry to ivory, sage and peach – so whatever your wedding colour scheme, there'll be a shade to suit.
READ MORE: The Cutest Bridesmaid Shoes
7. Maya Bridesmaid Halterneck Dress – ASOS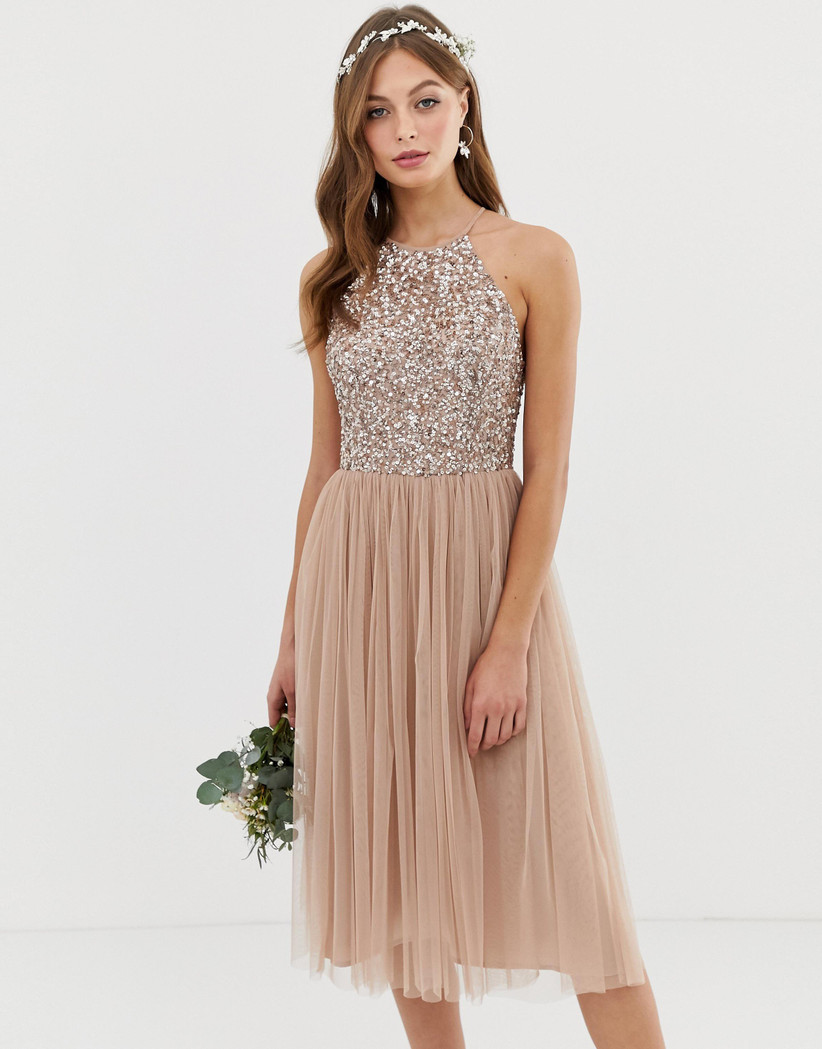 When it comes to bridesmaid dresses on a budget, you can't get much better than ASOS. Seriously – you should check out the time we tried on their bestsellers! They're so pretty.
Up there with the best is this halterneck bridesmaid dress, which, thanks to its embellished body and understated nude hue, would look wonderful at your boho-themed wedding. If your bridesmaids are petite, a shorter dress would suit them down to the ground.
8. Butterly Dress – Reformation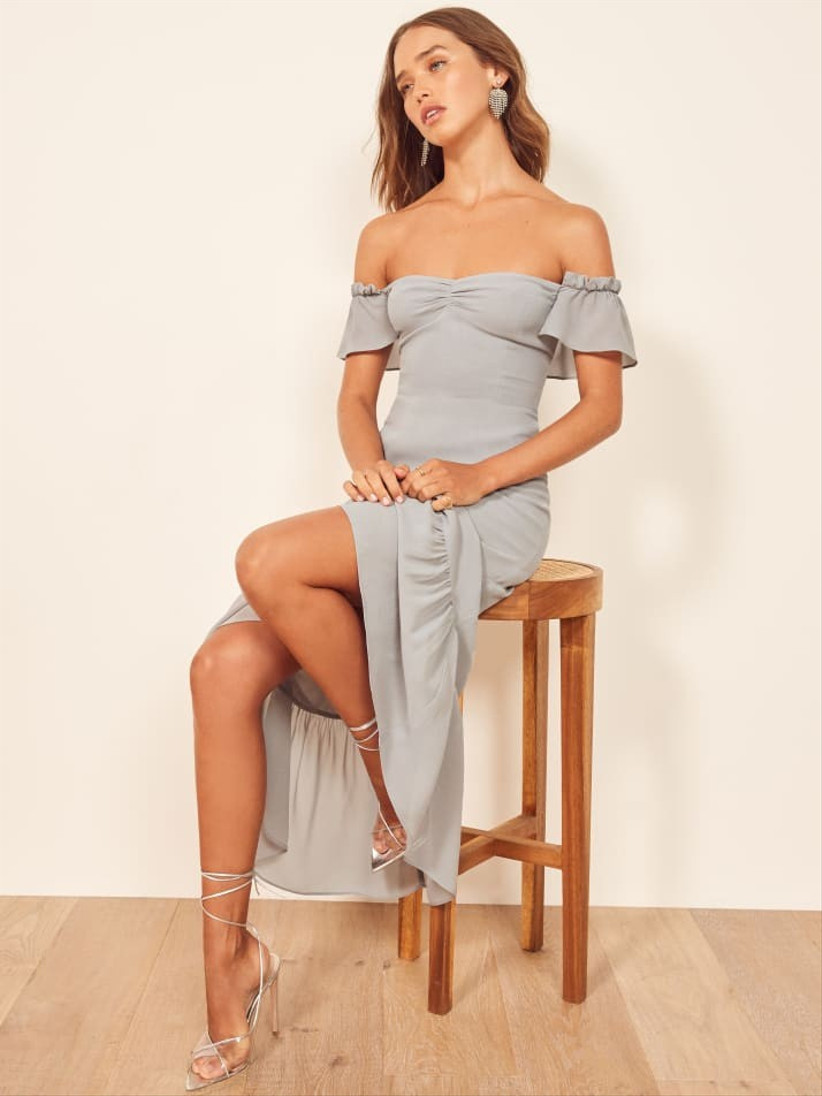 The Reformation Butterfly dress is such a beauty – don't you think?
It's off-the-shoulder with a sweetheart neckline, ruffled sleeves and a midi-length skirt. It's also slim fitting and boasts a slightly flared trumpet skirt. Talk about on-trend.
9. Maya Bridesmaid V-Neck Dress – ASOS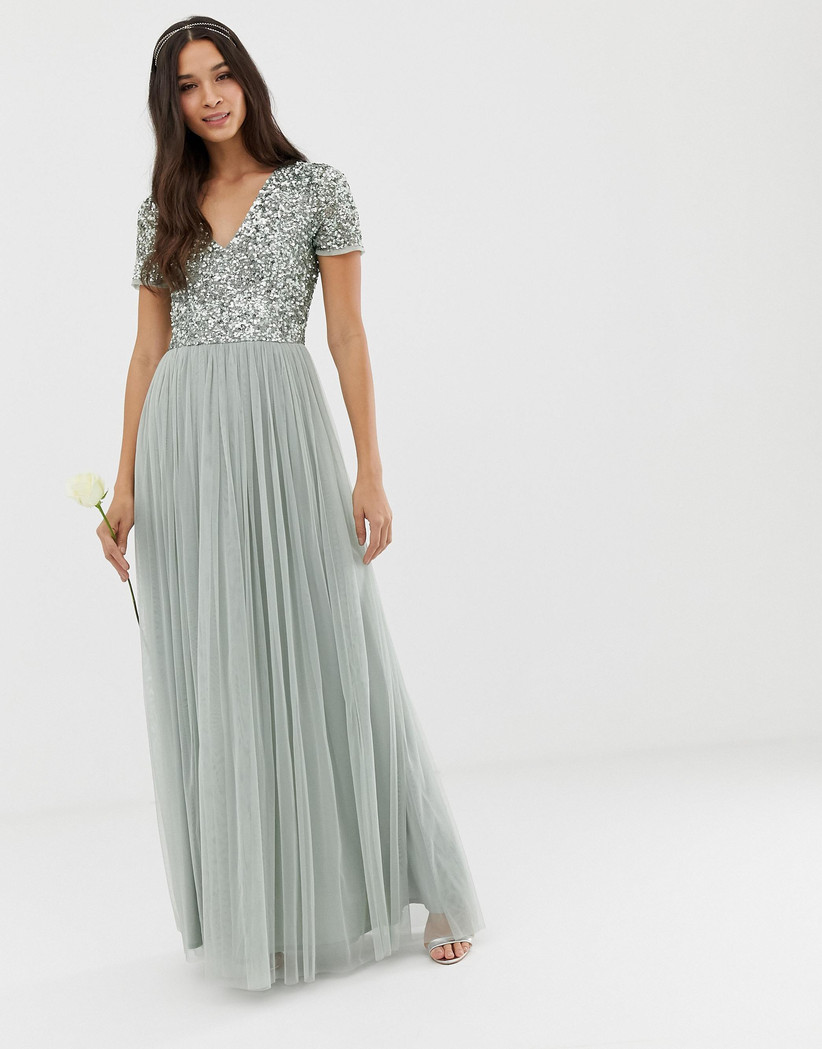 Your girls will sparkle their way down your aisle if you dress them in these stunning maxi dresses by Maya.
The colour is to die for and the sequinned bodice will add a welcome touch of glamour to your otherwise relaxed wedding day.
READ MORE: We're in Love With These Grey Bridesmaid Dresses
10. Aurora Dress – Needle & Thread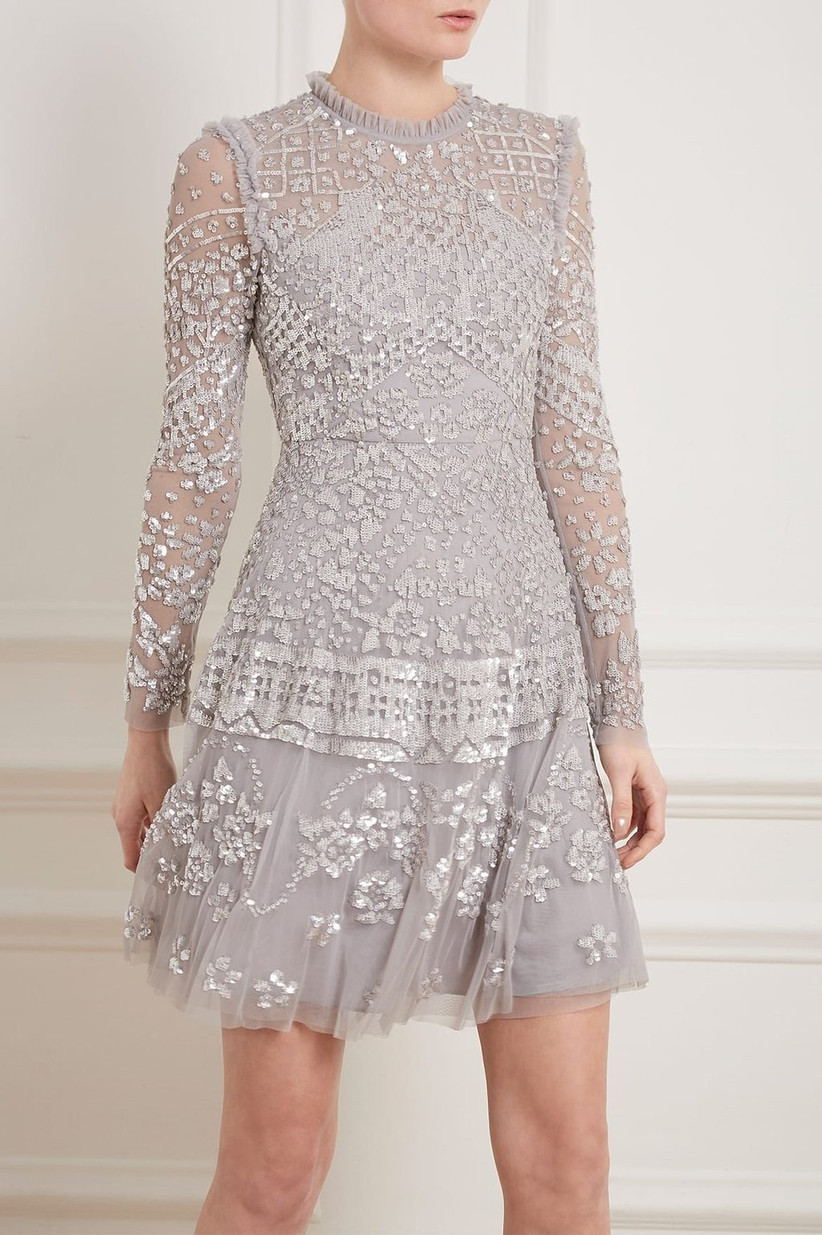 If you're on the hunt for short bridesmaid dresses, the Aurora dress by Needle & Thread is a beautiful choice.
Despite coming in both pink and black, we adore this pale grey hue – it'd go with so many different colour schemes! The all-over embellishment and high ruffled neck give it a boho edge.
11. Chiffon Tiered Maxi Dress – Warehouse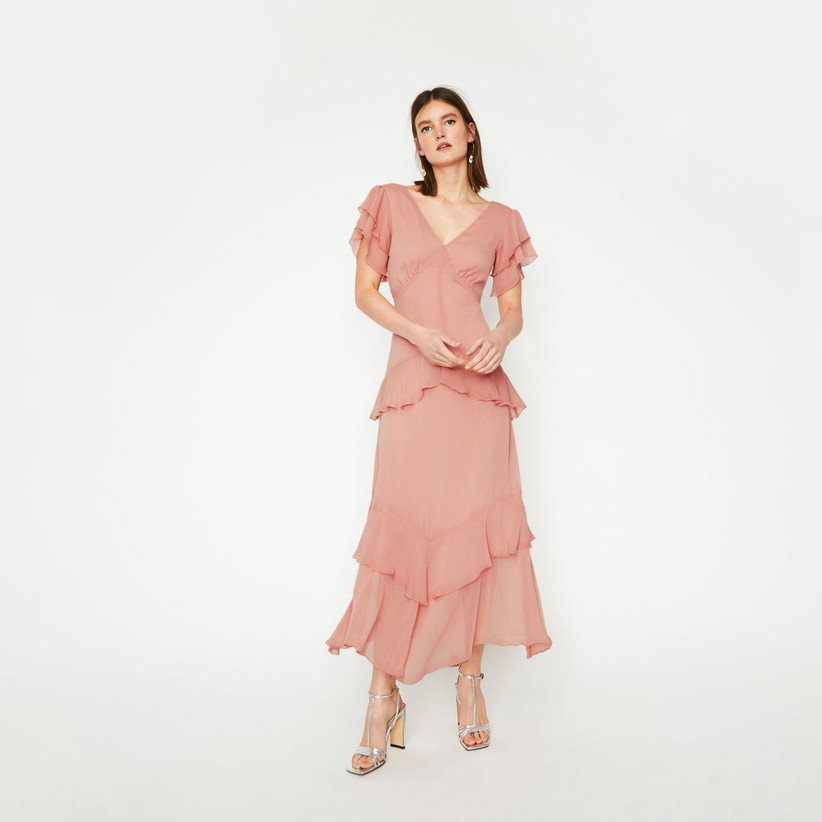 Warehouse has delivered on the bridesmaids dress front yet again with their tiered chiffon maxi dress.
Available in light pink, grey and navy, it is perfect for a boho wedding and the colours could be alternated for a mismatched bridesmaids effect.
12. Ruffle Satin Maxi Dress – Oasis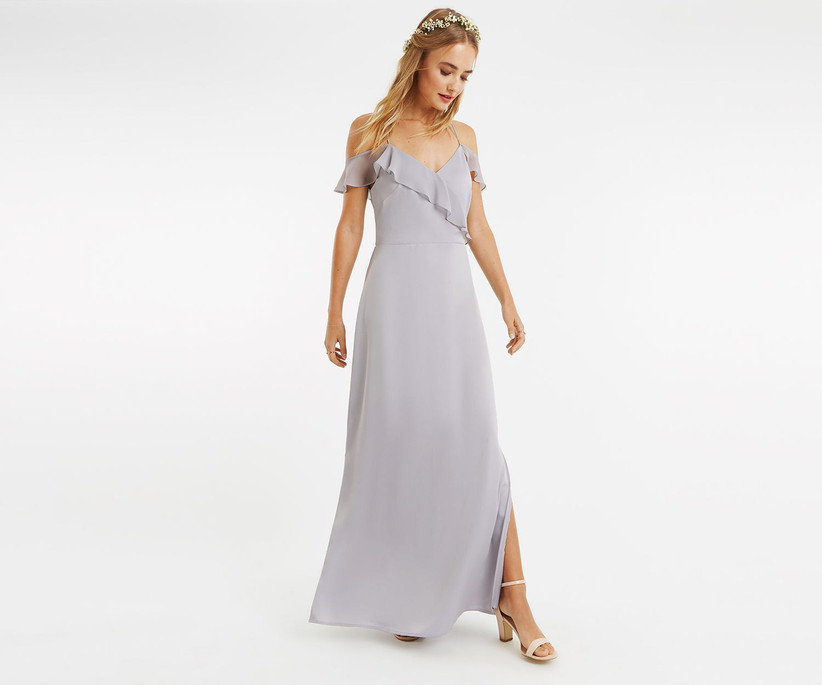 The ruffle satin maxi dress by Oasis ticks all the bridesmaid dress boxes. It is flattering, floaty and feminine, and features off-the-shoulder ruffled sleeves, a thigh split and slinky bow.
Pair with delicate flower crowns for the ultimate boho chic. You could even make them yourselves!
READ MORE: The Best Budget Bridesmaid Dresses
13. Dahlia Dress – Needle & Thread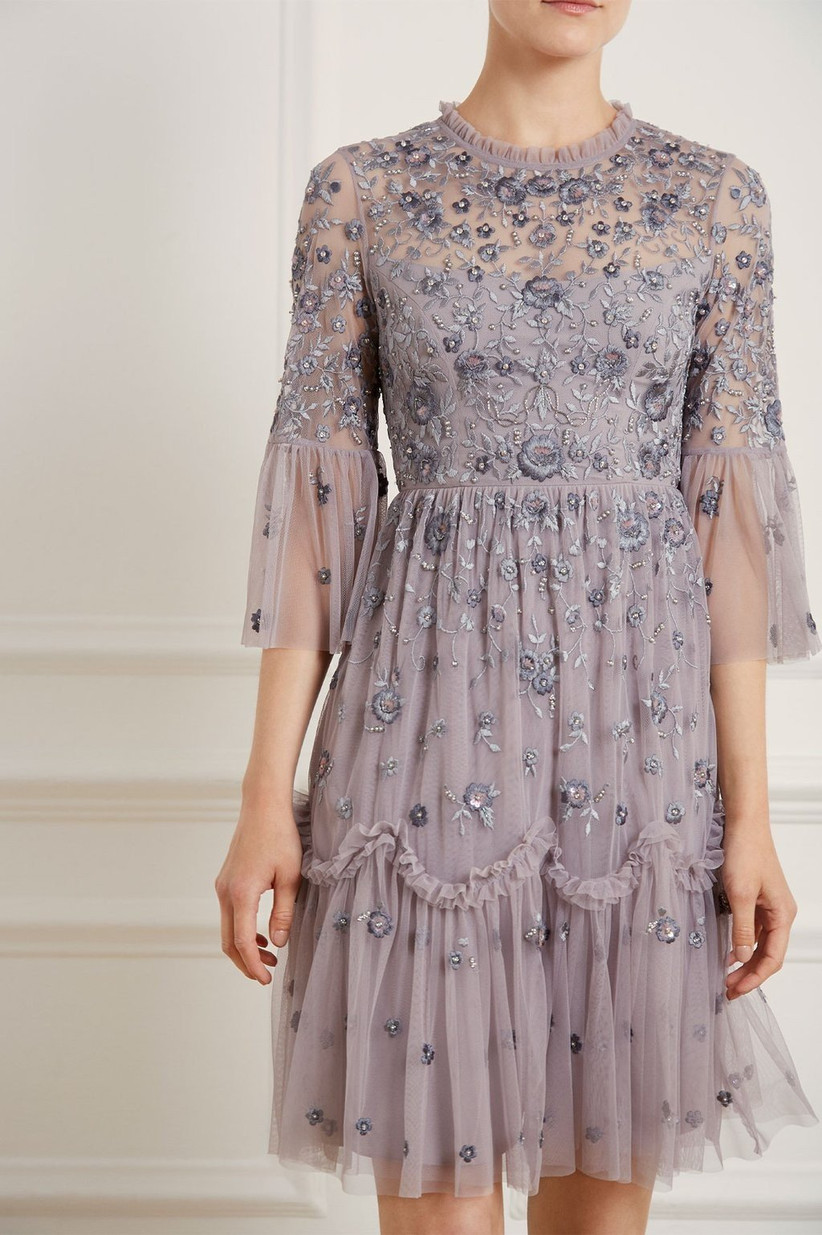 How beautiful is the Dahlia dress by Needle & Thread?
It is cut in the brand's signature shape and adorned with embellishment and tulle frill trims. We've never seen a bridesmaids dress that is more appropriate for a bohemian-themed wedding.
14. Maya Bridesmaid Sleeveless Midaxi Dress – ASOS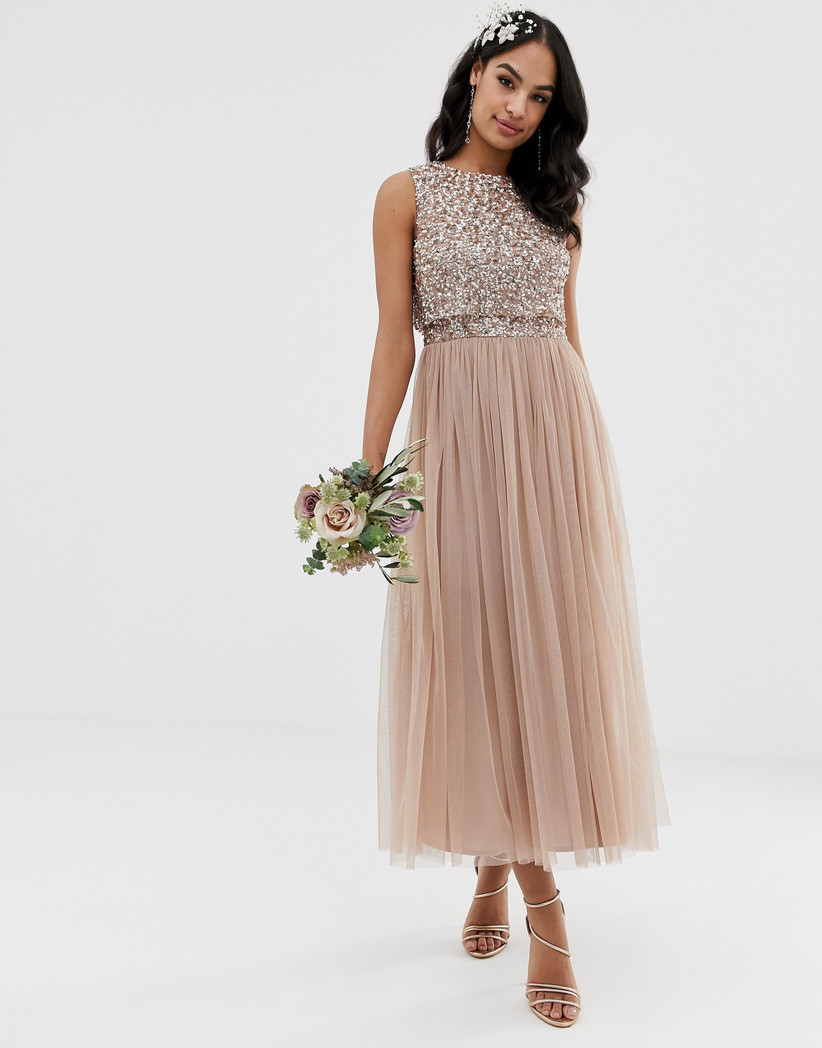 ASOS has delivered once again, this time with their gorgeously girly midaxi tulle dress. It boasts a full, floaty skirt and a sequinned body that's sure to sparkle as your girls walk down the aisle.
Pair this dress with metallic accessories for a look all of your guests will remember.
15. Midsummer Lace Dress – Needle & Thread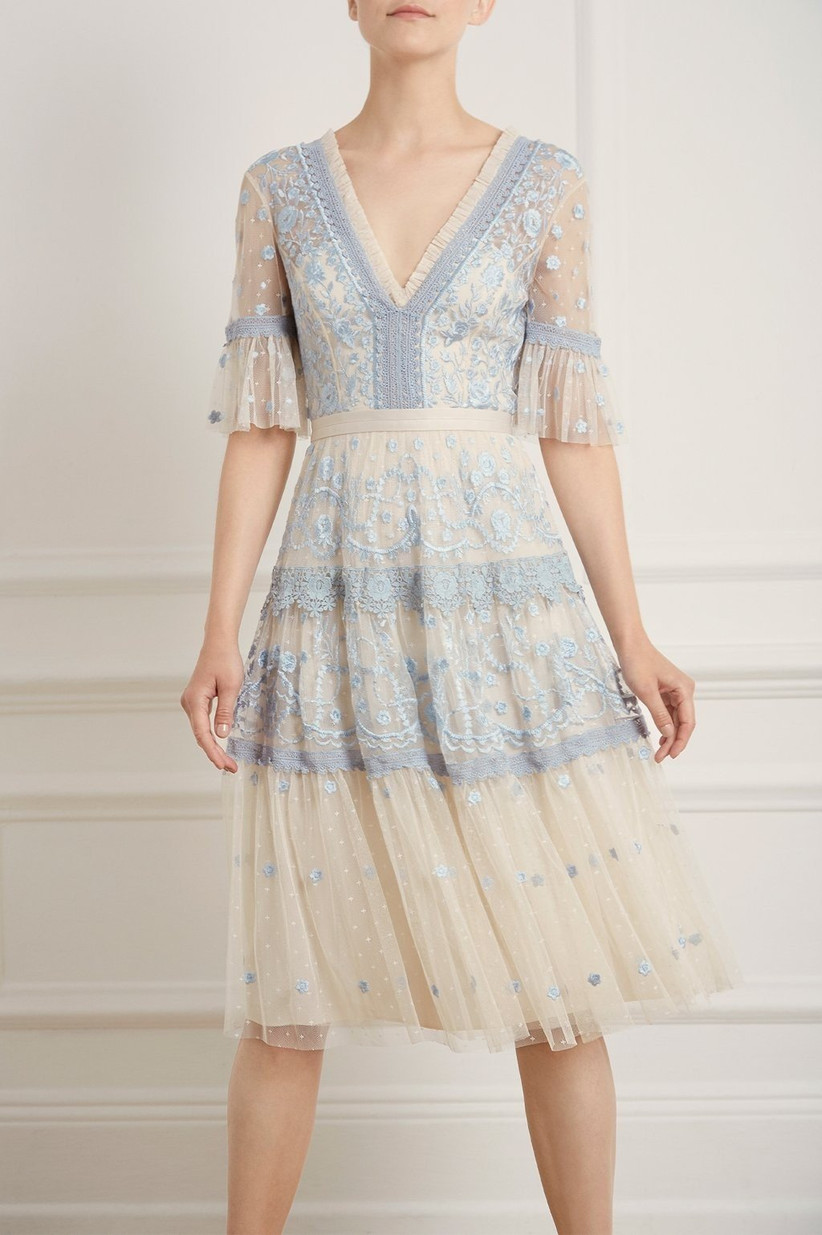 If you're stuck for ideas on your "something blue", why not choose bridesmaids dresses that are adorned with pretty blue lace?
This boho bridesmaids dress is so beautiful, thanks to its intricately cut floral lace trims, border neckline and sheer, romantic sleeves. Keep your girls' accessories minimal – the dress can do all the talking.
READ MORE: 29 Bridesmaid Gifts to Suit Every Budget
16. Jennifer Ruched Mesh Maxi Dress – Monsoon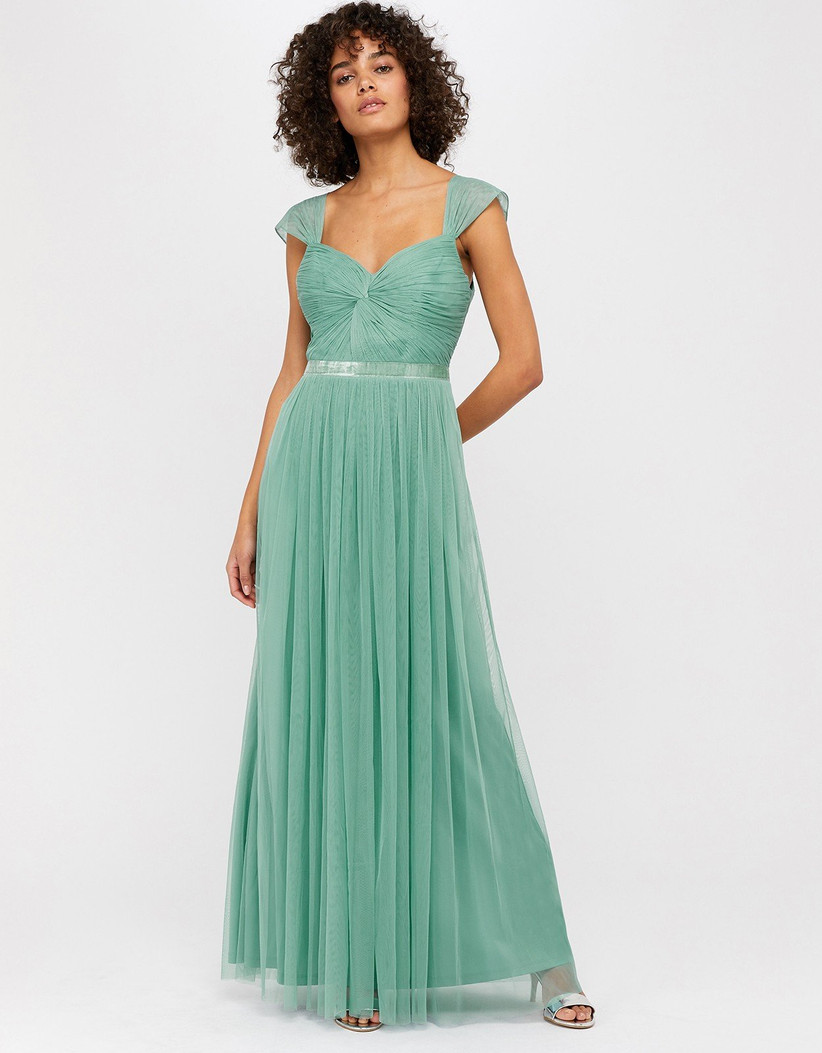 Created for the timeless bridesmaid, the Jennifer maxi dress by Monsoon is topped with graceful lace for a beautifully boho look.
The bodice is finished with a flattering twist design while capped sleeves and a velvet waistband are two beautiful design details. Your girls will look fab.
17. Lurex Butterfly Wrap Gown – Needle & Thread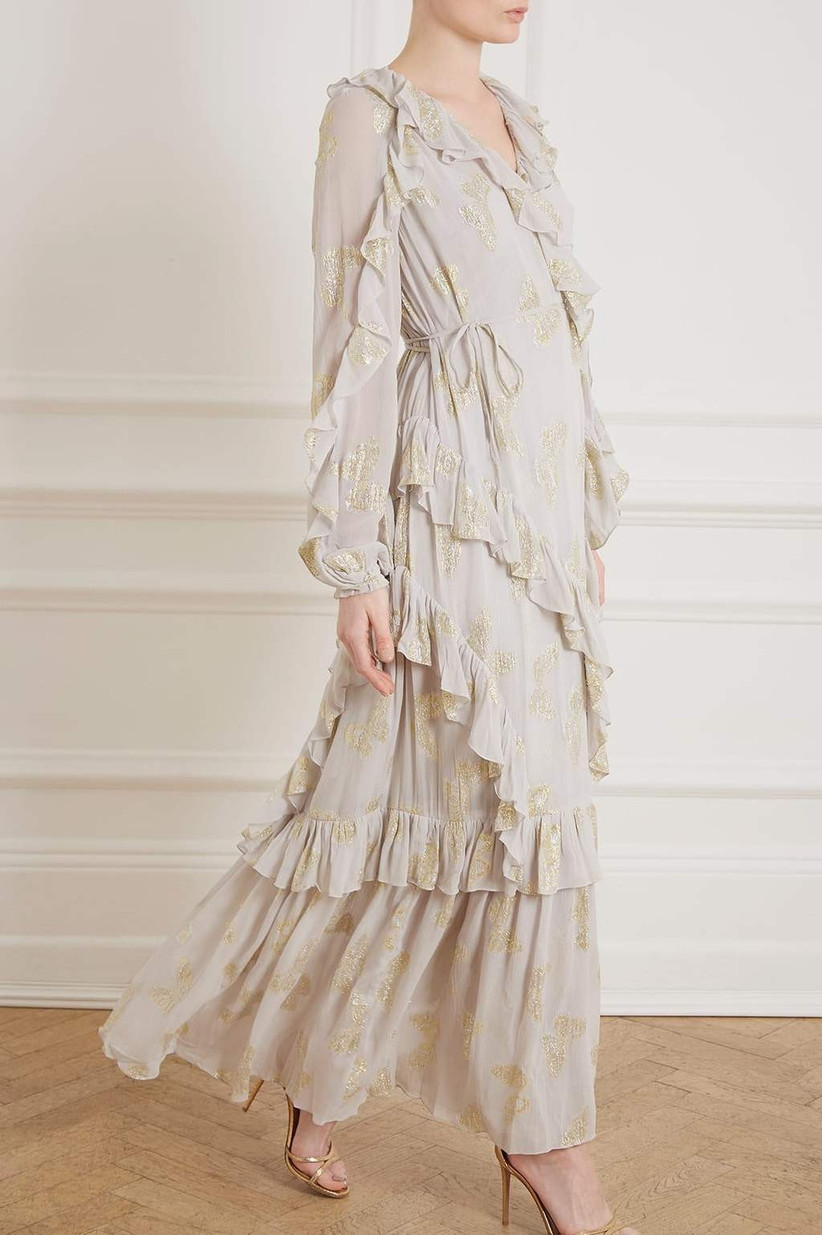 If you were considering white bridesmaids dresses but found yourself slightly unconvinced, bridesmaids dresses in an off-white shade like this could be the perfect compromise.
The Lurex Butterfly wrap gown by Needle & Thread is seriously fitting to your boho theme thanks to its shimmering butterfly motifs. And the best part? This dress would look just as fab with trainers as it would with heels, so your girls can wear it time and time again.
18. Amy Slinky Cowl Neck Maxi – Oasis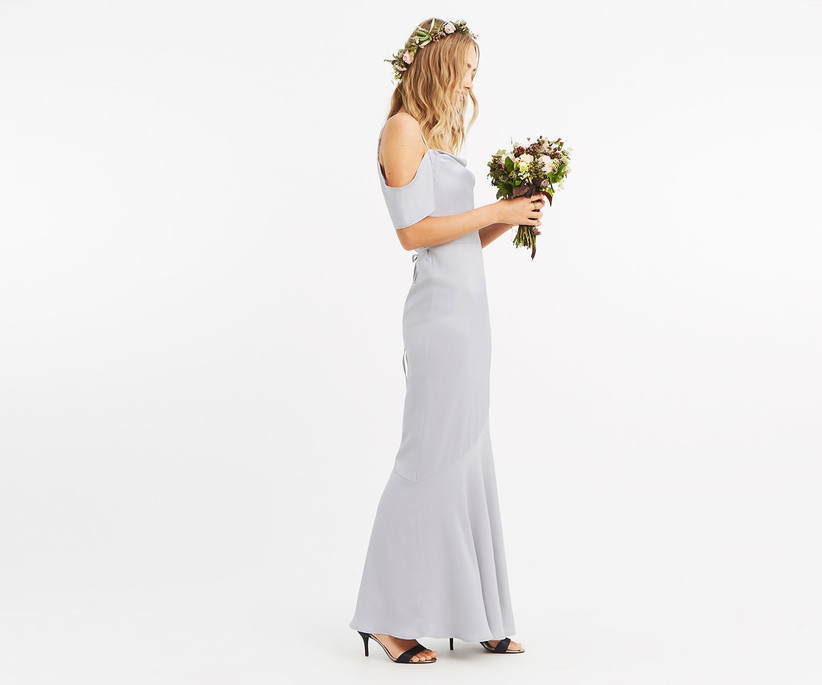 Brides on the hunt for high street bridesmaids dresses will adore Oasis' £85-per-pop cowl-neck maxi.
The neckline is so on-trend and the spaghetti straps are super flattering. Why not mix and match the colours for a super chic bridal squad look?
READ MORE: 50 Simple Wedding Dresses for Modern Brides
19. Courtney Embellished Corset Dress – Monsoon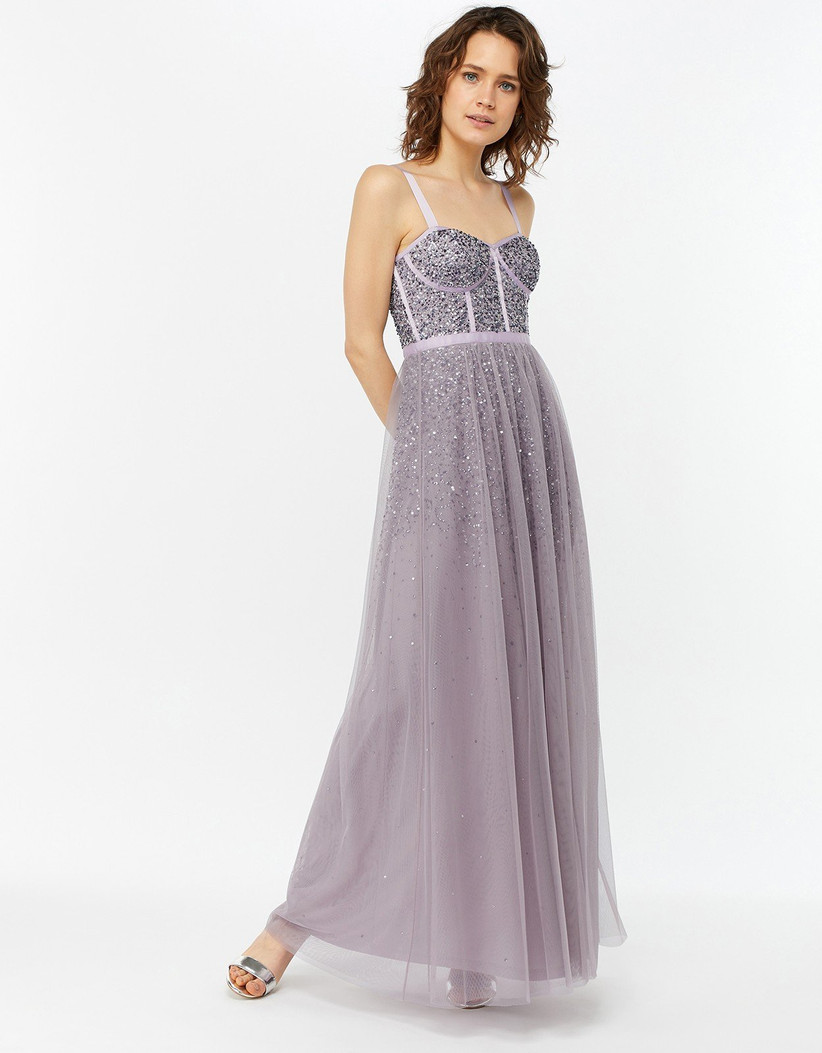 If you can't imagine your bridesmaids walking down the aisle before you in anything other than a super sparkly gown, Monsoon's Courtney dress could be everything you've been looking for.
This design includes intricate hand-sewn embellishment, a sparkling corset bodice and tulle skirt. Just imagine how beautiful it will look in your photos!
20. Valentina Sequin Dress – Needle & Thread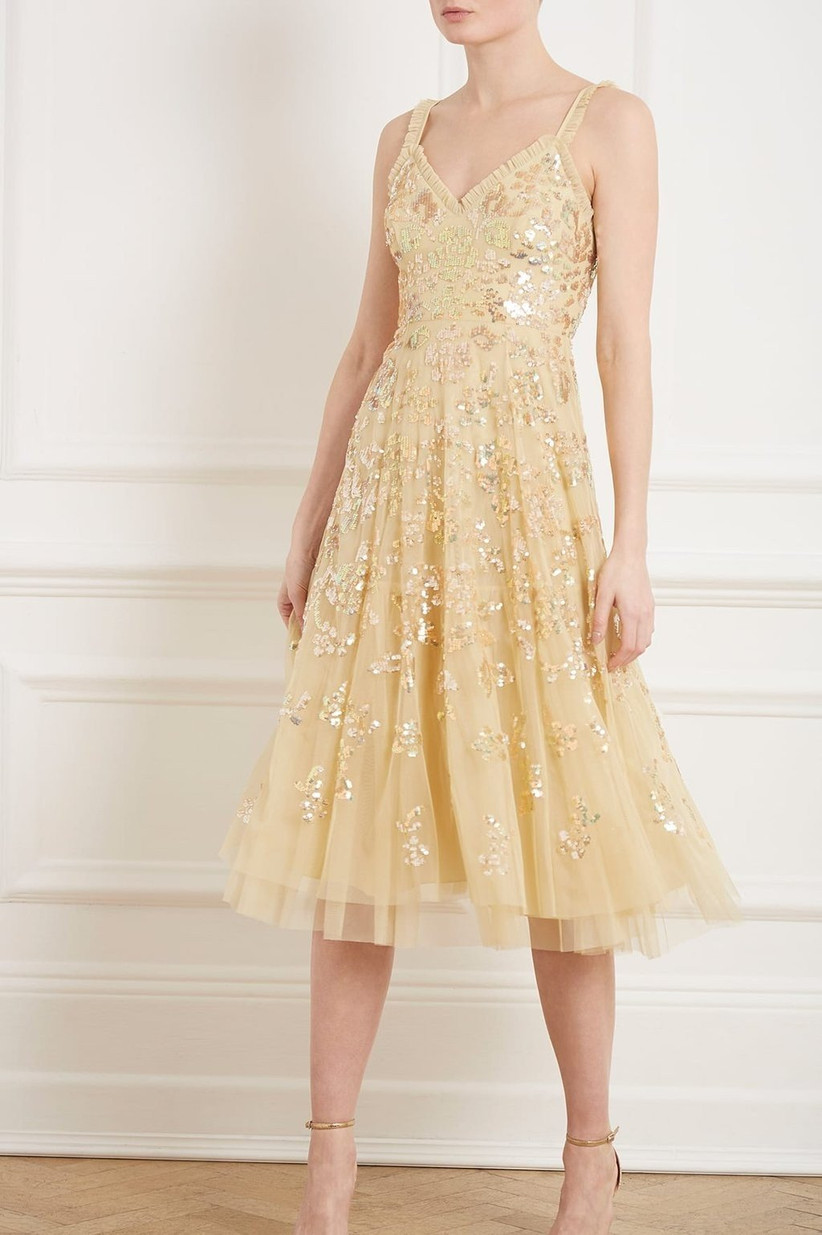 Back to Needle & Thread now, this time with the lemon yellow Valentina dress. If your boho wedding is taking place outdoors in the summer, a pastel shade like this will be totally fitting.
With an inner layer of tulle for added volume, the silhouette of this gown ensures your girls will shine under the sunlight all day long.
21. Karlie Knot Front Jacquard Dress – Monsoon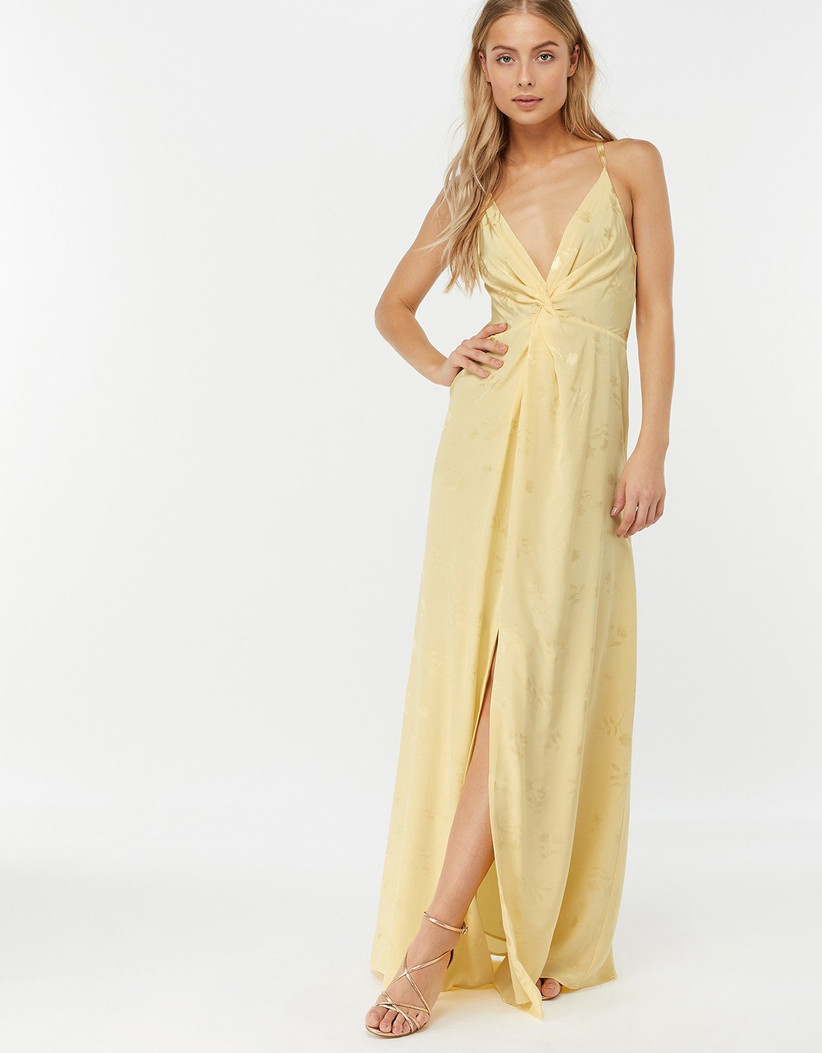 It's like Monsoon read our minds! Boho weddings are relaxed and carefree, and this dress is both of those things and more.
The floor-sweeping design features a split hemline and beautiful twist detail to the front. It'd look just as fabulous with flats as it would with heeled bridesmaid shoes.
READ MORE: The Ultimate Guide to Wedding Themes
22. Veerle Pale Mauve Maxi Dress – TFNC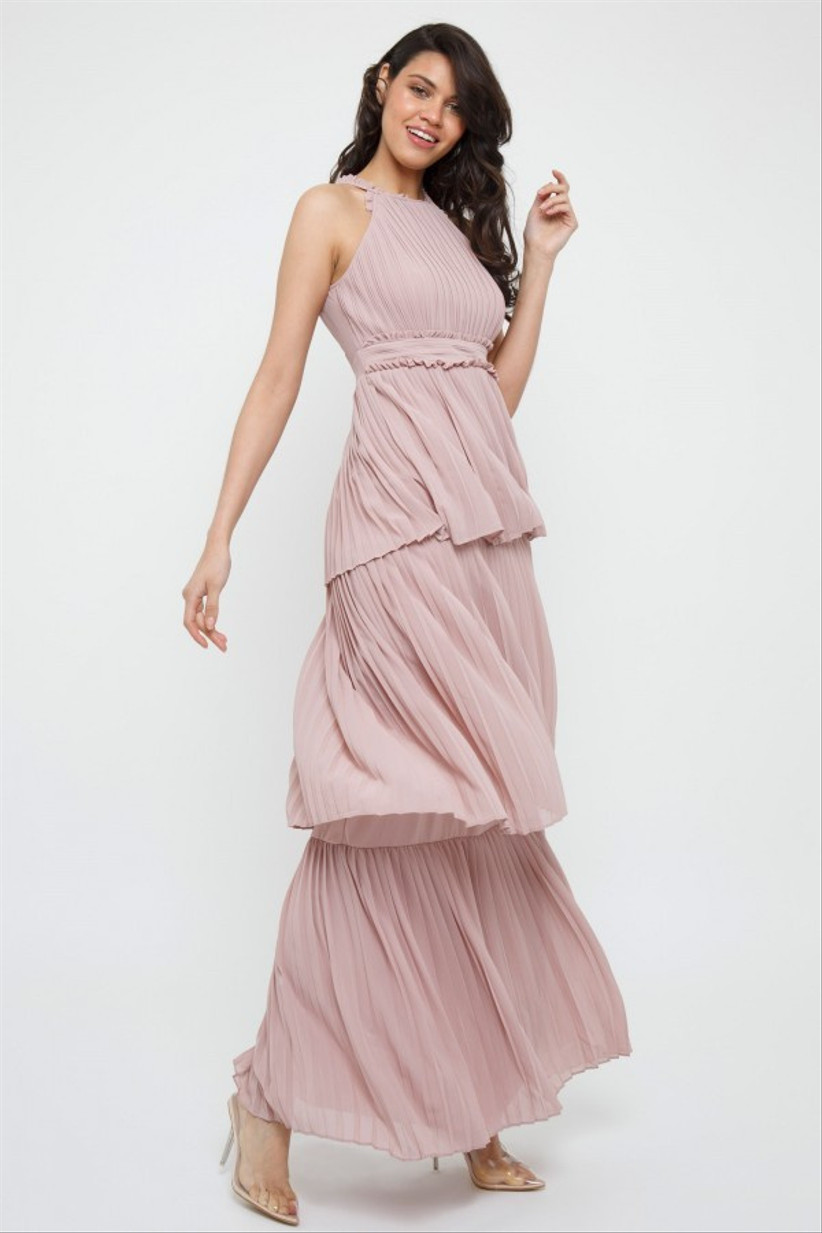 Tiered ruffling screams boho chic, so we were pretty chuffed when we stumbled across this TFNC beauty.
Not only is it just £75 (a total bargain for a dress this beautiful), but it features a ruffled waistline, high neck and layered skirt. Oh, and it's crafted in one of the most beautiful shades of pink we've ever seen. We're sold.
23. Lace & Beads Keeva Maxi Dress – TFNC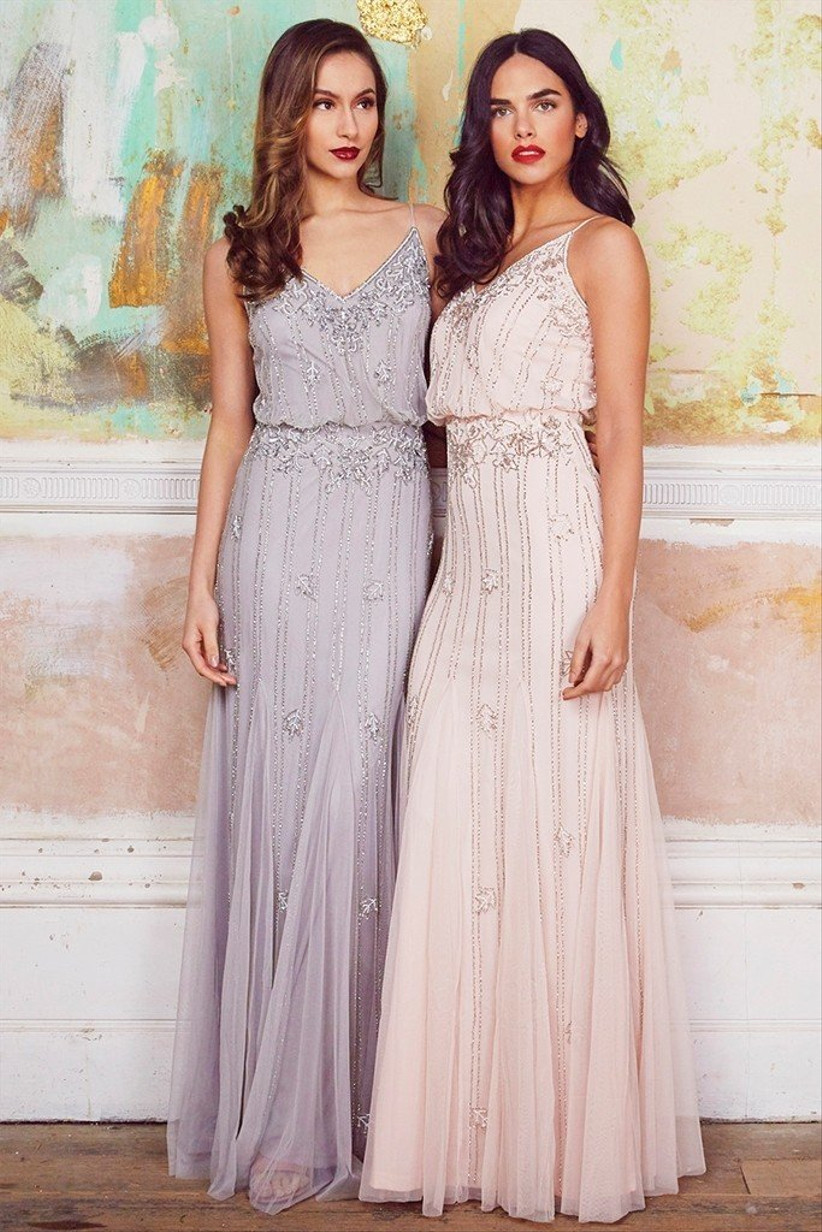 The Lace & Beads Keeva maxi dress by TFNC is as glamorous as it is elegant. It features embellished detailing throughout the dress, spaghetti straps and a fitted skirt.
Mismatched bridesmaids work particularly well at boho weddings, and since this dress is available in an array of pastel shades (and navy, if you're feeling daring) it's a bit of a no-brainer.
24. Finella Dress – Ted Baker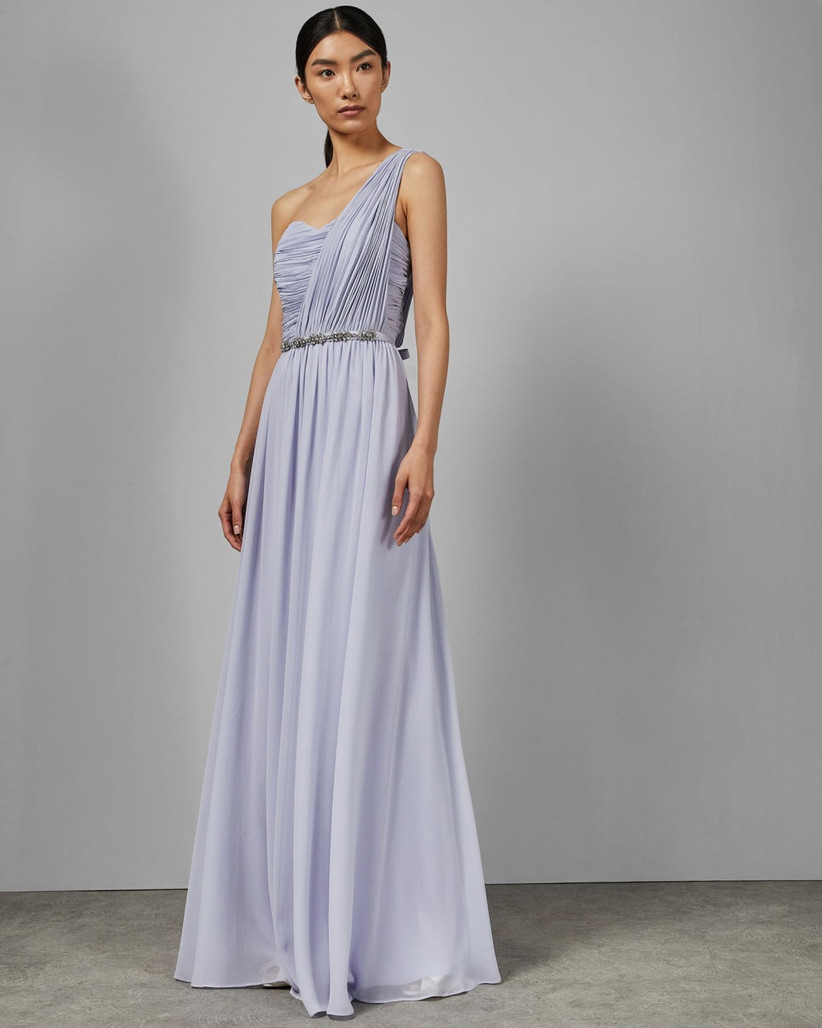 Choose the Ted Baker Finella dress, a gown which embodies sophistication and will ensure your girls make the most breathtaking of entrances.
It features a one-shoulder neckline, a flatteringly ruched bodice and embellished belt for delicate dazzle. And don't get us started on that colour…
25. Style 1559 – Allure Bridals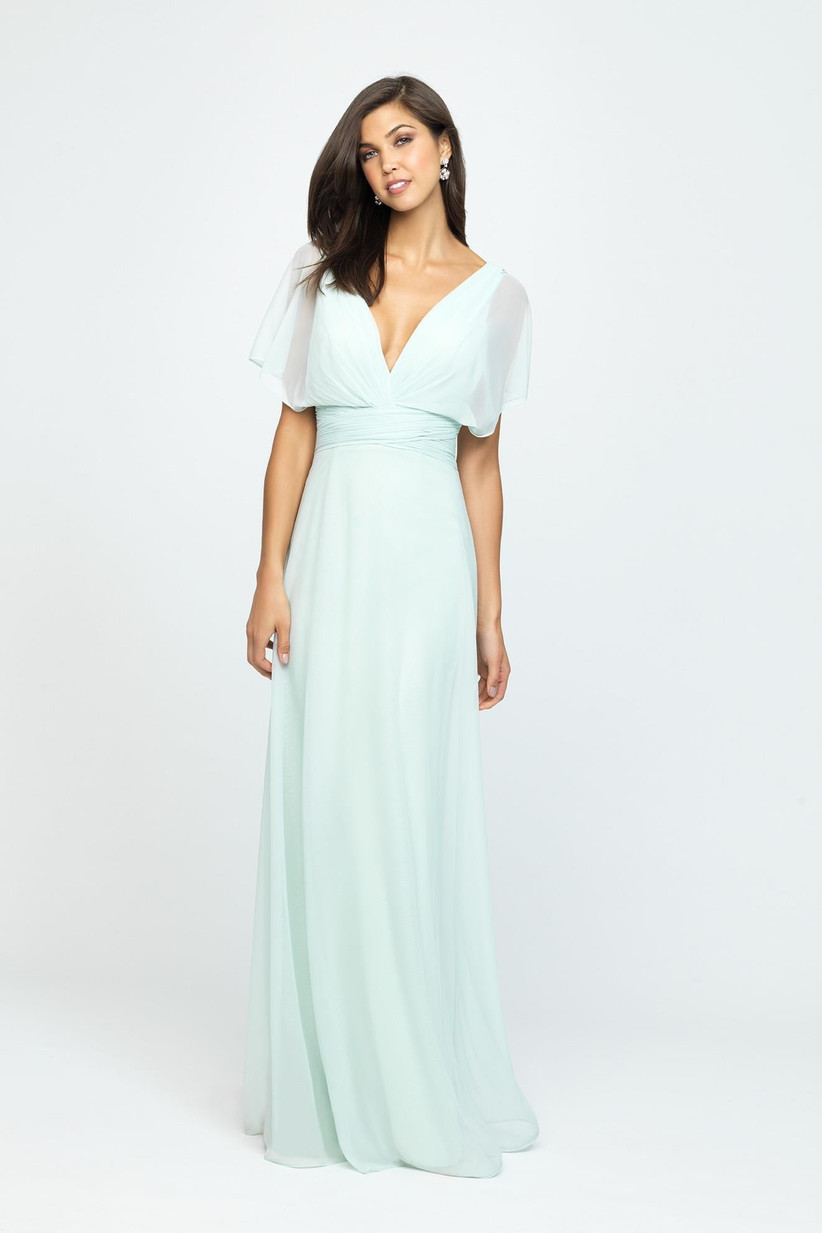 It's the sheer, floaty sleeves on this Allure Bridals dress which make it so perfect for your bohemian-themed wedding.
Crafted in beautiful, pale blue fabric and with a deep plunging neckline, this dress will ensure your bridesmaids look absolutely stunning as they walk before you down the aisle.
READ MORE: David Emanuel Reveals His Dos & Don'ts of Wedding Dress Shopping
26. Mindy Dress – Romantica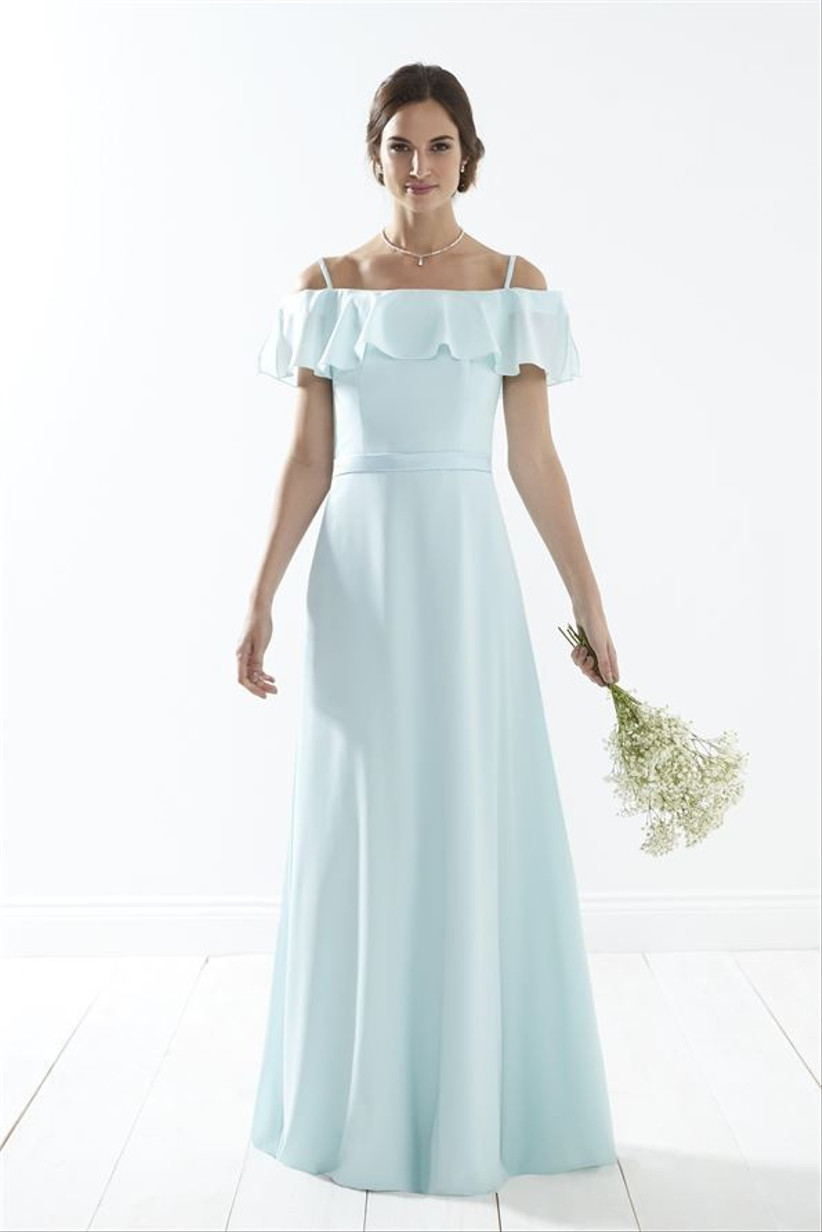 The Mindy dress by Romantica is a seriously stunning choice of boho bridesmaid dress.
We're head over heels in love with the off-the-shoulder ruffled neckline and flattering waistband. Choose a tousled updo for your girls' hair to keep their shoulders in full view.
27. Style VW360382 – White by Vera Wang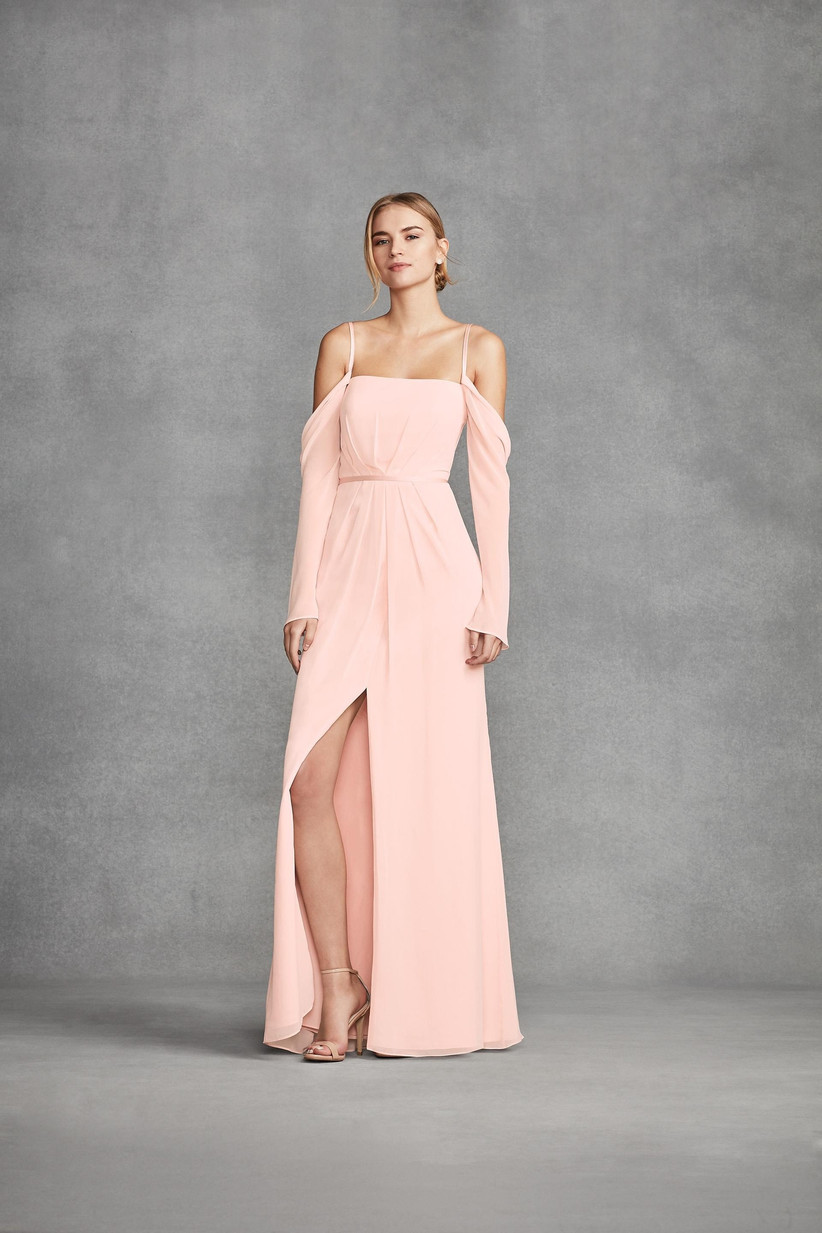 This cold-shoulder chiffon sheath bridesmaid dress from White by Vera Wang features sheer and romantic long swag sleeves and a slim satin waistband.
If you're hosting something boho-themed in the winter, the long sleeves make this breathtakingly beautiful dress the perfect choice. We're huge fans.
28. Style VW360409 – White by Vera Wang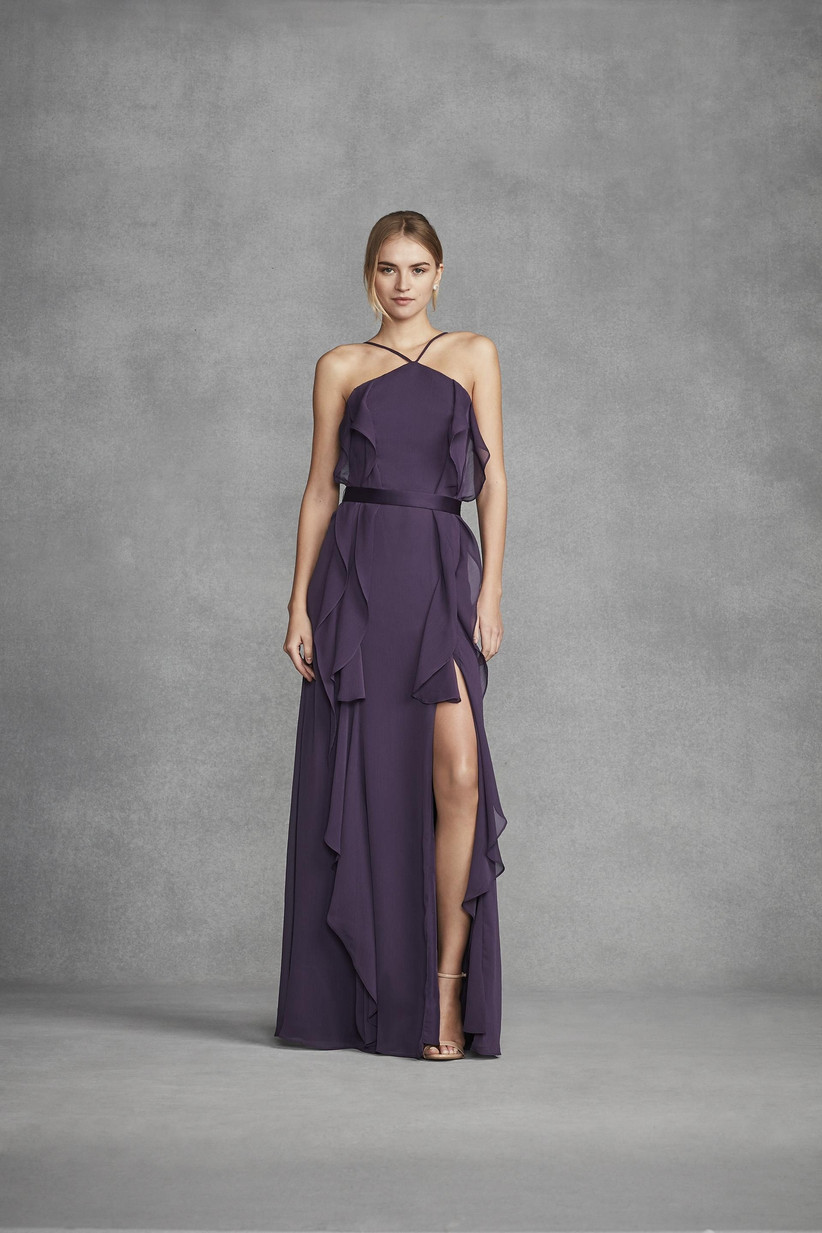 Boho bridesmaid dresses don't have to be pastel, and this beautiful ruffled gown by Vera Wang proves just that.
Cascading ruffles set it apart from other bridesmaid dresses, and the skinny belt accentuates the waist beautifully. What's not to love?
READ MORE: The Hottest 2020 Wedding Dress Trends You Need to Know About
29. Style 5341 – Colour by Kenneth Winston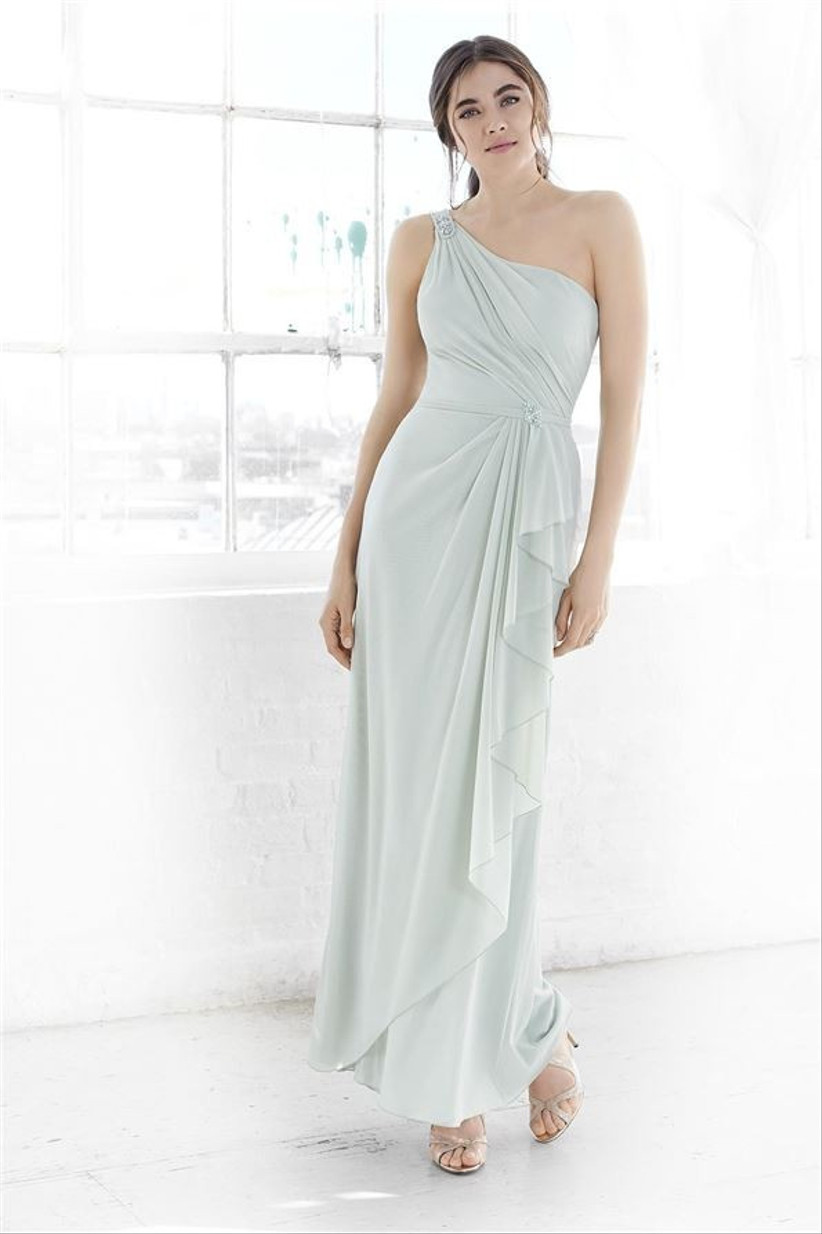 Your girls will look glamorous and ethereal on your big day if you choose this gorgeous one-shoulder bridesmaid dress.
Ruffles cascade from the waistline while two small bejewelled embellishments add welcome touches of dazzling detail.
30. Style 5340 – Colour by Kenneth Winston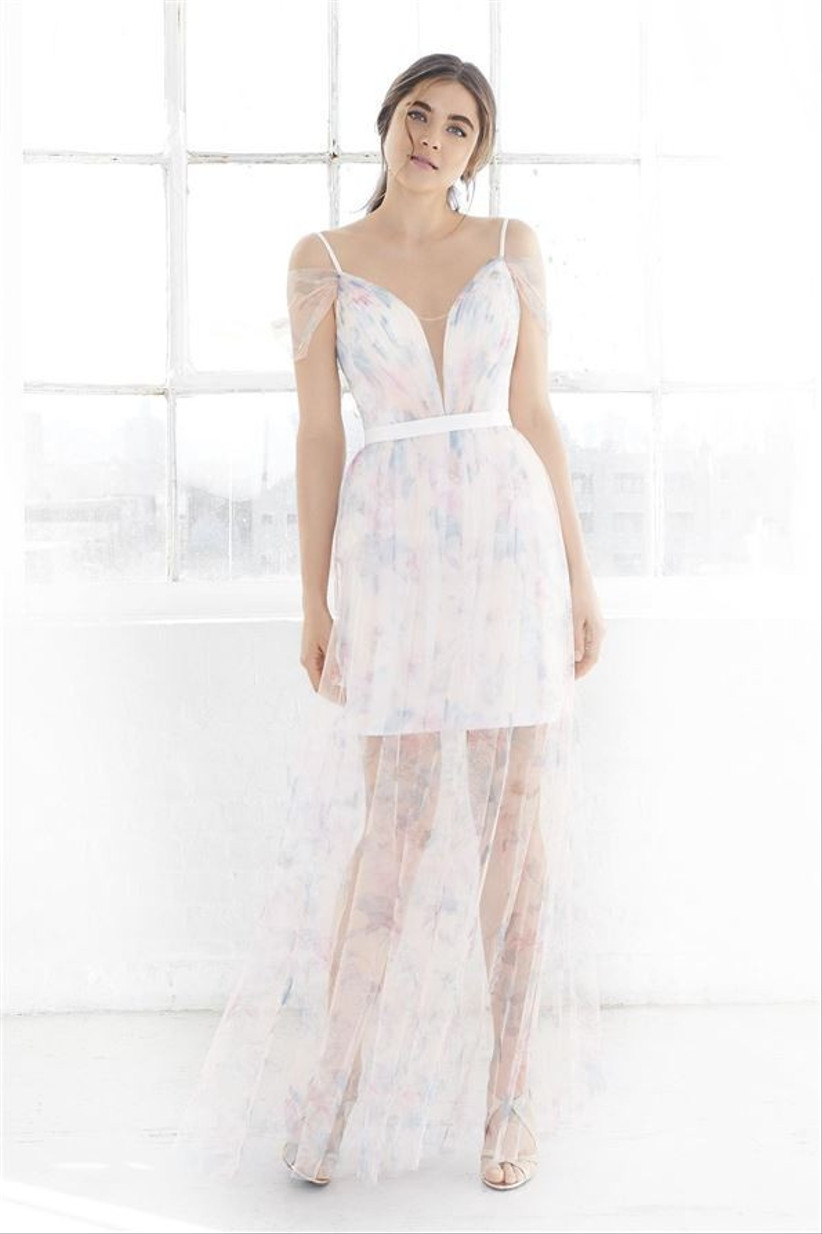 Printed dresses should not be overlooked when you're on the hunt for the perfect boho bridesmaid dress.
This subtle watercolour print sets the white fabric apart from that of your own wedding dress and totally fits in with the theme. We're loving the capped sleeves and sheer skirt – aren't you?
31. Style 5315 – Colour by Kenneth Winston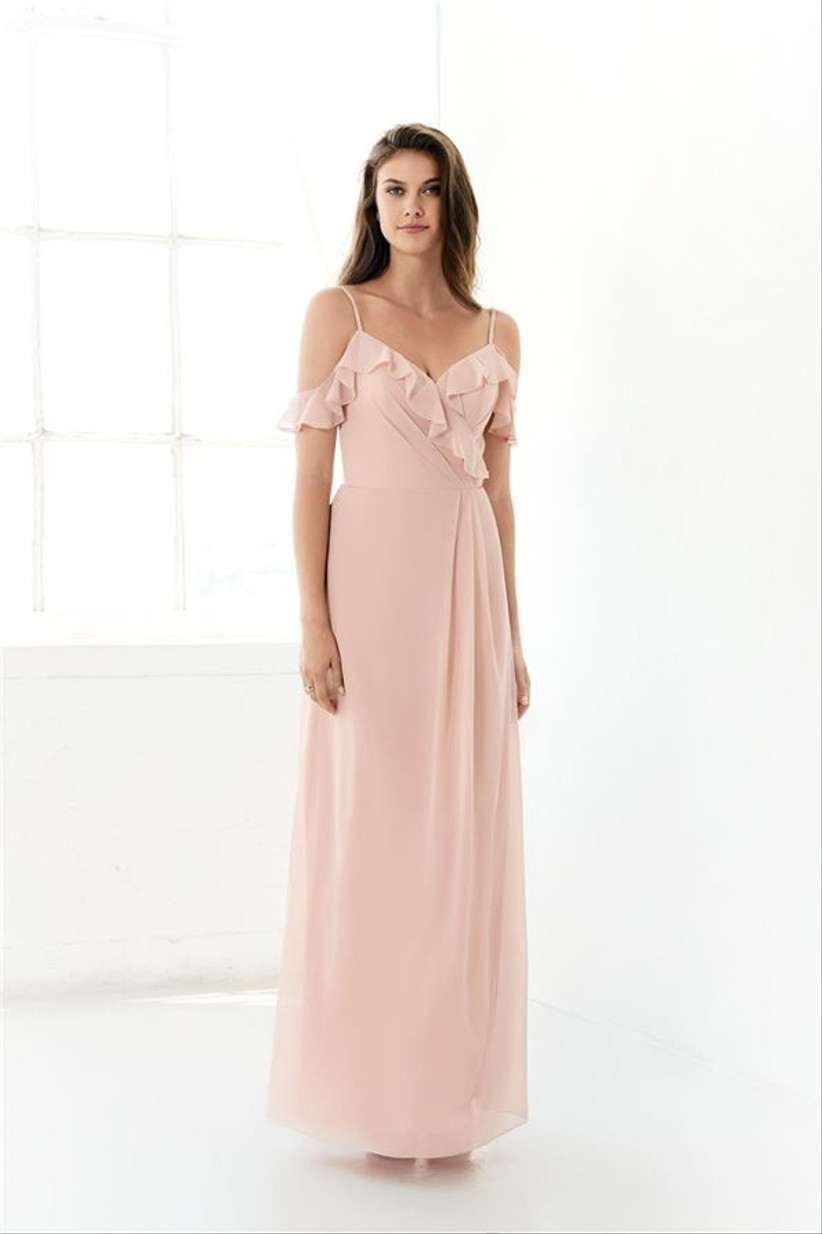 Next up we've got another glorious dress by Kenneth Winston.
We love the 5315 style which is cut in a flattering wrap silhouette with cold-shoulder detailing and ruffles.
32. Lace Flute Dress – Kelsey Rose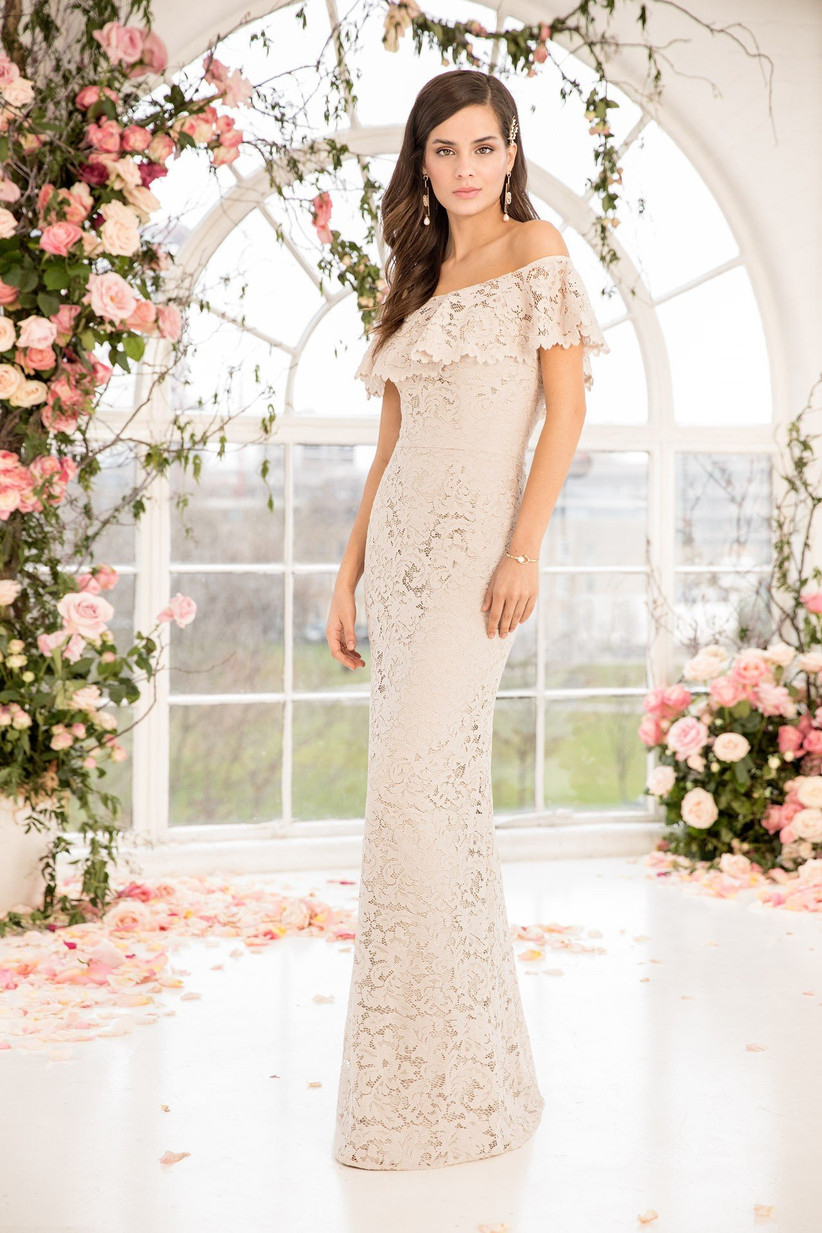 Ensure your girls make an entrance by choosing this lovely Kelsey Rose dress for them.
It's crafted from all-over corded lace and features a ruffled Bardot neckline and a sleek fit and flare shape. If that wasn't enough, this dress is available in a variety of colours making it perfect for any wedding theme and any season!
READ MORE: Would You Consider Black Bridesmaid Dresses?
33. Bardot Lace Dress – Kelsey Rose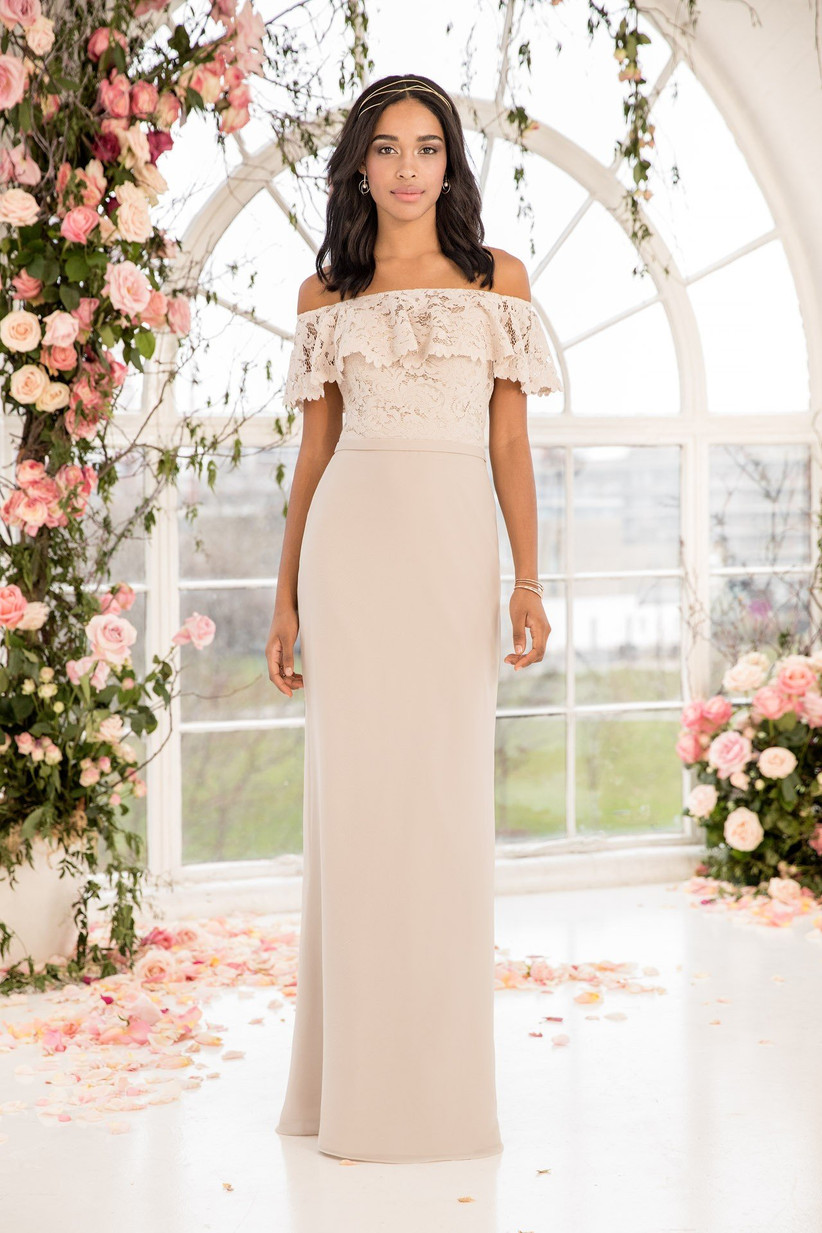 If all-over lace isn't quite your thing, perhaps a lace bodice with contrasting chiffon skirt will be?
The ruffled bardot neckline makes this dress perfect for a boho wedding, and the waistband and flared skirt ensure it flatters all figures.
34. Slim Net Dress – Kelsey Rose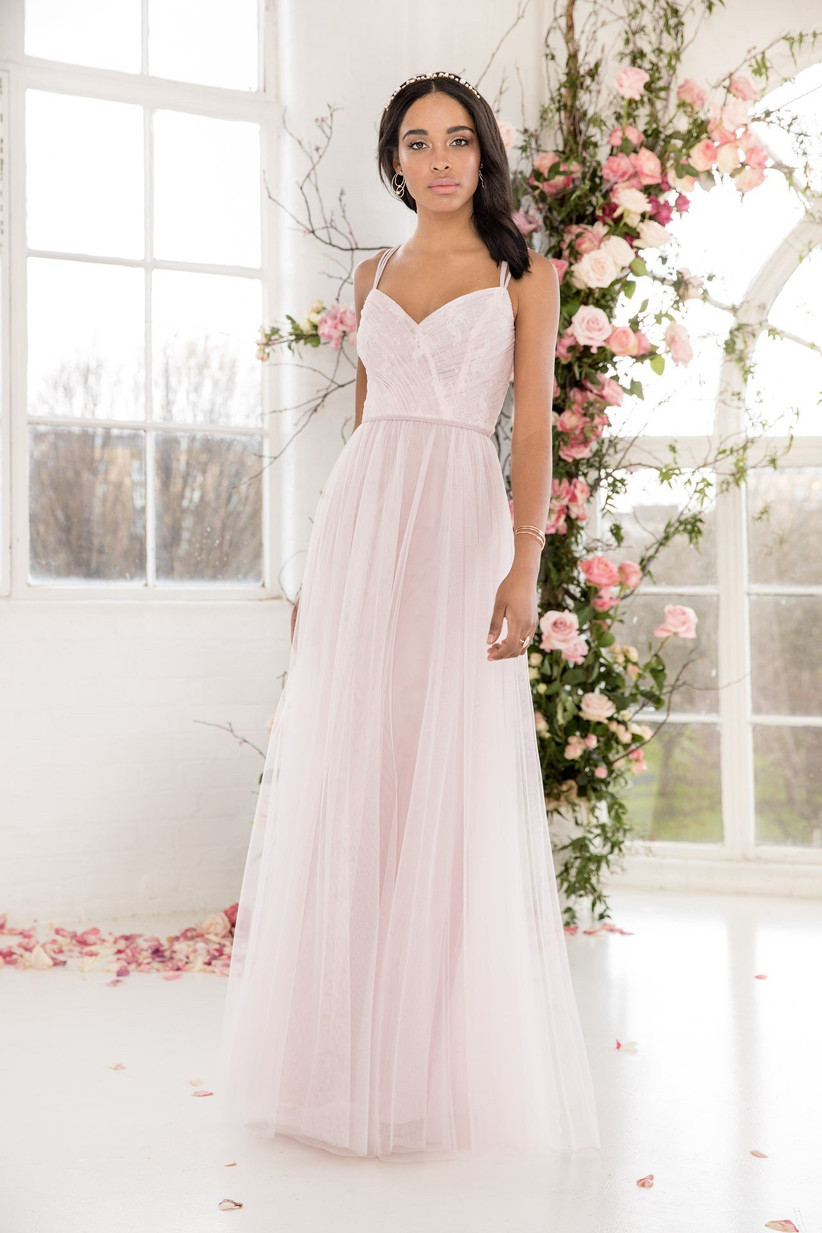 Kelsey Rose's slim net dress is fit for a princess and more than appropriate for your bohemian wedding day.
Dreamlike and soft, this Chantilly lace gown is made of layers of soft tulle. A sweetheart bodice adds a further feminine touch and the criss-cross skinny straps make this gown one to be adored.
READ MORE: The Prettiest Bride & Bridesmaid Dressing Gowns & PJs
35. Pure Ruffle Dress – Kelsey Rose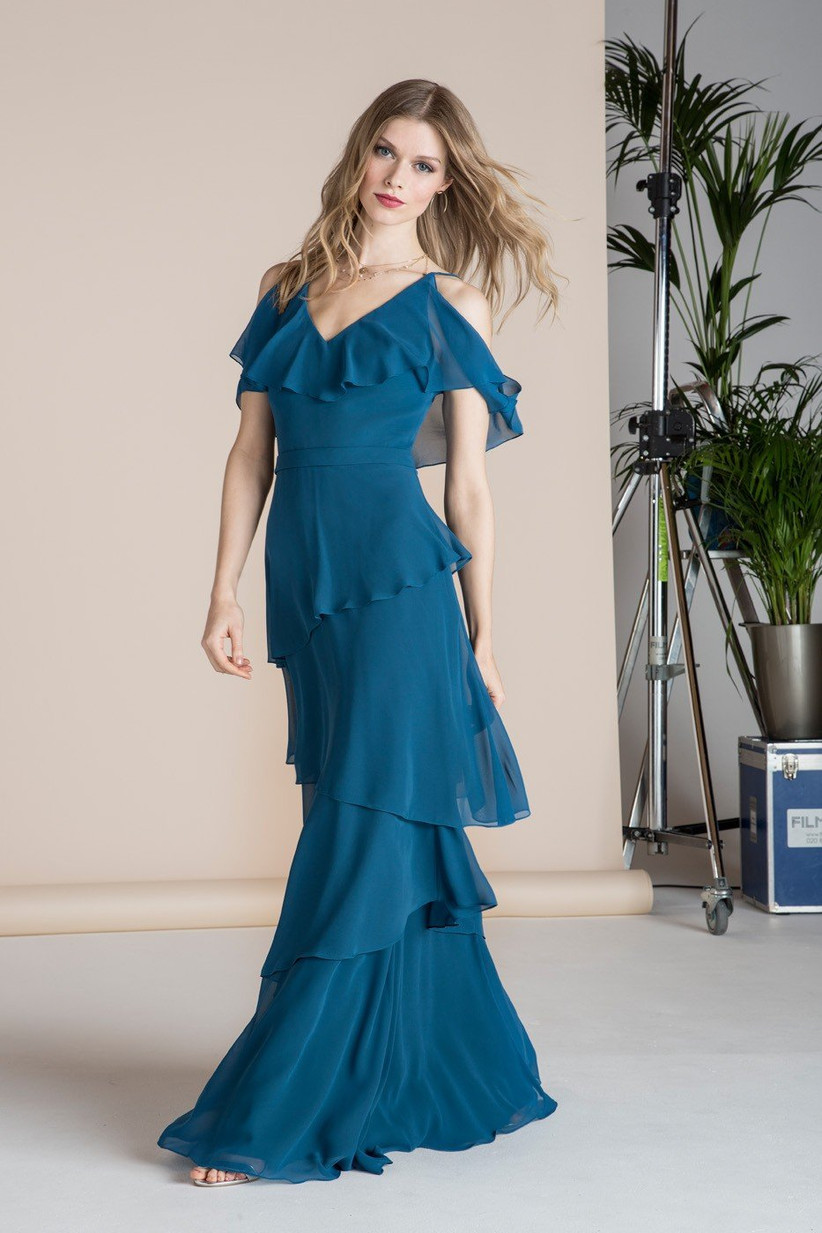 Available in endless colour-ways, the Kelsey Rose pure ruffle dress is one of the most boho wedding-ready bridesmaid dresses we've laid our eyes on. Save the best until (almost) last, as they say!
Cold-shoulder straps give the dress an on-trend feel, and we just love the tiered frills on the romantic, floor-length skirt for a look that perfectly balances elegance and drama.
36. Style L214064 – Jasmine Bridal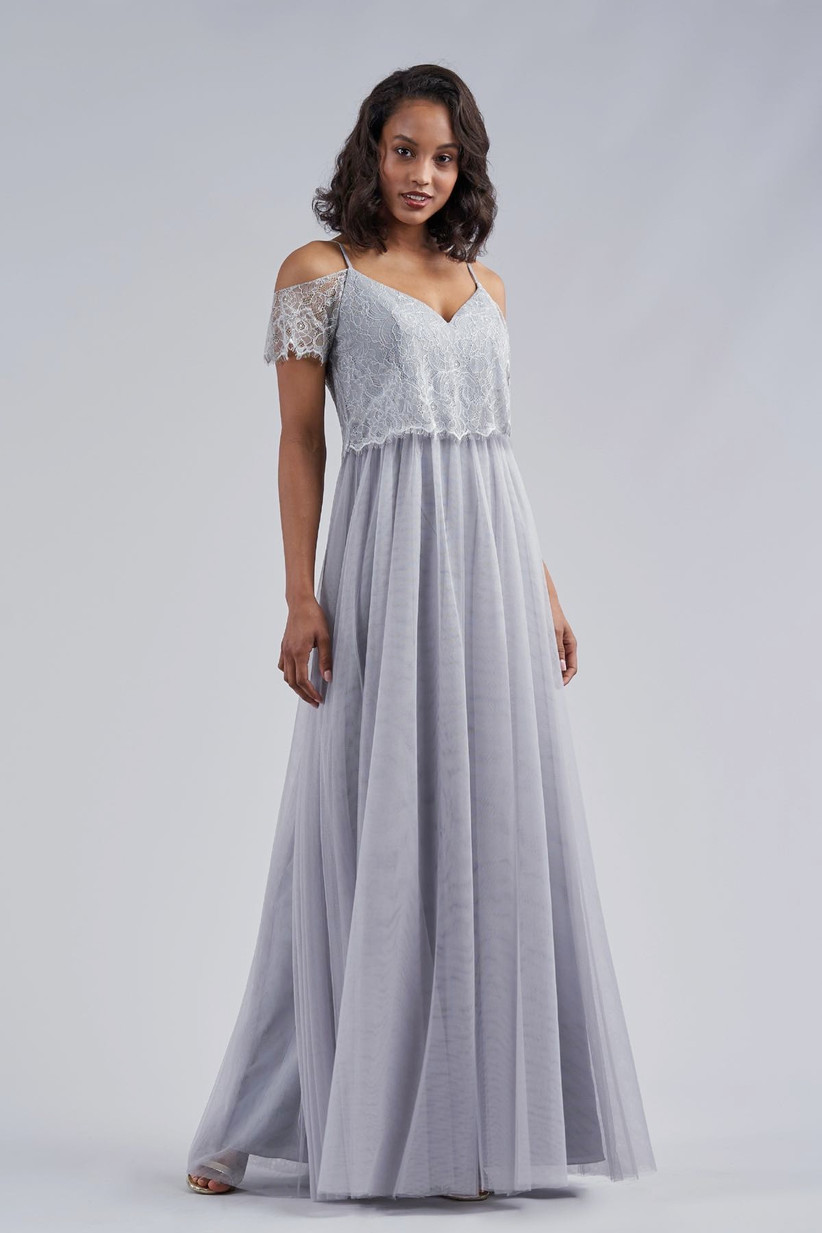 Pretty and feminine, this silver boho bridesmaid dress features a lovely combination of beautiful lace and soft tulle.
Finished with a flattering V-neckline and off-the-shoulder sleeves, it is a lovely choice for your favourite girls.
37. Custom Bridesmaid Dresses – Motee Maids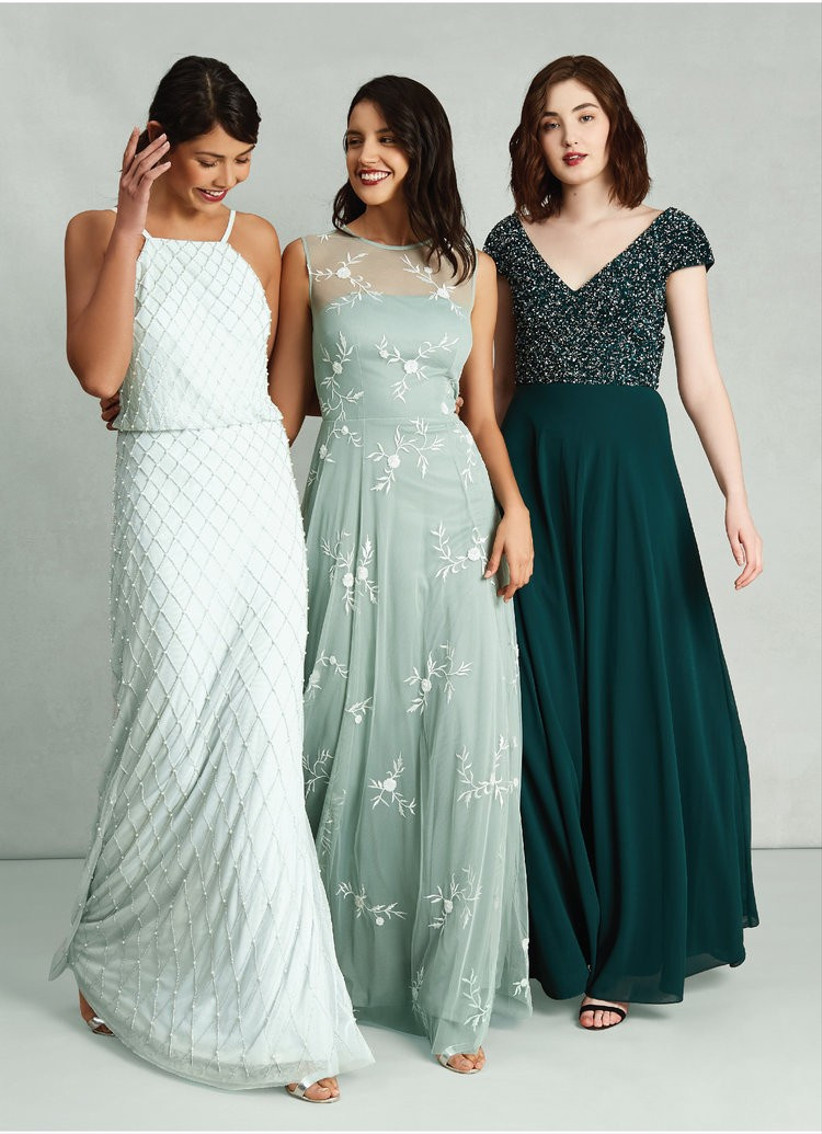 More often than not, each of your bridesmaids will have different body shapes, skin tones and tastes.
Thankfully, Motee Maids create custom bridesmaid dresses, where you can choose to have all of your dresses in the same colour but different styles, or the same style in different colours! Oh, and the best bit is that each and every one of their sparkling designs scream boho chic. Check them out!
READ MORE: The Cutest Glitter Wedding Ideas
Not convinced by boho bridesmaid dresses? Check out our round-up of the best bridesmaid dresses of the moment for gowns for every theme.