19 of the Best Beach Wedding Destinations Around the World
These amazing beach wedding destinations might do the opposite to narrowing down your options for a wedding abroad - you'll want them all!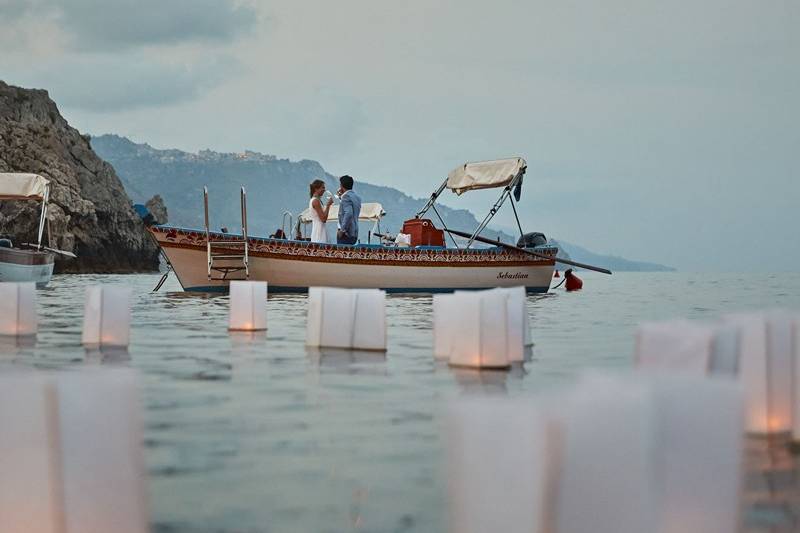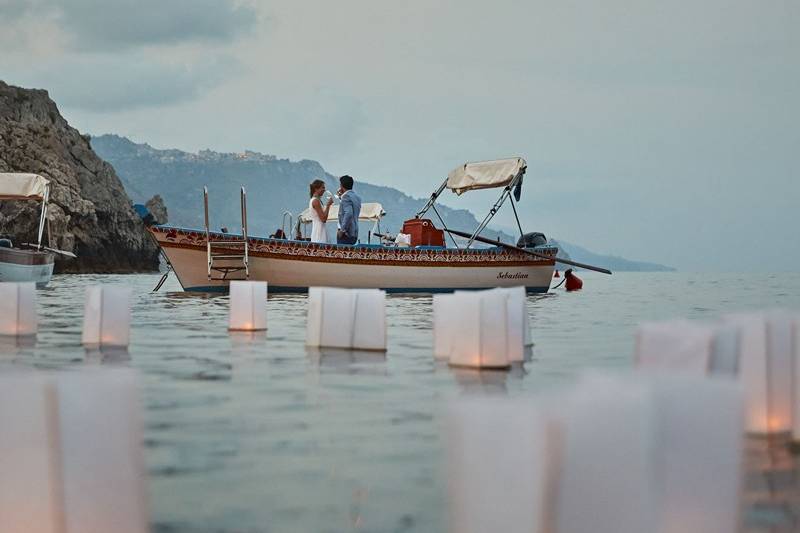 If you're planning a wedding abroad, look no further than these 18 stunning beach wedding destinations.
The lure of a powdery white beach, turquoise ocean, sunny sky and relaxed island vibe is hard to beat.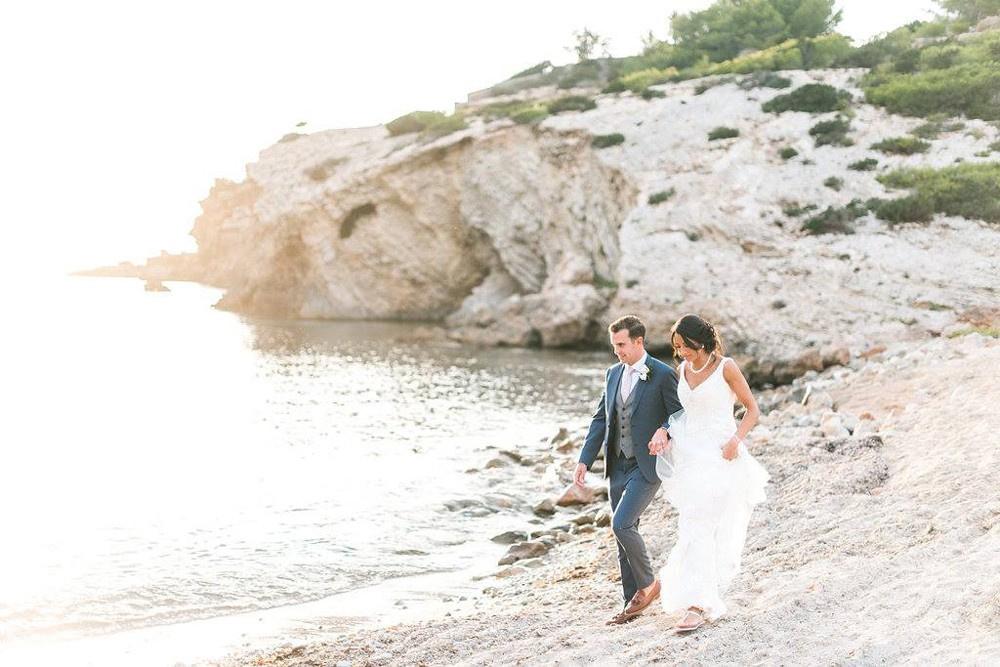 Image: Elixir Ibiza
It's a favourite choice for celebrities too, with supermodel Cindy Crawford to action man Matt Damon saying 'I do' on the sand.
READ MORE: Everything You Need to Know About Getting Married Abroad
But it can be hard to narrow down exactly where to hold your beach wedding, so we've found the 18 best places around the world to get married on the beach.
Once you've found your destination, all you need is your beach style wedding dress, your flat wedding shoes and you're ready for a wedding in the sun!
Don't forget we highly recommend using a destination wedding specialist such as The Wedding Travel Company who specialise in beach weddings around Europe, North America & the Caribbean.
Philippines – Pangulasian Island, El Nido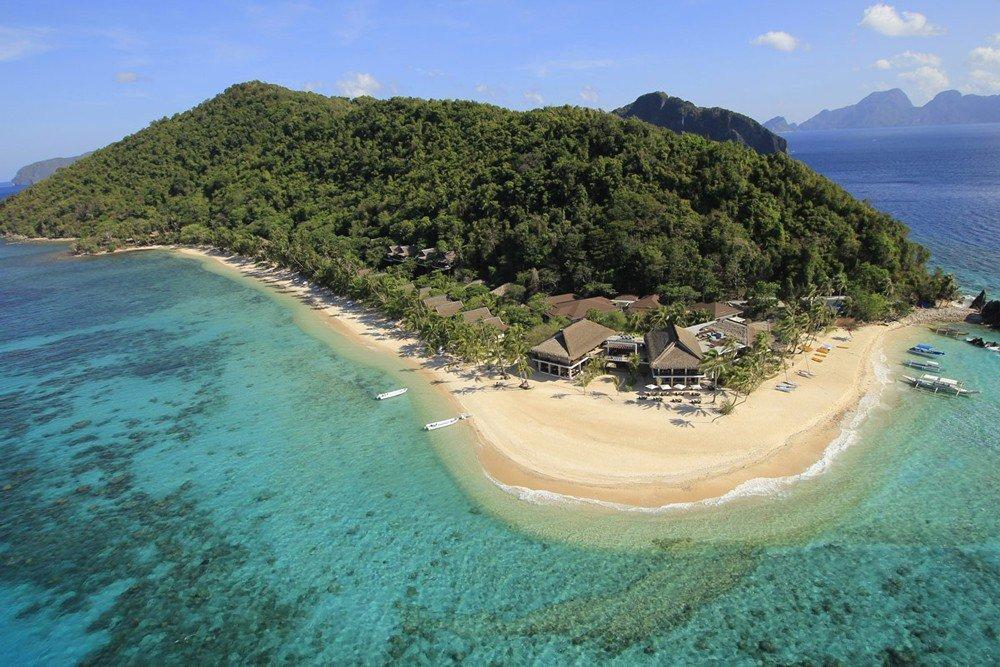 Image: El Nido Resorts
Paradise doesn't come close to describing the El Nido area of Palawan, voted the best island in the world. Nestled in the most beautiful part of Bacuit Bay is Pangulasian Island, an eco-luxury resort with a tropical forest as its backdrop, a pristine white beach on your doorstep, and a coral reef teeming with fish and sea turtles.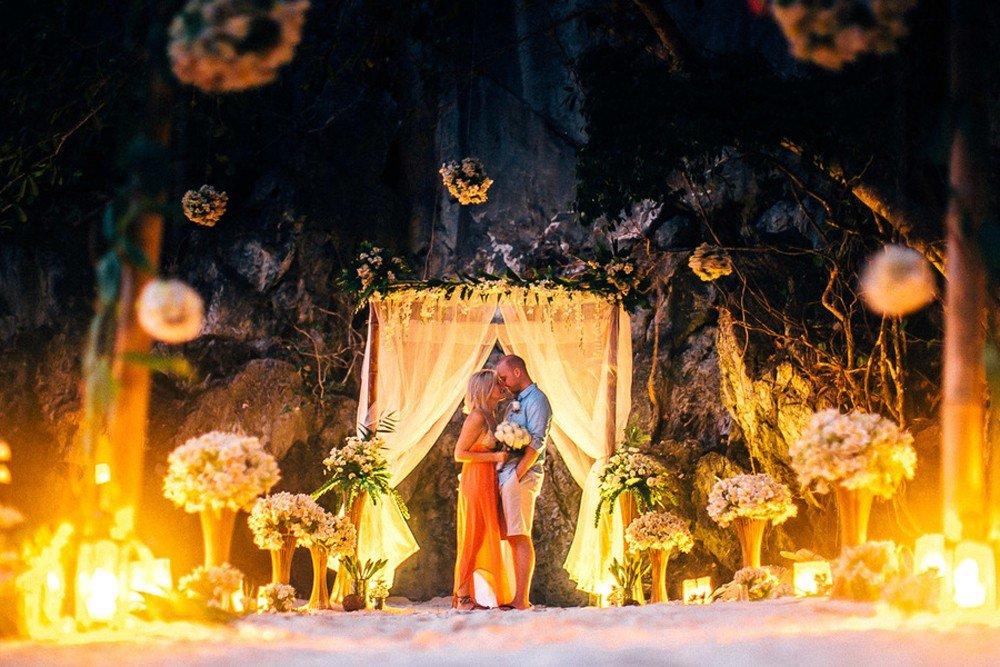 Image: Red Sheep Photo Cinema
Exchange your vows in an intimate ceremony on the beach, their garden chapel or hidden cove, followed by a sunset cruise and a party under the stars.
READ MORE: The Best Honeymoon Hotels in the World
Jamaica – Skylark, Negril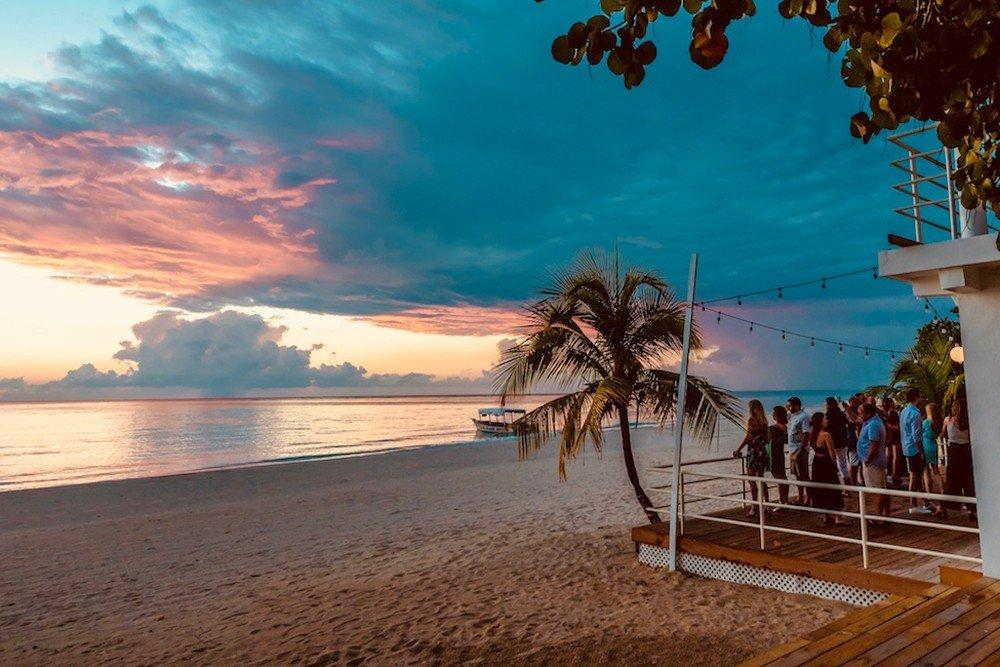 Image: Skylark Negril Beach
If a hip, creative aesthetic is your thing, then Skylark – described as a "Havana heyday-era bohemian beach resort"- is the perfect place for your wedding. Along with sister hotel Rockhouse, the whimsical pastel-palette resort sits on the white sands and crystal clear waters of Negril's famed Seven Mile Beach.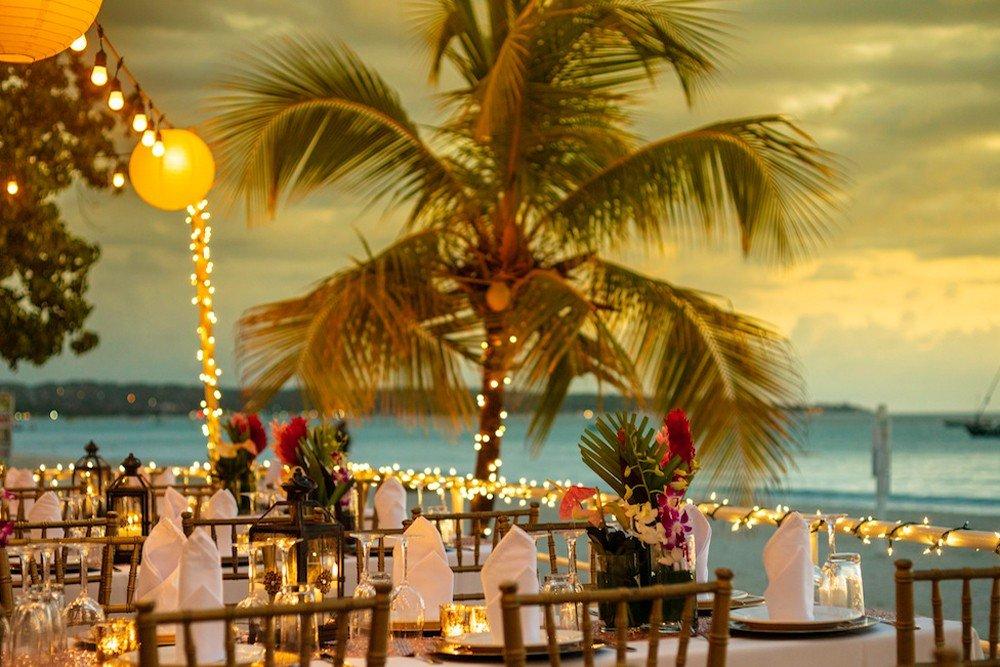 Image: Skylark Negril Beach
Exchange vows on the edge of the beach before a night of dance-hall inspired DJ-ing. And what Jamaican beach wedding would be complete without a jerk smoke house on-site and the finest rums on tap?
Sicily – Belmond Sant'Andrea, Taormina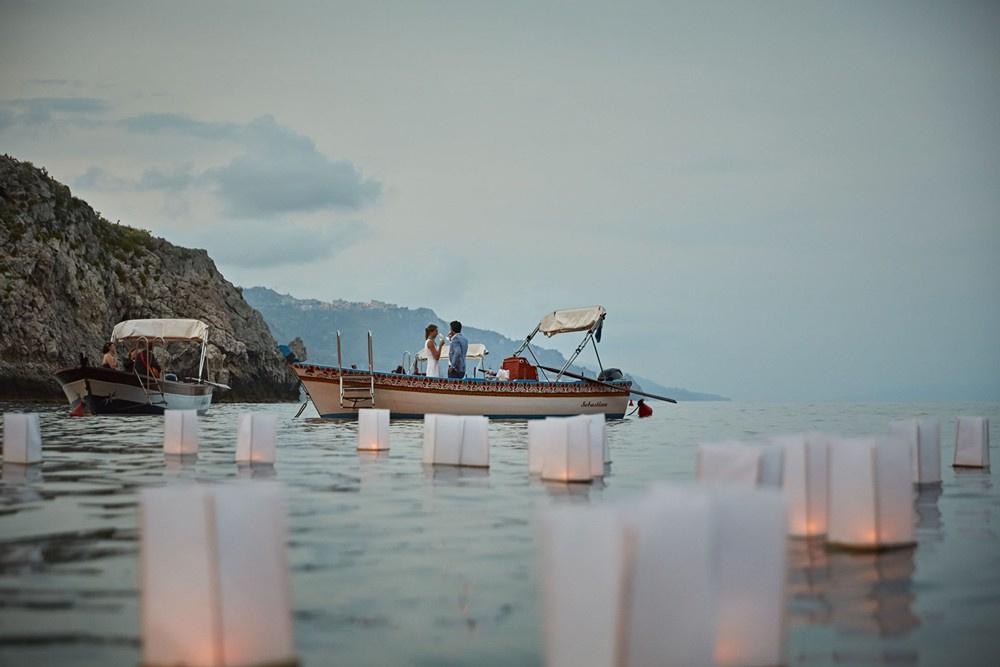 Image: Villa Sant'Andrea
Perched on the sparkling waters of Mazzaro Bay, the imposing 19th century Villa Sant'Andrea deservedly enjoys a reputation as one of Sicily's most romantic hotels.
READ MORE: 17 Reasons to Marry in Italy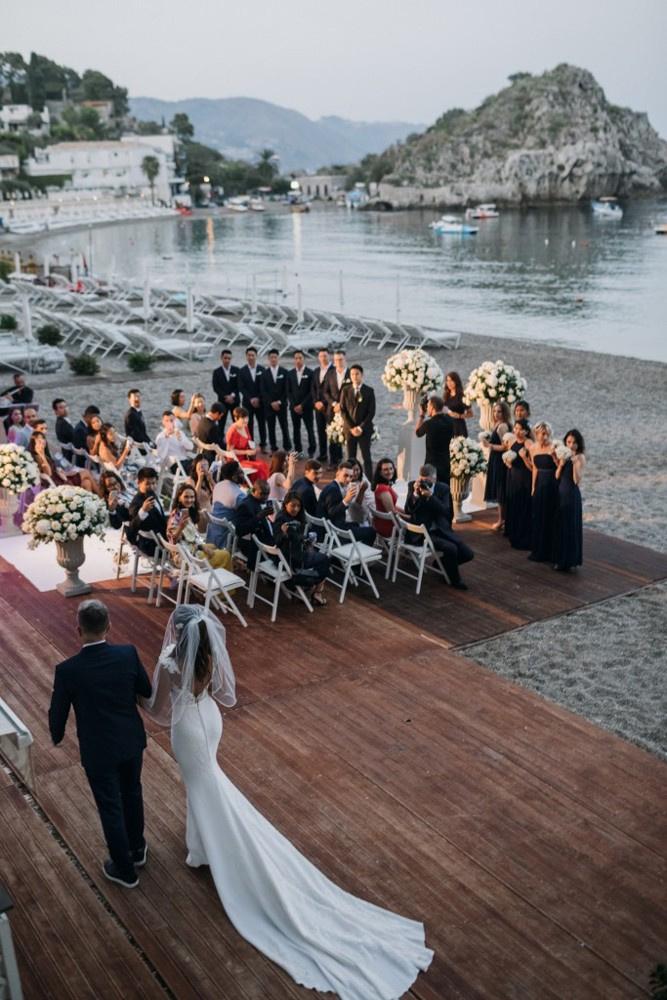 Image: Pronovias/Andrew Bayda Photography
Make this beachside hideaway the setting for your Italian fairytale with a blessing by the water, local musicians playing into the night, a seafood banquet with flowing Italian wines and a sunset sail. If you want a church wedding or civil ceremony, these can also be arranged. Nothing is too much for their dedicated weddings team.
Vietnam – InterContinental Danang Sun Peninsula Resort, Da Nang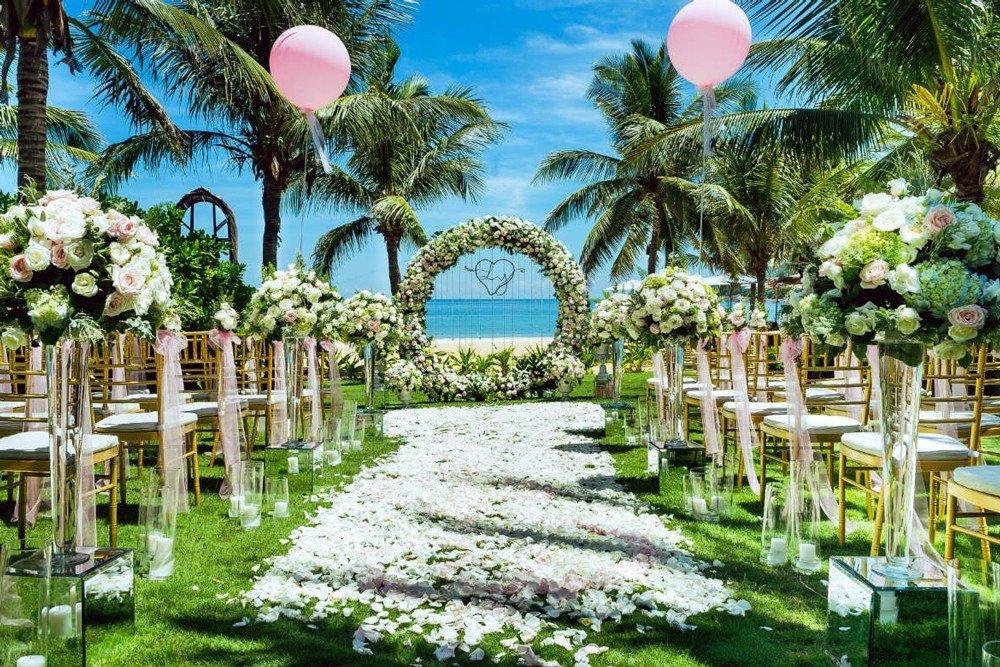 Image: Danang Sun Peninsula Resort
Marry beneath the dramatic landscape of the Son Tra Peninsula on the sweeping private beach of the Danang Sun Peninsula Resort on Vietnam's East Coast. The resort is perched on a lush hillside that leads down to the sea, and weddings here can take place on the beach or in their tropical garden a few steps away. Inside the hotel, there's a lavish ballroom ideal for bigger events.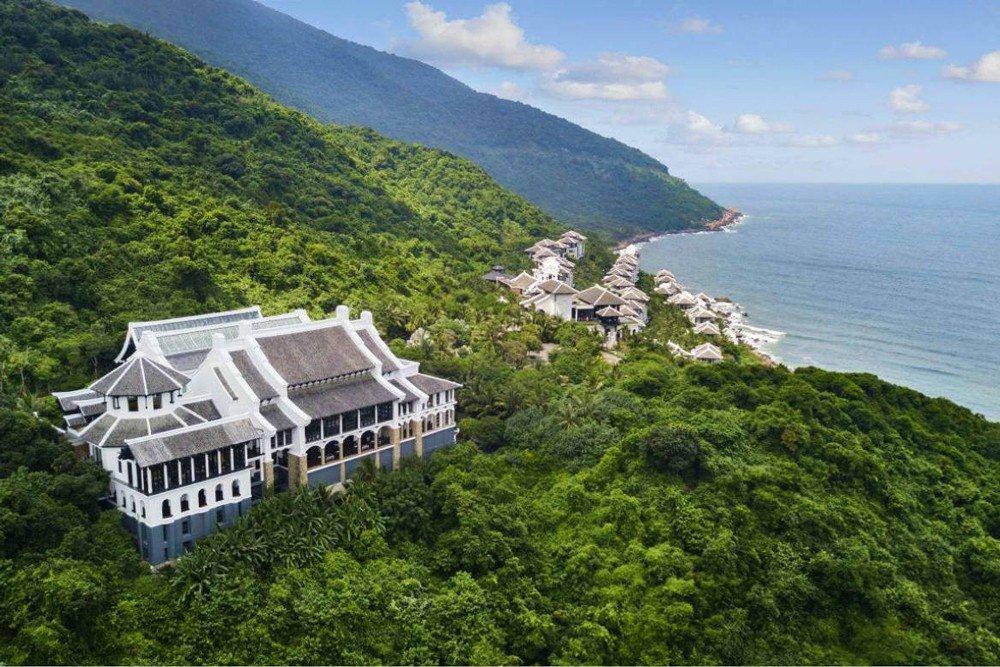 Image: Danang Sun Peninsula Resort
Tailor-made weddings can include unique Vietnamese customs to help you embrace not only the beautiful landscapes but traditions of the country.
St Barths – Le Guanahani, Grand Cul-de-Sac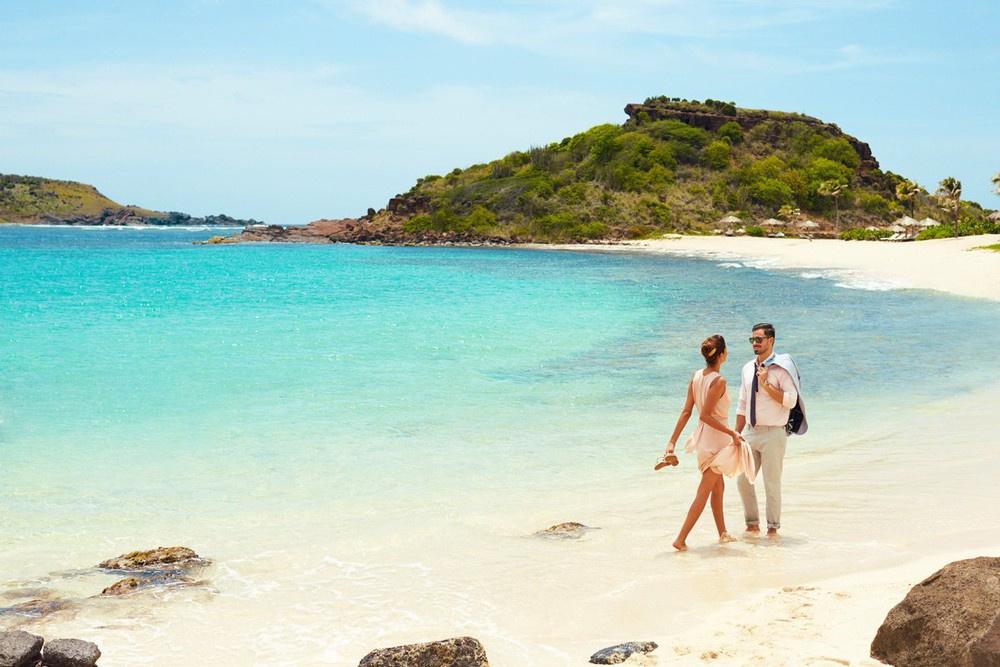 Image: Le Guanahani
Favoured by celebrities and royals, the beautifully romantic island of St Barths is the height of exclusivity. Sitting on the water's edge is Le Guanahani, one of the most glamorous hotels, and its Coconut Grove – flanked by two perfect sandy beaches calling out for you to say 'I do' on – is ideal for your private ceremony of up to 120 people.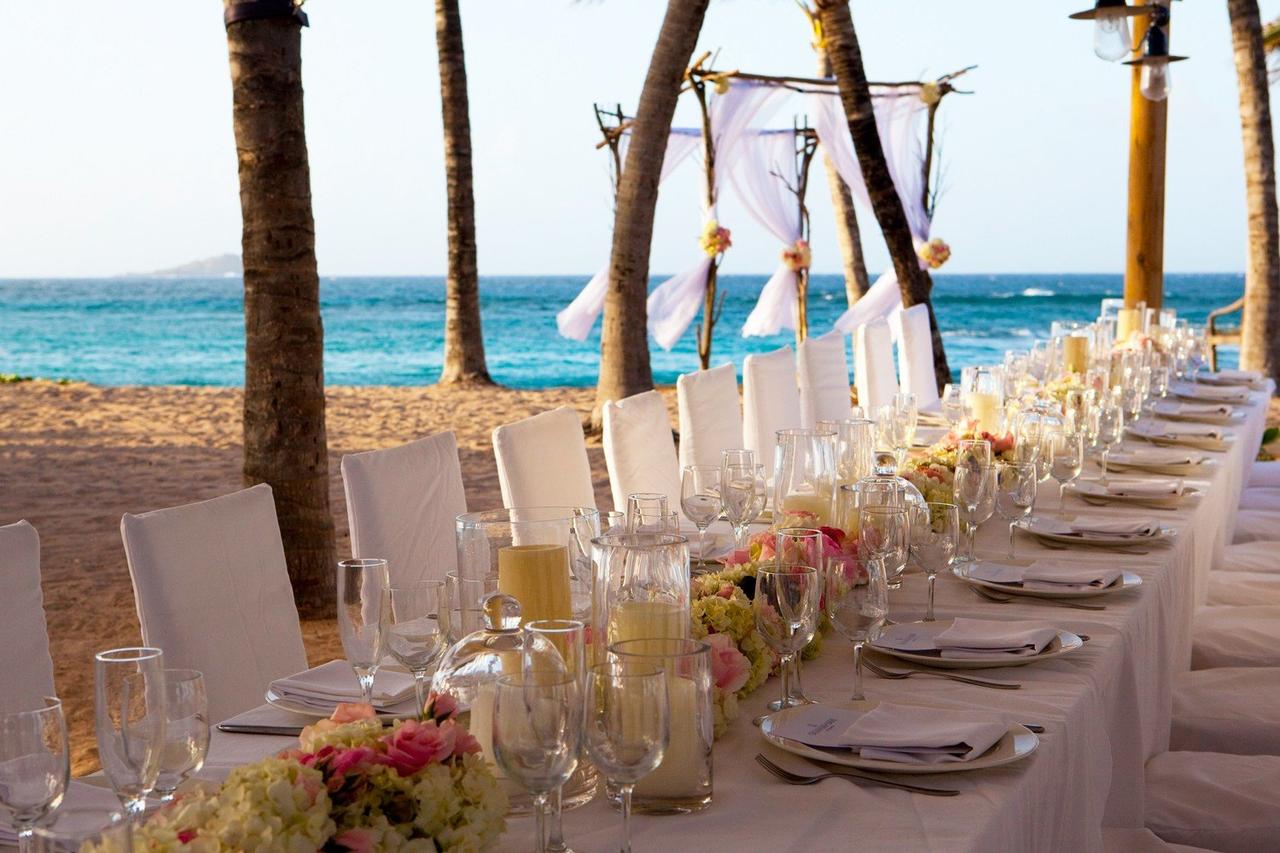 Image: Le Guanahani
For non-residents or those who aren't of French nationality, you'll need to start your marriage license application early, but the unforgettable celebration will be well worth it.
READ MORE: The Biggest Honeymoon Trends of 2018
Fiji – Likuliku Lagoon Resort, Malolo Island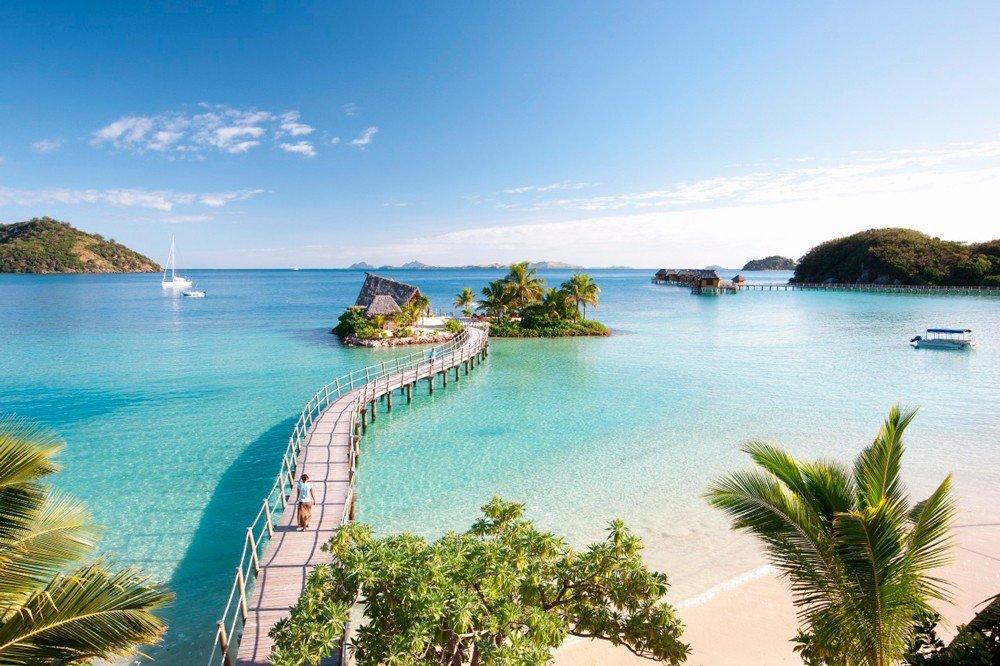 Image: Likuliku Lagoon Resort
Located in Fiji's popular 'Mamanuca' archipelago, Likuliku looks over the waters of the pristine natural lagoon. For couples who don't want to just marry on the beach, you can tie the knot on the deck of your over-water bure, perched on top of your own reef aquarium below.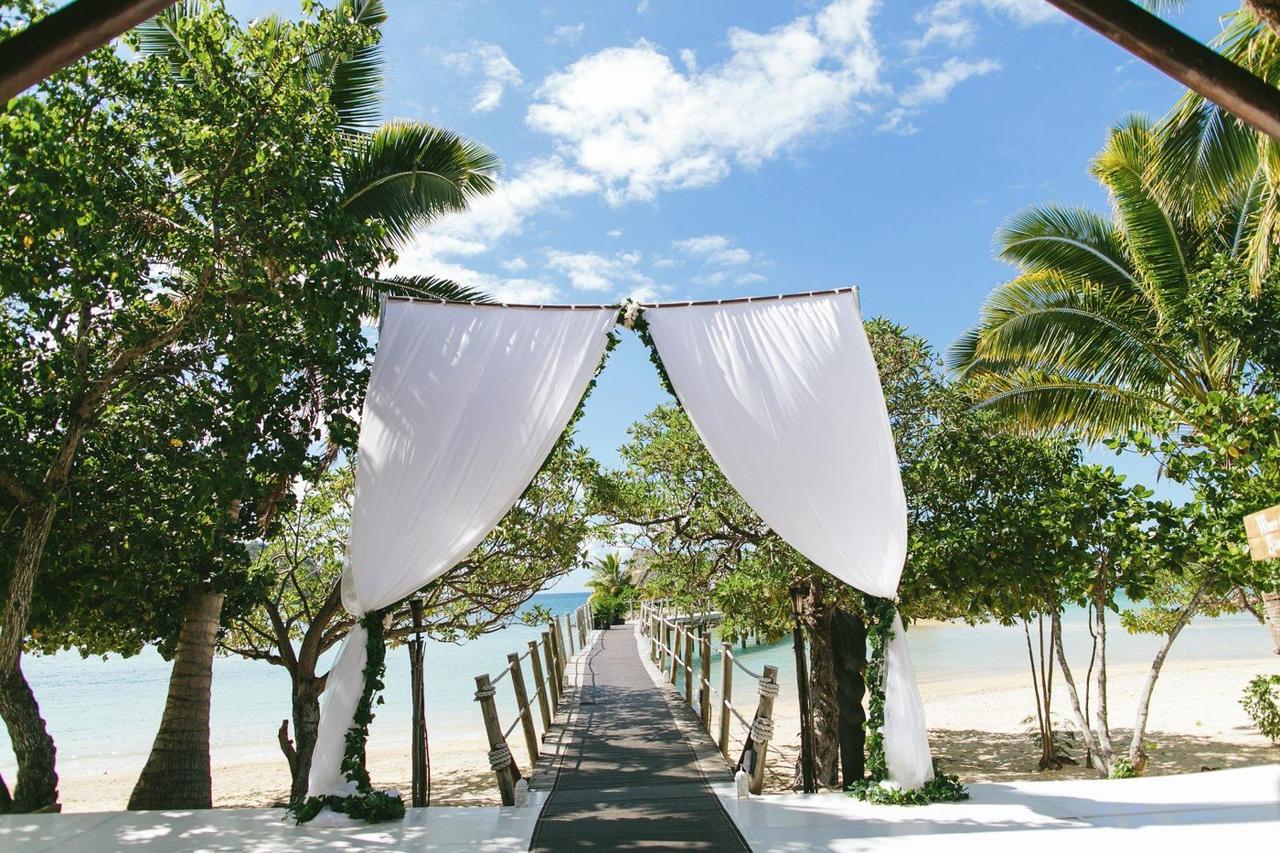 Image: Likuliku Lagoon Resort
Naturally, beachside weddings are available too, and you can choose from a simple ceremony to a truly Fijian celebration with a local choir and Fijian warrior guard to escort you down the aisle. The resort can even kit you out in traditional Fiji wedding attire if your dress won't handle the sand. The hotel will handle all the legal side too.
Hawaii – Montage Kapalua Bay, Maui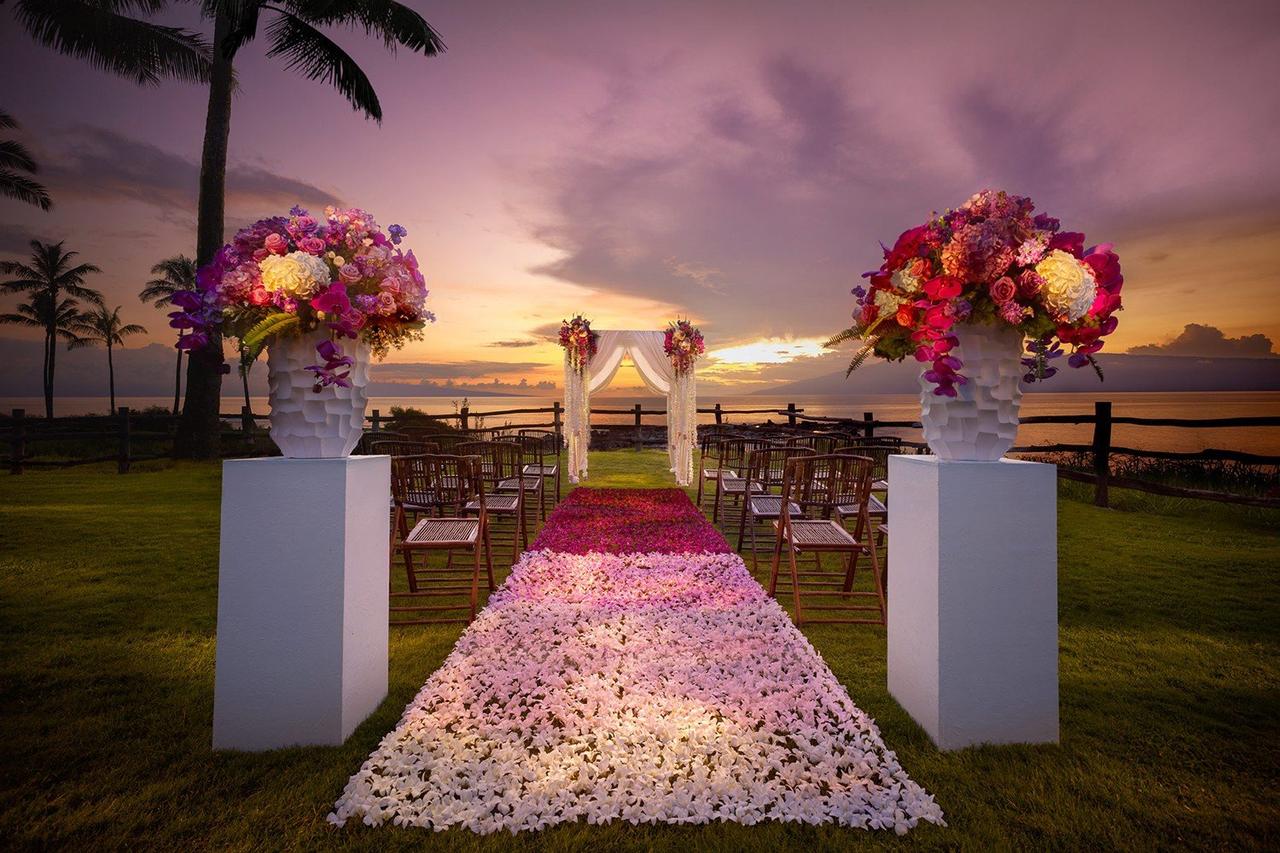 Image: Montage Kapalua Bay
Hawaii is the dream spot for a more dramatic oceanfront ceremony. Tie the knot by the golden sands of Kapalua Beach Bay on The Point or opt for the breathtaking Cliff House posed above the crashing waves of Namalu Bay.
READ MORE: The Top 10 Destinations for Weddings Abroad Revealed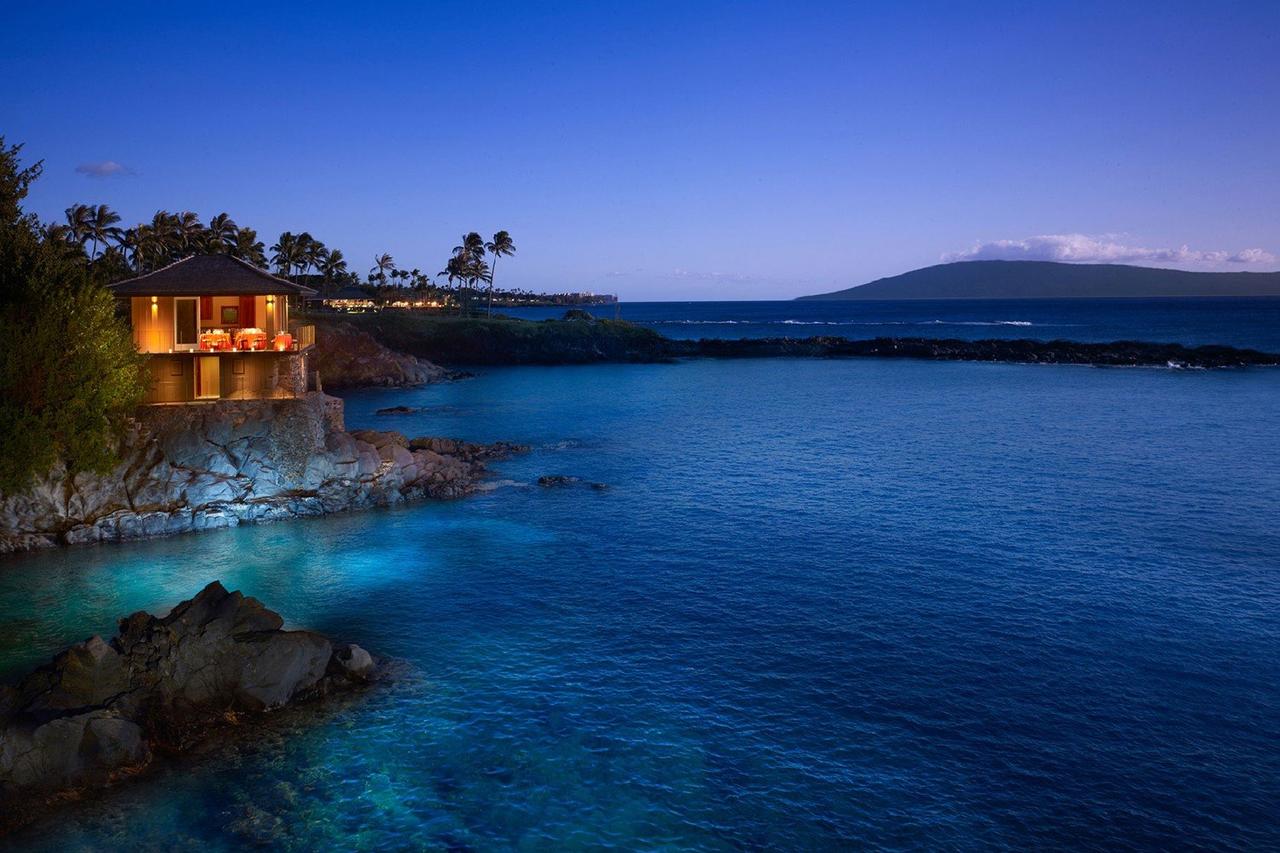 Image: Montage Kapalua Bay
Their wedding packages are designed to make your stay as romantic as possible and infuse the island spirit and legendary hospitality into all your big day plans. Doesn't 'I do' always sound better when you're wearing floral leis?
St Lucia – Jade Mountain, Soufrière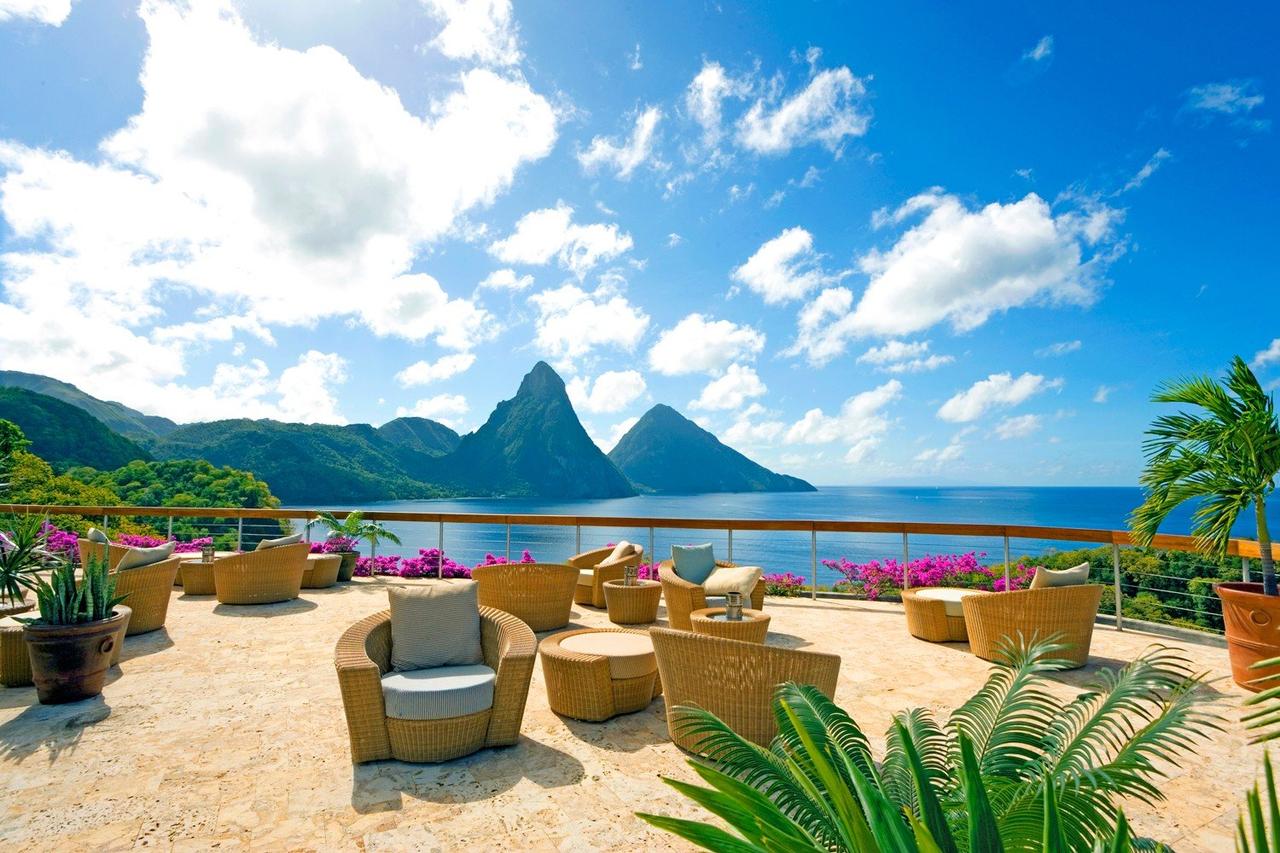 Image: Jade Mountain
There's no 'wedding chapel' at Jade Mountain, instead each couple can choose their own special location to have their wedding day. Pick your favourite spot on their 600 acre estate, including the two beaches – Anse Chastane and Anse Mamin – which look out over the Piton mountains. Or perhaps you'd prefer a treehouse, boat, cliff-side cabana or even waterfall wedding ceremony? It's completely up to you.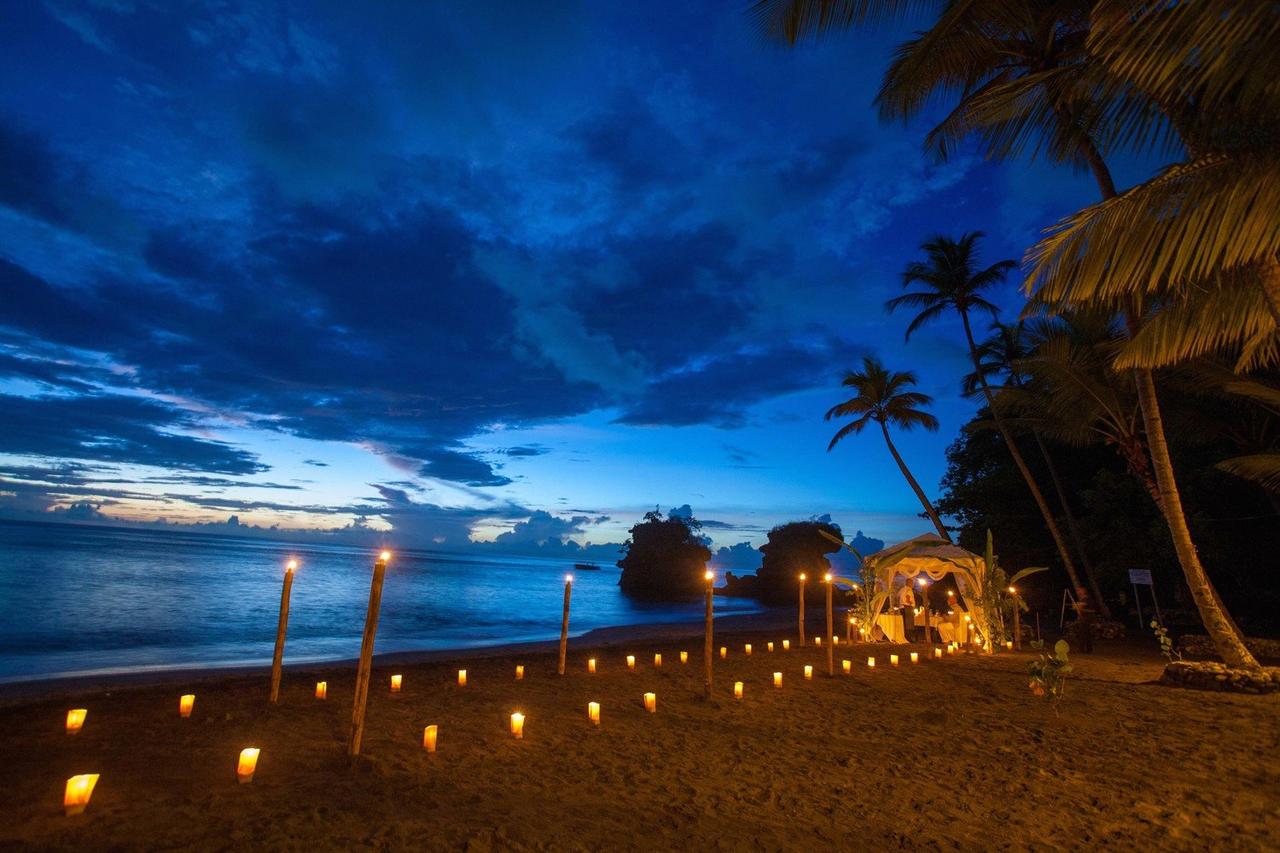 Image: Jade Mountain
This mission to make every wedding unique is what makes your day so special at Jade Mountain. There's an even an option for an underwater scuba diving wedding where you say your vows with slates and sign language!
READ MORE: 19 of the Best Destinations to Elope
The Cayman Islands – The Ritz-Carlton, Grand Cayman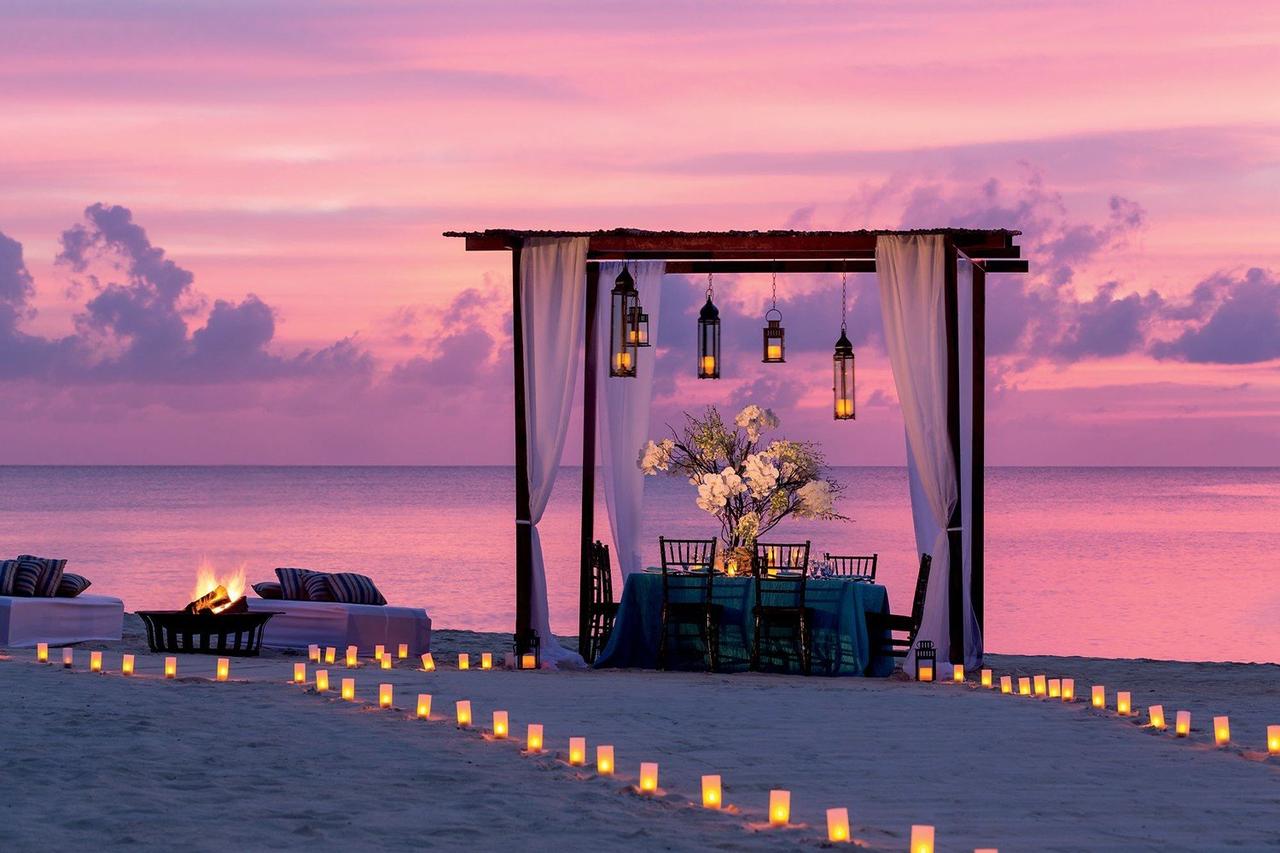 Image: Ritz-Carlton
Seven Mile Beach is the perfect choice on the Caribbean's Grand Cayman Island to wed if you want unforgettable ocean views. Say your vows under the Ritz-Carlton's beach arch, hand decorated with tropical flowers, and host your wedding breakfast on the sand as the sun sets or inside one of their five-star private dining rooms.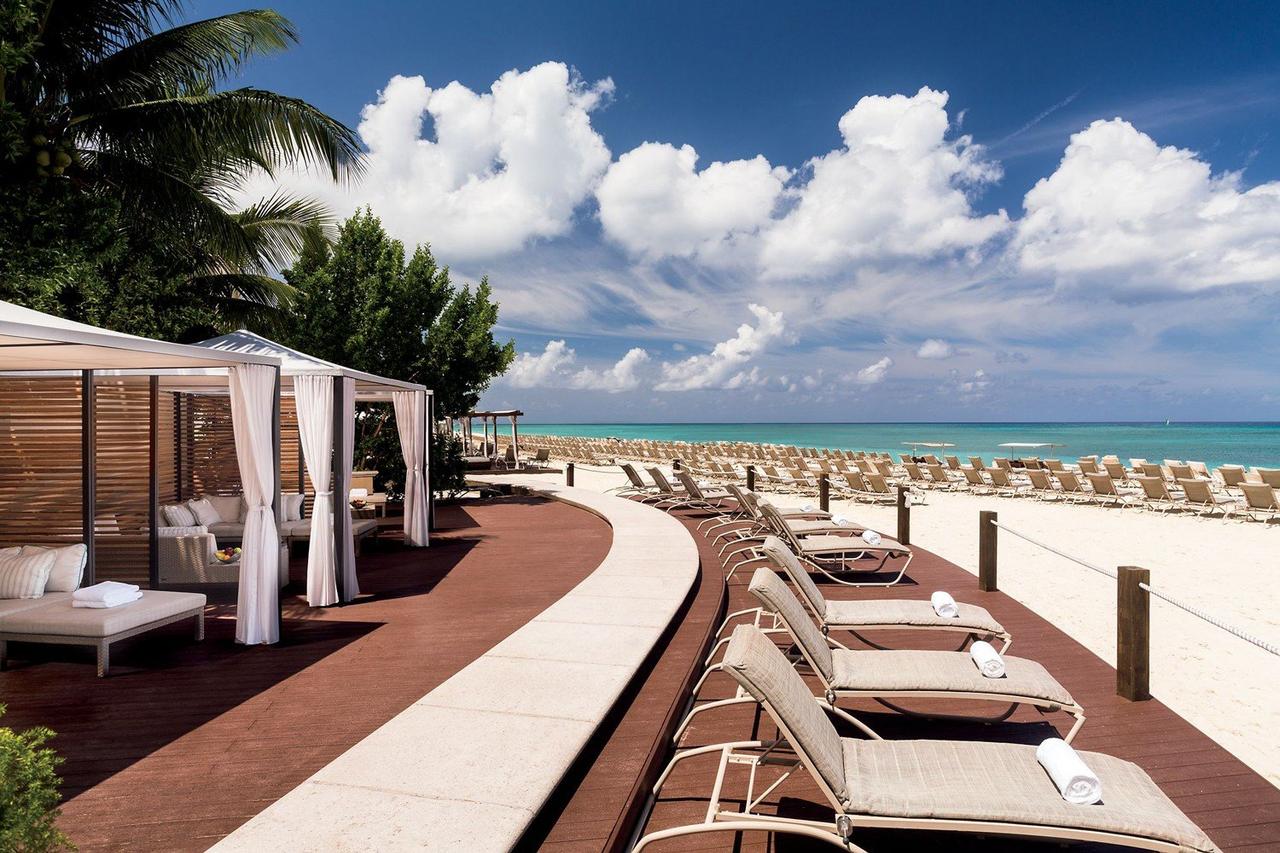 Image: Ritz-Carlton
Handily you only need to arrive on the island one day before your wedding and the hotel will arrange everything from your officiant and marriage license to your photographer.
Seychelles – Constance Lemuria, Praslin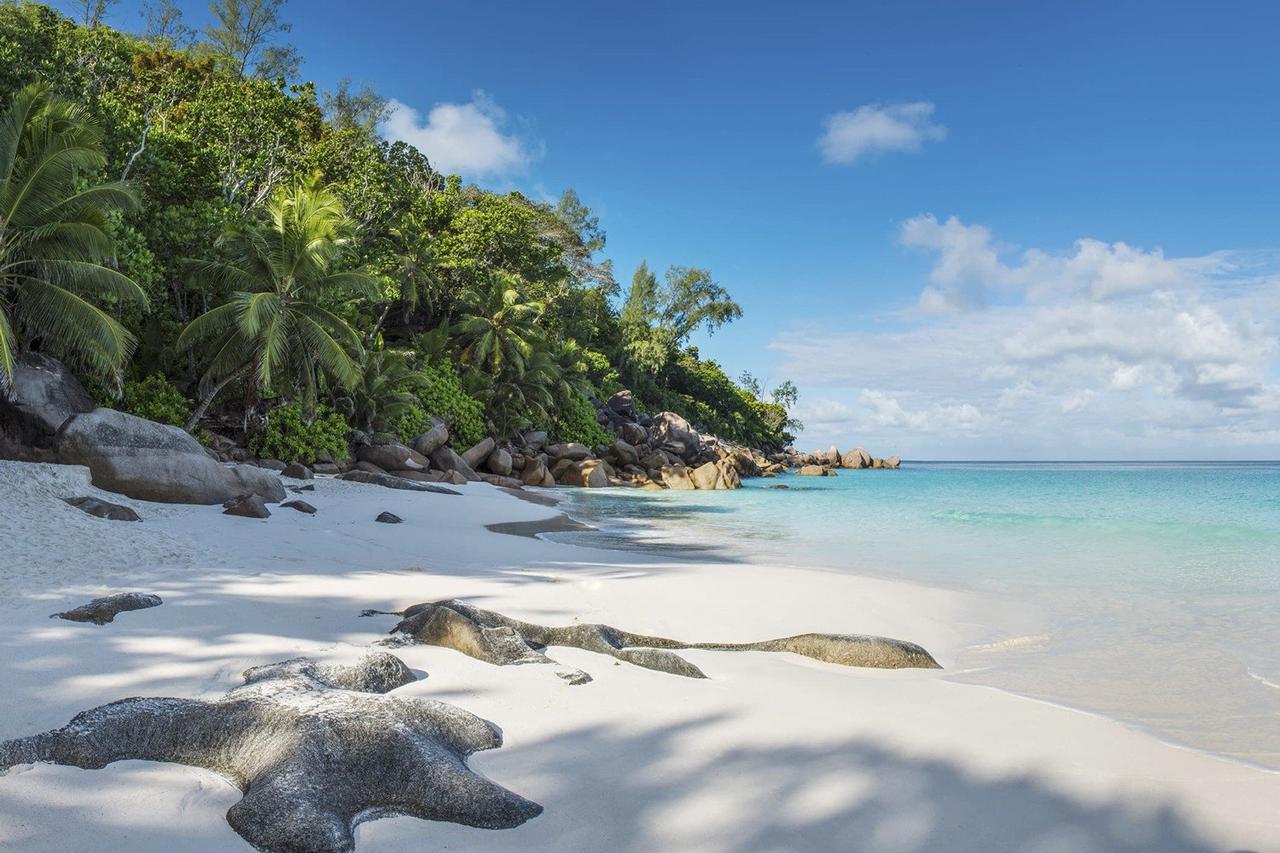 Image: Constance Lemuria
Marry on Anse Georgette, one of the most stunning and secluded beaches in the world. You'll have a completely private and intimate ceremony, with the gentle rush of the turquoise sea the only noise around you.
READ MORE: The Ultimate Honeymoon Gift List Guide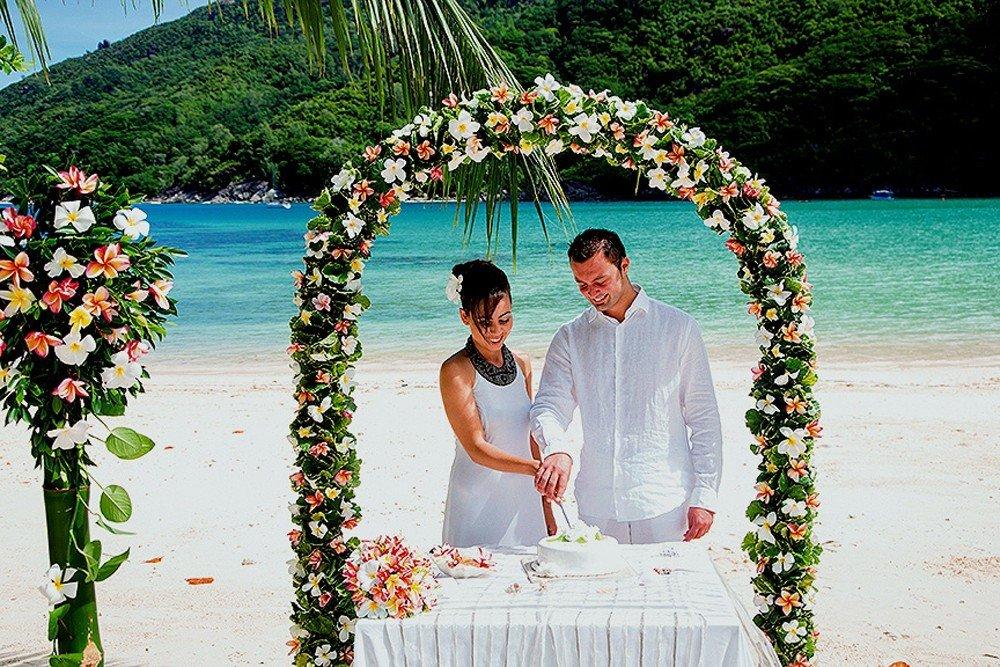 Image: Constance Lemuria
The Constance Lemuria's wedding packages cover everything: bridal hair and makeup with a trial, a solo musician during your ceremony, bouquet, a cake, a couple's spa treatment and champagne and a candle-lit bath. There's even a special wedding dinner showcasing the best in Creole food in this elegant hideaway hotel.
Spain – W Barcelona, Barcelona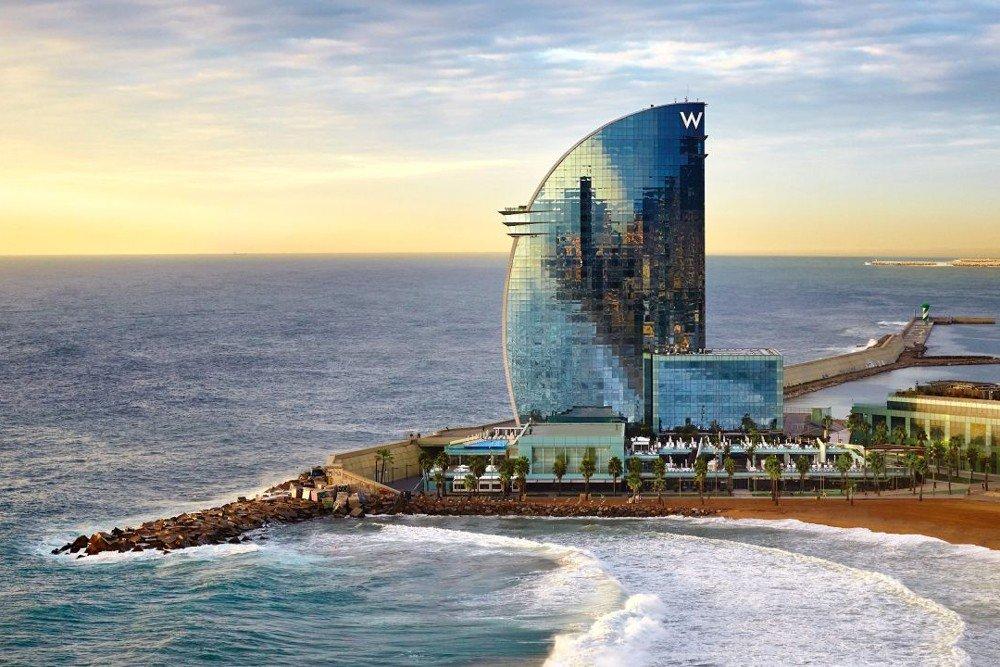 Image: W Hotels
The striking, sail-shaped W Barcelona hotel with panoramic views over the Mediterranean is known for its luxury and style – and weddings here are no different. Cool, urban couples will love the mix of hip hotel design and the stunning natural setting of Barceloneta beach.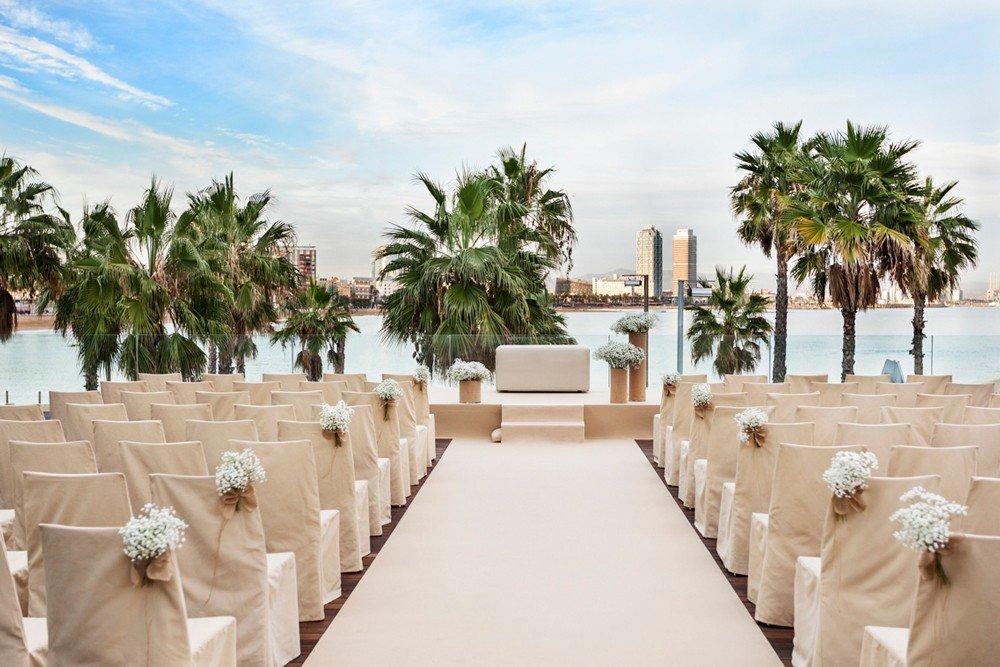 Image: W Hotels
Choose from a relaxed beachfront ceremony at their Salt beach club (hello, cocktails), or one of their many other cool event spaces like the romantic infinity pool terrace that overlooks the beach. They promise to fulfil the wishes of even the most demanding bride, so go wild!
READ MORE: Your Complete Honeymoon Checklist
Bali – The Mulia, Nusa Dua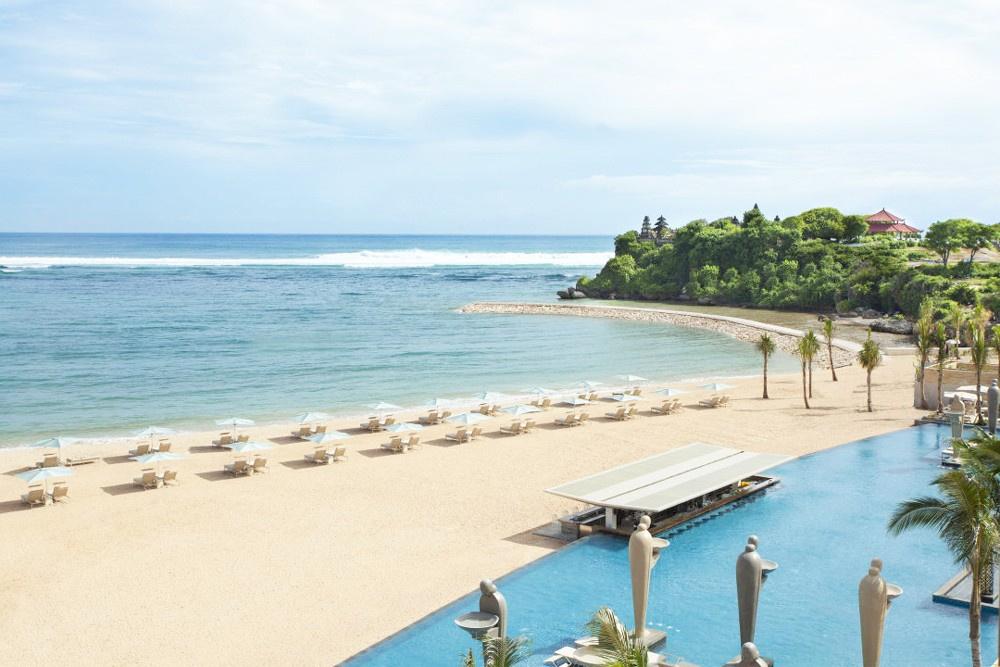 Image: The Mulia
Bali's natural beauty speaks for itself. Make the most of its crystal clear waters by marrying in the (air conditioned!) floating glass chapel over the waters of Mulia's lake with endless views of the Indian Ocean.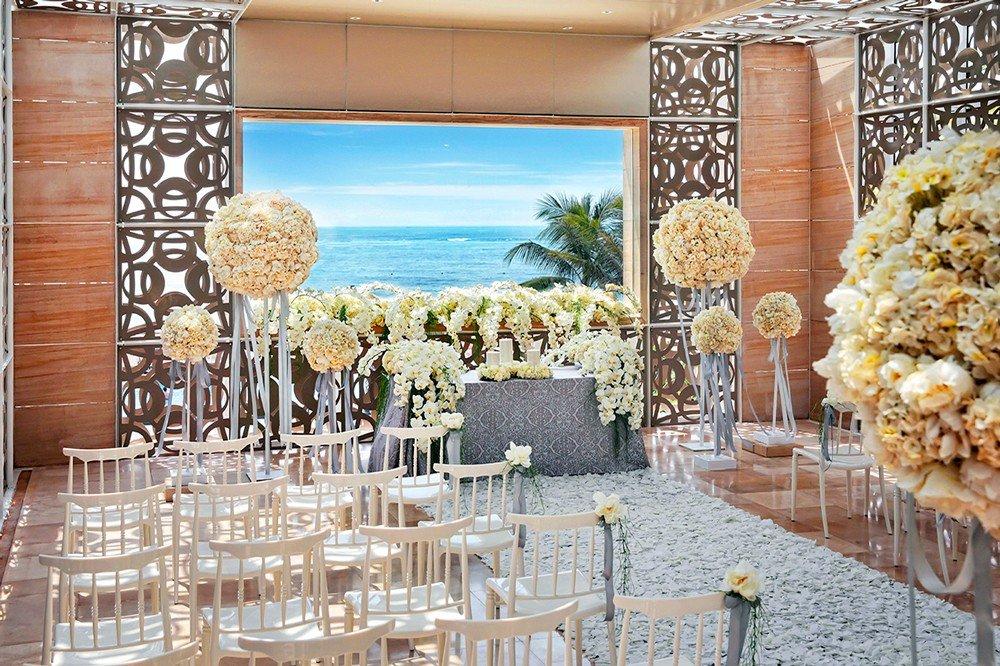 Image: The Mulia
The options of where to marry at The Mulia Hotel are nearly endless, but for those wanting a dramatic view, we'd recommend the Unity Garden – a beachfront venue perfect for a reception under the stars with the iconic Balinese Geger Temple visible from the cliffs of Nusa Dua bay.
Thailand – Rayavadee, Krabi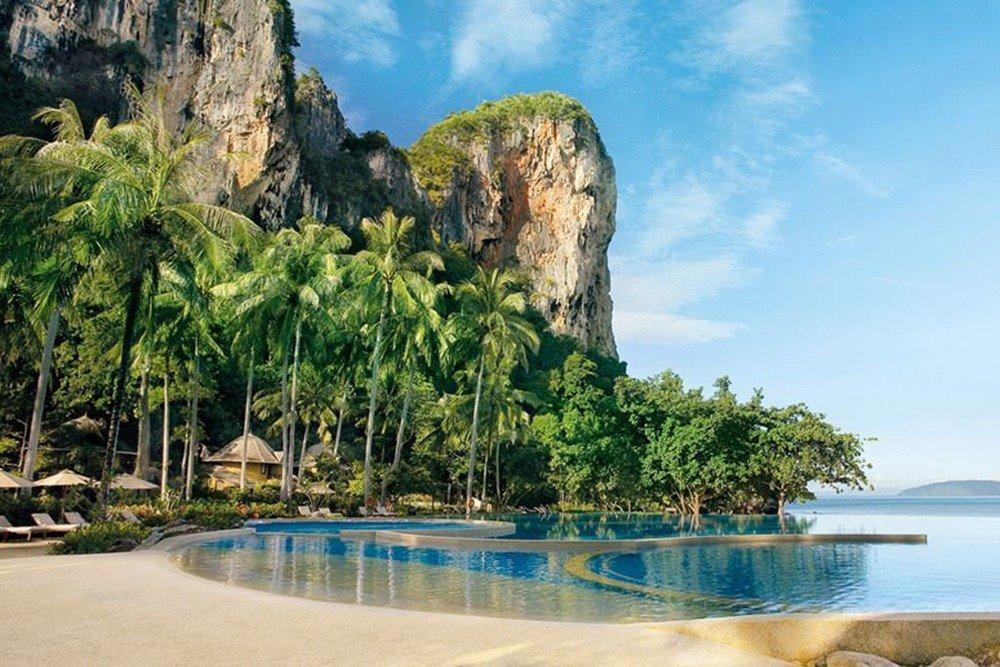 Image: Rayavadee
Set on the edge of the Krabi Maine National Park, Rayavadee is slightly unusual as a beach wedding destination – in that national park guidelines mean you can't actually have a ceremony on the beach. Instead, you can say your vows with views out over the beautiful cove from their coconut palm-lined gardens or their famous Grotto.
READ MORE: The World's Most Romantic Honeymoon Experience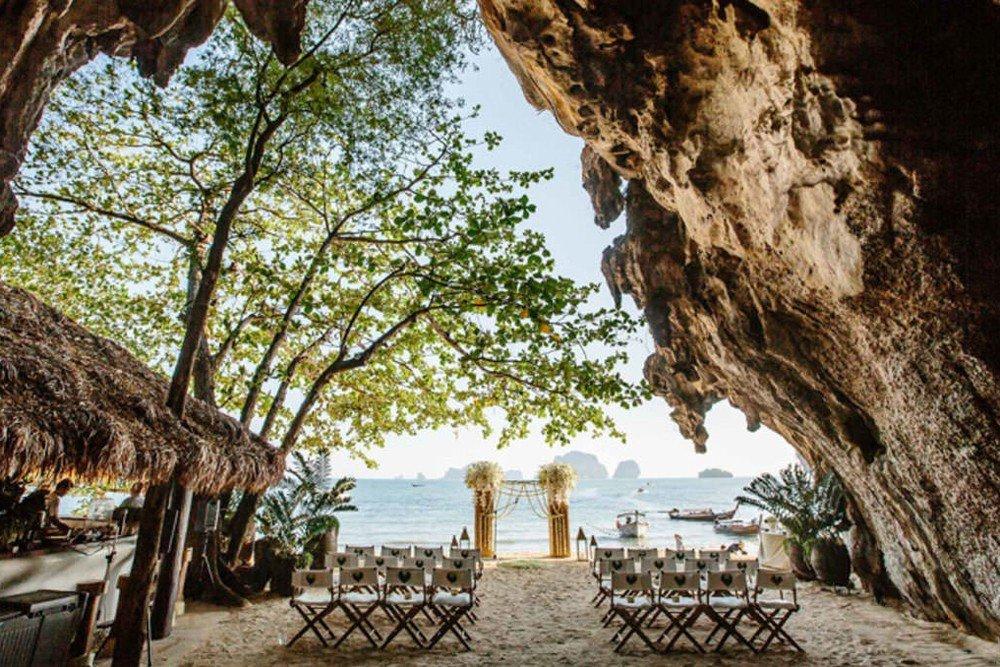 Image: Rayavadee
Looking across the emerald green waters of Phranang beach, you can have a traditional monk's blessing or Sai Mongkol ceremony in their ancient limestone cave (official weddings must be registered in Bangkok) before a private speedboat tour of the surrounding tropical islands. This is natural beauty at its best.
Brasil – Fasano, Rio de Janeiro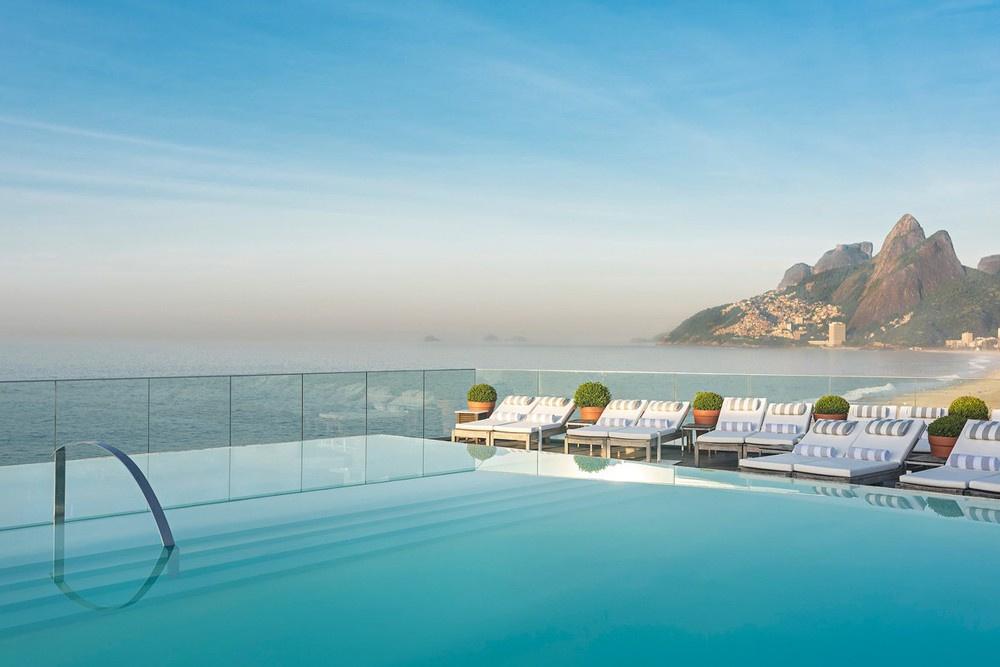 Image: Fasano
Madonna has been a guest at a wedding at Fasano – when her manager rented out the entire hotel for his nuptials – so you're in good company here. Designed by Philippe Stark, this hip hotel overlooking Rio de Janeiro's famous Ipanema beach is an incredible choice for a beach view wedding.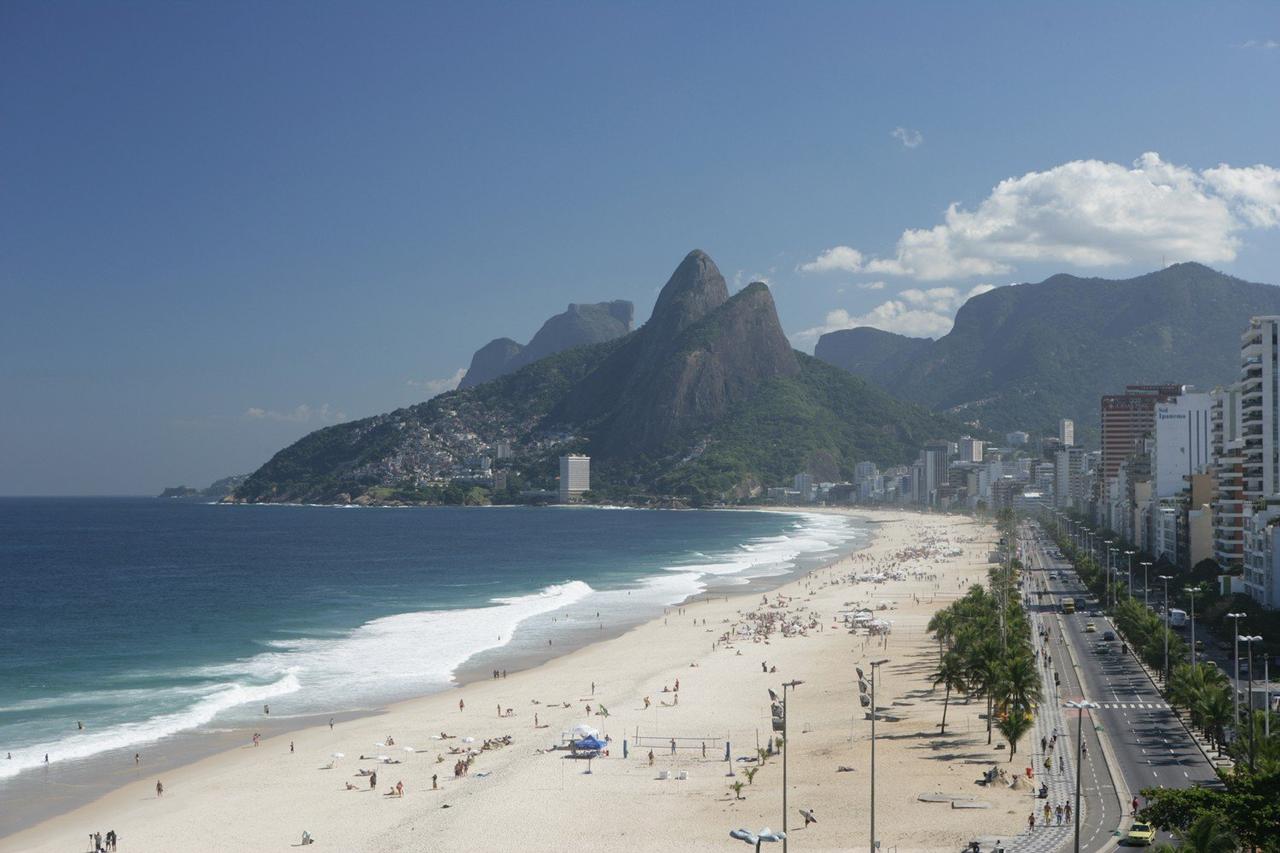 Image: Fasano
While you won't be directly on the sand, you'll get the best view of the beach, Dois Irmaos Mountain and the Corcovado from their rooftop infinity pool. Glamour, luxury and a '50s Bossa Nova spirit are the name of the game here.
French Polynesia – Le Meridien, Bora Bora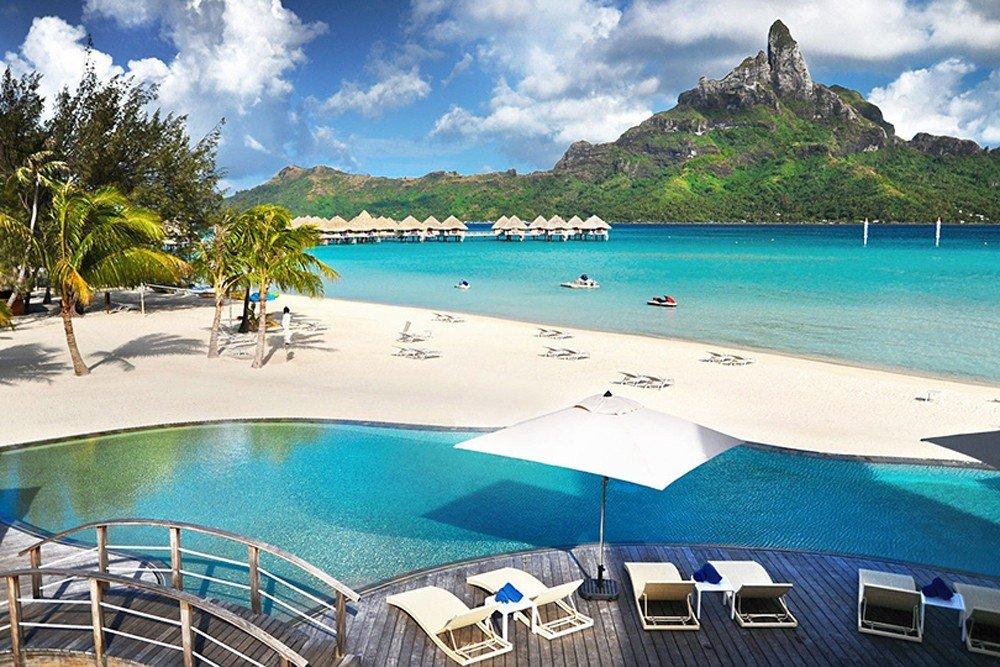 Image: Le Meridien Bora Bora
Fancy a first dance under the Bora Bora stars? You can hold your special day in Le Meridien's overwater chapel, which stands in front of the mythical Mount Otemanu, before a romantic dinner and celebration on the white sand beach for you and your guests.
READ MORE: 43 Tropical Wedding Decor Ideas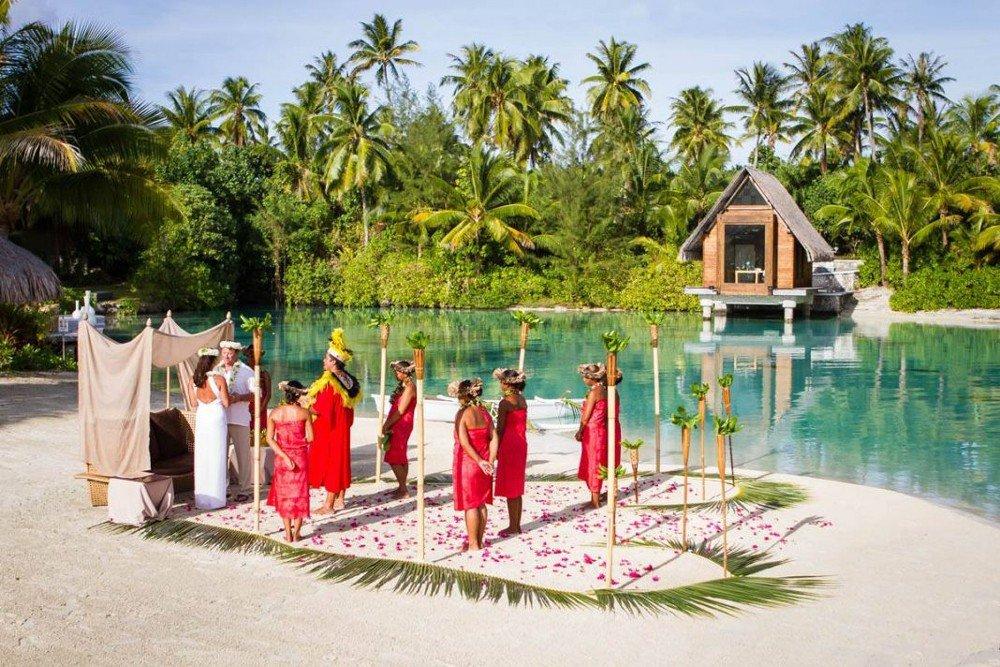 Image: Damien Gobron Photography
Turn your beach wedding dreams into a reality with their dedicated wedding team and all you'll have to worry about on the day is deciding whether to go barefoot in the sand or not.
Spain – Elixir, Ibiza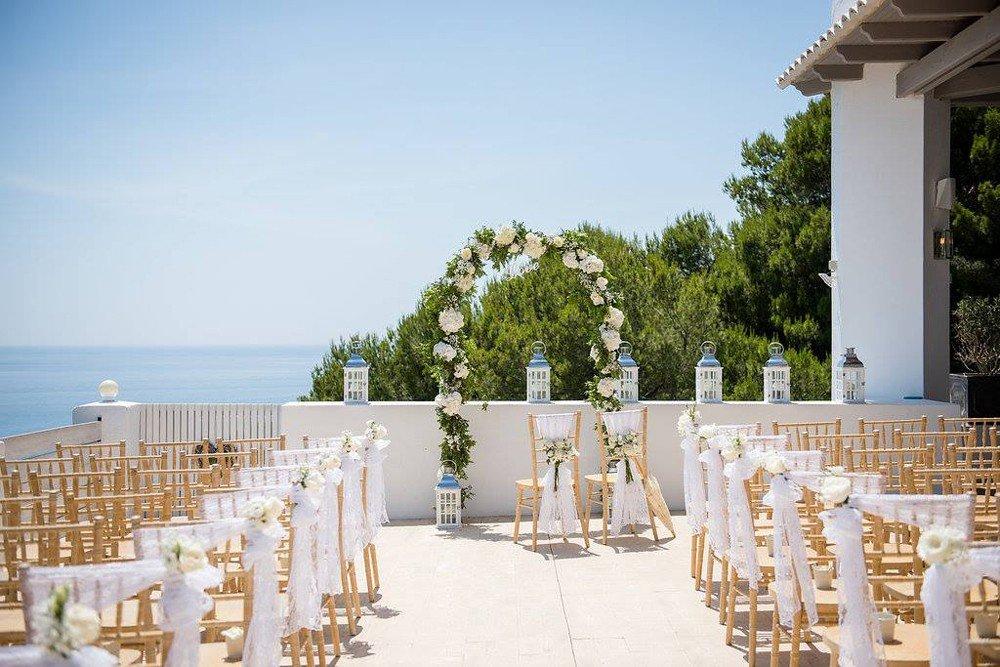 Image: Elixir
Ibiza has a reputation as a party island but its sandy beaches are some of the most beautiful in the world – choose right and you'll have a bit of paradise private to you. Elixir isn't a hotel but a beachfront venue exclusively for weddings. Set on the quiet Cala Codolar beach, it has stunning views across the sparkling Med sea and Es Vedra.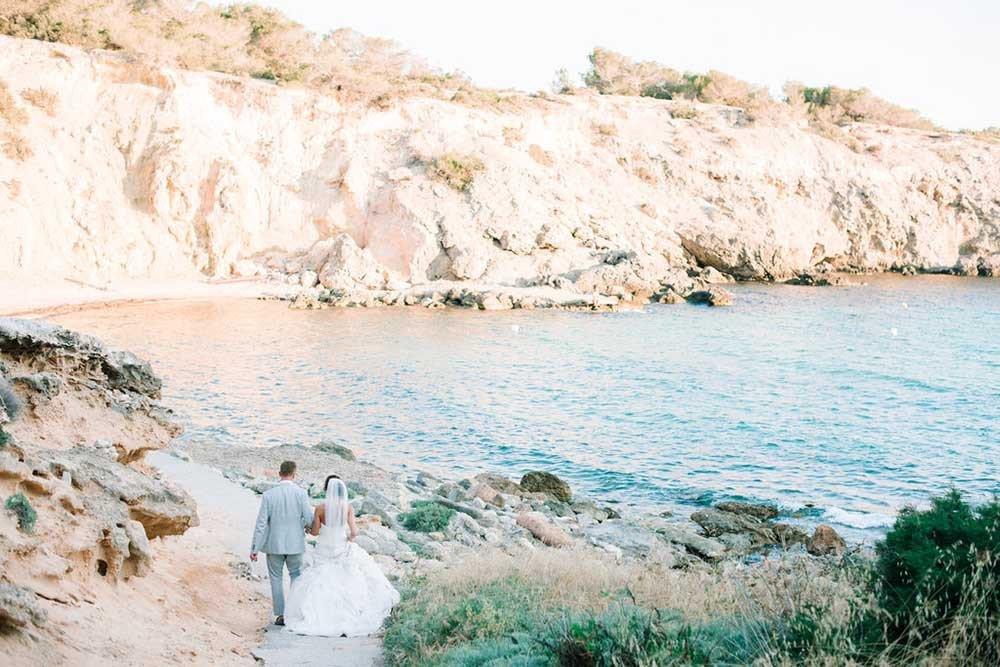 Image: Elixir
Marry on their ceremony terrace before wandering down to the sea for your photos and returning to a candle and fairylight lit dinner and dancing. Their recommended suppliers know how to make your wedding bespoke to you and let the beauty of the ocean speak for itself.
READ MORE: Why You Should Choose Artifical Flowers for Your Destination Wedding
Mexico – Las Ventanas al Paraíso, Los Cabos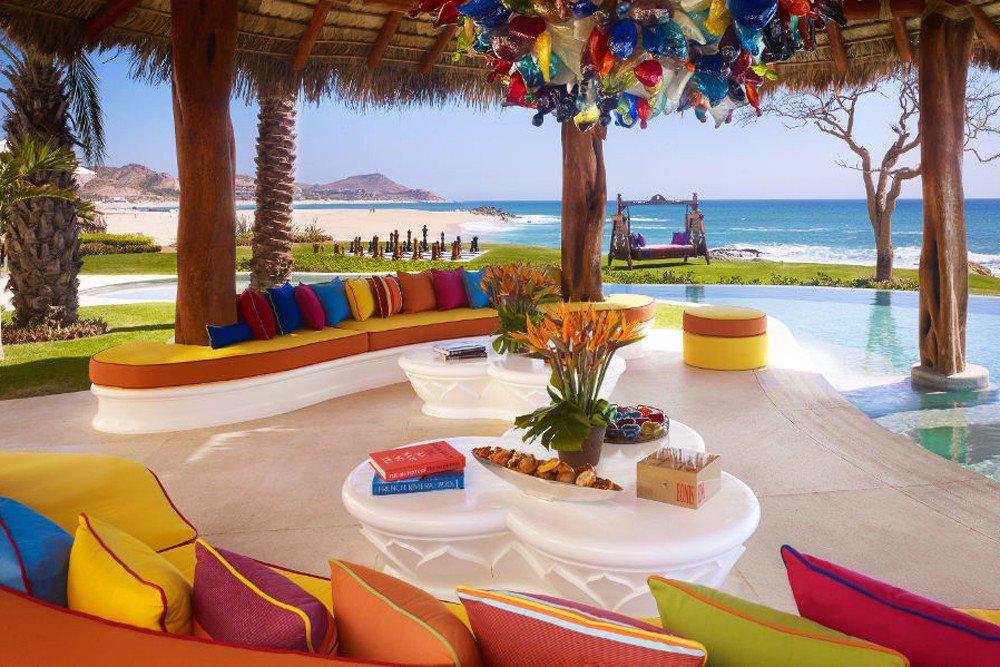 Image: Rosewood Hotels
Rosewood Hotels are legendary for their elegance, taste and world class service. Their Los Cabos resort also has a killer beach. Set against the breathtaking Sea of Cortez coastline, Las Ventanas has become a sought-after Mexican wedding destination for couples wanting a bespoke day with every detail taken care of.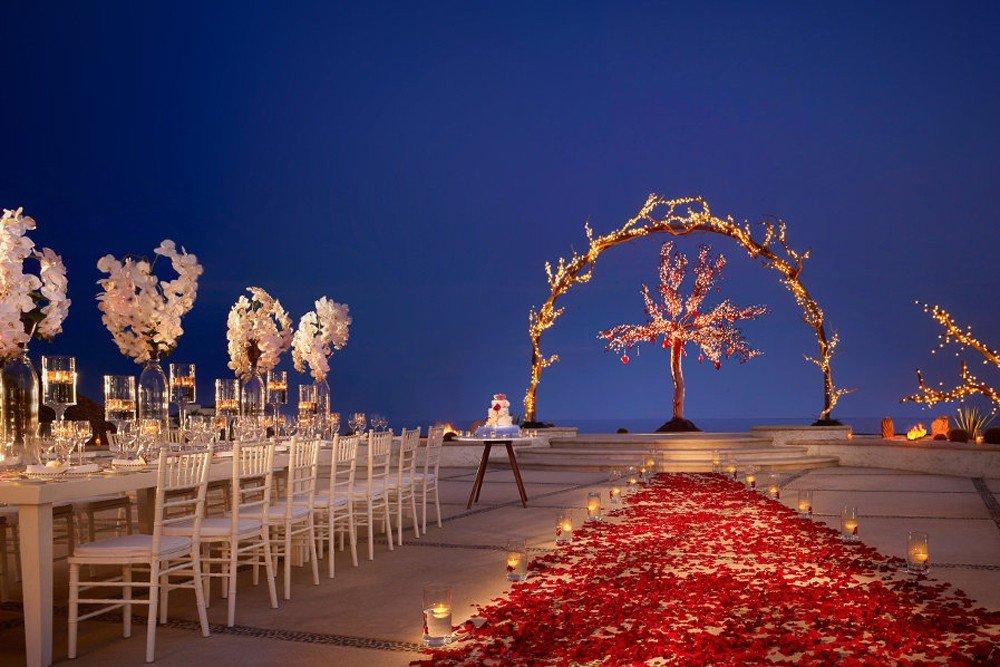 Image: Rosewood Hotels
Their La Plaza terrace is a gorgeous location (and the resort's highest spot) overlooking the ocean to wed or – for brides who want a dramatic entrance – how about riding along the sand on a horse, with burning torches or flickering lanterns lighting your path? For post-wedding bliss, they can set you up a private movie theatre on the beach!
Greece – Grecotel Mykonos Blu, Mykonos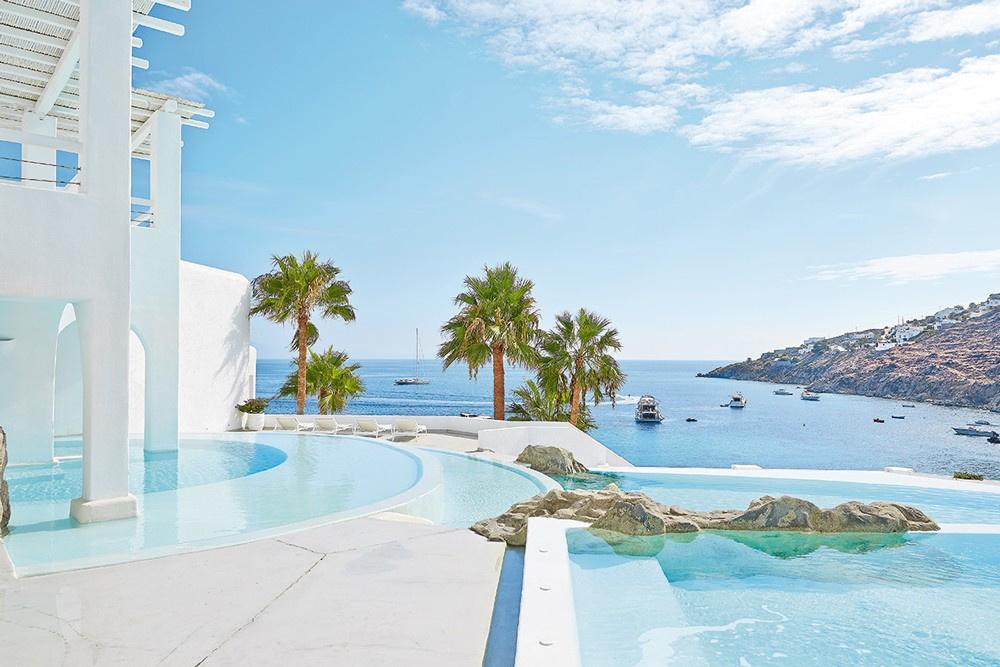 Image: Mykonos Blu
The sandy beaches and rugged cliffs of the famous island of Mykonos are a breathtaking spot to tie the knot. You'll instantly recognise the island from the bright white house set firm against the cerulean sky. This jet-set island has a relaxed side too, and the Mykonos Blu hotel is the perfect sanctuary from the nightlife of Mykonos Town.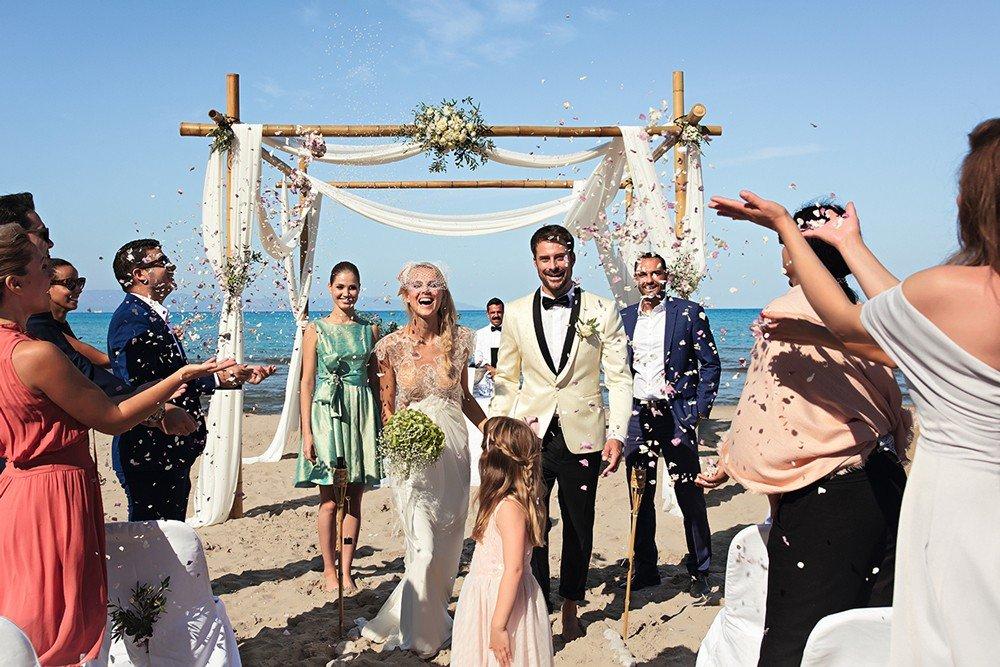 Image: Mykonos Blu
You can have an informal service on their gorgeous Psarou beach, beside the pool or in the gardens of the hotel, after a civil marriage at home or in the local town. Dress hire is even included in their package so you don't need to worry about shipping one over form the UK. And that famous nightlife is waiting to help you celebrate as the sun sets.
Maldives – One & Only Reethi Rah, North Malé Atoll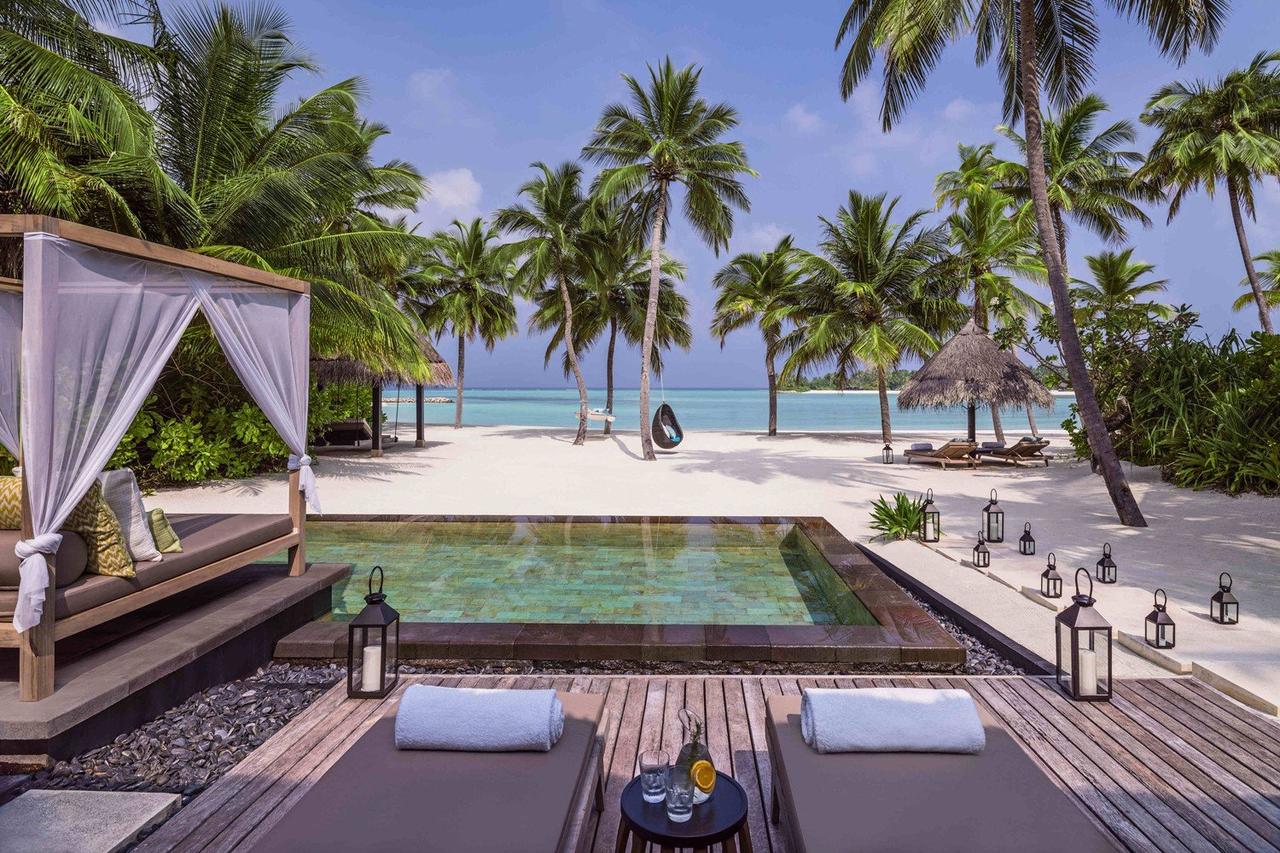 Image: One&Only Reethi Rah
Let's be honest, you can hardly go wrong with a wedding in any location in the Maldives if soft white sand and azure seas are what you're after. The One&Only Reethi Rah is a gorgeous hotel choice which can host up to 350 guests in a beach wedding with the sparkling Indian Ocean at your feet or a private stretch of beach in front of your villa.
READ MORE: Honeymoon Destinations the A-Listers Love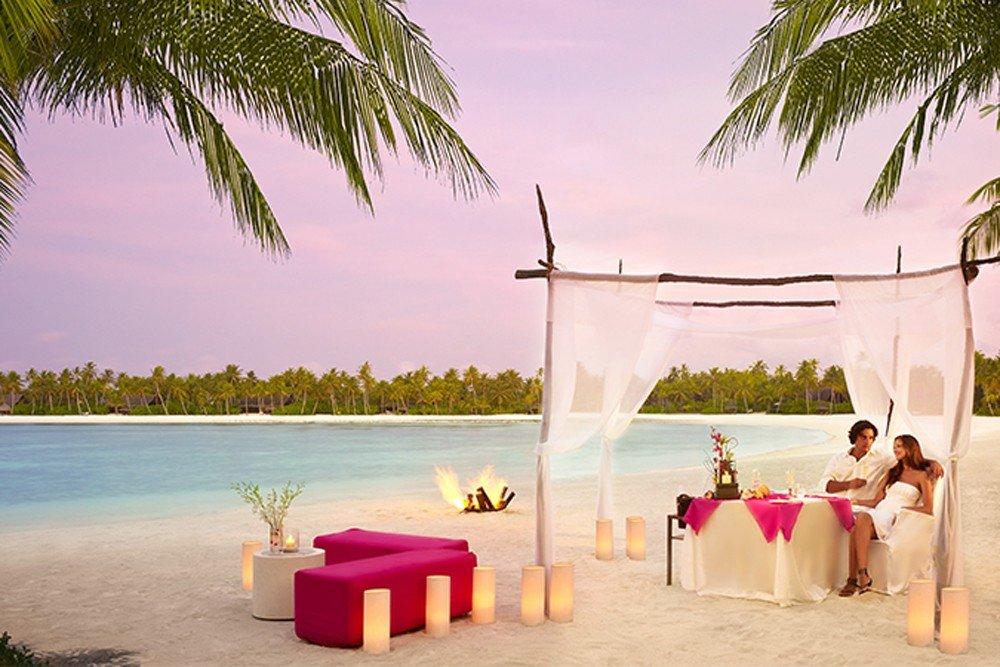 Image: One&Only Reethi Rah
On the northern tip of the island, their Wedding Pavilion can host intimate weddings of up to 30 under their orchid adorned thatched roof. We don't want to oversell it but you also get a newly-wed golf buggy decorated with flowers to drive off in after.
Don't miss our guide to 11 amazing things you need to do during your Maldives honeymoon!