27 Alternative Buttonhole Ideas
Grooms can include some of their personality in their wedding suits with a quirky boutonniere. We've picked out 27 to inspire you!
We have included third party products to help you navigate and enjoy life's biggest moments. Purchases made through links on this page may earn us a commission.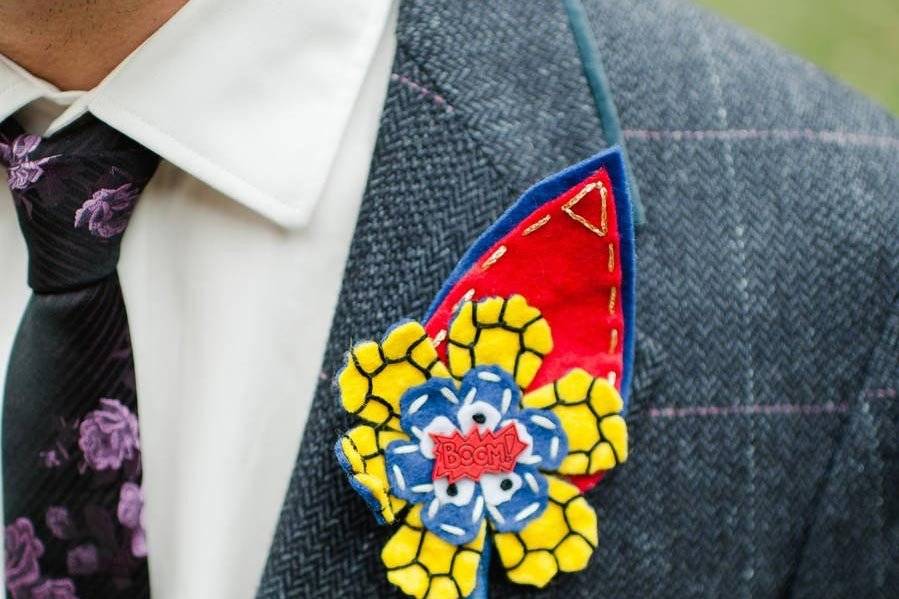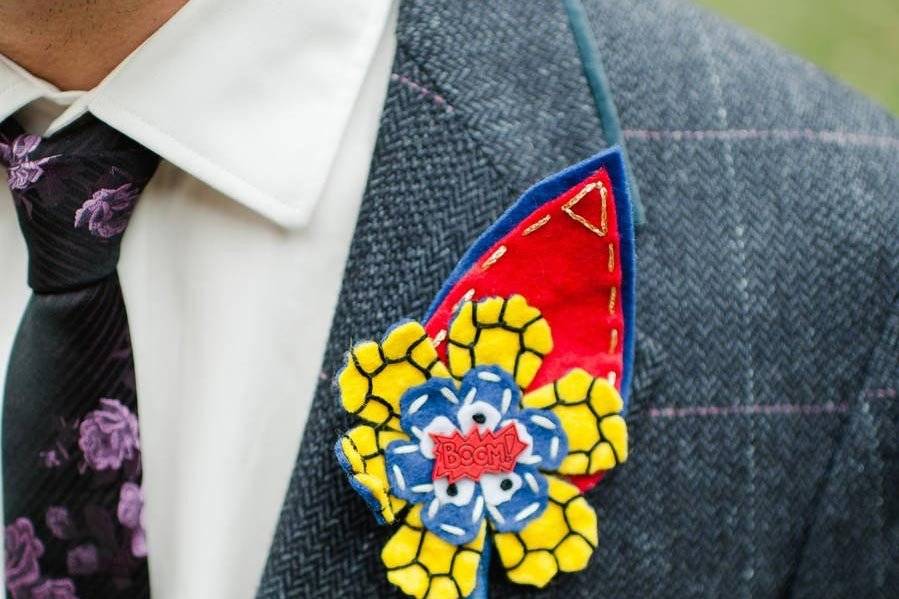 If you're anything but traditional and you're looking for lots of ways to personalise your wedding, why not consider giving your groom an alternative buttonhole to jazz up his look?
Whilst the traditional flower buttonhole will always look timeless, an alternative boutonniere will add a unique twist to the groomswear. We've picked out some of our favourite alternative buttonholes to share with you…
Pastel Buttons
Pascal and Adam had one of the coolest, quirkiest real weddings we've ever seen on Hitched! The groom accessorised his pastel blue suit with a boutonniere made from light coloured buttons on wire.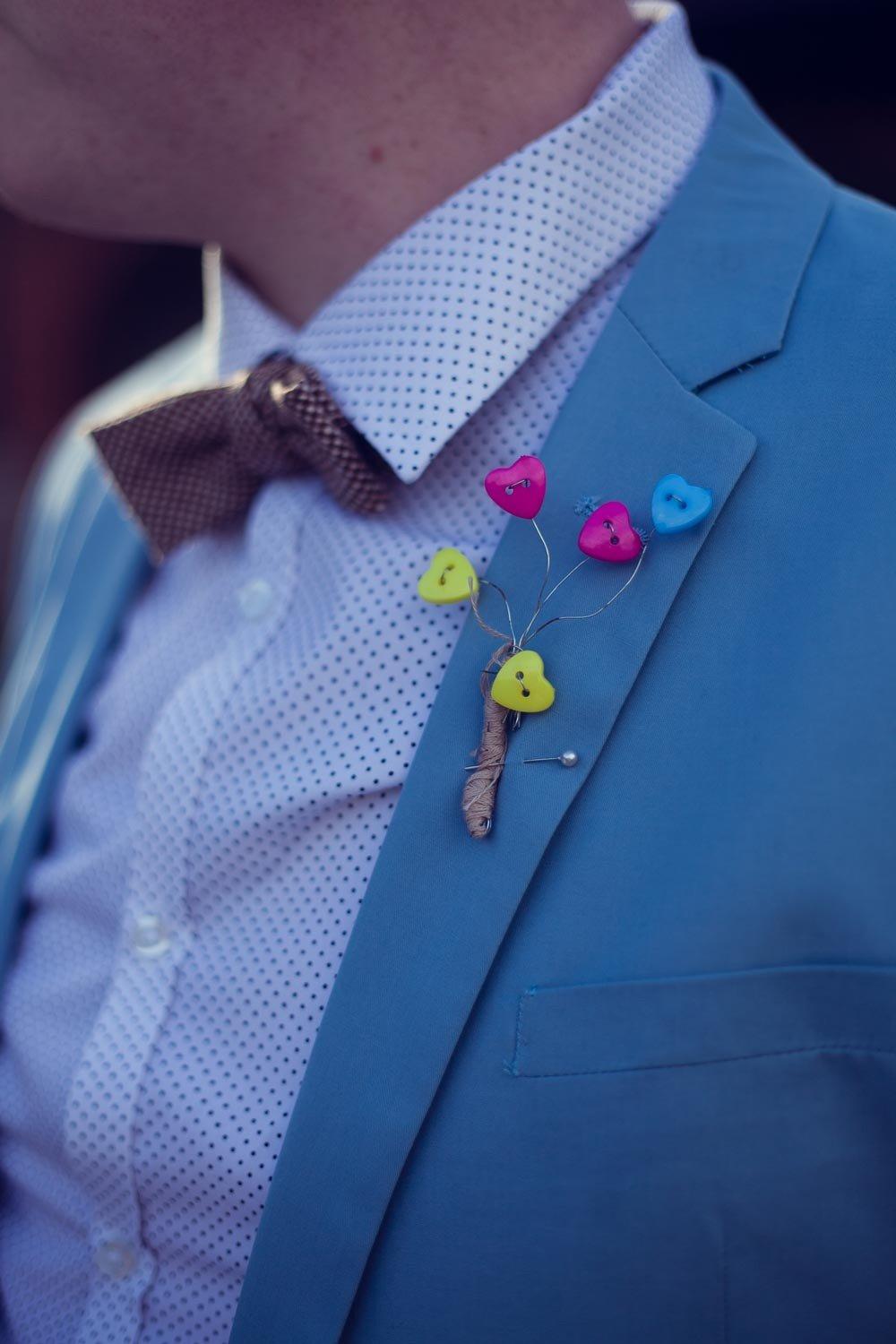 Fabric Flowers
There's a lot going on in this buttonhole, from the purple silk flowers, the net detailing and the hidden Superman Lego figure.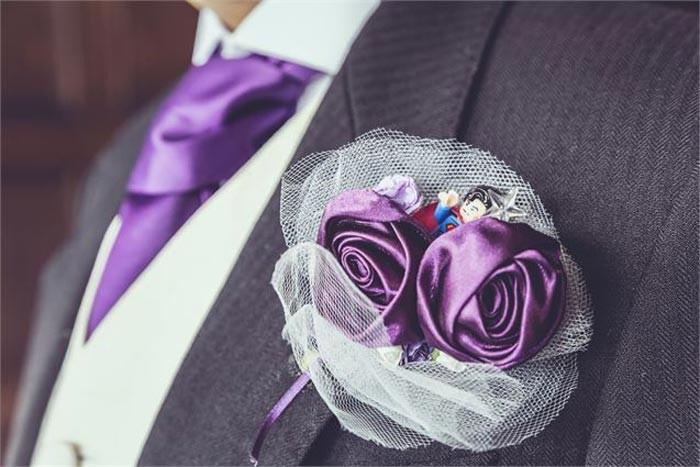 Image credit: Juliet Eden Photography
Paper and Wheat
Add a rustic twist to the groomswear with a paper boutonniere complete with wheat. The maker, PointlessPrettyEtsy, uses vintage book pages to make the flowers, but if you'd like a specific page used you just need to send it over!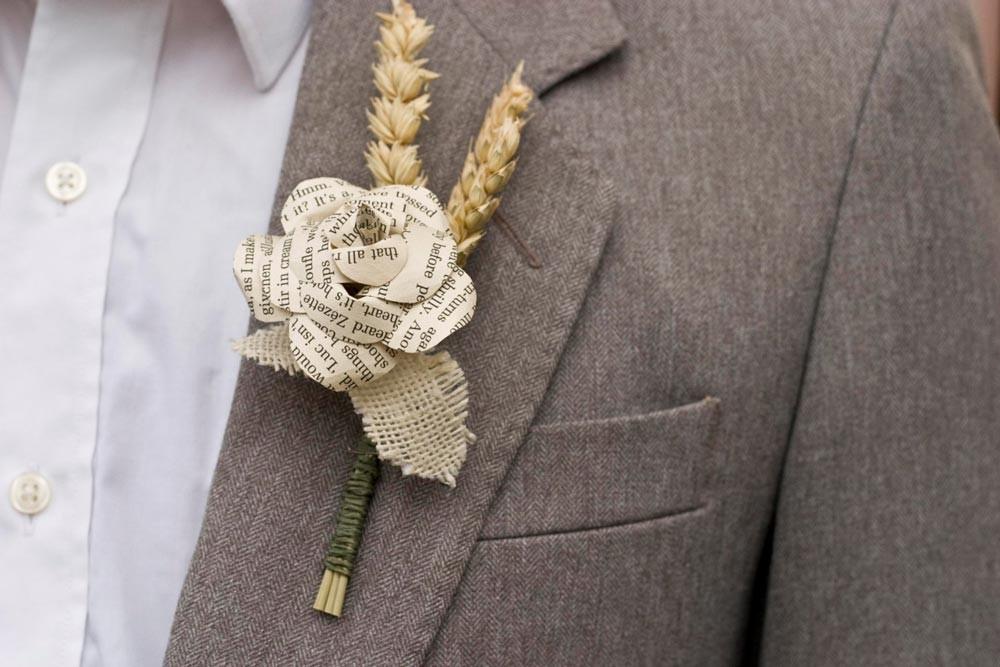 Image credit: PointlessPrettyEtsy on Etsy
Rustic Details
If you want an all-out rustic buttonhole to match your rustic themed wedding, consider this hessian flower complete with burlap leaves.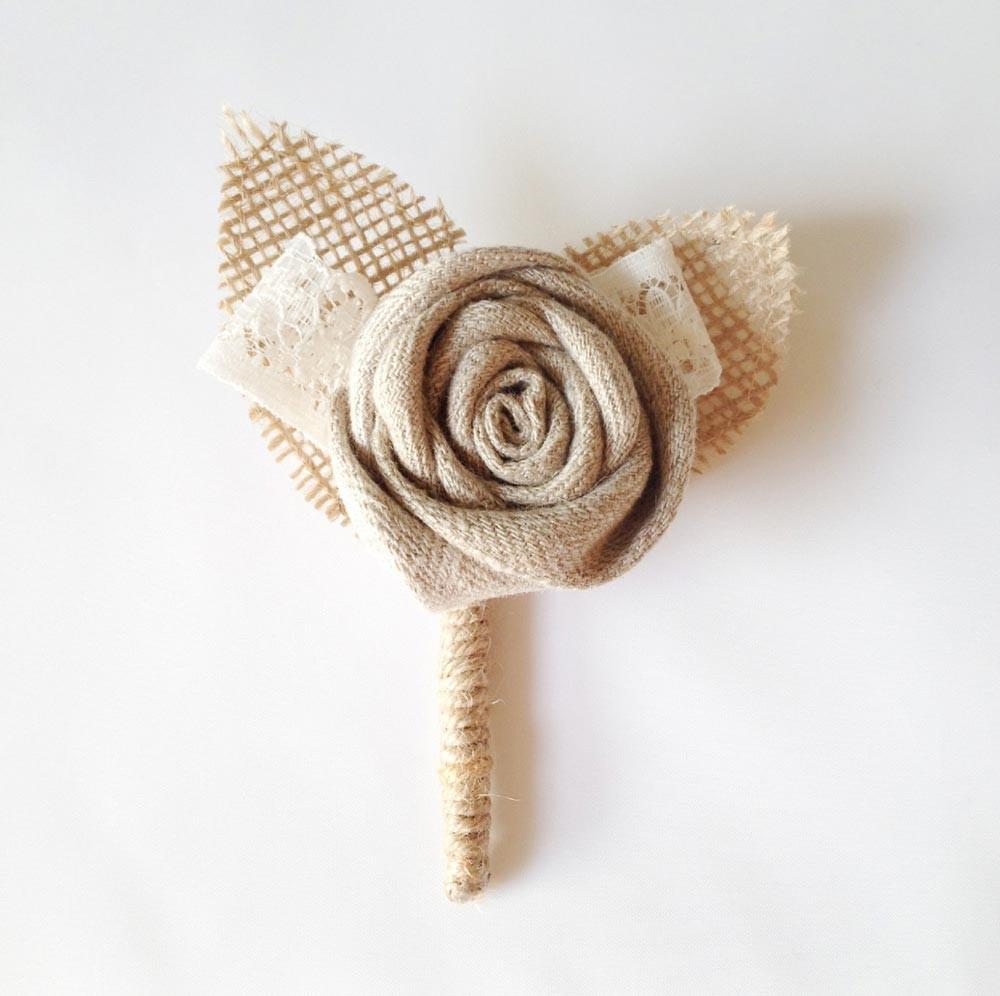 Image credit: GollyGoshBoo on Etsy
Sheet Music
Music lovers will adore this paper flower made from sheet music – use the music from your wedding for a personal touch and to create a keepsake you'll treasure forever. The design isn't just limited to sheet music either! This is perfect if you're planning on having lots of paper flowers at your wedding.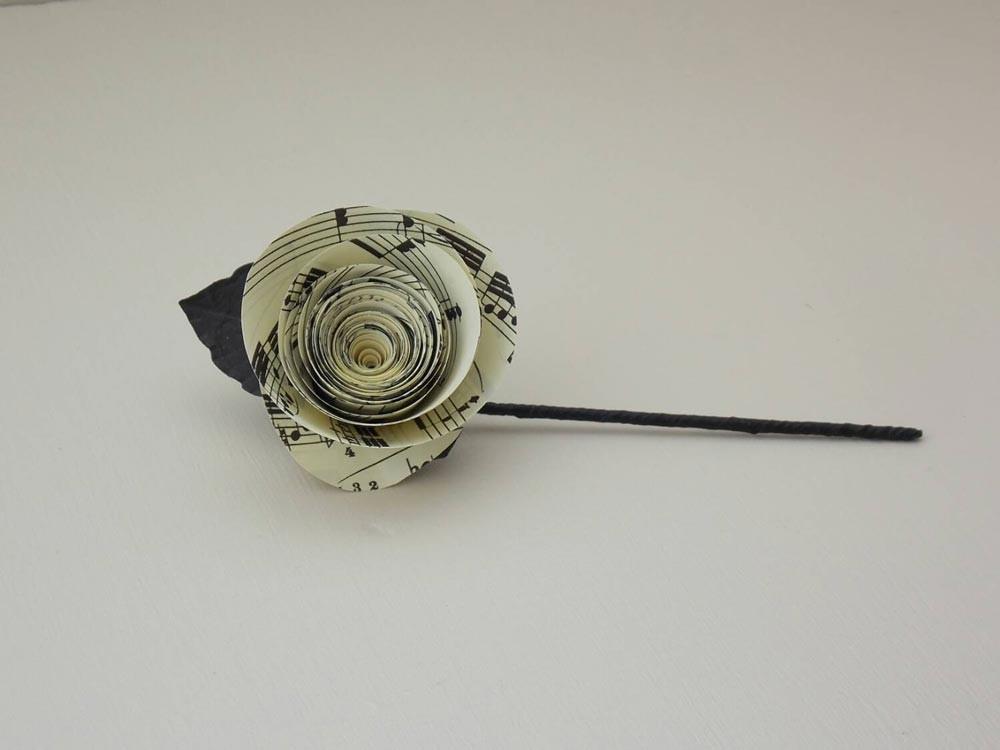 Image credit: AlanaPhoenixandCo on Etsy
Sterling Silver
A Christmas themed wedding demands lots of festive details – this sterling silver lapel pin styled to look like holly leaves is perfect!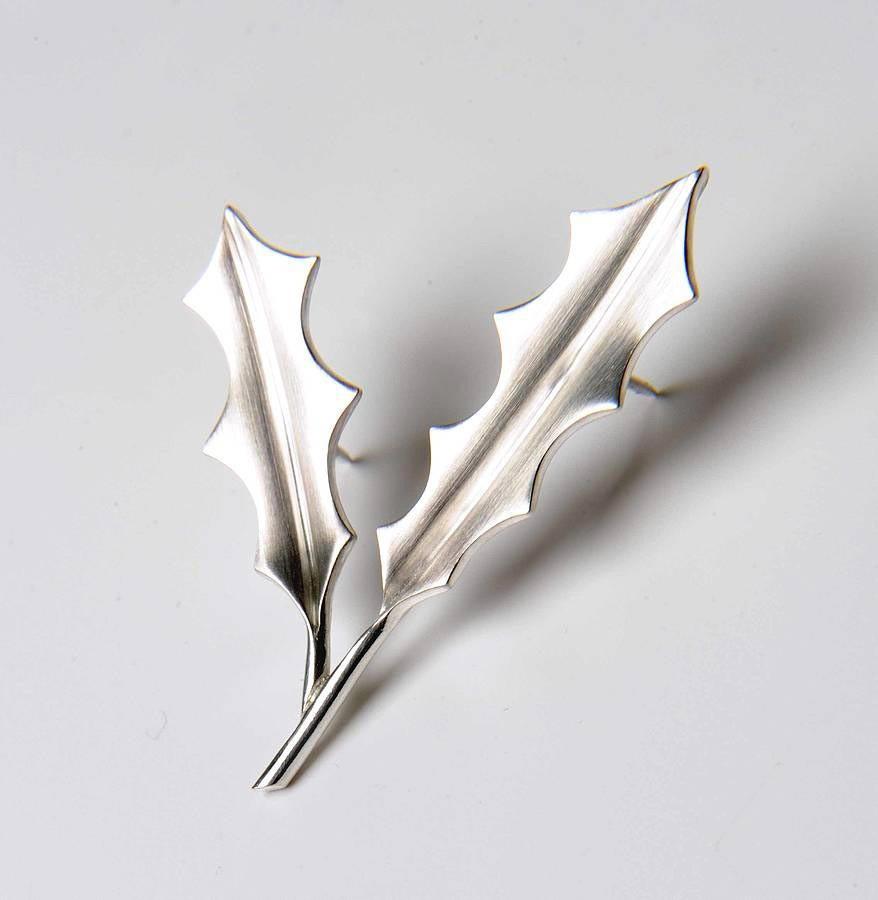 Image credit: Louise Mary Designs at Not on the High Street
Feathers
These customisable buttonholes from Holly Young Millinery are perfect for country weddings and will look great on tweed wedding suits. You can choose which feathers are layers and you can order five but only pay for four!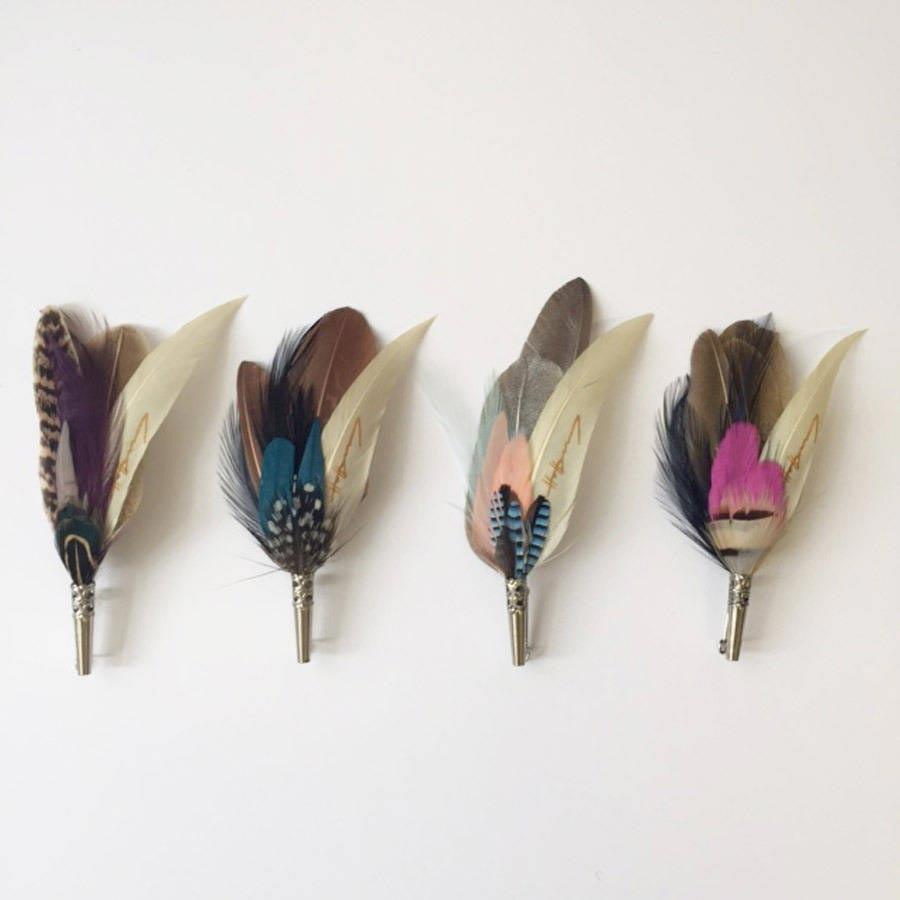 Image credit: Holly Young Millinery
Peacock Style
Sticking with feathers – have you considered a peacock feather buttonhole? Peacock feathers are vibrant and are proving to be an up and coming wedding theme – just check out Char and Andy's special day for inspiration!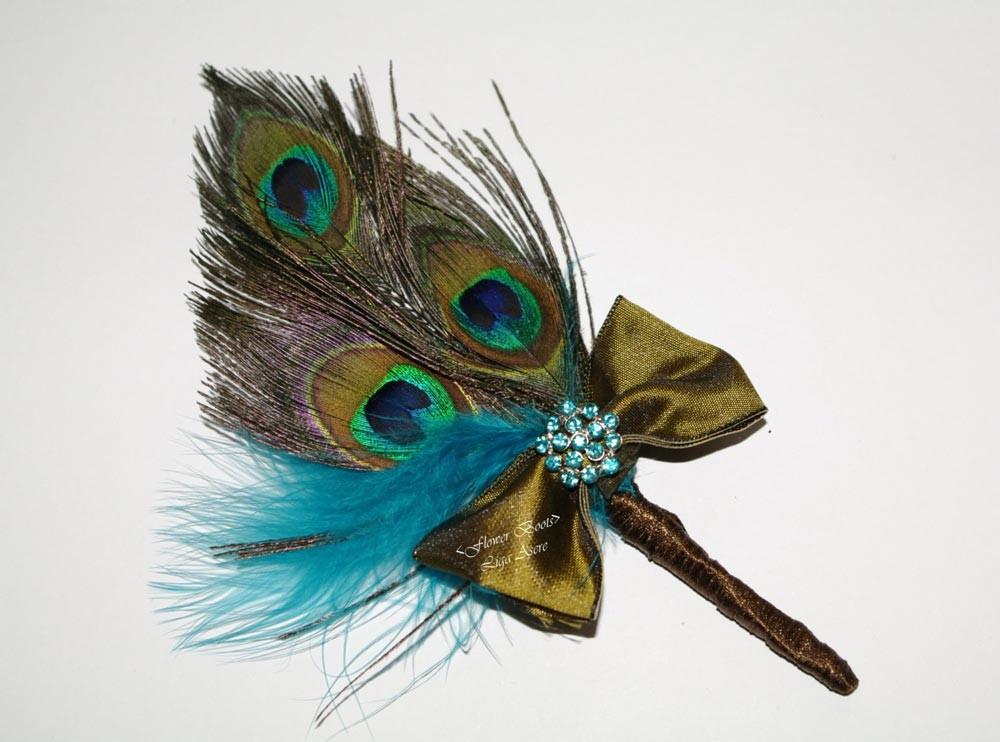 Image credit: FlowerBootsLigaAsere
Tartan Touches
If you're getting married in Scotland or want to include a nod to your Scottish heritage, customising your boutonniere with tartan ribbon is a great way to personalise it.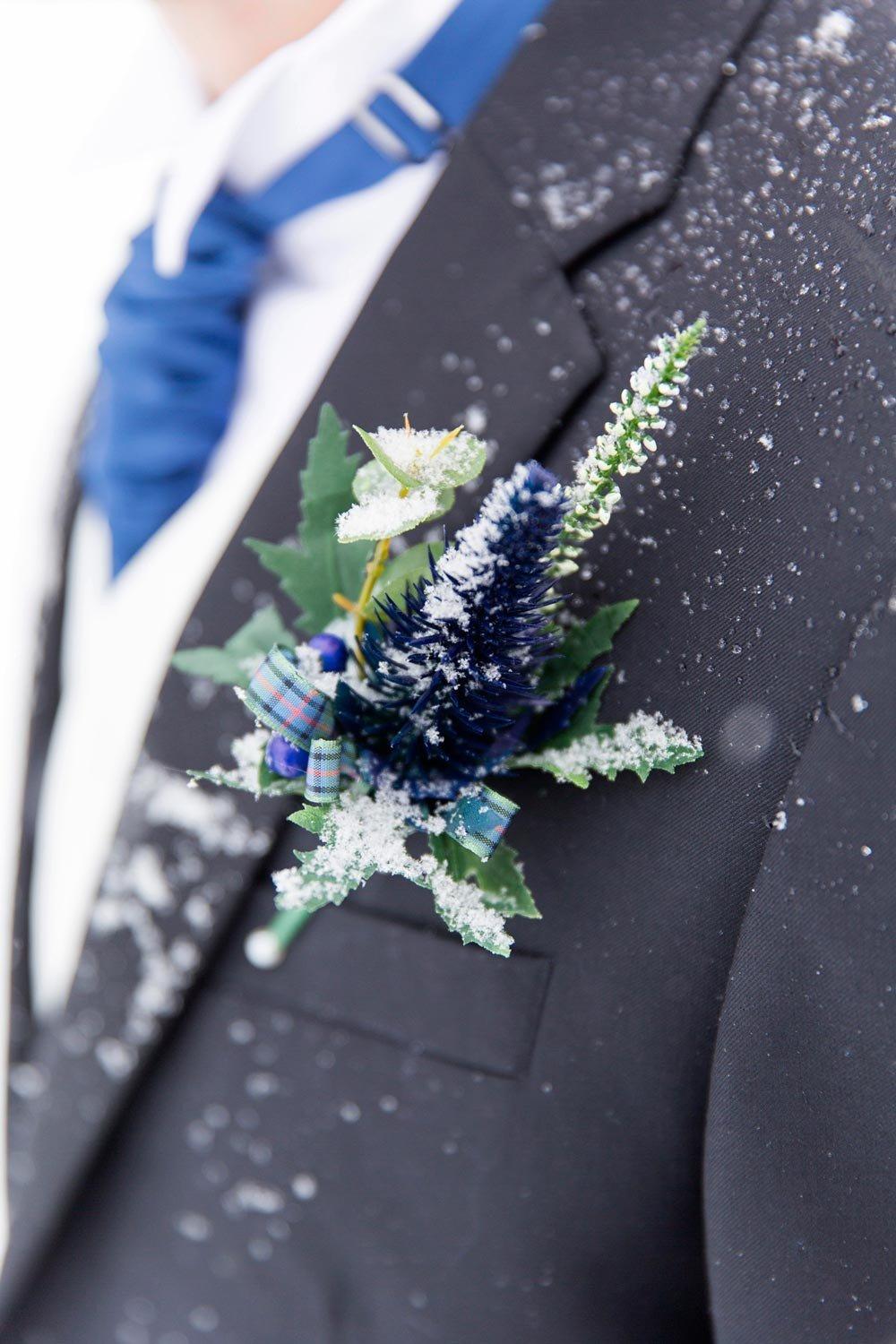 Image from Noreen and Danny's real wedding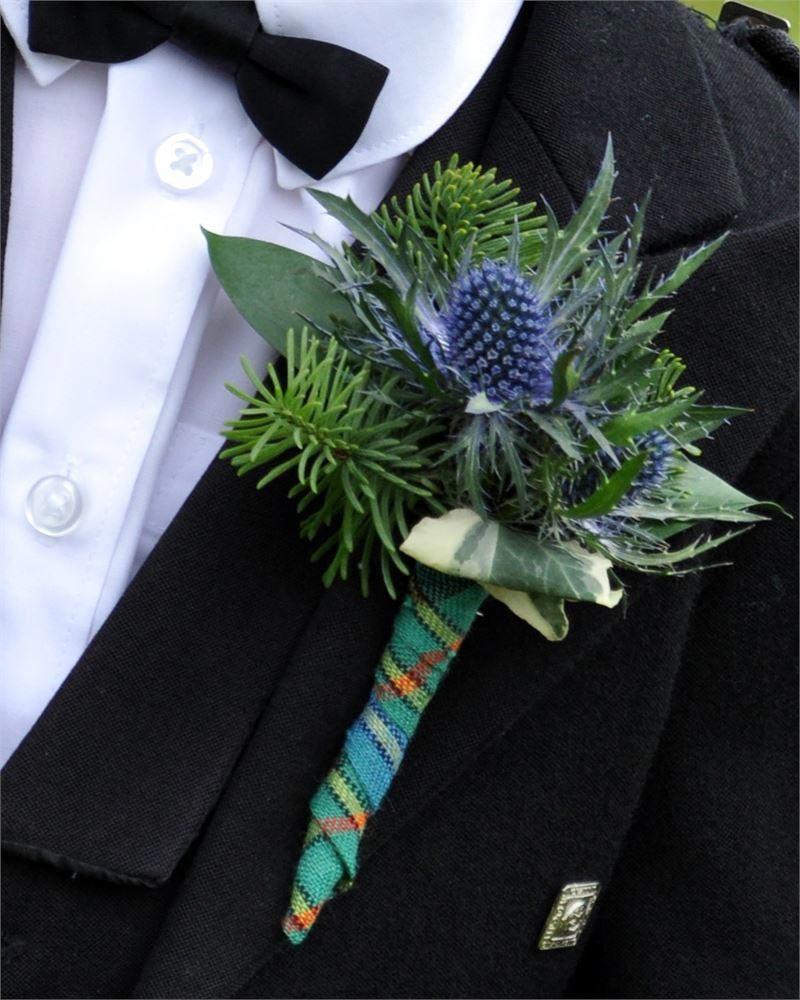 Image credit: Effervescence Events
007
James Bond will always be the ultimate in suit inspiration and this 007 themed buttonhole is perfect for a groom who is obsessed with the secret agent.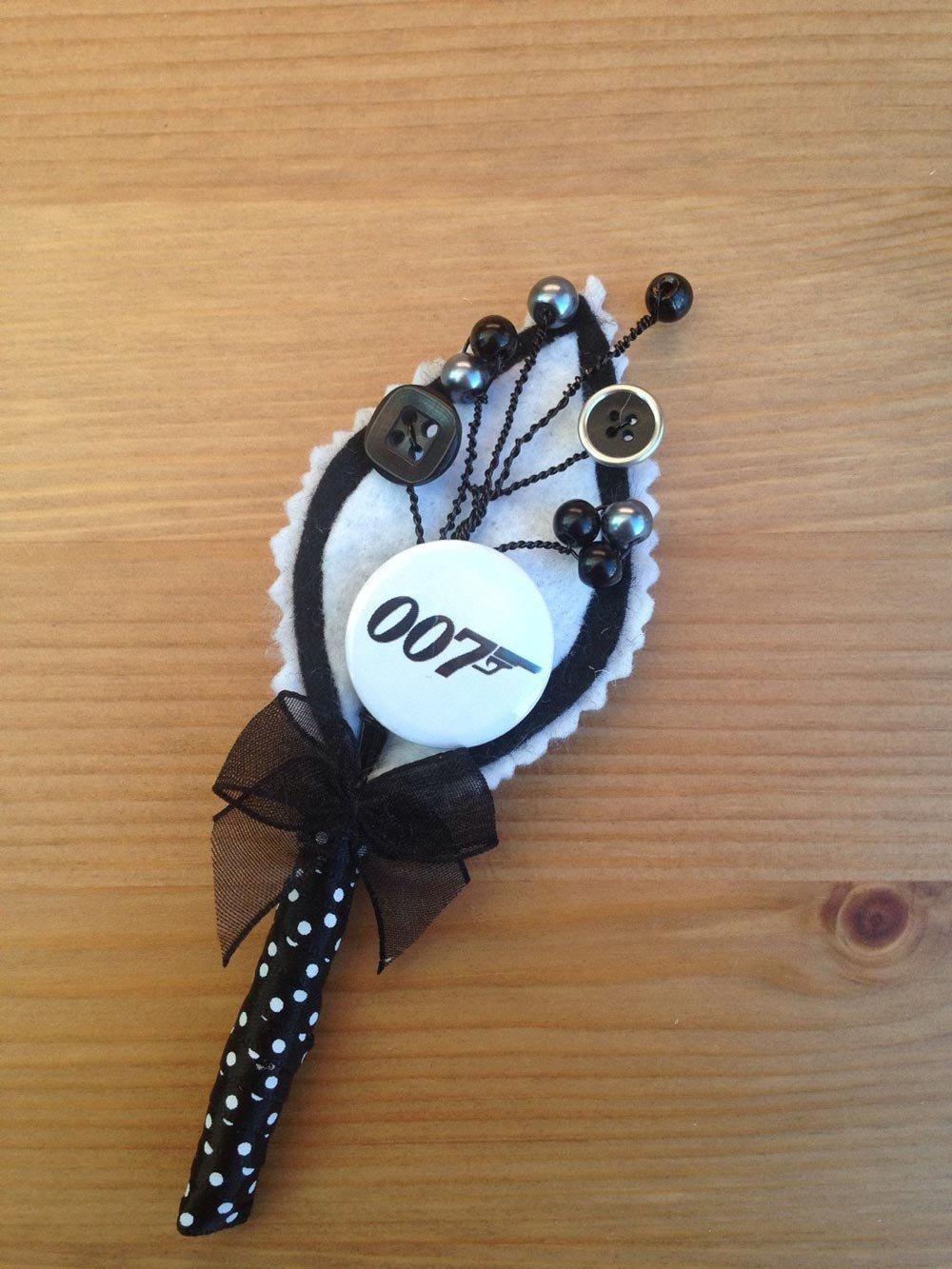 Image credit: TheVintageBouquetUK on Etsy
Winter Wonder
If you're planning a winter wedding, we love this twine wrapped buttonhole with artificial berries and sprigs of spruce!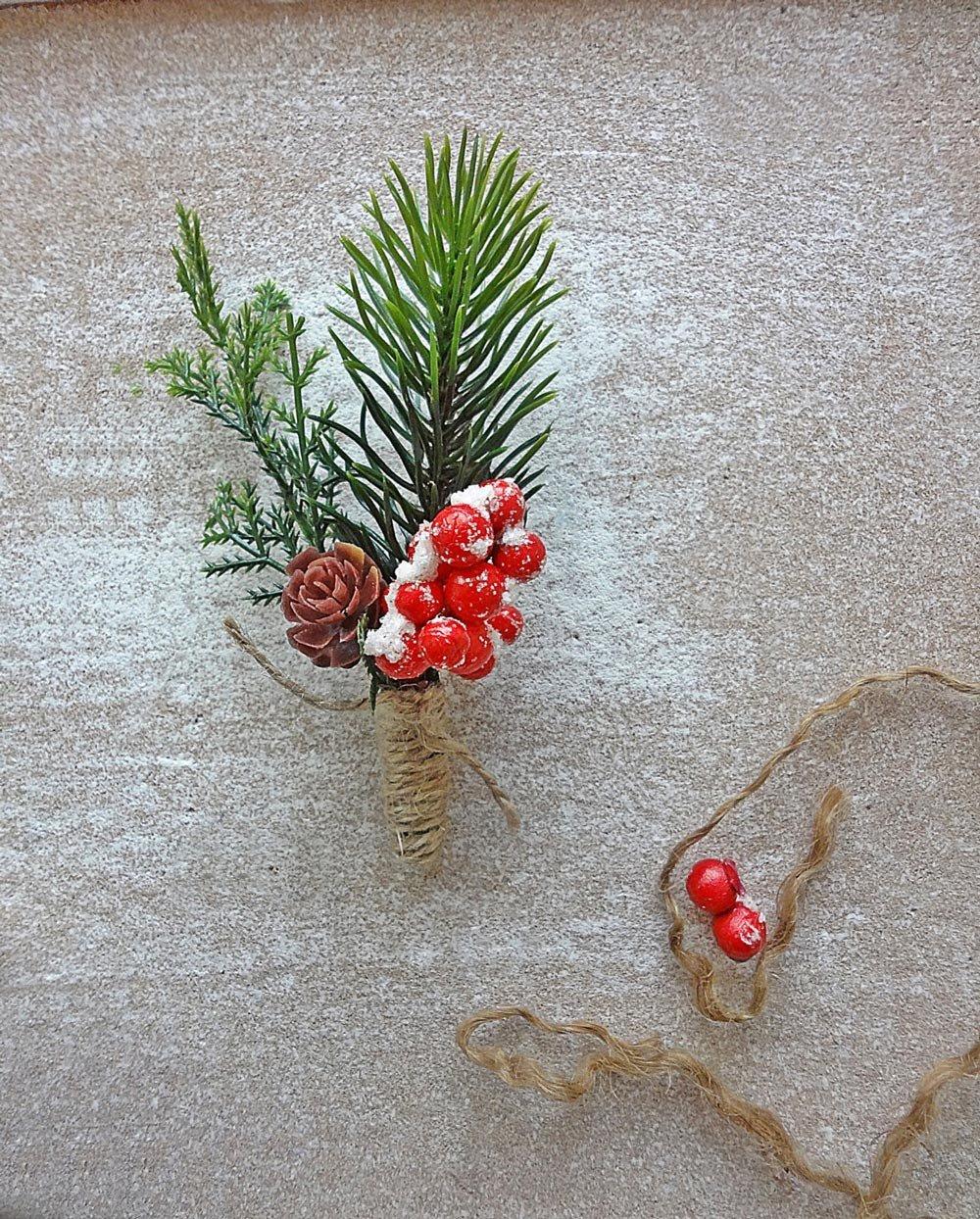 Image credit: FlowerBootsLigaAsere on Etsy
Love Bird
What could be more perfect for a wedding than a buttonhole that features a little bird! This summery creation is really beautiful and the tiny love bird is adorable.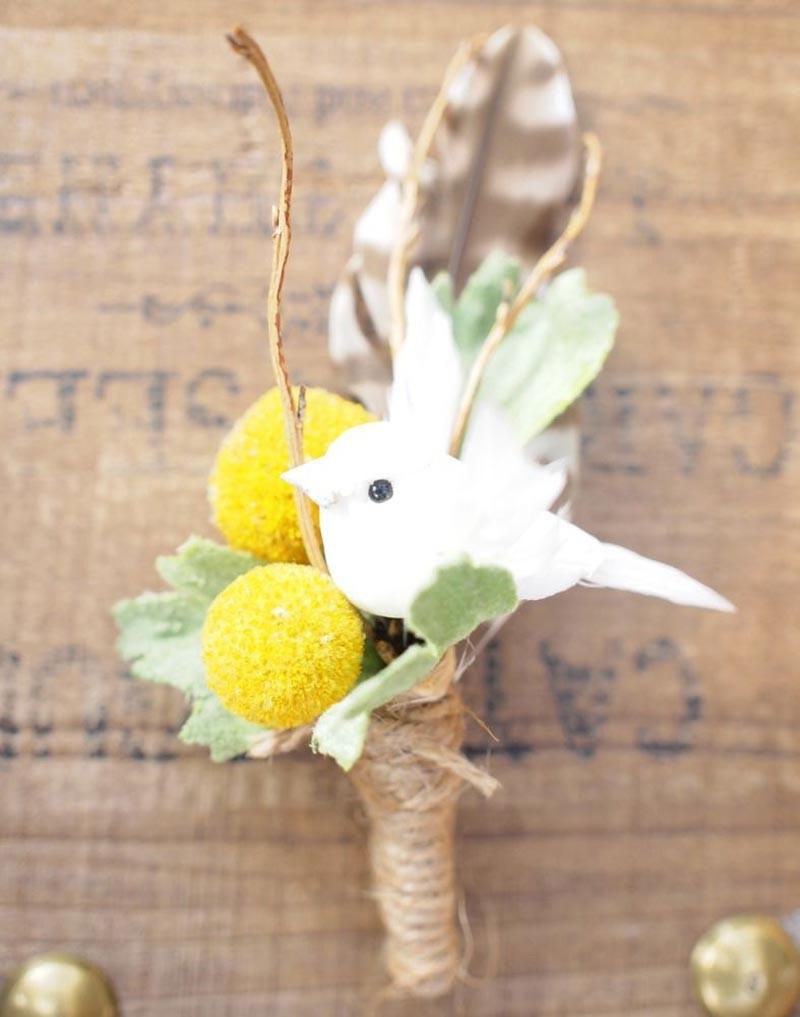 Image credit: LindenFlowers on Etsy
Superheroes
For those that love superheroes, these Lego buttonholes are perfect! They add a geeky twist to the traditional buttonhole and are the ideal choice for couples looking for ways to add a superhero theme to their wedding day.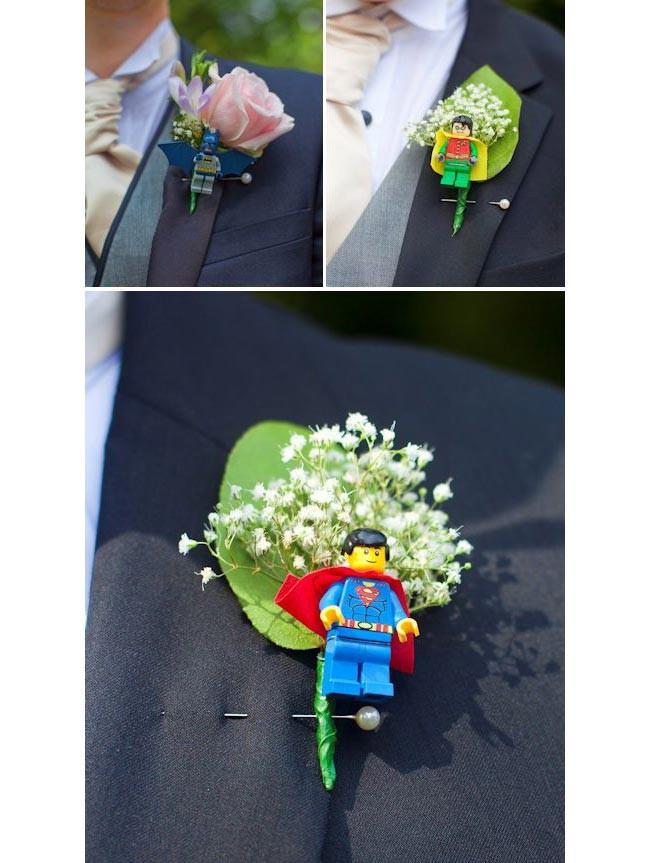 Red Rosette
At Yvonne and Dan's wedding, both the bride and groom sported traditional red Chinese wedding rosettes. They were decorated with the traditional Chinese wedding symbol for 'Double Happiness'.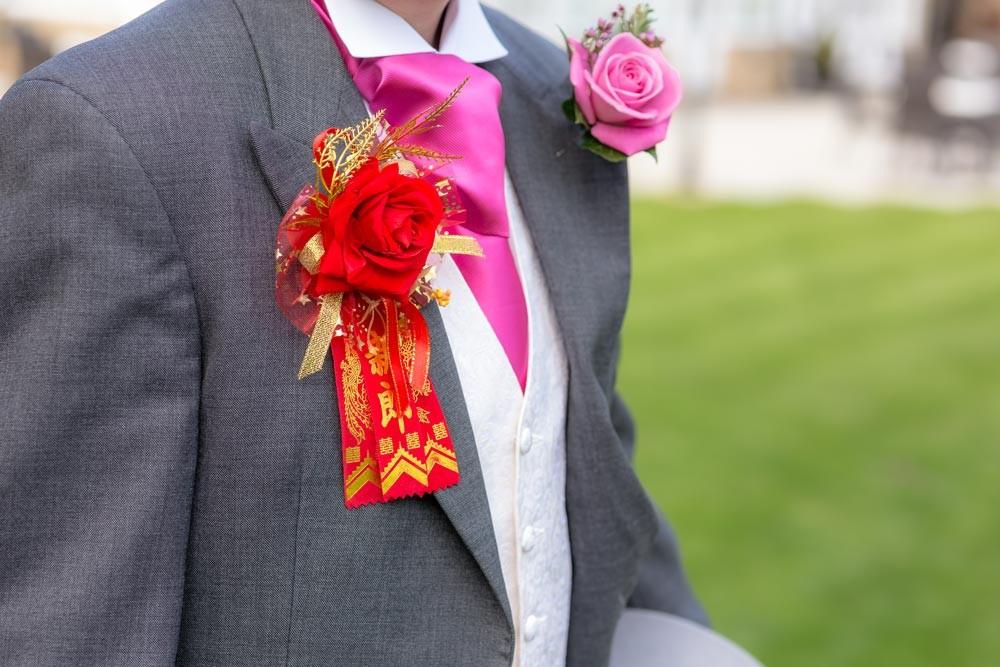 Clay Superman
This Superman buttonhole is super cute! It's made from polymer clay so it will stand the test of time too. There are also clay figures of Batman and Robin (ideal for the groom and best man) and a clay Incredible Hulk too!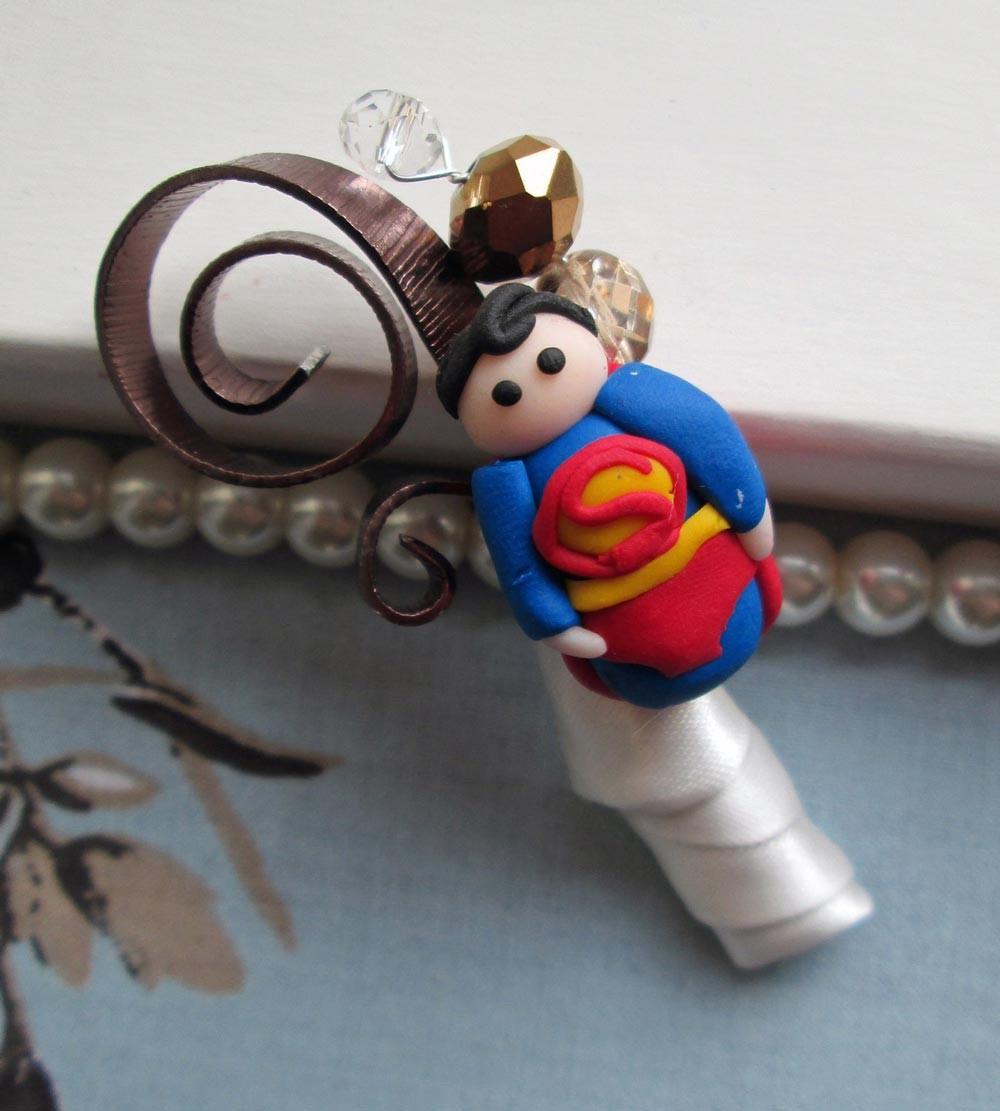 Image credit: ElsaRoseBoutique on Etsy
Comic Book Creations
For a more subtle twist on the superhero theme, consider paper boutonniere made from comic book pages. These ones are made from vintage annuals from the 60s, 70s and early 80s!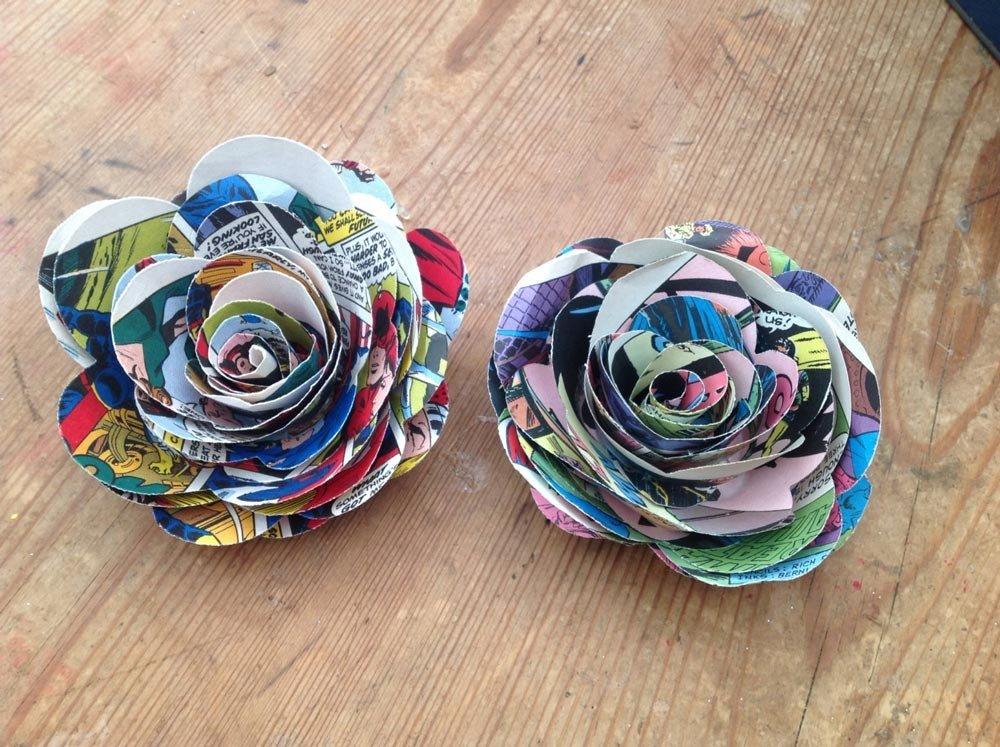 Image credit: muscariwhitesflorist on Etsy
Quirky Origami
Taking comic book buttonholes to the next level, PaperAzure on Etsy makes origami creations from retro comics. They're super cool!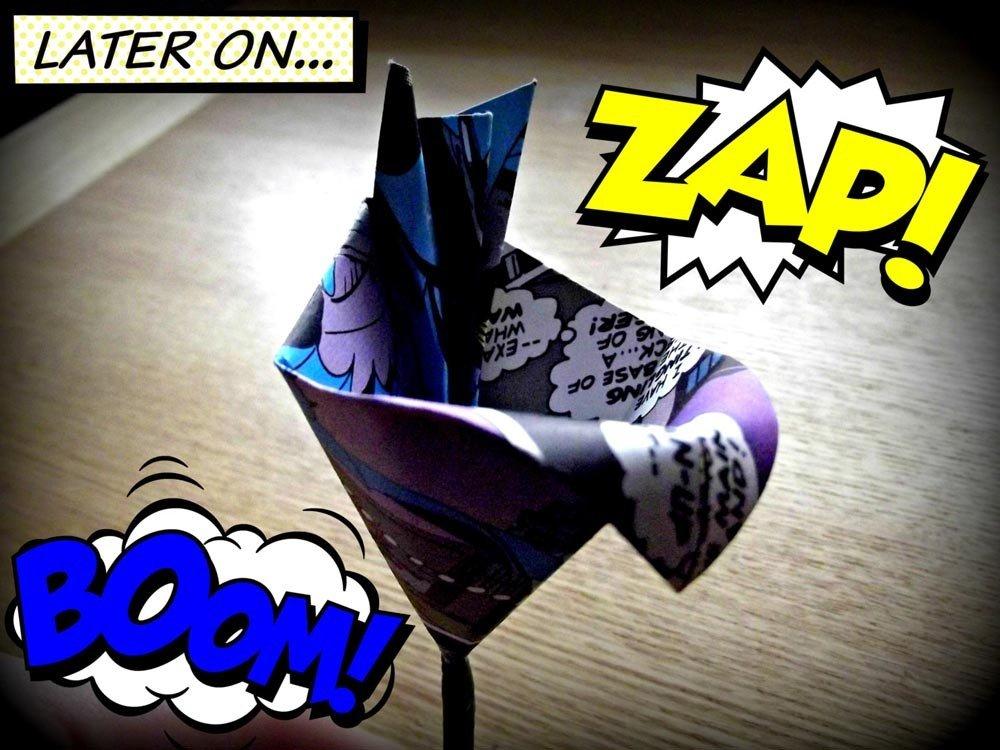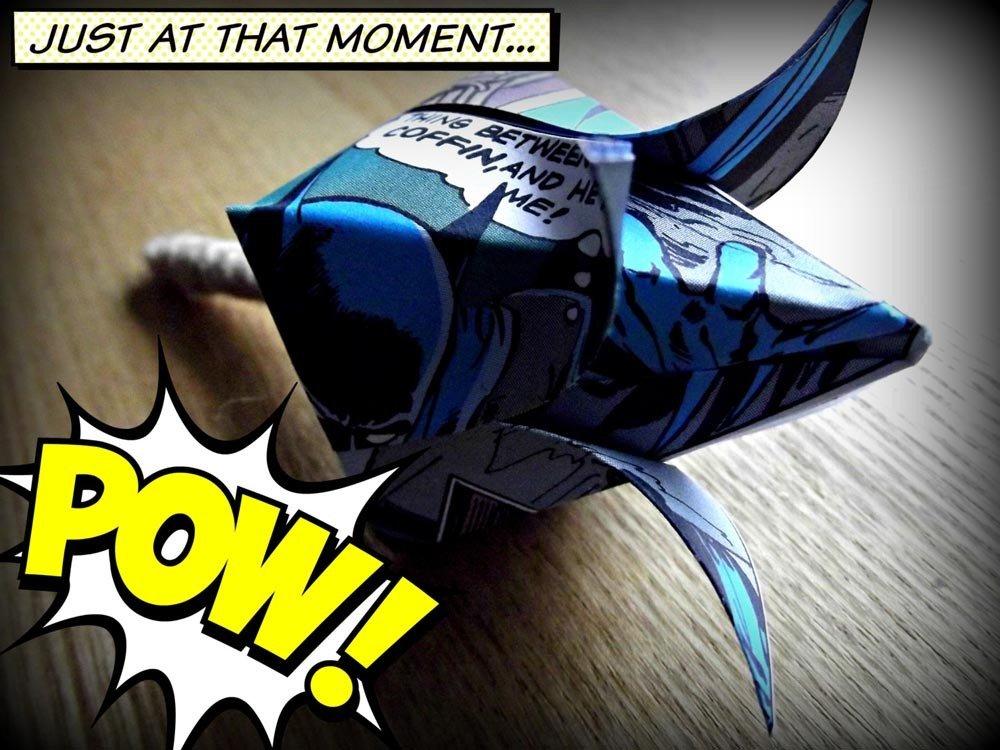 Image credit: PaperAzure on Etsy
Comic Colours
If your other half loves comics but you don't fancy having comic book details at your wedding, there is a more subtle option. This felt and button boutonniere comes in Superman inspired colours, but isn't in-your-face comic themed. There's even a matching bridal bouquet! It would have looked ideal at Alice and Rick's subtly Superman themed wedding.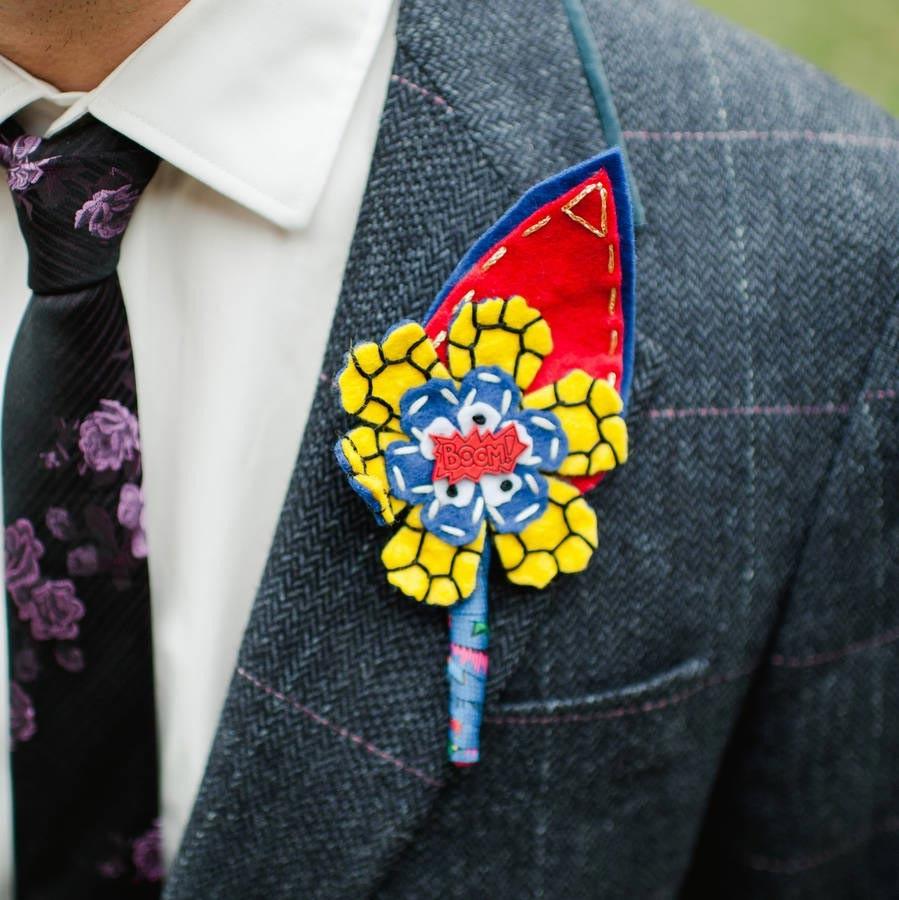 Image credit: Beaubuttons at Not on the High Street
Beach Buttonhole
This starfish boutonniere is ideal if you're planning a beach wedding. The natural starfish can be worn on their own, or give them to your wedding florist so they can fashion a floral addition to them.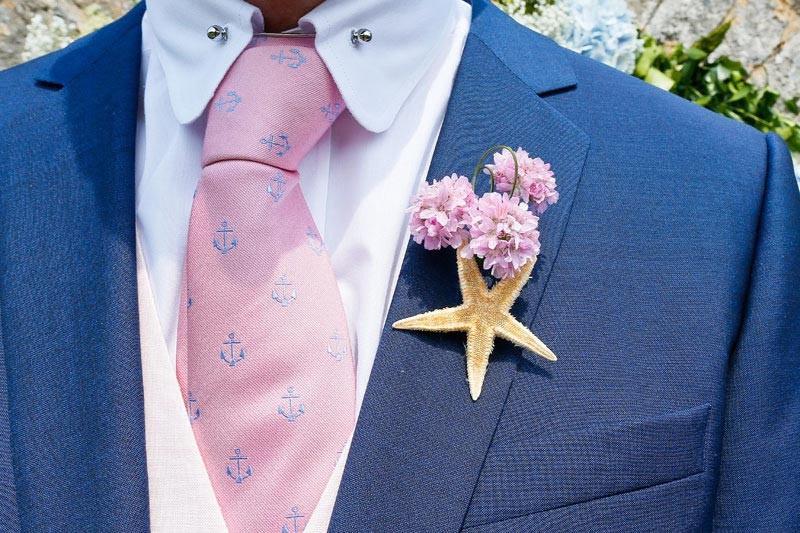 Image credit: Fabthomson on Etsy
Pearly Buttons
These buttonholes made from pearly buttons are the ideal choice for couples who want something a bit alternative, but still want to have a traditional feel. You can order them in other colours too to match your colour scheme.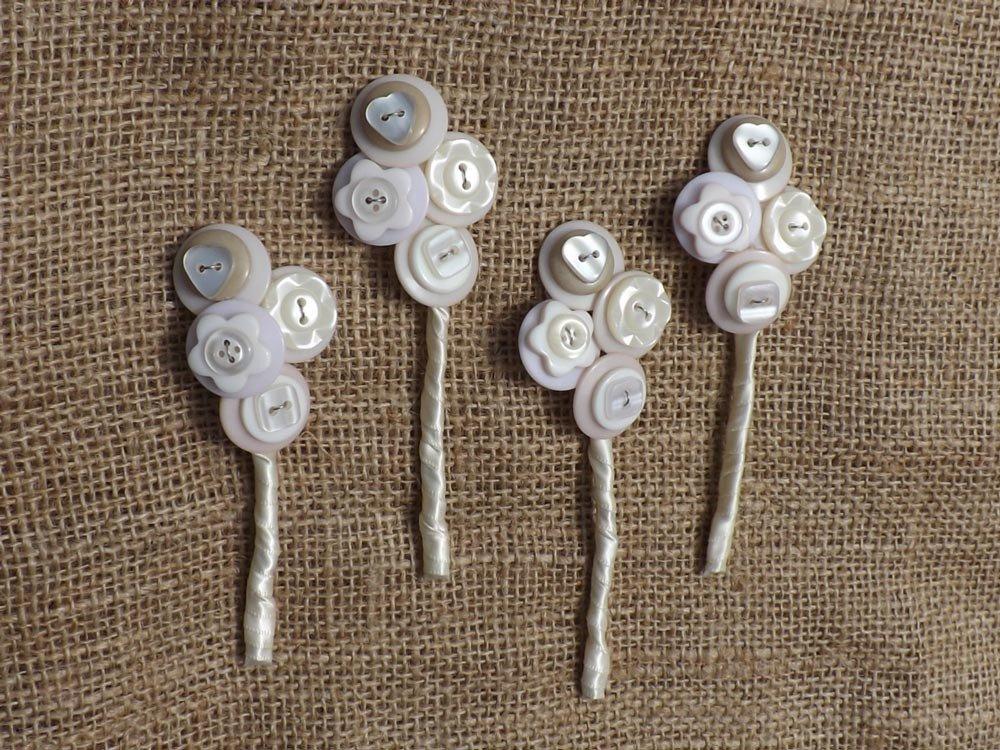 Image credit: HaveToHold on Etsy
Christmas Magic
Add a festive touch to the groomswear with this super Christmassy buttonhole, made from red and gold buttons, ivory pearls and miniature pinecones.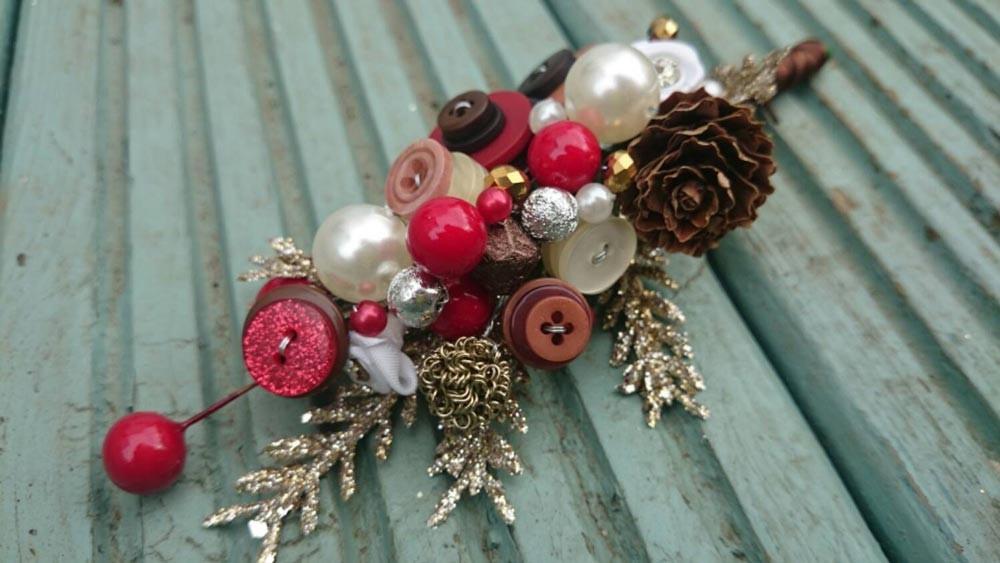 Image credit: TheButtonOrchard on Etsy
Glamorous Gold
If everything at your wedding is glitzy and glamorous, from gold bridesmaid dresses to silver shoes, make sure the groom isn't left out! This boutonniere crafted from golden wire is a great way to glam up the groomswear.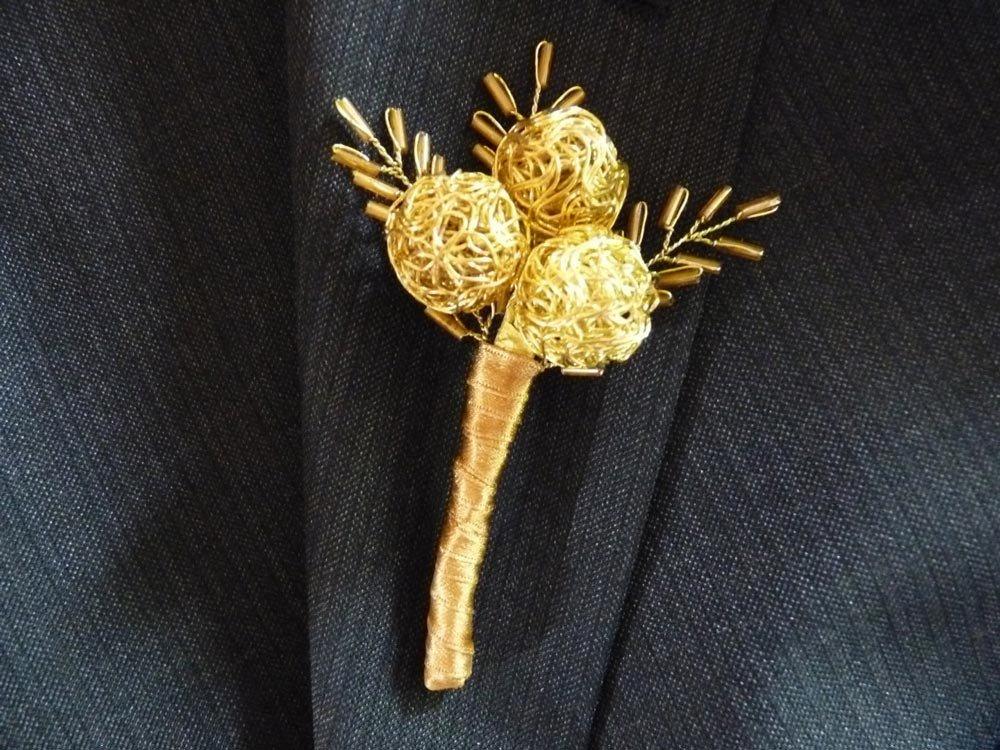 Image credit: DuckBarnFlorals on Etsy
Golden Glitter
Maybe out and out gold is too much? If so you'll love this gold glitter dipped feather from PointlessPrettyEtsy – it'd look amazing at a festival themed wedding.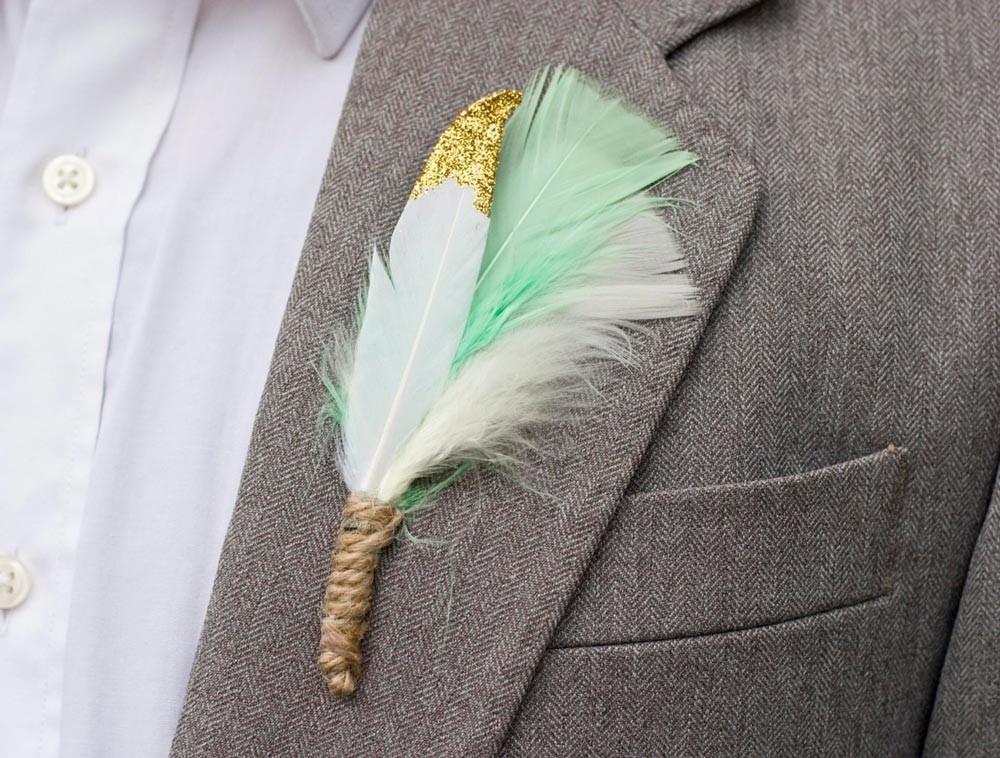 Copper Rose
Another creation from PointlessPrettyEtsy! We are obsessed with this rose gold flower which is totally on trend right now.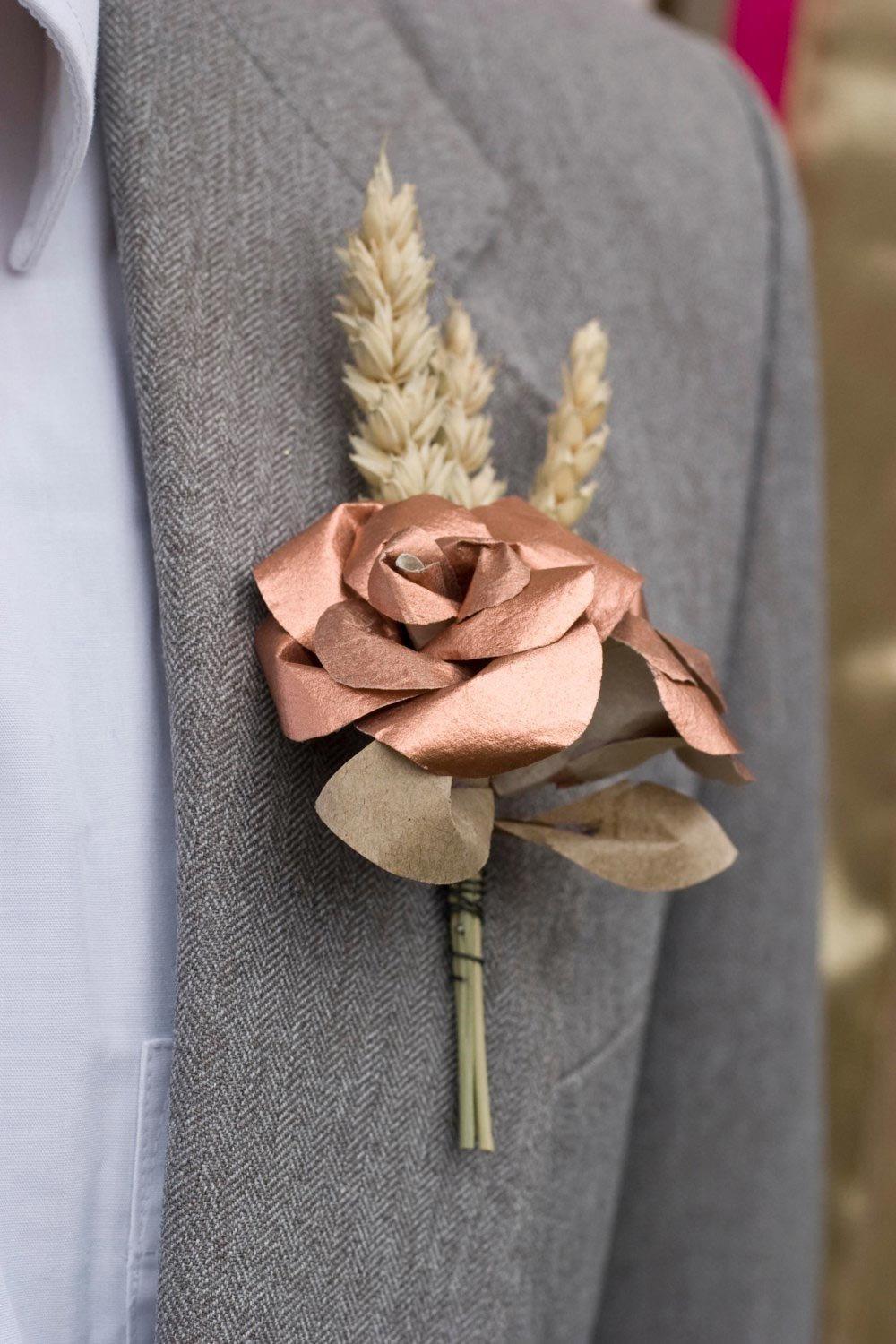 Sugar Sweet
This lollipop buttonhole is perfect for super sweet couples who want to add a hint of candy land to their special day.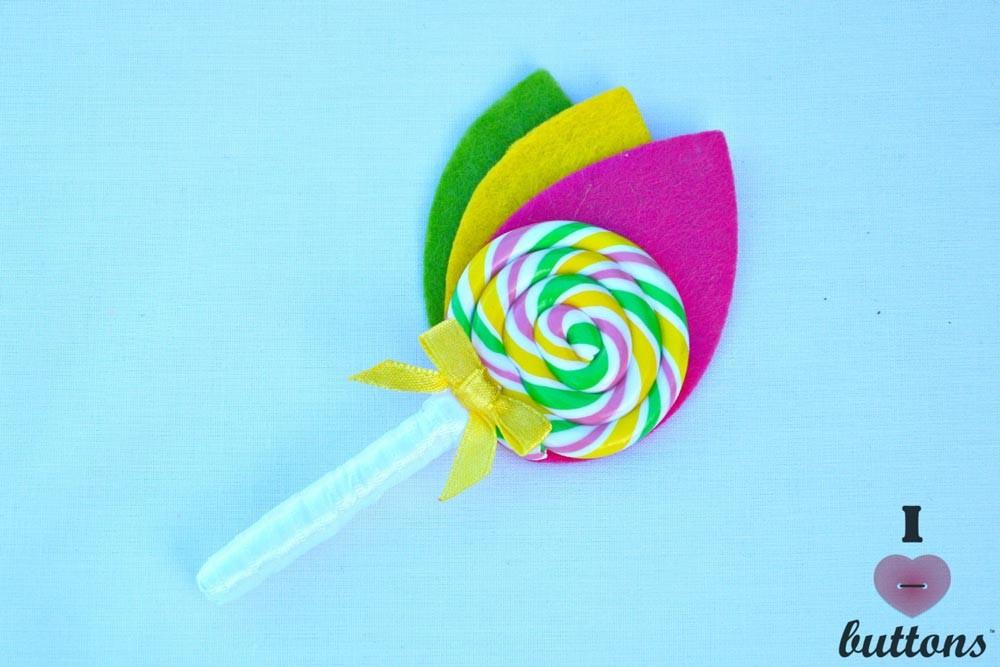 Image credit: iheartbuttonsuk on Etsy
Mod Mania
Grooms who love the swinging 60s will adore this mod themed buttonhole from Etsy. Team it with a Ted Baker suit and arrive on a scooter for the ultimate mod style!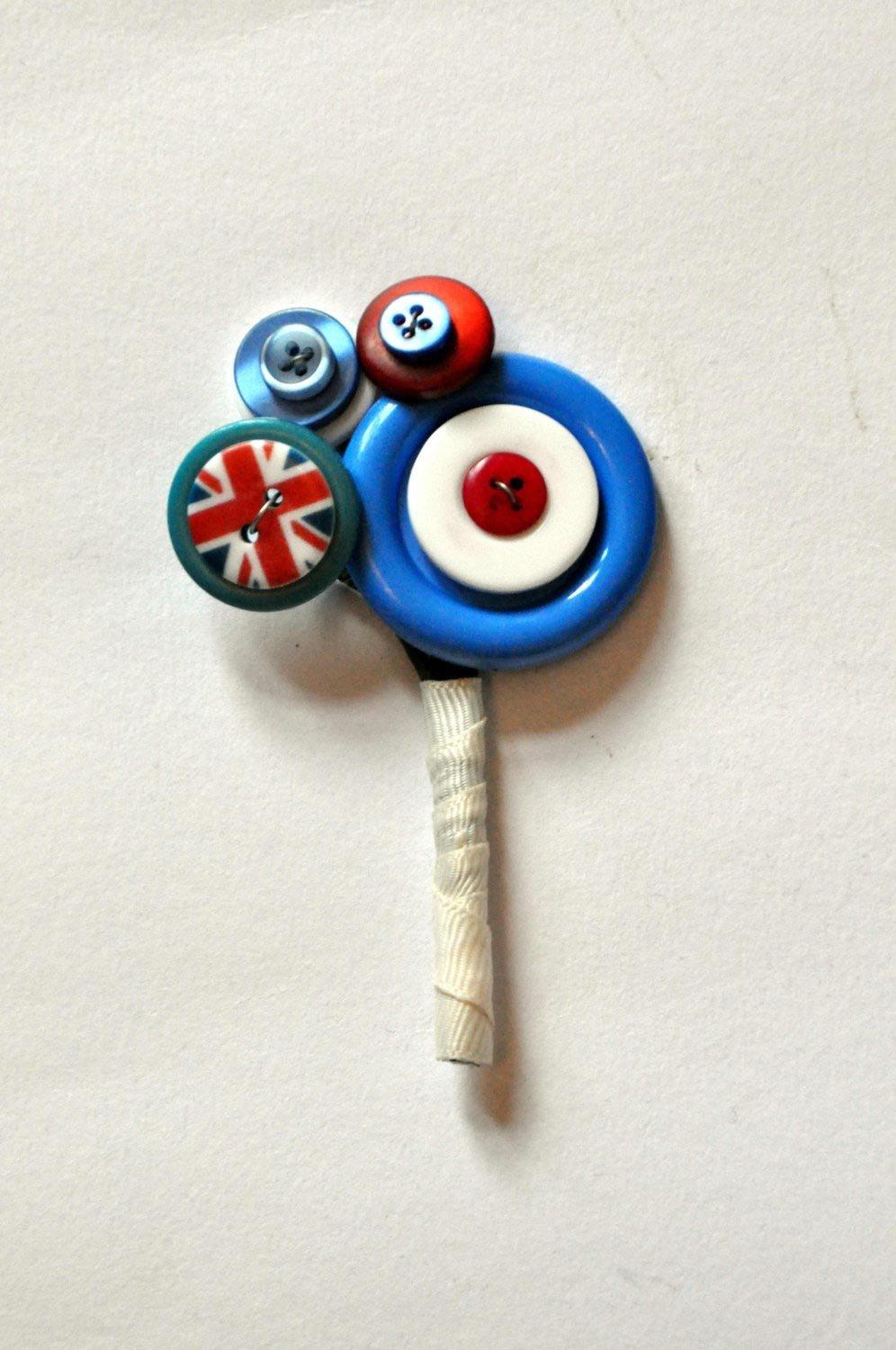 Image credit: CharlieLaurieDesigns on Etsy
Steampunk Style
If you've got a gothic wedding dress and your wedding theme is inspired by steampunk, you need these amazing buttonholes! With red and black roses and cogs, watch dials and little industrial looking lockets, they're right on theme.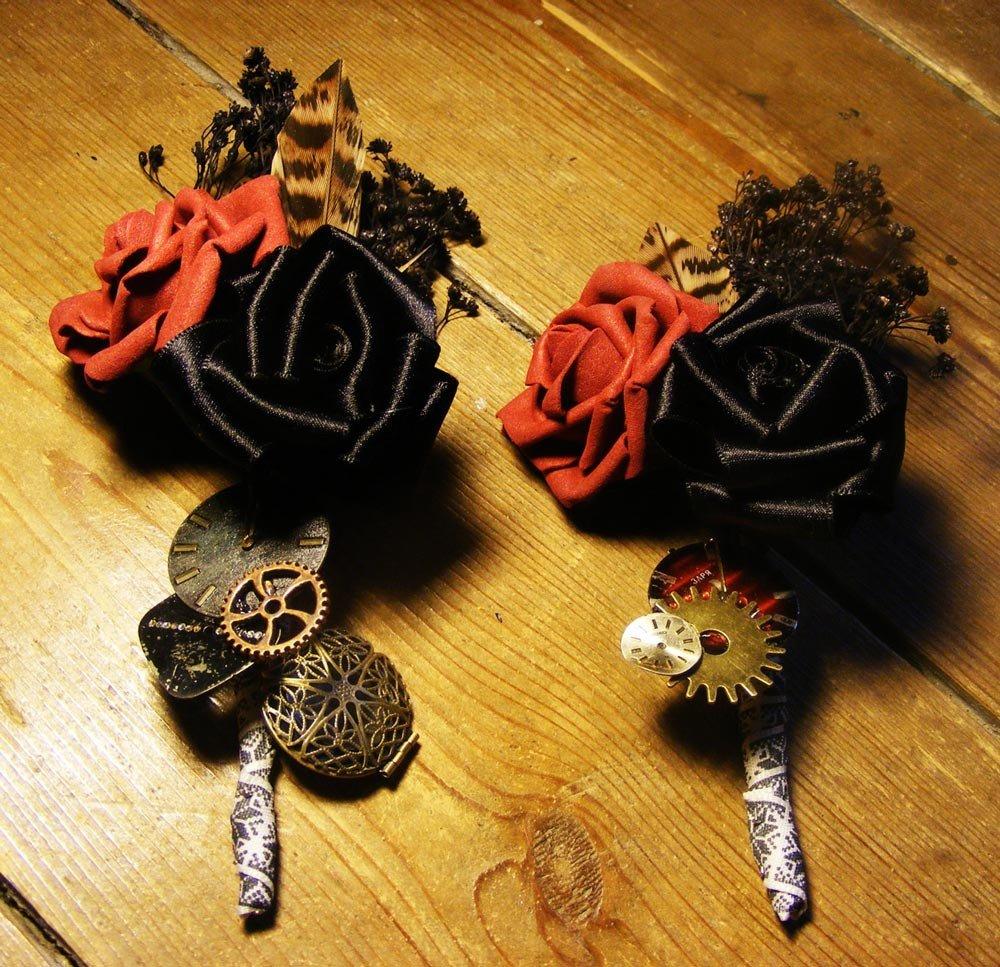 Image credit: BertieAndFreds on Etsy
Whether you are going for an alternative, quirky or traditional buttonhole, it's still the finishing touch. Make sure the groom looks his very best by browsing all of the groomswear on Hitched.