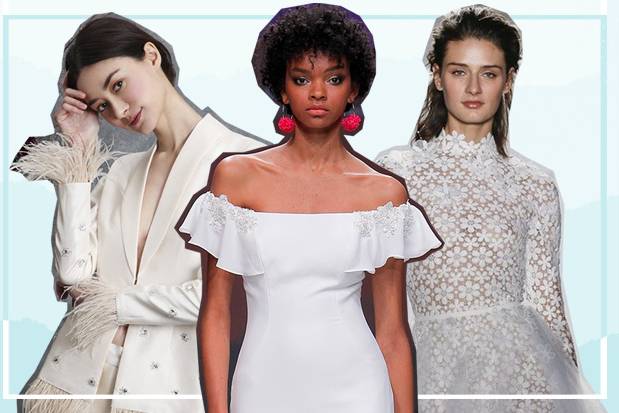 Calling all 2020 brides! Next year is your year, and if you're yet to find your dream wedding dress, you might want to take some inspiration from the hottest 2020 wedding dress trends to help narrow down your search.
We've just returned from Barcelona Bridal Fashion Week (we know, poor us), and splashed across the catwalks was so much to fall in love with.
READ MORE: How to Choose a Wedding Dress
Back in the UK, we caught up with Peta Hunt – editor-at-large and bridal fashion expert at You & Your Wedding. She shared her wedding dress trend predictions with us, and whittled down all the trends to the eight she expects to see the most on the shop floors.
"After scrolling through my camera roll and reviewing the thousands of dresses I've seen over the last month in London, New York and Barcelona, my main conclusion is that there are lots of new dresses and trends emerging in time for next year.
"From capes to statement sleeves and a whole lot of sparkle, 2020 brides have an exciting journey ahead of them."
So without further ado, here are our favourite 2020 wedding dress trends…
READ MORE: The Hottest Wedding Dress Trends of 2019
1. All-Over Lace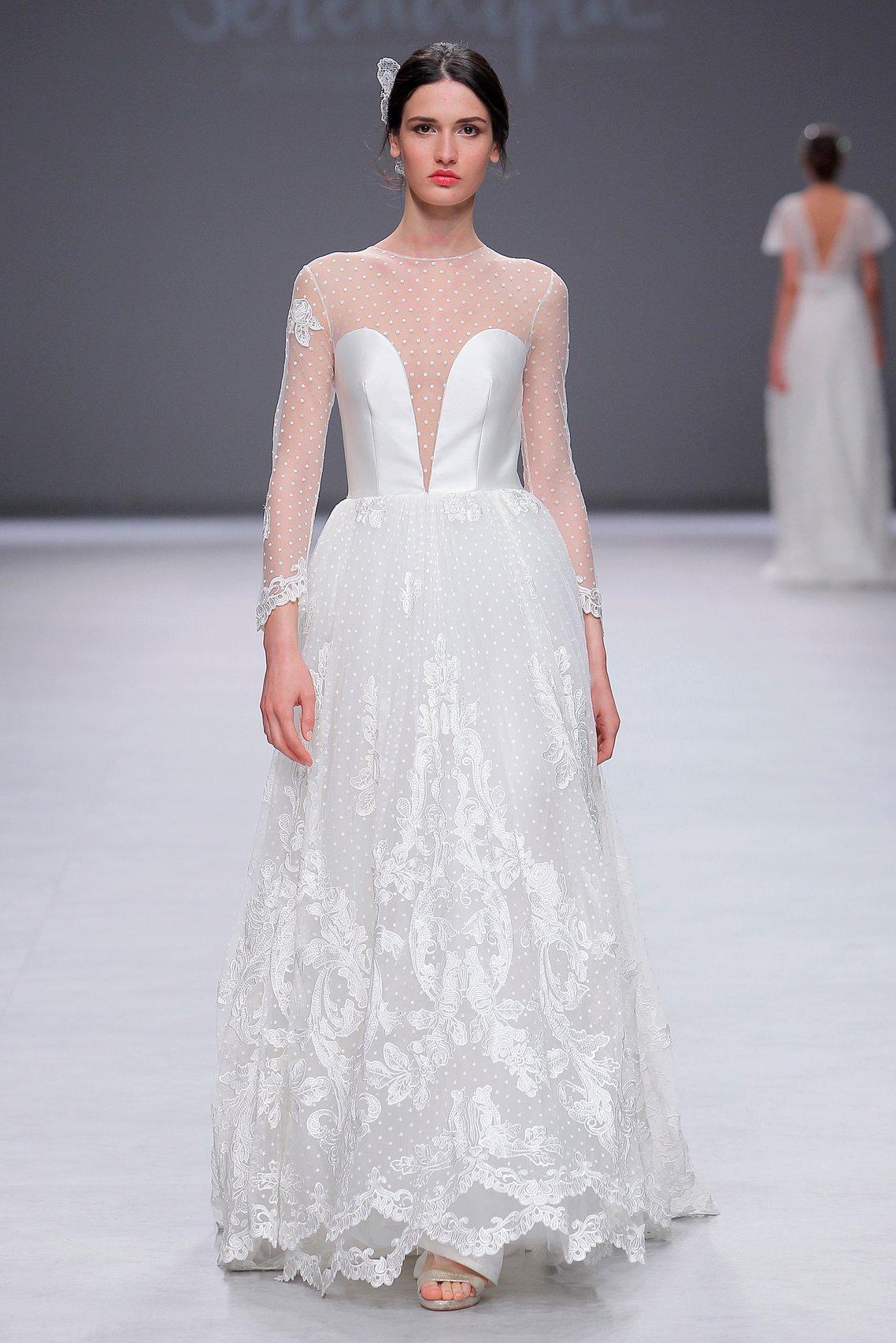 Image: Esther Noriega
Lace has been a popular choice with brides for as long as we can remember, but 2020 will see this traditional fabric have a bit of an overhaul in more ways than one.
Not only will crochet all-over lace be a huge hit (crocheted long sleeves and high necks were seen a lot at Mira Zwillinger and Berta), but lace mixed with tulle will be huge and create a light, romantic 70s look.
Peta said: "All over lace dresses are everywhere this season. To me, lace is the perfect solution for both the traditional bride and the lover of all things vintage and boho – two trends which don't seem to want to go away."
READ MORE: The Best Lace Wedding Dresses
2. Capes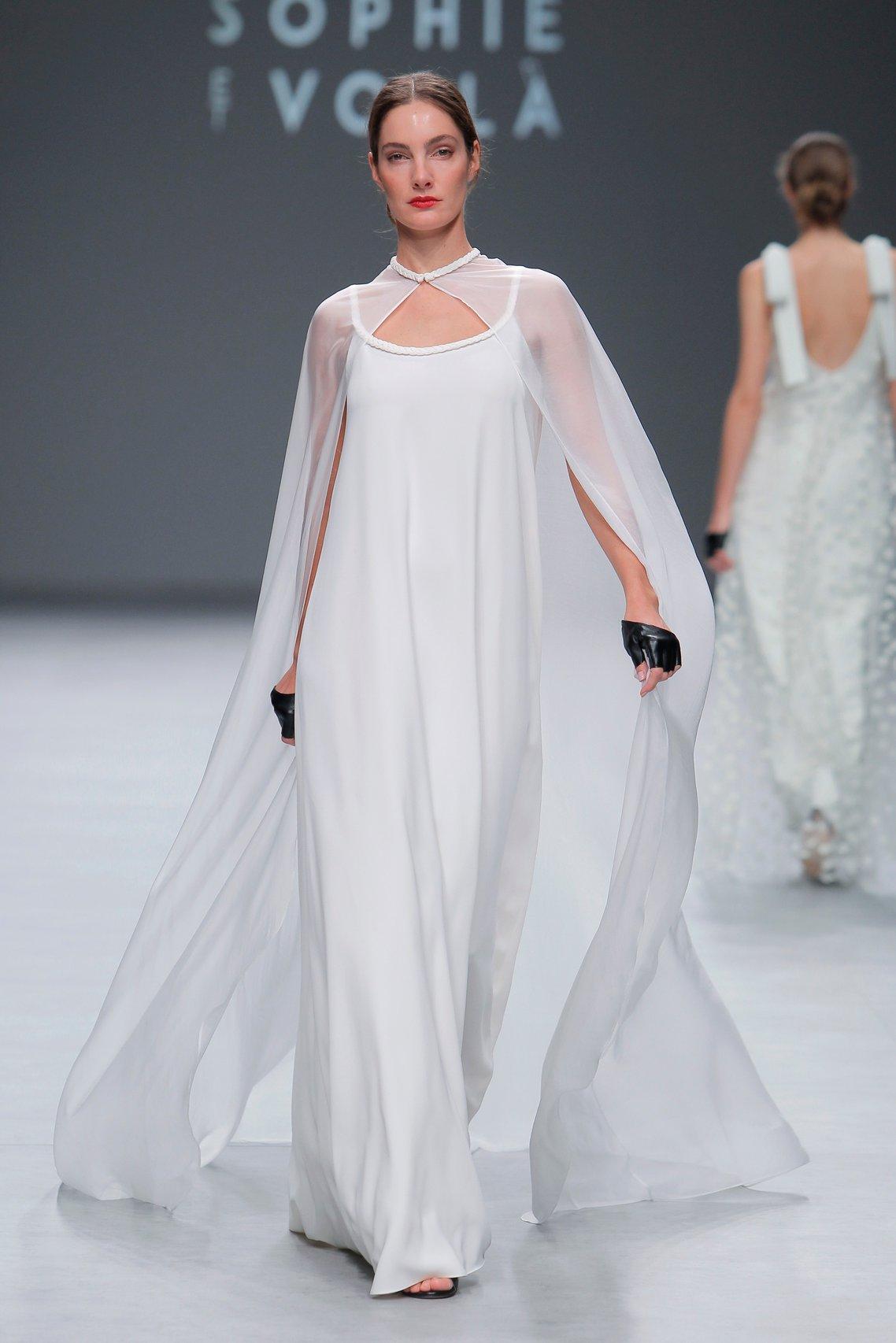 Image: Sophie et Voila
Step aside, veils – there's a new bridal accessory in town. Capes are set to be the veil's trendy, modern counterpart in 2020, and the two can be interchanged if you don't want to go too traditional.
Peta says: "If you don't want a traditional veil, then you'll be able to go for a cape. Not only do they work well at church weddings for covering your shoulders, but they're also super stylish and so romantic.
"Look out for great capes at Ivory & Co, Maggie Sottero, Rasha and Brian Chen. We'll be shooting a cape story at You & Your Wedding for sure. I really love the soft tulle designs."
READ MORE: 7 Stunning Wedding Veil Styles
3. Statement Sleeves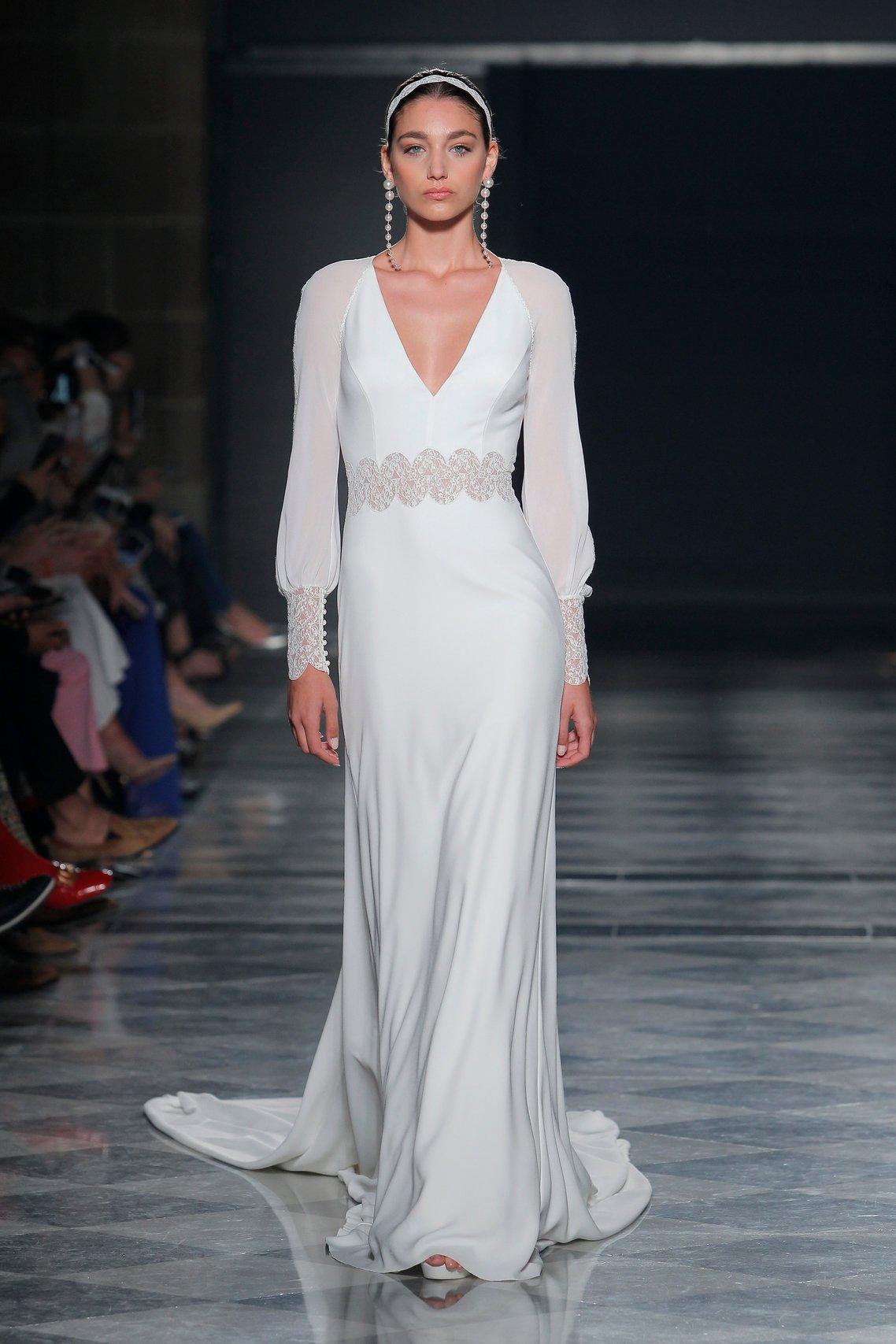 Image: Rosa Clara
Say hello to the statement sleeve: a trend which is perfect for brides who want to add a bit of drama to their outfit without going too off-piste.
Peta says: "I love how much impact a statement sleeve can make – to me, the whole balance of a dress is altered by the size of the sleeve.
"Pronovias paid a real homage to the 70s with big shoulders and ruffle sleeves. There were also flirty short sleeves, belle sleeves and a tonne of sheer sleeves with cuff details. Other designers adopting the 'giant sleeve' trend were Ronald Joyce, Rosa Clara, Justin Alexander and Mori Lee."
READ MORE: Our Favourite Long Sleeve Wedding Dresses
4. Trouser Suits & Jumpsuits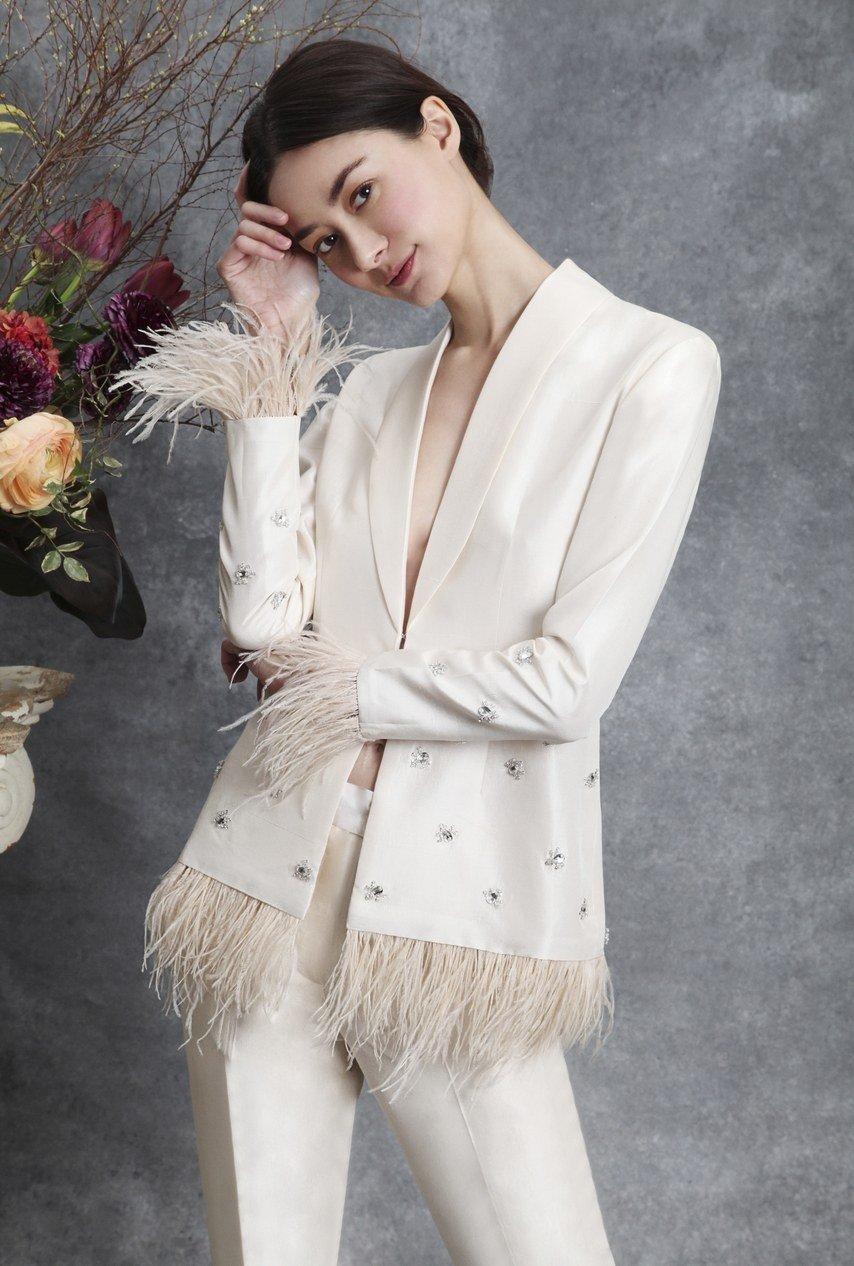 Image: Sahroo Bridal
The rise of the bridal jumpsuit has been huge, and although it's here to stay for a bit longer, this season is also seeing a move toward two-pieces.
Peta says: "I know it's not a huge trend, and it's probably quite editorial, but trousers are an increasingly popular choice at real weddings, particularly for pre-wedding dinners and partying post-ceremony.
"To soften the look, I love how Berta paired them with a huge, beaded coat from Eliza Jane Howell. Pronovias did a great jacket, and Enzoani had both white and black jumpsuits if you're looking for colour!"
But that's not all. Bridal catwalks also saw trousers paired with dramatic trains – great for those of you who love a great pair of trousers but don't want to sacrifice looking bridal.
Designers like Oscar de la Renta and Sébastien Luke showcased sleek, tailored trousers paired with a modern bridal train. The trains were often in really heavy fabrics or super-sheer lace, and lots featured an exaggerated bow. Talk about contemporary!
READ MORE: 21 Timeless Wedding Jumpsuits
5. All That Glitters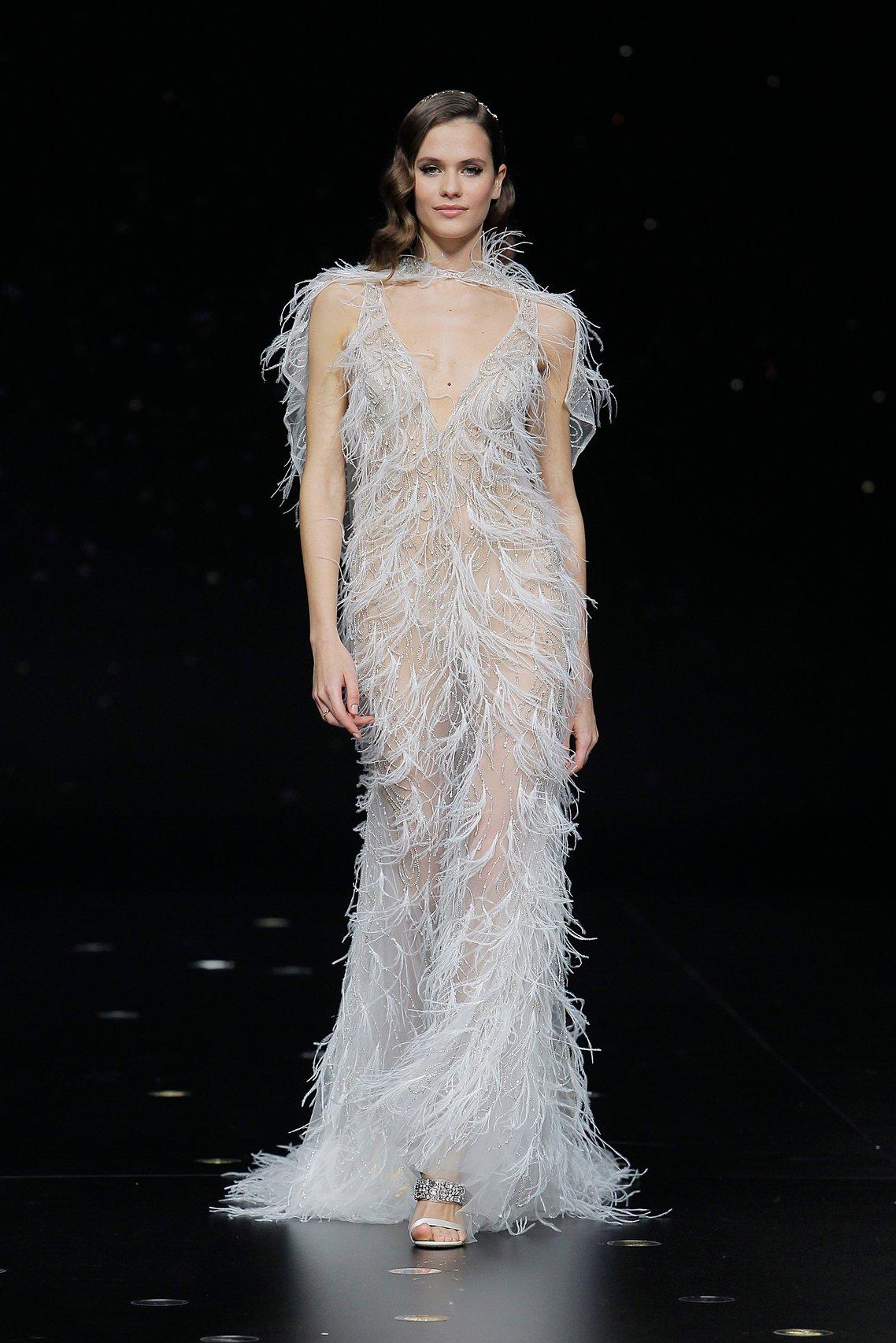 Image: Pronovias
Beading is still everywhere in 2020, and whether you go for something sleek and simple or a hefty-skirted ball gown, you can guarantee it'll be covered in sparkle.
Peta says: "Slinky is still out there and strapless dresses continue to be a favourite, but they're now covered in sparkles.
"Ball gowns also seem to be getting bigger, frillier and more sparkly… and most have pockets (which photographers love if you're struggling to know where to put your hands in pictures!"
READ MORE: 33 Sexy Wedding Dress Designs that Will Get Pulses Racing
6. Sleek & Simple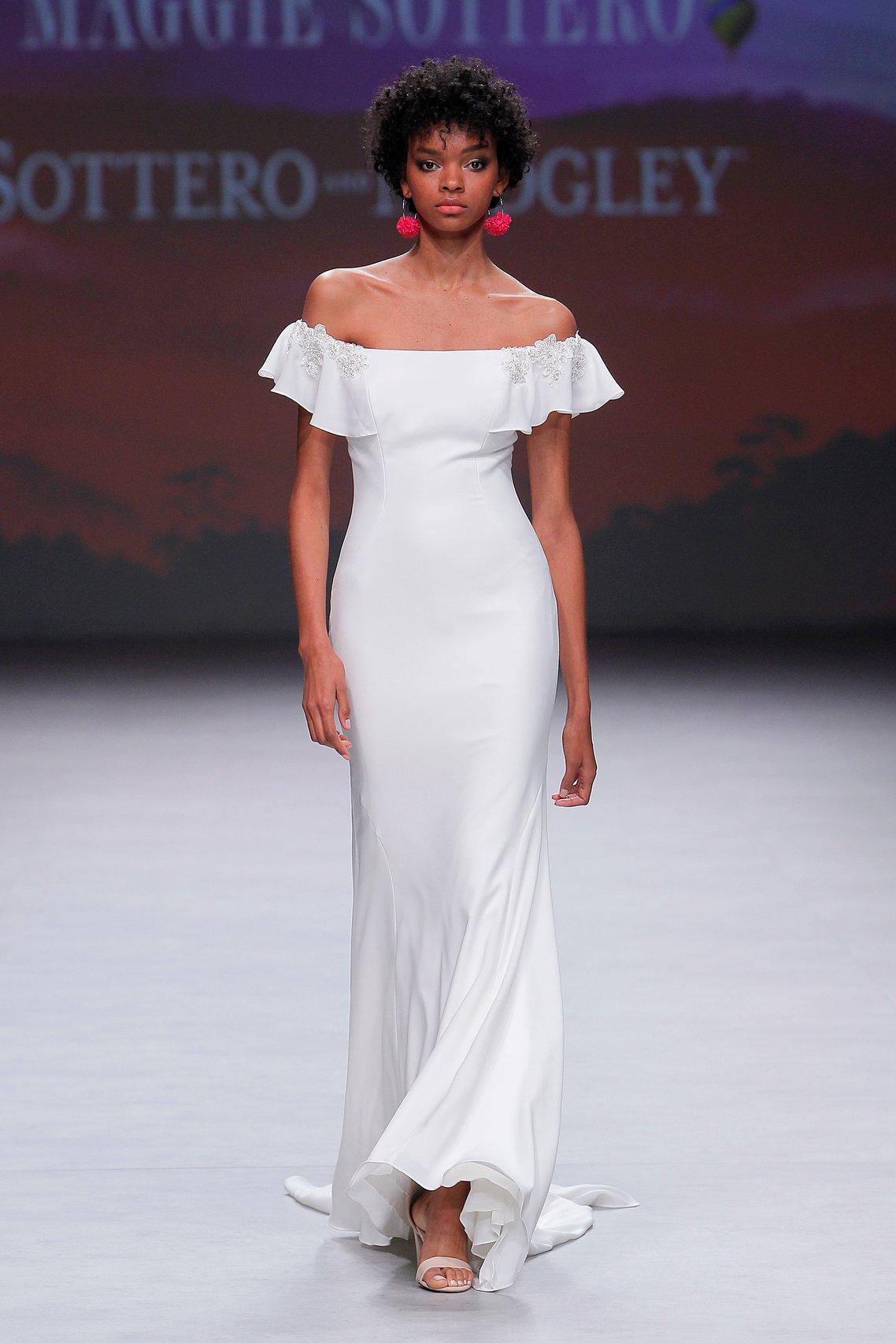 Image: Maggie Sottero
Just when you thought you couldn't love sleek, satin dresses any more, bridal designers hit us with a wave of Old Hollywood glamour-inspired gowns which just scream sophistication.
Granted, this trend sits at the opposite end of the spectrum to dramatic sleeves and all-over sparkle, but many designers have been favouring it all the same.
Peta says: "There are plenty of simple, elegant crepe dresses around for 2020. Lots of brides think that slinky dresses will be hard to wear, but when the crepe is a good, heavy weight, these dresses work perfectly.
"Meghan Markle definitely had a part to play in making this trend more popular. I loved Lilly & Charles, Kenneth Winston, Charlie Brear, Savannah Miller and Brian Chen who all did simple dresses with the modern bride in mind very well. They're particularly great for register office weddings before going boho when abroad."
We love this sleek and simple gown by Maggie Sottero, which combines the trend with one of our favourite wedding dress design features of them all: the Bardot neckline. Hurrah!
READ MORE: The Best Wedding Dresses for Destination Weddings
7. High-Low Hemlines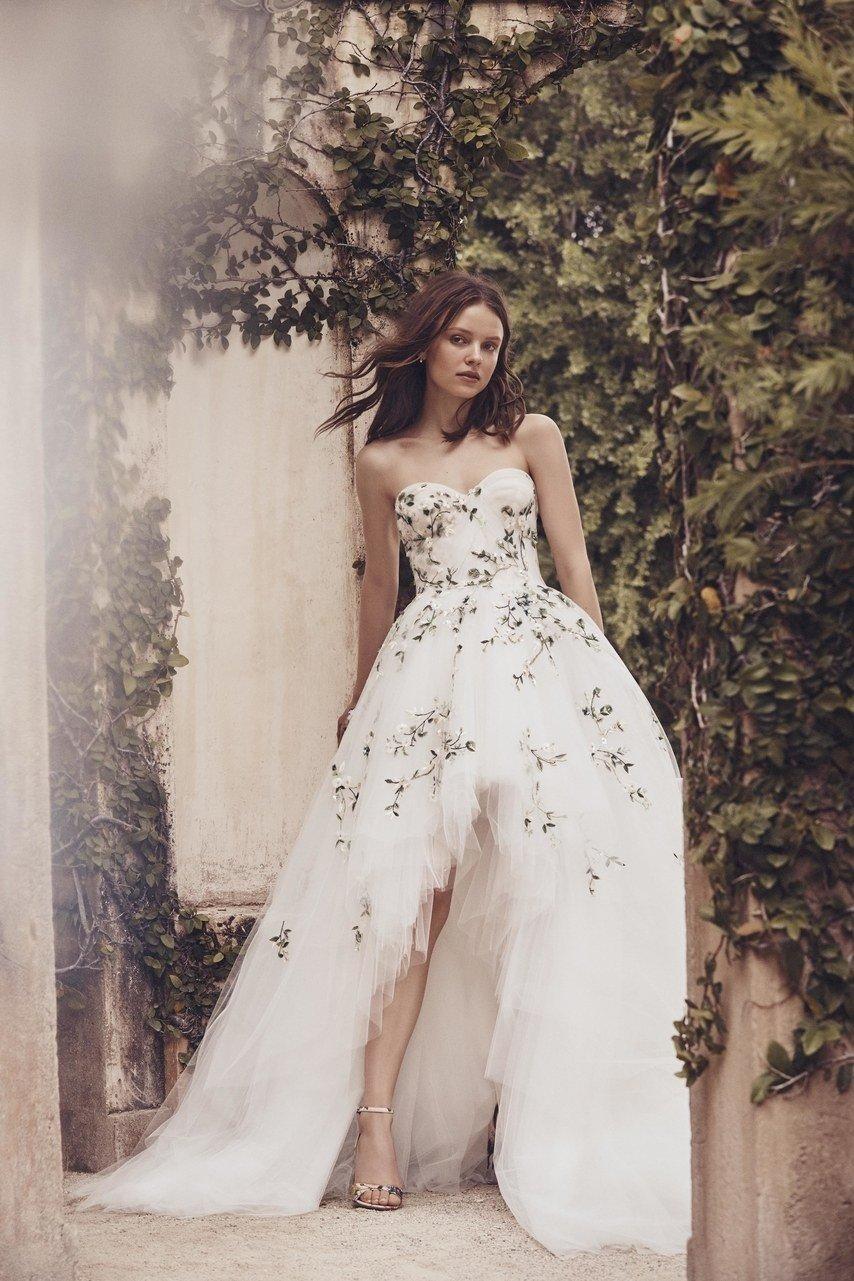 Image: Monique Lhuillier
High-low hemlines have been making intermittent appearances in bridal collections for many seasons now, but for 2020 it seems as though almost every designer was injecting the trend into their collection somehow.
The high-low hemline trend is a versatile one, and can soften an otherwise heavy, full skirt. Some are feathered and some are ruffled, but here at Hitched HQ our favourite has got to be this high-low hem line by Monique Lhuillier.
READ MORE: 10 Oscar Dresses That are Wedding Gown Goals
8. Bridal Shorts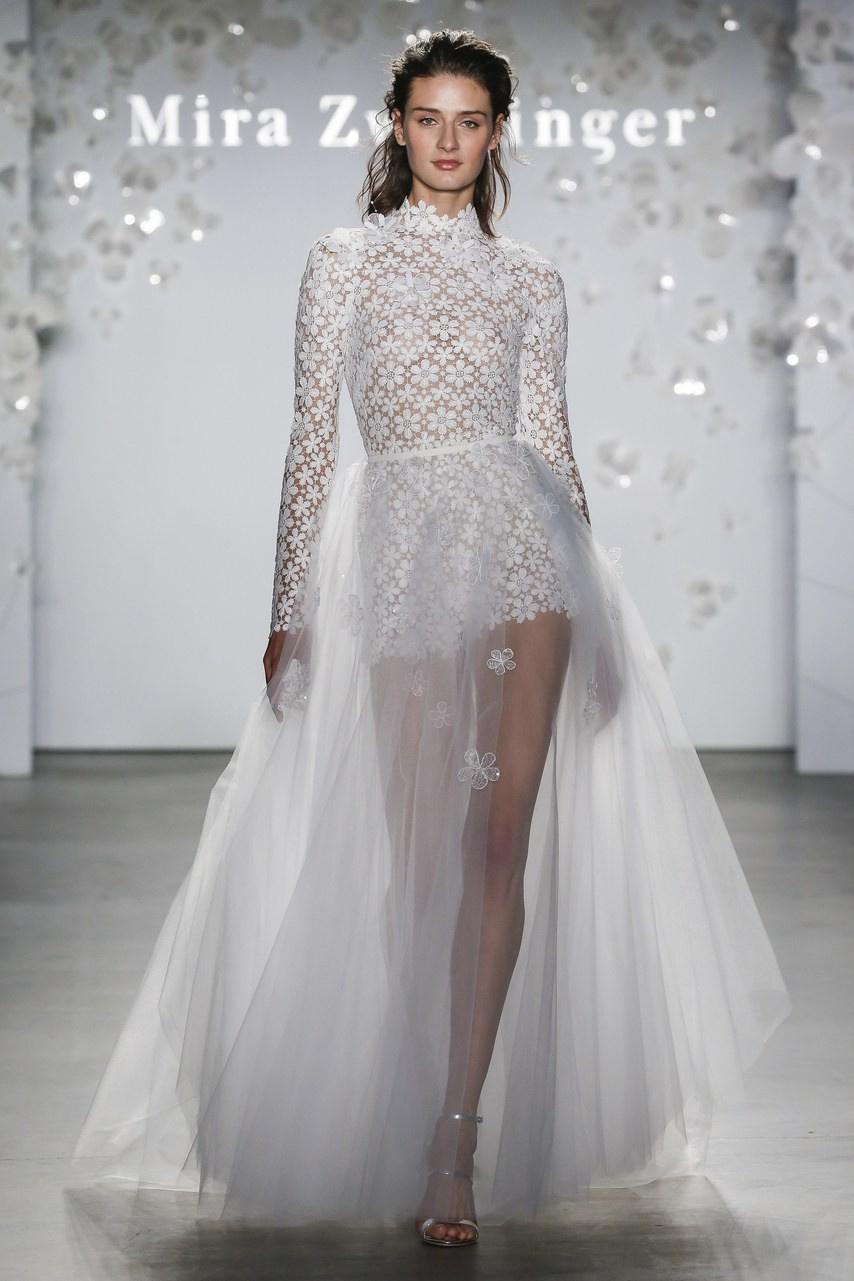 Image: Mira Zwillinger
The ever-popular bridal jumpsuit has a new best friend in the form of the bridal playsuit – or bridal shorts, for that matter. Whatever form you want to take when it comes to your wedding shorts has the seal of approval from us.
Follow in the footsteps of Billie Faiers who took this trend for a spin at her wedding party.
It is perfect for a destination wedding or if you're a party girl who just won't be able to reach her full potential on the dance floor in a wedding dress.
Mira Zwillinger and Ines Di Santo were among the designers showcasing bridal shorts in their 2020 collections.
READ MORE: 19 Wedding Dresses with Pockets
If you're looking for even more ways to make sure your wedding is on trend, don't miss out round-up of the hottest Pinterest trends of the moment.