Temporary Engagement Rings: 35 of the Best Placeholder Proposal Rings Starting from Just £15
Want to propose but choose the engagement ring together? These temporary engagement rings will hold its place until you find the band they'll want to wear forever.
We have included third party products to help you navigate and enjoy life's biggest moments. Purchases made through links on this page may earn us a commission.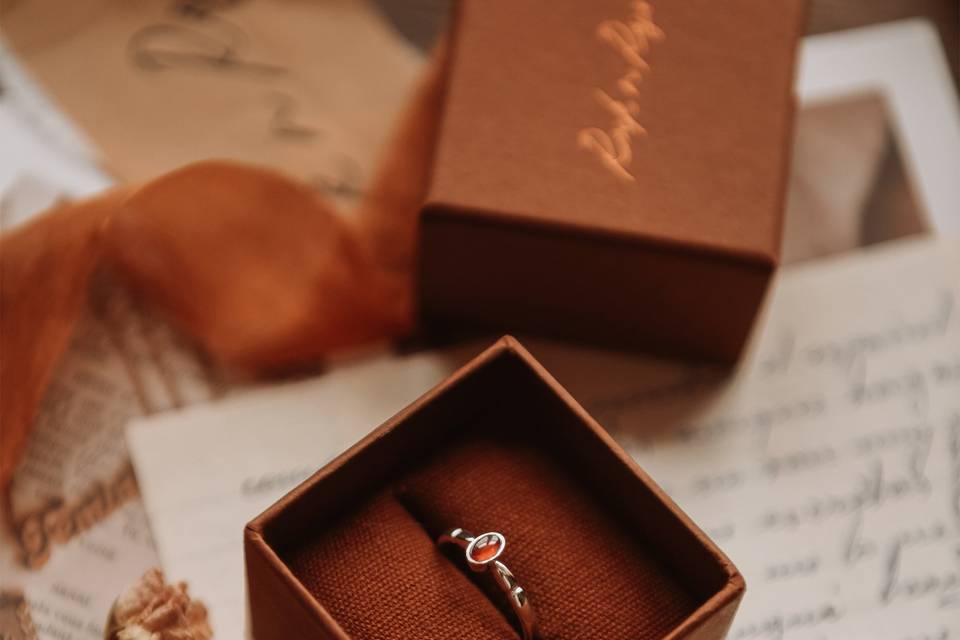 Tradition dictates that when you propose, you do so with an expensive or meaningful ring in tow – but if you don't know what type of band your partner would like, or you'd much prefer to choose it together, that tradition doesn't have to apply. Temporary engagement rings – also known as placeholder rings or proposal rings – are becoming increasingly popular among those who still want to pull out the obligatory ring box when they pop the question, but also want to select a permanent engagement ring with their other half's input after they've got that all-important yes.
The benefits of using a temporary engagement ring are numerous – they alleviate the anxiety of investing in a pricey piece that your partner might not actually like, help you cut down on the chances of having to get the actual ring resized or altered, and allow you to take your time and discuss your preference as a couple (well, an engagement ring is often one of the biggest financial investments you're likely to make).
If you think a proposal ring might be the right route for you, we've rounded up our favourite placeholder engagement rings that can be used for the proposal and keep your real engagement ring's place on your finger warm until you've found The One (again!). Now it's just a case of deciding how to propose...
1. Silver and Cubic Zirconia Ring – £60, Ernest Jones
We adore the fairytale look of this silver and cubic zirconia cushion cut ring from Ernest Jones. If your other half loves the style too, you can have the real ring made to this design.
READ MORE: Cushion Cut Engagement Rings – Our Top Picks
2. Rose Gold Love Knot Ring – £170, Kirsty Taylor Goldsmiths
This ring from Kirsty Taylor Goldsmiths is a romantic on-the-nose nod to 'tying the knot'. There's a choice of rose gold, yellow gold or white gold – look at their existing jewellery collection for clues!
3. Silver Bobble and Twinkle Ring – £157, Lily McCallin
This temporary engagement ring from Lily McCallin is made from silver and white gold featuring a tiny twinkling diamond in the centre. It's the perfect budget-friendly option if you want your temporary engagement ring to have a little touch of luxury.
4. Sunshine Ring – £85, Swarovski
We can't help but smile when we see this vibrant ring from Swarovski. It has an eye-catching centre crystal surrounded by beams of crystals that capture the light; especially lovely if, in the vein of Johnny Cash, you refer to your other half as your 'sunshine'.
5. Skinny Gold and Blue Sapphire Ring – £245, Alexandra Flynn Jewellery
This skinny gold ring from Alexandra Flynn Jewellery has a single sapphire in the centre – it would be perfect for September brides who have a sapphire birthstone or to then be worn on the other hand on the big day as a something blue.
READ MORE: Sapphire Engagement Rings – Our Favourite Dazzling Styles
6. Wooden Proposal Ring – £17, Create Gift Love
Make it known from the second you propose that the engagement ring is just a placeholder by using this wooden proposal ring from Create Gift Love – it can even be personalised with your loved one's name.
7. Silver Cubic Zirconia Ring – £60, Beaverbrooks
This proposal ring from Beaverbrooks really captures that classic engagement ring look – plus, if you go on to choose your diamond engagement ring with the brand within 60 days, they'll refund the cost of this one.
8. Revere Sterling Silver Cubic Zirconia Engagement Ring – £14.99, Argos
No, your eyes are not deceiving you – that really does say Argos! It might not be the first place you'd think to look for your engagement ring, but this £15 ring is a classic, sleek replica of a conventional solitaire engagement ring with lots of positive reviews.
9. Diamond Bamboo Ring – £145, Otiumberg
31. Pearl Eternity Ring - £265, Edge Of Ember
Pearls are a timeless classic that never go out of style and this 14K solid band with freshwater pearls definitely says that you hope you'll spend eternity together. How romantic!
32. Zaza Gold Ring - £62, PDPAOLA
This honeybee-inspired ring is perfect for a special someone who loves all things nature and wildlife. Nothing says 'I love you' more than a proposal ring that represents your other half's greatest passions.
33. Ebba Sterling Silver Ruby Ring - £44, Rock N Rose
Sultry and romantic, this ruby gemstone ring is a stunning proposal ring if you know they'll want a pop of colour on their finger. Furthermore, rubies represent passion and are used as the symbol of the heart chakra.
34. Blue Topaz Gradient Ring - £155, Edge Of Ember
If your intended loves dainty things with a hint of colour, this delicate topaz ring is a lovely placeholder for the real deal. Multi-stone rings are really on-trend right now and this pale blue gemstone is most known as a symbol of love and affection. Perfect for your sweetheart!
35. Clear Stone and Pearl Gold Cocktail Ring - £45, Olivia Burton
We get major Gatsby vibes when we see this stunning ring from Olivia Burton. A timeless ring like this will be worn again and again, even after you've replaced it with the permanent engagement ring.
If you're still on the hunt for the perfect ring to pop the question with, make sure you read our edit of alternative engagement rings for more inspiration.