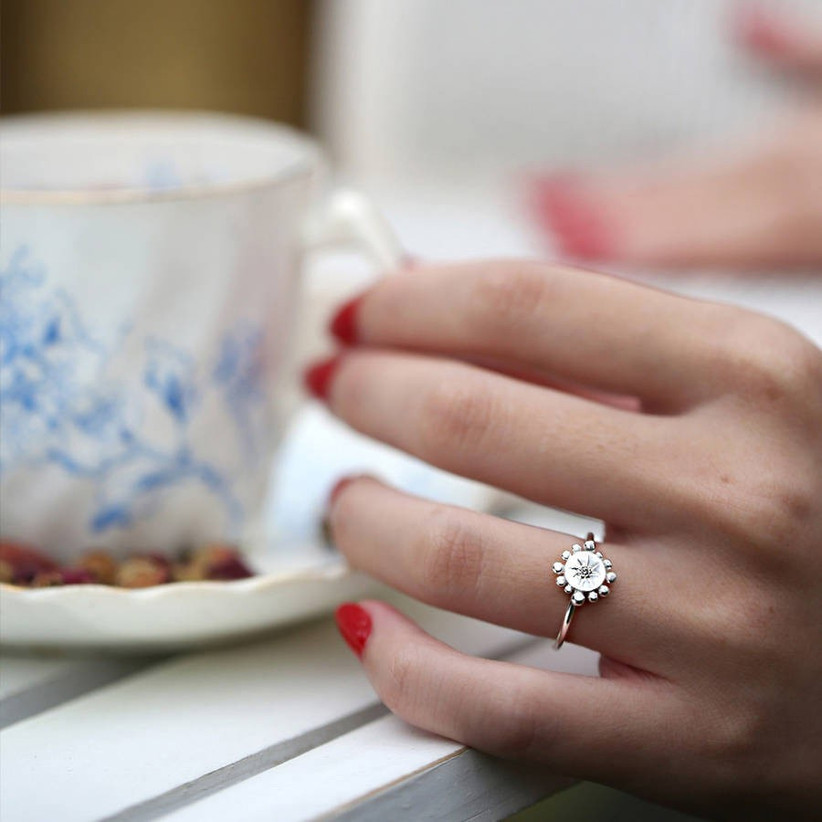 Tradition dictates that when you propose, you do so with an expensive or meaningful ring in tow – but if you don't know what type of band they'd would like, or would much prefer to choose it together, that tradition doesn't have to apply. Temporary engagement rings – also known as placeholder rings or proposal rings – are becoming increasingly popular among partners who still want to pull out the obligatory ring box when they pop the question, but also to select a permanent engagement ring with their other half's input after they've got that all-important yes.
The benefits of using a temporary engagement ring are numerous – they alleviate the anxiety of investing in a pricey piece that your fiancé might not actually like, help you cut down on the chances of having to get the actual ring resized or altered, and allow you to take your time and discuss your preference as a couple (well, an engagement ring is often one of the biggest financial investments you're likely to make).
If you think a proposal ring might be the right route for you, we've rounded up our favourite placeholder engagement rings that can be used for the proposal and keep your real engagement ring's place on your finger warm until you've found The One (again!). Now it's just a case of deciding how to propose...
NB: We have included third party products to help you navigate and enjoy life's biggest moments. Purchases made through links on this page may earn us a commission.
1. Silver and Cubic Zirconia Ring – £60, Ernest Jones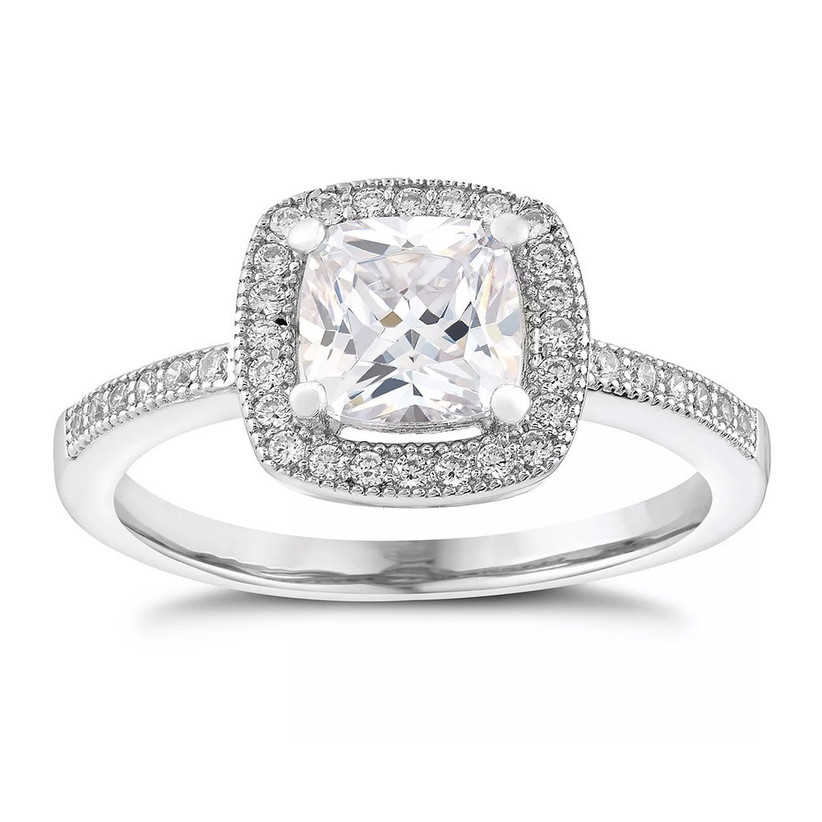 We adore the fairytale look of this silver and cubic zirconia cushion cut ring from Ernest Jones. If your other half loves the style too, you can have the real ring made to this design.
READ MORE: Cushion Cut Engagement Rings – Our Top Picks
2. Rose Gold Love Knot Ring – £170, Kirsty Taylor Goldsmiths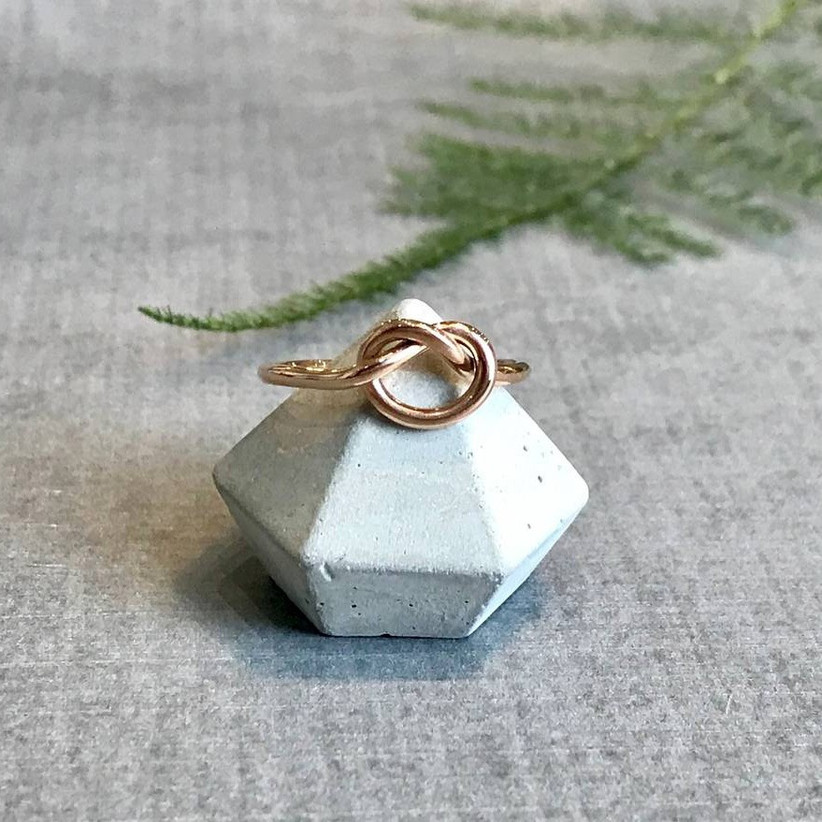 This ring from Kirsty Taylor Goldsmiths is a romantic on-the-nose nod to 'tying the knot'. There's a choice of rose gold, yellow gold or white gold – look at their existing jewellery collection for clues!
3. Silver Bobble and Twinkle Ring – £157, Lily McCallin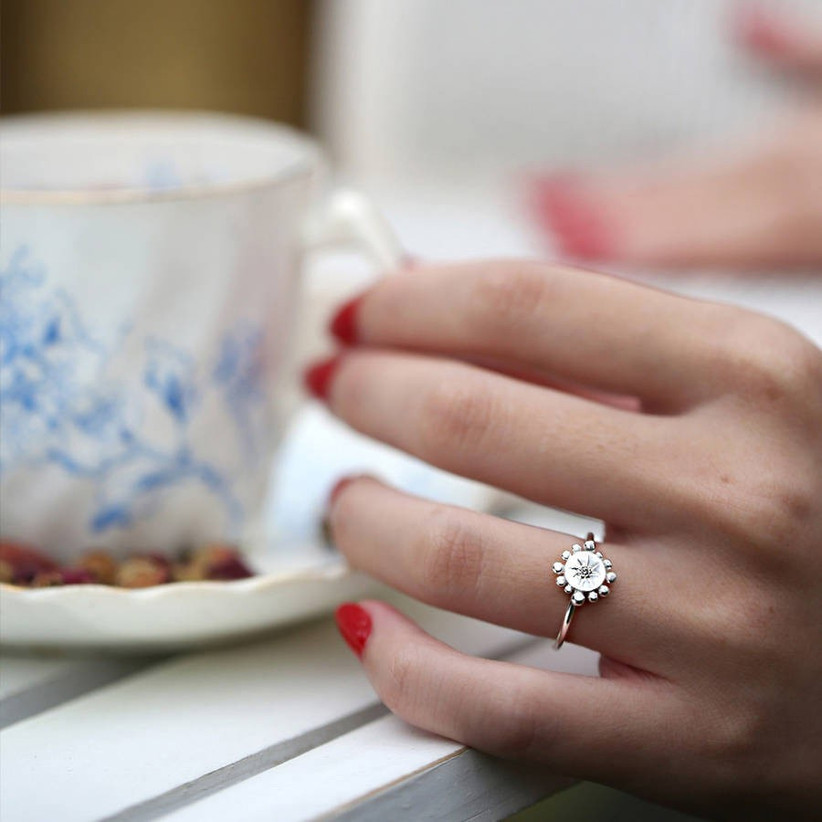 This temporary engagement ring from Lily McCallin is made from silver and white gold featuring a tiny twinkling diamond in the centre. It's the perfect budget friendly option if you want your temporary engagement ring to have a little touch of luxury.
4. Sunshine Ring – £89, Swarovski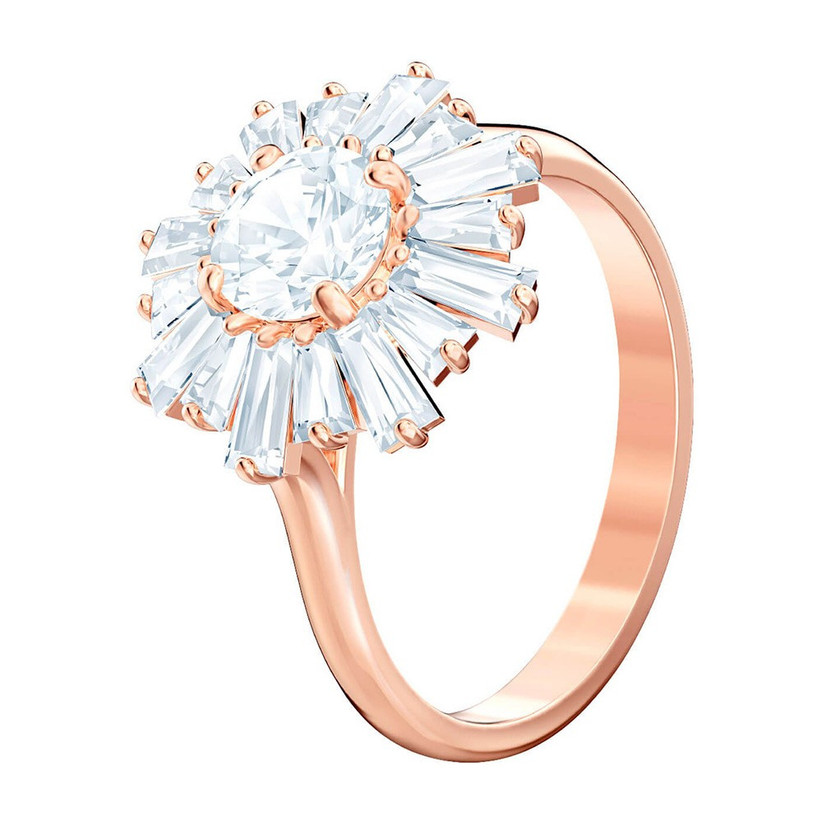 We can't help but smile when we see the vibrant ring from Swarovski. It's an eye-catching centre crystal surrounded by beams of crystals that capture the light; especially lovely if, in the vein of Johnny Cash, you refer to your other half as your 'sunshine'.
5. Skinny Gold and Blue Sapphire Ring – £245, Alexandra Flynn Jewellery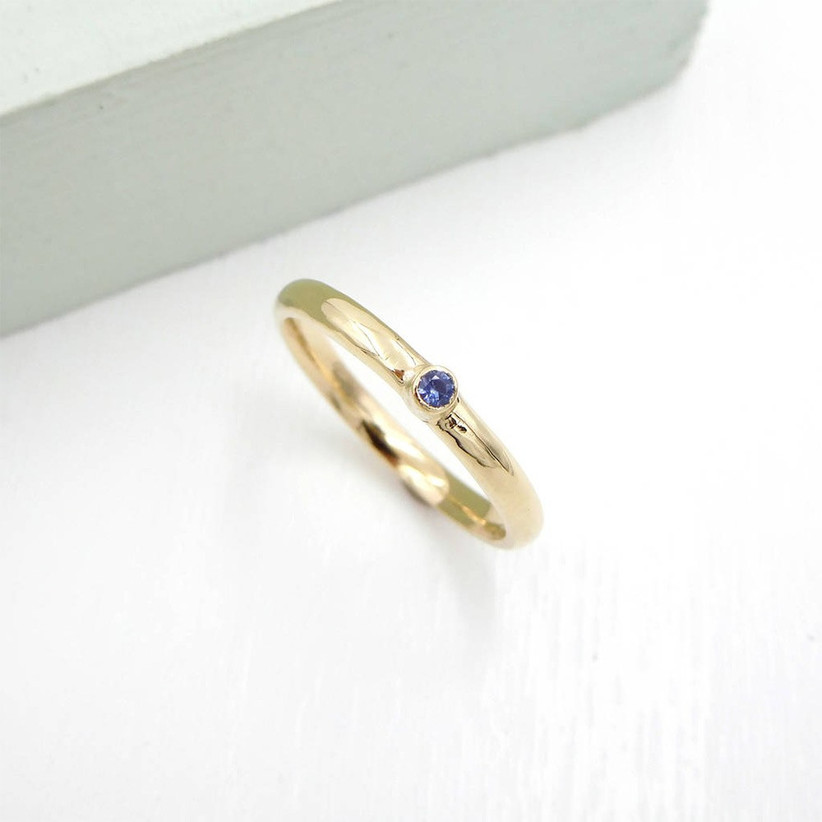 This skinny gold ring from Alexandra Flynn Jewellery has a single sapphire in the centre – it would be perfect for September brides who have a sapphire birthstone or to then be worn on the other hand on the big day as a something blue.
READ MORE: Sapphire Engagement Rings – Our Favourite Dazzling Styles
6. Wooden Proposal Ring – £17, Create Gift Love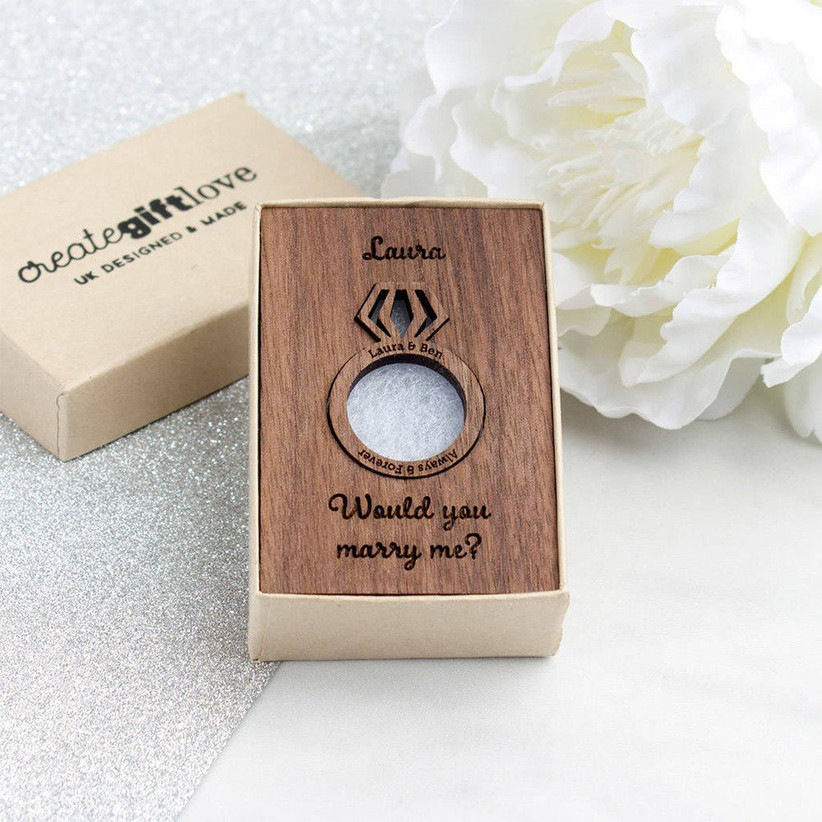 Make it known from the second you propose that the engagement ring is just a placeholder by using this wooden proposal ring from Create Gift Love – it can even be personalised with your loved one's name.
7. Silver Cubic Zirconia Ring – £60, Beaverbrooks
This proposal ring from Beaverbrooks really captures that classic engagement ring look – plus, if you go on to choose your diamond engagement ring with the brand within 60 days, they'll refund the cost of this one.
8. Meghan Pavé Sparkle Ring – £25, Buckley London
Buckley London offers a super affordable range of rings that are exact replicas of royal family heirlooms – great if your partner is a fan of all things palace related. This ring is a take on Meghan Markle's engagement ring from Prince Harry, but they also have versions of Kate Middleton, Princess Eugenie and even Queen Elizabeth's regally-approved rings too.
9. Diamond Bamboo Ring – £135, Otiumberg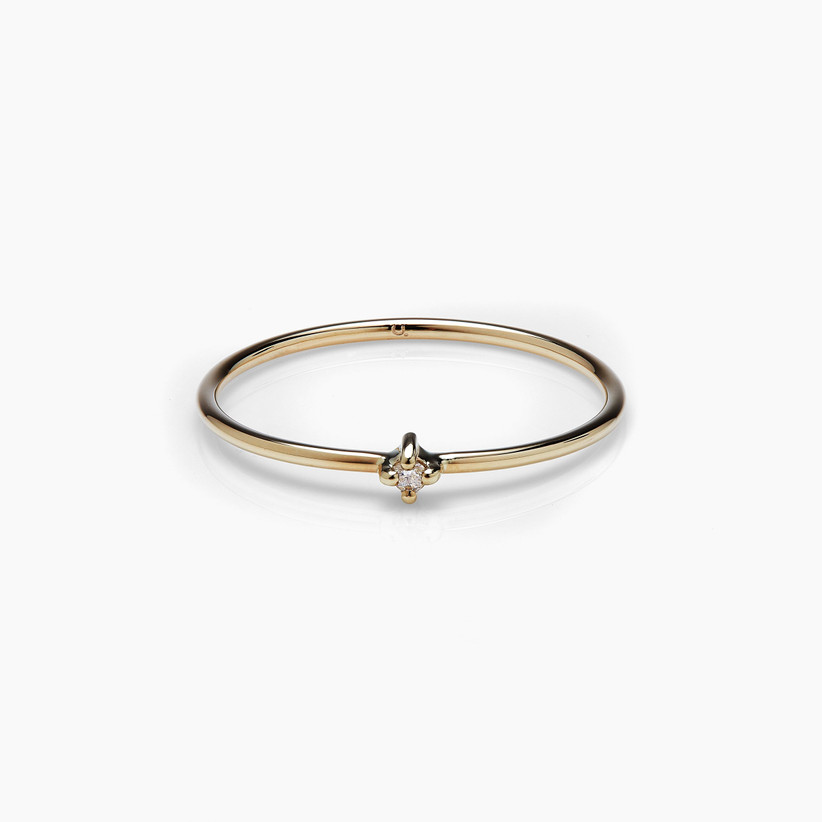 The simplicity of this
Otiumberg ring
is what makes it so beautiful – and the fact it actually contains a real diamond. Minimalists will love this super thin demi-fine option so much they might not even want to replace it elsewhere.
10. Mini Linia Rainbow Moonstone Ring – £65, Astley Clarke
A milky moonstone makes a tasteful placeholder for a diamond in this Astley Clarke design. It's also available in Pink Rhodolite or Blue Topaz if you suspect they'd prefer a coloured stone.
11. Oval Cut Aquamarine Ring – £53.36, Circle Atelier London
Speaking of coloured gemstones, this ring from Circle Atelier London on Etsy has serious wow factor – it looks far more expensive than its £50 price tag.
12. Crown Ring in Silver – £23.59, TFH Jewelry
Slimline stacking rings and multistone rings are big engagement ring trends for 2021 – channel them both with this dainty pick from TFH Jewelry (you might even decide to base the actual ring on these principles too).
13. Personalised Proposal Diamond Ring – £85, Posh Totty Designs
The fact that you can inscribe this proposal ring with a date or word of your choice makes it all the more intimate and thoughtful. You've got up to 12 characters to play with to share your chosen message.
14. In The Frow Nova Ring in Silver – £68, Edge of Ember
This dainty Nova design from Edge of Ember's collab with influencer Victoria McGrath is ideal if your other half is obsessed all things celestial, or if you always joke that your love was 'written in the stars'.
15. Angelic Rectangular Ring – £89, Swarovski
Got your heart set on an emerald ring for the forever band? Showcase that intention in your temporary engagement ring with this stunning Swarovski piece – the way the green stone is cut and surrounded by smaller crystals ensures maximum sparkle from all angles.
READ MORE: Emerald Engagement Rings: 17 of the Most Dazzling Designs
16. Vintage Circle Ring – £60, Pandora
If the reason you don't want to buy the ring upfront is because you know they'll want to hunt for a vintage one with its own unique history, this Art Deco-inspired Pandora ring is a beautiful way to promise to take them antique shopping.
17. Sparkling Blue Elevated Heart Ring – £80, Pandora
Also from Pandora's excellent range of promise rings, we're head over heels for this heart-shaped ring – the contrast of the blue stone and rose gold metal is seriously mesmerising in person.
18. Shimmering Pink Opal Ring – £119, Thomas Sabo
If it's maximum bling for your buck that you're after, check out Thomas Sabo, where you'll find lots of heavily embellished cocktail-esque designs. Our personal favourite is this opal ring, set in not one but two halos of sparkling surrounding gemstones.
19. Fine Ring With Tiny Heart – £135, Alex Monroe
Alex Monroe's jewellery is brilliant quality and built to last just as long as their actual ring will. The mixed metals and cute heart shape of this fine ring make it a superb candidate for a temporary engagement ring.
20. Silver Willow Twig Ring – £99, Caroline Brook
The nature-inspired aesthetic of this Caroline Brook ring is particularly poignant if you're plotting a proposal in the great outdoors. As it's custom made, there's also a choice of precious stones, so you could consider upgrading to a ruby, emerald or white sapphire.
21. Snowflake Silver Ring – £50, Olivia Burton
How amazing would this Olivia Burton ring be for a Christmas proposal? With a proposal ring you're typically freer to have fun with shapes and styles than a traditional engagement ring, so don't be afraid to be a little more creative with your pick.
22. 14k Gold Vermeil Rhodolite Deco Ring – £95, Carrie Elizabeth Jewellery
How this Carrie Elizabeth ring is priced at less than £100, we'll never know, but we highly suggest you take advantage of it! The central emerald cut gem is surrounded by four elongated baguette cut stones which will make their fingers look even longer and more elegant when they slip it on.
23. Trinity Band Ring – £99, Diamonfire
Diamonfire's collection of rings are difficult to tell apart from diamond lines that are ten times the price. If you're after a conventional engagement ring look, they have the best selection we've found so far, including this multi-stacked Trinity Band Ring.
24. Vintage Garnet And Pearl Floral Silver Or Gold Ring – £35, Regal Rose
An oval cut Garnet gemstone between four floral details set with pearls – few proposal rings are as dreamily unusual as this one from Regal Rose. It's also available in gold, if you know they like a warmer metal.
25. Estee Lalonde Unity Ring – £65, Daisy London
For those who want to keep things sweet and simple, we'd suggest this Unity ring from Daisy London. The name alone gives it just the right symbolism for an occasion of this nature.
26. Luella Canary Pear Borderset Ring – £169, Carat London
Fans of a pear-shaped stone, Carat London has several equally gorgeous options for you. We're particularly taken with the 'canary' Luella, which really stands out from the crowd thanks to its subtle yellow hue.
READ MORE: 24 Pear Shaped Engagement Rings to Suit Every Bride
27. Lavender India Ring – £33, PDPAOLA
Not everyone covets a diamond, even when it comes to a temporary ring. PDPAOLA's incredibly well-priced India ring comes in various shades, from olive to champagne, but we're most impressed by this ultra-pretty lavender version.
28. 1.0 Carat Classical Stainless Steel Solitaire Engagement Ring – £14.99, Amazon
No, your eyes are not deceiving you – that really does say Amazon! It might not be the first place you'd think to look for jewellery, but this £15 ring is a classic, sleek replica of a conventional solitaire engagement ring with more than 300 positive reviews.
29. Holly Ring – £225, Ciro
Ciro specialises in high quality cubic zirconia jewellery, which is why you can get a ring of this scale for just a couple of hundred pounds rather than the thousands you'd pay for its diamond equivalent.
30. Solid Gold I'd Be Lost Without You Ring – £372, Chupi
The sentiment behind this aptly-named Chupi ring is so special – it's towards the pricier end of the spectrum, as it's solid gold rather than plated or vermeil, but will quickly become an heirloom to be treasured forever in its own right.
If you're still on the hunt for the perfect ring to pop the question with, make sure you read our edit of alternative engagement rings for more inspiration.