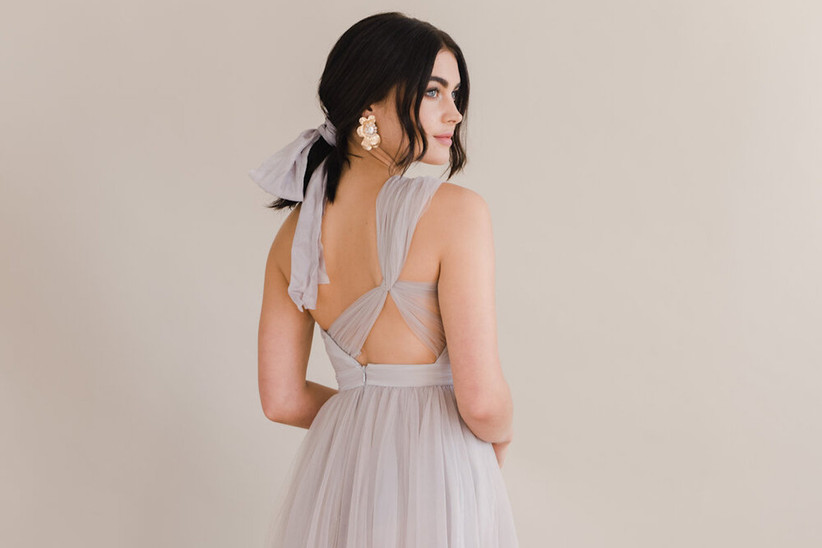 Dressing your best mates is quite the daunting prospect, but choosing bridesmaids dresses needn't be a headache.
The sheer variety of options available online makes bridesmaids dress shopping a smoother experience than schlepping round the shops. Plus, there's something to be said for giving bridesmaids' outfits a swishy test-drive among home comforts, glass of chilled fizz in hand and wedding party playlist on. Have we set the scene yet?
Whether your bridesmaids are keen on different outfits, a jumpsuit, separates, something edgy, a unified look or an outfit they'll wear time and time again, we've rounded up the ultimate online destinations from which to start your search.
Pour yourself something nice, get browsing and share your favourites with your maids.
NB: We have included third party products to help you navigate and enjoy life's biggest moments. Purchases made through links on this page may earn us a commission.
1. Needle & Thread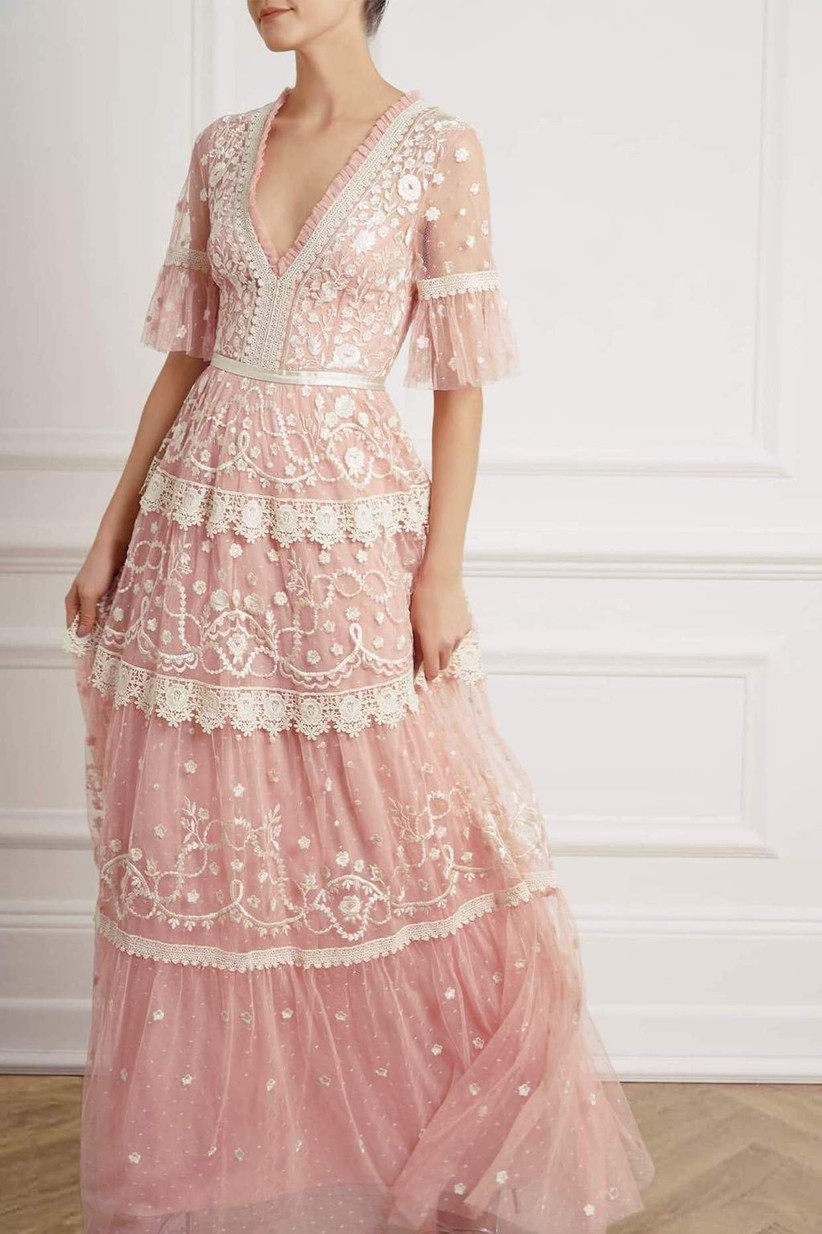 Needle & Thread's M.O. is beading and embellishment. Combining ethereal and 1920s design elements, if you want your bridesmaids to shimmer on into the night, this British brand will hit the sweet spot. Each piece is a work of art, with intricate embellishment built onto muted palettes that would suit all styles of wedding, whether you've got a winter celebration in the pipeline or a more laid back outdoor summer wedding planned. Prices range from £195 to £450.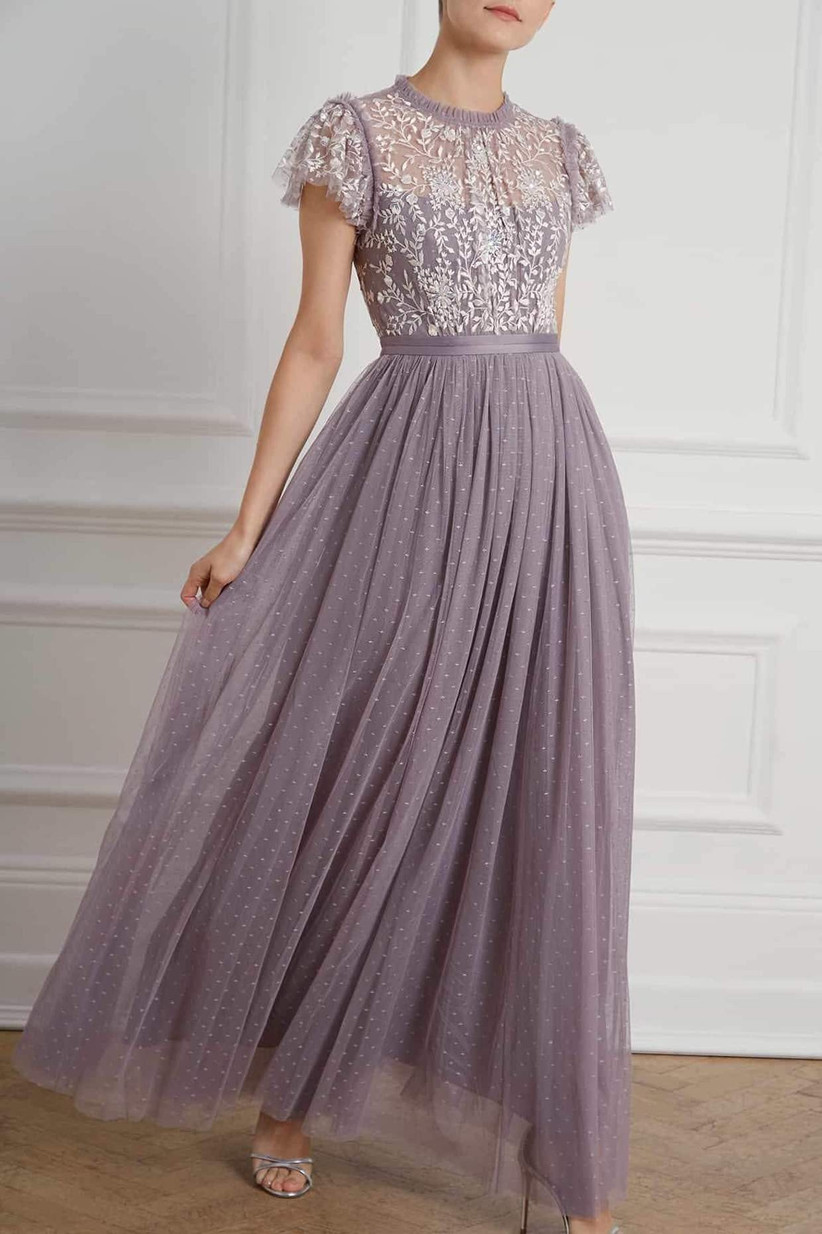 Our Top Picks: The Midsummer Lace Gown in Desert Pink is a boho Victorian-inspired masterpiece while the Whitethorn Bodice Maxi Dress in Lavender fuses tulle, sequins and embroidery to showstopping (but not scene stealing) effect.
2. TH&TH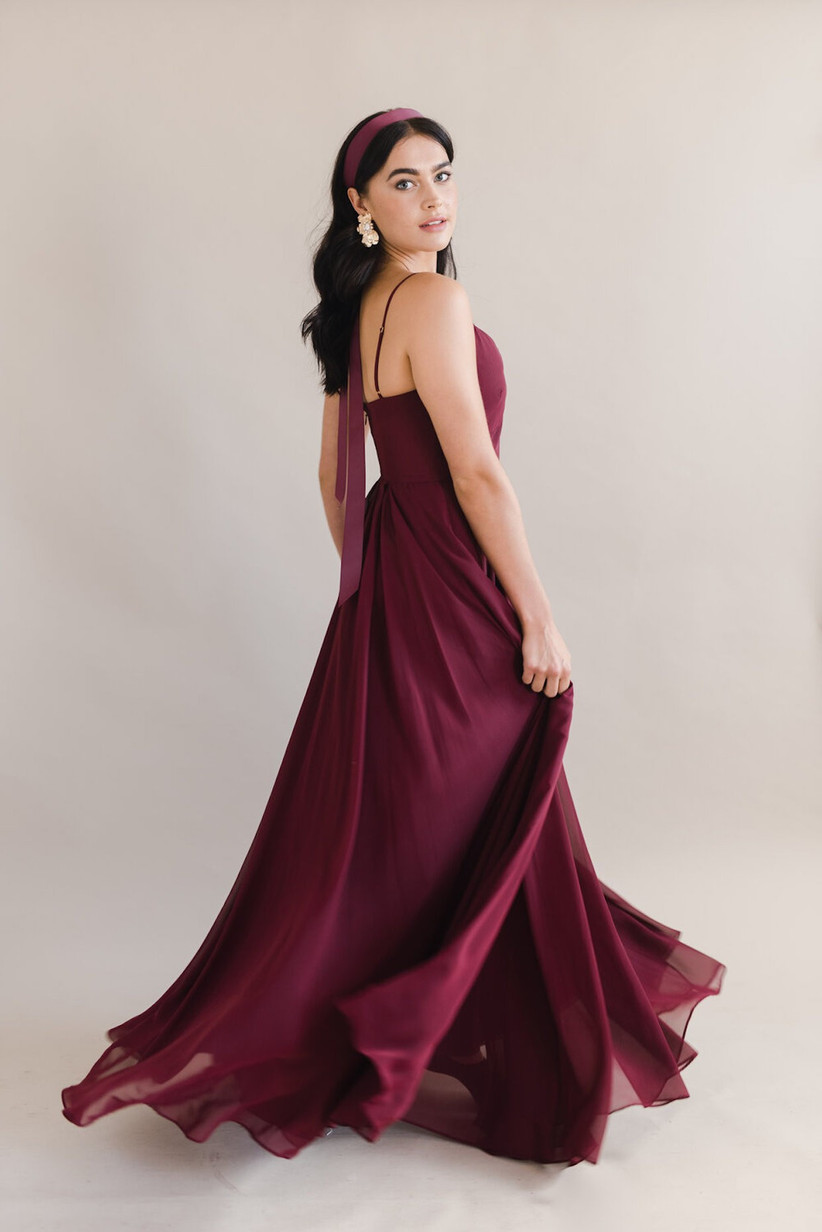 Female founded and British owned, TH&TH is another homegrown bridal brand that specialises in modern, elegant tailoring and simple 'with a twist' designs that never date. From gossamer-light tulle in delicate hues to jewel toned gowns with dramatic necklines, each collection is small but perfectly formed, with surprisingly affordable price tags – bridesmaids dresses range from £145 for the floaty chiffon Edie to £210 for long sleeved, floor length lace Alara.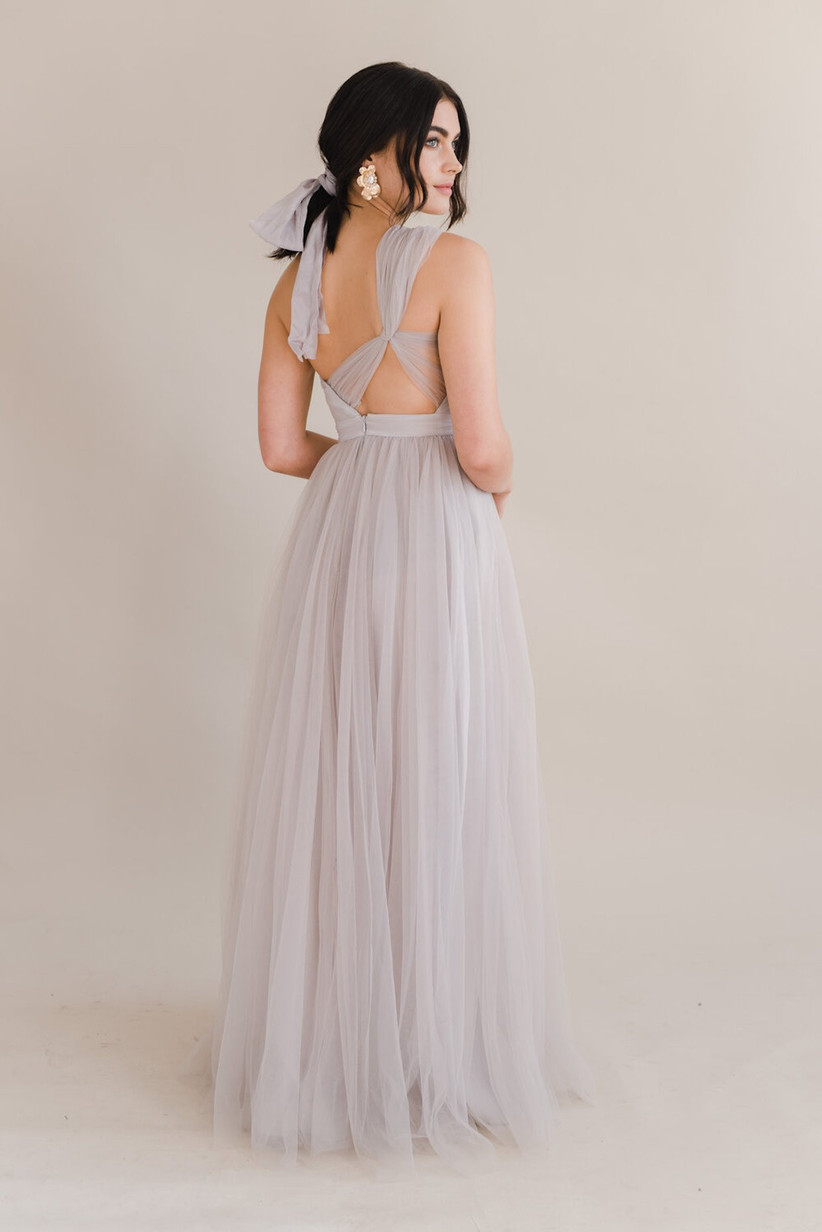 Our Top Picks: Edie is especially beautiful in Roseberry if burgundy features in your wedding palette, while Luna in Silver Mist is straight from the pages of a fairytale.
3. Reformation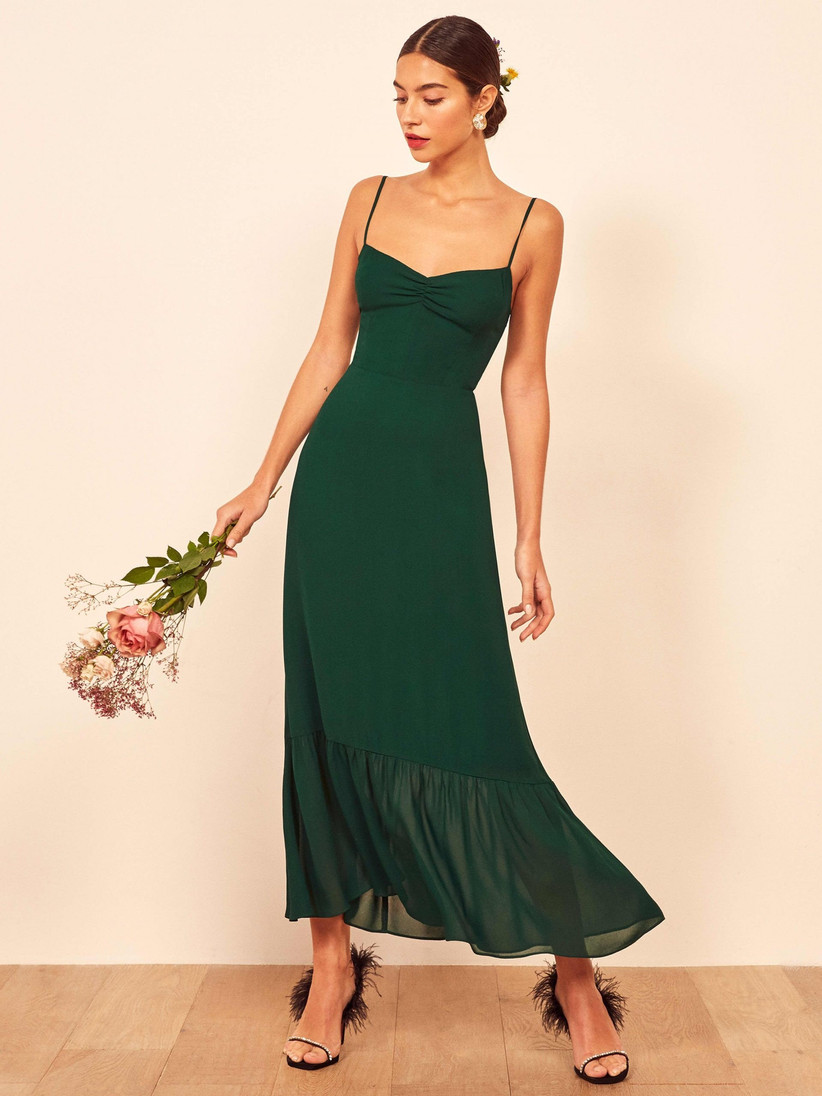 With a commitment to sustainable fabric sourcing and a design ethos that celebrates women's bodies (all dresses are fitted on a wide variety of body shapes), Reformation's bridesmaids dress offering breaks the mould. Dresses can go from sketch to shop in around a month and the responsive style team creates beautifully modern options that will party on well beyond the wedding day. Prices start at £235 for short, 'beach perfect' bridesmaids dresses and go up to £460 for red carpet-worthy evening gowns.
Our Top Picks: The Callalily Dress in Champagne is the sartorial equivalent of a fine wine, or for a nod to the '90s, the spaghetti strapped Emersyn is cool in every sense of the word.
4. Rewritten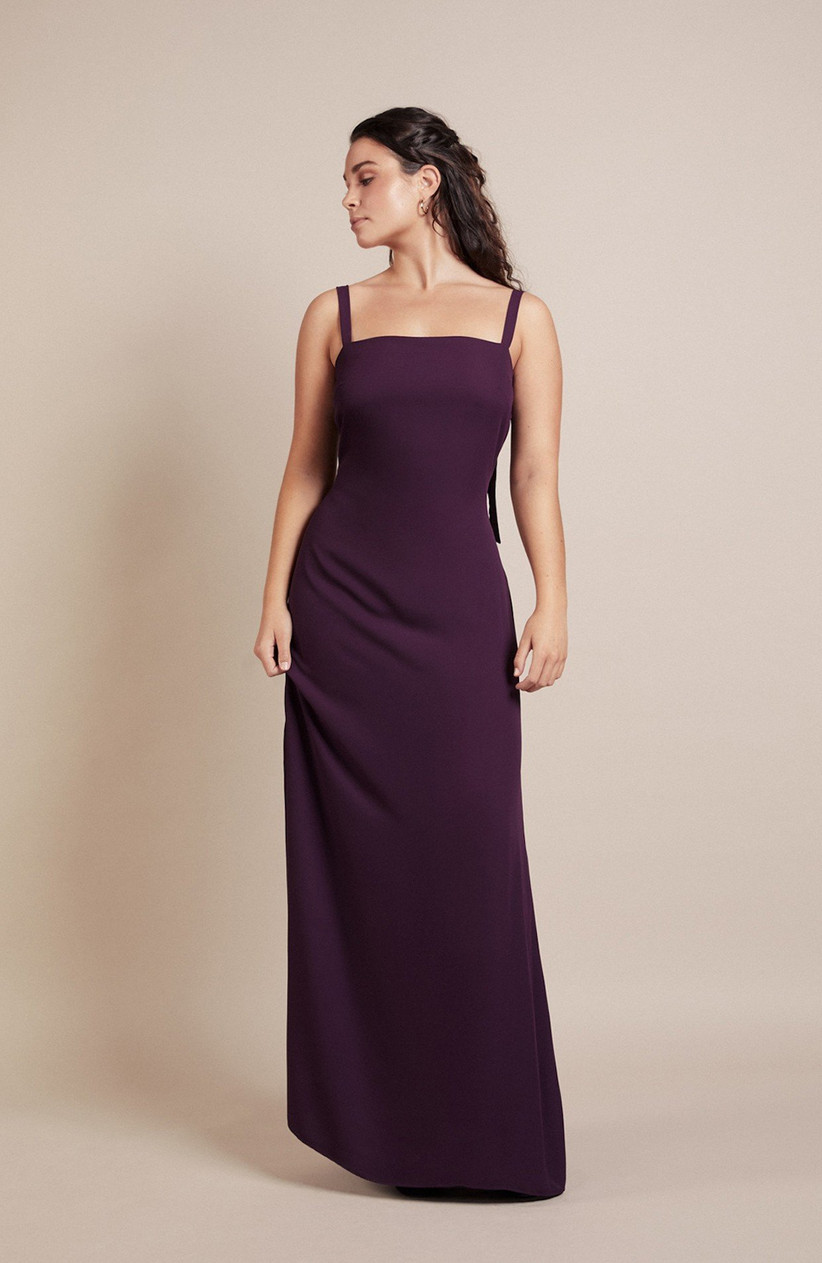 A fan of bridesmaids in jumpsuits? No one does them better than Rewritten, whose made in London designs are brought to life with 'mates, sisters and modern day bridesmaids in mind'. What's more, the entire collection is based on the principle that each piece will be worn time and time and again. Even if you're not a fan of a maxi skirt IRL, the Rewritten team will advise on how to take up a skirt or style out separates post-wedding so that you can get as much wear out of bridesmaids outfits as possible.
All clothing can also be chucked in the wash at 30ºC and is 'crease proof', so items are as practical as they are polished. Dresses begin at £115, with jumpsuits coming in at £170. There's almost always a sale on too, so you may snap up a bargain.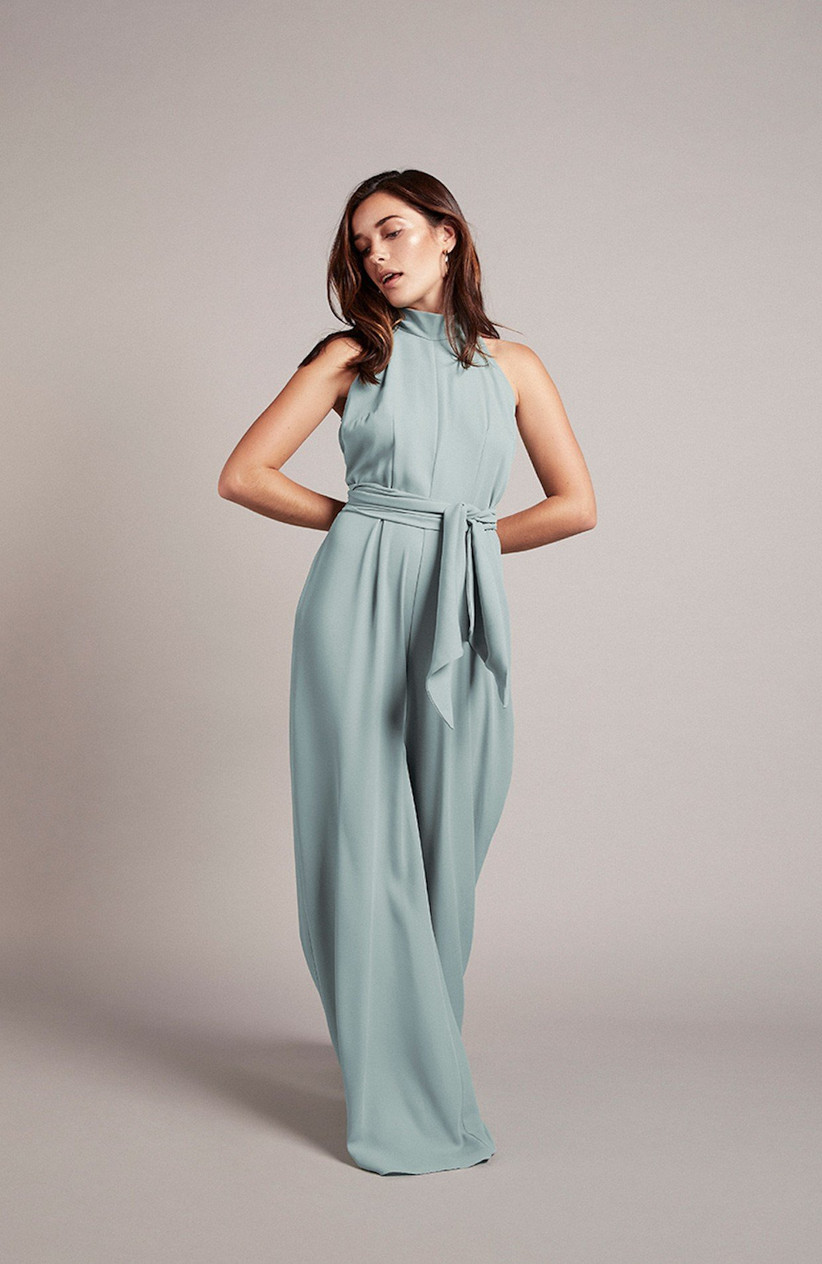 Our Top Picks: The Soho Jumpsuit in Marine is as fresh as bridesmaids styling gets – Bianca Jagger would approve. If you're after a more traditional bridesmaids dress, the clean lines of Berlin will fit the bill and the Blackcurrant hue is gorgeously gothic.
5. Ghost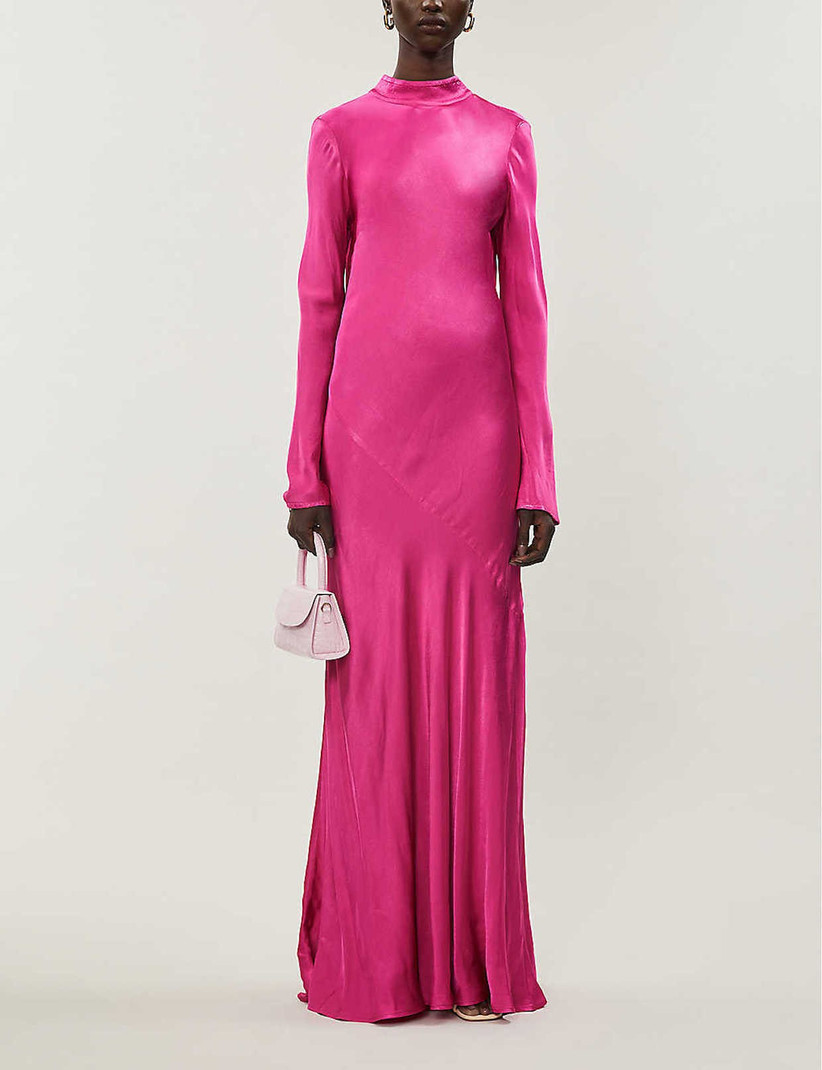 You know a 'Ghost' bridesmaid as soon as you see her – she's likely draped in slinky silk, looking elegant yet understated in a chic hue. While the traditional Ghost design aesthetic remains, the rich satin dresses have become bolder of late – think bright, rich dyes with low cut backs and slightly more edgy necklines. If you love a sleek shape, there's something here for everyone and prices range from £145 to £265, although be sure to shop the main collections too as there are many modern bridesmaids options to pick from across the board.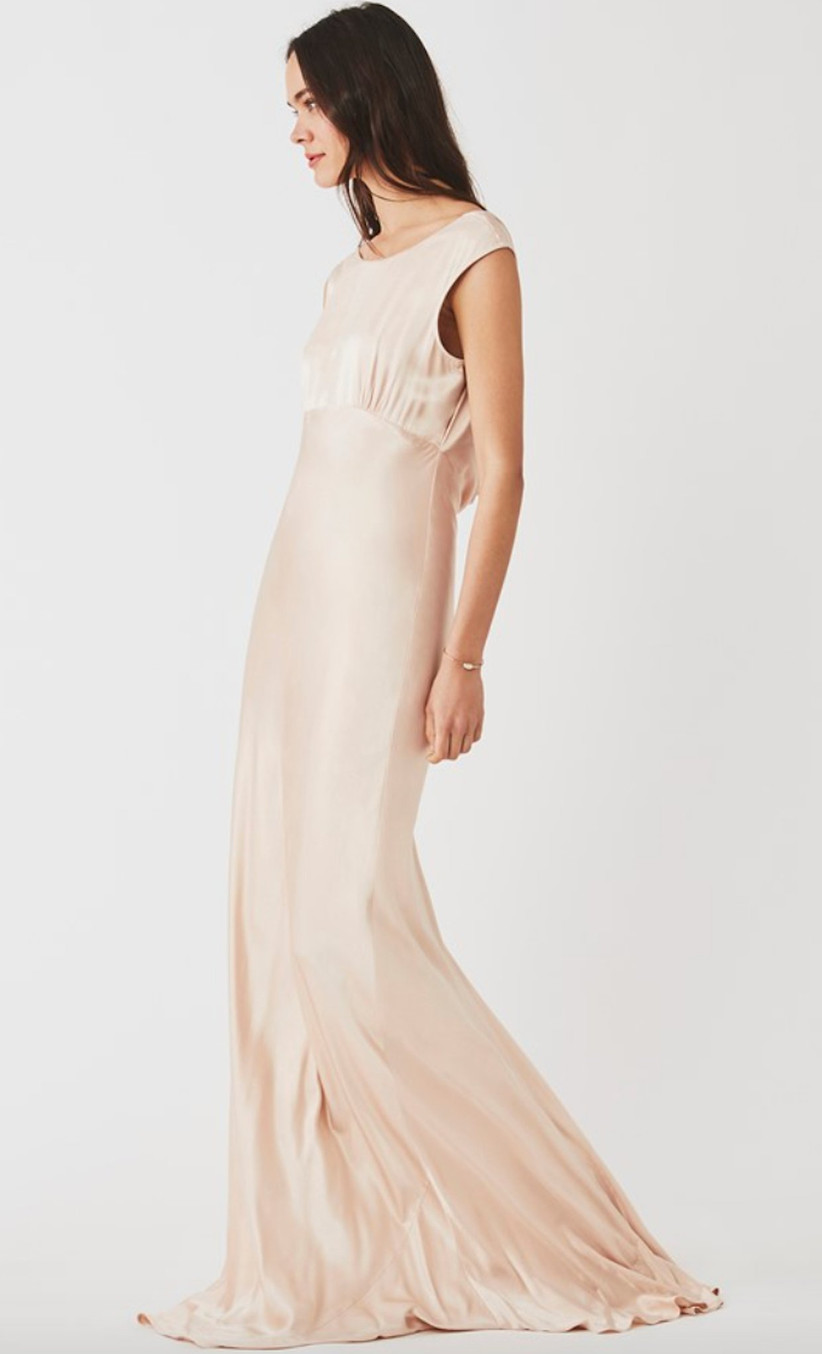 Our Top Picks: Rayna in Fuschia is a zingy party starter, or consider sophisticated Salma in Oyster. She's featured in a Bond film if that sways you.
6. ASOS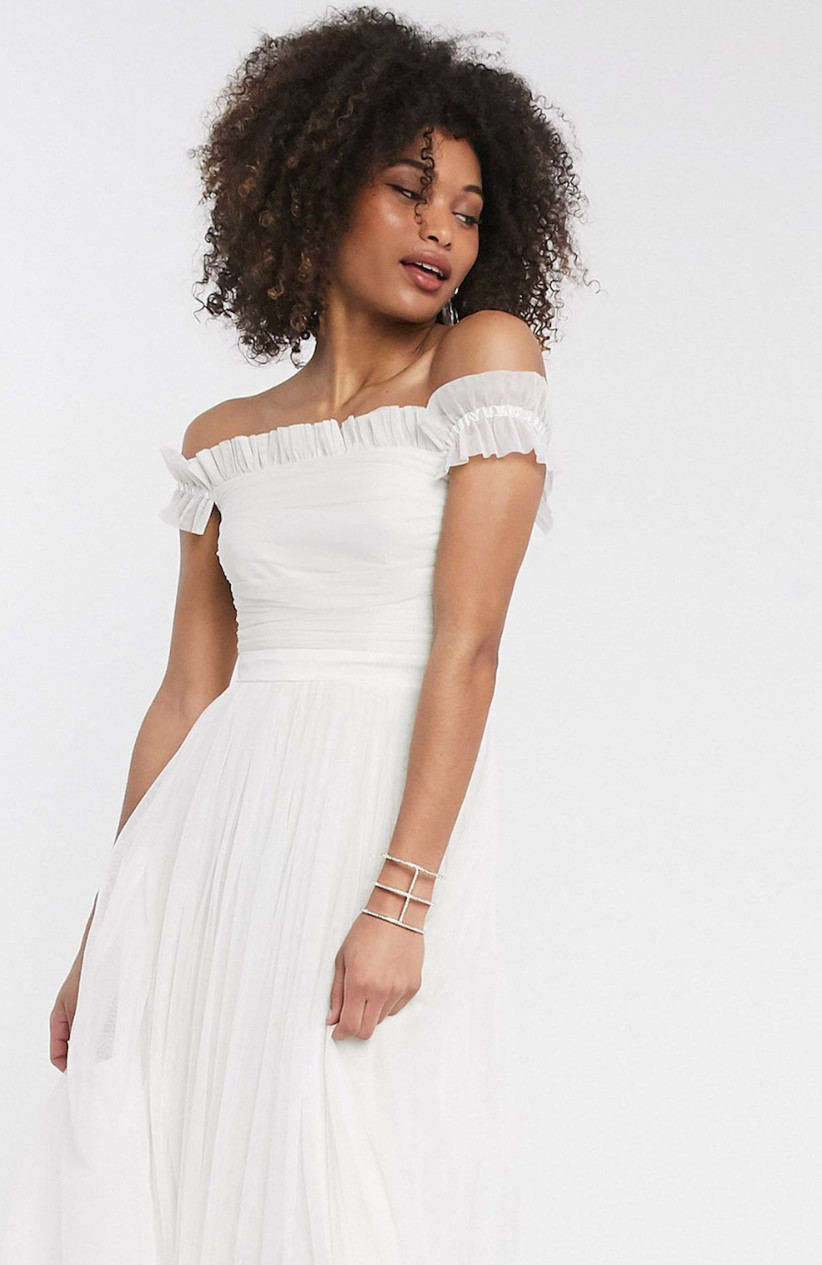 A one-stop shop for bridesmaids of every sartorial inclination, with a huge variety of shapes, sizes and budgets catered to. ASOS Edition goes big on modern satin gowns that look far more expensive than they are, while brands include Maya and Missguided, with 'exclusive to ASOS' designs from the likes of Ghost and TFNC.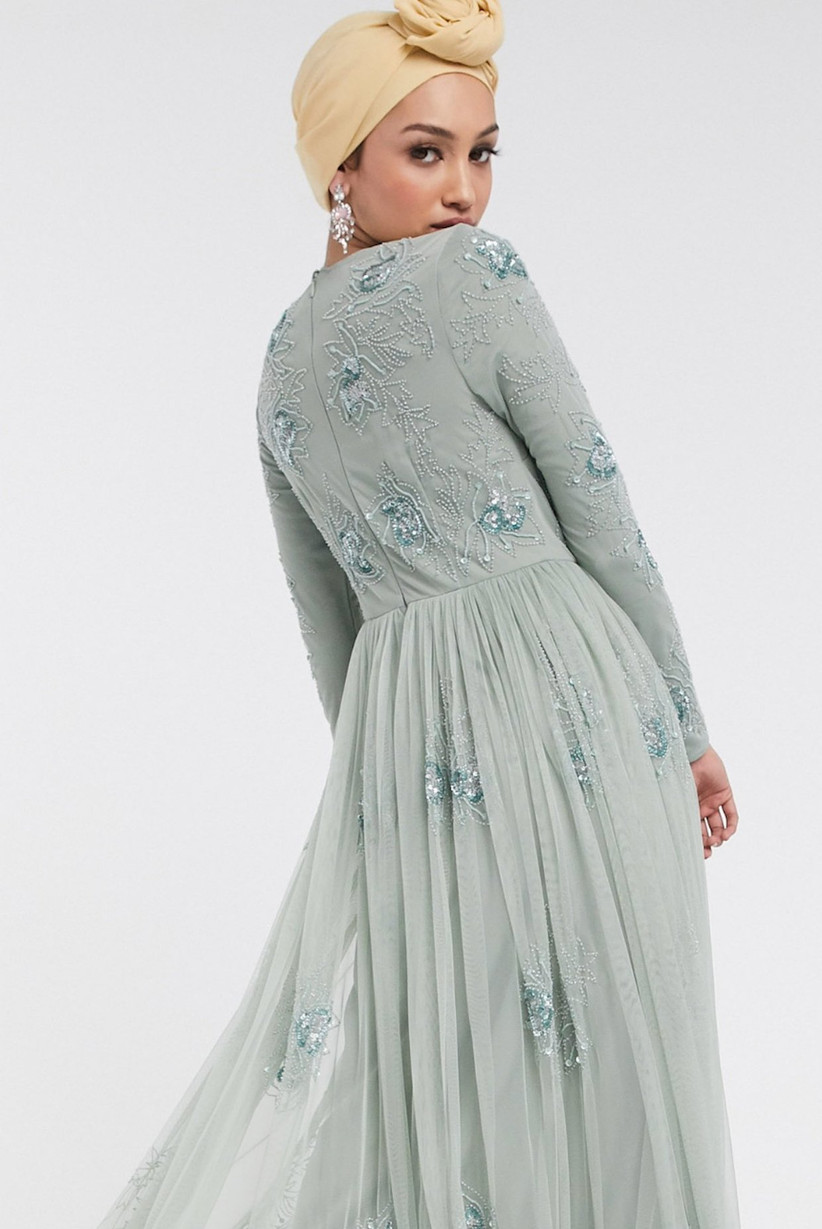 Our Top Picks: This was a toughie. The Anaya With Love Ruffle Off Shoulder Tulle Maxi dress in white is nothing short of angelic while the Maya Long Sleeve Maxi Tulle Dress in Waterlily is a vintage impersonator that's perfect for winter weddings.
7. Maids to Measure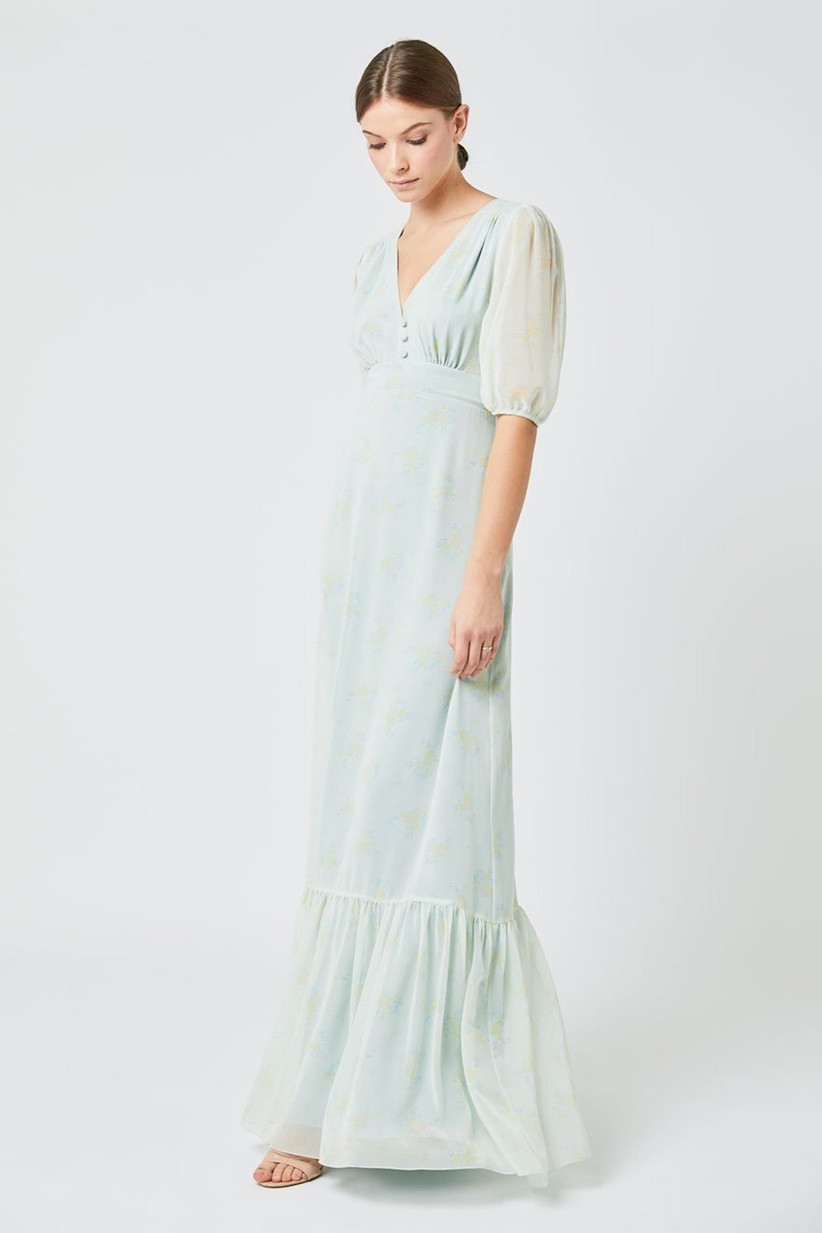 Chelsea-based Maids to Measure takes a bespoke approach to bridesmaids dresses – you can request fabric samples in advance to tailor dresses to your day and see 'beyond the screen' as to what you're getting. Colour palettes veer towards the springlike. There are lots of pastels and dusty greys at play, although many dresses are also available in deep midnight blues and forest greens. Designs are fluid and unfussy – fluted sleeves, wrap dresses and column skirts make up the Maids to Measure signature style. Prices range from £125 for halterneck styles to £200 for long-sleeved options.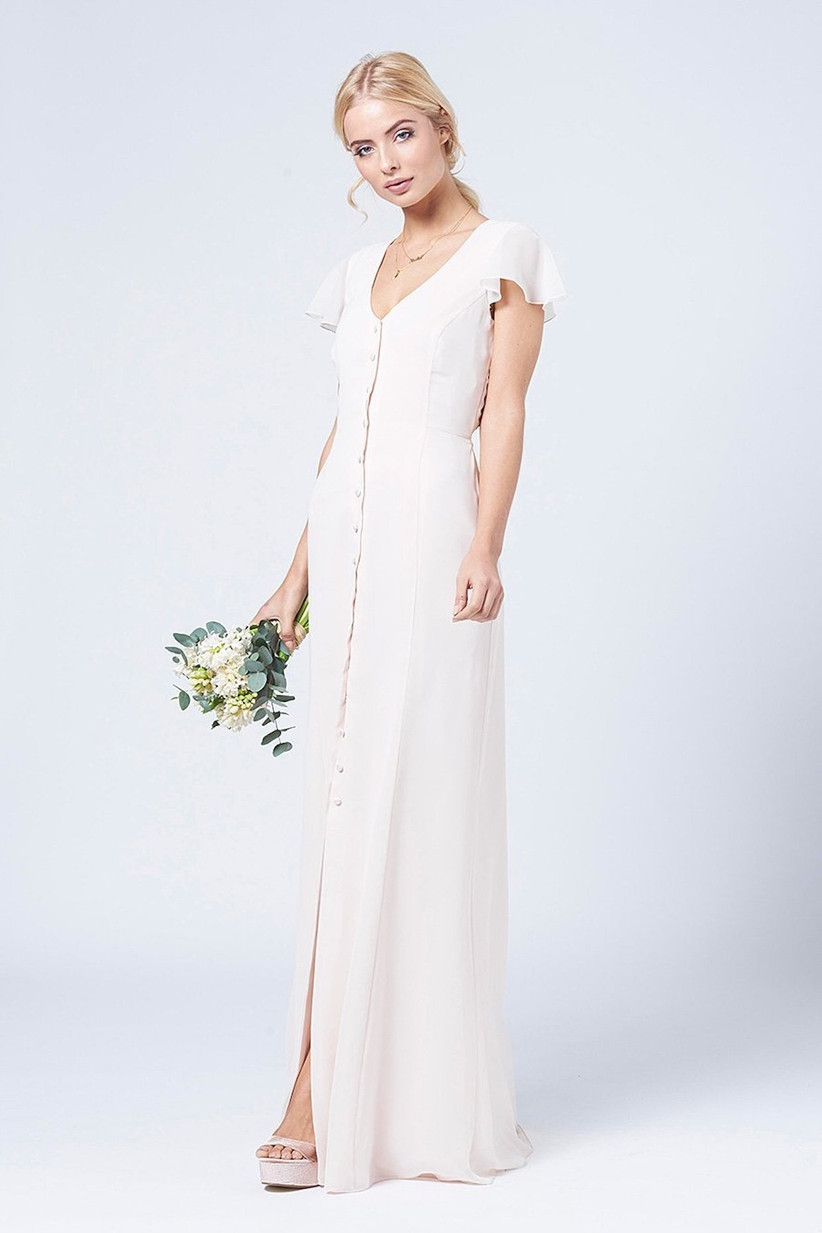 Our Top Picks: Queenie in Cream Soda is a chic white choice while the subtly printed Mathilda has a 'summer of love' feel.
8. Whistles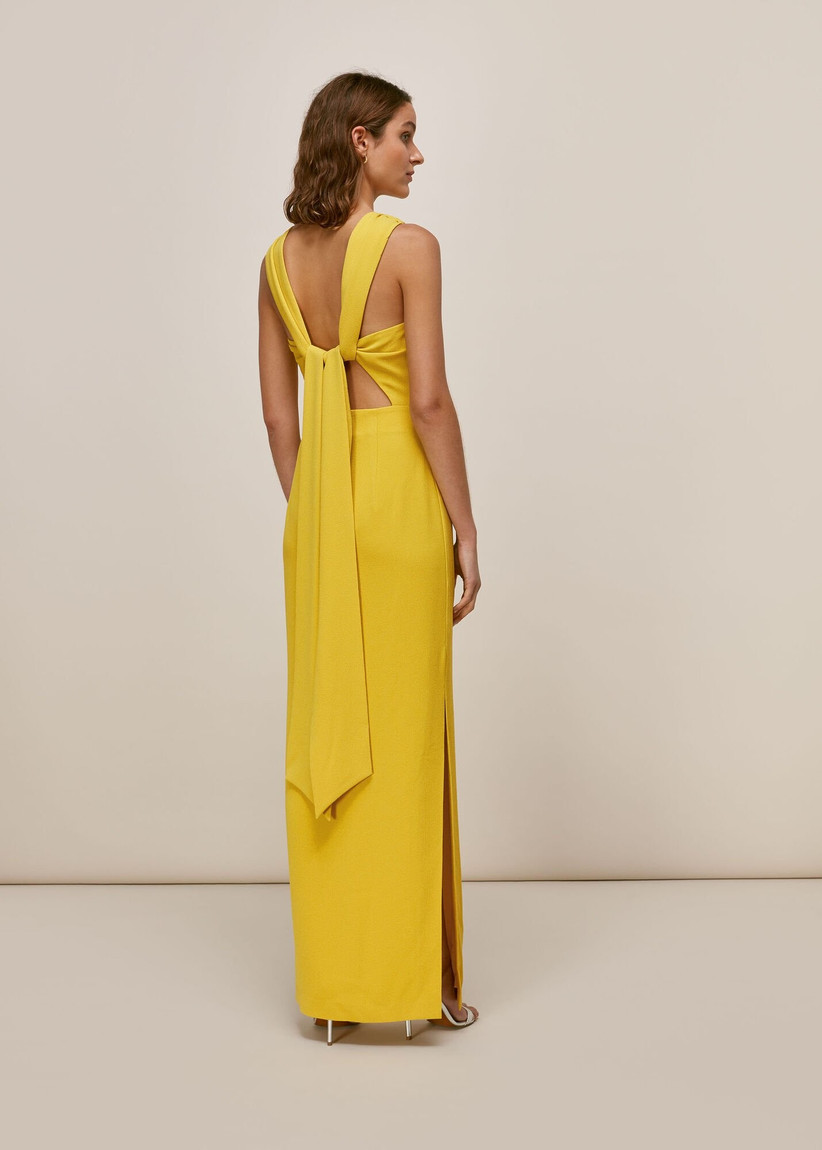 With a tight edit of minimalistic designs, Whistles bridesmaids dresses provide a bright blank canvas on which to accessorise (or just keep things simple). Unusual details and cuts lend the high street designs a distinctly high end feel too.
Our Top Pick: The Yellow Tie Back Maxi Dress is a sunny, Grecian gown that makes a statement all by itself.
9. Monsoon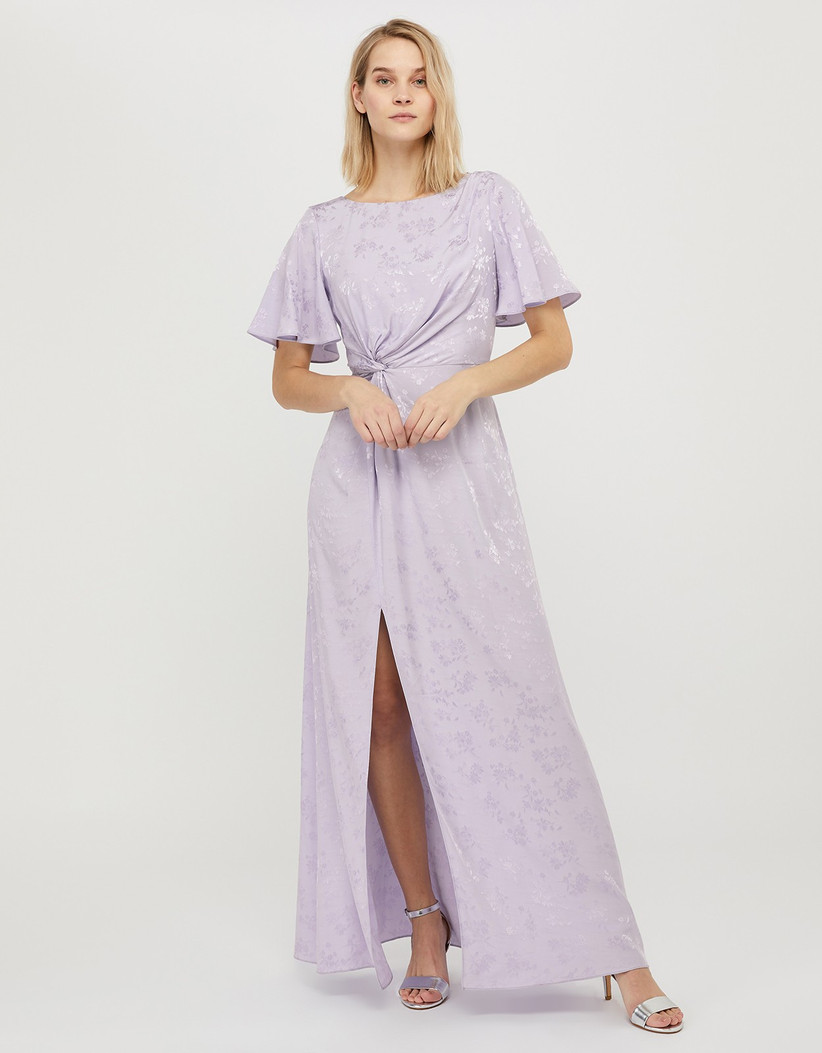 A treasure trove of both high street wedding dresses and bridesmaids dresses, Monsoon's bridal design team are always on the pulse. Expect embellishment, embroidery, a refreshing range of colour palettes and a wide range of fits. Flapperish drop waists are a common signature, as is lace and appliqué. Prices begin at an extremely wedding budget friendly £33, with the most dear piece in the current collection available for £170.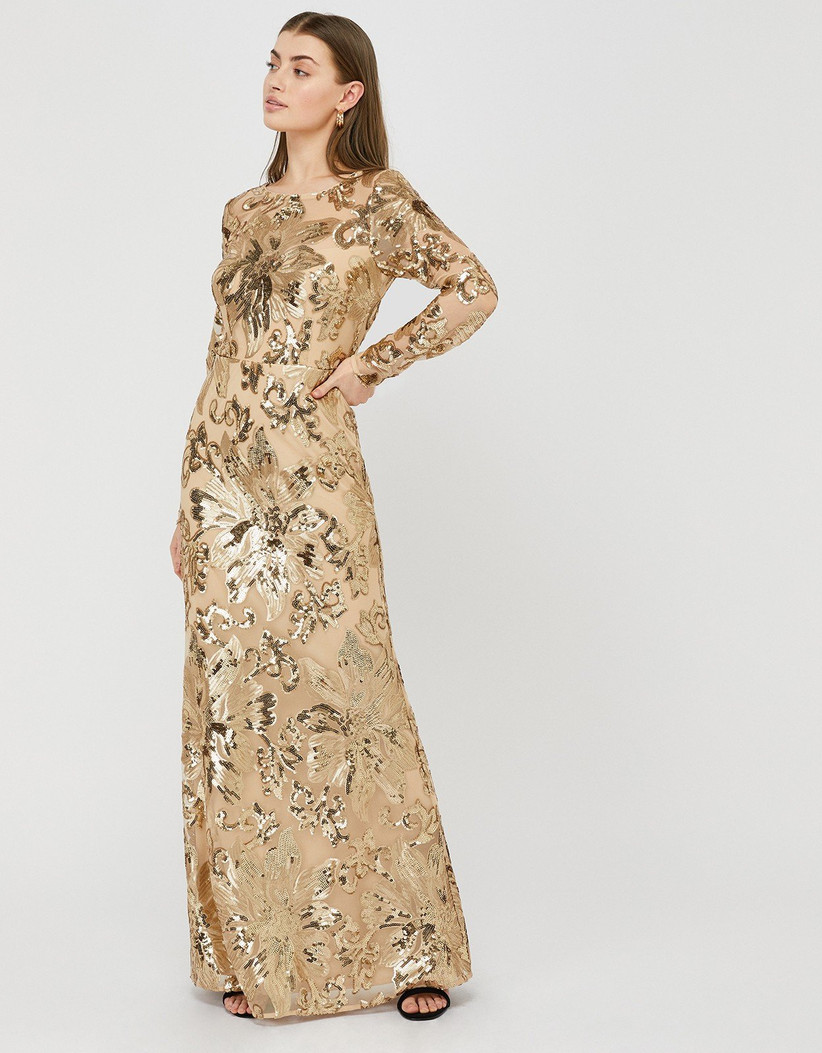 Our Top Picks: The Rose Sequin Maxi Dress could be 'The One' if you're planning metallic wedding styling, while the Elinor Satin Jacquard Maxi Dress in lilac would look incredibly stylish for a city wedding.
10. Coast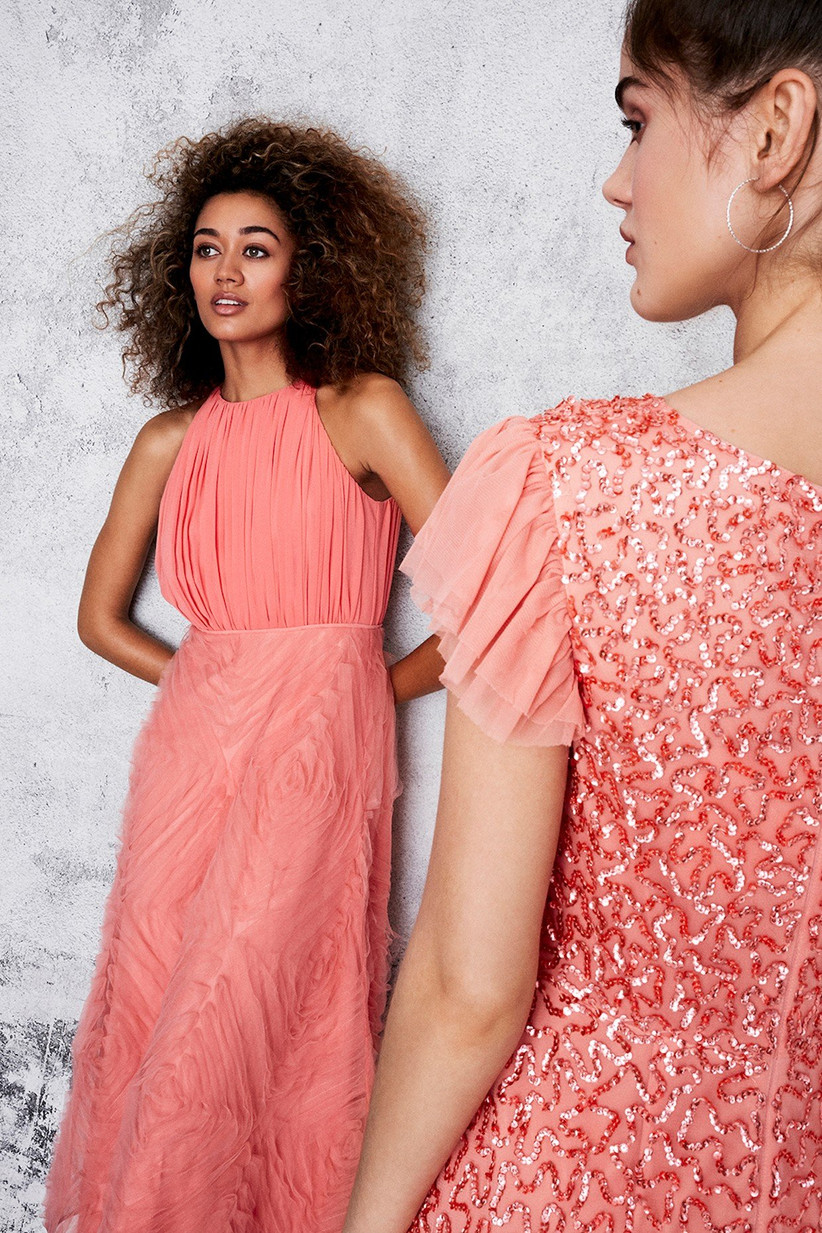 Coast may be a traditional go-to occasion wear brand, but its popular bridesmaids dresses are far from predictable. Detail-led designs turn plainer shapes into more interesting creations and collections transcend everything from festival weddings to more formal, black tie events. Separates start at £59 (although keep an eye on the sales) while sequin bodice maxis will set you back £259.
Our Top Picks: 3D Textured Full Midi Dress in coral wouldn't look out of place at Club Tropicana (it also comes in maxi length). Frilled Sleeve Lace Bodice Maxi Dress in navy brings together ruffles, sequins and ribbons while somehow also looking incredibly grown-up rather than girly.
11. Net-A-Porter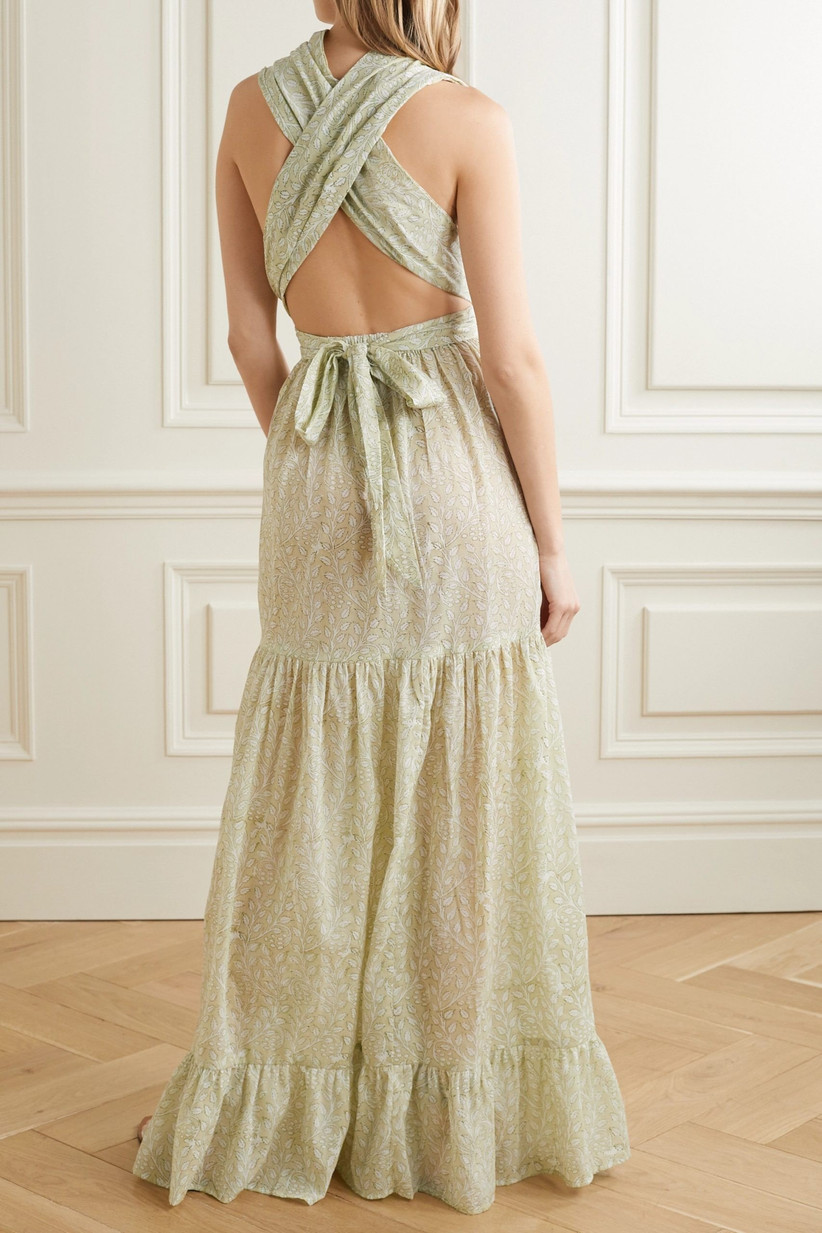 If you're after lesser seen or unusual bridesmaids dresses, not to mention designer drops that'll ensure that your bridesmaids look chic and unique, head to Net-A-Porter. There's no distinct bridesmaids edit as such, but dress-led designers such as Ganni and Rixo will have your 'fashion' friends at 'hello'. Net-A-Porter is an especially handy bridesmaids dress destination if your pals have different styles and are set on wearing their outfits again and again – let them pick their own (within budget) and see them relive the joy later.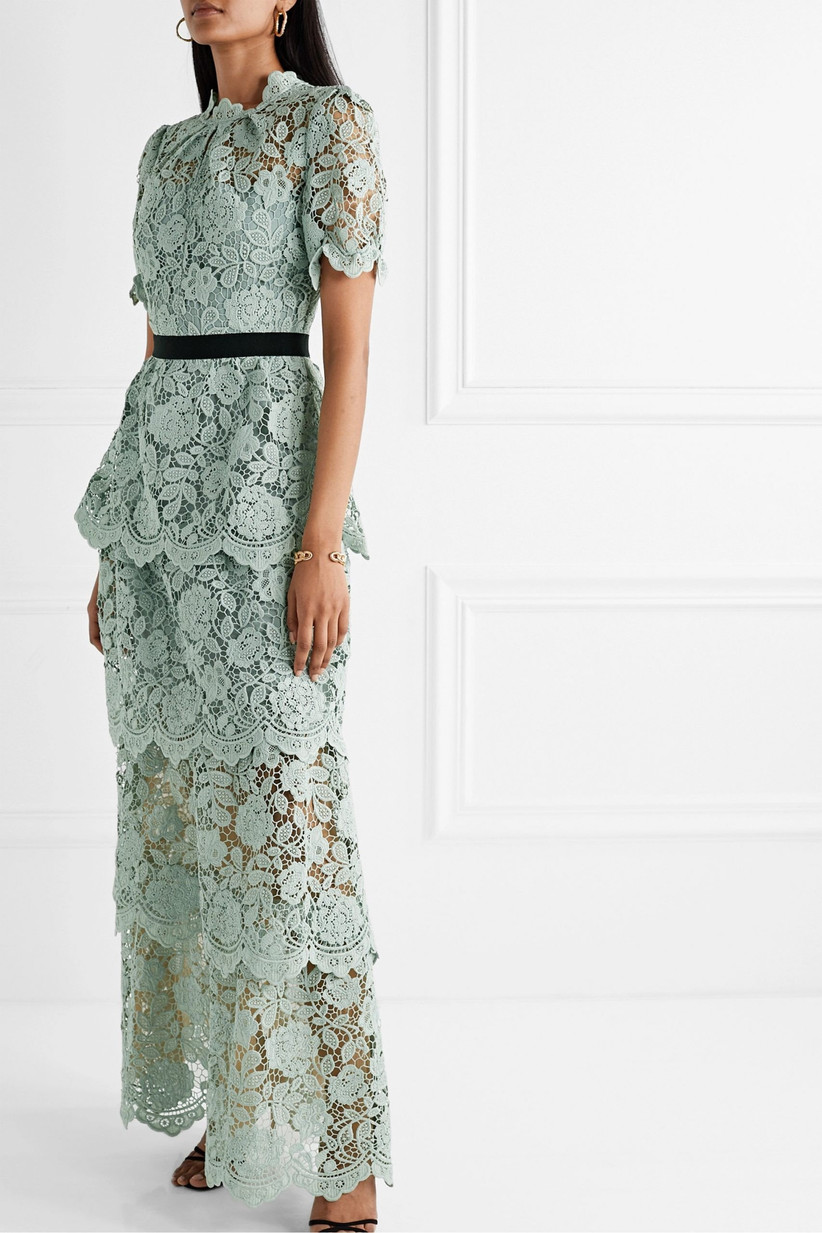 Our Top Picks: Hannah Artwear's Portofino Maxi Dress is a breezy, floral NAP exclusive that will look as divine in a church as it will on a beach. For a more structured shape, Self Portrait Mint Grosgrain Trimmed Corded Lace Maxi Dress combines a tiered skirt with scalloped lace and a nipped-in waist.
12. Rat & Boa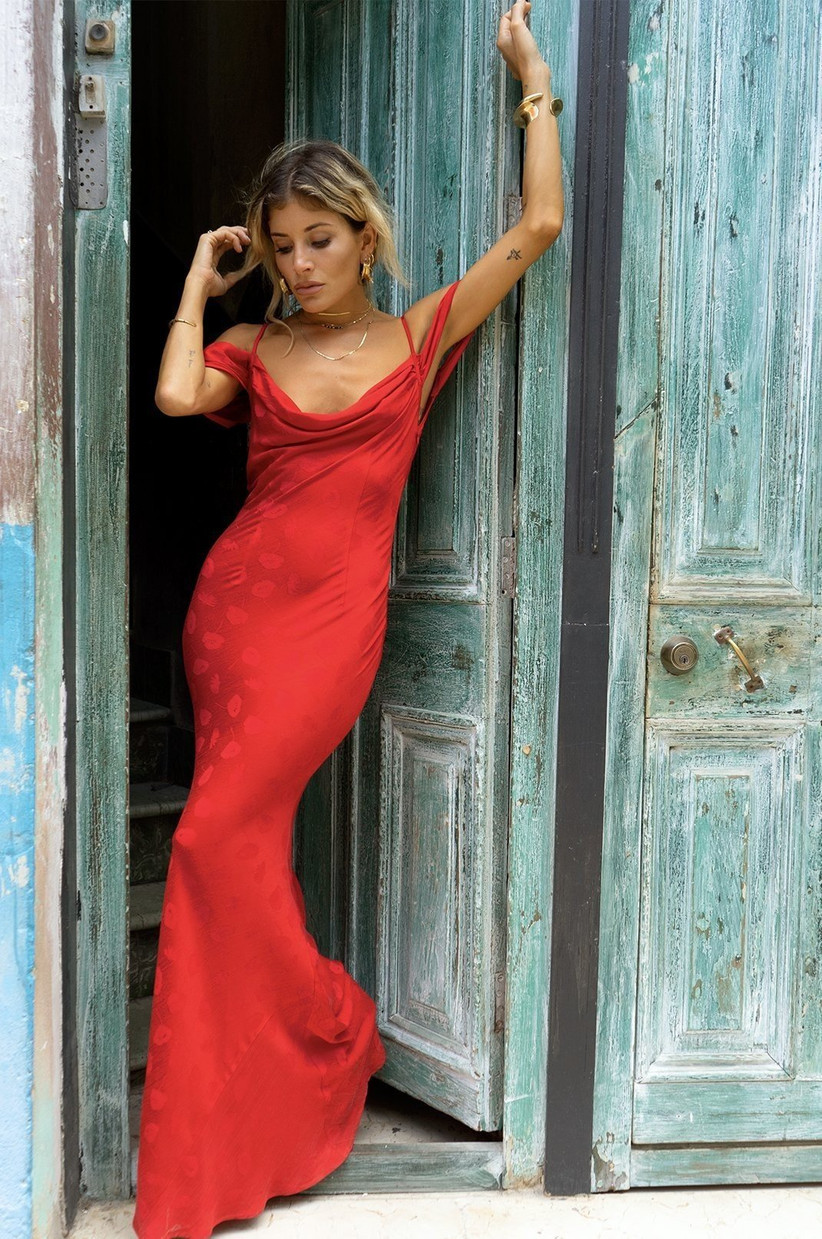 If you're partial to a slip dress with a spaghetti strap in a vibrant print, Rat & Boa is the place for you. Designs are informed by nostalgia (many throw some big '90s shapes) and the silhouettes are definitely on the sexier side. The dresses are the main draw but the draped jumpsuits are achingly cool too. The range begins at £95, with the most elaborate designs ringing in at £265.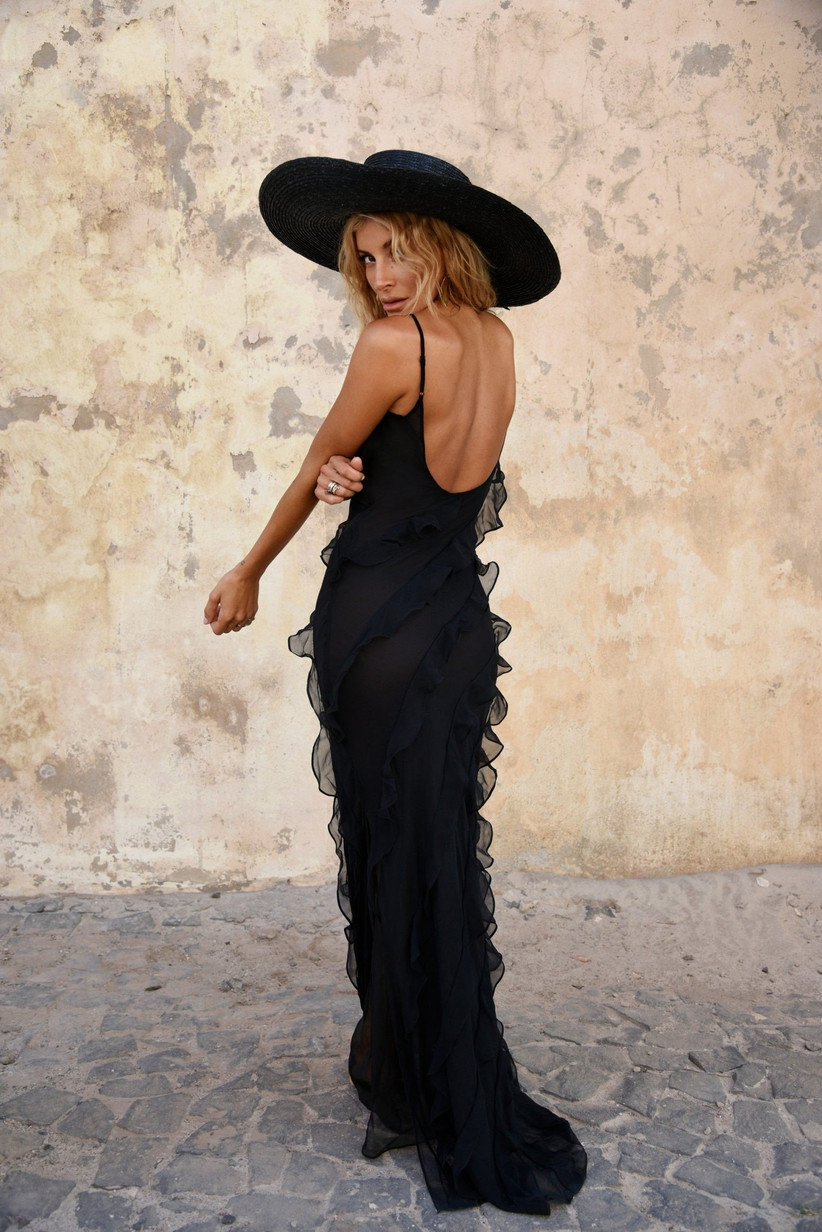 Our Top Picks: Florentina is the flamenco emoji cut in cloth; Selena is an 'anything but obvious' black bridesmaids dress in cascading silk chiffon. Both tickle our fancy equally.
13. Chi Chi London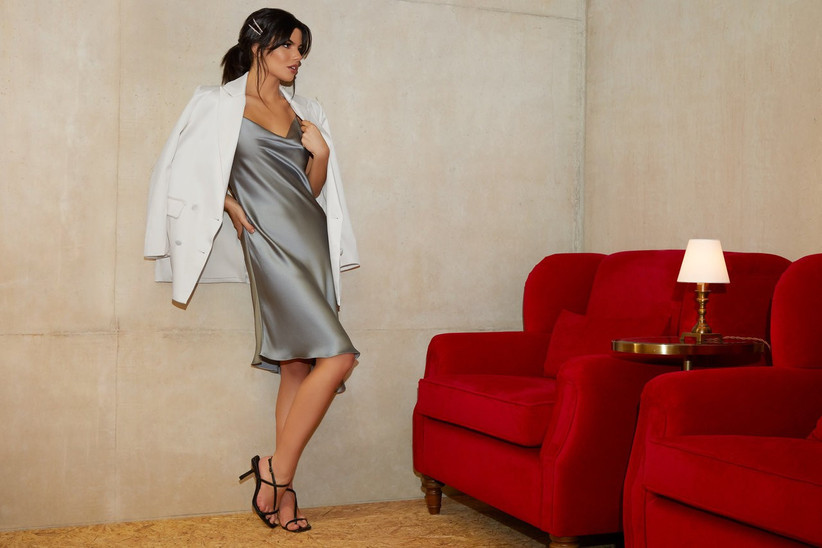 Wedding, bridesmaid and prom dress pros Chi Chi London have been making thrifty (prices begin at £20) but very nifty occasionwear for over 25 years, excelling especially in the bridesmaids dress area. They offer almost every shade and style you could imagine, making seamless work of 'mix and match' bridesmaids dresses with cuts and styles for every size.
Our Top Pick: While not strictly in the bridesmaids section, sleek grey Camille is an effortless slip dress made for warm weather weddings.
14. Ted Baker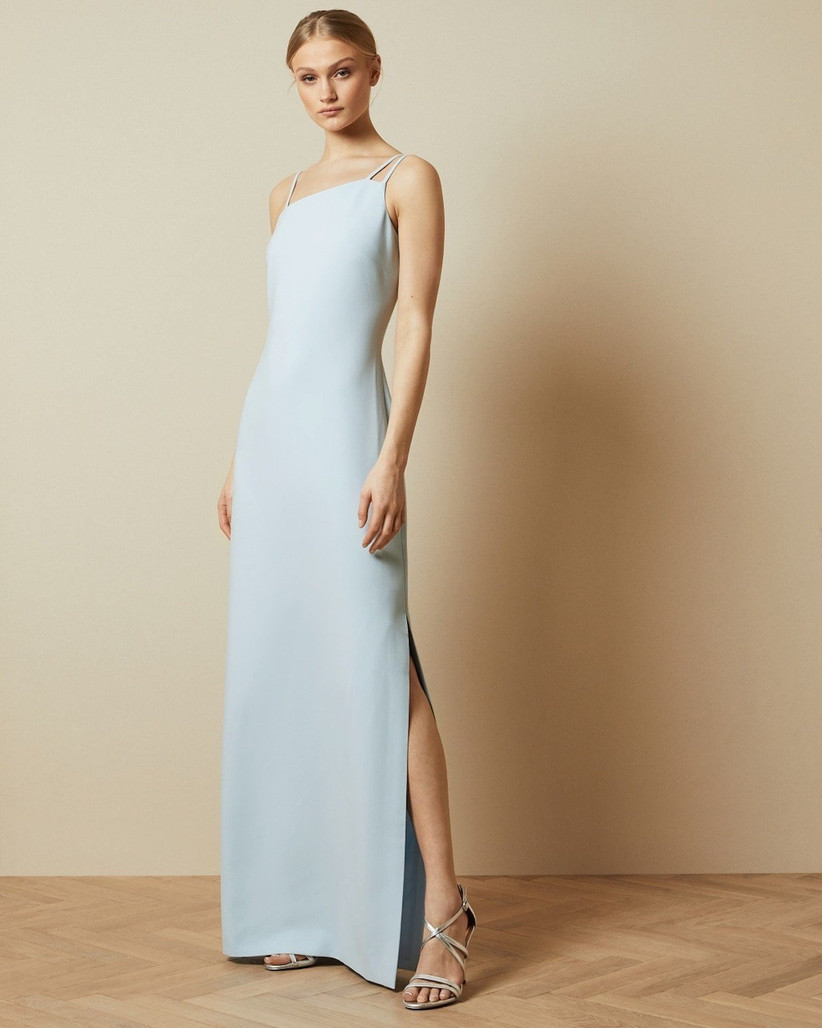 Ted Baker may be somewhat of a bridal fashion underdog but capsule collections are brilliantly thought through – there's a select edit of beautifully cut one pieces in crisp colourways. We're calling it simple but effective, with pricing in the range of £199-£249.
Our Top Pick: Sannsa in light blue has a striking but not too revealing split with a double strapped asymmetric neckline that's neat but eye-catching.
15. Mango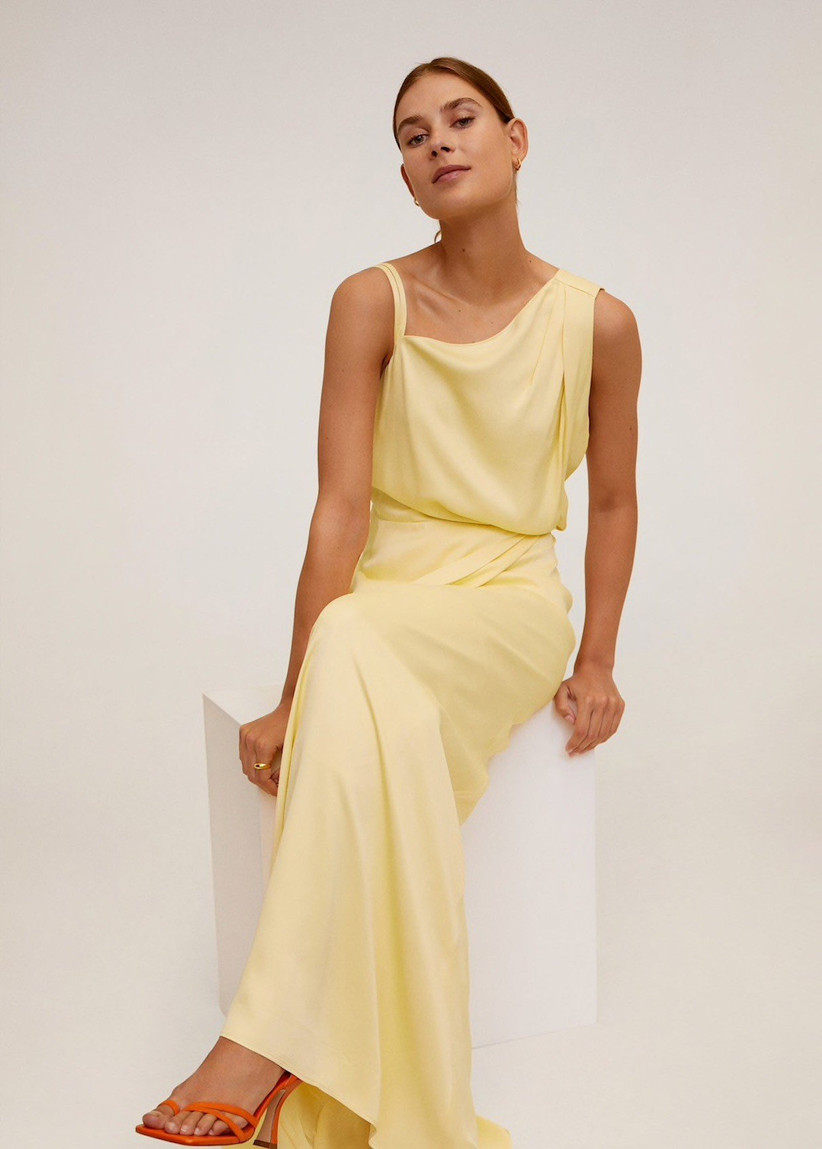 Adding to the list of high street gems that you may not have considered, Mango's directional cuts and bright colour blocking makes for an extremely well turned out crew. Picturing bridesmaids in bright tuxedos? Mango suiting is sharp and won't cost you an arm and a leg. There are acid bright dresses aplenty and elegant evening wear that's bang on for city weddings, with individual pieces coming in at £90 and under.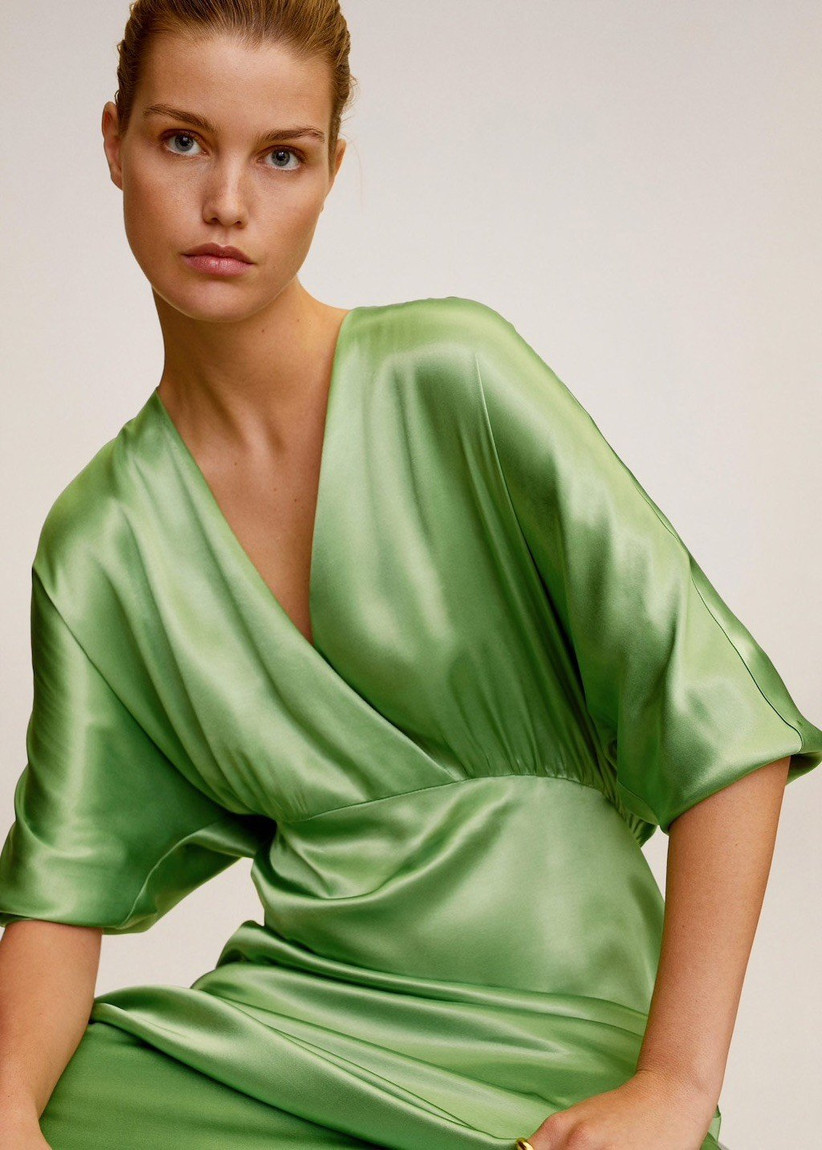 Our Top Picks: The Green Satin Wrap Dress reinvents a timeless style in a quirky colour and the lemon-hued Long Asymmetric Dress will make your maids look like modern day goddesses (which they already are).
16. Vanessa Cocchiaro
Stylish occasionwear made in Paris for women who like a couture approach to formal dressing, Vanessa Cocchiaro's line is small but perfectly formed. Considered detailing, luxe fabric and creating impeccably cut clothes to suit a wide variety of body shapes is Cocchiaro's style, and it shows on the studio floor. Tops begin at £180, so it's by no means a budget bridesmaids dress go-to, but the unique and thoughtfully made pieces will last a lifetime.
Our Top Pick: The Mary Dress makes peach satin refined – the ruched back detail would look particularly elegant when teamed with an updo.
Looking for the perfect hair to go with your girls' dresses? Here's our guide to 32 bridesmaids hairstyles they'll love.