How to Buy an Engagement Ring: The Ultimate Guide
Where do you even start when trying to choose an engagement ring? We've spoken to the experts and put together our ultimate guide to help you with your engagement ring buying journey
We have included third party products to help you navigate and enjoy life's biggest moments. Purchases made through links on this page may earn us a commission.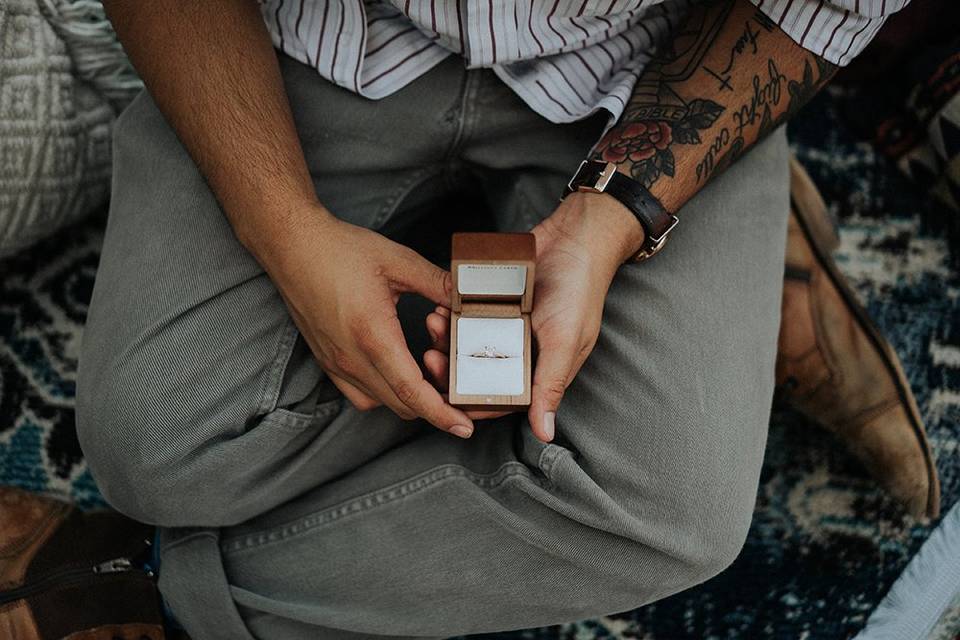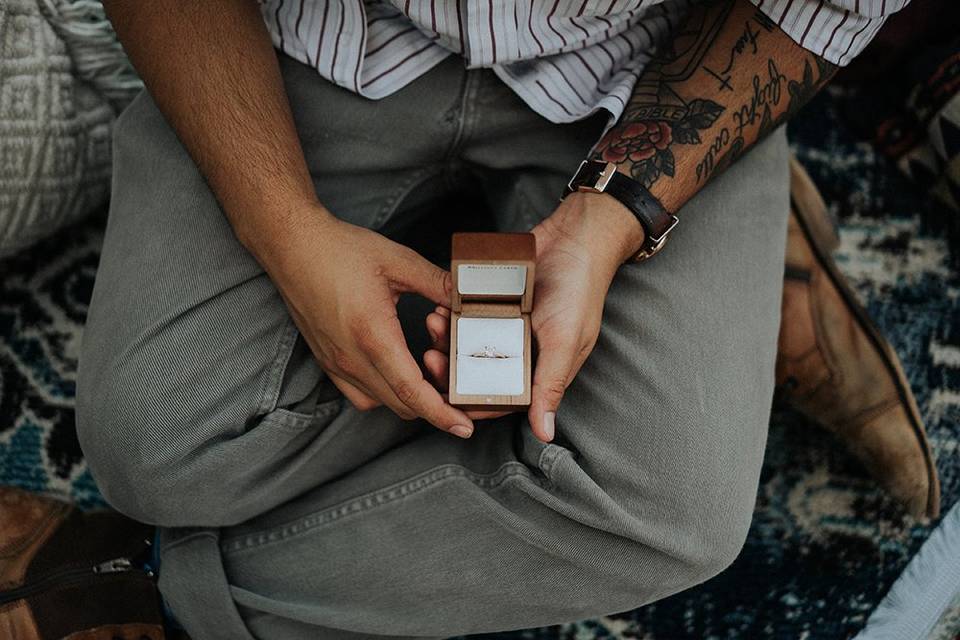 If you've decided to pop the question and you're thinking about buying an engagement ring, congratulations!
When it comes to important purchases, an engagement ring is pretty high up there. Although incredibly exciting, it may also be one of the most expensive items you ever buy. Combine that with the stress of planning how to actually propose and we wouldn't blame you for feeling a little on the nervy side…
Palms starting to sweat? Don't panic! Feeling confident is key to this process, which is why we're here to rid you of your engagement ring buying worries for good.
As well as answering all of your burning questions about how to buy an engagement ring, we spoke to bespoke jewellery designer Emma Clarkson Webb – who specialises in sourcing diamonds and creating stunning, handcrafted jewellery – for her own top tips, including how much to spend and what those five Cs actually stand for…
Good luck!
How Much Money Should I Spend on an Engagement Ring?
There's a lot of conflicting information out there about how much you should spend on an engagement ring. According to our latest National Wedding Survey, the average engagement ring spend is now £2,419. While the traditional amount was always thought to be around three months' salary, a lot of jewellers are seeing engagement ring spend decline to around a month's wage.
The truth is that you should only spend what feels right for you and what you can afford – and Emma agrees. "It really is completely up to you, and what your budget will allow", she explains.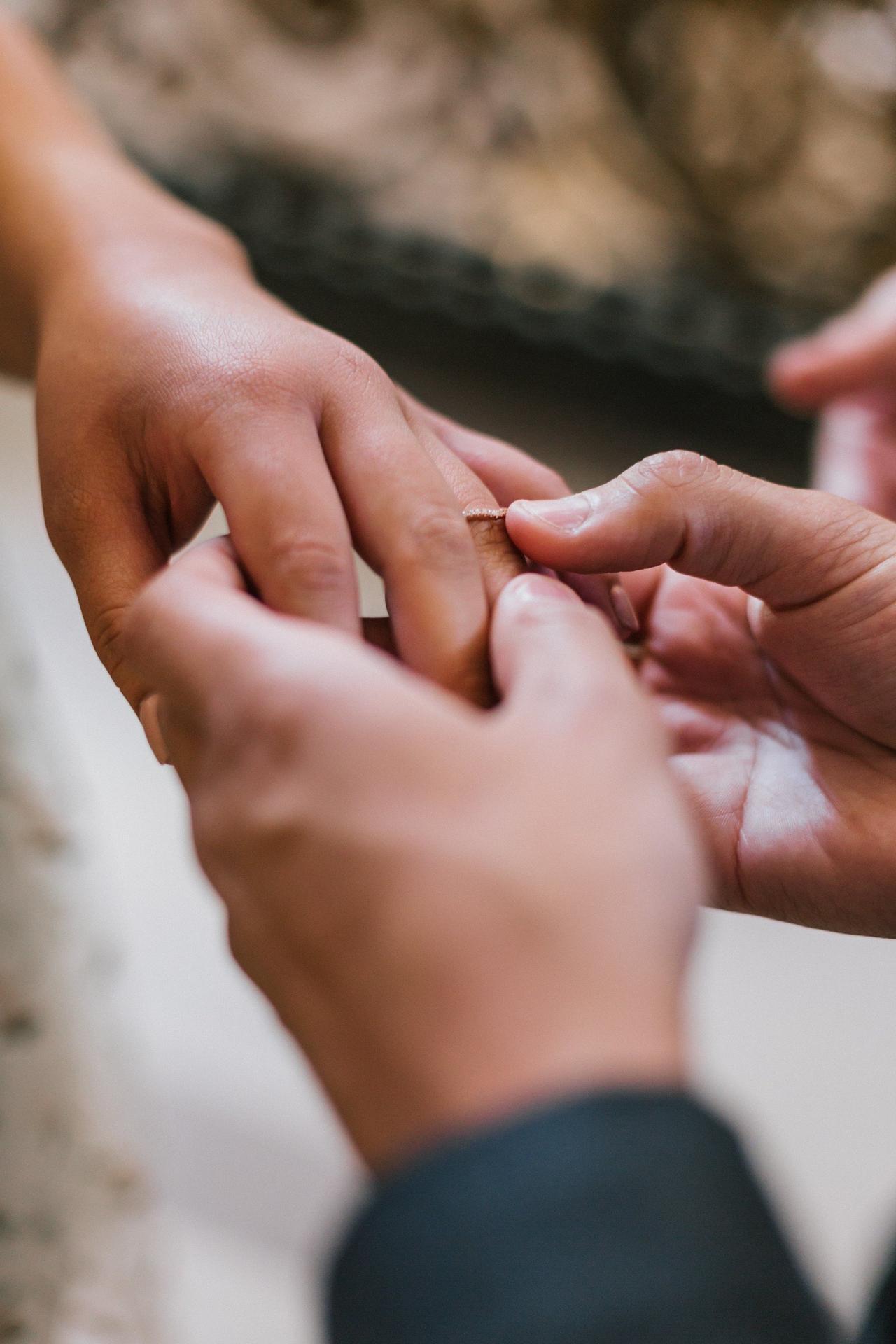 When it comes to buying the ring, a good jeweller will be able to suggest options that fit into your price range – be it a more affordable style or stone.
"I always try and make the bespoke process as transparent and educational as possible so that my client understands why a certain grade or cut of diamond is more expensive than another one", Emma says.
"I am also able to recommend certain styles or stones that will make the ring more affordable: a halo ring, for example, is a great option for a client wanting something super impactful that won't be prohibitively expensive, while a chrome tourmaline is a good alternative to an emerald or a tsavorite, for example."
How Long Does It Take to Buy an Engagement Ring?
This, of course, depends where you're buying the ring from. If you're opting for a bespoke engagement ring, the process can take between four to six weeks to complete.
"This includes everything from the initial consultation, sharing hand-drawn technical sketches before the piece is created by experienced craftsmen in our Hatton Garden workshop", says Emma.
If you're buying from a shop or online, take your time! Browse as many as possible and, if you're buying in a store, make sure you speak to the jeweller to get as much information as you can about their service and rings.
If you do find a ring you can buy it and take it away on the same day, but it's important not to feel pressured to make a decision on the spot. Walk away, go for a cup of coffee to think it over and take your time.
READ MORE: The Art Deco Engagement Rings We're Obsessed With
Where Should I Go to Buy an Engagement Ring?
We advise that you do the majority of your searching in person – seeing the ring up close makes a big difference and will give you peace of mind that you've chosen the right one! It also means you can negotiate a price with the jeweller or sales assistant, which is common practice when it comes to buying an engagement ring.
If you're heading to the shops, do some online research into different stores and boutiques you want to visit before you go. It's always good to have a plan of action rather than blind-buying.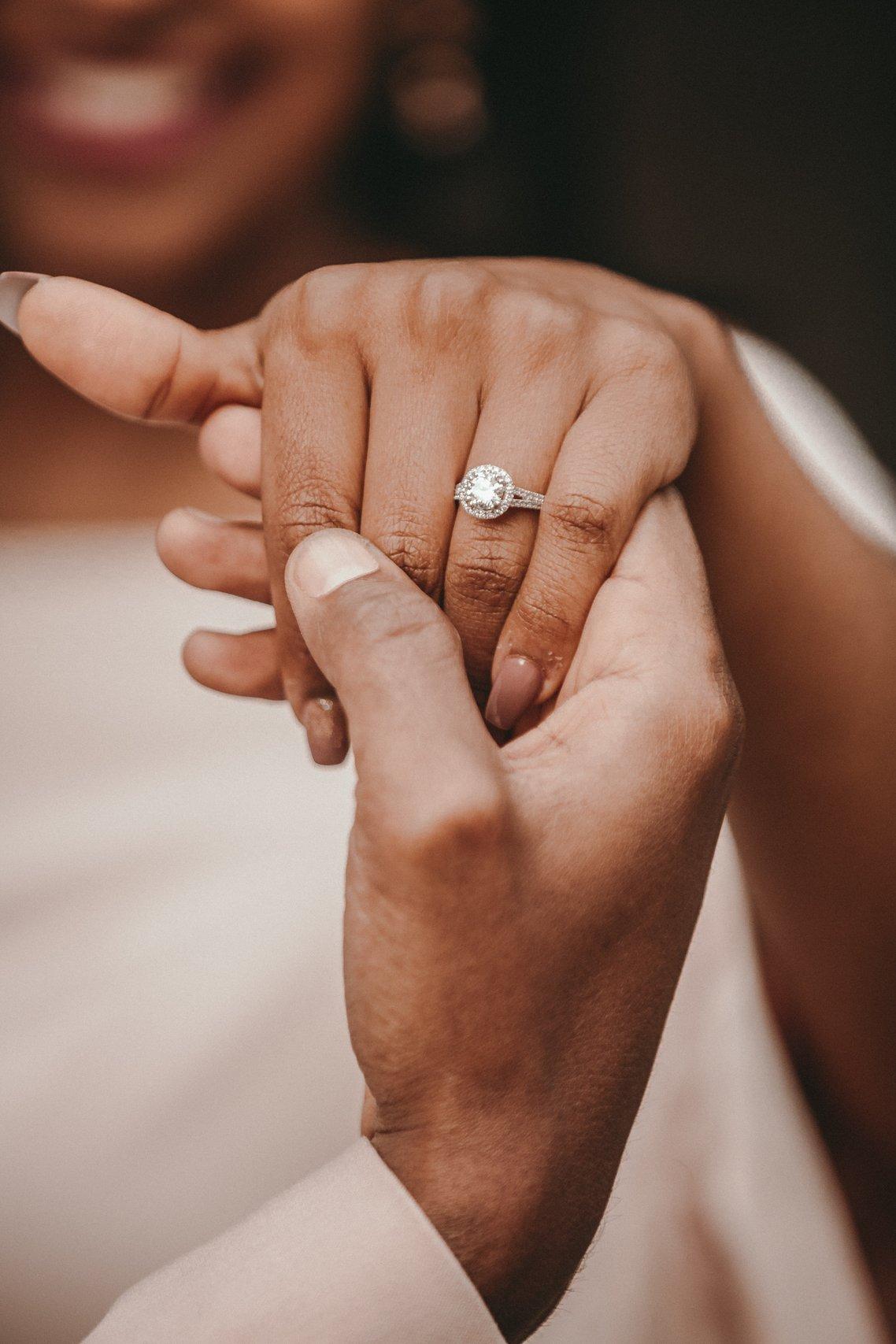 To see as many rings as possible, we can't recommend Hatton Garden enough. "It's a great place to buy an engagement ring in terms of value for money: you won't have to pay the sort of premium that you might expect to spend in a Bond Street jeweller", Emma explains. The run-up to Christmas and before Valentine's Day are their busiest periods, so if you're planning to pop the question around those dates it's a good idea to leave yourself plenty of time.
If you're 100% confident in the supplier then buying an engagement ring online is totally fine and very common, just make sure you take your time browsing.
How Do I Know What Style She Likes?
1. Look at Her Day Jewellery
Take mental notes of the jewellery she already wears and what her style is like. These pieces will tell you a lot about the kind of style she might like; from classic and simple to alternative and bold!
2. Ask Her Friends
We're willing to bet a lot of money that your other half's best friend or sister will know exactly what sort of ring she'd like. Swear one to secrecy and rope them in to help.
3. Pay Attention to Hints
As friends and family members get engaged, watch out for her comments on the rings that are given. It's a really good way of piecing together her dream ring.
What are the Five Cs?
If you're going for an engagement ring with set diamonds in, it's worth knowing what signs to look out for when searching for a good quality stone. The best way to ensure you're getting the best quality diamond is to follow the 5 Cs – clarity, cut, colour, carat and certificate.
"It's essential that you understand the diamond grading process when buying an engagement ring and why a certain stone might differ in value to another stone", says Emma.
"It's important to have real clarity on where you are spending your money and feel that you are getting real value for money".
READ MORE: Alternative Engagement Ring Ideas She'll Love
1. Clarity
The clarity of a diamond refers to the blemishes (or lack of, ideally) that the diamond possesses. Almost every diamond on the market will have some level of inclusions or imperfections, but the key is to try and find one with as few as possible – which is where the clarity grade comes in. For more information on clarity, be sure to look up the GIA clarity grading scale.
2. Cut
The diamond cut is very often confused with the diamond shape – there's a big difference. When you're looking at the standard of the cut, you're looking at the quality of how the diamond has been crafted and shaped. It's the only C that is entirely manipulated by the diamond cutter and how well it's done will hugely impact the retail price.
3. Colour
The colour of the diamond is a fairly simple one, it's referring to how clear or discoloured the diamond is. The whiter the diamond, the higher its value will be. The way you can test this is a colourless diamond will allow more light to pass through it, and will always pass off a larger amount of brilliance.
4. Carat
Carats, very simply, are what's used to measure diamonds. There's 100 points in one carat, so a diamond with 50 points would be described as a half-carat.
5. Certificate
When purchasing any diamonds, make sure you get the correct certification with it, referred to by a diamond grading laboratory; this just clarifies the quality of the sparkler you've bought.
What Are the Most Popular Cuts, Stone, Settings and Metals I Need to Know About?
Engagement Ring Cuts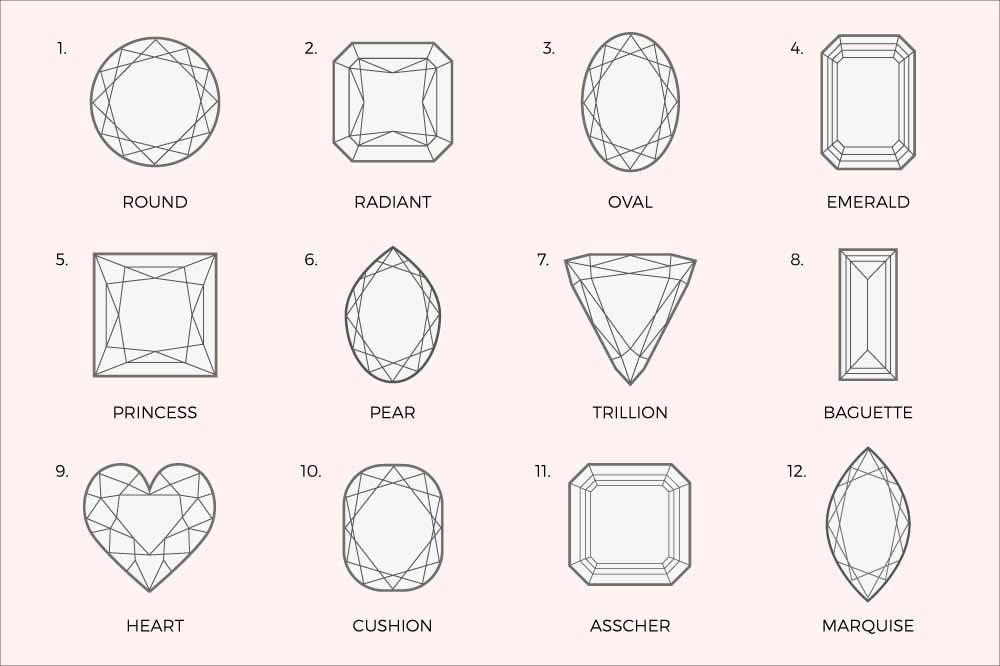 If you're buying a diamond, then the cut (or shape) is really important because it will define the overall look of the engagement ring you buy.

"There is no one cut that is more popular than another but brilliant, cushion and emerald cuts are consistently popular and for good reason: they are timeless and beautiful", Emma tells us.

"I predict that we'll see more of the oval cut in the future – thanks to the likes of Hailey Bieber. And, of course, the three-stone diamond ring will never go out of style thanks to the Meghan Markle effect!"

READ MORE: 19 of the Prettiest Oval Engagement Rings

There are the 12 most popular diamond cuts:

1. Round
Round or brilliant cut diamonds have a certain sparkle to them that's enhanced by the cut. It's a more traditional shape for a diamond and is extremely popular for engagement rings.

2. Radiant
The radiant cut diamond has a square shape with cropped, flat corners – it's a really unique design for a diamond and is perfect if your other half likes quirky jewellery.

3. Oval
Following a similar style to the round diamond, the oval shape and facets in this design allow more light to pass through, giving it an extra sparkly finish.

4. Emerald
If your partner likes a vintage style of jewellery, consider the emerald cut diamond. It's stylish, sleek and is made from a technique which was originally only used to cut emeralds.

5. Princess
The princess cut diamond is another really popular choice for engagement rings. The sharp, square cut looks gorgeous on its own, but is also really pretty when put alongside other princess cut diamonds.

6. Pear
Otherwise known as the teardrop diamond, the pear shape is much more unusual. It's a more quirky take on the round brilliant cut diamond and is perfect if your partner wants something a little different.

7. Trillion
The trillion cut diamond, also known as trilliant cut, is a triangular-shaped sparkler which is more commonly used as an accent stone – but looks gorgeous standing alone on an engagement ring too.

8. Baguette
The baguette diamond is a slim, rectangular diamond which look really gorgeous either side of an emerald cut diamond. The slim shape will give the engagement ring a unique twist that's not commonly seen.

9. Heart
The heart diamond is perfect for the hopeless romantic. It's perfect for a girly girl and takes a really skilled cutter to create the exact symmetry needed to perfect this shape.

10. Cushion
Often referred to as pillow cut diamonds, the cushion shape is similar to a princess cut, but with much softer edges.

11. Asscher
Similar to the radiant cut diamond, the asscher shape has more step-cuts to it, giving it even more edges for the light to bounce off – making it a really sparkly design!

12. Marquise
Last, but by no means least, comes the marquise diamond shape. It's stylish, chic and is also referred to as a navette, meaning 'little boat'.

READ MORE: 19 Emerald Cut Engagement Rings With Serious Wow-Factor
Engagement Ring Stones
There are so many options available when it comes to engagement ring stones. Whether you're looking for a classic look or an alternative engagement ring, these are some of the most popular choices:
Diamond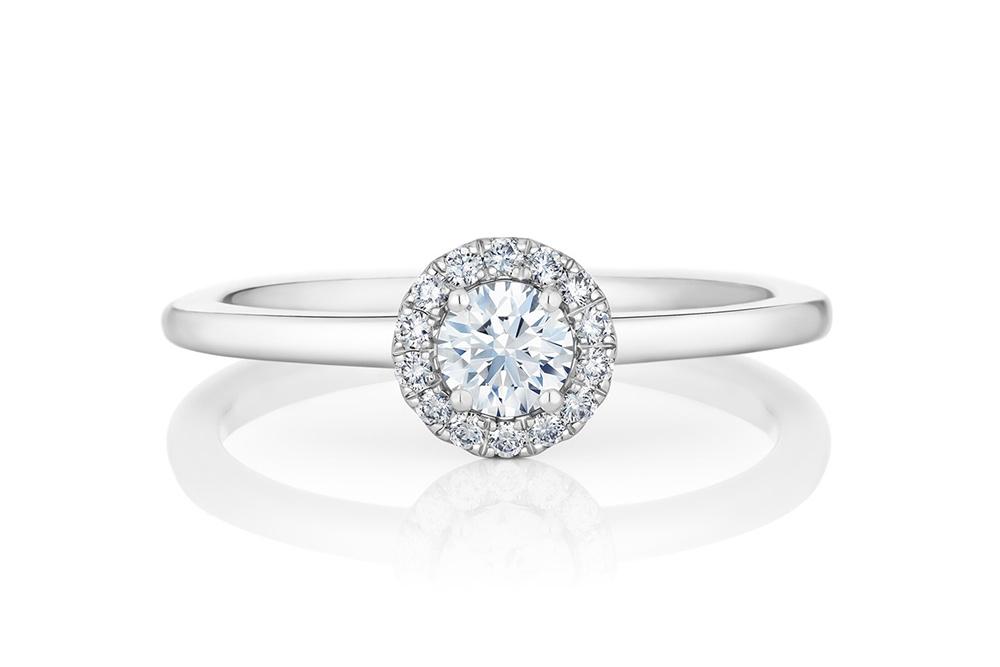 A diamond is a classic choice and for that reason it's probably the most popular. If your other half is more classic in terms of her style then you can't go wrong with a chic diamond engagement ring.
Ruby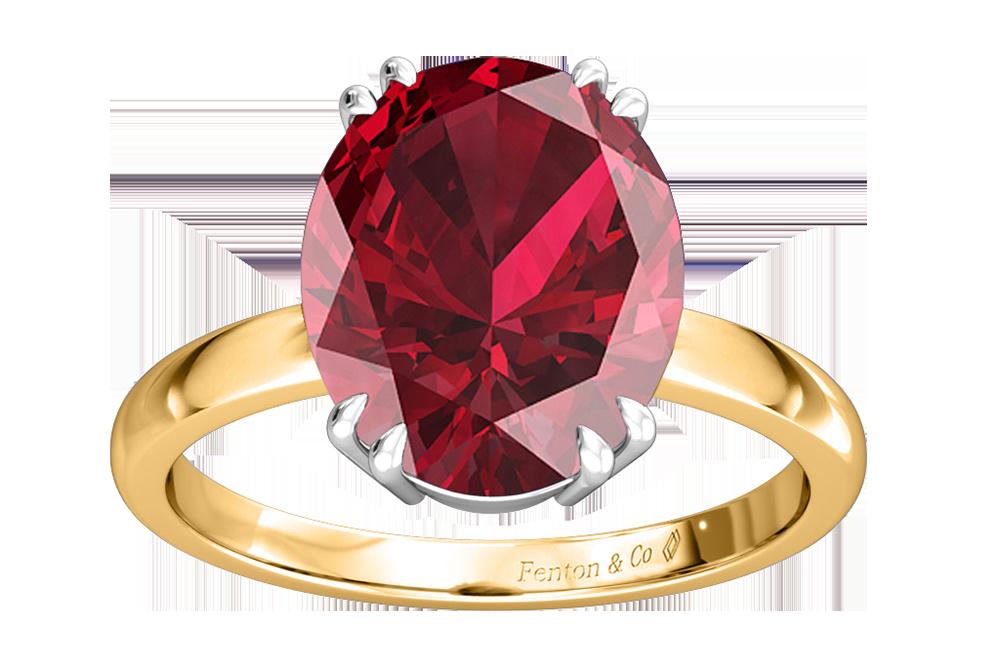 It doesn't get much more romantic than a ruby! If your partner is looking for something a little different then a ruby is a lovely choice.
Sapphire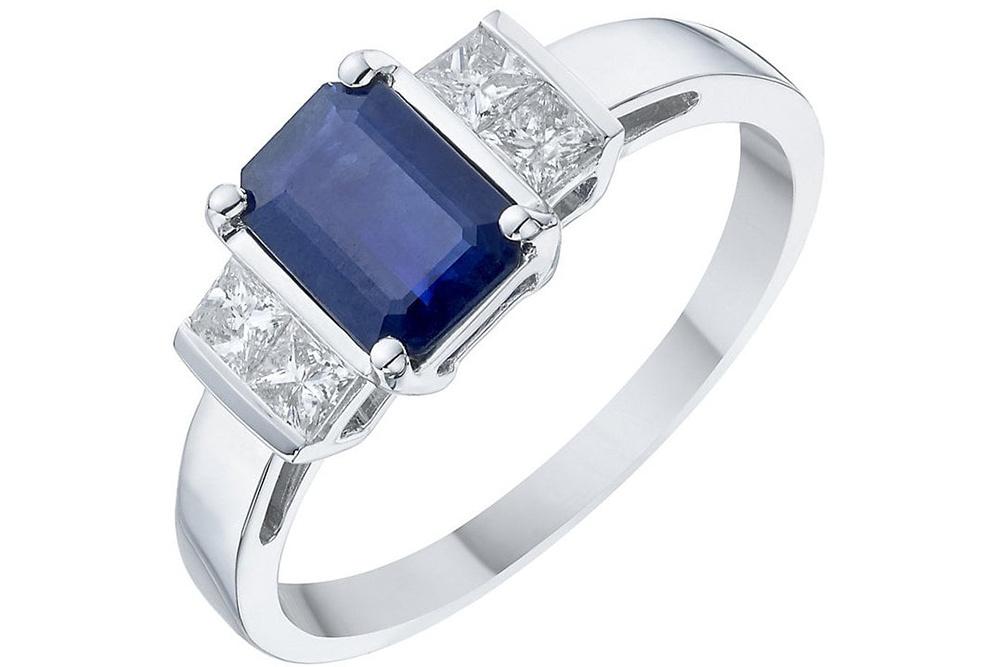 If it's good enough for Kate Middleton then it's most certainly good enough for us! A sapphire engagement ring is such an elegant look, and can work really well with diamonds for extra sparkle.
Emerald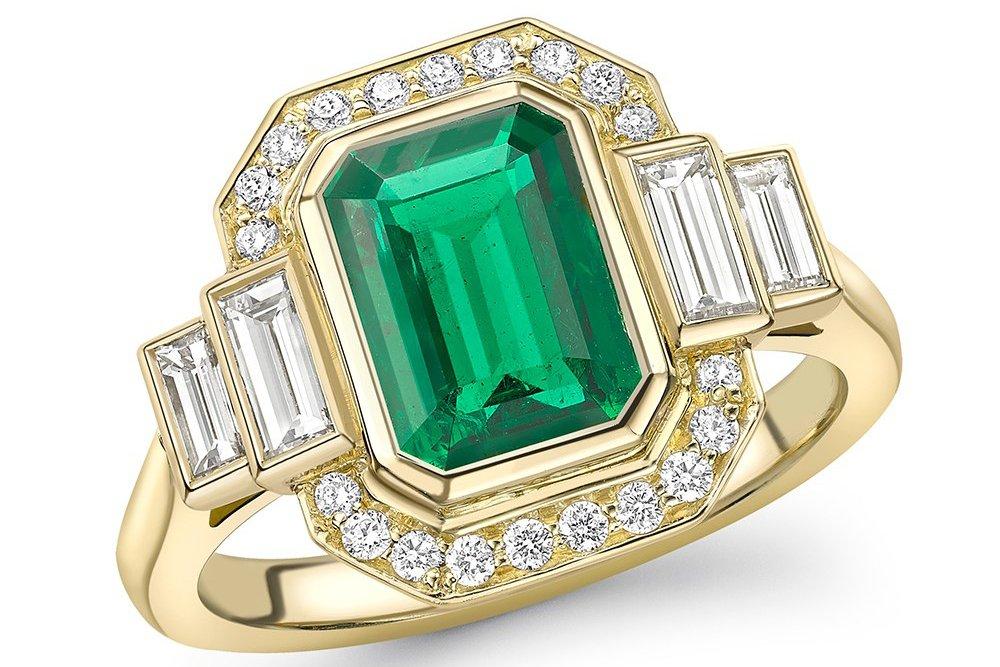 "My clients love colour and I continually see a lot of requests for engagement rings with green stones, be it emeralds, tsavorites or tourmalines", Emma says. Unique girls will love an emerald engagement ring!
Opal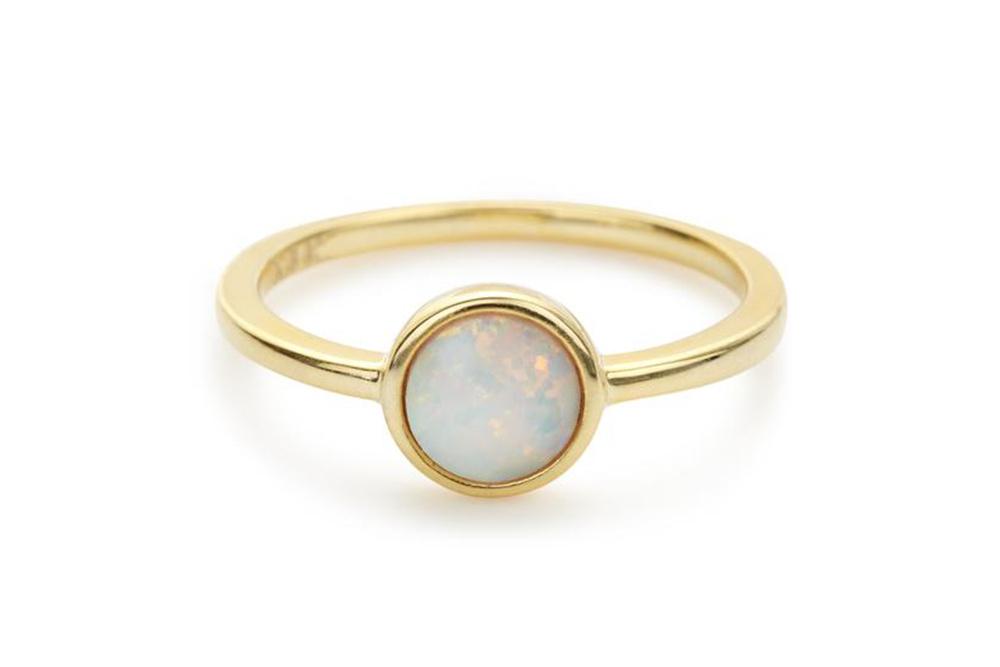 Opal is a semi-transparent, milky white gemstone that can include glowing hues of green, blue or pink depending on the stone. An opal engagement ring would be perfect for the girl who wants something a little different.
Moissanite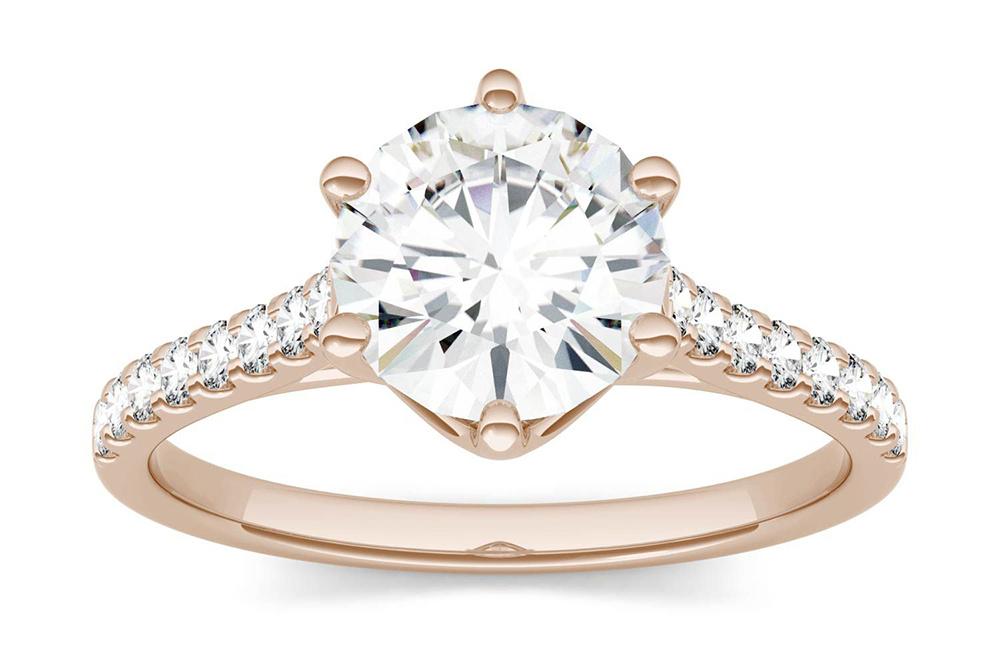 If your other half would like an eco-friendly ring then a moissanite engagement ring is a brilliant diamond alternative (it's much cheaper too!).
Engagement Ring Settings
Thought it was just the cut and stone you needed to think about? Think again! The setting is just as important as the other elements of the ring and really impacts the overall style. These are the most popular engagement ring settings:
Cluster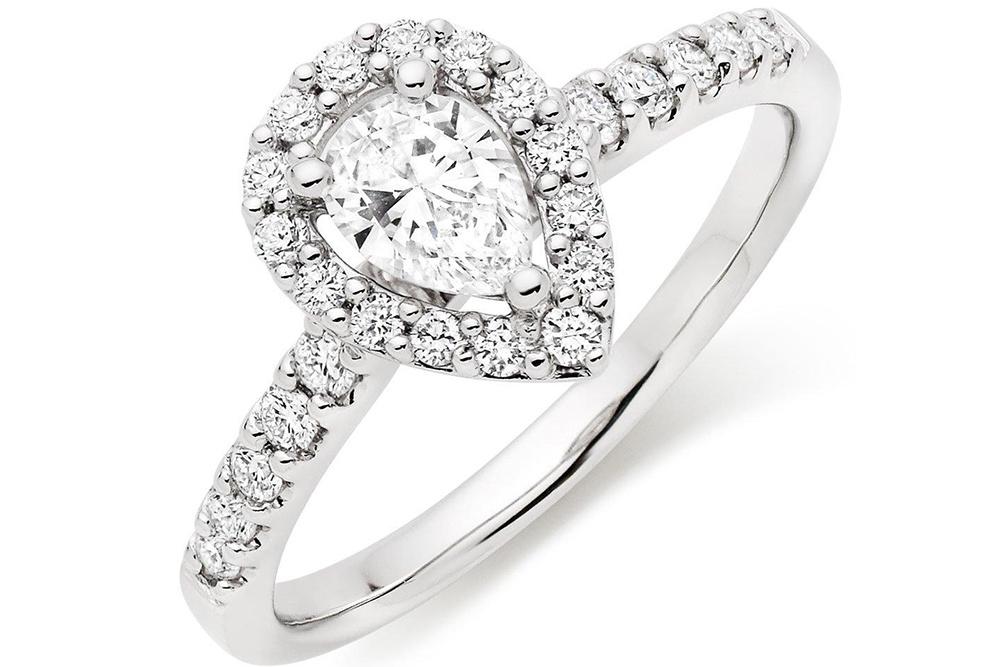 A cluster ring can contain a large centre stone or a group of stones of equal size, set together in no particular way. The result is a lot of sparkle!
Halo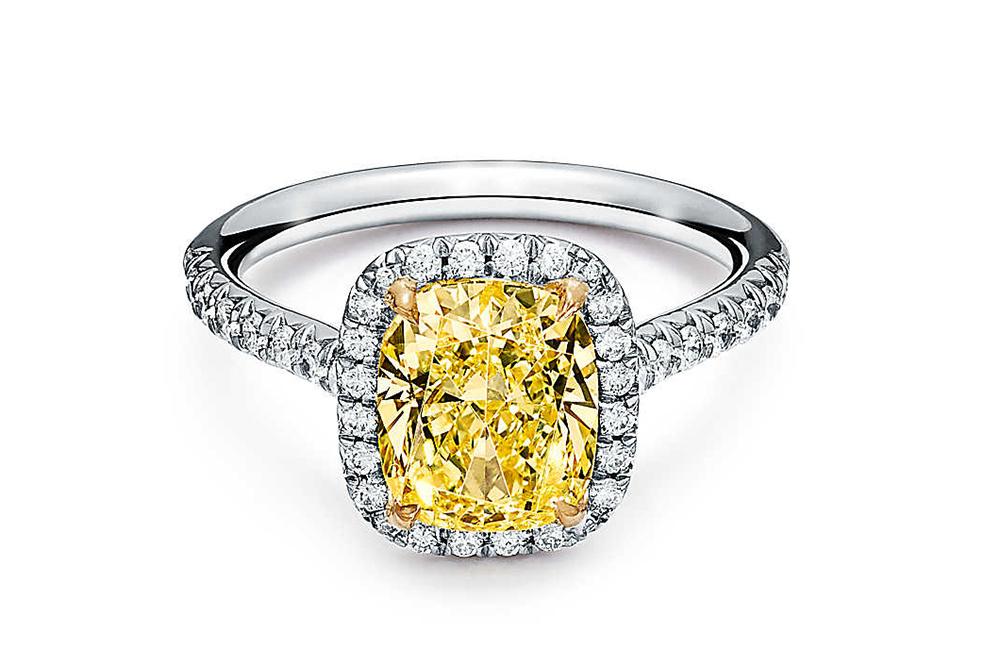 If your other half likes serious sparkle, then consider a halo engagement ring. Stones are set around a centre stone and often give the illusion of the stone being larger.
Solitaire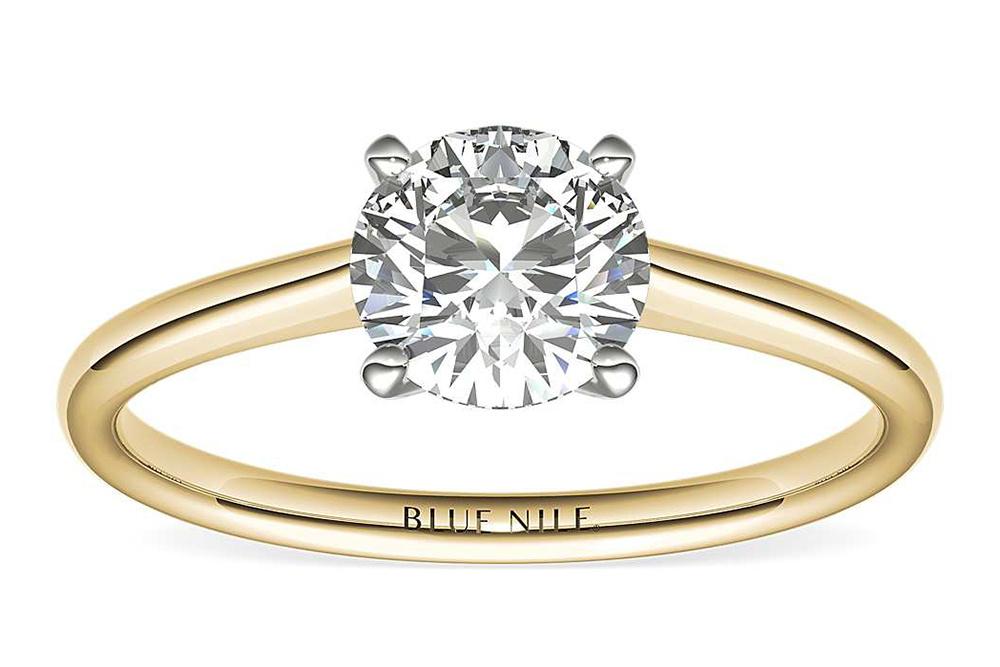 For chic girls with simple, understated style, you can't go wrong with a classic solitaire. They're usually set with prongs and give maximum exposure to the diamond
Pave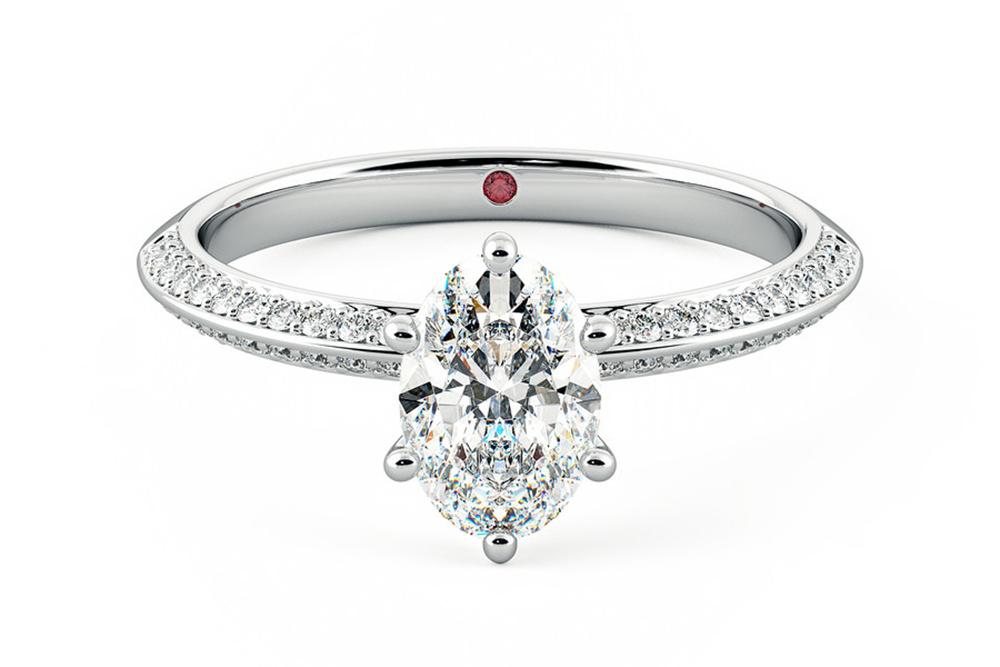 Pronounced pah-vay, this is when the centre diamond is joined by lots of smaller diamonds around the entire band (full pave), or halfway down the band (half pave). Pretty!
Three stones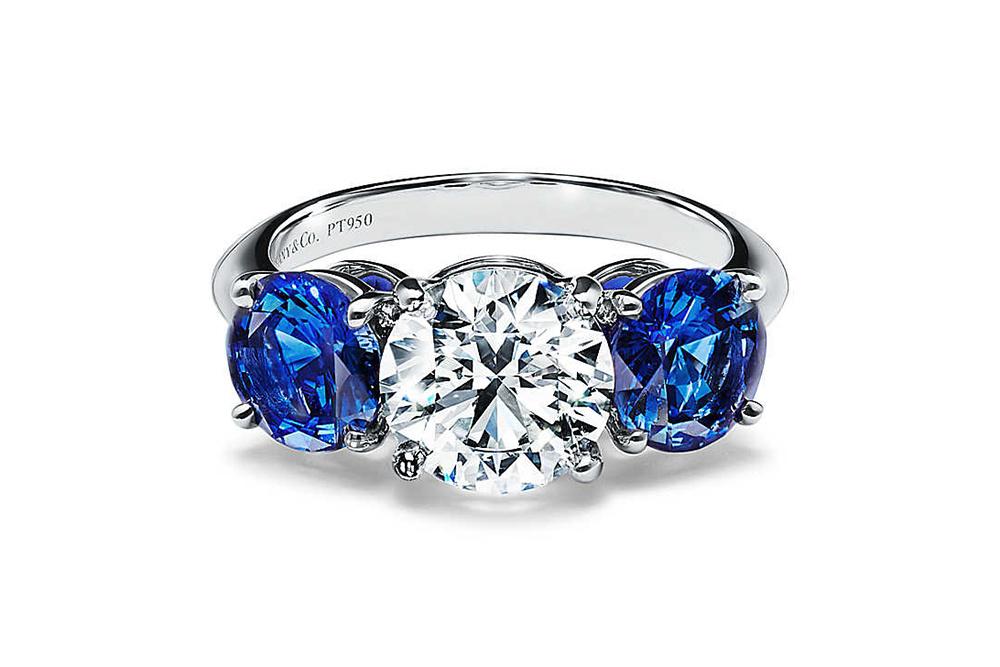 A three-stone ring is said to signify the couple's past, present, and future (ahh!). Usually the central diamond will be either the same size carat or a few carats bigger.
READ MORE: Our Pick of the Best Men's Engagement Rings 
Engagement Ring Metals
Rose Gold Engagement Rings
This dreamy coloured metal is very up and coming in the engagement ring market. If your girlfriend is a girly girl who loves anything with a feminine touch, then a trendy rose gold engagement ring could be the perfect pick.
White Gold Engagement Rings
If it's a diamond you're looking for, a white gold engagement ring is one of the most popular choices. It looks super classy and is a mix between yellow gold, silver, palladium and zinc – a real recipe for beauty.
Yellow Gold Engagement Rings
Yellow gold is one of the most traditional ring metals around, and is 75% pure gold. This ring metal is perfect for women who like a classic jewellery look. If your girl likes an edgier look, try designers such as Anna Sheffield who do contemporary rings in this metal.
Platinum Engagement Rings
The purest metal available, platinum is extremely strong and has a gorgeous white shine to it so there's no need for coating. Women who like stunning, clean-cut jewellery that's guaranteed to stand the test of time will love an engagement ring made from this metal.
Do I Need to Know My Partner's Ring Size?
It's not crucial but it can certainly help! Emma recommends taking one of your partner's day-to-day rings and using a ring sizer to measure it, or taking it with you when you go ring shopping. "I advise bringing an existing ring with you to an appointment to make sure we get the sizing right the first time round", Emma explains.
How Can You Shop for an Engagement Ring Sustainably?
"Make sure that you ask where your stones have been sourced from: are they conflict free? Is the gold used recycled or fairtrade?" Emma advises.
"A good jeweller should be able prove that the diamonds they use are Kimberly-certified and be able to tell you exactly where your ring was made (and ideally the names of the craftsmen who made it!)".
Can I Propose Without a Ring?
Not everyone wants to propose with the actual engagement ring, so the other option is to buy a temporary engagement ring. This is a much cheaper ring which is still equally as gorgeous. You can also use a spontaneous engagement ring to do the amazing proposal and then find time to shop together for the 'actual' engagement ring. The bride-to-be can still wear and keep the temporary one.
Do I Need Engagement Ring Insurance?
As with any big purchase, we would always recommend looking into insurance. After all, you're likely to have paid a lot of money for a very special ring, so making sure you're covered in case the worst happens will give you peace of mind.
Emma agrees: "The love and commitment that your ring represents is just as if not more valuable than the ring's material worth and regardless of how much you paid for the ring, insurance is the best way of protecting the ring's actual value".
READ MORE: 24 of the Prettiest Pear-Shaped Engagement Rings
Questions to Ask When Buying an Engagement Ring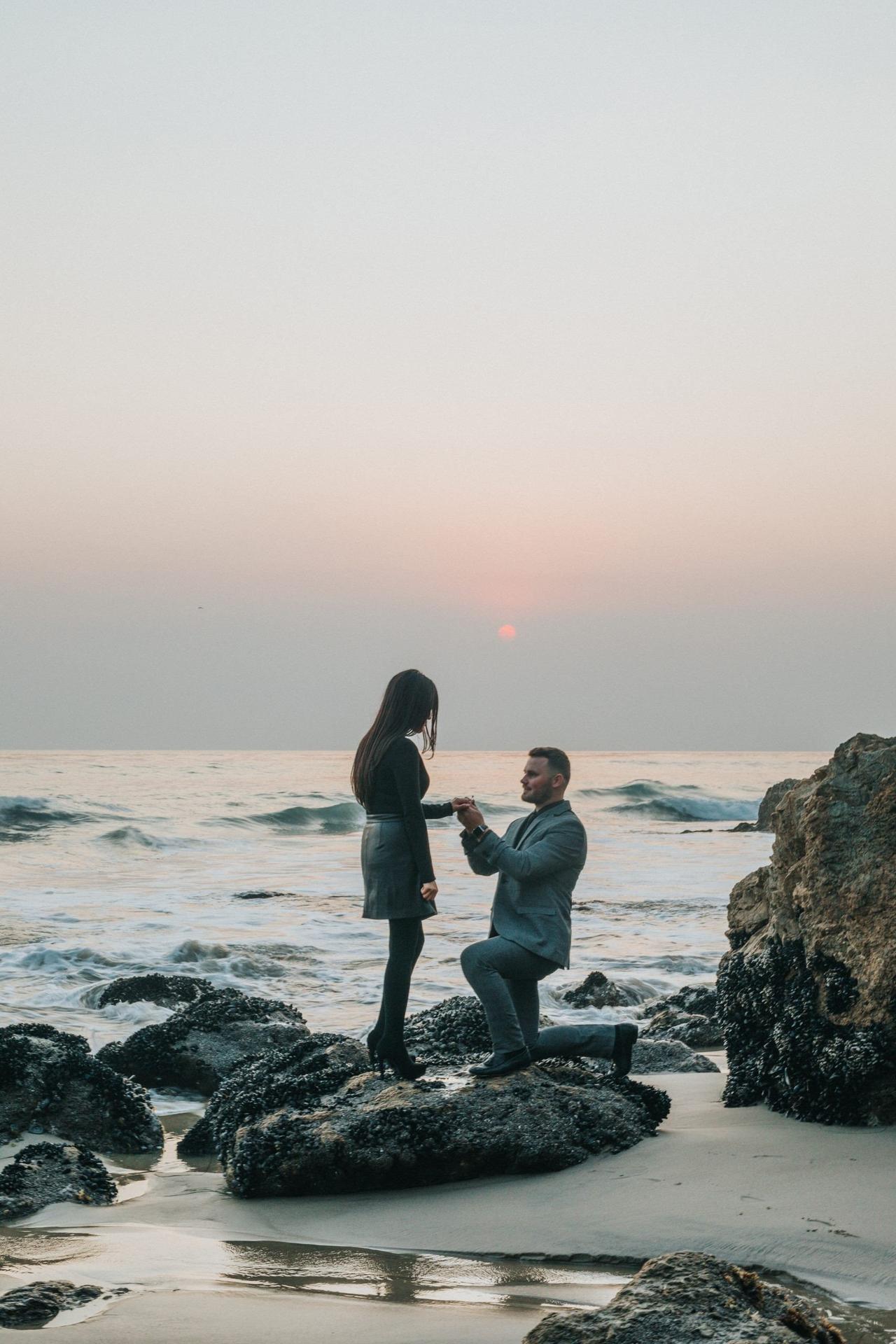 1. Can I Swap the Ring for Another If She/He Doesn't Like It?
This is something that is always worth asking. The answer won't always be yes, but it's worth knowing what your options are. Sometimes they'll offer you options like reshaping or exchanging for another style which is always good to know. This question could come in handy if, worst case scenario, your other half doesn't like their engagement ring.
2. Will You Resize the Ring If It Doesn't Fit?
There are very few engagement ring retailers who won't offer this service but it is important to check with them before you make the purchase.
3. Do You Have a Third Party Diamond Certificate?
If you're buying a diamond engagement ring, you should always ask for a third party diamond certificate. This doesn't mean you don't trust your jeweller, it just gives you a guarantee that what you are being told is truthful and any well respected jewellers will be more than happy to provide this.
4. How Ethical Is the Ring?
If you and your partner are conscious of the ethical conflicts that comes with some jewellery, ask the jeweller where they source the materials. Ethical engagement rings are becoming more and more popular and a lot of jewellers now work alongside charities such as Fairtrade to ensure the diamonds and metals are ethically sourced.
5. How Do I Care for the Ring?
Different metals, diamonds and stones come with different needs. Some need more taking care of than others so make sure you ask the jeweller how to clean your engagement ring.
6. Do You Have a Guarantee on the Ring?
For example, if you're buying a white gold engagement ring, because of the coating, it can wear away and yellow after a few years so it's always handy to know if the shop/company itself will offer that service for you.
Remember: Always check the warranties and returns policies before purchasing anything.