Vintage Wedding Hair Inspiration for a Timeless, Retro Look
We talk to vintage wedding hair experts Le Keux about how to master your favourite retro wedding hairstyle, whether you want to channel a fabulous 50s style or a bit of Gatsby glam
We have included third party products to help you navigate and enjoy life's biggest moments. Purchases made through links on this page may earn us a commission.
Dreaming of a timeless wedding day look? If so, there's nothing more fitting than vintage wedding hairstyles. Your big day will be one of your most photographed milestones, so naturally, you want your wedding hairstyle to last well past the first dance.
If you want to know what style can endure decades of fashion revolutions, it's worth stepping back into a bygone era and embracing everything that vintage wedding hair has to offer.
The roaring twenties, the Golden Age, the swinging sixties; each era exudes a timeless vintage glamour that can't be outdone. But it can be replicated, thanks to the helpful guidance of vintage hairstyle expert Anna Vine, FranTribe branch manager of Le Keux Essex. Browse your favourite decade and swoon over the gorgeous wedding hairstyle inspiration.
Under her wing, we are rounding up the greatest do's to please any retro-loving nearlywed - from iconic finger waves to retro updo wedding hair - and giving you some tips for making your look last. Covering the 1920s through to the 1960s in true Le Keux style, we've got the top timeless vintage wedding hairstyles that will have you rockin' the decade style you were born for.
Vintage Wedding Hairstyles from the 1920s
Marcel Wave Vintage Wedding Hairstyle
If you've got art deco on your mind and a penchant for Gatsby-inspired glamour, the marcel wave is an absolute must for vintage wedding hair. First invented by French hairdresser Francois Marcel in the 1870s, Marcelling stayed in vogue right through the 1920s and remains a firm favourite on today's red carpet.
A beautiful wedding hairstyle for short hair, these tight finger waves embrace vintage elegance while beautifully saluting the era of feminine rebellion. Short hair and shorter hemlines were the trends in the 1920s, but if you'd like a little more length to your gowns, the Marcel wave is a happy medium.
1920s Vintage Bob Wedding Hairstyle
Why not take a leaf out of the flapper's playbook and let your short tresses loose? After all, even F. Scott Fitzgerald was enamoured by the 1920s rebellious, unapologetic spirit, dubbing his wife Zelda the "first American flapper."
There are so many variations to this iconic vintage wedding hairstyle. You could embrace the effortless messy look with some well-placed curls or opt for something a little more elegant with a cheekbone-grazing sleek bob curled up at the ends.
READ MORE: 1920s Wedding Dresses for Modern and Vintage Lovers
Great Gatsby Vintage Wedding Hair Accessories
Accessories are an essential ingredient for any 1920s or 1930s vintage wedding hairstyle. As Anna says: "The biggest must-have is a smile! But accessories never hurt." So if you're wondering how you can honour those 1920s roots while staying true to your style, it's simple - embrace the pieces that speak to you the most.
These early fashion pioneers were all about embracing signature pieces that flowed well with their look. Think feathers, pearls and beads, all of which Anna says can be incorporated into the hair. For an added pop, Anna recommends positioning wedding hair accessories in places that were true to the era, for example, wearing a chain hair piece at the front or a beaded headband accessory on the side of your vintage hairstyle.
Vintage Wedding Hairstyles from the 1930s
Vintage Wedding Hair With Fixed Curls
Fixed curls paired with a statement headpiece is a vintage wedding hairstyle so timeless it lasted long after the 1920s. Set curls became the surest way to ease out a growing bob while still maintaining that touch of glam.
Sweeping your pinned curls to one side is a subtle way of adding a little drama, while a well-placed wedding accessory can tie the look together in pure vintage fashion.
READ MORE: The Ultimate Guide to Wedding Hairstyles
Finger Wave Vintage Wedding Hairstyle
If you're looking for a softer, more natural 1930s-inspired vintage wedding hairstyle, finger waves offer plenty of flexibility while framing the face beautifully.
Falling a little looser than the classic Marcel wave, these gentle curls are a perfect balance between 20s fashion flair and 40s glamour. A side parting with a floral or diamante clip adds an easy elegance to the wedding look—a great choice for a sweetheart neckline wedding dress.
Alternatively, you can pin up your waves for a sophisticated vintage low bun, accented with a beautiful headband like this striking Le Keux beauty above.
Pin Curl Vintage Wedding Hairstyle
Hollywood glamour was born in the 1930s! The pin curl is the epitome retro vintage hairstyles and a key way of channelling your inner Mae West or Jean Harlow.
Twirled around the finger and pinned flat, these expressive coils instantly add texture and an unmistakable retro vibe that will fit beautifully with a vintage wedding theme. Elevate the look with some well-placed accessories, and the stage is set for some truly timeless wedding portraits.
READ MORE: The Best Vintage Wedding Jewellery for Your 'Something Old'
Vintage Wedding Hairstyles from the 1940s
Vintage Victory Roll Wedding Hairstyle
The 1940s is a true source of inspiration for a vintage nearlywed. The crème de le crème of retro and vintage wedding hairstyles, victory rolls are the foundation of so many forties-inspired looks, from the iconic pin-up wedding updo hairstyle to the Vamp's favourite bumper bangs.
The victory roll looks dramatic and makes a statement, but it can also be pared back into a chic style that isn't too shocking.
READ MORE: The Perfect Wedding Hairstyles for Long Hair
Vintage Old Hollywood Waves Hairstyle
Rolling the hair in bold and fabulous ways was the style statement of the 40s and 50s.
Sweeping roles and tumbling curls are the essence of this timeless look. If you want to add some Hollywood sparkle to your vintage wedding hairstyle, a well-placed vintage accessory does wonders, or, some pearl or vintage wedding jewellery as Anna recommends.
READ MORE: Wedding Earrings: 24 of The Prettiest Pairs to Shop Now
Swept-up 40s Vintage Wedding Updo
Practicality was a big part of the 1940s, with more women flooding into the workspace with rolled-up sleeves and upswept hair. Wedding hair updos like this signature 1940s hairstyle by Le Keux, beautifully blend wavy and rolled sides with pin curls, gently curled back at the nape of the neck. Tie the look together with a vintage veil or fascinator.
Vintage Wedding Hairstyles from the 1950s
Page Boy Curl Vintage Wedding Hairstyle
If you haven't guessed by Le Keux Essex's photo-worthy retro interiors, Anna's favourite vintage era to replicate is the 1950s. She explains: "It was when Hollywood had an abundance of glamourous women on screen, and there are so many different types of looks you can take inspiration from."
One of her all-time favourites is the classic pageboy curl set, and with good reason. Donned famously by Bettie Page and Dita Von Teese, this vintage wedding hairstyle has long been the signature look for pin-ups and Hollywood starlets alike. Stylish and edgy at the time, the pageboy curls can give you the wedding wow factor while still feeling irresistibly sophisticated.
READ MORE: 1950s Wedding Makeup: How to Master Retro Style
Fifties Veil Vintage Wedding Hairstyle
A style staple of the 1950s fashionista, the birdcage wedding veil adds romance and a sense of occasion to contemporary wedding hair. With dramatic eyes, a bright red pout, and a 1950s-style dress, this is a classic vintage wedding look.
READ MORE: 19 Things You Need to Know *Before* Your Wedding Hair Trial
Hollywood Glamour Vintage Wedding Hairstyle
Soft Hollywood Waves may have already made the list, but this effortlessly glamourous hairstyle remained a firm favourite of countless film icons throughout the 1950s - from Veronica Lake to Lauren Bacall.
What sets these sleek vintage waves apart from any other curly blow dry is their one continuous line, which is chic and timeless. It's a vintage wedding hairstyle sure to tick all the boxes for your big day, being both classic and elegant. You can even up the retro impact with a vintage brooch, or faux fur stole if you are planning a winter wedding.
READ MORE: Our Favourite Half Up Half Down Wedding Hairstyles
Vintage Wedding Hairstyles from the 1960s
Mod-Inspired Vintage Wedding Hairstyle
The 1960s was an era of decadence and fun fashion - think dramatic eyeliner, beehives, and sky-high spider lashes. At the helm of this trend was Bridget Bardot, paving the way for the half-up half-down hairstyle with bouffant and bombshell bangs.
This Bardot-inspired bridal look by Le Keux is the perfect homage to the 60s mod, with a touch of pin curl glamour for the ultimate retro wedding hairstyle. The look pairs beautifully with a mod-inspired mini wedding dress.
Iconic Beehive Vintage Wedding Hairstyle
If you really want to embrace a vintage wedding look, the iconic, retro beehive is the way to do it. Though a 1960s staple, the beehive is as flexible as they come, allowing you to be as bold or soft as you wish.
We adore this vintage-inspired beehive by Le Keux, which effortlessly embodies the signature statement look with the added flourish of swirls for a striking textured effect.
READ MORE: Braided Updos You'll Want to Try Out!
Bohemian Beehive Vintage Wedding Hairstyle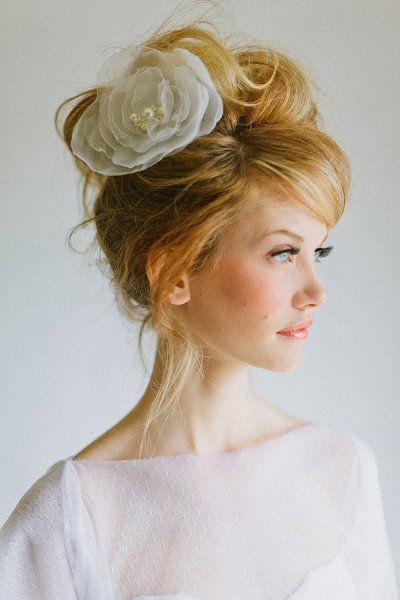 If you're all set to celebrate with a boho wedding theme, you can always move away from the polished look by blending classic 60s styling with an early 70s bohemian aesthetic.
The trick is to keep your beehive loose with lots of free hair around the face while adding a long veil and a boho wedding dress for true 'Woodstock' wedding style. In Anna's words: "The 60s is all about the flower power, so add daisies into your hair and go for big bouquets of sunflowers and bug earrings to add that extra drama!"
READ MORE: Gorgeous Floral Wedding Hairstyles
Four Tips for Creating Vintage Wedding Hairstyles
Our vintage wedding hairstyle expert Anna shares her tips on how to create and style the perfect vintage wedding hair:
1. Try Different Styles Yourself
If styling yourself always allow plenty of time. Our top tip is to try a new style on a day you don't plan to go anywhere. This takes the pressure off getting it perfect the first time and allows you to make mistakes and learn—without needing to rush.
Most vintage styles require backcombing to keep them in place and provide the structure they need to last, so don't be afraid of having big hair before smoothing everything down - and don't be afraid to try styles when your hair needs a wash. It's actually much easier to style slightly dirty hair unless you plan on doing a classic curl set.
2. Choose the Right Decade for You
There are a few key things to consider when choosing the right decade for you. Think about whether you like your hair up or down, how much time you have to spend styling, your hair length, and your face shape.
But most importantly, what will make you feel your most glamorous? That should always be what you default to. After all, natural confidence comes when you feel beautiful, followed closely by everyone complimenting you!
3. Prepare for a Trial or Day-of Styling Session
Before you go to any trials, start collecting images of styles you like where the model has a hair length and thickness similar to yours - this will help give your wedding hair supplier an idea of what type of look you want to achieve. Remember, you can always get clip-in extensions if you want more thickness and length on the day.
In the lead-up to your session, start introducing a regular hair treatment into your wash routine as soon as possible. As for the day of, you ideally want to wash your hair the day before. This gives it time to settle so it's not too fluffy to style and it also stops hair from being damaged by too much heat.
4. Make Your Retro Hairstyle Last
Ask your stylist to use a setting spray and hairspray if doing a curl set - this helps the curl last longer. Our Le Keux stylists will have put the structure in place for your style to last; however, if it is a particular windy or wet day, there are extra things you can do to maintain the style.
Get a hair net to stop flyway hairs, keep a smoothing brush and mini hairspray on you to smooth out any stubborn bits of hair that keep trying to escape, and make sure you have a rain hood or umbrella to keep moisture off of your lovely locks. If you need a little more assurance use a strong hold hairspray and finishing pomade to give a sleek polished look.
After you've browsed all of our Hitched wedding hair and beauty suppliers, it's time to read up on the best hair masks for healthy wedding hair.