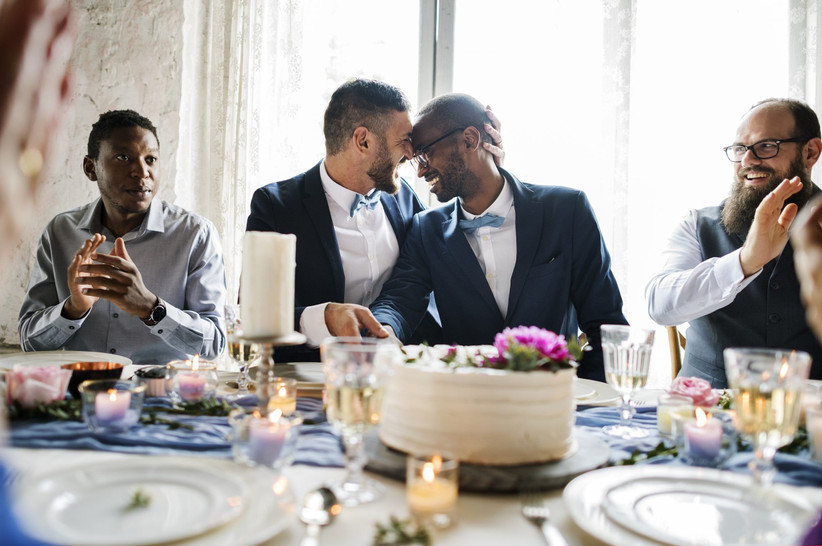 The save the dates and invites have all been sent, RSVPs are flying in thick and fast, and it feels like everything for your reception is finally coming together. Until you realise you have to figure out where to actually seat all of your guests, and reality hits you hard.
For many couples, compiling the wedding seating plan is one of the most challenging parts of organising your big day – and no detail is more contentious than your wedding top table.
Wedding seating etiquette dictates that the happy couple should be front and centre, with certain members of their families and bridal parties by their sides. But weddings aren't a one-size-fits all affair, and if the traditional set-up doesn't work for you, you might end up feeling more than a little confused.
So, to help you navigate the tricky world of top tables with minimal stress, we've come up with six more alternative options for top table wedding seating arrangements that will give you much more flexibility than simply following convention.
No matter what kind of wedding you're hosting, what your venue looks like or how many family and friends you've got coming, we'll help you find a wedding table plan that works for you – we promise!
1. Stick with Tradition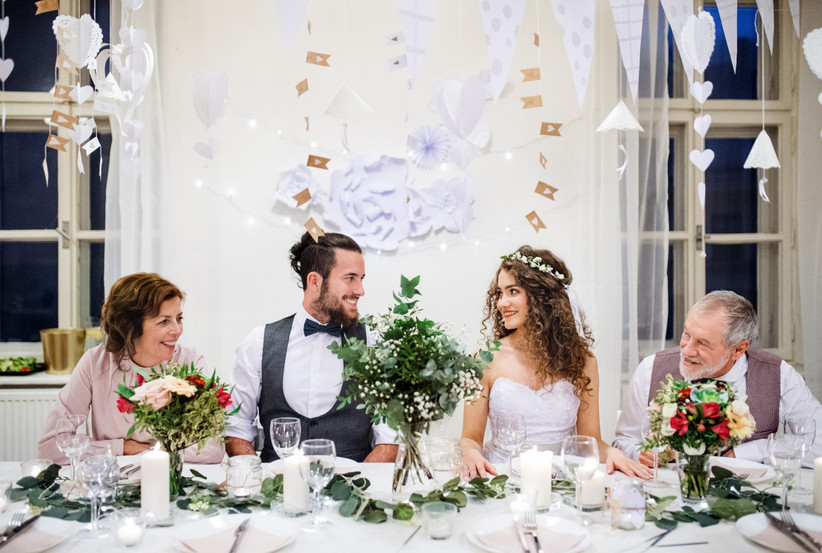 Whether your tables are long or round, if you want to run your top table wedding plan by the book, there need to be eight chairs, and these are the people who would be sitting at them: the bride and groom, their parents, the maid of honour and the best man.
Left to right, here's how they're traditionally seated: maid of honour, groom's father, bride's mother, groom, bride, bride's father, groom's mother, best man.
However, families (and, indeed, same-sex couples and wedding parties) don't always fit these rigid cookie-cutter formats, so if this layout doesn't work you, please don't panic. It's not obligatory, and there are lots of other ways to seat everyone in style – remember there's no right or wrong, simply what works for you.
READ MORE: Wedding Party Roles and Responsibilities: Who Does What
2. Keep It in the Family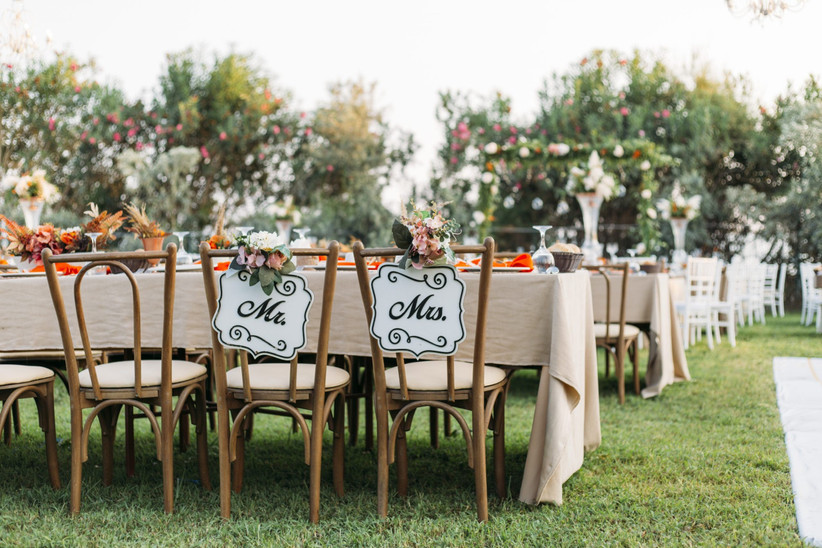 Maybe you want your maid of honour and best man to sit with the rest of your bridesmaids and groomsmen, or maybe you've got divorced parents and want space for step-parents at your top table too.
Choosing to make your top table immediate family only is a good alternative to the prescribed formula for many brides and grooms-to-be. If you're from a big family, it gives priority to more beloved relatives, and depending on your table size, may even enable you to incorporate siblings too.
It's up to you whether you want to mix up your and your partner's family members or keep couples together on the top table.
3. Get the Party Started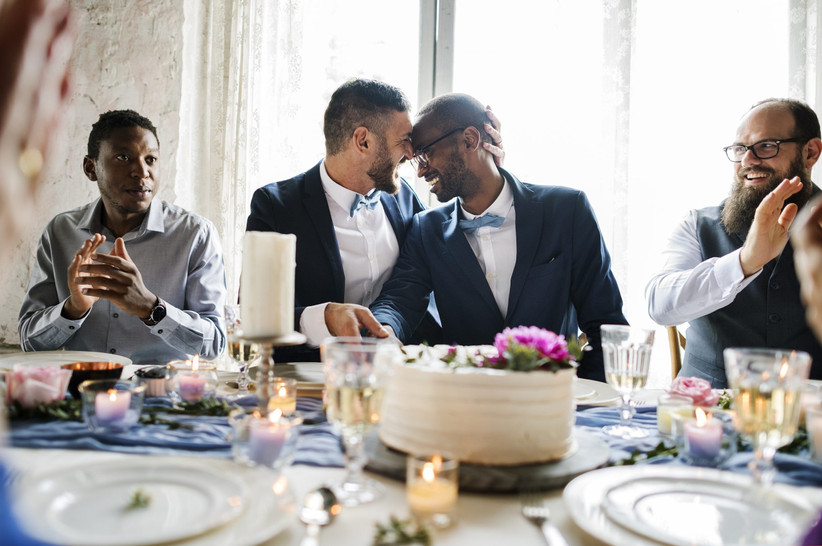 At the opposite end of the spectrum, you might find it more straightforward to eschew family altogether, and invite the wedding party to the top table instead. At lots of traditional weddings, the parents like to 'host' a table, so may be more than happy to be sitting among their friends and other relatives. That leaves your top table free for all your besties.
Depending on how many people you're including, this could be your maid of honour, best man and their partners, or maid of honour, best man and your bridesmaids and groomsmen too.
This is a line-up that basically guarantees non-stop fun, but there is one major factor to consider before you decide to definitely go down this route. These people may all be bringing dates, and those partners might not know anyone else, so be sure to consider where you'd seat any significant others and ensure they're comfortable and taken care of too.
READ MORE: The Best Wedding Toasts: 116 Wedding Toast Examples
4. Speech Givers Only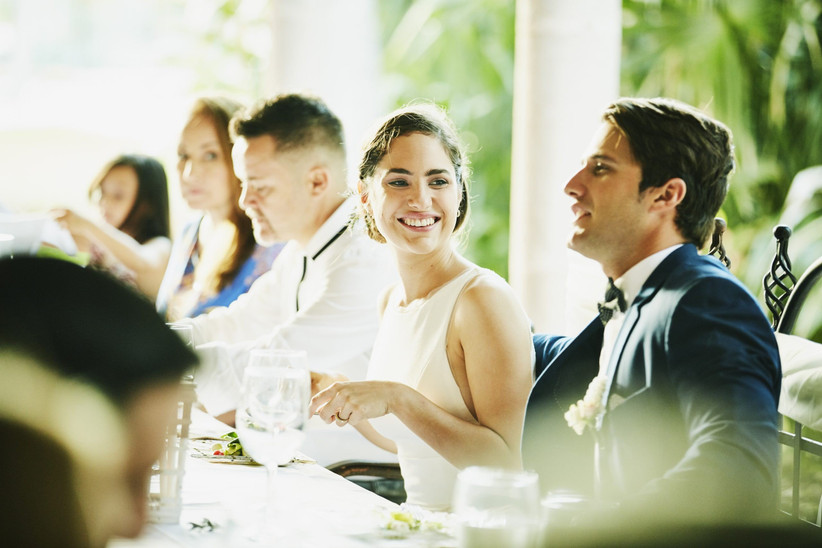 Okay, so when it comes to speeches, the main thing is to be able to hear them, but it's nice if your guests can see the person speaking too, right? Putting people who are giving the speeches at the top table, especially if your layout means it'll have a degree of separation from the rest of the rows, ensures a great view for everyone, even from the back.
As for who gives the speeches, it's usually the father of the bride, groom, and best man (in that order). They'll already be up there if you follow the traditional format, but more and more brides, maids of honour and bridesmaids, mothers of the bride and groom etc, are stepping up to the plate too, so customise this arrangement to suit your needs. This idea is ideal for a relaxed, casual affair where you know people will move around and mingle between courses regardless, but will want to pay attention when someone's got the mike.
5. Just the Two of Us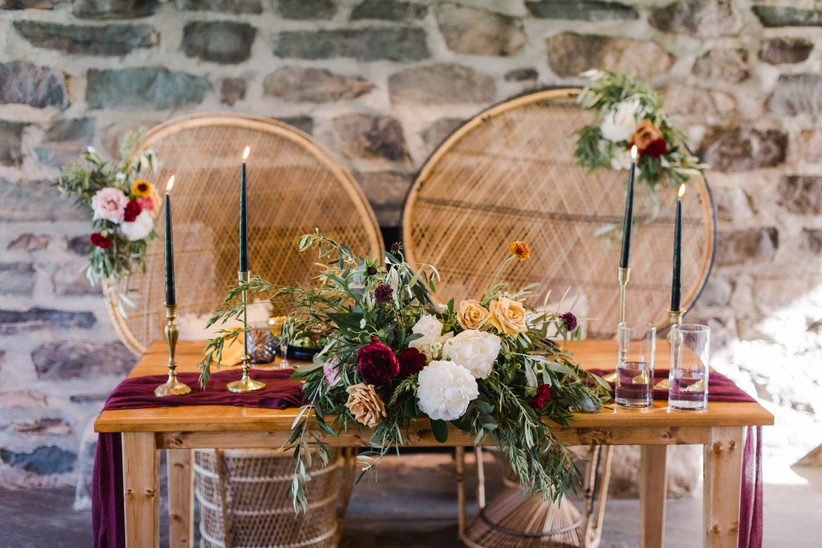 The concept of a 'sweetheart table' is a simple yet effective one – it turns your top table into seating for two, negating the need for any awkward discussions about who else might make the cut. Admittedly, this is a bit of a divisive one – for some, it feels a little exposed and isolated, but for others, it's a blissful opportunity to actually spend some quality one-on-one time with their new spouse on the happiest day of their lives.
Choosing a sweetheart table doesn't have to mean you're cut off from the rest of the celebrations ­­– you can always get up to go and greet your guests at regular intervals, and people can always come to you too. Plus, if you've invested in amazing bride and groom chairs for the wedding breakfast, this is the ultimate way to show them off.
READ MORE: 47 Fun and Unique Wedding Table Names
6. Go Big or Go Home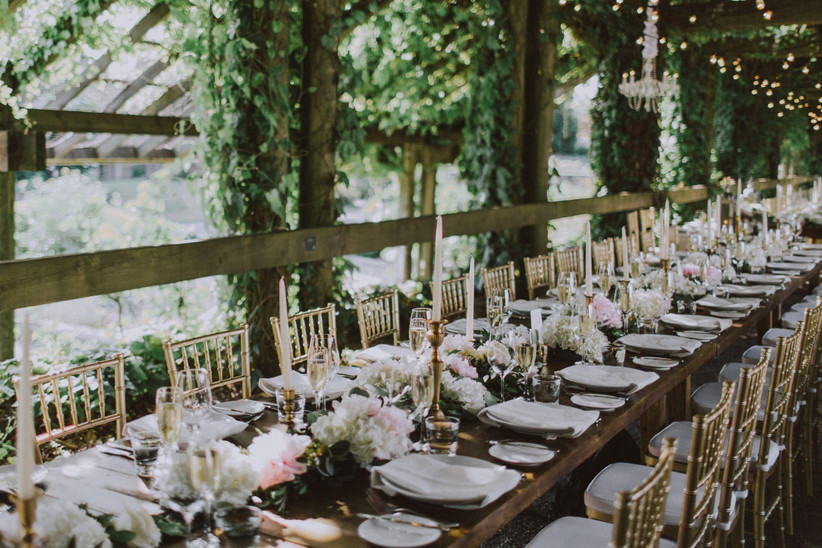 Finding it impossible to whittle your nearest and dearest down? Head completely in the opposite direction and make your top table much bigger than the average. We're huge fans of long tables as it's easier to see more people than round tables, and the only real limitations are the dimensions of the room (or marquee, or garden, or other setting, as the case may be).
This family-style way of hosting is a lovely way to make everyone you want to spend time with feel included, although be sure to set clear boundaries so things don't get too out of hand and things stay fair. For instance, if one set of grandparents is close to you, the others will probably be pretty upset if they aren't.
READ MORE: 39 Cheap Wedding Favours For £1 Or Less
7. Head of the Table
If your venue is a barn, outdoors or a long space, it might lend itself to long tables. What about both sitting next to each other at the head of the table and then all your guests can see you during the meal?
It's not a top table but it makes everyone feel part of the celebration as you can see what's going on. You could also swap seats with people through the courses if you'd like to.
8. Call the Whole Thing Off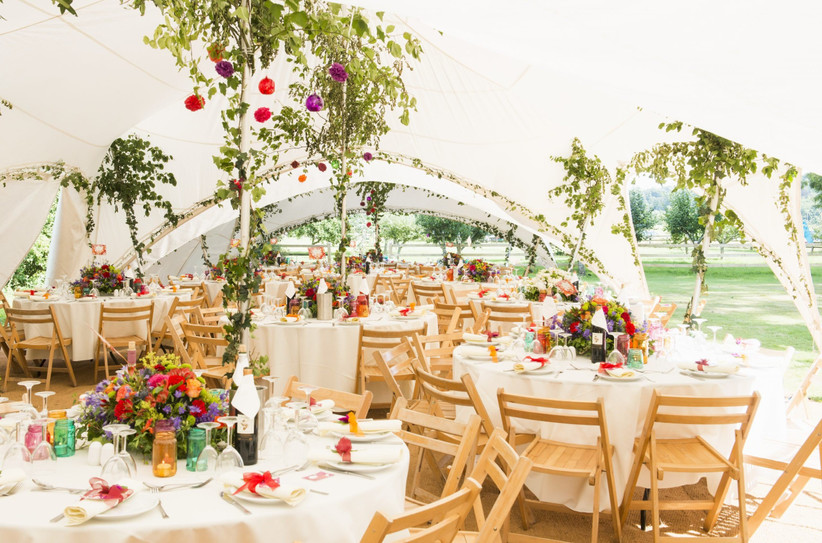 We do not (repeat: NOT) mean the wedding – but the idea of having a top table! If none of the above resonates with you, think about it: do you really need a top table at all?
Have members of your wedding party and family head up tables, and then keep a couple of extra seats open near them on various tables so the newlyweds can move to a new table for each course. This lets you chat to your various guests, ensuring maximum face time with everyone you wanted to share the day with, and no hurt feelings on any sides. We don't know about you, but we think that's what you call a win-win situation right there. Don't worry about having an empty space next to a member of your wedding party for some of the evening – they won't mind at all.
Got some of your RSVPs in? Here's seven steps to turn all your 'Yeses' into a table plan.