31 Engagement Party Tips & Ideas to Kick off Your Wedding Journey in Style
Your engagement party theme search is over! We've got the most amazing engagement party ideas that are going to get excitement sky high for your big day
We have included third party products to help you navigate and enjoy life's biggest moments. Purchases made through links on this page may earn us a commission.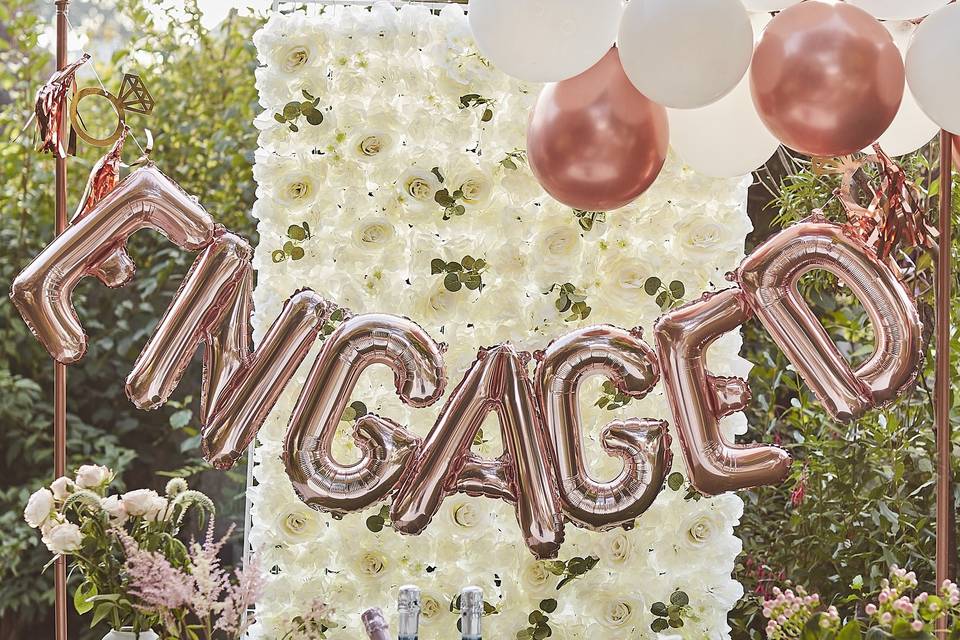 An engagement party is a brilliant way to get all your family and friends together to kick off the celebrations for your exciting news. It's a chance to let the future in-laws meet and get to know each other better, to catch-up with loved ones and to show off your engagement ring! "You will never get tired of showing off that new sparkler on your hand, but an engagement party is a great time to show all your loved ones in one go," says Sarah Allsop, Creative Manager at Party Delights.
Most people have never planned a huge party before so it's an ideal way to get some practise in before the wedding with a fun, relaxed and as stress-free-as-possible gathering. "It will also help you decide on the all-important wedding guest list for the big day, plus, distant friends and family get a chance to meet each other and break the ice," explains Sarah.
If you've never been to an engagement party before, it's key to remember that you're not throwing a mini wedding so don't get overly-stressed about it. Remember, it's not even a requirement to have an engagement party. But if you feel like you'll enjoy hosting one, you'll find lots of easy and inexpensive ideas below.
What happens at an engagement party is totally up to you. It can just be dropping in for casual drinks at a pub or brunch at a restaurant, or you can do something more formal like a black tie party on a boat or hiring out a whole bar. It's really going to depend on who you are as a couple and what your budget is.
We've got 31 engagement party ideas to help you choose a theme, plus hints and tips from Sarah Allsop to make it truly memorable. From a black tie affair to a relaxed back garden BBQ, here are our favourite engagement party ideas and where to get started:
How to Plan an Engagement Party: Eight Top Tips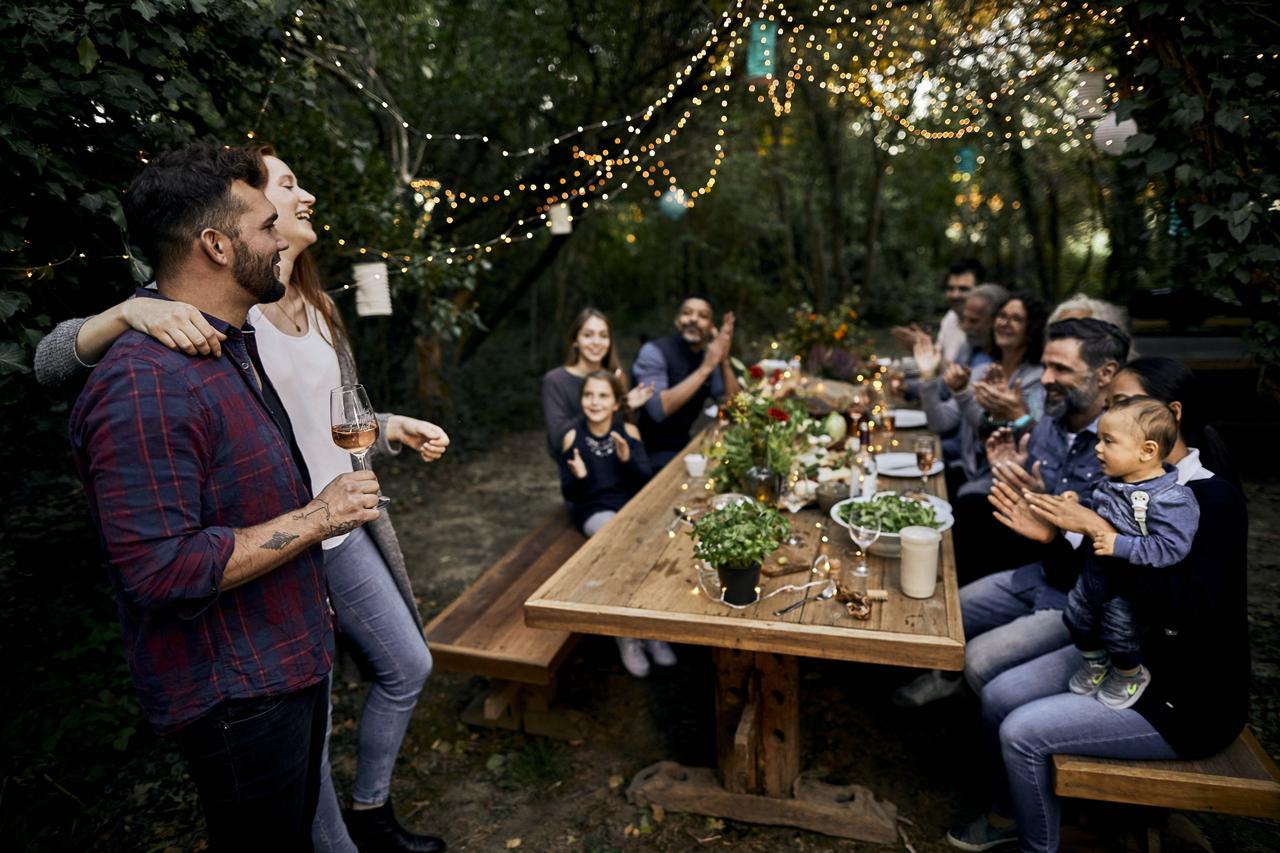 If you're wondering where to start with throwing an engagement party, what happens at one and who gets invited, here's the place to start:
1. Pick a Host
Traditionally, the hosts would be the bride's family, but there's no set rule on who hosts the engagement party, especially for same-sex couples. Most commonly the couple will throw the engagement party together with their parents. Address this question with them early on so you know what budget you have for your theme.
2. Set a Date
An engagement party is typically put on around a month after the proposal. It's enough notice for guests to keep the day free and maintaining everyone's excitement. Not many people will have seen the ring, you'll still be on cloud nine and everything will have a bit of a buzz to it.
3. Create a Guest List
As a rule, we'd say people will assume they're invited to your wedding if they're invited to the engagement celebrations, so start by drawing up a preliminary guest list for your wedding. The most important thing to remember is that this is about you and your partner and who you want to celebrate with. Keep the engagement party guest list smaller so you get to speak to everyone and don't let your parents pressure you.
That said, if you're planning on having an intimate family wedding, or have a limited guest list because of the venue or destination, invite all the guests you want to the party and make it clear that this is your way to celebrate with them as the wedding will be a much smaller affair.
READ MORE: 21 Fun & Creative Engagement Announcement Ideas
4. Choose a Venue
Your venue is going to be very dependent on guest numbers and the atmosphere you're trying to create. For a more formal party, hire a private room in your favourite restaurant for a meal. For something more informal, book some tables at a cocktail bar or pub where people can drop in and out. If you're trying to keep costs down, a picnic in a local park or a BBQ in your garden or parents' garden is a great idea.
5. Plan the Theme
Because you're unlikely to know your wedding theme yet, it's best to stick with something easy and non-restrictive for now. You both love to travel or met abroad? Do an adventure theme. You're foodies? A slap-up brunch. Love glamour? Great Gatsby. Seasonal is great too. Having the party in summer = Pimm's on a roof terrace; in winter = mulled wine and lots of fairy lights at a cosy pub. We can't stress enough that if you're serving drinks, you'll need to provide food too – nothing fancy necessarily, but something to soak up the booze.
6. Send Out Invites
As mentioned, plan your party about a month after your proposal and get invites out as soon as possible. Paper invitations are beautiful, but you can also think about e-vites as well. You can design a cute one and send round to your guest list.
Another option is to throw a secret engagement party. Tell your family and friends (but not the close ones you should have told in person) that it's just a Christmas party, casual summer BBQ, or even a birthday party, and then drop the bombshell!
7. Find Yourself an Outfit
The formality of your outfit will depend on your theme. Lots of brides choose to wear white for the engagement party too, but naturally a much less impressive dress than the final wedding day outfit - usually a cocktail dress or jumpsuit. Grooms-to-be may choose a suit or relaxed shirt and trouser combo. If you're a same-sex couple, one might want to be in black and one in white, or you might choose complementary outfits. Ultimately, dress for what feels right for the party.
8. Capture Memories
"Your engagement party is a special occasion that you will definitely want to capture," says Sarah Allsop. "Create a central point at your venue for your guests to go and take photos with the happy couple, friends and family." You don't necessarily have to hire a professional photographer, "you can add a photo backdrop with fun-filled props and accessories."
READ MORE: 25 Chic Engagement Party Outfit Ideas
23 Engagement Party Ideas and Themes
When it comes to engagement party ideas, you don't have to spend a fortune to get big impact. With just a handful of props and a good theme, you can throw together a night to remember in not much time at all.
"Choosing a style for your engagement party can be a great way to set a theme that will run from your first celebration to the hen party and right through to your wedding. It's also a chance to show off your personalities and create an event that reflects both you and your partner," explains Sarah Allsop.
No doubt your budget will be a little stretched after you've bought an engagement ring and started saving for the wedding. There are plenty of ways to adapt these themes to throw an inexpensive engagement party and keep to your wedding budget:
Host at home or a family member's home
Keep the guests list small and use e-vites
Make your own food rather than getting it catered or buying pricey finger food. Keep this simple with something like wine and cheese
Have everyone bring a dish or bottle to save you on costs – this is great for a picnic theme
Here are some of our favourite engagement party ideas, themes and decorations.
1. Wine and Cheese Night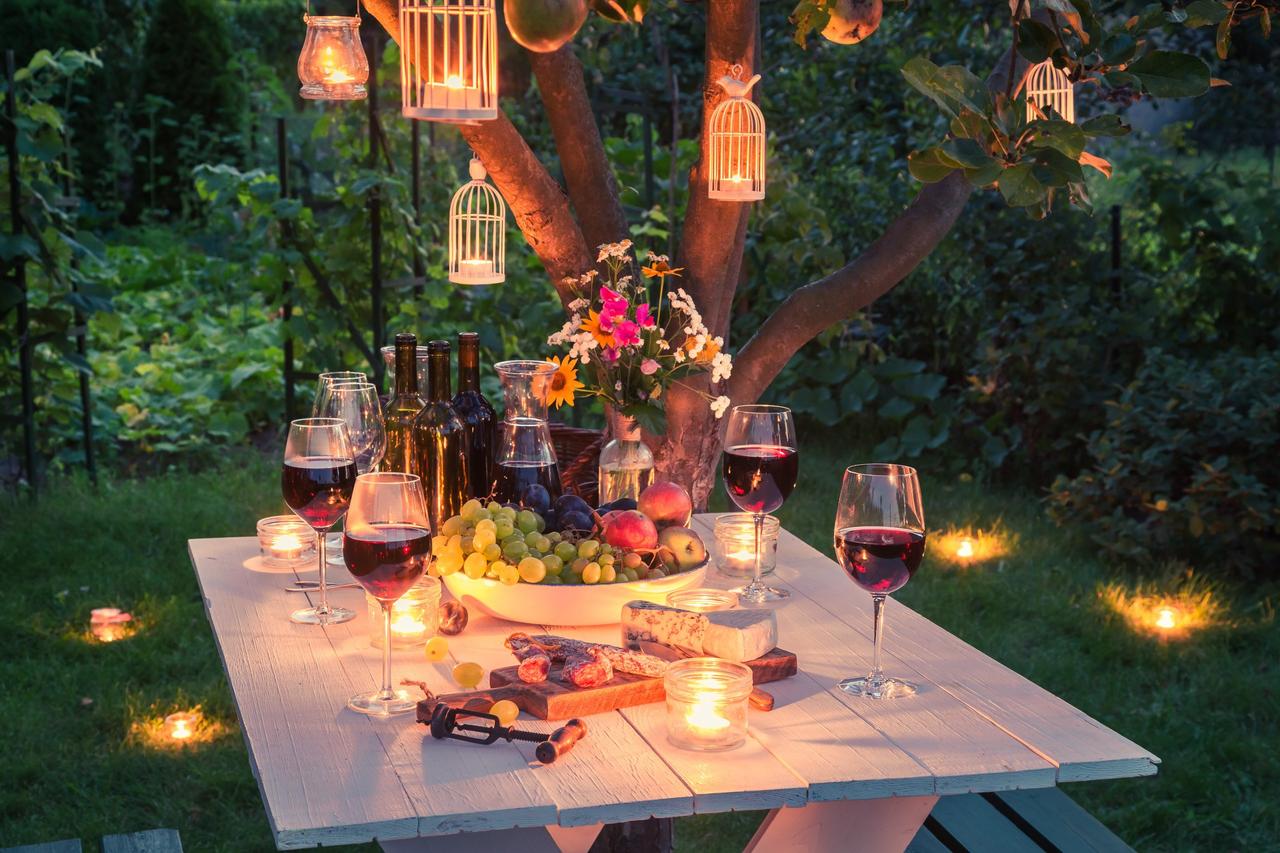 Pair up your port and Stilton for an elegant night of wine and cheese tasting. Local wine bars are often really happy to host these for you, or you can do it at home. It's a fab chance to find a wine you love that you'd like to serve at your wedding. What a wonderful story you'll have to tell! If you're doing this yourself, Waitrose have a handy pairing guide.
Wine and Cheese Night Ideas:
Serve charcuterie boards, crisps, baked brie and sourdough too so there's more to line your guests stomachs
Print out wine tasting scorecards
Personalise wine glasses with your initials and engagement party date for guests to drink from and take home
Stick these keepsake personalised cheese markers in each variety so your guests know what they're eating and you can use them again in the future
2. Travel Theme
If there's one word for your impending marriage, it's adventure – so why not go all out and theme your engagement party around your love of travel? It's especially perfect if you got engaged while on holiday. Either host at a restaurant with your favourite type of cuisine or do it at home.
Travel Theme Party Ideas:
3. Summer BBQ Garden Party
Transform your garden into the best BBQ joint in town. BBQ parties are simple to throw, easy to keep to a budget, great to prepare in advance, and you can ask people to BYOB and drop in and out when they'd like. Rain or shine, Brits will be out in force for a good burger. What's even better is your can leave your Dad and future father-in-law to man the grill while you catch-up with friends.
BBQ Party Ideas:
If you don't have a large outdoor table, make a big seating area out of cushions, rugs, old wooden pallets, lots of lanterns and outdoor chairs. No one wants to stand for a whole party
Have a 'pimp your drink' station so kids can add cordial and fruits to their lemonade, and adults can shake their own cocktail. Later, turn it into an ice cream sundae station
An outdoor games station is a must: frisbees, giant Jenga, Twister, croquet. Water balloons are fab for a warm day if kids are getting hot and restless
Gingham napkins are a cute all-American touch, a chalkboard menu with what's being cooked up, and galvanized tin buckets of flowers can transform your tables
A fire pit can keep the party going late into the night, and is perfect for toasting marshmallows
4. Great Gatsby/Roaring '20s Theme
Add some vintage glamour to your day with a Great Gatsby theme, complete with a speakeasy, flapper dresses, and gangster and moll costumes. Everything about the roaring twenties was about extravagance: think a Champagne glass pyramid and photobooth full of feather boas, pearls and diamond props. "Don't forget a selfie photo frame for those social media posts," reminds Sarah.
Great Gatsby Party Ideas:
5. Picnic in the Park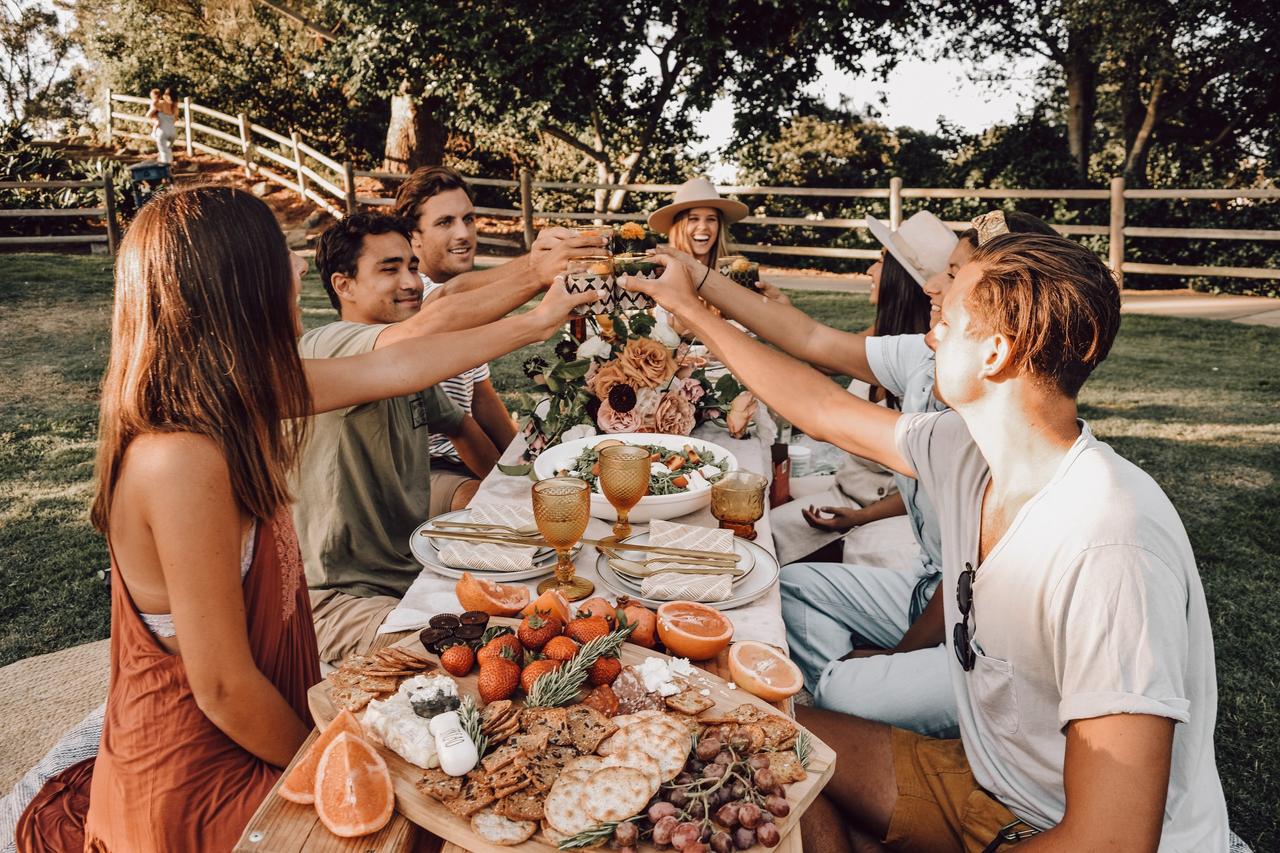 Picnics are a quintessential British summer activity and perfect for a relaxed engagement party. Head to your local park with plenty of blankets, lots of sandwiches and some jugs of Pimm's. Set up a table and cushions if you can find a back garden big enough to host one. Friends can drop in and out as needed and it's a great idea if kids are coming too.
Picnic Party Ideas:
Hang streamers and tassel garlands from the trees
Set up a piñata for kids and big kids (we love this metallic diamond one)
Prepare little picnic baskets for your guests with paper plates, napkins and cutlery
Make your food engagement party-worthy: stuffed focaccia, chorizo scotch eggs, Vietnamese summer rolls, mini frittatas and flatbread
Play a big game of rounders or bring along outdoor games
READ MORE: 23 Things to Give Up Now That You're Saving for a Wedding
6. All That Glitters Theme
When else in your life do you get a big bit of bling given to you? A diamond theme gives the perfect excuse for plenty of glitz and glam. To go all out, why not have everyone dress in black tie? Hire out a fancy hotel bar or restaurant and kick the night off with Champagne.
Diamond Theme Ideas:
7. Floral Theme
Love yourself some beautiful blooms? Why not throw a floral themed soirée? Having such a pretty idea to base your engagement party decorations around can only mean one thing: an Instagram-worthy bash.
Floral Theme Ideas:
Spell out you and your fiancé(e)'s initials with some floral giant letters
Pick up a pack of pretty floral headbands for you and your pals to wear
Hang up some pastel floral bunting for quick and easy wall decorations
Freeze daisies and pansies in ice cubes and fill an ice bucket with them to keep your drinks cool and looking pretty
Cover every available surface in flower garlands
8. Christmas/Winter Wonderland Theme
It's the most wonderful time of the year! Whether you choose Christmas or a generic winter wonderland theme, it's all about sparkle, merriment and tonnes of cosy touches. So many things are easily DIY'ed like fairy lights in glass jars, pine cones in hurricane candle vases as centrepieces, wine glass charms and paper snowflakes. Kick proceedings off with a mulled wine, crack out the Christmas playlist and serve only the finest holiday canapes (when else do you eat a mushroom vol-au-vent, followed by a spring roll, pigs in blankets, prawn tempura and a mini wellington?).
Christmas Party Ideas:
A hot chocolate bar will go down a treat, as will a s'mores station with biscuits, chocolate and marshmallows to melt over tea lights
You can never have enough fairy lights, fact. String them up inside, outside and all around. Light lanterns up the path to the venue, make fab holy-shaped wall decorations out of red balloons and some green paper, and spray anything not fixed down with fake snow and glitter spray
Pre-mix some big jars of signature Christmas cocktails to make it easy to keep your guests topped up
Make flavoured ice cubes (or these cool ice cube shot glasses!) by freezing cranberries, pomegranate seeds and sprigs of rosemary in the trays
Adults love a fun party game too. Shovel the Snow is a great one – move cotton wool balls from one bowl to another using a spoon in your mouth in a set time – or try Pin the Nose on Rudolph. Winners get prizes
9. Recreate Your First Date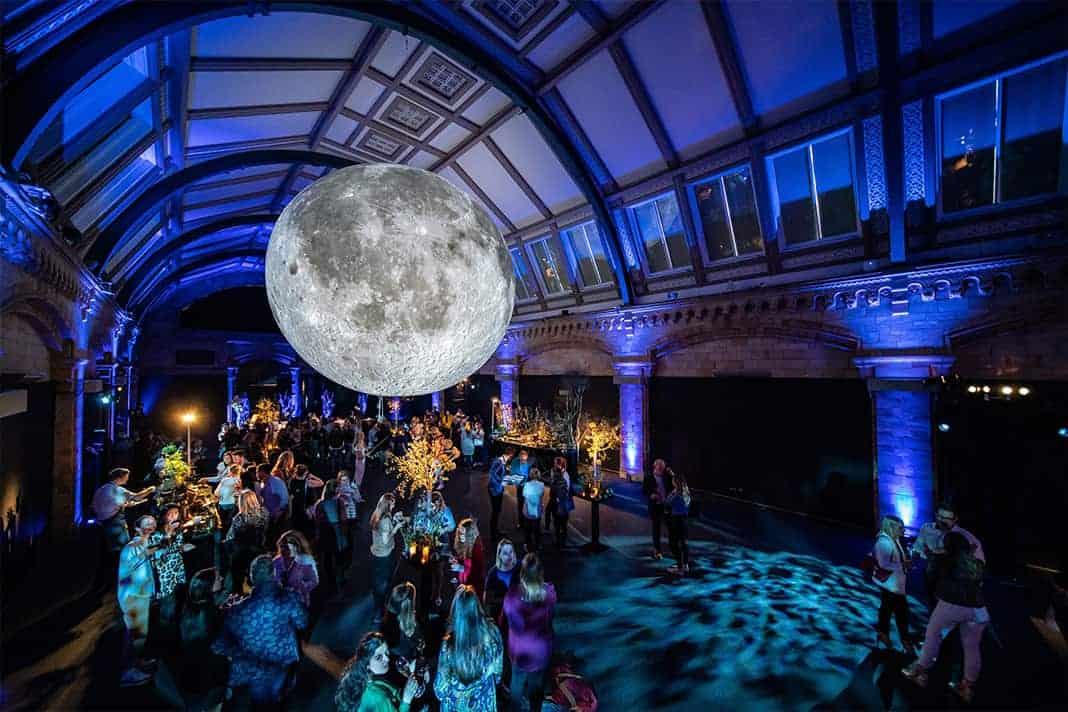 This is a super sweet idea. If your first date was really memorable then recreate it with your friends and family. For example, go bowling, hire out a room in a museum where you went to see an exhibition, or head to an outdoor cinema with wine and snacks.
First Date Theme Ideas:
READ MORE: Our Favourite Engagement Cakes and Cake Toppers
10. Halloween Couples' Costume Party
Famous couples is a fantastic theme for a costume party – and there's no better time to throw one than at Halloween! Whether your guests go for a spooky Gomez and Morticia Addams, a sexy Sandy and Danny, Barbie and Ken or Beyoncé and Jay-Z, you'll have amazing memories and photos. Any time in October is justifiable for a Halloween party in our eyes, but if you just love costumes, you can do this theme any time of year.
Couples' Costume Party Ideas:
Games! Get a round of Who Am I? or Heads Up going, where guests have to describe a famous person from a slip of paper to their partner. Otherwise try Halloween movie trivia, a treasure hunt or spooky charades
Have a 'How well do you know the couple?' competition, where you must put baby pictures in order and answer tricky trivia
Play UP in a separate room to keep young guests' entertained – arguably the best Disney couple ever!
How about a murder mystery game?
11. Rent a Rooftop
If you're in a big city, take advantage of the height and head to a rooftop bar for some serious skyline views. Obviously the weather in the UK isn't always guaranteed to be great so find somewhere with some roof coverage too.
Rooftop Party Ideas:
Rosé all day! It's the perfect summery drink to keep you cool. If your rooftop bar is able to make frozen drinks, ask them to make a batch of frosé, which looks amazing on Instagram
Set the mood with loads of comfy cushions, lanterns, flower garlands and potted plants to complement the wow factor of the view
"A party isn't complete without music, so make sure your playlist is full of your favourite songs - but don't forget to keep some back for the big day itself," suggests Sarah. Hire a live musician to have some light guitar music in the background or make a Spotify playlist with all the latest bangers. As the evening goes on, you'll want everyone dancing
"If you are planning on hiring a band or DJ, add some extra fun for guests with party inflatables for the dancefloor," says Sarah
READ MORE: What You Need to Know About Engagement Shoots
12. Big Brunch
"For any occasion, what the guests are going to eat is high on the list when planning," reminds Sarah. Everyone's favourite meal of the day is also an incredibly relaxed way to catch-up with friends so "instead of going traditional with your buffet, try the latest grazing table trend, where guests can choose from an exciting array of tasty goodies."
Book a big table at a café or restaurant and choose a set menu for brunch with things everyone will enjoy. You can do it at home of course, but it's a lot of work to keep all your eggs and bacon warm while toasting your bread and mashing avocado. If you're doing that, stick to one thing well, like bagels with lots of topping options, or a cold brunch buffet with fruit, pastries and muffins.
Brunch Party Ideas:
Even though it's a brunch, give it a party feel with a cocktail like a mimosa or Bloody Mary – and have lots of coffee ready
Make-ahead recipes will be your best friend if you're hosting at home, like a frittata, French toast casserole or bircher muesli pots
For a polished look, have no cartons or containers on the table. Decant juice in mason jars, milk into jugs, granola in a serving bowl, smoked salmon on plates, cream cheese on a butter dish, etc.
13. Casino Night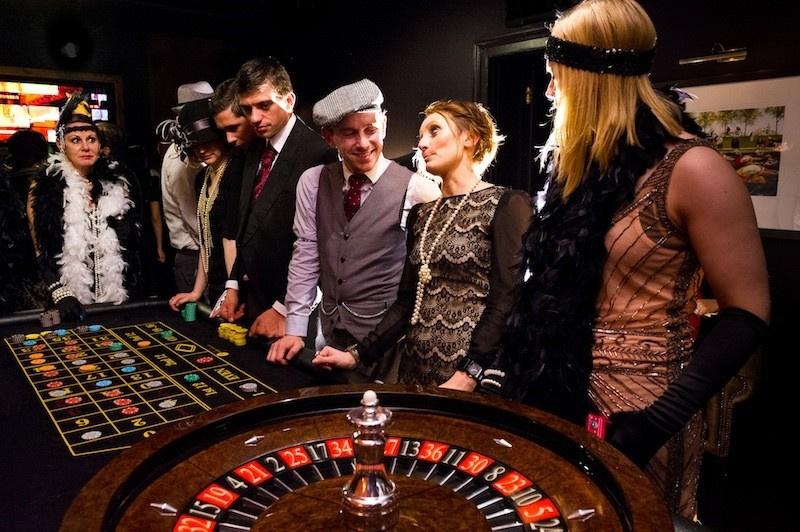 If you've found your Lady or Lad Luck, put that winning hand to good use with a fun casino night. It's so easy to host at home or in a garden marquee. You can hire the tables and croupiers from party companies or set up your own. It'll be much more fun if you use fake chips so no one has to worry about ponying up at the end of the night. Stipulate a black tie dress code for total James Bond vibes.
Casino Night Ideas:
14. Rock n' Roll Theme
Celebrate the fabulous '50s with a retro rock n' roll themed engagement party, full of Elvis tunes, Marilyn Monroe wigs, muscle cars, and fierce Pink Lady jackets.
Rock n' Roll Party Ideas:
Music is your most important factor here, then clothes. If you've got the funds, hire a jukebox or swing band, otherwise a Spotify playlist will be great
Gentlemen, channel your inner American high school jock, rockabilly Greaser or East End Teddy Boy. Ladies, think swing dresses with big petticoats, oversize bows, Audrey Hepburn white gloves or even a tight-fitting capri pant
Serve diner food, like shakes, sliders and fries in the traditional black and white check packaging
Bags of popcorn are an easy treat to give to guests as they leave to remember the party
15. Pastel Theme
For a subtle theme you could go for a colour, instead of basing it on one strict idea or another. Our favourite broad colour range for an engagement party is a pastel theme. This soft palette ensure everything looks really tasteful, while still adding a splash of colour. "A perfect look for a spring or summer engagement party, combine soft hues of your favourite colours to add a tasteful blend of spring shades into the tableware and decorations," says Sarah.
Pastel Party Ideas:
16. Boho Chic
"If a colourful palette isn't for you then give a boho chic vibe a try. Filled with burlap, mason jars and soft tones with an emphasis on greenery, this theme creates the perfect rustic setting with a relaxed atmosphere," suggests Sarah. Ideal if you are dreaming of a rustic wedding venue!
Boho Chic Party Ideas:
To bring this theme to life Sarah recommends, "decorating your party venue with faux foliage and hessian bunting to bring those outdoor elements inside."
Tipi tents add a rustic element with minimal effort required - plus, they make an excellent shelter should the weather turn
Relaxed seating such as a throws, floor cushions and drapes will create a cosy space. We love the idea of laying vintage rugs out
17. Boat Party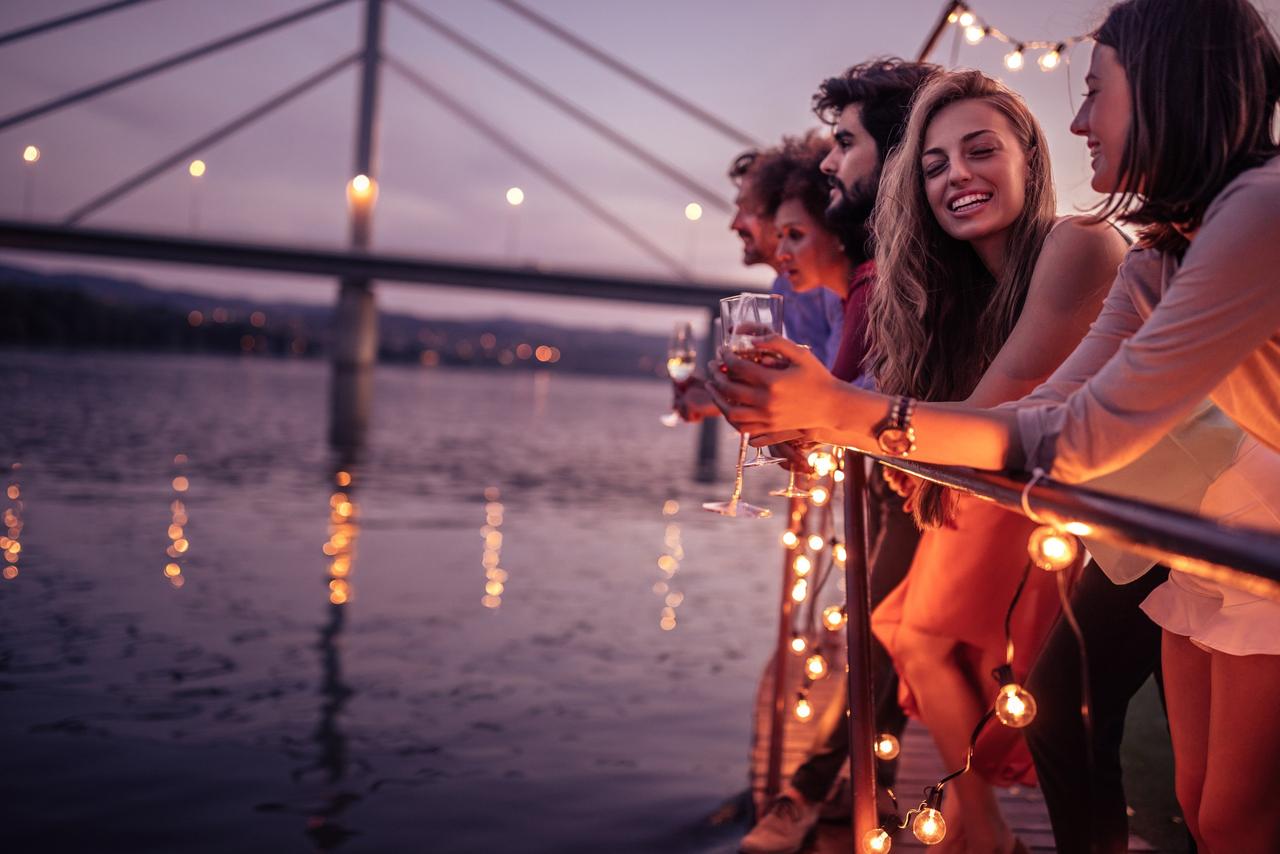 Depending on which part of the country you live in, a boat party could be very different! We love the idea of a swanky night-time party down the Thames taking in London's sights, a lazy day swimming on a boat just off the Cornish coast or even puttering along a canal in a narrowboat for a weekend. Your style of boat party is exactly as formal as you want it to be, but it's all guaranteed to be Instagrammable.
Boat Party Ideas:
Anything nautical will work for decorations – blue striped straws, nautical confetti and pirate sweet boats. The list is endless
Go even further with a outfit theme for your day, like black tie, under the sea, yellow submarine, or The Love Boat.
A silent disco is great for a boat party along the Thames or any big city river where there'll be noise restrictions as the night goes on
18. Après-Ski Party
If the two of you love skiing or were engaged on a ski trip, throw an après-ski themed party for your engagement. This is a great way of keeping guests warm and entertained in colder months like November, December, January and February without leaning into a Christmas theme. Think mulled wine, fondue and a roaring fire!
Après-Ski Party Ideas:
Kick off with mulled wine and have warm cocktails on offer throughout the party, including hot toddies and Bailey's hot chocolate. Aperol Spritzes and Schnapps shots won't go down badly either!
Serve different types of fondue, such as a rich cheesy one and a delicious Swiss melted chocolate one. Add charcuterie boards, bratwurst, warm soft pretzels, and that mountain top classic - French fries - to keep guests full
Decorate your venue with faux fur, warm blankets, and wintry props like lanterns and antlers. Make sure there are LOTS of fairy lights!
Heard of a shostski? It's a ski paddle with holes in it that you fill with shot glasses. Guests line up in a row to take shots together from it. It's a great evening activity as the party kicks off!
If your venue has a fire place, have a lovely warm fire roaring. Otherwise, hire a fire pit and let guests toast marshmallows over it
READ MORE: 22 Fabulous Ways to Include More Prosecco At Your Wedding
19. Sweet Tooth Style
If you've got a sweet tooth, a candy inspired engagement party will be heaven! "Impress your guests with candy galore at your engagement party and set up your very own sweet-filled buffet. The kids will definitely be impressed - and the big kids too!" says Sarah.
Sweet Tooth Party Ideas:
"Simply choose a range of jars in different sizes and buy your favourite sweets in bulk to create an exciting haven of sugary treats," recommends Sarah
"A popular trend along with the candy cart is the doughnut wall. Rather than providing a range of desserts for your guests to enjoy, let them pick their favourite doughnut from the wall," Sarah suggests
You can serve a chocolate fountain with dipping options such as fruit, cake and biscuits
20. Movie Night
Create a cinema oasis in you or a loved one's home or garden to relax and have fun in. We love the idea of setting up a projector and playing your favourite rom-com films or montage edits of amazing memories with your partner, friends and family.
Movie Night Party Ideas:
Have you really had a trip to the cinema without tons of snacks? We're talking pick 'n' mix sweets, popcorn, and you can even make your own slushies!
Hand out these movie theatre tickets as guests enter - they can be personalised with their name, the date, time and film
If you're having an alfresco engagement party, remember to leave blankets, throws and fluffy socks out to ensure maximum comfort
21. Camping or Glamping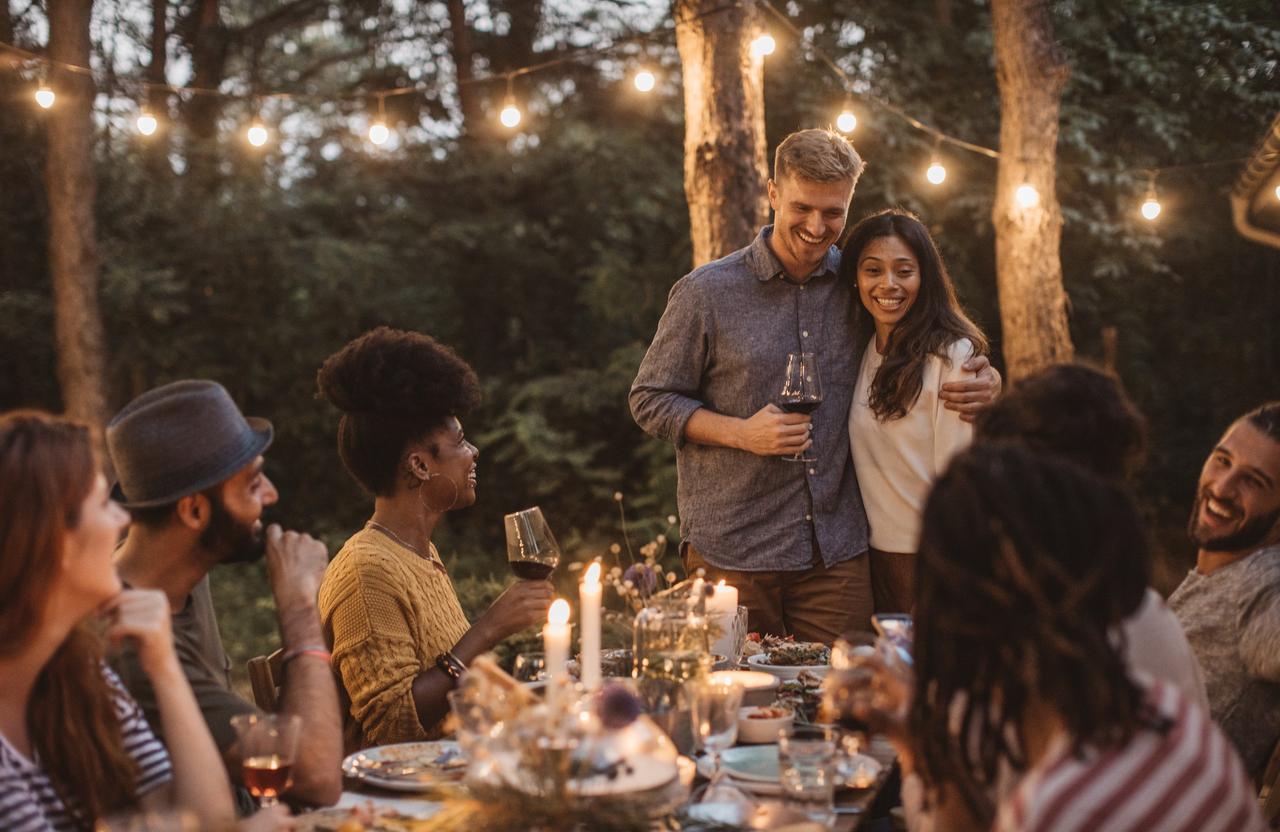 Head to a campsite to enjoy a night of camping or glamping. We recommend setting up sticks at a site that is easy to manage such as one with bathrooms, cabins or tents so there is less time spent setting up and more time relaxing! This is a really affordable idea should you have guests travelling from afar and needing to stay the night.
Camping / Glamping Party Ideas:
Pop travel sized toiletries in the bathrooms and create your own fully-stocked bar (aka, cool box), so your guests feel like they are having a five-star experience
If the venue allows, bring kebab sticks and marshmallows for a nostalgic night of marshmallow toasting around the campfire
Bring along some board games and cards - remember to pack torches and lanterns that you can hang when the sun starts to set
22. Fiesta Celebration
Nothing screams celebration more than vibrant colours, up-beat music and good food! Enter, the fiesta themed engagement party. Ideal if you're throwing a summer bash, transform your garden into the ultimate Mexican themed event.
Fiesta Party Ideas:
Keep with the theme by serving up tequila based cocktails and tasty Mexican treats. We love the idea of having a taco / fajita / nacho buffet with all the toppings! This will work as a great way to cater to a large guest list
Challenge your guests to a salsa making competition - provide the ingredients, give them a time limit and you and your partner can be the judges
String bright banners across the venue
Turn up the tunes and play some fun fiesta-inspired games, such as hoopla cactus and llama piñata. All fuelled by margaritas of course...
23. Sustainable Soiree
If you're planning on having an eco-friendly wedding, chances are you'll want your engagement party to follow this theme too. Whether you want your day to be green from start to finish, or you want a few mindful touches, a sustainable soiree requires little effort and gives a great reward.
Sustainable Party Ideas:
First things first, you'll want your engagement party invitations to be low-waste. Opt for e-invites or recycled paper invitations
Food is a key source of waste so be mindful of guest numbers and quantity. Search for a catering company with green values or use local, organic ingredients
Decorations will tie your engagement party together so you might not want to skip on these completely. Consider recycled jars with candles, potted plants and DIY bunting made from second-hand clothes
The Five Best Engagement Party Decorations
1. Engaged Rose Gold Bunting - £7.99, Party Delights
Ensure the whole party know what they are there to celebrate with this rose gold engaged balloon bunting. It'll make a big statement with minimal effort needed!
2. Engagement Confetti Pops - £33 for 10, Shropshire Petals at Not On The High Street
These confetti pops are filled with biodegradable petal confetti grown on the Shropshire Petals farm. There are so many colours to choose from so they will match your engagement party theme perfectly.
3. Engagement Party Sign - from £61.47, Time 4 Wedding at Etsy
Pinterest obsessed? We bet you'll have seen a gorgeous engagement party sign like this one. It's on the pricier side of the scale but you can re-use it on your wedding day too.
4. Wooden Cupcake Topper - £5.50, Rocket and Fox at Not On The High Street
Upgrade your sweet treats with a wooden engagement ring cake topper. It's a lovely, understated idea if you are going for a rustic or minimalistic theme.
5. Balloon Arch DIY Kit - £39.99, Party Delights
Creating a balloon arch might sound daunting but with this DIY kit from Party Delights it doesn't have to be! We guarantee your guests will be impressed when they see this stunning display.
12 of the Best Engagement Party Games
Sarah suggests, "showing your fun side during your engagement party with an array of themed games - don't forget to pick up prizes for the winners!"
1. Order or DIY romantic personalised biscuits to eat on the day or give away as engagement party favours. It's actually a really fun way to reveal your wedding date as you can have cookies like the ones below with your wedding date on - or just the date of your engagement
2. Play a trivia game with questions about you as a couple. See who knows you best with a mix of easy and tricky questions about the two of you that'll challenge friends and family
3. Have a timeline of your relationship that guests can join in on. Make a giant timeline on Kraft paper and stick it up on the wall with key events like when you met, your first date, the date of the proposal. Then let guests go wild with adding in the date you first met them or favourite anecdotes in your life you shared with them. You'll end up with the most incredible memento of you and your partner's life
4. Introduce guests to your wedding party with a polaroid board. You can also have another board of fun facts about them that guests have to match up to the photos
5. Ask for wedding date predictions - get guests to write these down and keep them safe to see who gets the most right on the day. Ask for things like what they think your first dance will be, what flavour cake you'll have, who'll give the funniest speech, what will your outfits look like, which guest will get the most drunk, what theme will you have
6. If you're after a game that'll make everyone laugh, gather them round for The Shoe Game. You and your partner sit back-to-back with one shoe from each of you. A quizmaster will ask questions like 'Who is the messiest?' and 'Who starts the most arguments?' and you raise either your or your partner's shoe. It's super interesting to see who thinks what!
7. Invite your pets! Outdoor parties are great for furry friends and you'll have the best photos. You can have a dog biscuit bar so guests can take a pressie home for their pets too
8. Create a trailer about your love story and project it onto screens. This could be in the form of a movie trailer or simply a cute slideshow
9. Want a night time party but can't be noisy? A silent disco will solve your problem and they're seriously fun
10. Create table runners out of photos of the two of you. They look amazing in photos and are easy to DIY together. You can get photos printed cheaply through companies like Snapfish. If you use white tac to put the runner together, you can reuse the photos!
11. Let guests vote for what they'd like to see on your big day. For example, if you're stuck between two cake flavours, have a table set up with tasters and get your guests to vote for their favourite. They'll love the idea of being part of what happens on your big day. Same goes for writing song suggestions for the DJ
12. Play match the ring to the couple. Put up photos of sparklers - yours, your parents, grandparents, and celebrity rings - and have guests guess who they belong to
Five Gorgeous Engagement Party Invitations
1. Wildflower Plantable Invitations - £16.95 for 12, Lunella at Not On The High Street
If a sustainable engagement party is your plan, these plantable invitations are perfect. We love the delicate design and the fact they can be planted after by your guests to grow their very own blooms.
2. Personalised Engagement Party Invitations - £9.50 for 10, Molly Moo Designs at Not On The High Street
Classic in style and design, we've fallen in love with these heart engagement party invitations. At less than £1 per invite, they accommodate for a large guest list.
3. Personalised Engagement Party Invitations - £16.95 for 12, Lunella at Not On The High Street
Undecided on your engagement party theme? A simple design like this one from Not On The High Street will suit all tastes. Choose from a number of different illustrations including cake and wedding rings.
4. Engagement Party Invitations - from £70.59, Diyldo Shop at Etsy
Fresh and pretty, this engagement party invitation is best-selling and we can see why. It'll look amazing stuck to your guest's fridge or pin board.
5. Black and Gold Engagement Party Invitation - £34 for10, Paper Park Co at Etsy
These black and gold engagement party invitations are ideal for evening celebrations. Glamorous and sophisticated, they look seriously luxurious.
Engagement Party Etiquette
It's easy to give a great list of dos and don'ts, but it's best to take the below with a little pinch of salt. All engagement parties are unique to the couple, which means you should only pick and choose what resonates with you from the below list. As a guide we think these are the most commonly agreed dos and don'ts when it comes to engagement party etiquette.
Do:
Send out your engagement party invites as early as possible, to give people plenty of time to set aside the date
Make sure the date is okay with key people. There's nothing worse than booking a venue to then find out your wedding party are busy
Make a note of any engagement gifts you get as you open them, so you can remember who gave you what when you come to write thank you cards
Think about the music. Whether it's a band or a Spotify playlist, make sure the songs you pick are likely to keep the dance floor packed all night. We all know that's the true sign of a good party
Don't:
Feel like you have to put on all the food or drinks. A little bit of money behind the bar for nibbles and your first glass is great, but from our experience people come expecting to pay for plenty themselves
Forget to take plenty of snaps. Your engagement party is a really monumental occasion, so having those memories documented will be precious in years to come. If you're likely to forget, get one of your wedding party or friends to be in charge of snapping away all night. Alternatively, hire a photographer for the engagement party too - it's a great way to get to know your photographer
Expect to spend any time with your partner! The evening will go so quickly, and with so many people there it'll be hard to catch a minute where it's just the two of you. If possible try and sneak off, even if it's only for 10 minutes, for a quick moment of quiet
READ MORE: What to Do if You Hate Your Engagement Ring
Engagement Party FAQs
Got one of those questions that you're not sure if it seems silly to ask? No worries, we answered them all!
Are Engagement Parties Tacky?
The type of theme you opt for will change the atmosphere of the party so if you aren't keen on flashy decorations there are tons of ideas above that will keep your engagement party classy and elegant.
How Long After Engagement to Have an Engagement Party?
"There is a fine balance to finding the right time to throw your engagement party. Make sure to bask in that 'just engaged' bubble for as long as you can but do throw your party when it's 'new news', and definitely before you start planning your wedding. No one wants to plan two events at the same time!" recommends Sarah.
Do Guests Pay for the Engagement Party?
That depends on your budget. It's totally up to the couple if they want to have the party, so it's up to you (or your parents, if they'd like) if you want to cover all of it, some or none. Just make it clear on the invites if you're expecting guests to pay for their own food and drink and if it's a cash bar etc. If you can't afford it, it's totally OK not to have an engagement party.
Should We Expect Gifts at the Engagement Party?
Not necessarily. Some people like to give gifts for both events, but most people would save up the cash and buy you something bigger for your wedding present. The engagement party really isn't about getting presents – but be super grateful if you do get any!
What to Give for an Engagement Party Gift?
Getting the happy couple an engagement party gift is a great way to show them how excited you are. Check out our edit of the best engagement gifts for couples - it includes everything from homeware and food to unique experiences.
How Long Should an Engagement Party Last?
This isn't your real wedding; it's not an all-day event. A few hours is more than enough time to catch up with everyone, get them fed and watered and excited for the wedding.
Who Gets Invited to an Engagement Party?
Close family and friends are definites on the engagement party guest list. Ensure early on that they can make your chosen date. Other than that, it's your decision. Maybe you'd like to have separate parties for your family and your friends. Maybe you just want to keep it family. There are no set rules.
Once your engagement party is out the way, make sure you read our complete guide to everything you need to do once you get engaged!