'Something old, something new' is one of the best-known British and American wedding traditions. As we'll explain, it's also one of the easiest traditions to include in your celebration.
The tradition is believed to come from a 19th-century English rhyme: 'Something old, something new, something borrowed, something blue, and a sixpence in her shoe.' The idea is that, to bring good luck for the future, a bride includes something that references each item in her wedding-day outfit.
However, we've seen increasing numbers of brides also incorporating the tradition in different areas of the wedding, such as décor, so you're certainly not limited to wearables!
Of course, as with all wedding traditions, 'something old, something new' isn't compulsory. However, if you do want to give a nod to this particular tradition, we've found some no-stress ideas to help you, from subtle bridal accessories and outfit tweaks to cool décor details.
NB: We have included third party products to help you navigate and enjoy life's biggest moments. Purchases made through links on this page may earn us a commission.
Something Old Ideas
A bride's "something old" tends can have special meaning - perhaps an heirloom from a family member - but don't discount vintage finds, too. These are the best ways to incorporate your "something old".
1. Repurpose a Family Wedding Dress
You could wear your mother's - or even grandmother's - wedding dress if they still have their gowns. However, if you'd rather choose your own, it's worth asking whether they'd mind you repurposing their dress material. This ring pillow was made from the bride's mother's wedding dress and her grandmother's veil.
2. Browse Antique & Vintage Jewellery
Vintage jewellery is a lovely way to include your "something old" - and you'll end up with a special keepsake. You don't have to spend a fortune: this Victorian silver locket is just £68.
READ MORE: The Best Vintage Wedding Jewellery for Your Something Old
3. Borrow a Family Heirloom
Alternatively, see if an older relative will lend you a piece of special jewellery for the day. Bonus: it can be your "something borrowed" too!
4. Look for Vintage Fabric
Feeling crafty? So long as you're not wedded to the idea of your "something old" has to be wearable, buy some rolls of vintage fabric and use them throughout your wedding décor - think napkins, "happy tears" hankies at the ceremony and table runners.
READ MORE: 10 Creative and Gorgeous DIY Wedding Invitation Ideas
5. Go Vintage with Your Wheels
Vintage isn't just for wedding fashion and décor. Choose a cool classic car as your wedding transport, for a "something old" with real style.
6. Decorate Your Bouquet
Collect vintage brooches and ask your florist to add them to your bouquet, for a "something old" that sparkles. Alternatively you could opt for a bouquet made entirely of vintage brooches!
7. Use a Family Veil
Wedding veils can be expensive. See if an older member of your or your partner's family will let you use theirs - you'll save money on your fashion budget and cover your "something old" in one!
8. Have a Hair Accessory with History
You can find some beautiful vintage hair accessories - check out Etsy to start - from tiaras to clips.
READ MORE: 30 of the Best Bridal Bouquets for Every Budget
9. Add a Photo Charm
Alternatively, you could add photo charms to your wedding bouquet. These can contain a favourite family shot, your parents' wedding pictures, you and your partner as children.
10. Get Creative with Your Look
For a looser interpretation of "something old", consider a vintage-inspired hairstyle for a glamorous bridal look. Do some research into the era you want to emulate - 1940s Victory Rolls, for example, or a chic '60s beehive.
READ MORE: Vintage Wedding Hairstyles: How to Create 3 Iconic Looks
11. Buy Alternative Vow Books
Upcycled notebooks, made from old books and even records, are a real stationery trend. Find designs that mean something to you and use them as your vow books.
Something New Ideas
Technically, if you're buying a wedding dress, your "something new" is sorted. However, if that feels like cheating and you want to designate a specific element your "something new", we have some fabulous ideas.
1. Go Jewellery Shopping
This is the classic "something new": a freshly purchased pair of earrings, necklace or bracelet - whatever suits your bridal style.
READ MORE: Bridal Jewellery Inspiration: Beautiful Wedding Jewellery for Every Budget
2. Add a Belt
If jewellery's not your thing, you could also consider wearing a new belt or silk sash to your dress.
3. Buy Bridal Shoes
Treat yourself to a new pair of shoes just for the wedding. Just make sure they're comfortable - check out our guide to breaking in your wedding shoes for some expert advice.
4. Accessorise Your Shoes
If you'd prefer to wear a pair of shoes you already own, make them feel special by adding extra touches. You can get pretty shoe charms, chains and bows - and your new accessories can do double duty as your "something new"!
5. Rethink Your Perfume
Rather than wearing your favourite fragrance, buy a scent you've never worn before for your wedding. Not only will you have fun choosing your new perfume, you'll also be reminded of the big day every time your spritz it on in years to come.
READ MORE: Top Tips for Choosing Your Wedding Perfume
6. Have a Hair Refresh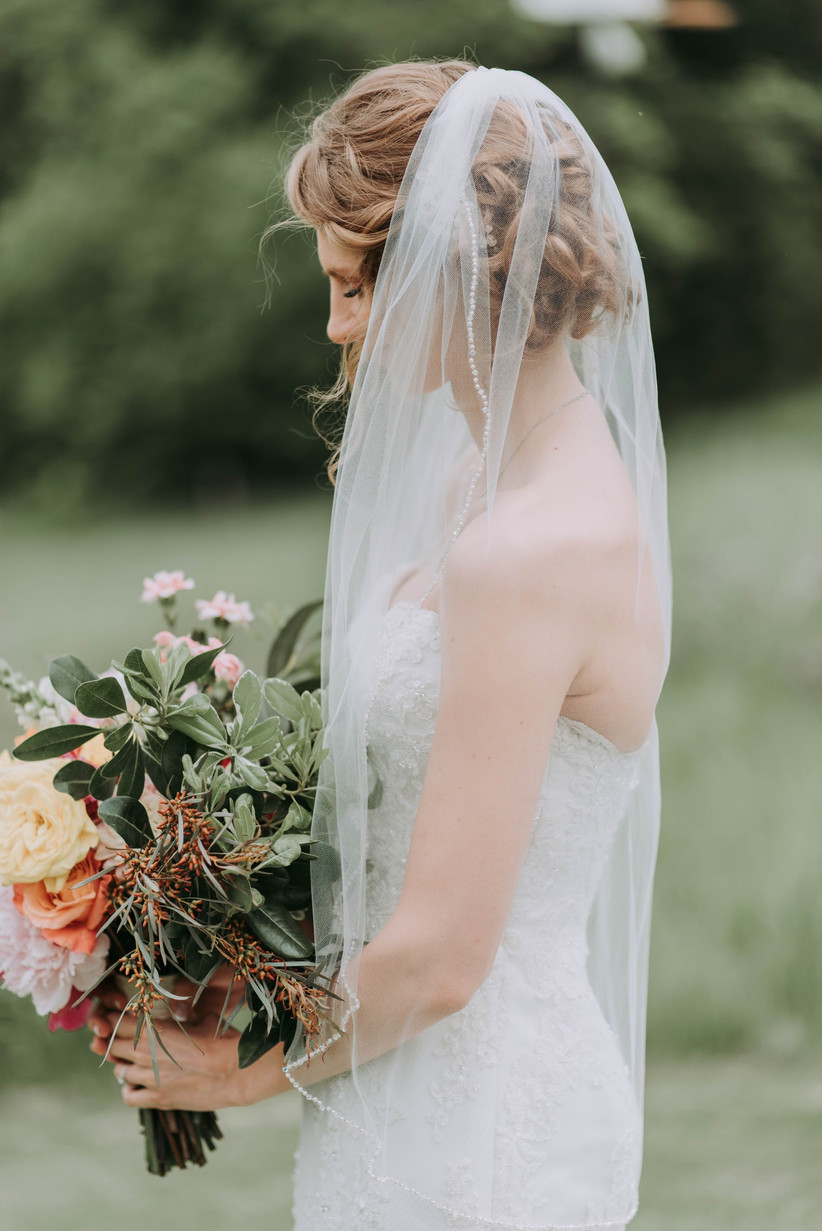 A "something new" doesn't have to involve spending money; you could include the tradition by changing up your hair. We're not talking about a drastic cut or colour change - you'll want to feel like you on the big day - we mean a hairstyle you haven't worn before. Normally wear your hair down? Ask your hair stylist to give you a cool up-do. And vice versa!
7. Choose a Hair Accessory
Alternatively, you could introduce an accessory to your bridal hairstyle as your "something new". Whatever your style, there are wedding hair accessories to suit you, from on-trend hair bands and bows to classic jewelled headpieces and flower crowns.
8. Think Underwear
Treat yourself to some special wedding underwear. When you buy your dress, that should give you an idea of the style you're looking for (if in doubt, ask the shop for advice); make sure you wear it to a fitting to check it does go with your chosen gown.
9. Swap Your Lipstick
Whether you're going DIY or having a makeup pro, try out a lip colour you don't normally wear - think plum instead of red; a nude instead of coral. Is this pushing the "something new" boundaries somewhat? Possibly - but it's an easy win, and traditions can be what you make them.
READ MORE: The 23 Best Bridal Lipsticks for the Ultimate Wedding Day Look
11. Pick up a Bag
Get a pretty on-the-day bag for storing essentials, such as lipstick for touch-ups, blotting paper, blister plasters and tailors' white chalk (essential for covering up any marks on your dress).
12. Wear a Wedding Garter
Cover two traditions at once by buying a wedding garter. In fact, make that three traditions if you choose a blue design!
Want to add some more traditional elements to your wedding? We explain the different types of wedding veil so you can choose a style that's right for you.