The 17 Best Wedding Perfumes for Every Bride
From scents old and new to bridal fragrances to suit your style, here's how to choose a wedding perfume that will evoke your big day for decades to come. Don't go scent shopping without reading this first…
We have included third party products to help you navigate and enjoy life's biggest moments. Purchases made through links on this page may earn us a commission.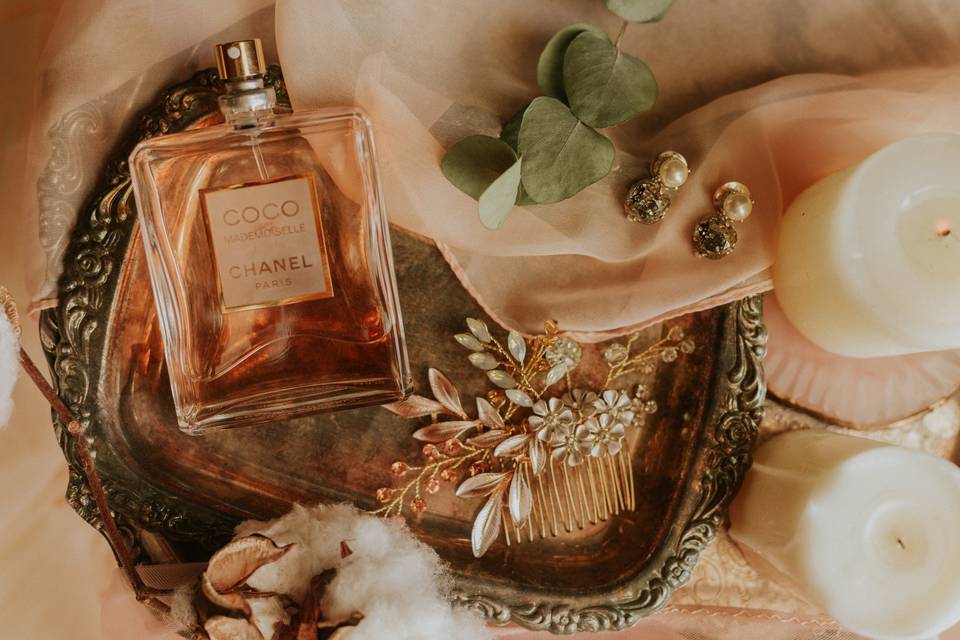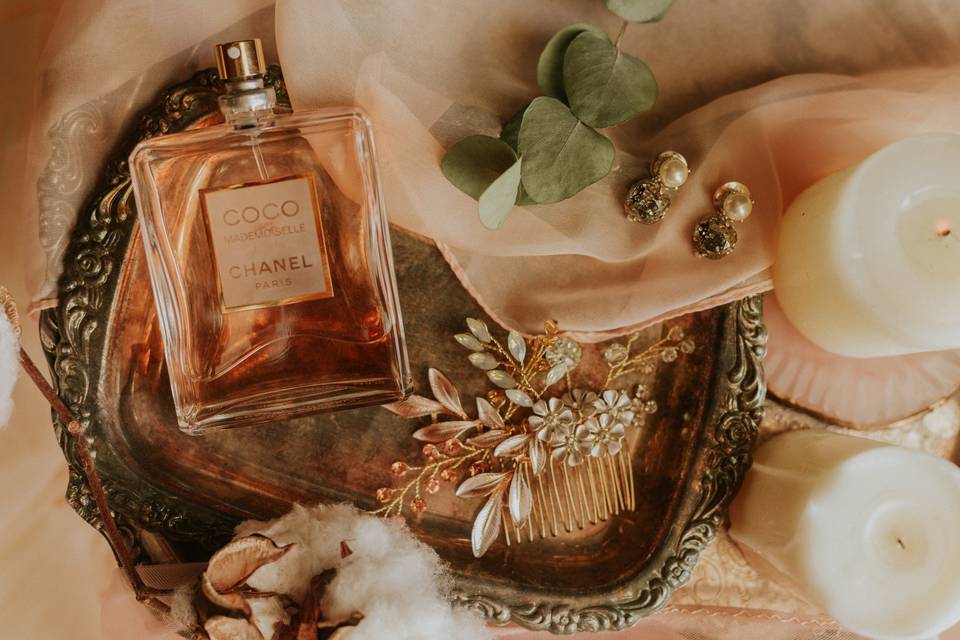 If you struggle to choose the perfect fragrance for a Zoom call, chances are that picking your wedding perfume presents quite the challenge. Whether you fancy a twist on a signature scent, something unique and totally unexpected or just to have a sniff around to see what fits, we've got all the expert tips you could wish for to make finding, wearing and layering a wedding perfume a piece of cake, beginning with some common fragrance finding dilemmas...
NB: We have included third party products to help you navigate and enjoy life's biggest moments. Purchases made through links on this page may earn us a commission.
READ MORE:
What Perfume Should I Wear On My Wedding Day?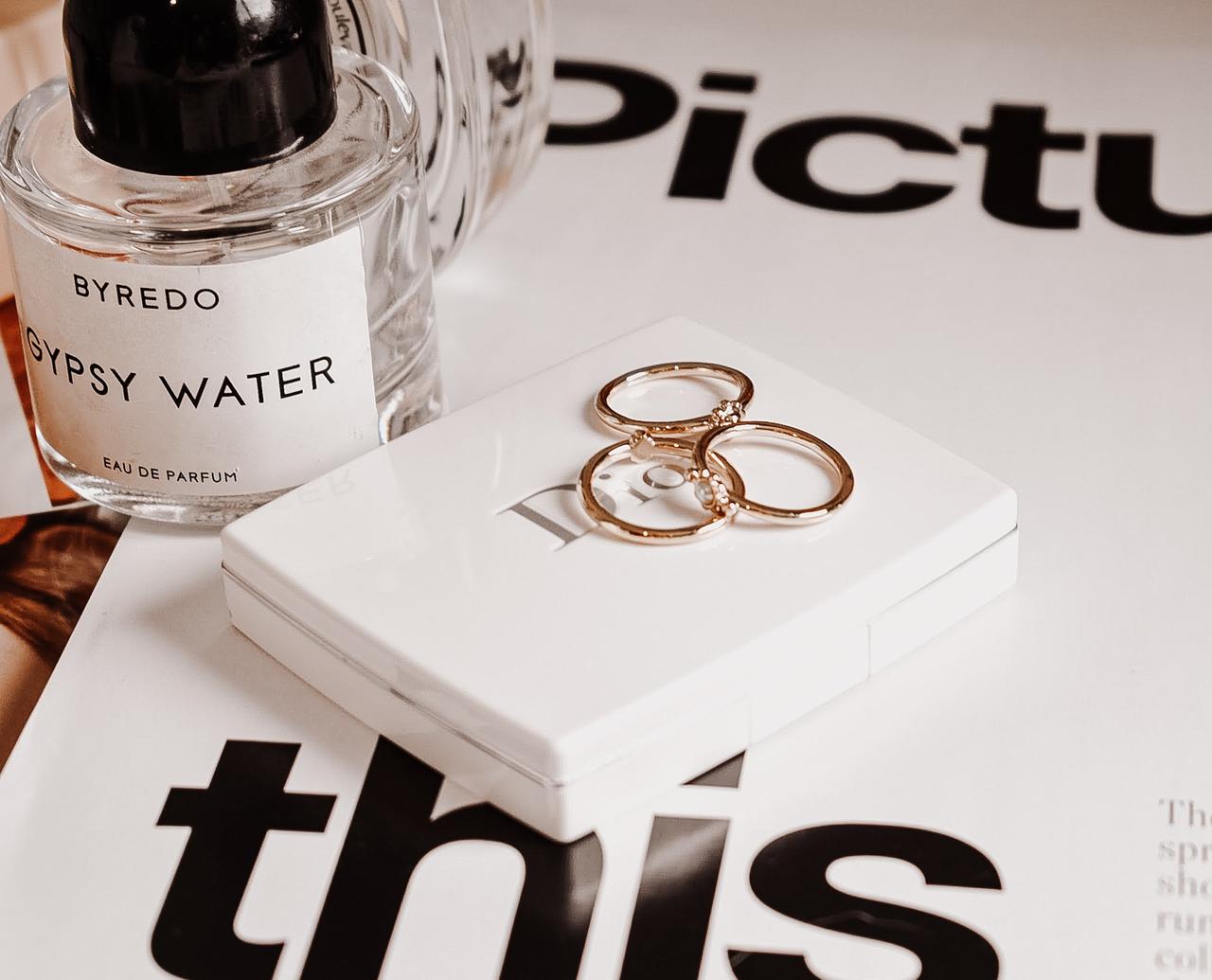 First things first, let's take 'should' out of the equation. While there are certainly conventions around the types of fragrance that a bride opts for, there's absolutely no obligation to adhere to any fragrance 'rules'. Michelle D'vaz, brand and marketing manager at The Perfume Shop, highlights a particularly popular wedding perfume category:
"Traditionally, floral scents that are light and delicate are considered ideal for weddings as they exude emotions of love and romance. Single floral notes such as rose, carnation and violet, or fruity scents with notes of oranges and lemons, can help to lower stress levels as well as being understated and warm."
Not a floral fan? No worries, says Thibault Desbazeille, fragrance expert at Parfums de Marly:
"I think that the idea of a single, seminal wedding fragrance is far less applicable these days. We now tend to have a fragrance wardrobe rather than just one fragrance that we wear all the time. The most fitting fragrance for your wedding is the one that you fall in love with the first time that you try it. If you're on the fence or just wearing something because you feel you 'should', it's not the one for your big day."
READ MORE: The 11 Wedding Rules You Can Break
If 'the one' isn't immediately forthcoming, Michelle recommends "looking back at previous scents you've enjoyed wearing and seeing what ingredients they have in common. If you pick something with similar notes then it's almost guaranteed to be a winner."
If you are testing out new scents in anticipation of your wedding day, Michelle has some perfume-testing pointers:
"When you're experimenting with scents, don't spray too many: stick to three or four as a maximum. Otherwise, the scents start mixing and it's hard to decipher which one you actually like. You may love the top notes but, after spraying the tester, be sure to walk around for an hour or so, allowing the fragrance to develop and settle so you can check that you're drawn to the base notes too. The perfect scent should complement you, not overpower you."
Like any good romance, it's a question of chemistry. Not feeling it? Move on, but don't fear overwhelm – let the experts steer you in the right direction to make the best scent selection for you.
How Do I Choose a Wedding Perfume?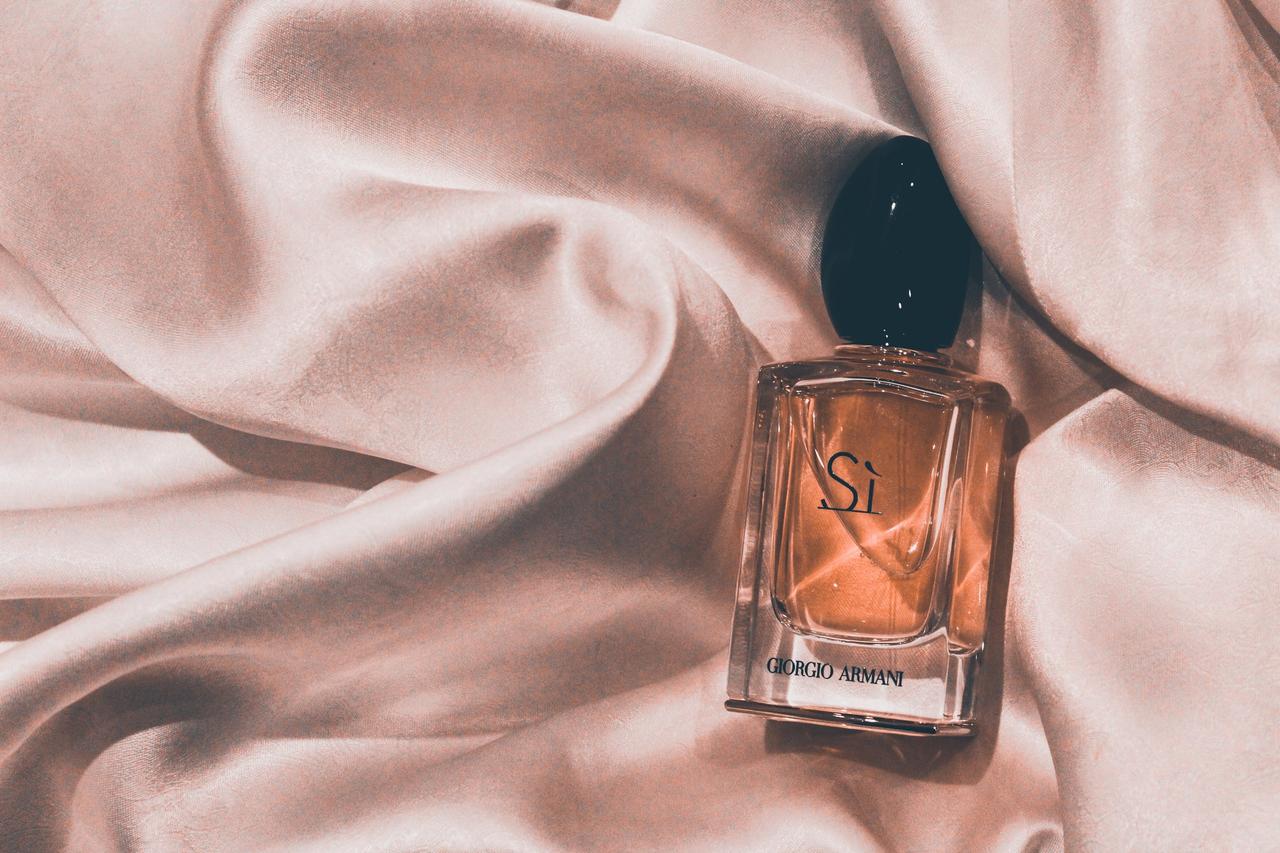 Before having a nose around, Michelle advocates considering the context of your wedding alongside your own personal style:
"Bear in mind your 'vibe', the feel of the ceremony and the season. If you've gone for a summer wedding then floral, fruity scents work really well as they stay light and refreshing throughout the day. If your wedding is booked for winter, try a slightly warmer scent with ingredients such as amber and chocolate — sensual, sultry scents."
READ MORE: How to Update Your Wedding for a Different Season: 31 Creative Ideas
That said, if you fancy wearing something rich and warm in the summer months and a fresh, green scent for a winter wedding, go right ahead. It's all about how those notes hit and make you feel. Emilie De Block, co-founder of aromatherapy and fragrance brand Bio-Scents, highlights that the emotional power of perfume is not to be underestimated:
"The reason why scents and essential oils are so powerful is because they stimulate the olfactory nerve; the short nerve between your nose and brain, signalling the limbic system (the part of your brain that controls emotional stimuli), which is how we access those effects that we talk about often - relaxation from lavender, a lift from frankincense and alertness from rosemary.
"Scent is the only one of our senses that stimulates the limbic system and it's also one of the biggest triggers of memory. Every scent and smell becomes associated with a particular experience, person or time period which is repeatedly paired. The relationship between a scent and emotion is a beautiful thing as it lets you hold onto memories in your life. As a self care ritual, scents can bring back instant happiness, relaxation and calmness."
READ MORE: 7 Things to Do Now to Avoid Wedding Planning Burnout
Choosing an old favourite on your wedding day can be comforting in this way and help to soothe pre-ceremony nerves. As classics go, Chanel No5 has stood firm as one of the nation's most revered romantic perfume choices according to Perfume Direct fragrance expert Jonny Webber, but more recently it was knocked off the love list by it's younger cousin Chanel Coco Mademoiselle. If these are dressing table staples for you, you're in good company.
Otherwise Jonny agrees that uplifting scents are coming to the fore:
"Mood-boosting scents are big sellers for 2020. Scents containing fragrances that can have a positive effect on your brain, such as Ylang-ylang, jasmine, citrus, vanilla and rosemary are all hugely popular."
READ MORE: How to Stay Well as a Bride-To-Be
How Can I Wear Perfume So That It Lasts?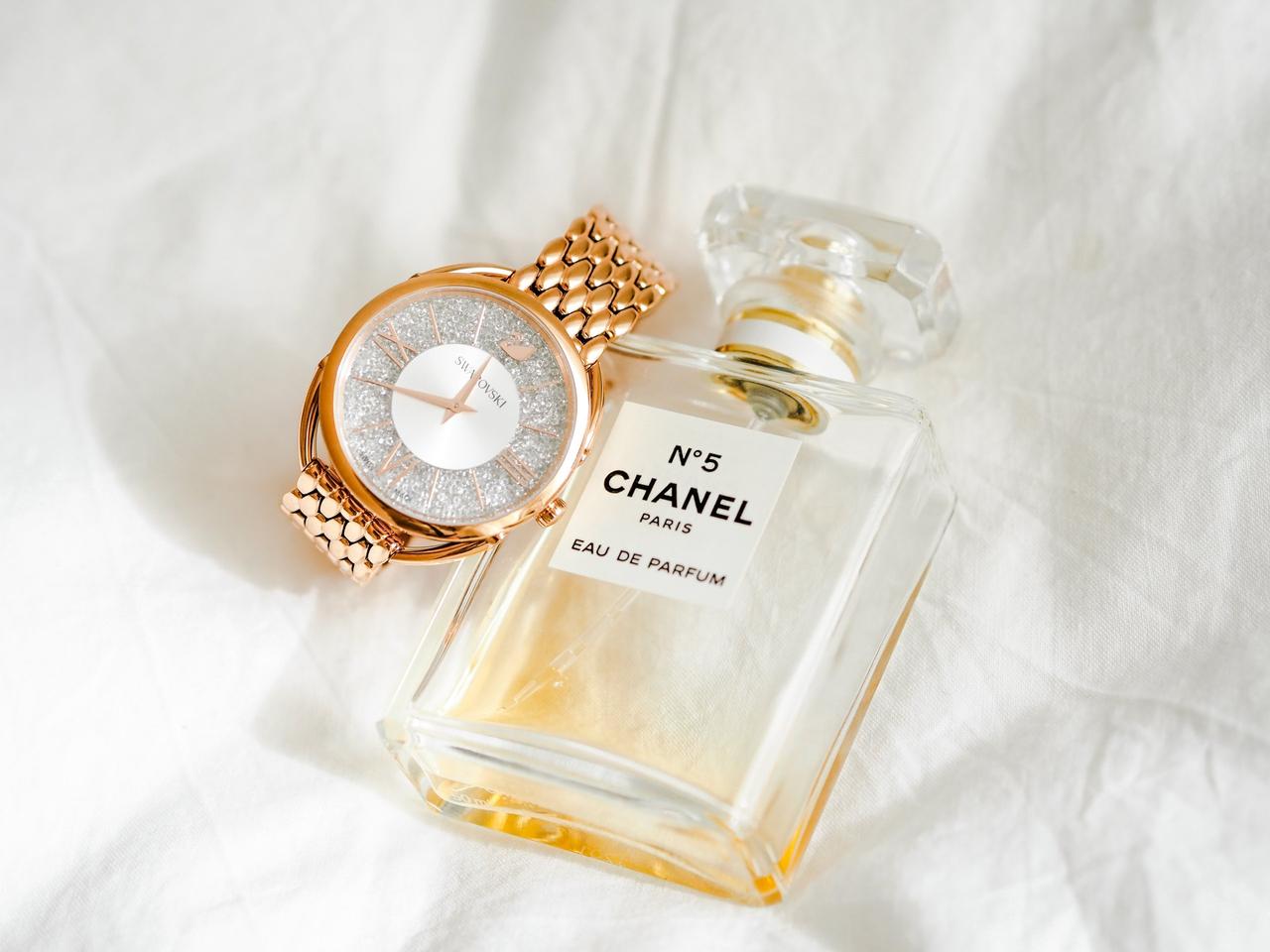 Thibault notes that it's all in the layering:
"Consider strengthening your scent's staying power by using a body cream and/or hair mist in the same scent or fragrance category. Many perfumes are also now available in various levels of intensity too, so experiment before your wedding day to see what works."
If you're a perfume aficionado you could also consider 'scenting' your wedding by creating a fragrance palette that reflects both you as a couple and your celebration style. Spritz wedding invitations, dot scented candles or diffusers around your venue and wear a complementary perfume to set the mood and create olfactory memories. You could even fine tune your wedding day fragrance so that it blends seamlessly with your partner's, as Michelle explains:
"If you want to marry your scent with your partner's you can typically create fragrance harmony by fusing woody and oriental notes and opting for ingredients such as bergamot, sandalwood and grapefruit as these are common notes in both masculine and feminine scents."
Finally, Michelle suggests including your bridal party in your perfume considerations to create a lasting impression in more ways than one:
"Giving perfume to your bridesmaids is the perfect way to show them how much you appreciate all their help. Think about giving them a scent that they can wear on the day when they accompany you down the aisle."
Yet to find 'the one'? Have a nose through our scent selection to find a perfume that speaks your love language.
The Best Wedding Perfumes to Suit Every Kind of Bride
1. Parfums de Marly Delina EDP – £190 for 75ml, Harrods
Best for: Traditionalists with a twist
The bottle is a beauty (Thibult comments that misting perfume is becoming an ever more popular bridal photography shot) and the contents won't disappoint either. A heart of Turkish rose is made more complex and alluring thanks to woody base notes and uplifting, aromatic top notes. A rose, but not as you know it.
2. Escentric Molecules Molecule 01 – £72 for 100ml, Cult Beauty
Best for: Minimalist brides
If you like your scent subtle and intriguing, you need to meet Molecule 01. A synthetic scent built around a single note, the fragrance claims to intermingle with your natural pheromones to create a signature scent in every sense. Sounds weird at first but just wait from the compliments to roll in – it's like nothing you've tried.
3. Giorgio Armani Sì EDP – £55 for 30ml, John Lewis
Best for: Grown-up floral fans
A sophisticated bouquet that is anything but sickly sweet, this award-winner combines elegant jasmine, freesia, rose and neroli heart notes with woody, vanilla warmth at its base. Mandarin oil adds a zesty lift too.
4. Byredo Flowerhead EDP – £115 for 150ml, Byredo
Best for: Bold, colourful couples
Inspired by flowerheads exchanged between bride and groom as a sign of mutual love and respect at Indian weddings, this rich yet juicy floral is a clever combination of tuberose, rose and jasmine with sharp Sicilian lemon and soft and seductive suede. It's got it all going on, basically.
5. Chanel No5 EDP– £79 for 50ml, Chanel
Best for: When only the best will do
In at number five is...No5. Originally created for Gabrielle Chanel in 1921 and tweaked by the finest French noses throughout the decades, No5 is probably the most iconic fragrance in the world, which makes it a fitting wedding day choice. Top notes of ylang-ylang and bergamot mingle with a bold floral heart and sandalwood and vanilla laced base to create a structured, unmistakable scent.
6. Chanel Coco Mademoiselle L'Eau Privée Night Fragrance – £67 for 50ml, Chanel
Best for: Smelling incredible on your wedding night
From timeless No5 to something altogether a little lighter, this sensual play on the original Coco Mademoiselle is a shimmering fusion of jasmine and rose petals with a base of subtle musk. It's the ideal 'slip into something more comfortable' scent.
7. & Other Stories Arabesque Wood EDT – £28 for 50ml, & Other Stories
Best for: Brides on a budget
Proof that beautifully crafted scent needn't be expensive, this lush, green fragrance boasts crisp top notes and offers impressive longevity thanks to mossy, woody base notes.
8. Tiffany & Co EDP – £54 for 30ml, John Lewis
Best for: Something blue
A scent almost as sparkling as the jewellery brand's diamonds, this citrus spiked floral is soft and enveloping – just the thing to step into on your wedding morning. Consider layering it with something warmer later on.
9. Elie Saab Le Parfum EDP – £45 for 30ml, The Perfume Shop
Best for: Making an entrance
This much-loved wedding day perfume has taken pride of place in bridal suites worldwide since its debut in 2011 and for good reason – it's won multiple awards thanks to its distinctive, powerful blend of Mediterranean orange, jasmine and honeyed patchouli base notes.
10. Jo Loves Orange Butterflies Fragrance Paintbrush – £40, Jo Loves
Best for: Hot weather weddings
Jo Malone CBE is the nose, brain and heart behind this particular perfume innovation. Orange blossom, neroli, mandarin and petitgrain are suspended in a quick-drying gel fragrance formula that's pure bliss to apply (keep it in the fridge on your wedding morning for extra chilled vibes). With a blend inspired by the south of France, you can reactivate the notes throughout the day by tapping the gel 'seal' wherever you've applied it. Smart stuff.
11. Frederic Malle Portrait of a Lady EDP – £168 for 50ml, Liberty
Best for: Glamorous brides
Rich and evocative, this cult fragrance packs in 400 roses per 100ml (hence it's on the spendy side) and weaves in frankincense, sandalwood, clove and raspberry for an intense, long-lasting finish. A few spritzes will suffice – it's incredibly full of life.
12. Maya Njie Vanilj EDP– £90 for 50ml, Maya Njie
Best for: Winter weddings
Swedish-born, London based perfumer Maya Njie draws on her Scandinavian and Ghananian heritage to create evocative small-batch scents that combine the best that both the natural world and lab technology have to offer. Vanilj is an olfactory tribute to her Uncle Lars' and Aunt Erene's wedding – the sweet blend of vanilla and cardamom is nothing short of delicious while amber and cedarwood bring warmth and spice.
13. Diptyque L'Eau Des Hespérides EDP – £98 for 100ml, Diptyque
Best for: Spring weddings
Wedding scent doesn't come fresher than this. Lemon, peppermint and bitter orange blast out of the blocks to create an energising blend that'll put a spring in your step as you walk down the aisle.
14. Tom Ford Soleil Blanc EDP – £254 for 100ml, Tom Ford
Best for: Beach weddings
Like a wave of warm, sweet tropical air greeting you as the plane door opens, this coconut, cardamom, pistachio, amber and pink pepper infused fragrance conjures up pastel sunsets and exotic flowers on the wind. It's the perfect pairing for a destination wedding or if you just want to revel in the summer vibes.
15. Maison Margiela Replica Memory Box – £30, Cult Beauty
Best for: Creating a sense of occasion
Not sure what kind of scent encapsulates your style? This fragrance 'memory box' gives you ample opportunities for try-ons before your wedding day. Whether you're in the mood for a Beach Walk (...not unlike Tom Ford's bestseller above), settling down By The Fireplace (a woody, nutty blend to suit brides and grooms alike) or if you're toying with saying 'I do' Under The Lemon Tree (zingy and exhilarating as EDP goes), there's a scent to fit and contribute to all the feels.
16. Glossier You – £40 for 50ml, Glossier
Best for: Everyday wear
Of course your wedding isn't an 'everyday' affair, but there's something to be said for the reassurance of wearing a fragrance that automatically makes you feel like 'you' on your wedding morning. Somehow clean and warm at once, think of Glossier You as a fragrant enhancement rather than a bold scent statement (rather like the brand's makeup aesthetic). Green iris brings a refreshing floral touch, sensual musk gives it backbone and spicy pink pepper is the perfect pick me up.
17. Floral Street Bridal Scent School, £24
Best for: Eco-conscious brides
Homegrown, eco-friendly fragrance brand Floral Street hosts one-to-one Bridal Scent School sessions at the company's flagship Covent Garden Store, or alternatively book an online scent school session before which fragrance samples and information will be sent straight to your door so that you can explore what makes you tick. Whether you want to create an entire perfume palette for your wedding, are considering giving your bridal party something special or are craving bridal fragrance inspiration, the Floral Street scent squad have got your back.
Looking to make your day as green as possible? These eco-friendly wedding ideas will inspire everything from drinks to decorations.