38 Wedding Hair Updo Ideas for Every Bride
In need of bridal hair-up inspo that isn't boring? We've got ideas aplenty for every hair type and wedding vibe, from casual and relaxed to beautifully intricate. Here's your ultimate wedding hair updo moodboard…
We have included third party products to help you navigate and enjoy life's biggest moments. Purchases made through links on this page may earn us a commission.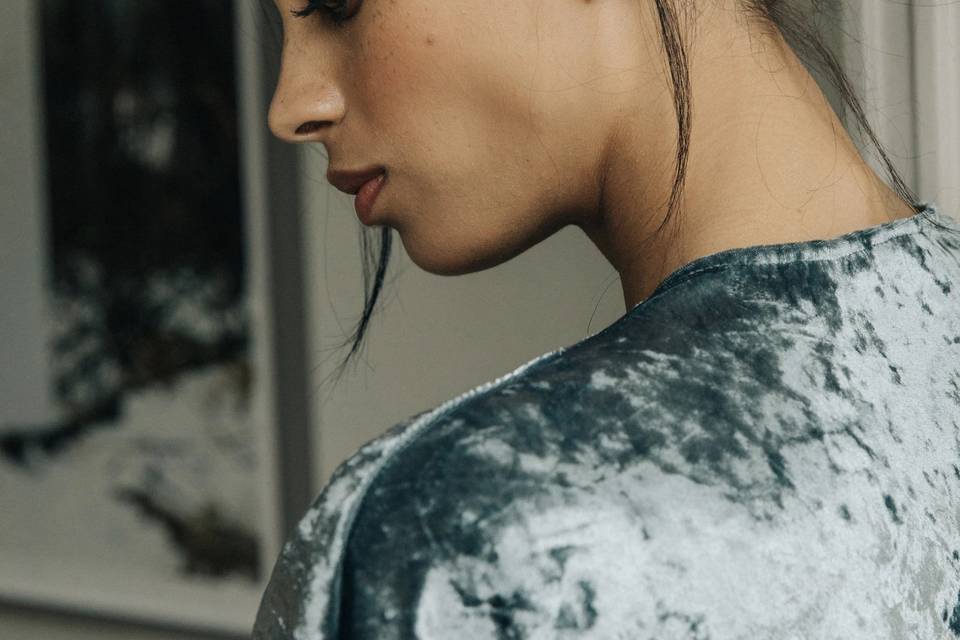 Whether you're a messy bun fan or normally wear your hair down and want to change it up on your wedding day, we're here to help you to decide on an updo style to suit, no stiff ringlets involved.
There's no 'formula' to the perfect wedding updo – keeping your everyday style in mind and working with your hair's natural texture (or any add-ons that you're comfortable with) will help you to identify an updo that's purely 'you'. You don't need to ascribe to any old-skool rules or wear a doughnut ring if you don't fancy it – there's a thousand ways to style a wedding hair updo that looks modern, relaxed and unique to you. We've got 38 ideas to get you started but be sure to bear in mind a few updo prep tips before you get started.
READ MORE:
How to Prep Hair for a Wedding Updo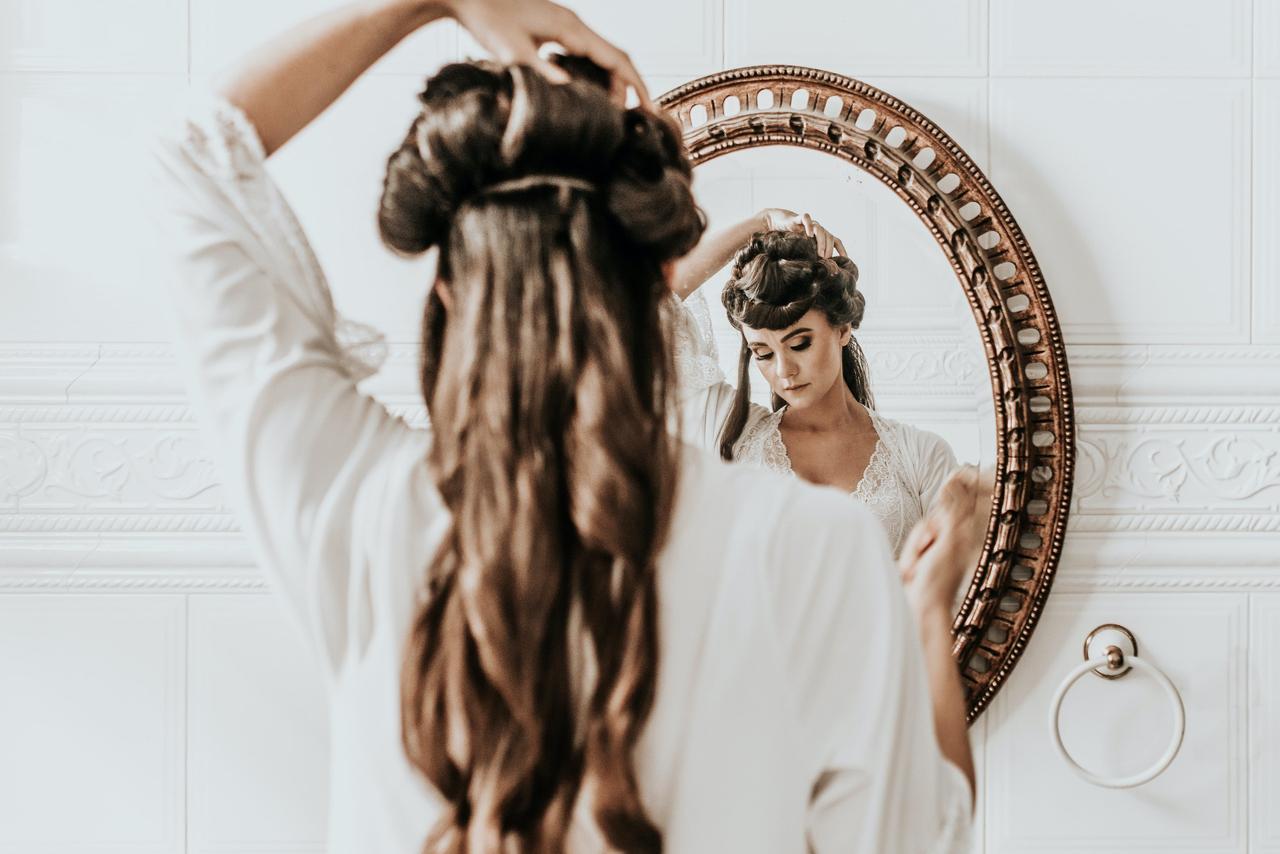 Hairstylist and John Frieda style ambassador Leigh Keates recommends getting the haircare basics right before the big day:
"Work with your hairdresser to ensure that, as well as getting your hair trimming schedule on point (everyone's hair grows at different rates and your hair stylist knows yours best), you're using the best shampoo and conditioner for your hair type and texture. Topping up with regular treatments will nourish hair too, but the day to day basics are just as important."
That means using a shampoo and conditioner that's not too heavy or too light for your hair type (Goldilocks style) and limiting heat styling in the weeks leading up to your wedding day to boost hair health. If you're doing your own hair on your wedding day, consider booking an up-do 'how-to' session, either with your regular hair stylist or a bridal hair specialist. Knot Your Average Bride and Charis Israel Academy are just a few experts offering online masterclasses and one-to-one tutorials to give you a helping hand. Just don't rush the process – Leigh explains why prep pays off:
"Allow enough time for at least one consultation and one trial and/or practice run. Whether you've booked a stylist or are intending on a DIY updo, you want to make sure that you know what you like and have some experience in how the style wears and feels before your wedding day."
READ MORE: 15 of the Best Hair Masks for Healthy Wedding Day Hair
How to Make a Wedding Updo Look Modern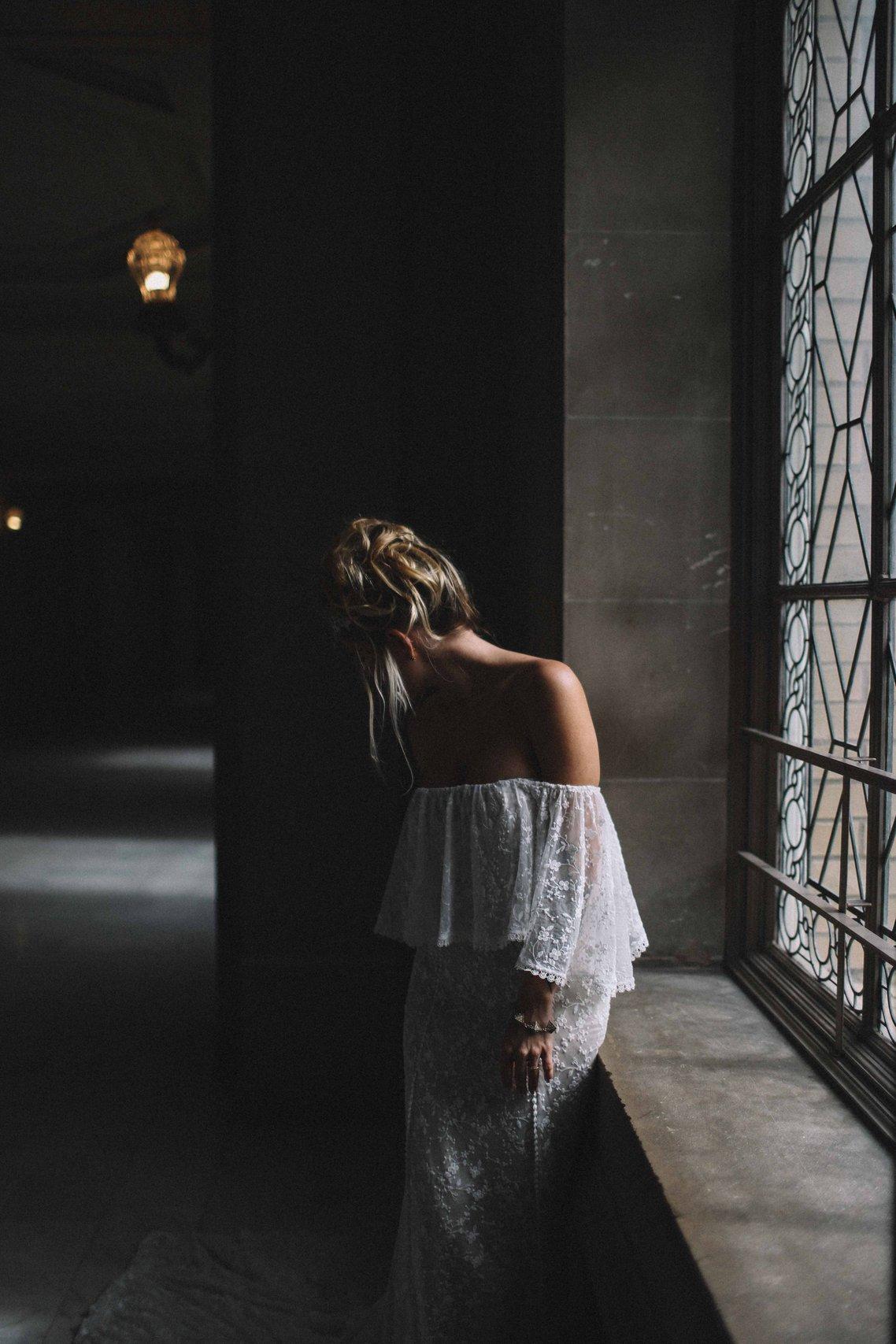 Leigh emphasises that an updo doesn't need to be a fixed look – modern-looking hair is all the movement:
"The best way to make a hair-up style to look modern is to retain a little natural movement and texture so that your style isn't too stiff. Everything from loose tendrils to showcasing natural waves, curls and coils will help you to achieve this."
Getting the movement to hold ratio just right is key too according to Leigh:
"I would advise prepping hair with mousse ahead of your styling session. My go-to product for this is John Frieda Volume Lift Thickening Mousse, £5.99. It's ultra-light and wraps around the hair easily to create soft volume and hold. Apply it to towel dried hair after your shower either on your wedding day or the night before be sure to distribute product evenly throughout the hair."
READ MORE: 15 Beauty Habits to Start Now Before Your Big Day
As well as a little bit of mousse, Leigh keeps a root lift spray to hand for extra oomph – try John Frieda Volume Lift Weightless Conditioning Mist, £3.99, for fine hair or marula oil based Moo Hair Volumising Spray Mist, £22, for thicker hair types. Just be mindful of how much you're using – "not enough and your style won't hold, too much and it'll weigh down hair".
As for curly hair and coils, Michelle Sultan, creative director of Imbue Curls, advises adding nourishment with a moisturising serum such as Imbue Curl Energising Hydrating Serum, £7.99, before misting hair with a leave-conditioner, also taking care not to go overboard on the application:
"If you're after extra volume avoid applying too much product close to the roots. Wait until the hair is fully dry and then use a wide tooth comb to fluff and stretch the 'internal' curls on the head."
For a modern wedding day look, Michelle has a few fresh ideas up her sleeve:
"Experiment with finger coiling or try setting hair in flexi-rods to change the shape of your curls. If you have type 4 hair you could try flat twisting your coils by parting wet hair into cornrowed sections and allowing it to dry and set before unravelling the style."
Playtime isn't over once hair is dry. Michelle highlights that elegant updos can be easily created by "twisting your curls up and out once they're dry, pinning and keeping some curls free around your face to frame your features and soften the look". Laying down your edges can make updos look even more distinguished too:
"Styling your edges or baby hairs around your face can add polish to any updo. Use a small toothbrush or edge brush with a hair gel (try Imbue Curl Empowering Crème Gel, £7.99) to create swirls and 'S' shapes with your baby hairs."
Leigh finishes off every updo with a small mist of hairspray, et voilà. Hungry for updo inspo now that you've got the prep down? Feast your eyes on the following…
The Best Wedding Hair Updo Ideas for Every Hair Type
1. Twisted Bun with Pearls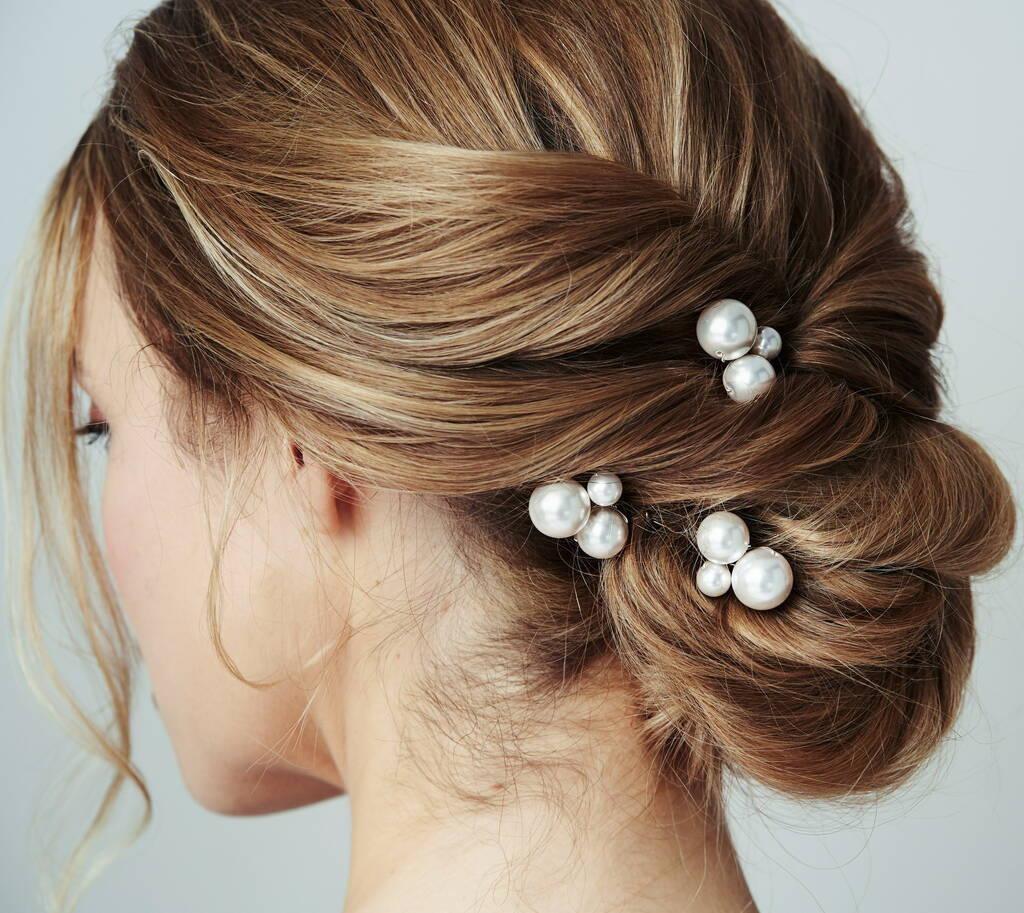 Beginning with a modern classic, this twisted low bun with tucked in pearls is polished without being too perfect. Mix up pearl sizes for an even more chic effect.
2. Pearl Studded High Bun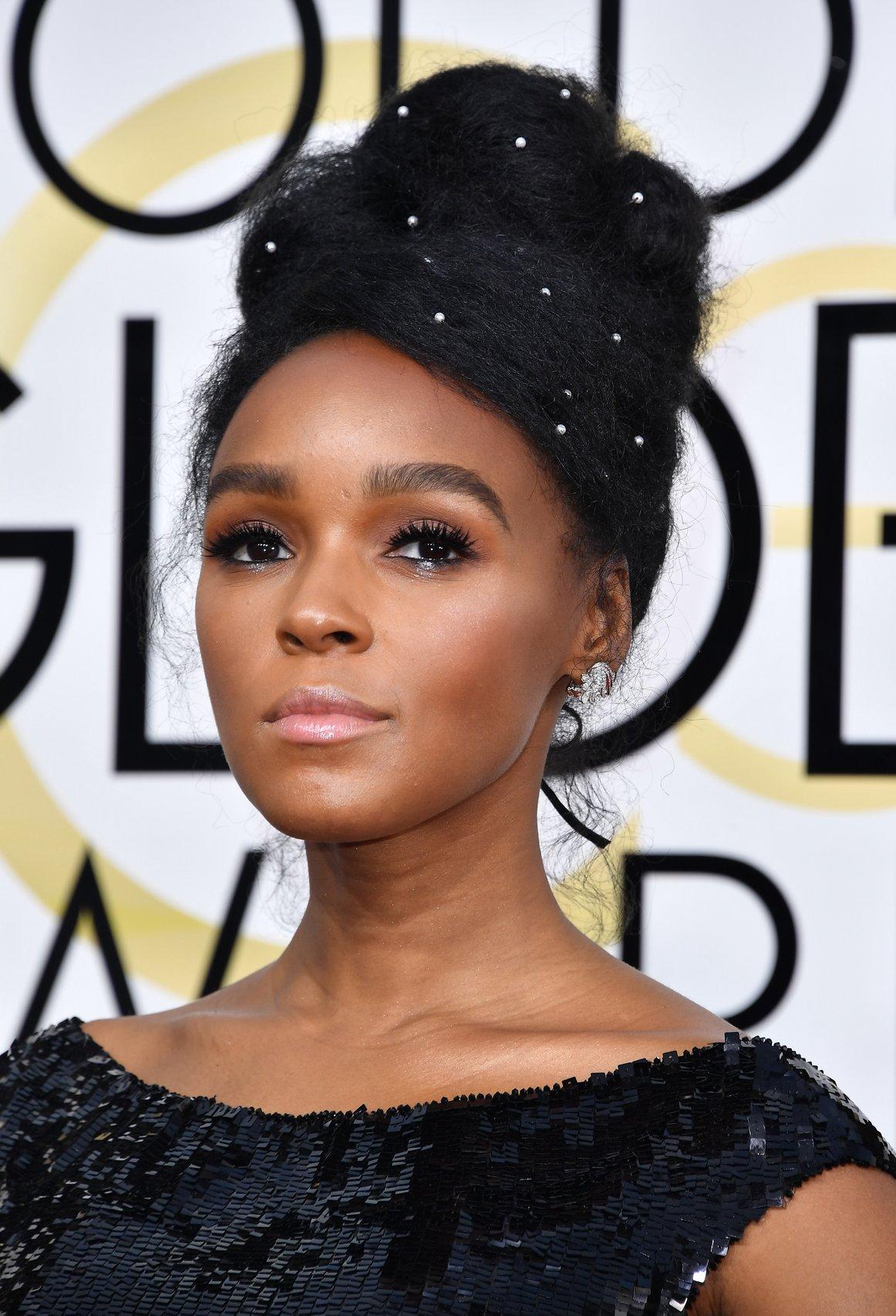 Downsize the pearls, up the ante. Scatter pearls throughout your hair for an edgy, luxe effect, keeping styling bold but simple with a voluminous updo. Janelle Monae's red carpet hair is a mood.
3. Star Studded Braids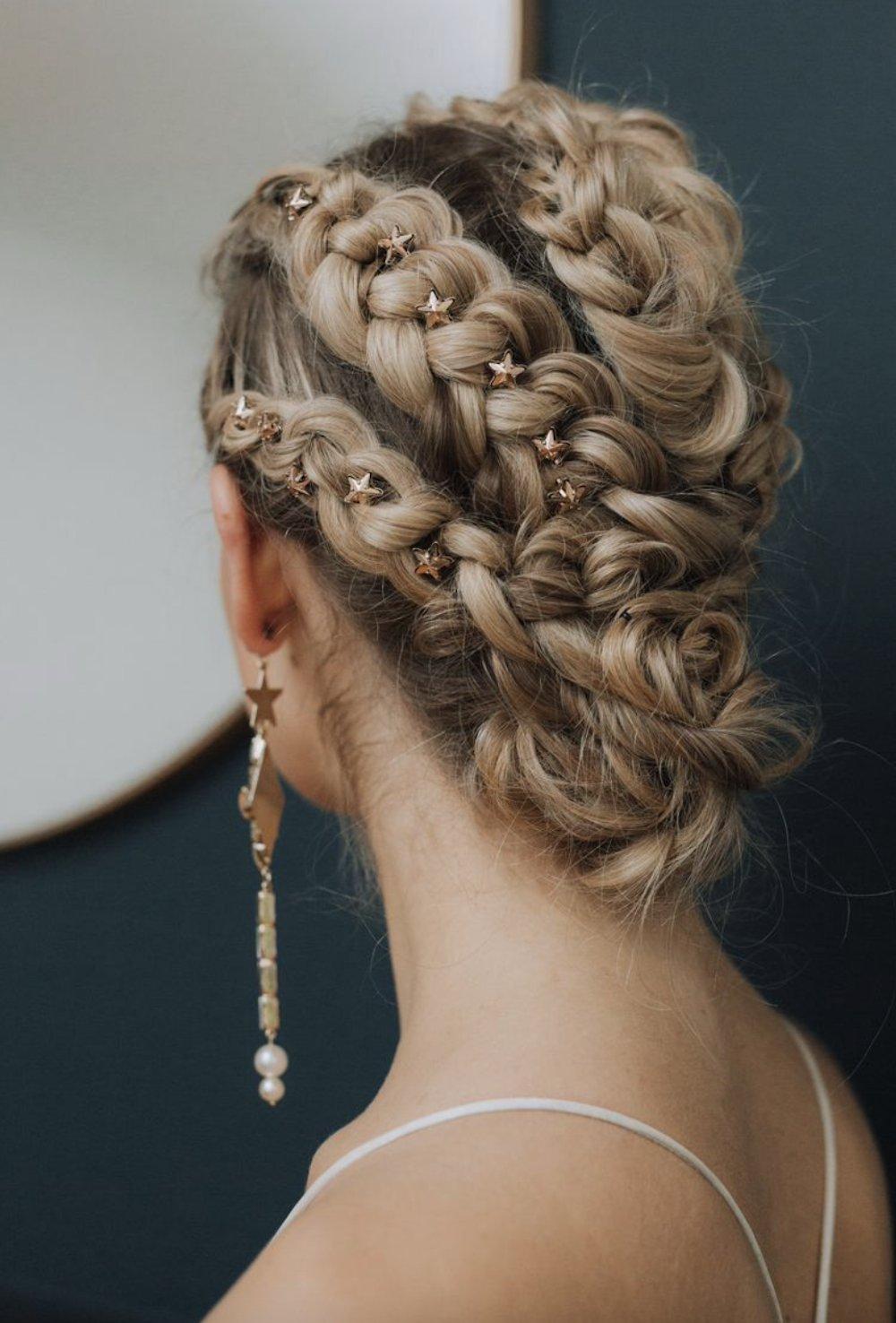 Multiple star-pin studded Dutch braids create a bridal updo look fit for a rockstar. Secure ends in a twisted low bun and add big earrings to make a stylish statement – this look would work particularly well with a pared-down outfit.
4. Flyaway Twists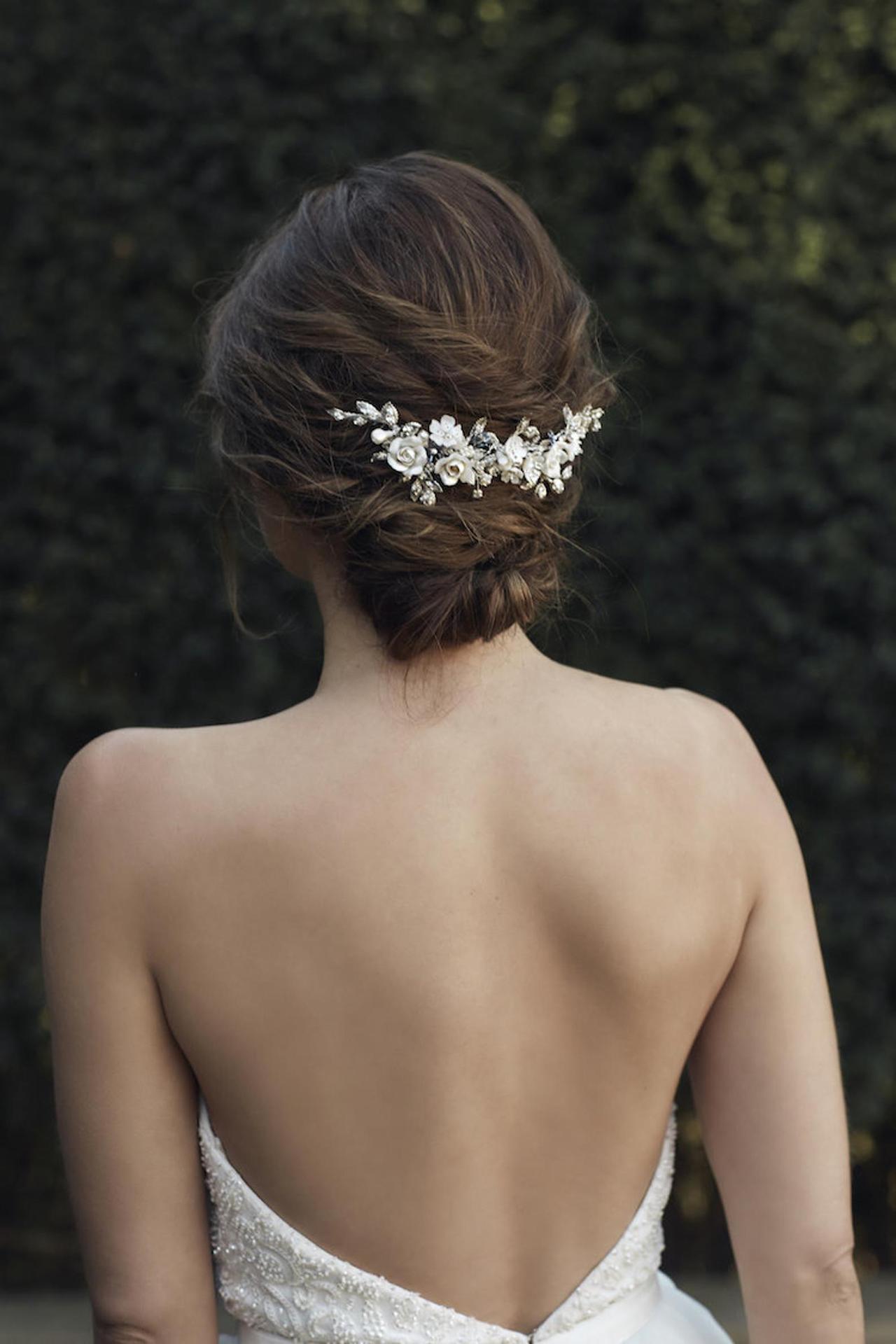 Ethereal and timeless, a loosely twisted chignon at the nape of the neck looks even more beautiful when paired with a vintage clip.
5. Side-Twisted Low Bun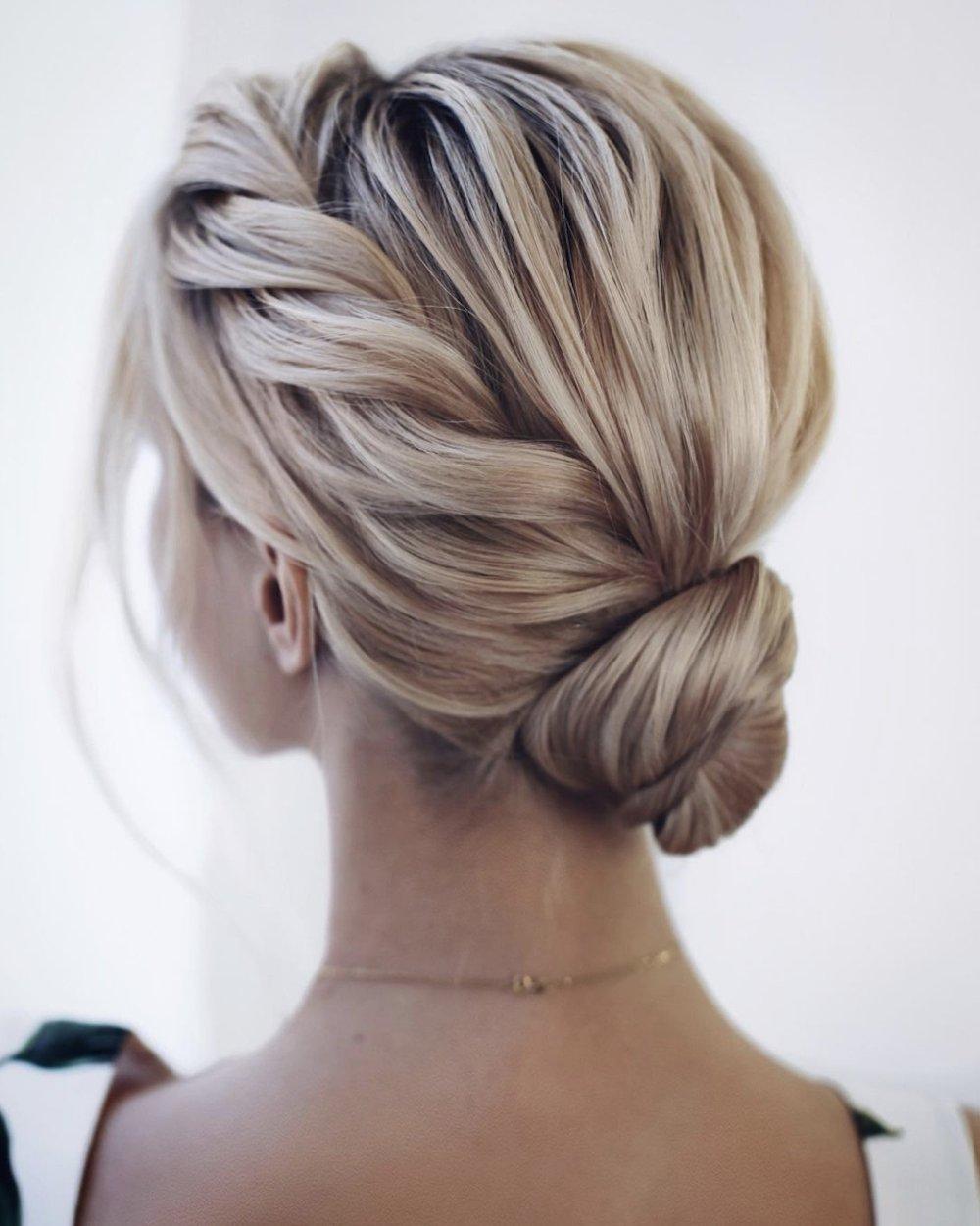 A side twist graduating into a neat low bun the perfect fusion of sophistication and romance. This works even better if you have highlights or multi-tonal colour.
6. Messy Crown Braid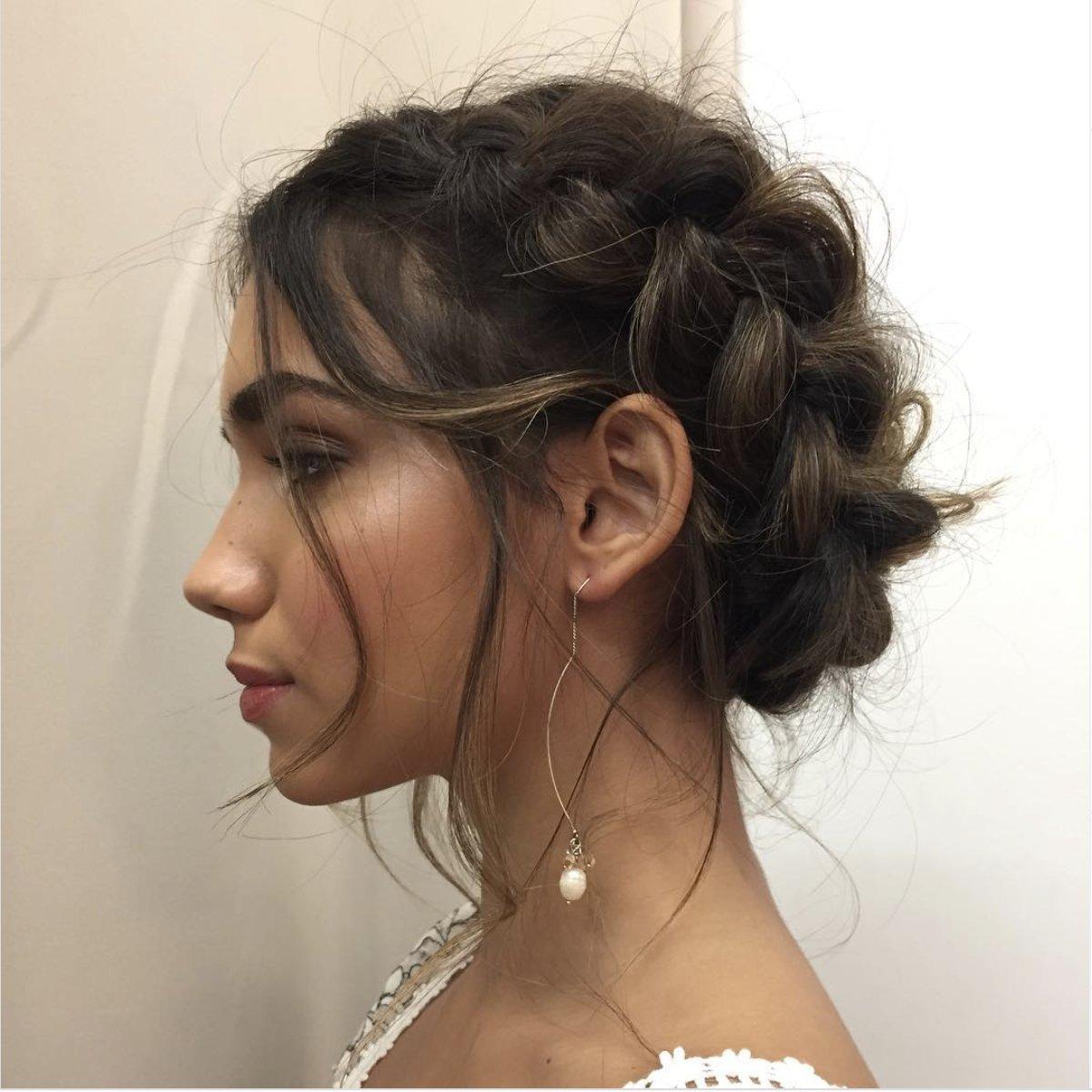 Speaking of romance, this chunky crown braid with loose tendrils around the face is pretty damn dreamy. Ensure to pull the plaited sections away from each other a little for a gorgeously undone updo.
7. Centre Parted Dutch Braids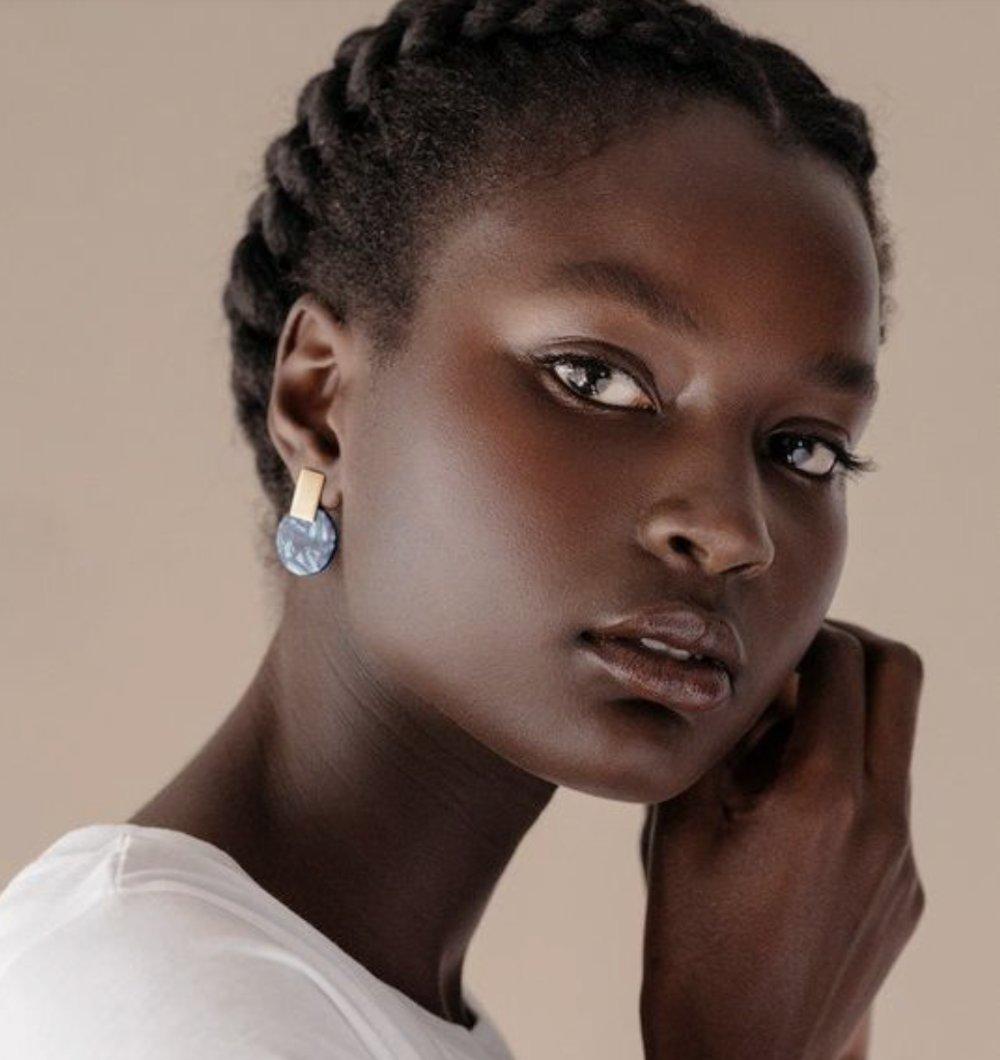 Dutch braids deliver a little volume while a centre parting keeps the focus on your features. It's just the look to team with a dramatic pair of earrings or an ornate veil.
8. Slicked Back with a Band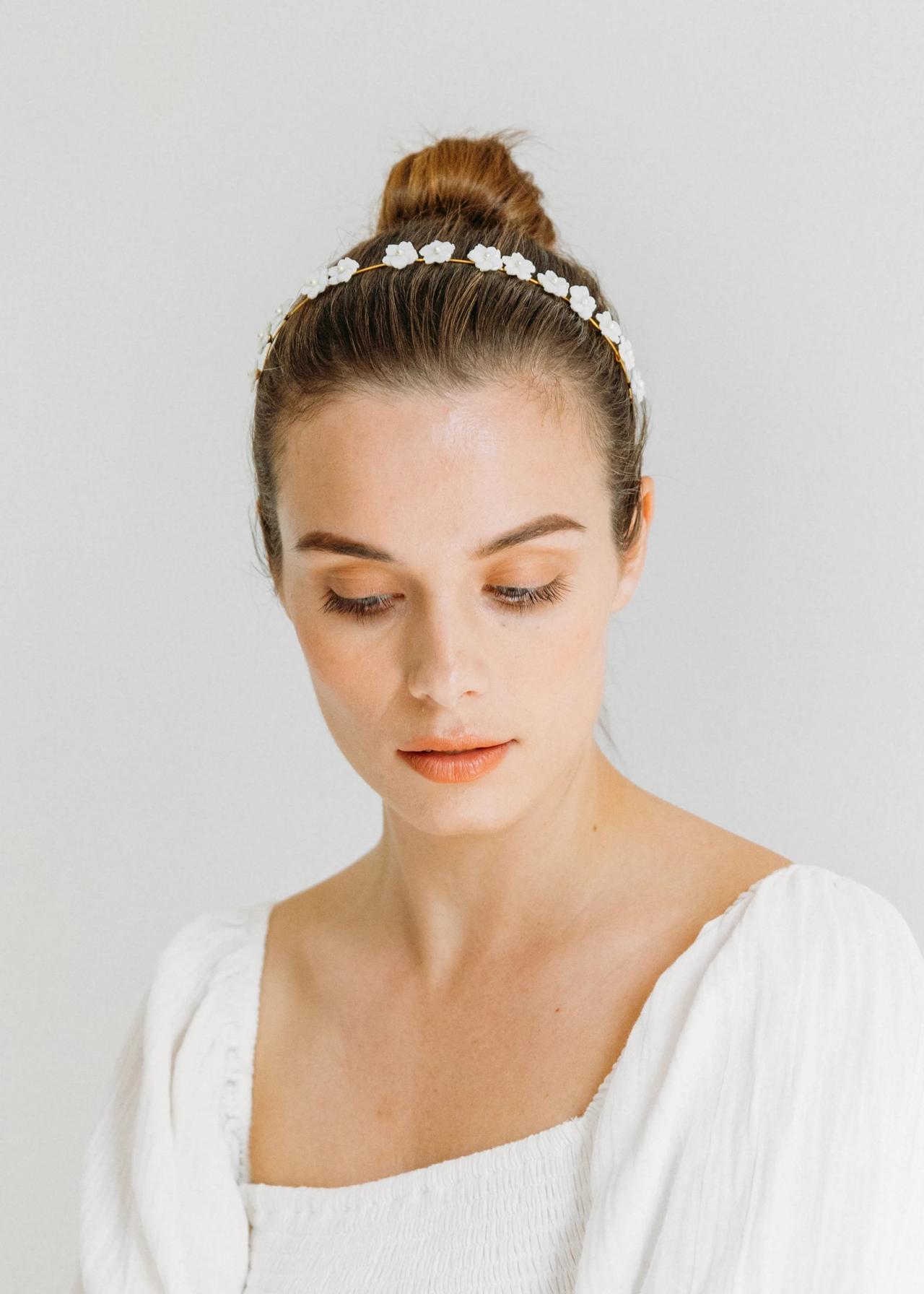 A polished bun made fun with the addition of a delicate, pearl encrusted band. This ballet bun is the ideal blank canvas for any bridal hair accessory you may have your eye on – play around and see what works.
9. Swept-updo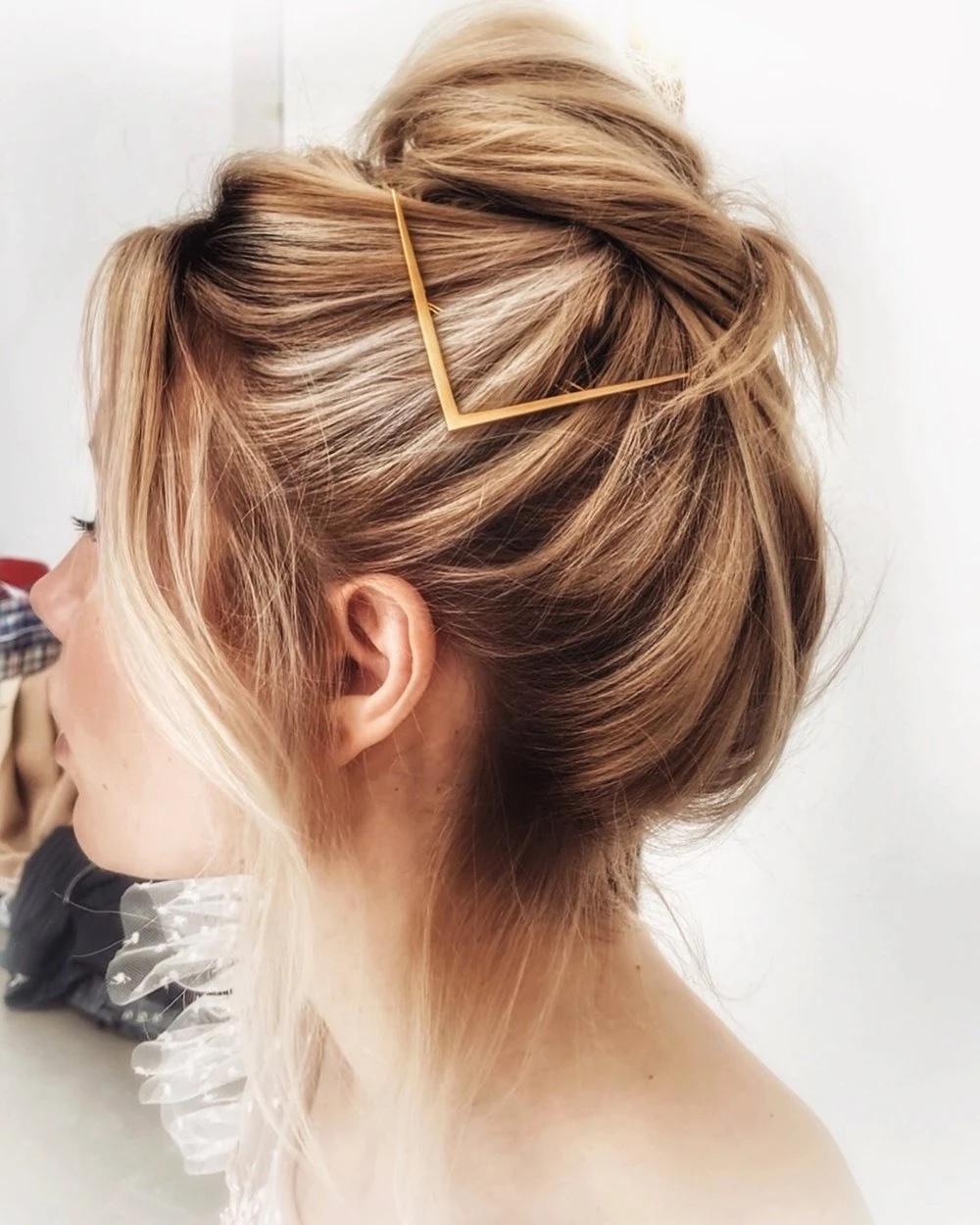 Sweep hair into a bun, curling a few sections around your face for an even more relaxed feel. A geometric hair clip adds a sculptural finish.
10. Star Slides and a Messy Twist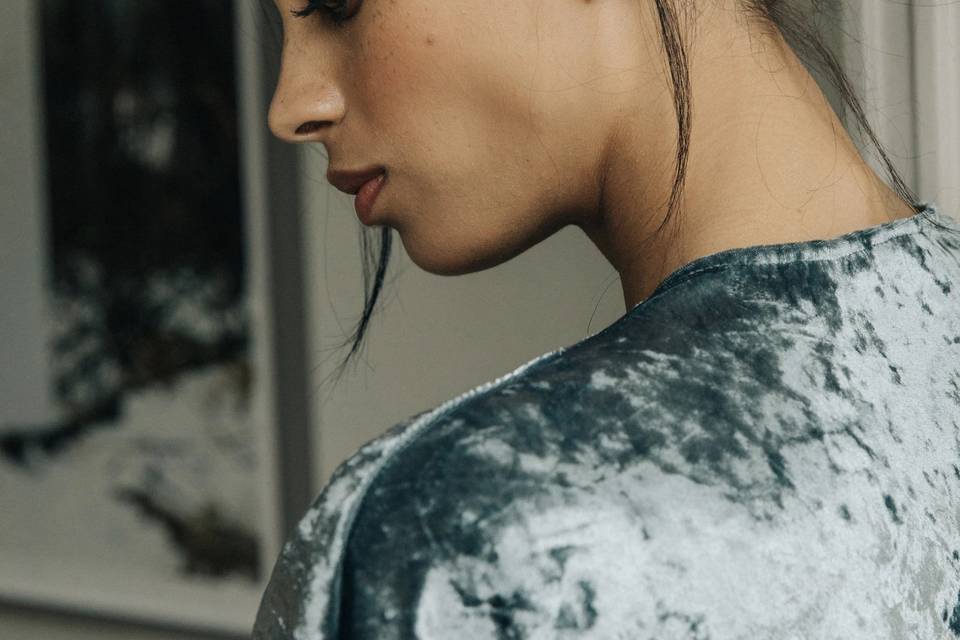 From pearls to stars, glitzy statement slides look all the more cool when worn with a slightly dishevelled classic updo. Pull out strands around the face and loose ends at the back for a lived-in look.
11. Halo Braid with Twin Hair Pins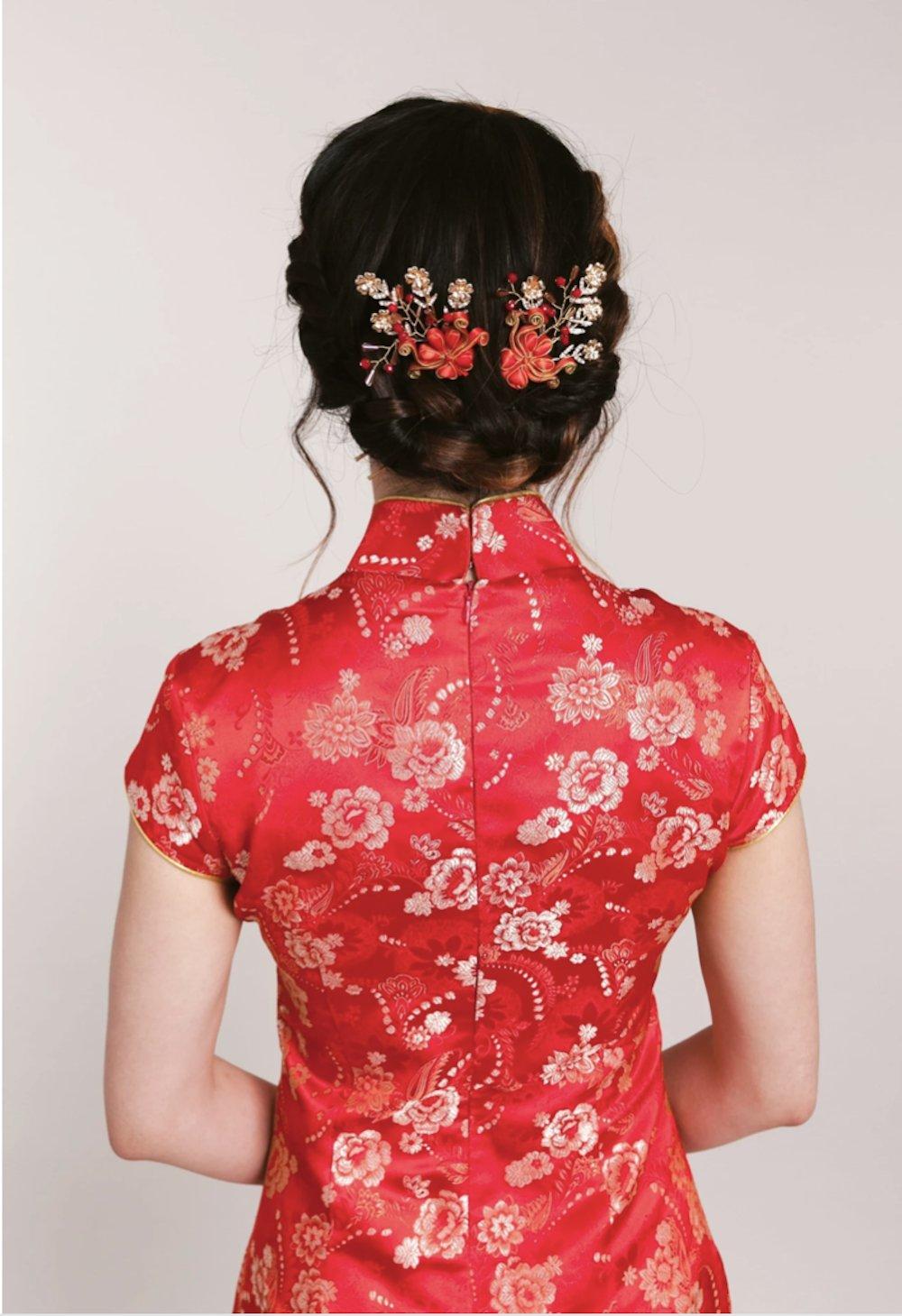 This Chinese hair pin set provides beautiful 'twinning' inspo – mirror image pins and clasps look opulent in almost any updo style. A halo braid is both boho and elegant.
12. Art Deco Updo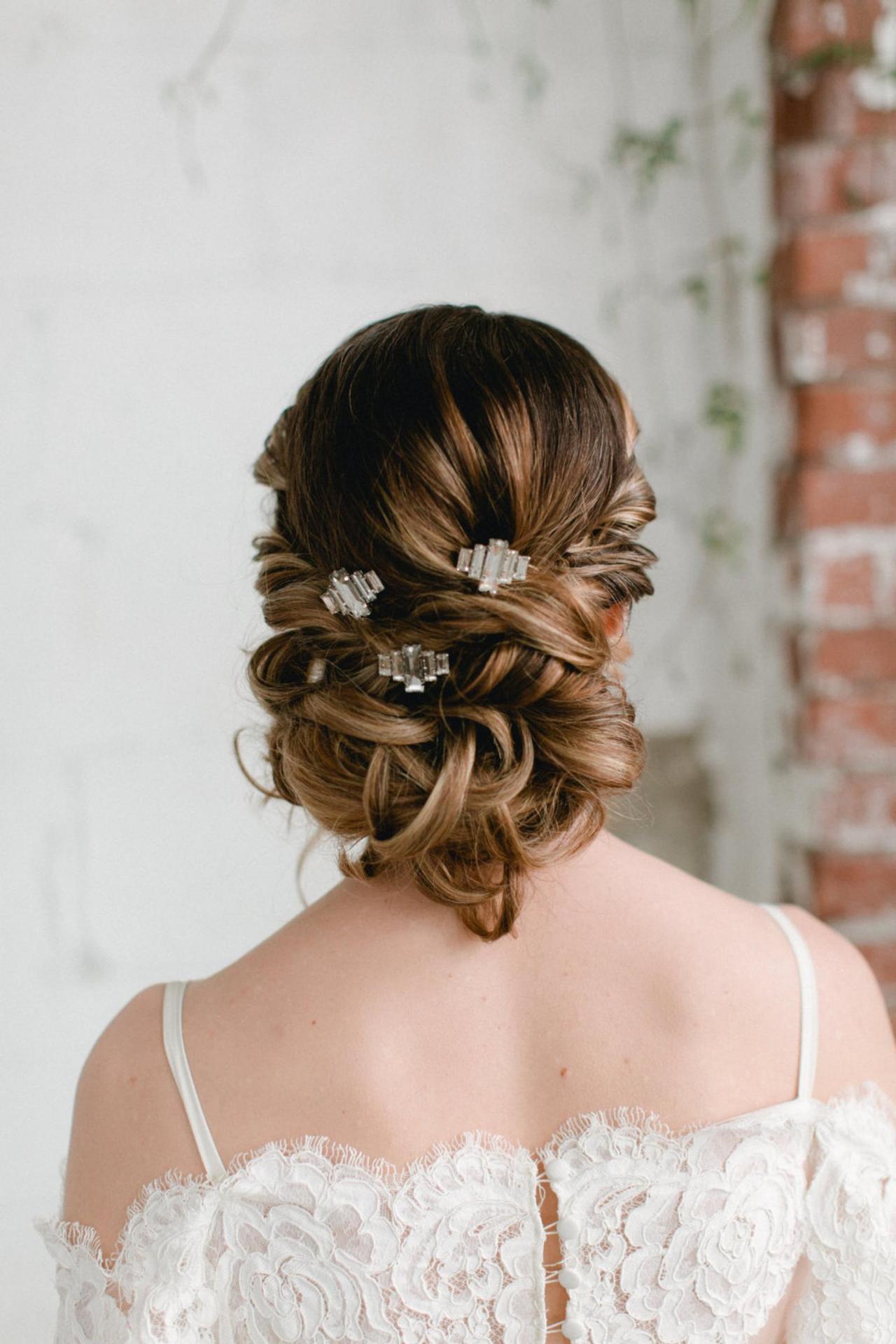 Enhance a tumbling twist-under with vintage art-deco clips – this updo is just the thing if your wedding dress has a drop waist or 20s style beading.
13. Barrettes under a Bun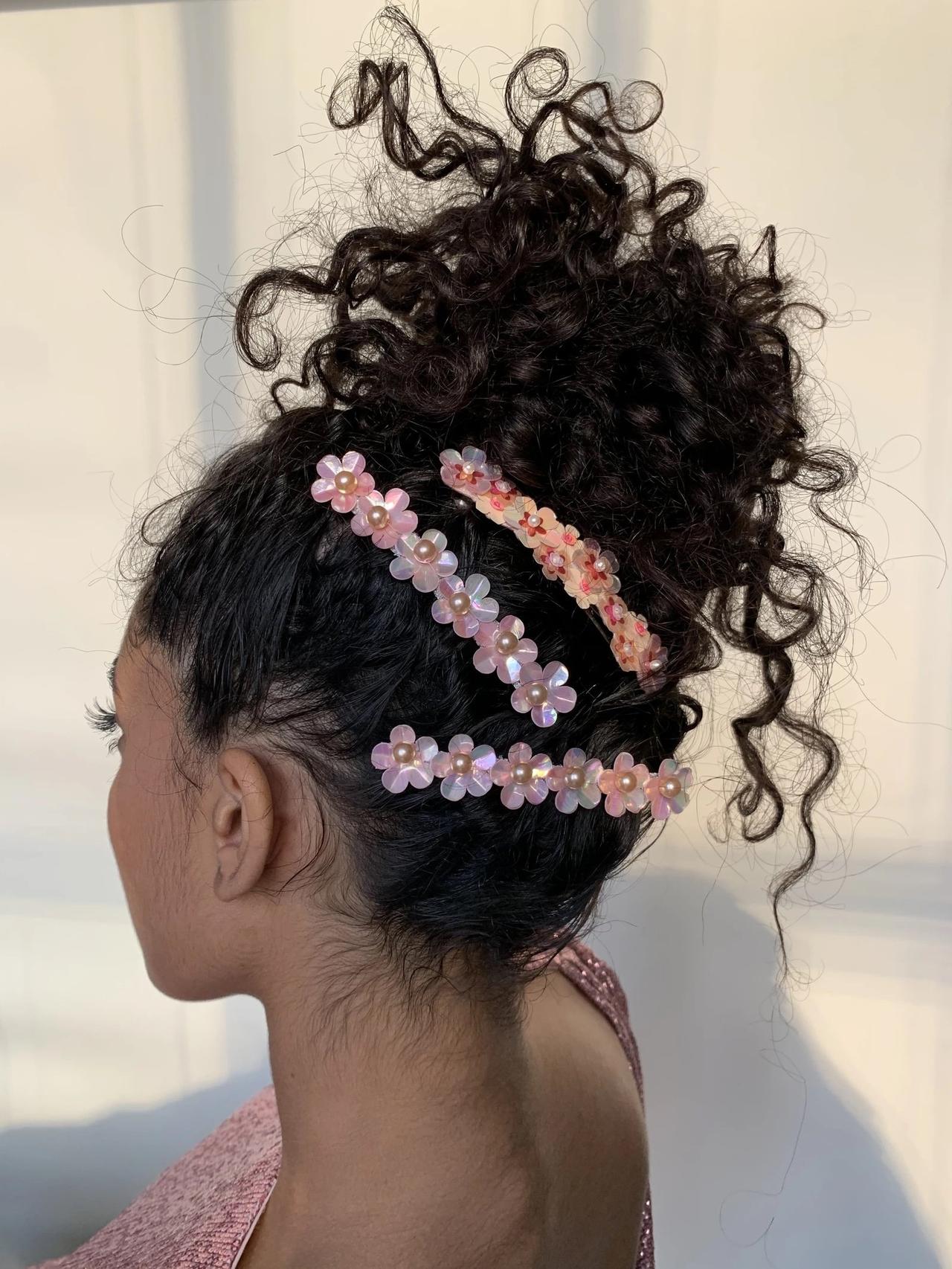 A topknot with loose tendrils plus three bright floral barrettes = a seriously joyful and kitsch wedding hair look.
14. Single Statement Flower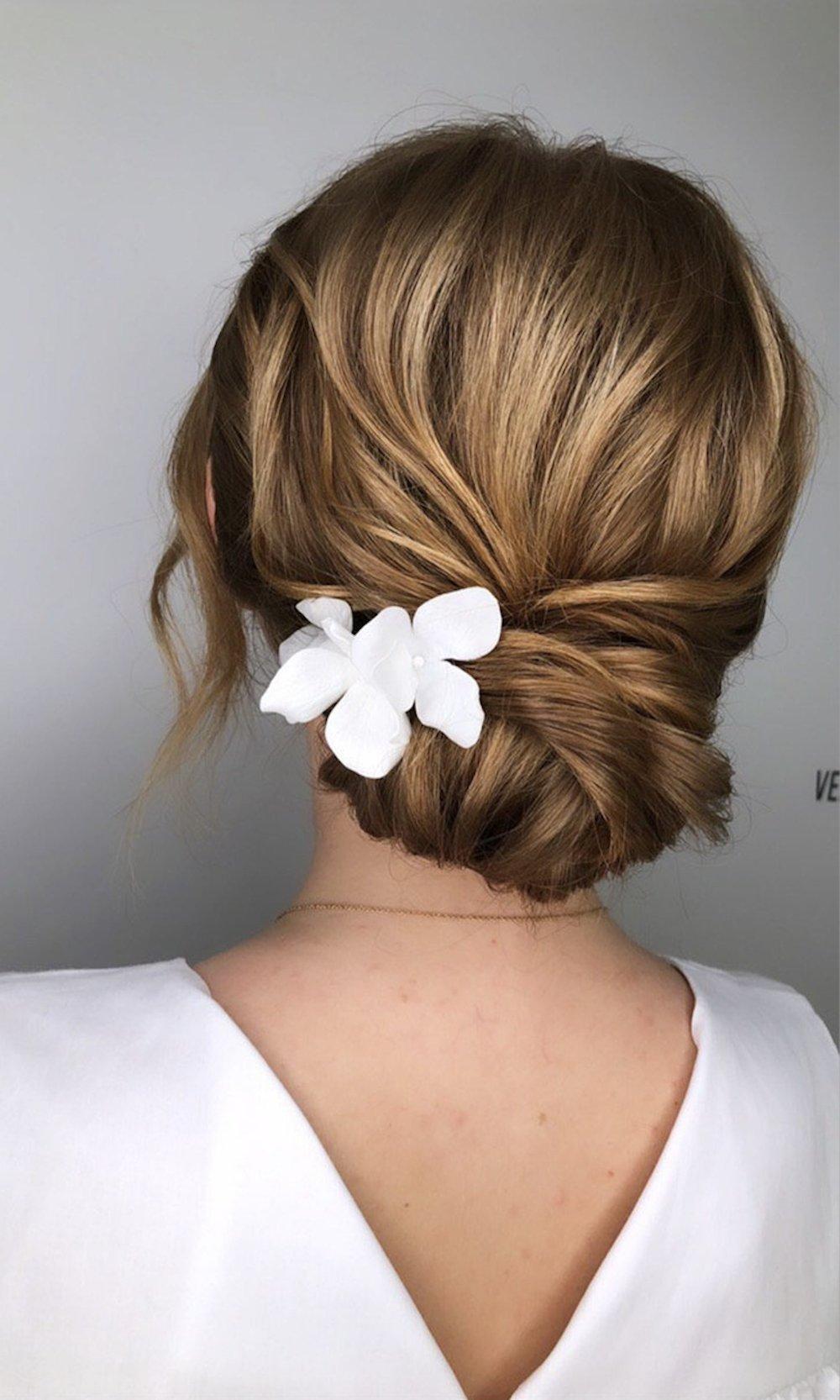 A simple tuck under works for all hair lengths – add a statement flower at an angle in a shade that suits your wedding colour palette or floral design for a low key accessory.
15. Baby's Breath Halo Bun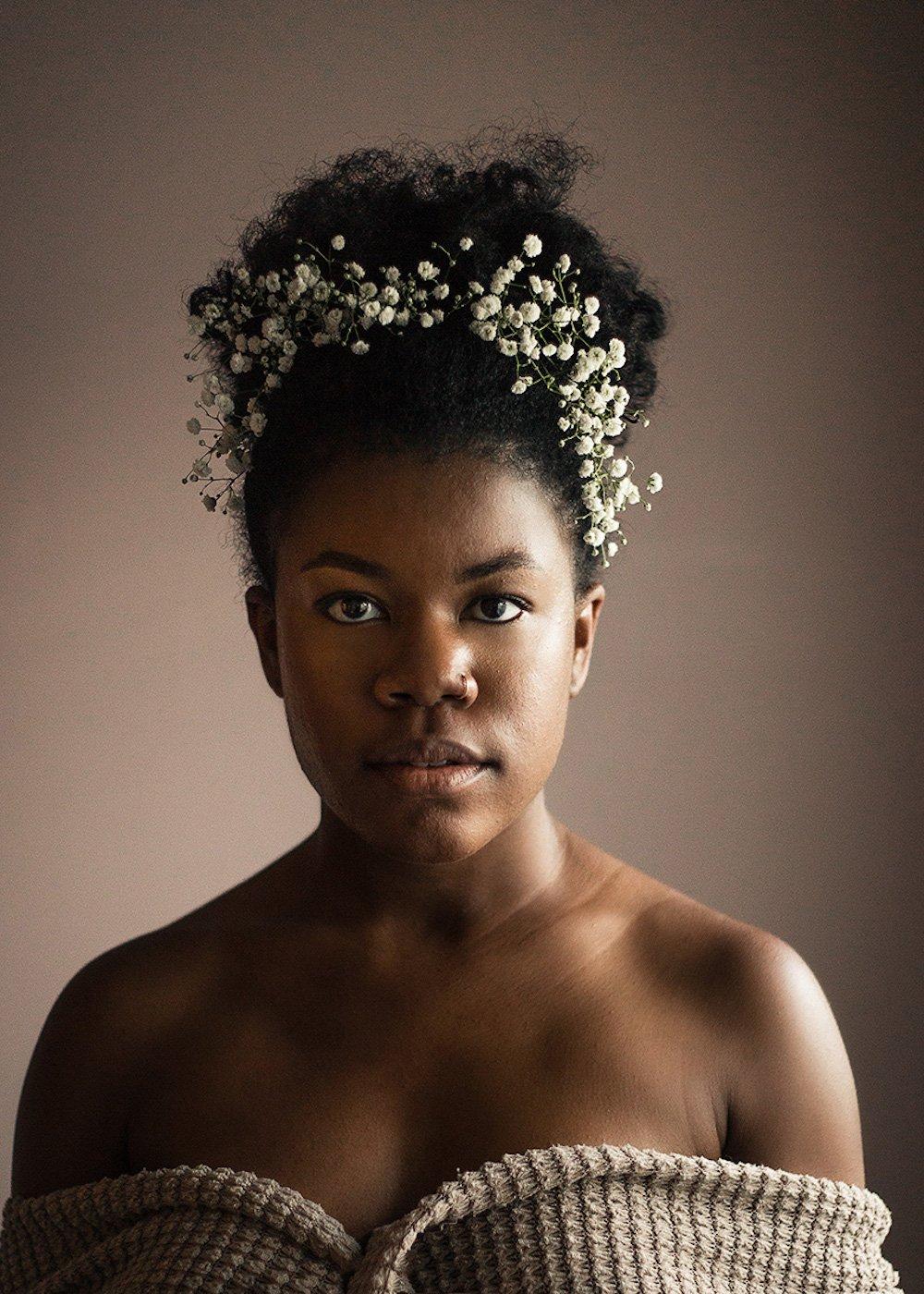 More delicate florals in a 'more the merrier' style. Adding a sprig of baby's breath is a classic wedding updo touch but why stop at just a few? A baby's breath crown bordering a bun is regal yet super easy to achieve. Ask your florist to attach flowers to a band for extra staying power.
16. Updo Tied with a Bow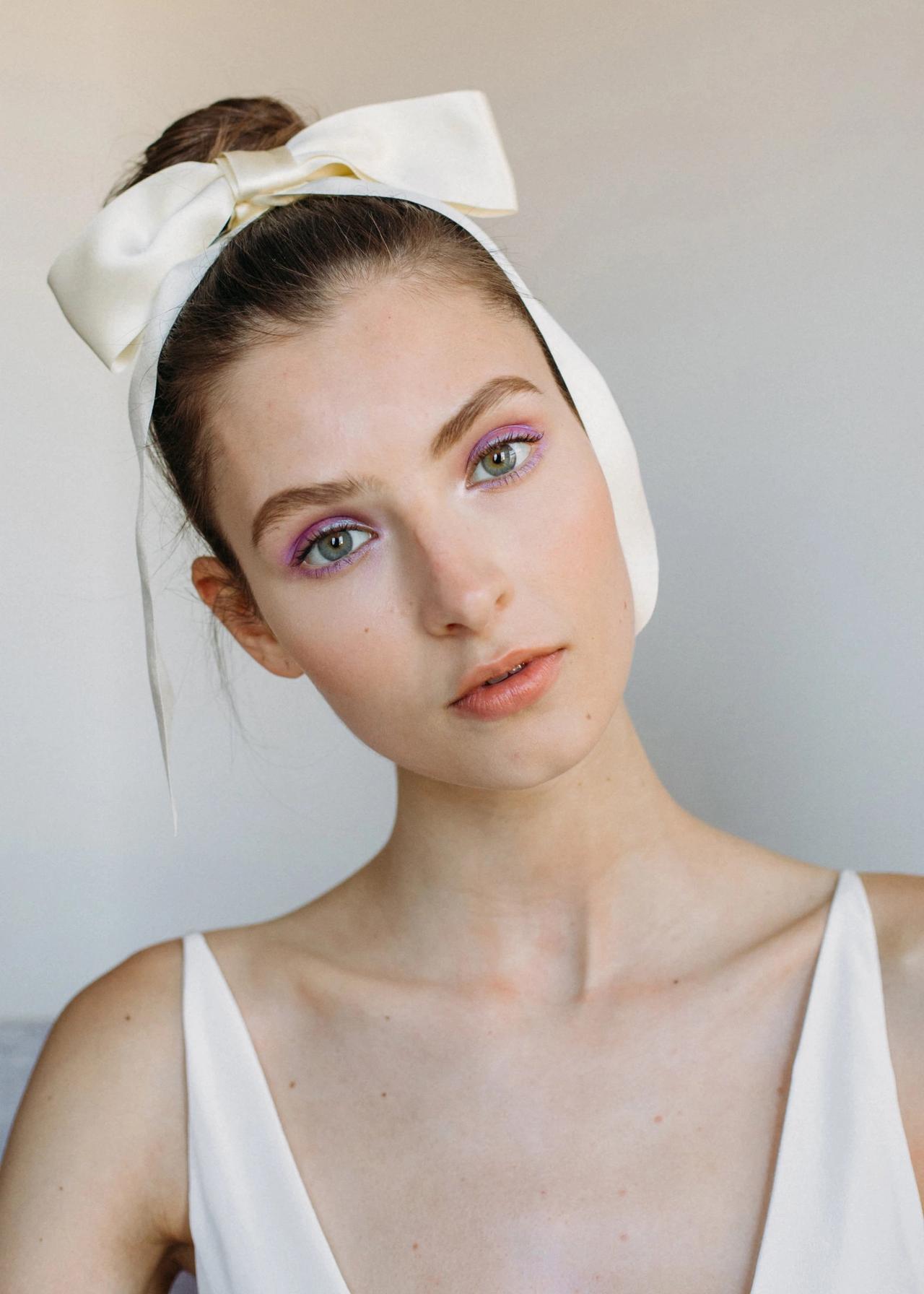 Whether it's your 'something blue' or in white, ivory or cream to match your wedding dress, an oversized bow in a luxe material elevates the simplest of updos.
17. Silk Scarf Woven Twisted Bun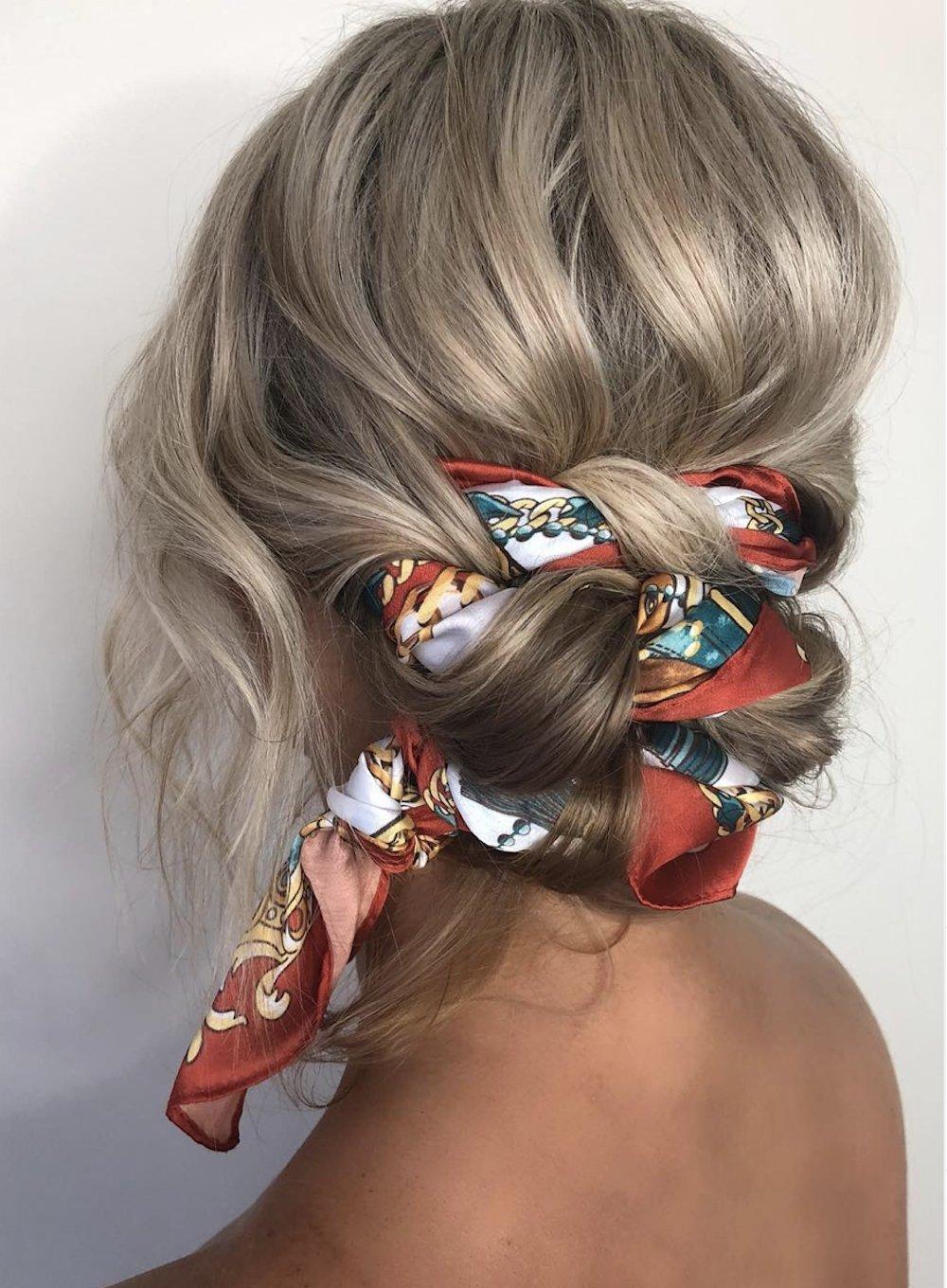 Another way to incorporate a ribbon, scarf or meaningful length of material (a cutting of fabric given to you by a loved one would work wonderfully). This loose twisted bun comes alive thanks to a beautifully threaded and knotted silk scarf. It's an unusual wedding hair updo idea but one that will be remembered by guests for years to come.
18. Chignon with a Ribbon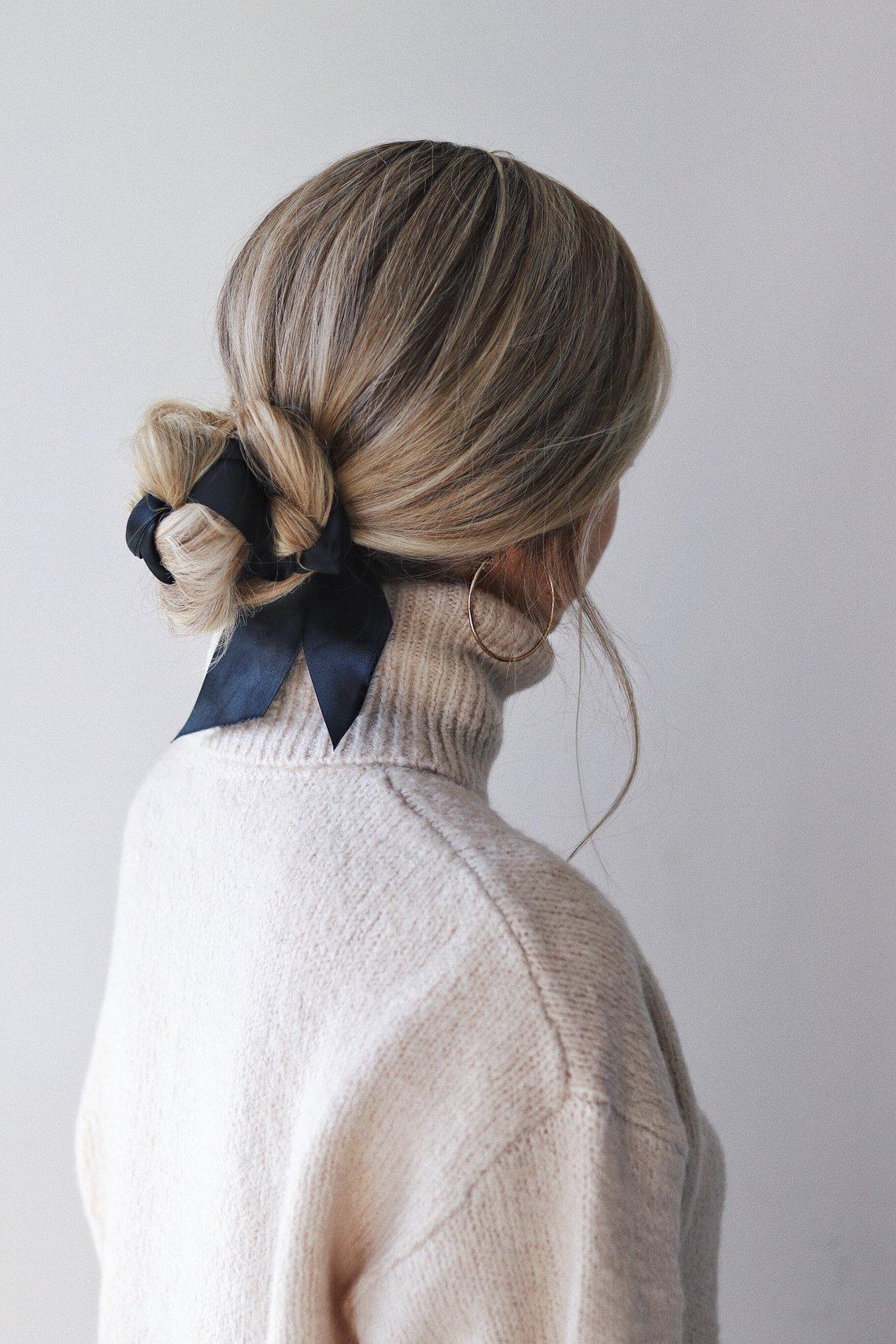 The same idea, scaled back a little in the form of a low chignon tied with a chunky ribbon. Consider contrasting colours for bridesmaids hair or match your ribbon to other design elements on the day.
19. Arty Hairpiece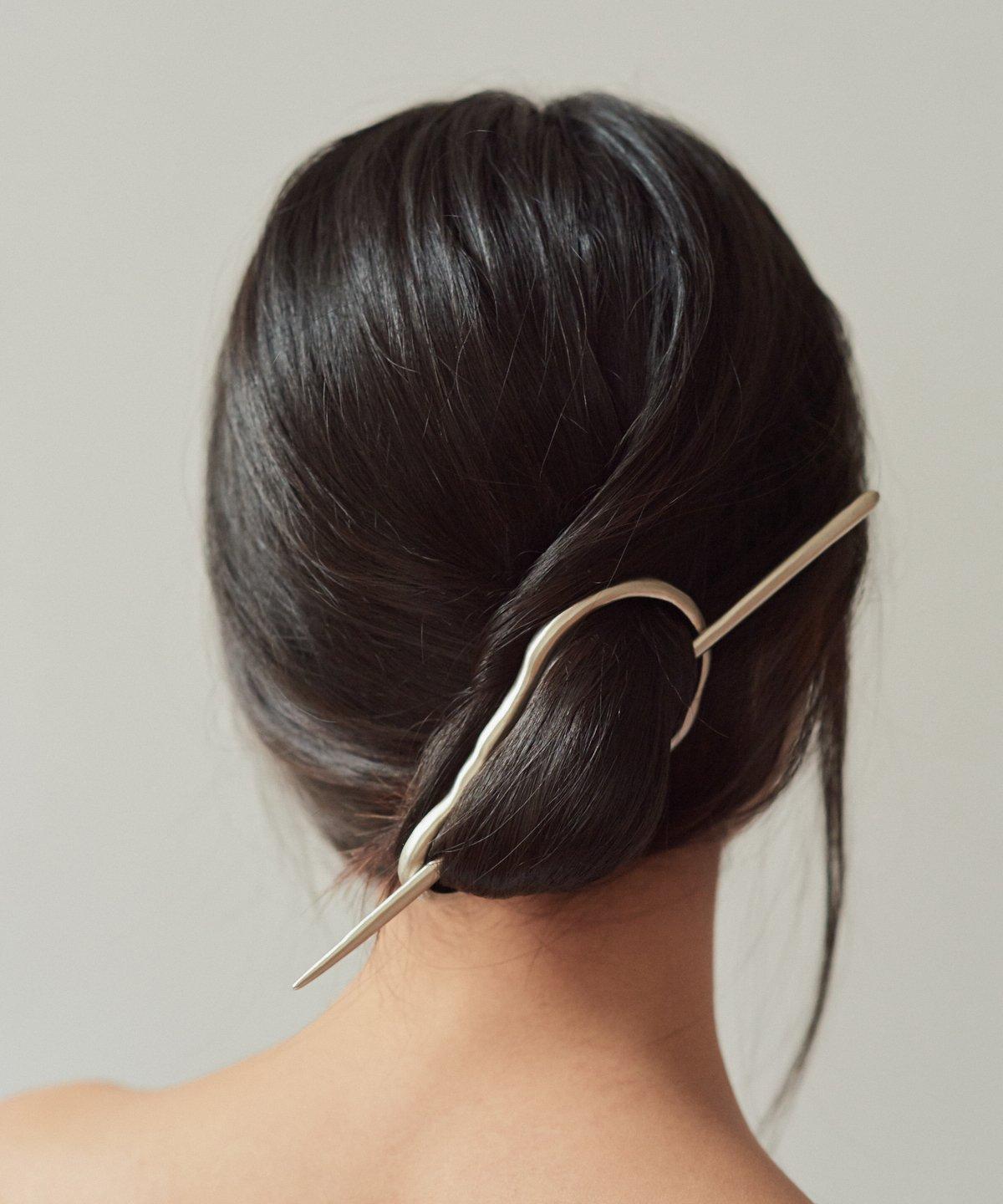 A wedding updo that wouldn't look out of place in a modern art gallery, this arty hairpin would suit alternative brides down to the ground. We can see it vibing especially well with a red lip.
20. Beehive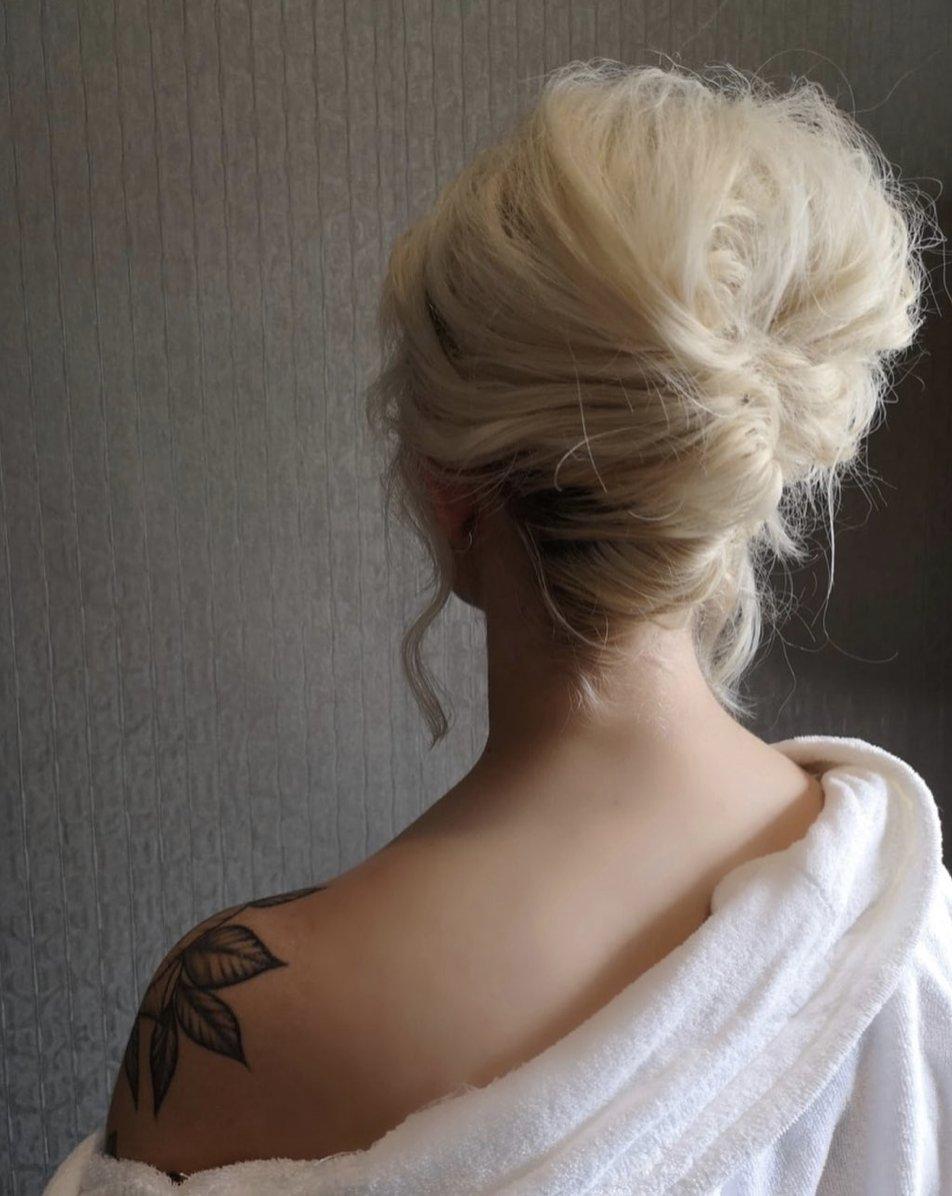 Sexy, retro and just made for late night jives on your wedding dancefloor. Be sure to tease hair out around the crown and get your backcomb on at the roots.
21. Glossy High Ponytail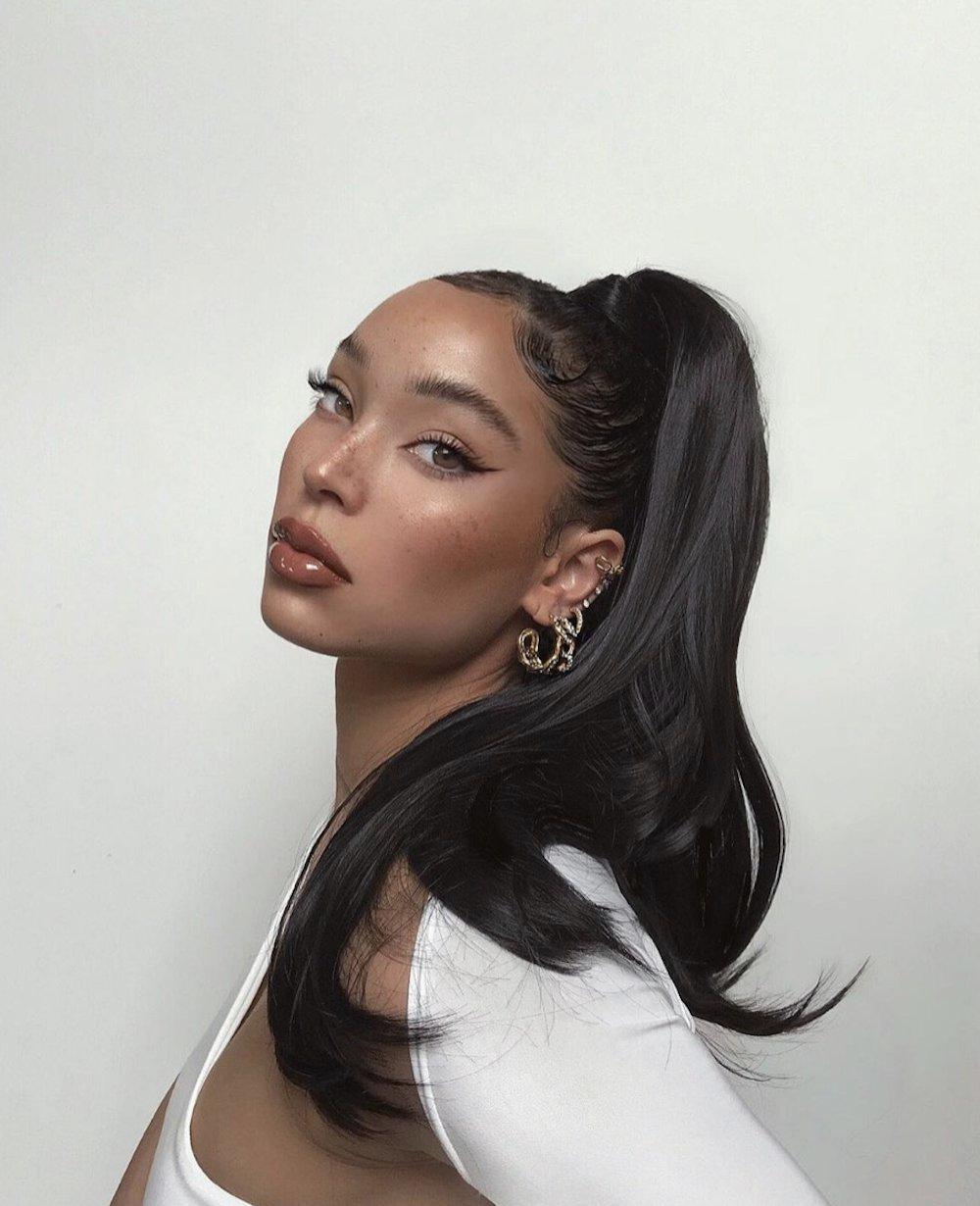 Also with a slightly Grease Lightening feel, this swishy wraparound high pony is about as far from the gym as a ponytail can get.
22. Loose Topknot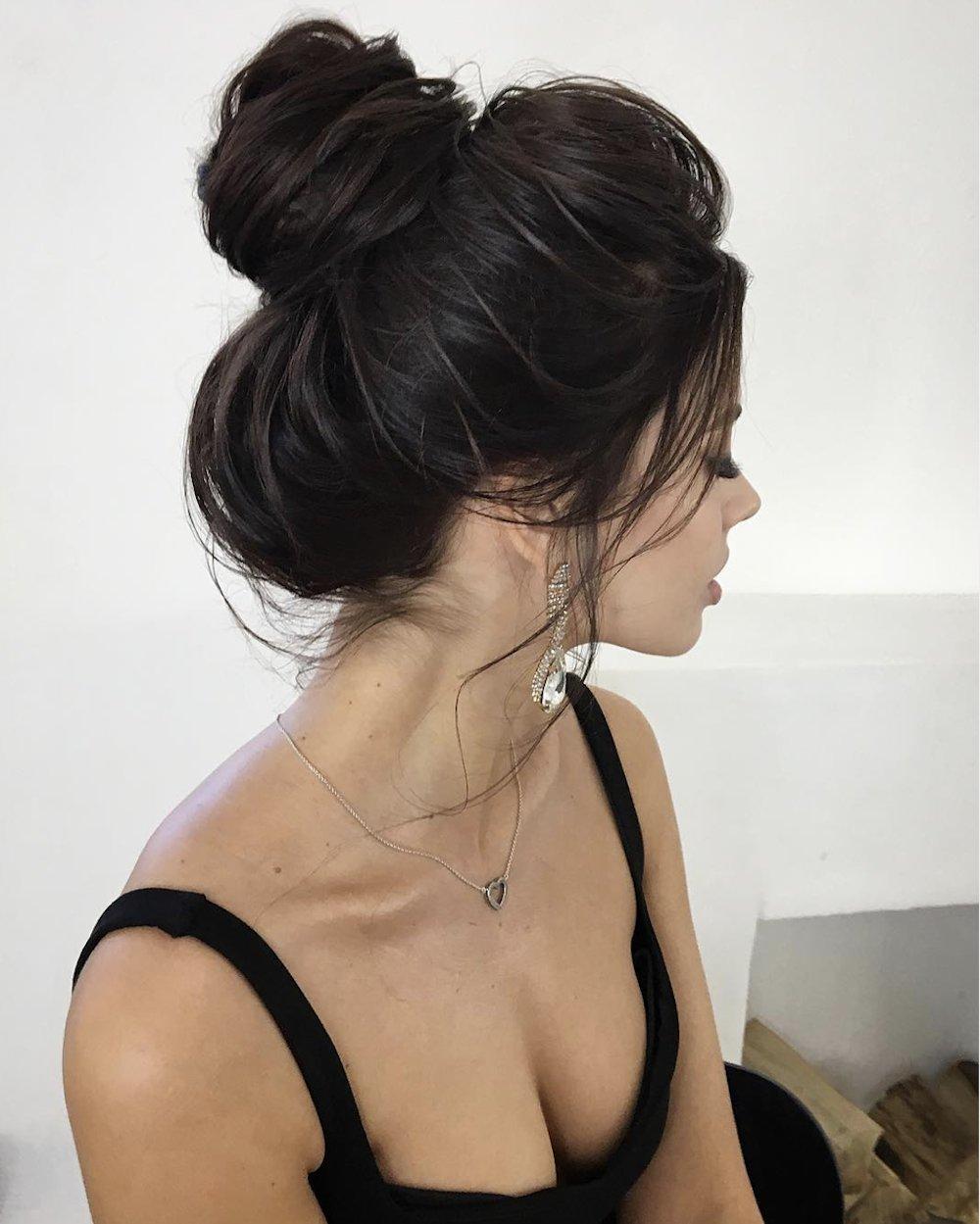 Another relaxed style revisited, a topknot with body at the roots and artfully arranged flyways will big up a backless dress or bold jewellery. It's the perfect fusion of formal and informal – add a veil below the bun if you're planning on wearing one.
23. Low Side Bun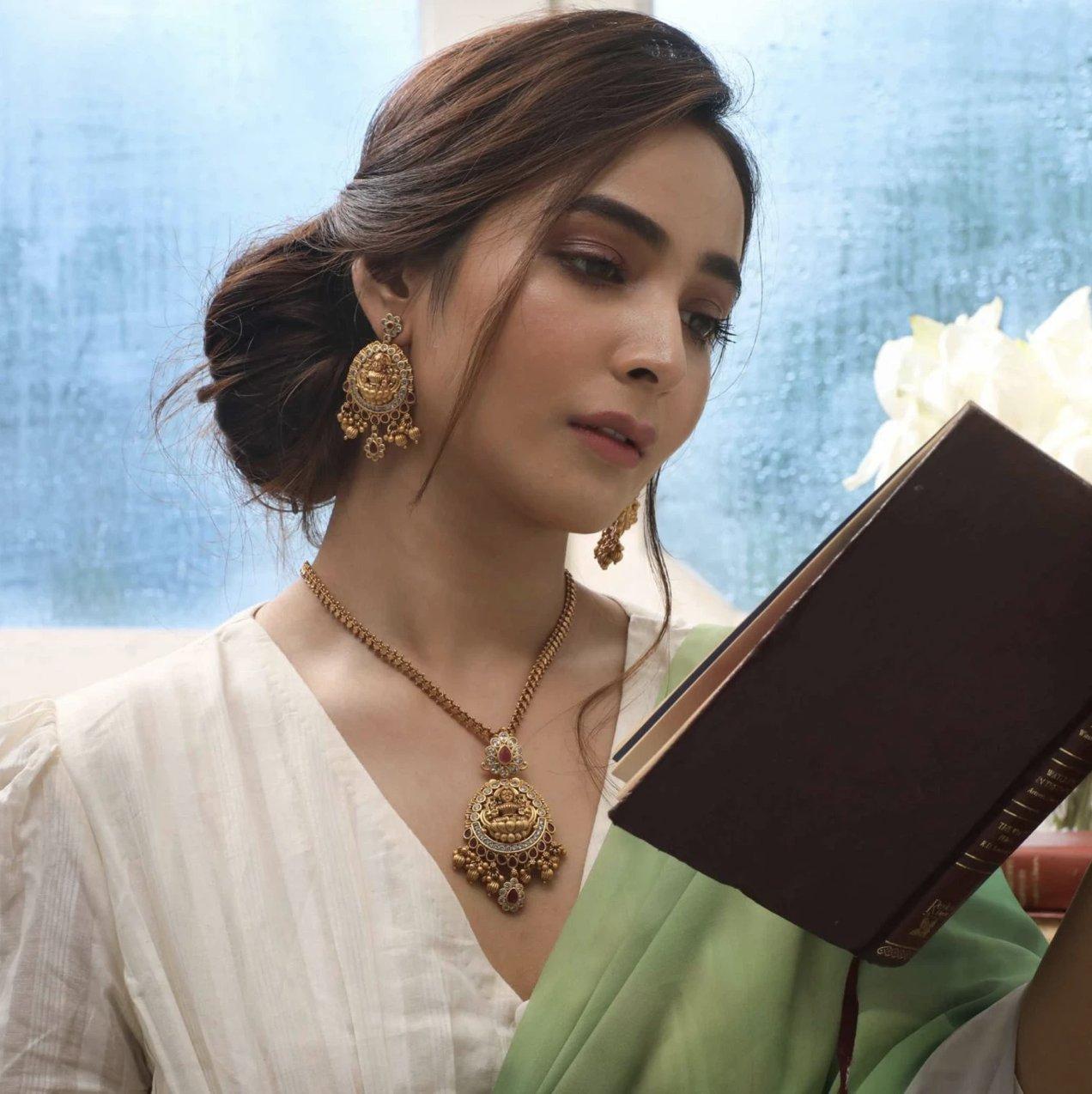 The same loose bun formula, worn lower and to one side to elegant effect. If you have a one shoulder dress, this updo style is the icing on the sartorial cake.
24. Low Chignon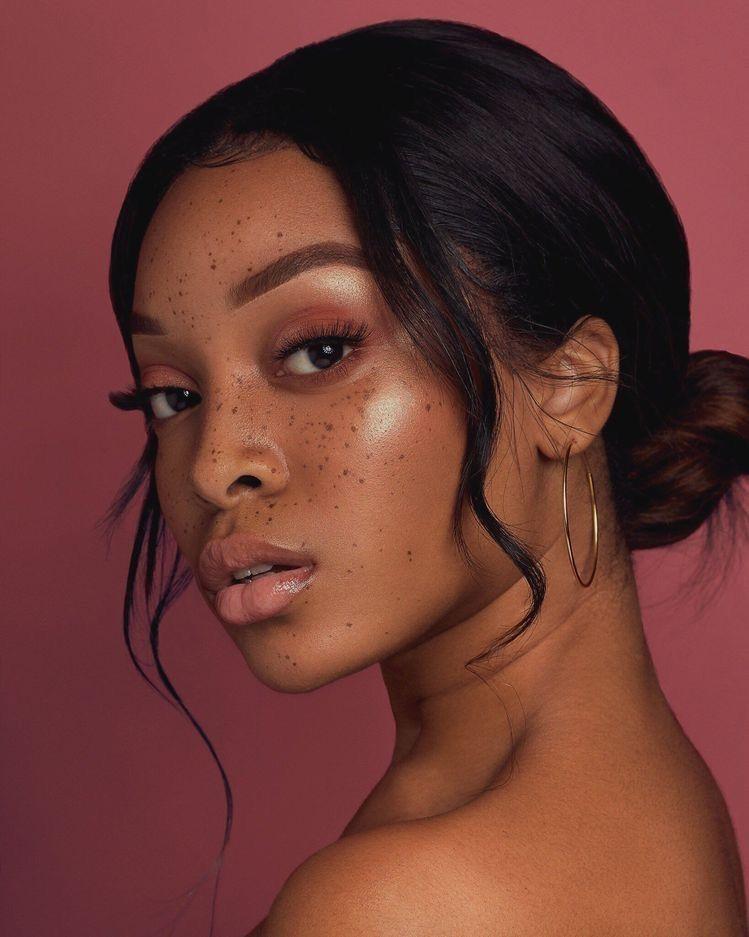 A low chignon never gets old – add big hoops for sass.
25. Fishtail Braid and Curly Bun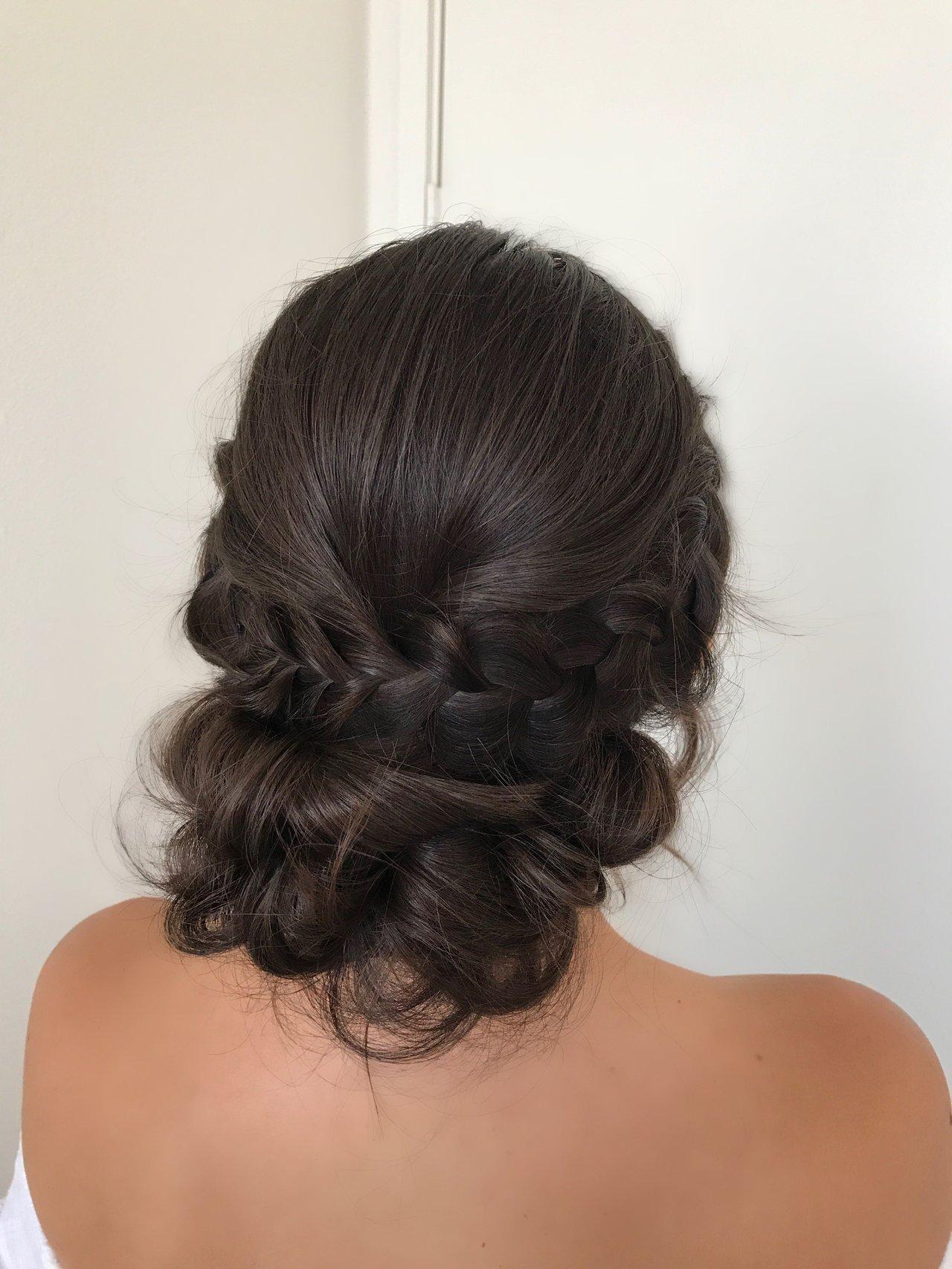 A teased-out fishtail halo braid looks gorgeously Grecian when finished with a loosely curled bun. Add a veil or accessories, or just let your updo do the talking.
26. Crystal Draped Bun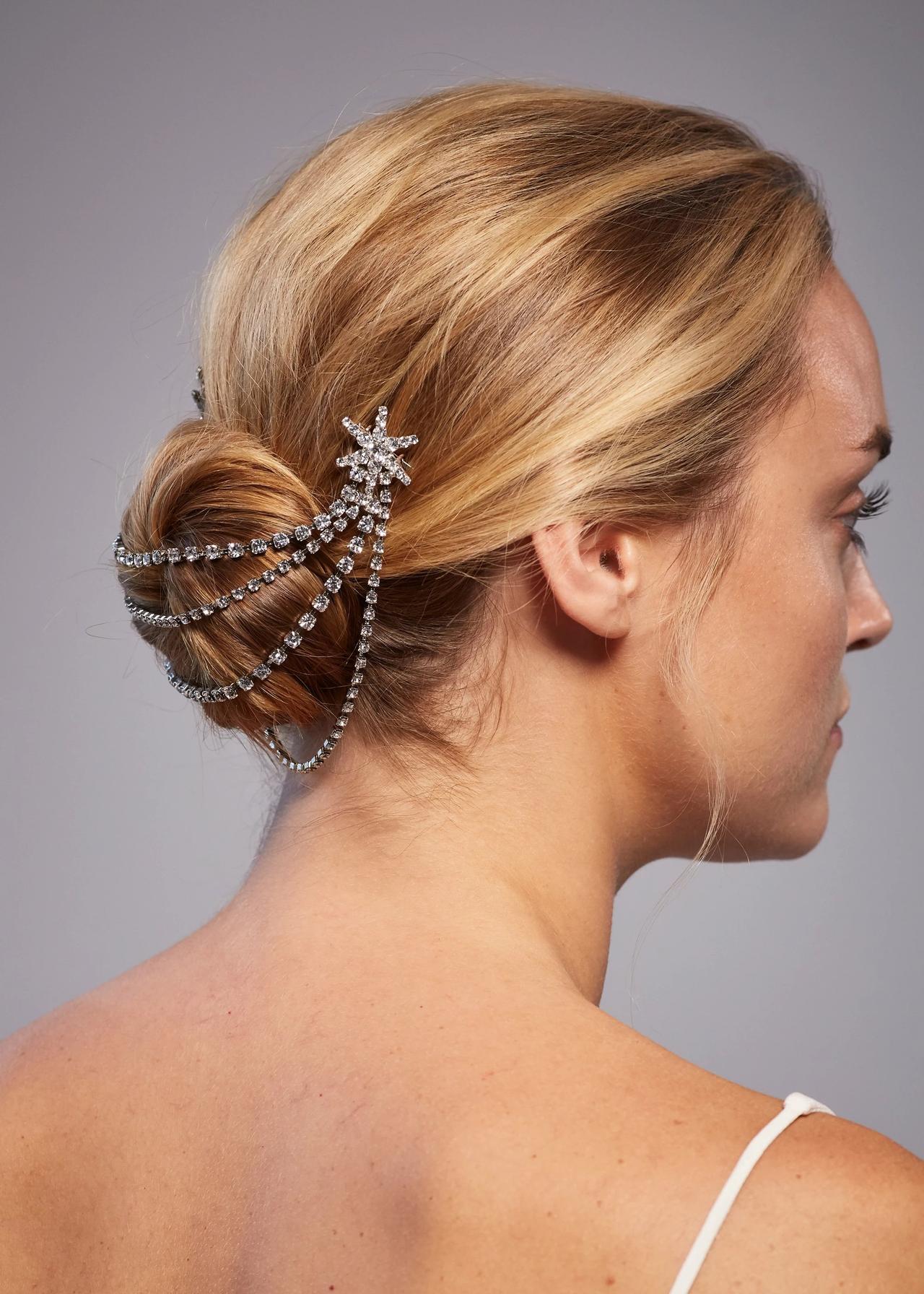 Another 20s era updo, this glitzy draped accessory requires only minimalist styling to shine. A veil worn low on the head will add to the magic.
27. Plaited Floral Bun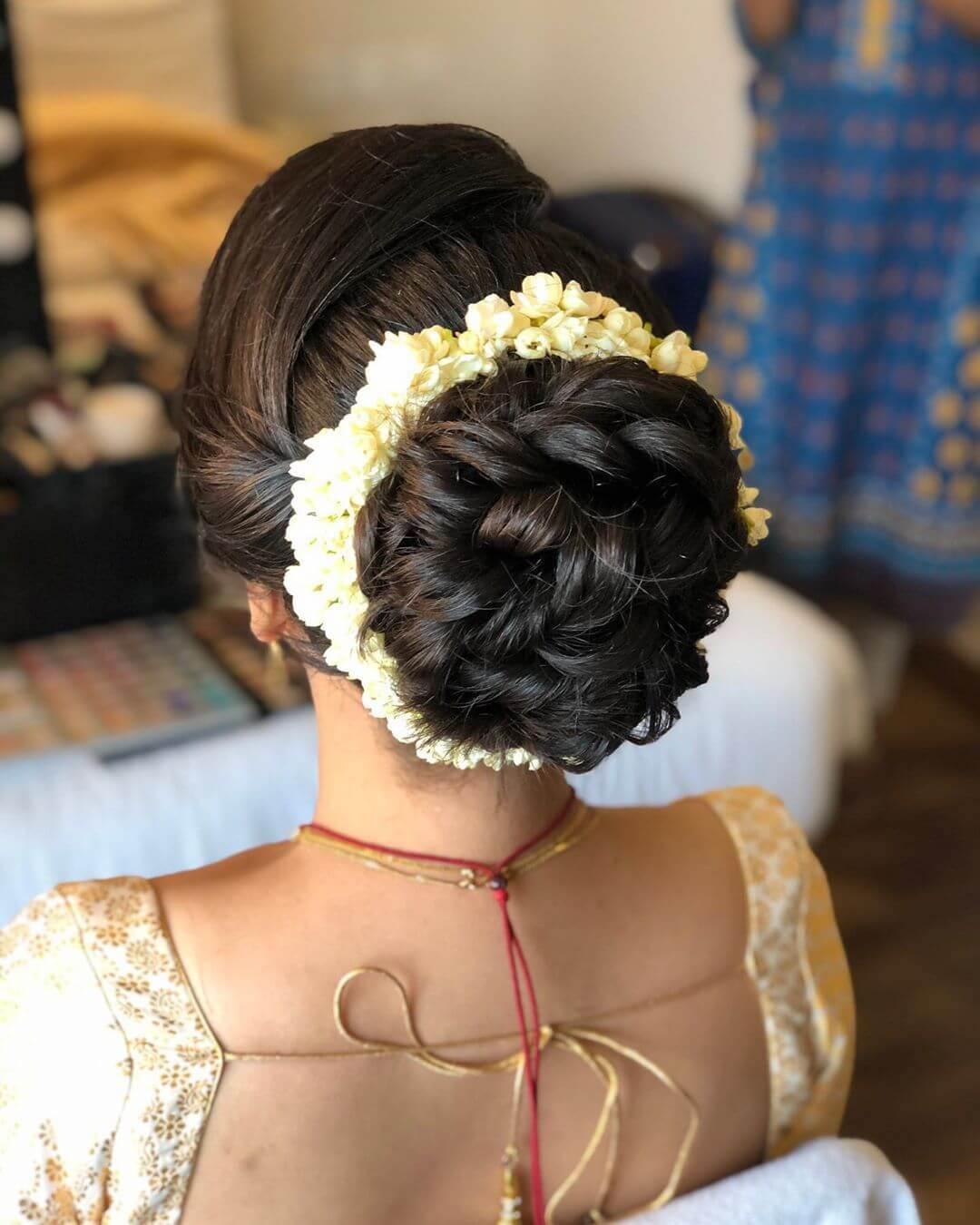 Encircle a plaited bun with a wreath of flowers for a bridal updo look that's fit for a Queen.
28. Tendrils Galore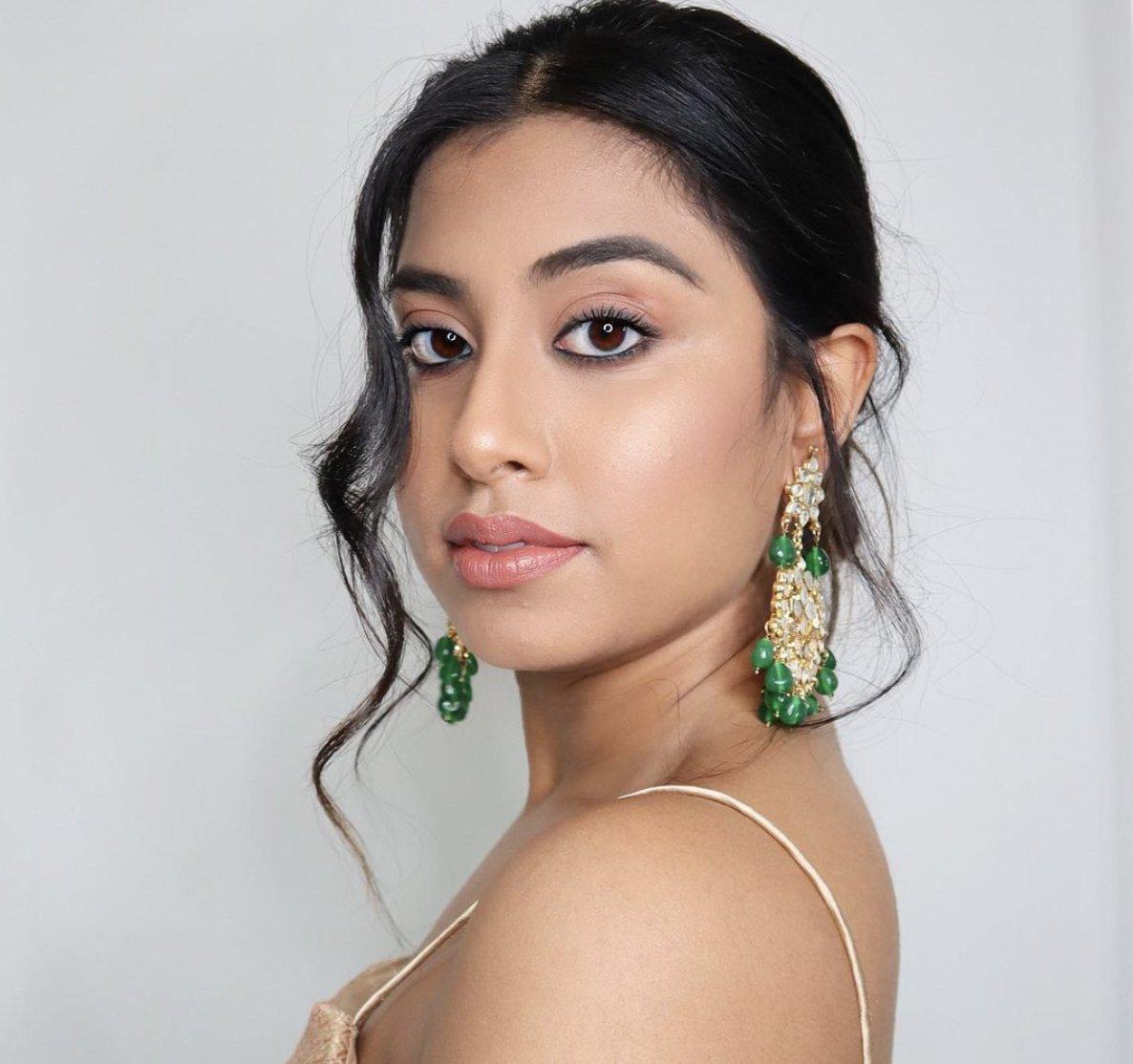 The jazz doesn't just have to be at the back – long, curled tendrils can equally serve as the focus of a wedding hair updo. If you're opting for bold makeup or ornate jewellery, this style will complement both.
29. Tendril Topknot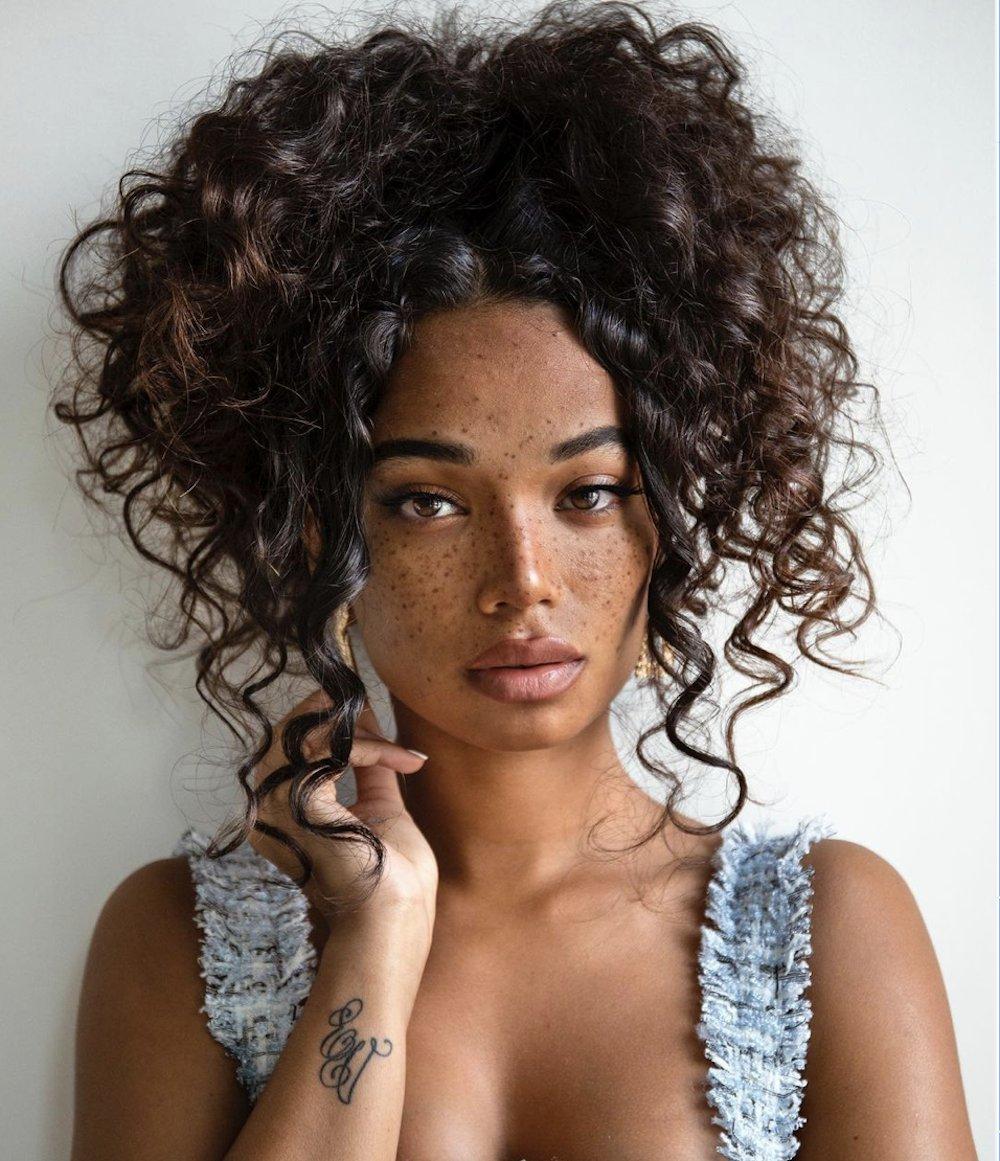 Speaking of curly tendrils, this high volume topknot makes tumbling ringlets the star of the show. Work with your natural texture, tonging random sections for definition and hold.
30. Curls with Gold Leaves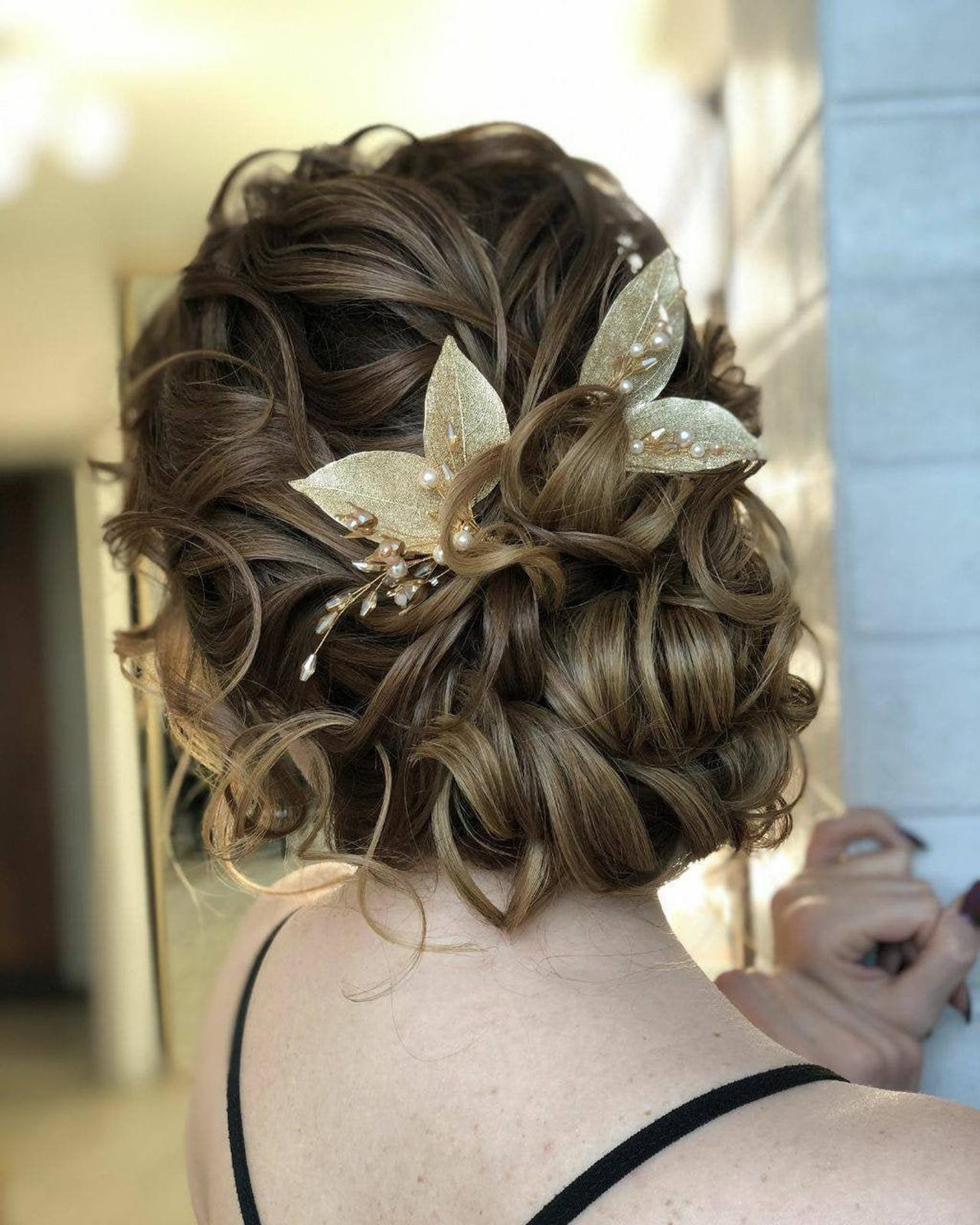 Speaking of bigging up curls, this classic, goddess-like updo is made all the more exquisite thanks to a few gold leaf pins tucked in between waves. If your wedding jewellery is gold, they'll fit in beautifully.
31. Editorial Bun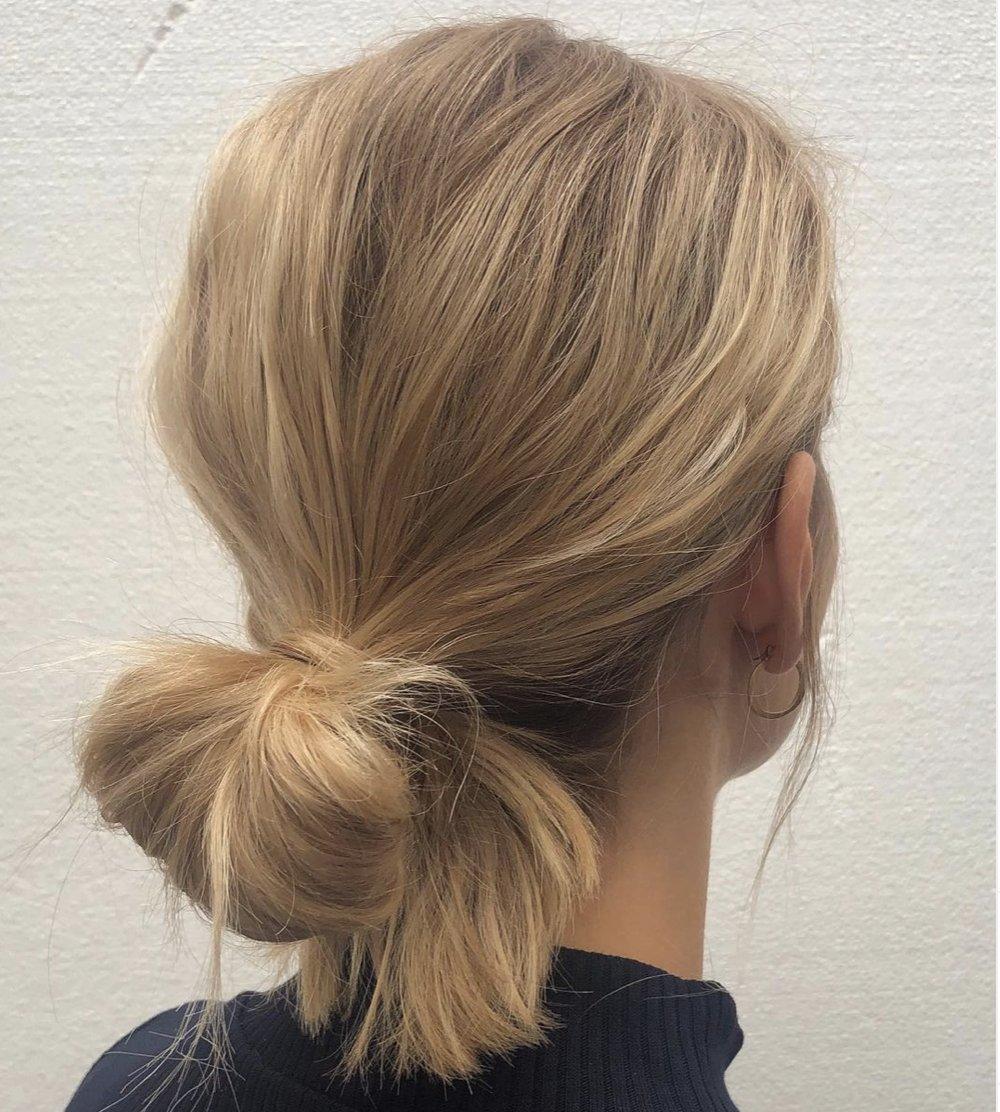 This textured low bun created by @knotyouraveragebride looks effortless – it's the perfect updo idea for relaxed beach weddings or to provide contrast to a big wedding dress.
32. Modern Clasp Twist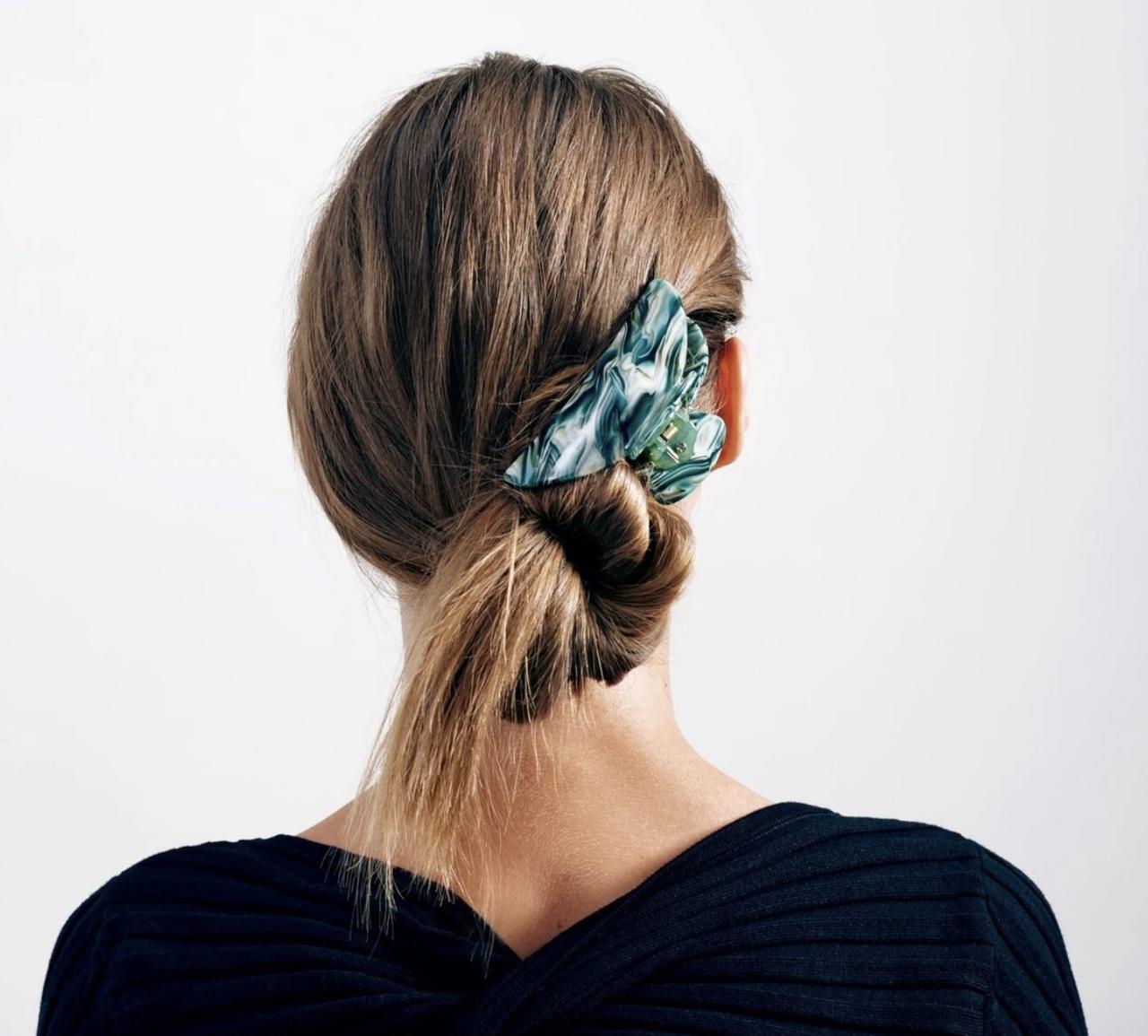 Another 'casual chic' wedding updo idea, a simple twisted bun at the nape of the neck secured with a snappy clasp is an unconventional yet cool hair move. It'll be easy to let your hair down at reception time too.
33. Sleek Low Pony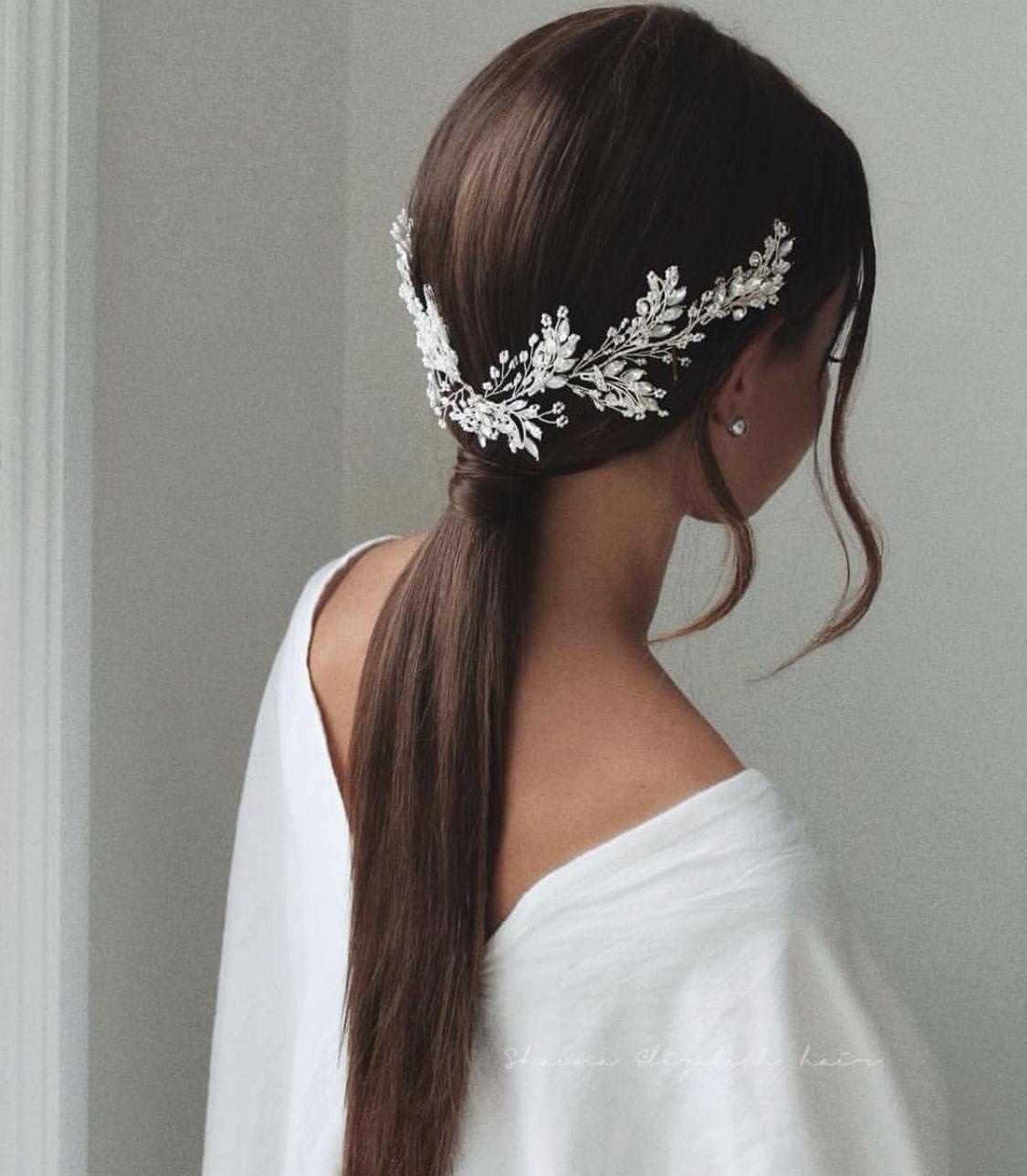 Not strictly an updo, but an elegant way to wear your hair back. Regular conditioning treatments in the run-up to your wedding will help you to get lengths in tip-top condition while a lace hairpiece distinguishes this bridal ponytail from the everyday variety.
34. Cornrows and Baby Hairs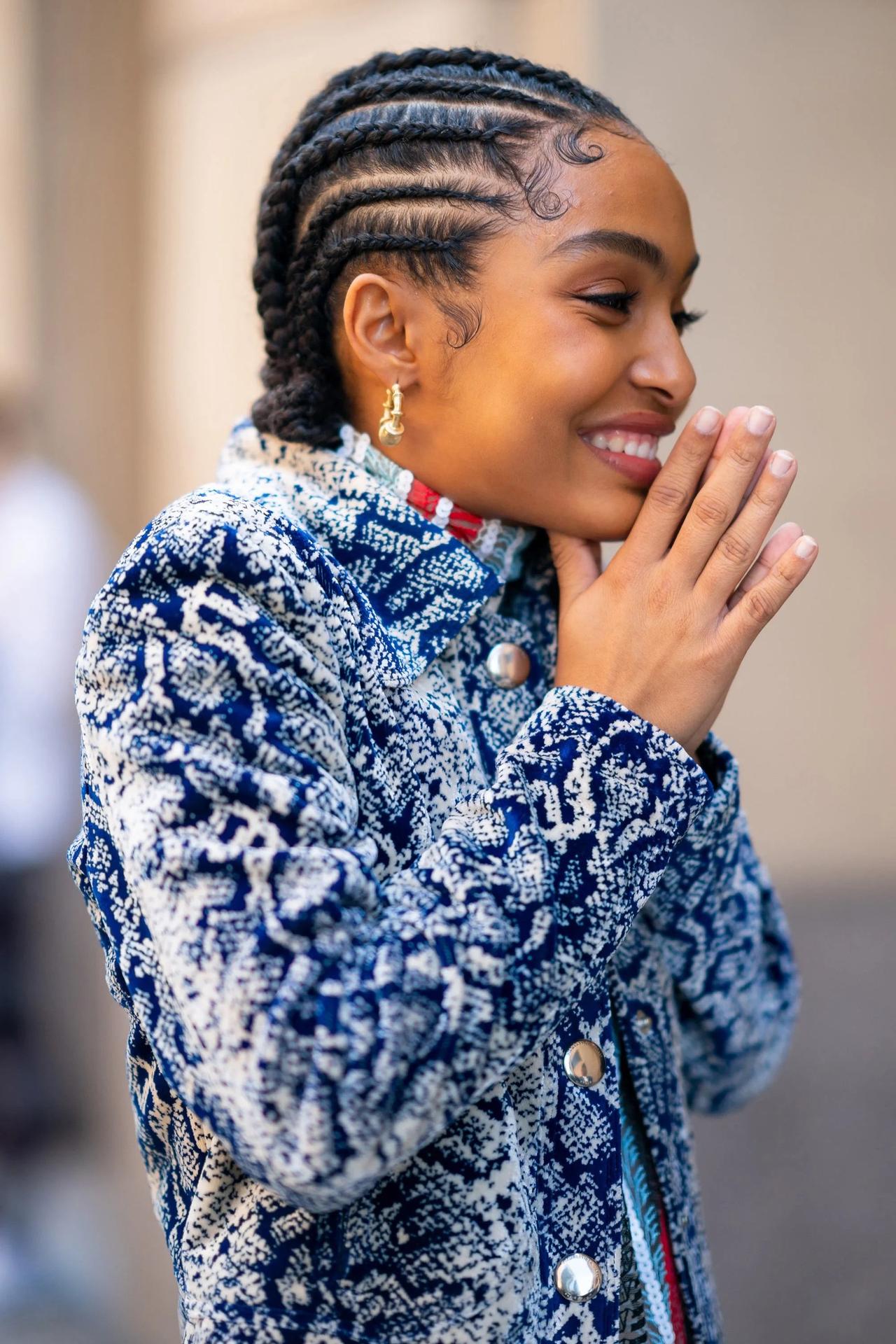 Michelle's baby hair styling idea in action – have at least a few practice runs to ensure that your edges are laid just as you want them before your big day.
35. Smooth Low Bun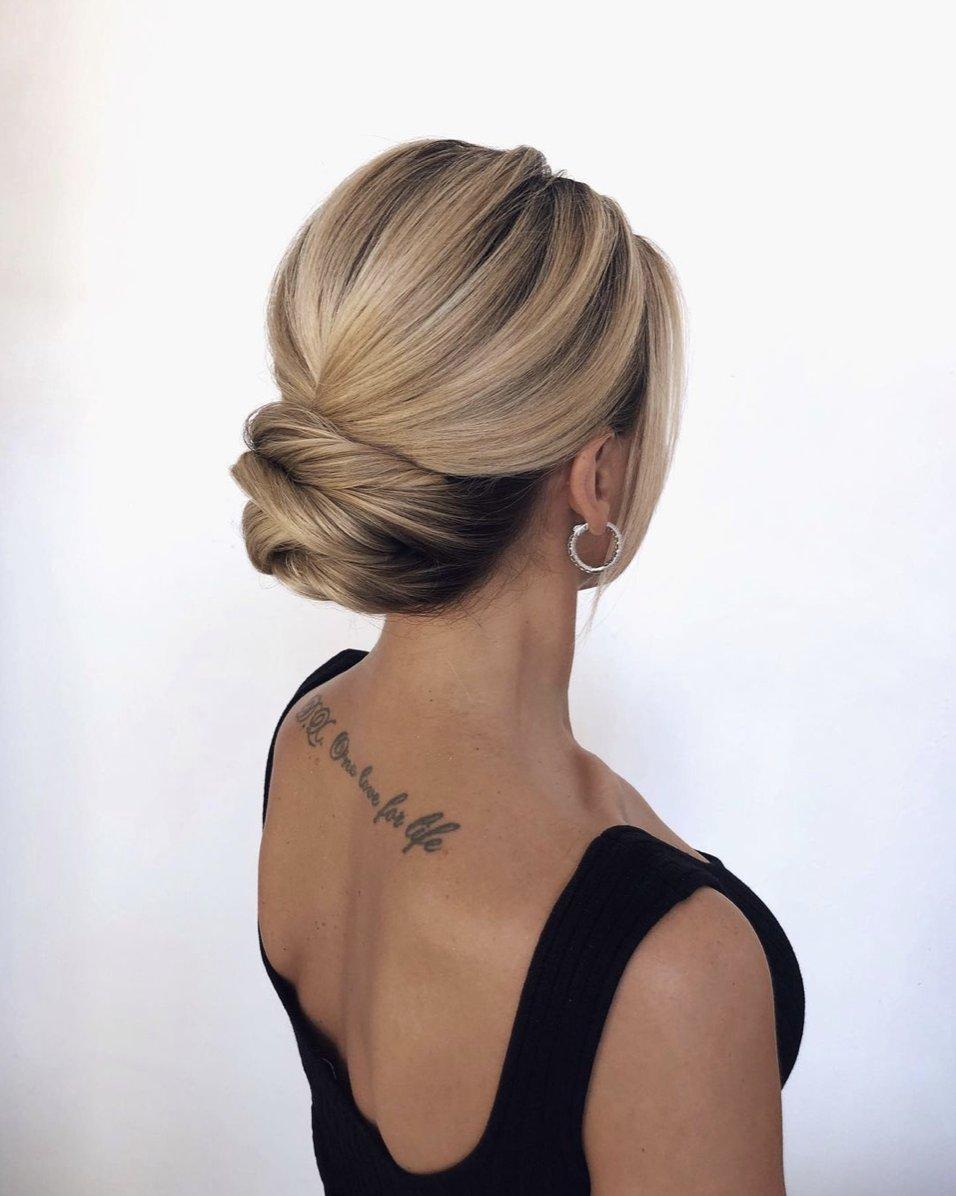 Slick and smooth with a little volume at the crown, this classic hair-up idea could be 'the one' if you're planning on wearing a dramatic veil.
36. Bun with a Birdcage Veil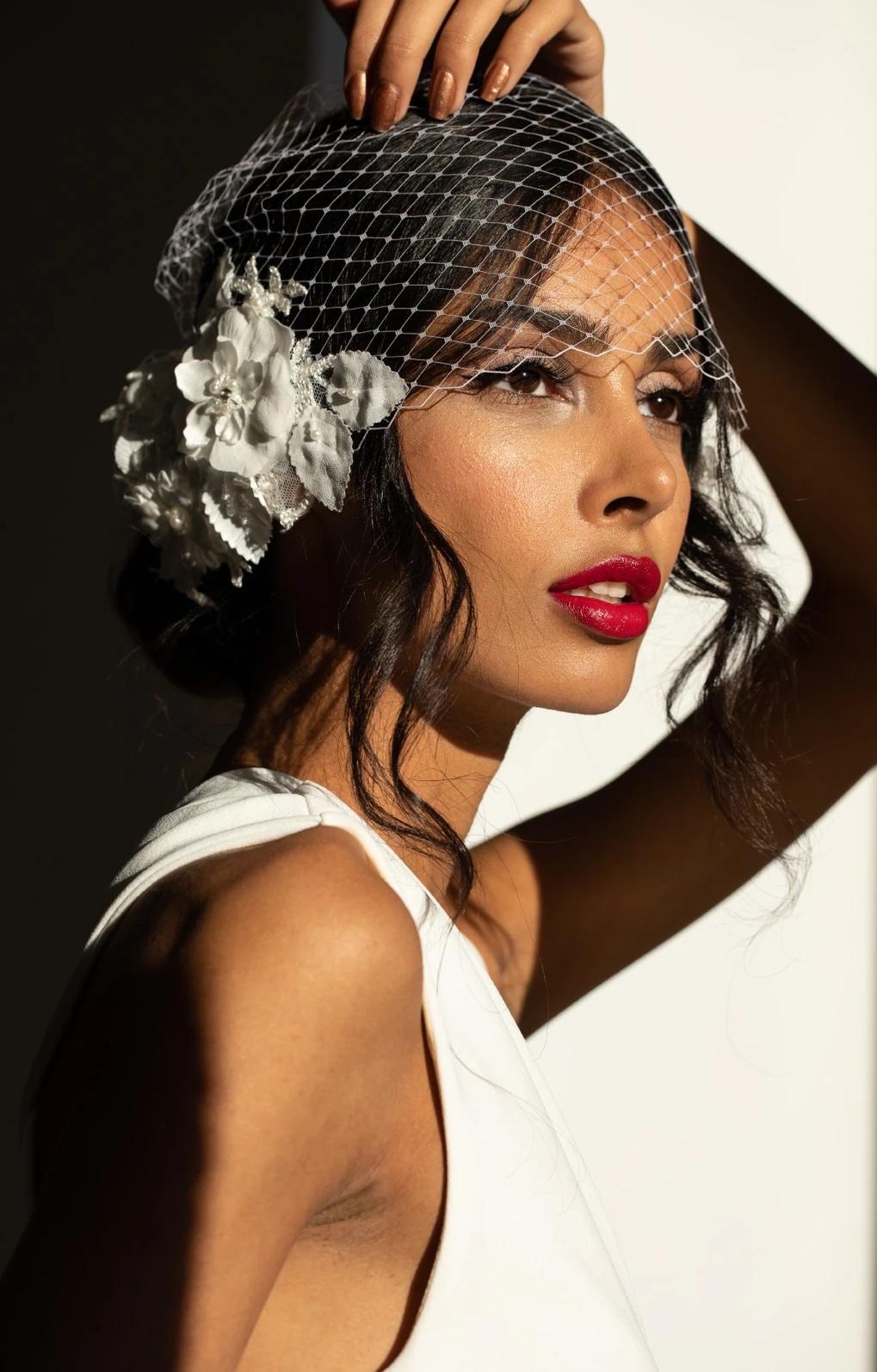 If you're a fan of flapper-esque fashion, this is the updo to match. The floral detail would chime perfectly with an appliqué wedding dress.
37. Double Bun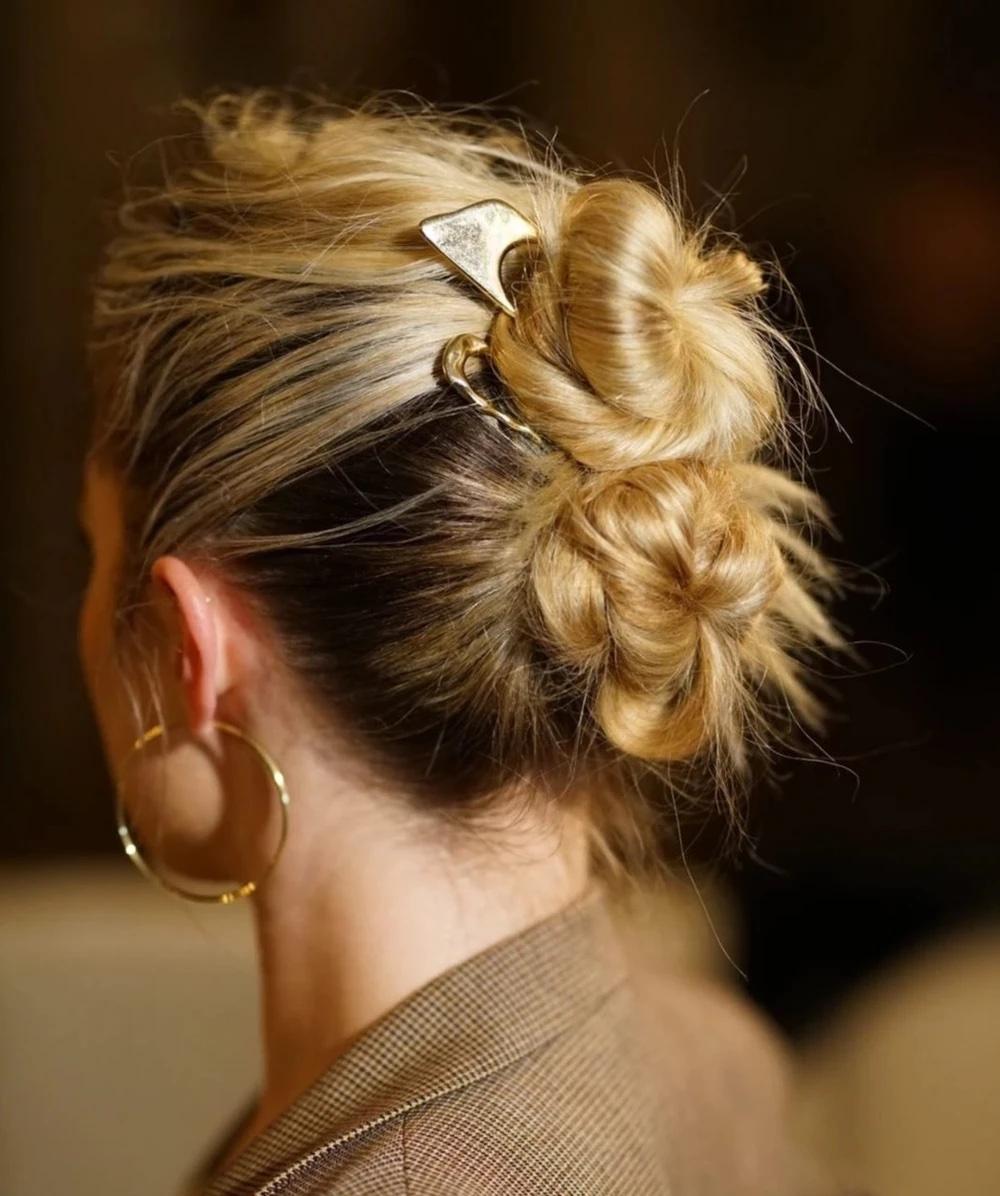 Double the bun, double the fun. Gilded hair pins optional.
38. A Scrunchie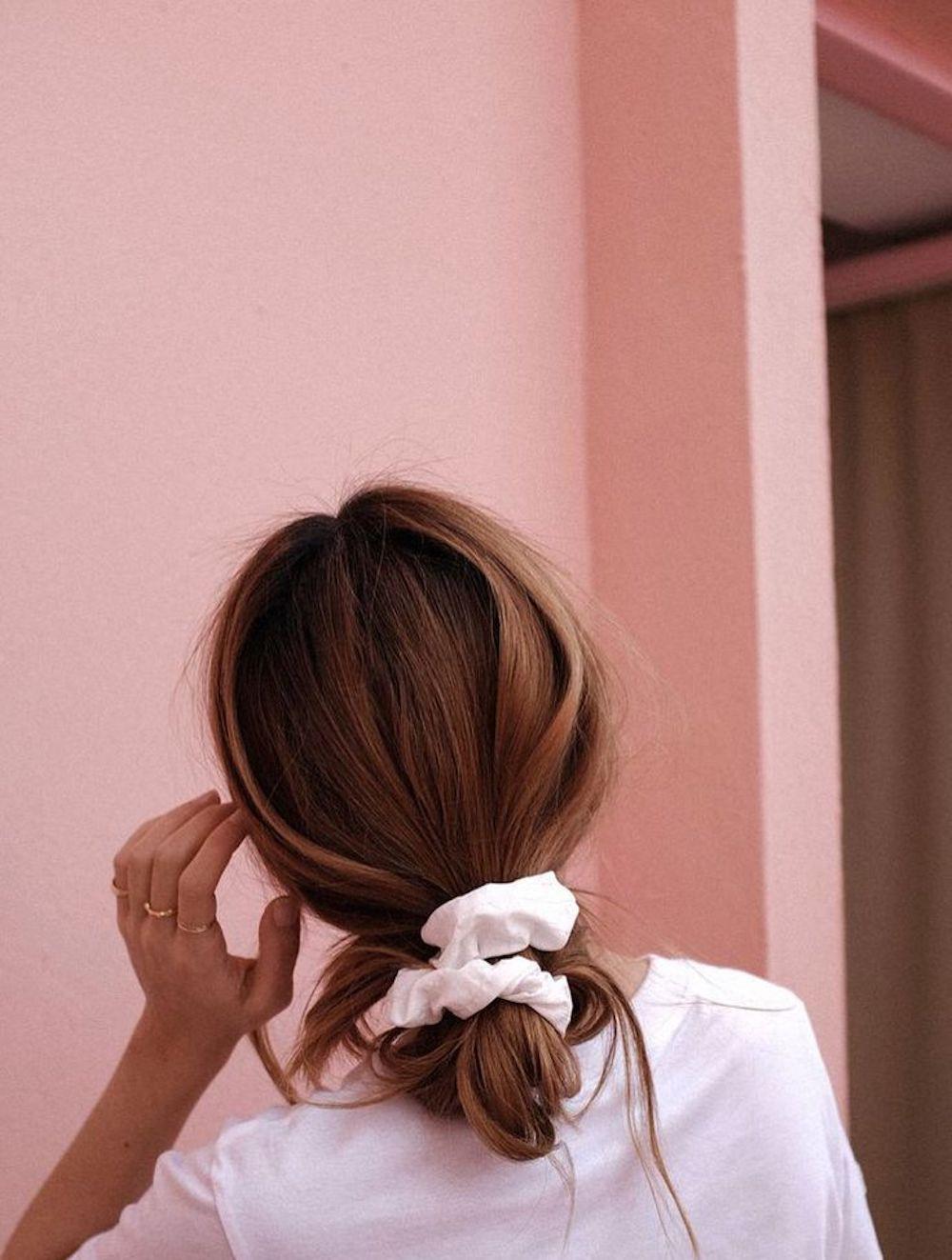 Yes, really, just choose a luxurious fabric such as silk, satin, velvet or lace. This is another idea that ensures that you can let your hair down without a care later on.
Looking to add an accessory to your updo? We've got 53 gorgeous wedding hair accessory ideas to consider before you commit.