How to Save Money on Your Wedding Venue: The Secret to Saving £10,000
Think you can't afford the wedding of your dreams? Here's the secret to saving big at some of the UK's most popular venues
We have included third party products to help you navigate and enjoy life's biggest moments. Purchases made through links on this page may earn us a commission.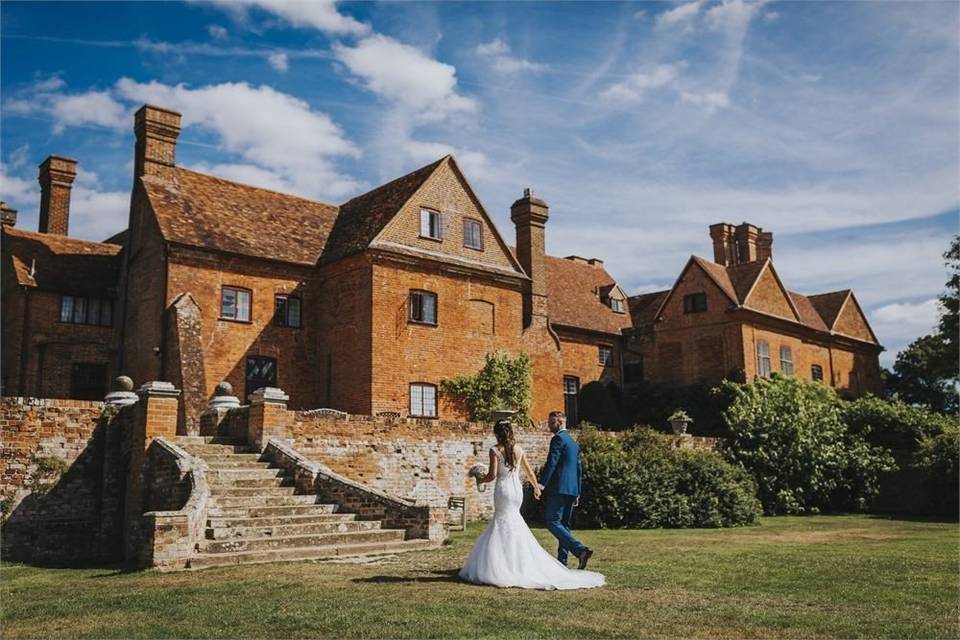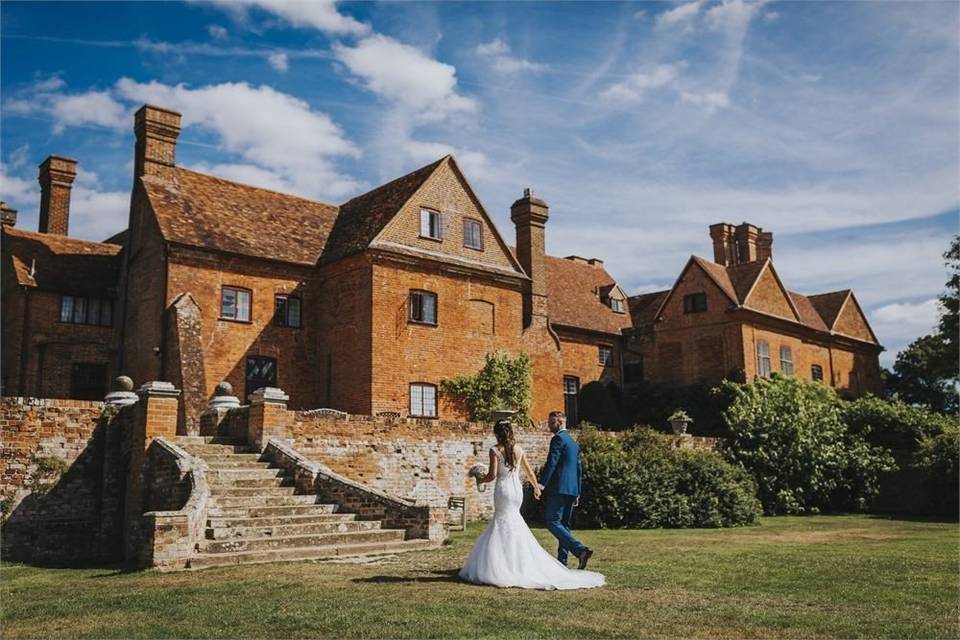 Finding and booking your dream wedding venue is one of the most exciting parts of wedding planning. But, at an average of £5,406, your venue hire is also the biggest cost in your wedding budget.
However, there's a simple but savvy way you could save yourself more than £10,000 on your venue and finally afford the venue of your dreams! Even if your budget is much less than that, you could get an entire wedding package at a venue you thought was outside your budget for less than £4,000.
How to Save Money on Your Wedding Venue
The most popular dates to host weddings are during the summer months, and especially on Saturdays, when (fingers crossed!) days are long and warm, gorgeous flowers are blooming, and you can even have an outdoor wedding. Because these dates are so in-demand, if you're set on a summer wedding you'll have to accept that you'll need to put aside more of your budget for the venue.
Don't despair if you think that means your dream venue is off the cards – it isn't! Here's the secret: almost every wedding venue will offer the same wedding package as during their high season at a fraction of the cost if you choose either 1) a low season or 2) a midweek date. It's a brilliant way to get the wedding of your dreams at a price you can afford.
While you might know about seasonal or midweek savings, perhaps you don't know exactly how much we're really talking about – it could be thousands of pounds for the same beautiful venue! Each season has its own charm and beauty; if you've never considered a date outside of summer, hopefully we can open you eyes to just how gorgeous a spring, autumn or winter wedding can be too.
Below we've compared the venue hire or package price for a weekend and weekday wedding during high and low season at some of the most stunning venues in the UK. By comparing a high season Saturday with a low season weekday, we've worked out how much you could potentially save on your dream venue. If you thought these venues were out of your reach, think again!
(Guideline prices correct as of November 2019; contact venues for detailed quotes)
The Best Wedding Venue Hire Savings
1. Lemore Manor, Herefordshire
Total Potential Saving: £5,150
This historic country house is ideal for both indoor and outdoor weddings. With a spectacular Orangery, new Coach House that seats 150 guests, and a flower-clad bandstand, there's plenty of choice for your ceremony at Lemore Manor. The terraces are perfect for al fresco drinks in summer, while open fires and glittering chandeliers fill the reception rooms in winter. Our favourite parts? The Hen House and Gentleman's Den to get ready in with hot tubs, champagne bars and much more.
High Season
All hire of Lemore Manor is on an exclusive use basis so all the facilities will be yours from 9am on your wedding morning, including those ace getting ready suites. Venue hire on a Saturday during May to September 2021 is £9,040, while a Monday to Thursday wedding is £5,000.
Choose the crisp wintry months for a magical snowy wedding day during January to March and a Saturday will cost £6,690 for the venue hire. However, if you're able to marry during the week, you'll be able to hire Lemore for a fabulous £3,890. Whichever day you marry, that hot tub is calling!
2. Tithe Barn, North Yorkshire
Total potential saving: £11,000
Set within the grounds of the Duke of Devonshire's majestic Bolton Abbey estate in the world-famous Yorkshire Dales, the grade-II listed Tithe Barn has an unrivalled romantic setting. With a breathtaking backdrop of the Priory ruins and the River Wharfe, you're spoilt for choice with photo locations. Inside, the majestic timbered barn is one of the largest in the north of England so if you have a big guest list or want plenty of space to go all out with your decorations, it's perfect.
High Season
Licensed for ceremonies up to 200 people, you could throw your own mini-festival with a live band and delicious BBQ at Tithe Barn as a great summer wedding idea. With a late license until 1am, you can keep the music playing and the drinks flowing while the balmy summer night rolls on. Venue hire price for a Saturday in August 2021 is £14,000, but a Monday or Wednesday of the same week is £4,000 for the same experience and venue.
Imagine a candlelit ceremony while the leaves or snow gently fall outside, and you've already multiplied the romance by 100. In late November, venue hire is £8,000 on a Saturday but £3,000 on a midweek date. Top tip: the outdoor fire pits are ideal for toasting marshmallows! Set up a s'mores or DIY hot chocolate station and watch the delight on your guests faces.
READ MORE: The Prettiest Rustic Wedding Venues
3. Ufton Court, Berkshire
Total Potential Saving: £3,925
Autumn or spring are fabulous seasons to choose a rustic, rural wedding venue when the countryside is bursting with as much colour as summer. Of course, winter brings it's own charms to somewhere like Ufton Court, a gorgeous Grade I-listed manor house and tithe barn set in 16 acres of grounds and woodlands. The barn is bursting with character and the grounds are the perfect setting for outdoor games. It's also has no corkage charge so you can bring in your own alcohol for toasts.
High Season
If you've just got engaged a May to September 2021 date is probably where you're looking. A Saturday at Ufton Court will costs £6,500 then, while a Monday to Thursday during the summer holidays is £3,300 (so all your young guests and teacher friends will be able to come too!)
Low Season
Venue hire in January to March and November of 2021 is £3,350 on a Saturday. Choose a weekday during the February half term though, and you're looking at £2,575.
4. Hedsor House, Buckinghamshire
Total potential saving: £8,500
Perched high above the Thames, this beautiful Georgian manor house has been named a dream wedding venue by both Tatler and Vogue. From an intimate wedding of just 60 to impressive Asian banquets, you and your guests will have an unforgettable day at one of the best exclusive use venues in the country. And Hedsor House's bridal suite is a complete game-changer.
High Season
Hedsor offer some fantastic wedding packages, but also a dry hire option. This includes exclusive use of the house and grounds (perfect for outdoor games in the summer), their 11 guest bedrooms and a luxury continental breakfast, if you hire your suppliers from their preferred partners. A Saturday or Bank Holiday during Hedsor's high season of June-September costs £14,450 in 2020. However, go earlier in the week on Monday to Thursday and the dry hire fee is £7,150.

Low Season
With over 100 acres of parkland to explore, you'll be spoilt for choice with spots for your wedding photos as the leaves begin to turn during autumn or the first snowdrops push through in spring. During January to March and also in November, a Saturday or Bank Holiday will set you back £9,250, but earlier in the same week, their dry hire is £5,950. It's worth noting there's also significant discounts available on last-minute weddings with a less than 3 month lead time, so you can get yourself a real bargain!
READ MORE: 40 of the Best Small, Intimate Wedding Venues
5. Thornton Hall, North Yorkshire
Total Potential Saving: £1,350
Not everyone is looking for starting prices for venue hire of £10,000+. Thornton Hall, near Skipton, is brand new and beautiful purpose-built wedding venue, bathed in natural light and surrounded by 250 acres of breathtaking countryside and rolling hills. Thornton Hall will be your home for the day, with delicious Yorkshire-inspired catering, a private terrace and courtyard plus the extensive grounds for your photos and a dedicated wedding coordinator on hand.
High Season
Exclusive use venue hire prices for Thornton Hall costs £3,850 for Saturday and bank holiday weddings during summer 2021 and £2,850 for midweek. With plenty of space to add a tipi, marquee or more, as well as hog roasts and street-food inspired snacks, it's ideal for a warm day.
Low Season
Considering most couples spend upwards of £5,000 on their venue hire, a spring or winter wedding here is half that! Monday to Thursday weddings in low season have £2,500 venue hire, which goes up to £3,300 on Saturdays.
6. Polhawn Fort, Cornwall
Total potential saving: £10,330
If you're after a unique wedding venue, there's nowhere like Polhawn Fort: a real Napoleonic fort, complete with cannon, drawbridge and eight foot thick walls. Set high on the rugged Cornish coast, it makes a fabulous summer wedding venue or the perfect place to stay cosy and warm inside with roaring fires and plenty of mulled wine (there's no corkage fee, FYI) in the winter months. The length of time that you have Polhawn for depends on when in the week you choose to have your wedding, but with up to four-night stays on offer, you can turn it into a great break with your closest ones.
High Season
Take a front row seat for a garden ceremony on their sweeping lawn with panoramic views across the sea. There's even a private beach just a few steps away that's perfect for your photos and a fish and chip van nearby that can provide quirky catering for your wedding. A three-night weekend wedding between the 17th July and 31st August will costs £15,665, but choosing a Monday to Wednesday stay during the same period is £9,495.

Low Season
Due to its southerly location, winters can be surprisingly mild at the Fort. Whether you want to pull on your boots and get exploring or snuggle up with friends and family in the warm, it's the perfect location for a cosy wedding (and it's dog-friendly!). Bring fairy lights, board games and blankets with you for a dreamy weekend wedding in November 2020 for £7,665 or go for a Monday-Wednesday wedding for £5,335.
READ MORE: The Best Wedding Venues in Cornwall
7. Healey Barn, Northumbria
Total potential saving: £5,750
Healey Barn is a stunning blank canvas for your rustic wedding theme, located within easy driving distance of both Newcastle and Durham. With a fairy light-lit ceiling, medieval candelabras, magnificent oak beams and a courtyard filled with lanterns and fire pits, these traditional stone barn buildings are full of charm and character. The food on offer at your wedding can be equally as dramatic as the venue, with an eight-spit rotisserie sitting at the head of the dining room. Luxury accommodation for 34 in Healey Hall is just one mile away.
High Season
Northumbria's sweeping landscape is the dream romantic setting for a summer wedding. Go from the wildflower-filled ceremony room to the shade of the mulberry tress in the courtyard for your reception drinks, or even have your ceremony outdoors in the warm weather. On a popular Saturday date in August 2021, this rustic barn will cost £7,000 to hire as a venue, but on a Tuesday of the same week, just £1,750.
Low Season
It's not often your guests can enjoy a theatrical rotisserie banquet straight from the spit, and an autumn or winter wedding just cries out for smells of a delicious roast dinner. The ceremony room – candlelit while you say your vows – becomes the dance floor in the evening and a magnificent crackling fire can be lit at one end to keep your guests warm. A Saturday in November 2020 is already fantastic value at £4,000, but go for a Monday and the £1,250 venue hire fee is an absolute steal!
READ MORE: The Best Barn Wedding Venues in the UK
8. Pendrell Hall, Wolverhampton
Total potential saving: £6,500
Pendrell Hall ticks so many things off the list: picturesque Victorian architecture and formal lawns; beautifully-appointed guest rooms; choice of three stunning bridal suites; a Library Bar (the best way to enjoy books!) and no corkage fee. Inside you can marry in their romantic Morning Room or grand Ballroom, while outside you can say 'I do' under their flower-adorned Bandstand or let your guests explore the secret walled garden and woodlands walks. On top of that, it sits in an excellent location near Birmingham, Wolverhampton and nearby towns.
High Season
The formal lawns are fab for keeping younger guests entertained with garden games while you take your wedding photos. In the summer, Pendrell Hall's elegant courtyard and water fountain make a great backdrop for that perfect confetti shot. A summer wedding is hugely desirable at Pendrell and a Saturday in July or August will cost £8,450. If you go for an equally delightful Tuesday or Wednesday, that reduces to £3,950.

Low Season
As the night draws in and the revelry ramps up, Pendrell's Ballroom is a fabulous location to host your wedding breakfast and party, and features elegant stained-glass skylights and mirrors on the wall. There's lots of places to dance the night away and for guests to let their hair down. On Saturdays in January and February, their exclusive use venue hire is £4,950, but you can get it for a bargainous £1,950 if you choose a Tuesday or Wednesday date.
READ MORE: The 25 Best Hotel Wedding Venues for Every Budget
The Best Wedding Package Savings
It's not just wedding venue hire than you can save on by being smart with your date. There's lots of fantastic wedding packages that include your drinks and catering and other extras alongside your exclusive hire.
When you look at the overall costs, an all-inclusive package on a weekday or low season date could help your budget go even further.
9. The Treehouse, Alnwick Gardens, Northumberland
Total Potential Saving: £5,000
The magical Treehouse Restaurant is perched high above the woodlands at Alnwick Gardens. It's the largest treehouse in Europe, with fairy lights wrapped around tree branches, a log fire in the centre, and tables and chairs handcrafted from fallen trees. Two rope brides connect three intimate function rooms and a large deck for a wedding venue like no other. Throw in renowned caterers Searcys and you've got an unforgettable day.
High Season
The Treehouse's packages include venue hire and their minimum spend on food and drink. For a Saturday during April to September, you'll pay £15,000 for 85 guests including the £7,000 all-day exclusive hire. On a Monday to Wednesday, their package is £12,000.
Low Season
A treehouse venue only gets more beautiful when leaf colours change during the autumn. A low season Saturday is £13,000 for 65 guests, but earlier in the week is just £10,000. This price drops even more considerably if you have an evening wedding, where the treehouse is yours exclusively from 4.30pm onwards. An autumn or winter weekday evening wedding is £6,000 at this one-of-a-kind venue!
10. Luton Hoo, Bedfordshire
Total Potential Saving: £4,500
The Queen and Price Phillip chose Luton Hoo for their honeymoon so you know you're in the lap of luxury here. This 1,065 acre estate features an impressive Grade I-listed mansion at its heart with 12 suites licensed for civil ceremonies, and the purpose-built Warren Weir wedding venue at the foot of their stunning lake.
High Season
A package for 50 guests at Luton Hoo's mansion house includes a champagne reception, three course wedding breakfast, coffee and luxury petit fours, plus half a bottle of wine and a glass of champagne to toast per person. You'll be able to use the services of their Master of Ceremonies, plus floral table decorations, cake stand and knife and a junior suite is thrown in for your wedding night. During May May to September 2020, a Saturday wedding costs £13,000 and £10,000 on Monday to Thursday.
Low Season
During the winter and spring months, you can make a big saving on a glamorous Luton Hoo wedding. The stunning grounds only look more gorgeous with a dusting of snow or resplendent with the golden hues of autumn and offer lots of settings for your wedding photos. A package for 50 guests during October 2020 to April 2021 is £11,500 on a Saturday and £8,500 from Monday to Thursday.
READ MORE: 19 of the Best London Wedding Venues
11. Lindeth Howe, Lake District
Total Potential Saving: £398
The former home of Beatrix Potter, Lindeth Howe is now a 34-bedroom hotel on a hillside above Lake Windermere. Packed with period details, boasting an AA Rosette-awarded restaurant, and the backdrop of the best of the Lake District, it's a stunning wedding location with tonnes of history. You can even hire out the whole hotel for you and your guests.
High Season
Lindeth Howe can hold up to 80 guests but we love it for an intimate wedding. Their 'Elegant & Intimate' package hosts the couple and up to 34 guests for £105 pp for a midweek summer wedding. Fridays and Saturday weddings are a £550 supplement. This means a weekend summer wedding would cost £4,330, including your three-course wedding breakfast, a sponge wedding cake, an evening buffet, personalised menus, place cards and a table plan, Prosecco for toasts and wine on the table. They even include a complimentary night's stay for your first wedding anniversary.
Low Season
In November, December and January, you can swap your Bucks Fizz reception for mulled wine. It's £99.50 pp on weekdays with a £350 supplement for Friday and Saturday weddings. A winter wedding package for 36 guests is an excellent value £3,932.
12. Oxnead Hall, Norfolk
Total potential saving: £5,675
There's a plethora of spots to host your wedding on the idyllic Oxnead Hall estate in the North Norfolkshire countryside, from the Tudor Hall, Orangery and Great Barn to the lake and Fountain room. Plus, there's the charming St Michael and All Angels medieval church just a short walk through the walled gardens if you'd like a traditional ceremony. Bursting with heritage, romance and secluded spots to sneak away just the two of you, you'll be able to celebrate in style at Oxnead Hall.
High Season
The Tudor parterre, lake and water gardens at Oxnead are ideal for outdoor ceremonies during the warm months – although should the heavens open, your wedding can easily be moved to one of equally stunning indoor areas! The atmosphere is light, airy and romantic throughout – fantastic for summer. Oxnead has a brilliant package during their 2021 peak season from May to September, that includes your food and drink for 80 day and 100 evening guests for £15,125 on a Saturday. It's £10,220 for 60 day guests and 80 evening on a Monday to Wednesday.
Low Season
There's fewer places more welcoming on a cool night than the luxurious interiors of Oxnead, with hearty seasonal food on offer and underfloor heating in the Great Barn. If you're after a dream rustic wedding, then a Saturday off peak date (January, February and November) will cost £13,905 in 2021 but their Monday-Wednesday package is £9,450.
READ MORE: The Best Wedding Venues in Norfolk
If you want more seasonal inspiration, check out our favourite spring wedding venues or the 17 best summer wedding venues.