12 Romantic UK Cabin Rentals for Your Next Getaway
We've rounded up the best lakeside and forest cabin rentals in the UK, including the best cabin rentals with a hot tub for your next romantic trip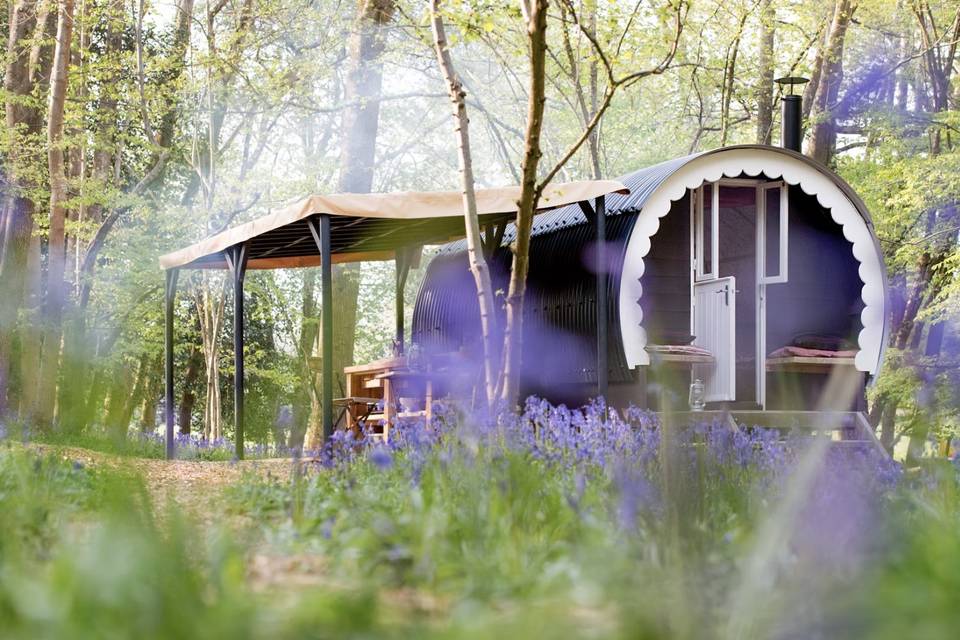 Cabin rentals have increased in popularity since the pandemic as more people are keen to explore UK staycations choosing from different options such as lake cabin rentals, forest cabin rentals, and cabin rentals with a hot tub.
While hotels and holiday homes are both great options for a weekend getaway, there's something magical about cabin rentals - especially if you're looking for an ultra-romantic UK mini-moon idea. It's cosy and has an off-grid feeling to it that makes people completely forget about their busy life in the city.
We've rounded up 12 of the best romantic cabin rentals in the UK that you can go to with your partner whether it's for a special occasion or "just because."
Romantic Lake Cabin Rentals
1. Shepherds Parlour, Somerset
This cabin ticks all the boxes: lake, forest, and hot tub. It has a lakeside view that can be enjoyed from the wood-fired hot tub - it's the definition of luxury and romance.
Shepherds Parlour is suitable for both summer and winter nights when you and your loved one needs a getaway. With its impeccable design, it brings glamping to the next level. You'll enjoy cosying up and relaxing under the stars or cooking together in a well-equipped kitchen with big glass windows.
It's easy to get to but still feels secluded.
READ MORE: The Best Hot Tub Breaks in the UK
2. Cosy Dreams Lodge, Haggerston
This cabin is very spacious and can sleep up to 6 adults, so you can go with your partner or with a group of friends. It's clean, modern and convenient - all your essential needs will be taken care of. It has a patio, a balcony and a lakeview.
You can even play tennis and mini-golf at this cabin. Happy guests loved how comfy and quiet it is staying at Cosy Dreams Lodge.
3. Lakeside Lodge, Falmouth
As it is situated near a lake, it's great for a couple who enjoy fishing. At Lakeside Lodge, you'll have a terrace, a living room, a flat-screen TV, and even a hot tub.
Even though you might feel like you're off-grid in the middle of nowhere, you will have free Wi-Fi and can easily drive around the area. The space is clean, private, and tranquil.
4. Dream Catcher Lodge, Carnforth
The benefit of staying near a lake is that it'll make you feel calm and relaxed in no time. You'll forget about the daily stress when you book this lake cabin rental in Carnforth.
It's big for a couple, but if you like your space and quiet times, you can totally stay here with your partner - otherwise, you can invite a group of friends, maybe for a buddymoon or a low-key hen do.
You'll have a private hot tub and on-site pub, restaurant and leisure centre - there will be plenty of things for you to do for a weekend getaway.
READ MORE: Romantic Mini-Moon Locations in Scotland
Romantic Forest Cabin Rentals
5. Wildwood Spa, Devon
Wildwood Spa is a very unique world-class cabin. Its design was inspired by both Nordic minimalism and Japanese architecture. It's the perfect holiday destination for a busy couple who wants to escape from their hectic daily life into nature.
The cabin comes with many modern luxury features such as a solid stone freestanding bath, a heated infinity pool, a woodland waterfall shower, an open log fireplace and MORSØ cast iron gas barbecue.
6. Walkwood Wagon, East Sussex
This beautiful cabin for two is tucked away in secluded bluebell woodland that will make you feel like the only two people in the world.
A highlight feature of this cabin is the outdoor Swedish bath surrounded by serene National Trust woodlands. This is your chance to be off-grid and immerse yourself in nature as you won't have power and internet during your stay.
Don't worry - you'll still have all the essential modern amenities you need: running water and campsite kitchen.
7. The Roost Glamping, Gloucestershire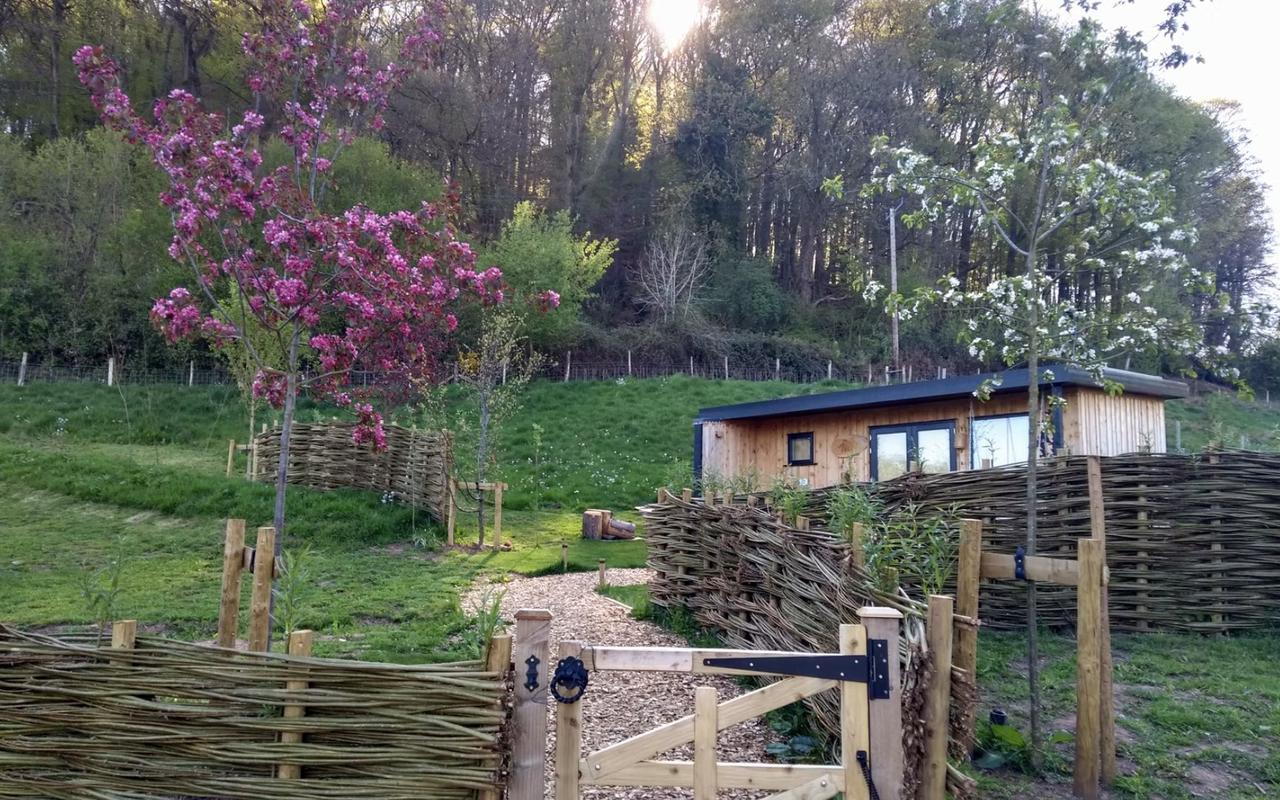 If you love a forest cabin, you'll love this Roost Glamping accommodation in the heart of the Forest of Dean. It has an outdoor Japanese hot tub, a firepit, wood burning stove, and cedar swinging love seat - so romantic!
The cabin has everything you need from a king-sized bed to a well-equipped kitchen with a dishwasher. If you're a walker or a hiker, there are plenty of trail paths you can follow. Nature will be all around you and you'll have a relaxing trip.
READ MORE: 35 Fun Questions to Ask Each Other on Your Honeymoon
8. The Coop, Essex
The Coop cabin is located near Epping Forest, which means when you stay there, you'll be able to go off-grid and get lost in nature. Your romantic cabin rental holiday will be a memorable one with relaxing in a hot tub, warming up around a wood-burning fire, and even having sheep and deer as your company.
The cabin has a double bed, a bathroom with shower, a kitchen with a gas hob and fridge. You can BBQ on the deck if you fancy. It's small but convenient and comfortable - perfect for two.
Cabin Rentals with a Hot Tub
9. Gold Rush Cabin, Gloucestershire
A simple design that makes you feel like you're part of the nature around you, this Gold Rush cabin is a great destination for a romantic weekend getaway. The main space is for rest and warmth while you'll have a camp kitchen and outdoor shower on the deck.
There's an American red-cedar-wood hot tub near the cabin that will allow you to destress and freshen up after a long week. If you want to explore the area, you can drive around Cotswolds - you'll appreciate the timeless beauty of the British countryside.
READ MORE: 13 Honeymoon Mistakes to Avoid
10. Ribblesdale Pods, Ribblesdale
Cabin rentals at Ribblesdale offer guests a garden, a patio, a flat-screen TV and a hot tub. If you stay at one of their glamping pods, you'll have everything you need to enjoy your weekend away.
The area surrounding the campsite is great for both hiking and cycling, so you won't get bored. If you just like to stay in and even work remotely, you'll have access to free Wi-Fi.
11. Owl Lodge, Somerset
This Somerset lodge for two with a freestanding bathtub and your own hot tub will give you all the luxury feels you need when going on a romantic getaway. As a cabin rental, this place has a spacious garden with a firepit that you can use for barbecue.
If you're into writing or drawing or need to work remotely, there's a handy workspace with a great view for you. If you don't want to sit around, however, you're You're also close to the East Devon Area of Outstanding Natural Beauty and the Blackdown Hills Area of Outstanding Natural Beauty, so you'll have plenty of options for a scenic walk.
12. The Hideaway Cabin, Warminster
If you fantasise about getting in the hot tub with your loved one under the moon, you can make it happen at this romantic cabin rental. Guests loved it for its location, cleanliness and comfort.
Even though there's no Wi-Fi, you'll be fine with 4G, but you might want to be unplugged for a weekend anyway as this area has a lot to offer. It is within walking distance of Longleat Safari Park and Longleat House.
Still looking for the perfect getaway? Maybe one of these romantic breaks in the Cotswolds will tempt you!