Wedding Coat Hangers: 21 Beautiful Hangers to Shop Now and How To Make Your Own
Wedding dress hangers and bridesmaid hangers are the finishing touch that makes your wedding morning photo perfect!
We have included third party products to help you navigate and enjoy life's biggest moments. Purchases made through links on this page may earn us a commission.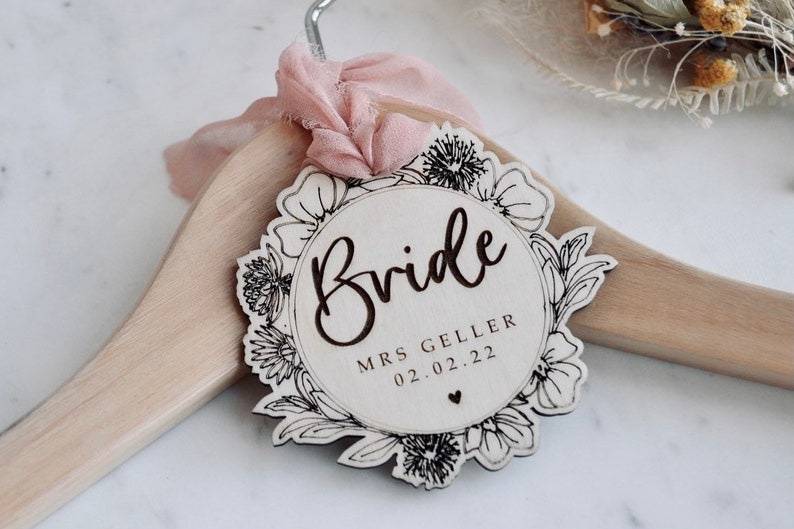 When it comes to wedding styling, it's all about those finishing touches. With a photographer often snapping away from the preparations to the party, it's worth considering how you might incorporate your wedding suite – or wherever you're getting ready – into your theme, and we think investing in some wedding coat hangers is a great place to start.
After all the effort you've spent finding the perfect dresses, they're a dreamy addition that will show them off at their very best, but it's not just about the aesthetic. When you have a large wedding party with bridesmaids dresses in the same or similar styles, personalised hangers can help your 'maids easily identify which dress is theirs. Trust us, the smallest things can help relieve stress and keep things running smoothly on your wedding morning.
If your wedding budget won't stretch to multiple hangers, don't panic. We've also rounded-up a selection of wedding coat hanger tags that are as pretty as they are purse-friendly and can be doubled up as wedding keepsakes.
We've also tracked down some of the best wedding coat hanger tutorials. So if you fancy getting creative and crafting something yourself, give them a go. Wedding DIY can be a relaxing way to unwind from planning stress and add a totally unique touch to your day.
Bride Wedding Coat Hangers
1. Bride White Wood Dress Hanger – £7.99, John Lewis
Classic and stylish, this fuss-free bride coat hanger will look gorgeous on your wedding morning photos without distracting from your wedding dress.
2. Bride Wedding Dress Coat Hanger – From £9.60, Capola Designs
We love the rustic feel of this wooden bridal hanger. With an engraved floral design, we think this makes the perfect place to hang your boho wedding dress.
READ MORE: 23 of the Most Enchanting Woodland Wedding Venues
3. Gold Metal Bride Clothes Hanger – £19, Postbox Party
We reckon this gold metal hanger will look super stylish in wedding dress photography and would look fabulous when next to gold bridal accessories or wedding shoes. Plus, we love the 'I' dotted with a heart!
4. Lace Bridal Wedding Hanger – £28.99, Akito Avalanche
How dreamy is this padded lace hanger? This would look beautiful paired with a princess wedding dress and we adore the bride tag complete with champagne ribbon.
5. Extra-Large Bridal Dress Padded Hanger – £10.49, Hanger World
If you like the idea of a padded wedding hanger but prefer something simpler, may we suggest this one from Hanger World? It has a swivel hook and non-slip buttons that will keep your dress secure. Plus, it comes in extra-large solid wood for weighty dresses.
Personalised Wedding Coat Hangers
6. Personalised Engraved Wooden Hanger – From £6.95, Wallfrog Graphics
A personalised wedding coat hanger makes for the perfect gift. We think your 'maids will love these engraved hangers with their name, role and your wedding date.
7. Personalised Wooden Blush Pink Hanger – From £3, Sassy and Classy Gift Co.
If you've chosen a blush pink wedding theme, matching hangers will add the perfect finishing touch and ensure your wedding photos carry the theme throughout the day. We love this personalised blush pink wedding hanger with cute ivory bow.
8. Personalised Wedding Dress Hanger – £23, Clouds and Currents
A spaghetti strap or plunging gown would look perfect hanging from this wood and wire beauty – the drop of the straps or hanging ribbons would showcase the personalised wire wording perfectly.
9. Personalised Pair of Leaf and Foliage Wedding Hangers – £20, Bespoke & Oak Co.
A total bargain at just £20 for two, we reckon this is a great choice if you're after matching hangers for you and your spouse-to-be or maid-of-honour. We love the foliage theme and bare wood and think these would be a great choice to hang a laidback wedding dress.
10. Personalised Bride Wedding Hanger – £27, Adorned Embroidery
There's something regal about ivory padded hangers and this dreamy, personalised hanger is no exception. We adore the embroidered bow that can be personalised with your own choice of ribbon and thread. Personally, we're all about the ivory and blue combination, it's a unique way of incorporating the something blue theme.
11. Personalised Glitter Wedding Hanger – £26, Clouds and Currents
Looking to bring a little glitz and glam to the honeymoon suite? We think these glitter wedding hangers are just the thing! Choose to have your name, married name or simply 'bride' crafted from wire to personalise.
READ MORE: Gold Bridesmaid Dresses: 24 Glittering Gowns Your Maids Will Love
12. Personalised Horseshoe Wedding Hanger – £28, Clouds and Currents
A horseshoe has long been a symbol of good luck given to brides on their wedding mornings which is why we love this horseshoe hanger design. A special message or name can be engraved onto the design, making it a wonderful keepsake.
Bridesmaid Wedding Hangers
13. Wooden Personalised Bridesmaid Hanger – £16, Sophia Victoria Joy
Make your bride tribe feel extra special on your wedding morning with a personalised bridesmaid hanger. Choose from a natural wood or white painted hanger and have their name engraved above the word 'bridesmaid'.
14. White Rose Personalised Wedding Hangers – £4.50, Dream Brides
We've said it before and we'll say it again, we love a floral detail here at Hitched HQ which is why we're obsessed with these rose hangers. Have your bride tribe's names, their role in your wedding and your wedding date added to each for a personal feel.
READ MORE: 30 Floral Wedding Dresses Perfect for a Summer Wedding
15. Personalised Bridesmaid Hangers – £6.95, Rustic Route Designs
Available in black, white and natural wood, these wedding hangers will match any theme. Add your titles and married name to create a lasting keepsake for your bride tribe.
16. Personalised Wedding Hangers – £2.95, Little Daisy Designs GB
With a cluster of tiny roses sat at the base of the hook and the option to add names and roles, we think your wedding party will love these. You can choose from a range of text and rose colours to make them totally unique too.
Wedding Coat Hanger Tags
17. Acrylic Personalised Bridal Party Hanger Tags – From £2.25, Prints Pretties UK
These chic acrylic tags will let everyone know whose dress is whose without taking away from the garments themselves. Plus, they can be fully personalised and double up as a keepsake for after the big day.
18. Personalised Wooden Bride Tag – £9.99, The Write Girl Shop
We adore these personalised, floral engraved tags from The Write Girl Shop. Choose from three dreamy, muted silk ribbon shades to add the final flourish.
19. Personalised Wedding Hanger Charm – From £5, The Crafty Soldier GB
Get the groom involved and order these title and name hanger charms. We love the modern, geometric shape and 3D design.
20. Round Wooden Wedding Hanger Tag – From £4.50, Lulah Raine
Available for the bride, bridesmaids, mother-of-the-bride and any other member of the wedding party, these tags can be bought in bulk and personalised with each person's name.
READ MORE: The 31 Best Mother of the Bride Gifts for Every Budget
21. Personalised Wooden Wedding Wreath Hanger Tag – £11, Lisa Angel
Available with either a dusky pink or soft grey velvet ribbon, this personalised wreath hanger tag would look gorgeous on your photos and make a beautiful keepsake after the big day.
22. Personalised Clear Wedding Hanger Tag – £5.99, Perfect Personalised Gifts
This clear acrylic tag features a painterly blue floral design along with a name, wedding date and role in the wedding. We think these tags would make a great addition to bridesmaid gift bags.
23, Hexagonal Laser Engraved Mirror Wedding Hanger Charm – £9.95, Shindigg
Sleek and contemporary, these wedding hanger tags would look stunning adorning the hanger of a chic and modern wedding or bridesmaid dress. Add your wedding date for a personal touch.
How To Make Your Own Wedding Coat Hanger
A wedding coat hanger is an easy wedding DIY project for those that are new to crafting to tackle. Follow these two tutorials, the first for an engraved hanger and the second for a metal-work detail hanger, and you'll have the perfect place to hang your gown in no time.
Not confident in your DIY skills or pushed for time? For a really simple way to snazz up a hanger, write initials in pretty script with a metallic pen or cheat it by investing in these vinyl stickers, and add a cute bow to finish the look.
It's simple but effective: a pretty bow tied to the top of your hangers just adds a little something to the look. Add them in a colour that matches your dresses or your wedding theme and they'll look beautiful in your photos.
Fancy more DIYs? Try our 21 homemade wedding favour ideas or learn how to make your own bouquet in just seven steps!