It's hugely exciting to plan a wedding as an older bride - and that's true when it comes to finding your wedding dress. If you're shopping for a wedding dress for an older bride, you're in the right place.
Whether it's your second wedding, you're taking the plunge after many years together, you've waited a while to find 'The One' or you're having a vow renewal, the point is, you know more about who you are and what you like. That translates to putting together a bridal look to truly reflect you - not wearing something you feel you ought to like.
The only thing that can take the shine off your wedding dress hunt? If you've been unfortunate enough to hear any of that nonsense about 'rules' for older brides: you shouldn't wear white, you must cover your arms, etc. The truth is, that sort of thinking was already out of date 20 years ago. It's your day and you just need to find a wedding dress that you feel comfortable and confident in.
We've got plenty of advice about what to look for, as well as some of our favourite designs for more mature brides. While many of these are dresses, we've included some cool separates to consider, too.
From bridal designers to high-street stores, your perfect wedding dress is waiting for you, no matter what your age!
Wedding Dresses for Older Brides: Our 7 Top Tips
1. Be Inspired by What You Love
Start by taking a look at your wardrobe and pulling out your favourite pieces - the things that make you feel most confident when you put them on (these don't all have to be dresses.) Note what it is you love about each one, and what they have in common. Maybe it's a certain neckline; perhaps it's a particular type of sleeve; you may feel best in luxe fabrics or prefer a lighter, boho feel. Once you see a pattern emerging, use that to guide your wedding dress search.
For example, if you find your favourite fashion pieces are all about clean, soft lines, look at column, fit & flare gowns and slip dresses. If you realise you prefer outfits with volume, look at contemporary ball gowns.
No style is off-limits to you. 'Dressing your age' is so outdated - choosing your wedding dress is about what makes you, as a unique individual, look and feel amazing.
READ MORE: Rules and Etiquette For Second Marriage Wedding Dresses
2. Choose Flattering over Fashion
A mistake common for younger brides is choosing a wedding dress that is chic in itself but doesn't actually suit them. You know better than that. If a high neck doesn't flatter you, it doesn't matter that it's a hot bridal trend - put it aside.
3. Don't Discount Vintage
Vintage and vintage-inspired wedding dresses can work well at any age. Just make sure you pick an era that suits your style, whether that's 1970s boho or 1920s glamour. One of the great things about being an older bride is that although you know what suits you, you also have the confidence to experiment.
4. Sleeves or No Sleeves?
You can find plenty of gorgeous wedding dresses with sleeves, but as an older bride, you don't have to cover up. Sleeveless and cami-style dresses can look very elegant. Cap or flutter-style sleeves will cover your shoulders and upper arms while looking stylish. Or consider lace or illusion sleeves: three-quarter lengths work well as they flatter your hands and wrists.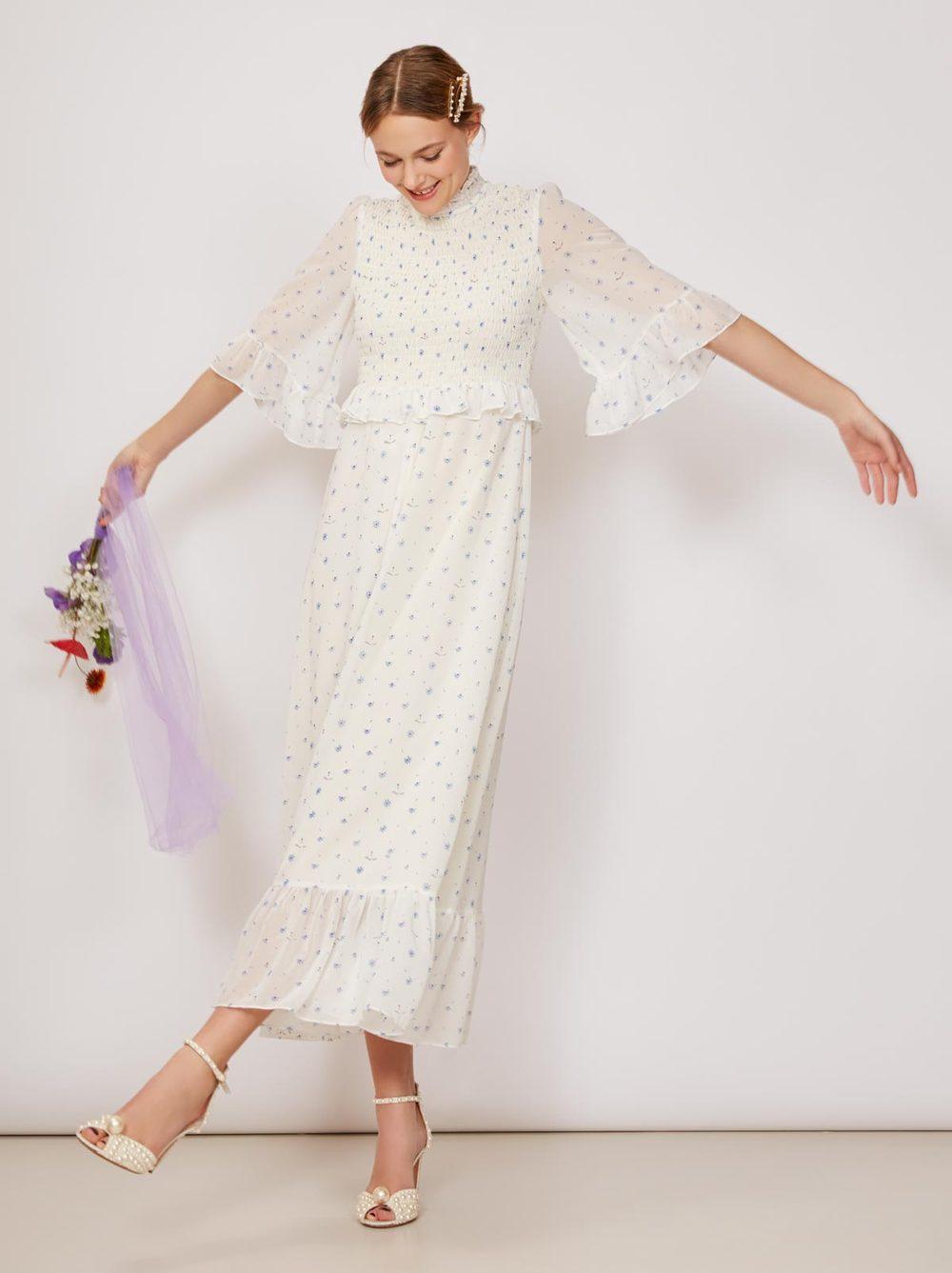 5. Don't Shy Away from Sexier Styles
If you like to show some skin, there are plenty of wedding dress styles that let you do so. A backless wedding dress could look amazing, or you could make it more subtle with a lace or illusion plunge to the rear of your dress.
6. Embrace Colour
You can 100% wear white, whatever your age, but don't discount colour. For a soft bridal look, try on dresses in nude, blush, grey, ivory, silver and gold tones. Want more drama? Go for brights!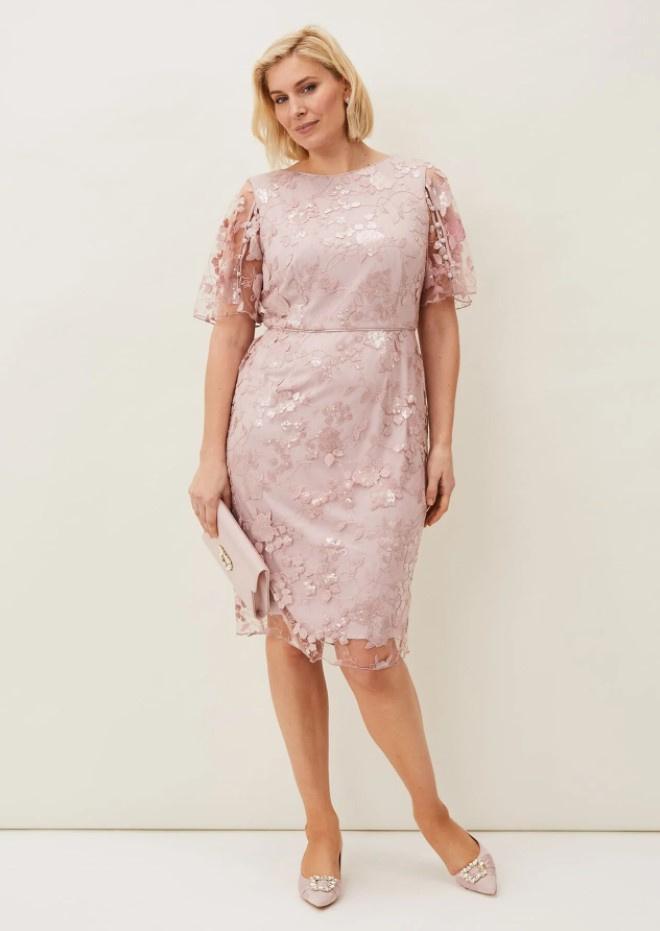 7. Don't Hide Behind Accessories
If you love bold, attention-grabbing accessories, that's great – but don't feel any pressure to add them to your look if you wouldn't usually wear them. There's nothing wrong with a pared-back bridal look if your personal style is minimalist.
The Best Wedding Dresses for Older Brides
Be inspired by some of our favourite wedding dresses for older brides, plus some ultra-chic jumpsuits and bridal separates.
1. Brighton Dress – Justin Alexander
This Justin Alexander dress is a contemporary take on a classic bridal ballgown. There's detailing on the shoulders and back, but other than that, it's all about clean, flowing lines and volume.
2. Rosa Gown in Nude – Catherine Deane
You can definitely still rock tulle as an older bride. To make the overall look sophisticated, choose a perfectly cut silhouette, like this Catherine Deane gown. The billowing sleeves are beautifully balanced by the figure-skimming body and skirt.
3. Colleen – Badgley Mischka
The elegant silhouette of this Badgley Mischka column gown is ideal for older brides who love embellishment. The waist detailing nips in to create curves and the cap sleeves add a little coverage.
4. Victoriana Bridal Jumpsuit – Phase Eight
Wedding dresses aren't for everyone, which is why we love this bestselling Victoriana jumpsuit. Featuring statement frill sleeves and a detachable embellished waistband, it proves a dress isn't a necessity to feel like a bride. Plus, at £199 it's brilliant for brides on a budget!
READ MORE: 37 Stylish Wedding Jumpsuits for Brides Who Want Something Different
5. Dora Midi Bridal Dress – Monsoon
Monsoon's Dora is an ageless style that will show off different body types. The lace cape is detachable, so you can change up your look during the wedding if you want to.
6. Florence Ruffle Ankle Skirt – Needle & Thread
The beauty of bridal separates is that you can create your own unique look - and that's something we know many older brides appreciate. Take this Needle & Thread Florence skirt: you can style it, as here, with a pretty cardigan, or a metallic cami for something a little sexier, or a soft cardigan at a winter wedding. It's available in other colours, but we just love the blue.
7. Roksandra's Camellia Dress – Net-a-Porter
Roksandra's Camellia dress is pure refinement in a dress. The sculpted silhouette, the flowy, three-quarter sleeves, the crepe fabric - all add up to a very sophisticated look that would particularly suit an older bride.
8. Ember Single-Breasted Blazer – Reiss
A trouser suit is such a chic bridal option, especially if you're looking for an outfit for a more mature bride. This Reiss blazer would look effortlessly stylish, and you could accessorise it to really make it your own.
READ MORE: 33 Chic Wedding Suits for Women to Buy Now
9. Leonora – Blue by Enzoani
We just love the vintage vibes of this Leonora gown. It's ideal if you want a timelessly romantic wedding dress.
10. Mozart Dress – Laure de Sagazan
French designers are often a great bet for older brides, as they know how to dress sophisticated women. Laure de Sagazan is one of the key names to know. Her dresses are wonderfully stylish, and one that caught our eye from her 2022 collection is this stunning understated number - it just feels so fresh.
11. D3160 – Essence of Australia
The simplicity of this dress by Essence of Australia is what gives it its beauty. If you're an older bride with a minimalist style, this will really suit your aesthetic.
READ MORE: 50 of the Best Simple Wedding Dresses
12. Embellished Pearl Batwing Dress – ASOS Edition
Sometimes, it's worth it to go a little bold and this dress provides it. It features a sophisticated silhouette and luxurious detailing that might just make you feel like the aisle is a runway!
13. Mariana Pleated Lace Wedding Dress – Phase Eight
Phase Eight's bridal collection is so good right now. Among the pieces we've fallen for is this elegant pleated dress, with chic long sleeves and a stunning lace overlay.
14. Niccola Fitted Belted Midmaxi Dress - Phase Eight
Think townhouse wedding or small, intimate ceremony at the courthouse. This fitted dress from Phase Eight fits that vision perfectly! It's sophisticated and elegant, perfect for an older bride.
15. Katheryn – Pronovias
A bateau neckline always looks stylish, as this Pronovias gown shows. Paired with a fluid silhouette, it looks sensational, proving you don't need lots of embellishment for a high-impact wedding dress.
16. Lace Midi Dress – Coast
A dress doesn't have to be specifically branded as 'wedding' to work for your big day. Take this silver Coast dress: it's definitely special enough for a bridal look and is ideal if you want to cover up without feeling too covered up.
READ MORE: The 47 Best Wedding Dresses on the High Street
17. Rosabella Silk Floral Dress – Hobbs
A floral can be such a pretty choice for a laidback wedding dress - like this Rosabella dress, which would be perfect for a country garden party wedding.
18. Sarabeth Dress – Reformation
Reformation's Sarabeth Dress is all about grown-up refinement. The understated design gets an extra dose of sophistication with the fringe bottom, giving the dress a boost of memorable personality without being in your face.
19. Daya Dress – Solace London
Solace London is the brand to know for sculptural designs that have a big impact. Just take the regal Daya dress: it's rare we use the words 'sleek' and 'showstopper' to describe the same look, and yet somehow, Solace have combined the two.
20. Rebecca Dress – Monsoon
For a fresh take on the lace wedding dress, check out Monsoon's Rebecca gown. The sheer dotted fabric at the neck makes for a gorgeous contrast with the floral lace.
21. Phase Eight – Poppy Embroidered Wedding Dress
Phase Eight have another winner on their hands with the Poppy dress that combines all-over lace with satin edging and a semi-sheer back. This is the contemporary way to do pretty.
READ MORE: The 21 Best High Neck Wedding Dresses
22. Self-Portrait Broderie-Anglaise Tea Dress – FarFetch
This Self-Portrait wedding dress is ideal for the fashion-loving older bride. The soft blush colour and lacy details make it stylish and visually interesting, while the classic silhouette ensures it stands the test of time.
23. Roanne Dress – Maggie Sottero
Bring on the glamour! Roanne combines boho and ballgown to show-stopping effect. It's a dream of a dress, and the illusion mesh at the neckline keeps it chic.
24. Galvan Pandora Satin Halterneck Midi Dress – Net-a-Porter
How fabulously chic is this dress? It features a classic halterneck and a sleek finish that will have you feeling sophisticated with every step down the aisle.
25. Caterina Embroidered Flared Wedding Dress – Phase Eight
You can't go wrong with classic styles and this lacy modern confection is a prime example. With a gently flared skirt and vintage touches, it may just be the icing on the cake for your bridal look.
Finish your look with some gorgeous shoes - these are our favourite designer wedding shoes. Yes, they're on the more expensive side, but it's an investment, right?