As soon as October the 1st hits, we paint our nails black, start swooning over gothic wedding dresses and hang pumpkin bunting from our desks. Yep, here at Hitched we LOVE Halloween.
Whether you're newly engaged, newlyweds or you've got a few years of marriage under your belt, there's no better time to pull out all the stops on the fancy dress front than on the scariest holiday of the year.
From spooky makeup to fun family-friendly costumes and Disney-inspired get-ups, here are the best couples Halloween costumes of 2021 for you to choose from. That best dressed award has your name on it…
NB: We have included third party products to help you navigate and enjoy life's biggest moments. Purchases made through links on this page may earn us a commission.
Scary Couples Halloween Costumes
Halloween is the perfect excuse to scare the hell out of your friends.
Choose from one of these scary couples Halloween costume ideas and you'll be well on your way.
1. Vampire Couples Halloween Costume
This scary couples Halloween costume idea is really easy to achieve.
All you need is some clothes you don't mind staining and plenty of fake blood! Decent makeup skills would come in pretty handy, too.
2. Clowns Couples Halloween Costume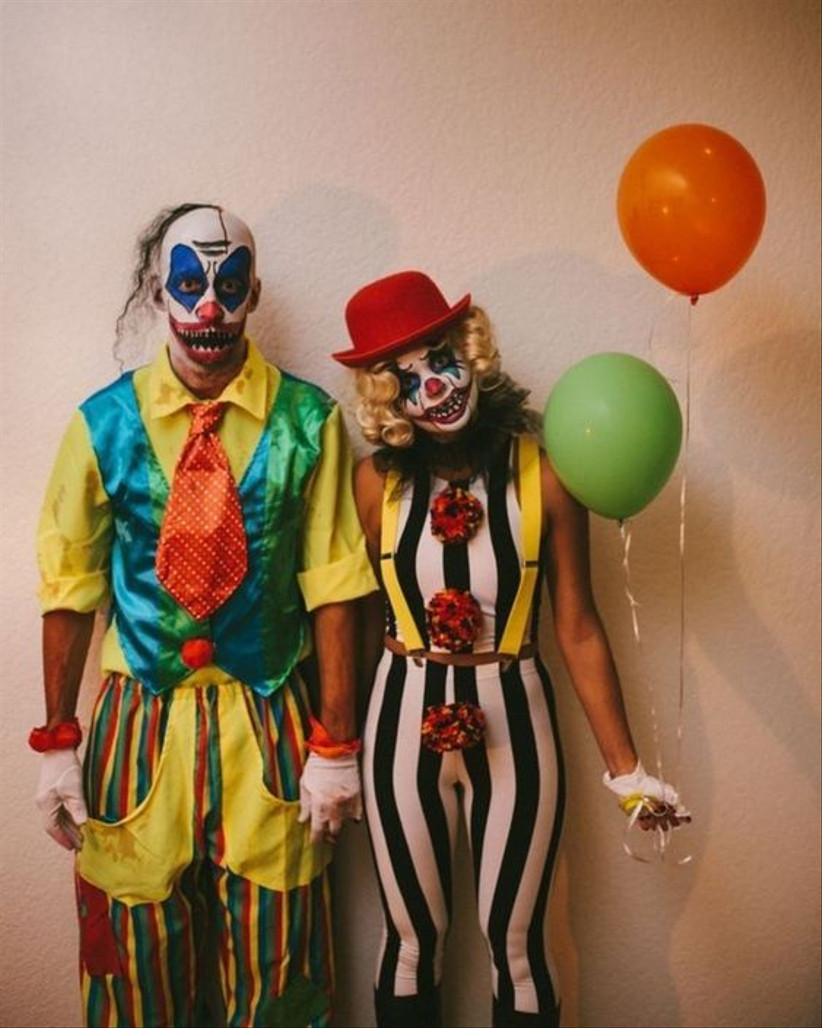 Just us that thinks clowns have ultimate scare-factor? Nope, didn't think so.
Dressing up as zombie clowns is sure to give your party guests a fright.
3. Skeletons Couples Halloween Costume
Keep things simple by picking up two skeleton bodysuits, darkening your eyes with a black eye shadow and back-combing your hair.
This scary couples Halloween costume idea is simple but highly effective.
READ MORE: The Best Date Night Ideas for Newlyweds
4. Suicide Squad Couples Halloween Costume
Bring it right up to date and dress as Harley Quinn and the Joker this Halloween.
This might have been done a lot in circa 2016, but there's still life left in the scary pair yet!
5. Pennywise from IT Couples Halloween Costume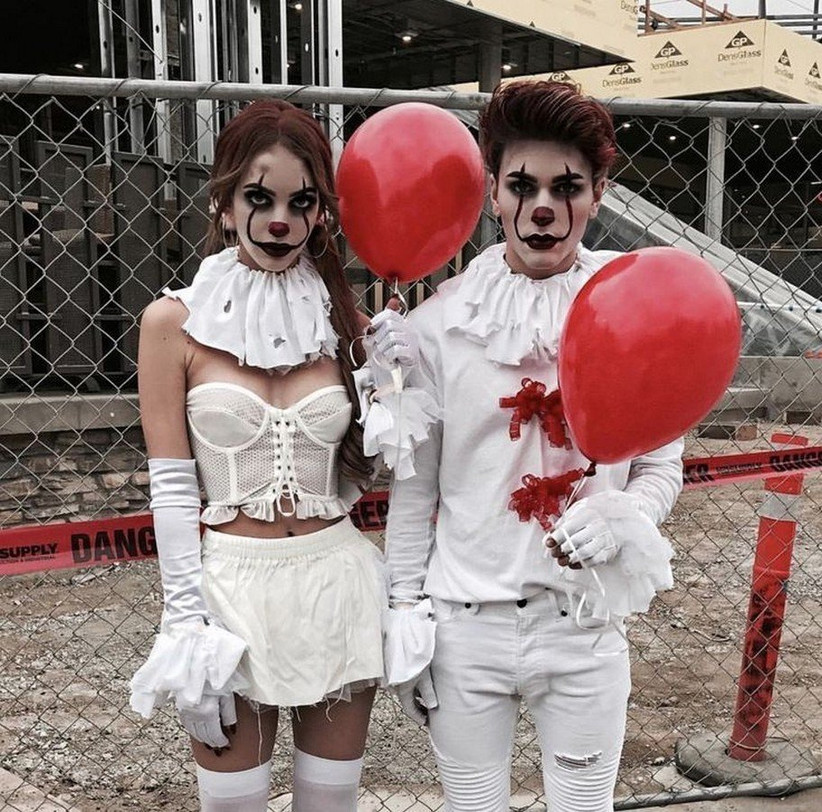 Take inspiration from IT and dress up as Pennywise this Halloween.
Yes, the red balloon is essential.
6. Day of the Dead Couples Halloween Costume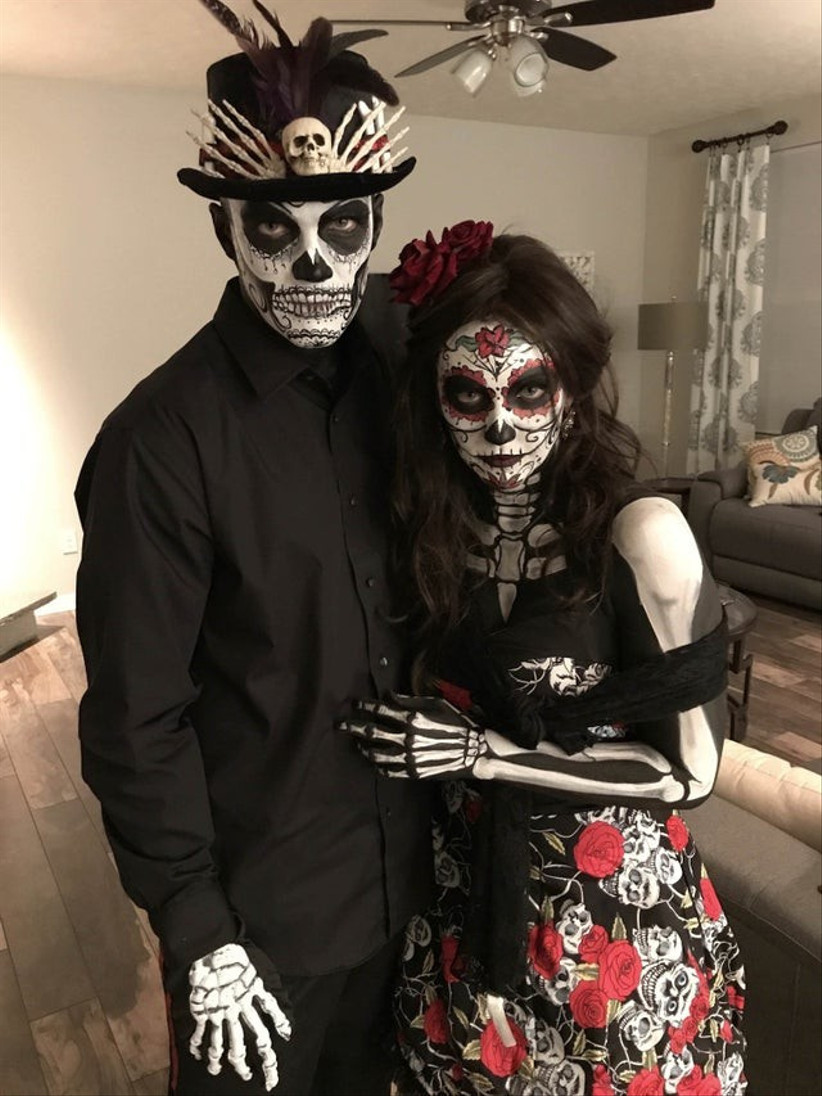 We love this Day of the Dead-inspired Halloween costume!
The devil is in the details here – aka, the makeup and accessories. You can totally get away with all-black outfits to save money.
7. Bride and Groom Couples Halloween Costume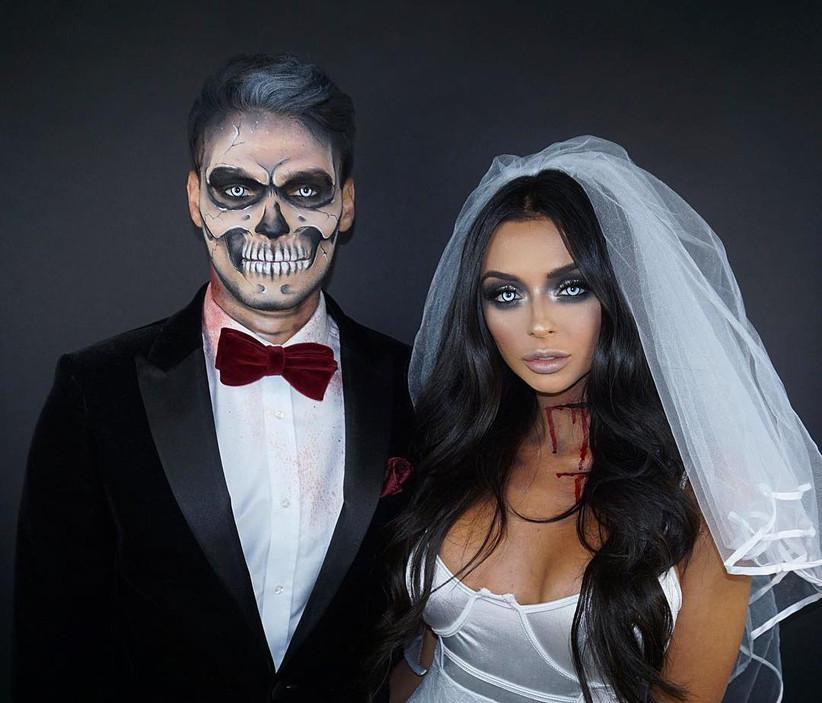 Dig out an old white dress and splatter it with blood for the ultimate "wedding planning is taking its toll" get-up.
TOWIE's Myles and Kady have gone the extra-mile with coloured contact lenses which finish their look to perfection.
8. Zombie Bride and Groom Couples Halloween Costume
This couple's spooky take on a bride and groom get-up is great!
They've even invested in some super-scary contact lenses to make their eyes pop.
9. The Purge Couples Halloween Costume
If you've seen the movie, you'll know why this is the ultimate scary couples costume.
You can recycle items you already have in your wardrobe, and then all you need to finish it off is prop weapons and a set of masks.
READ MORE: The Most Unique Halloween Hen Party Ideas
10. Boxers Couples Halloween Costume
If you want a quick and easy Halloween couples costume that still incorporates a little gore, boxers are a great choice.
All you'll need is your gym gear and a robe.
11. Frankenstein Couples Halloween Costume
This costume is actually pretty easy to put together and will give you a great shot at winning best dressed if you're going to a Halloween party.
Cute Couples Halloween Costumes
Who says you have to be scary this Halloween? Choose from these cute couples Halloween costumes.
12. Scooby Doo Couples Halloween Costume
What a blast from the past!
We love this pair's recreation of Shaggy and Scooby Doo… it'd be so cheap to put together, too.
13. Velma and Daphne Couples Halloween Costume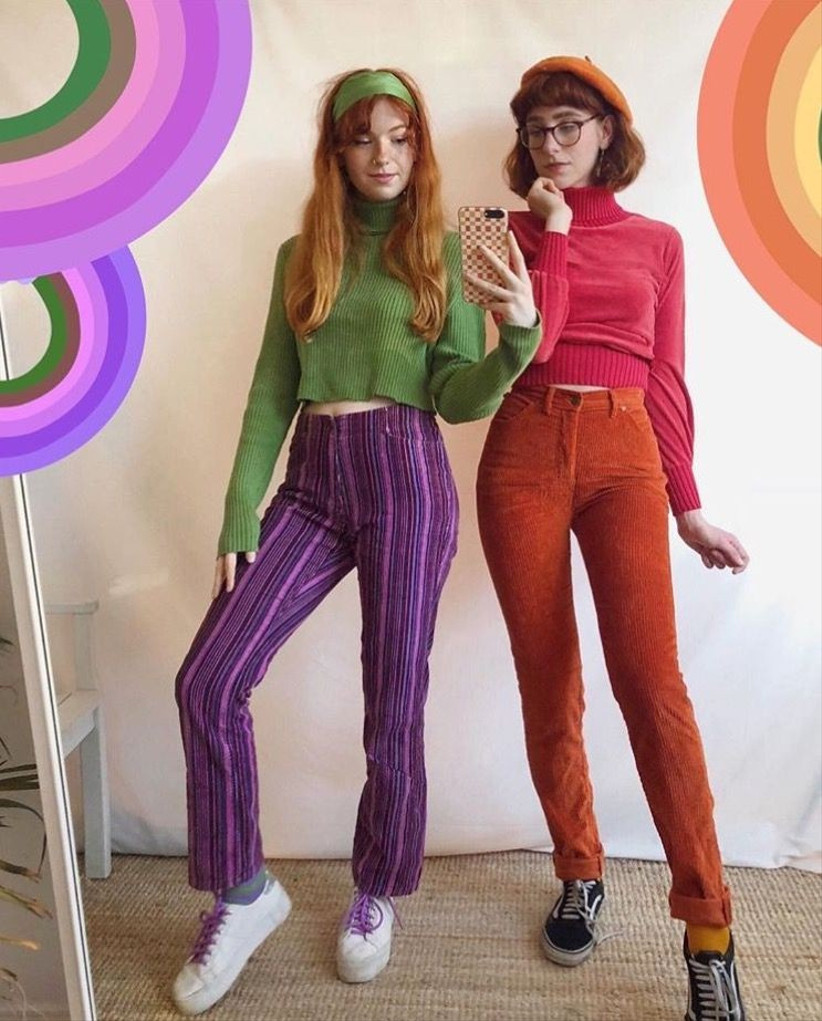 One trip to your local vintage clothes store will have you decked out like Velma and Daphne from Scooby Doo. Fancy dress has never looked so stylish!
14. Jack and Rose Couples Halloween Costume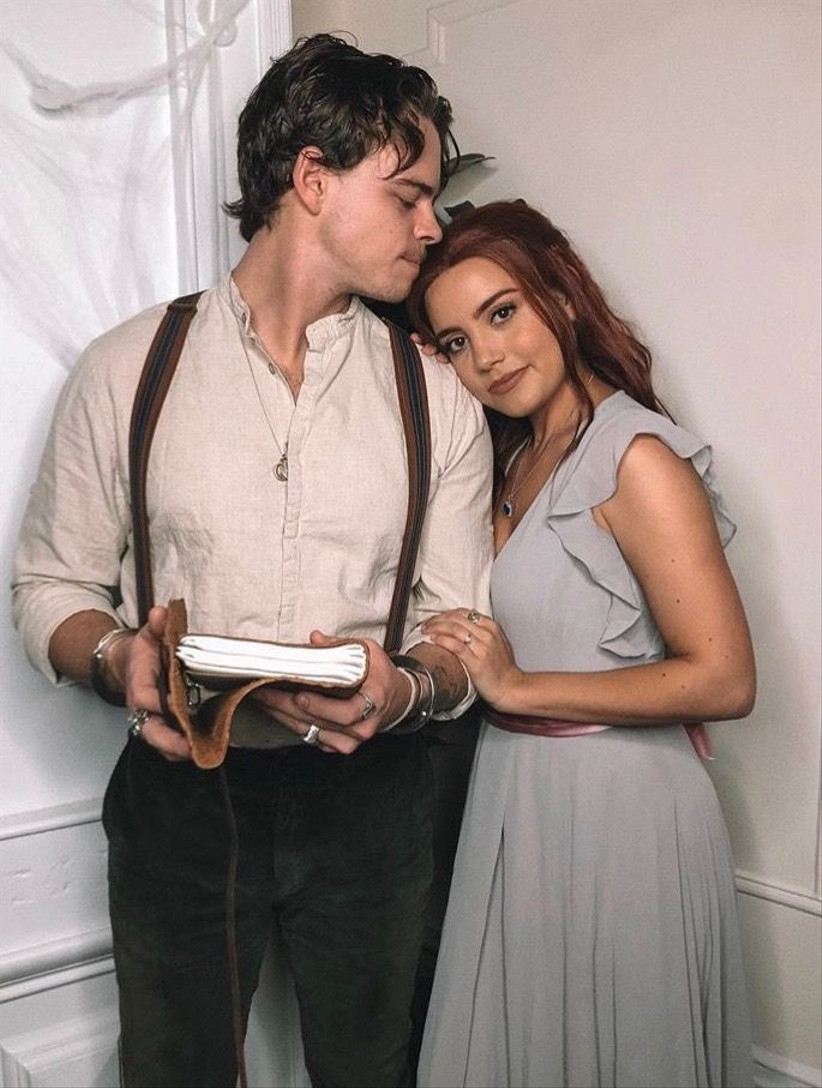 Take inspiration from romantic classic Titanic and dress up as Jack and Rose this Halloween.
Super pale pressed powder is a must because, yanno… they got pretty cold.
15. Harry Potter Couples Halloween Costume
Harry Potter will never get old so why not dress up as members of Slytherin this Halloween?
It would make a great group idea if you have a few friends who can go as Gryffindor too.
16. NASA Couples Halloween Costume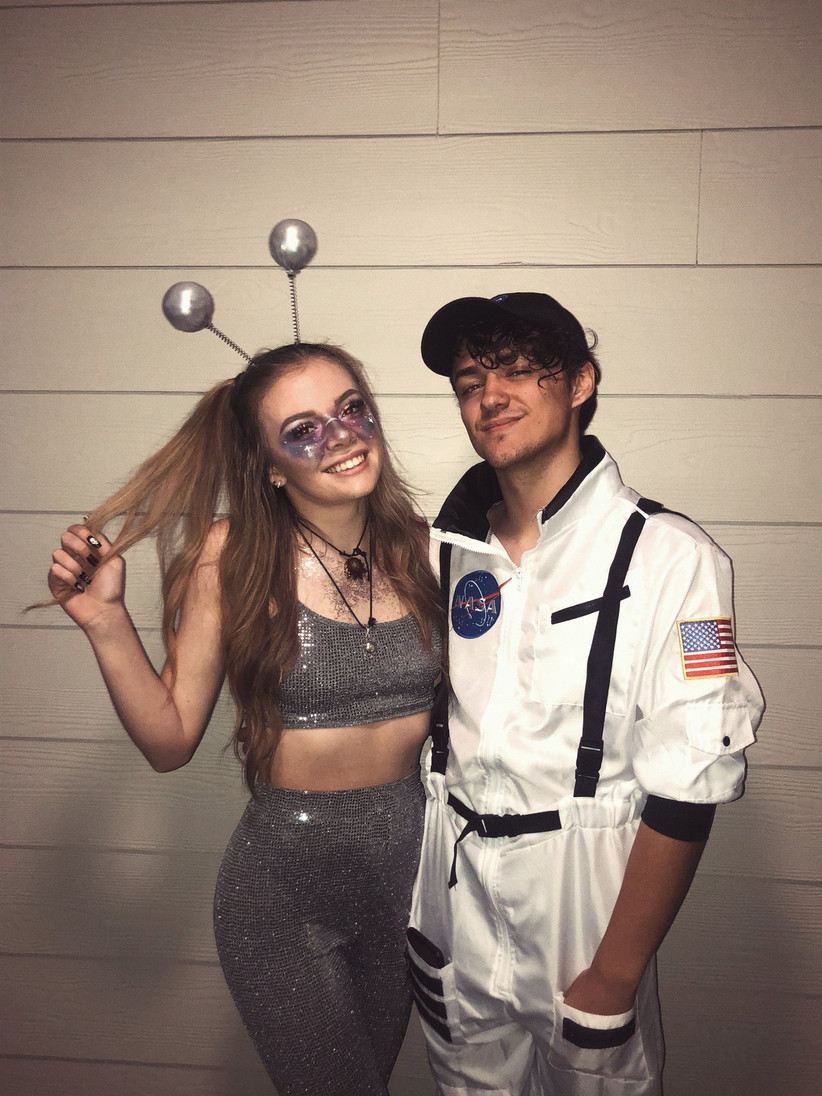 Now this couples Halloween costume idea is seriously cool. If you're hosting a celestial themed wedding, it's the perfect way to set the tone!
Either don a spaceman costume or adorn yourself in glitter and stars. You'll look out of this world…
17. Tweedle Dee and Tweedle Dum Couples Halloween Costume
Neil Patrick Harris and his family reign supreme every year with their Halloween costumes.
One of our favourites has got to be these Alice in Wonderland themed outfits.
18. Jack and Jill Couples Halloween Costume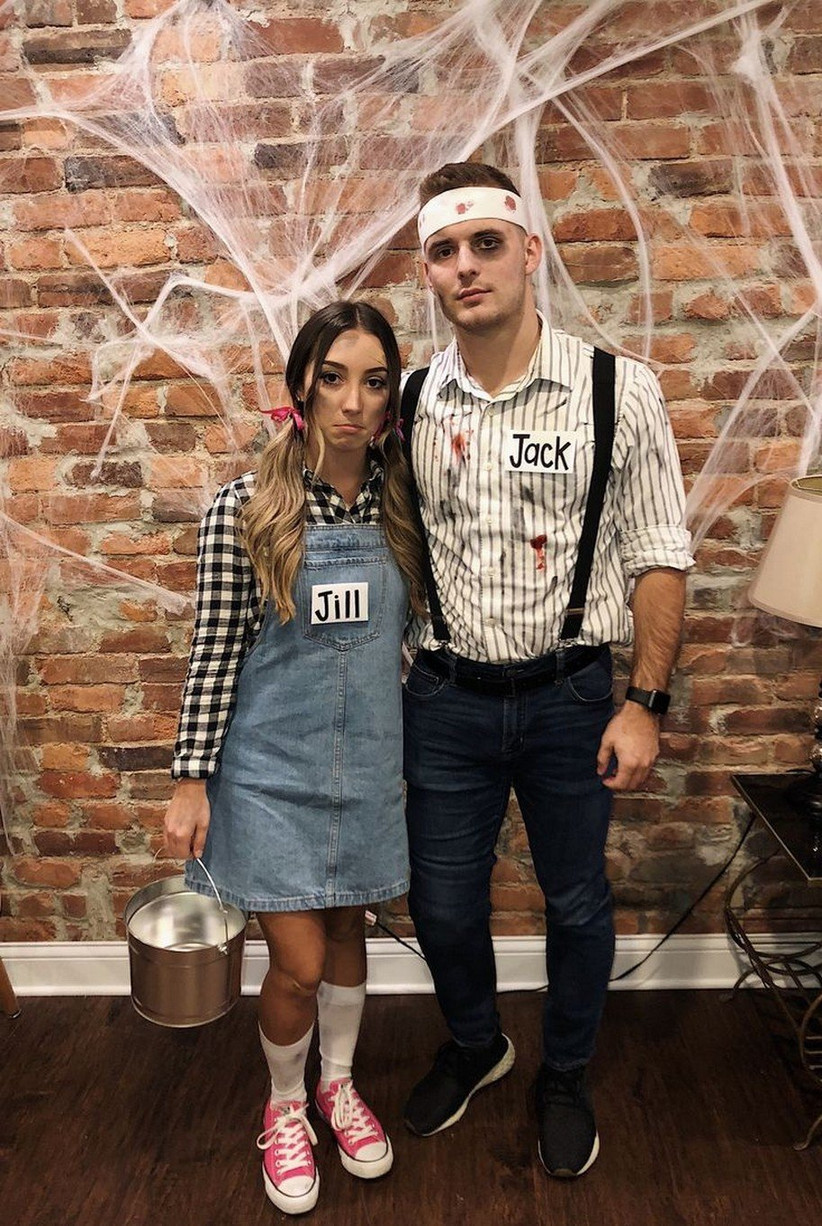 Jack and Jill went up the hill to attend a Halloween party!
This couples Halloween costume is inspired by one of our favourite childhood nursery rhymes. One thing's for sure: no-one else will have thought of this idea.
19. Ross and Rachel Couples Halloween Costume
If you still can't resist watching the reruns together, this could be the costume for you.
Bonus points if you add your own Marcel the monkey!
READ MORE: The Spookiest Gothic Wedding Cakes
20. Stranger Things Couples Halloween Costume
This has got to be one of our favourite couples Halloween costumes we've seen and we bet if you're a big fan of Stranger Things you'll love it too.
Whether you choose to dress as Eleven or even The Mind Flayer, this outfit makes a seriously good Instagram post!
21. Fruit Couples Halloween Costume
This couples Halloween costume is so sweet!
Whether you go as a pineapple and strawberry like this pair or you mix up the fruit bowl, you can really personalise this outfit depending on your resources.
Funny Couples Halloween Costumes
If you and your other half are the jokers of your friendship group, live up to your reputation with one of these funny couples Halloween costumes.
22. Britney and Justin Couples Halloween Costume
Britney Spears and Justin Timberlake's 2001 AMAs double denim get-up was truly terrifying.
Raid your wardrobe for all the denim you own, or head down to your local charity shops and you're bound to nail this costume.
23. Filter and No Filter Couples Halloween Costume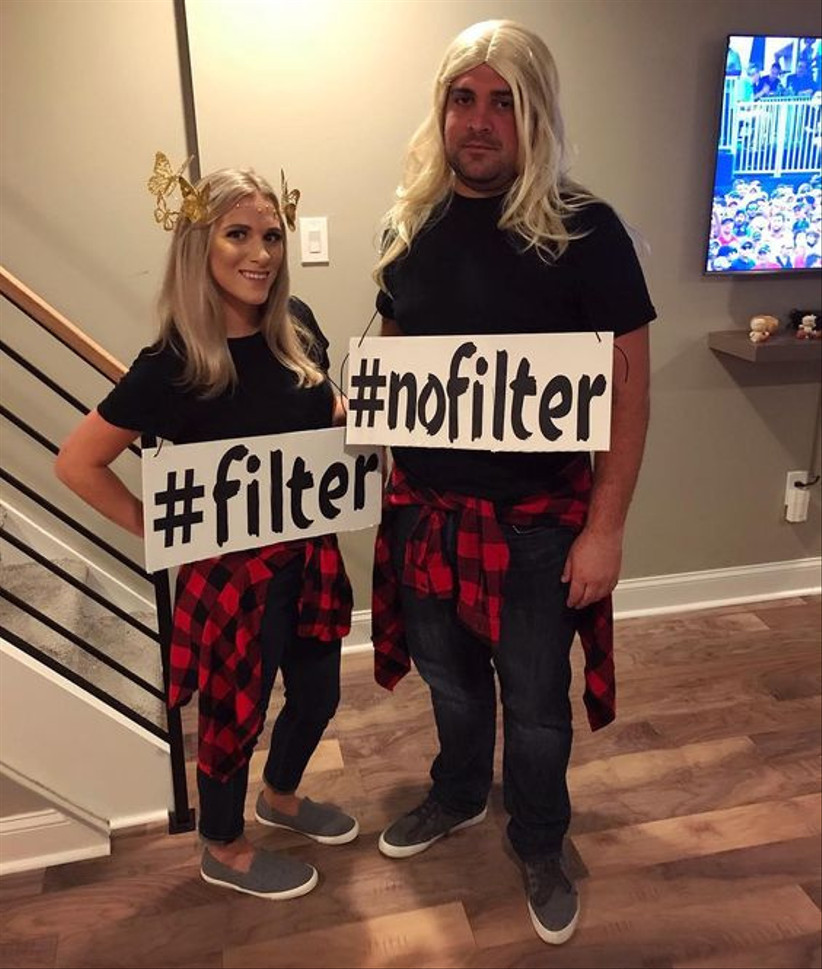 We love this original idea for a couples Halloween costume!
One of you will be glammed up and accessorised like your favourite Snapchat filter while the other will be channelling an "I woke up like this" vibe – Instagram won't know what's hit it.
24. Google Maps Couples Halloween Costume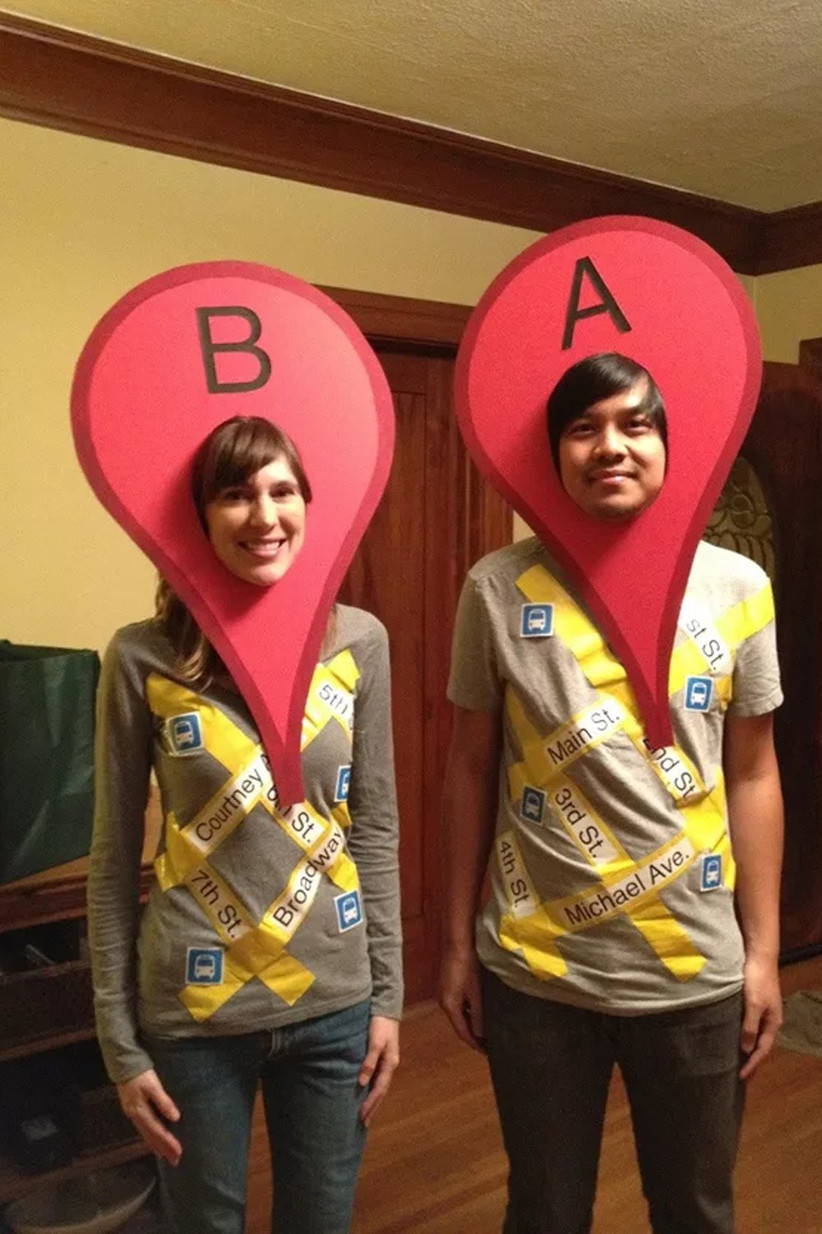 We couldn't help but laugh when we stumbled across this Google Maps-inspired Halloween costume.
Customise the road names with those from the town you live in.
READ MORE: 15 Halloween Wedding Ideas That'll Spook Your Guests
25. Pulp Fiction Couples Halloween Costume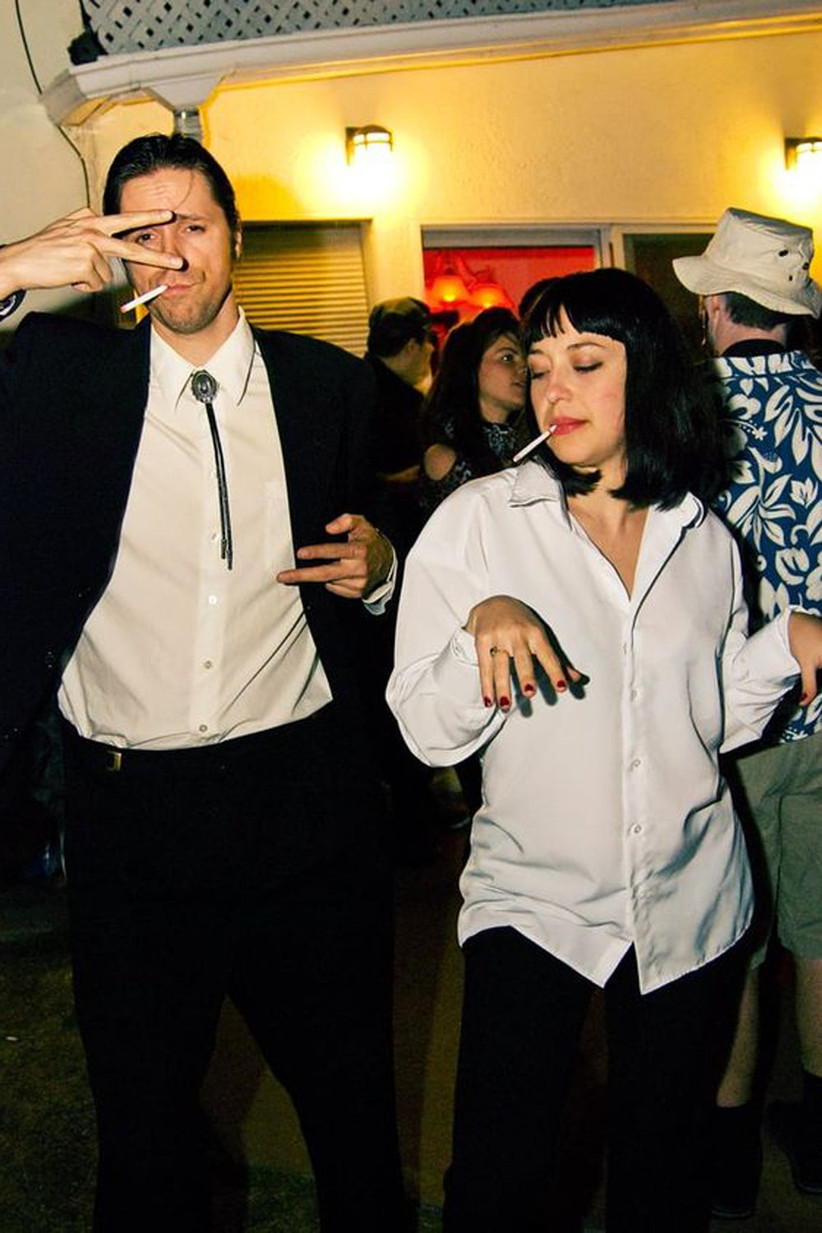 What's not to love about this Pulp Fiction Halloween costume? A little bit funny, a little bit sexy and uber cool for any type of gathering.
26. Cards Against Humanity Couples Halloween Costume
Oh, the fun you'll have coming up with a question and answer for these costumes... It's also a super affordable choice – you literally need two sheets of card and plain black and white t-shirts.
Disney Couples Halloween Costumes
Disney is the best. Channel your love for your favourite Disney characters into your couples Halloween costume…
27. Peter Pan and Tinkerbell Couples Halloween Costume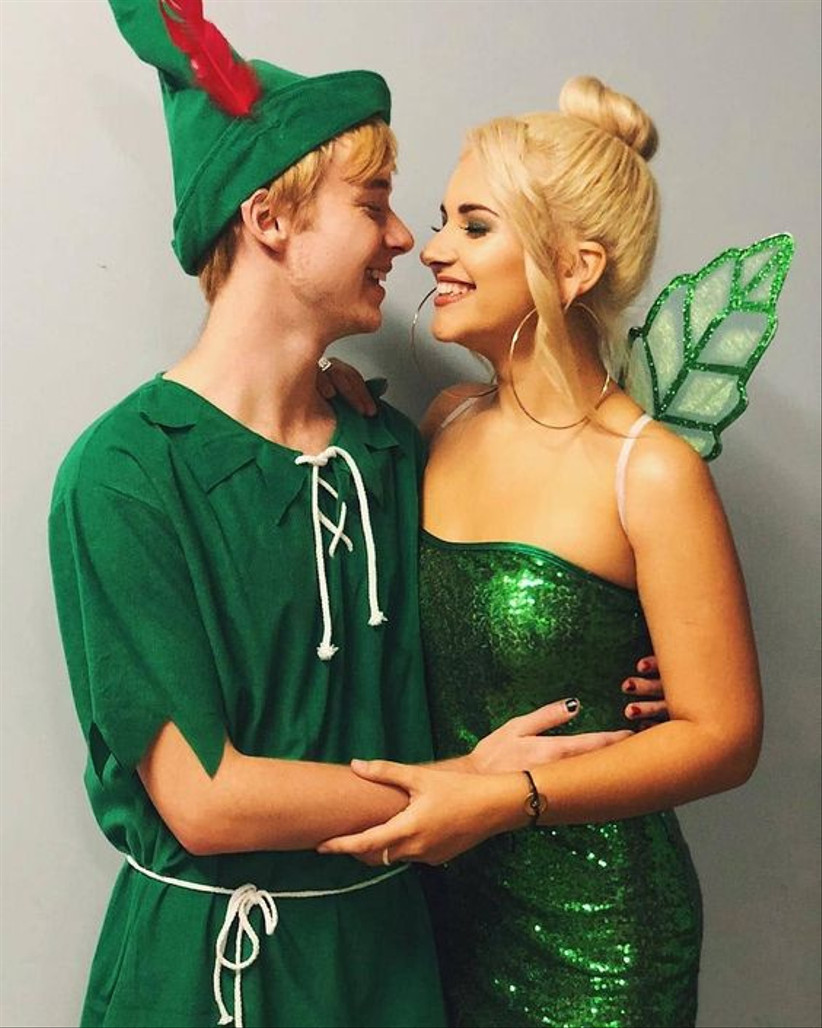 Peter Pan will forever be one of our favourite Disney films.
Use Halloween as an excuse to dress up as Peter Pan and Tinkerbell. We know you've always wanted to.
READ MORE: The Best Disney Quotes for Your Wedding Ceremony
28. Lilo and Stitch Halloween Costume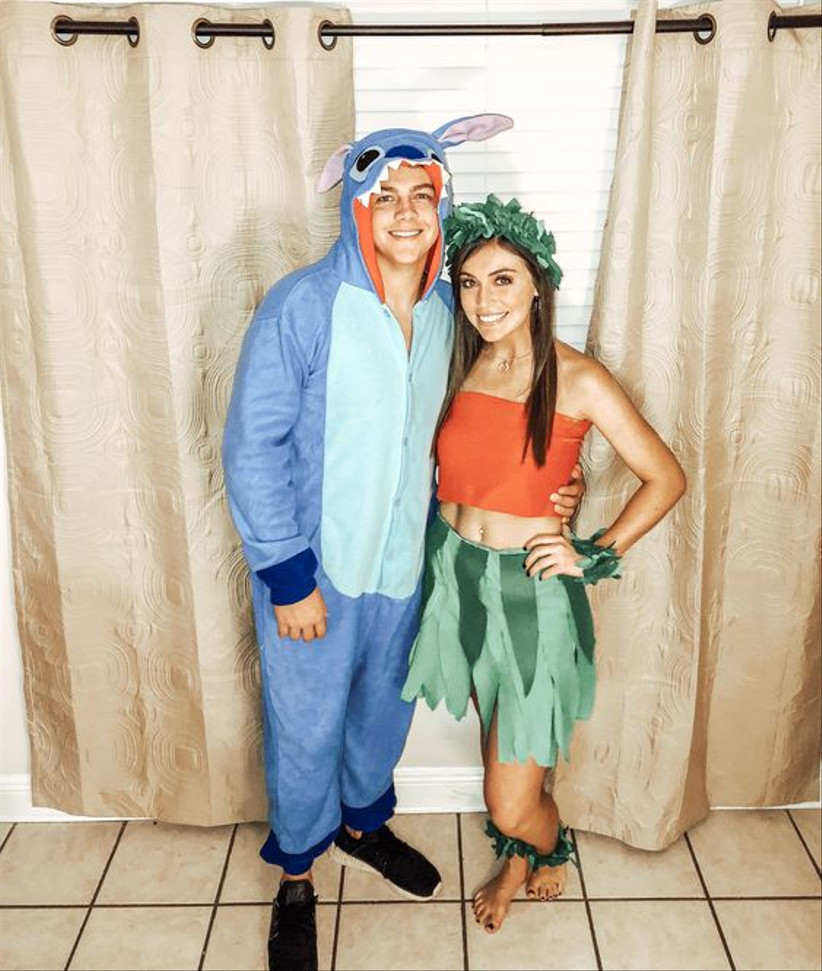 Cute! Lilo and Stitch was one of our firm favourites when we were younger, so we love this Halloween costume.
Now all you've got to do is decide who gets to be Stitch…
29. Aladdin and Jasmine Halloween Costume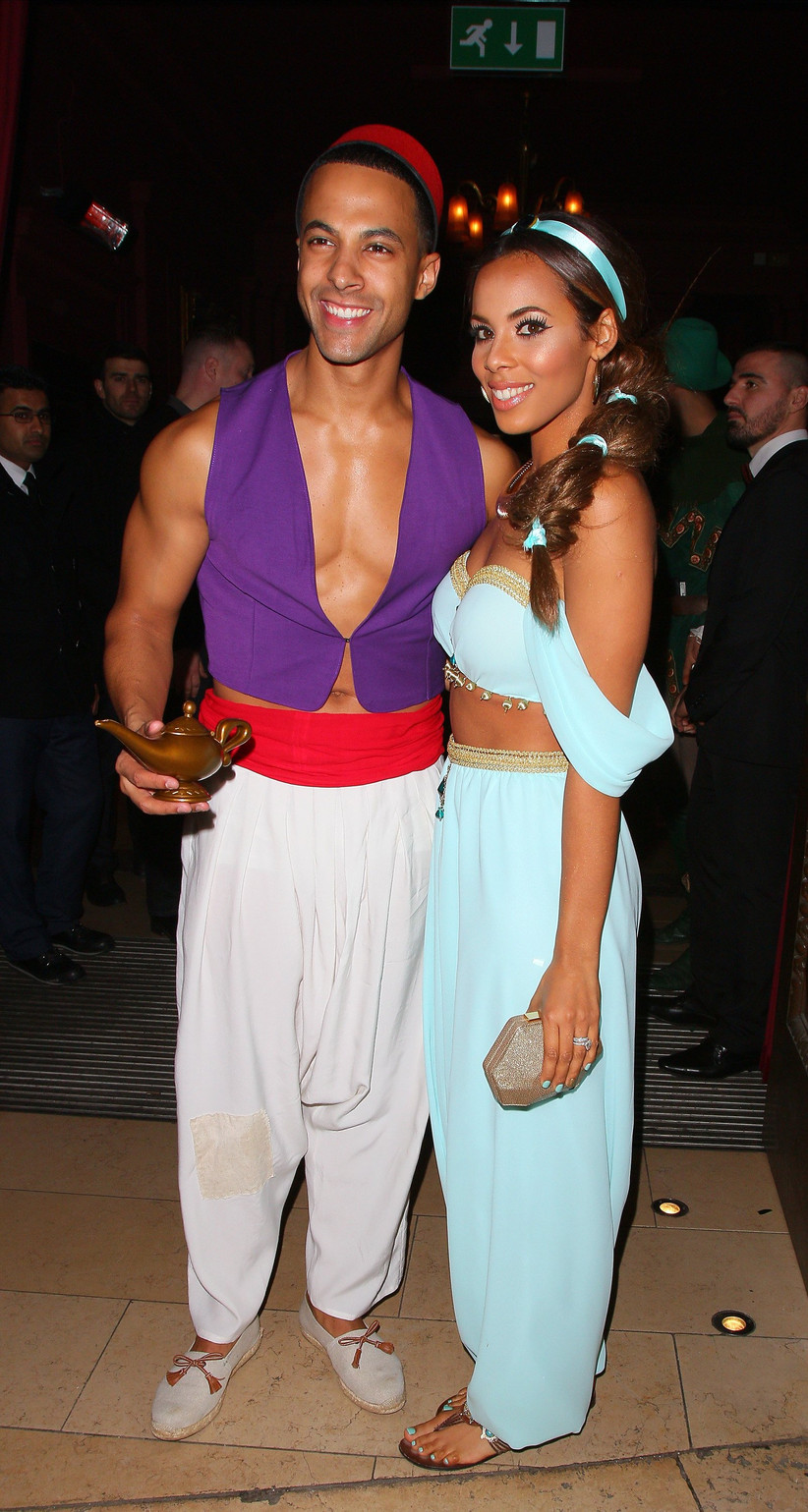 If you and your other half are committed to looking your best this Halloween, dress up as Aladdin and Princess Jasmine like Marvin and Rochelle Humes did!
30. Monsters Inc Couples Halloween Costume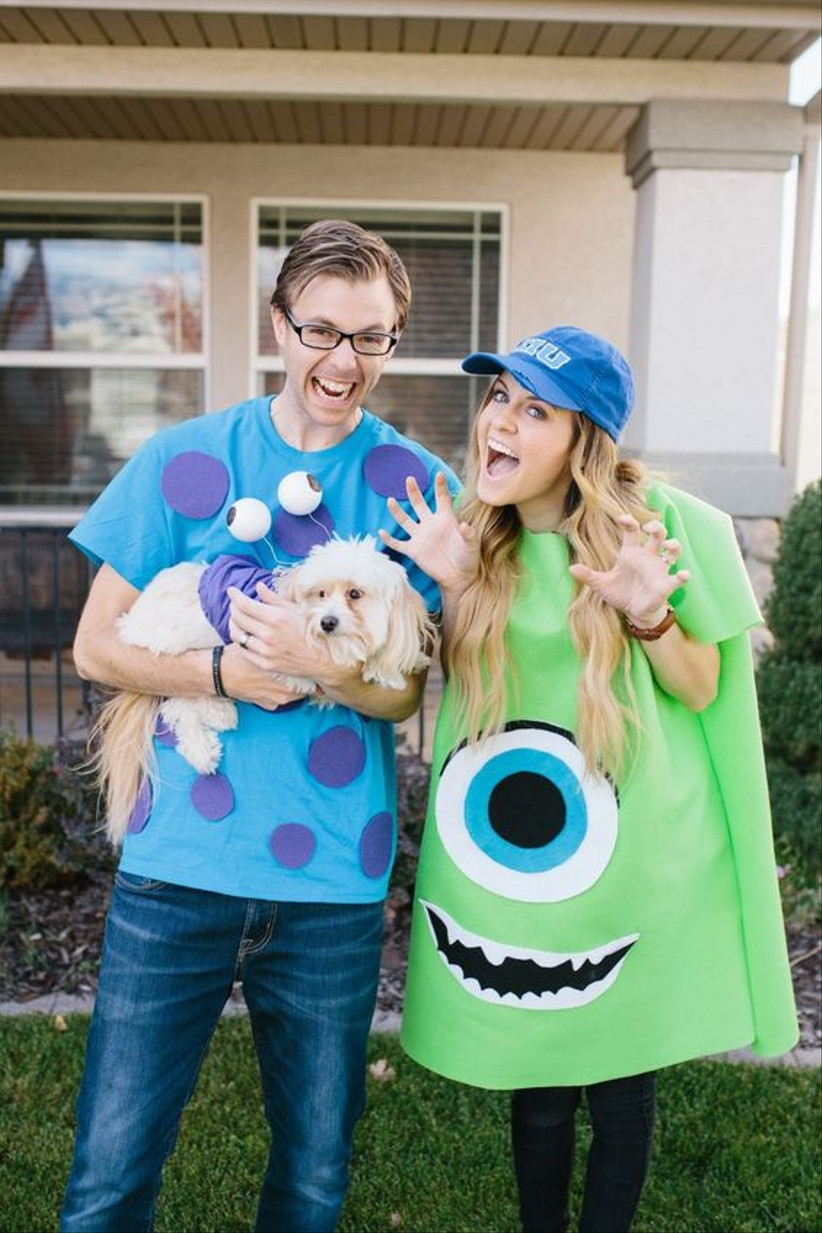 Copy this couple's Halloween costume idea and dress up as our favourite Monsters Inc. pair. How adorable!
READ MORE: 37 Ways to Include Your Love of Disney at Your Wedding
31. The Incredibles Couples Halloween Costume
What about dressing up as The Incredibles?! This couple look ready to save the day in their superhero get-ups.
32. Alice in Wonderland Couples Halloween Costume
Wish your peers a happy Halloween from Wonderland and dress up as Alice and the Mad Hatter.
This couple look cute and sexy in equal parts.
33. Pirates of the Caribbean Couples Halloween Costume
Ahoy! Set sail this Halloween as the Pirates of the Caribbean.

This couple kept things fresh, but it's super easy to add an injection of horror to this costume idea. Will and Elizabeth who?
Sexy Couples Halloween Costumes
If you and your other half are after costumes which ooze sex appeal, then look no further than these sexy couples Halloween costumes.
34. Dead Bonnie and Clyde Couples Halloween Costume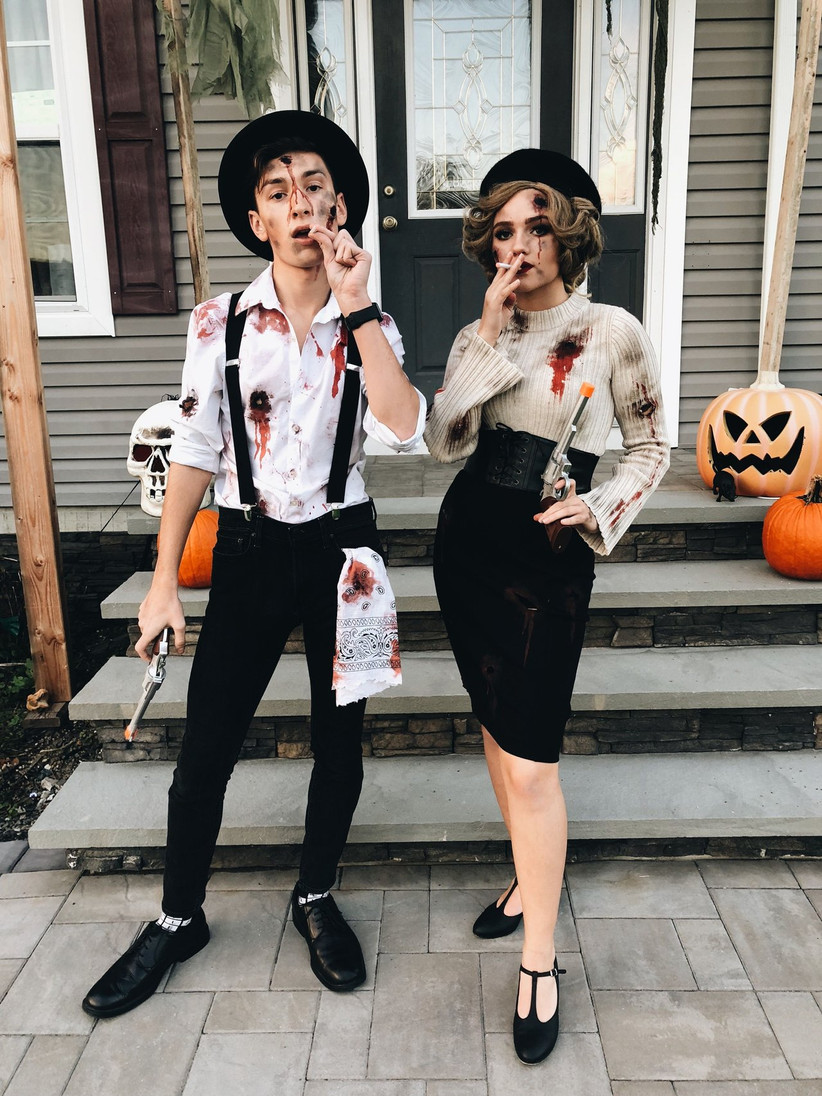 This Halloween, dress up as one of the most iconic couples in history.
Give Bonnie and Clyde a morbid make-over with bullet holes in your clothes and plenty of fake blood.
35. Prisoner and Prison Officer Couples Halloween Costume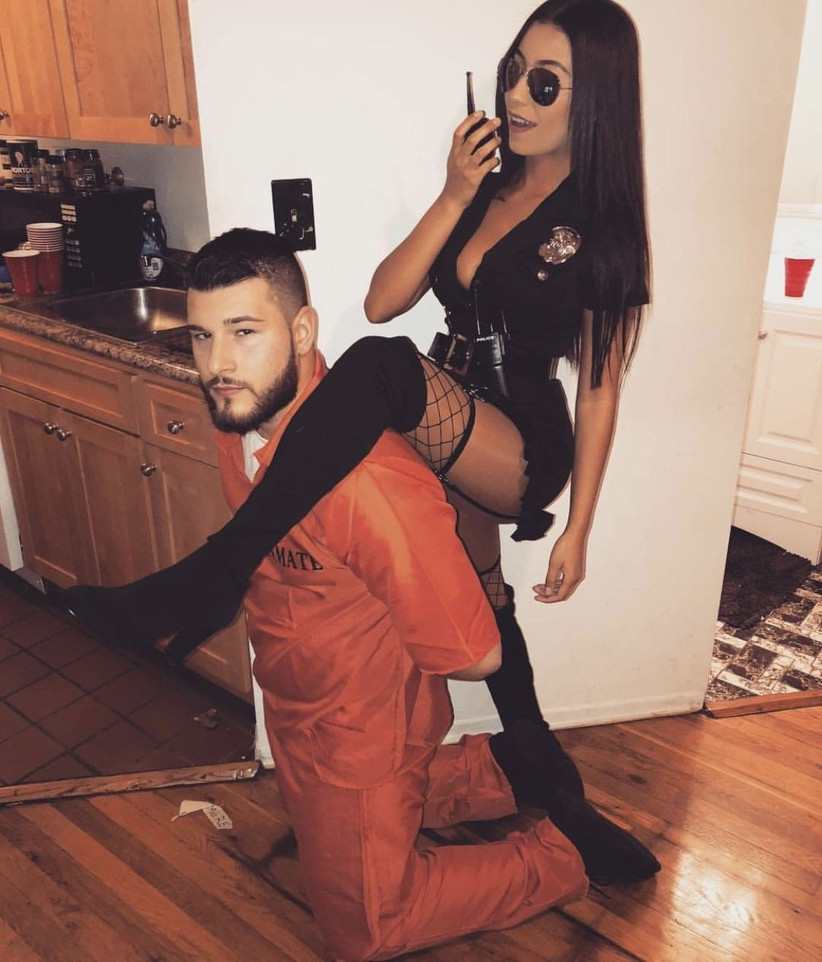 This couple looks great as is, but you could flip the script with an Orange is The New Black-inspired prisoner and guard dynamic too.
READ MORE: 33 Sexy Wedding Dresses to Get Pulses Racing
36. Doctor and Nurse Couples Halloween Costume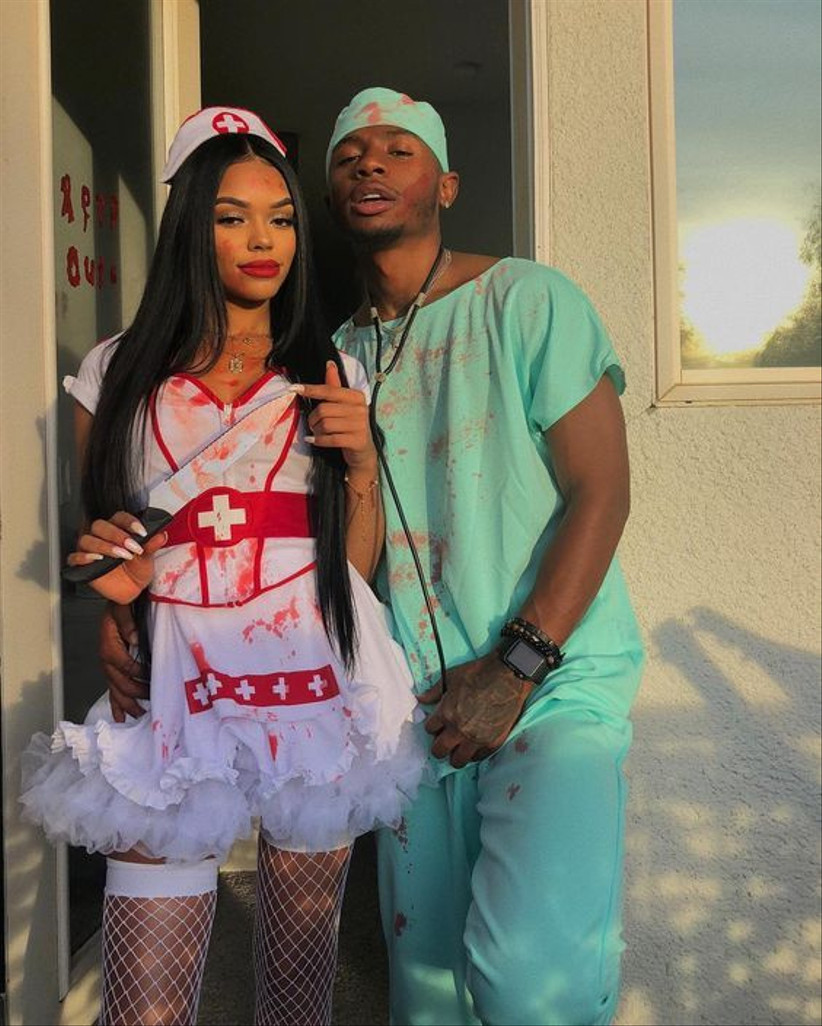 The whole 'doctor and nurse thing' has been done time and time again, so if it's your costume of choice this year, you've got to do it well.
Follow in the footsteps of this pair who have splashed out on full costumes, props and fake blood.
37. Devils Couples Halloween Costume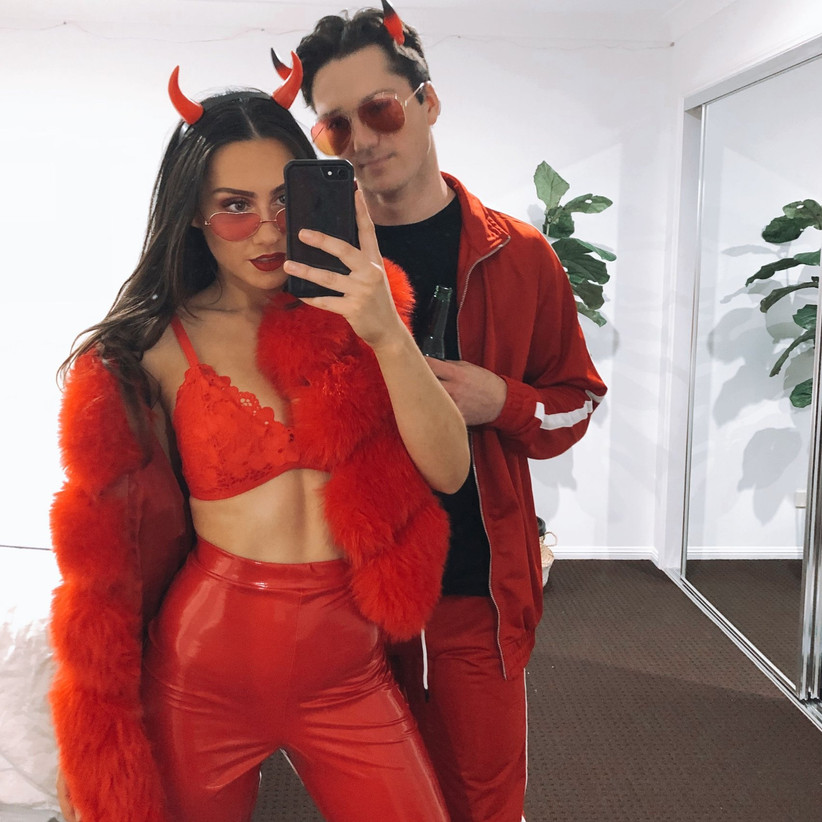 Sexy, simple and cheap to put together. There's so much to love about this red devil couples Halloween costume.
Pick up your devil's horns here.
38. Gomez and Morticia Couples Halloween Costume
In our books, you just can't beat the classics.
Take inspiration from Joe Jonas and Sophie Turner's get-ups by getting your Gomez and Morticia on (particularly great for a couple whose wardrobes already consist of black, black and more black).
39. Circus Couples Halloween Costume
Sultry, sexy and seriously fun, transform you and your significant other into circus masters.
Keep the makeup simple and ensure you have a top hat to finish the look off.
Couples Halloween Makeup Ideas
Sometimes, keeping things simple is best. If you want an understated Halloween look, choose from these couples Halloween makeup ideas.
40. Creepy Skeletons Couples Halloween Makeup
You don't need to go for a full blown costume if your makeup does all the talking.
Dress head-to-toe in black then transform your face into a skeleton. The pair of you will be unrecognisable!
41. Little Red Riding Hood Couples Halloween Makeup
If you have a bit more cash to splash, invest in a full Little Red Riding Hood costume.
It's all in the makeup with this look. Make sure you pick up some stick-on-wounds and fake blood to really scare your fellow party-goers.
READ MORE: 37 Gorgeous Wedding Makeup Ideas
42. Egyptian Pharaoh Couples Halloween Makeup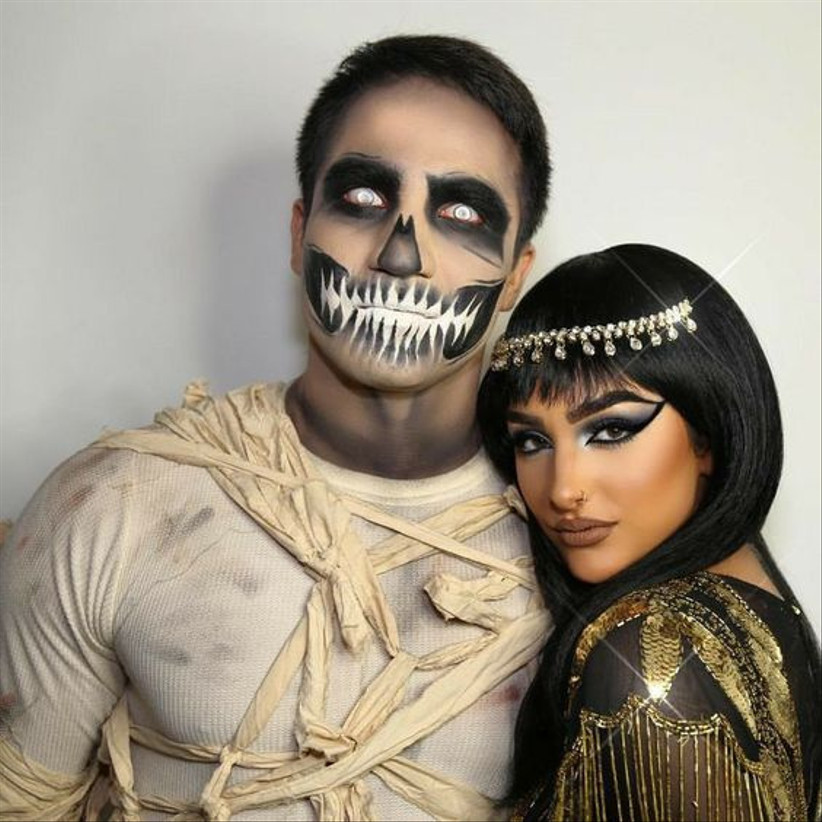 Pretty much the only skill you need to pull off this Halloween makeup look is that of a steady hand.
Once you've mastered the art of the eyeliner flick, you're away!
43. Day of the Dead Couples Halloween Makeup
We're obsessed with this OTT Day of the Dead-inspired makeup look.
The stick-on gems are a great touch! Pick up some similar ones here.
44. Clowns Couples Halloween Makeup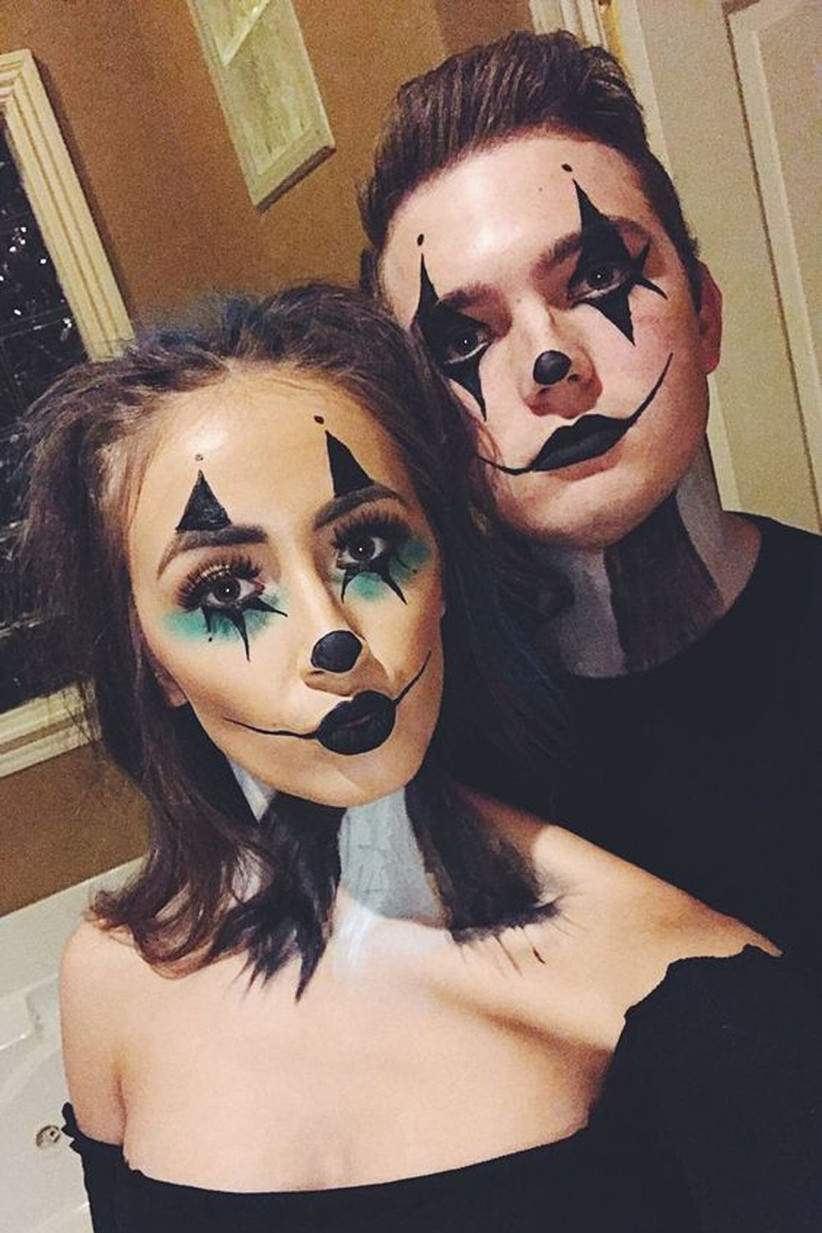 We've said it before and we'll say it again: clowns are creepy.
Dress in all-black and focus your energies on recreating this simple yet oh-so-effective makeup look.
45. Medusa and the Stone Statue Couples Halloween Makeup
Granted, our makeup skills might not be quite up to scratch to recreate this look, but we had to include it all the same.
Top tip: using fishnet tights over your face or shoulders and then applying makeup with give you this scale effect with minimal effort.
46. Skeletons Couples Halloween Makeup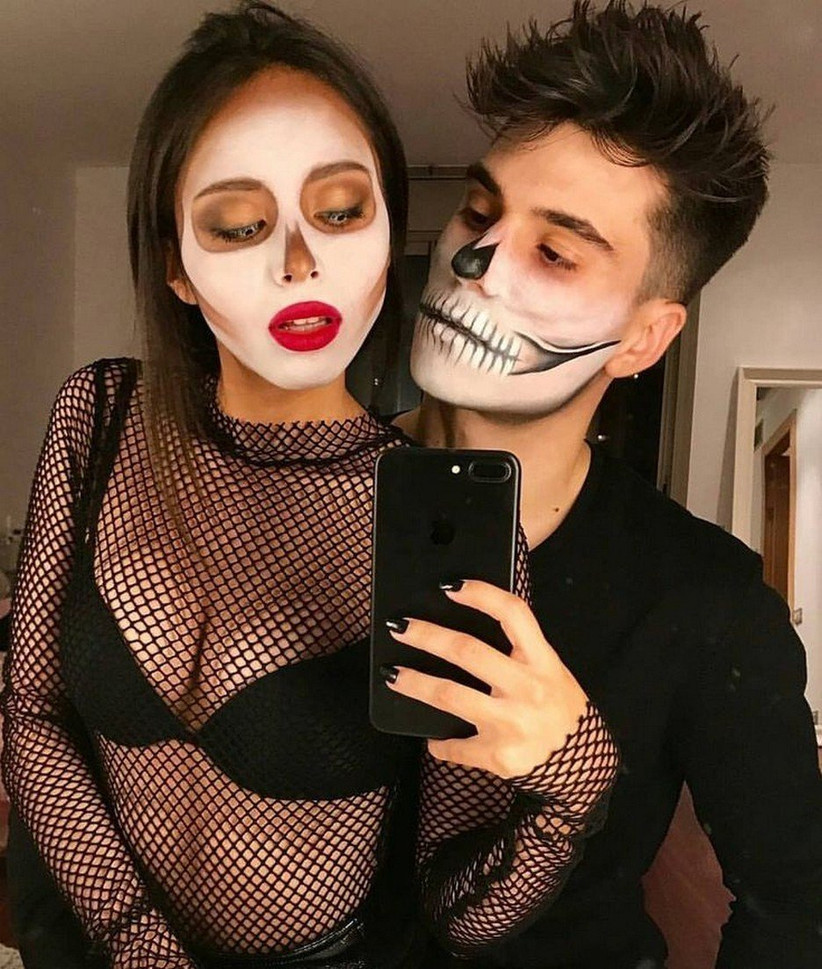 Keep your couples Halloween costume subtle with some understated skeleton-inspired makeup. A bold red lip looks gorgeous against the white face makeup.
READ MORE: The Best Black Wedding Dresses of the Moment
47. Scarecrow and Pumpkin Couples Halloween Makeup
This is such a fun couples Halloween costume idea! Grab a straw hat, plus some plaid shirts and you'll be good to go.
Where to Buy the Best Couples Halloween Costumes
Etsy
For cute tees or quirky pop culture references, Etsy is a great first stop, especially if you're going to a casual gathering where you don't need to make too much effort.
M&Ms T-Shirts – from £17.11
Keep things sweet just the two of you, or team up with other couples to make a full set with these colourful M&M tees.
This is My Halloween Costume T-Shirt – £9.99
You can get a pair of these low maintenance sarcastic tees for under £20.
Pumpkin T-Shirts – £9.99
These matching pumpkin themed tops are super cute – although you will have to spend the evening glued to the hip for everyone else to get the gag.
Jokers' Masquerade
From the traditional spooky styles to contemporary comedy sets, Jokers' Masquerade has literally hundreds of ready-made couples costumes to choose from.
Wedded Ghost Couples Halloween Costumes – from £39.99
We love this greyed-out ghostly take on the bride and groom costume – no fake blood required here.
Chicken and Ketchup Couples Costumes – from £19.99
If horror and gore's not your thing, you could go to the funny route with these foodie couples costumes instead.
Where's Wally Couples Costumes – from £29.99
With the right stripy top, Where's Wally would actually be fairly simple to DIY - but if you don't have the time or inclination, this set will do the trick (or treat).
Amazon
As with any purchase, delve deep enough in the Amazon archives and you can find almost any couples Halloween costume your heart could desire. They're usually fairly inexpensive and delivery is super speedy!
Couples Bavarian Beer Festival Fancy Dress Costumes – £31.99
These costumes will have you ready to host an at-home Oktoberfest in no time. Invest in some beer steins and you'll be good to go.
Couples Caveman and Cavewoman Fancy Dress Costumes – £22.99
Channel your inner Flintstones with these brilliant cavepeople costumes – the basic shape is unisex, so you can make it unique by adding your own accessories.
eBay
Like Amazon, eBay has tons of sellers when it comes to Halloween costumes, especially if you're going spooky with skeleton or zombie vibes.
Voodoo Witch Doctor Costumes – £41.95
All you need is your makeup A-game to finish off this top-to-toe voodoo costume set.
Couple's Halloween Gothic Fancy Dress Costumes – £29.99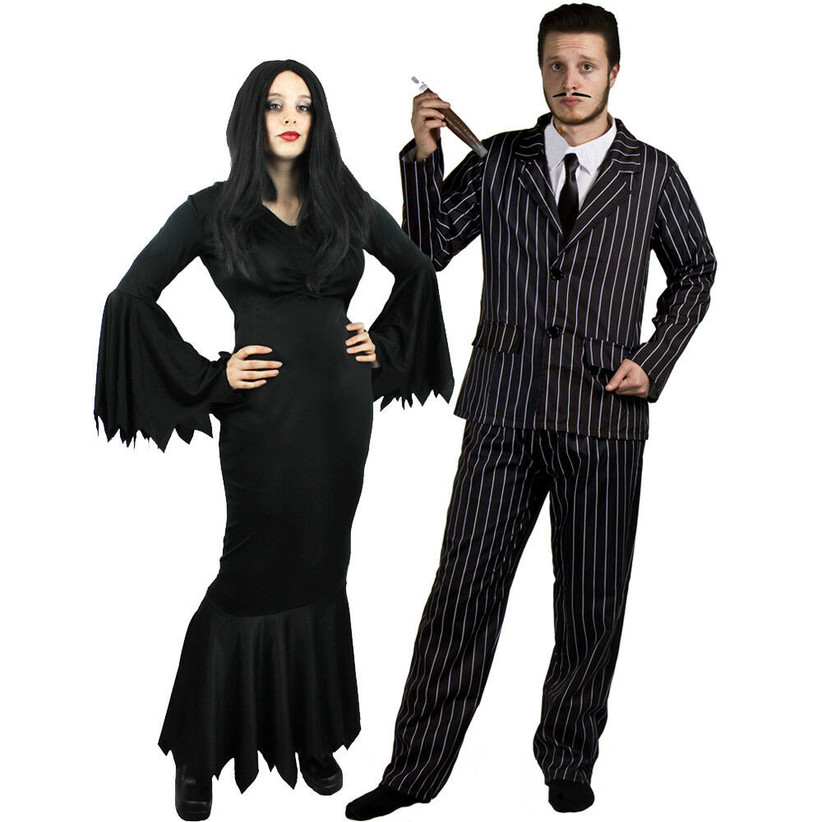 Couple's Mario and Luigi Fancy Dress Costumes – £19.19
These Mario and Luigi costumes would be fun for couples or a bigger group - just mix and match your colours to scale up.
HalloweenCostumes.co.uk
The clue is in the name! All of your fancy dress needs are covered on this website, especially if you're after an outfit with a sense of humour.
Couple's Avocado Costumes – £62.99
Millennial clliche? Yes. Amazing costume? Also yes.
Plug and Socket Couple's Costume – £43.99
Anyone else think the fishnet tights and black heels make this outfit surprisingly chic?
Wine and Cheese Couple's Costume – £43.99
Some will find this couple's costume a little cheesy (sorry), but others will love it. You can fight over who gets to be wine and who gets to be cheese.