Couples Halloween Costumes: 60 Unique Halloween Costume Ideas for 2023
From spooky and cute, to down-right terrifying, you're bound to find something you love in this creepy edit of Halloween costumes
We have included third party products to help you navigate and enjoy life's biggest moments. Purchases made through links on this page may earn us a commission.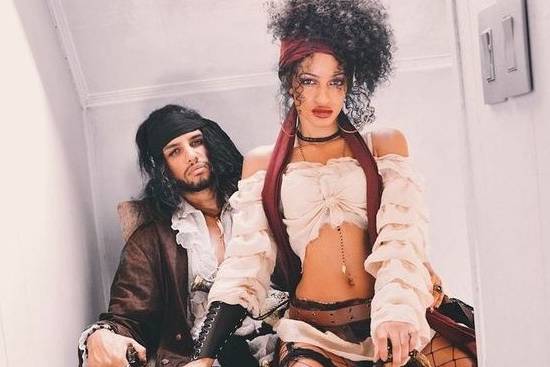 Yes, it's that time of year again - autumn. For some, this means pumpkin-spiced lattes and autumn wedding ideas, but for others, there's only one thing that springs to mind as the spooky season approaches - and that's couples Halloween costumes.
For those serial fancy-dressers, it's the time of year when you have to rack your brain for the most unique Halloween couples costumes to try and up what you did last year.
Luckily for you, we've made this super easy, as we've rounded up the best of the best when it comes to couple Halloween costume ideas.
Couples Halloween Costumes: 60 Unique Halloween Costume Ideas for 2023
Our edit of the 60 best outfits include ideas for the Halloween lovers who are fully committed to the assignment, and on the other end of the spectrum, we have inspo for lazy couples who want easy couples Halloween costumes you can DIY or create from things you already have.
From funny and hilarious, to spooky and full-blown terrifying, there truly is something for everyone in this list, including couples who want to involve their kids, or even dogs, in their couples Halloween costume.
And if you're in a hurry, skip to the section that suits you below...
Sexy Halloween Costumes for Couples
If you and your partner want some spicy ideas for Halloween this year, these sexy Halloween costumes for couples are sure to give you some food for thought.
But if you prefer some of our other ideas, you can edit almost any outfit into a sexy couples Halloween costume by adding some rips and splits - you know what we're talking about!
1. Hugh Hefner & Playboy Bunny Couples Costume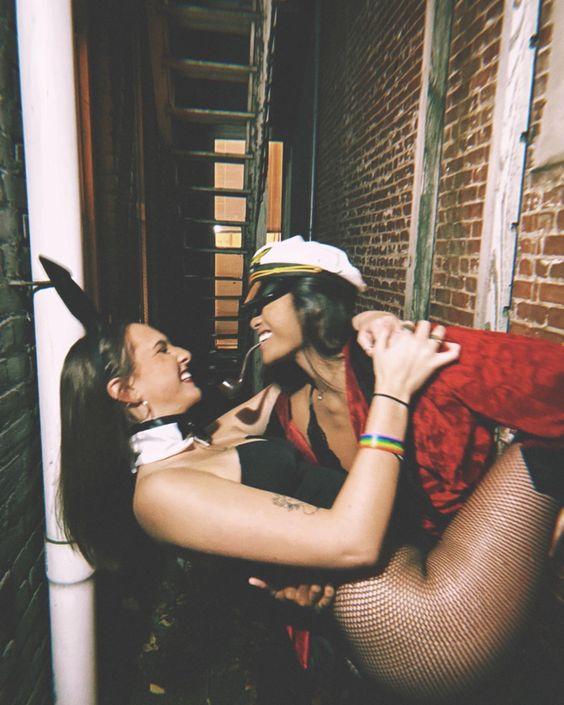 If you want a sexy couples Halloween costume idea that's easy to put together, consider using the Playboy Mansion as inspiration. This couple have decided to dress up as Hugh Hefner and a Playboy bunny - and we love the fact that Hugh is a woman here!
You can easily put together this sexy Halloween costume with some tights, bunny ears and a bodysuit for the bunny, and some silky pyjama robes for Hugh.
Get the Look:
2. Spooky Wedding Night Couples Costume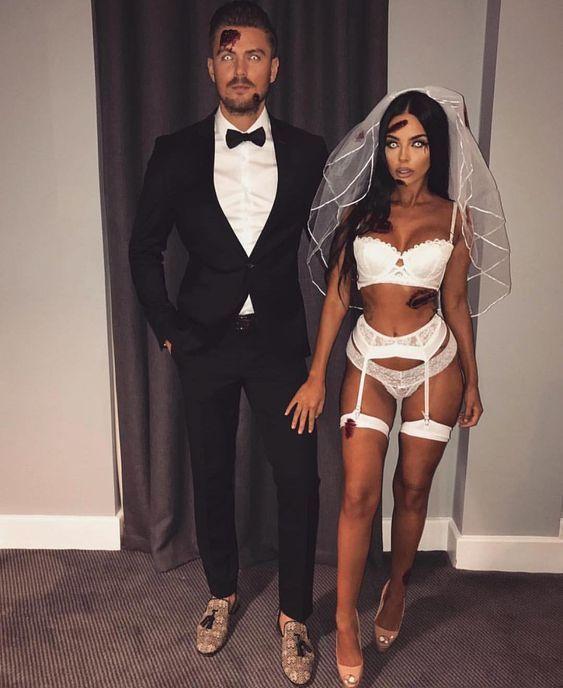 Are you engaged or newly married? If so, why not spice up the wedding theme with a sexy couples Halloween costume inspired by a wedding couple? It's the perfect opportunity to get out that sexy wedding lingerie and show what your mama gave you.
This is also a great idea for gay and lesbian couples Halloween costumes, as you could go as two brides, or two grooms, too. All you need to do is add some blood and scars to your wedding night attire and you're good to go.
Get the Look:
3. Circus Couples Halloween Costume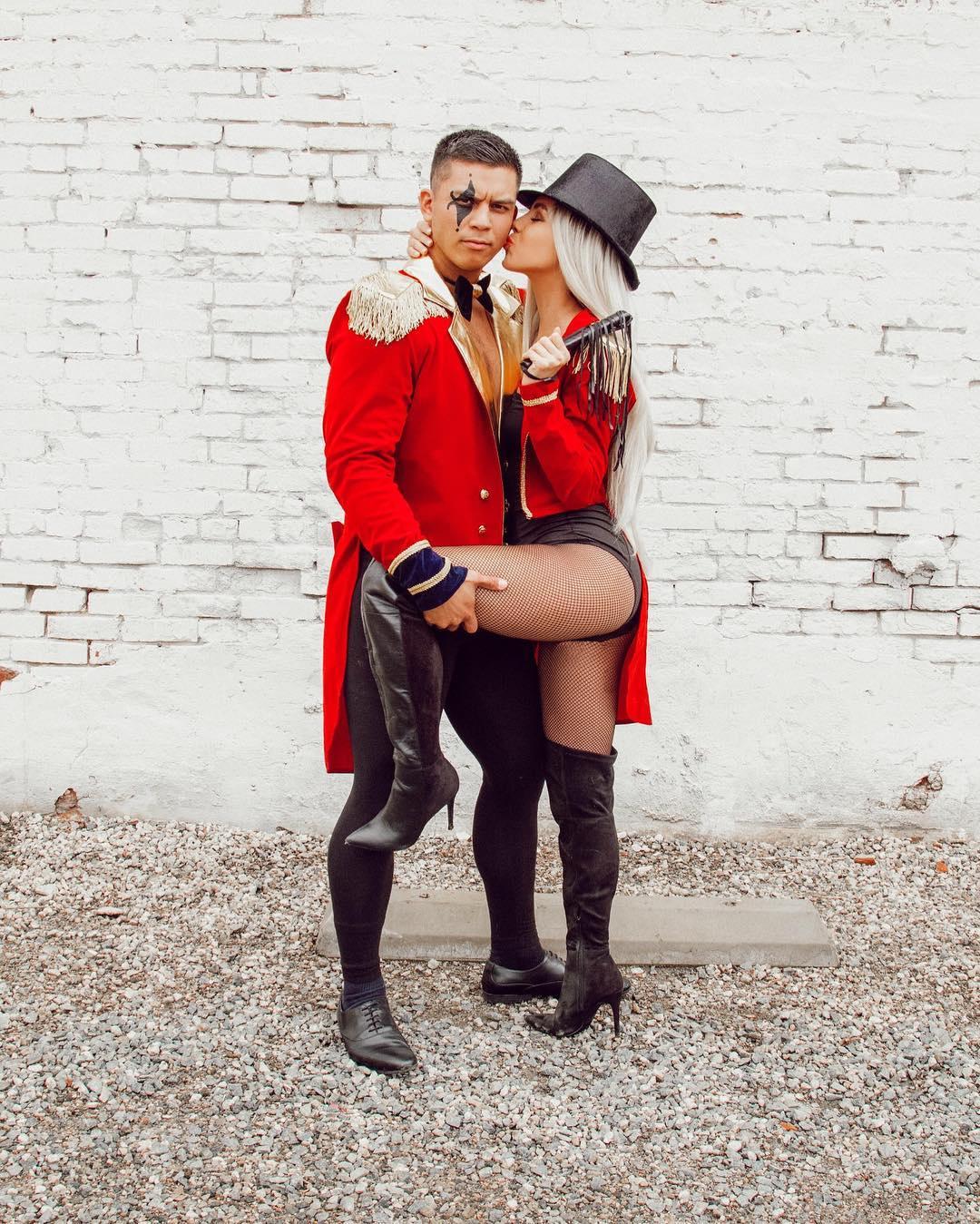 Sultry and seriously fun, transform you and your significant other into circus masters for a cute twist on a sexy couples Halloween costume. Keep the makeup simple and ensure you have a top hat to finish the look off.
Get the Look:
4. Devils Couples Halloween Costume
Sexy, simple and cheap to put together, we love a devil Halloween costume. There's so much you can do by dressing up as devils, all you need are red outfits and a few accessories to match - and the best part is you can make this as sexy as you like!
Think red lingerie or a red leather bodysuit if you really want to turn up the heat with this couples sexy Halloween costume.
Get the Look:
5. Doctor and Nurse Couples Halloween Costume
The whole 'doctor and nurse thing' has been done time and time again - but you can totally make it your own. Doctors and nurses is a classic sexy couples Halloween costume idea for a reason, but it's not difficult to make yours stand out.
You can even elaborate further on the medical theme and dress up as sexy paramedics, hot GPs or take the scrubs uniform and rip it to shreds for a super scary-yet-sexy couples Halloween costume.
Get the Look:
6. Sexy Pirate Couples Halloween Costume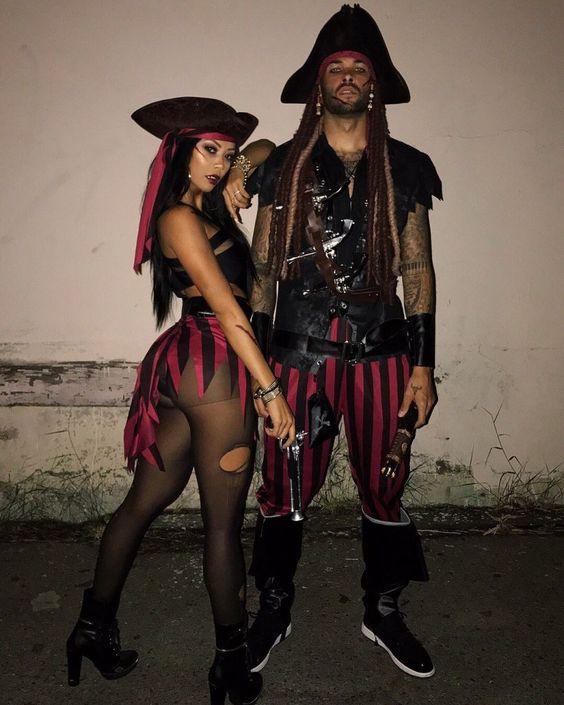 Pirates may not be the first thing that springs to mind when you think of sexy couple Halloween costumes, but when done right, this theme can really get pulses racing. Pirates are known for their ripped, tethered clothing, so you and your love can have plenty of fun cutting up a traditional pirates costume to amp up the heat.
Or, for an easy couples Halloween costume, why not use what you already have? Take some palazzo trousers, an oversized white blouse and waistcoat and you have the makings of an amazing pirate costume. Then, all you have to do is cut and style it to make it look and feel sexy.
Get the Look:
7. Prisoner and Prison Officer Couples Halloween Costume
Much like the doctors and nurses dynamic, prison and prison officer outfits make for a really sexy couples Halloween costume, and it's another one that works really well for LGBTQ+ couples.
This couple looks great as is, but you could flip the script with an Orange is The New Black-inspired prisoner and guard dynamic to pay homage to the hit Netflix show.
And don't forget the handcuffs!
Get the Look:
8. Gangsters Couple Halloween Costume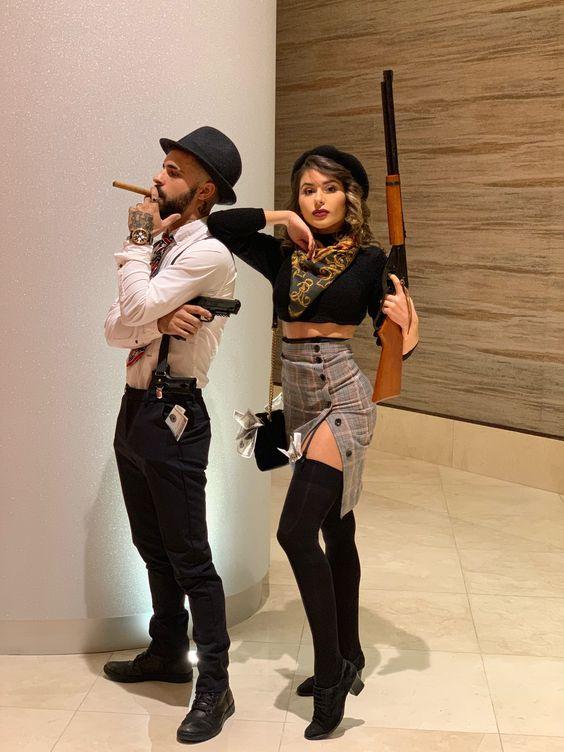 Who doesn't love a good old gangster film? They can get pretty heated and a bit scary at times, making them a perfect fit for a sexy couples Halloween costume. We love this couples choice of accessories - the cigar and braces really complete this look.
Get the Look:
9. Adam & Eve Sexy Couples Halloween Costume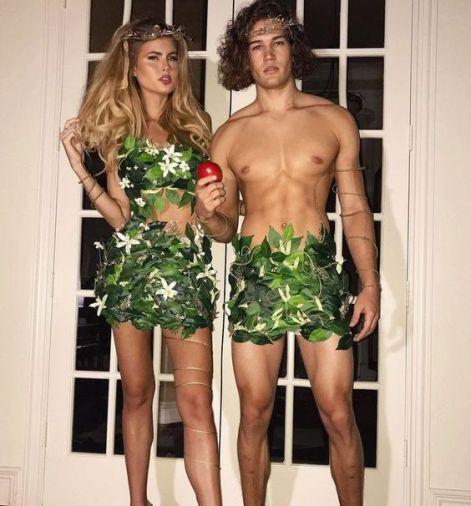 There's nothing sexier than showing a bit of skin on Halloween, and who better to dress up as than Adam and Eve themselves. Embrace your birthday suit and a bit of mother nature with a leaf-inspired couples Halloween costume.
Get the Look:
Creepy & Scary Couple Halloween Costumes
If you're a less sexy, more creepy kind of pair, it's likely you'll be looking for scary couple Halloween costumes to wear over this spooky holiday - and luckily, we have plenty to inspire you. These creepy matching couple Halloween costumes range from slightly scary to completely terrifying, so get ready to be spooked.
10. Scary Clown Couples Halloween Costume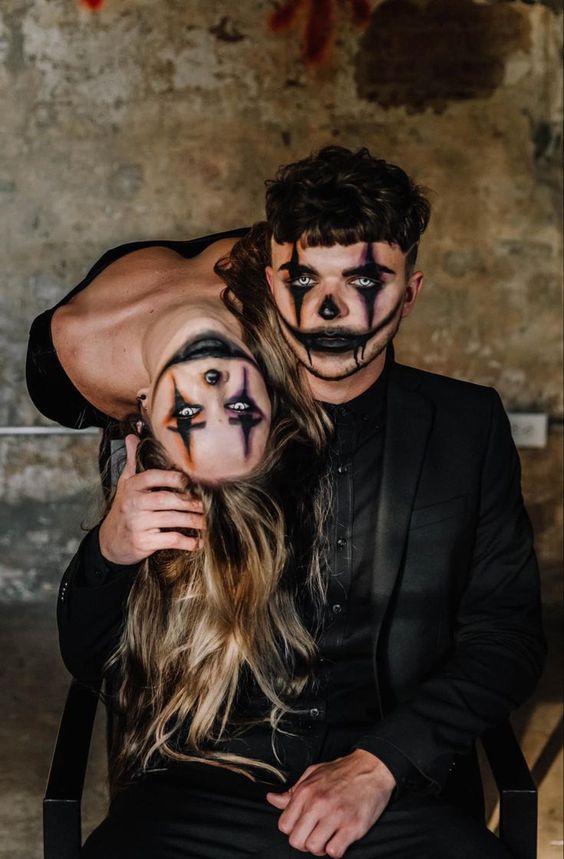 To most people, clowns are creepy, but you can make your scary couples Halloween costume even more terrifying by opting for an all-black makeup look. These two have used black paint to craft seriously scary joker-meets-clown looks and we're totally into it.
And the best bit? All you need is a black outfit to match!
Get the Look:
11. Couples Scream Halloween Costume Idea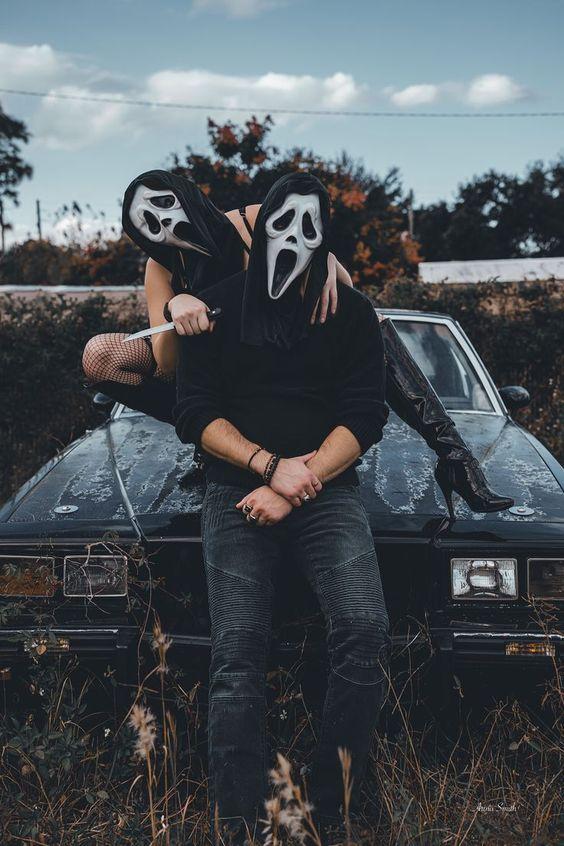 If you're a fan of the Scream films, you'll love this scary couples Halloween costume idea. Like the clowns, all you need is a simple black outfit and the iconic Scream masks for the coolest creepy look.
To take it even further, why not distort your actual face using black and white face paint, and paint the scream onto your skin?
Get the Look:
12. Pennywise from IT Couples Halloween Costume
Take inspiration from IT (legit one of the scariest films like, ever!) and dress up as Pennywise this Halloween. Yes, the red balloon is essential, and makes for an amazing accessory when it comes to completing this seriously scary couples Halloween costume.
Get the Look:
13. Zombie Bride and Groom Couples Halloween Costume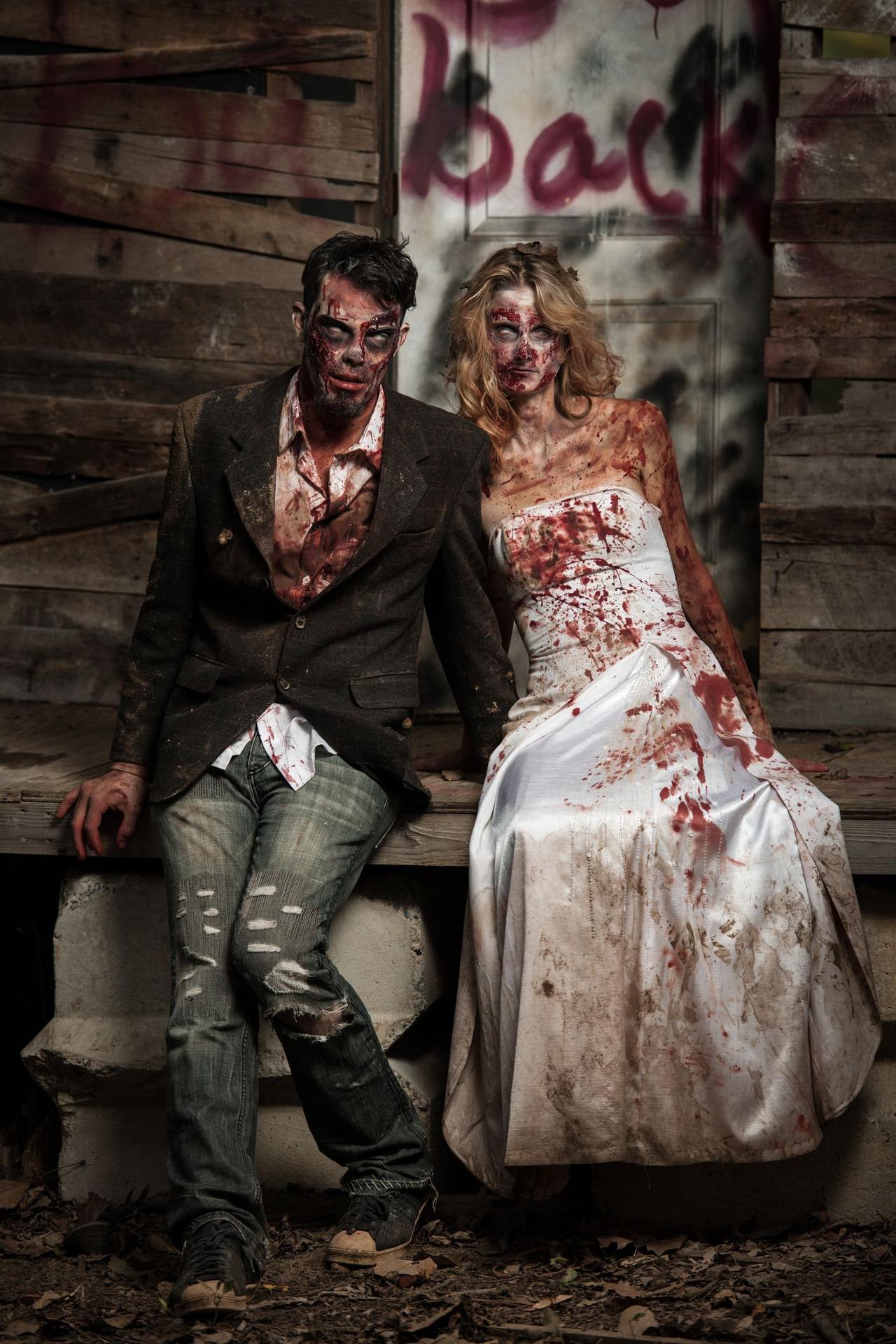 This couple's spooky take on a bride and groom get-up is great. They've even invested in some super-scary contact lenses to make their eyes pop.
This is a fun way to repurpose your wedding attire, if you don't feel too sentimental about it, and makes for a brilliant scary couples Halloween costume, whether you're a bride and groom, two brides or two grooms.
Get the Look:
14. Frankenstein Couples Halloween Costume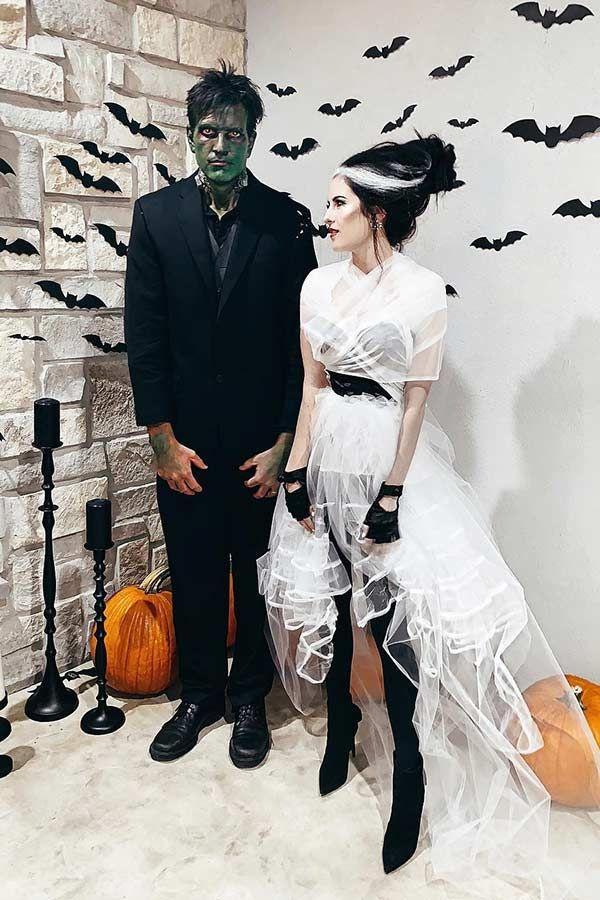 This scary couples Halloween costume is actually pretty easy to put together and will give you a great shot at winning best dressed if you're going to a party with friends.
The Frankenstein and bride of Frankenstein make for the perfect couples Halloween costume idea if you want to add a character to your wedding themed look.
Get the Look:
15. Clowns Couples Halloween Costume
Now we know it's not just us who think clowns have ultimate scare-factor - you saw how scary those all-black ones were right? Well, we reckon the colourful ones can be just as freaky, if not worse...
Dressing up as zombie clowns is sure to give your party guests a fright, and adding the balloons totally adds to the creepiness - eww.
Get the Look:
16. Day of the Dead Couples Halloween Costume
We love this Day of the Dead-inspired couples Halloween costume. The devil is in the details here – aka, the makeup and accessories. You can totally get away with all-black outfits to save money but go big on your matching couples face paint for major Dios Los Muertos vibes.
Get the Look:
Iconic Couple Halloween Costumes
If you want good Halloween costume ideas for couples that are instantly recognisable, these iconic couples are a great place to start - and what's more, the majority of them are super easy couples Halloween costumes and won't require too many online orders. Score!
17. Iconic Barbie & Ken Couples Halloween Costume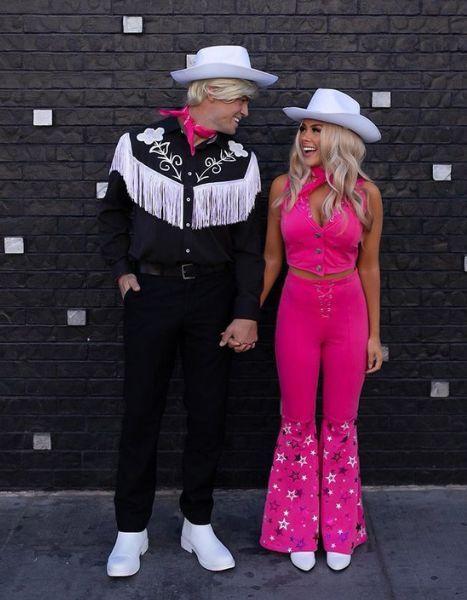 Unless you've been living under a rock this year, you'll know that Barbiecore is here, and it's here to stay, making a Barbie and Ken couples Halloween costume a brilliant idea for 2023 celebrations.
And the best part about dressing up as Barbie and Ken, is that the movie (please tell us you've seen the movie!) gives you so many different outfits and themes to choose from. So you deicide, are you cowgirl Barbie, president Barbie, ugly Barbie (a firm fave of ours!) or one of the other characters?
And for those dressing up as a Ken, you have just as many themes to choose from. We particularly love cowboy Ken, or that white faux fur coat moment, but we're also here for some Alan costumes, too. Just saying.
Get the Look:
18. The Simpsons Couples Halloween Costume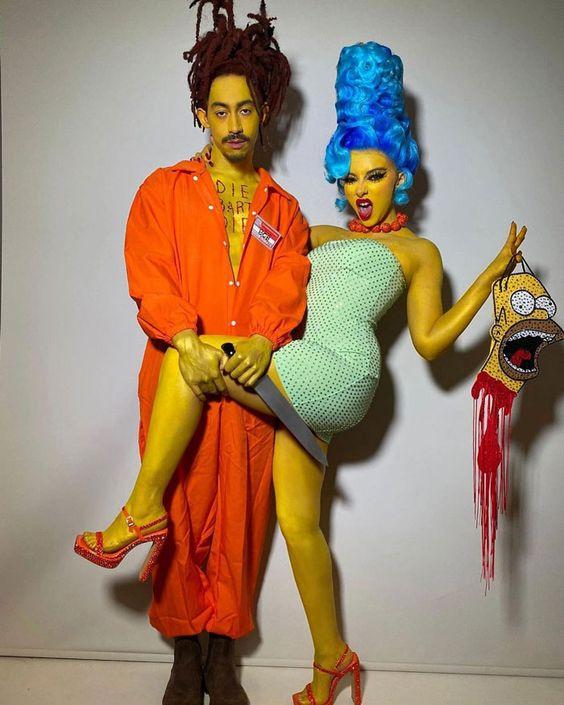 When it comes to iconic animated couples, there are fewer that trump The Simpsons, and we love a couples Halloween outfit that requires commitment, aka painting your entire body yellow for the occasion.
This is a costume idea for those who are completely down to wow, and you don't have to limit yourself to Marge and Homer. What about a Lisa and Bart sibling duo?
Get the Look:
19. Scooby Doo's Velma & Shaggy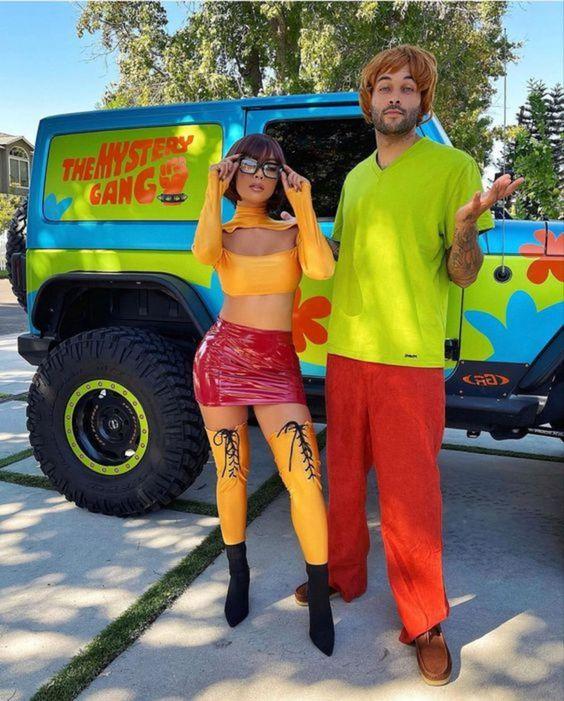 Another iconic show to take couples Halloween costume inspiration from is Scooby Doo - and it's never been more appropriate with 70s fashion back in abundance. These two have decided to opt for Velma and Shaggy, but there are plenty of characters to choose from, and extra points if you hire a Mystery Gang car.
Get the Look:
20. Chucky & The Bride of Chucky Couples Costume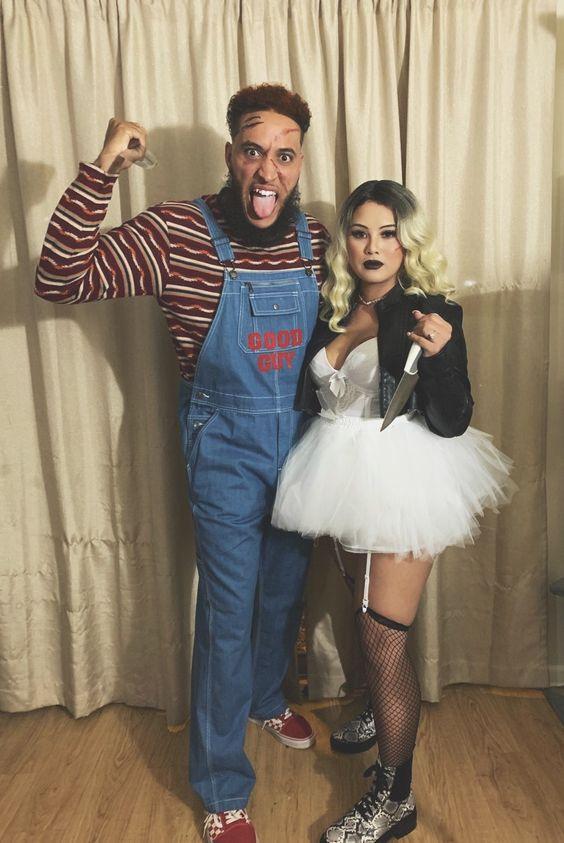 Mixing creepy with iconic is this couples Halloween costume idea - Chucky and the Bride of Chucky. You can pair dungarees with a stripy top, or buy one of the actual costumes below to complete your couples creepy look, and trust us when we say everyone will know who you are!
Get the Look:
21. The Suicide Squad Couples Costume Idea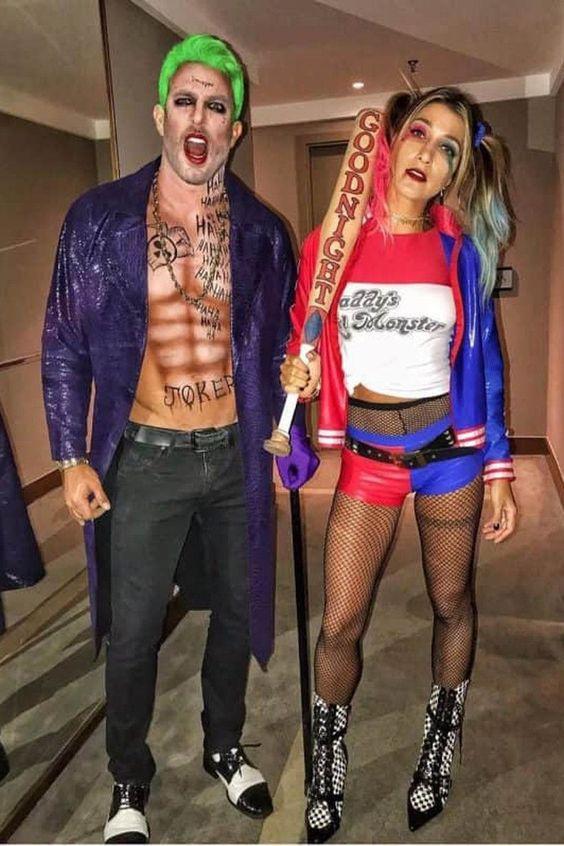 We absolutely love the idea of going as The Suicide Squad's Harley Quinn and The Joker for Halloween - they are the perfect gruesome twosome to dress up as this spooky season and are instantly recognisable when done right.
Get the Look:
22. Pulp Fiction Couples Halloween Costume
What's not to love about this Pulp Fiction couples Halloween costume? A little bit funny, a little bit sexy and uber-cool for any type of gathering.
Get the Look:
23. Austin Powers Couples Halloween Costume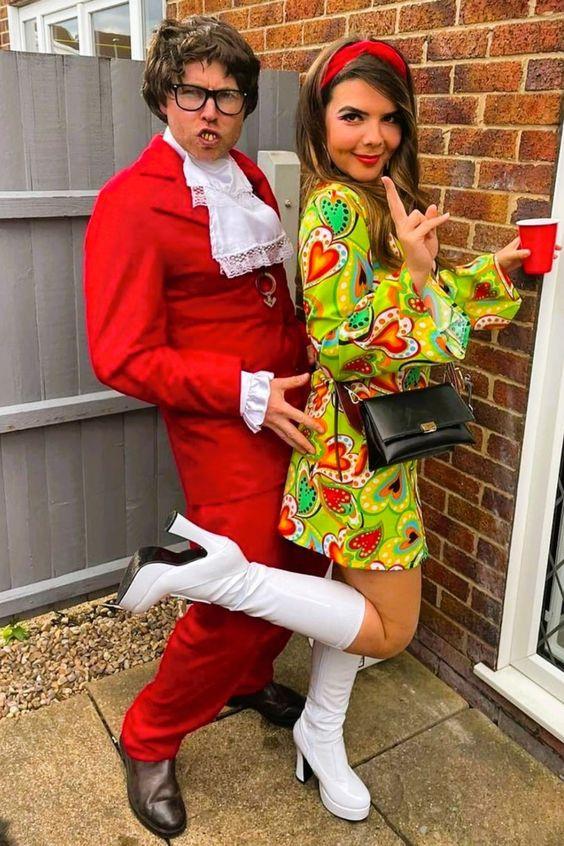 Groovy baby - we can't tell you how much we love an Austin Powers couples Halloween costume. It's iconic, fun and super cute - perfect for couples who want to go for something less creepy and more light-hearted.
Get the Look:
24. Dead Bonnie and Clyde Couples Halloween Costume
This Halloween, dress up as one of the most iconic couples in history. Give Bonnie and Clyde a morbid make-over with bullet holes in your clothes and plenty of fake blood.
Get the Look:
25. Gomez and Morticia Couples Halloween Costume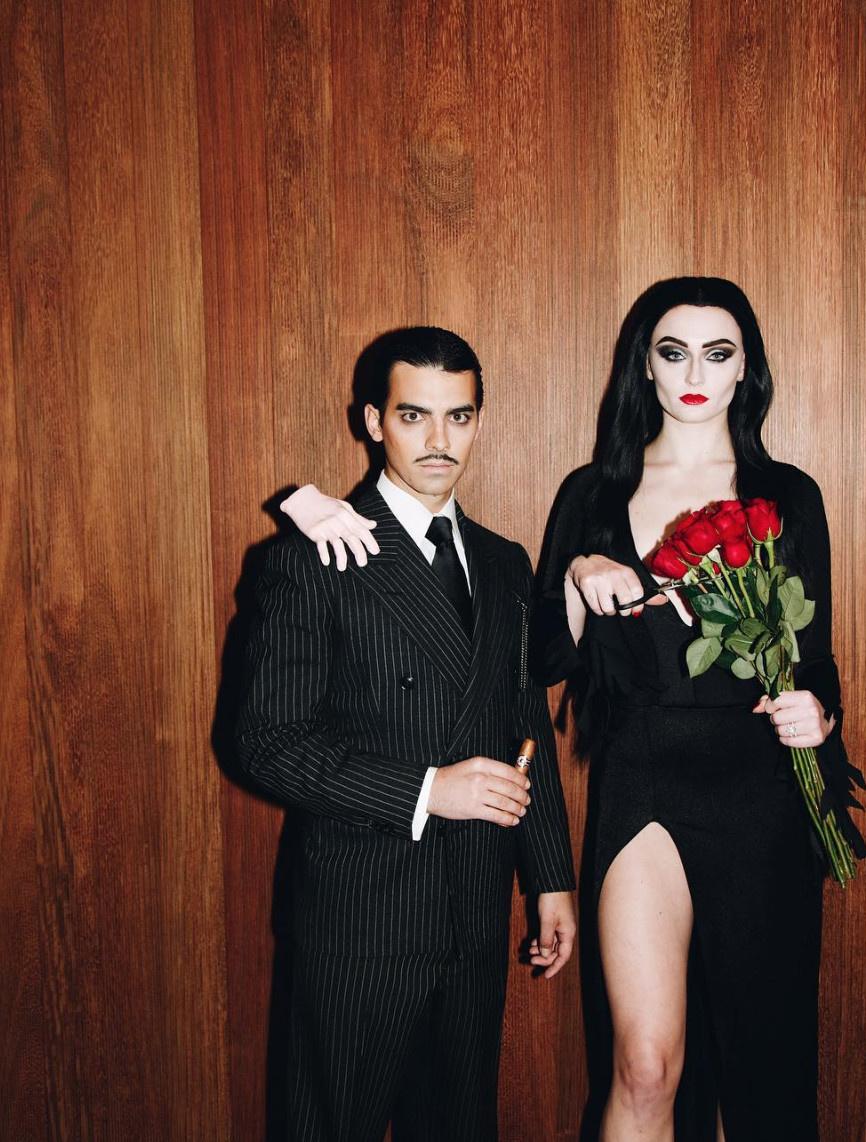 In our books, you just can't beat the classics. Take inspiration from Joe Jonas and Sophie Turner's celebrity couple Halloween costume by getting your Gomez and Morticia on (particularly great for a couple whose wardrobes already consist of black, black and more black).
This is the ultimate in sexy couples Halloween costumes whilst keeping things classy and iconic.
Get the Look:
26. Britney and Justin Couples Halloween Costume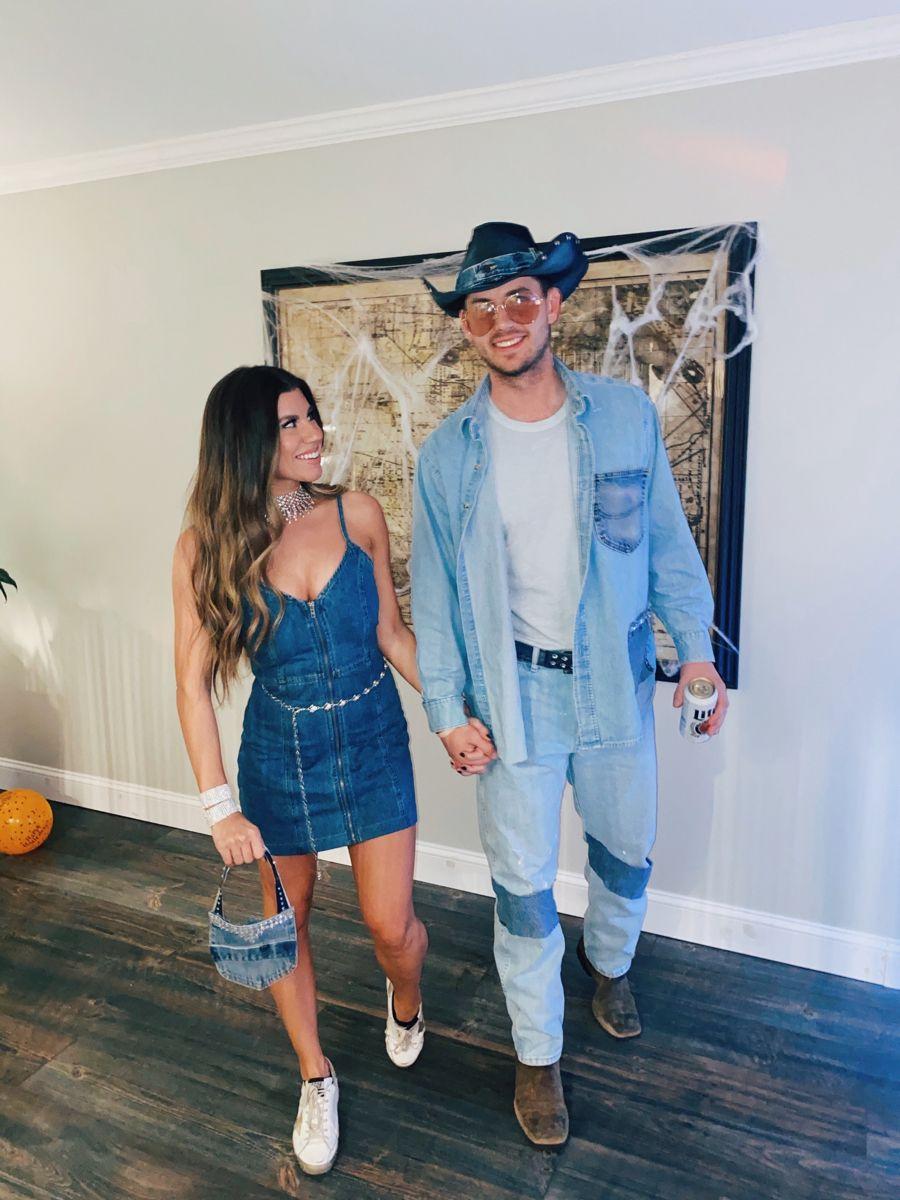 Britney Spears and Justin Timberlake's 2001 AMAs double denim get-up was truly terrifying. Raid your wardrobe for all the denim you own, or head down to your local charity shops and you're bound to nail this costume.
Get the Look:
Disney Couple Halloween Costumes
From Disney-themed weddings to Disney honeymoons, we just can't get enough - so it's no surprise we've got a whole section on Disney couple Halloween costumes.
Channel your love for your favourite Disney characters into your couples Halloween costume using these duos as inspiration.
27. Peter Pan and Tinkerbell Couples Halloween Costume
Peter Pan will forever be one of our favourite Disney films. Use Halloween as an excuse to dress up as Peter Pan and Tinkerbell. We know you've always wanted to.
Get the Look:
28. Lilo and Stitch Halloween Costume
Cute! Lilo and Stitch was one of our firm favourites when we were younger, so we love this Halloween costume. Now all you've got to do is decide who gets to be Lilo, and who gets to play Stitch…
Get the Look:
29. Aladdin and Jasmine Halloween Costume
If you and your other half are committed to looking your best this Halloween, dress up as Aladdin and Princess Jasmine like Marvin and Rochelle Humes did one year.
Get the Look:
30. 101 Dalmatians Couple Halloween Idea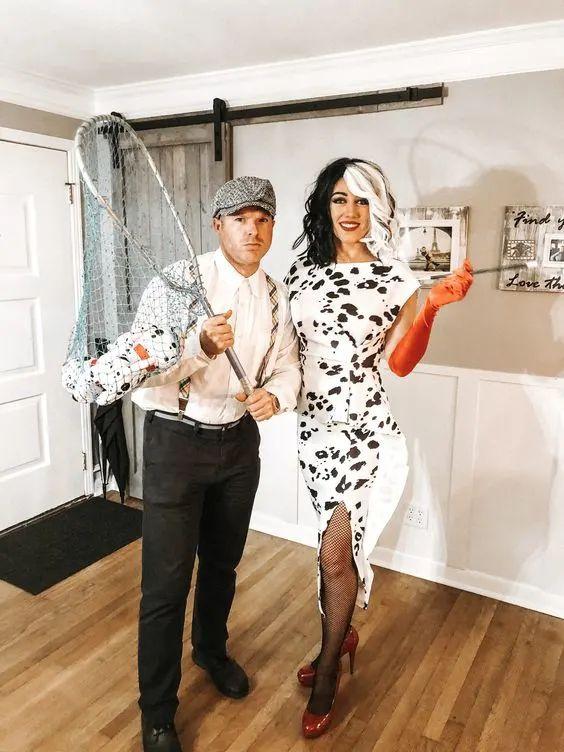 Channel your inner Cruella De Ville with a 101 Dalmatians-inspired costume. All you need is a Dalmatian printed dress, trouser suit or jacket and some red shoes - pair that with a themed wig and you're good to go.
We have to say we love the addition of the net and toy dogs too - as long as no real Dalmatians are harmed, we're good!
Get the Look:
31. Monsters Inc Couples Halloween Costume
Copy this couple's Disney Halloween costume idea and dress up as our favourite Monsters Inc. pair. How adorable do they look, and we love that it's one that the kids can get involved with, too.
Get the Look:
32. The Incredibles Couples Halloween Costume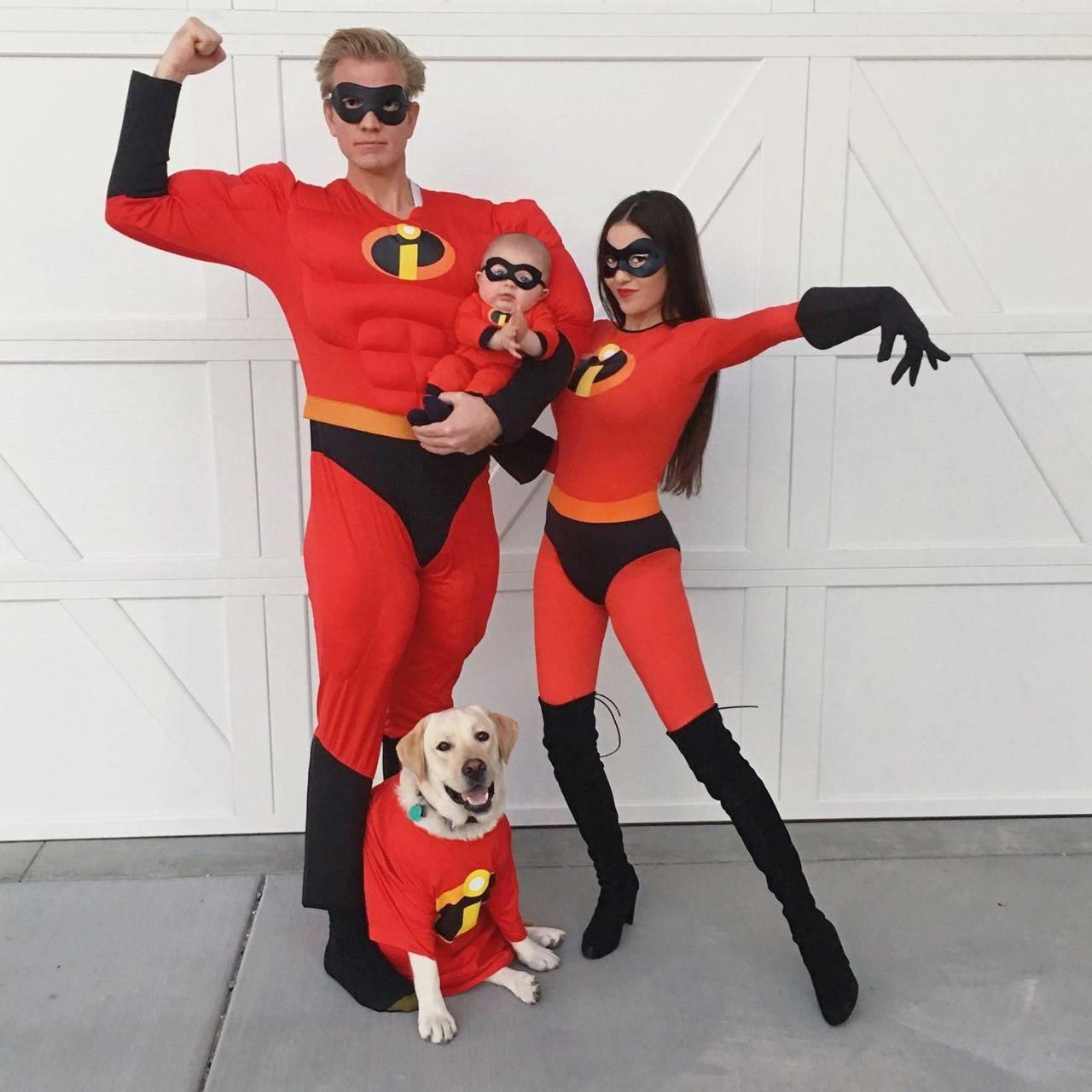 What about dressing up as The Incredibles?! This couple look ready to save the day in their superhero get-ups - and this is another great choice if you want a family Halloween costume idea.
Get the Look:
33. Alice in Wonderland Couples Halloween Costume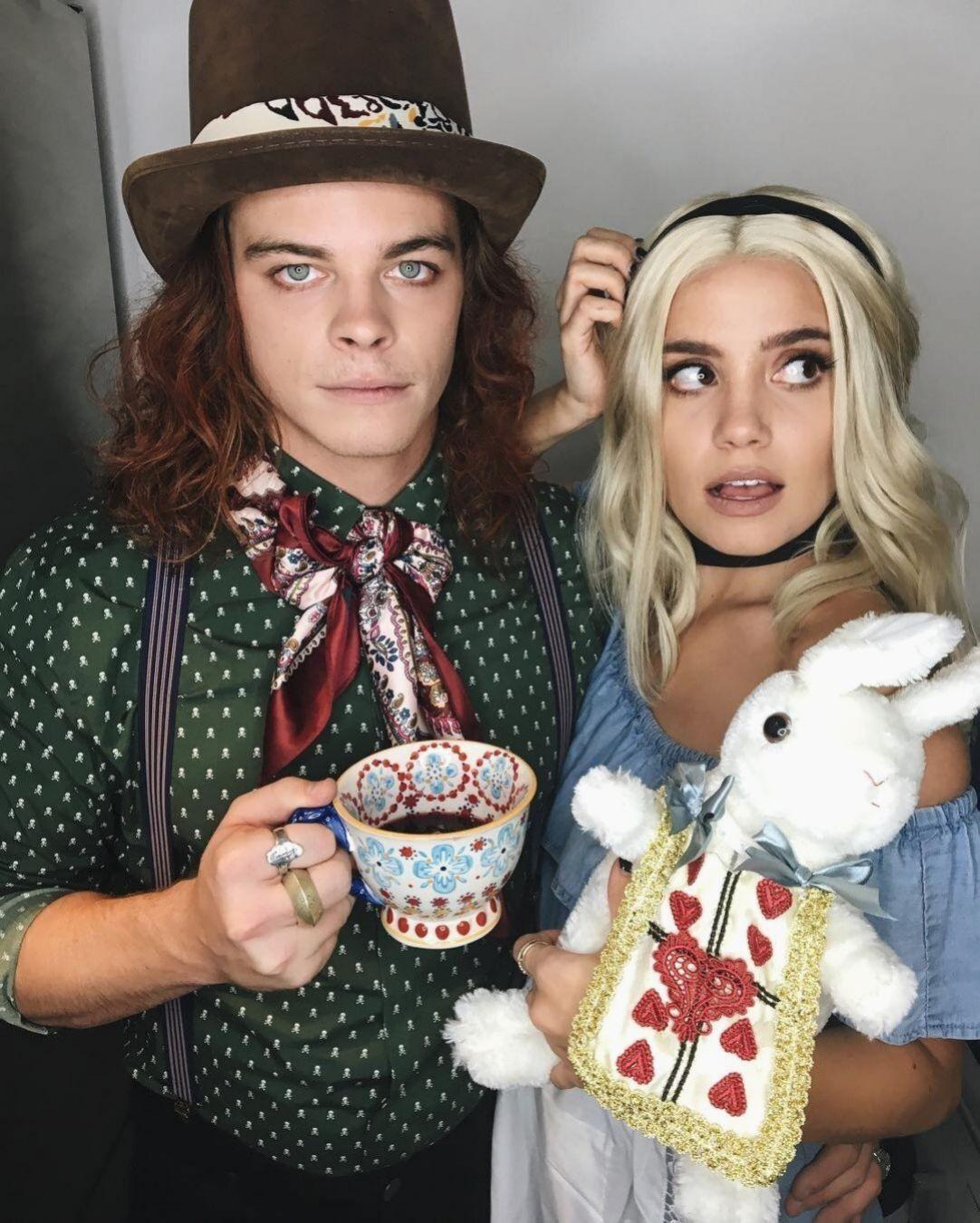 Wish your peers a happy Halloween from Wonderland and dress up as Alice and the Mad Hatter.
This couple look cute and sexy in equal parts and is the ideal Disney Halloween costume idea for couples who are already planning an Alice in Wonderland wedding.
Get the Look:
34. Pirates of the Caribbean Couples Halloween Costume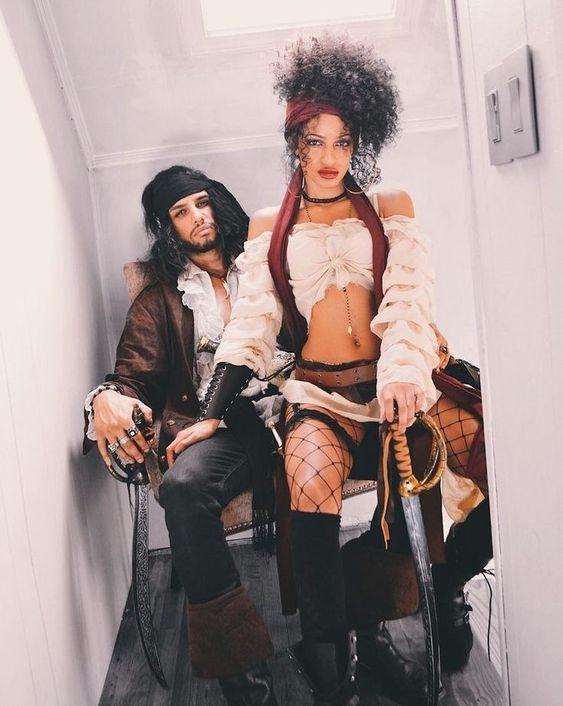 Ahoy Halloween couples. Set sail this spooky season as the Pirates of the Caribbean. This couple kept things fresh, but it's super easy to add an injection of horror to this costume idea. Will and Elizabeth who?
Get the Look:
Purge Couple Halloween Costumes
The Purge is one of those films that Halloween lovers tend to binge every October, making it a highly sought-after costume idea. But if you want Purge Halloween couple costumes with a difference, check out these ideas.
35. Couples Purge Halloween Costume With Ripped Clothes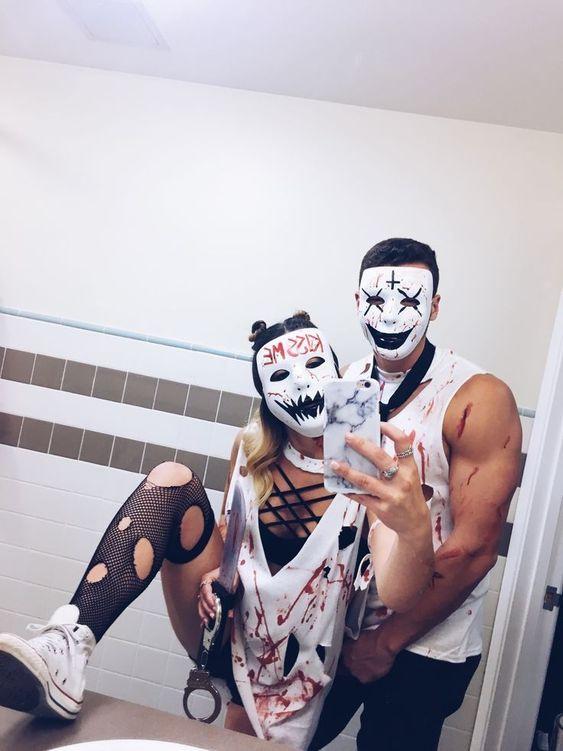 For a ripped and hangered look, opt for a simple outfit with lots of tears in it and plenty of fake blood. Once you've torn up a T-shirt and poured blood over yourself, you'll look instantly terrifying, and that's before putting on the Purge mask.
Get the Look:
36. Black Tie Purge Couple Halloween Costume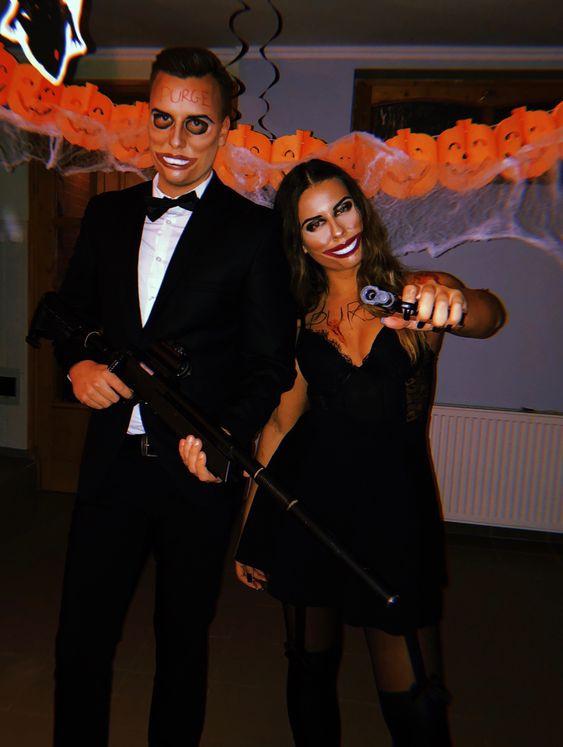 If you want to smarten up your look, use this Purge Halloween couple costume as inspiration. This pair have opted for smart black-tie outfits, pairing it with horrifying Purge masks and toy plastic guns to complete the look.
Get the Look:
37. Streetwear Purge Couple With Neon Mask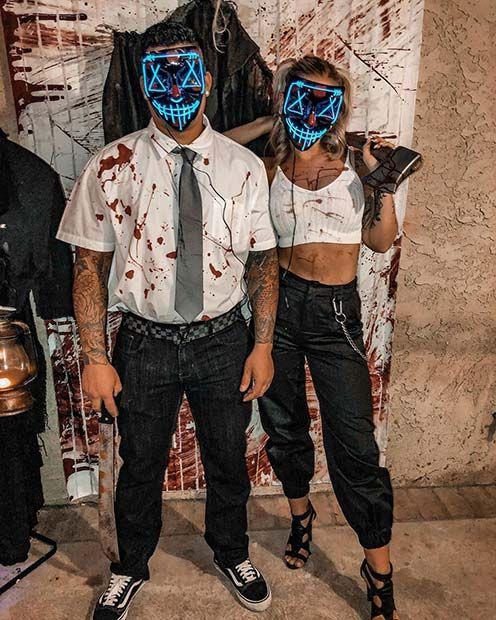 This couple have chosen to add a streetwear vibe to their couples Purge costume, and we're here for it. The light up masks make the costume feel modern and fun, whilst being completely terrifying at the same time.
Get the Look:
38. Tutu & Mask Purge Halloween Couple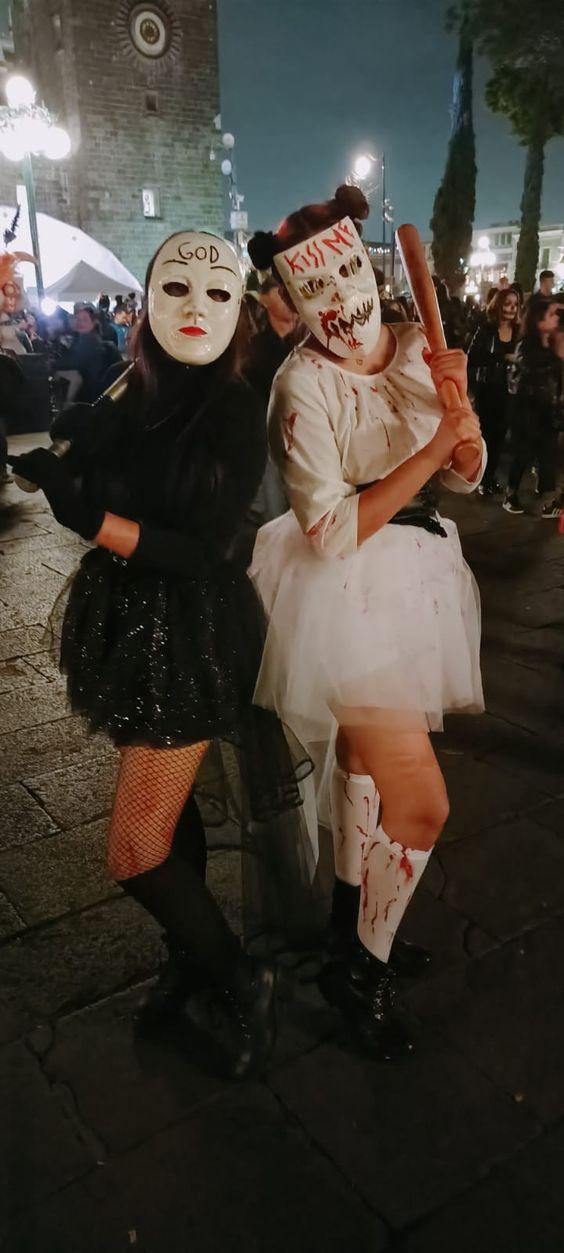 These girls have nailed the same sex Halloween costume with their take on the Purge theme. We love the black and white tutus - they are really cute, and contrast the creepiness of the masks perfectly.
Get the Look:
39. Red Jumpsuit Purge Couples Costume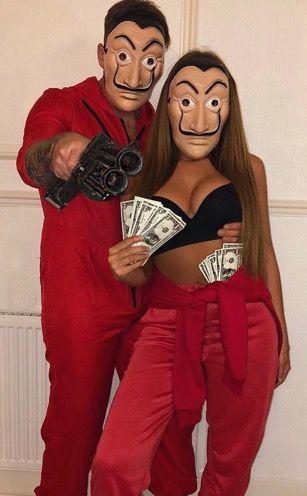 It's giving, "We've just robbed a bank in The Purge" and to be honest, we're feeling it. The reddish orange outfits mimic that of prison jumpsuits and the fake (we think, anyway!) notes really help tell the story of this couples Purge costume.
Get the Look:
40. Smart Purge Couples Halloween Costume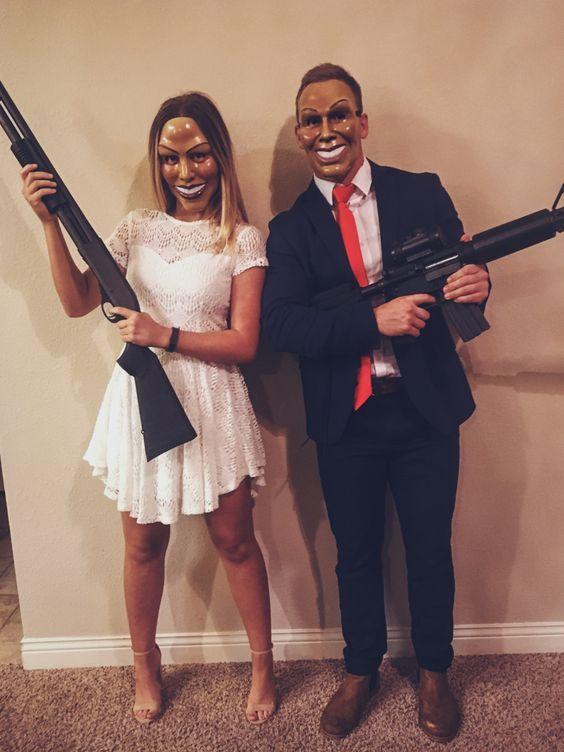 For this couples Purge Halloween costume, you can recycle items you already have in your wardrobe, and then all you need to finish it off is prop weapons and a set of masks.
Get the Look:
Cute Couple Halloween Costumes
Now spooky and creepy costumes aren't for everyone, so if you're looking for something on the lighter side, you're bound to love these cute couple Halloween costumes. They're less 'ahh' and much more adorable.
41. The Flintstones Couple Halloween Idea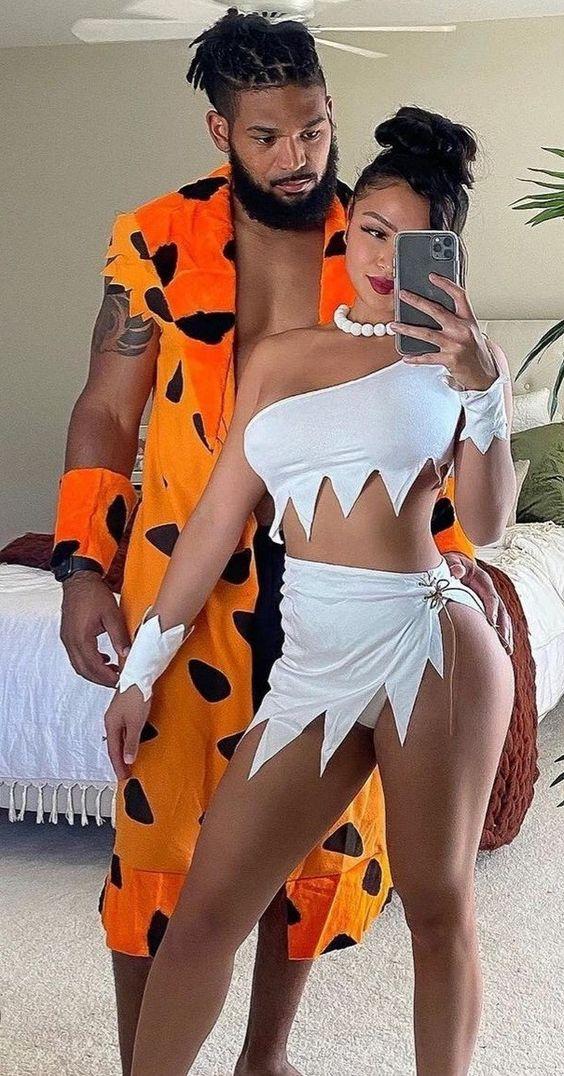 The Flintstones are always good Halloween costumes for couples, and all you need is some colourful fabric and a good pair of scissors to create the looks yourself. They're a great option for couples who want to show off some skin and embrace their wild side...
Get the Look:
42. Mario, Luigi & Princess Peach Costume Ideas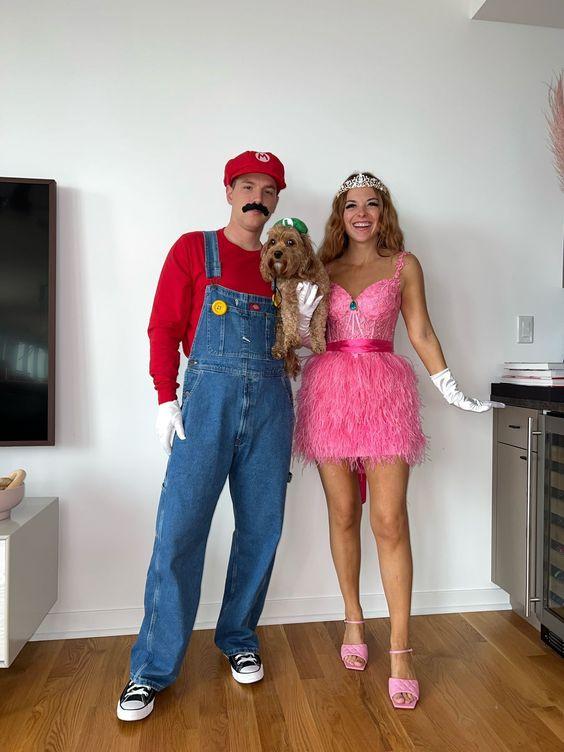 If you're a 80s or 90s kid who grew up gaming with Mario and friends, you'll be just as obsessed with this cute couples Halloween costume as we were when we first saw it. This couple have decided to dress up as Mario and Princess Peach, and they've even roped their dog in to play little Luigi - how adorable?
43. Skeletal Bride and Groom Couples Halloween Costume
Dig out an old white dress and splatter it with blood for the ultimate 'wedding planning is taking its toll' get-up. TOWIE's Myles and Love Island's Kady went the extra-mile with coloured contact lenses which finish their look to perfection.
Get the Look:
44. Day of the Dead Halloween Makeup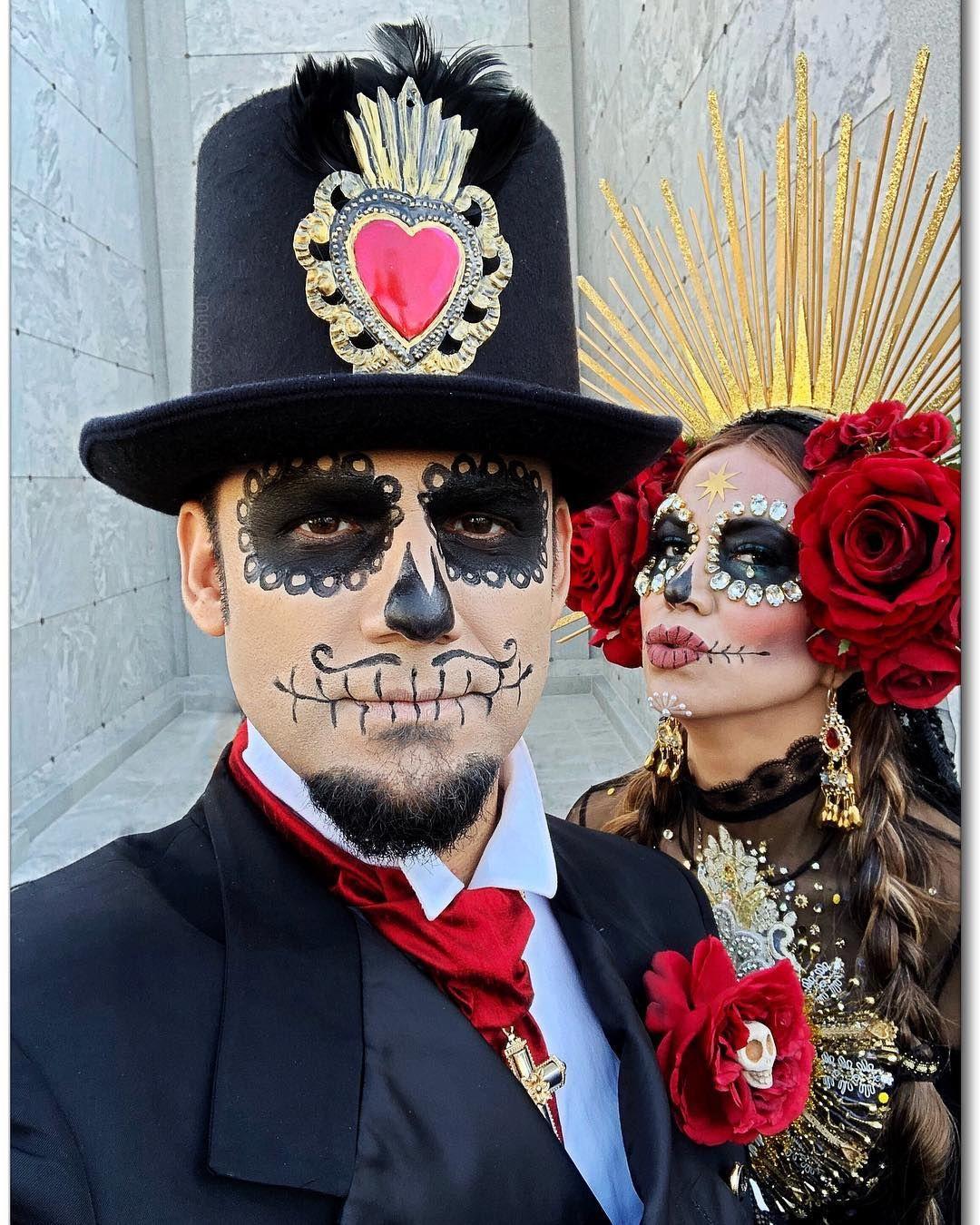 Get the Look:
45. Egyptian Pharaoh Couples Halloween Costume
Pretty much the only skill you need to pull off this Halloween makeup look is that of a steady hand. Once you've mastered the art of the eyeliner flick, you're away.
But if you aren't skilled enough to do the makeup, the costume itself should be enough to carry the look.
Get the Look:
46. Scarecrow and Pumpkin Couples Halloween Makeup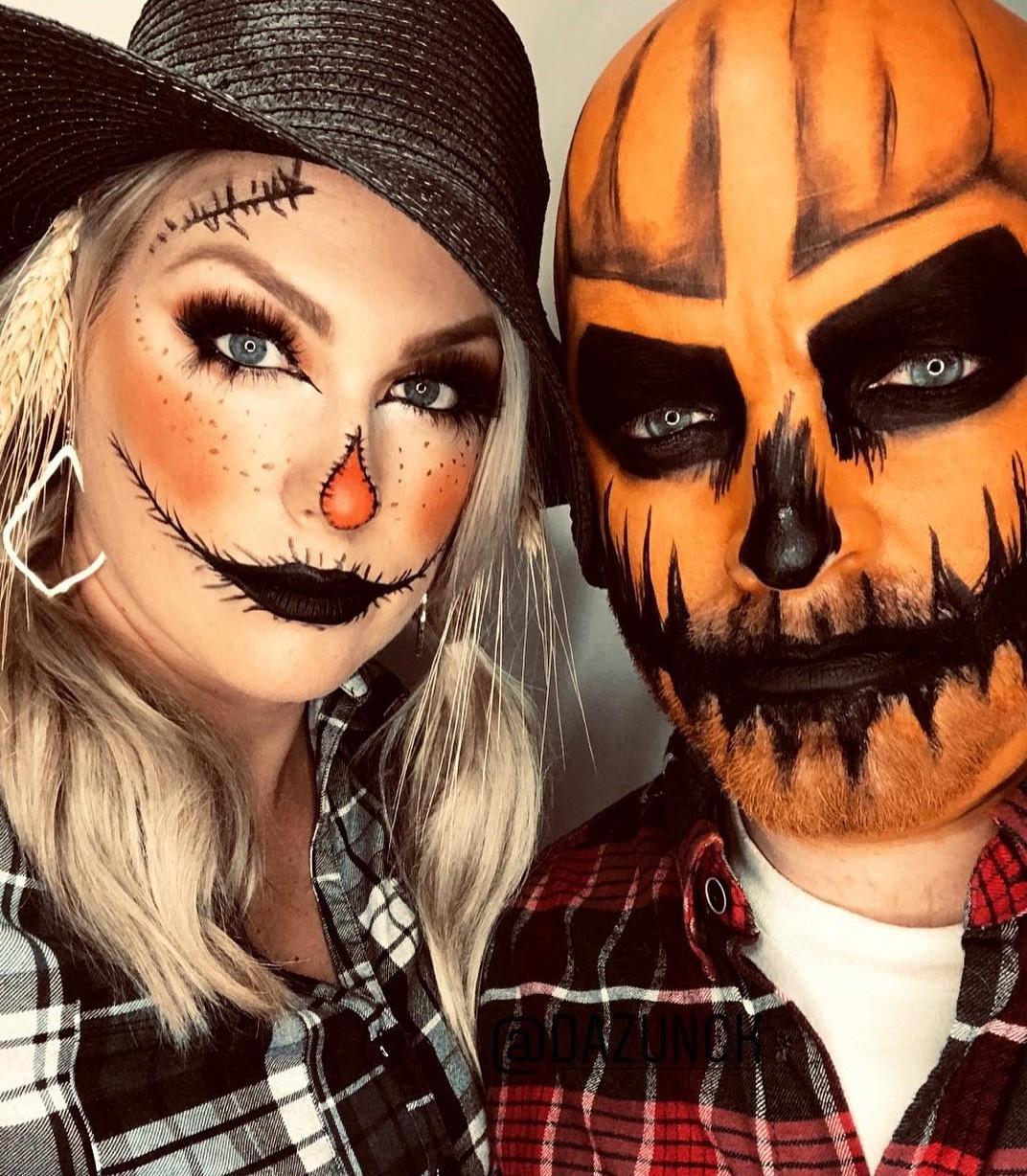 Dressing up as a pumpkin and a scarecrow for a couples Halloween costume is such a good idea - it's so appropriate for the season and can be done using things you have at home! Grab a straw hat, plus some plaid shirts and you'll be good to go.
Get the Look
47. Harry Potter Couples Halloween Costume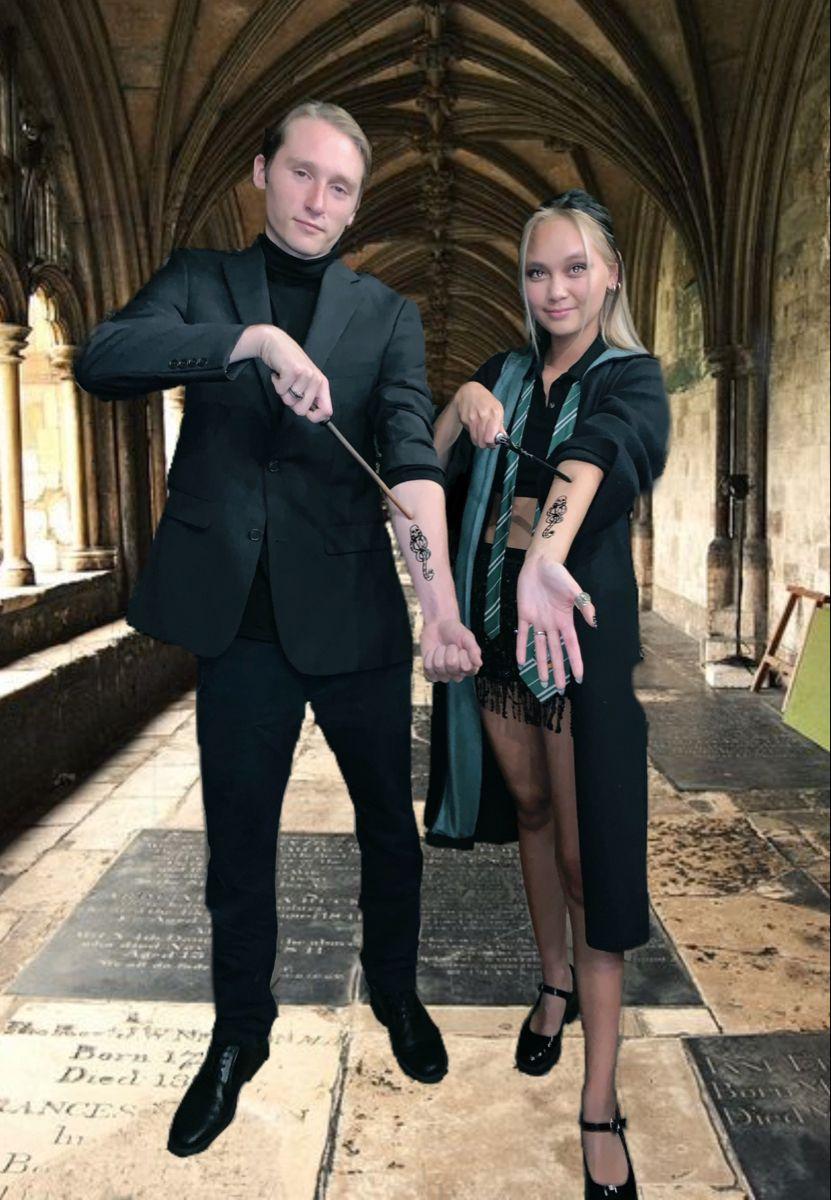 Harry Potter will never get old so why not dress up as members of Slytherin this Halloween? It would make a great group idea if you have a few friends who can go as Gryffindor too.
Get the Look:
48. NASA Couples Halloween Costume
Now this couple's Halloween costume idea is seriously cool. If you're hosting a celestial themed wedding, it's the perfect way to set the tone. Either don a spaceman costume or adorn yourself in glitter and stars. You'll look out of this world…
Get the Look:
49. Jack and Rose Couples Halloween Costume
Take inspiration from romantic classic Titanic and dress up as Jack and Rose this Halloween. Super pale pressed powder is a must because, y'know… they got pretty cold.
Get the Look:
50. Skeletons Couples Halloween Costume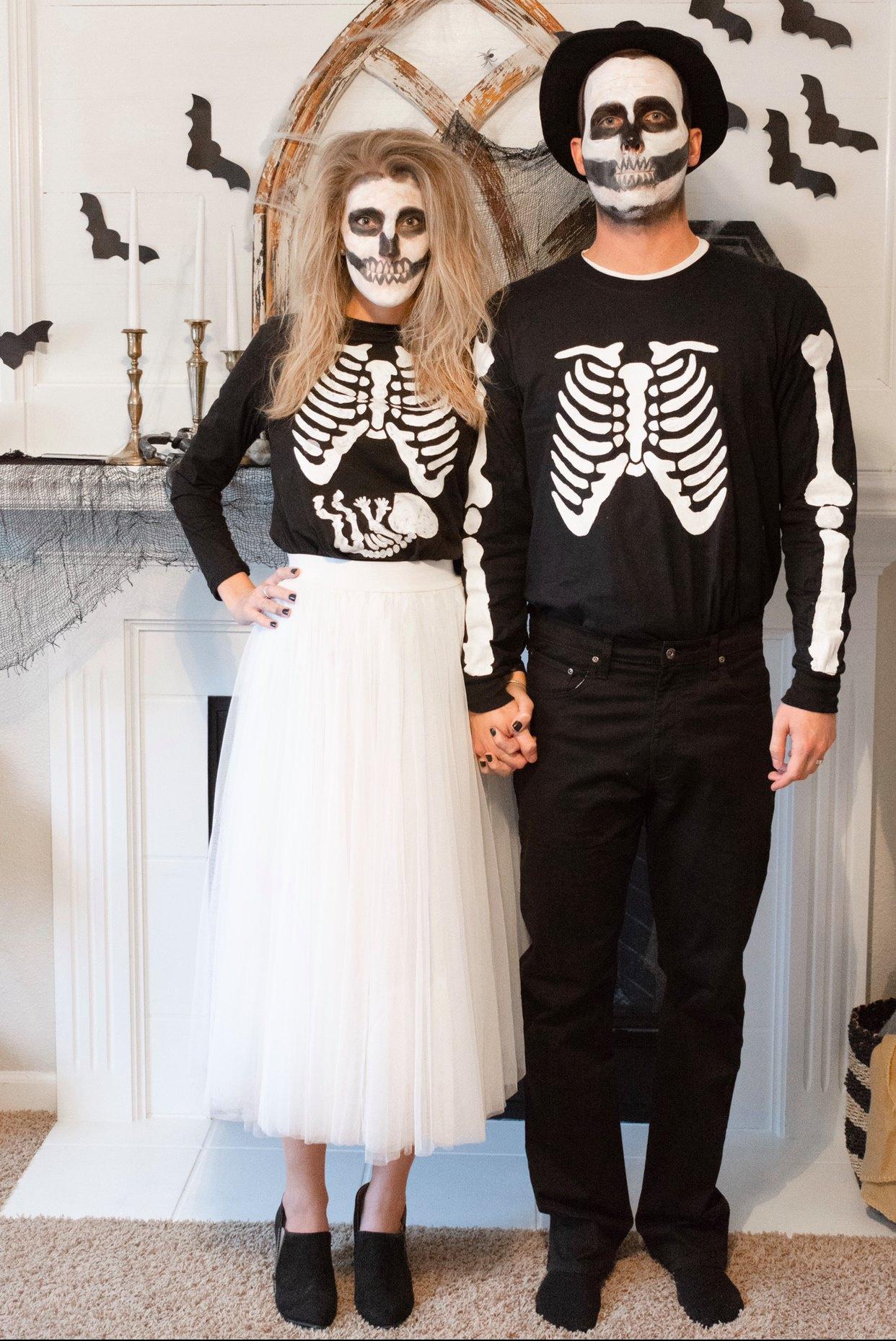 Keep things simple by picking up two skeleton bodysuits, darkening your eyes with a black eye shadow and back-combing your hair. This scary couples Halloween costume idea is simple but highly effective. For bonus points, use glow in the dark face paint over the white parts of the skull makeup.
Get the Look:
51. Jack and Jill Couples Halloween Costume
Jack and Jill went up the hill to attend a Halloween party, that's how it goes, right?
This cute couples Halloween costume is inspired by one of our favourite childhood nursery rhymes and will guarantee a giggle from guests who won't be able to ignore the funny bruises and bumps. And one thing's for sure: no-one else will have thought of this idea.
Get the Look:
Funny Couple Halloween Costumes
Building on our cute theme are these funny Halloween costumes for couples who want to guarantee a laugh from those around them.
If Halloween to you, is less about scaring people, and more about being the class clown, these unique Halloween couples costumes are perfect for you.
52. Stranger Things Couples Halloween Costume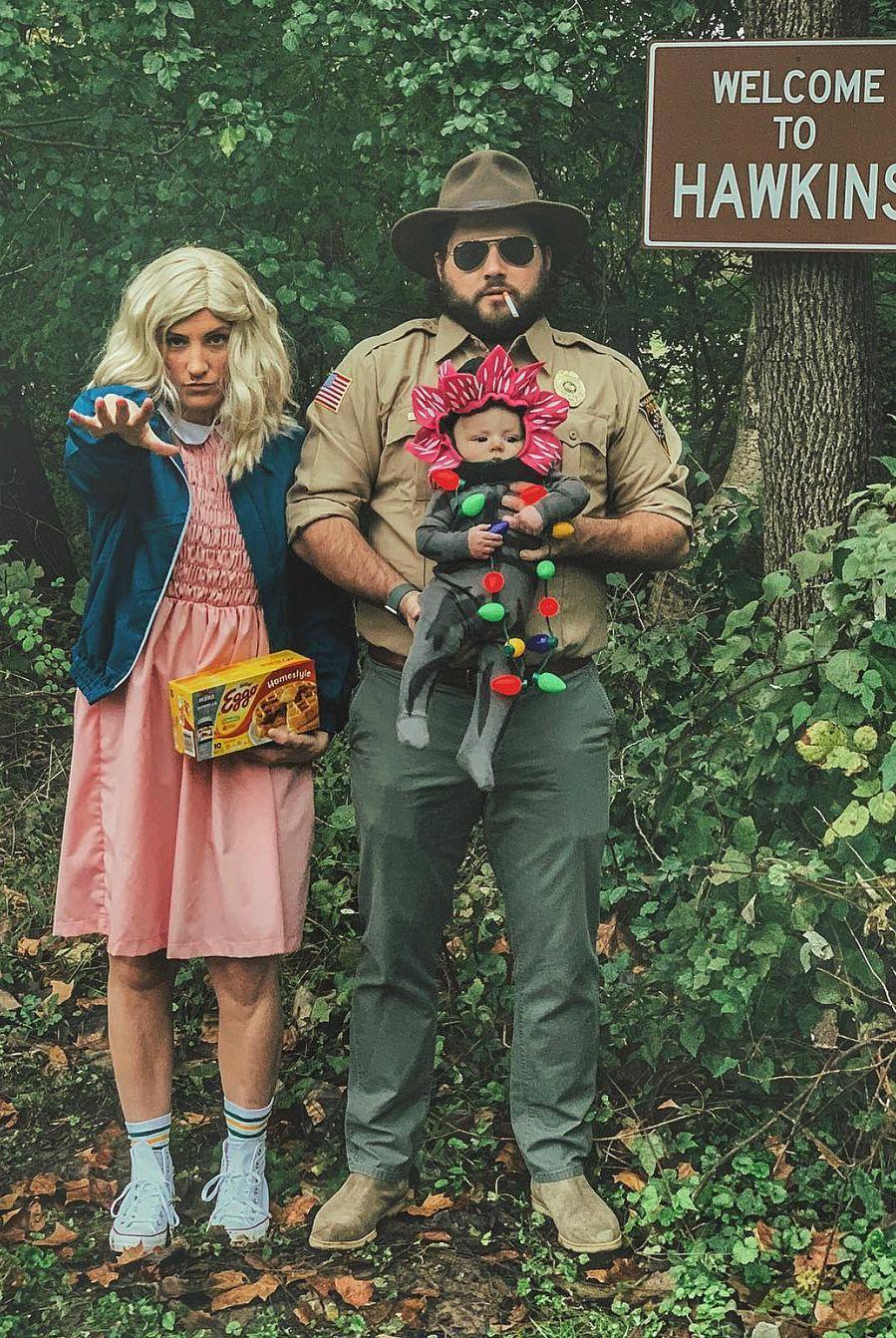 This has got to be one of our favourite couples Halloween costumes we've seen and we bet if you're a big fan of Stranger Things you'll love it too. Whether you choose to dress as Eleven or even The Mind Flayer, this outfit makes a seriously good Instagram post!
Get the Look:
53. KFC Bargain Bucket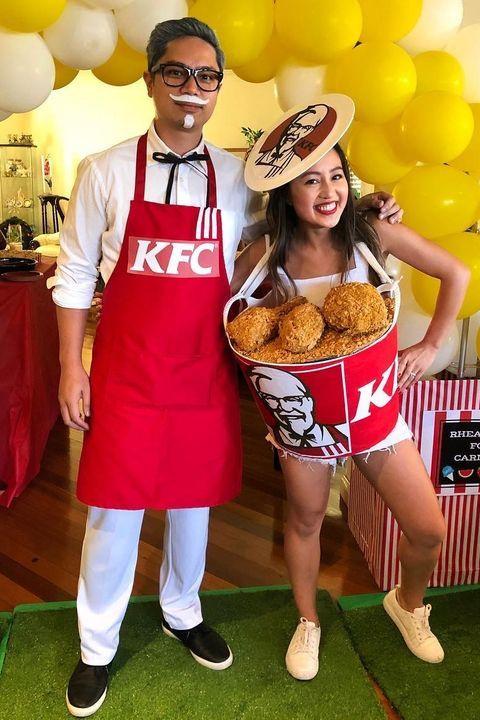 Yes, we went there, we actually suggested you dress up as KFC's colonel and an actual bucket of Kentucky fried chicken. Why not?
Not only is it a funny couples Halloween costume, but it's completely unique, original, and something everyone will recognise. We think it's pretty genius to be honest. Even better if you bring actual fried chicken to the party.
Get the Look:
54. Cleopatra & Julius 'Caesar'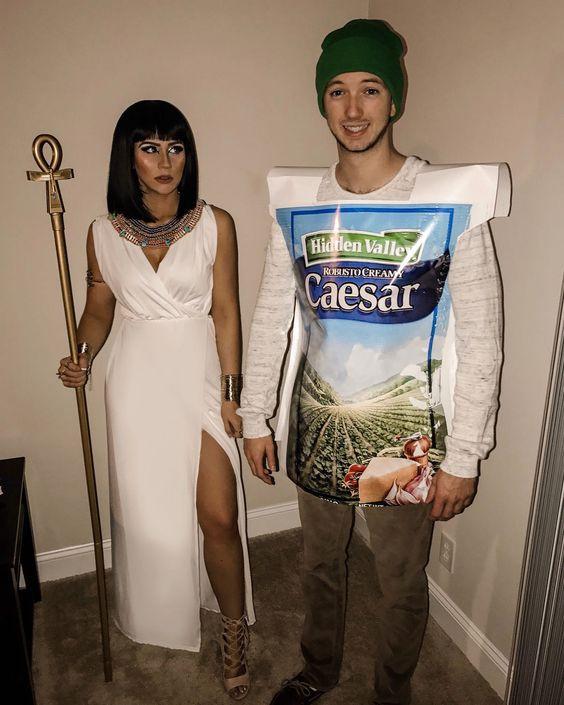 Now this couples Halloween costume had us literally cracking up, and we're sure your friends will be the same when they see it.
The idea of dressing up as Cleopatra and Julius 'Caesar' is just too funny - everyone loves a good old pun and it allows you to mix glamour with humour, which is always the best combo at Halloween.
Get the Look:
55. Scooby Doo Couples Halloween Costume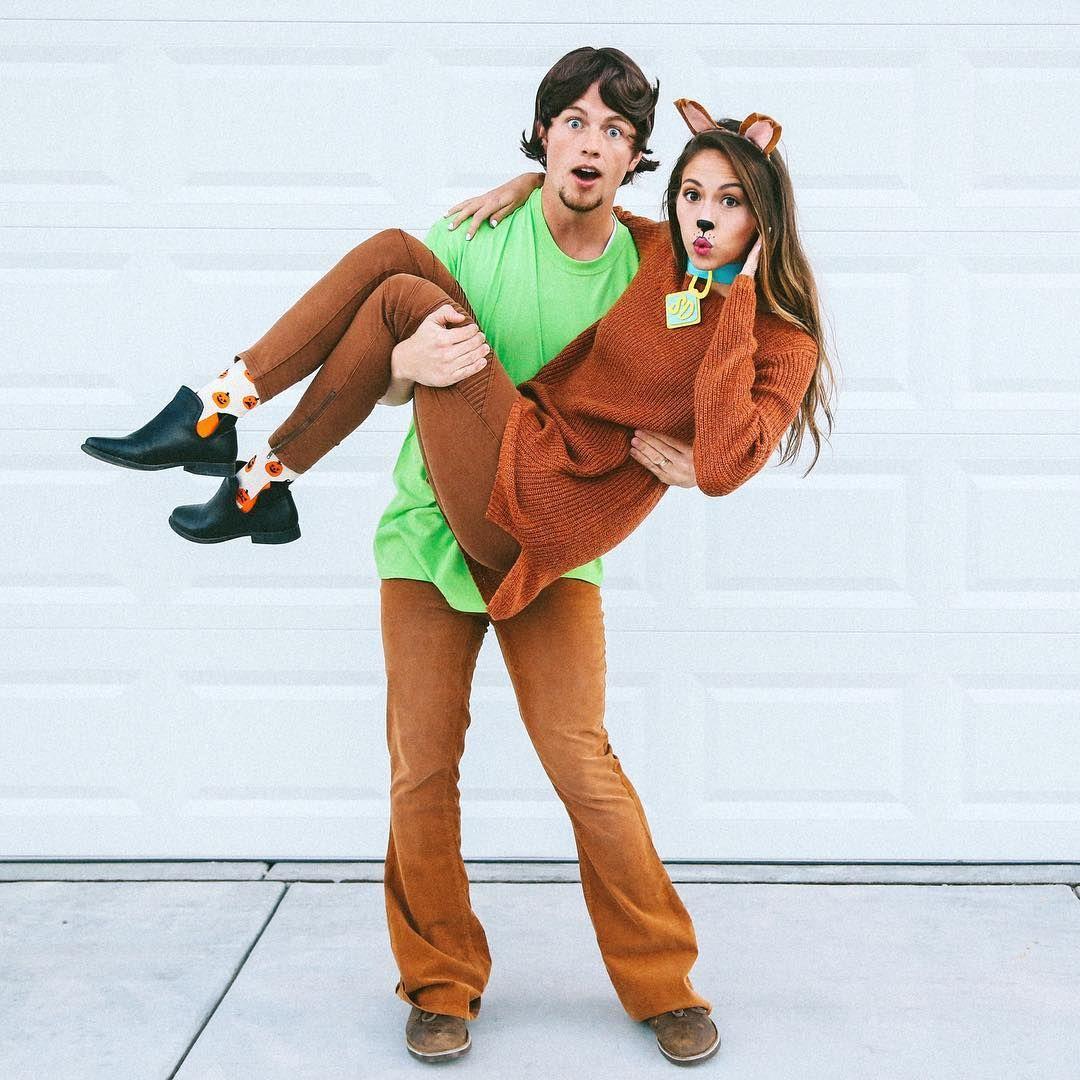 Here we have another Scooby Doo couples Halloween costume, and this time it's Shaggy and Scooby Doo himself.
Get the Look:
56. Toy Soldiers Funny Couples Halloween Costume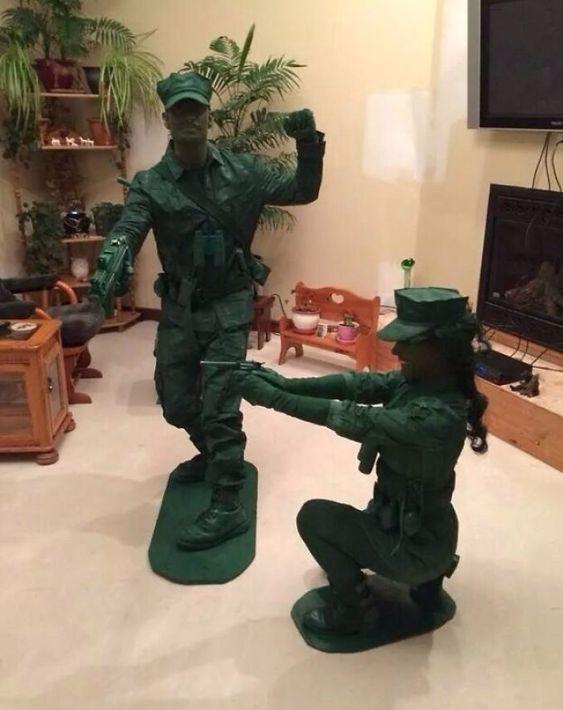 Just when we thought we'd seen all the Toy Story costumes there were, we came across what could be one of the most unique couple Halloween costumes, like, ever!
If you and your partner want to get some laughs, and really see jaws dropping at your Halloween celebrations, dress up as the toy soldiers, and give yourselves platforms to stand on to make it feel even more real.
Get the Look:
Halloween Costumes for Gay Couples
Although so many of the couples Halloween costumes can be altered to suit LGBTQ+ couples, there's nothing like some awesome gay couple Halloween costumes to really inspire couples.
These ideas are brilliant (if we do say so ourselves!) and are super easy to recreate.
57. Clueless Halloween Costume for Lesbian Couples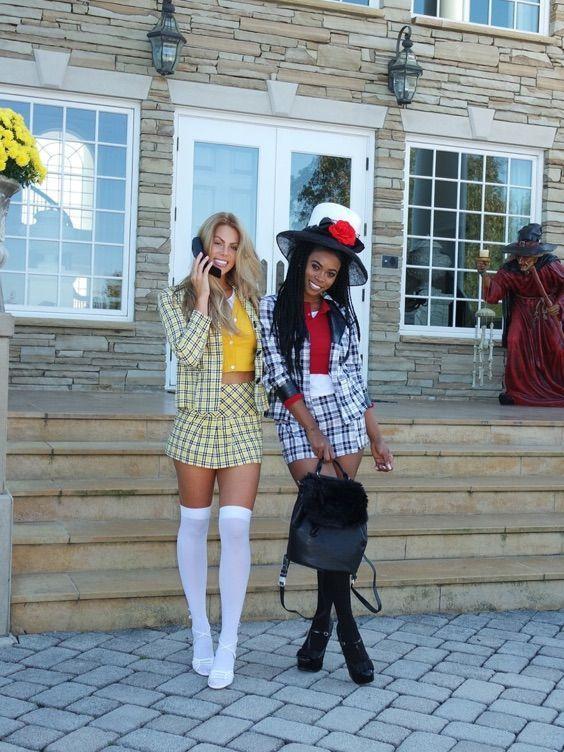 Sorry, but we're actually obsessed with the idea of lesbian couples dressing up as our favourite Clueless duo. These outfits are actually something you'd want to wear out regardless, so being able to wear it on Halloween is just a bonus.
If you want to gore it up, you can always tear up the clothes and add some blood to put on more of a 'Dead and Clueless' instead, but we like it without, too.
Get the Look:
58. The Hangover Halloween Costume for Gay Couples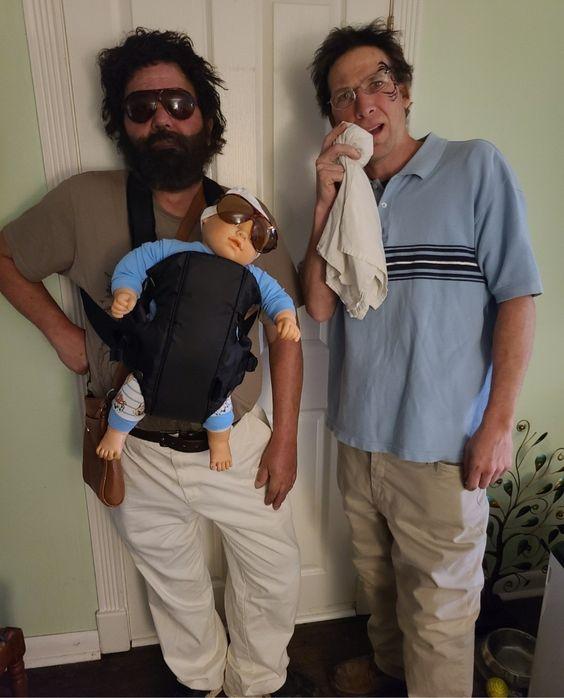 If Clueless are the iconic duo for lesbian couples, then The Hangover boys are the equivalent for two guys to dress up as.
It's brilliantly funny and even allows you to involve a baby if you have a little one in your family. Love, love love.
Get the Look:
59. Suicide Squad Couples Halloween Costume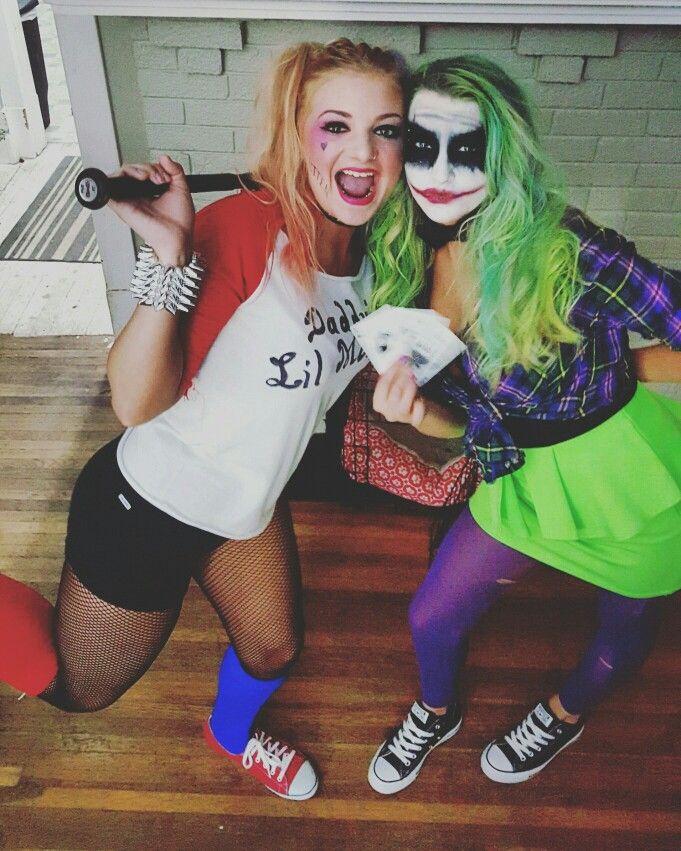 Harley Quinn and The Joker aren't just for guys and gals to dress up as, okay? We say bring it right up to date and dress two women as Harley Quinn and the Joker this Halloween. This might have been done a lot in circa 2016, but there's still life left in the scary pair yet.
Get the Look:
60. Tweedle Dee and Tweedle Dum Couples Halloween Costume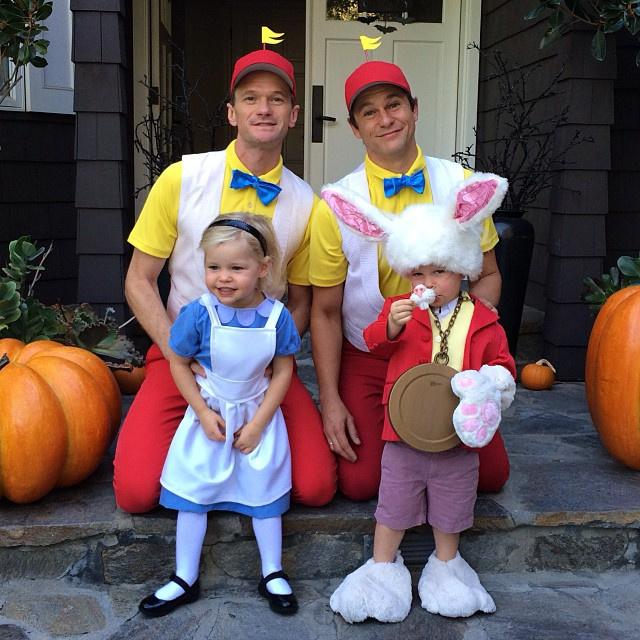 Neil Patrick Harris and his family reign supreme every year with their Halloween costumes. One of our favourites has got to be these Alice in Wonderland themed outfits, with the couple dressed as Tweedle Dee and Tweedle Dum. We also love that this look could be worn by gay or lesbian couples at Halloween.
Get the Look:
Tweedle Dee Tweedle Dum Women's Shirts
For even more Halloween inspo, why not check out our roundup of the best celebrity couple Halloween costumes? Or browse our favourite date night ideas for those post-Halloween weekends.