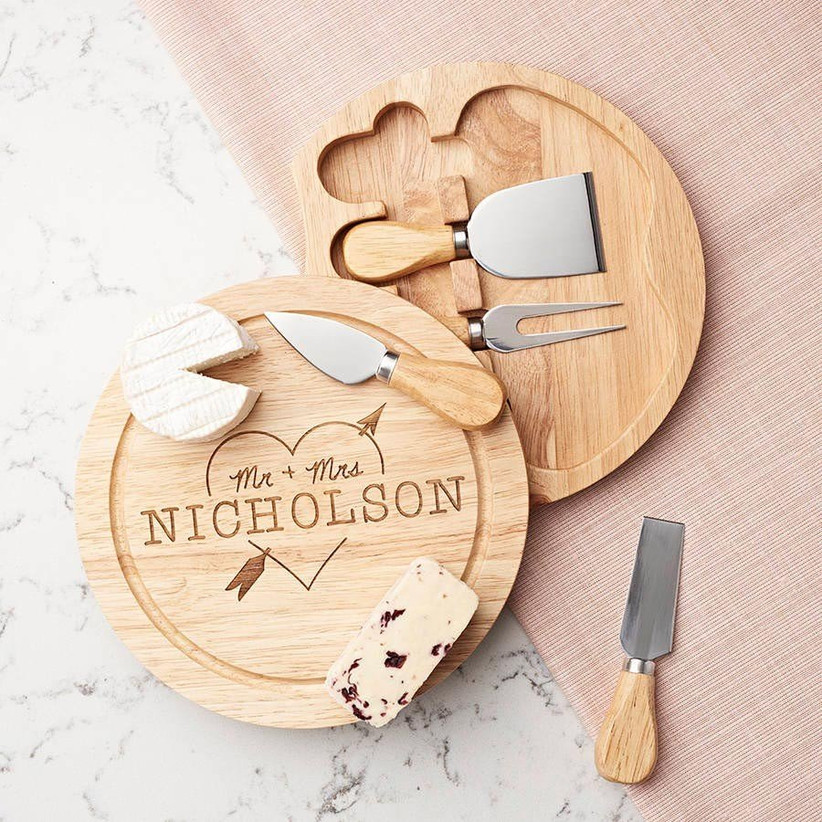 Are you coming up to your fifth wedding anniversary? Congratulations on being married for half a decade - it's definitely worth celebrating! To kick off the fun and to set the mood just right, we'd begin with finding the perfect gift for your partner. Did you know that the traditional gift for your five year wedding anniversary is something made from wood?
If inspiration doesn't come to you immediately, don't panic! Although this may seem like a tricky theme to work with at first, we've found that wood is totally flexible and there are dozens of amazing wood gift ideas for your fifth wedding anniversary out there.
Don't believe us? We've scoured the web and visited some of our fave shops to find the very best wooden gifts. From cheese boards to picture frames to games and even a watch (yes, you read that right!), you can totally make your fifth wedding anniversary gift your best yet!
So, scroll through the below, click through to order and get ready to receive all the brownie points from your OH!
NB: We have included third party products to help you navigate and enjoy life's biggest moments. Purchases made through links on this page may earn us a commission.
1. Wooden Photo Frame – £17, Hitched Shop
This romantic wooden photo frame is a perfect gift for your fifth wedding anniversary – why not choose one of your favourite wedding pictures to put in the frame so it's ready to display in your home?
READ MORE: 24 Wedding Moments You Need to Capture
2. Engraved Oak Coordinates Sign – £43, Winning Works
This oak sign from Winning Works can be engraved with the coordinates of your chosen location - it could be the place you first met, your wedding venue, your first home together or even your honeymoon destination.
3. Wooden Keepsake Box – £29.99, Warner's End
This wooden keepsake box from Warner's End is the perfect fifth anniversary gift for your other half. If you want to make this box extra special then why not fill it with cute keepsakes saved from your past five years of marriage?
READ MORE: Fourth Wedding Anniversary Gift Ideas
4. Personalised Chopping Board – £37, Hitched Shop
Does your partner love cooking up a storm? Give the master chef in your life a personalised wooden chopping board so they can be reminded of the happy times you've shared as they cook your dinner.
READ MORE: Third Wedding Anniversary Gift Ideas
5. Personalised Cheese Board – £34, Dust and Things
Who doesn't love cheese? Treat your partner to a personalised cheese board from Dust and Things complete with cheese tools. Why not give it to them with a selection of cheeses and a nice red wine and plan a cosy night in?
READ MORE: Mouth Watering Cheese Wedding Cakes
6. Lap Tray - £31.99, Amazon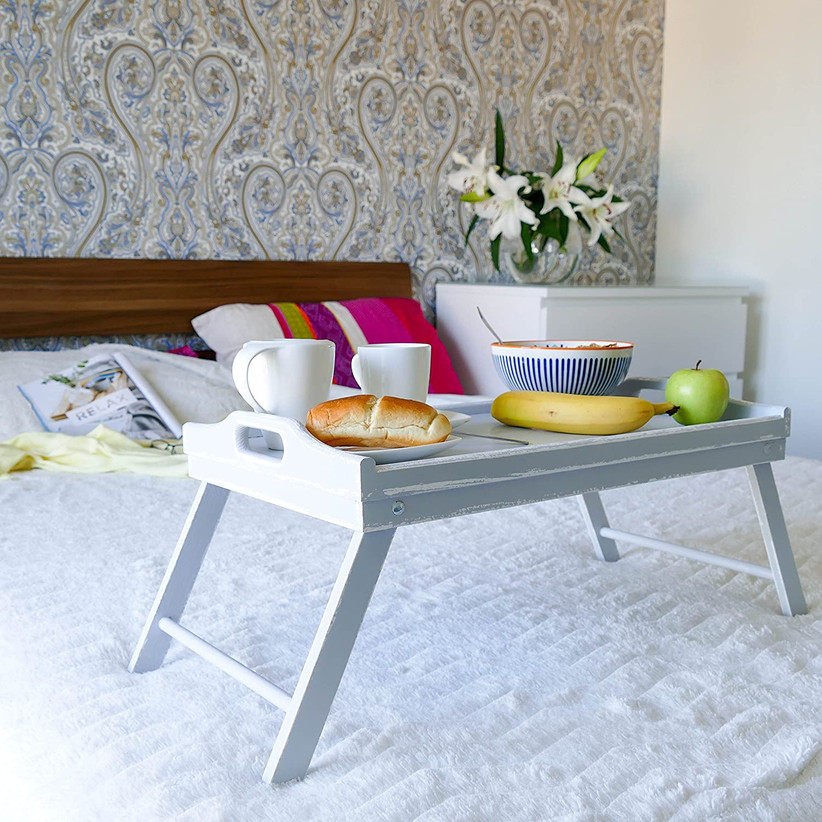 This rustic grey wooden lap tray from Amazon is perfect for lazy Sunday mornings spent in bed. Word of warning, though: if you do buy your other half this tray, they'll definitely expect you to serve them breakfast in bed on it!
7. Two Wooden Egg Cups – £9.99, Getting Personal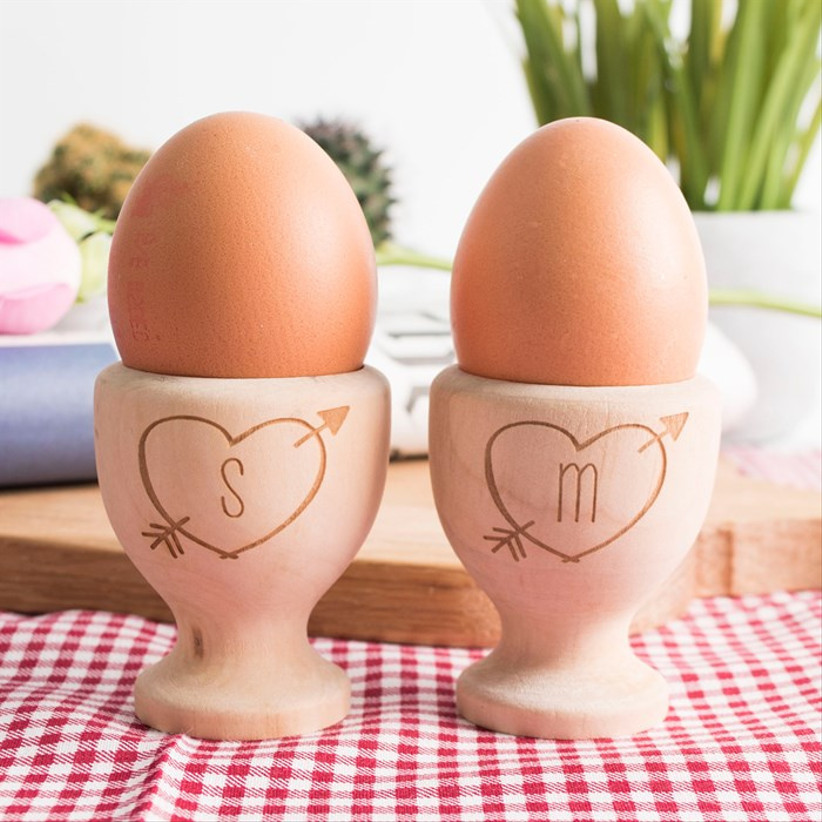 Speaking of breakfast in bed, these personalised wooden egg cups from Getting Personal are a cracking idea if that's your plan. You can have them sent in a luxury gift box too.
8. 'Our Journey' Signpost Print – £55, No Ordinary Journey
You've been on a journey together, right? So why not symbolise it with a miniature wooden sign post of your relationship from No Ordinary Journey? If you're being extra fancy, commission a full-sized one for your garden.
9. Wooden Craft Hearts – £10, Hitched Shop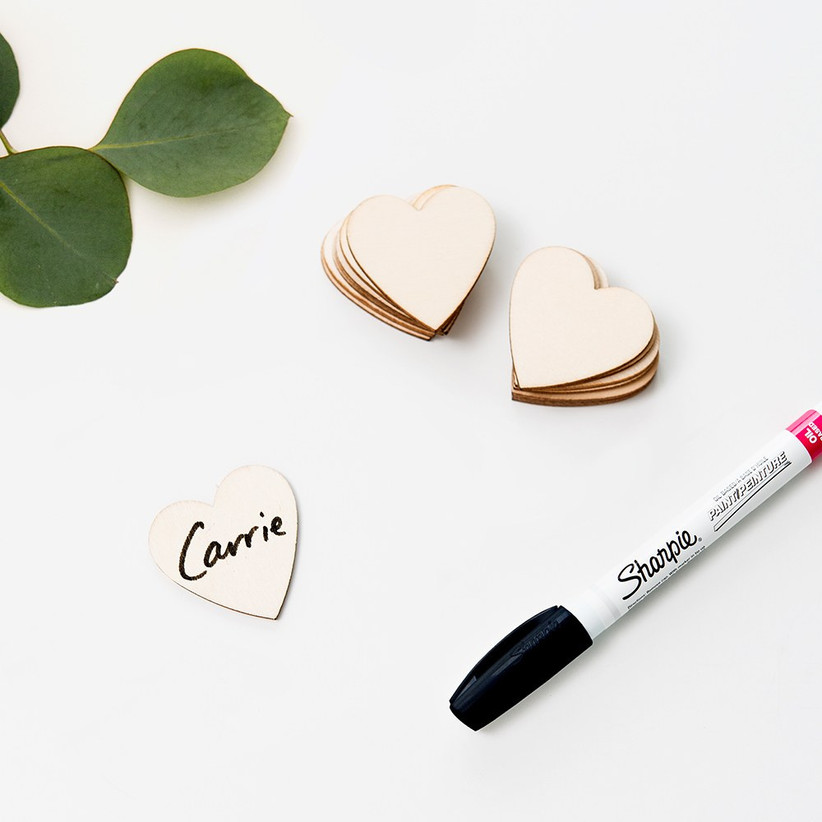 Since you've been married five years, there's bound to be lots of things you love about your other half. How about writing some on these small wooden craft hearts and filling a jar up with them? They'll really appreciate the thoughtful touch behind this gift.
10. Personalised Wooden Spoons – £15, Auntie Mims
Do you open the freezer and find tubs of batch cooked stews and soups? If you live with someone who loves to cook and prep, treat them to a personalised wooden spoon from Auntie Mims. It'll make their dishes taste even better!
11. Wooden Watch – £99.99, Getting Personal
Yes, you can get a watch made from wood. If your partner loves a good watch, treat them to this wooden one from Getting Personal. You could even get a touching message etched on the back. It's eco-friendly and comes in a choice of colours.
12. Engraved Wooden I Love You Postcard – £12, No Ordinary Gift Company
If you've already got a good gift but it doesn't match the wooden theme, add this personalised wooden postcard from No Ordinary Gift Company, which comes engraved with a beautiful 'I love you' message to keep it on theme.
13. Wooden Bench – £169.99, Amazon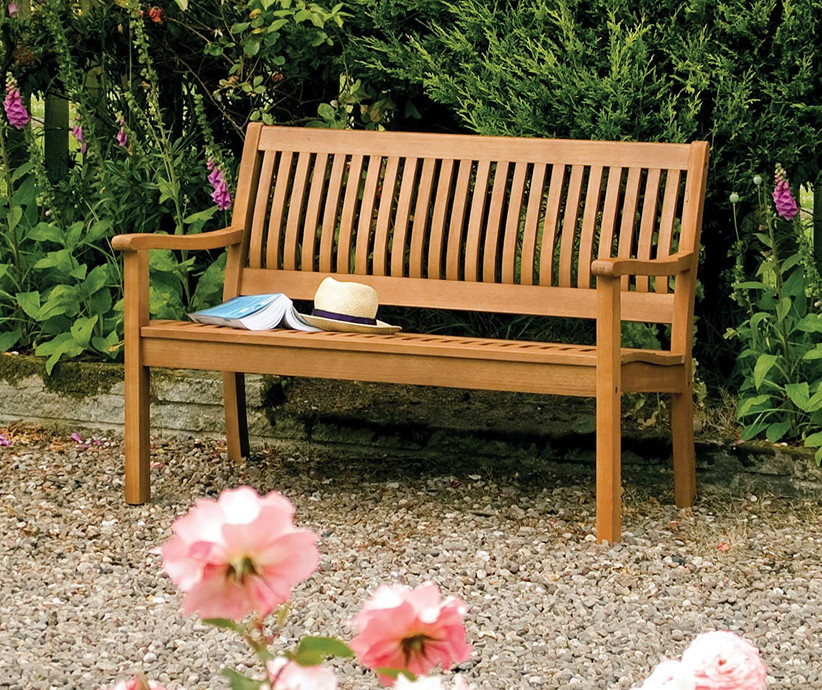 Add to your garden with a lovely wooden bench, like this one from Amazon. Why not personalise it with your names and wedding date so every time you sit outside you're reminded of your special day?
14. Natural Wood Coaster – £20, Hitched Shop
We love the idea of giving your partner a personalised wooden coaster. It even has a built-in bottle opener!
15. Personalised Oak Wood Wrapped Hip Flask– £20, Hitched Shop
Stylish couples will adore these personalised wooden hip flasks from the Hitched Shop. You can even include a gift box set which includes two shot glasses.
16. Topple Tower – £6.95, Rex London
If you love a competitive night in around a good old fashioned game, consider treating your partner to a Jenga-like game such as Topple Tower from Rex London! You could write a message on each brick – if you're feeling cheeky, why not write down dares and turn it into a drinking game?
17. Bottle Box – £64.95, Sophia Victoria Joy
Buy a bottle of Champagne or fancy wine and present it in this beautiful, personalised wooden wine box from Sophia Victoria Joy. It's made from oak and is lined with silk.
18. Wooden Flowers – £62, Betsy & Els
Everyone loves receiving flowers, so why not put a twist on it so it works for the tradition and give wooden flowers? You can even personalise these blooms from Betsy & Els.
19. Personalised Wooden Vase – £37.95, Letteroom
Go all out and present your wooden flowers in a wooden vase from Letteroom! We love the rustic feel of this one and the cute engraved heart motif.
20. Geometric Wooden Tealight Holder – £25, Hitched Shop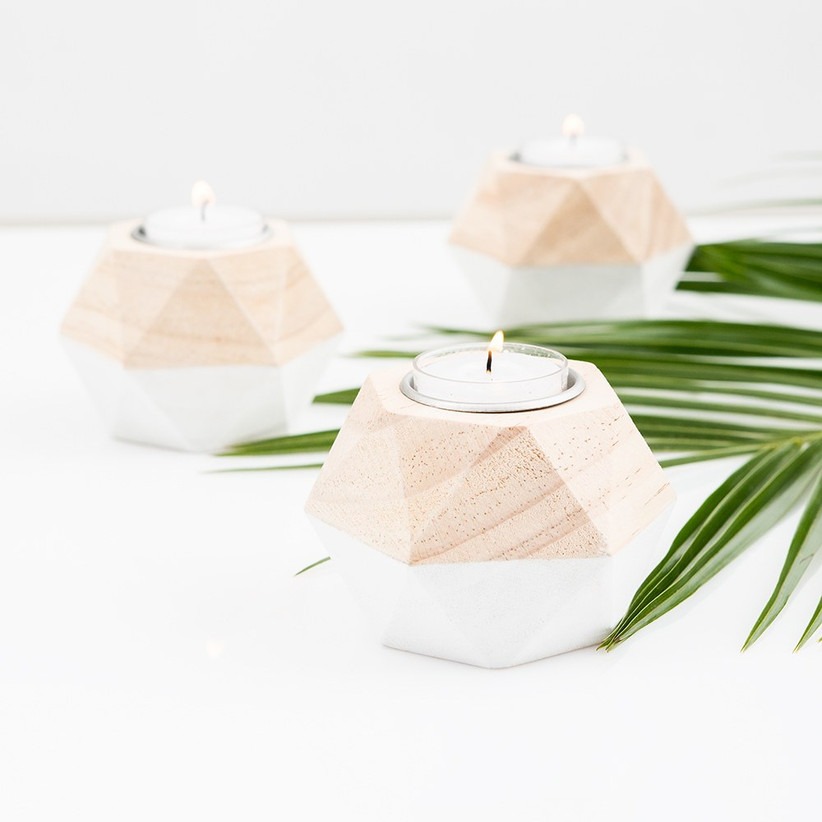 Show your partner how much they light up your life with these geometric wooden tealight holders from the Hitched Shop. They come in a set of three and will look gorgeous placed on a windowsill or as a table decoration.
21. Personalised Wooden Collar Stiffeners – £19, Maria Allen Boutique
If your husband is a dapper gent, treat him to these personalised wooden collar stiffeners from Maria Allen Boutique. He can wear them every day and keep a treasured gift close to his heart.
22. Mango Wood Heart Bowl - £10, John Lewis
Whatever you serve in this heart-shaped mango wood bowl from John Lewis will be made even more romantic thanks to the link to your fifth wedding anniversary. Put it pride of place on the table as your fruit bowl or bring it out as a salad server for special occasions.
23. Engraved Garden Swing – £345, The Oak and Rope Company
Add to your garden with this sweet, personalised wooden garden swing from The Oak and Rope Company. It'll look super cute and if you expand your family your children can play on it too.
24. Plant Crate – £44, The Gluttonous Gardener
If you have a green-fingered other half, treat them to a plant for their collection and present it beautifully in this personalised wooden plant crate from The Gluttonous Gardener. This one comes with mini Mediterranean trees – ideal if you honeymooned in the Med!
25. Wooden Jigsaw Keyring – £15, Create Gift Love
Sometimes the smallest gifts are the most treasured. With these wooden jigsaw piece keyrings from Create Gift Love you'll each have something to keep on your keys that connects you to each other.
26. Wooden Pun Keyring – £12.99, Cool Keyrings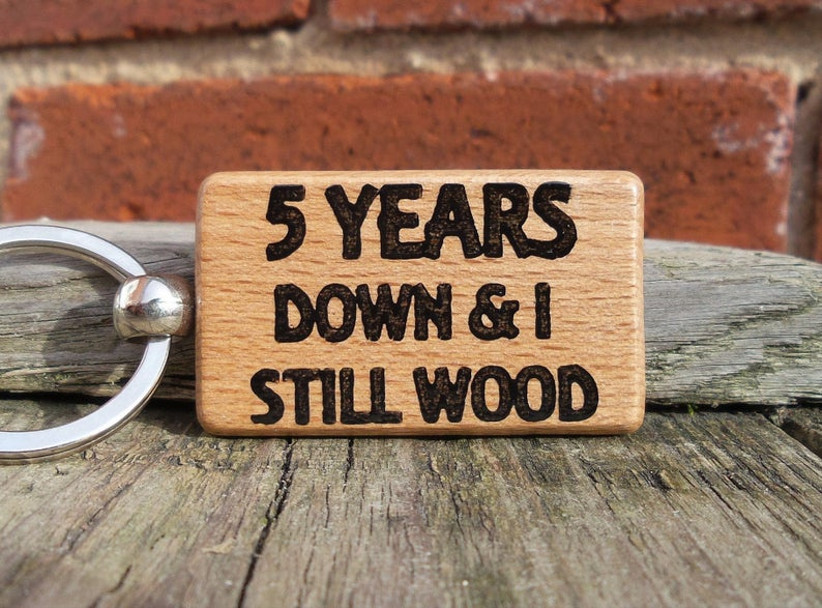 We also love this cheeky keyring from Cool Keyrings. After all, who can resist a pun?!
27. Wooden Map – £25, Northern Logic
If you and your partner love to travel, why not treat them to this creative wooden map from Northern Logic to mark your fifth wedding anniversary? Choose where you live, where you met or where you got married as the focal point of the map.
28. Wooden Initials – £42, Modo Creative
These wooden initials from Modo Creative will look amazing on your mantelpiece or displayed on your bookshelf. You can even personalise them with a message on the front and back of the ampersand.
29. Wooden Bark Heart – £14.99, Hitched Shop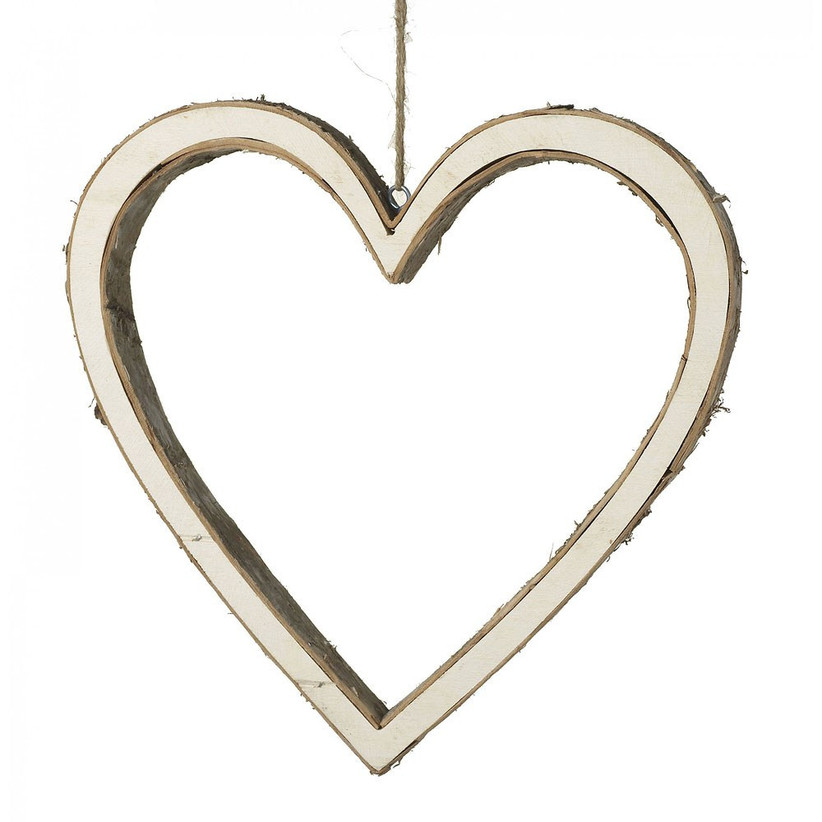 Interior lovers will adore this rustic wooden bark heart from the Hitched Shop. It'll look so sweet hanging on a front door and remind your partner how much you love them every time they go out.
30. Biscoff & Carmac Bark Bar – from £4.99, Confectionery Box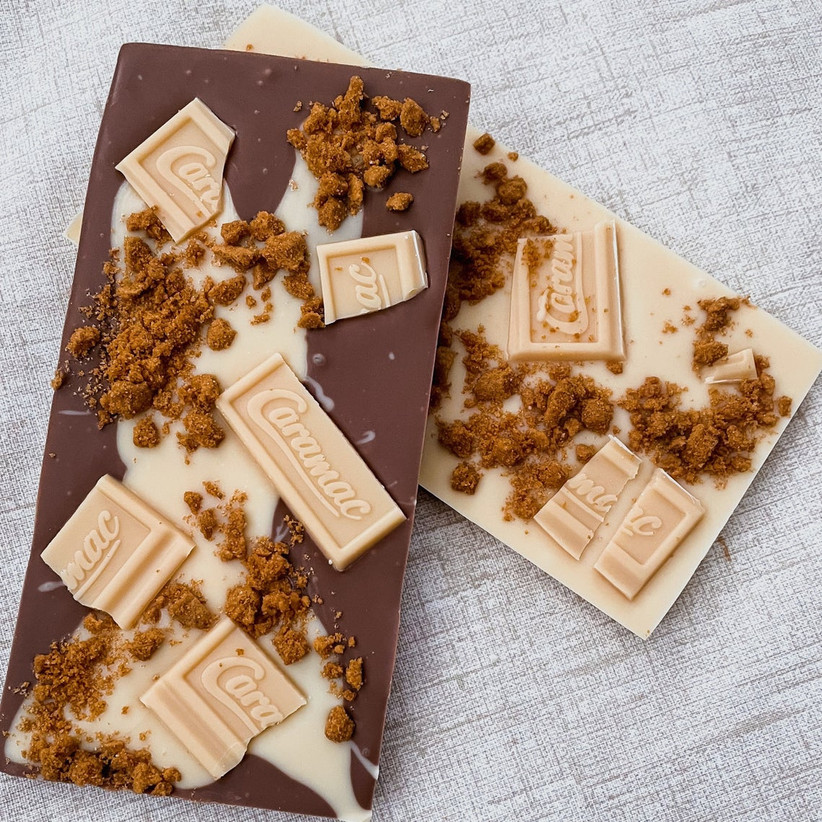 Okay, so this gift isn't exactly wood but it's called bark so it counts, right?! A Biscoff and Carmac lovers dream, we bet your partner will have no problems demolishing this sweet treat from the Confectionery Box.
31. Personalised Wooden Hammer - £16.99, Getting Personal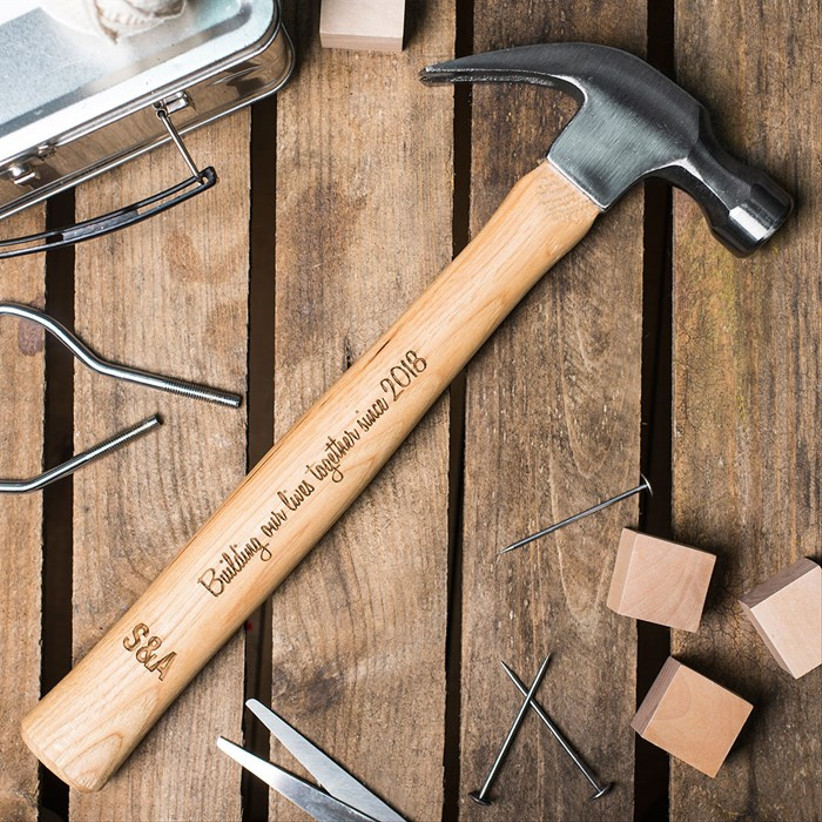 If your partner works in construction or just loves a bit of DIY, give them a hand with this personalised wooden hammer from Getting Personal. Made from durable metal and sturdy wood, it'll be in their tool box for years to come.
Now you're sorted for your fifth anniversary with a lovely wooden gift, why not browse our guide to wedding anniversaries to prepare for your next one.