The Best Honeymoon Destinations By Month According to a Honeymoon Expert
Where is the best place to honeymoon? And what's the best time of year to go? We have all the answers in our month-by-month honeymoon guide
We have included third party products to help you navigate and enjoy life's biggest moments. Purchases made through links on this page may earn us a commission.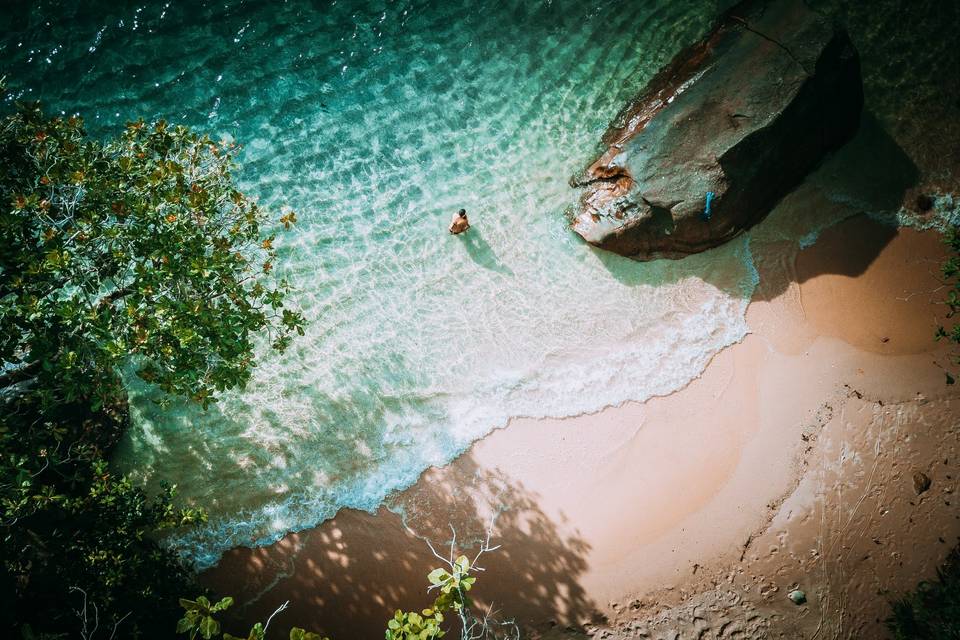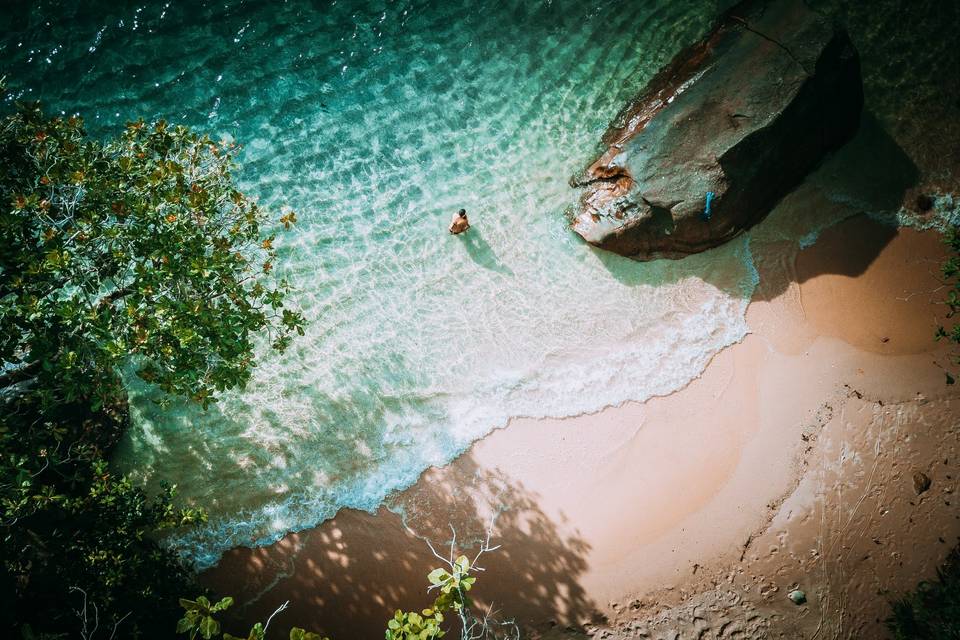 Deciding which month to honeymoon in can be tricky, but what's also tricky is knowing and understanding what the best places are to travel at different times of year. But that's where we come in, with your ultimate guide to the best honeymoon destinations by month.
For winter sun-seekers, we have the best honeymoon destinations in December, January and February, and the low-down on what the best time to visit the Maldives for your honeymoon is...
If autumn is your time of year, our guide to honeymoon destinations in September, October and November will have you dying to book your next trip.
For summer lovers, recommendations for honeymoons in June, July and August will give you an insight into the best spots both in Europe and around the world, and spring travellers won't be disappointed with our March, April and May honeymoon locations.
Honeymoon Destinations by Month: An Expert Guide on Where to Travel to & When
To help us decipher which honeymoon destinations are suited to which month, and to give you advice on how to choose the best month to honeymoon, we've enlisted some tips from the experts at Turquoise Holidays.
Marketing Director Lizzie Jones, an expert in all things honeymoon, helped us curate this list and shared her tips on which locations are in season and when, as well as how to plan your dream honeymoon at the right time of year.
In a hurry to plan your honeymoon? We don't blame you. Skip to the month you're most interested in to find out where the best honeymoon destinations are at that time of year.
Best Honeymoon Destinations in January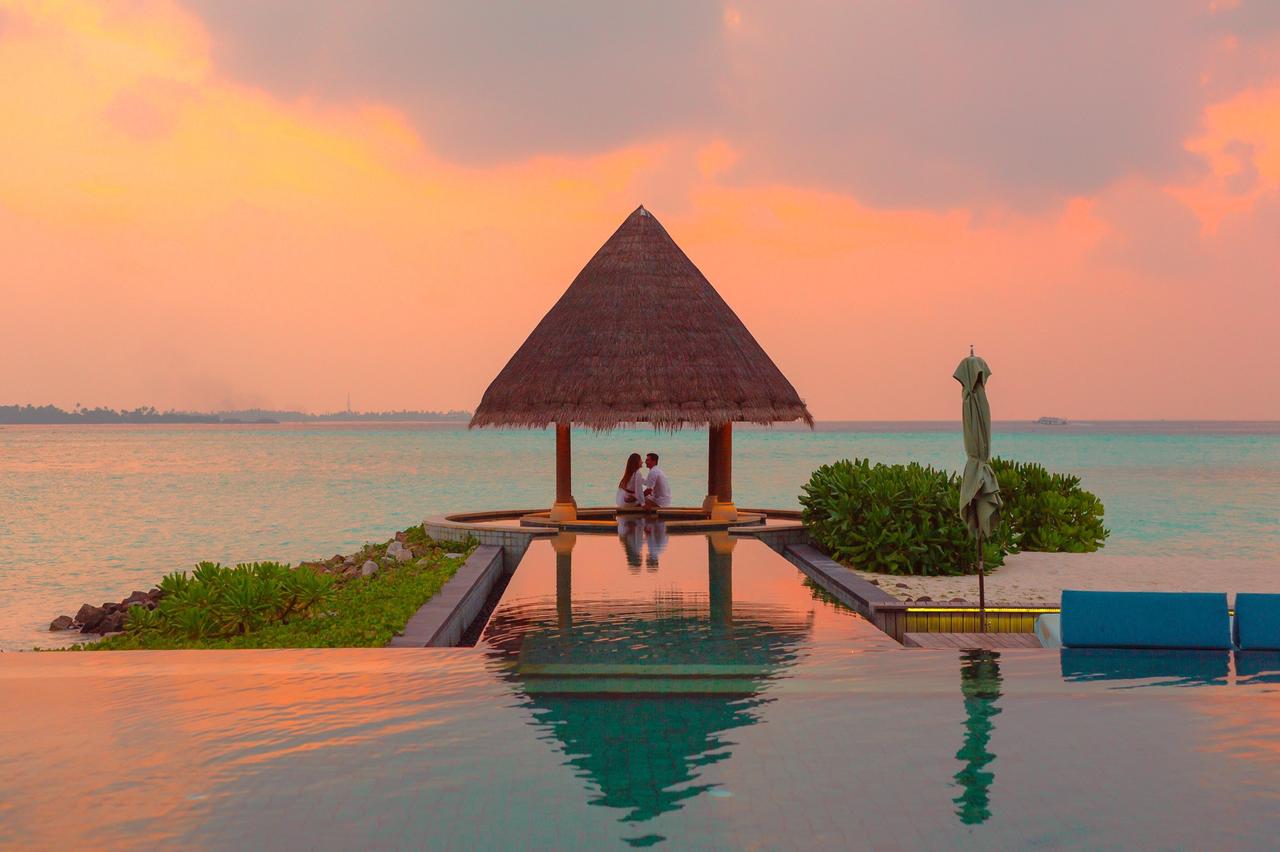 We love the idea of a honeymoon in January - when everyone else is experiencing that post-Christmas comedown and feeling slightly poor from all the festivities, you could see yourselves jetting off on a honeymoon of a lifetime.
When it comes to honeymoon destinations in January, you have a lot more choice than you'd think. Just because it's gloomy in the UK, doesn't mean the sun isn't shining elsewhere.
January Honeymoon in the Maldives
Best For: A luxury, all-inclusive beach holiday.
Average Temperature: 28°C
The best time to visit the Maldives for honeymoon holidays is anytime between November and April as these months fall outside of the Monsoon season.
The Maldives is a great January honeymoon destination because you avoid the rush of people spending Christmas there (lucky them!) and you're also guaranteed not to clash with any school holidays which will always impact the price of travelling.
Don't get us wrong, the Maldives is gorgeous year-round, but during a January honeymoon, you will experience a calm breeze, warm temperatures and clear waters. As well as being hot outside, the average sea temperature is around 27°C making it ideal for water sports and swimming.
January Honeymoon in Thailand
Thailand is a brilliant place to spend your first marital holiday, but it's particularly great for a honeymoon in January. January is one of the only months of the year where high season is pretty much in full effect across the entire country, so wherever you stay, you're almost guaranteed a good time. It's also a great time of year to visit if you're not into blazing and unbearable temperatures.
It's considered one of the country's cooler months, but still really hot as far as UK standards go, but you also have the benefit of being there when the rain is at its lightest. Between December and February, the average rainfall is significantly lower than our summer months, making exploring and days out much more enjoyable.
Best For: Island hopping and street food.
Average Temperature: 28°C
January Honeymoon in New Zealand
New Zealand is a bucket-list destination for so many couples, and we can totally understand why. Couples looking at the best honeymoon destinations in January should absolutely consider New Zealand as an option. Perfect for honeymoons in December through to March, these months will see you experiencing bright and long sunny days.
New Zealand is brimming with beaches to explore, but as well as that, there is so much for adventurous couples to do. From hiking and exploring the mountains, to admiring their natural landscapes and architecture, it's the kind of place that offers both active and relaxing things to do.
It's also at its warmest in January and February, so if you want to make the most of being outdoors, these are the months to travel there, although having said that, New Zealand isn't known for super hot temperatures so it's ideal for people who like a mild warmth. Plus, it's near Australia and Fiji if you want to add a hotter climate to your trip - multi-destination honeymoon anyone?
Best For: Active days out and exploratory adventures.
Average Temperature: 25°C
Best Honeymoon Destinations in February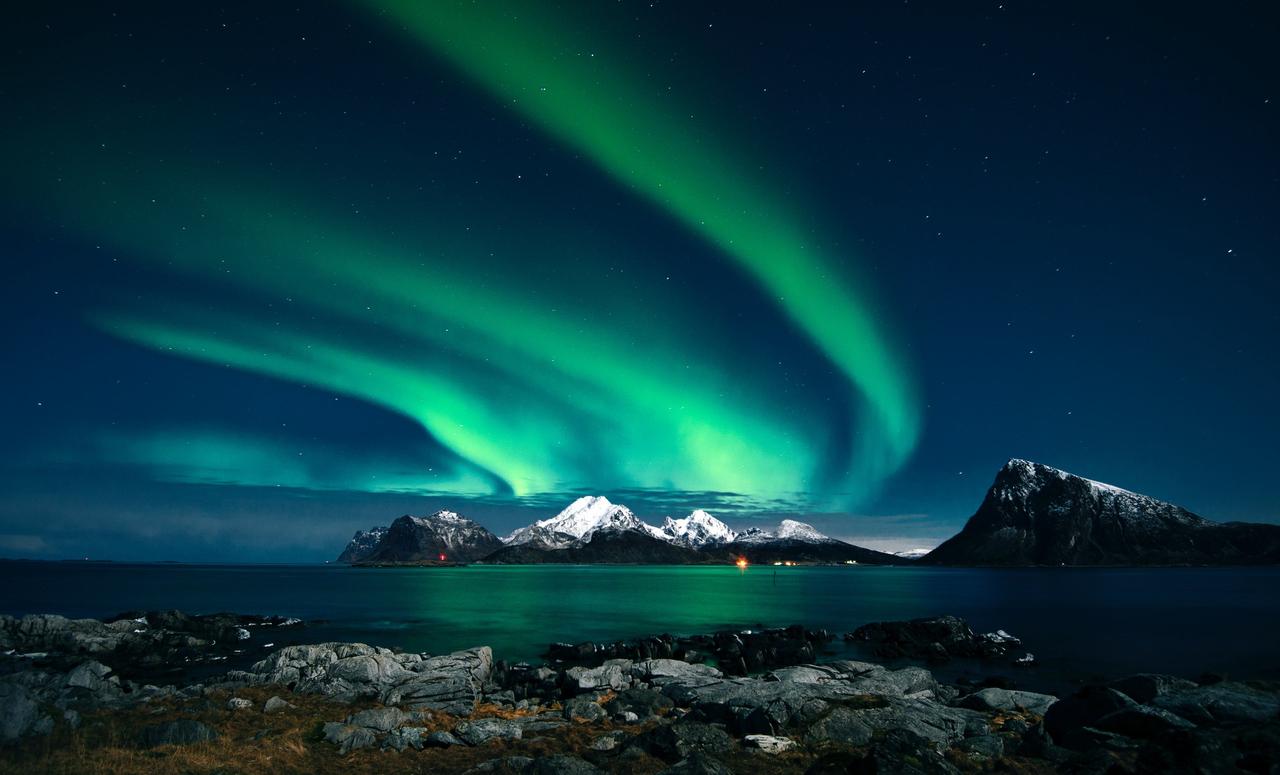 February - the month of love (remember to buy that Valentine's day card!), pancakes, a school half term holiday and also some pretty grim weather in the UK, making it an ideal month to head off on honeymoon. There are actually plenty of great honeymoon destinations in February for you to travel to, with a wide range of things to do.
The only thing we'd advise you keep in mind is if you're travelling during the school half term holidays (it's usually a week in February, but can vary from local council to local council), as flights can be more expensive during that time - having said that, it'll be far less impactful than the Easter and summer holidays.
So, what February honeymoon destinations are best?
February Honeymoon in Australia
Much like New Zealand, Australia is a great place to travel to during our winter. In Australia, December, January and February are the county's three hottest months as it's their peak summertime then.
As February falls in Australia's summer, couples will find plenty to do on their February honeymoon there - from beach parties in Sydney to the Adelaide Fringe in the south, it'll be events galore at this time of year.
Couples who want Australia in the slightly cooler months should opt for September to November, or March to May.
Best For: Hot winter sun and plenty of parties.
Average Temperature: 25°C to 37°C depending on the region.
February Honeymoon in Tanzania & Zanzibar
We're heading to the Indian Ocean for our next February honeymoon destination and it's time to talk about Tanzania and Zanzibar.
Tanzania, located on the eastern coast of Africa, is a country known for its brilliant safari honeymoons, and just off the country's coast, is an archipelago known as Zanzibar, which is part of Tanzania. These two locations are ideal February honeymoon destinations because the climate here at this time of year is nothing short of dreamy.
Daily temperatures regularly reach the low to mid thirties, and the sea temperature is almost the same. You could spend a few days getting familiar with the wildlife in Tanzania before heading to Zanzibar to enjoy island life - a slower-paced way of living, paired with fun water sports and culinary experiences.
Best For: Island life and safari experiences.
Average Temperature: 33°C
February Honeymoon in Norway
Not everyone dreams of a hot honeymoon destination, and if you prefer adventure over sunbathing, we love the idea of Norway in February.
The average temperatures in February are chilly, but even minus numbers are worth facing if you get an opportunity to see the northern lights.
The best time to catch a glimpse of the northern lights is between November and February, because this is when the nights are at their longest, but towards the end of February and through to March, you have an even better chance as the skies are clearer.
Best For: An adventurous winter break.
Average Temperature: 2°C
Best Honeymoon Destinations in March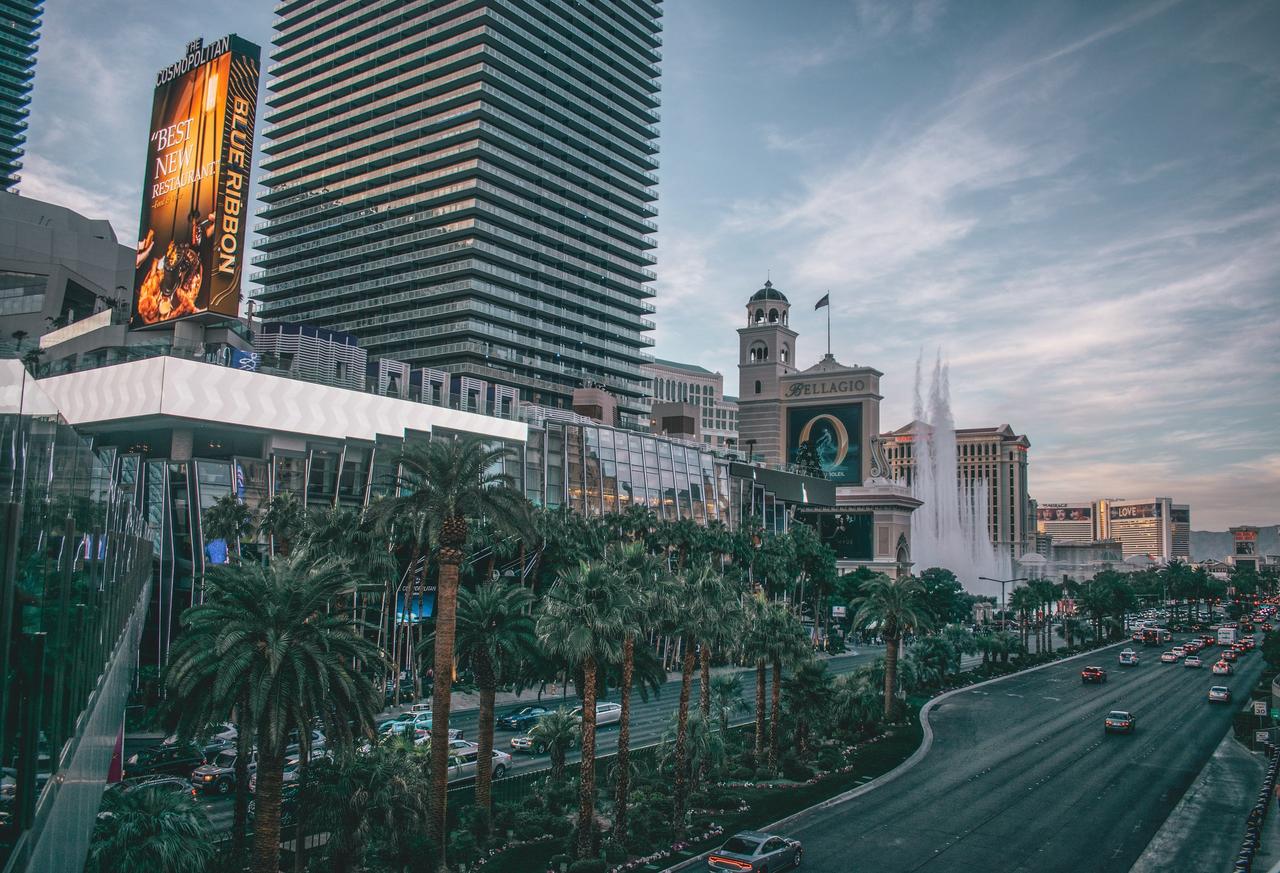 March is the month where us Brits start becoming more optimistic about the weather - it's the month we hope to see signs of early spring, but it's also a brilliant honeymooning month. Planning a honeymoon in March gives you lots of options, as it's a good time of year to head to Asia and places in the Indian Ocean, as well as being a great time to head to the States.
March Honeymoon in the Philippines
The Philippines is one of the best honeymoon destinations in Asia in February and March, as it's when the temperatures start to rise. Towards the end of February and beginning of March, the climate warms up and stays lovely all the way through to May time.
It's also a very popular time to travel to the Philippines as it's dry, making travelling between islands much easier for tourists. A March honeymoon here sees couples getting the best of both worlds, as it's the last part of dry season, but it also crosses over with temperatures rising.
Best For: Island hopping and beach exploration.
Average Temperature: 27.5°C
March Honeymoon in South Africa & Mauritius
South Africa is a popular safari honeymoon destination, but it's also perfect to pair with a trip to Mauritius, as it's just a four hour flight away. Many couples choose these locations for their twin-centre holidays, and we can't blame them - it's a pretty unbeatable combination.
South Africa and Mauritius are ideal for a honeymoon in March for a number of reasons. In South Africa at this time of year, the days are long and skies are blue. You get lovely warm temperatures in the mid twenties most days, but nice cool evenings. It's also perfect surfing weather!
In Mauritius, temperatures are warmer, often reaching the low thirties, giving you a bit more sun than the heat you had in South Africa. It's also a great honeymoon destination in March because the climate at this time of year is very stable, meaning you can plan excursions and days by the beach without risking any weather surprises.
Best For: A safari and beach honeymoon.
Average Temperature: 22°C in South Africa. 27°C in Mauritius
March Honeymoon in Las Vegas
When it comes to honeymoons in Las Vegas, March to May, and October and November are the honeymoon months you're guaranteed sunny weather that's mild and won't scold you, and in March, the average rainfall is just 1mm - imagine having that in the UK!
One of the best things about Vegas, however, is that it's the city that never sleeps. This means that you will have a whale of a time whether you're visiting in popular March or off season, on a Saturday night or a weekday morning, there will always be something to do, see or experience.
Best For: Exceptional nightlife and shows.
Average Temperature: 25°C
Best Honeymoon Destinations in April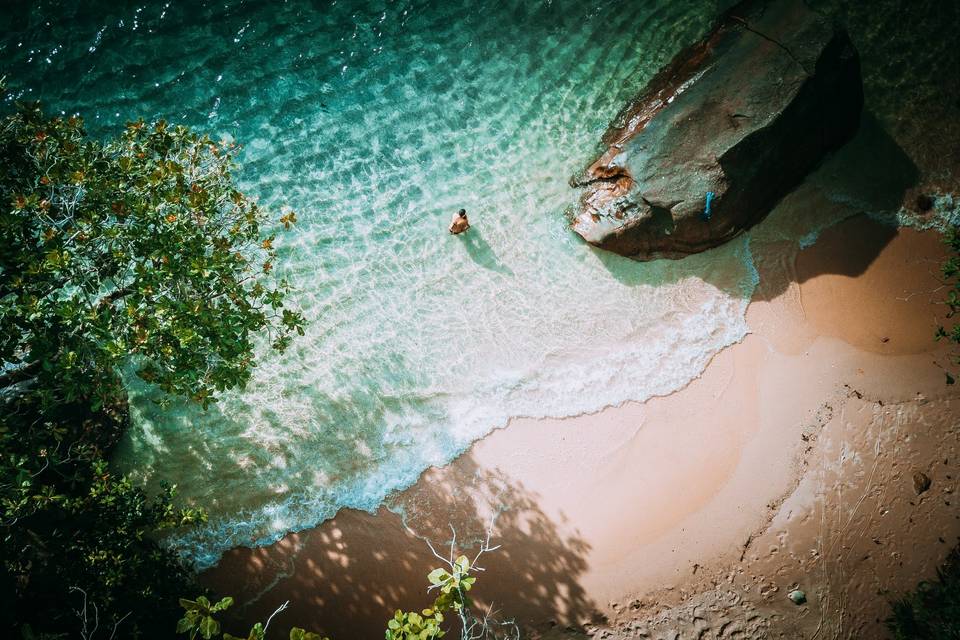 April is one of our favourite months to get married - when spring has truly sprung - but it's also a great time to get away on your first marital holiday. Honeymoon destinations in April open up many opportunities for shorter flights for couples looking for sun, but peak season is also just beginning for some of the long-haul honeymoon hotspots.
One tip of ours, however, would be to try and avoid the Easter holidays as prices can hike up during non-term time.
April Honeymoon in Morocco
A flight from London to Marrakech takes less than four hours, but honeymooning here in April will have you feeling worlds away. With an average temperature in the mid twenties at this time of year, April honeymoons here have a lot to offer.
Marrakech is famous for its luxury spas and hammams, so there will be plenty of time to relax, but the culture and cuisine here is well-worth cutting the spa-time short for. The riads are charming, and the restaurants serve up unbeatable dishes that you'll be dying to recreate when you get home.
Best For: Culture and cuisine-orientated couples.
Average Temperature: 25°C
April Honeymoon in the Seychelles
April and May honeymoons were made for visits to the Seychelles - it's the perfect time of year to travel here as it's right in between the cool and rainy seasons.
Because of this, the climate is a desirable one, with temperatures regularly reaching the low to mid thirties
Best For: Luxury beach resorts and water sports.
Average Temperature: 28°C
April Honeymoon in Fiji
If you love nothing more than white sandy beaches, hot and humid climates and tropical surroundings, Fiji is your dream April honeymoon destination.
May to September is considered high season in Fiji, but travelling there in April can see you enjoy all the benefits of the pending high season for a slightly cheaper price. April marks the end of wet season, but wet season also has the highest temperatures so you get to enjoy a real happy medium.
Best For: Tropical surroundings and white sandy beaches.
Average Temperature: 27°C
Best Honeymoon Destinations in May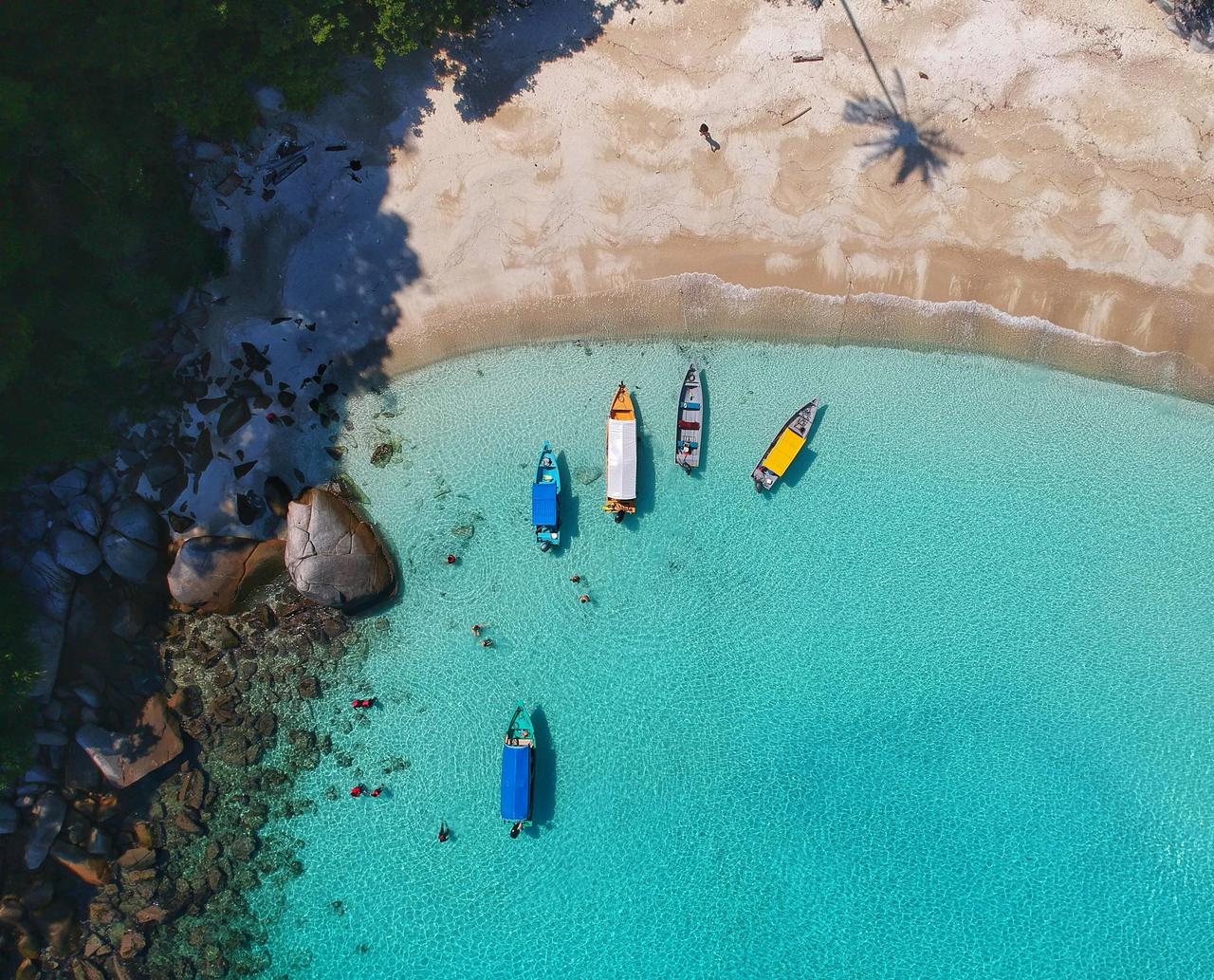 Did you know the most popular wedding date in 2023 was in May? We're serious! May 27th was the most popular wedding date in the UK, and it's also a very popular time for couples to jet off on honeymoon.
May Honeymoon in Greece
High season for honeymoons in Greece tends to fall within the summer months of June, July and August, but travelling outside of that, in May, September and October can work perfectly for a honeymoon holiday and save you a bit of cash whilst doing so.
The average temperatures in Greece in May sit within the mid twenties, and the evenings are cool and breezy. It's a perfect time to travel if you like some sun but don't feel comfortable in unbearable heat.
Hitched Deputy Editor Rima Barakeh has travelled to Greece during low season and says, "I've holidayed in several parts of Greece in May and October and found the weather to be just perfect. It was warm enough to sit by the pool and sunbathe, as well as do water sports and sea excursions, but cool enough to be able to properly enjoy them all."
Best For: All-inclusive honeymoon holidays.
Average Temperature: 23°C
May Honeymoon in Borneo
Borneo is an enormous and rugged island located in Southeast Asia, and is famous for its dreamy beaches, biodiverse rainforest and incredible wildlife. On your May honeymoon here, you'll get the chance to catch a glimpse of rare breeds such as the clouded leopards and different types of orangutans.
To properly enjoy a honeymoon in Borneo, we recommend travelling during the dry season on a honeymoon in April through to September, making May a perfect time to head there. May also has the lowest amount of rainfall!
Best For: Jungle exploring and rainforest wildlife.
Average Temperature: 30°C
May Honeymoon in Malaysia
Malaysia is a May honeymoon destination that people just rave about. It has something for everyone, and can offer everything from a cheap honeymoon to one dripping in luxury. Though the island is brimming with beautiful beaches and waters for you to explore, we love the active side to Malaysia.
Here, you can do everything from exploring the Batu Caves to riding on a sky bridge cable car. Like Borneo, the wildlife is exotic and so is the cuisine - so make sure you check it out.
Dry season in Malaysia runs from March to September, making them the best months to travel to a honeymoon in Malaysia, although many say that this dry season stretches to February and October, too, if you wanted an earlier or later trip.
Best For: Mixing city with nature.
Average Temperature: 29°C
Best Honeymoon Destinations in June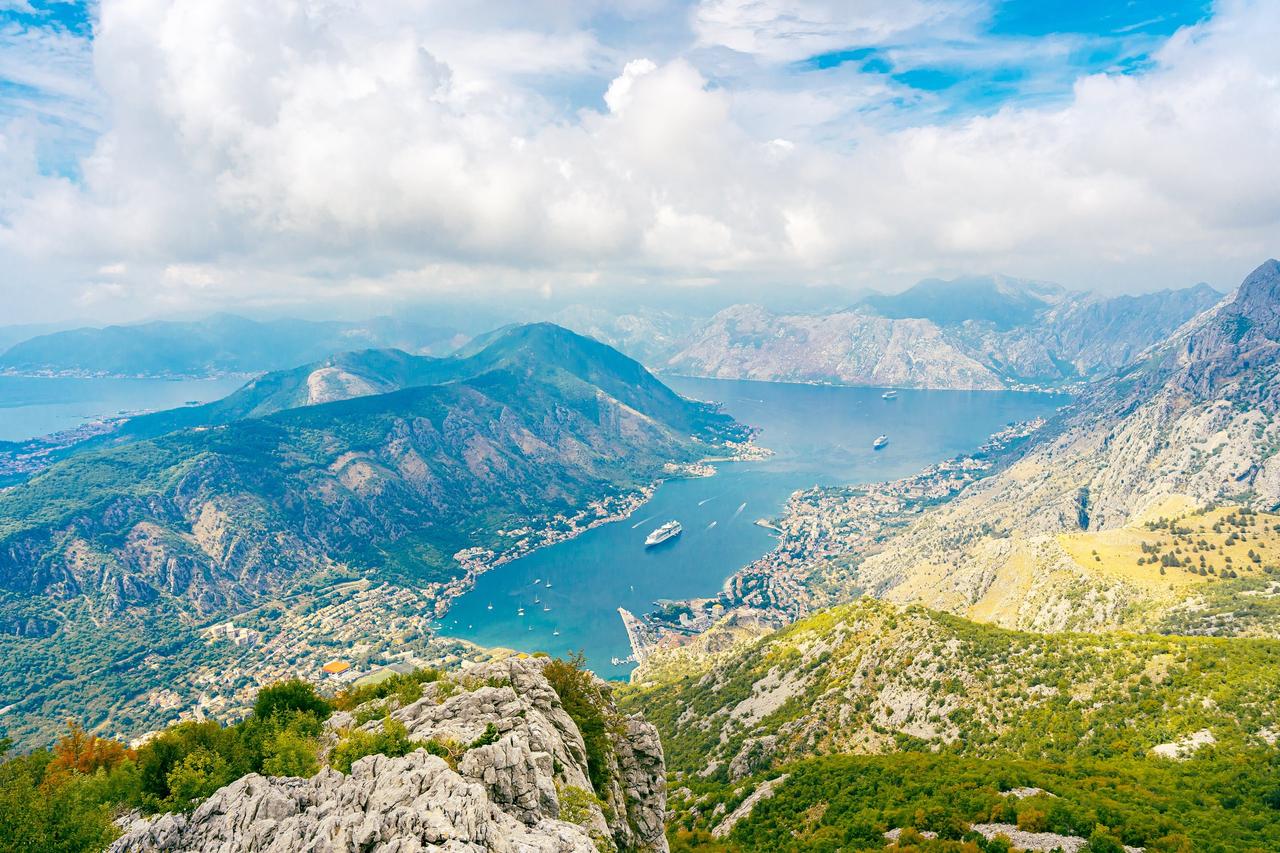 June is (usually...) when summer really hits for us Brits, but there are plenty of places where you can get sun outside of the UK. The best honeymoon destinations in June include long-haul destinations, but it's also a month where many European countries become real contenders, too.
June Honeymoon in Mexico
The beginning of summer in Mexico starts in June, and coastal resort areas like Cancun are where you'll find the longest and sunniest days at this time of year. Mexico is also a great honeymoon destination in June because it's a month before US schools break up, and almost two before the summer holidays in the UK start.
Travelling just before peak summer holidays can see you save lots on a June honeymoon, especially when travelling to family-friendly honeymoon destinations like Mexico.
Best For: Vast all-inclusive options.
Average Temperature: 32°C
June Honeymoon in Florida
Another stateside June honeymoon destination on our list is Florida. Here, you can have the ultimate Disney honeymoon before schools break up and families take over the resort. The weather in Florida in June is hot, but temperatures peak a month later in July, so the climate is not as scorching as later on in the summer.
As well as a Disney-themed trip, Florida is a great June honeymoon destination for couples who love shopping (it's outlet shops galore!) and dining out. Florida is also home to a number of beach resorts, specifically in the Tampa area, that are perfect for honeymooners, and you can also take a trip to Miami while you're there.
Best For: Theme parks and shopping.
Average Temperature: 33°C
June Honeymoon in Montenegro
Montenegro is a hidden gem of a honeymoon destination in Europe, and one we'd highly recommend for newlyweds to visit.
Rima took her first trip here in August 2020 and says, "To this date, I have never been anywhere quite as beautiful as Kotor Bay in Montenegro. I knew very little about Montenegro before travelling - I actually picked it as a holiday destination after seeing a picture of the bay on a computer wallpaper - and it certainly didn't disappoint.
"The bay is surrounded by picturesque mountains and clear blue waters, and the old town in Kotor is just adorable. Around every corner, you'll find quaint coffee shops and bars, cobbled streets and live musicians, and there's just as much going on at sea, with daily boat trips and excursions available for less than 35 euros per person. If you haven't yet been, it's a must-visit.
"What's more, countries like Bosnia and Herzegovina, Albania and Croatia are a short journey away. We actually got the bus directly from Kotor to Dubrovnik - it took about two and a half hours and cost around 15 euros each!"
Best For: Mountain adventures and sports.
Average Temperature: 23°C
Best Honeymoon Destinations in July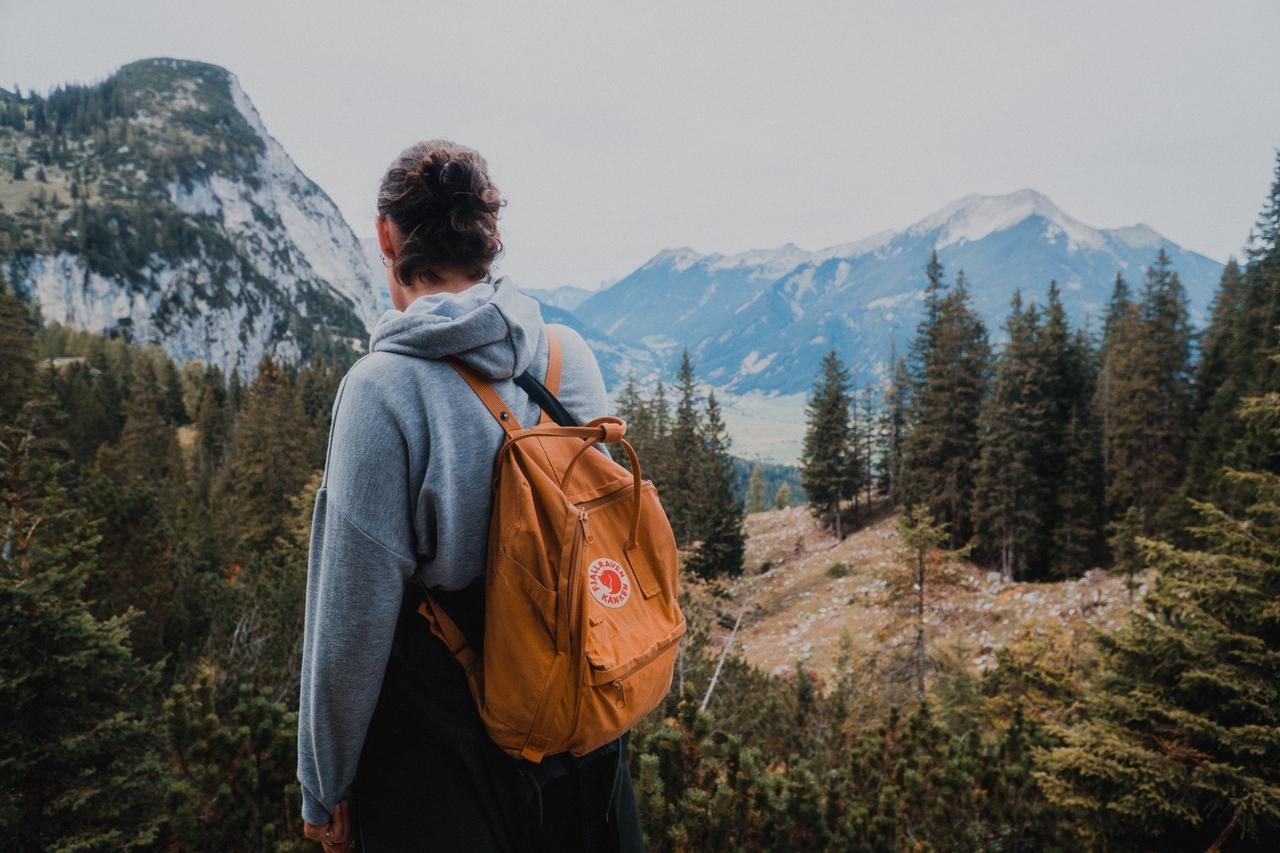 When it comes to the best honeymoon destinations in July, we could list many European countries, as summer starts to spread its sunny wings over the continent - but there are plenty more destinations perfect for a honeymoon in July - here's our top picks.
July Honeymoon in Canada
Though Canada is known for its snow-capped mountains and ski resorts, we love the idea of a sunny trip here in summer.
July sees Canada experience its hottest weather of the year, with temperatures and humidity at its highest, making it perfect for long scenic hikes in the mountains, and days spent wandering the streets of Montreal.
Hitched Editor Zoe Burke says, "I've been to Canada a few times now, and will always recommend it to couples who want something different to the typical beach style honeymoon. Canada is a huge country with SO much to offer - there are beautiful mountains and lakes to explore in the Canadian Rockies - Banff National Park will quite literally take your breath away.
"Couples who love a city break will adore Toronto too - think a cleaner, politer New York City! We took in a Toronto Blue Jays baseball game, and enjoyed amazing views of the city from the CN Tower. It's so easy to travel from Toronto to Niagara Falls too, and I love the Canadian side of the falls. Be a proper tourist with a trip on the Maid of the Mist, and explore the surrounding parkland. You can go on some beautiful walks around the falls and the river, and even explore the caves behind the famous waterfall.
"Canada truly is a once-in-a-lifetime kind of experience."
Best For: Hiking and sight-seeing.
Average Temperature: 17°C to 22°C depending on areas.
July Honeymoon in the Cook Islands
Always dreamed of a honeymoon in French Polynesia? If so, we totally recommend travelling to the Cook Islands.
Comprising of 15 islands in total, this is one of the best July honeymoon destinations out there. Each island is adorned with pristine white-sand beaches and surrounded with glistening turquoise waters - it truly is a paradise on Earth and the rich Maori culture makes it such a unique place to visit.
In July, the average temperature in the Cook Islands sits around the mid twenties and is also the time of year when the water is at its coolest, making it refreshing for water sports enthusiasts.
Best For: Maldives-like beaches and lagoon waters.
Average Temperature: 25°C
July Honeymoon in Austria
When you think of honeymooning in Austria, skiing may be the first thing that comes to mind, but we're obsessed with the idea of a sunny off-season trip here.
Rima says, "I recently took a trip to Mayrhofen, a well-known ski resort in Austria. We went in July and, although it's known for its snowy mountains in the winter, we absolutely loved it in the summer. It was off-season so the resorts were much quieter, and the temperature was bliss.
"It was warm enough for us to sit by the pool at our hotel, but breezy enough to enjoy cycles along the river and hikes up the mountains to get a glimpse of the Alps. I actually got engaged during this trip and can wholeheartedly recommend it as a July honeymoon destination. I'd certainly do it!"
Best For: Mountain adventures and sports.
Average Temperature: 24°C
Best Honeymoon Destinations in August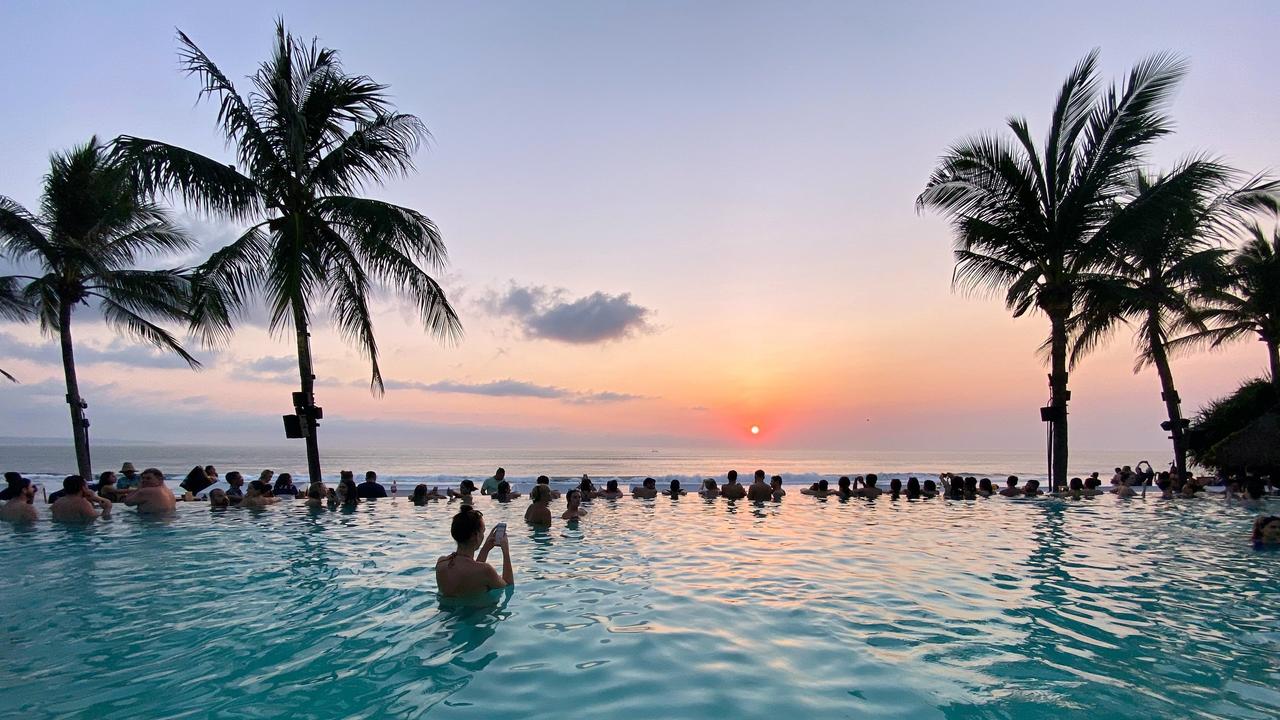 August is one of the most popular months to get married, and it's also extremely popular with honeymoons for those who want to jet off as soon as they say 'I do'. Weather across Europe is warm and sunny, but it's also the only month which is completely covered by the summer holidays, making some destinations more expensive at this time of year.
Here are three of our favourite August honeymoon destinations across Europe and the rest of the world.
August Honeymoon in Majorca
Majorca is one of Spain's most beautiful Balearic Islands and is known for its gorgeous beach resorts and coves, but it also has a lot of limestone mountains and Roman and Moorish remains that make its natural landscapes just as beautiful as its waters.
The temperatures soar in August in Majorca, regularly reaching the thirties during this month. It also averages just one day of rain, making it one of Majorca's driest months.
There will be a lot of families who choose Majorca as a summer holiday destination, which is something to be aware of, however prices are reasonable all year round and there are plenty of adults-only hotels and resorts if you'd rather keep things child-free.
Best For: Gorgeous coastal walks and lovely dinners.
Average Temperature: 29°C
August Honeymoon in Mauritius
If you've always dreamed of visiting somewhere idyllic, but don't want to deal with soaring temperatures, Mauritius is an ideal August honeymoon destination for you. August here sees high temperatures averaging in the mid twenties, so you can enjoy all of the beauty this island has to offer, without doing so in sweltering heats.
Mauritius is also famous for its breath-taking national parks and botanical gardens, and exploring them in breezy twenty-something-degree weather makes the experience so much more enjoyable.
Best For: Exploring nature and food tours.
Average Temperature: 24°C
August Honeymoon in Bali
The peak of the dry season in Bali is July and August, making this a perfect time to travel here for a honeymoon. average high temperatures reach 30 degrees often, but the nights are cooler, averaging in the low twenties.
As well as being drier, this August honeymoon destination is also much less humid at this time of year, making it a great time to enjoy all the adventurous outdoor activities Bali has to offer.
Having said that, it's still warm enough to pair adventure and outdoorsy things with lazy days at the beach - the perfect combination if you ask us.
Best For: Combining adventure with relaxation.
Average Temperature: 30°C
Best Honeymoon Destinations in September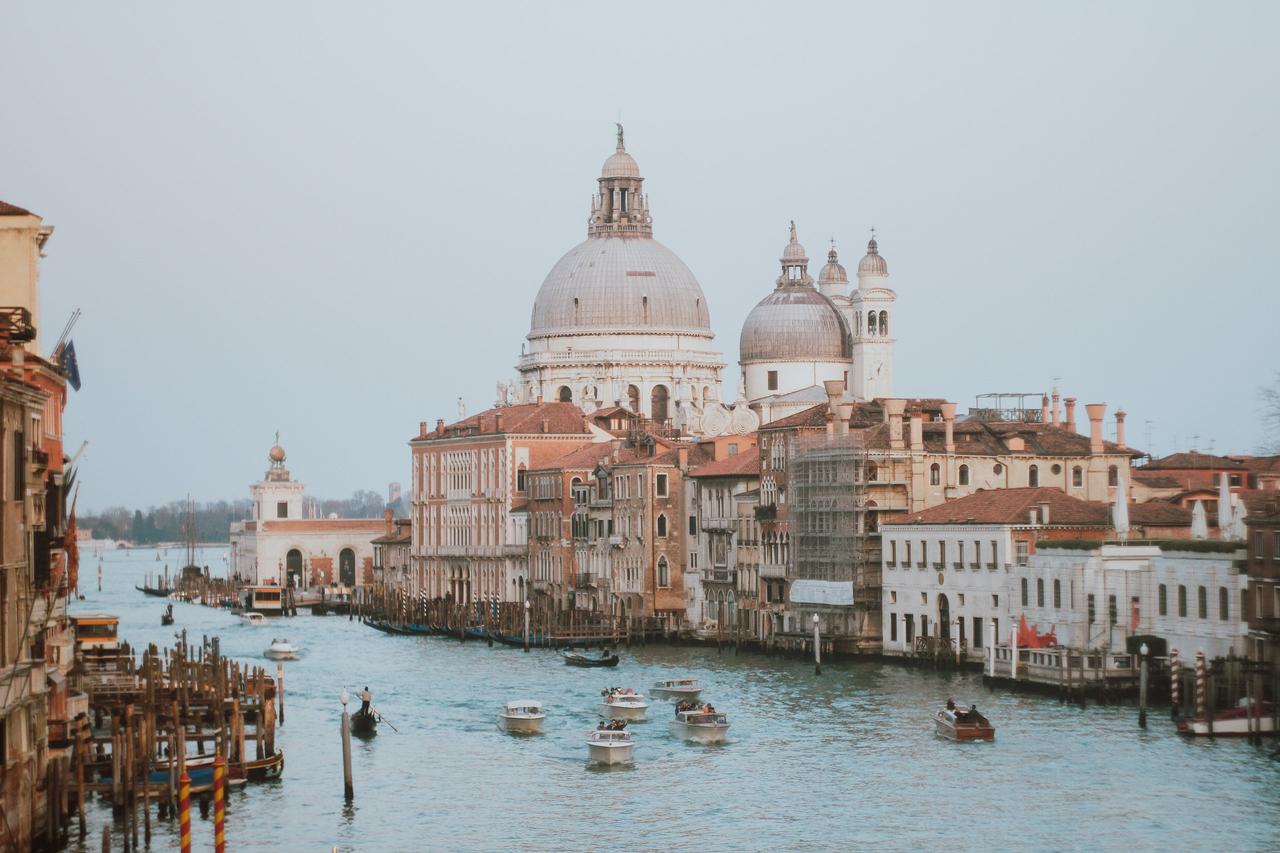 When it comes to booking your honeymoon in September, there are plenty of destinations to choose from. In Europe, you benefit from the end of the school summer holidays, whilst temperatures remain sunbathe-worthy, and in the rest of the world, high and peak seasons continue as well.
September Honeymoon in Mozambique
Mozambique is one of the best places to honeymoon in September for a number of reasons. June through to September is considered peak season as it's the driest in Mozambique, but September is our favourite of those months because it's one of the best months for water sports.
September is the best time for snorkelling, diving and catching a glimpse of Mozambique's marine life, especially if you're into whales, as humpback whale migration takes place at this time, too.
Best For: Exploring marine life.
Average Temperature: 27°C
September Honeymoon in Italy
Honeymoon destinations in September don't come much better than Italy, because of its diversity and scenery.
Whether it's a city break in Rome or Milan, wine tours in Tuscany or a luxe trip to the Amalfi Coast, there is so much to explore whilst on honeymoon in Italy, and September is a brilliant month to do so.
Temperatures are still warm in September, ranging from low to high twenties depending on whereabouts you go, and you miss the rush of summer, giving your September honeymoon a more exclusive feel.
Best For: City breaks and excellent food.
Average Temperature: 22°C to 27°C
September Honeymoon in Egypt
Egypt is one of those honeymoon destinations in September that will have you completely forgetting it's autumn back home. for such a short flight (it's less than five hours to Cairo!), you'll find yourselves enjoying temperatures in the mid thirties - pretty impressive for a non-summer month, don't you think?
We love the idea of a honeymoon in September in Egypt because it allows you to combine summer temperatures and gorgeous resorts, with culture and cuisine. You can stay in a luxe hotel and enjoy the facilities, as well as explore the culture in nearby towns.
Best For: Pairing relaxation with history and culture.
Average Temperature: 33°C
Best Honeymoon Destinations in October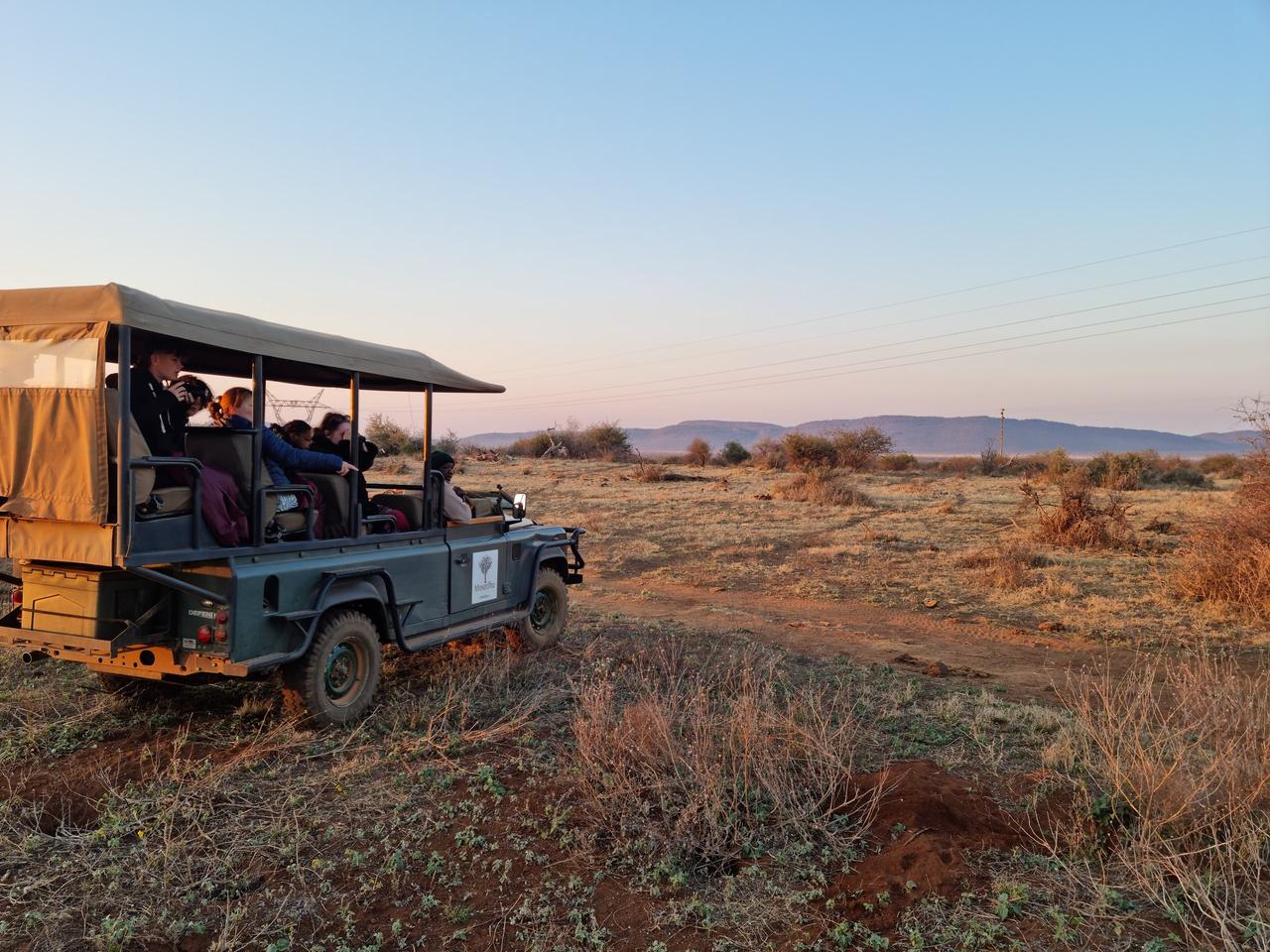 With September growing in popularity as a month to get married, more and more newlyweds are choosing to jet off on honeymoon in October. Though it's all couples Halloween costumes and autumn weddings in the UK, abroad there are plenty of brilliant honeymoon destinations in October for you to choose from.
October Honeymoon in Japan
Japan is one of those once-in-a-lifetime holiday destinations for many, and it makes for an amazing October honeymoon destination.
With typhoon season ending in September, October offers really mild and pleasant weather in Japan, giving you the perfect climate to fully explore the culture and architecture the country is so famous for.
October is also one of the best times of year to see the colourful leaves in cities in mainland Japan - very Instagram-worthy if you ask us.
Best For: Botanical garden browsing and embracing new cultures.
Average Temperature: 22°C
October Honeymoon in Germany
If you're keen for a European city-break style honeymoon in October, we highly recommend Germany. There are so many different places you can explore, including quaint towns that are still steeped in tradition, but we love Berlin for city couples.
Rima adds, "Berlin is a fabulous city to spend an October honeymoon in, or perhaps even a minimoon break before jetting off to somewhere more exotic the year after. Christmas markets will start to pop up towards the end of October and trust me when I say it is such a perfect place to travel pre-Christmas.
"The festivities feel really well done here and there are also plenty of museums, galleries and landmarks to visit if you're into your history. I'd also praise the nightlife here - party-loving couples are sure to be impressed with the bars and clubs in Berlin."
Best For: Festive markets and bustling nightlife.
Average Temperature: 14°C
October Honeymoon in South Africa
You already know how much we love a safari honeymoon here at Hitched - and South Africa is one of the best places you can do it.
A honeymoon in October here will allow you to enjoy the dry season in South Africa, which is one of the best times to go on a safari or do a multi-region trip. The Visibility is really good and the game movements are more predictable, meaning you're more likely to catch good sightings during the trip.
Best For: Safaris and wildlife.
Average Temperature: 28°C
Best Honeymoon Destinations in November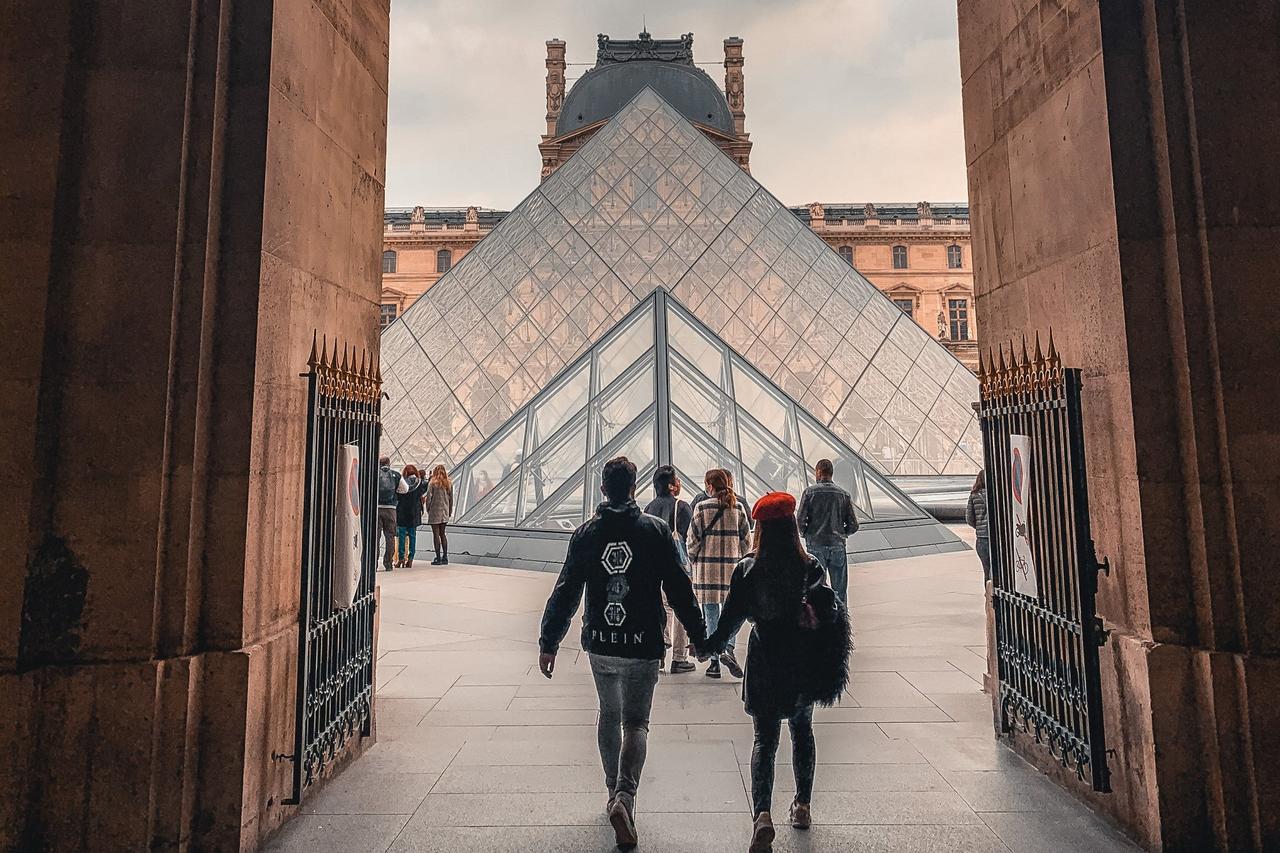 A honeymoon in November is a great idea, because it's pretty cold and wet in the UK, but you're not quite in the midst of Christmas activities to make the bad weather justifiable (unless you're totally obsessed like us).
November honeymoon destinations range from long-haul flights for some winter sun, to cute and cosy European city breaks closer to home. Here are our pick of the best honeymoon destinations in November.
November Honeymoon in Sri Lanka
We'd recommend a November honeymoon Sri Lanka at this time of year if you want to travel to Asia and get some sun, but you don't want to pay premium prices for the pleasure. November is considered the shoulder season in Sri Lanka, so it's less busy with tourists as it's right at the start of when the wet season clears up, but you get to benefit from the beginning of warmer and drier times here.
If you want to aim for good weather, travel towards the end of the month as this is when the weather in the south west of the country begins to heat up. Peak season in Sri Lanka is November to April, so travelling any time between these months is recommended - however the best deals are nabbed in November, hence our recommendation. We've got your backs guys!
Best For: Religious architecture and verdant rainforests.
Average Temperature: 27°C
November Honeymoon in Jamaica
Jamaica is one of the best November honeymoon destinations if you want guaranteed sun, sea and good vibes on your first holiday as a newlyweds.
Temperatures regularly hit the low thirties in November here and at night, you still get low twenties, so no need to pack evening warmies. The sea is warm too - who wouldn't want to swim in 29-degree waters whilst on honeymoon in Jamaica?
Whilst here, you can enjoy sipping rum and beer at a peach party, or hiking up a mountain and enjoying water sports. Whether it's active and busy or relaxed and tipsy - you can do it all in sunny Jamaica.
Best For: Beach parties and food tours.
Average Temperature: 30°C
November Honeymoon in Paris
A Paris honeymoon in November is quite possibly one of the most romantic options in this edit - and we won't hear otherwise.
Though the weather is mild and a similar climate to here in the UK, where better to be when the air is crisp and the snow begins to fall, than eating croissants, sipping coffee and drinking fine red wine in (arguably) the world's most romantic city?
Hitched Editor Zoe is Paris-obsessed, and adds: "Paris is the city of romance, making it such a dreamy choice for a honeymoon or a European mini-moon. There's so much history, and there are so many opportunities for really luxurious moments - whether it's a super fancy dinner with a view of the Eiffel Tower, or a rich hot chocolate at a famous café.
"I could go to Paris over and over again (and I actually do), and never get bored of this beautiful city. Whether you love architecture, art, fashion, literature - the city simply has so much to offer.
"You can also really easily get out to the Champagne region for a day trip, visit Versailles or even spend a day channelling your inner kids at Disneyland Paris."
Best For: A romantic city break close to home.
Average Temperature: 6°C
Best Honeymoon Destinations in December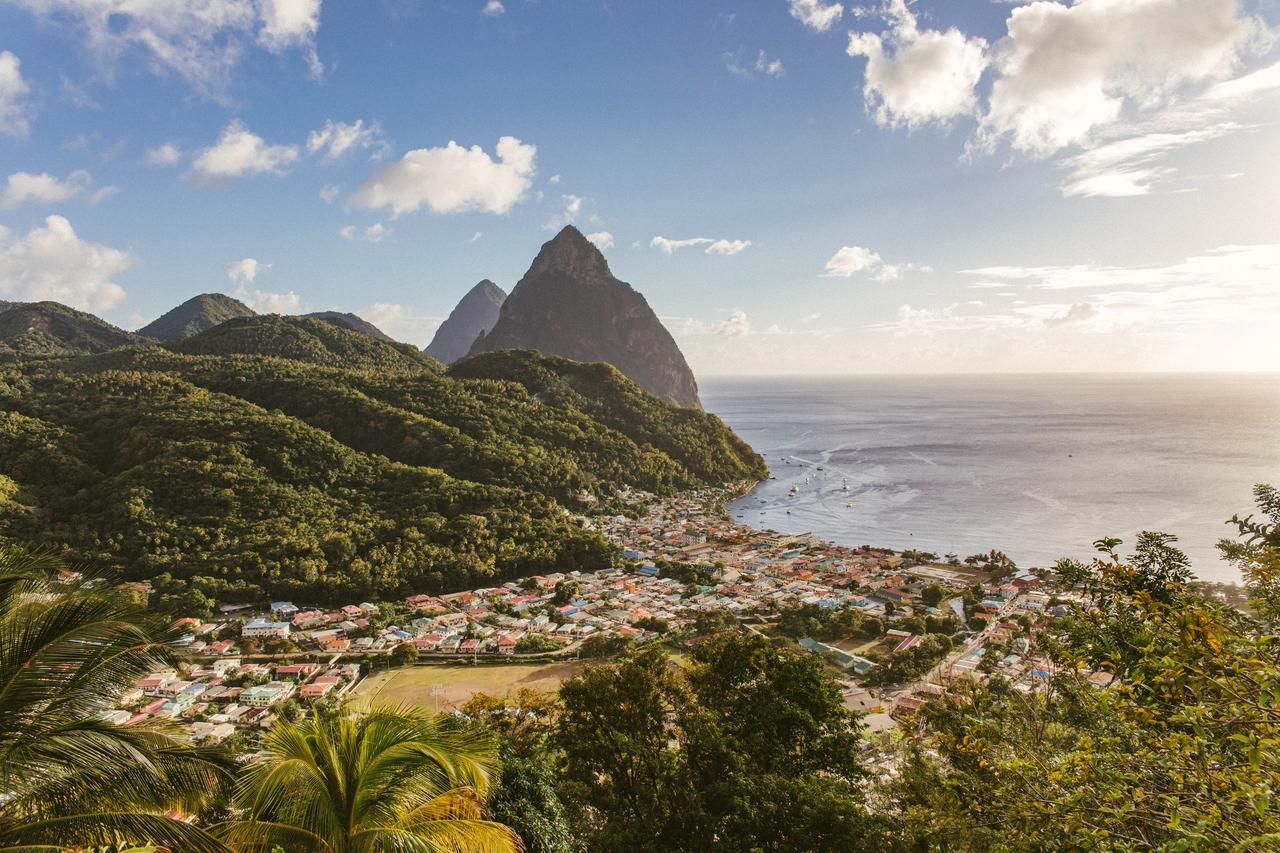 December, the month of festive winter weddings, all-things-Christmas, and a once-in-a-lifetime honeymoon if you know what's good for you.
Going on honeymoon in December could be the best decision you and your partner ever decide to make. Yes, we know this month is usually jam-packed with Christmas drinks with the girls, family get-togethers and New Year's Eve parties, but what if you could get away from all the madness and spend a week or two (or three!) on a December honeymoon?
Just hear us out...
December Honeymoon in Barbados
December in the UK, or December in Barbados? We know which one we'd be picking...
Enjoy temperatures of up to 30 degrees in Barbados in December, and gloriously dry weather as this month marks the beginning of the dry season.
Despite being cooler than previous months, would you believe, we reckon this is the perfect time to go, as it combines easily-bearable heat with very little rain.
Barbados is filled with some of the world's best honeymoon hotels for you to enjoy your first married holiday in pure luxury, so what are you waiting for?
Best For: Picturesque beaches and winter sun.
Average Temperature: 29°C
December Honeymoon in New York
How about spending the Christmas period singing Fairy-tale of New York in actual New York? New York is so magical at Christmas time and makes for the perfect honeymoon destination in December.
Pre-Christmas, you get to enjoy all the magic and festivities that come with this iconic city, and post-Christmas in December, you can enjoy the epic lead-up to New Year's Eve which is legendary in New York.
Rima adds, "New York is an awesome honeymoon destination at any time of year, but in December it has an added sense of magic that you just can't replicate in any other city. I would also recommend any couples honeymooning here visit some rooftop bars in Brooklyn, there, you get the best views of the city's skyline and some incredibly cool bars, too."
Best For: A city break somewhere iconic.
Average Temperature: 6°C
December Honeymoon in St Lucia
We're ending on a high (as in highs of 29 degrees) with one of the best honeymoon destinations in December - and that's St Lucia.
High season in St Lucia spans from December to February. March, April and November are also good times to go, but you're more likely to get rained on during these months which is why we love it there in December.
From gushing waterfalls and verdant nature trails, to chilled beach bars and fresh springs, the natural surroundings in St Lucia are really unbeatable, and that's before we get onto the calibre of luxury hotels here.
Best For: Breath-taking backdrops and exploring nature.
Average Temperature: 29°C
Honeymoons by Month: How to Choose the Best Time & Place to Honeymoon
Marketing Director at Turquoise, Lizzie Jones, gives her tips on how to choose the best time of year to honeymoon.
1. You Don't Have to Compromise
Explaining the importance of waiting if you have your heart set on somewhere specific, Lizzie says, "If you have your heart set on a particular honeymoon destination and when you are getting married is not a good time of year to visit, we highly recommend considering a minimoon somewhere close by – perhaps a UK staycation or European long weekend – and then planning to visit your dream destination at the best time of year"
2. Understand Low & High Seasons
Timing really is everything, according to Lizzie who says, "Most destinations have a 'secret season' which tends to be the month or two before and the month or two after 'peak' season.
"Often, weather wise they are incredible months to visit - although remember the golden rule with weather is bad weather is more likely to hang around than arrive early, so go at the end of peak season rather than the beginning.
"The benefit of travelling on the shoulder seasons is that prices and offers are always stronger and perhaps most importantly on honeymoon, unless you are taking a little one with you, these periods of time usually fall outside of the school holidays."
3. Talk to the Experts
There are experts out there for a reason, and using them can really help as Lizzie explains, "Speak to a specialist. If you are flexible by a week or two, often prices can fluctuate month to month based on airline prices and availability. If you can give some flexibility within the month you are looking to travel, you can often be savvy with the best deal, best availability and best offers.
"Specialists will also know the destinations, hotels and resorts where honeymoon extras and offers are the strongest, and they can help to make sure you are set to be treated like royalty!"
For more information, head to Turquoise.
Now you're equipped with all the honeymoon info you could possibly need in terms of destination, you may want to think about budget. Here are 13 ways to save money on your honeymoon, as well as an edit of the best budget honeymoon destinations.