What to Write in a Wedding Card: Wedding Wishes They'll Love
Find the perfect wording to write in a wedding card. From formal to funny and inspiring, we have wedding wishes for every kind of couple!
We have included third party products to help you navigate and enjoy life's biggest moments. Purchases made through links on this page may earn us a commission.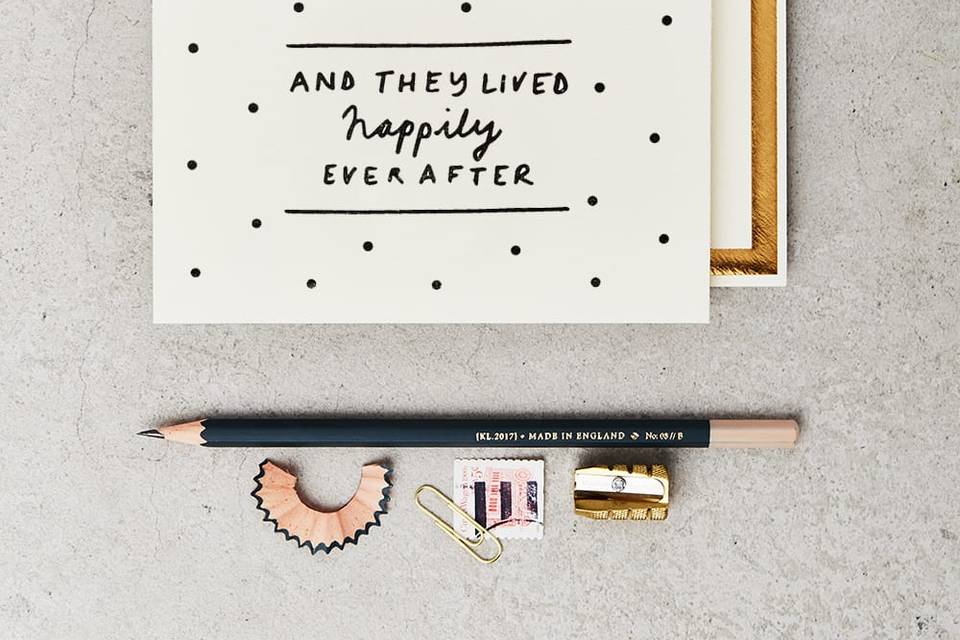 Even the most creative of us can be stumped by what to write in a wedding card, especially when you're trying to find the perfect wedding wishes for that couple. They sent you a beautiful wedding invitation and they're planning a beautiful day, so a beautiful card is the least you can do.
Whether it's heartfelt wedding wishes for your sister or brother or some funny wedding card messages for a colleague, our guide to what to write in a wedding card can definitely help.
Knowing what to write in a wedding card for a religious couple or for a parent's second marriage is even tougher, so we've covered etiquette and example wedding wishes for every type of couple – from the traditional to the alternative.
Here is a handy list to help you navigate this article:

When Should You Send a Wedding Card?
We're sure the couple will be happy to receive a lovely card anytime you want to send one! Traditionally, you either bring the card with you to the wedding reception, or you send it to the couple a few weeks before the wedding, after the invites have gone out. If you don't have an invite to the wedding because there's a small guest list, then a card is a wonderful way to wish the couple the best.
Do You Write Congratulations in a Wedding Card?
It was once considered rude to write "congratulations" in a wedding card because it was thought of as congratulating a woman for landing a husband. None of that such nonsense now – not least because there may not be a husband involved! Nowadays, it's totally fine to say or write congratulations as a way of celebrating the newlyweds' union. If you want to err on the side of caution, use "best wishes".
How Much Do You Put in a Wedding Card?
The couple may ask for presents from a registry or a cash gift. If you're giving a cash gift, you can find out how much to give as a wedding gift here, including what to give for an evening-only invite, if its a destination wedding or a colleague. A couple who are friends with the newlyweds would give around £100-£150. If you're immediate family, expect to double this. If you're a bridesmaid or groomsman, a £100 gift minimum is expected from you.
You can put cash or a cheque in the wedding card or a wedding money envelope if there's somewhere secure for you to leave it at the reception venue. Otherwise, ask if they have a special fund set up and transfer the money with a note in your wedding card that that's what you've done. Include a message like, "Here's a little something to start your life together".
Bought a gift from a registry? Write a card anyway and leave on their card/gift table. It's a nice thing to do.
What Are the Basic Things to Write in a Wedding Card?
You can address the card to both the bride and groom/bride and bride/groom and groom, or write separate messages for each person. However, ideally you should end with a joint message or wish for their life together.
The general format is: your congratulations or best wishes; your hopes for their future together; a message about how right they are for each other; and end with a thank you for allowing you to share in their big day.
Read on to find those perfect wedding wishes or click above to jump to exactly the words you need. If you're looking for something short and sweet, make sure you check out our favourite quotes for wedding cards.
Formal Wedding Wishes
Wedding wishes are the messages of congratulations and wishes for the future that you write in the wedding card. Formal wishes don't have to be stuffy and without heart. Opt for something timeless and romantic:
Your greatest journey is only just beginning and I wish you a lifetime of adventures together.
I wish for you a life filled with happiness; I wish for you the strength to overcome any obstacles together; I wish for you a love that grows ever stronger each day.
You have shared so much love and laughter over your years together, and I know there will be many more joyful moments to come. I wish you all the happiness that you deserve for your married life together.
May the love you feel for each other today grow ever stronger and more fulfilling as the years go by.
All love stories are special, but yours is one of the most beautiful I've had the fortune to witness. I wish you love, laughter and happiness for all your years ahead.
May you look back on today with fond memories of the start of a life filled with love and happiness.
As I enjoy the free bubbly on your wedding day, I'll raise a toast to two of the nicest people I've had the pleasure of meeting.
The two of you shine with the love you share for each other. May that light get ever brighter as the years go by.
Short Wedding Wishes
For something more causal, try anything from quotes, poems, even lyrics from one of their favourite songs, to just a nice few sentences about the couple. Here are some super simple things to write in a wedding card:
Congratulations to a wonderful couple
Best wishes on your wedding day
We're so happy to celebrate this day with you
Wishing you a lifetime of love and happiness
Lots of love today and beyond
Here's to a long and happy marriage
To a future full of love and adventure!
Wishing you the happily-ever-after you both deserve
Funny Wedding Wishes
Thanks for all the free food and drink! Congratulations on throwing an excellent shindig.
Well done on finding that one person you want to annoy for the rest of your life.
I guess you won't end up a crazy cat lady after all – well done!
Marriage is a rollercoaster ride. May you have more ups than downs and more laughs than screams. Most importantly, may you both enjoy the best ride of your life every night.
Here's to not getting pregnant on the honeymoon!
Only a couple as good as you could make me throw my famous robot dance moves. It's an honour to be able to perform for such wonderful people tonight. Congrats!
I would have got you a nicer card, but I was only invited to the evening do.
Our best marriage advice: trust one another, forgive the other's flaws, and stick with each other through thick and thin – divorce is too expensive!
May your love story be more X-rated than PG, with just enough plot twists to keep things interesting, but not enough to see you clapped in handcuffs for the wrong reasons.
Here's to the Instagrammable wedding you deserve!
I'm just here for the cake – and I guess to see two people tie the knot!
I predict very cute babies.
What to Write in a Wedding Card to a Friend
If you are close friends with the couple, why not personalise the content with in-jokes and use a warm, friendly tone:
You met over drinks, bonded over your love of Masterchef and cheesy jokes, and fell in love completely, utterly and forever. It would be hard to find a couple more ideally suited to each other. (And let's face it, who else would put up with Ellie's snoring or Matt's Arsenal obsession?) In all seriousness, I am so happy to be celebrating this day with you, and look forward to many more celebrations to come.
Wishing you two soulmates a lifetime of Netflix binging and Friday night takeaways. Don't mind me, I'll be the one sobbing uncontrollably during the ceremony.
Thank you for letting me share in your special day. The two of you are made for each other, and I couldn't be happier to see my oldest friend Karen and my newest friend Ben tying the knot.
May your days together be filled with joy, and your nights full of fun! Now let's kick back with some prosecco and pretend this hasn't been the most stressful day of your life.
Guys, you did it! Now you can eat, drink and get fat!
To love and friendship!
Abi and Jon, I can't wait to watch you turn into the cutest old married couple. Here's to love and marriage getting better with every year – and that we all end up in the same nursing home!
What to Write in a Wedding Card to a Best Friend
Let's face it, trying to decide what to write in a wedding card to your best friend can be a bit of a headache. How can you cram everything you want to say into such a small space? Our advice is to pick two or three highlights from your friendship to focus on, and make sure you don't leave out the other half of the couple:
Well, Lisa, what to say? From building dens and bunking off school, to braving Oceana nightclub together, we've had plenty of adventures over the years. Now you're entering into the biggest adventure of your life so far, and I couldn't be happier for you. You kissed more than your share of frogs to find him, but Ben is definitely a keeper. Ben, thank you for making my best friend so happy. I can't wait to see what the future holds for the two of you.
Of everything we've celebrated together over the years, this one tops the list. Let's just hope it doesn't end up with us in a police car like that trip to Ibiza…Here's to as much laughter together as we've had!
Mark, I'm still reeling with the shock of you landing someone as warm, funny and drop-dead gorgeous as Judith. Let's face it, those practice runs in the uni bar were not your finest moments. Jude, I'd like to point out that when I met him, Mark was a Star Wars obsessed geek with a rather suspect taste in slogan T-shirts. Obviously I take full credit for turning him into the man who stands beside you today. In all seriousness, I am truly happy for you two. You're clearly made for each other and I look forward to watching the two of you grow even closer over the years to come.
Want something pithier?
Congratulations on your wedding day to two of my best friends! There better be an open bar or I retract my previous statement.
Sam, I can't believe you got married before me. This is bulls***.
What to Write in a Wedding Card to a Son or Daughter
If it's your son or daughter getting married, here are some suggestions for what to write in their wedding card:
The saying goes that you don't lose a son, you gain a daughter, and that's certainly true for us. We can't think of a better new daughter to welcome into our family. The two of you are so well suited. You have brought us so much happiness over the years, and we look forward to sharing even more joy over the years to come.
Ash, you have brought so much joy into Ben's life. We could not wish for a better person for him to spend his life with. Ben, you have made us proud since the day you were born, but never more so than today, as we witness the man you have grown into. We look forward to sharing in your life together over the years to come.
Lily and Albert, you are clearly made for each other, and we couldn't be happier. The bond you have is very strong, so you need little advice from us, but one wish we do have is that you let each other grow and give each other the freedom to follow your own dreams. May you always remain your own people, as well as partners, friends and companions on your journey through life together.
I always promised when your time came, we'd throw the wedding of the year. And it better be as I can't afford another! Danny, wishing you all the best as you take over from the Bank of Mum and Dad! May love, happiness, good fortune, health and wealth bless you both as you take these first steps as newlyweds.
What to Write in a Wedding Card to a Sibling
Is your big brother or baby sister tying the knot? Here are some sentimental wedding messages perfect for siblings:
It's hard to believe that the little brother who followed me around for all those years is now all grown up and getting married. Emma, I hand all responsibility over to you for Jonah's wellbeing. I've done my best to mould him into something resembling a decent human being, but I reckon you still have your work cut out when it comes to his dress sense… In all seriousness, Jonah I could not be more proud of the man you've turned into, and have loved watching the two of you fall in love. Emma, you've got yourself a good 'un, and I know it's well deserved. I'd wish you well for the future, but I can see that's not necessary; the two of you are undeniably 'right' for each other. With love always, your big brother Matt.
I don't need to welcome you to the family, Harry, as you've been a member of our clan since the night you braved the Smith family Christmas. What I will do is congratulate you both on finding your soul mate, your partner in crime, your companion on life's adventure. Wishing you a lifetime of happiness.
You're getting married. I'm getting drunk and snogging the best man. I always knew I was the more fun twin. But I guess congratulations are in order for no longer dying alone! Love you both.
What to Write in a Wedding Card to a Colleague
If someone in the office is getting married, you can get them your own wedding card or sign a shared one that's passed around. These messages would work for either scenario (although if you've been invited to the wedding, you should definitely get your own card!):
While I've never met Hannah, I can see your love for her every time you speak of her. I wish you a long and happy life together, and look forward to seeing the photos of your big day.
Let's hope you make Olivia tea more often than you do your colleagues! Have a wonderful wedding and enjoy escaping work on your honeymoon.
What will we do on our tea break now we no longer have wedding dresses to critique and venues to discuss? I hope your big day goes just as you've dreamed and your life together is all that you want it to be.
Thanks for inviting me to share this day with you and your family.
You finally got your promotion: from fiancé/fiancé to husband/wife!
What to Write in a Wedding Card to a Parent and Step-Parent
It can be tough to know what to write when your parents remarry. Here are some ideas:
Mum, I know dad is looking down and smiling to see you so happy. I couldn't wish for a better man than Graham to stand by your side today. I am truly happy to see the love that you share, and I wish you a million more joyful moments to come.
Celia, I am so happy that you are joining our family today, and cannot thank you enough for the happiness that you have brought to my father. May the two of you have many more days of joy and love together.
To the best Mum/Dad a person could ever ask for, and your new husband/wife! So much love and happiness to you both.
Mum/Dad, we're so happy you've found a partner to share you life with. I can't wait to get to know you better. Welcome to the family.
The two of you are so clearly meant to be together, it was destined to be. While you may have met later on in life, that just means that you will treasure every moment together even more.
You've given me to best advice over the years. Now you get to hear mine: [fill in with advice].
What to Write in a Wedding Card for Religious Weddings
If the couple in question are religious, you may want to reference that in the wedding card. You could include a Bible quote, such as 1 Corinthians 13.4-7, which starts "Love is patient, love is kind." You could also mention God's work in the message, e.g.: 'May God continue to bless you in your marriage, as he has done in your courtship.'
May your marriage be as strong as your faith
Wishing you a blessed marriage
May God bless your union and deepen your love through the years
Sending you love and prayers as you start this new life together
Wishing you all of God's blessings and love's joys
What to Write in a Wedding Card for Second Marriages
If they're divorced, it's best not to mention their previous relationship, even in a jokey way. However, you may want to mention children by name, particularly if they will all be living together. Don't refer to the new partner as the child's new mum or dad, especially if their real mum or dad is still on the scene. A formal message is probably your best option here.
What to Write in a Wedding Card for a Postponement
Circumstances beyond our control can lead to weddings being postponed or even cancelled. If the wedding will still be taking place at some point in the future, it's a lovely thing to honour the original wedding date by sending a card if that feels appropriate. Be supportive but uplifting in your message.
Good things come to those who wait. You wedding will be so special, no matter what the date.
The way you've adapted to this as a couple has been an inspirational to us all and proved you will be able to navigate everything life throws at you. We're here for you, today and always.
Just tell us the day and we'll be there with our dancing shoes on. Until then, we'll be raising a glass to the both of you!
Sending you strength and hugs. If you need anything, let us know.
We're so proud of you for making a tough decision. Remember love is patient and will be waiting until the time when everything is right.
We're sorry and we're thinking of you. Take courage in knowing better times are ahead.
Sending you all our love.
Top Tips for What To Write in a Wedding Card
Once you've read through this article and decided on what to write, then there's a few tips for actually getting across what you want to say in the card (it sounds simple, but it's not!).
So before you whip out your pen, here are useful tips of how to write wedding wishes:
Be personal. They'll cherish their wedding cards forever so make it special and remember to sign your name! It's not a test of how well they know their friends' handwriting
If you'd like to write your own original wedding wishes, try writing down the top five words that come to mind when you think of the couple, e.g. funny, committed, adventurous. These can get your brain flowing around wishes that would suit them.
Write your message out in rough first, so that you can tinker with it until it's just right
Read your message aloud before writing it in the card
Spell check! If your spelling and grammar aren't the best, ask someone to check it for you
The card will likely be read by a lot of people, so ask yourself again if your message is appropriate and doesn't contain anything that the couple wouldn't want to share. This is not the place to joke about the groom's antics on the stag do…
Have you thought about the wedding theme? A nod to their theme is a great touch: a lyric from a rock 'n' roll hit could work well for a fifties theme, for example, or a Disney quote might be perfect for a fairy tale theme.
The wedding wishes and messages you actually include will be dependent on a few different factors that you need to take into consideration. A couple of risqué jokes might be great for your best friend and their partner, but will your distant second cousin appreciate them? You should think about:

Your relationship to the couple
Their personalities and interests, e.g. would they love a poem, or hate a funny message?
Whether the wedding is formal or informal, as this may dictate the type of message they would like to read in their card
Whether they're religious
Whether you're attending the wedding
Our Favourite Wedding Cards
1. Custom Mr and Mrs Card – Not On The High Street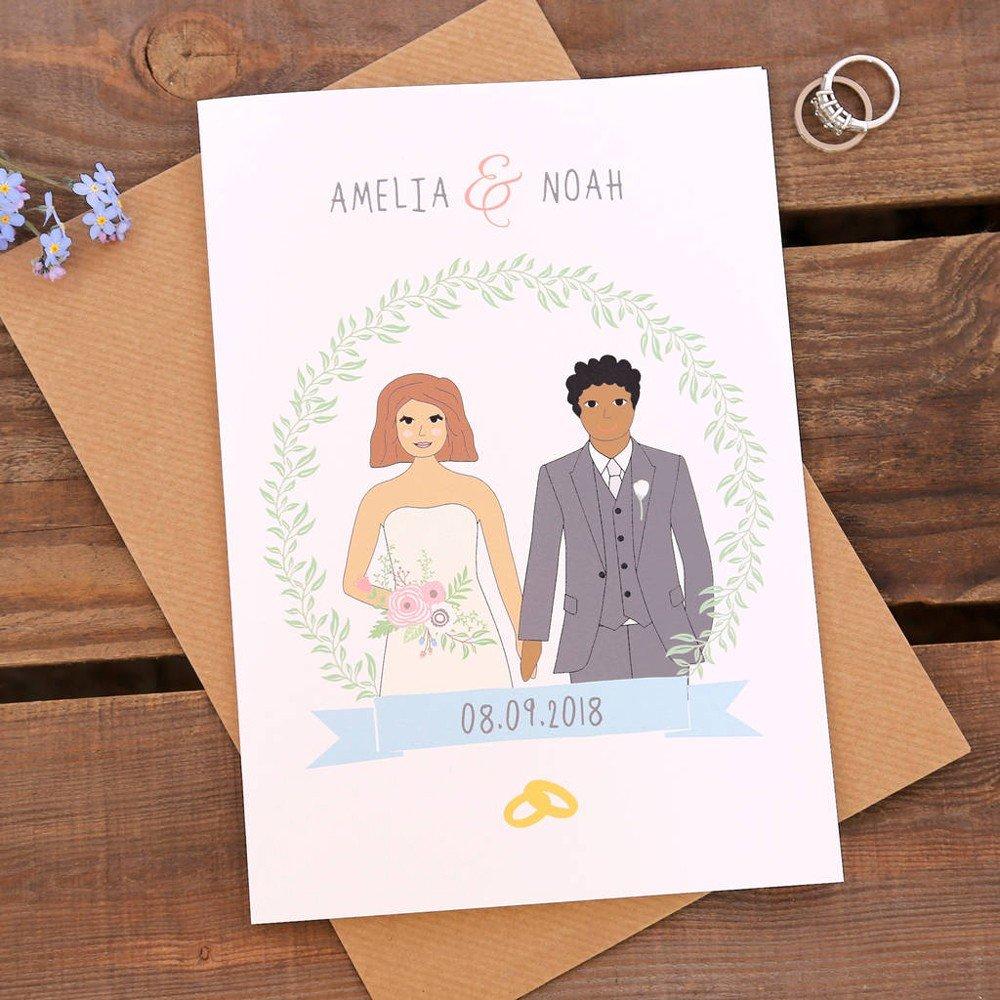 How fab is this custom illustrated card! The newlyweds will never want to take it down from their mantlepiece.
2. Congratulations Wedding Card - Katie Leamon Cards
This simple card
is perfect for any couple having a modern and minimalistic wedding. It's ideal for filling with all your warmest wishes for the couple.
3. Married! Card - Papier
This gorgeous 'Married!' card is a great card for Black couples. So many wedding cards feature white couples but Papier have a great selection of diverse cards.
4. It All Began… Card – Not On The High Street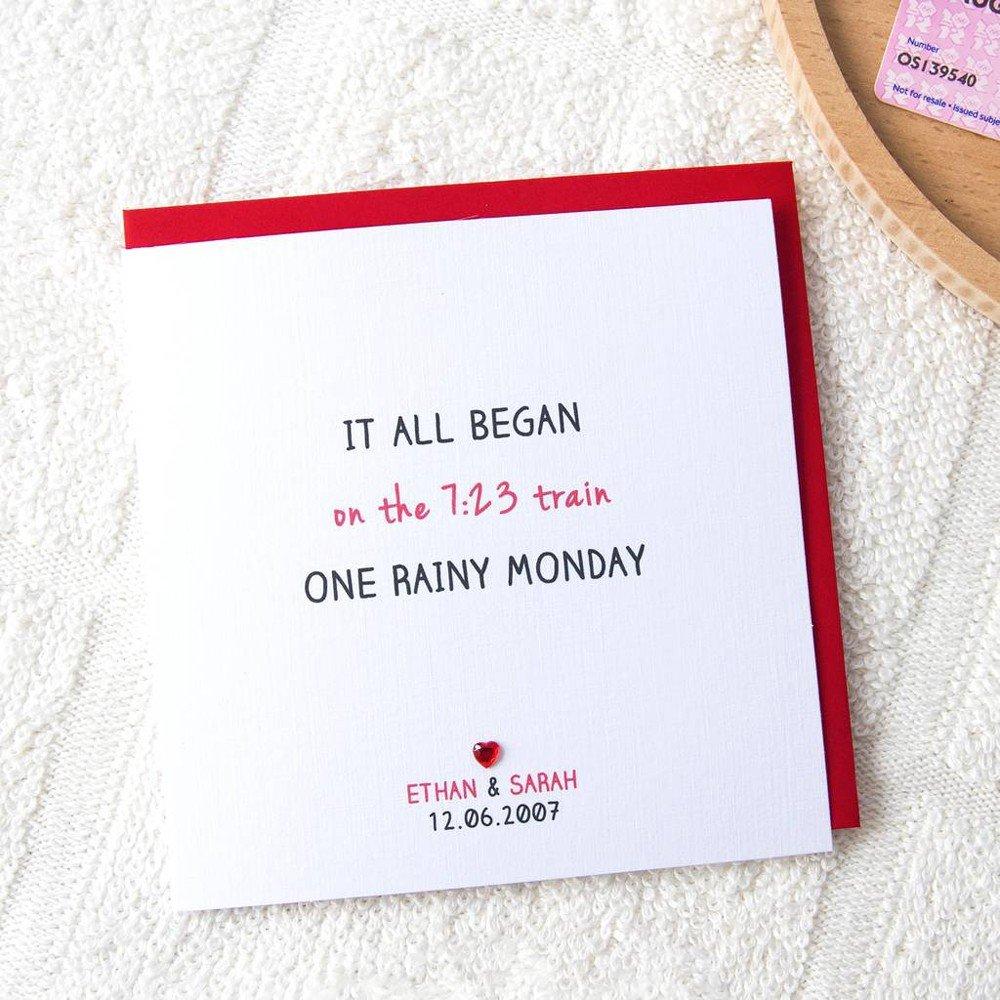 If the couple had a funny or chance first encounter, this card telling the story of how they met is brilliant.
5. Personalised Map Location Wedding Card – Not On The High Street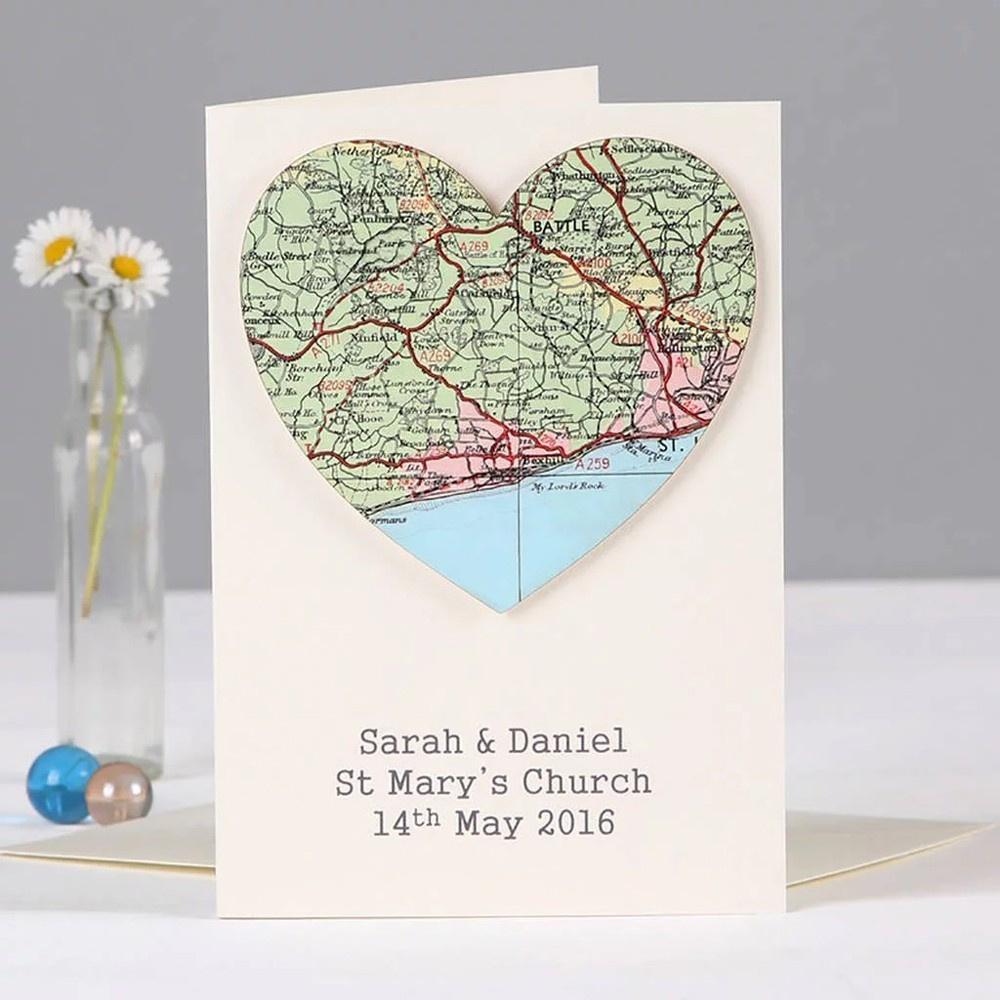 Is there a place close to the newlyweds heart? A country they met in? The town where they grew up? Or the place they got engaged? Celebrate their favourite spot with a card featuring a map of the area.
6. On Your Wedding Day Card - Papier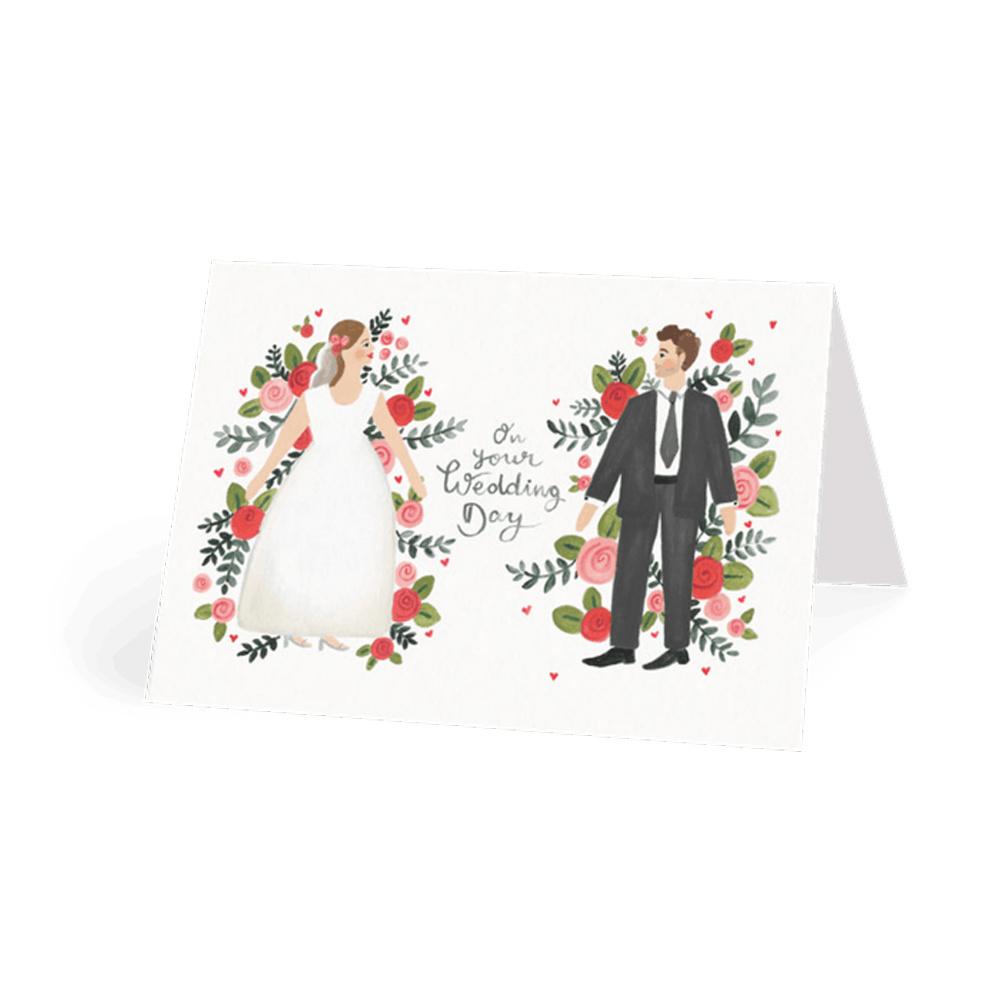 We love the watercolour illustration on this Papier card. It'll look gorgeous on a mantlepiece.
7. Keepsake Heart Wreath Wooden Card – Not On The High Street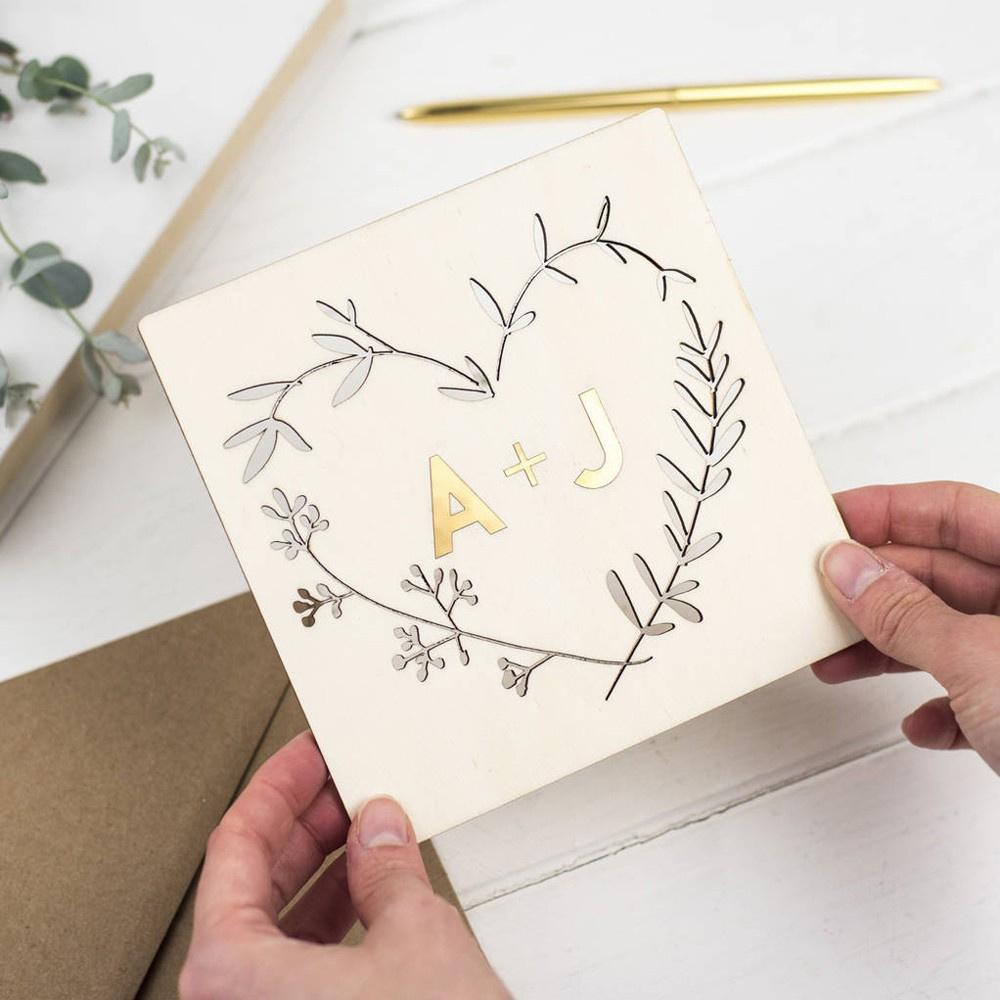 This is a great alternative to a traditional card; the laser-cut wooden card features a pretty wreath and can be personalised with the initials and date of the couple's wedding. It'll look great as a keepsake on a shelf or hung on a wall.
8. Paper Boat Wedding Card – The Little Boathouse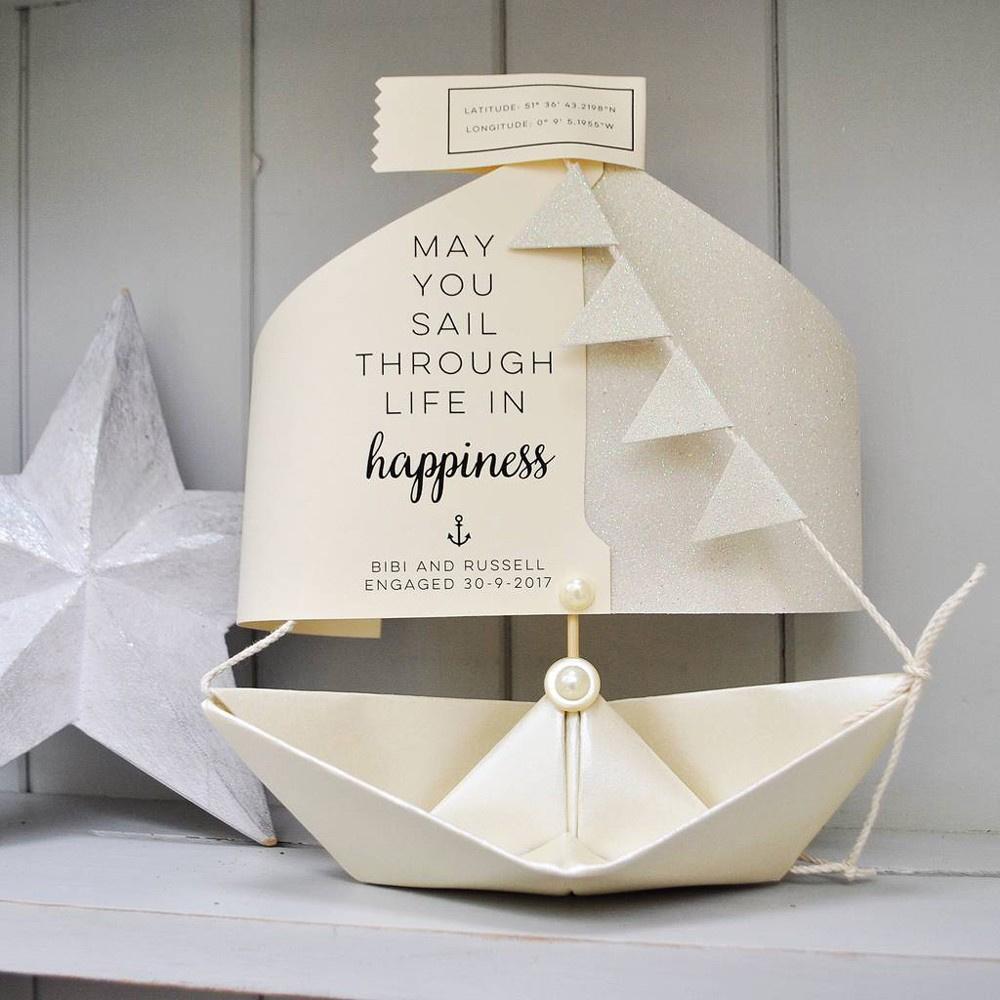 If you have friends who live by the sea or met on holiday, this keepsake paper boat card is a thoughtful gift. It comes in a variety of colours as well so you can suit it to their personalities.
Now you've sorted out what to write in the wedding card for the happy couple, why not browse our wedding present guide for gift ideas for the newlyweds?