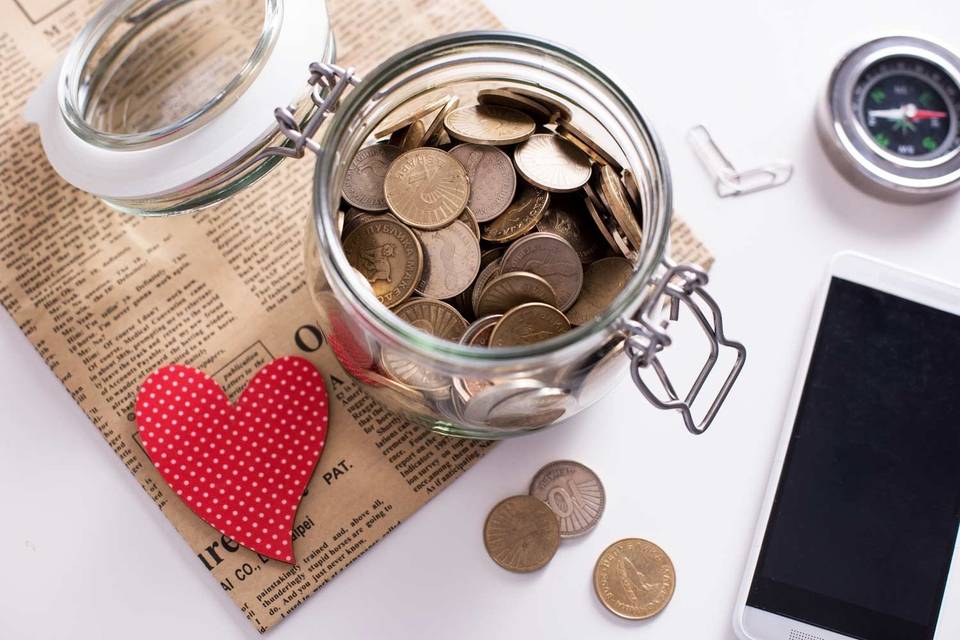 Even though giving money as a wedding gift is fairly common, many couples still feel slightly awkward when it comes to telling their guests they'd prefer cash.
Wording your wedding invitations can be a tricky thing to do. If asking for money outright makes you wince, there are subtle ways you can ask for cash instead of gifts in your wedding invites.
A simple wedding money poem can be a cute, polite and less direct way of asking for cash for your wedding gift.
We have a few sweet ideas that will hopefully raise a smile with your guests and allow you to graciously make your preference for money as a wedding gift clear – use these word-for-word or to get your creative juices flowing!
Read on for our favourite wedding card poems and, at the end, a few of our favourite printed versions to add as inserts to your invites.
READ MORE: The Real Etiquette of Parents Helping Pay For Your Wedding
Poems For Couples Who Already Live Together
As we've lived together for a year or two,
We really don't need anything new.
But if you were thinking of getting us a small wedding gift,
Some money for our future wouldn't go amiss.
---
We're tying the knot and we just can't wait,
We knew it would happen on our very first date.
As we've got our home dressed up with accessories,
We don't really think that a wedding gift list is necessary.
But if you did want to give something to help us on our way,
Some money in a card would truly make our day!
---
We haven't included a gift list in our invite,
As we have everything — it just wasn't right…
To ask for more things for the life we lead,
When a reliable new car is just what we need!
If you were thinking of a gift for us to start our married life,
some money would make us a very happy [husband/wife] and wife!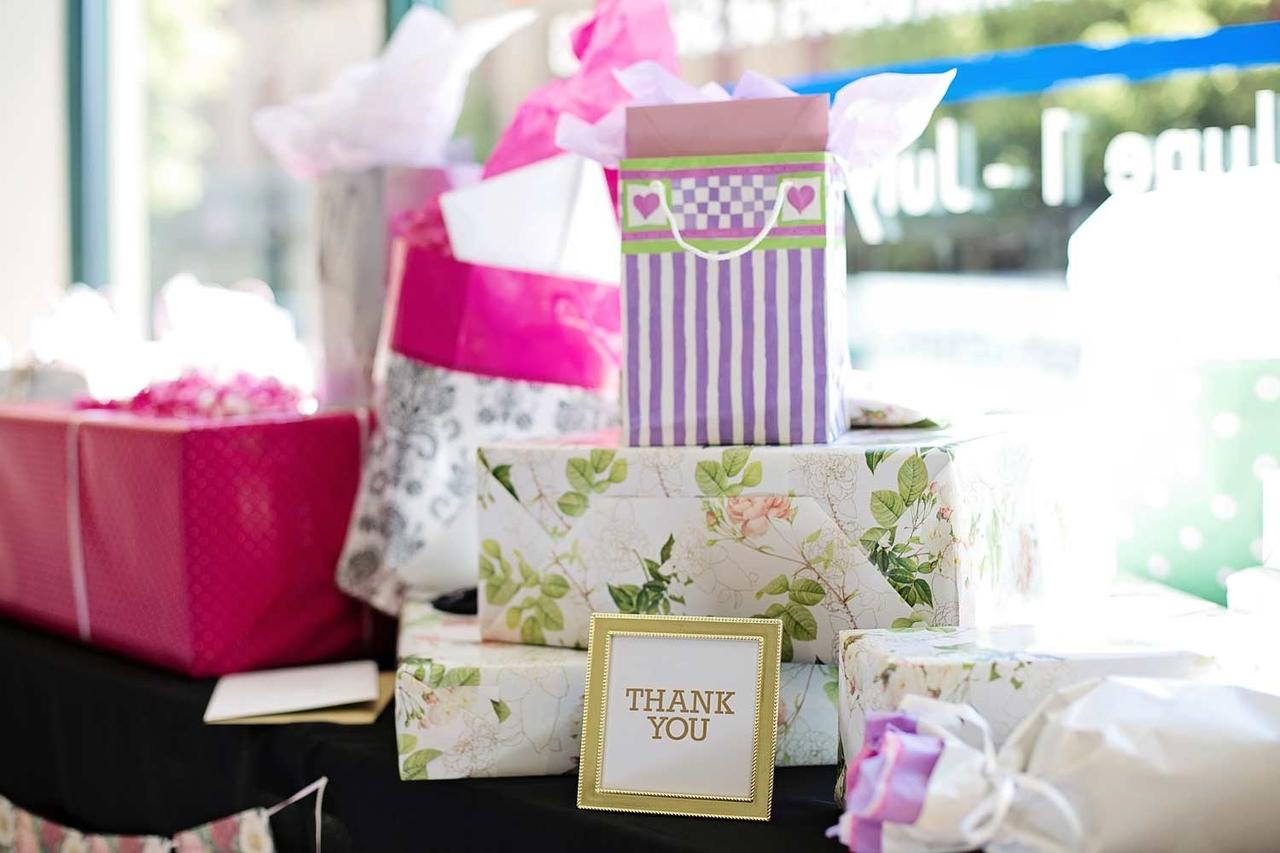 READ MORE: How To Create A Gift List
Poems For Couples Buying a New Home
As we're getting married we thought it would be fun,
To move into a brand new home — we need to get it done.
As wedding gifts are bulky and we're a little short on space,
Some money would be the ideal gift to help us buy our place!
---
We'll soon be saying 'I Do',
And for a gift, if you haven't got a clue,
Then we'd really love some cash,
So that for our home we can splash,
Out on a cosy new bed for two!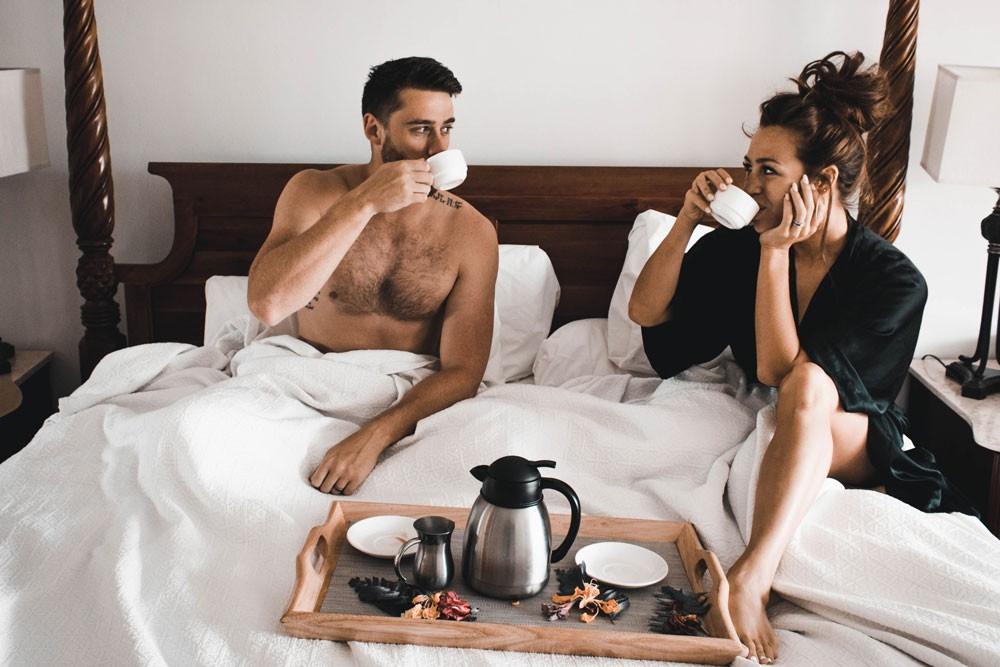 READ MORE: Does a DIY Wedding Really Save Money?
Poems For Honeymoon Contributions
We've just moved home and have filled it with stuff,
From books to sofas, we've certainly got enough!
Instead of more wine glasses, we'd really love some cash,
So that we can book a perfect honeymoon and head off in a dash.
A romantic beach break would really do the trick,
As soon as we can afford it, we'll be on that plane quick!
---
We can't wait to spend our wedding day with you,
We've been planning hard and spending money for a good year or two.
As we're keen to start our married life in style,
An amazing honeymoon would really make us smile.
Instead of a gift list from a high street shop,
We'd really love some money so on a beach we can flop!
Your financial donation would truly mean a lot,
So thank you for contributing to our honeymoon pot!
---
In order to make our dreams come true,
We'd love to go on a honeymoon for a week or two.
Instead of a dinner set, a vase or a bowl,
A financial contribution would make our wedding experience whole.
We've created a bank account to save our honeymoon money,
We really appreciate it, and we can't wait to go somewhere sunny!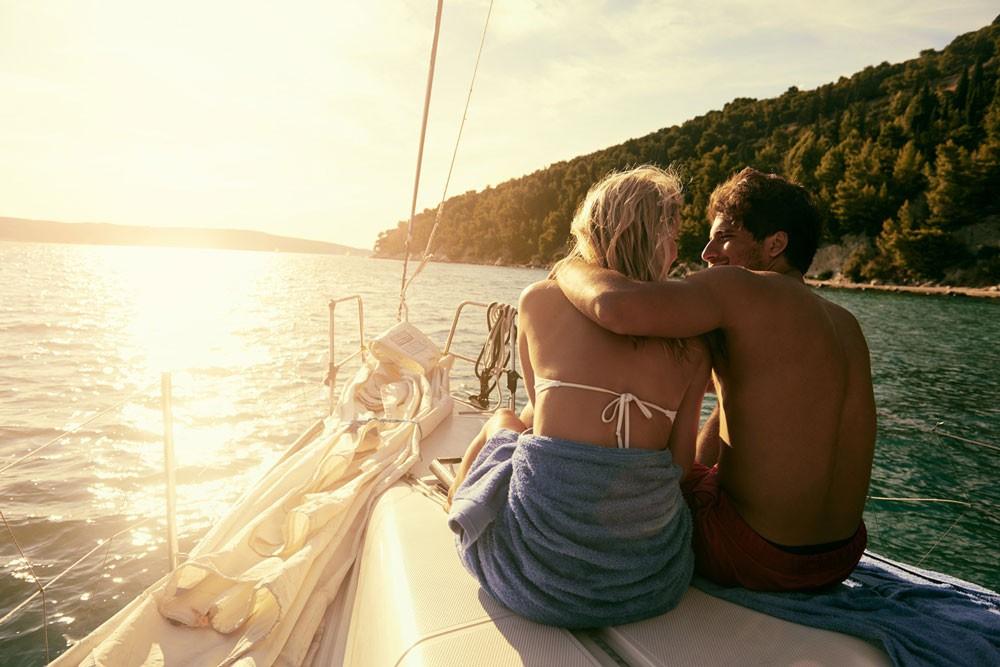 READ MORE: The World's Best Honeymoon Destinations
We'll be [husband and wife] for the rest of our life,
In our little home made for two.
But instead of a vase or a new kitchen knife,
We'd love to fly off to somewhere new.
A week on a beach would suffice and be ideal,
So instead of a gift, your contribution would help to buy us a hotel room or a romantic meal!
---
We're looking forward to seeing you on our very special day,
We hope that it will be perfect in every single way.
As a couple we know that love is all we need forever,
But a honeymoon after our wedding would be great — however…
We've not got the money to take this very special trip,
And we hope that you can help us fulfil our dream, whether it be on a plane or a ship!
Some money would really be the perfect gift to give,
Instead of new pots and pans, for the house in which we live!
---
All the wedding planning has worn us out,
And a dream honeymoon would make us happy, no doubt!
But we've got a little problem and we're wondering if you can help,
We've started up a honeymoon fund — any contribution would make us yelp!
Wedding Money Poem Inserts: 5 of the Best
If the thought of writing these poems out by hand makes you wince, remember you can get a poem printed up to add as an insert into your invites!
Simple Poem Insert – 20p each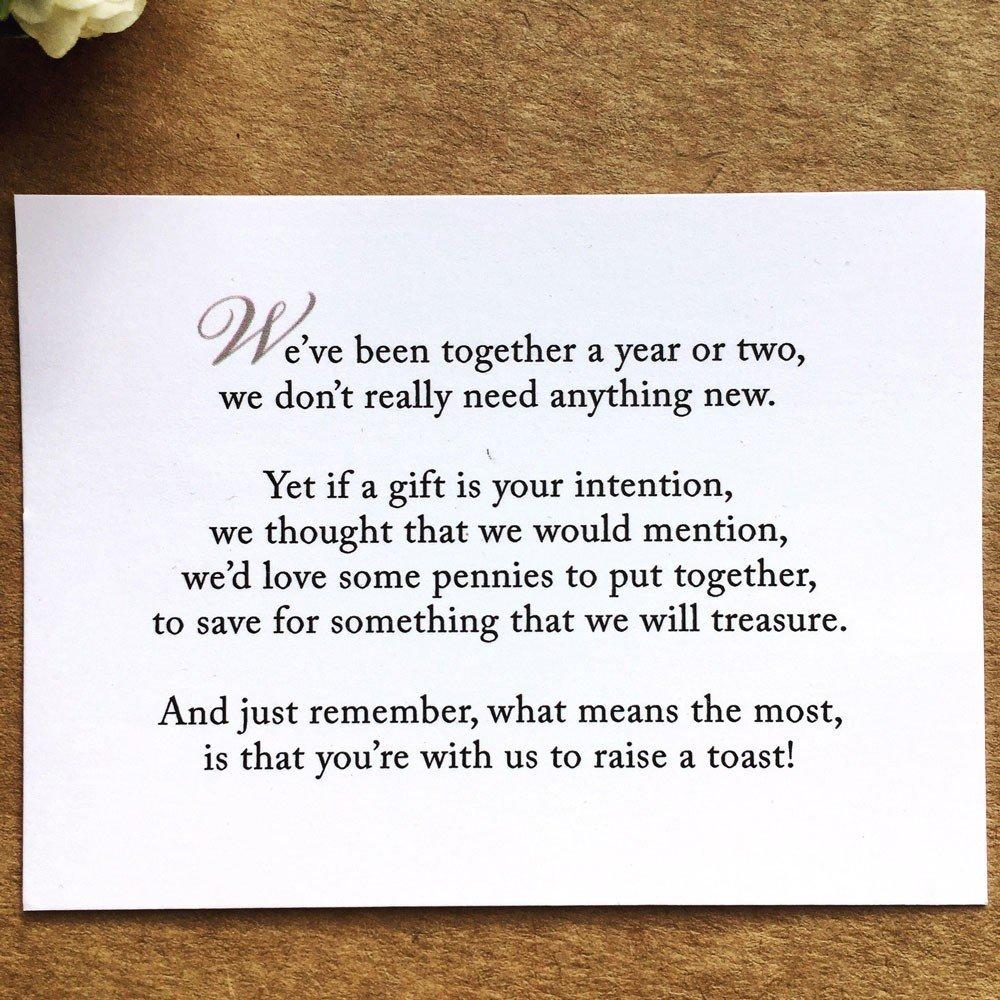 We love these bestselling ones from Etsy and there's lots of poem options to choose from. The simple style will fit with any wedding theme.
Honeymoon Fund Insert – £2.52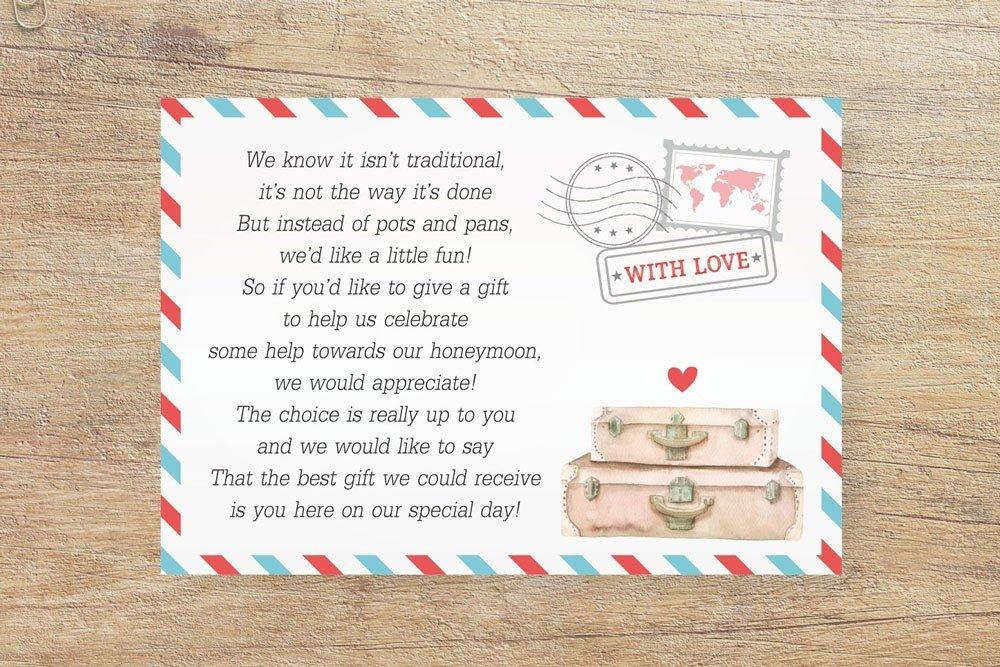 This poem comes as an instant download so you can print them out yourself or take them to be cheaply printed elsewhere. It's a great idea if you're after funds for you honeymoon.
Wishing Well Poem Insert – £1.75 each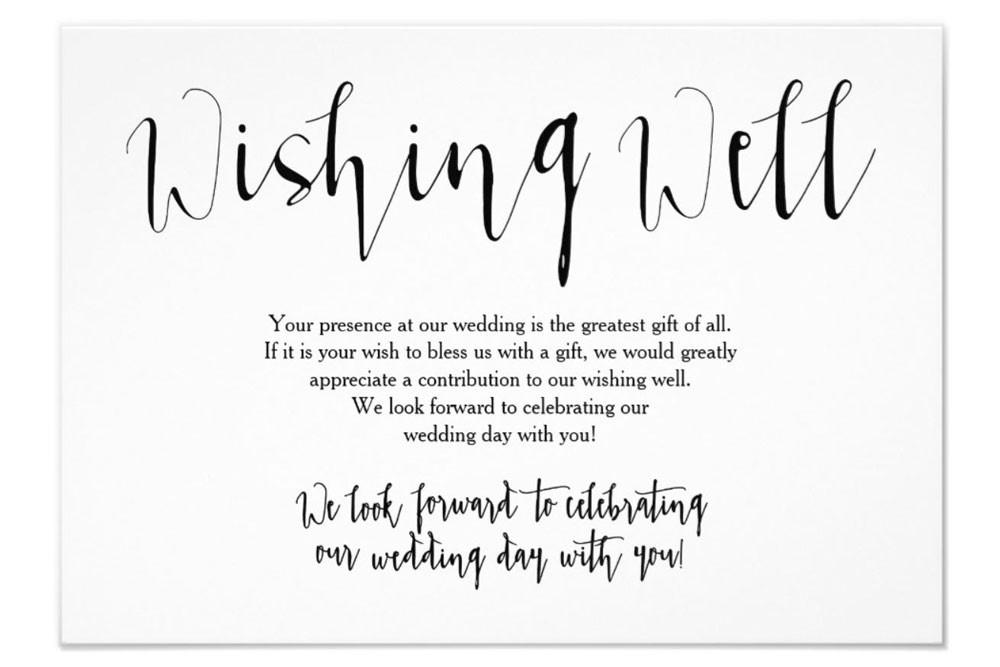 This rustic wishing well invite from Zazzle is a lovely idea that captures the spirit of asking for money. Your guests' presence is most important, and their contribution will help you fulfill the wishes you have for your life together.
Wedding Poem Tags – From 52p each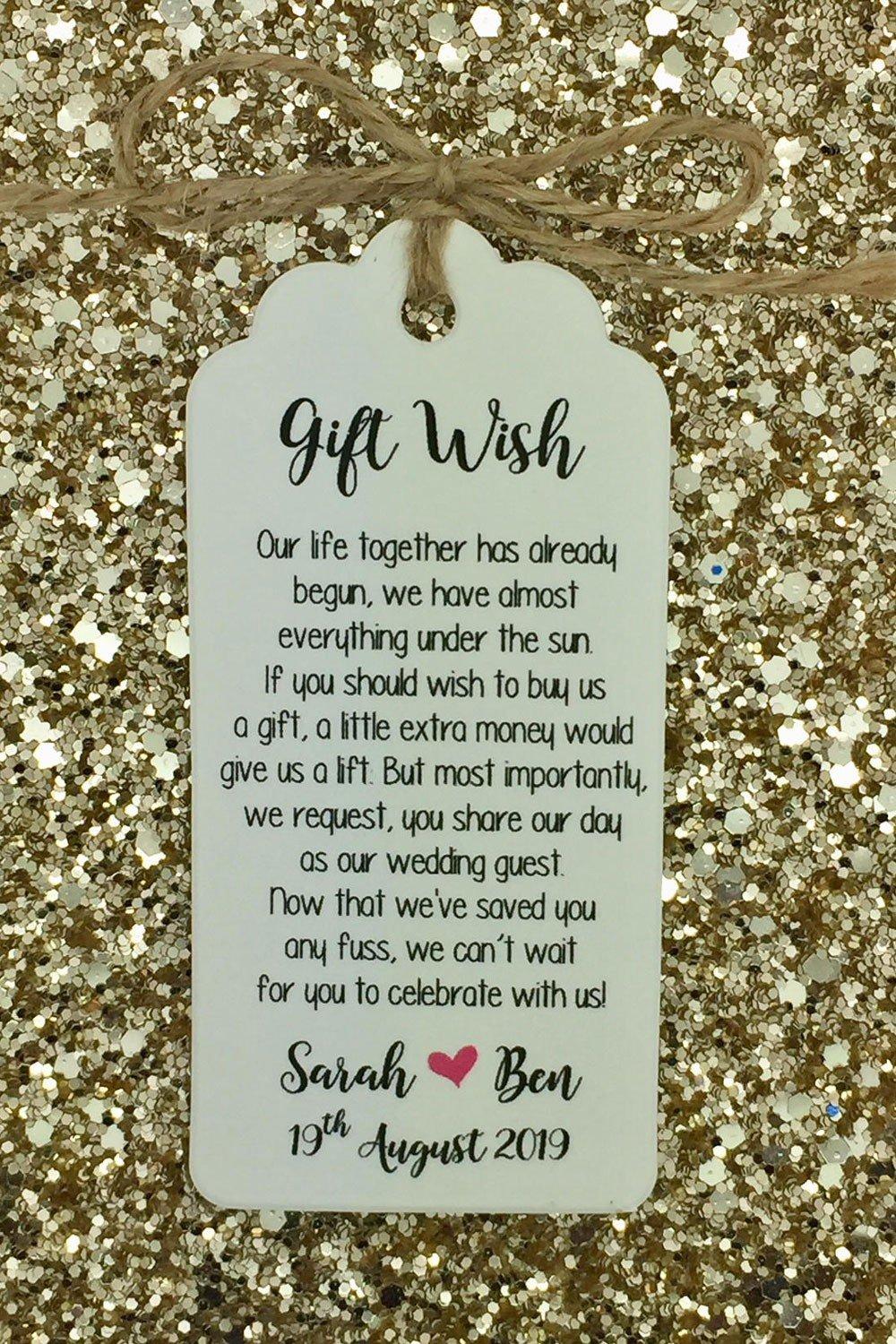 Maybe the card is a bit formal or you're having alternative invitations like a tea towel or magnet? This poem gift tag is ideal to tie to your unusual invitations or a cute thing to pop inside a card.
Wedding Fund Money Box – £48.14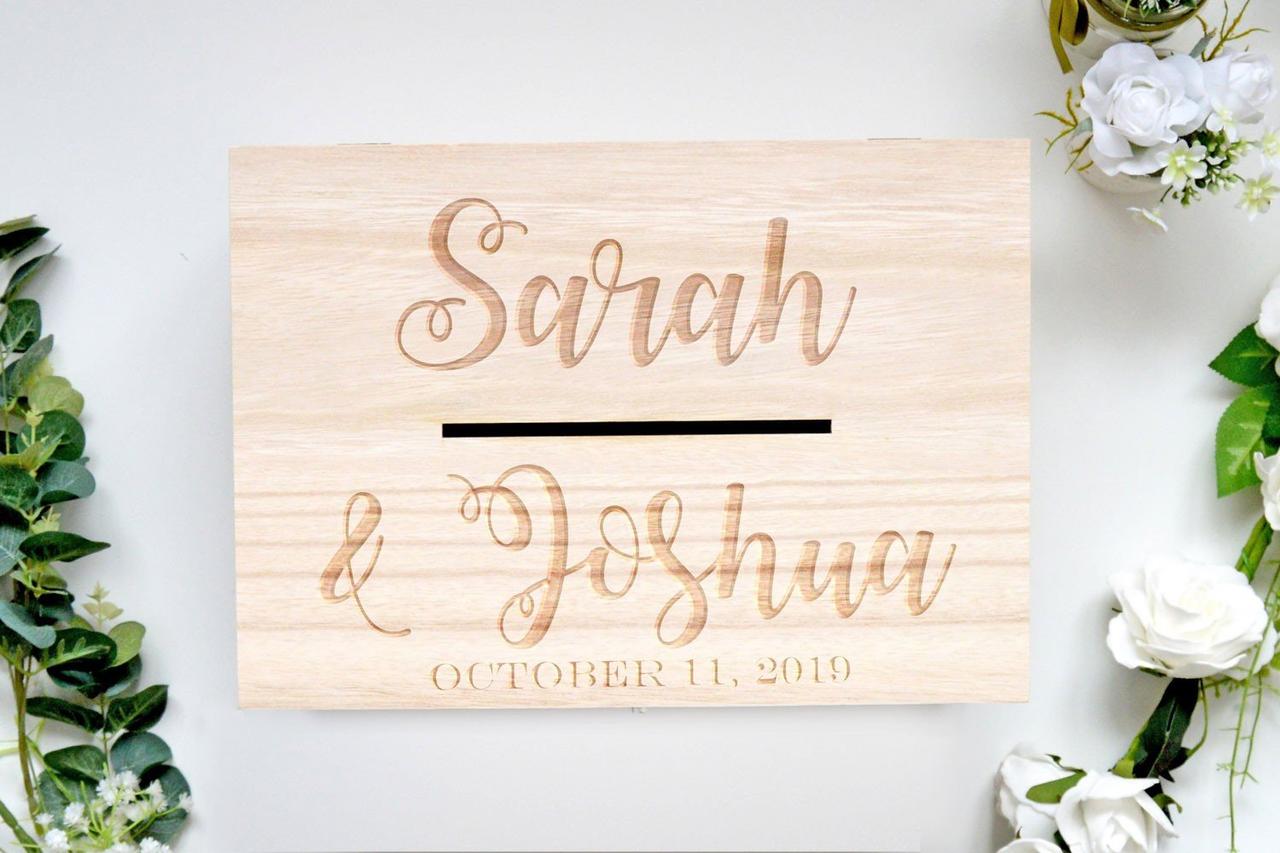 The most essential piece of decor if you're asking for cash gifts is a lockable postbox for your guests' wedding cards. It'll keep all their generous gifts safe and make them easy to take home at the end of the night. This wooden box one from Etsy can be personalised with your names and wedding date and would look great with a rustic theme.
DISCOVER MORE: The Cutest Wedding Post Boxes From Etsy
If you're still in two minds about a gift list, don't miss our extensive guide to wedding gift lists to help you decide, or check out these honeymoon gift list ideas.