Engagement Photos: 33 Fun Ideas for Your Engagement Photo Shoot
Need some inspiration for your engagement photos? We've got all of the ideas and tips you'll need to get a set you'll cherish forever.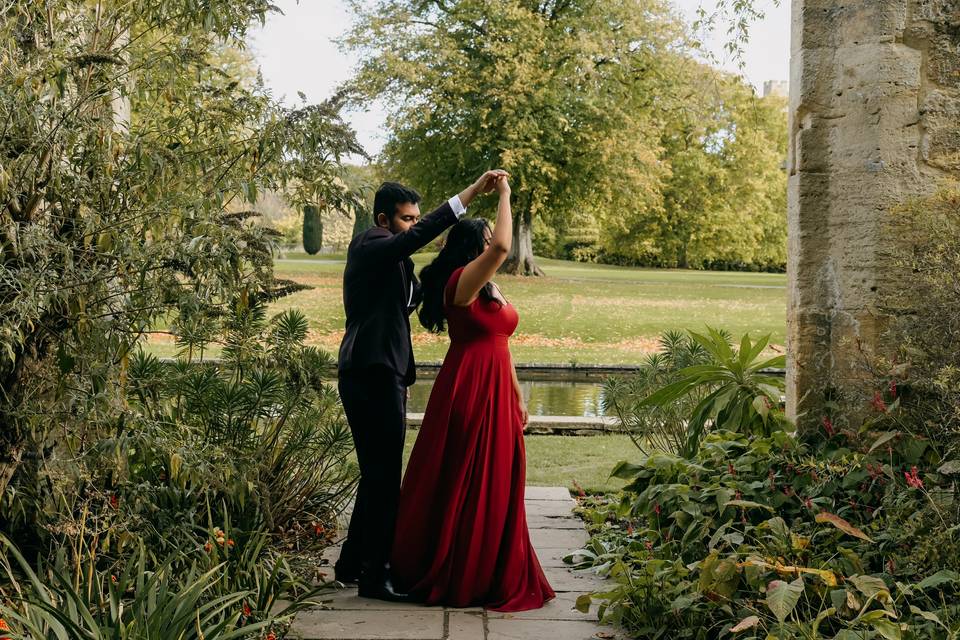 Taking some engagement photos is a wonderful thing to consider before your wedding for so many reasons. Whether you want to recreate your proposal, get to know your wedding photographer or practise being in front of a camera, having an engagement photo shoot is a fantastic way to express and capture that excitement and elated glow you have in the lead up to your big day.
You could also use your engagement photos as an excuse to capture shots for creative save-the-dates, wedding décor details or wedding invitations, or to shoot photos to frame and give to your families. And the best part? Many wedding photographers will offer a couples engagement photo shoot as part of their wedding photography package. Ask your wedding photographer if this is something they can do for you.
33 Fun Ideas for Your Engagement Photos
To get you feeling inspired, we've collated 33 engagement photo ideas, ranging from the silly to the romantic and everything in-between, plus all of the tips and trick you'll ever need to absolutely nail your own set.
1. It's Five O'Clock Somewhere
Fun-loving couples with a passion for all things bubbly should jump at the chance to celebrate their engagement at their favourite bar. After all, what's better than being surrounded by the things you love most - your future spouse and cocktails? You might even discover your signature wedding cocktail!
2. Matching Outfits
How cute is this idea! Wearing matching outfits for your engagement photo shoot is guaranteed to elicit an "awww" from everyone who sees your final pictures. Match your outfit to the season for the full effect. Discover the perfect engagement photo outfits here.
3. Cityscape
As we all know from watching Sex and the City, a city can be a character in and of itself. If you live in (or met in) an amazing city, or are planning to hold your ceremony in a city wedding venue, use the setting to your advantage - the lights of the skyscrapers can be surprisingly romantic.
4. Black Tie Only
Well, if there was ever an excuse to wear your finery, it's now. This choice says a lot about you as a couple and is the ideal option for all the high-glam luxurious power pairs out there.
5. One Last Look
We love a candid walking shot and a shot from behind, so why not take thing one step further by giving a cheeky glance over your shoulder to the camera? This will make it feel like the two of you are sharing a secret.
6. Piggy Back
Hop on, it's time for a piggy back ride! This pose is fun, romantic and playful, not to mention perfect for any lazy nearlyweds who want to get off their feet.
7. Hands On
If you're a little camera shy, or just fancy trying a more artistic shot, then try putting all the focus on your hands. The light background here gives this a heavenly feel, and it's also the perfect opportunity to show off your ring!
8. Rear View
The image of two lovers walking hand in hand into the sunset is a powerful image that we're all familiar with. Choose an epic background like the example above for a scene that looks like it's straight out of a movie (the pigeon was a paid actor in this one).
9. Sunset Lovers
Getting engaged and married to the person you love can sometimes feel like a movie, so why not capture this feeling with a romantic shot of you walking hand in hand into the sunset? Extra points if you can do this at the beach.
10. Sweet Nothings
Another popular one, this pose involves standing behind your partner with your mouth by their ear, as if you're about to whisper sweet nothings into it. Try thinking of something fun to say into their ear to make them laugh and capture a great candid.
11. Street Art
If you've decided to have your engagement photo shoot in a city, then you have to make the most of your surroundings. Parks, bridges and skyscrapers are amazing, but if you find some cool street art, be sure to include it for some artsy edgy shots.
12. Beachy Vibes
The beach is the ideal engagement photo shoot location for any couples planning to tie the knot in a coastal wedding venue. Whether you head in to paddle or stay on the sand, there are plenty of ways to get creative with a beach engagement photo shoot.
13. Life in the Fast Lane
If you're planning a city-based couple engagement shoot, there's often the issue of traffic being in the background of your pictures - why not use this to your advantage? Using a time-lapse can create some amazing effects for your totally unique engagement pictures.
14. Ballroom Glamour
Time to get your dancing shoes on! If you want to add a little swing to your pictures, try out a classic ballroom dip - not only is it a timeless pose, it's also ultra-romantic. Do this against a beautiful background for your perfect engagement pic.
15. Bottoms Up
Here's another one for couples that are a fan of the fizz. An engagement is a cause for celebration, and every celebration calls for champagne! Be sure to bring a bottle of your favourite along to your photo shoot for some fun candids. Next stop, champagne tower!
16. Aerial View
If you're not worried about getting down and dirty, then try lying down on the ground and smiling up at the camera to create a cool birds eye effect. If you're outside, perhaps try to avoid wearing white (unlike this guy!)
17. Sunbeam
If you photographer knows a thing or two about lighting, then you can make the most of earth's natural spotlight - the sunbeam. Framing yourself and your partner in a sunbeam is a great way of calling attention to what's important and showing how even in dark times, you'll be able to find the light.
18. Tease Your Venue
Whether you want to tease your guests or get them excited for what's to come, featuring your venue in your engagement photos is a great way to go about it. If you've chosen an unfamiliar venue, you're guaranteed to give your guests a sense of deja vu on your big day!
19. The Look of Love
If you and your spouse aren't able to tear your eyes away from each other, then this is the pose for you. Wrap your arms around your significant other, think of all the things you love about them, and the camera will do the rest.
20. Dig In
Foodie couples listen up, you're going to love this! They say that food is the way to every man (and woman's!) heart - why not showcase this in your engagement photo shoot? Whether it's greasy French fries or luxurious canapes, you can find a way to include the grub you love the most.
21. Lift Me Up
This is an ultra-romantic pose, sure to make you think of the old wedding tradition of carrying the bride over the threshold. It's a great way to draw your partner close to you and even give them a cheeky kiss.
22. Holding Hands
If you prefer to keep things simple, there's no pose as natural and as loving as the simple act of holding hands. Whether you want to walk together holding hands or simply gaze into each other's eyes, this pose is a guaranteed romantic win.
23. Ring a Ding
They liked it so they put an engagement ring on it, and now it's time to show that beauty off! This shot is an essential part of every couple's engagement photo shoot and is sure to put a big smile on both your faces.
24. Movie Time
Cinephiles, this one's for you. If films are an important part of your relationship, consider having your engagement photo shoot done in a cinema - if you ask nicely, they might even let you screen your favourite movie! Add a black and white filter for a great vintage effect.
25. Sit On My Knee
Sitting on your spouse's knee is an intimate pose, giving your picture a super romantic and cosy feel. Whether you decide to do this pose while kissing or not, your love will be obvious to everyone who sees it.
26. Can I Have This Dance?
Try a few dance moves in front of the lens – you'll be amazed at how captivating it can be with the right backdrop. Not only that, it also means that you can get some practice in for your first dance.
27. Location, Location, Location
Where you choose to have your engagement photo shoot will have a big impact on your final result. Choose somewhere beautiful and you can show it off in your pictures, like this beautiful bridge which is giving us serious Monet vibes!
28. Swanning Around
It's your engagement shoot, so you get to be as creative as you want! Take a leaf out of this couple's book and go for something completely unexpected like a swan pedalo - just don't end up in the reeds like they did...
29. Follow Me
To quote Carole King "Where you lead, I will follow." This pose shows your love and devotion as partners, as well as adding a sense of excitement and adventure to your shot.
30. Sealed With a Kiss
If you don't mind a bit of PDA, then it's time to pucker up. This is such a simple yet effective pose to show your love and excitement - try adding a dip for an extra special touch.
31. Golden Hour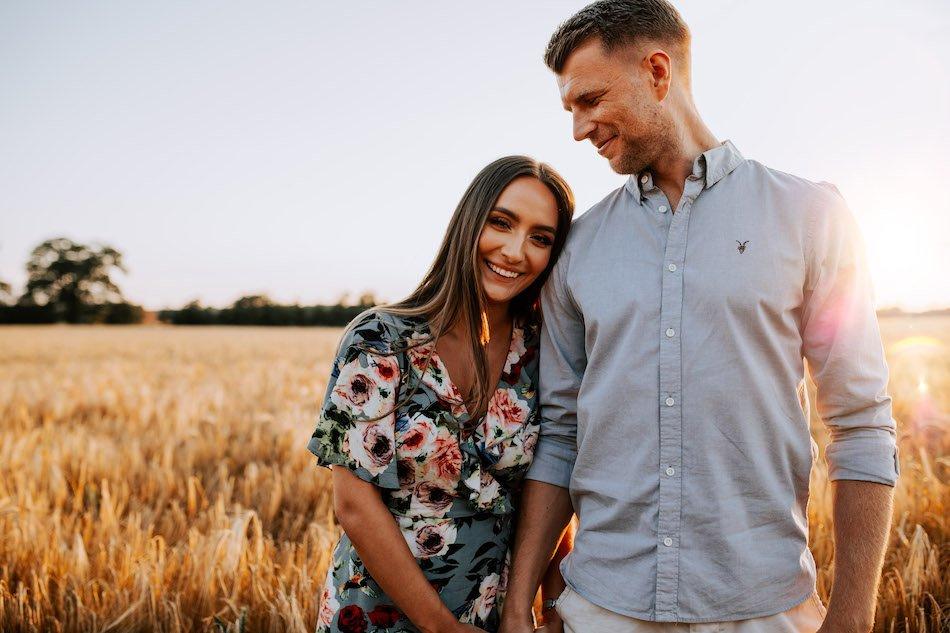 As every Instagram user worth their salt knows, golden hour is the time of day just before sunset when natural light is at its most beautiful. Schedule your engagement shoot for this time and you'll get some of the most magical glowing shots you can think of.
32. Furry Friend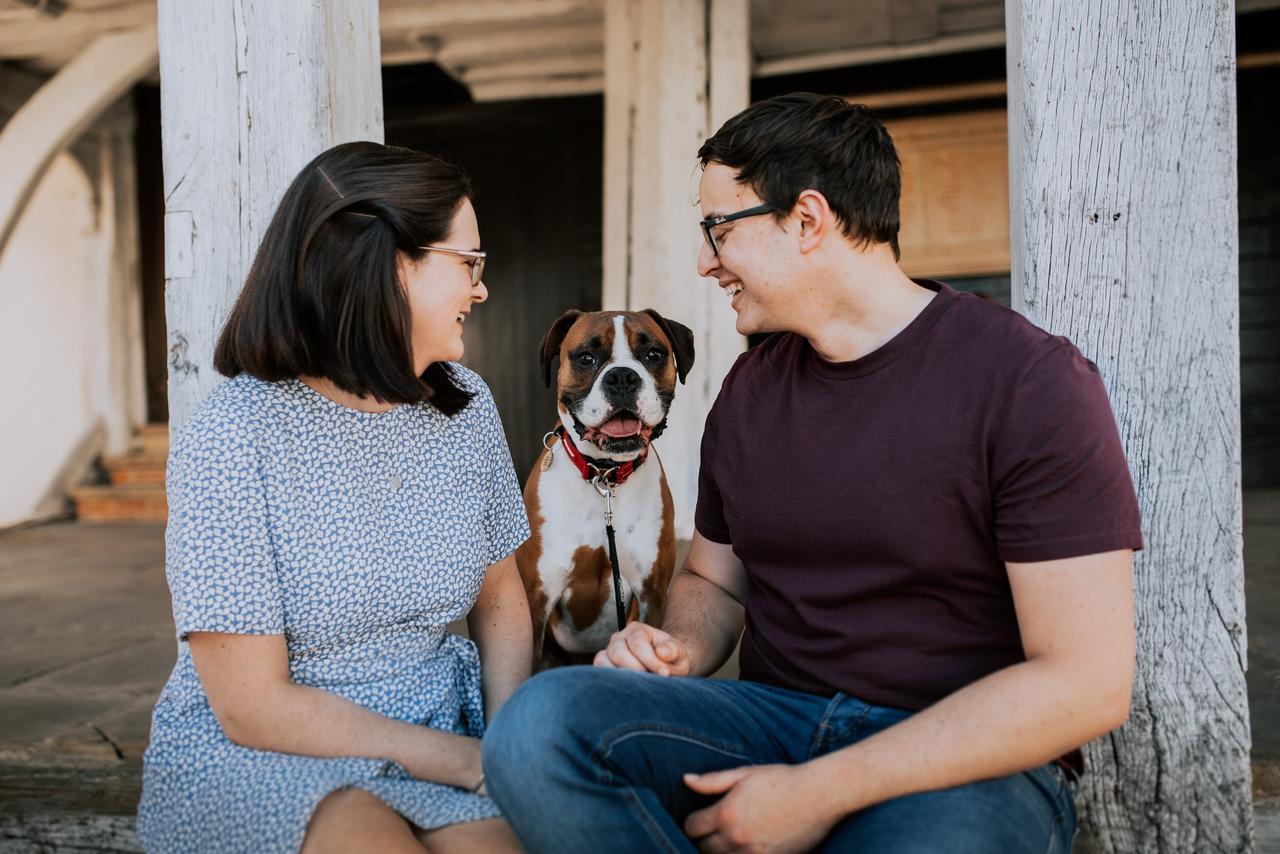 Room for one more? If you're an animal loving couple, including your precious pet in your big moment is essential - put them in the centre where they belong! And don't forget about the ceremony - read here about how you can include your dog in your wedding ceremony.
33. Secret Glimpse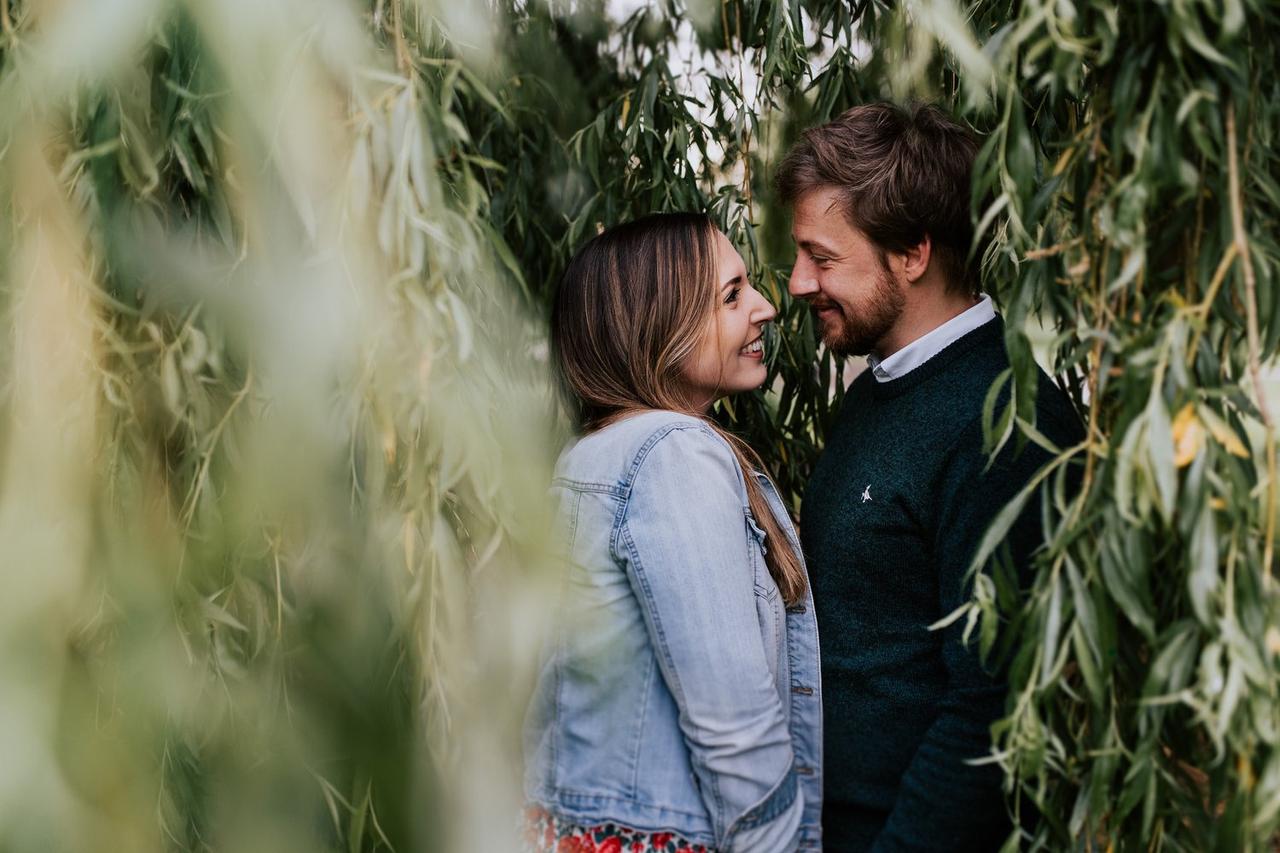 Forest photoshoots have an unmistakeably magical feel, and being framed by trees is a great way to add a sense of intimacy to your photoshoot. The ultimate romantic snap.
What is an Engagement Photo Shoot?
Nowadays an engagement photo shoot is more or less a rite of passage for any couple throwing a traditional wedding celebration. Wedding and engagement photographer Emily Montay says, "Traditionally, an engagement shoot was a photo session used to announce the engagement of a couple, either to their friends and family, or to use on save the date cards.
"Today it has evolved into a multitude of different concepts. From a live surprise proposal where the photographer hides in the bushes, to a particularly quirky concept that the couple feels best suits their personalities."
How Much Does an Engagement Photo Shoot Cost?
Prices can vary greatly for engagement photo shoots, meaning that you can tailor your choice of photographer based on your budget. Another thing worth taking into account is the location of your shoot, as city based photographer tend to be more expensive.
Find out how to nail the perfect engagement ring selfie here.
What to Wear for an Engagement Photo Shoot?
Choosing what to wear for your engagement photography ultimately depends on the style you want your pictures to have. Emily advises: "Before deciding on outfit, come up with a concept for your engagement shoot. This way your outfit can fit cohesively in with the style of the photo shoot! I've had some couples in black tie, and others in jeans and a leather jacket.
"If you're unsure about it, ask your photographer and he or she will be able to guide you towards something that looks good.
"And ultimately, make sure you feel comfortable in whatever your wearing, otherwise it will come across in the photos! In general, it's a good idea to pick something that doesn't wrinkle badly, this will save your photographer hours of editing!"
I'm nervous about being photographed - what should I do?
Even the most confident among us get camera shy from time to time, so how can we overcome this during our engagement shoots? Emily provides some reassurance: "It's okay to be a little bit nervous! A good photographer should be able to ease your nerves pretty quickly.
"When in doubt, just turn to your partner and have a chat and a giggle as if no one was looking - these often produce the most candid looking images!"
If you're planning your engagement photos, make sure you read up on our list of questions to ask your wedding photographer.