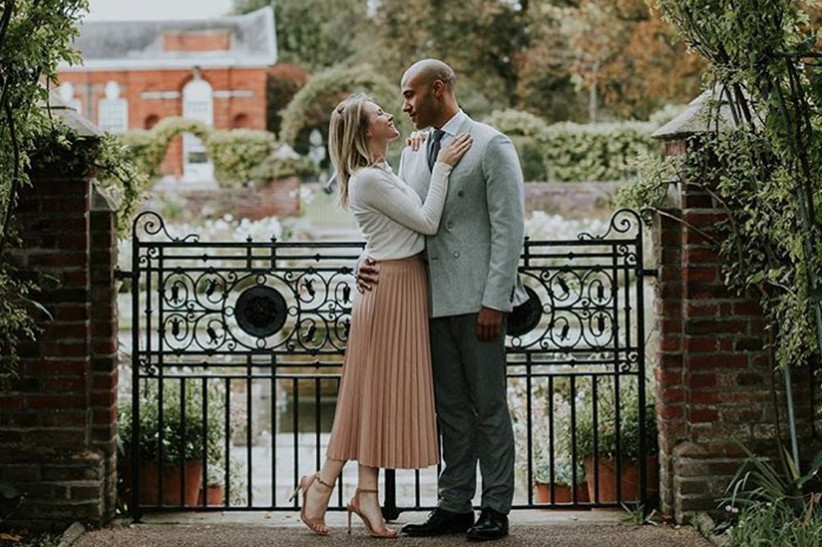 Here at Hitched, we love engagement photos. An engagement photo shoot is a wonderful thing to consider before your wedding for so many reasons.
Whether you want to recreate your proposal, get to know your wedding photographer or practise being in front of a camera, having an engagement photo shoot is a fantastic way to express that elated glow you have in the lead up to your big day.
You could also use your engagement photos as an excuse to capture shots for creative save-the-dates, wedding décor details or wedding invitations, or to shoot photos to frame and give to your families. And the best part? Most wedding photographers will offer an engagement shoot as part of their wedding photography package. Bingo!
To get you feeling inspired, check out our top tips for getting the most out of your engagement photo shoot.
1. Plan the Shoot
All of the best engagement photo shoots are the ones which have been planned out properly. You'll first want to ask your wedding photographer if they're willing to do this kind of shoot and whether it can be included as part of your wedding package (and how much it costs if not).
You've also got to think about when you want your shoot to take place, in relation to your big day. Deciding what you want to use your engagement photos for will help you make that choice.
If you want to really capture the raw happiness which comes when you first get engaged, book an engagement shoot as soon after your other half pops the question as you can. If you do your engagement shoot early, you could use your engagement photos as part of a formal engagement announcement to friends and family or in your local paper.
Similarly, if you want to incorporate your engagement photos in your save the dates or wedding website, you'll want to have your engagement photo shoot at the beginning of your wedding planning process.
If you aren't going to be using the photos in your wedding day, or if you simply want to use the engagement photo shoot as a chance to trial your hair stylist or makeup artist, you can book it in for closer to your wedding date.
READ MORE: The Ultimate Bridal Beauty Countdown
2. Consider the Location
Whether you and your new fiancé or fiancée are homebirds or love to travel the world, location is everything when it comes to making sure your engagement photos are personal and unique.
If you've got a favourite spot which you often visit together – like a woodland that you walk your dogs in or a cobbled street you dream of living on – you should consider it for the location of your engagement shoot.
Or how about getting your engagement photos shot on your next holiday (are engagement-moons a thing?) If you're heading off on holiday, try and find a photographer in the region who could snap some photos for you.
In addition, you should think about a location that fits your wedding colour palette and theme, especially if you want to use your engagement photos for your save the date cards. Engagement photos shot at a stately home if you're getting married at a barn wedding venue might look a little strange.
Your photographer will have lots of suggestions if you're not sure what will look good.
READ MORE: The 20 Most Popular Honeymoon & Mini-Moon Destinations in the World
3. Choose the Best Time of Day
Once you have a location in mind, think about the best time of day to do the shoot and whether your surroundings will be busy. Your photographer will often be able to help you with this.
You need to make sure you're relaxed in the photos, and if you're stressed about people looking at you or getting in the way, your photos won't come out as well as they could!
Don't assume that you need to shoot in the middle of the day when the sun is high in the sky, either.
Around midday, the sun can create harsh shadows which need to be counteracted by an artificial flash – not the natural look you're after.
Sometimes, the best results are achieved when the sun is rising or setting – the light can be beautiful!
4. Think About the Colours
Think about whether you'd like your engagement photos to be in black and white or colour. If they're in colour, do you want a filter added to really make the palette pop?
Black and white photographs are timeless and striking, so you could ask your photographer to edit your pictures in that way.
On the opposite end of the spectrum, you can use the unique colours of your photo background to find a palette which puts any Instagram filter to shame. Talk to your photographer before your engagement photo shoot to see how they can edit your pictures in a way you love.
You should also think about the colours on your clothes before you head out on your engagement shoot. While matching outfits may be a tad much, you need to make sure the colours you're wearing complement one another.
Opt for solid colours as opposed to patterns which can distract the eye on camera, and try to wear neutral or pastel shades. Keep your jewellery simple, avoiding anything too flashy which will distract from the two of you in your photos.
READ MORE: The Complete Guide to Inspirational Wedding Themes
5. Consider Props and Pets
An engagement shoot is the perfect time for you and your partner to take centre stage, but if you're a little bit camera shy, consider adding props or bringing your pets along to take away the intensity.
Pets are a great distraction from nerves, and their unpredictability can make for some gorgeous, natural engagement photos. The same stands for props – if you and your other half have any shared hobbies, you could include them in the shoot to give you something to focus on.
READ MORE: The Cutest Pictures of Animals at Weddings
6. Stay True to Your Personality
If you and your partner have a unique sense of style, don't be afraid to show it! Similarly, don't be talked into an engagement photo shoot style which doesn't feel at all like you.
If you're a creative couple, consider finding some striking wall art to act as a backdrop for your engagement photos. If you're lovers of the great outdoors, there's nowhere better than the countryside for shooting.
READ MORE: Amazing Ways to Personalise Your Wedding
7. Have Fun & Keep It Natural
Unlike your wedding photos, engagement photos don't have to be taken quite so seriously. The aim of them is to capture your relationship naturally as you have fun and enjoy quality time.
Overall, it's important to let go, enjoy yourself and try to forget the camera is there! After all, how often do you get to do an engagement shoot?
READ MORE: How Much Should Your Wedding Dress Cost?
The Dos & Don'ts of Engagement Photo Shoots
Do: Make Eye Contact with Your Partner
The shoot is all about your and your other half, so you need to make eye contact in order to create a story.
Don't: Make Eye Contact with the Camera
Making eye contact with the camera will make the photos feel like you're acting. Look away from the camera, at your surroundings and your partner – the photos will look much more natural.
Do: Move Around
Your engagement photos will look much more natural if you move around rather than standing still in just one pose.
Don't: Let Your Arms Just Hang
Hold hands, hug or put your arms around each other. Look like you love each other!
Do: Talk to Each Other
Chatting to each other as you have your photo taken is another way to take the pressure off you and also ensure your engagement photos look natural. Keep it positive and light, though – now is not time to moan about that annoying colleague from work!
Don't: Be Afraid of Looking Silly
Silliness can make for some great, spontaneous photos!
Don't: Be Too Worried About How You Look
If you're too fixed on how your hair looks or whether your eye makeup is up to scratch, you won't enjoy yourself. Besides, photos can always be edited afterwards.
READ MORE: 19 Infuriating Things People Say When You're Planning a Wedding
Now you've got your engagement shoot planned, you can start laying down your wedding planning foundations! Check out our ultimate wedding planning checklist which takes you right through from 18 months before your big day to one week to go!