Engagement Photos: 50 Fun Ideas & Tips to Help You Make The Most of Your Shoot
Need some inspiration for your engagement photos? We've got all of the ideas and tips you'll need to get a set you'll cherish forever.
We have included third party products to help you navigate and enjoy life's biggest moments. Purchases made through links on this page may earn us a commission.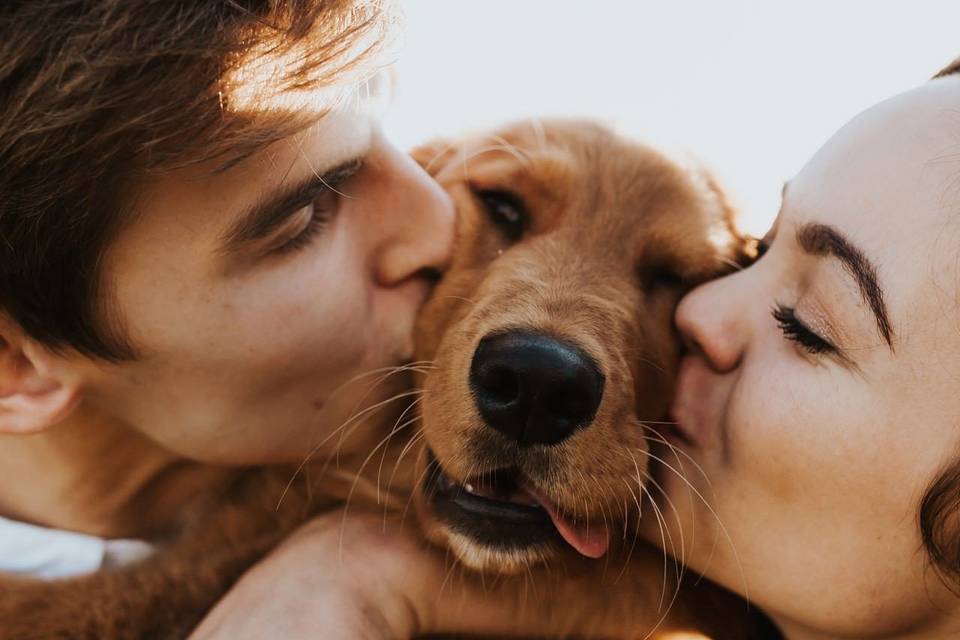 An engagement photo shoot is a wonderful thing to consider before your wedding for so many reasons. Whether you want to recreate your proposal, get to know your wedding photographer or practise being in front of a camera, having an engagement photo shoot is a fantastic way to express and capture that excitement and elated glow you have in the lead up to your big day.
You could also use your engagement photos as an excuse to capture shots for creative save-the-dates, wedding décor details or wedding invitations, or to shoot photos to frame and give to your families. And the best part? Most wedding photographers will offer an engagement shoot as part of their wedding photography package. Bingo!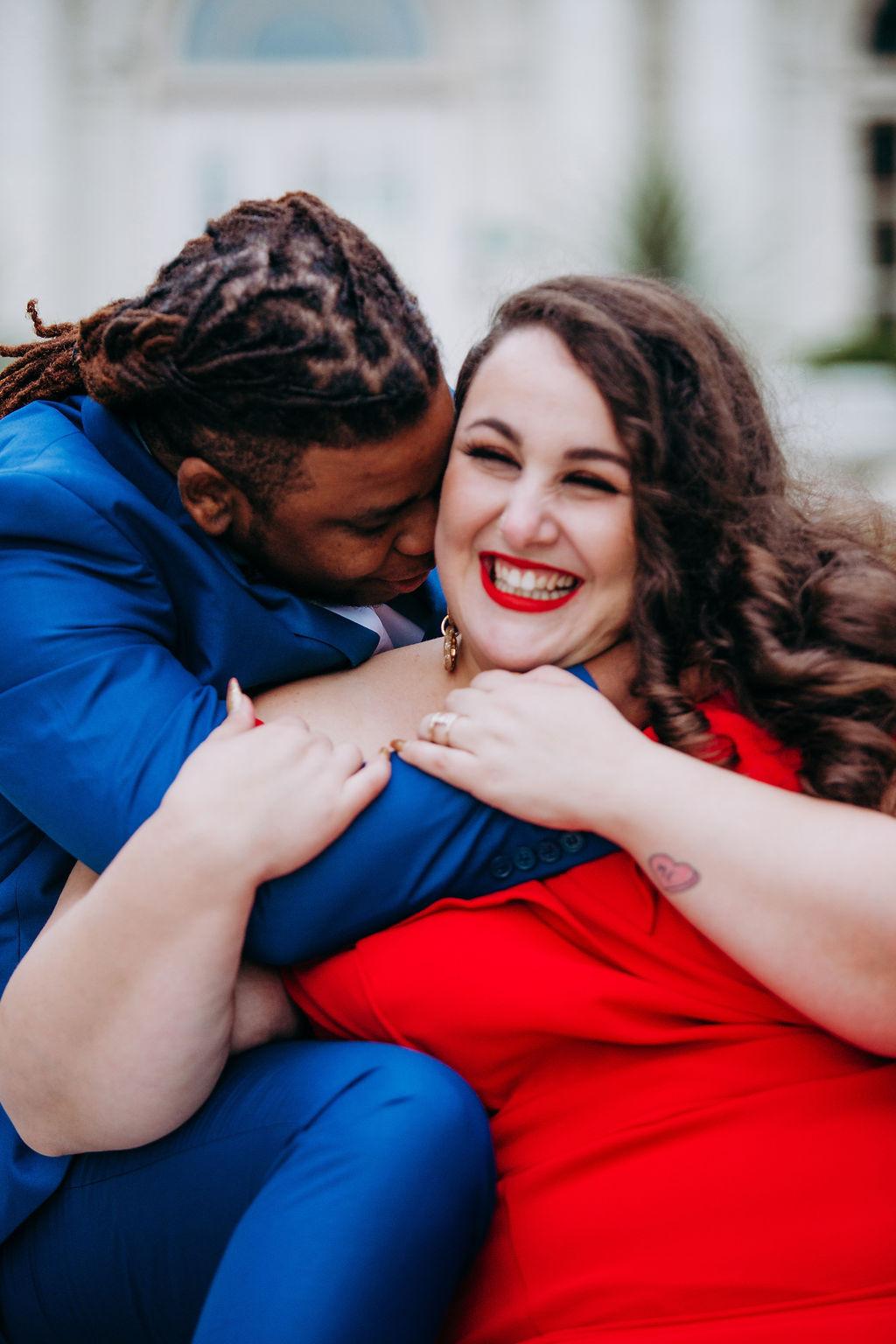 To get you feeling inspired, we've collated 50 engagement photo ideas, ranging from the silly to the romantic and everything in-between, plus all of the tips and trick you'll ever need to absolutely nail your own set. And speaking of nails, it's time to get a fresh manicure so you can show that ring off in all its glory...
READ MORE
50 Fun Ideas for Your Engagement Photos
All About The Ring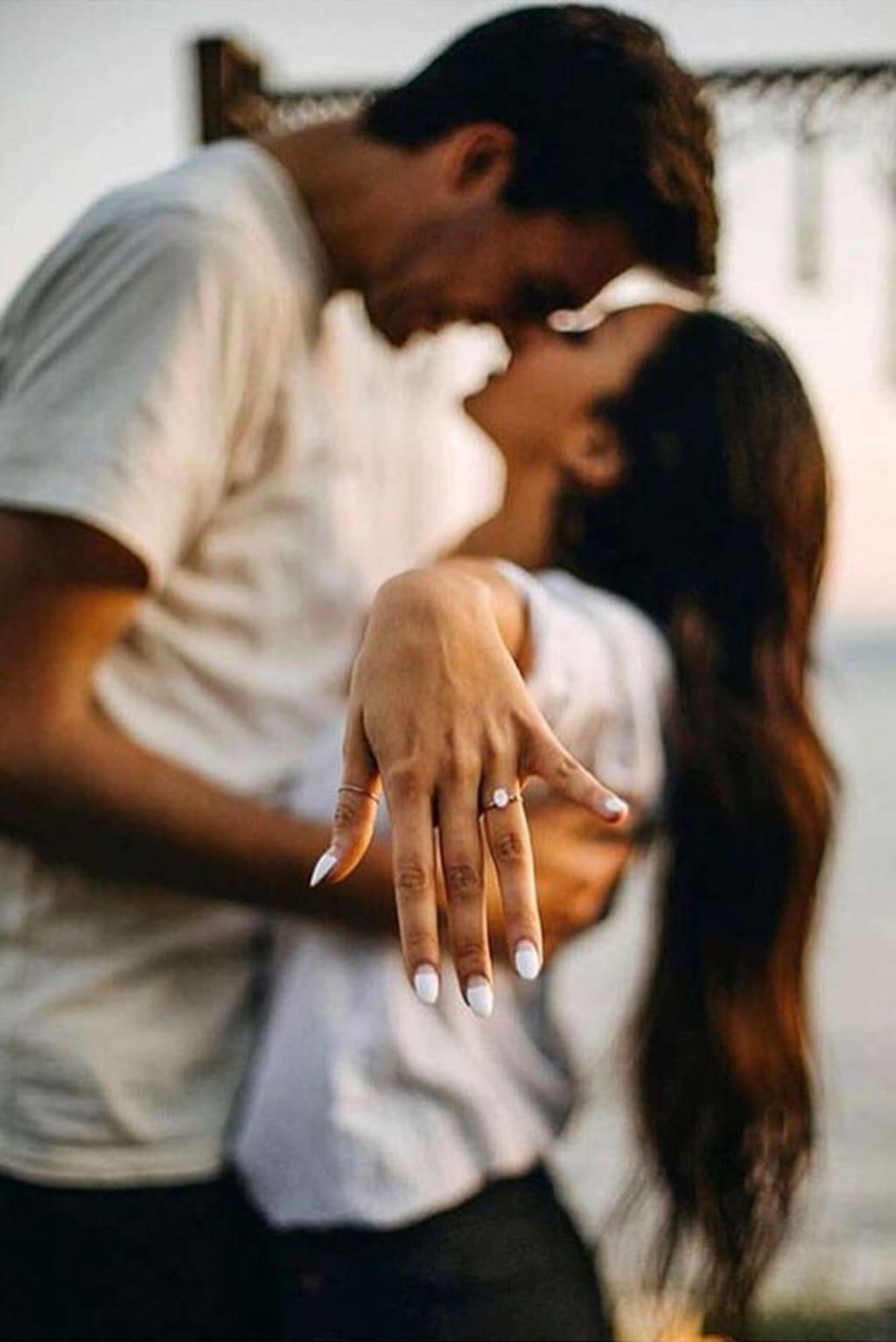 Of course you're going to want to show off your ring! This shot is an essential part of your set.
Shoulder to Shoulder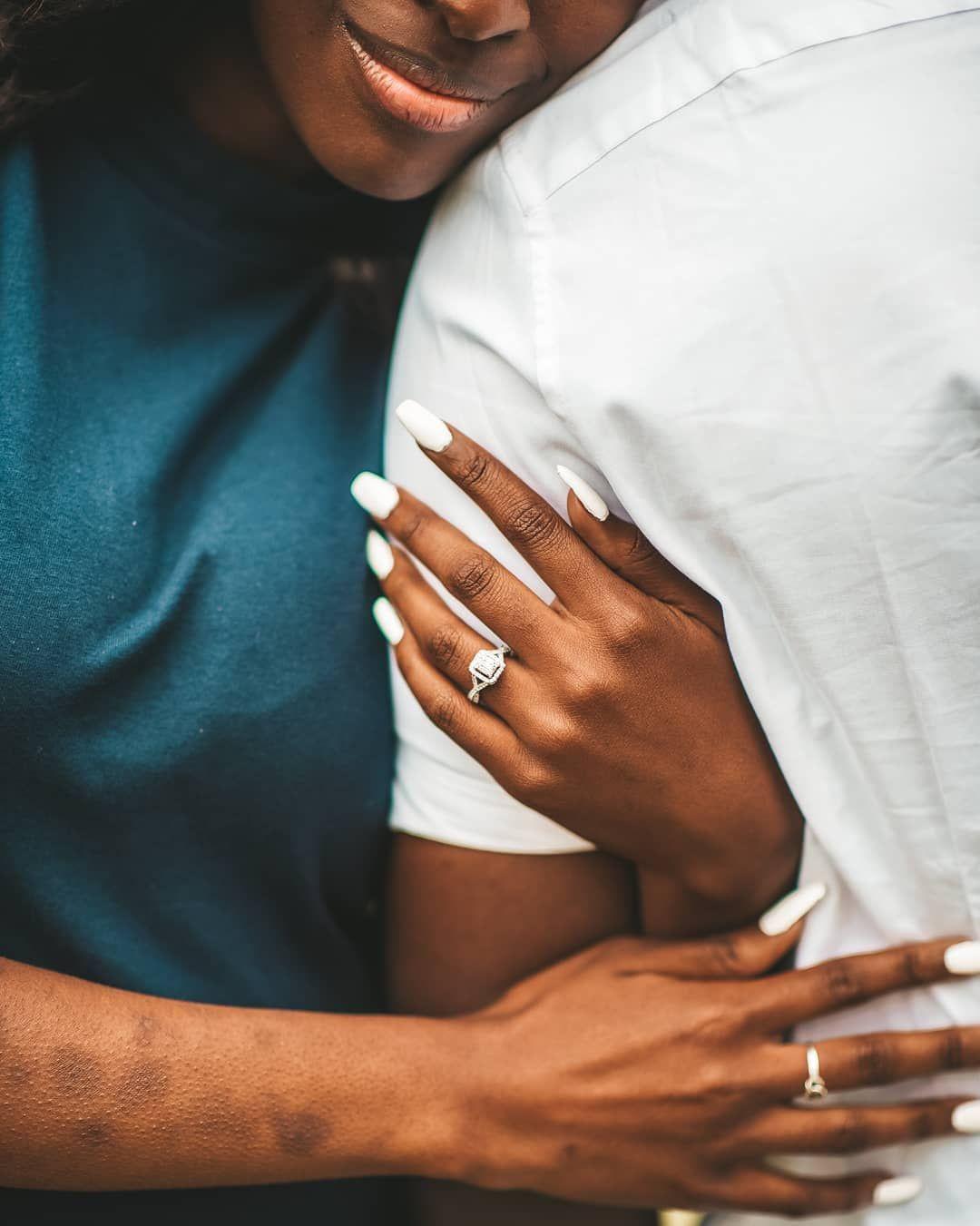 Another embrace that gives you plenty of ways to show off that sparkler.
Champagne Celebration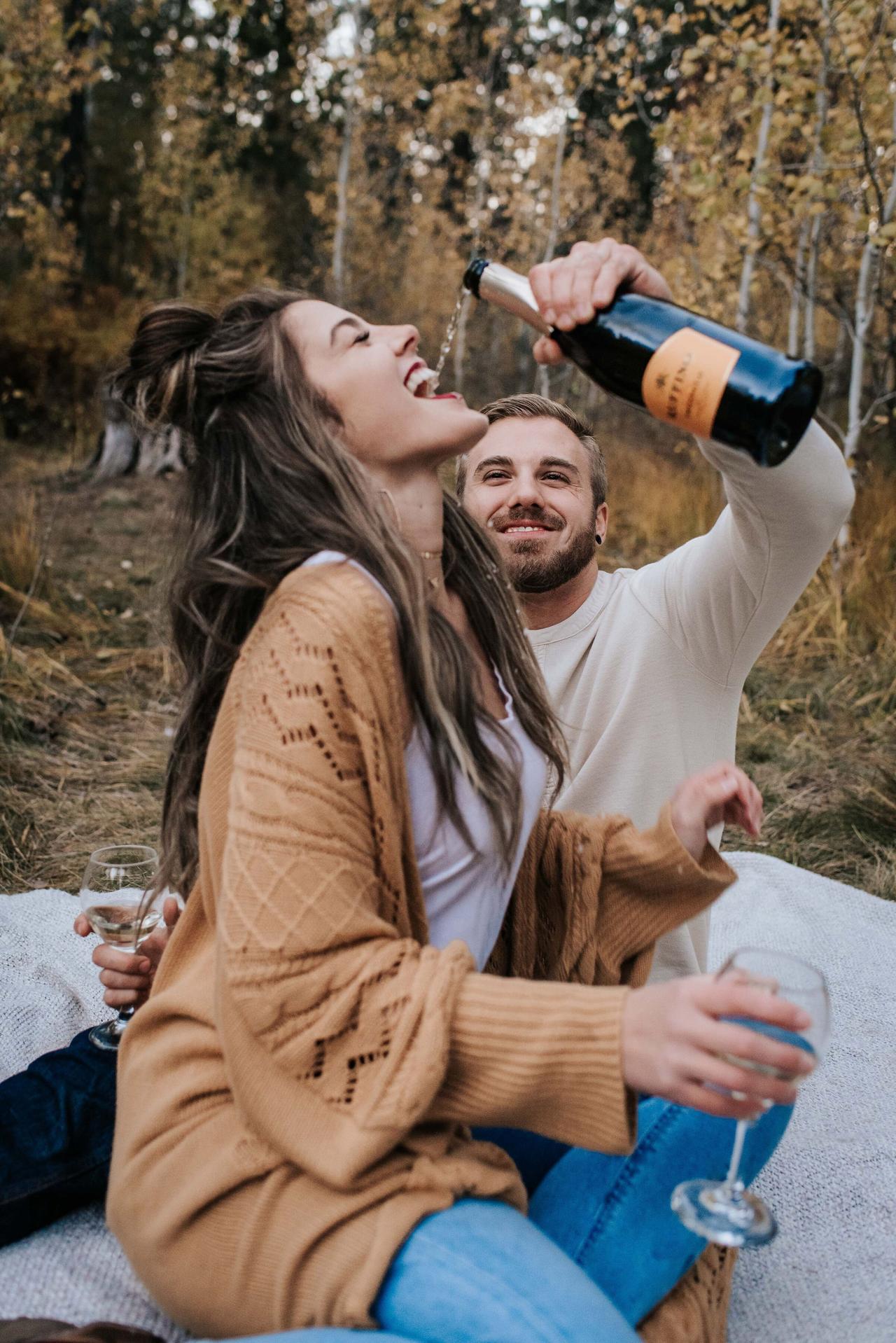 Raise a glass (or the whole bottle) to give your pictures a true celebratory vibe.
Over The Shoulder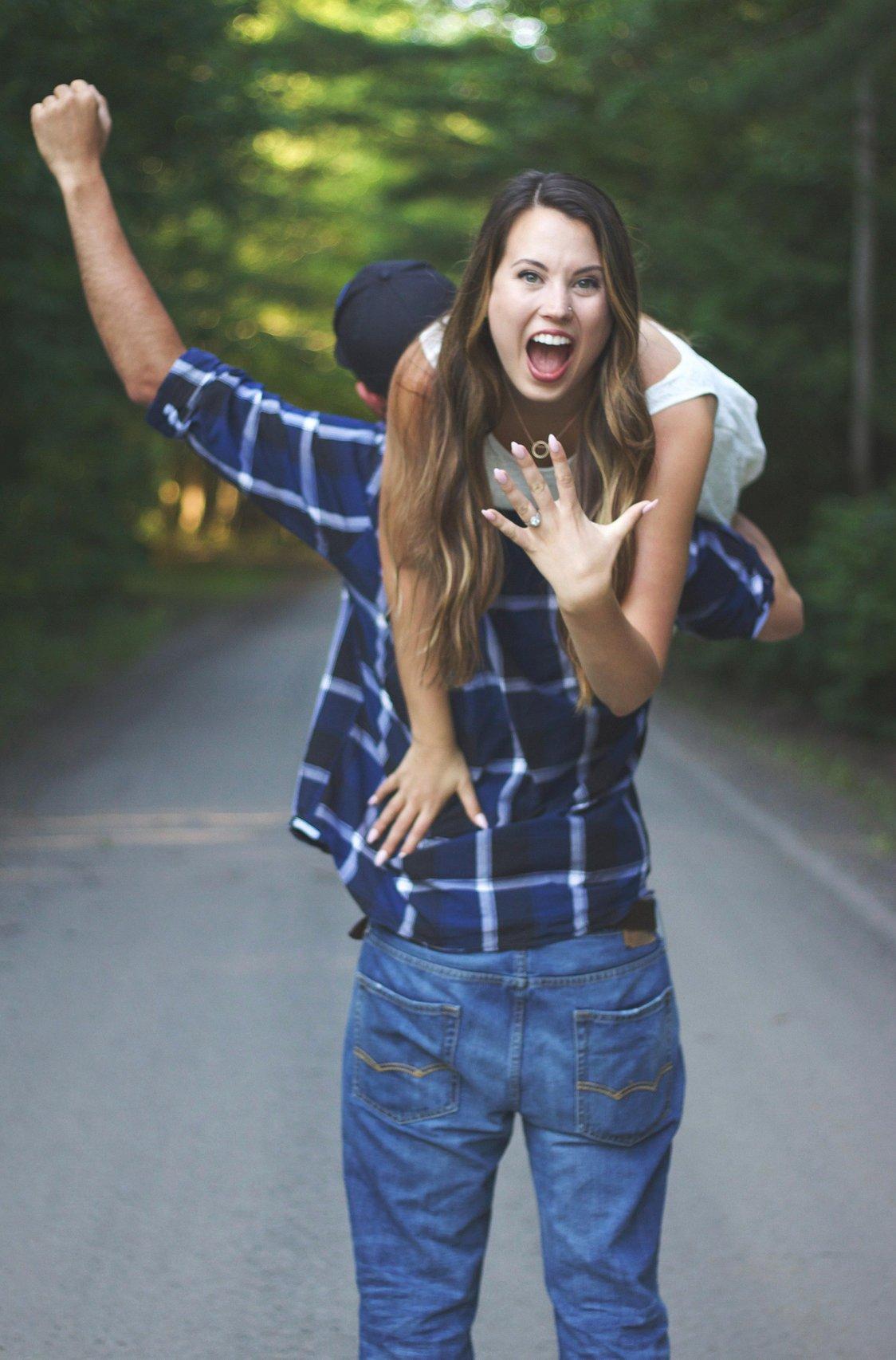 This is such a joyful pose! A photographer you're super comfortable with can help you find the perfect expression.
Hands Up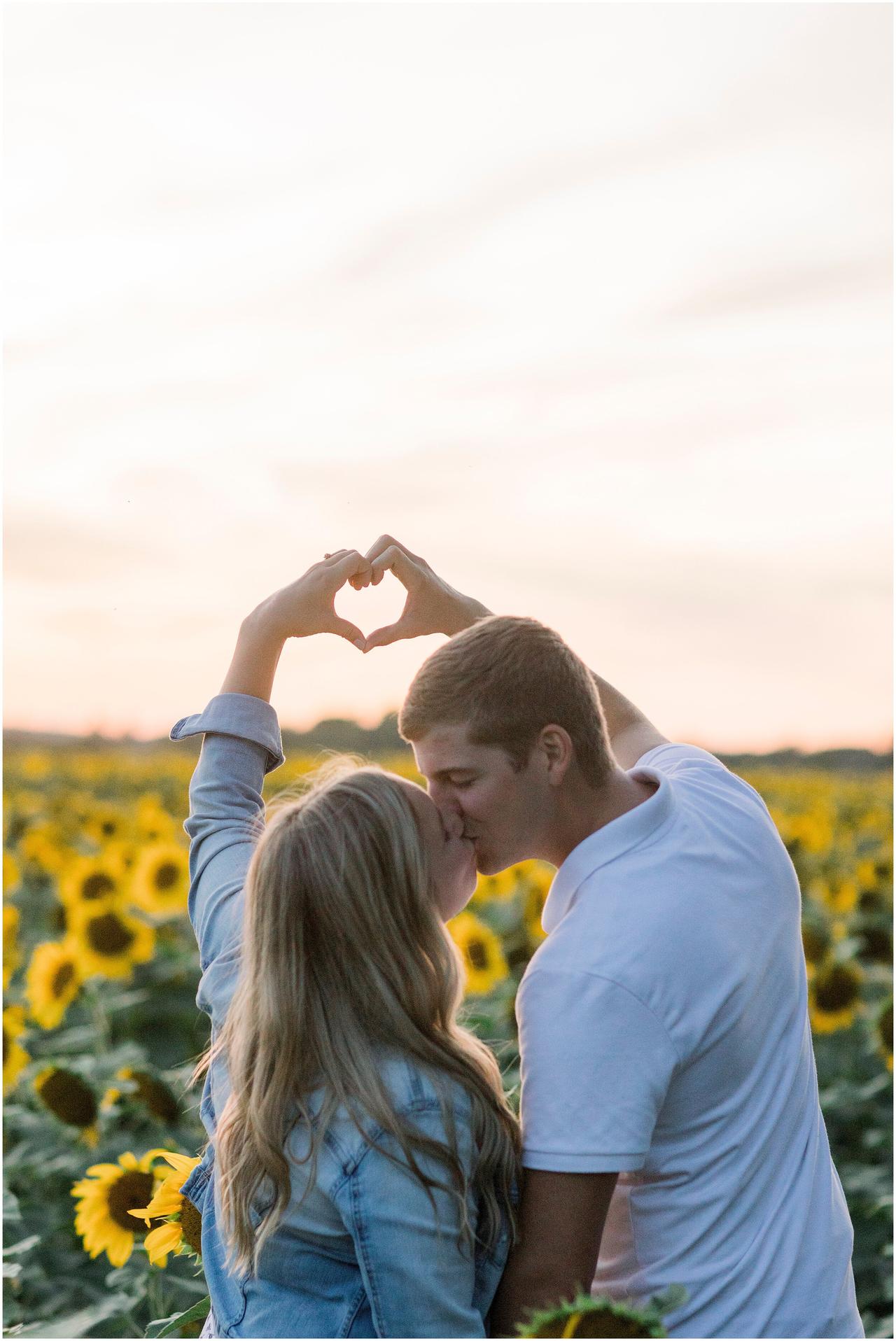 An oldie but a goodie – you can't go wrong with a classic hand-shaped heart.
Take a Twirl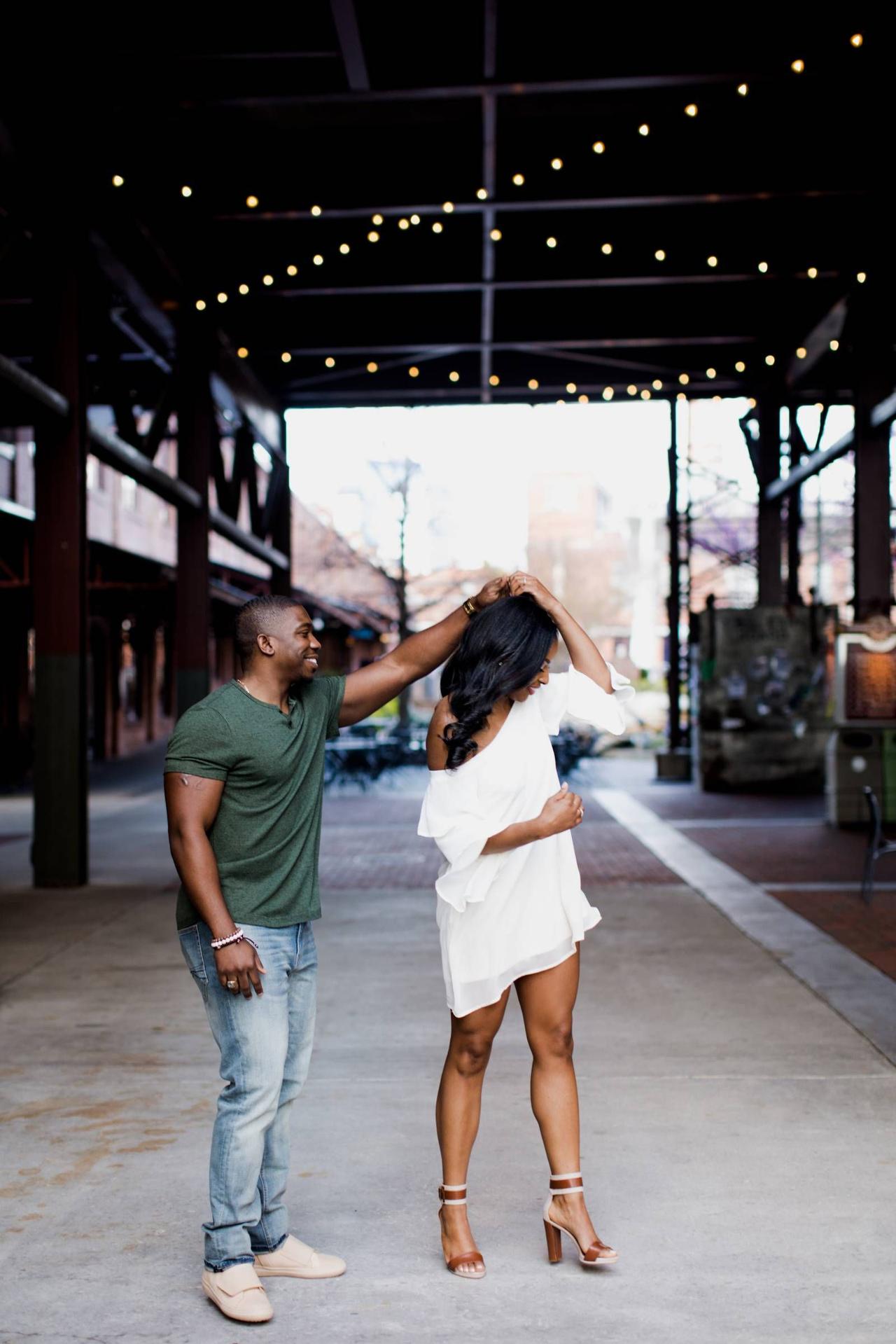 Try a few dance moves in front of the lens – you'll be amazed at how captivating it can be with the right backdrop.
Read The Signs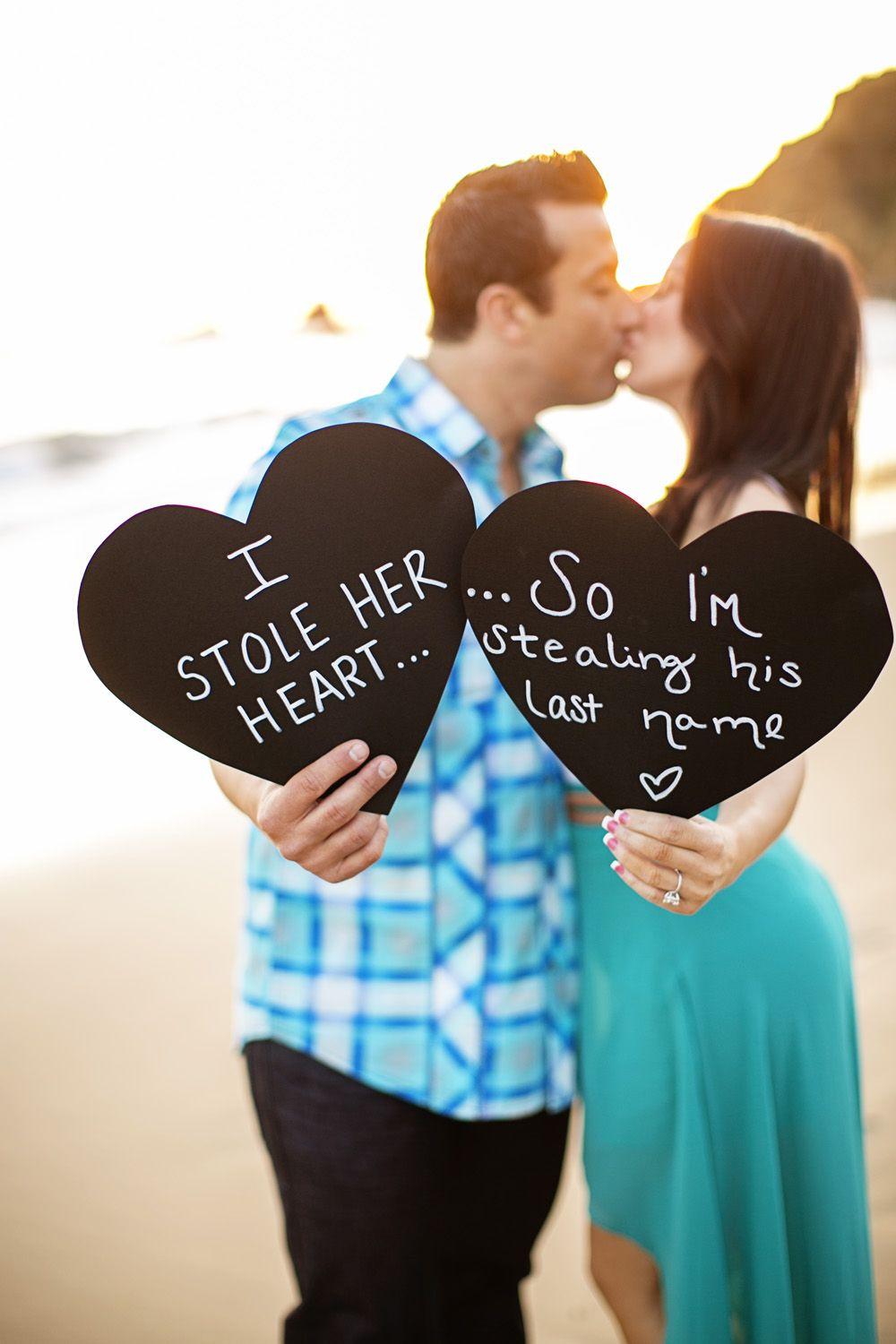 Go for a classic 'I Said Yes!' or something a bit more adventurous – chalkboards or whiteboards are fab if you want to get creative with words.
Go For Gold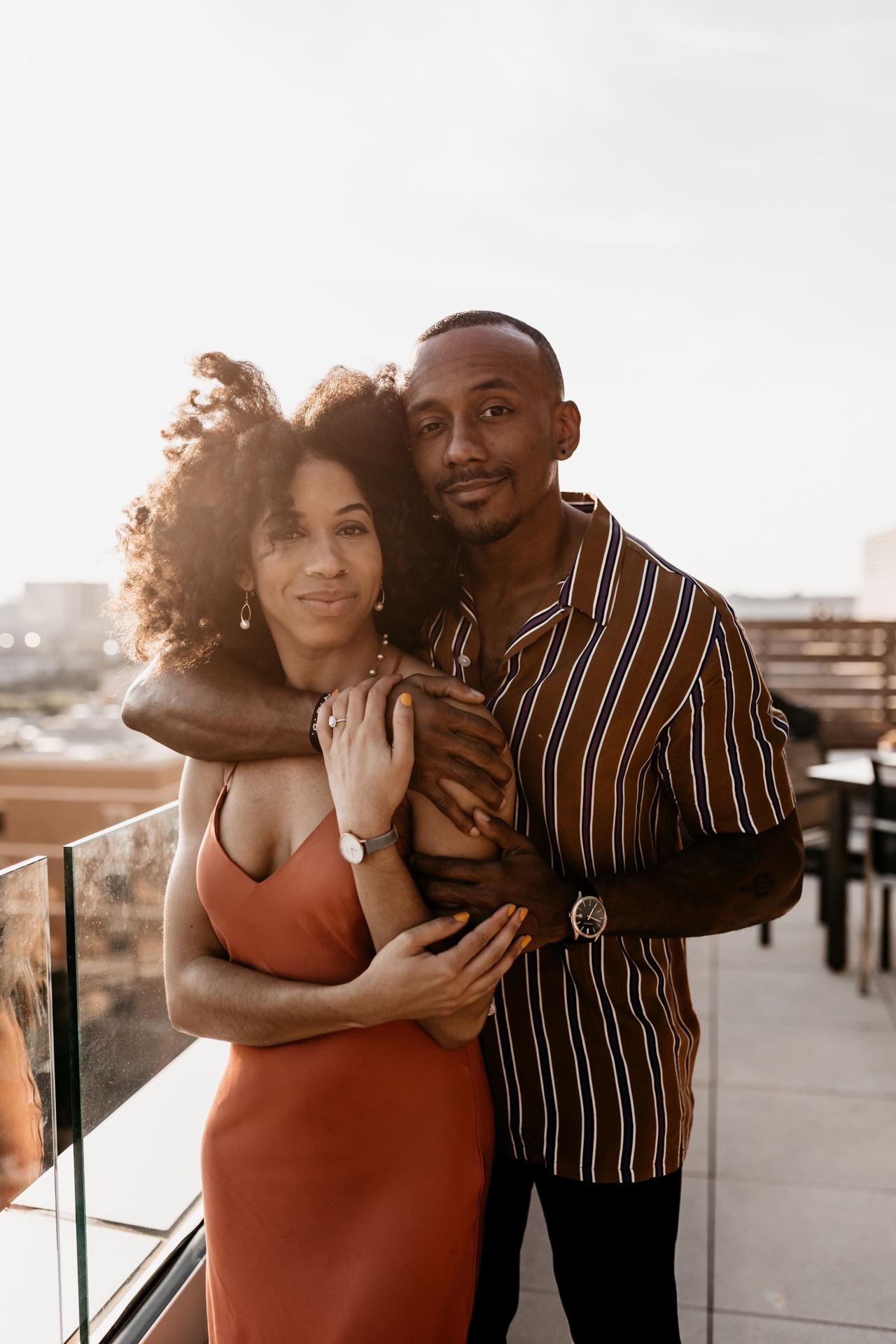 Schedule your photoshoot to coincide with the 'golden hour' before the sun sets for stunning (and all natural!) outdoor engagement shoot lighting.
Rise and Fall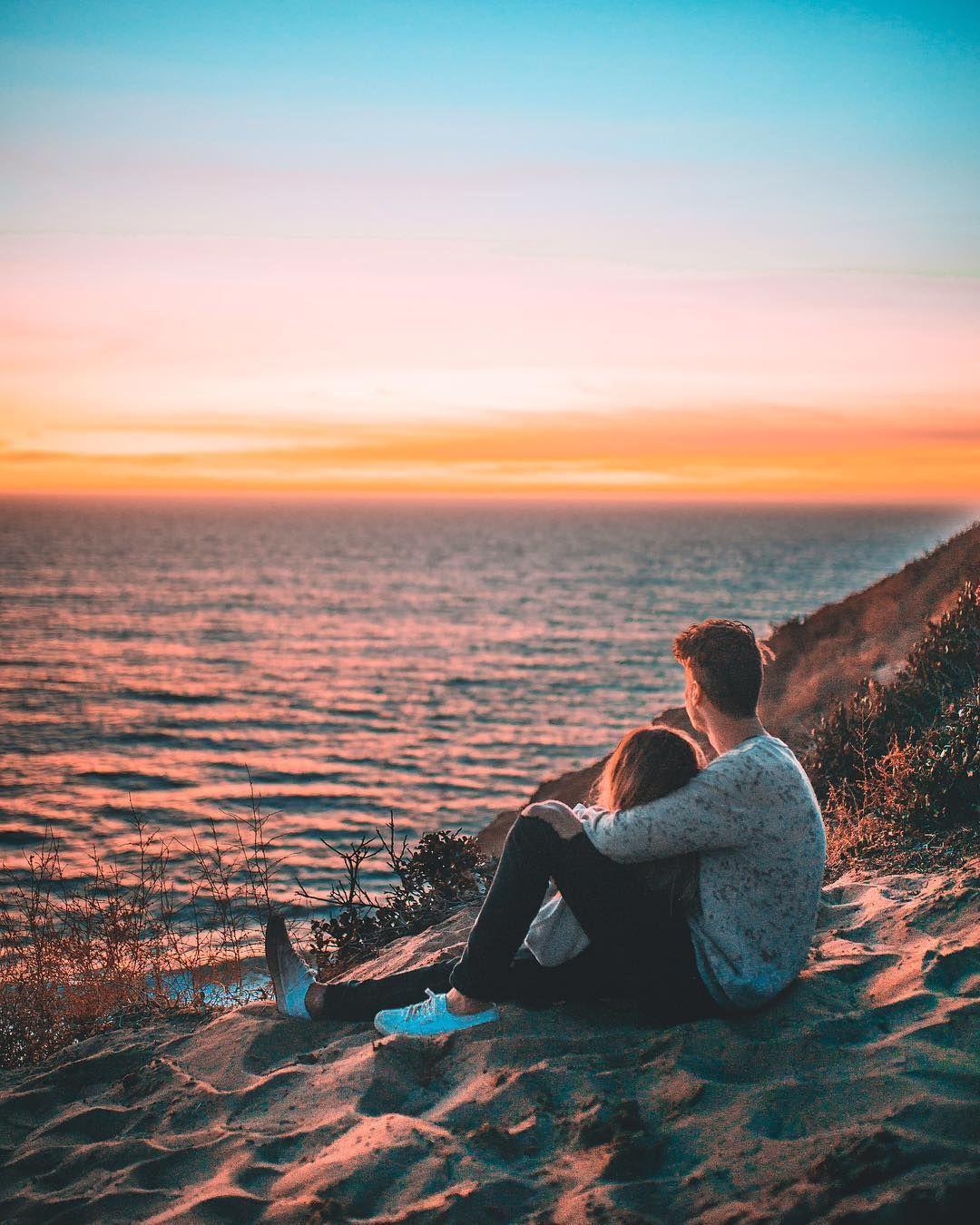 Of course, using the sun rise or sun set itself can also make the most incredible environment for your shots, whether you're on the beach, in the countryside or even using your own garden.
All Wrapped Up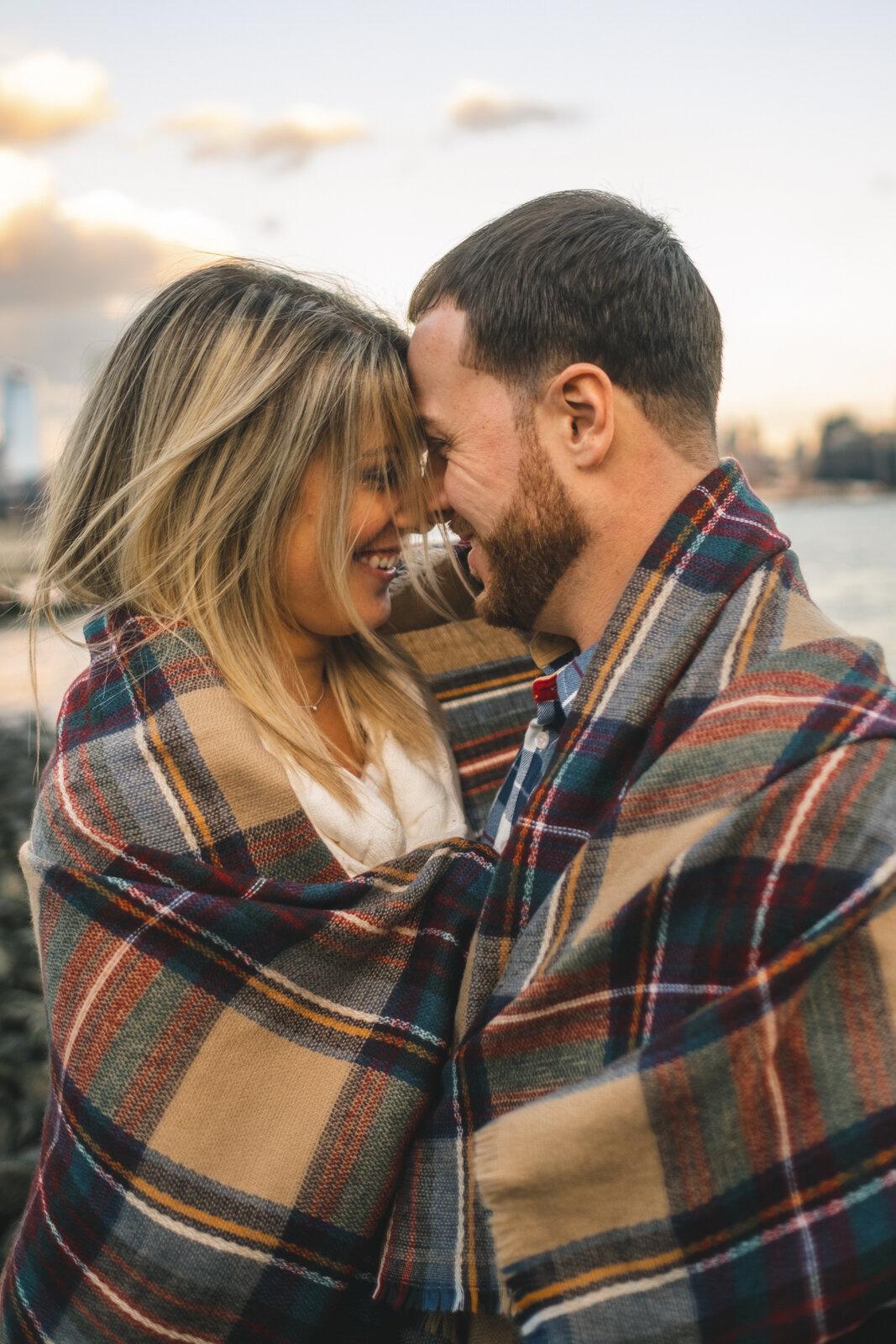 We love the cosy vibes the classic checked blanket gives this set-up – especially cute if you said yes to an autumn or winter proposal.
Leaf It Out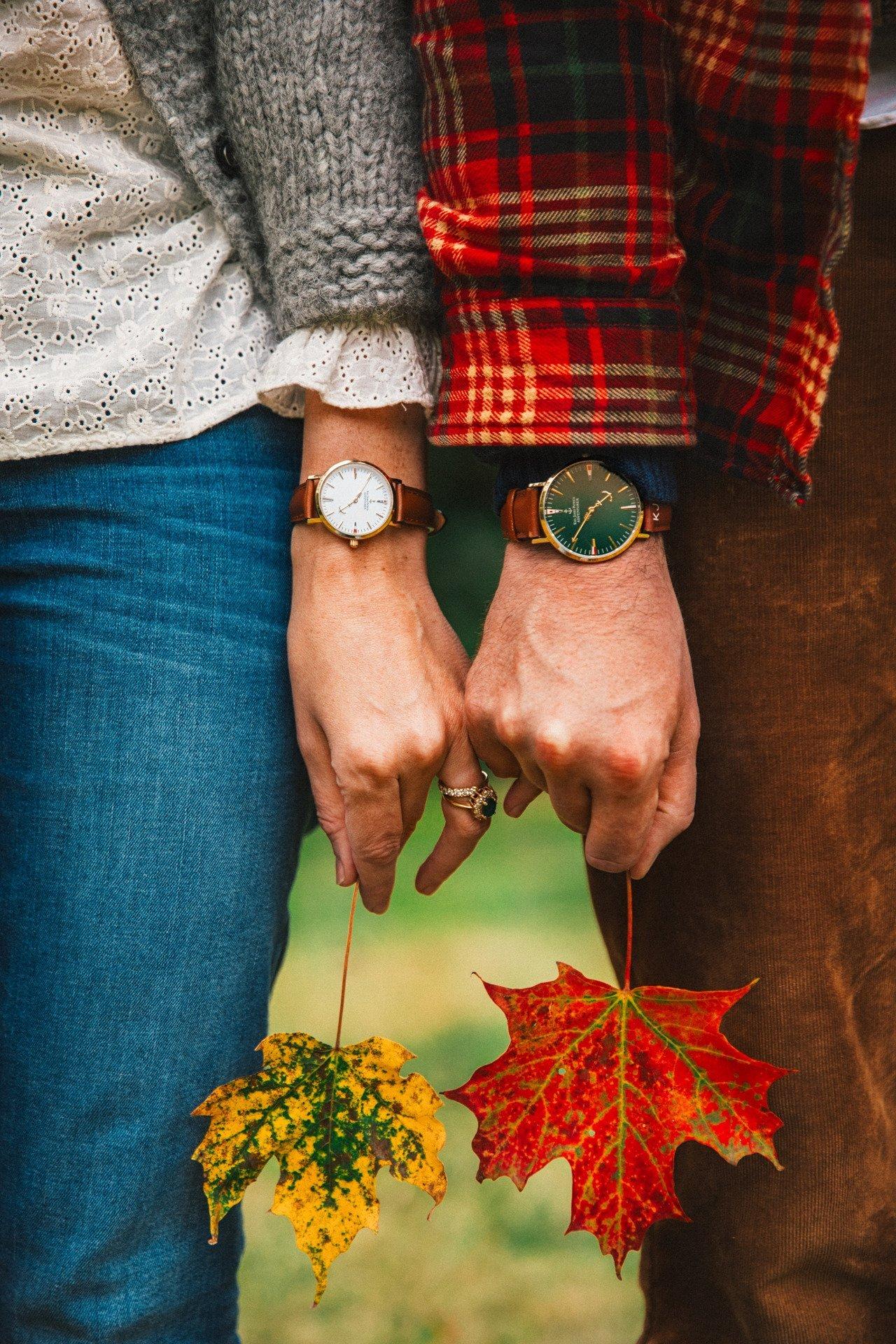 Another sweet autumnal engagement photo idea is to play with the colours of the leaves of the season. Time to dig out your best plaid shirts…
On The Rocks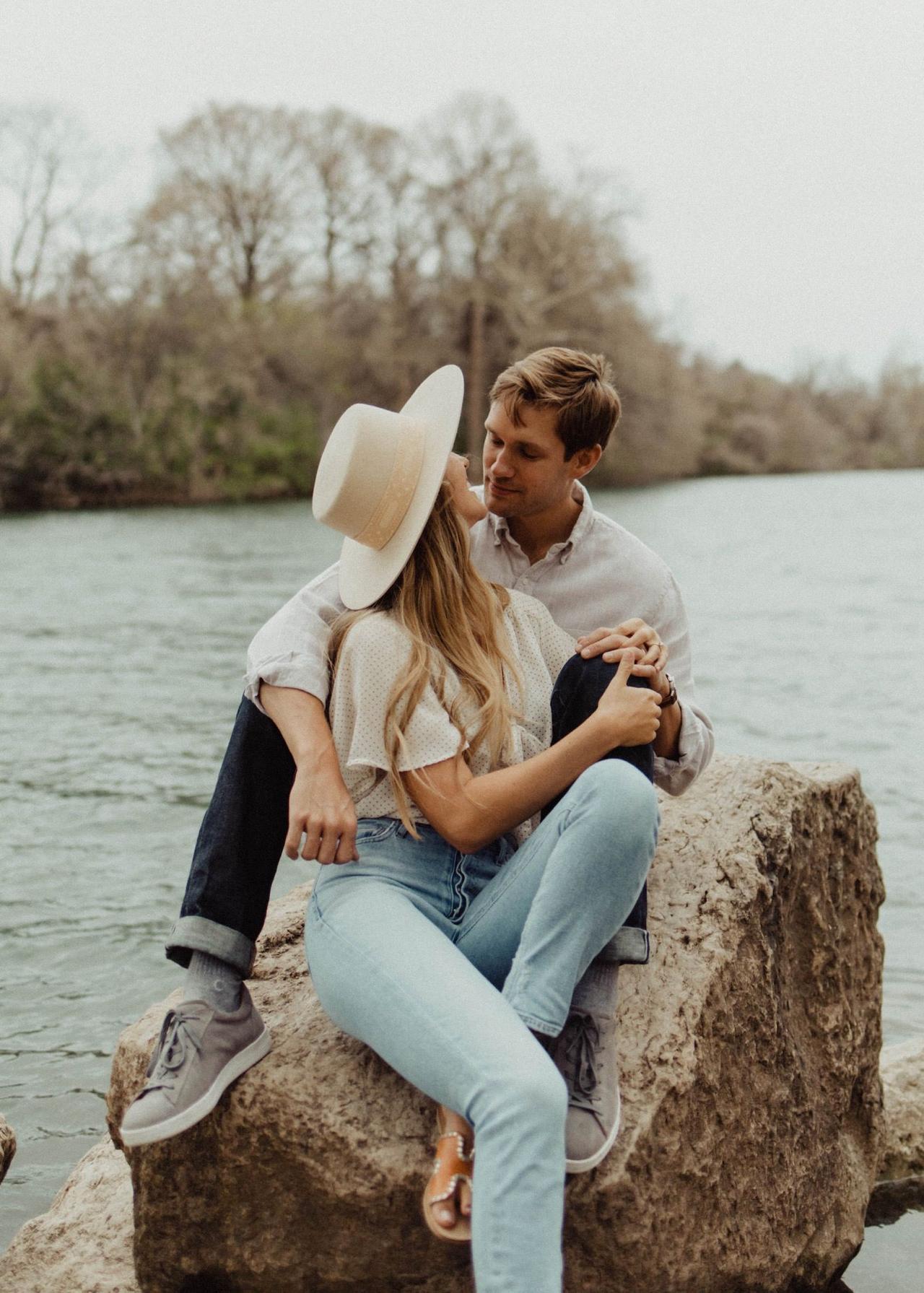 Waterside photos can be really beautiful, especially if the spot is really meaningful to you as a couple.
Puppy Love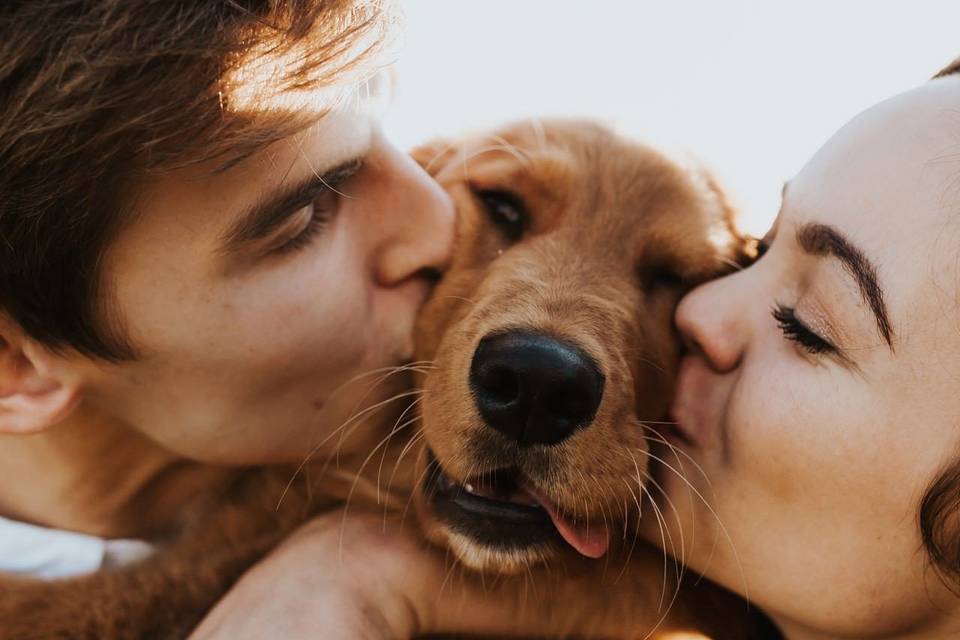 For couples where the dog is the most important member of the relationship – put them front and centre where they belong.
Feline Fine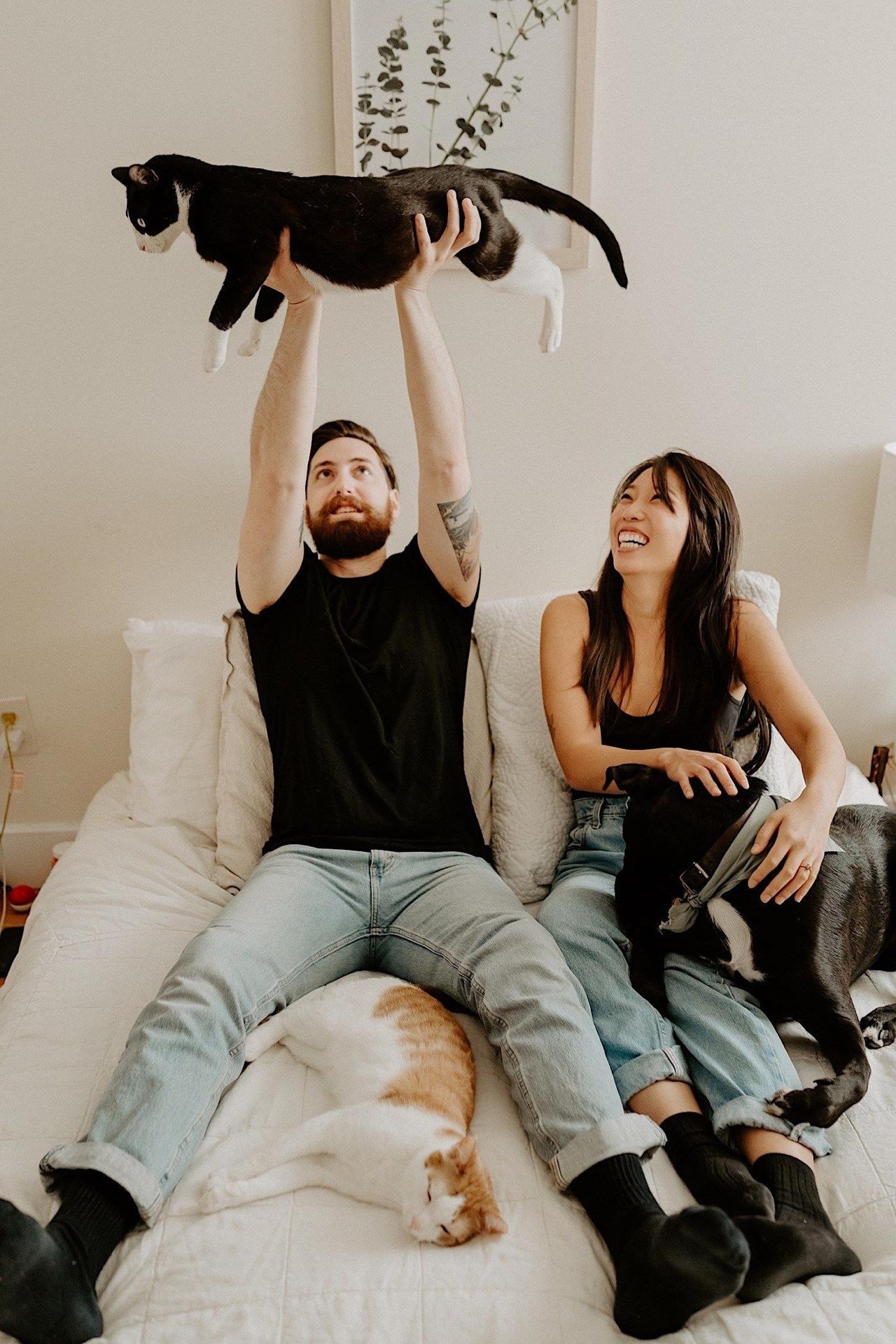 Of course, this doesn't apply exclusively to dogs – any pets can get in on the action, especially if you opt for a shoot at home.
Woodland Wonder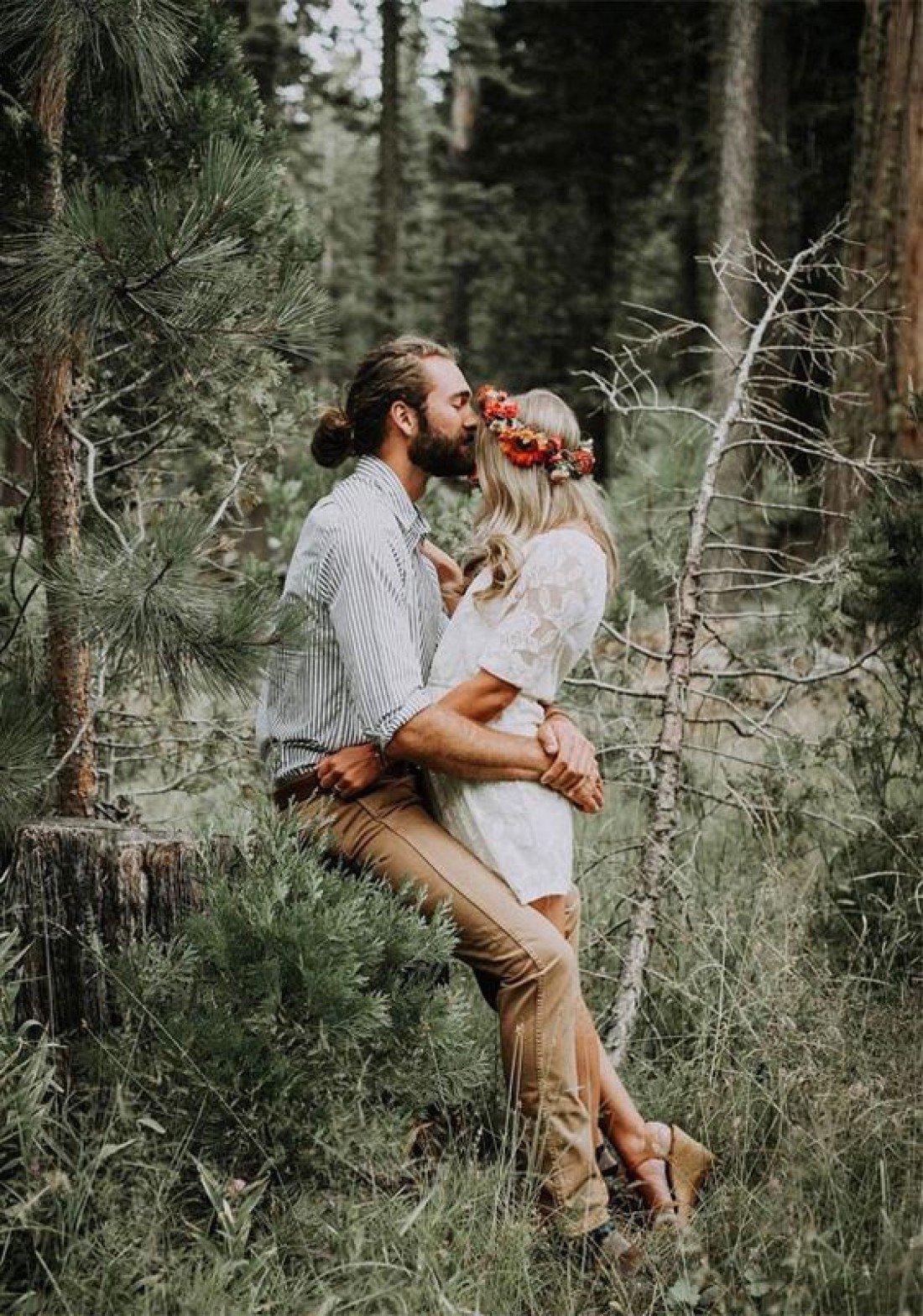 A forest photoshoot can have such a magical, fairytale quality. Source a delicate flower crown for the full effect.
Suited and Booted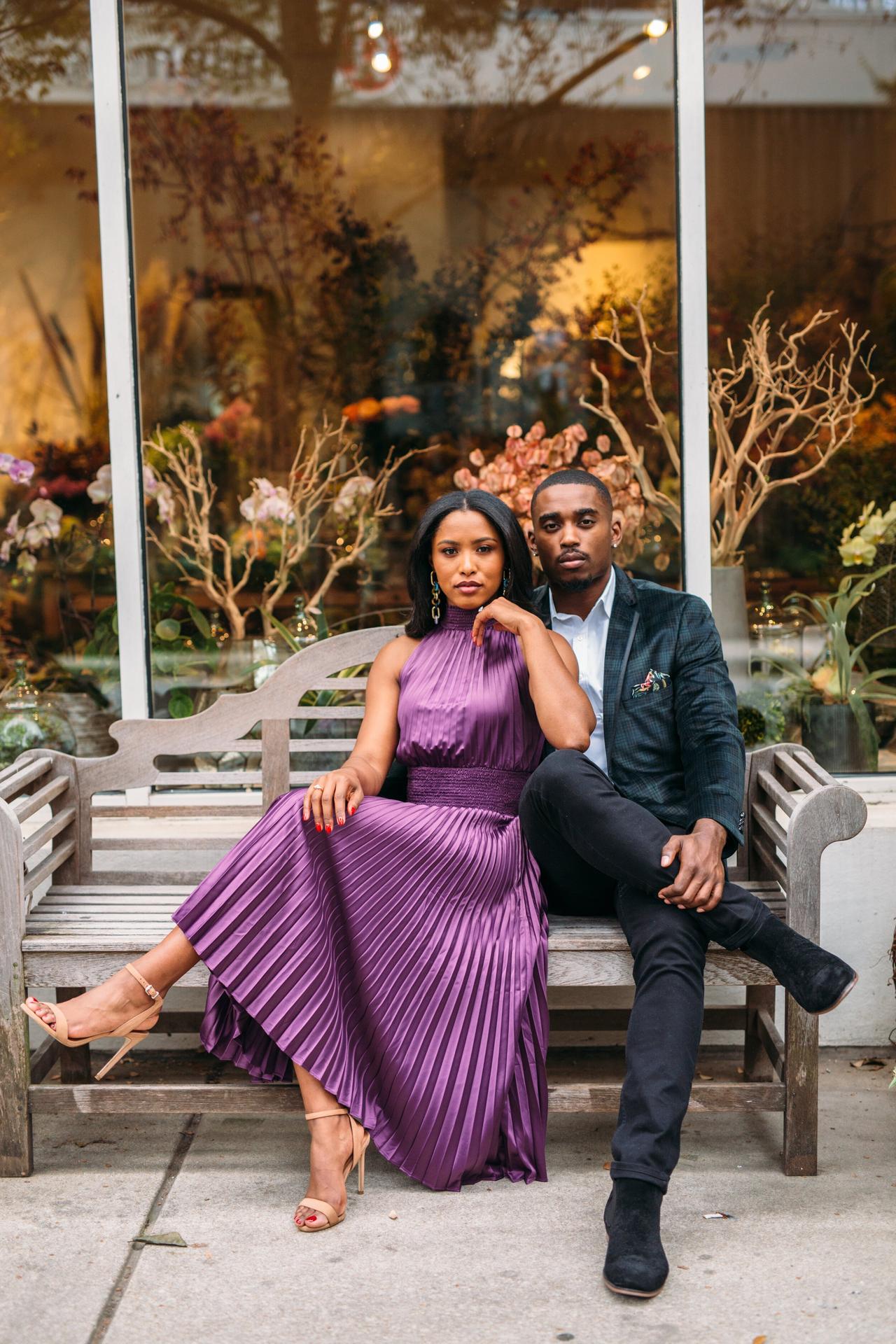 Well, if there was ever an excuse to wear your finery, it's now. The bold statement colour of the dress really take this shot to another level.
Black Magic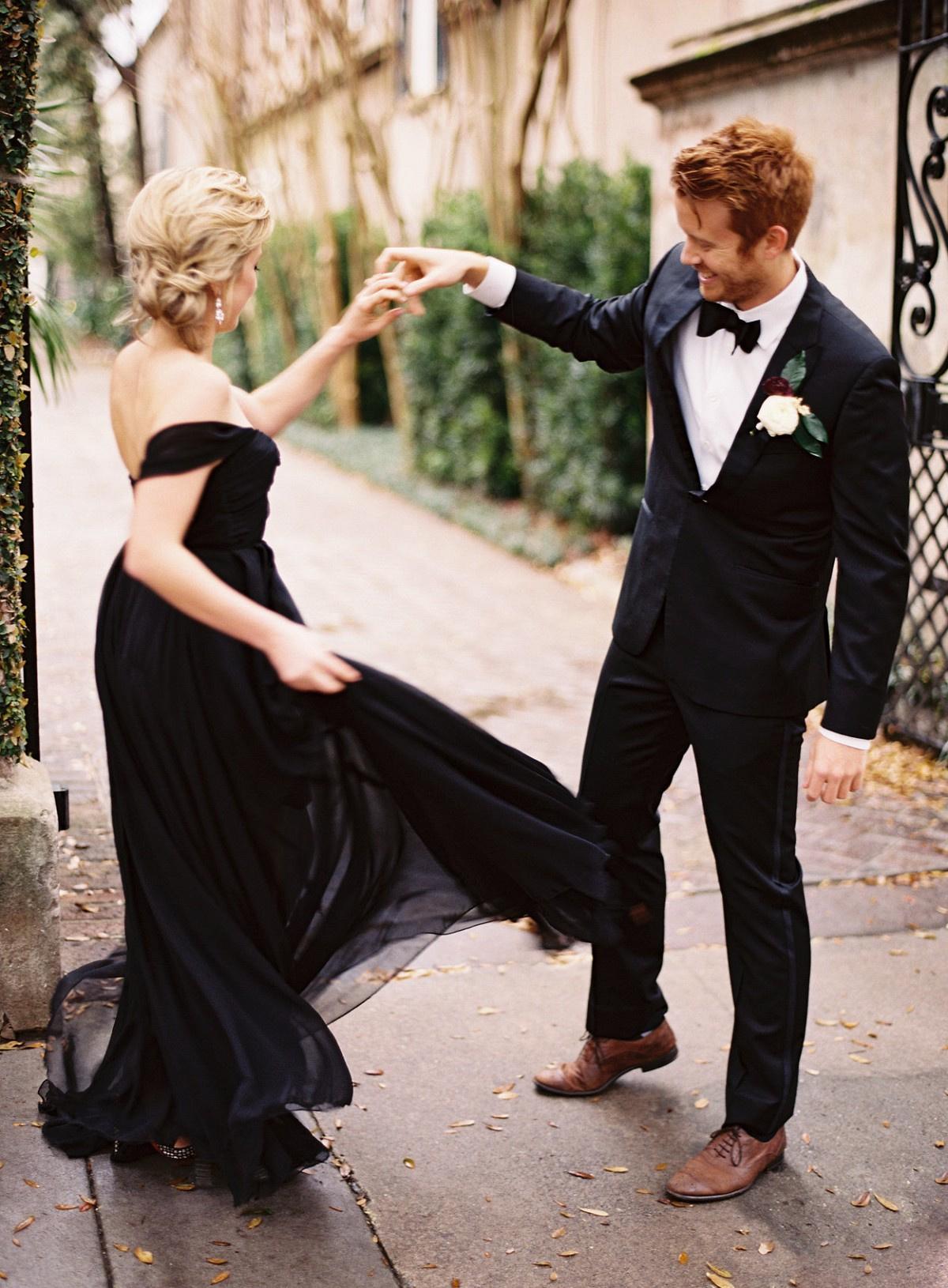 Choosing all black outfits can also really amp up the drama, especially when you go as formal as these two.
City Scape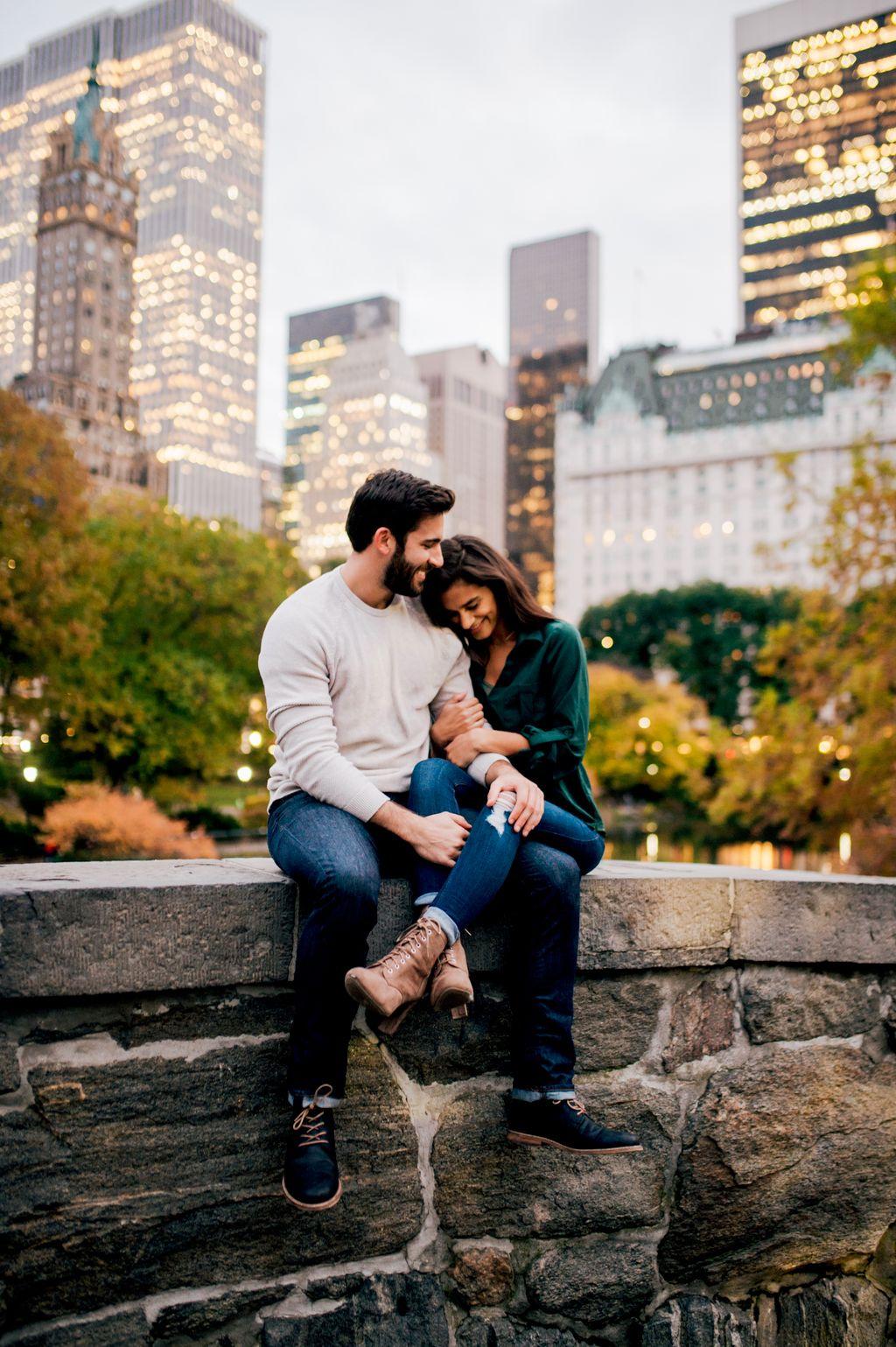 If you live in (or met in) an amazing city, use the setting to your advantage. The lights of the skyscrapers can be surprisingly romantic.
Awkward AF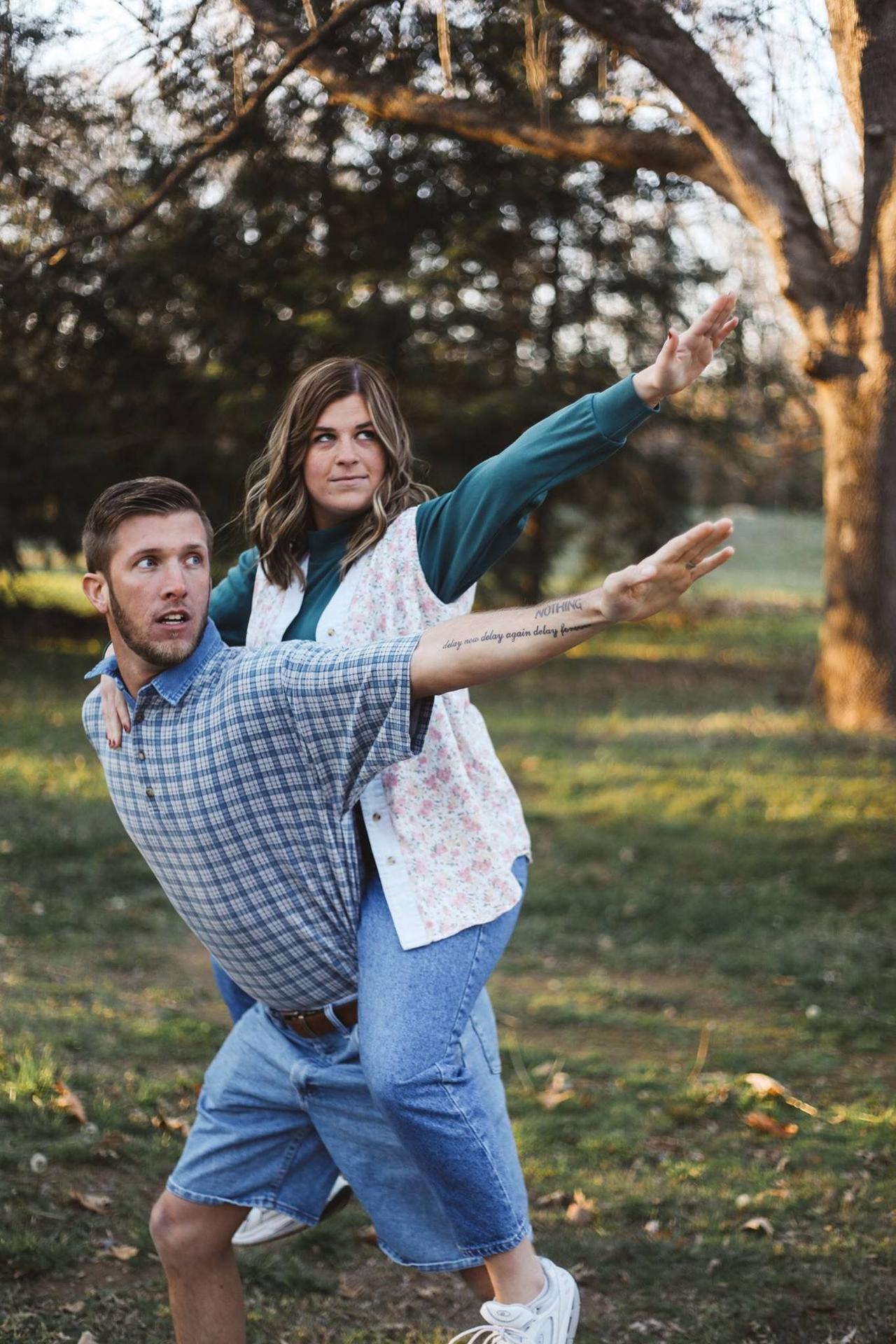 Not super comfortable in front of the camera? Lean in to it with tongue-in-cheek 'awkward' poses – this couple's full shoot turned out all the better for it.
Stir The Pot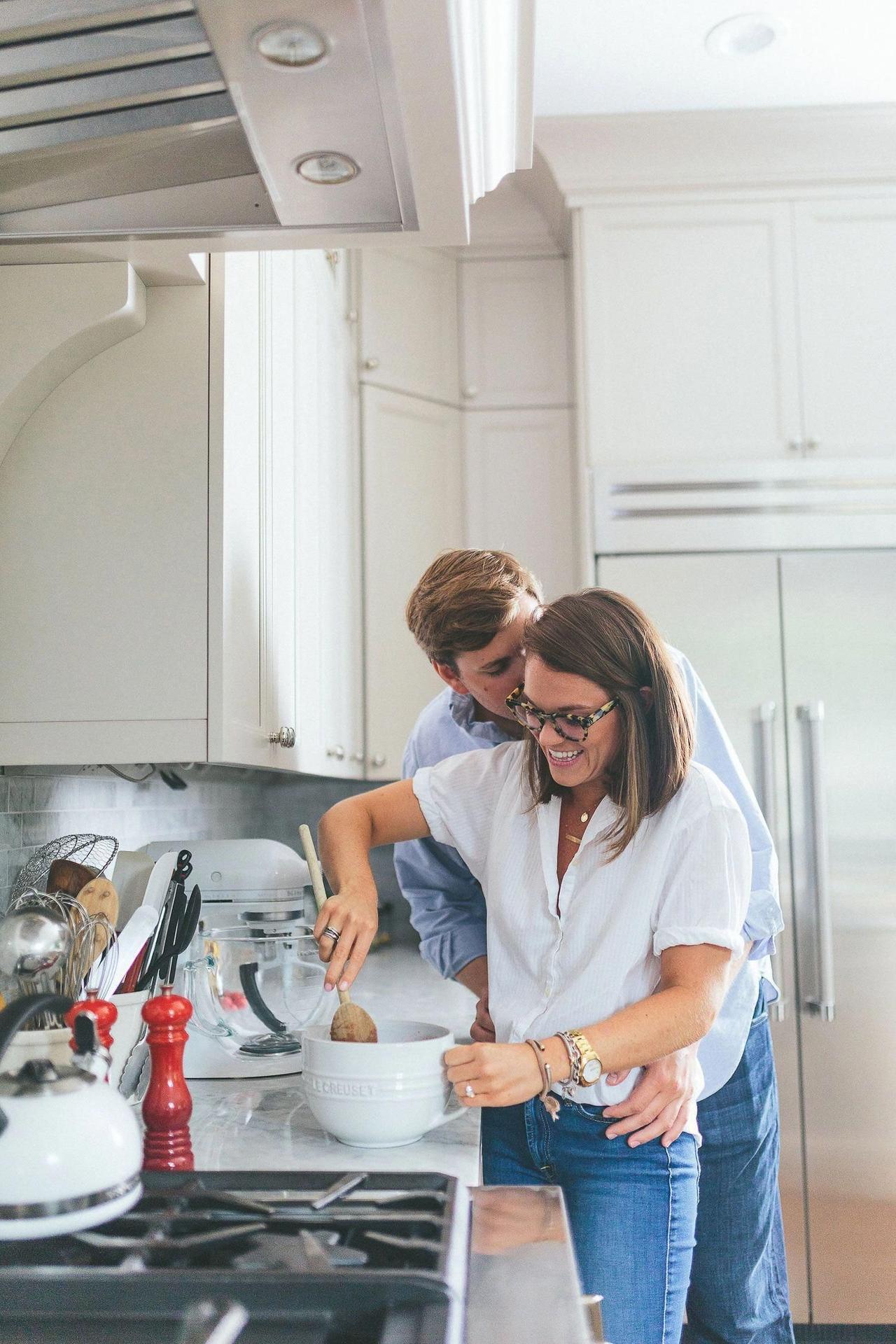 A kitchen set-up can be really a lovely option for foodie couples; it's also usually much easier to be relaxed with an at-home shoot.
Pillow Fight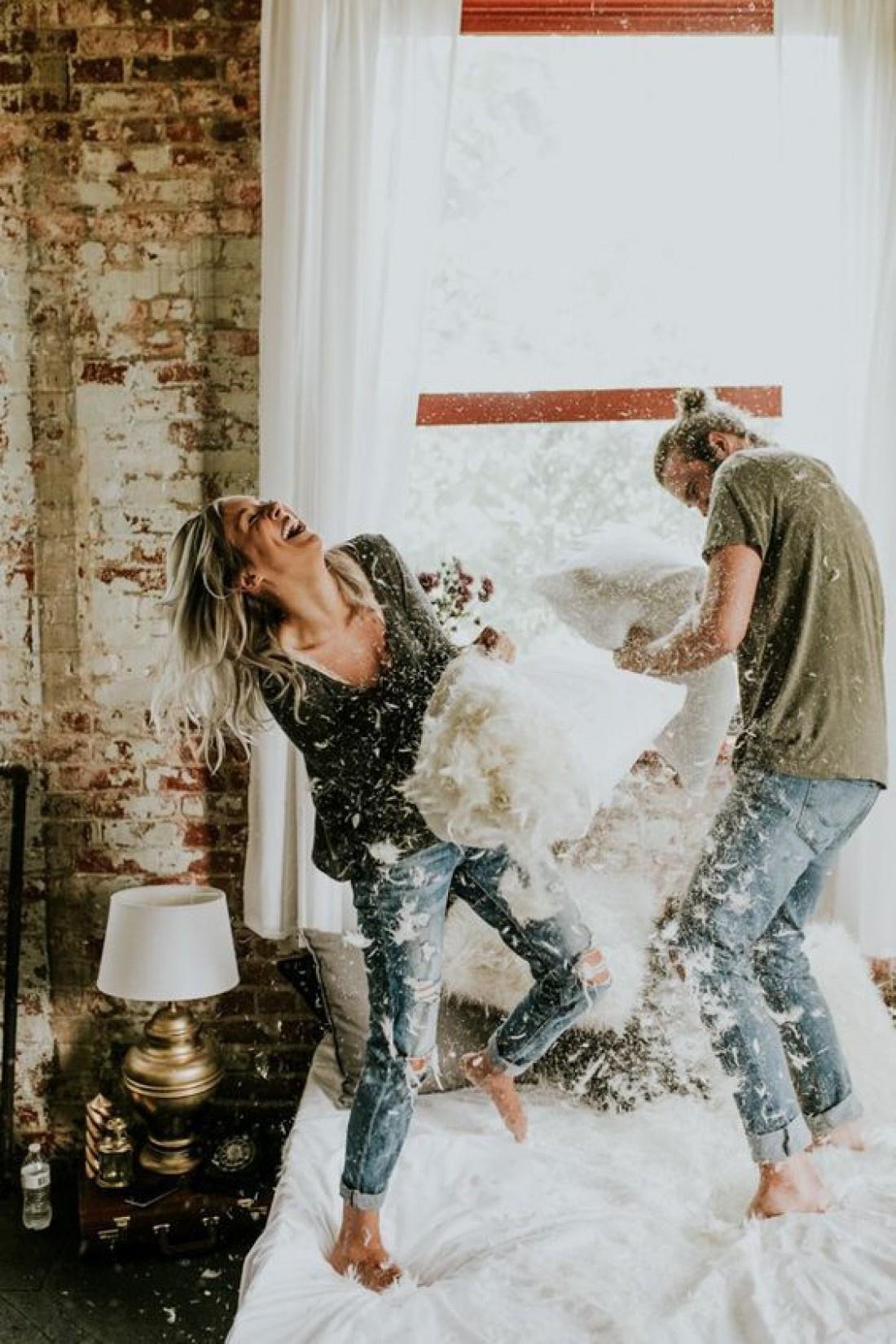 Another playful home engagement shoot idea, albeit with slightly more clean up! This is great if you want to let loose and have fun rather than focus on certain poses.
Say Cheese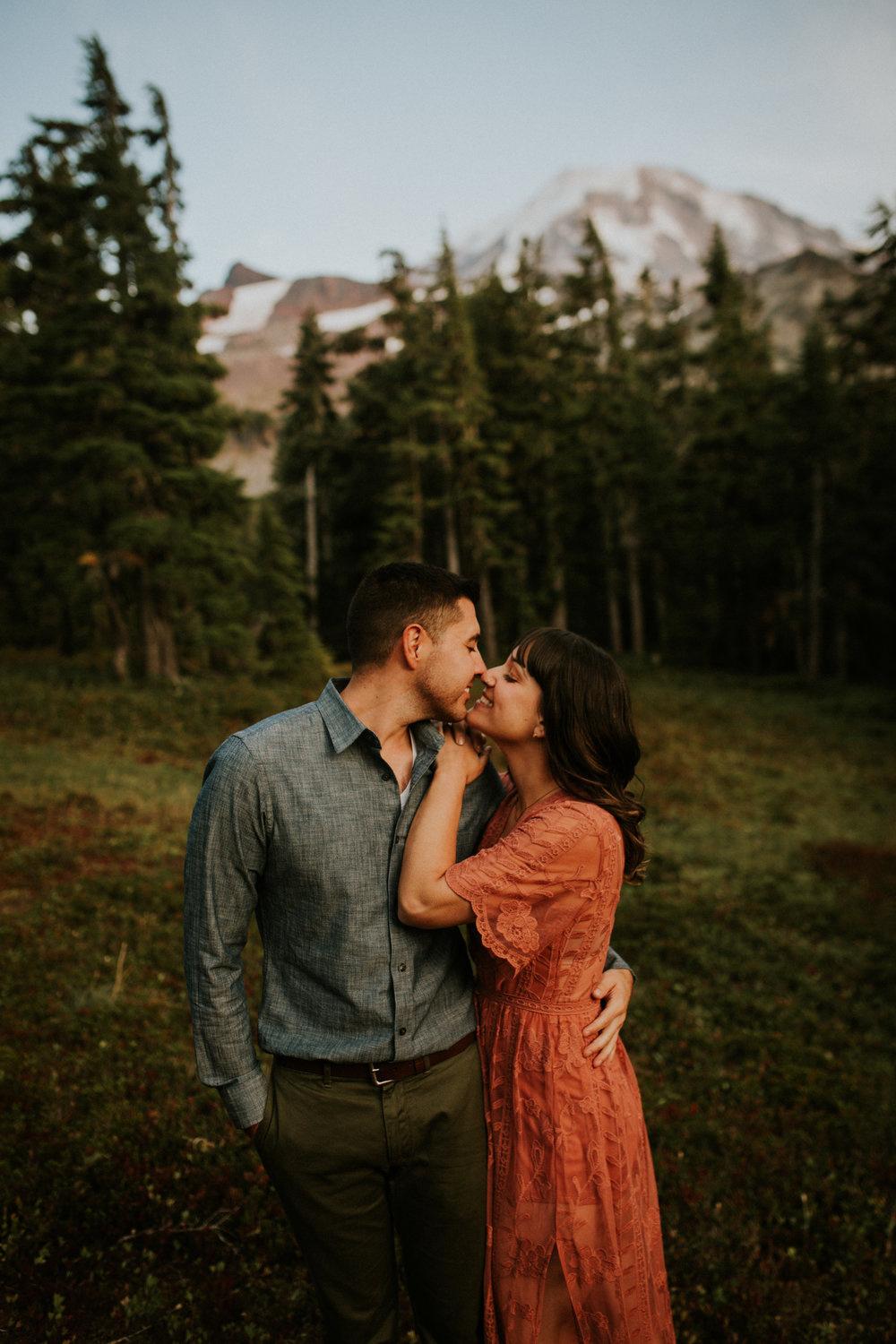 You'll probably get plenty of sweet kissing photos, but don't forget to capture some smiles as well.
Ride It Out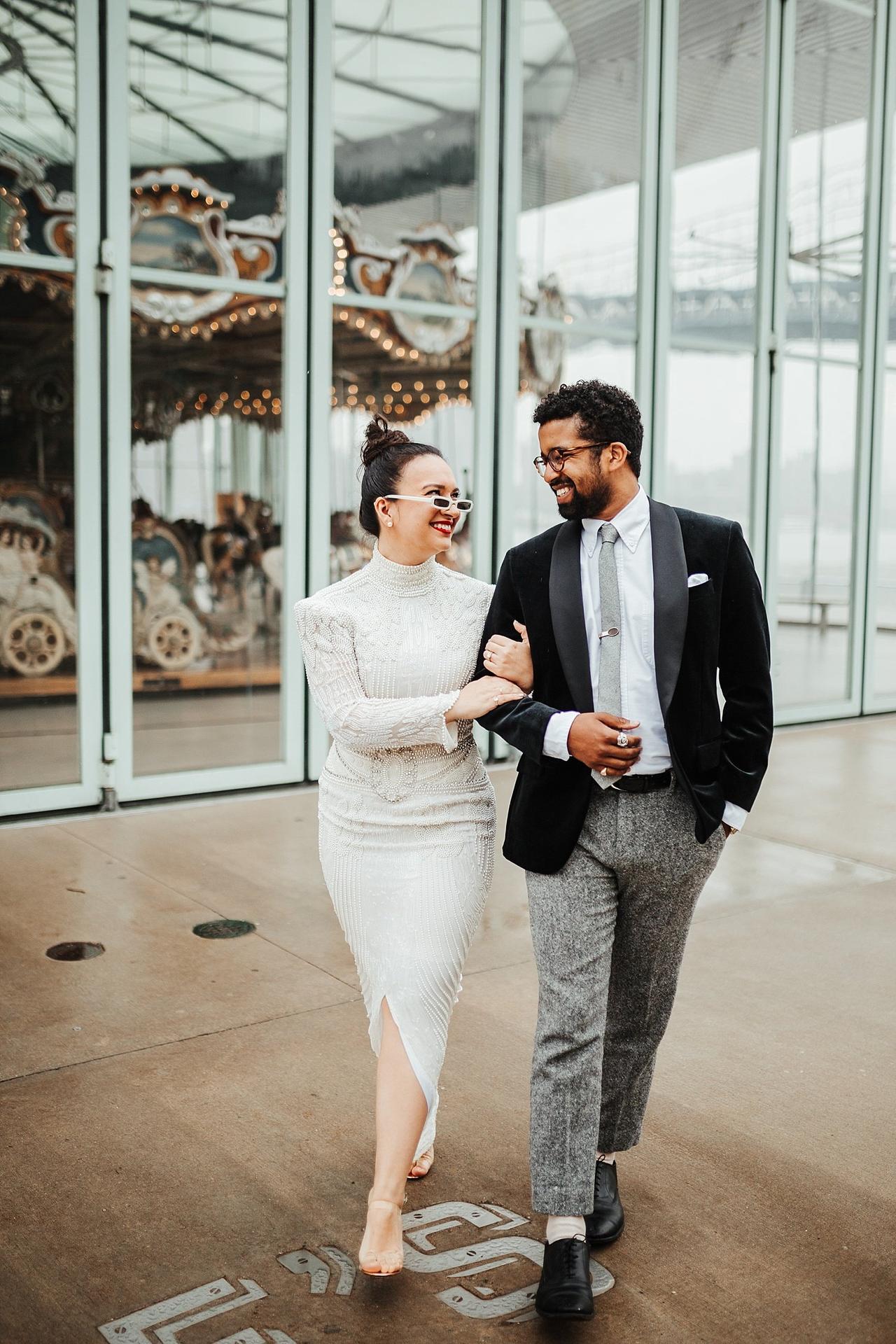 How genius is the idea of a carousel or fairground as your backdrop? The colours and lights will really make everything pop.
By The Book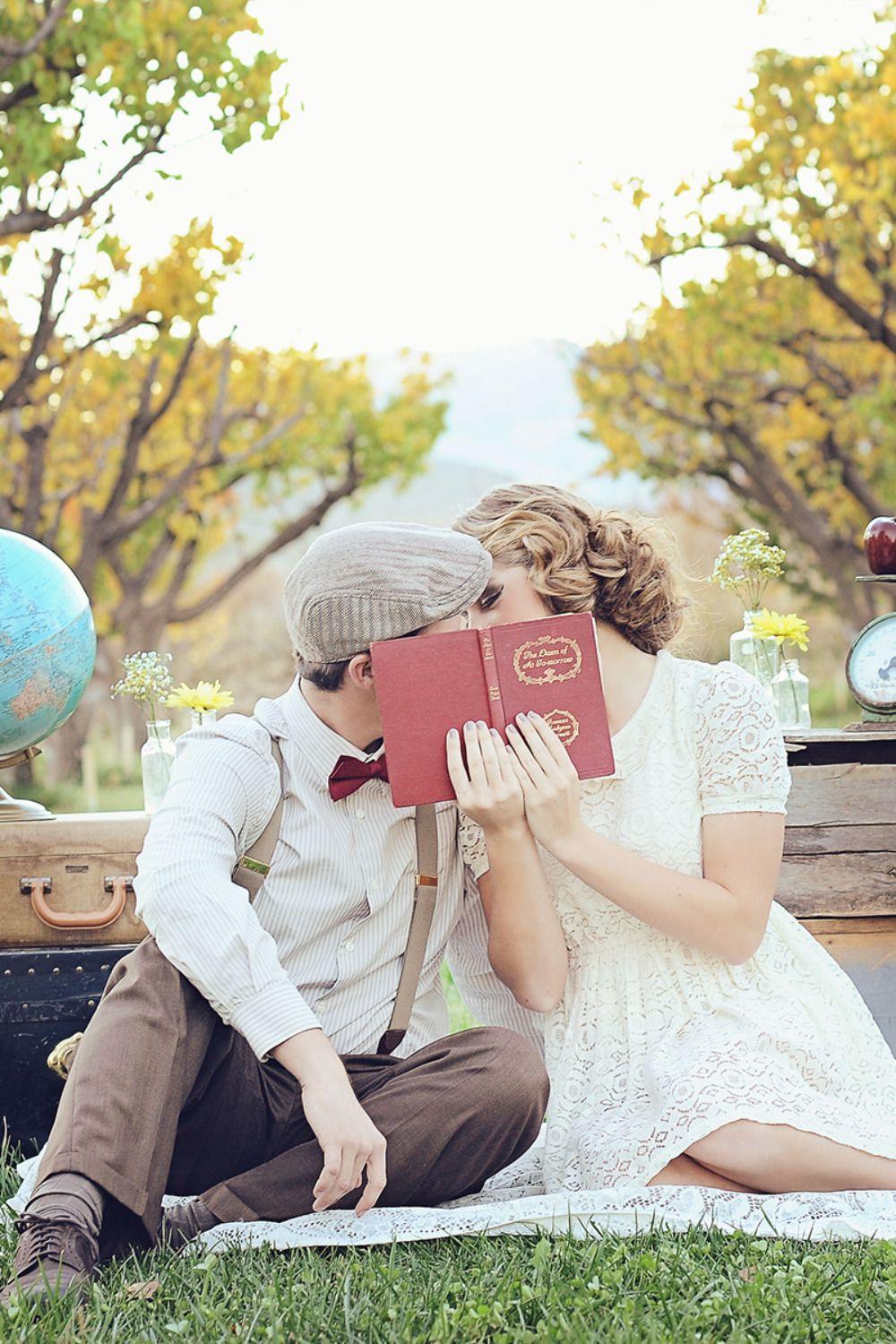 The vintage-inspired outfits set off this quaint engagement photoshoot – for a really special picture, choose a book you both love.
Get Cheeky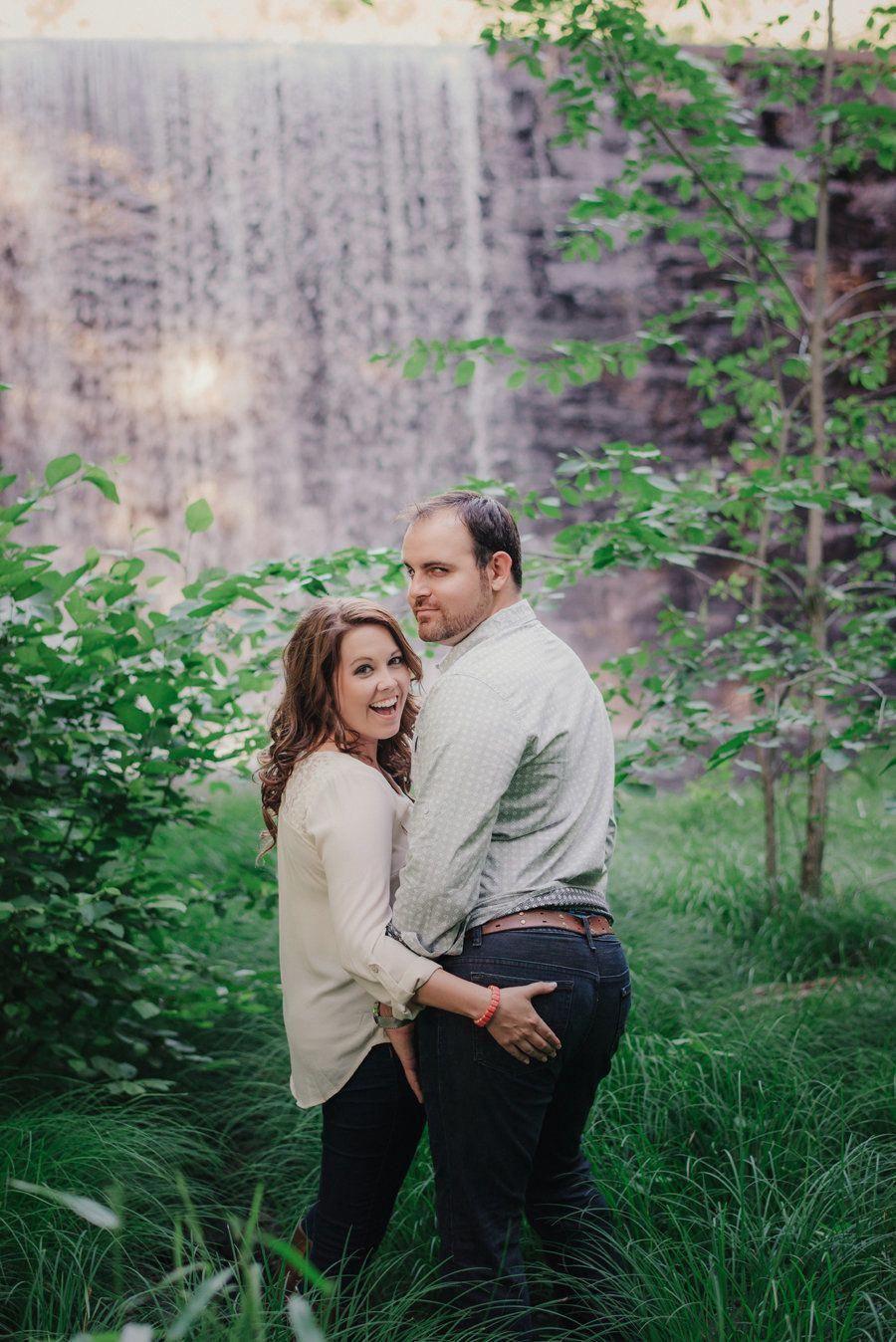 There's no rule that says engagement photoshoots have to be 100% serious – if you're a couple who's always joking around, let your photographer channel this on film!
Rain or Shine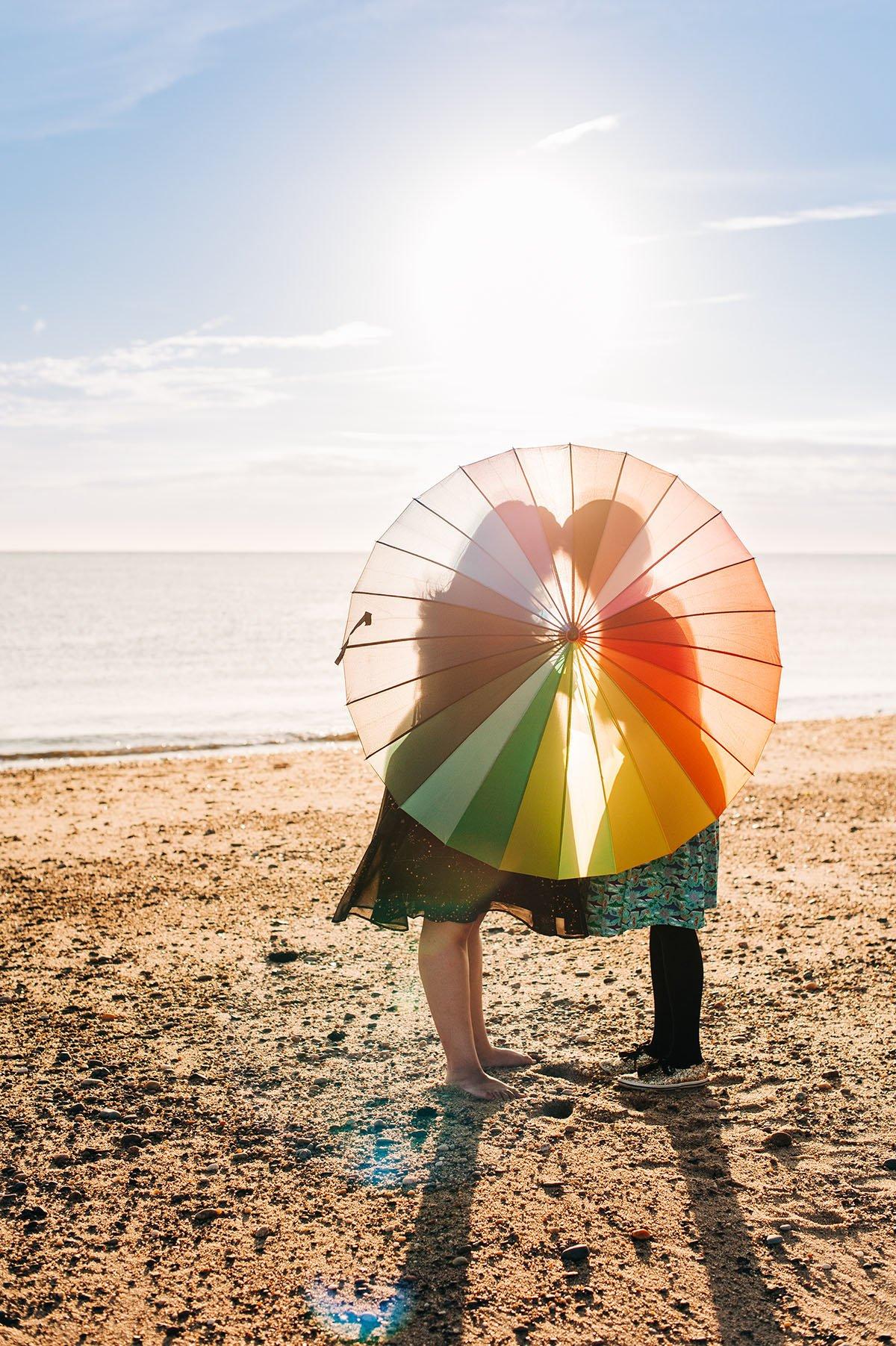 Regardless of the weather on the day, an umbrella makes a pretty and versatile prop. If you find it hard to smile on cue, a shot like this could be a good way to ease in.
Drop Off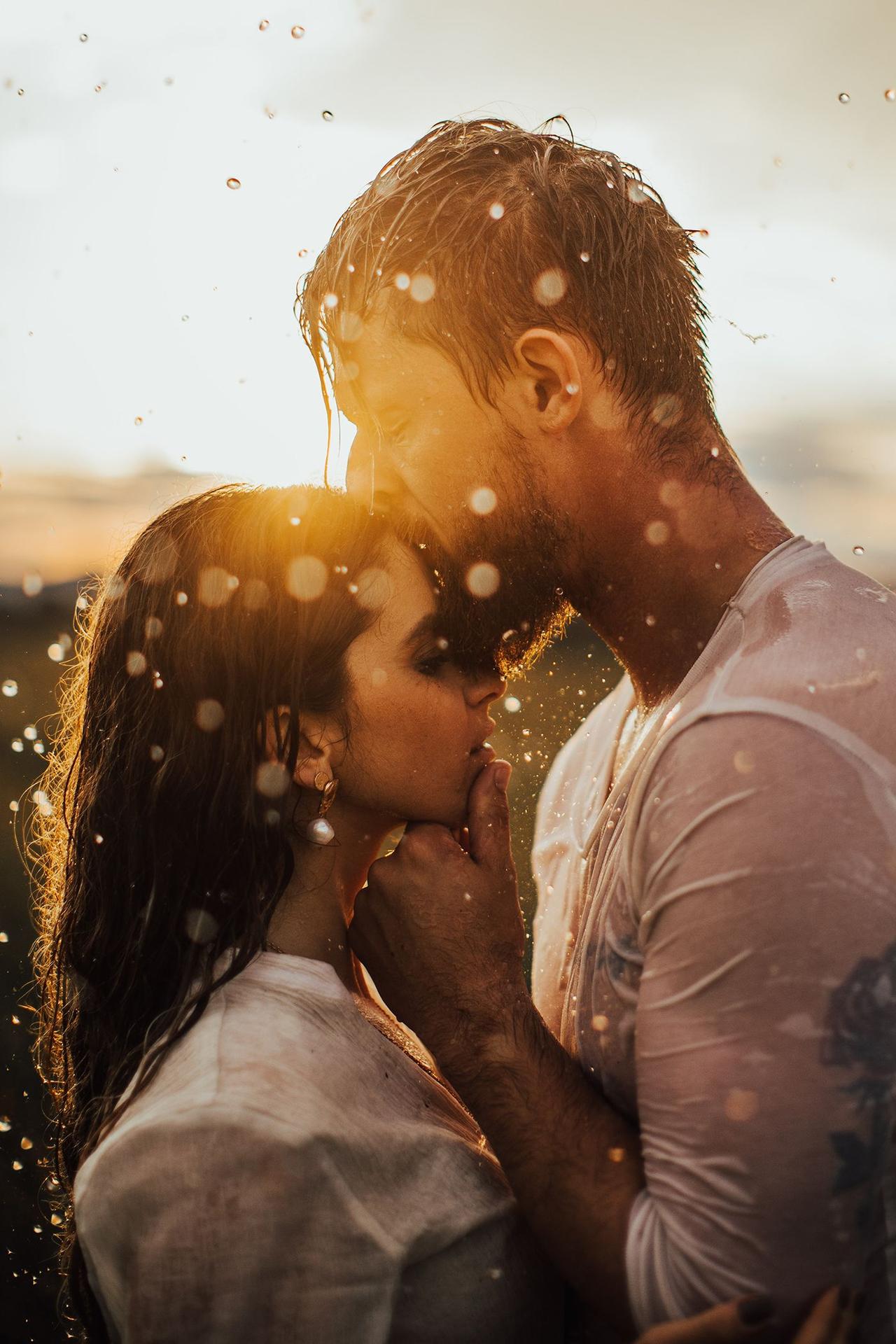 If it does happen to rain, this is an incredible example of how to embrace it – The Notebook, eat your heart out.
Snow Problem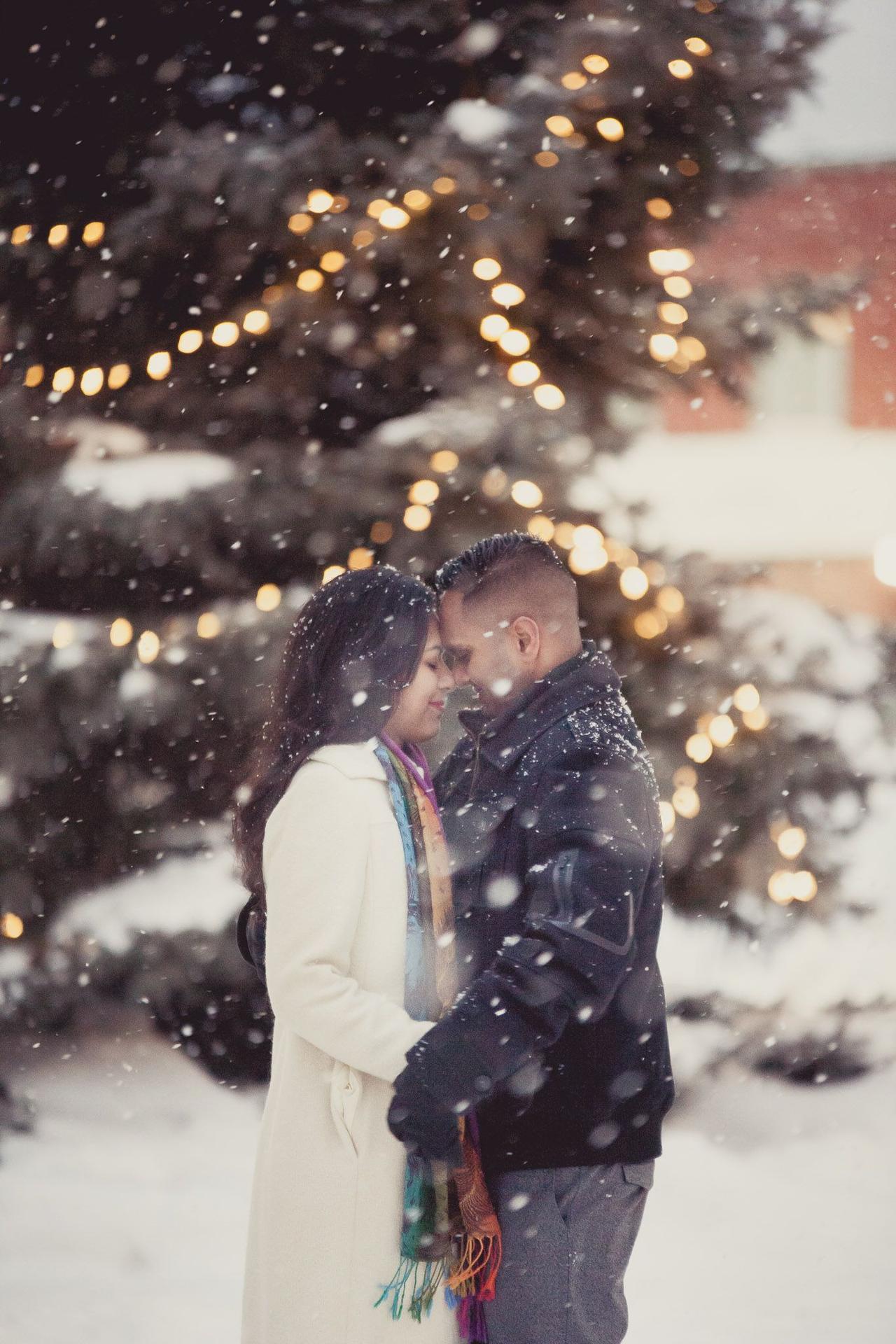 Winter proposals mean one thing – gorgeous Christmas engagement photoshoots! Make the most of all of the twinkly outdoor lights – and if it snows, you've hit the jackpot.
Shore Thing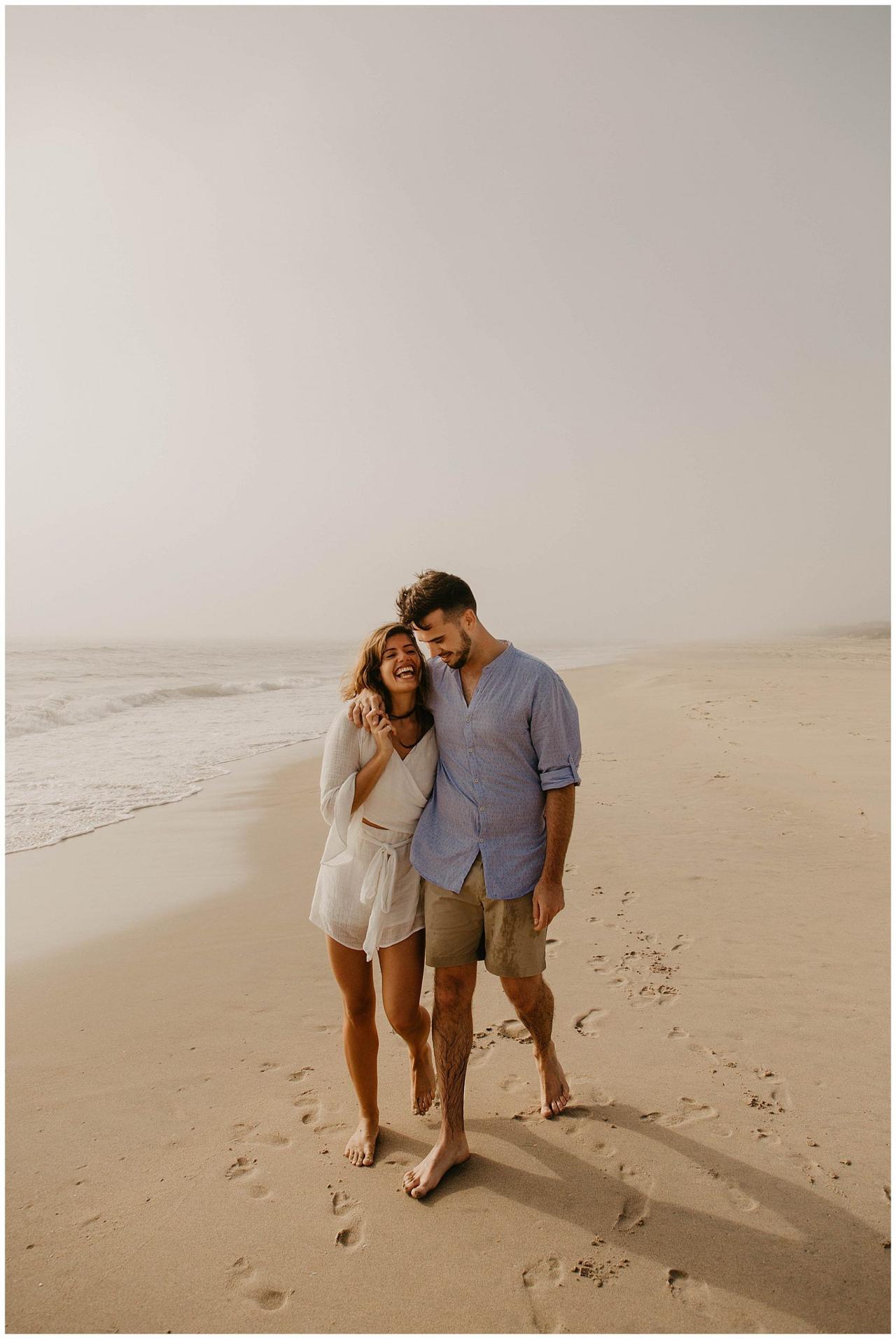 Whether you head in to paddle or stay on the sand, beach engagement shoots are always a good idea.
Rainbow Bright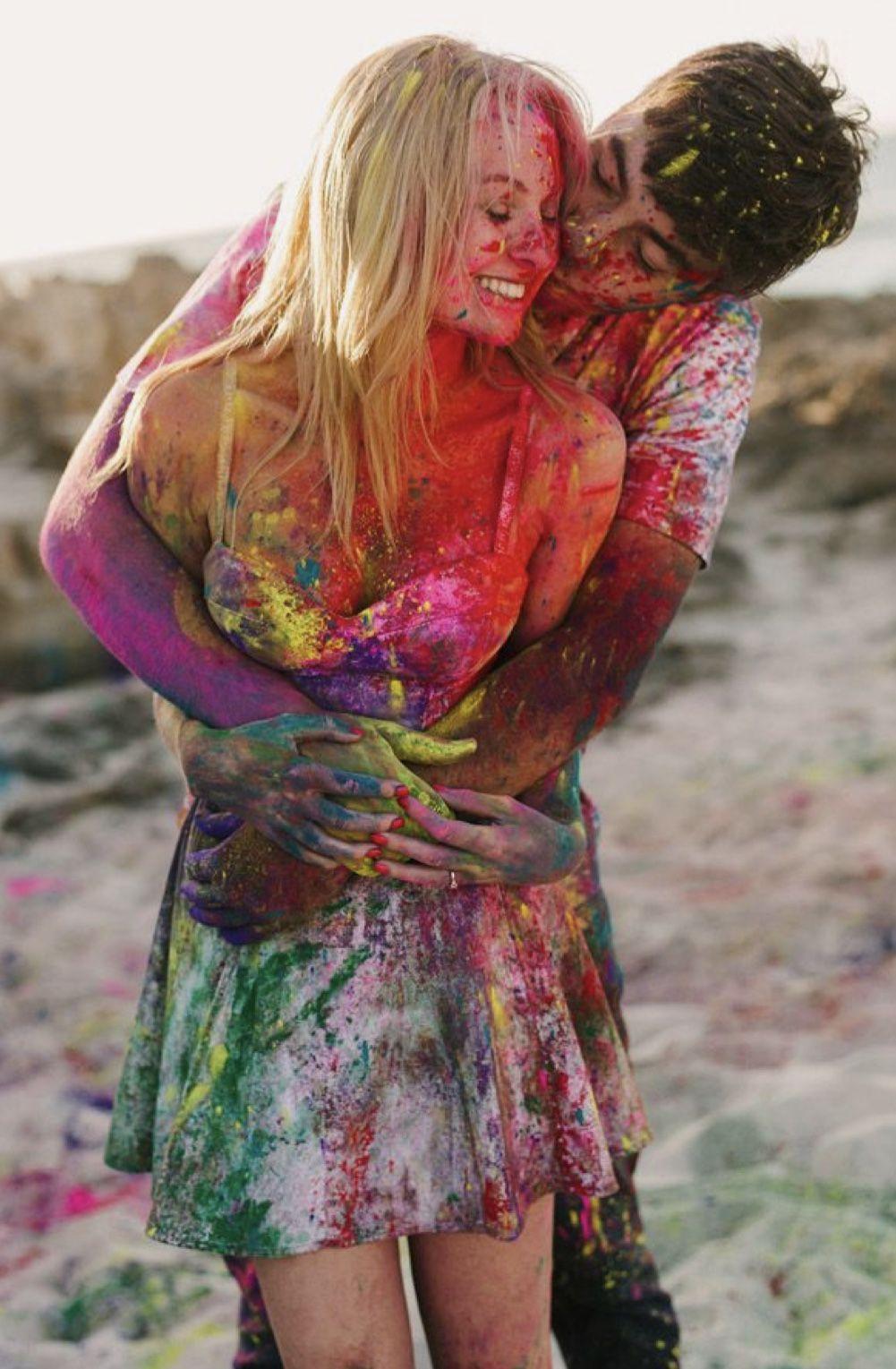 For couples who aren't afraid to get a little messy in the name of a great snap. Get the effect with paint powder – it also looks amazing as it flies through the air.
Start Smokin'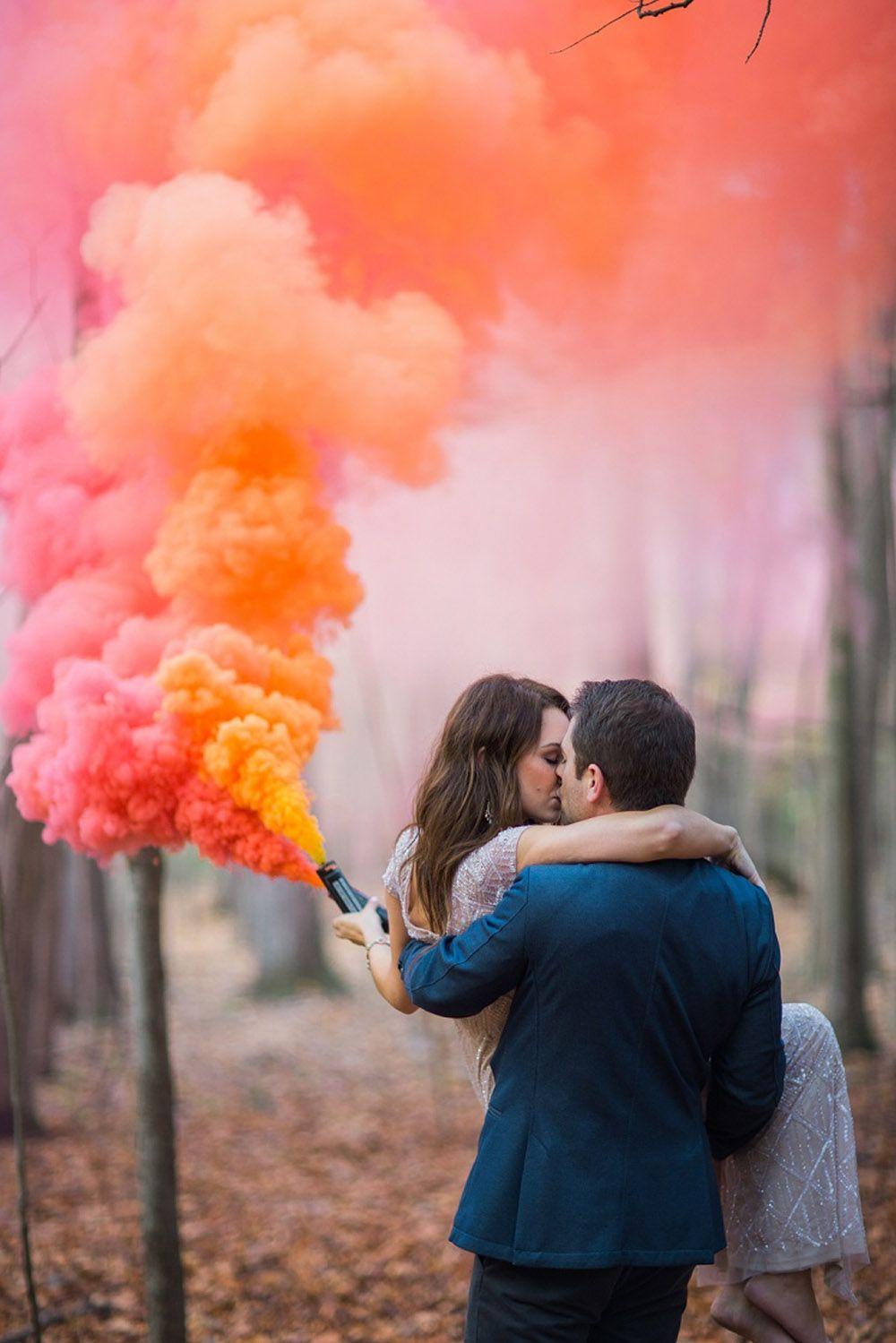 Smoke bombs are another colour-rich option that will add amazing wow factor to your photographs.
Slice of Life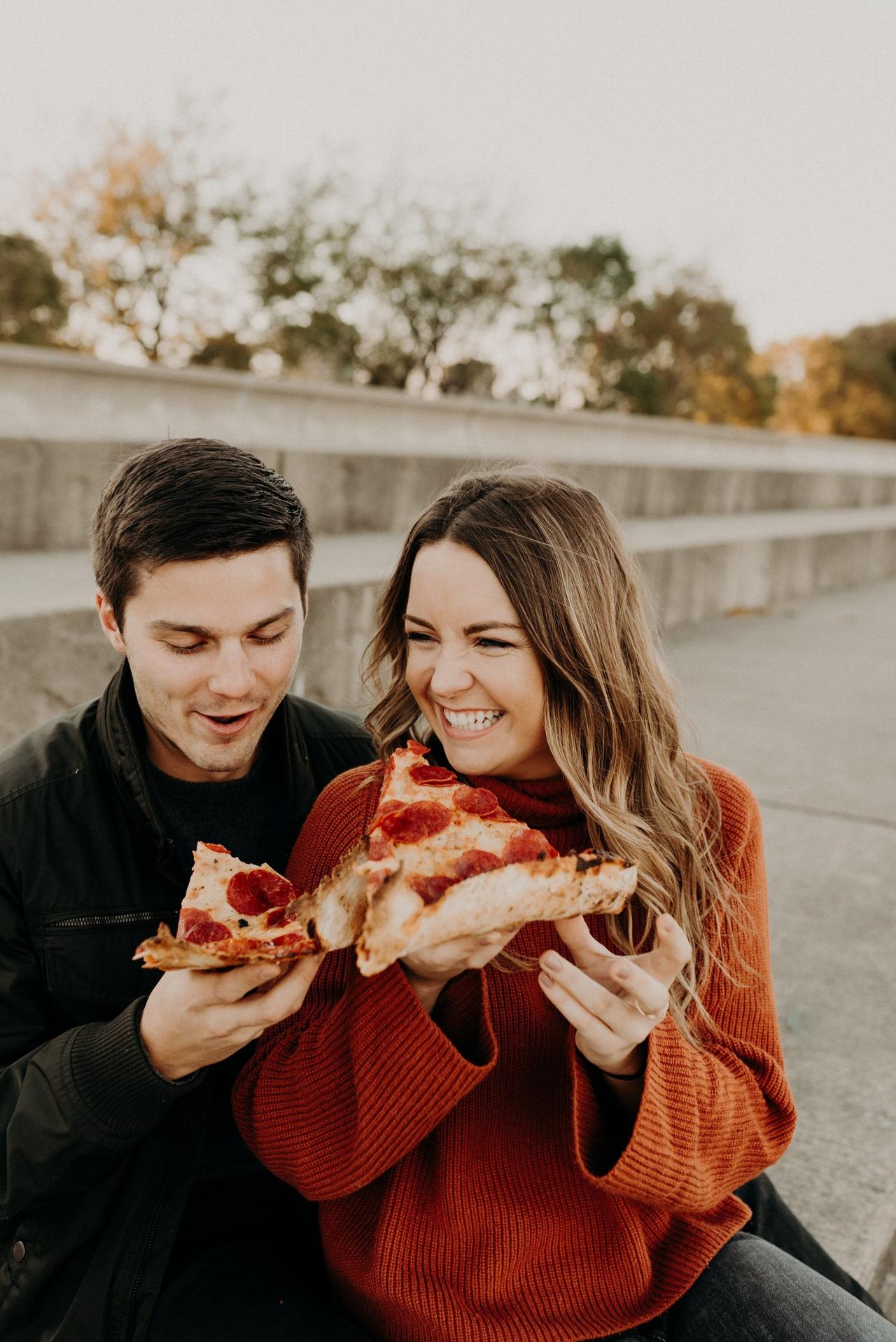 Okay, so this is a cheesy idea, but in the best possible way! The perfect momento for any carb-loving duo.
Go Green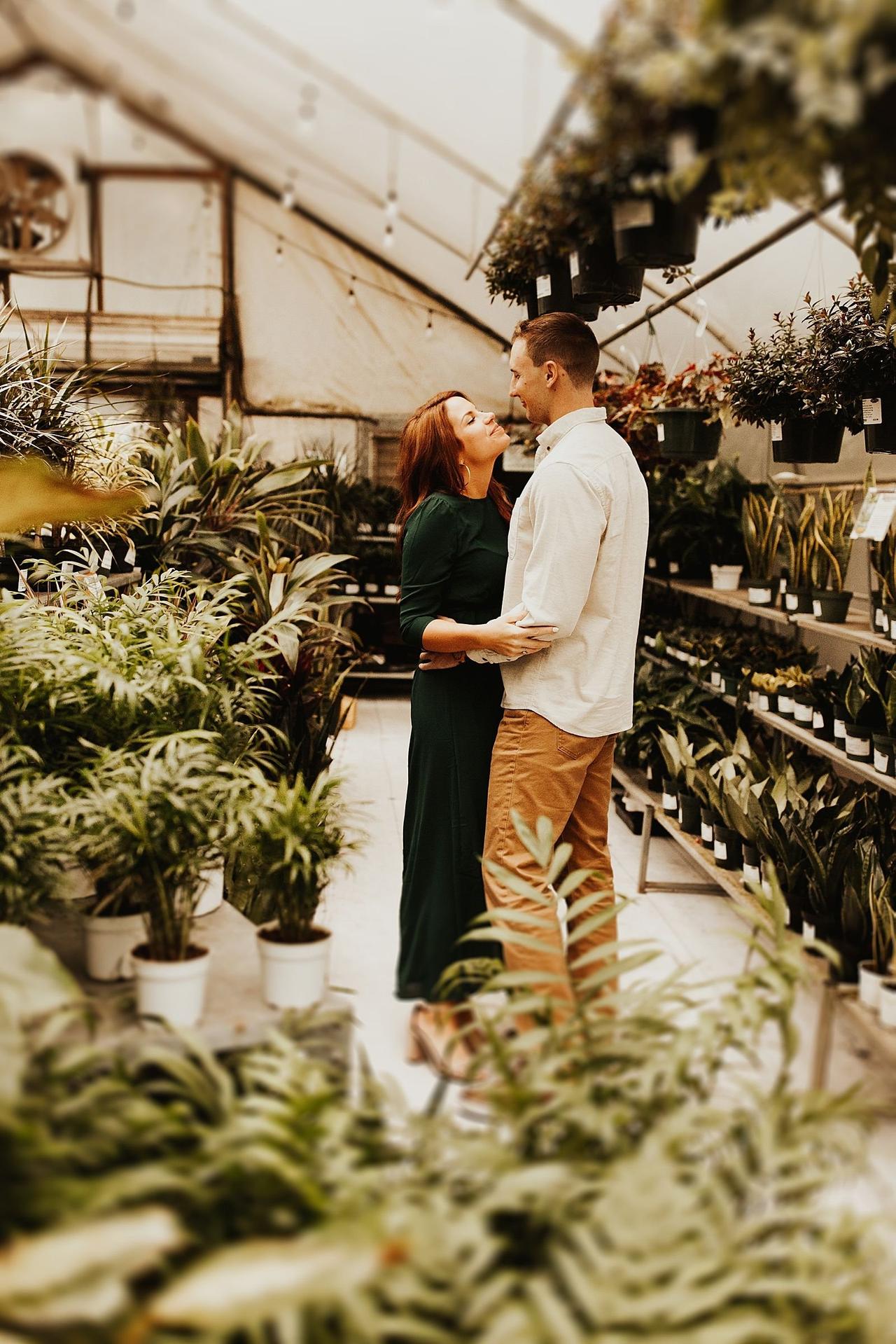 An engagement photoshoot in a garden or greenhouse will always come out gorgeous – the green dress here is a whimsical contrasting touch.
Pretty in Pink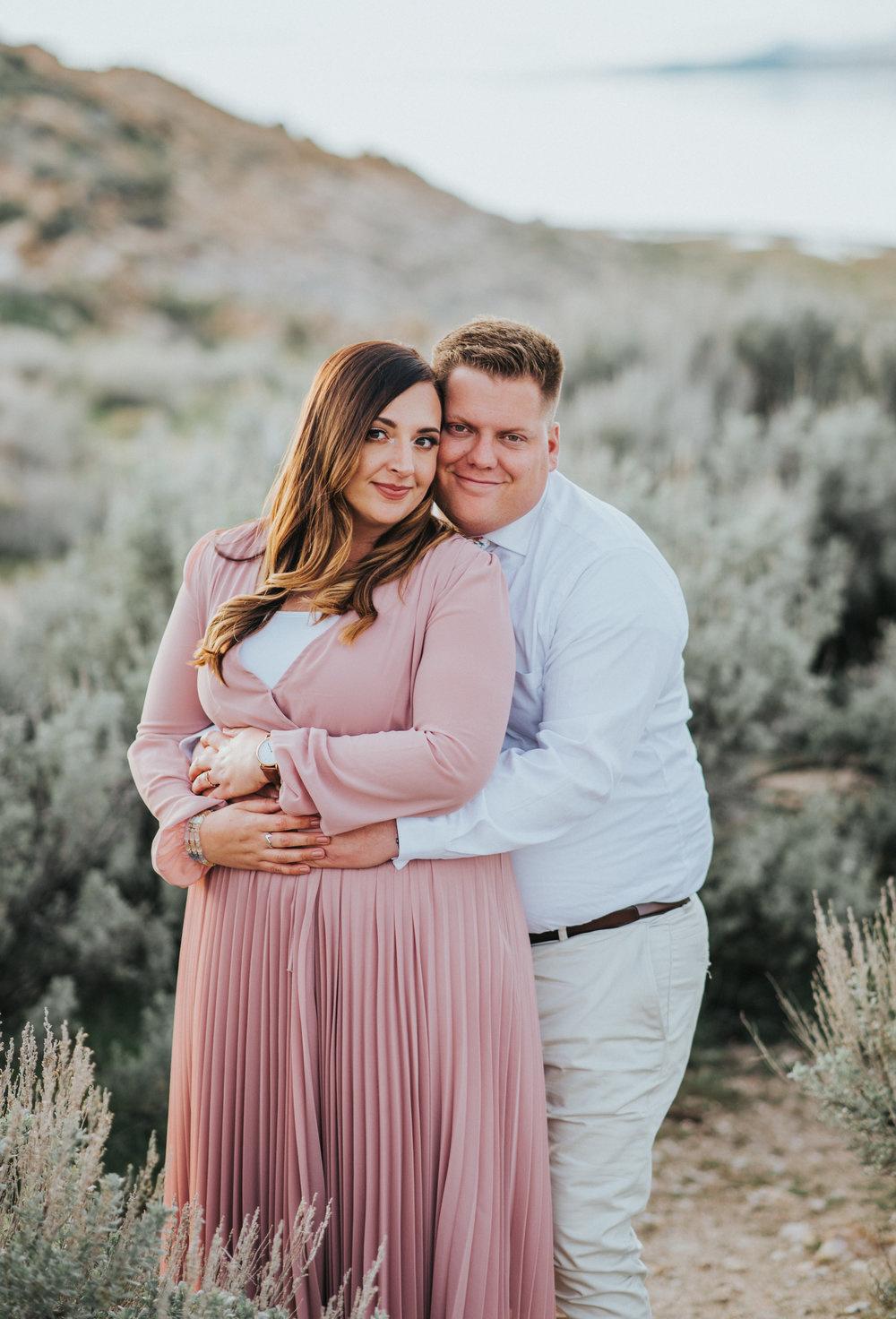 Speaking of dresses, a pastel colour like this pink ensemble instantly gives a soft, feminine finish.
Hot Air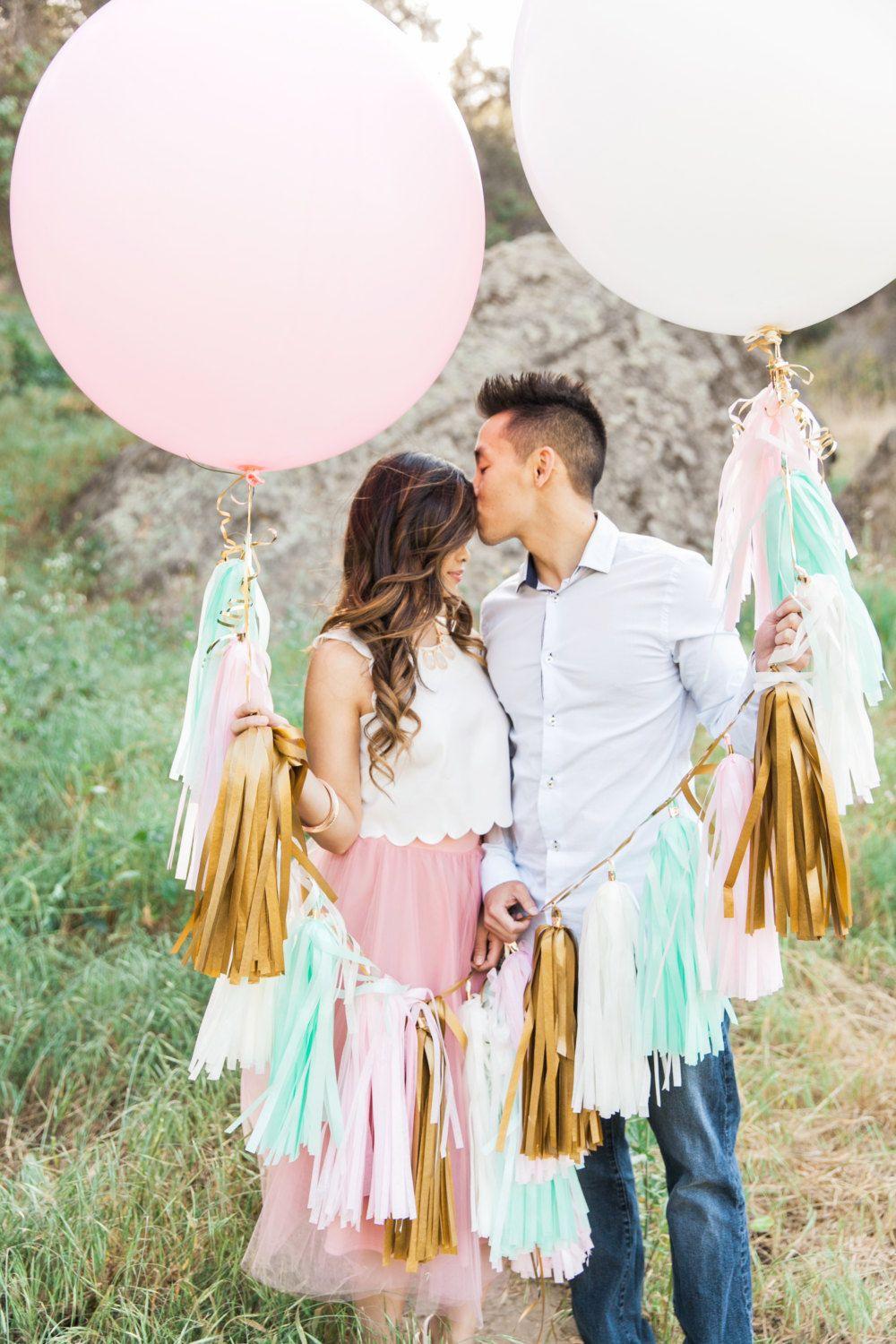 Balloons are an excellent option to add a wash of colour on a budget – you could also consider helium styles in the shape of letters or numbers.
To The Letter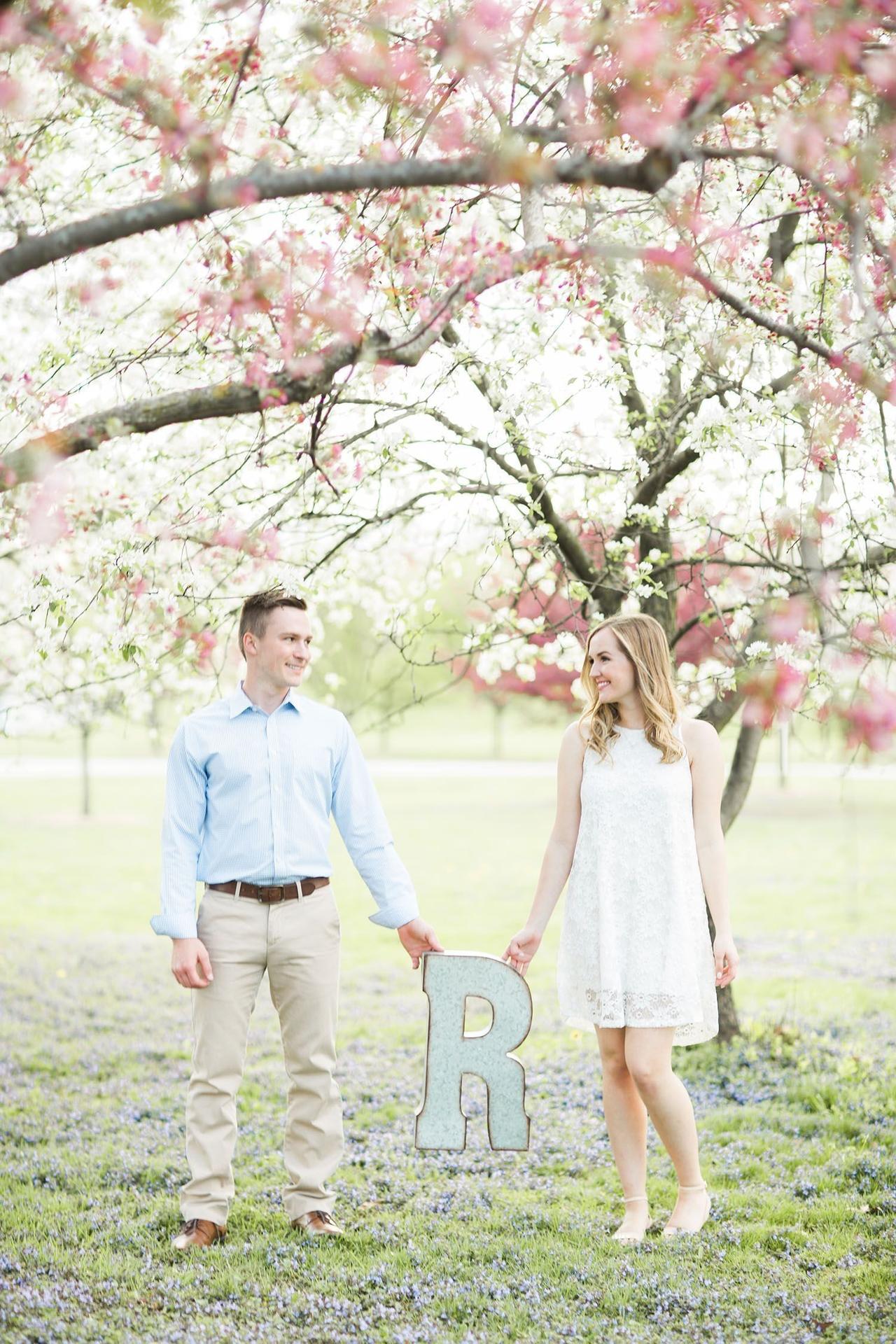 Along the same lines, using a prop or light of your new shared initial in some of the snaps is always a sweet idea.
Great Gates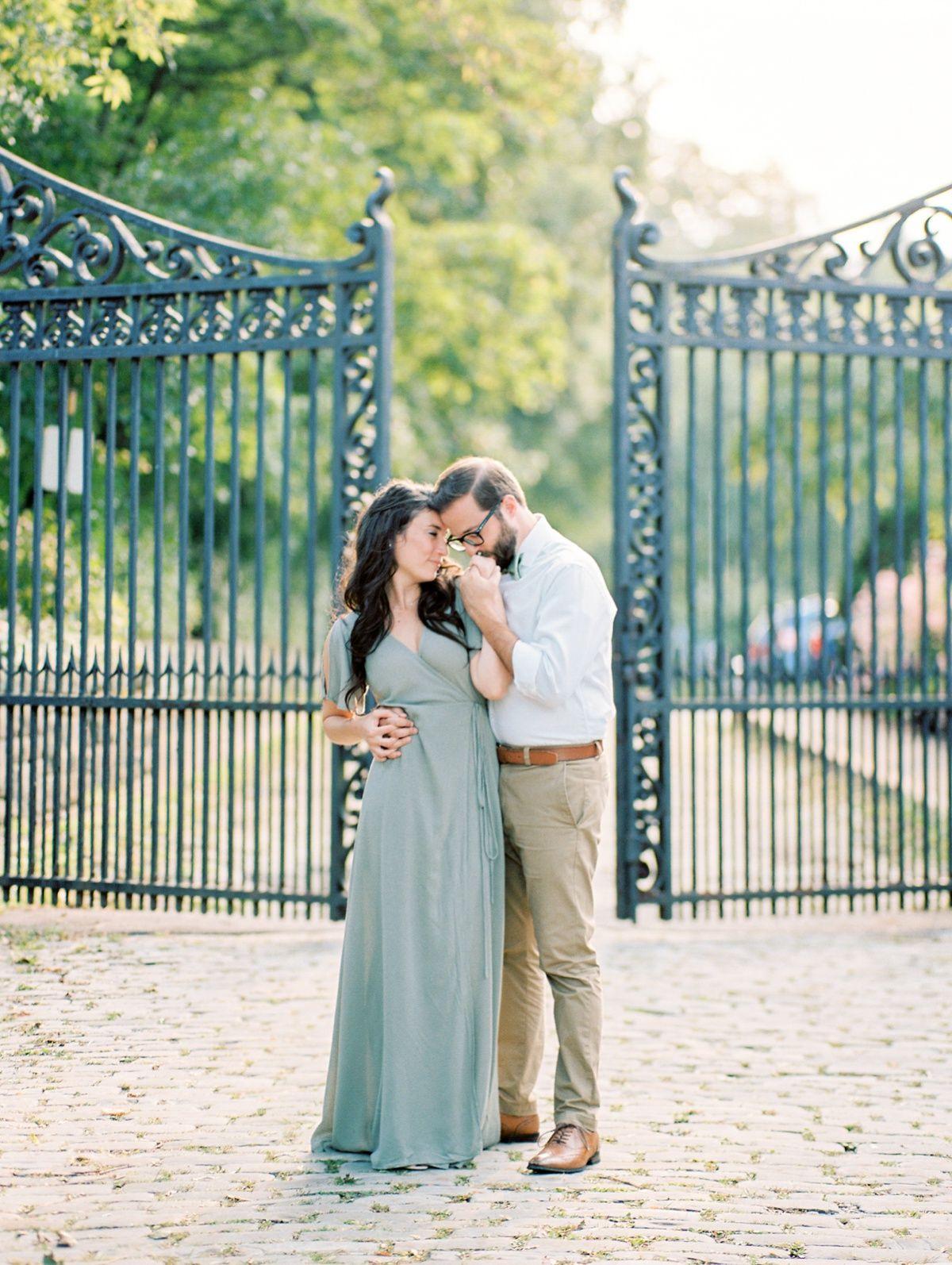 Any building with a dramatic entrance or towering cast iron gate instantly looks grand and elegant.
In Bloom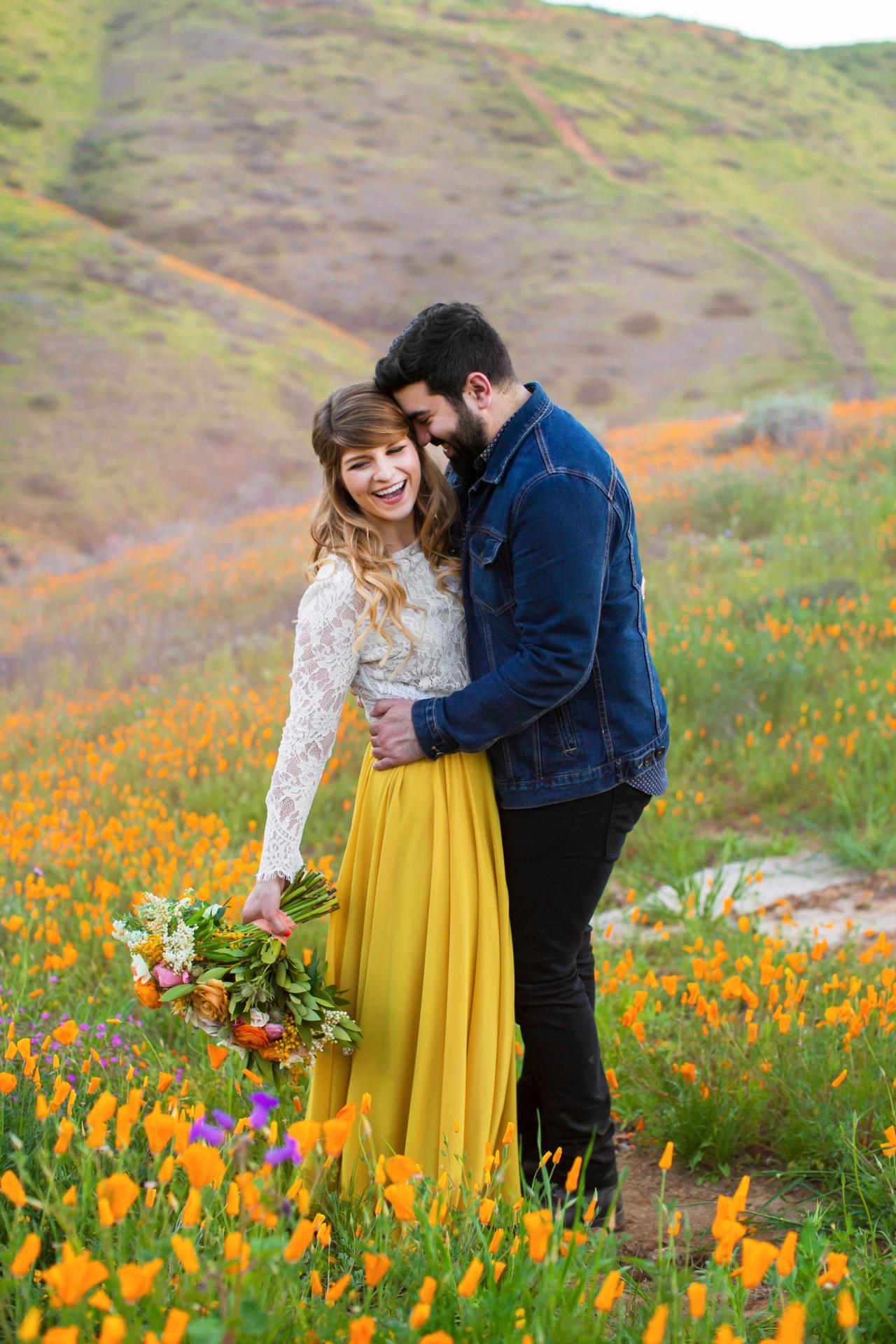 What could be more idyllic than strolling through a flower field with your fiancé? Bonus points if you carry your own bouquet too.
Grunge and Glitter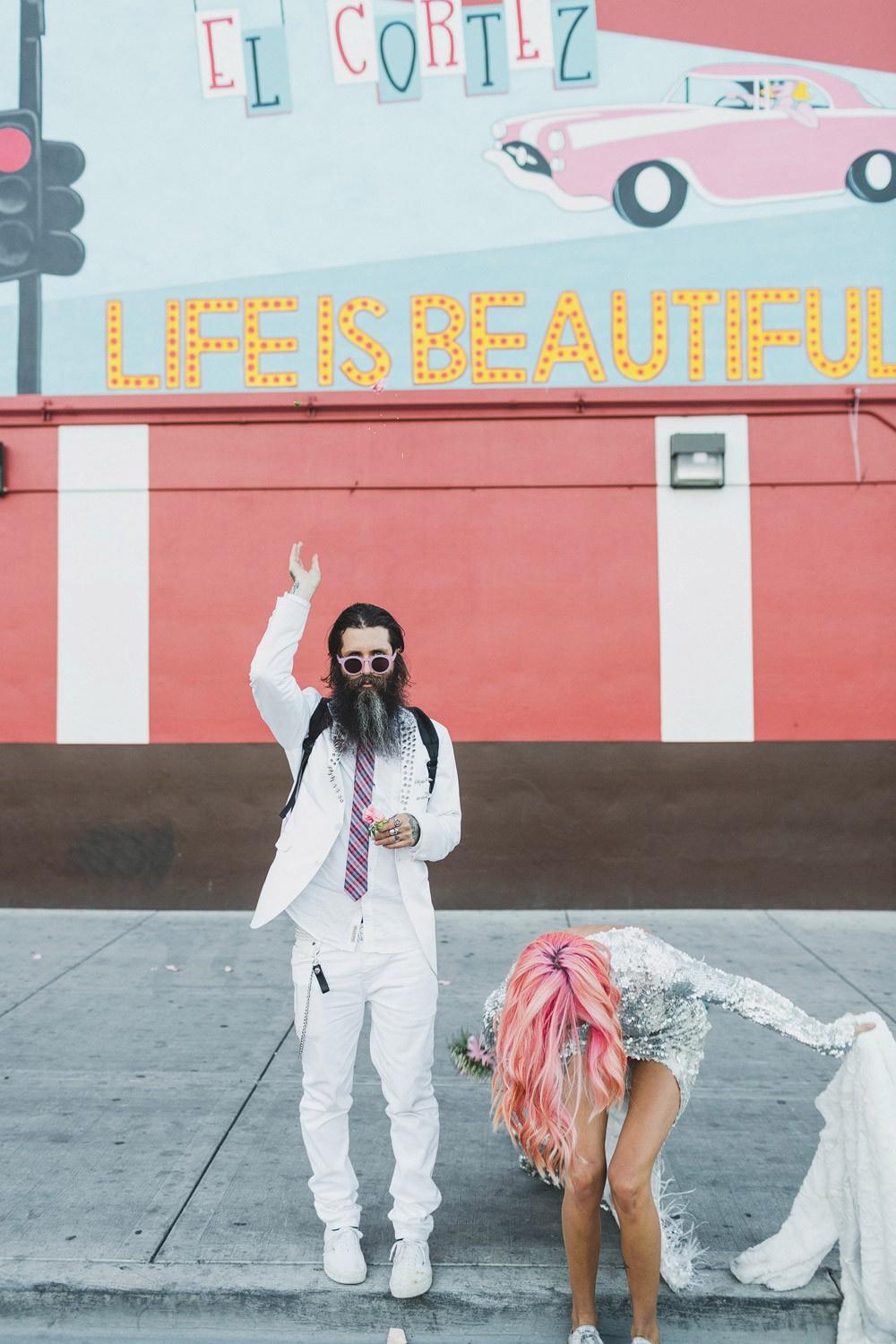 Jaw-dropping street art is more prevalent than ever these days, and you can use it to your advantage for a completely unique scene.
Wall to Wall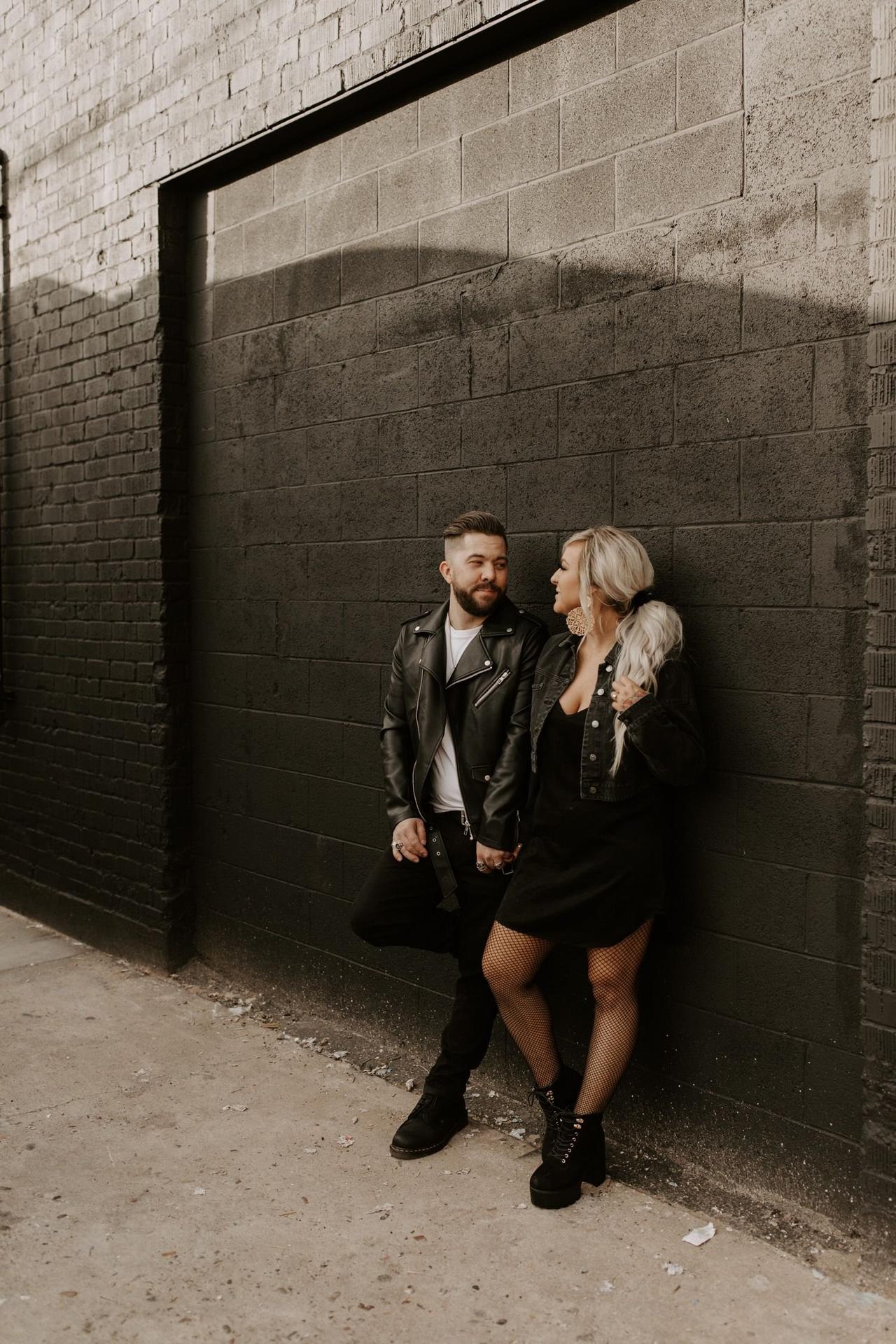 However, you don't have to go for brights or busy patterns – a plain black or white wall can have just as much impact/
Ain't No Mountain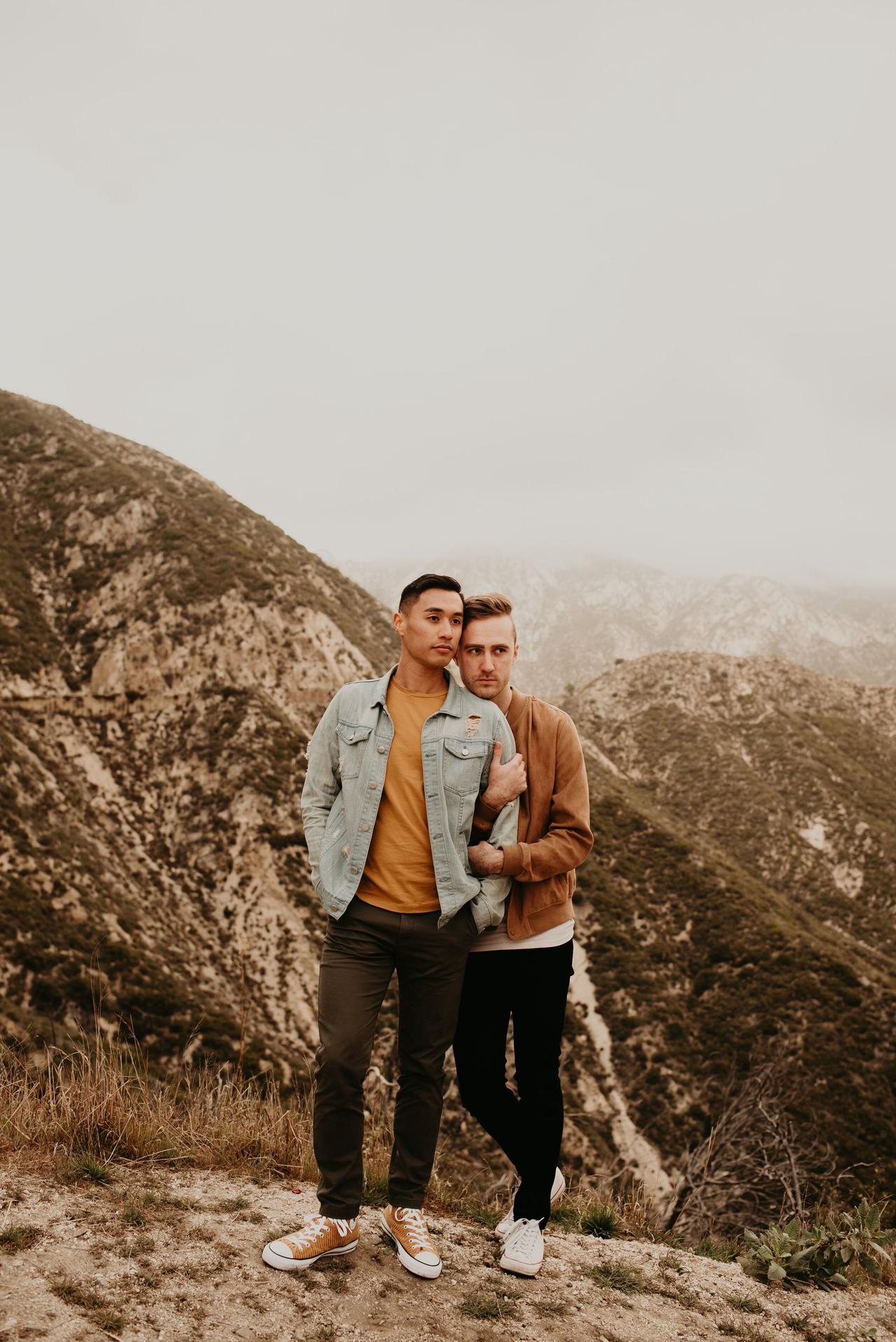 As long as your photographer is game to scale it with you, climbing to a scenic spot in your town can create a picture with unquestionable wow factor.
A Little Lift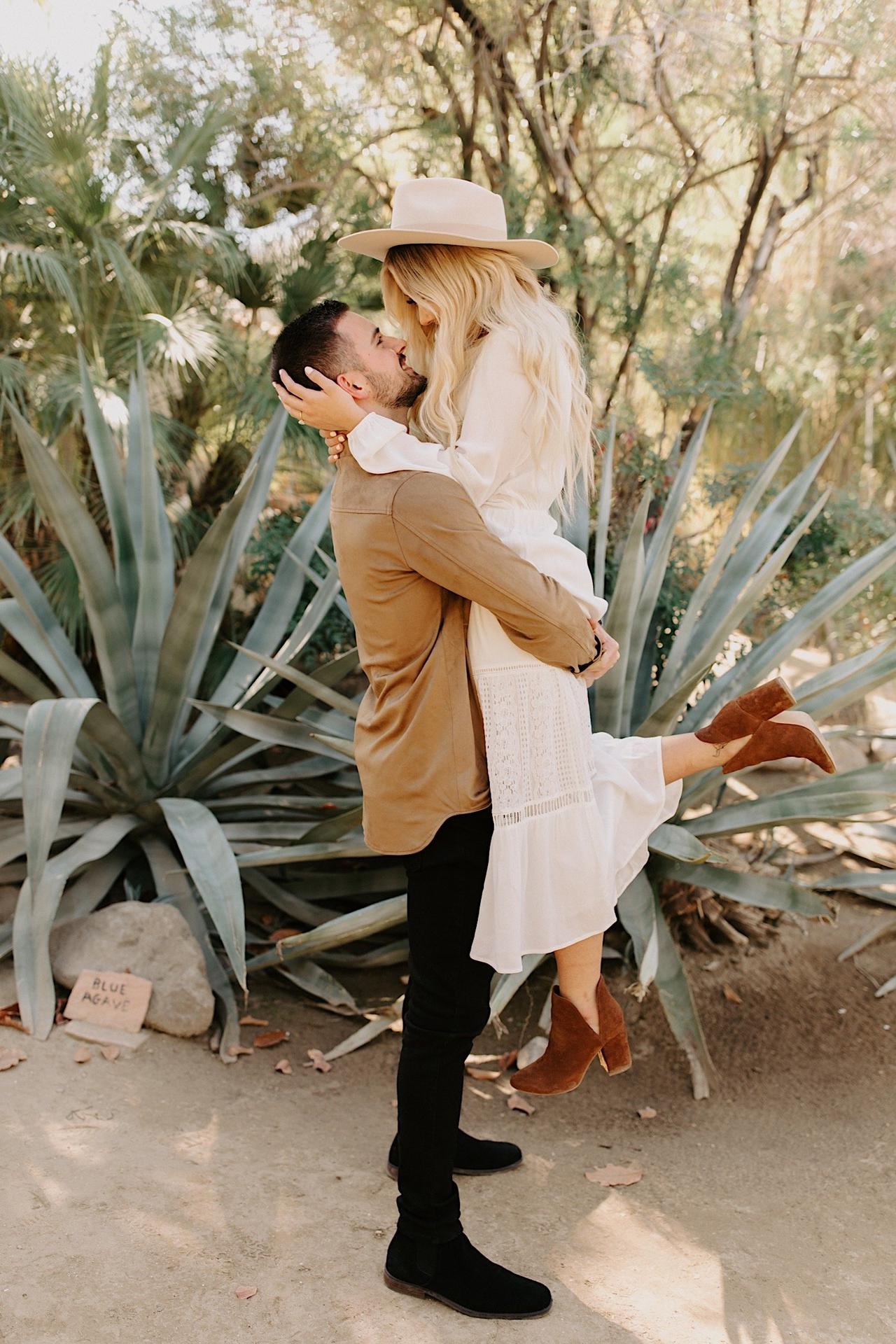 Playing with your heights can make a picture more dynamic – but more to the point, this is just super cute.
Step by Step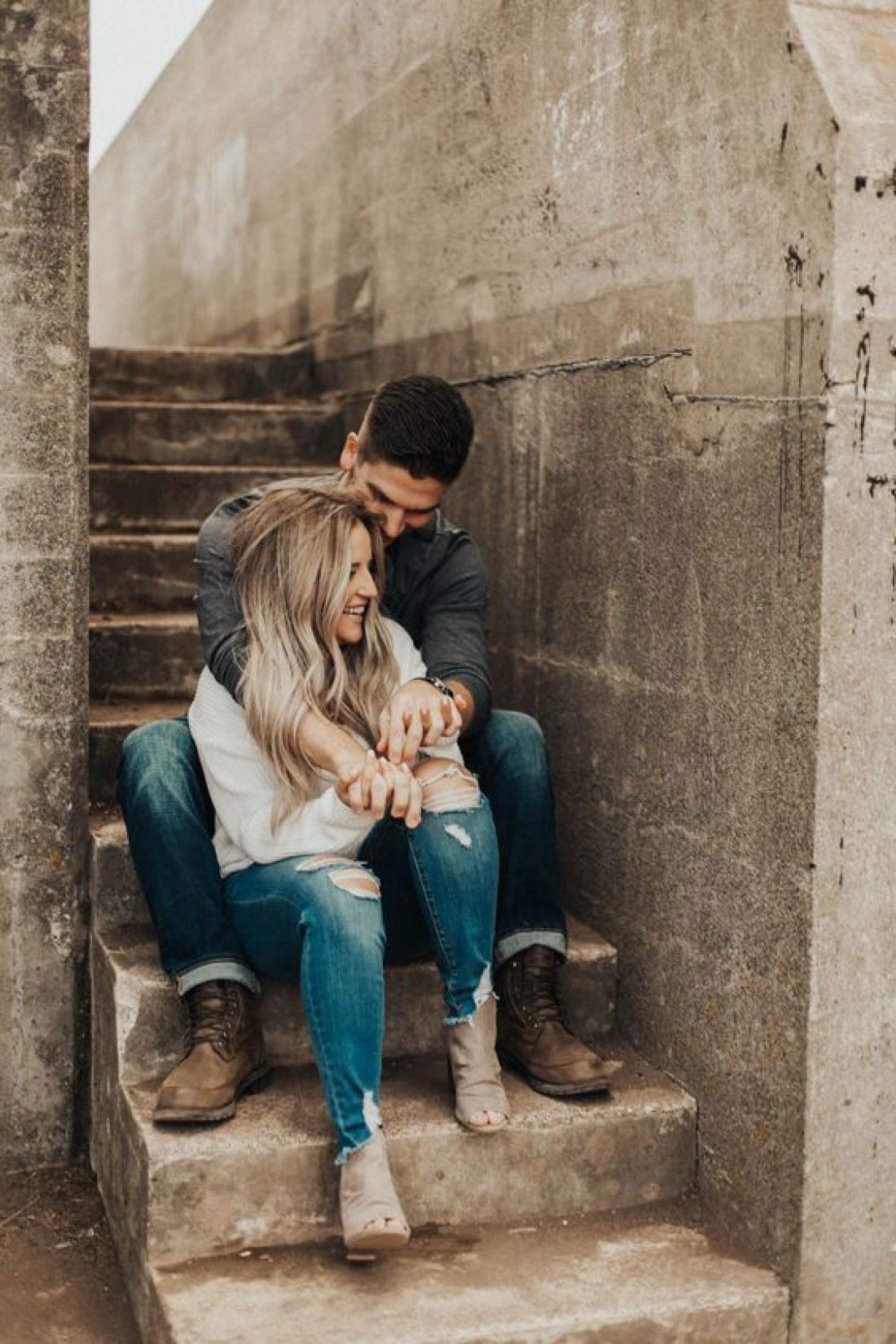 Whether you're indoors or outdoors, perching on some steps is a great simple pose for a more laid-back, natural feel.
Back to Back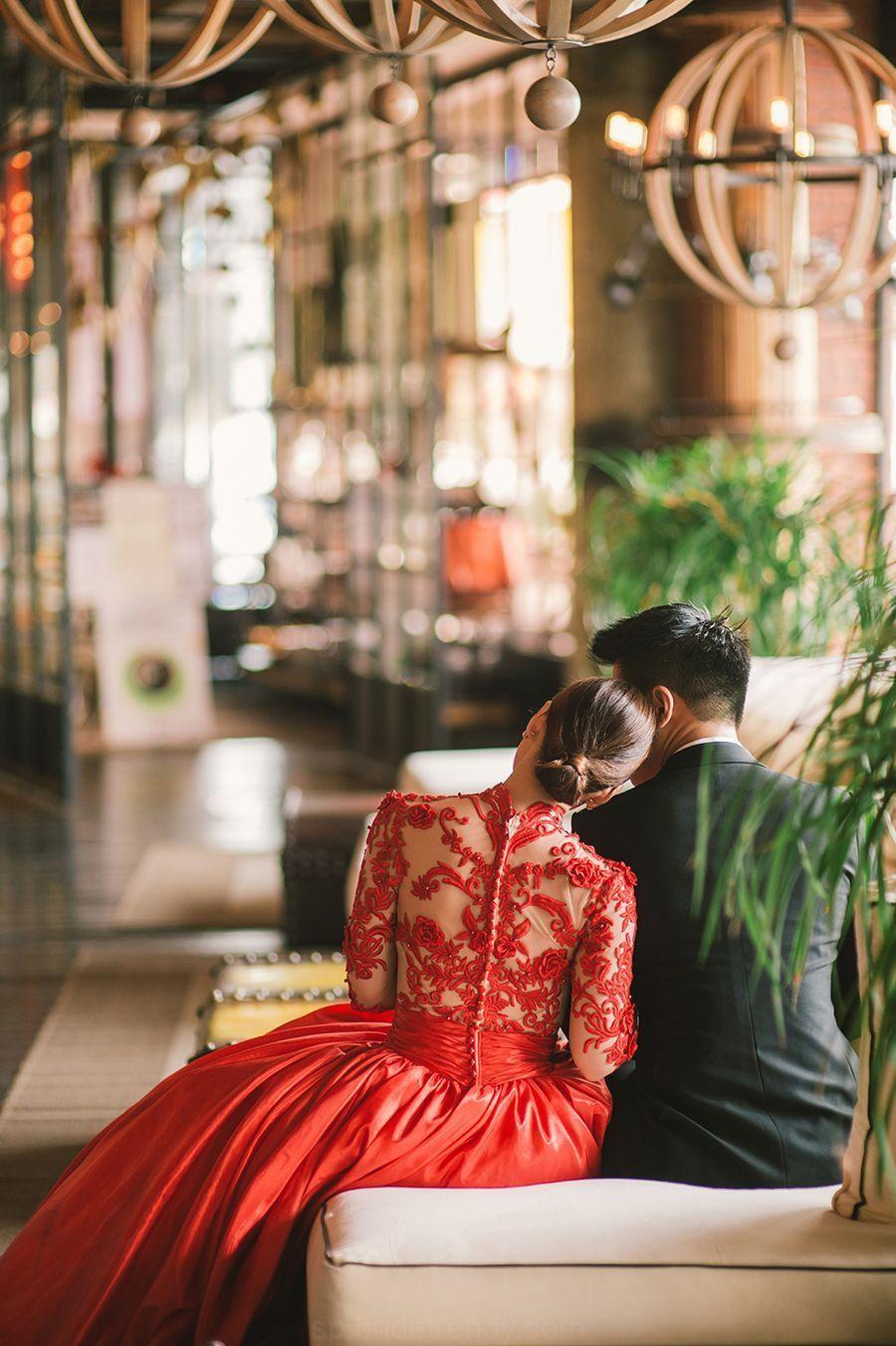 An ideal pose for couples who don't feel comfortable cheesing directly into the camera – the finished product is just as dreamy.
Hit The Road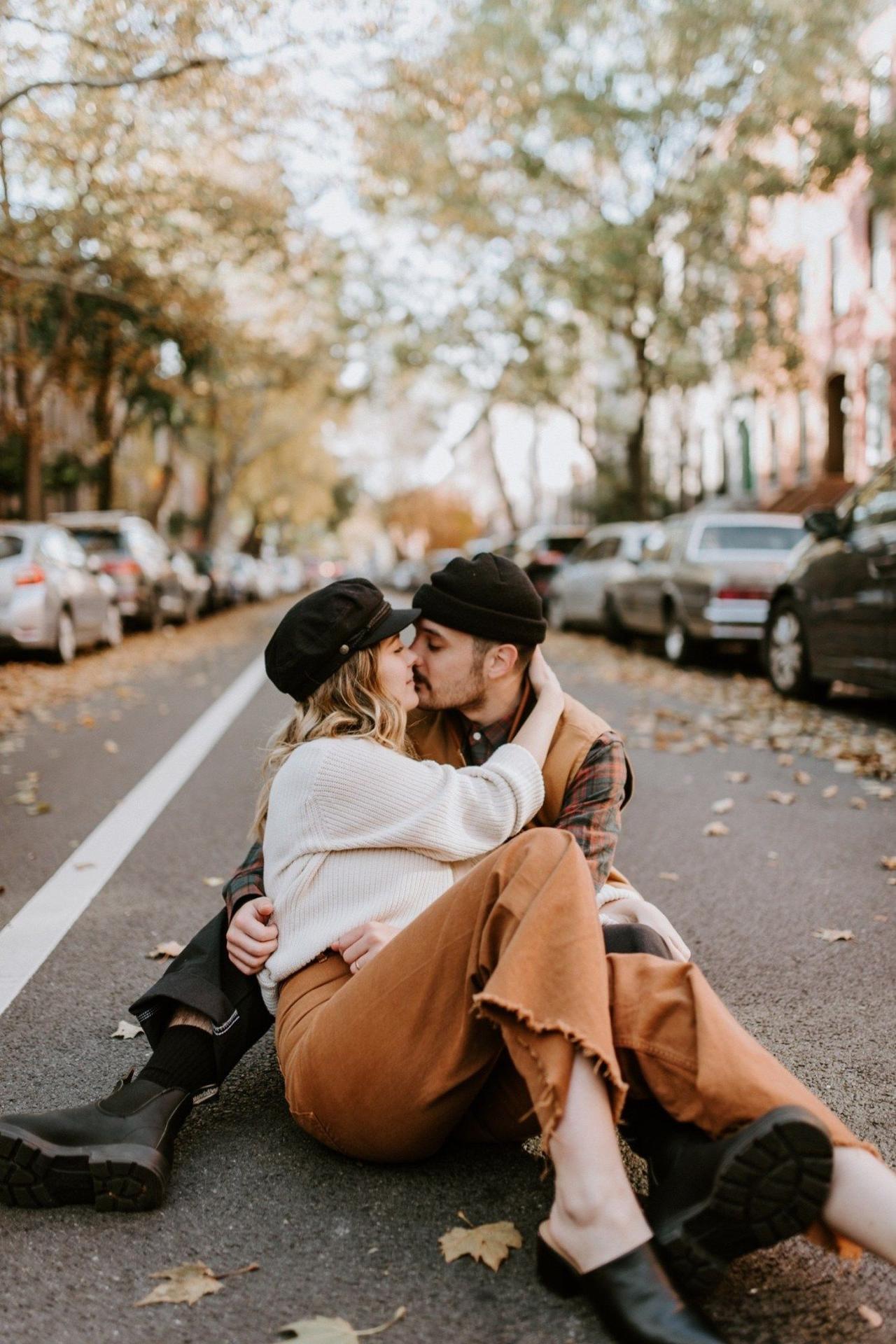 Getting low to the ground gives great angles – just be sure to choose a quiet street and do it safely!
Phone Booth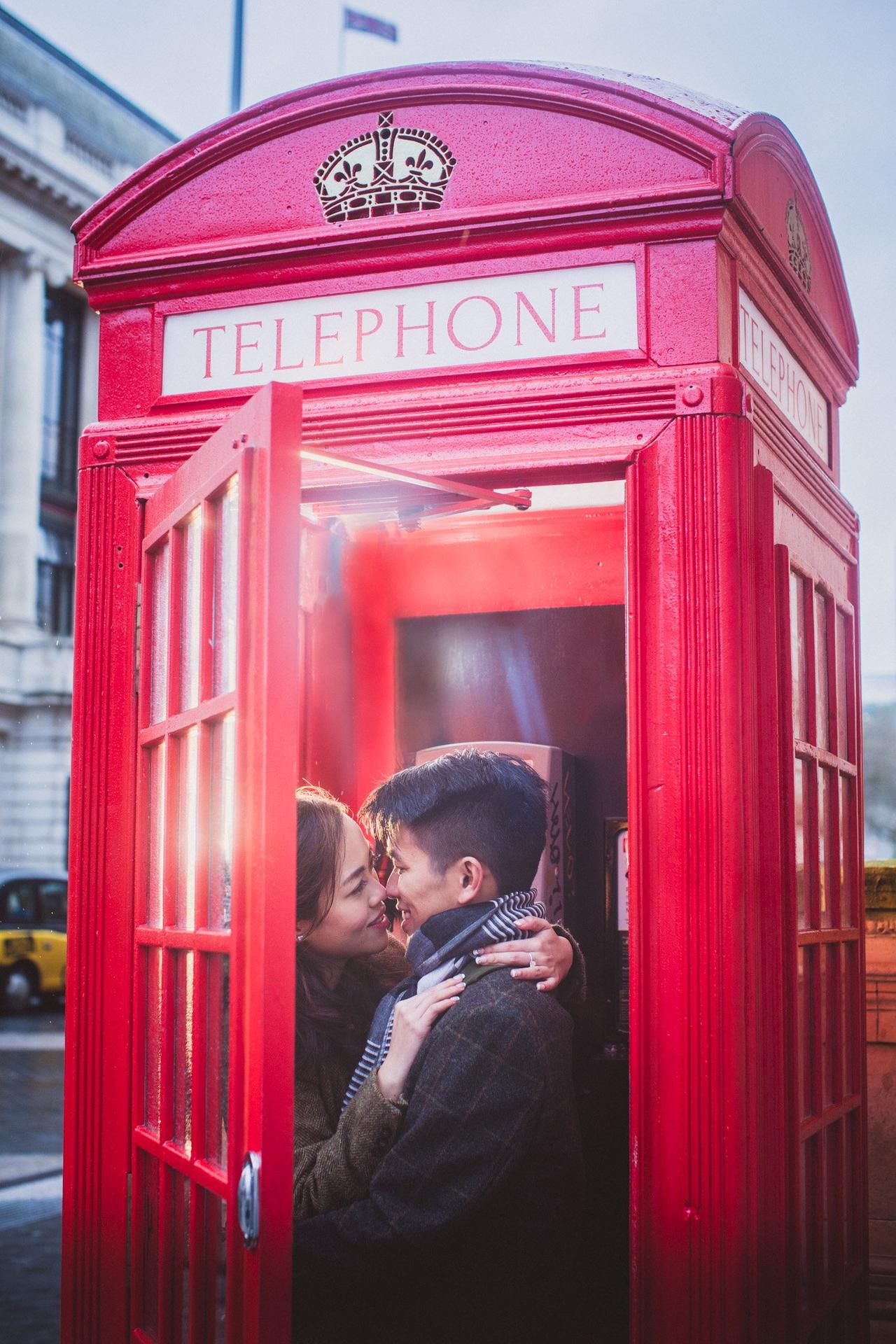 Old school phone boxes are truly iconic imagery, and add a vibrant pop of colour.
High and Mighty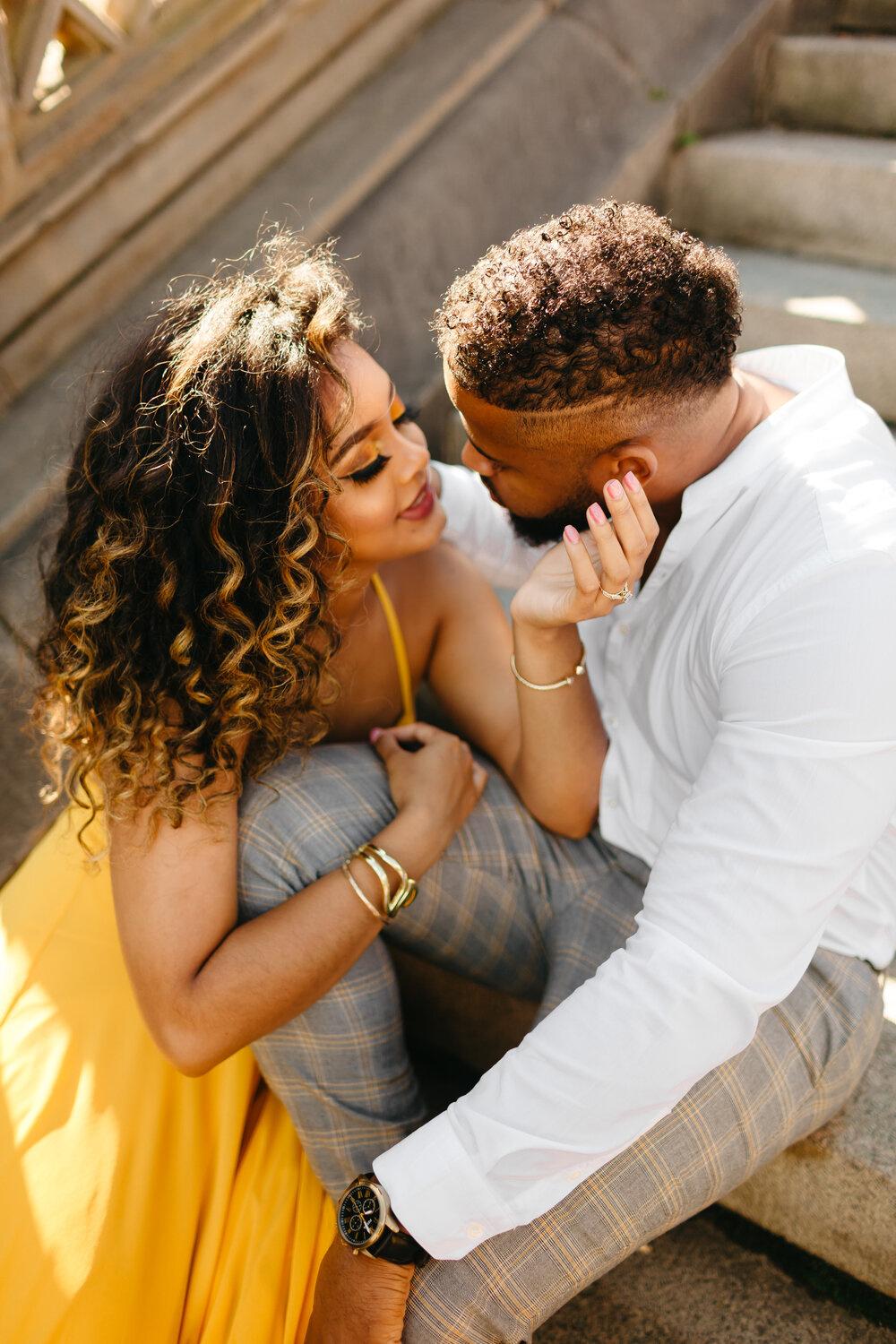 Shooting from above gives your photographer a prime opportunity to capture your expressions and emotions.
Bridge the Gap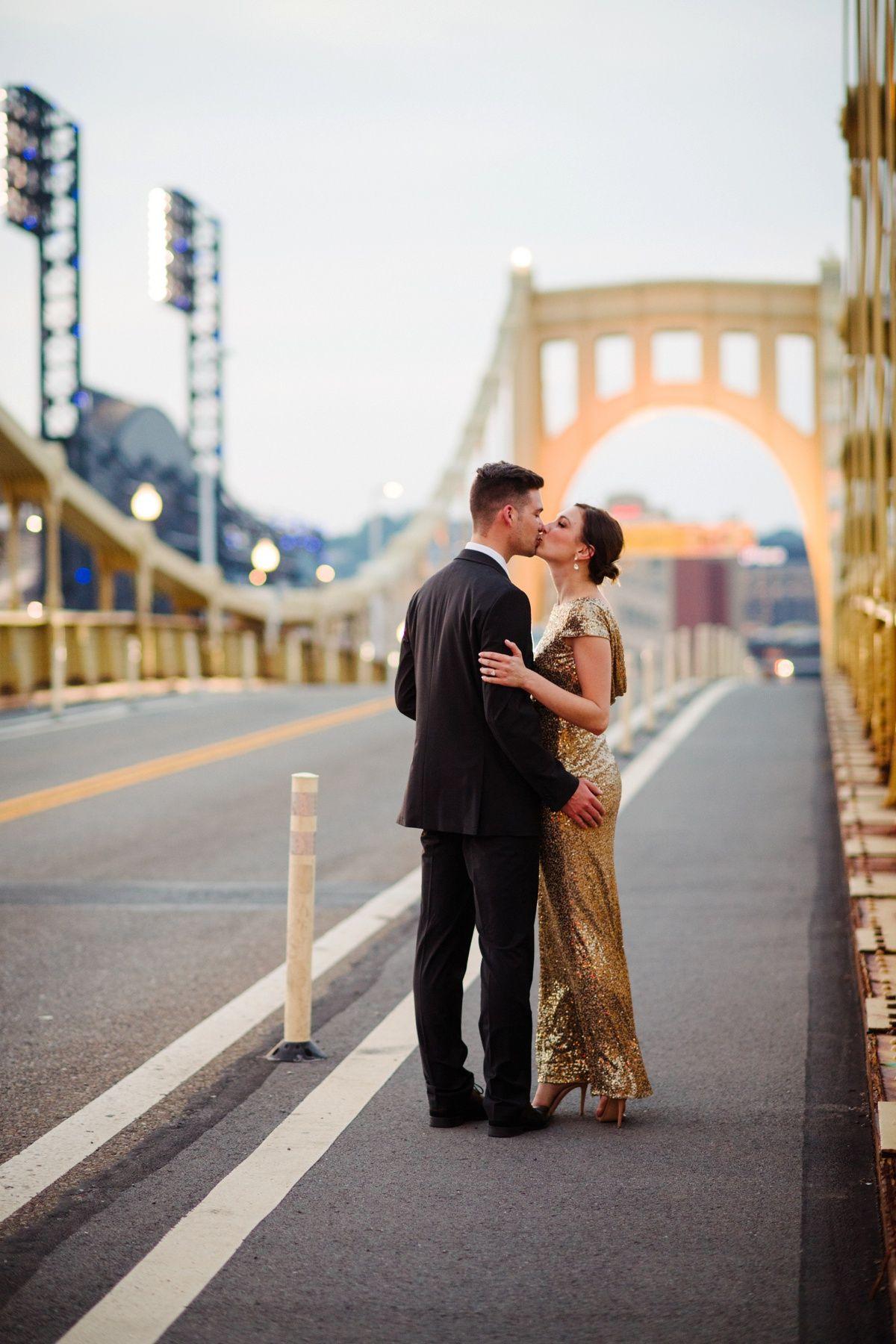 The height, the lights, even the traffic – a stroll over a famous bridge will give you lots of options to work with.
Colourful Confetti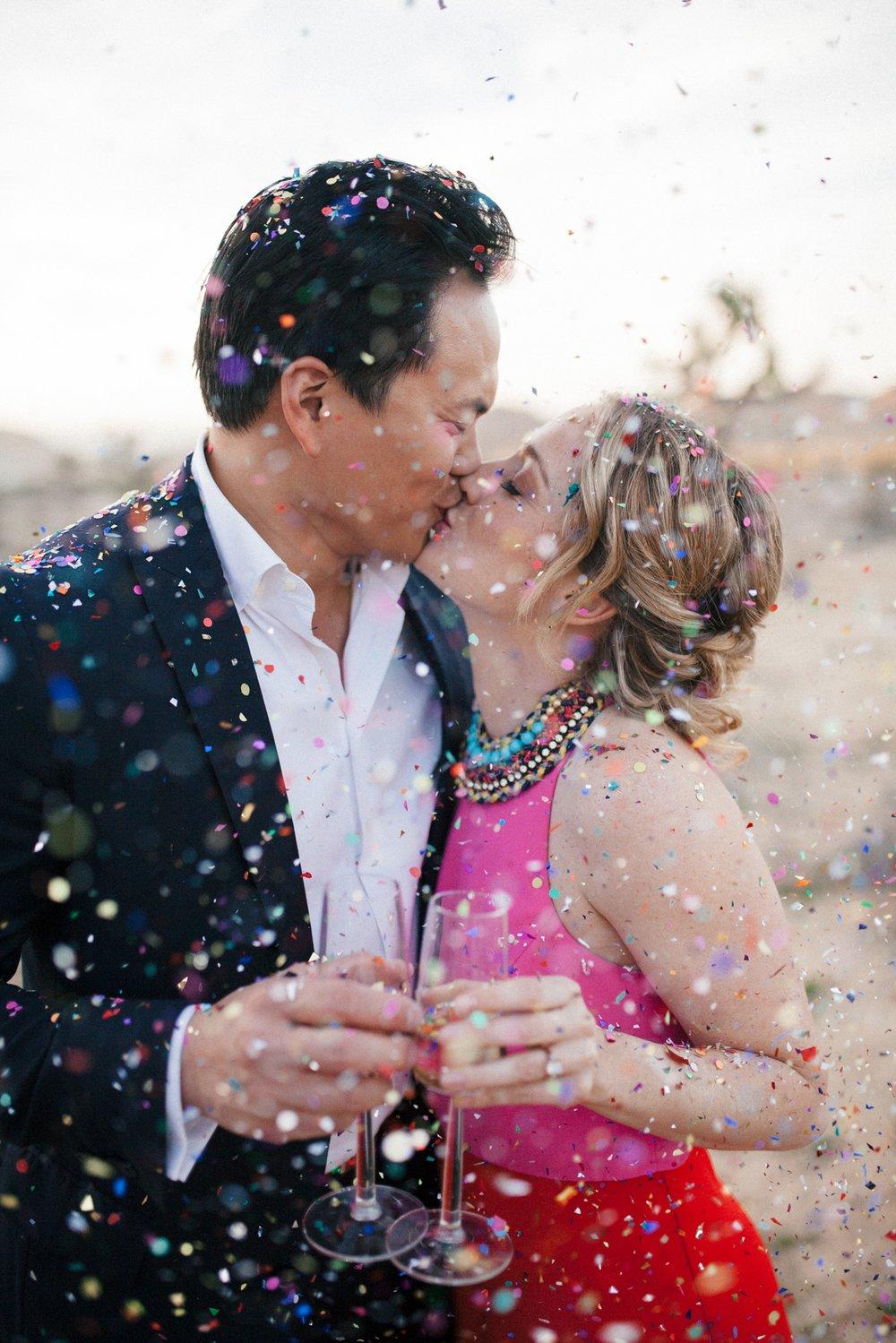 Excellent practice for the big day itself – just do this shot last unless you want your hair to be full of it for the whole series…
Tie The Knot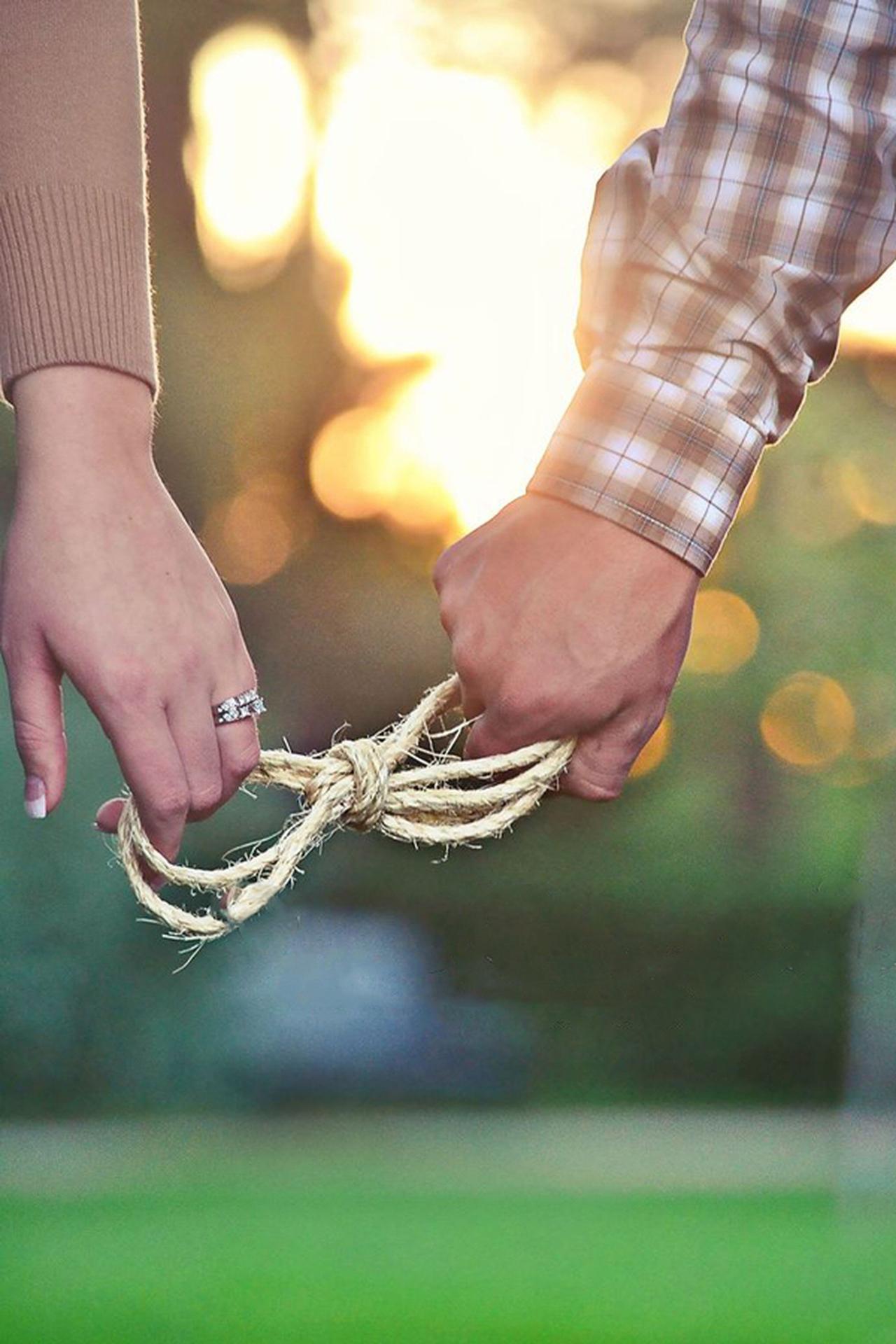 As props go, it doesn't get much more on-the-nose – or adorable! – than this.
How To Get The Best Engagement Photos
1. Plan the Shoot
All of the best engagement photo shoots are the ones which have been planned out properly. You'll first want to ask your wedding photographer if they're willing to do this kind of shoot and whether it can be included as part of your wedding package (and how much it costs if not).
You've also got to think about when you want your shoot to take place, in relation to your big day. Deciding what you want to use your engagement photos for will help you make that choice.
If you want to really capture the raw happiness which comes when you first get engaged, book an engagement shoot as soon after your other half pops the question as you can. If you do your engagement shoot early, you could use your engagement photos as part of a formal engagement announcement to friends and family or in your local paper.
Similarly, if you want to incorporate your engagement photos in your save the dates or wedding website, you'll want to have your engagement photo shoot at the beginning of your wedding planning process.
If you aren't going to be using the photos in your wedding day, or if you simply want to use the engagement photo shoot as a chance to trial your hair stylist or makeup artist, you can book it in for closer to your wedding date.
READ MORE: The Ultimate Bridal Beauty Countdown
2. Consider the Location
Whether you and your new fiancé or fiancée are homebirds or love to travel the world, location is everything when it comes to making sure your engagement photos are personal and unique. If you've got a favourite spot which you often visit together – like a woodland that you walk your dogs in or a cobbled street you dream of living on – you should consider it for the location of your engagement shoot.
Alternatively, how about getting your engagement photos shot on your next holiday (are engagement-moons a thing?) If you're heading off on holiday, try and find a photographer in the region who could snap some photos for you.
In addition, you should think about a location that fits your wedding colour palette and theme, especially if you want to use your engagement photos for your save the date cards. Engagement photos shot at a stately home if you're getting married at a barn wedding venue might feel a little jarring. Your photographer will have lots of suggestions if you're not sure what will look good.
READ MORE: The 20 Most Popular Honeymoon & Mini-Moon Destinations in the World
3. Choose the Best Time of Day
Don't assume that you need to shoot in the middle of the day when the sun is high in the sky, either. Around midday, the sun can create harsh shadows which need to be counteracted by an artificial flash – not the natural look you're after.
Sometimes, the best results are achieved when the sun is rising or setting – the light can be beautiful!
4. Think About the Colours
Think about whether you'd like your engagement photos to be in black and white or colour. If they're in colour, do you want a filter added to really make the palette pop? Black and white photographs are timeless and striking, so you could ask your photographer to edit your pictures in that way. On the opposite end of the spectrum, you can use the unique colours of your photo background to find a palette which puts any Instagram filter to shame. Talk to your photographer before your engagement photo shoot to see how they can edit your pictures in a way you love.
You should also think about the colours on your clothes before you head out on your engagement shoot. While matching outfits may be a tad much, you need to make sure the colours you're wearing complement one another. Opt for solid colours as opposed to patterns which can distract the eye on camera, and try to wear neutral or pastel shades. Keep your jewellery simple, avoiding anything too flashy which will distract from the two of you in your photos.
READ MORE: The Complete Guide to Inspirational Wedding Themes
5. Consider Props and Pets
An engagement shoot is the perfect time for you and your partner to take centre stage, but if you're a little bit camera shy, consider adding props or bringing your pets along to take away the intensity.
Pets are a great distraction from nerves, and their unpredictability can make for some gorgeous, natural engagement photos. The same stands for props – if you and your other half have any shared hobbies, you could include them in the shoot to give you something to focus on.
READ MORE: The Cutest Pictures of Animals at Weddings
6. Stay True to Your Personality
If you and your partner have a unique sense of style, don't be afraid to show it! Similarly, don't be talked into an engagement photo shoot style which doesn't feel at all like you.
If you're a creative couple, consider finding some striking wall art to act as a backdrop for your engagement photos. If you're lovers of the great outdoors, there's nowhere better than the countryside for shooting.
READ MORE: Amazing Ways to Personalise Your Wedding
7. Have Fun & Keep It Natural
Unlike your wedding photos, engagement photos don't have to be taken quite so seriously. The aim of them is to capture your relationship naturally as you have fun and enjoy quality time.
Overall, it's important to let go, enjoy yourself and try to forget the camera is there! After all, how often do you get to do an engagement shoot?
READ MORE: How Much Should Your Wedding Dress Cost?
The Dos & Don'ts of Engagement Photo Shoots
Do: Make Eye Contact with Your Partner
The shoot is all about your and your other half, so it really helps to make eye contact in order to create a story.
Don't: Make Eye Contact with the Camera
Making eye contact with the camera can make the photos feel like you're acting. Experiment with looking away from the camera, at your surroundings and your partner – the photos will look much more natural.
Do: Move Around
Loosen up and get moving – your engagement photos will look much more natural if you shift around rather than standing still in just one pose.
Don't: Let Your Arms Just Hang
Hold hands, hug or put your arms around each other. Interacting will make you both feel less awkward and make for a more intimate shot.
Do: Talk to Each Other
Chatting to each other as you have your photo taken is another way to take the pressure off you and also ensure your engagement photos look natural. Keep it positive and light, though – now is not time to moan about that annoying colleague from work!
Don't: Be Afraid of Looking Silly
Silliness can make for some great, spontaneous photos, which often become the most treasured ones of all.
Don't: Be Too Worried About How You Look
If you're too fixed on how your hair looks or whether your eye make-up is up to scratch, you won't enjoy yourself. Photos can always be edited afterwards, so don't let an issue like a few stray strands ruin the moment.
READ MORE: 19 Infuriating Things People Say When You're Planning a Wedding
Now you've got your engagement shoot planned, you can start laying down your wedding planning foundations. Check out our ultimate wedding planning checklist which takes you right through from 18 months before your big day to one week to go!