41 Personalised Wedding Gift Ideas for Every Kind of Couple
Show a special couple that you've put thought into their present by choosing one of these beautiful personalised wedding gifts, to be treasured for ever! We've covered every budget, from affordable treats to a bit of luxury
We have included third party products to help you navigate and enjoy life's biggest moments. Purchases made through links on this page may earn us a commission.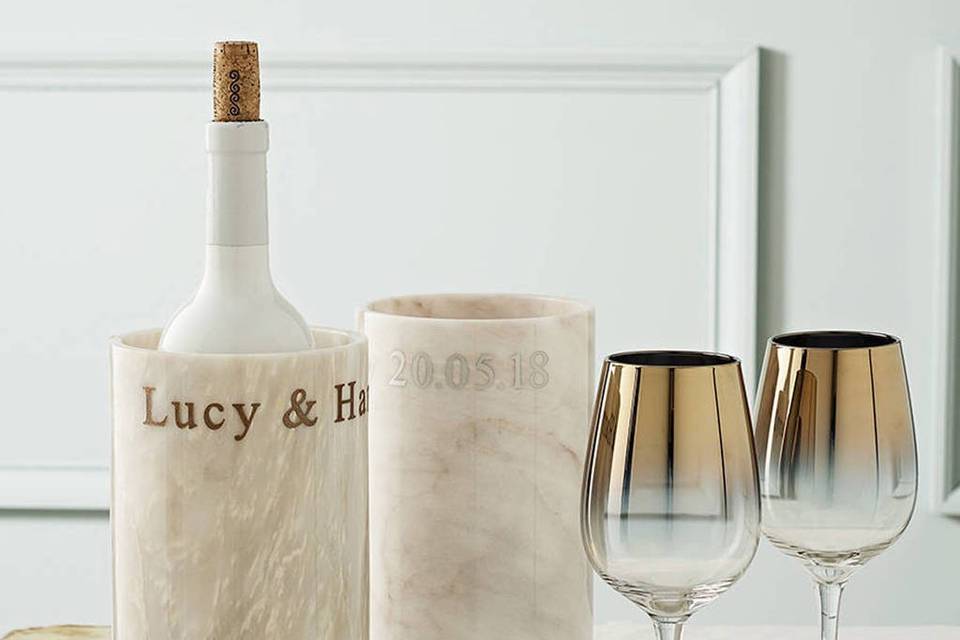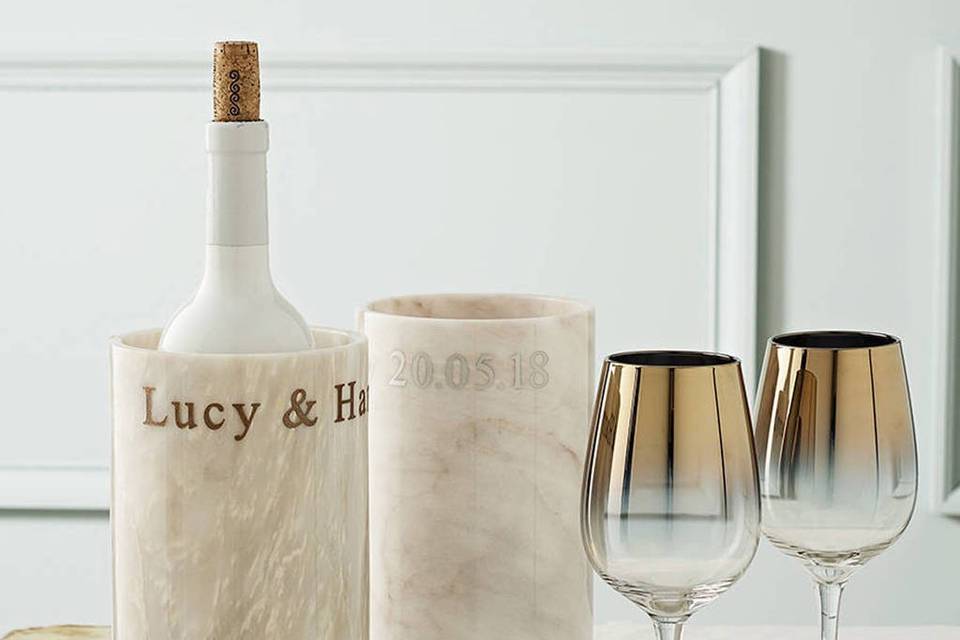 Choosing the perfect wedding present for the happy couple can be tricky – especially if they're the type of couple who already have everything! For something they'll keep for years to come, your best bet is to look at personalised wedding gifts.
Of course, if the couple have a gift list, you can choose something from that. However, it's a lovely gesture to get them a little something extra as well, especially if you're particularly close.
A personalised wedding gift is memorable because it's unique to the couple. You can get them something that's a straightforward keepsake, like a print or sign for their home, or a memory box. You can also get personalised presents that have a practical use - kitchenware, for example, or scented candles to enjoy during an at-home date night. You can even find personalised gifts that are tongue-in-cheek, such as a newlywed survival kit.
If you love the idea of making it personal but aren't sure where to start, take a look at some of our favourite personalised wedding gift ideas.
We have included third party products to help you navigate and enjoy life's biggest moments. Purchases made through links on this page may earn us a commission.
1. Love Print – from £4, Etsy
A couple who aren't super-sentimental are unlikely to enjoy something along the lines of those popular 'I love you to the moon and back' prints, so get them this married life print instead. It's still romantic, just in a quirky way!
2. Mr and Mrs Passport Covers – £12.99, Hitched Shop
If your fave couple are jetting off to sunny climes for their honeymoon, why not treat them to some stylish new passport covers? These Mr and Mrs ones are perfect for their post-wedding break!
3. Watercolour Wedding Venue Sketch – from £55, Not On the High Street
Sticking with personalised prints, a hand-painted watercolour sketch of the couple's wedding venue will make for such a beautiful keepsake. You can either send the seller a photo of the venue or just let them know the website address and description, and they'll create the sketch from Google Street View.
READ MORE: The 15 Best Wedding Keepsakes
4. Personalised Wooden Chopping Board – £26, Not On the High Street
Do the couple getting married love nothing more than entertaining and having people over for dinner? This gorgeous chunky wooden chopping board will be a useful addition to their kitchen and can be personalised with their names and wedding date.
5. Exclusive Impérial Brut NV Champagne and Personalised Tin 750ml – £49.99, Moët & Chandon
Treat the happy couple to a fabulous bottle of champagne they can drink on their first anniversary (or break open ASAP!). This Selfridges gift comes in a tin that can be personalised up to 14 characters.
6. 52 Date Night Cards – £24.95, Not On the High Street
If you want to give the couple a personalised wedding gift that will keep giving for a whole year, these personalised date night cards are a lovely idea. The date ideas range from little things like recreating their first date through to cooking each other's favourite meal.
READ MORE: Date Ideas for Newlyweds: 25 Unique Plans
7. Personalised Book Subscription – £64.99 for 6 Months, The Beautiful Book Company
Subscription wedding gifts are a great way of bringing joy to the newlyweds long after the big day. We love the idea of this personalised book subscription - simply find out their reading preferences and they'll receive a book handpicked for them by literary experts each month.
8. Personalised Leather Heart Keyrings – £26, Not On the High Street
These gorgeous leather heart keyrings can be personalised with the couple's initials and are available in a range of pretty colours. The gift is a low-key nod to their relationship that they can include in their everyday life.
9. Wooden Wedding Coaster – £15, Not On the High Street
If the couple have created a rustic vibe in their home, this pair of personalised wedding coasters will be an ideal gift. They can pop the coasters on their bedside tables or coffee table to be reminded of the happiest day of their lives.
READ MORE: 39 of the Biggest Wedding Guest Mistakes to Avoid
10. Wedding Mugs – from £9.99 Each, Etsy
These personalised mugs would make for a pretty and practical keepsake. They're available in both different-sex and same-sex sets.
11. Personalised Printed Ribbon – £1.95, Not On the High Street
Ok, so it's not technically a gift, but this printed ribbon makes any gift feel personalised, and it's great if you're on a budget. Choose from a range of colours and fonts, and simply tie around your wedding gift – it'll work for future wedding anniversary gifts, too!
12. Marble Wine Cooler – £69, Not On the High Street
Marble always looks chic, so these marble wine coolers will be the perfect gift for the stylish couple in your life. You can personalise just with their names or add their wedding date if you wish.
READ MORE: How Much Should You Spend on a Wedding Gift?
13. Create Your Own Hamper – Varied Prices, Fortnum & Mason
Fortnum & Mason are justly celebrated for their indulgent hampers. For a personalised treat, they offer a create-your-own hamper service, where you choose the products to create a unique treat for the newlyweds to enjoy. Their salted caramel truffles are a must-add.
14. Slate Mr & Mrs Clock – £36.99, Not On the High Street
This stylish slate clock can be personalised with the couple's names ('Mr & Mrs', 'Mr & Mr' and 'Mrs & Mrs' are all available) and wedding date.
15. Passport Cover – £65, Aspinal
Elevate the couple's honeymoon experience with some Aspinal's passport covers - they're unerringly elegant, and come in a range of colours and finishes. Embossing is complimentary for up to four initials.
READ MORE: 15 Stylish His and Hers Suitcase for Honeymoons
16. Initials Cupid Cushion – £22, Not On the High Street
This minimalist-chic cushion features a romantic cupid's bow through a heart design, personalised with the couple's initials. It will be a lovely addition to the sofa or the bed.
17. Marriage Survival Kit – £9.95, Etsy
This marriage survival guide features a personalised letter for the couple along with a few meaningful items – including a nail file to smooth rough times, a rubber band to show flexibility, a magnifying glass to help you look out for each other and a candle so your future is always bright. Some couples will find it overly cutesy, but others will adore it.
18. Gin Print – £16.50, Etsy
If the happy couple enjoy a tipple, this fun drinks print will be perfect for them. You choose a drink type for each half of the couple - anything from specific spirit brands to wine and beer - and you can have the bottom of the print personalised with their names.
READ MORE: 26 of the Most Thoughtful Postponed Wedding Gift Ideas
19. Personalised Botanical Memory Box – £32, Not On the High Street
After getting married, the couple will have so many keepsakes from the big day that they want to save – a copy of the wedding invitations, the order of service, maybe even the champagne cork from their first drink as a married couple. This wooden memory box from Owl and Otter would be the perfect personalised wedding gift to keep all these special mementos.
20. Enamel Mugs Set – from £12.95, Etsy
These super-cute enamel mugs can be personalised with the couple's names, wedding date and wedding location, and you can also choose to add a special message on the reverse of each mug.
21. Wedding Keepsake Photo Box – £40, Not On the High Street
The extra-special thing about this wedding keepsake photo box is that it has separate sections for photos from the engagement, the wedding planning, the wedding and the honeymoon, so the couple can save memories from every aspect of their celebration.
READ MORE: The Best Wedding Gift List Ideas: Creative Ideas You Might Not Have Thought Of
22. Home Candle – £49 + £15 for Engraving, Jo Malone
A Jo Malone candle is a truly fabulous treat, and to make it even more special, you can have it engraved.
23. Wedding Coordinates Print – from £5.50, Etsy
As you already know the location of the wedding from the invitation, you'll have plenty of time to order this romantic print that shows the exact coordinates of where the couple say 'I do'. If you are looking for a meaningful personalised wedding gift, we think this is perfect!
24. Set of Two Luggage Tags – £55 + £15 for Personalisation, Aspinal
Luggage tags are lovely little luxuries, and these Aspinal versions are subtle and stylish. You can have them personalised with the couple's initials in gold.
READ MORE: Honeymoon Gift Lists: The Ultimate Guide
25. Personalised Champagne Flutes – from £18.99, Etsy
Champagne flutes are a lovely wedding gift - essentially, you're wishing the couple lots of moments to celebrate in the future! These personalised glasses take the sentiment up a level, engraved with the names and wedding date.
26. Personalised Couple Wedding Pillowcases – £29.50, Not On the High Street
We adore these fun personalised pillowcases - the colour and style mean they'll go with the couple's existing bed linen sets. They come in 'Mr and Mr' and 'Mrs and Mrs' too.
27. Personalised Map – from £10.99, Etsy
This personalised print is so clever - each heart contains an OS map of where the couple met, got engaged and got married.
READ MORE: 25 Personalised Anniversary Gifts: Unique Ideas for Every Budget
28. Copper Stemless Wine Glass – £17.99, Hitched Shop
We adore these personalised stemless wine glasses from the Hitched Shop and think they make a great homeware gift for couples with contemporary style. You can add their initials and wedding date, giving them a thoughtful and stylish keepsake from their special day.
29. Special Date Wedding Print – £11, Etsy
If you know the couple prefer a minimalist design, this pared-back personalised print could be just the thing. Printed on luxury card, it shows their wedding date in a calendar style.
30. Personalised Large Swing – £455, The Oak & Rope Company at John Lewis
For the couple who have everything - because we bet the one thing they don't actually have is a swing! And what could be lovelier than in encouraging the newlyweds to have some pure, unadulterated fun? This swing can be personalised with up to 20 characters, and will look handsome in any garden.
31. Personalised Gin & Tonic Copa Glass – £32.50, Dartington Crystal at John Lewis
Go for Dartington Crystal glassware and you know you're buying quality. This chic copa glass can be personalised up to 30 characters - just don't forget that you need to buy two of them, otherwise one half of the couple won't be enjoying their gin in style.
32. Personalised Ring Box – £18, Not On the High Street
Now the happy couple are going to have wedding rings to look after, a special box to keep them safe when they are not wearing them is a thoughtful gift. This pretty ring box is personalised with their names.
33. Personalised Wooden Cutting and Serving Board – £27.99, Hitched Shop
Ideal for serving cheese or presenting a charcuterie selection on, this personalised cutting and serving board with etched leafy details will add style to their snacks!
34. Personalised Couples Stacking Tower – £40, Not on the High Street
35. Personalised Takeaway Night Dice – £19, Not on the High Street
Hands up if deciding on what takeaway to have is a weekly debate! Save your favourite couple an argument by buying them this personalised take away dice from Oh So Cherished. You can add their five favourite types of cuisine to the dice as well as their name!
36. Set of Two Personalised Wood Jigsaw Coasters – £14, Not on the High Street
Do the couple in mind go together like two pieces of a puzzle? Gift them this adorable coaster set from Wood Paper Scissors and let them know!
37. Personalised Make Your Own Gin Kit – £68, Not on the High Street
Complete with a range of botanicals including rose petals, orange peel and juniper berries, the gin loving couple you know can mix their own unique gin and serve it up in a personalised bottle with this set from Nelson + Pops.
38. Personalised Date Night Popcorn Bowl – £22, Not on the High Street
There's nothing nicer than snuggling up on the sofa with a good film and some tasty snacks - at least we think so! If you reckon your fave couple would agree, why not gift them this personalised date night popcorn bowl from Sophia Victoria Joy?
39. Custom Wooden Picture Frame With White Edges – £13.99, Hitched Shop
Give them something special to display their favourite wedding snap in with this custom wooden picture frame. You can add their family name, first names and their wedding date or simply the year they got hitched.
40. Personalised Mr And Mrs Mug Set – £46.75, Not on the High Street
If the couple you're buying for struggle to get through a day without several cups of tea, some Mr and Mrs mugs will go down a treat -especially if you throw in some biscuits!
READ MORE: 37 Long Distance Relationship Gifts Your Other Half Will Love
41. Our Special Place Scented Candle – £29, Not on the High Street
This personalised candle not only allows you to include a personal message etched onto the lid, but it also comes complete with gold heart stickers for your fave couple to mark their special place - so adorbs!
You're on top of the wedding gift, but have you chosen your outfit yet? Our shoppable guide to the best wedding guest looks will get you feeling inspired.
We have included third party products to help you navigate and enjoy life's biggest moments. Purchases made through links on this page may earn us a commission.