Wedding SOS: How to Have an Unplugged Wedding
Thinking of going social media-free on your big day? We've got five good reasons why you should - and the best ways to do it
We have included third party products to help you navigate and enjoy life's biggest moments. Purchases made through links on this page may earn us a commission.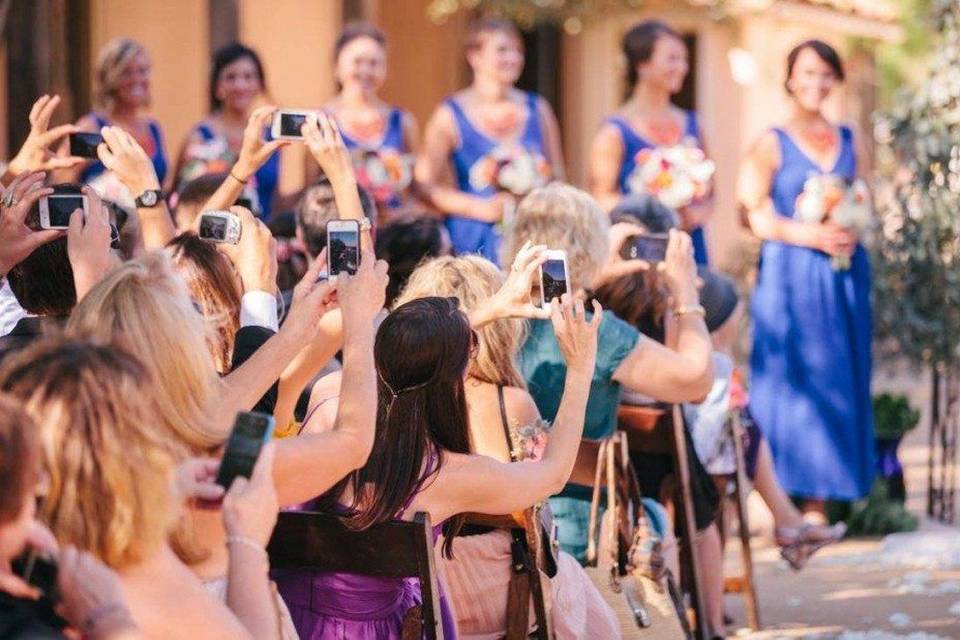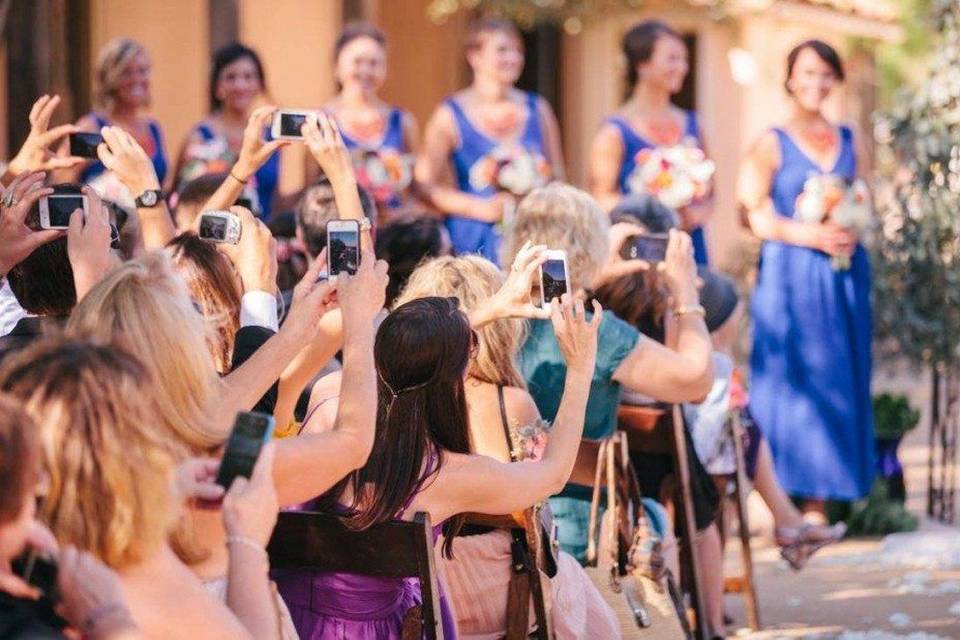 Unplugged weddings are becoming a hugely popular trend for couples. It means that all phones and social media are banned for your big day – your guests have to experience your wedding in the moment.
While it's great to have lots of candid photos from your wedding day, it can also be intrusive. Your professional photos will be awash with guests on iPhones; the pressure of all eyes on you is multiplied by 1000 when you throw in Snapchat and Instagram Live; and you risk photos of you uploaded to the world before you've even said 'I do'.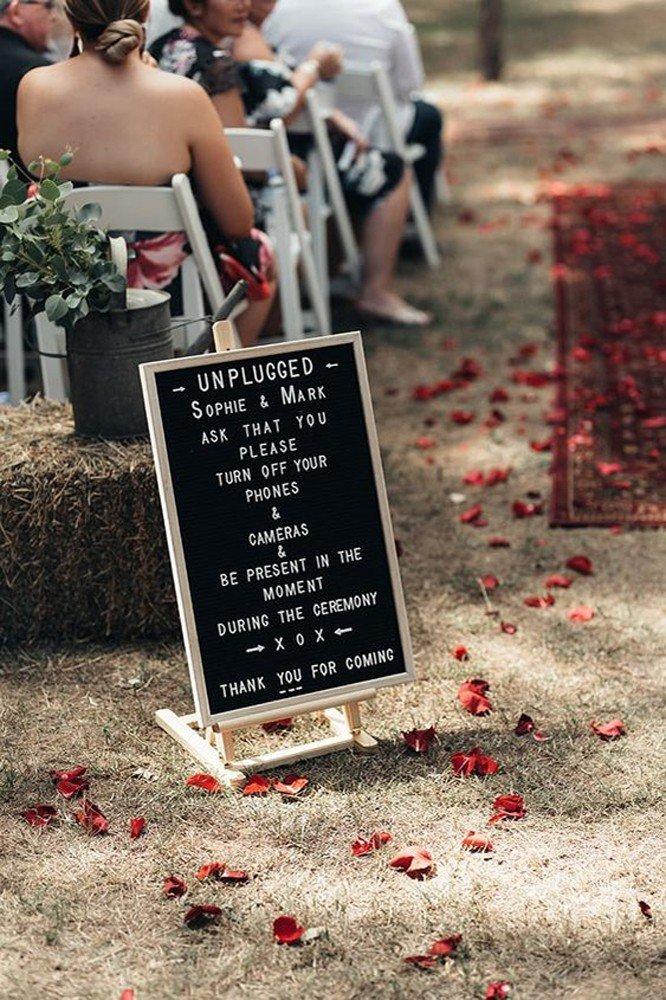 Image: Pinterest
READ MORE: This is How Much Wedding Photography Costs
Your guests mean it in the best way possible, of course. They just want to share their excitement and pride with all their friends.
But if asking guests to leave their phones at home or not post publicly on social media sounds right for you, here's the best ways to have an unplugged wedding.
What Is an 'Unplugged Wedding'?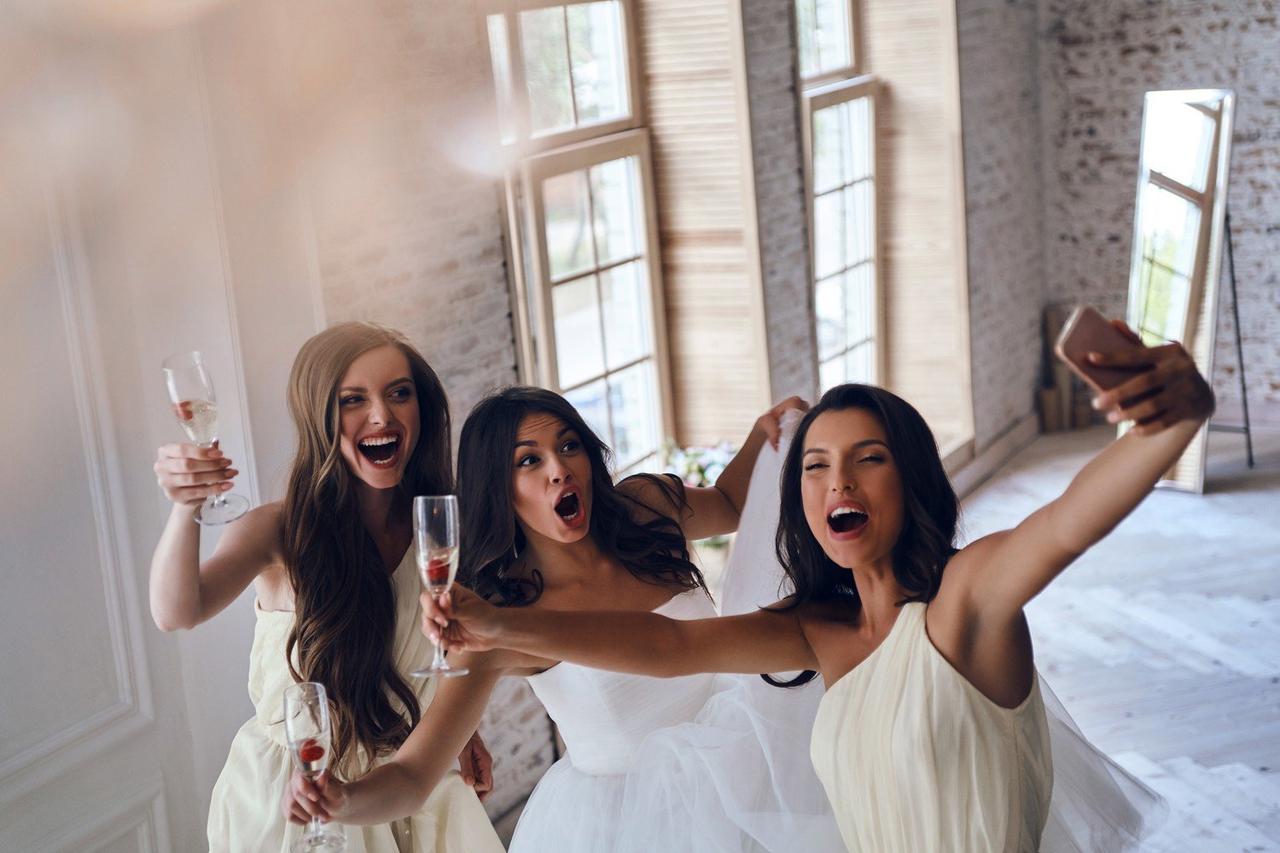 The aim of an unplugged wedding is to make you and your guests truly experience and enjoy the day in the moment. We spend so much of our lives on social media that it's nice to take a step back and make real memories.
READ MORE: The Ultimate Wedding Photo Checklist
For lots of couples the way to do this is to ask guests to not bring or use their phones and to not post any photos to social media during their wedding day.
Do We Have to Go Completely Social-Media Free?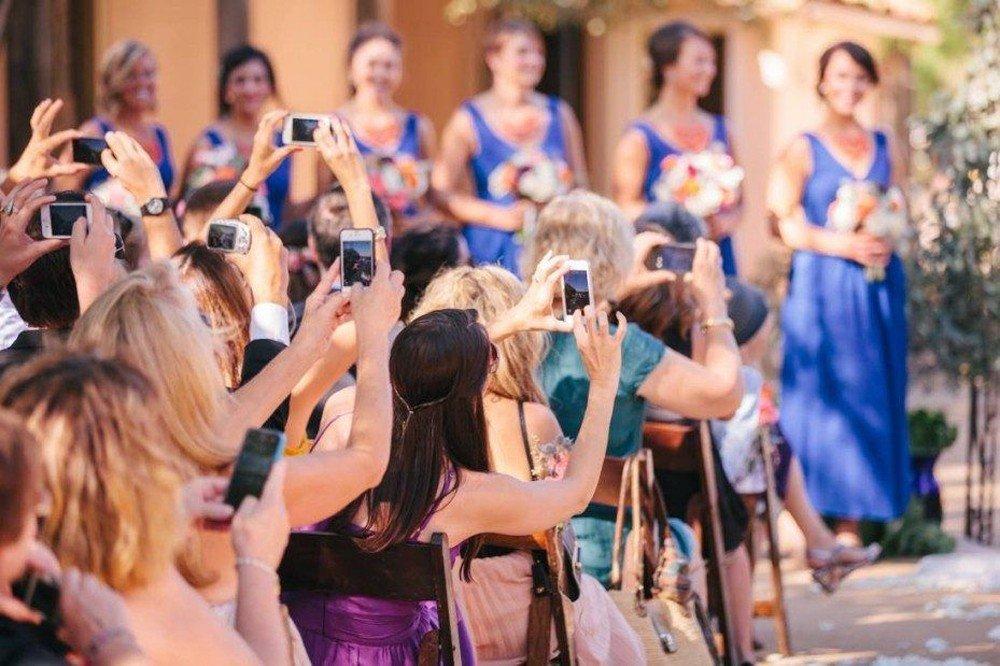 Image: Pinterest
Absolutely not! Having an unplugged wedding doesn't mean you need to have a full ban on phones or social media. You can choose to allow as much or as little technology and social media as you want at your wedding.
READ MORE: 23 Wedding Photos You Need to Capture
Some couples might like to have lots of guests sharing photos of their reception, but want to leave it to the professional photographer at their ceremony.
Others might not mind if guests have their camera out for the whole day but prefer to use a wedding photo app (see below) to collect their guests' photos rather than have them publicly on Facebook. It's up to each couple.
Five Reasons to Have an Unplugged Wedding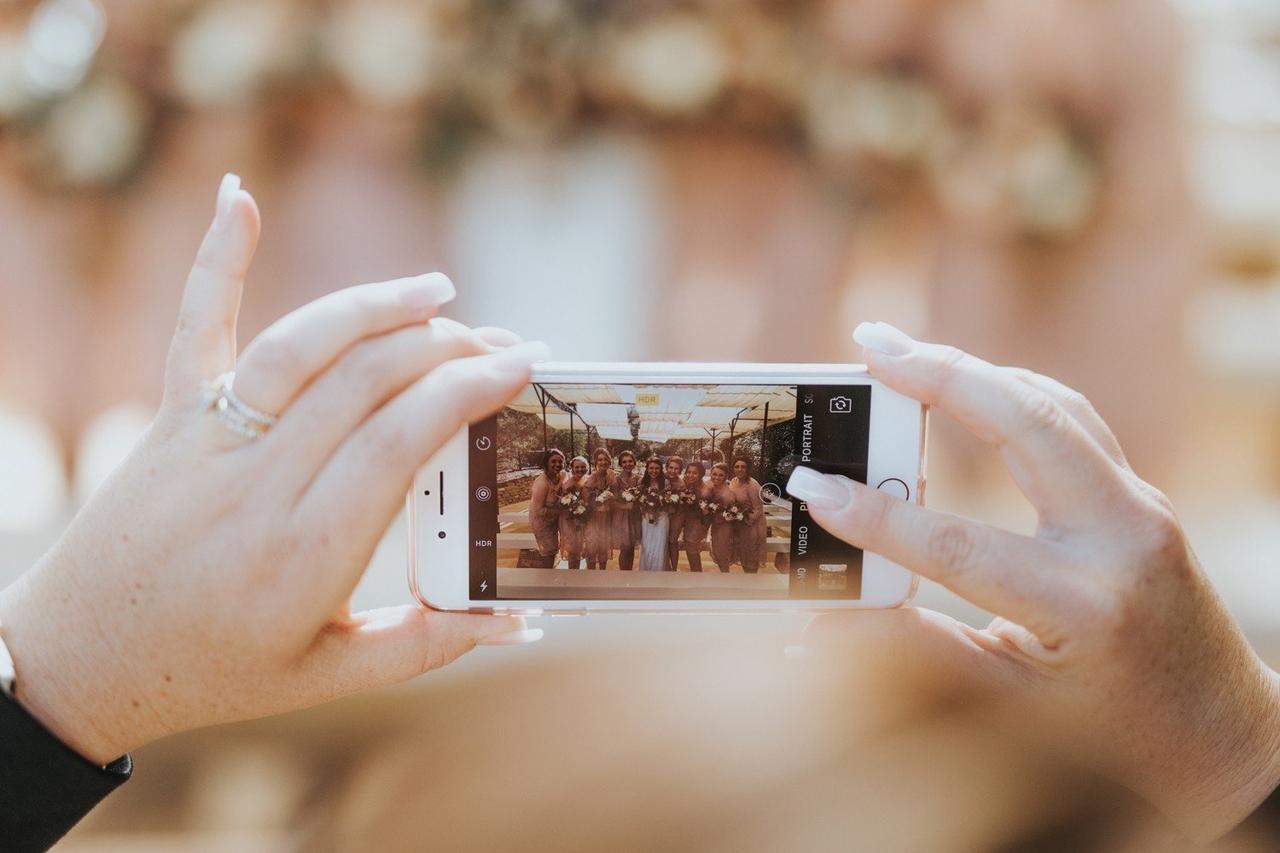 There's lots of reasons more couples are choosing to go unplugged. If you've been wondering whether it's right for you, here are some of the advantages:
Your guests will be more in the moment watching you get married rather than finding the perfect angle or Instagram filter.
When you walk down the aisle you'll be able to see your loved one's faces instead of the back of their phone case.
Your professional wedding photographer won't have to contend with phones, iPads and selfie sticks (yes, really!) ruining the background of their photos. Nor a guest blocking their path as they capture key moments like the first dance, trying to get their own shot.
Distractions from phones beeping, clicking, flashing and – god forbid – ringing will be greatly reduced.
You get to decide what photos make it onto social rather than discovering Auntie Joan's 100 unflattering pictures when you get the tag notifications. You can share your favourite professional photographer's photos and show off the day as you experienced it and intended for it to be experienced.
There are some downsides, of course, which you must take into account. The most important is that with so many guests your wedding photographer might not be able to capture every moment. They'll get the key ones of you as a couple like the first kiss, dance and cake cutting, but what about your cousin's hilarious attempt at break-dancing or when Grandma's convinced to do a tequila shot? Weddings are full of silly, funny, candid moments that your guests can capture better than anyone.
READ MORE: 29 Amazing First Look Wedding Photos
Secondly, you might get some difficult guests who aren't happy at all with a social media ban. It shouldn't be a reason to not have one, but it might cause more stress if a teenage guest decides to break your rules or kick up a fuss.
How to Ask Your Guests Not to Post on Social Media
Tell Them in the Invites
Get the message out early on that your wedding will be social media free by putting a note on your invites. Explain to your guests that you want to enjoy a phone-free ceremony (or longer) so you can all truly enjoy the moment. Then it won't be a surprise on the big day.
Here's some ideas for what to write:
Welcome to our unplugged wedding. We want you to be fully present with us during our ceremony, so we will be asking you to turn off all phones and cameras. Thank you!
We are honoured that you will be with us on our special day and want you to enjoy every part. With this in mind, we invite you to put down all your favourite devices and just be present in the moment. Please put your phone on silent and leave your camera in your bag (we've got photography covered!) during the ceremony. We promise we'll share all the professional photos with you later!
The greatest gift you can give us on our wedding day is to be truly present. We want to see all your happy faces instead of your phones, so we ask that you'll please stow away all your cameras and devices until the reception. Once we're Mr and Mrs, you're free to take as many photos as you want!
'No Social Media' Wedding Signs
A strategically placed sign at the entrance to your ceremony area is an exceptionally efficient way to get your guests off their phones. Here's our pick of some fab unplugged wedding signs:
We love this rhyming sign from Etsy – a cute poem always goes down well with guests.
Acrylic is a huge wedding trend this year. This chic unplugged wedding sign from Etsy ticks all the boxes and is ideal for an outdoor wedding.
If you've got a rustic theme, this handcrafted wooden sign from Etsy will get the message across and look beautiful with your theme.
But it's super easy to make your own too, all you need is a chalkboard!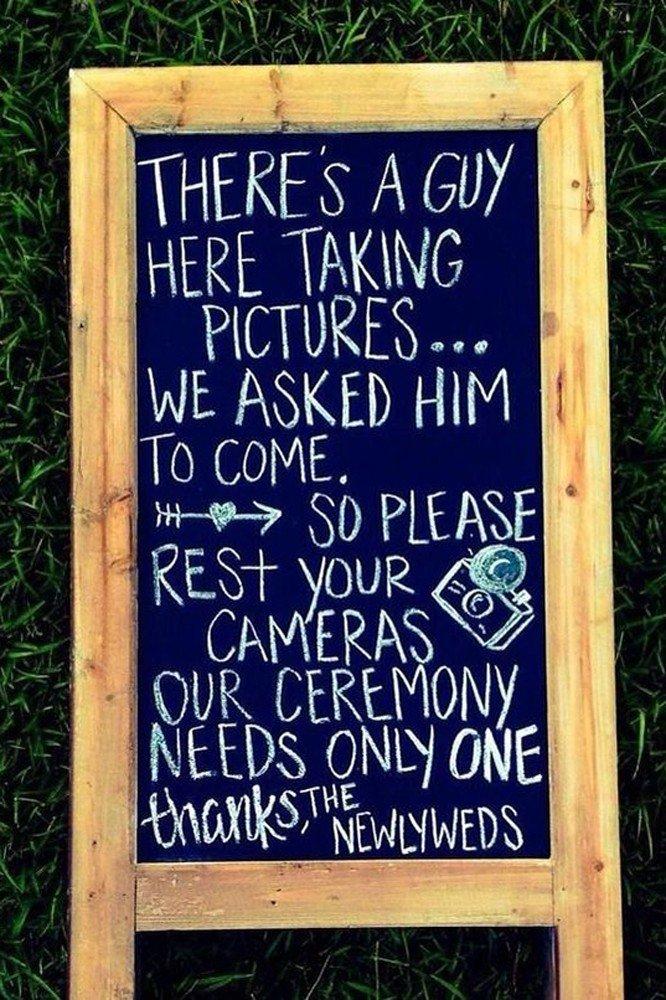 Image: Pinterest
Make Your Officiant Give an Announcement
Ask the person officiating your ceremony to remind your guests not to post to social media during the ceremony. This should ensure all phones are put away before you walk down the aisle. If it's a whole day social media ban, ask your DJ or toastmaster to remind guests at the reception.
READ MORE: 15 Fun Photo Booth Ideas
Give Them an Alternative
If you anticipate uppity guests if you explain you're going unplugged, have an alternative which might assuage them. A photo booth is a great idea: guests can capture amazing memories of the night and share afterwards. You'll be a USB or download link of all the pictures too so you can share your favourites.
What If We Still Want Guests to Take Photos?
Image: Benjamin Stuart Photography
A wedding hashtag if a popular way to keep all your guests' photos in one place for you to see, however, it does mean their picture are available for anyone to look at on their feed.
A great alternative to this is to use a wedding photo site. What these do is allow guests to upload all their wedding pictures to a private gallery that's only accessible to you and your guests. You can turn this amazing collection of snaps into digital photobooks or send them to print.
READ MORE: Photography Tips for Wedding Guests
You can find lots of these apps online, but WedPics, WedBox and Eversnap are popular. If you want do the same for video, look for vidiCREW who'll edit your guests' camera work into a professional video.
If you"d like to know how to get the most out of using your phone for photos at your wedding, check out our guide to taking awesome pictures with your smartphone and 17 of the best ever wedding selfies.