The mother of the groom plays an important role on the big day and in the planning process. Perhaps she has been a great emotional support to you both or maybe she has been an integral part of your wedding planning process, helping you decide on decor or menu ideas?
Whichever way the mother of the groom has helped, we think it's only right to thank her and a thoughtful gift is a great way of doing it! If your budget is tight, don't panic, we've got plenty of mother of the groom gift ideas for under £15. But if you fancy splurging on something extra special, we've got plenty of ideas between £20, £30, £50 and beyond for you to choose from too.
From cards to mugs and beauty treats to clothing, there's something for every mother of the groom below.
NB: We have included third party products to help you navigate and enjoy life's biggest moments. Purchases made through links on this page may earn us a commission.
Mother of the Groom Gifts Under £15
1. Thank You Card – £3.75, Norma and Dorothy
Don't underestimate the power of a few words – whether you're looking for a token gift or something more substantial, an accompanying thank you card like this one from Norma and Dorothy is a lovely gesture and means you can say a few special words of thanks.
2. Mother of the Groom Wishing Bracelet – £7.50, By Molly and Lizzie
This pretty wishing bracelet from By Molly and Lizzie would be a perfect small gift for the mother of the groom and she can wear it during and after the big day.
3. Mother of the Groom Mug – £10.99, Donna Crain
This personalised mother of the groom mug from Donna Crain is a great gift to give the morning of the wedding. You can have some great getting ready pics of the mother of the groom having her morning coffee with her extra-special mug.
4. Mother of the Groom Tissue Holder – £14, Handmade at Poshyarns
If you think the mother of the groom will shed a few tears on the big day then this hand sewn tissue holder from Handmade at Poshyarns will be the ideal gift for her so she can store her tissues in style.
READ MORE: The Best Waterproof Mascaras
5. Mother of the Groom Poem – £11.95, A Touch of Verse
This lovely poem from A Touch of Verse sums up everything you could want to say to the mother of the groom. You can also then add your own short message at the end of the print so you can say an extra special thank you.
6. Mother of the Groom Pocket Mirror - £5.50, Wue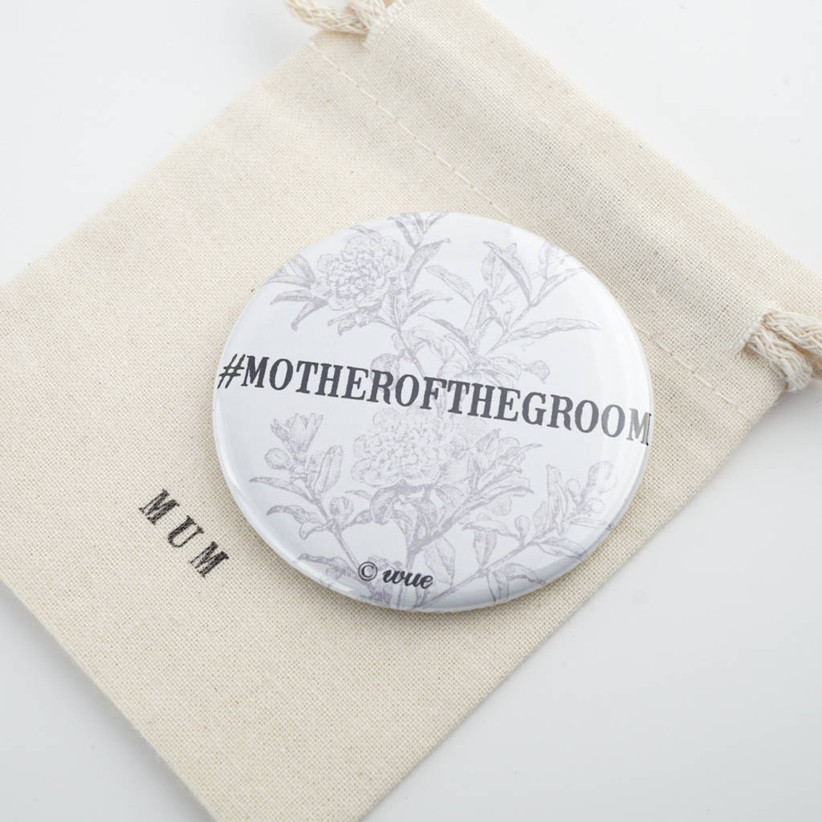 The perfect wedding morning gift for the mother of the groom, this pocket mirror from Wue will easily slide into her handbag and come in handy for quick touch-ups before those all-important family wedding portraits!
7. Mother of the Groom Notebook - £5, The Green Gables
8. Mother of the Groom Personalised Wedding Day Hanky - £14.95, The Hummingbird Card Company
9. Mother of the Groom Robe - £14.95, Hooray Days
Mother of the Groom Gifts Under £30
10. Reasons You're Wonderful – £19.95, Bread & Jam
Make sure the mother of the groom feels extra special with this reasons why you're wonderful gift from Bread & Jam – featuring ten printed reasons on your choice, making it the perfect personalised gift.
11. Personalised Mother of the Groom Wedding Gift – £16.50, Little Letter
This personalised mother of the groom wedding gift from Little Letter includes a jigsaw piece to say she is an important part of the day, a tissue to wipe away tears of joy, a heart to show she is loved, glitter because she adds some sparkle, a marble to replace the ones she lost as you were planning the big day, a magnifying glass to show her how wonderful she is. You can then add a personalised letter to be included.
12. Mother of the Groom Teacup and Saucer - £17, Slice of Pie Designs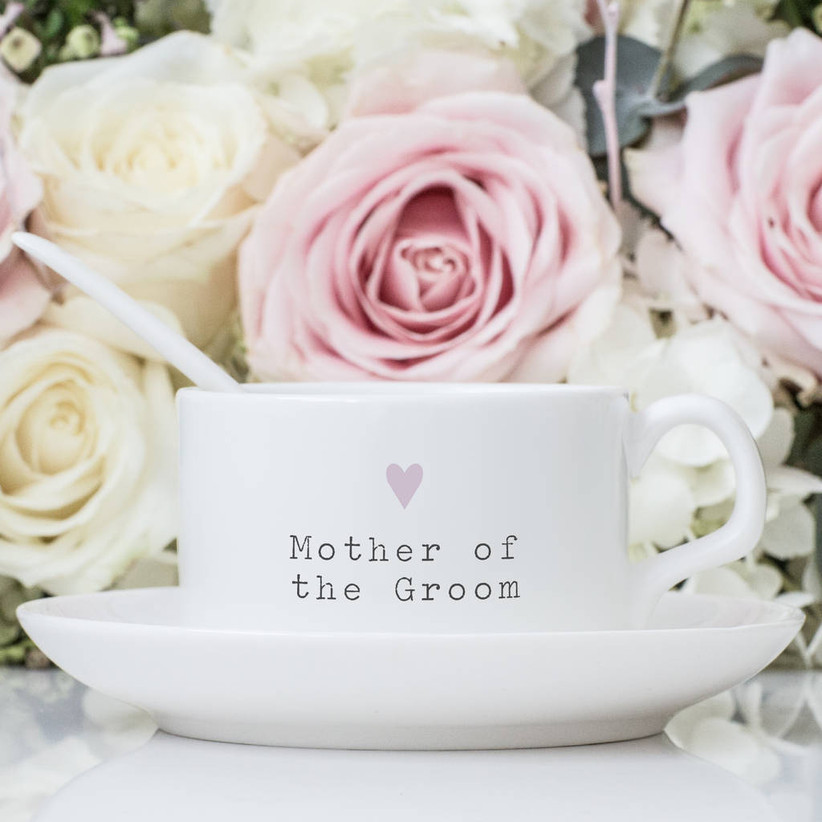 If your mum loves a cuppa, then we think this teacup and saucer from Slice of Pie Designs will go down a treat - especially when paired with some luxury teabags and biscuits!
13. Personalised Mother of the Groom Ring Dish - £18.50, Kate Charlton Ceramics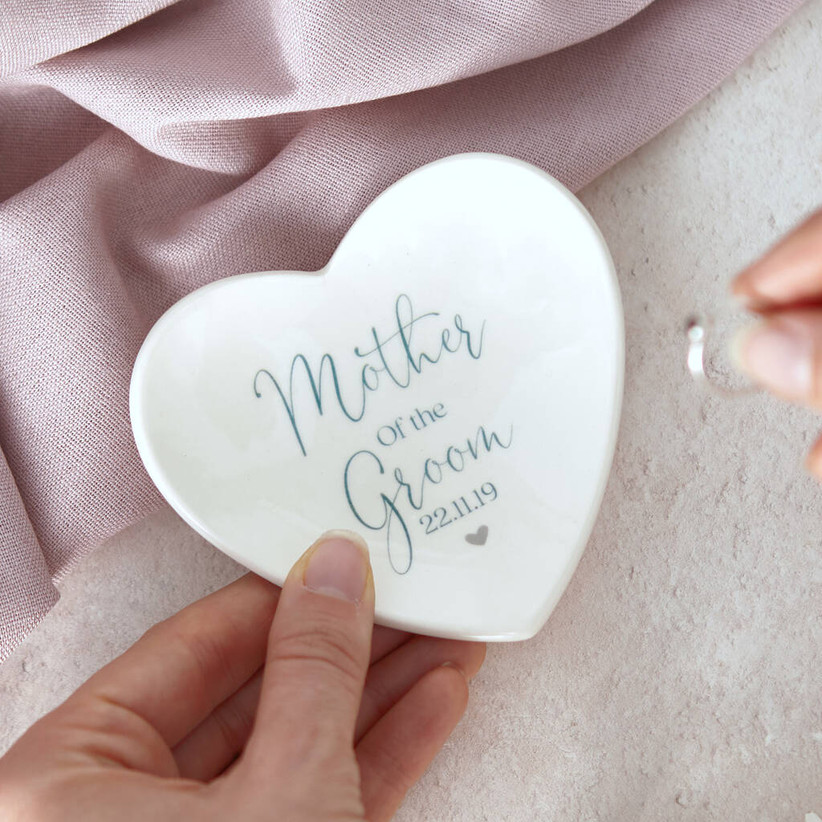 Give your mum a gift that's both practical and sentimental with this ring dish from Kate Charlton Ceramics. She'll be reminded of your special day every time she drops one of her rings into it!
14. Personalised Mother of the Groom Wine Glass - £19.99, Perfect Personalised Gifts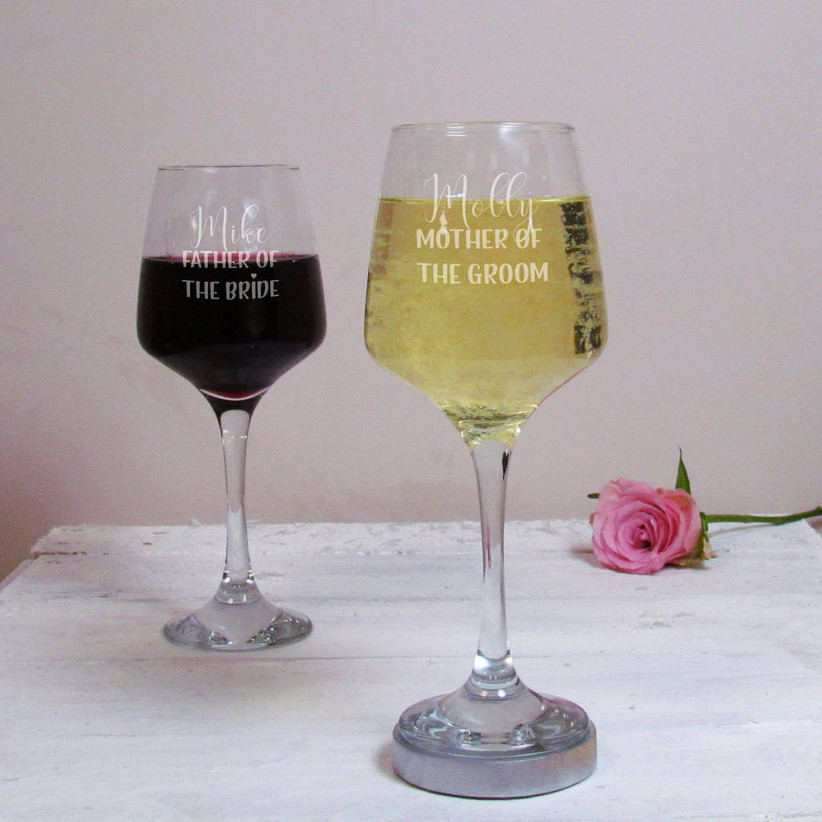 If your mum is a bit of a wine connoisseur, why not gift her a wine glass personalised with her name? It'll serve as a lovely reminder of your special day every time she takes a sip!
15. Mother of the Groom Tea Light Holder with Candles - £16, Norma & Dorothy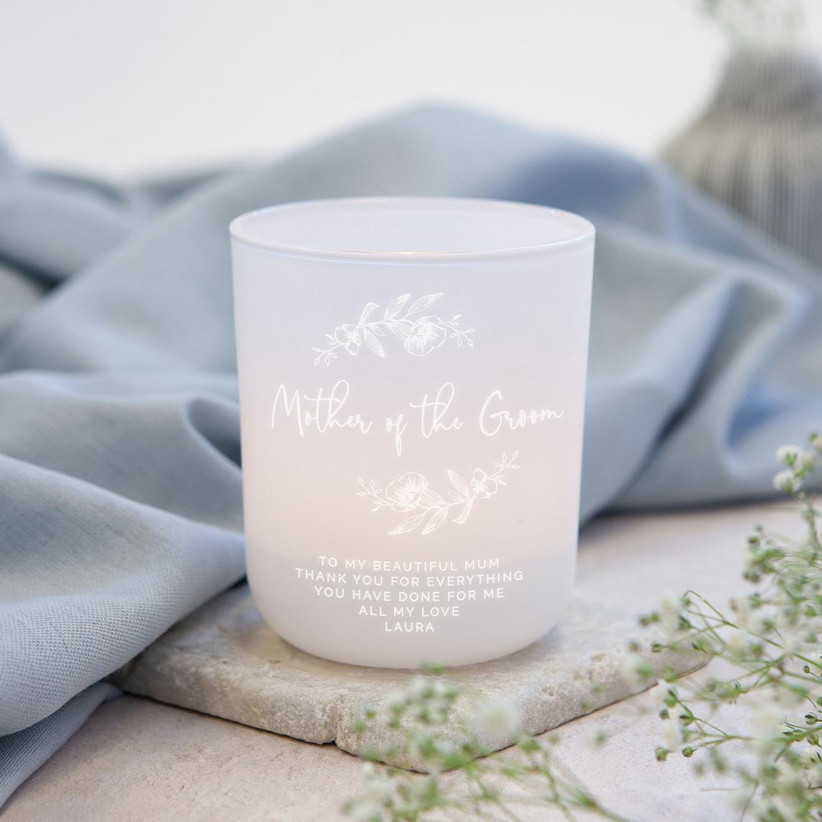 This personalised tea light holder from Norma & Dorothy is the perfect small gift or addition to a gift bag of treats. It comes in a beautiful matte glass with stunning etched floral design and is packaged with four soy wax candles.
16. Mother of the Groom Sterling Silver Necklace - £21.39, Kedrian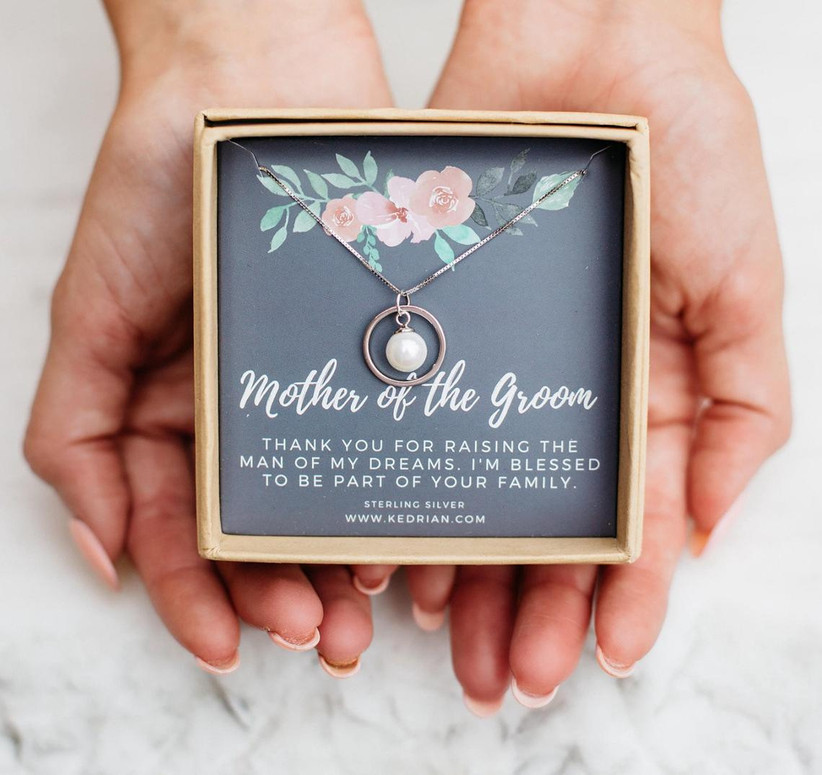 This is the perfect gift for brides to give to their mother in law. Featuring a sterling silver and pearl finish, this Kedrian necklace comes complete with gorgeous presentation box and adorable message.
17. Twinings Exclusive Luxury Dark and Gold Wooden Tea Chest - £28.91, Amazon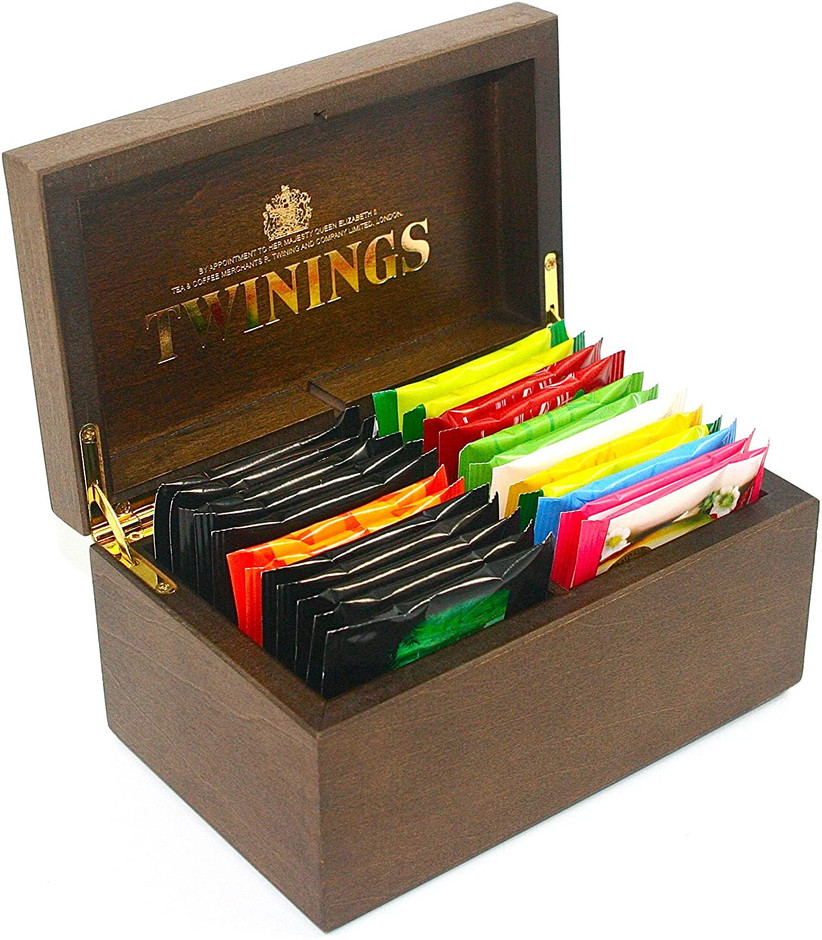 We love this luxury tea chest from Twinings. Featuring a selection of fruit and herbal tea bags it's a tea lovers dream, plus we reckon the smart chest will come in handy for storing precious wedding memories afterwards!
18. Cashmere Mix Bed Socks and Chocolate Gift Set - £26, Quirky Gift Library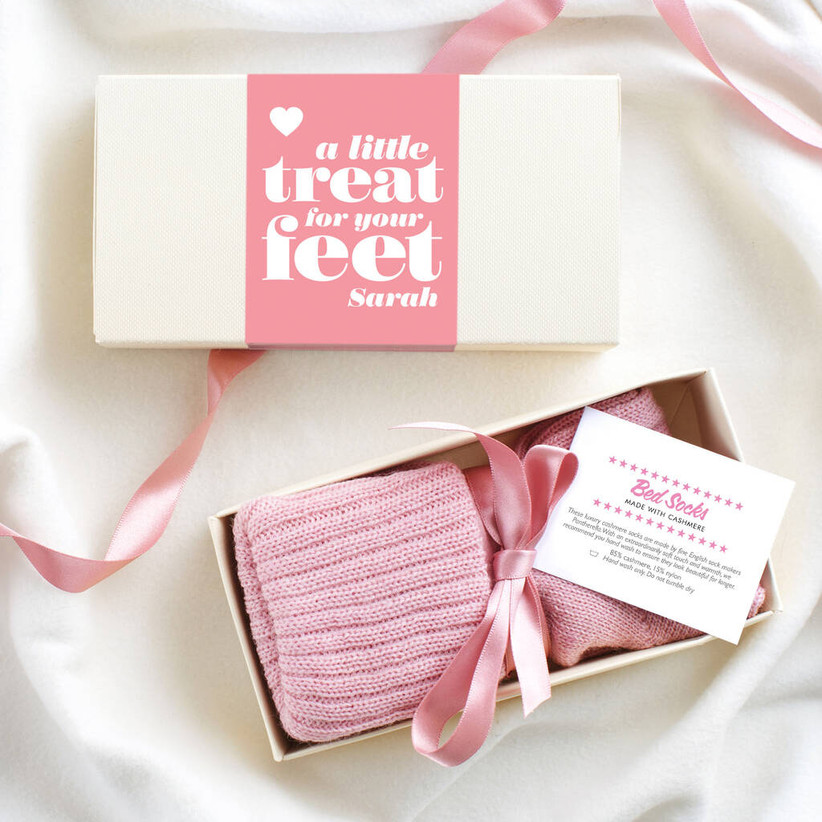 This beautiful personalised box from The Quirky Gift Library contains a pair of luxurious cashmere blend socks and a mini chocolate hot water bottle! We think this is the perfect treat to enjoy during a relaxing post-wedding night in!
19. Personalised Cashmere Blend Ombré Scarf - £28, Studio Hop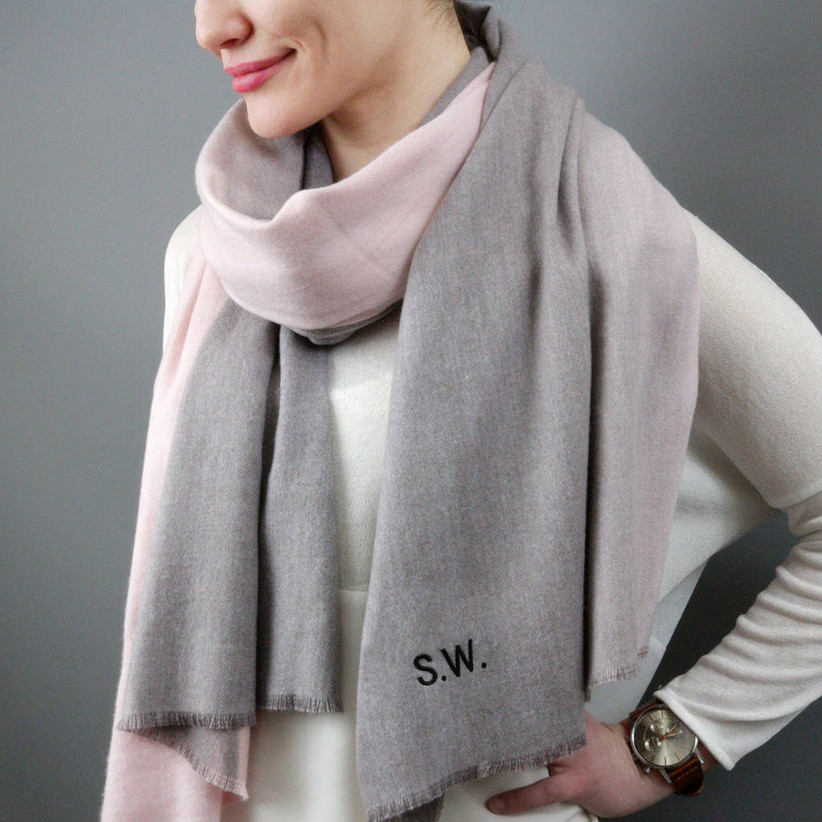 This cosy scarf with cashmere will be greatly appreciated come the colder months! You can make it extra-special by selecting the mother of the groom's favourite colour of the six on offer and adding her initials.
Mother of the Groom Gifts Under £50
20. Personalised Photo Album - £32, BeGolden
We love this personalised photo album from BeGolden and it makes a perfect gift for the mother of the groom. Fill it with some of your favourite photos throughout the years, from growing up to family occasions - just make sure you leave lots of space at the end for wedding photos and all the celebrations that are yet to come.
READ MORE: Mother of the Bride Gifts – The Ultimate Guide
21. Yellow Gold Pearl Stud Earrings - £45, Goldsmiths
For a timeless and classic gift for the mother of the groom, these yellow gold pearl stud earrings from Goldsmiths would be a lovely gift. You could give them as a gift before the wedding so that the mother of the groom can wear them on the big day.
22. Personalised Mother of the Groom Jumper - £30, Rosie Willett Designs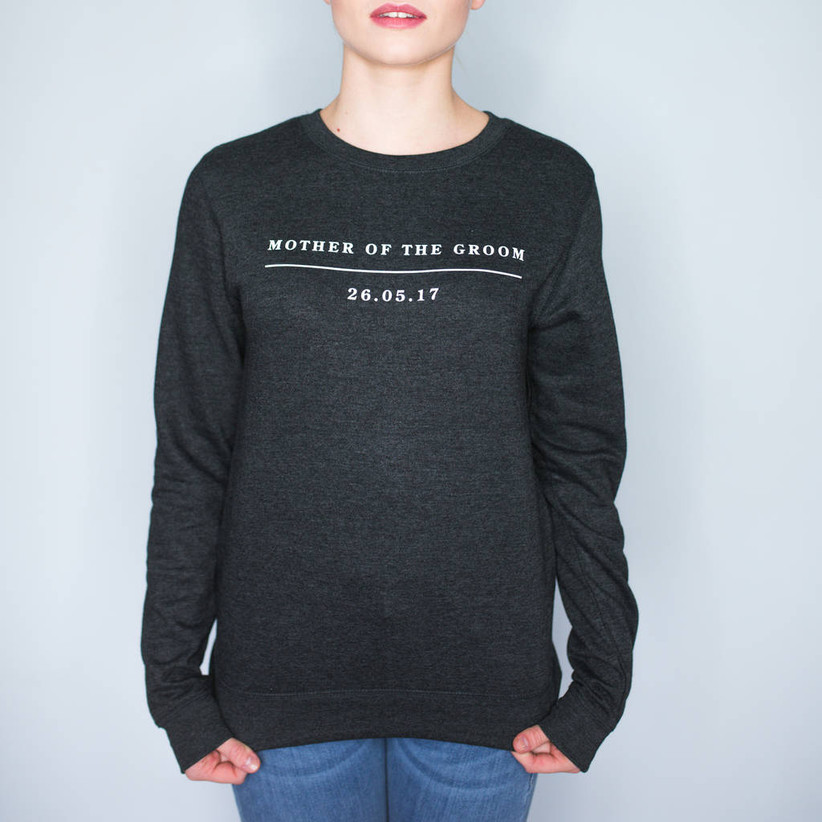 Make sure everyone knows just how important the mother of the groom is with this personalised jumper! She can wear it at your hen do, bridal shower or any other wedding event leading up to the big day, plus it'll make a great addition to her loungewear collection after the big day!
23. Charlotte Tilbury Pillow Talk Luxury Eyeshadow Palette - £40, Selfridges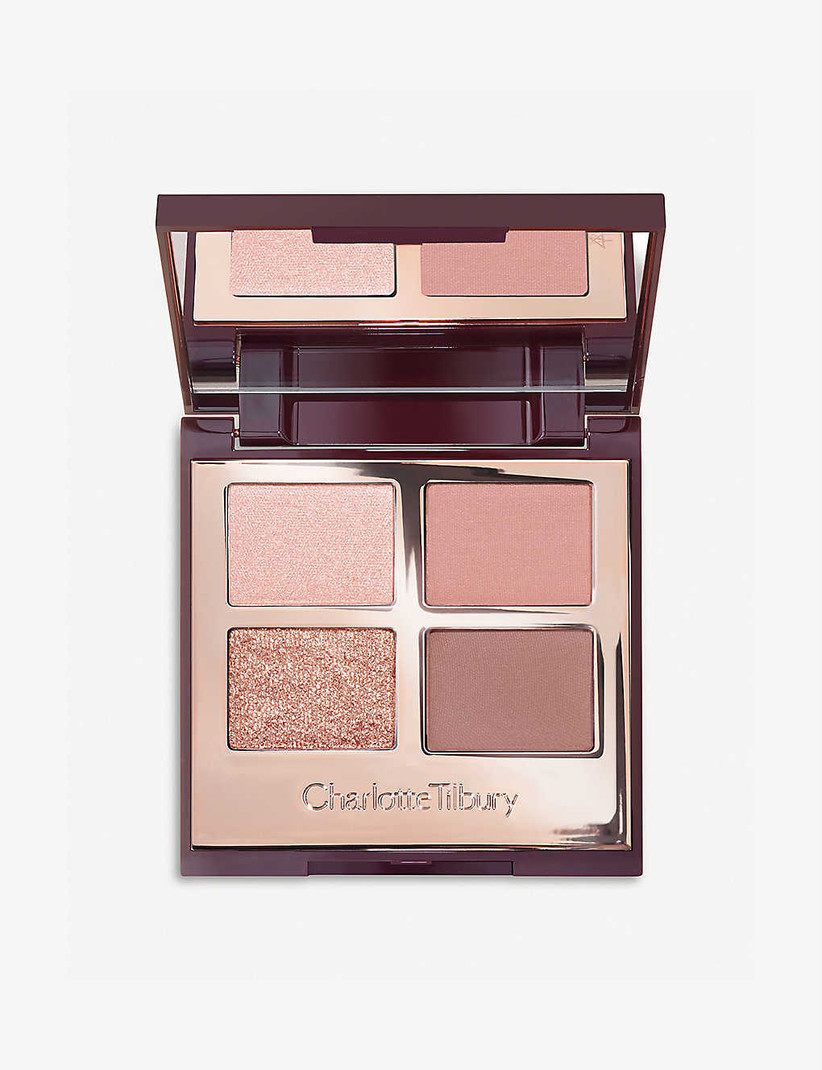 This stunning collection of blush neutrals from the queen of makeup herself, Charlotte Tilbury, makes the perfect palette for wedding day makeup which is why we think it's a great gift for the mother of the groom.
24. Grow Your Own Blackberry Jam Gift Set - £44, The Gluttonous Gardener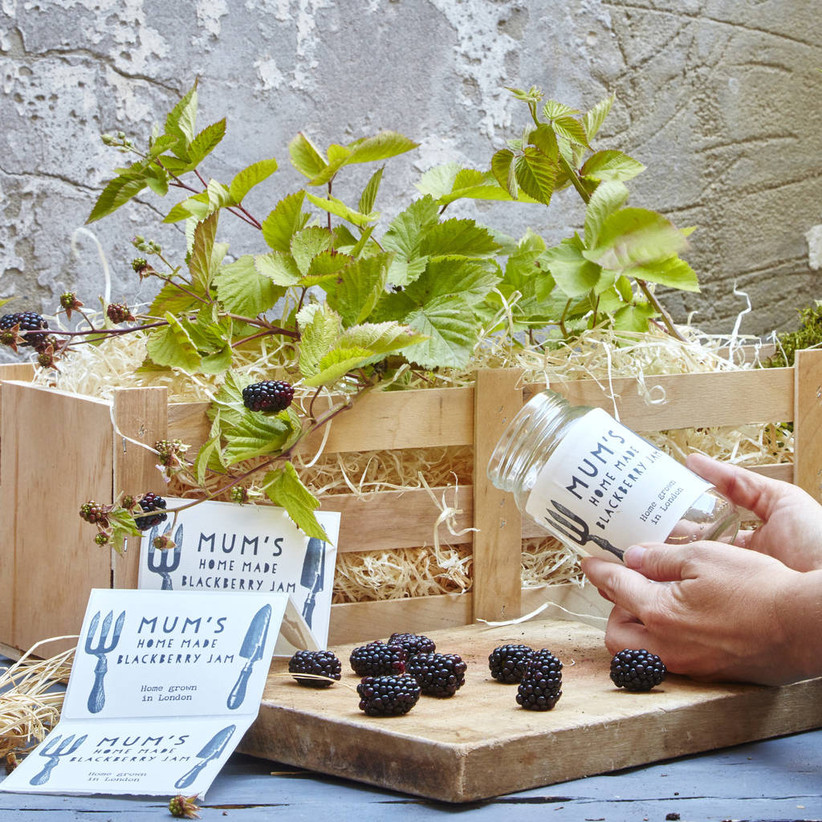 If your mum fancies herself as a green fingered goddess, why not gift this grow your own blackberry jam set? The blackberry plant can be grown in a pot, meaning it can bloom in a garden of any size!
25. Jar of 'Reasons Why I Love You' Biscuits - £36, Honeywell Biscuit Co.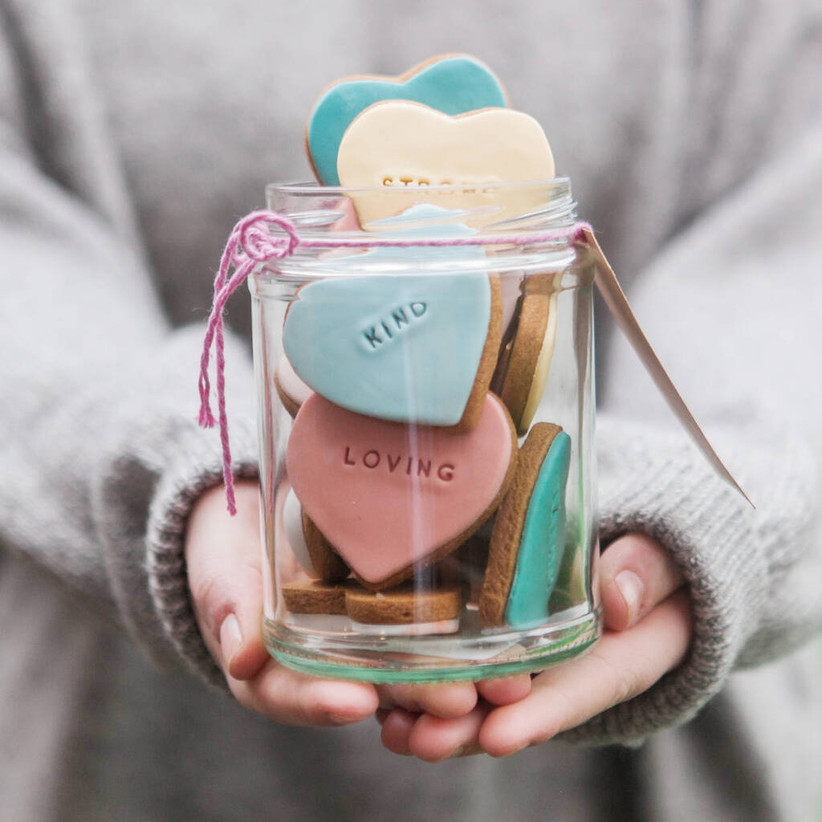 A gift guaranteed to melt the heart - and tempt the tastebuds - of any mother, we're obsessed with this Honeywell Biscuit Co. gift. The biscuits can be personalised with up to four words of your choice, so get your thinking caps on!
26. Mother of the Groom Keepsake Box – £37.47, Susabellas
This earthenware mother of the groom box from Susabellas would be a perfect place to store some small keepsakes from the wedding – maybe a wedding favour or some special jewellery that the mother of the groom wore on the big day.
Mother of the Groom Gifts £50 and Over
27. Siren Fine Chain Bracelet - £125, Monica Vinader
If you want to buy the mother of the groom a special piece of jewellery then this fine chain bracelet from Monica Vinader is a pretty choice and subtle enough that it can be worn every day. It's available in rose gold, yellow gold or silver so you can choose what suits her style.
28. Moët & Chandon Exclusive Imperial Rosé - £58.99, Selfridges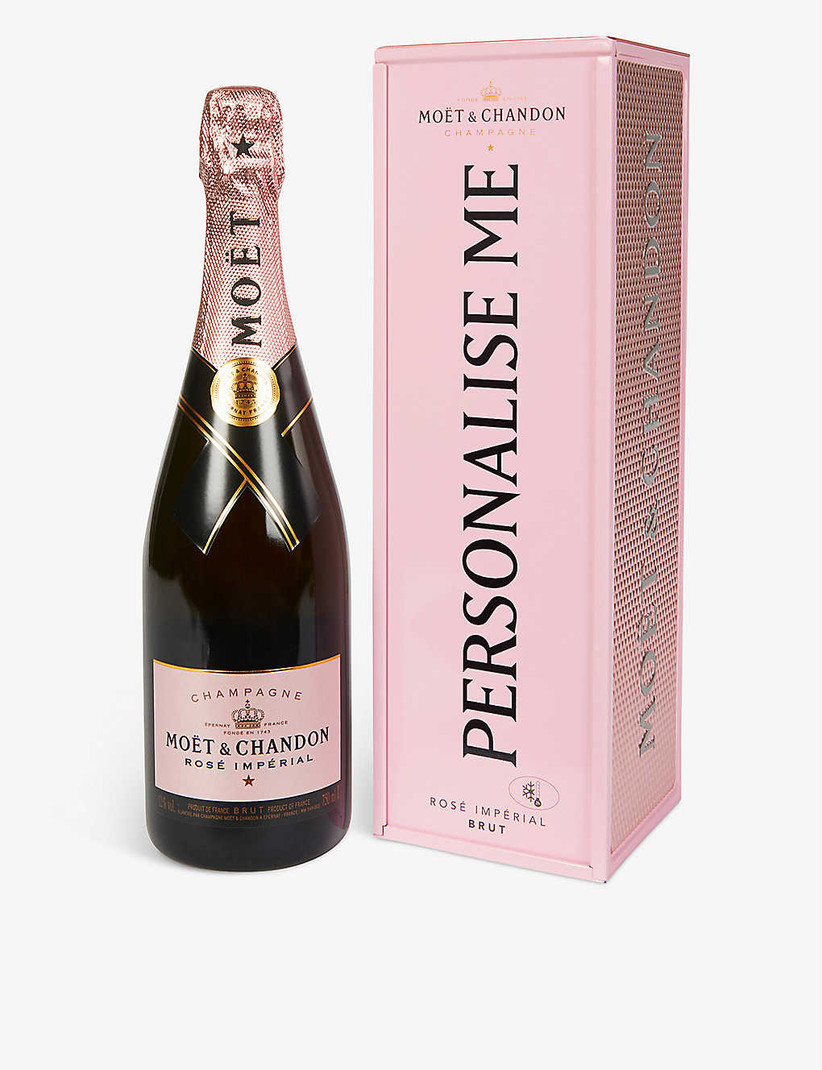 Treat the mother of the groom to the ultimate in luxury with this bottle of rosé Moët. The fizz comes in a tin that can be personalised with her name and we reckon it makes for a great keepsake box to keep all of her wedding day mementos in!
29. NEOM Wellbeing Pod Essential Oil Diffuser - £90, Selfridges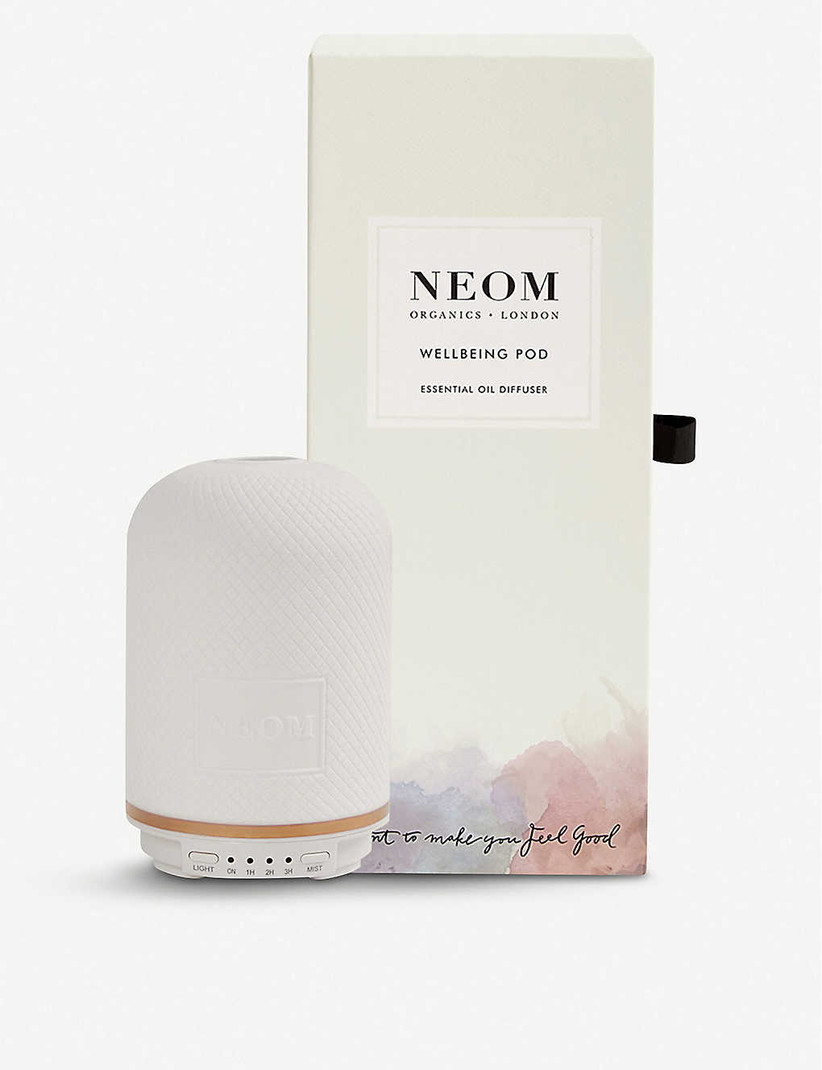 It's no secret that weddings can get pretty stressful and so we think a gift to aid relaxation will never disappoint. If you're happy to splurge, we'd treat your mum to this luxury NEOM essential oils diffuser.
30. Rachel Jackson Birthstone Gold-Plated Silver Necklace - £65, Selfridges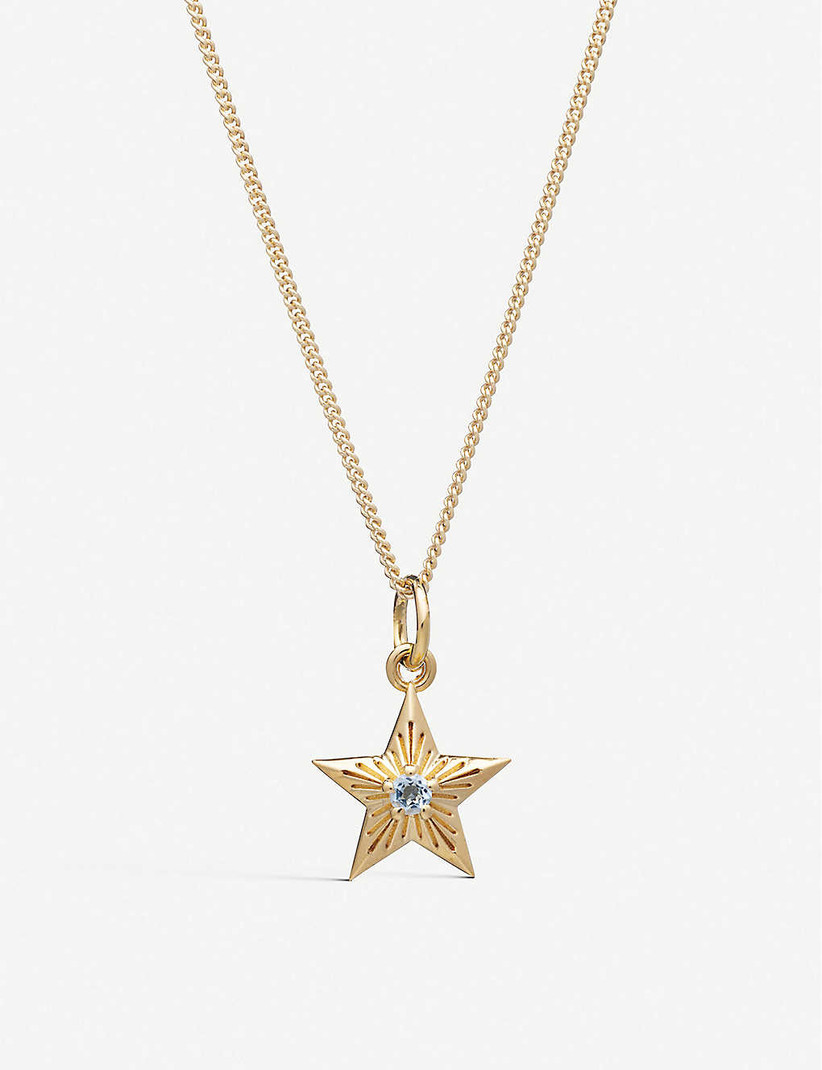 Has your mum been a total star during wedding planning? Show her with this gem! This birthstone necklace by Rachel Jackson makes a super thoughtful gift that's guaranteed to be treasured for years to come.
If you are still looking for the perfect way to say thank you then don't miss our selection of wedding gift ideas for parents.