Congratulations! Your son is getting married, and we bet you're so excited.
You'll no doubt want to look your best for his big day, but it can be tricky to find the right outfit that you look and feel good in. Many clothing brands have dedicated mother of the bride departments… but what about mother of the groom dresses?
We understand that you'll want to highlight your important role with a look that you love, so we've hunted high and low for our favourite mother of the groom outfits out there. Plus, we caught up with the experts to put together our top mother of the groom outfit styling tips – whatever burning questions you might have, we've answered them all below.
Whether you're after a designer dress with all the trimmings or a high street hit that won't cost the earth, you're bound to find something you adore in this edit. Keep on scrolling to discover your perfect piece.
NB: We have included third party products to help you navigate and enjoy life's biggest moments. Purchases made through links on this page may earn us a commission.
7 Mother of the Groom Outfit Styling Tips
John Charles are renowned for their luxury occasionwear, so we thought it only right to catch up with Regine Ellis, their Creative Director, for her top tips. From colour palettes to whether or not you can wear white, she has all the answers to help you look your best on the biggest day of your son's life.
1. What Does the Mother of the Groom Wear?
There aren't any hard and fast rules, but there are a few recommendations when it comes to choosing your mother of the groom outfit. First of all – you've got to make an effort! You should choose something smart and good quality – it is a major milestone for your family, after all.
'Choosing a quality outfit will not only give you a great silhouette, you'll also have an outfit that will last a lifetime', says Regine.
You should also consider colour. Regine adds: 'Work to complement the wedding's colour palette, not match it. Look at the colour scheme of the bridal party; if the bridesmaids are in lilac, go for a rich deep purple accent. You should also be aware of the type of wedding and venue your son is having, as this should be reflected in your outfit.'
Last but not least, you've got to abide by the golden rule of styling! That is to work with what you have and highlight your most beautiful features. Regine told us: 'A knee-length, tailored fit is fantastic for elongating and showcasing legs, for example'.
2. Can the Mother of the Bride and the Mother of the Groom Wear the Same Colour Dress?
Of course! There is no rule to say that you can't wear the same colour as the mother of the bride (or other mother of the groom). The key is to make sure you're wearing dresses in colours that don't clash, if you're opting for different shades.
Traditionally, the mother of the bride would buy her dress first, and then consult with the mother of the groom who'd buy something to complement the chosen gown. Now, the rules are a little less strict – but we'd still recommend you confer before the big day!
3. Can the Mother of the Groom Wear a Patterned Dress?
Yes, you can – in fact, some of our favourite mother of the groom dresses are patterned. As long as your dress doesn't clash with the bridal party's outfits, you're good to go.
4. Can the Mother of the Groom Wear Black to a Wedding?
These days, black dresses are very much accepted for the mother of the groom. It's elegant, chic and, as you'll see from the selection below, there are so many lovely black or monochrome mother of the groom dresses out there.
As long as the couple are happy with your colour choice, there's nothing to say you can't choose a black outfit.
5. How Should the Mother of the Groom Prepare for the Big Day?
'Have a pampering session and get your makeup done professionally for the big day' Regine advises. 'Bear in mind the running around you'll be doing on the day… and the tears! Be prepared to apply touch ups.'
6. Can the Mother of the Groom Wear White?
It is acceptable to wear white, but it's best if it's broken up into a print with other colours – you don't want to upset the bride!
7. Does the Mother of the Groom Wear a Hat?
If you want to - absolutely yes! 'It's the eternal signature of glamour and a form of costume that gives you confidence. A comfortable, securely placed hat will always look lovely', says Regine.
READ MORE: Gok Wan's Top Styling Tips for Brides
The Best Mother of the Groom Dresses & Outfits for 2021
1. Maine

Eve Floral Scoop Neck Dress - £39, Debenhams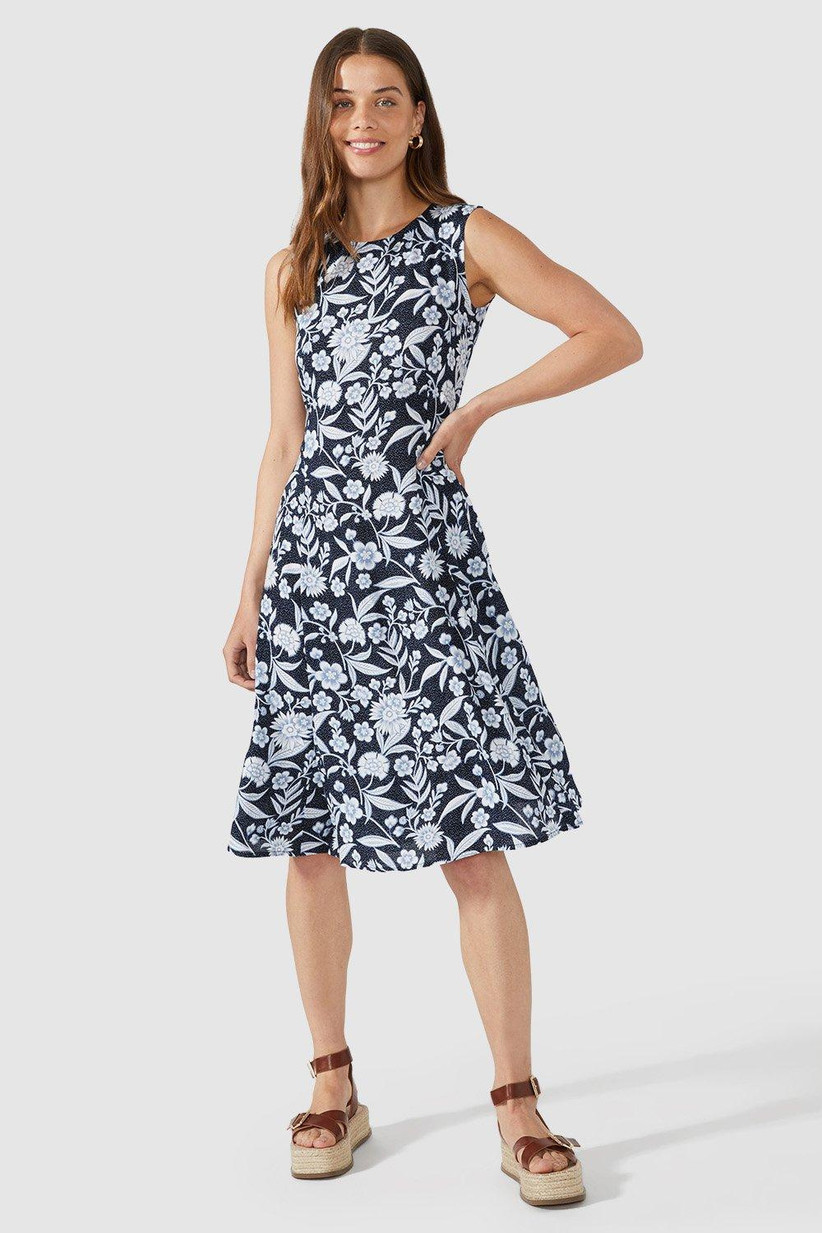 Monochrome never fails to look stylish and we love it in this gorgeous floral print that makes the dress romantic and feminine. The neckline and flared skirt are very flattering and we love a sleeveless style for a warm summer wedding. You'll look glamorous and elegant in all the photos.
2. Principles

Lily Print Dress - £39, Debenhams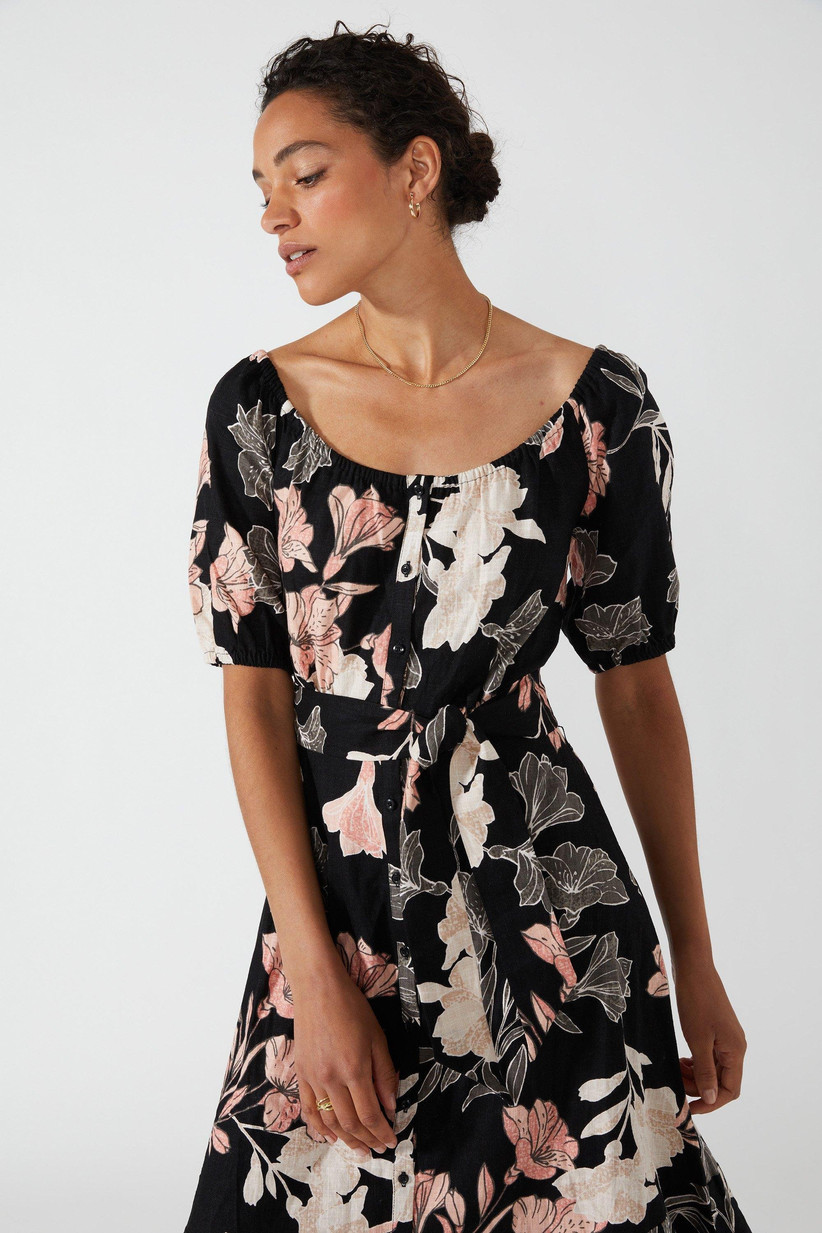 If you're after a relaxed mother of the groom dress for a laidback wedding, this airy, linen-blend dress is the perfect choice. With a gorgeous cream, pink and grey lily print, tiered skirt and flattering short sleeves, there's so many details to love.
3. Chestina Moss Crepe Dress - £260, Gina Bacconi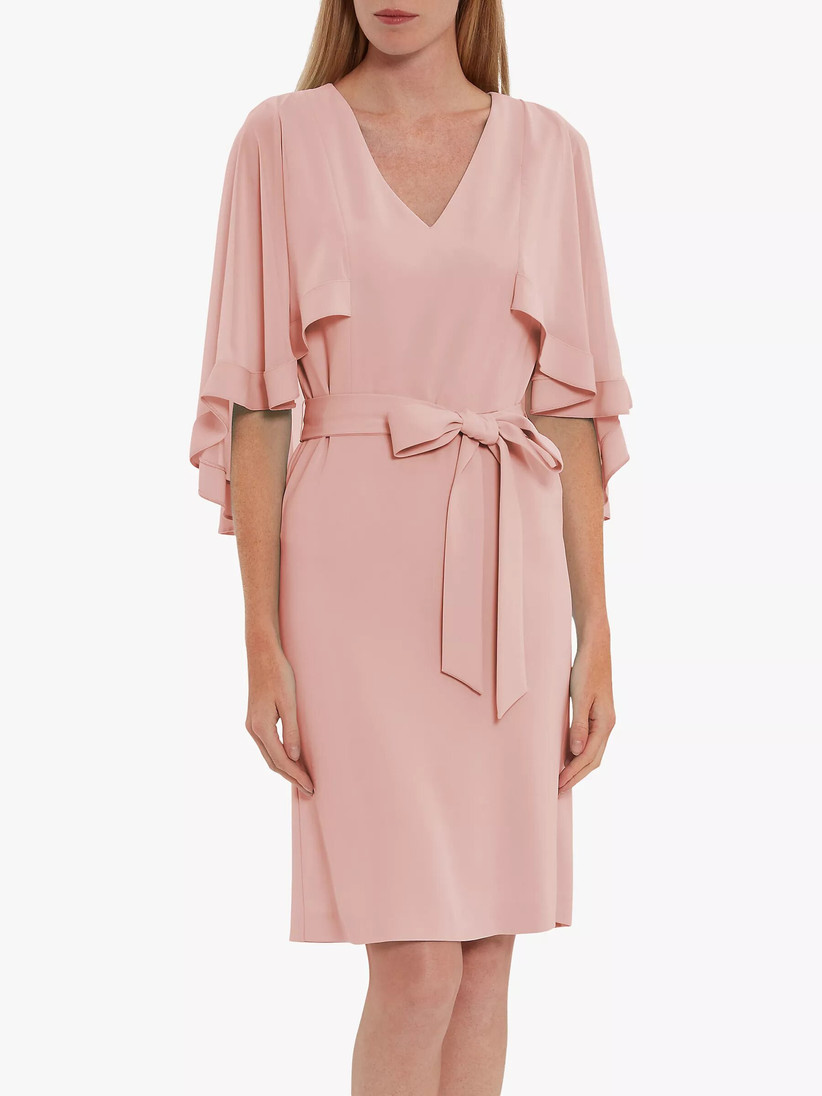 Keep it simple and soft with the Chestina Moss dress by Gina Bacconi which was just made for mothers of the groom. The caped arms make it perfect for spring celebrations, while the shift dress style adds a touch of modernity. Team this dress with metallic accessories for a sublime mother of the groom outfit.
4. Antonia Floral Embellished Maxi Dress – £250, Monsoon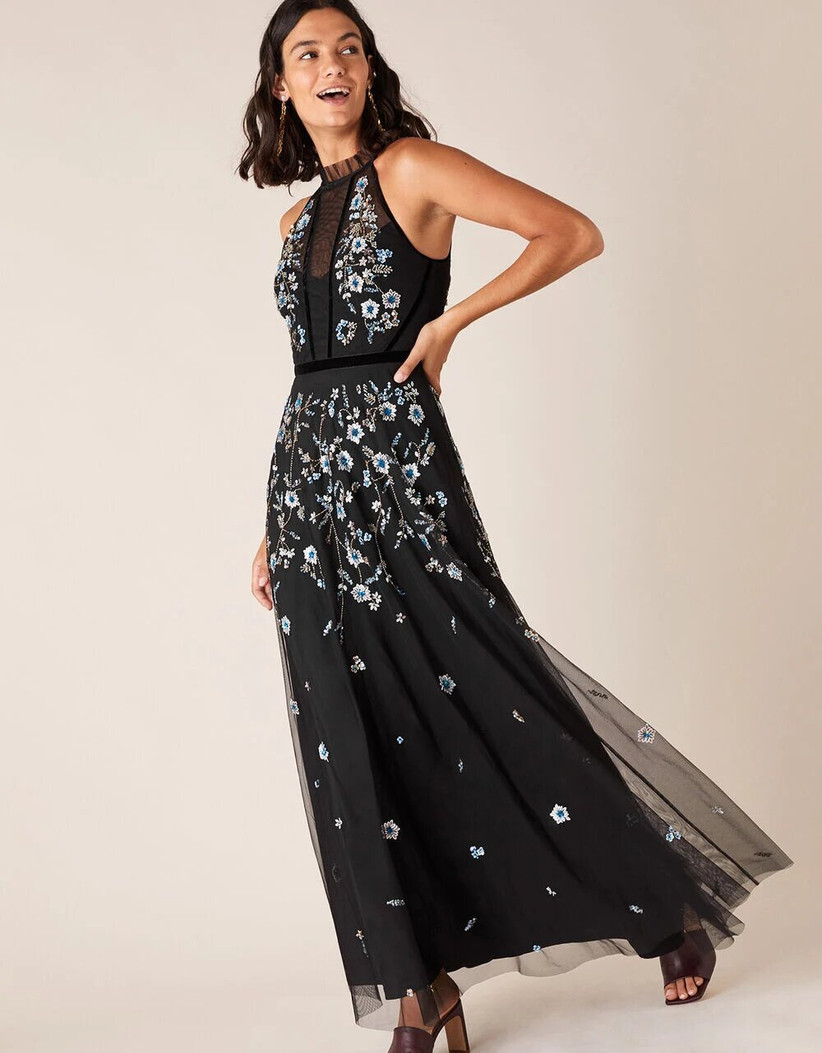 Forget everything you've heard about wearing black to weddings – when the embellishment is as intricate as this Monsoon dress, you can absolutely pull it off. The halterneck is great if you like to show off your shoulders – lift the maxi hemline slightly with a pair of block heels so you're not held back on the dance floor.
5. Wrap Front Pleated Skirt Dress - £59, Coast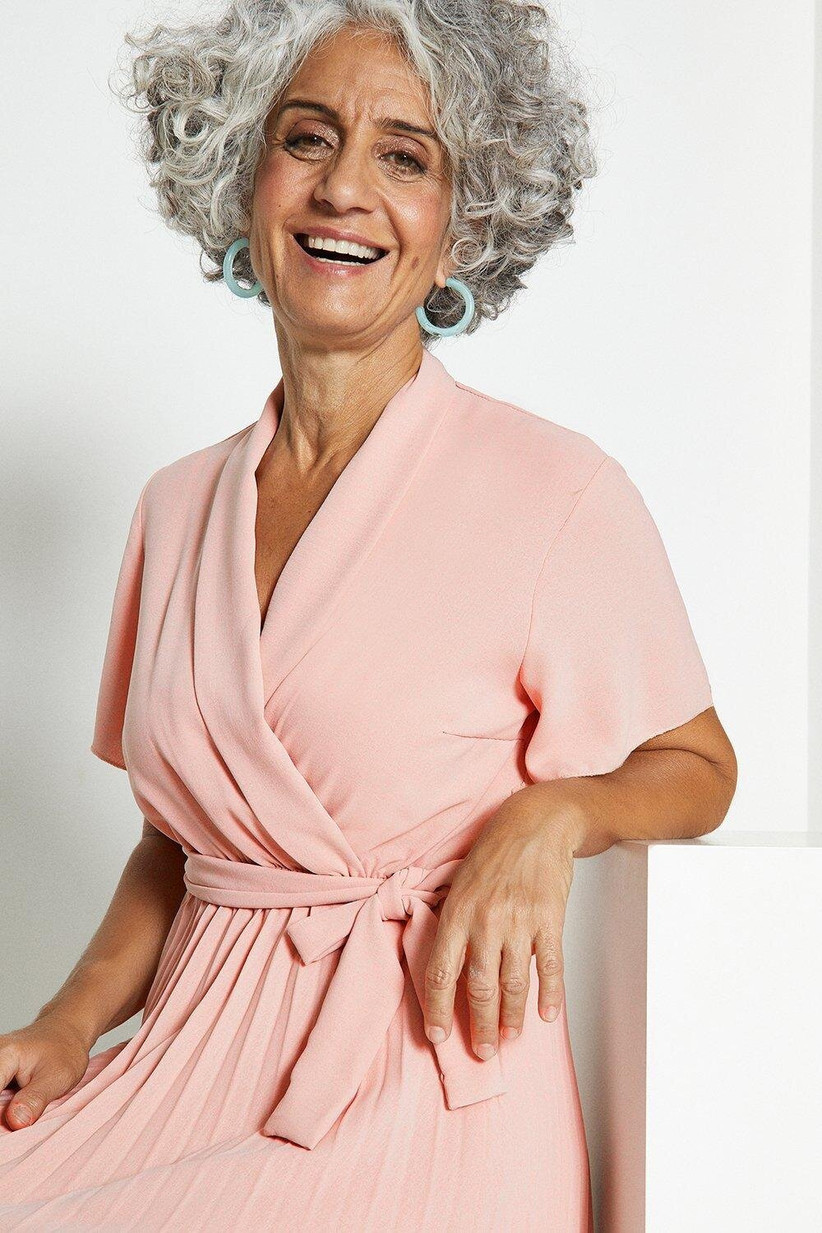 Coast's beautifully-cut wrap dress comes in so many colours and patterns, from this pretty blush to a monochrome polka dot, an ocean green and even a vibrant orange. No matter what venue or theme your son's wedding has, you'll find an option to suit.
6. Poppy Floral-Print Crepe Midi Dress – £265, Rixo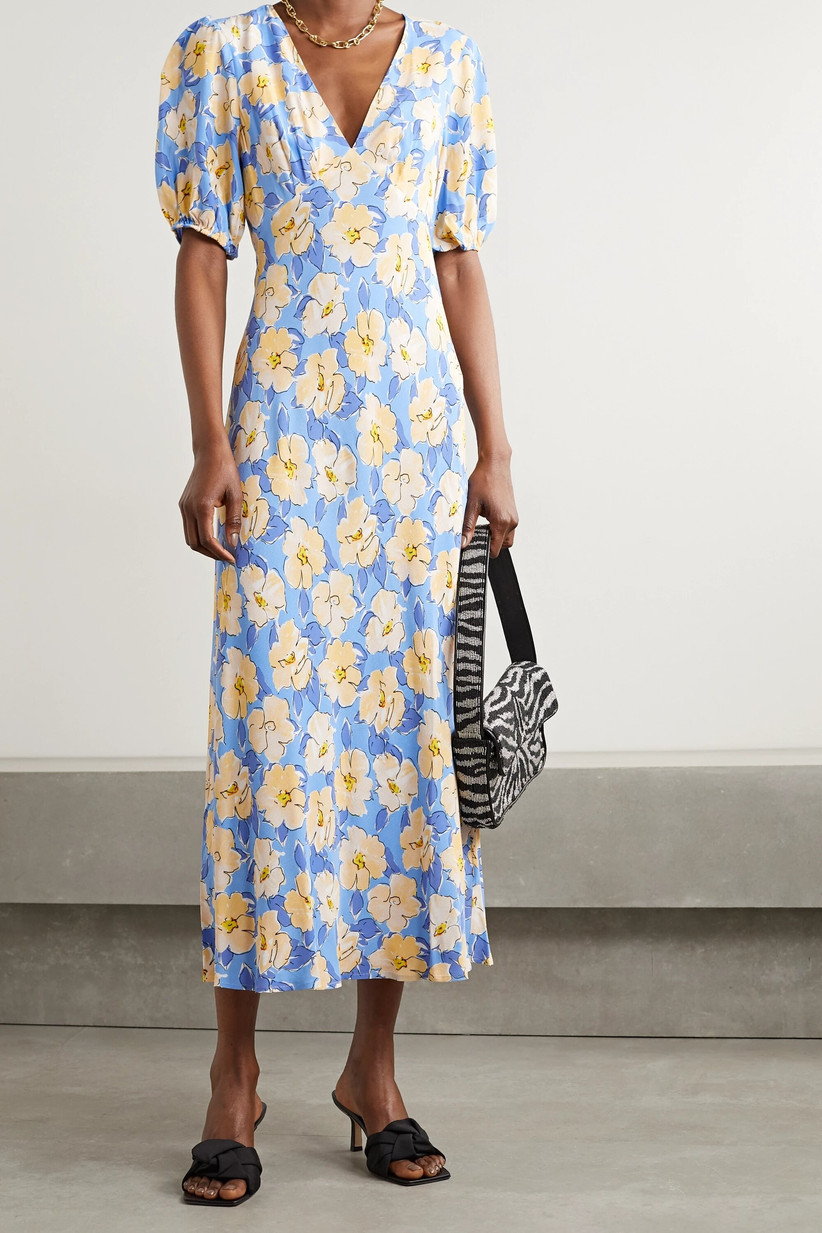 Fashion editor's favourite Rixo's mission is to design dresses that have 'timeless silhouettes to flatter every woman, irrespective of age, season, size, nationality or time of day' – ideal for any mother of the groom who wants to earn her style points. Enter the stunning Poppy dress, which would be perfect with your favourite pearl jewellery.
READ MORE: 21 Timeless Wedding Jumpsuits
7. June Ruffled Printed Cotton Midi Dress - £295, Rixo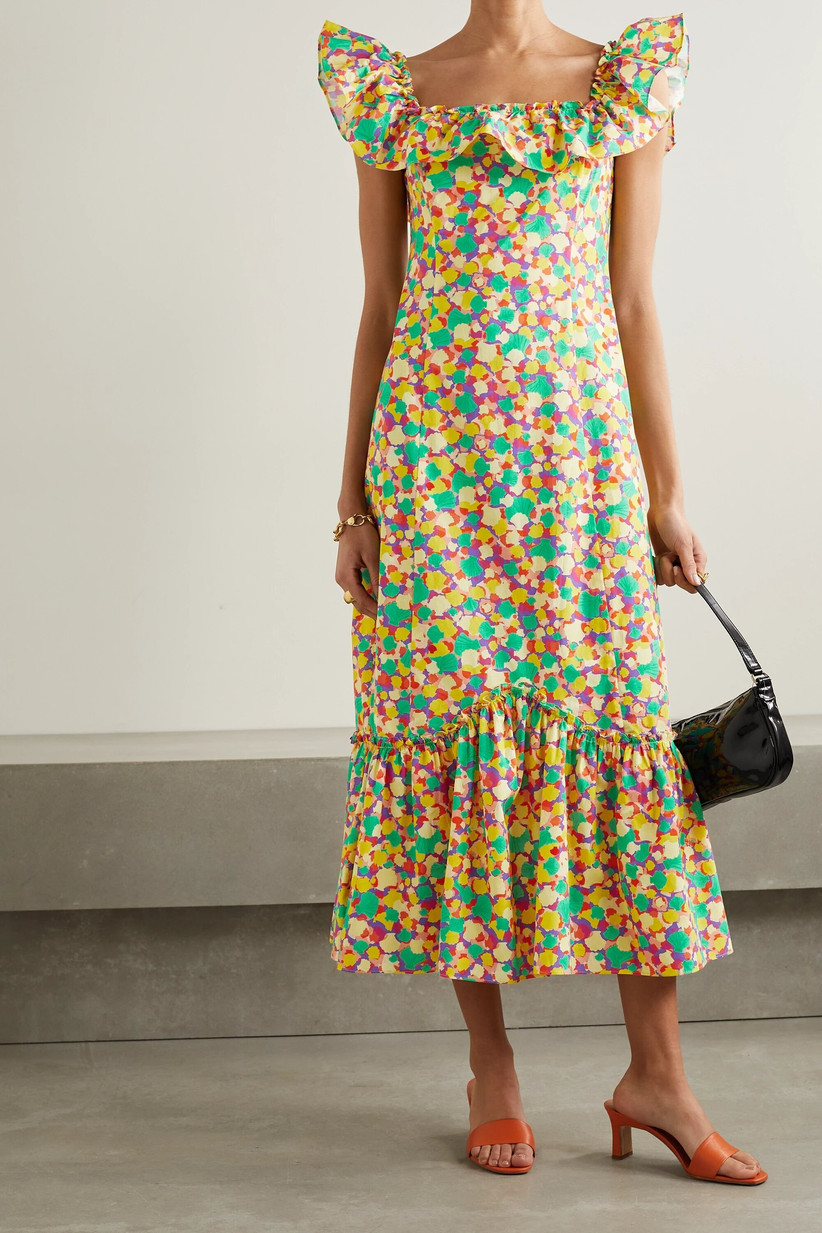 We've also fallen pretty hard for Rixo's June design, which features an exaggerated floral print and ruffled neckline – it's top of our list for a summer destination wedding where you can afford to go for bright and bold colours.
8. Juliana Floral Dress – £199, Phase Eight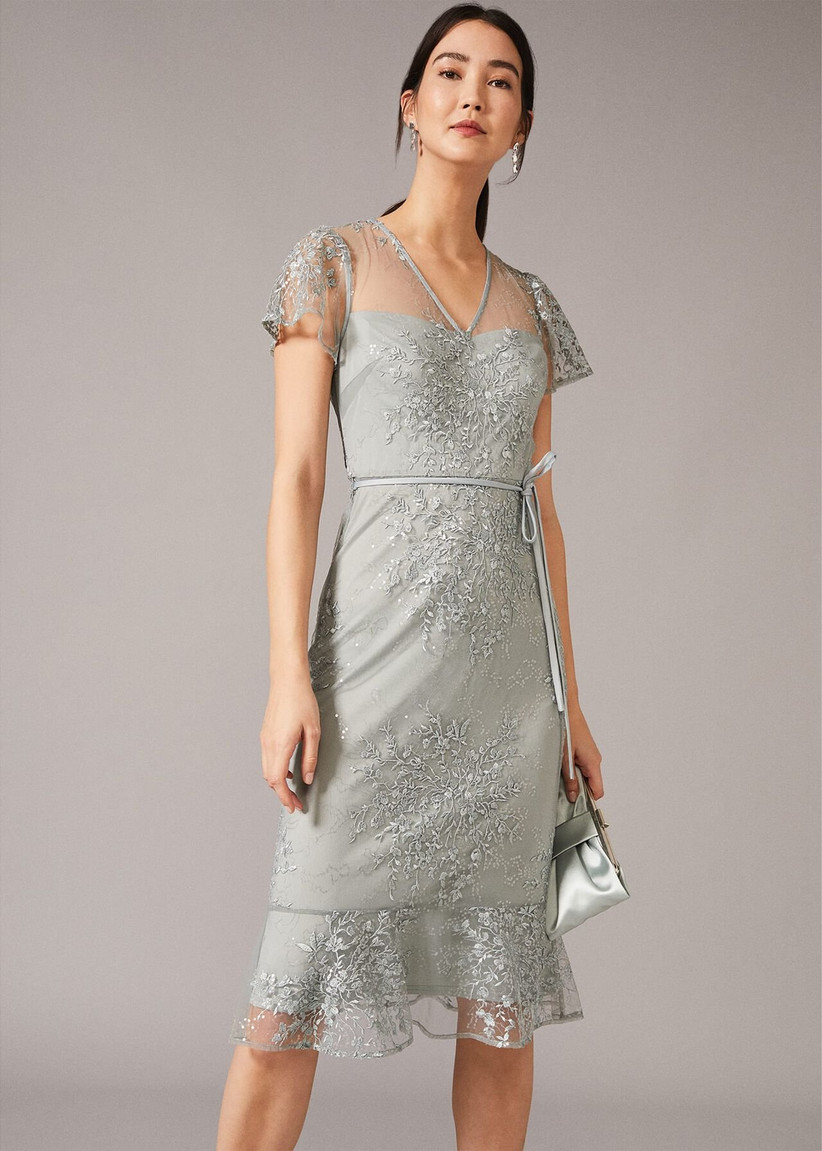 The Juliana dress from Phase Eight has been designed to show off your curves, with a nipped-in waist, sharp V-neck and peplum hem that's super flattering. What really sets it apart is the playfulness of the textures – the velvet ribbon, fabric covered buttons and the sheer upper bodice mean that no one else will be wearing anything remotely similar.
9. Jordyn Fit and Flare Dress – £150, Phase Eight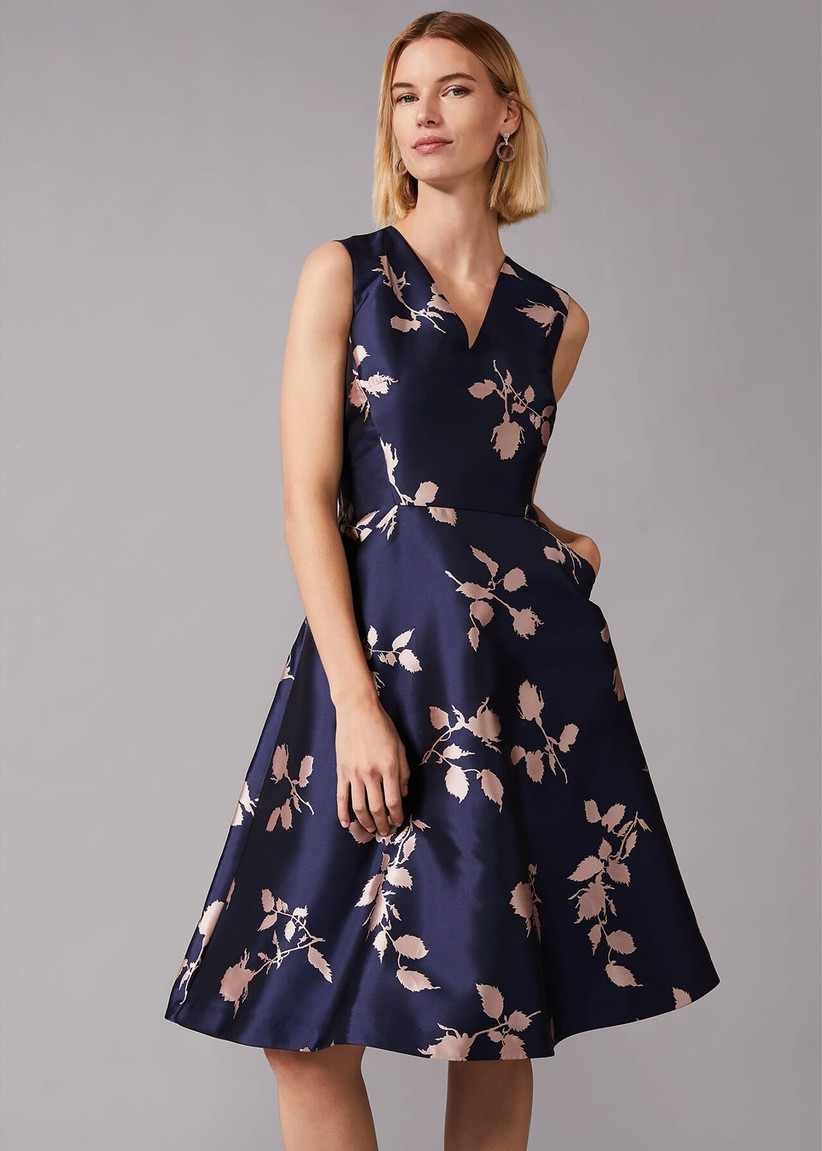 Picture Phase Eight's Jordan dress with a blush pink fascinator, matching heels and a statement clutch, and you'll have an idea of just why we think it's such a great pick. Navy is always a timeless choice, but the addition of the brushed ballet pink florals takes this dress to the next level.
10. John Charles Style 26795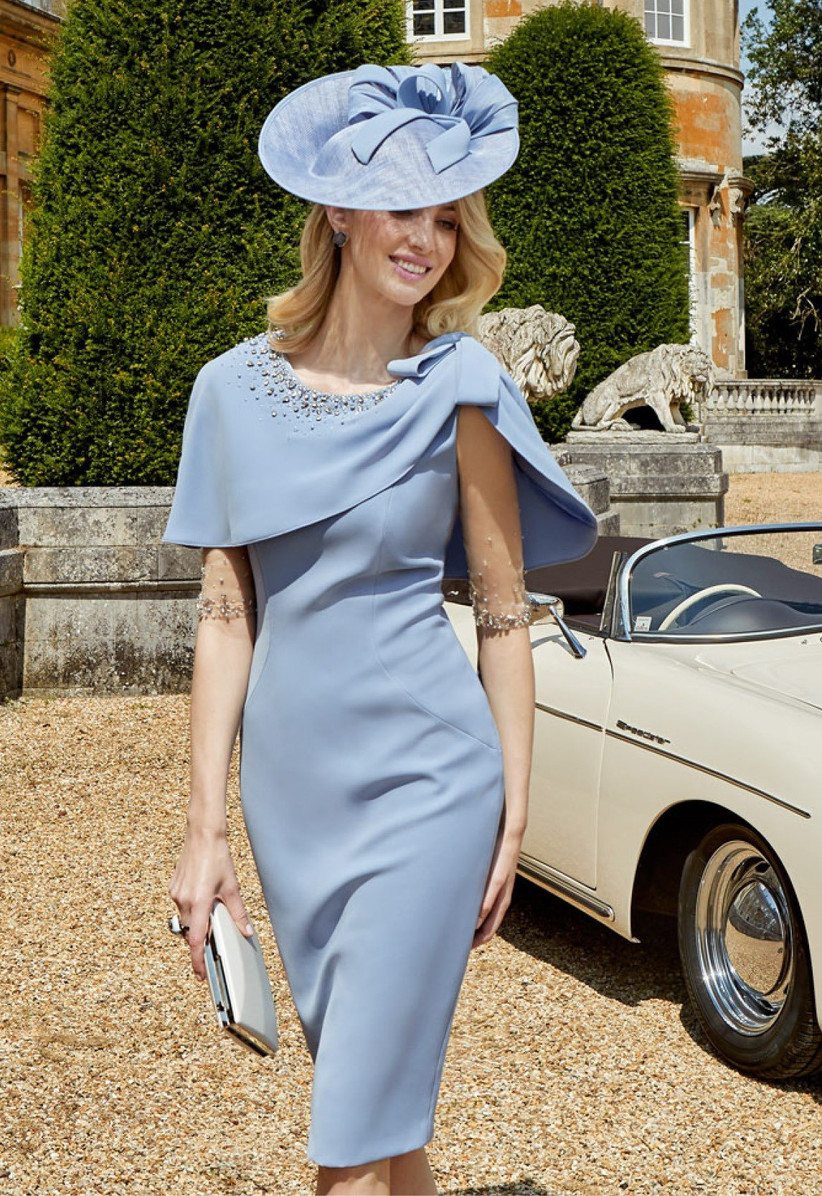 If your son has opted for a gorgeous summer wedding, then consider a pastel hue to complement his choice of season. A head-to-toe coordinating pastel outfit is an easy way to do summer dressing, and is guaranteed to look totally chic. In this style by John Charles the panelled, structured silhouette is super-flattering and the beaded detailing on the arms is a beautiful contrast to the heavy fabric.
READ MORE: 47 Best Mother of the Bride Dresses and Outfits for 2021
11. John Charles Style 26872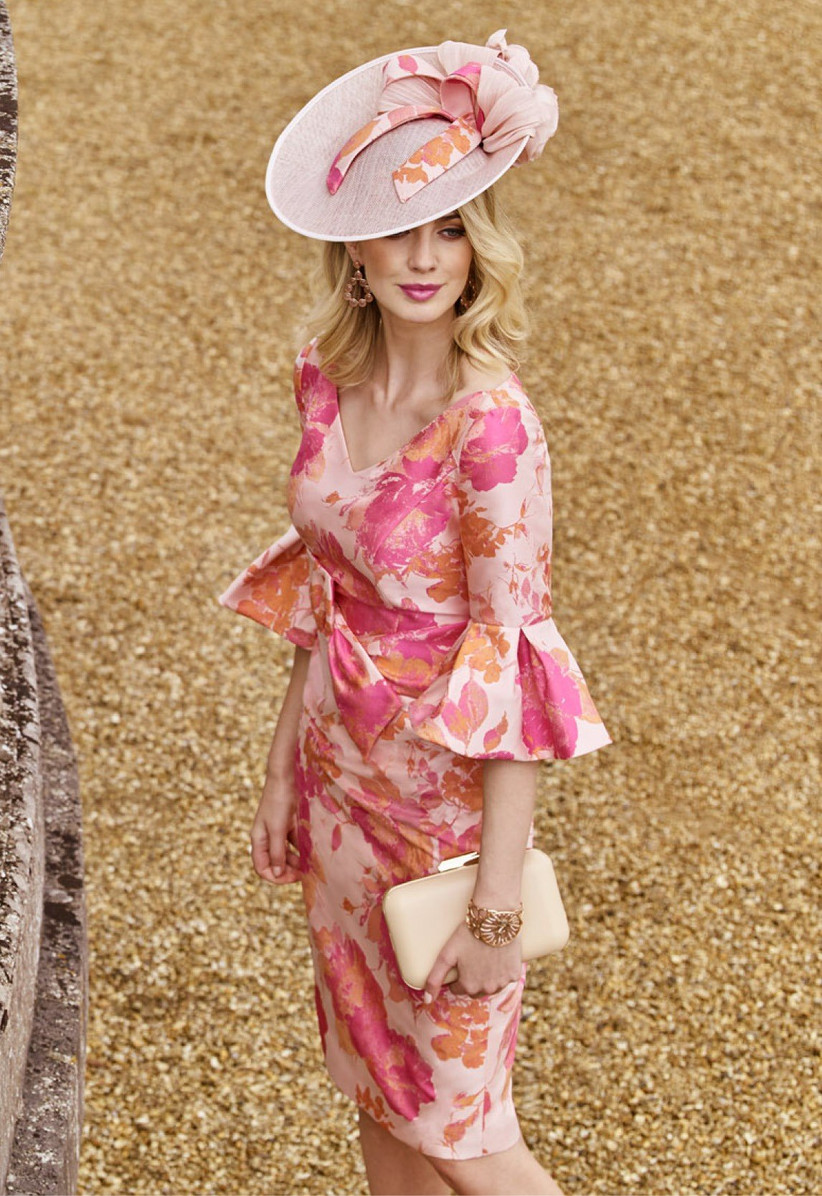 There are so many details to fall in love with on this beautiful dress by John Charles. The label's signature cut allows the statement bell sleeves and stunning twist waist bow to take centre stage. The fitted skirt, which is fully lined, finishes just above the knee. And don't get us started on the print.
12. Sleeved Envelope Neck Dress – £169, Karen Millen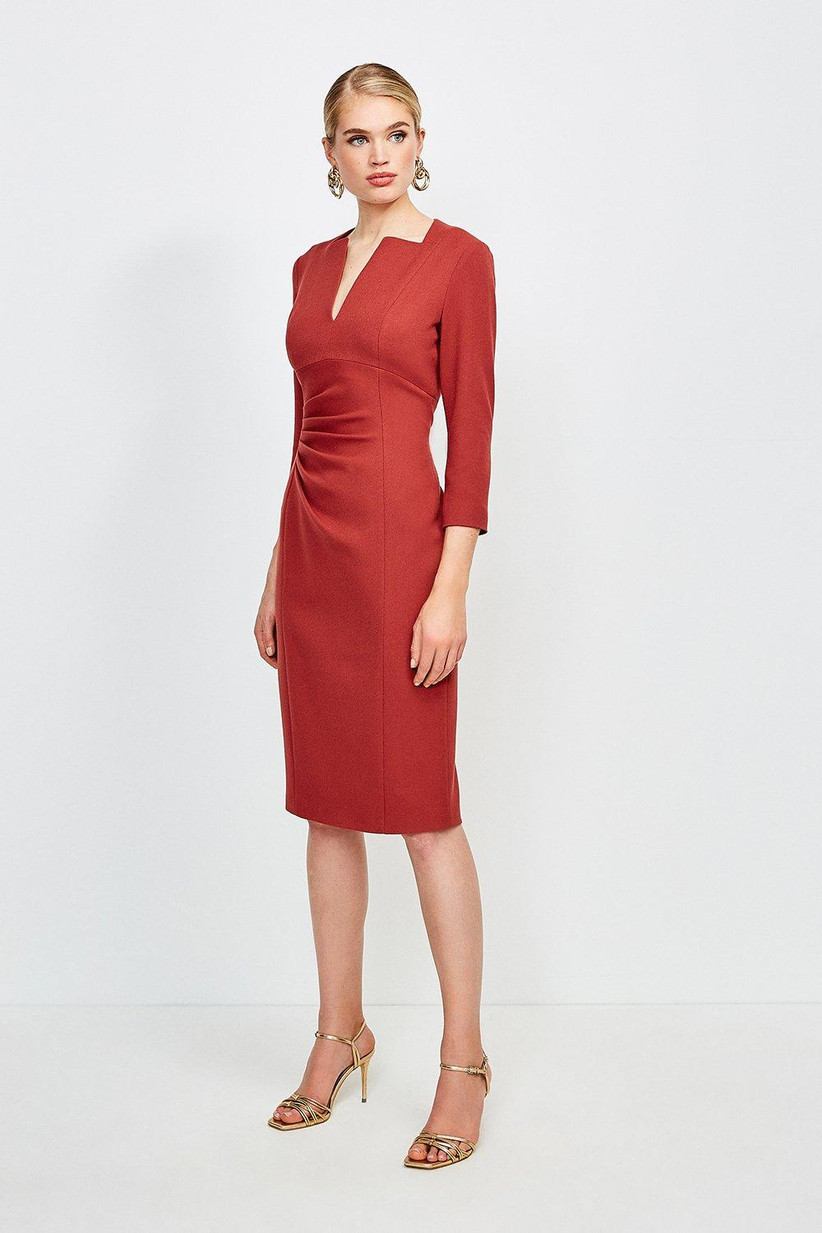 How about being a lady in red for the day? This Karen Millen dress is modest without being at all boring, and the seams on the front will really shape and showcase your waist. And as if the aesthetic wasn't enough, it's got one of our all-time holy grail features: it actually has pockets.
13. Edge of the Shoulder Midi Dress – £389, Bombshell HQ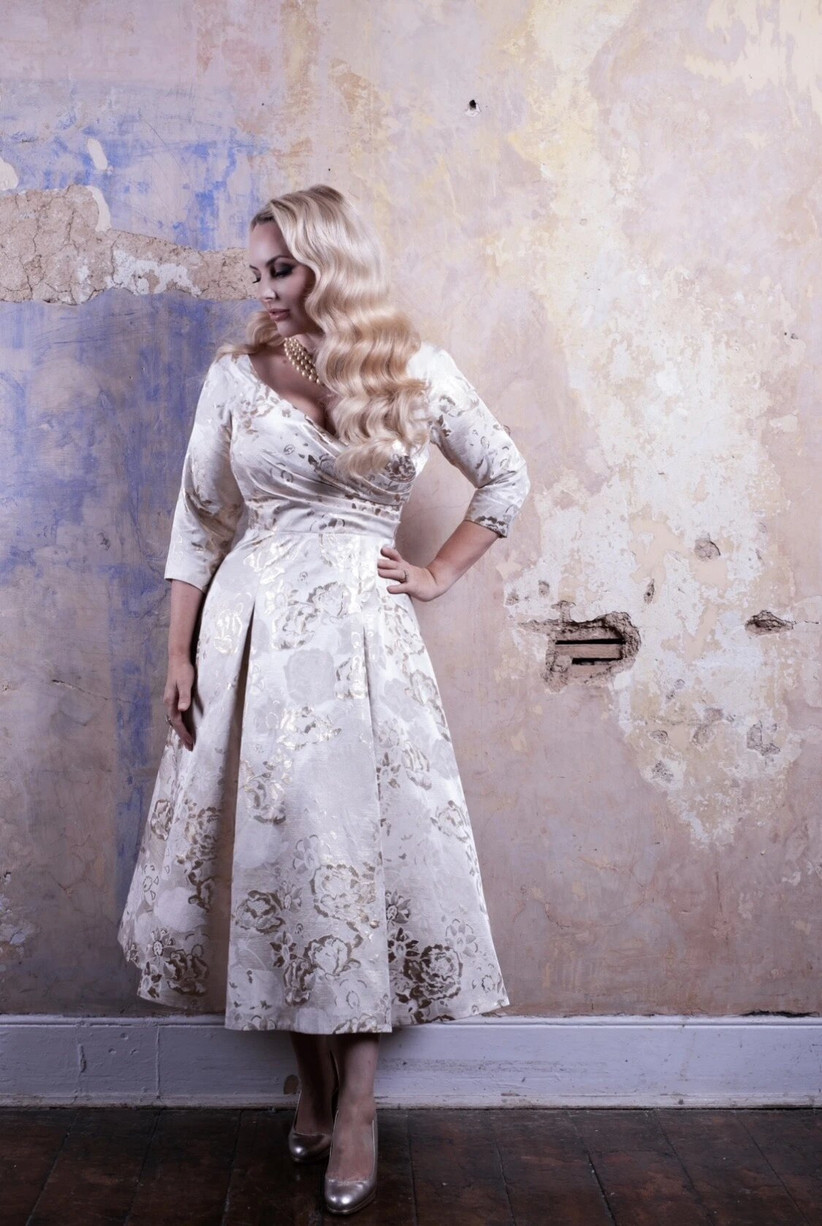 If you do have a little extra cash to splash for a once-in-a-lifetime look, Bombshell HQ will kit you out in the most magnificent retro-inspired dresses you ever laid your eyes on - we particularly love this gold dress for a mother of the groom, but the entire collection is worthy of your attention.
14. Cici Jersey Printed Dress - £79, Hobbs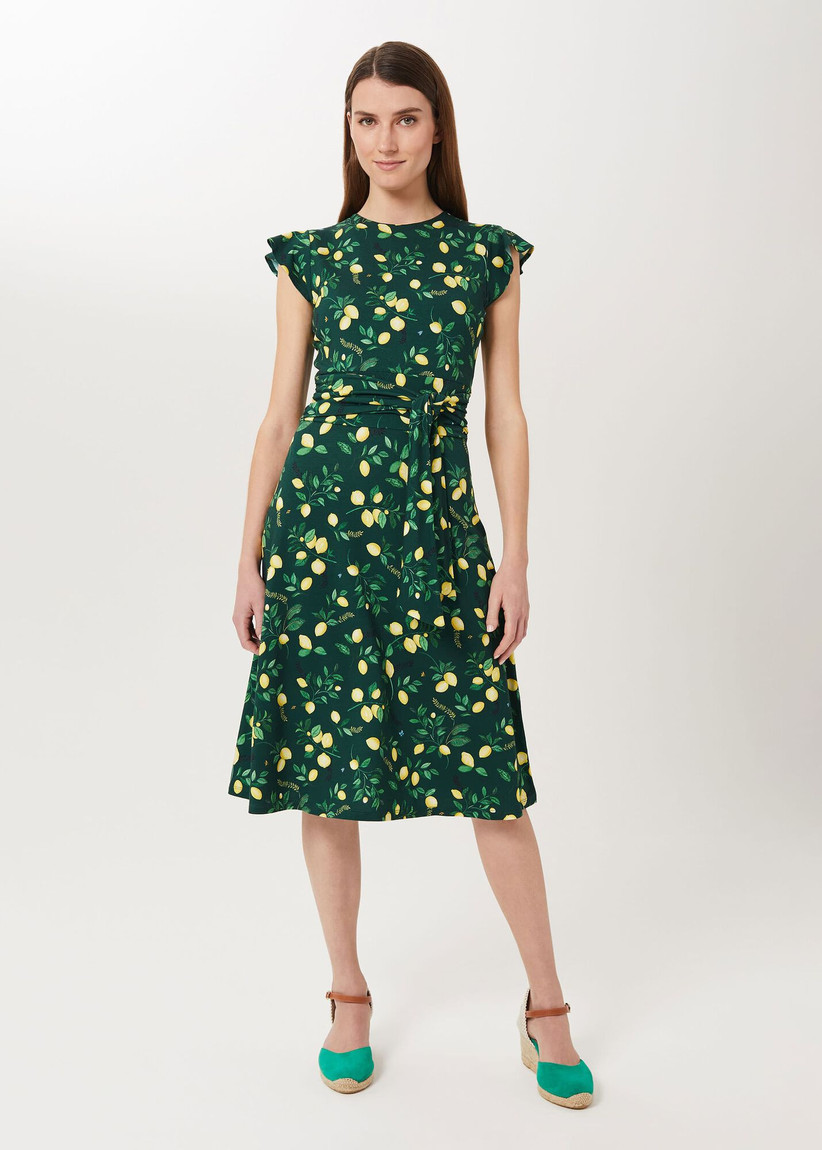 We can see this Hobbs Cici dress fitting in perfectly if your son is having a vineyard wedding. Emblazoned with lemons, the print is so fun and fresh, plus the belt around the waist will flatter your figure. Made from light, breathable jersey, it'll keep you cool and comfortable even on the hottest of days.
READ MORE: How and Where to Buy Second Hand Wedding Dresses
15. Carly Floral Midi Dress - £169, Hobbs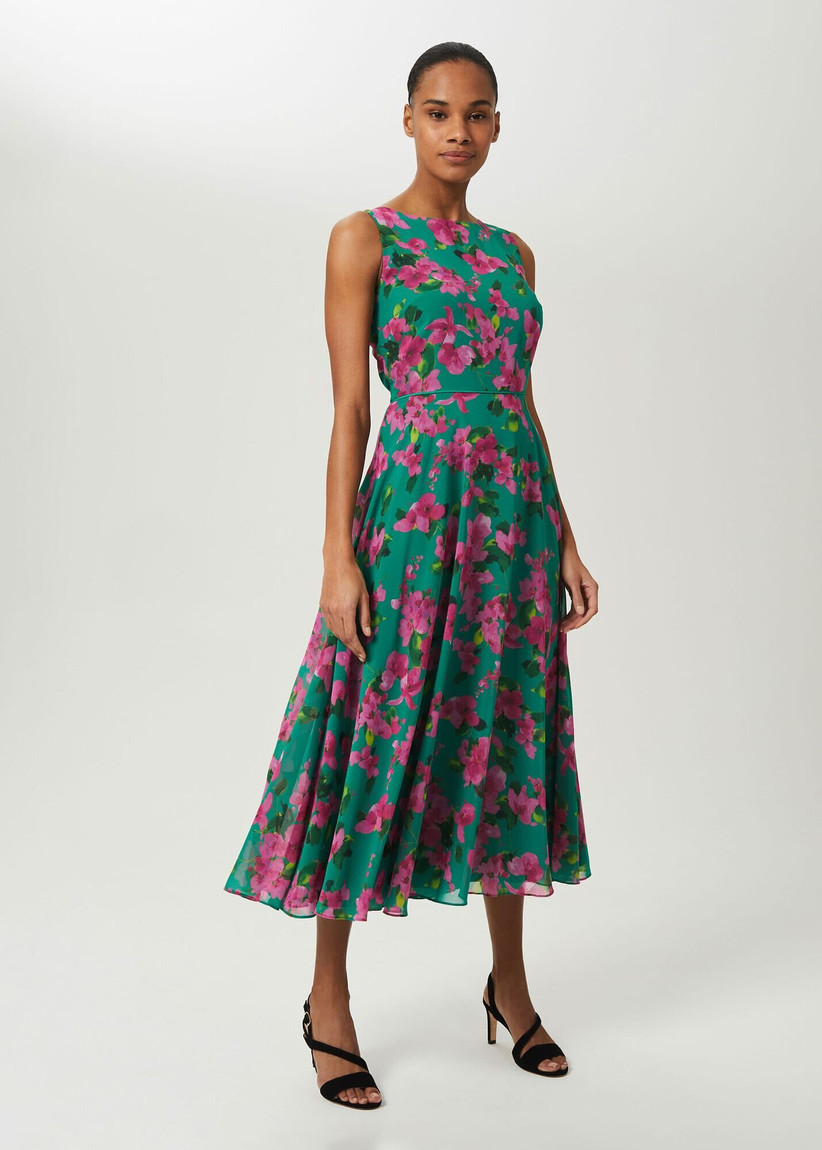 If you love the idea of a Hobbs dress and want to spend a little more, this sleeveless green and pink floral beauty is simply stunning. Available in petite sizing, it's brilliant for a shorter mother of the groom as the pleated skirt will elongate your legs, especially paired with some fabulous heels.
16. Mesh Printed Dress - £149, Coast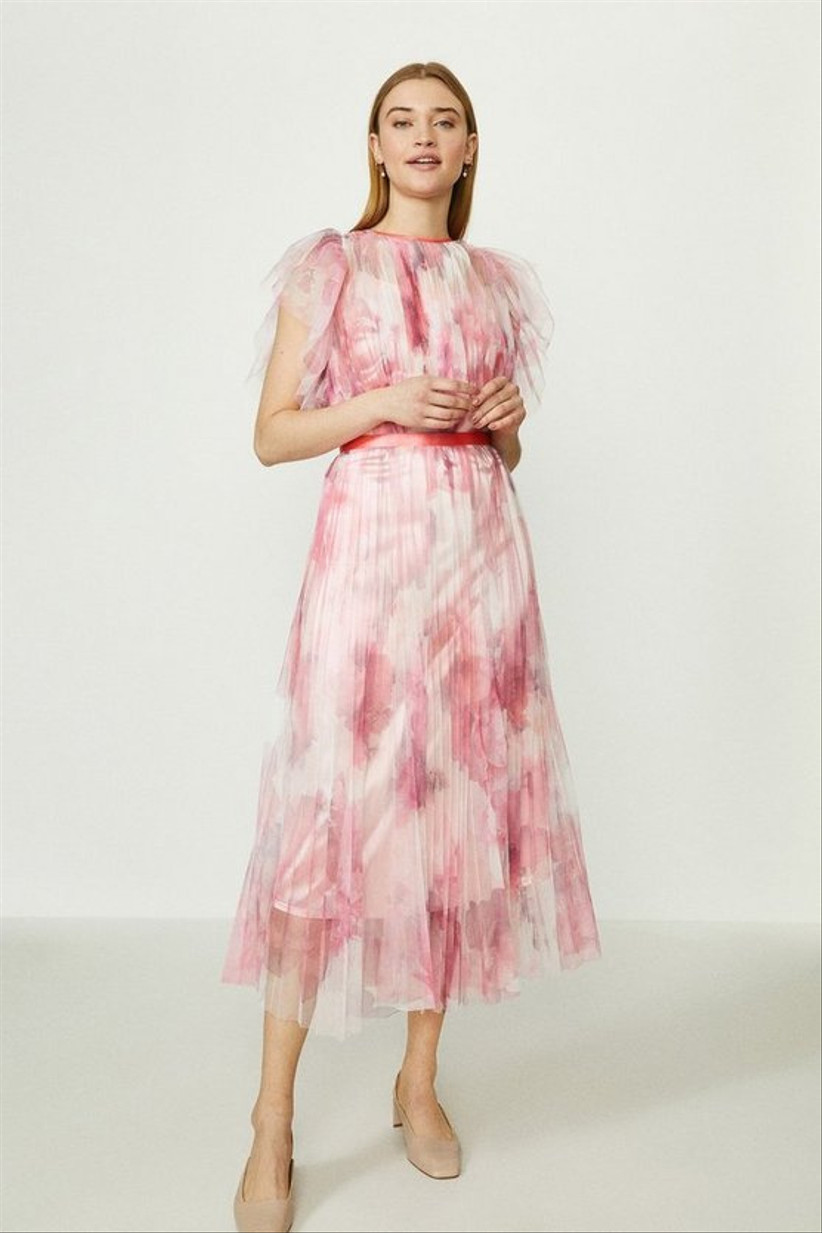 This watercolour patterned pink Coast dress might be unexpected as a pick for the mother of the groom, but that's exactly what we love about it – it's an on trend style that oozes designer. Keep your jewellery minimal and hair pared back; this dress is a showstopper in its own right.
17. Gill Harvey 6020S - £885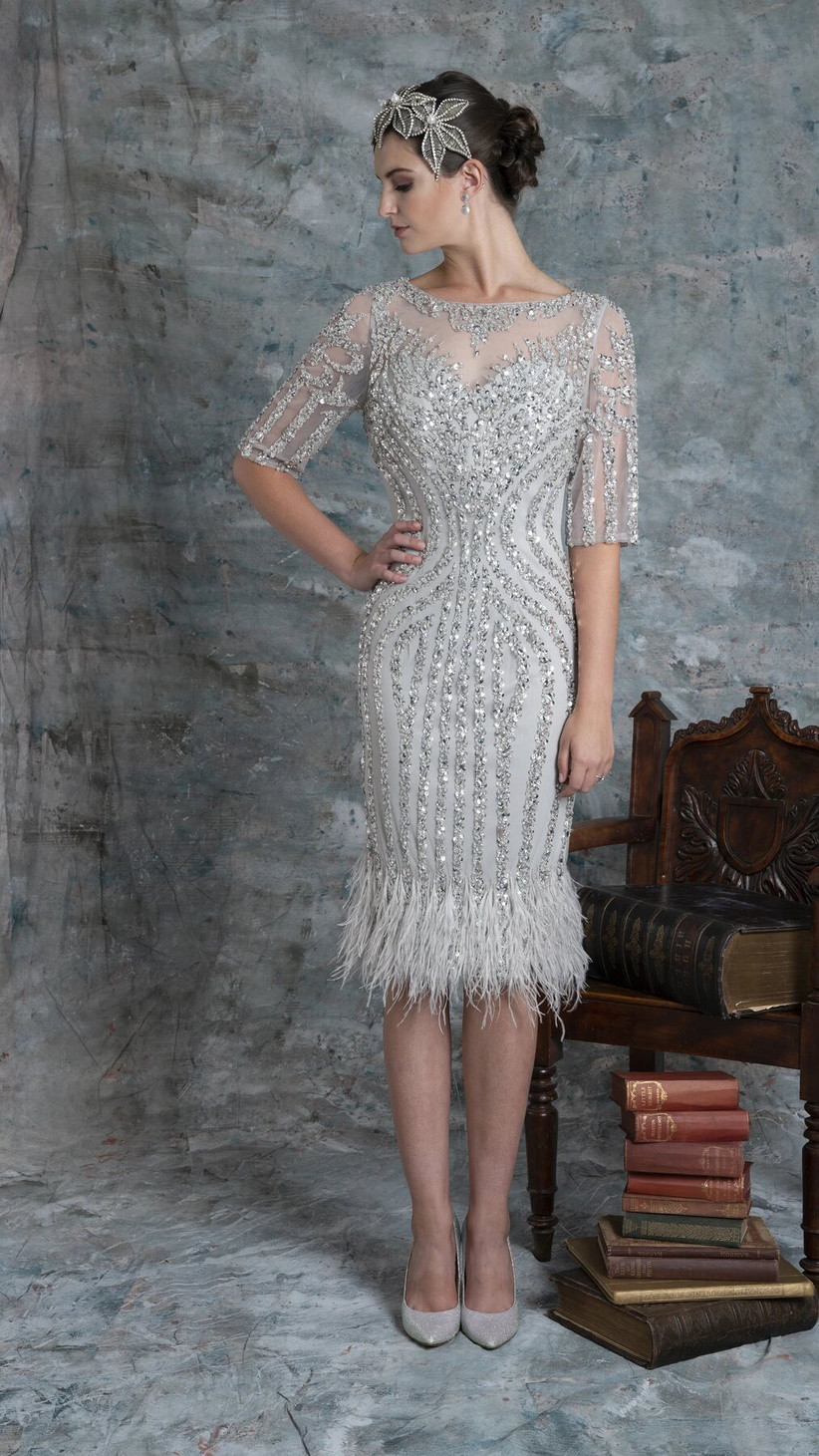 The sequins and feathers give a fun 1920s finish to this stunning Gill Harvey outfit. Silver is an ideal colour choice for your mother of the groom look as it's distinctive enough to feel seriously special, but not enough to draw attention away from the bride.
18. Long-Sleeved Dress - £29.99, H&M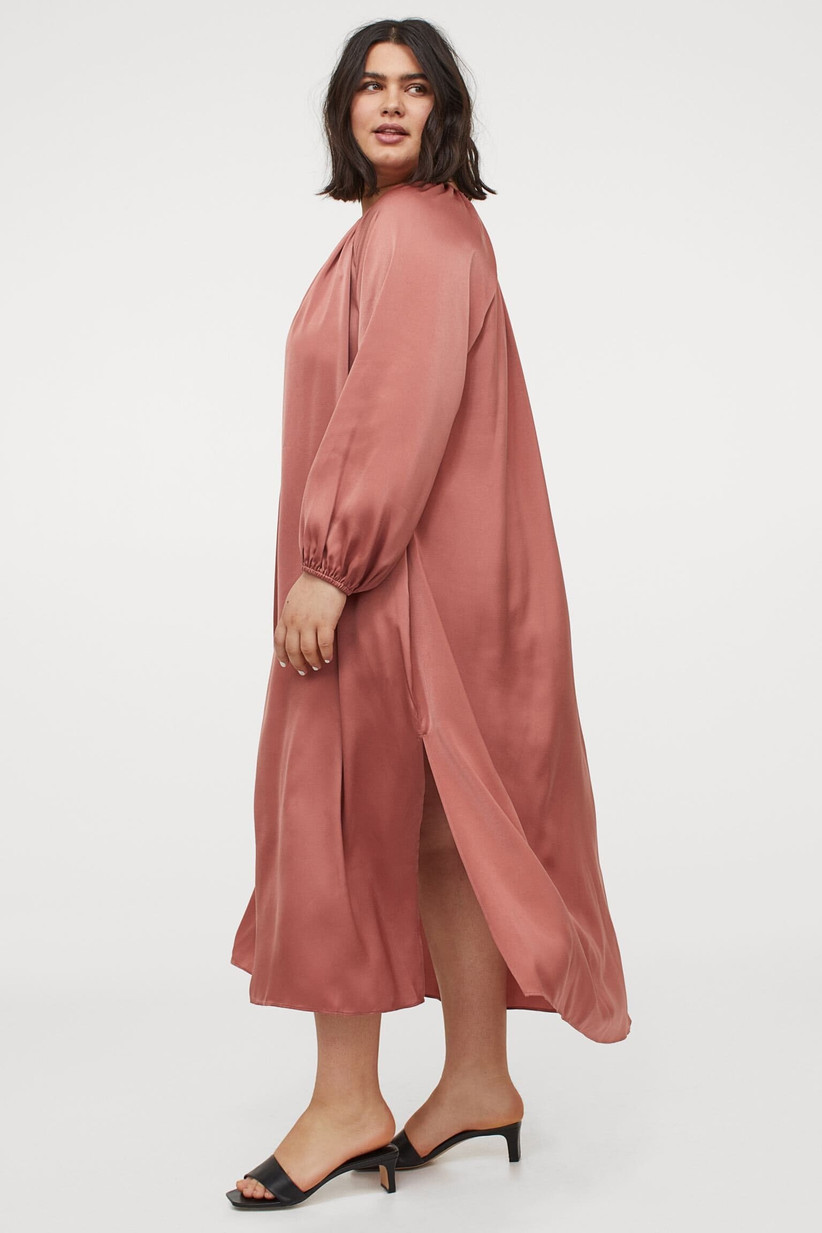 This satin dress is a knockout – no one would ever guess it cost you less than £30 from H&M and what's more, you'll have extra pennies to spend on some killer accessories. If you're shopping on a budget, we'd highly recommend not ruling out this high street hero for occasionwear.
READ MORE: 33 Chic Wedding Suits for Women to Buy Now
19. Midi Floral Dress - £69.99, Mango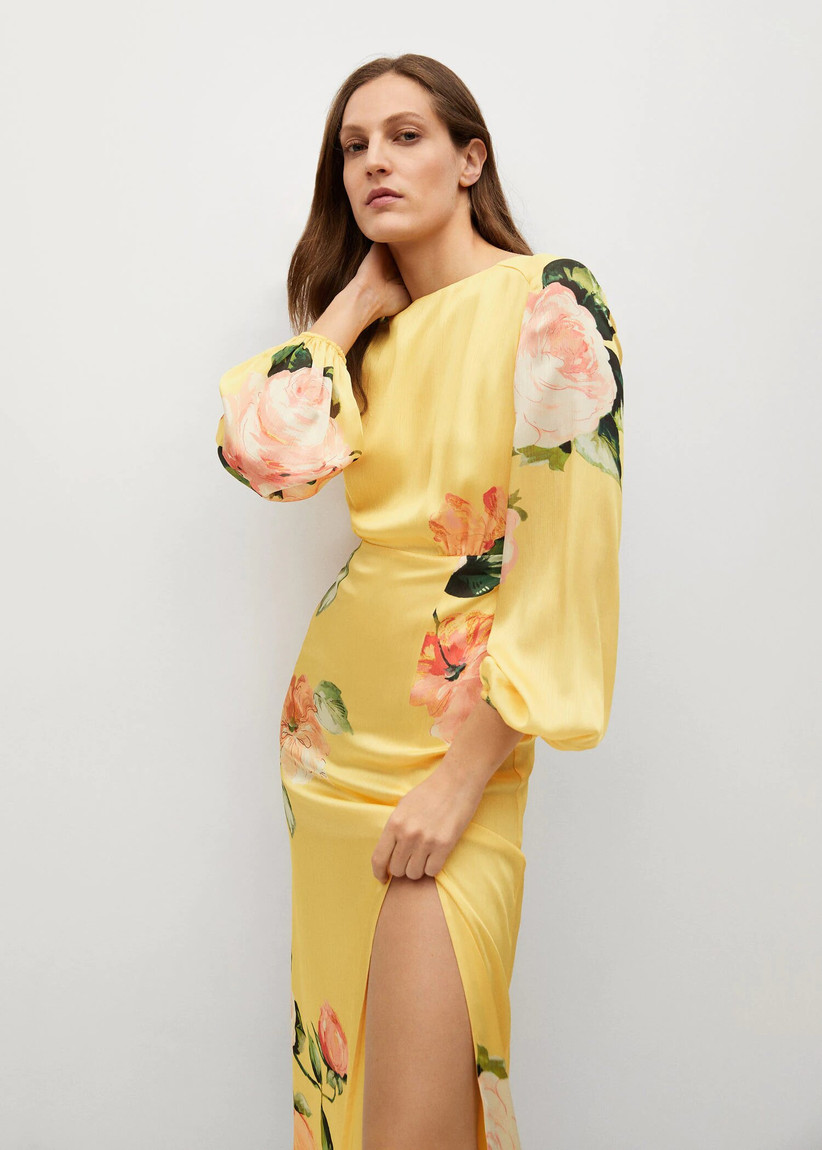 Mango is another affordable store that has more hidden gems than its casual everyday collections would suggest. Take, for example, this satin floral dress which looks way more expensive than it actually is. If you're looking for a dress that will never go out of style, this could be it.
20. Pleated Satin Dress - £79.99, Mango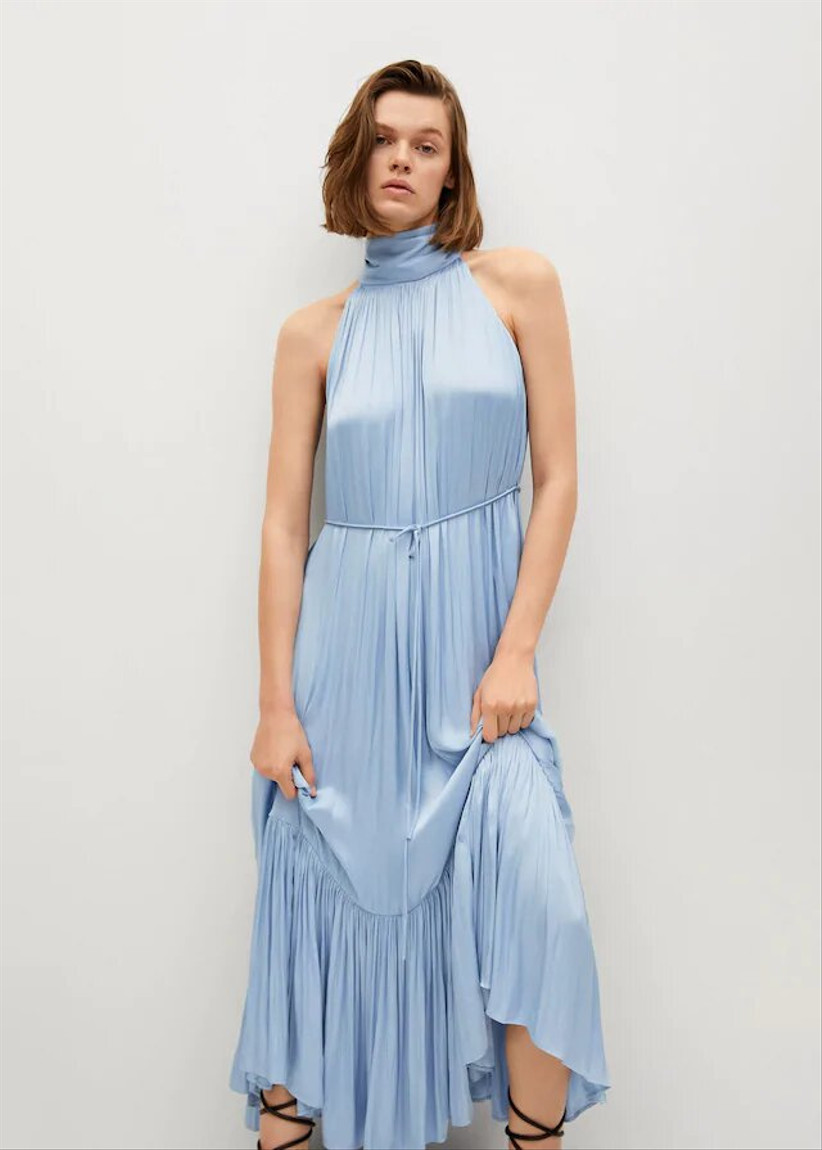 Another showstopper from Mango is this satin blue dress. The high collared neckline and drop hem makes for a fresh, modern look that would work with both heels or flats. If it gets a little cooler at the evening reception, drape a simple, chic blazer over your shoulders.
21. Valerie Sequin Embroidered Tea Dress - £150, Monsoon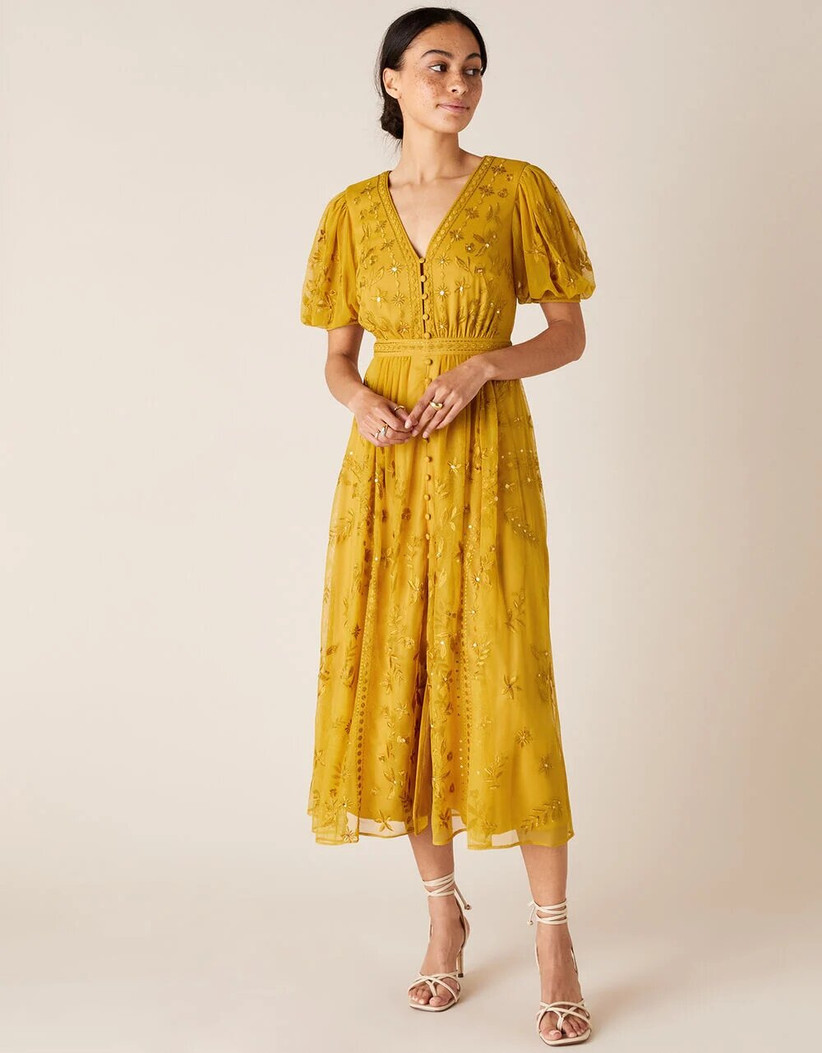 In true Monsoon fashion this yellow tea dress is embellished with gorgeous sequins and intricate embroidery, but you won't have to worry about stealing the spotlight from the bride like some embellished numbers. The sequins are just subtle enough to catch the light but not take over.
22. Lucile Pearl Shell Midi Dress - £275, Rixo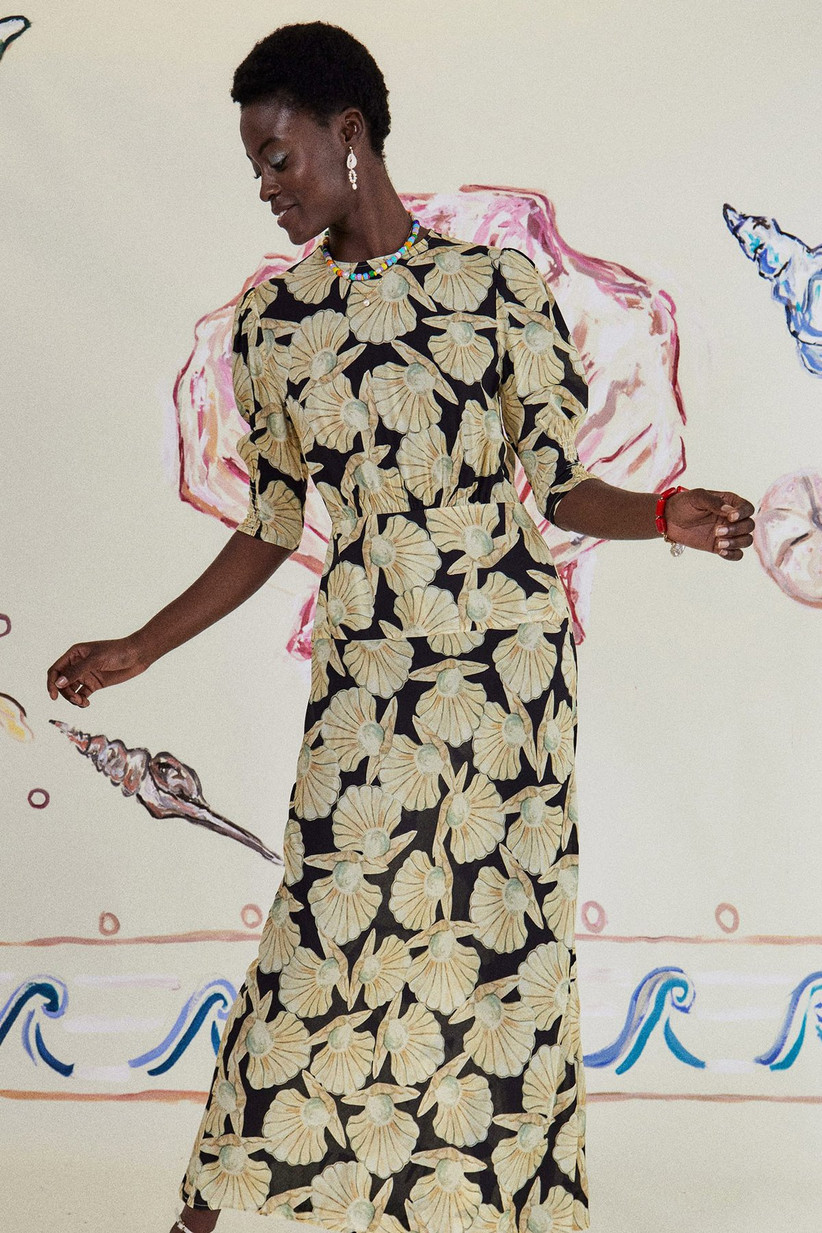 We couldn't resist adding another Rixo dress to this line up and the Lucile dress is one of our favourites. Shell patterns have been spotted all over the runways this season so you're guaranteed to gain fashion points with this pick. Dream beach wedding guest outfit? We think so!
READ MORE: 25 of the Best Bridal Jackets
23. Cordelia Wrap Dress - £89, Never Fully Dressed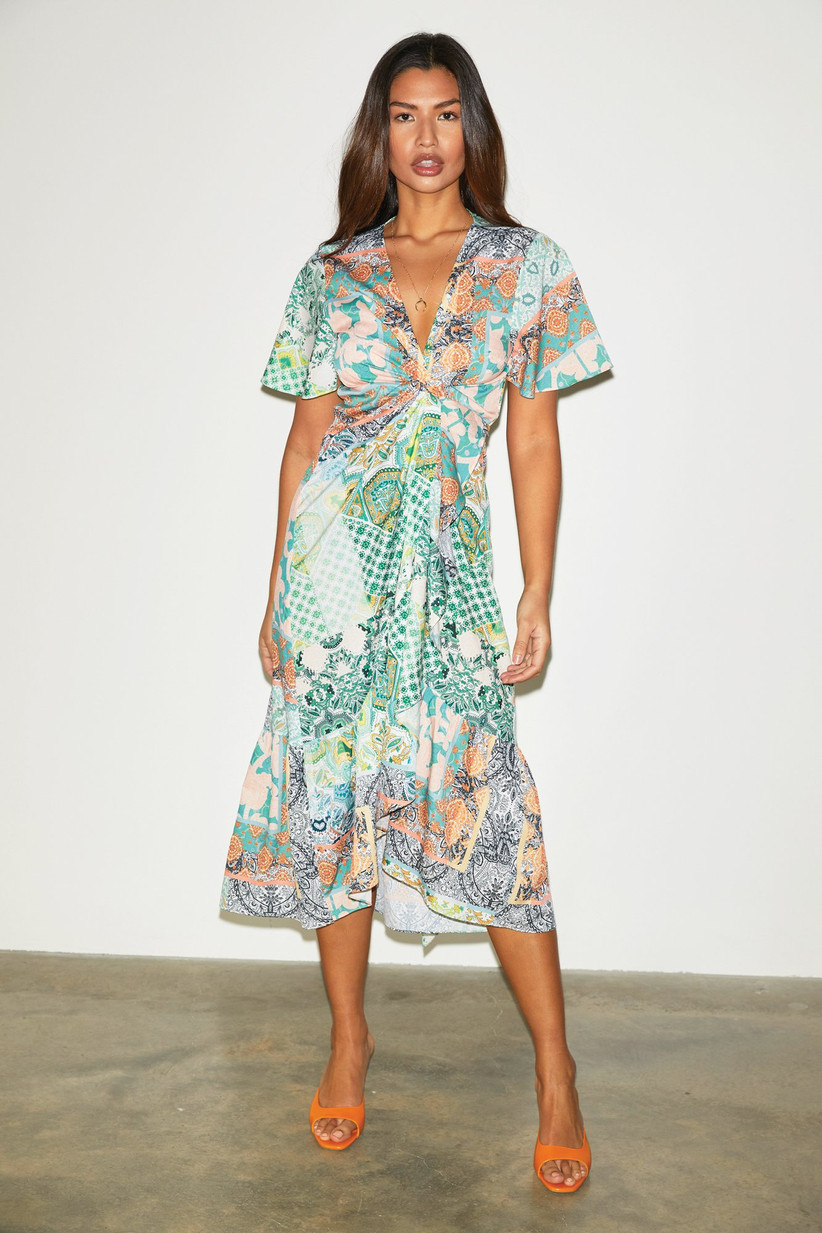 Never Fully Dressed is a great option if you're after a special dress for your son's big day but don't want to stretch to designer prices. The Cordelia dress is one of many brilliant options online - wear with heels on the day and dress down with sandals, mules or trainers for summers to come.
24. Hariiet Raglan Sleeve Tea Dress - £179, Ted Baker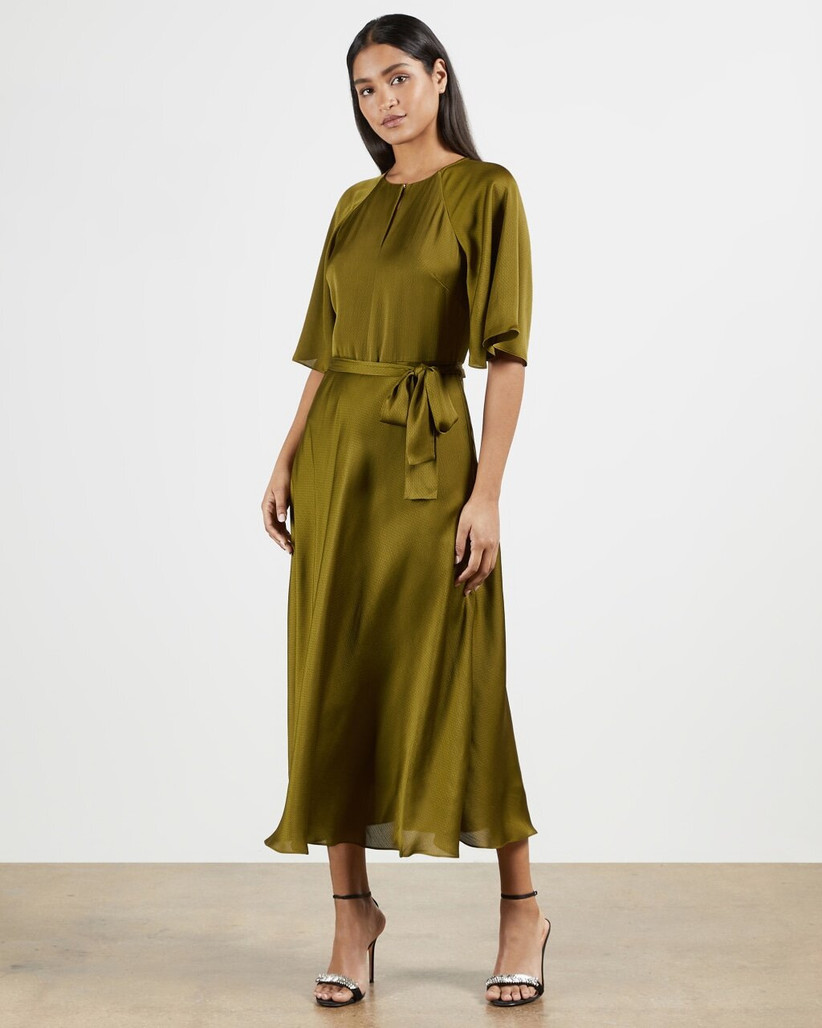 When you're wearing this gorgeous Ted Baker maxi, you won't just enter a room – you'll positively grace it with your presence. The angel sleeves and long skirt give you lots of coverage without feeling frumpy, and the olive shade will suit every skin tone and hair colour.
25. Claudine Floral Lace Dress - £140, Phase Eight
The swirls and lace of Phase Eight's Claudie give it a really romantic feel – highly appropriate for a day that's all about love! Complete your outfit with one of Phase Eight's brilliant formal coats – they'll have the exact colour to match.
26. Donna Ruched Maxi Dress - £130, Phase Eight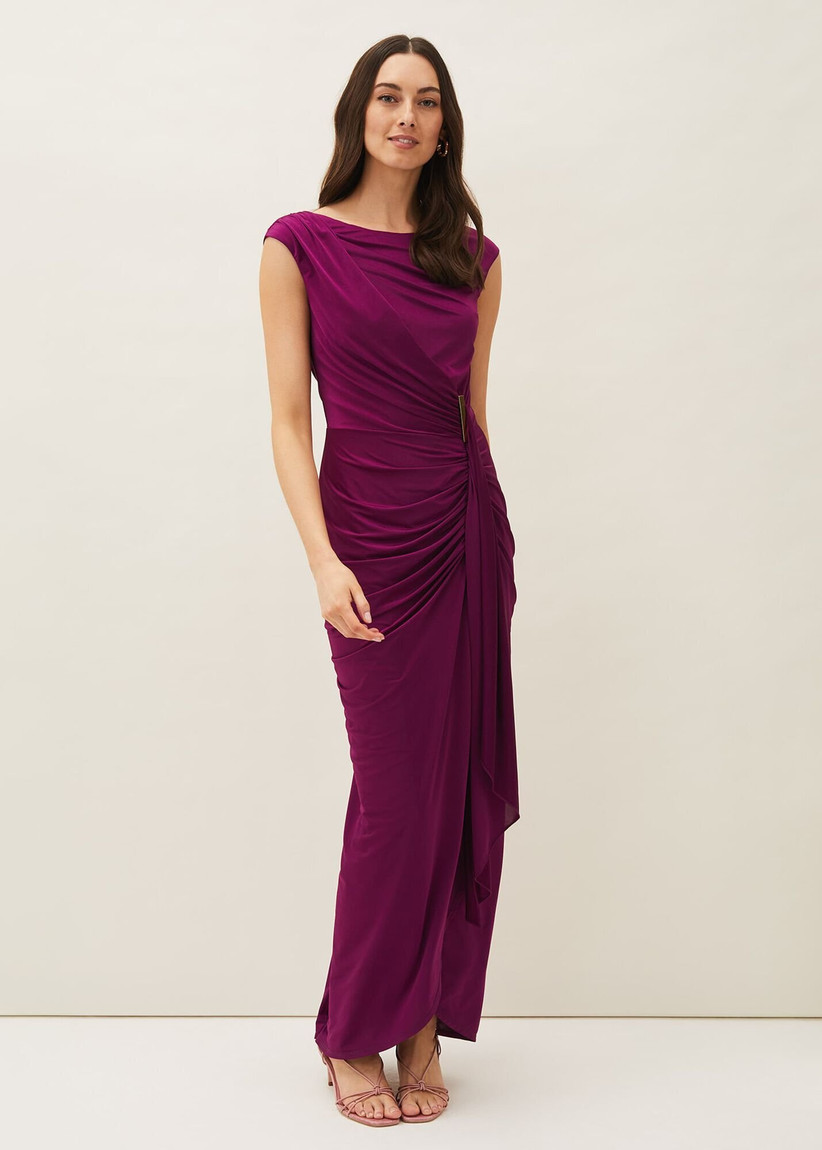 If you're attending an evening wedding, the Donna dress from Phase Eight is a lovely option. Available in dark plum or a beautiful chocolate shade, you'll be sure to turn heads in this slinky number. The waterflow hem creates a stunning flowing feel and the ruched edge will keep you feeling comfortable in the body forming fabric.
READ MORE: Our Top Wedding Jewellery Picks from Ernest Jones
27. Jean Floral Midi Wrap Dress - £99, Phase Eight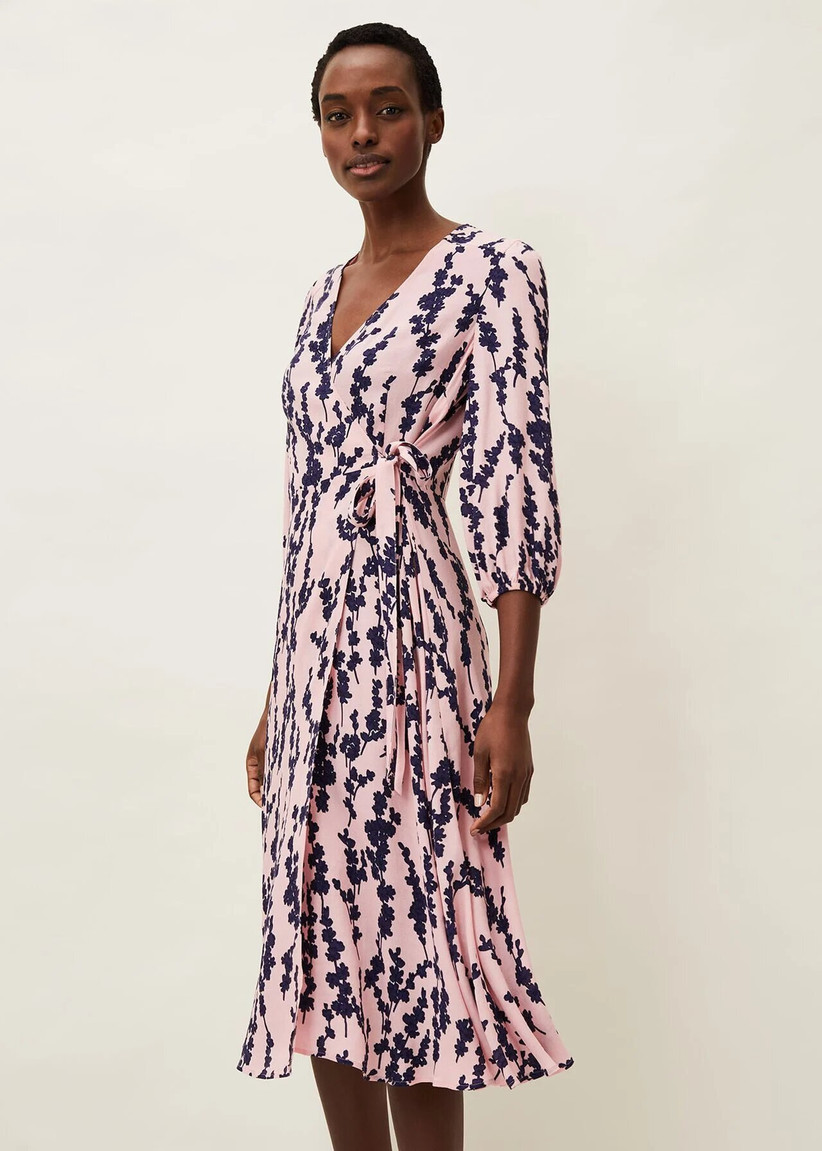 If you don't mind having a little décolletage on display, how about Phase Eight's Jean dress? The wrap style is ideal as you can decide how much you want on show and the lavender floral pattern turns a staple wrap dress into something totally eye-catching and unique.
28. Meryl Midi Dress - £145, Ghost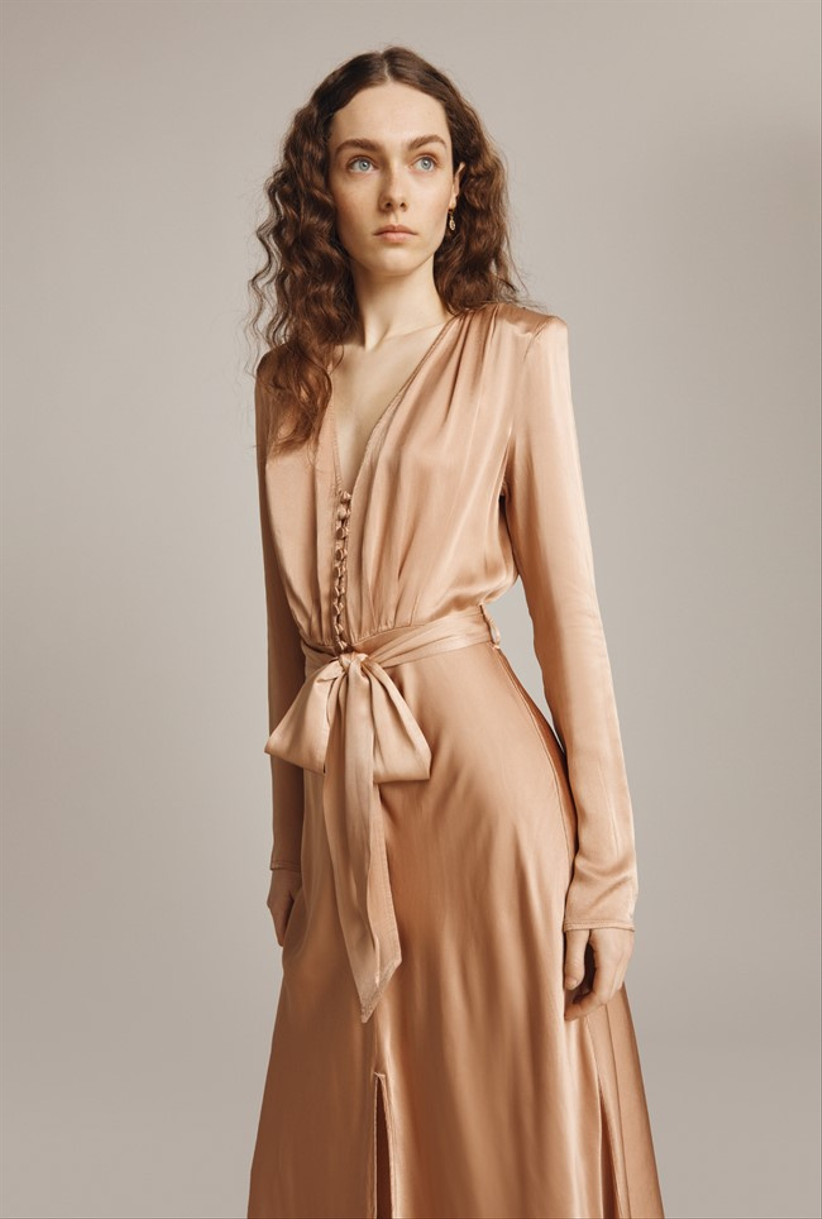 Ghost's satin dresses are legendary for their ability to slot seamlessly into your wardrobe for any event where you need to look and feel your best. This effortless copper wrap dress comes in a whopping 7 colours, including lemon, green, blue, mauve and nude.
29. Rosaleen Dress - £145, Ghost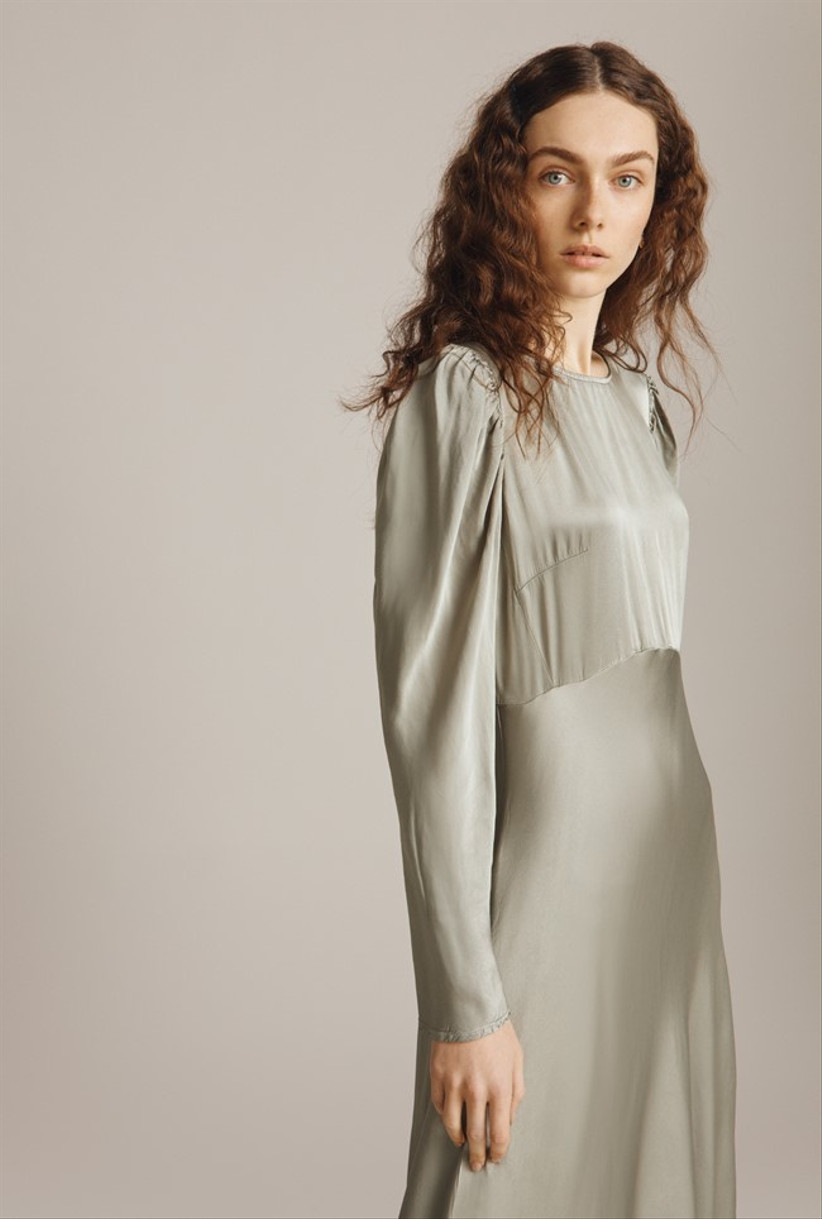 Not a fan of a low neck line but still want a gorgeous Ghost satin dress? The Rosaleen dress could be just the ticket. Crafted from the same luxurious satin and available in moss, dark green and rose pink, this dress proves a simple look can still make a statement.
30. Printed Tunic Dress - £49.99, Zara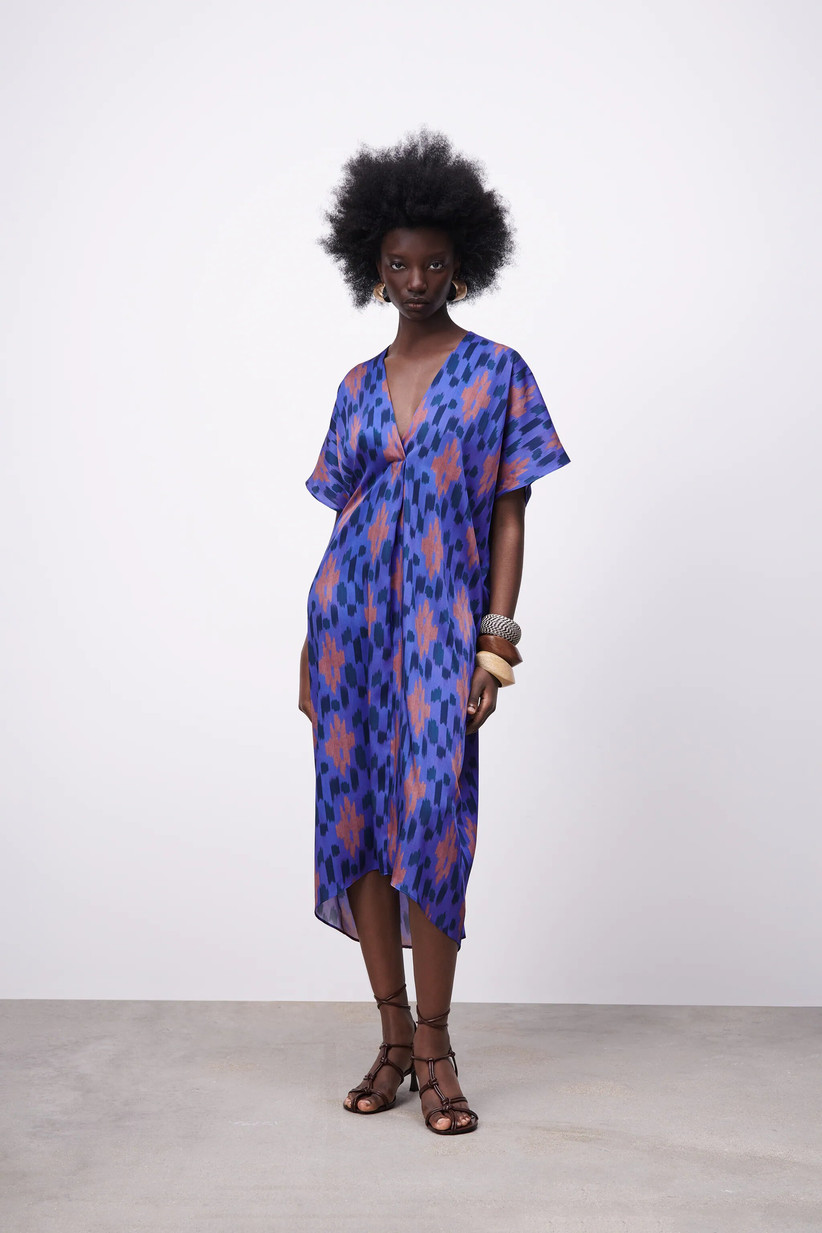 You can't go wrong in a tunic-style dress, especially when it's paired with an asymmetric hem. The blue and orange geometric fabric of this dress would be gorgeous for an autumn celebration – layer it up with a smart coat or blazer if you're likely to be spending a lot of time outdoors.
READ MORE: The 28 Best Wedding Guest Hair Accessories
31. Tailored Utility Pencil Dress - £159, Karen Millen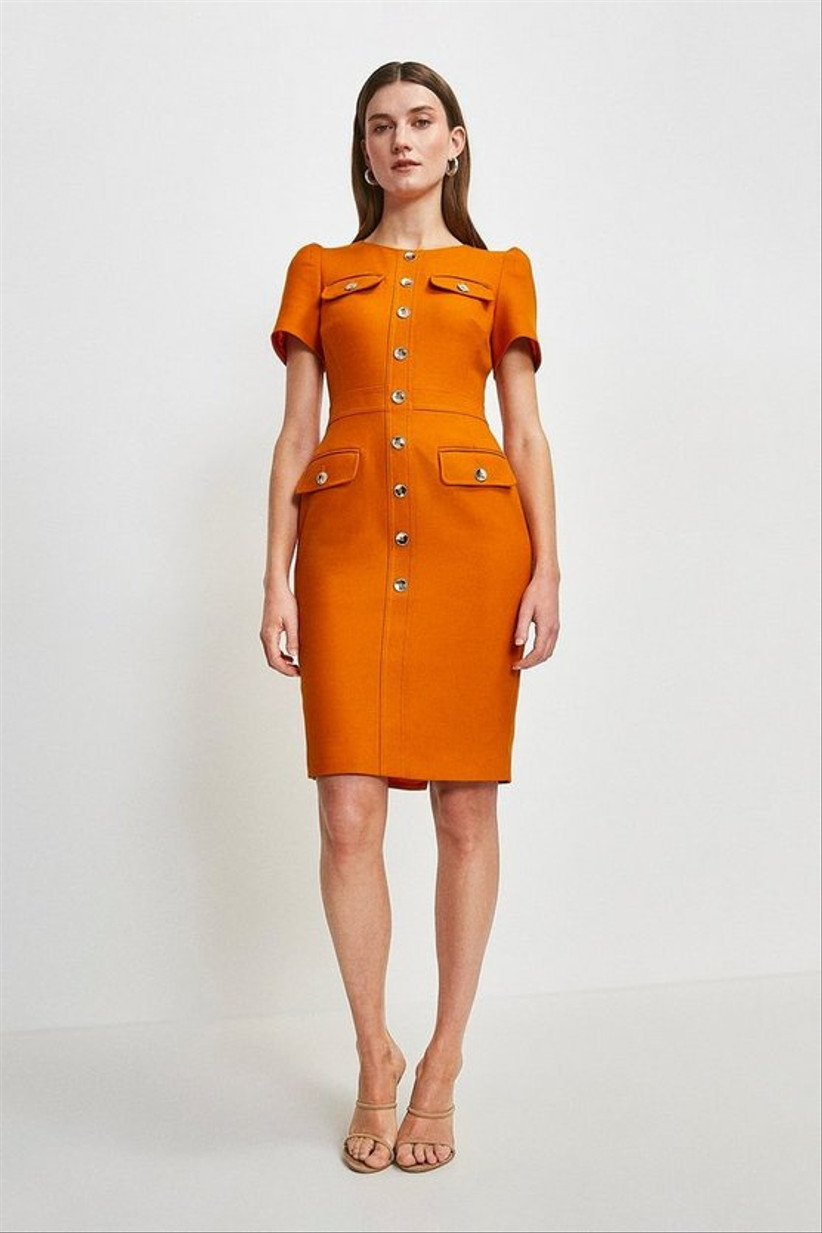 Maybe it's the pockets and buttons, maybe it's the tailored cut – either way, there's something about this Karen Millen dress that screams Chanel to us. Whether you add a jacket and accessories or keep things simple, it's a seriously classy find.
32. Floral Print One Shoulder Maxi Dress - £85, Chi Chi London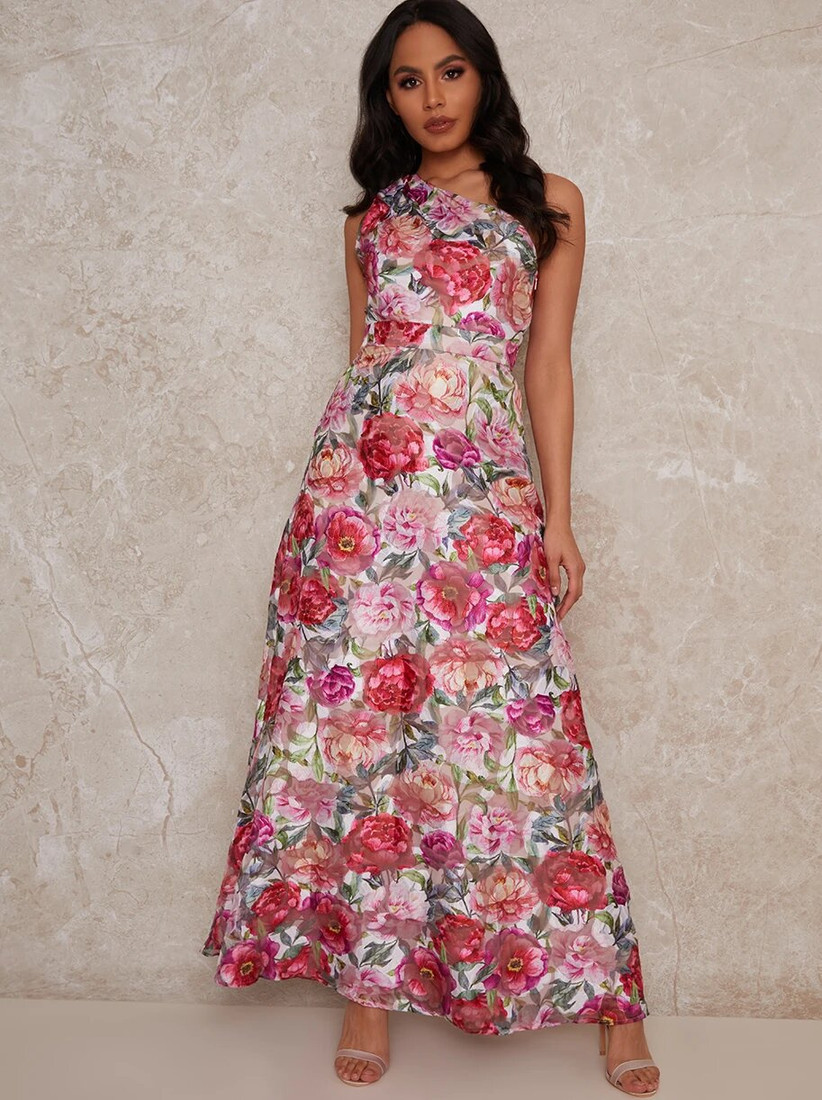 This one shoulder floral dress from Chi Chi London will ensure you stand out from the crowd on your son's big day thanks to it's beautifully bright pattern. Top it off with a coordinating fascinator for ultimate glamour.
33. Bardot Ombre Pleated Midi Dress - £75, Chi Chi London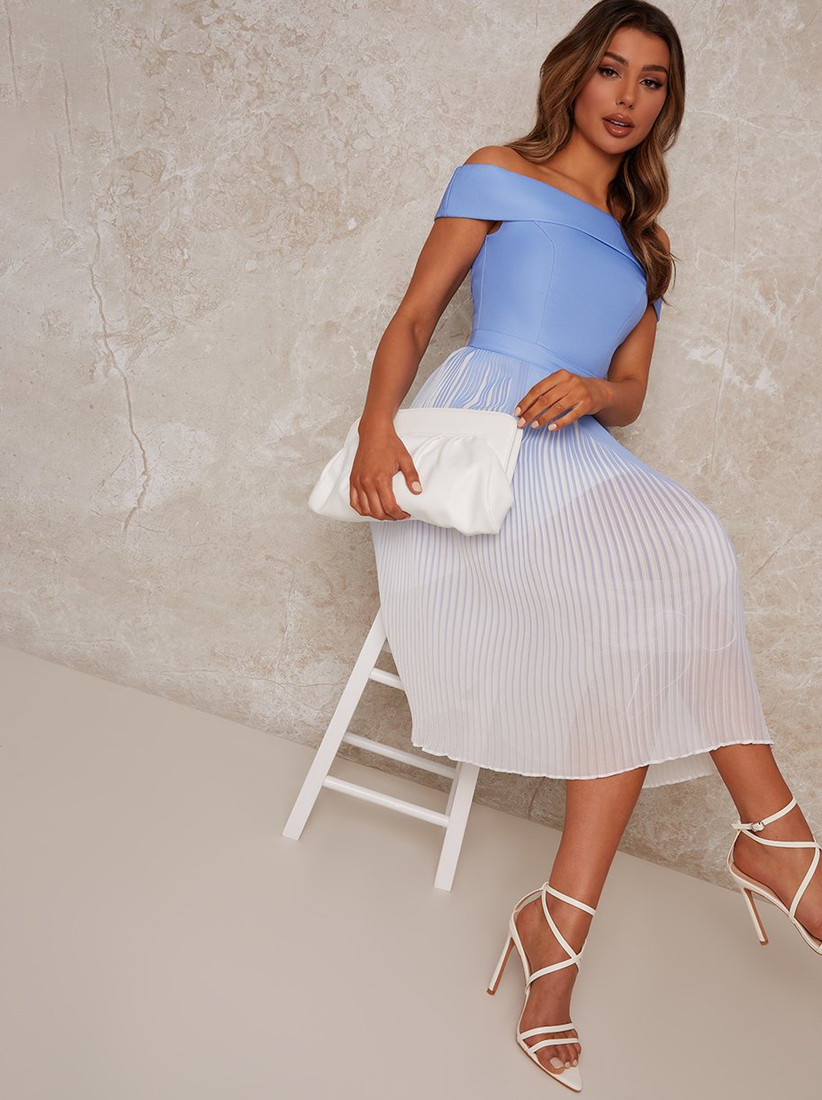 When it comes to shopping for your mother of the groom dress, you need to ensure that it's not only comfortable to stand in but to sit down in too! After all, you'll be sitting pride of place at the ceremony. As this model shows, this blue and white ombre midi dress is not only stunning but suitable also as the pleated skirt sits perfectly as you perch.
34. Floral Midi Dress - £70, Chi Chi London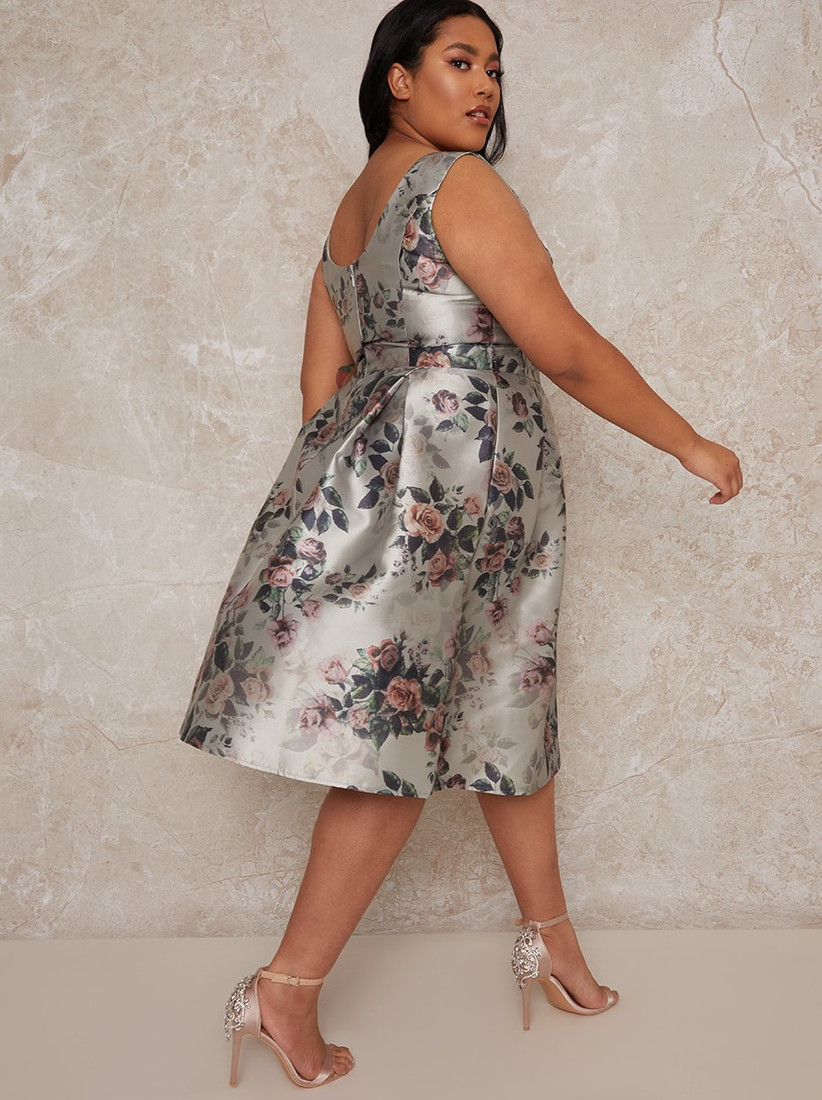 Chi Chi London should be one of your first stops if you're searching for a floral dress - they offer a variety of options with unique patterns so you can be safe in the knowledge you won't be wearing the same as someone else at the wedding. We particularly love this silver dress with metallic shoes.
35. Harper Scarf Print Midi Dress - £245, Reiss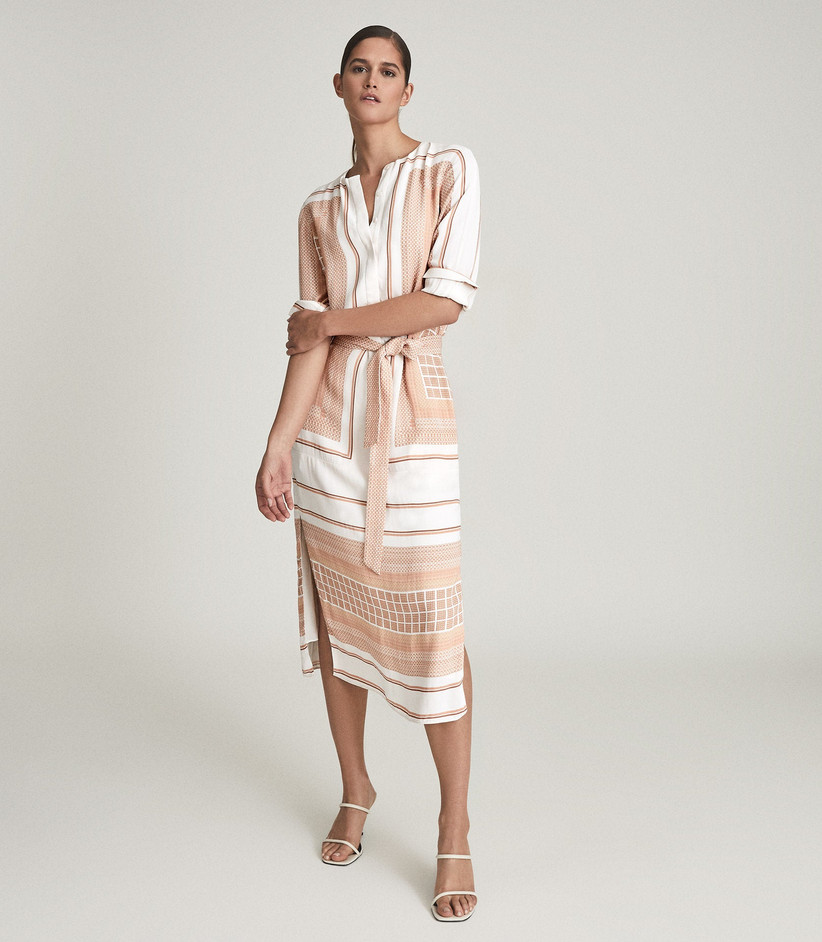 If the wedding calls for less formal attire, this Reiss midi dress could be the perfect option. Cut to a long sleeved, shift silhouette and with a trendy scarf print pattern, it's demure without being boring. Wear with heels and a smattering of gold jewellery to top it off.
READ MORE: The 31 Best Mother of the Bride Outfits for Every Budget
36. Printed Puff Sleeve Midi Dress - £95, & Other Stories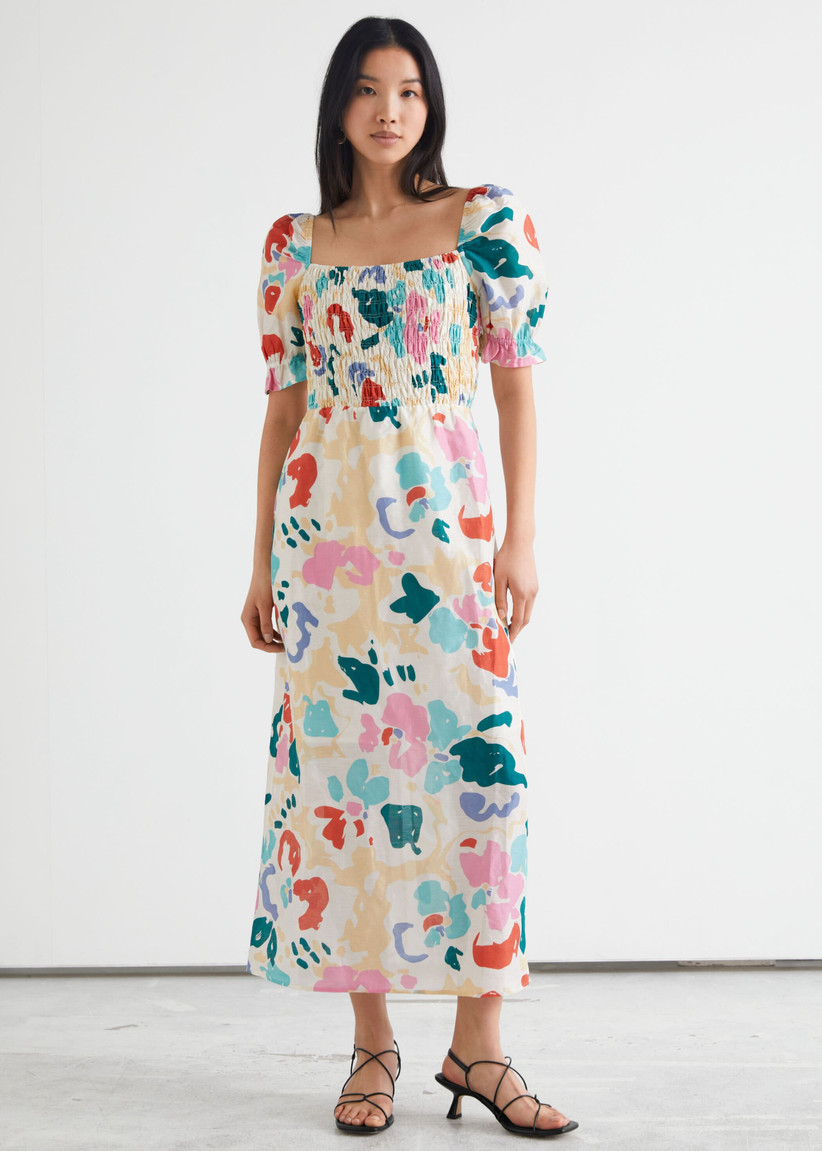 Bold print? Check. Square neckline? Check. Puff Sleeves? Check! This & Other Stories dress ticks all the trend boxes in a really wearable way. If you usually wear dark shades but want to branch out into brighter colours for the wedding, this would make an excellent first foray.
37. Printed Halter Neck Midi Dress - £75, Oasis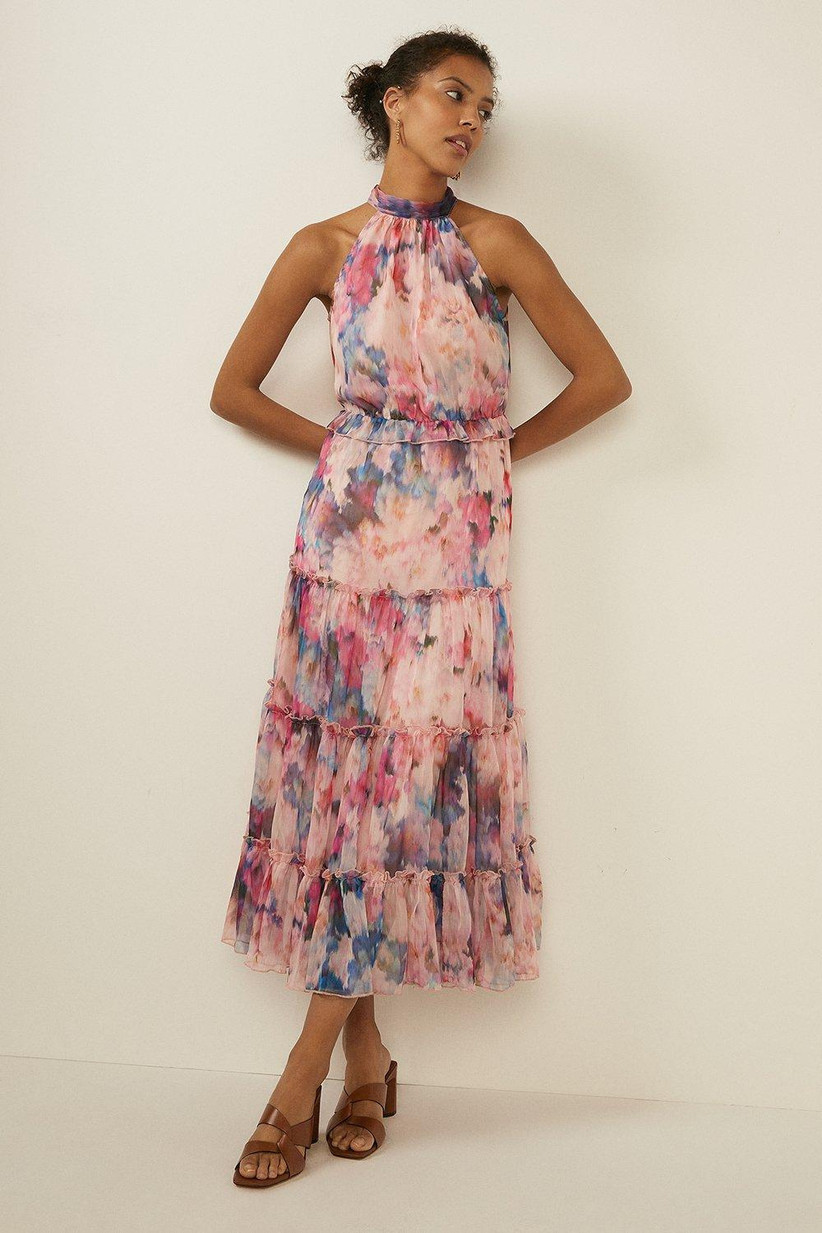 This halter neck midi dress from Oasis features a tiered, flowing skirt that will move beautifully. It has a gorgeous watercolour floral pattern that'll work wonderfully for a spring or summer wedding and the sleeveless style will keep you cool whether you're sipping Pimm's in the garden or moving on the dancefloor.
READ MORE: The 25 Best Wedding Films on Netflix, Amazong Prime and Now TV
38. Beaded Ball Gown - Adrianna Papell at John Lewis, £335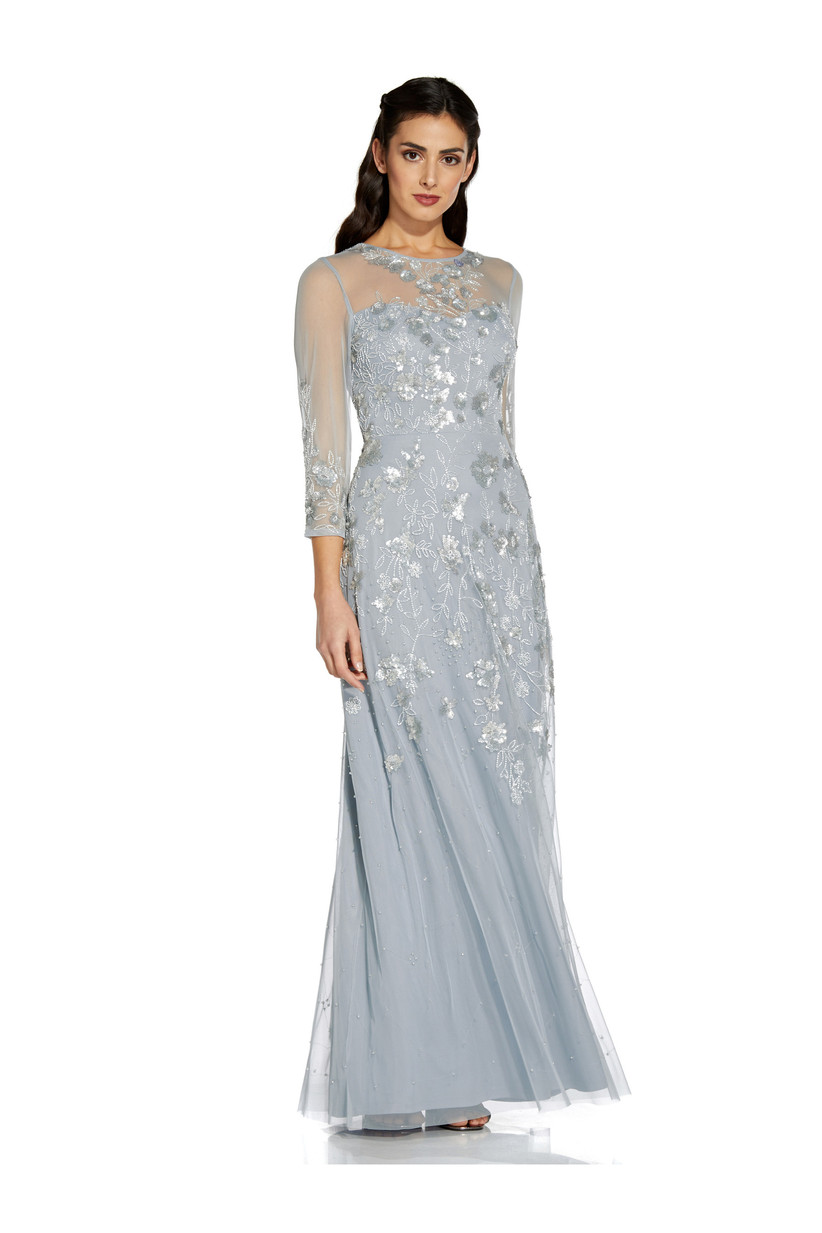 Adrianna Papell's designs are always popular among mothers of the bride and groom, and it's not hard to see why - her dresses have that little something extra that sets them apart from the crowd. In this case, it's the trailing sequins and the mesh sleeves.
39. Floral Sequin Sheer Sleeve Gown - Adrianna Papell at John Lewis, £225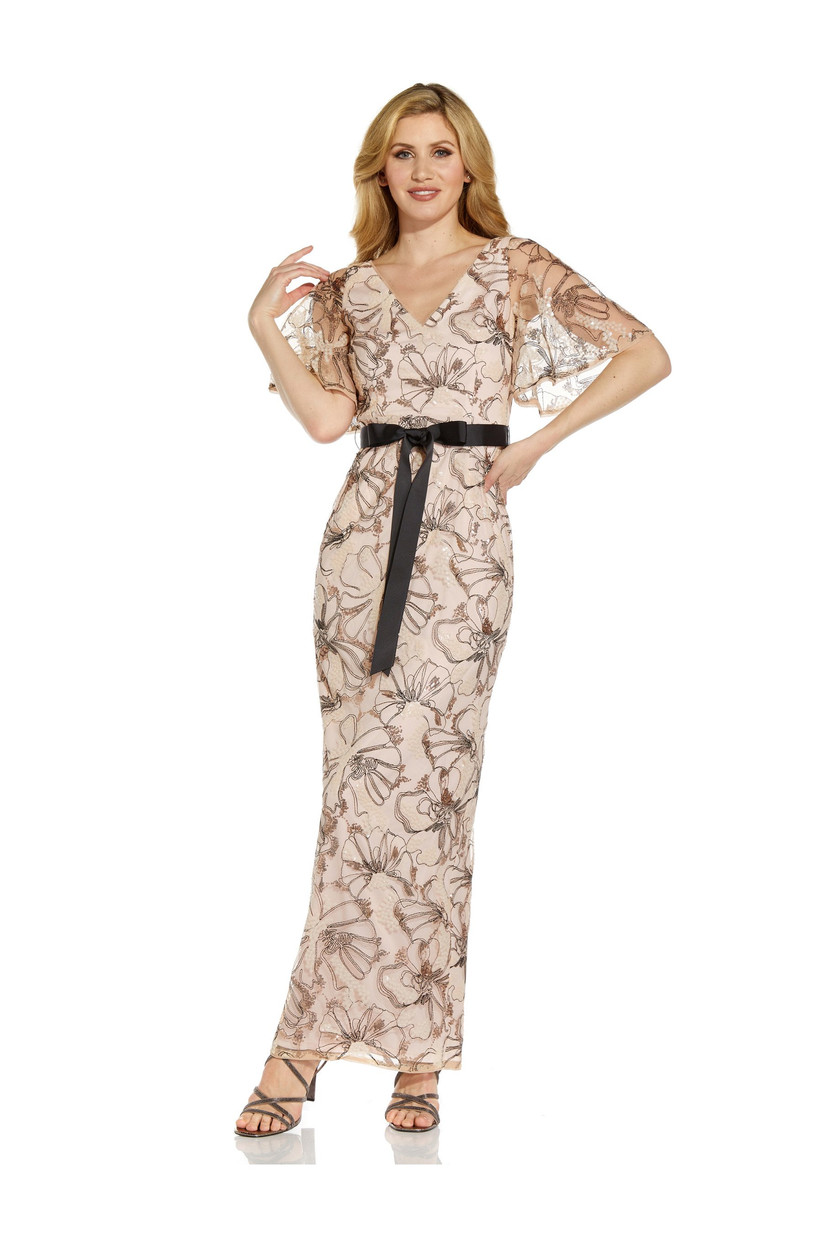 Well, if you can't wear a dress this extravagant at your own son's wedding day, when can you?! Adrianna Papell's nude sequined dress is a totally dreamy, ethereal choice that will earn you dozens, if not hundreds of compliments.
40. Crepe Draped Jumpsuit - Adrianna Papell at John Lewis, £210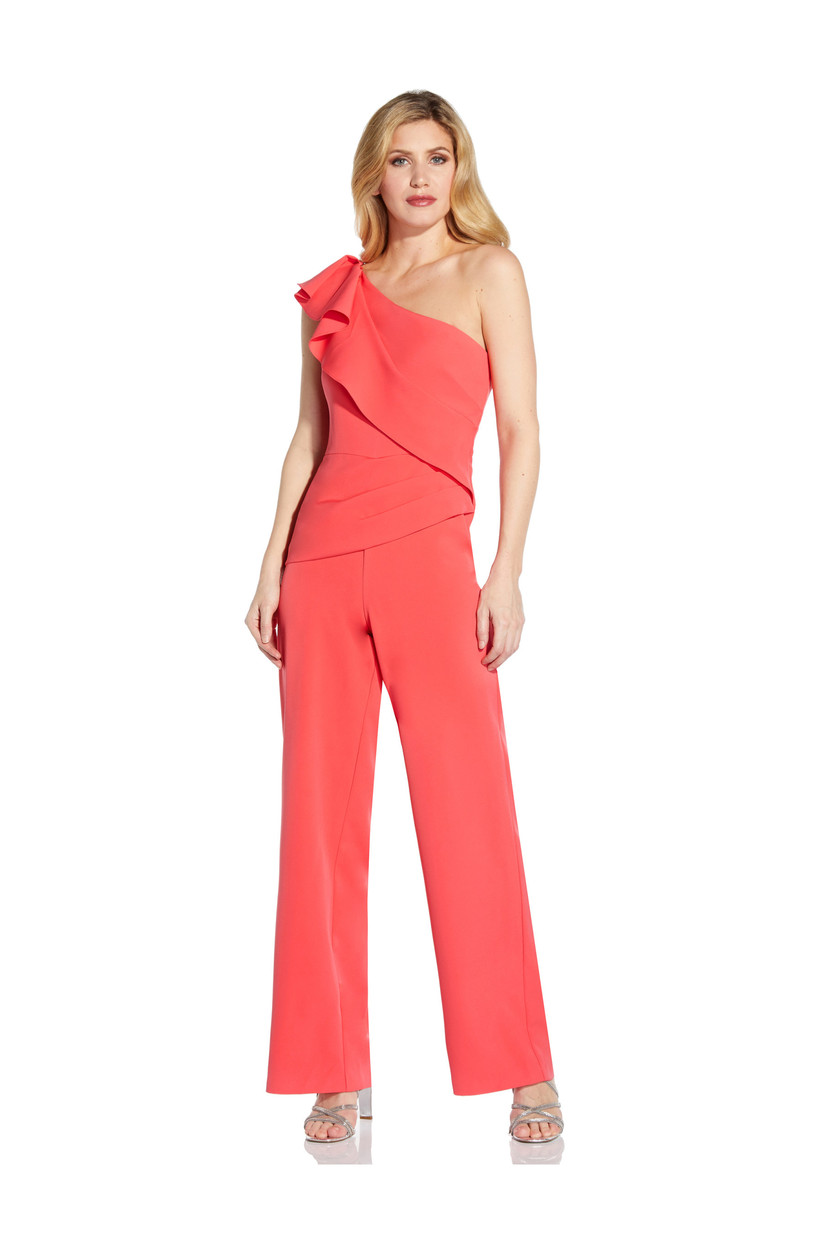 If dresses aren't for you but you don't want to wear a suit, why not consider this striking, peach jumpsuit. The best of both worlds, the shoulder ruffle adds interest to the outfit and the tailored trousers are comfortable yet cool.
41. Rochelle Vintage Floral Dress - Kitri, £145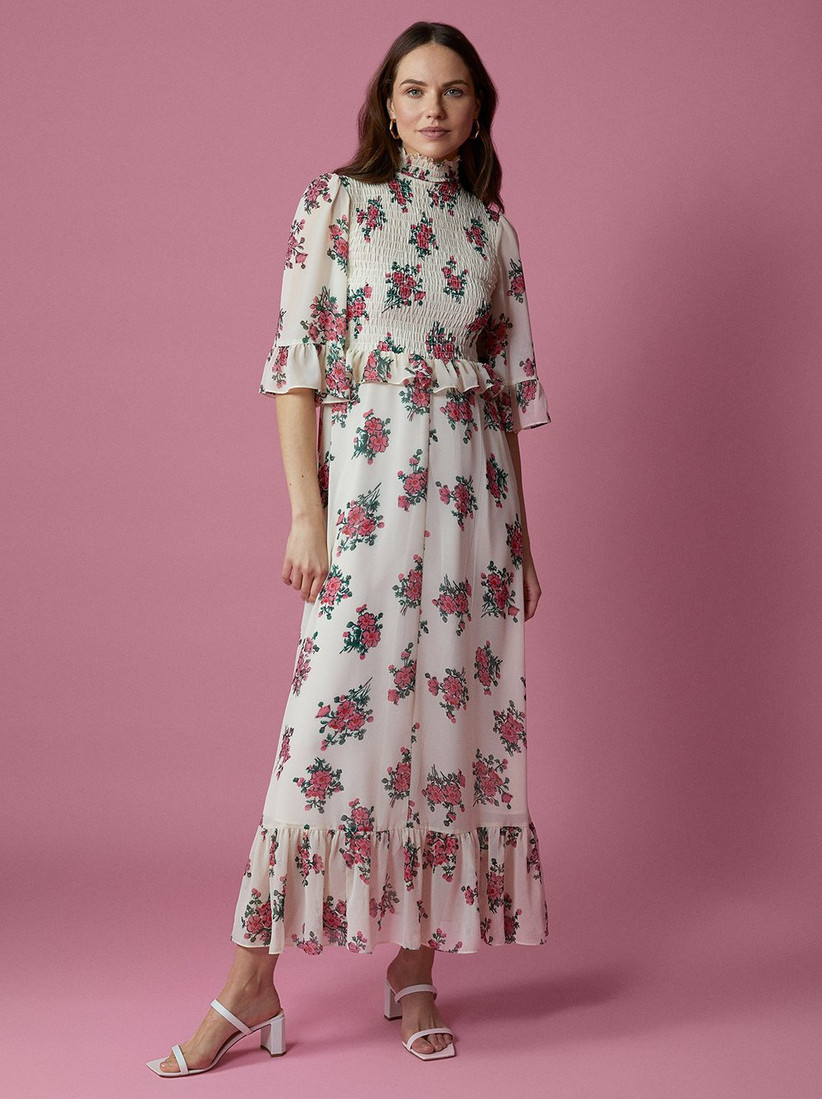 Kitri is a seriously cool label founded in London, who make gorgeous affordable pieces so you don't have to break the bank in order to have a fabulous outfit. There's so many stunning dresses to choose from but one of favourites has to be the Rochelle dress. Designed with a charming vintage print, it's a really romantic option.
42. Nellie Jersey Dress - Boden, £75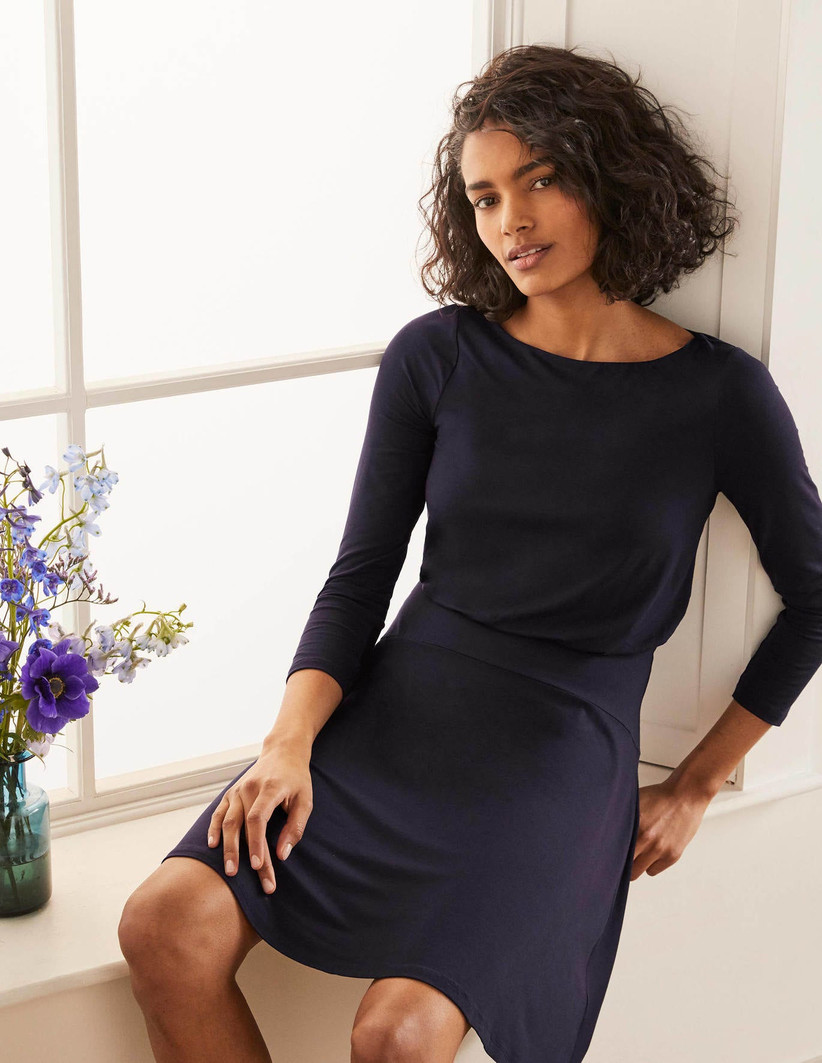 Chic, classic and elegant, this navy jersey dress from Boden is perfect for the minimalist mother of the groom. With lined bodice for comfort and a flattering (and stretchy) curved waist seam, it'll suit all body types. You can't go wrong with navy but this dress also comes in several other patterns if you want to mix things up.
43. Romantica Tropical Midi Dress - Maje at Selfridges, £329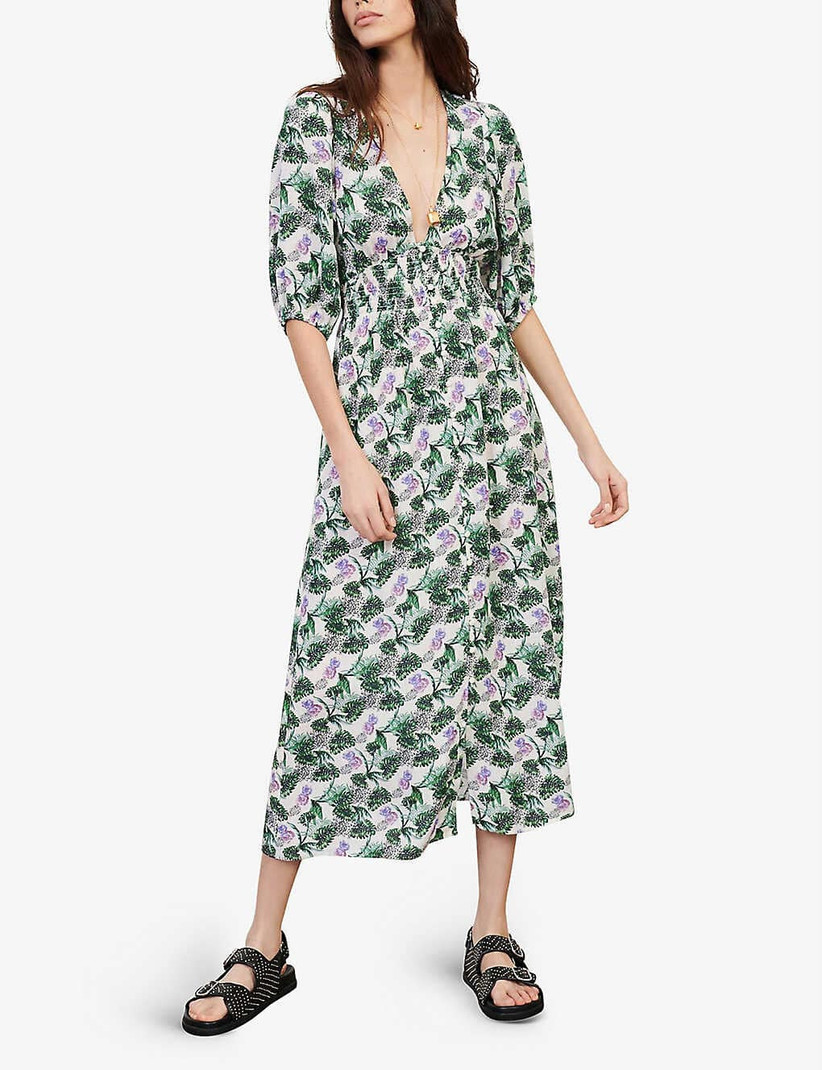 You might be spending a little extra if you opt for a dress from chic Parisian brand Maje but as this dress shows it'll be worth every penny. Bored of floral prints? This fun tropical pattern is sure to impress, plus it's informal enough to be worn for seasons to come!
44. Petite Sequin Lace Maxi Dress - Quiz, £39.99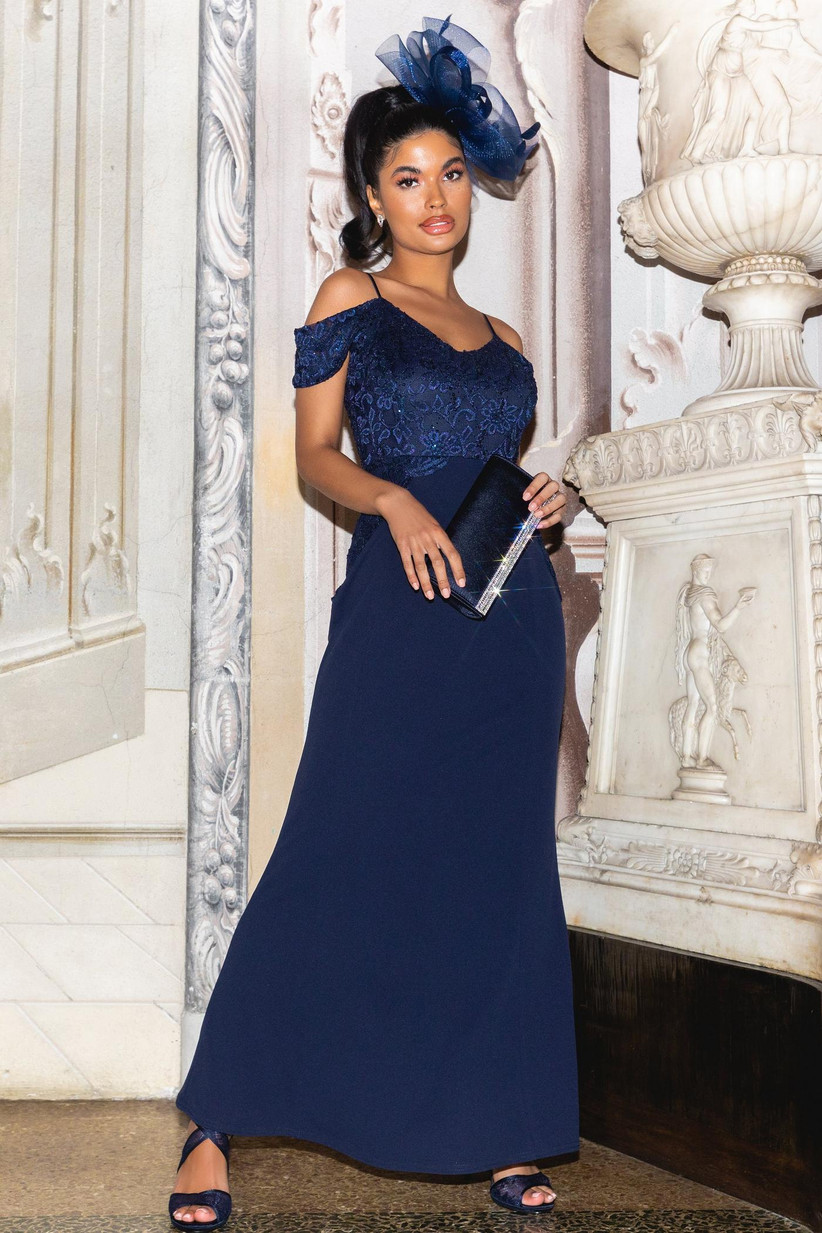 Quiz takes the stress of outfit shopping off your shoulders as you can find an entire look all in one place. Finish this sequin and lace navy dress off with the matching heels, bag and fascinator. You can nab the whole look for under £100!
READ MORE: The Complete Wedding Anniversary Guide
Now that you've got your mother of the groom outfit sorted, check out our personalised wedding gift ideas to find the perfect present for your son and his partner.