40 Unique Date Ideas in London That Suit Every Kind of Couple & Budget
Find your next London date idea here as we've rounded up 40 fun, unique and even free activities to do in and around the city
We have included third party products to help you navigate and enjoy life's biggest moments. Purchases made through links on this page may earn us a commission.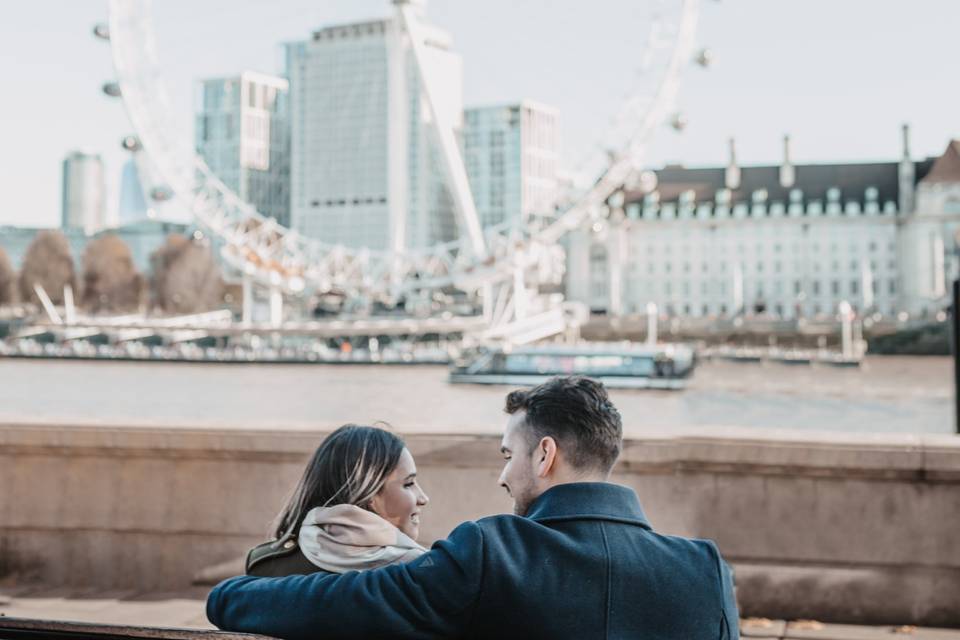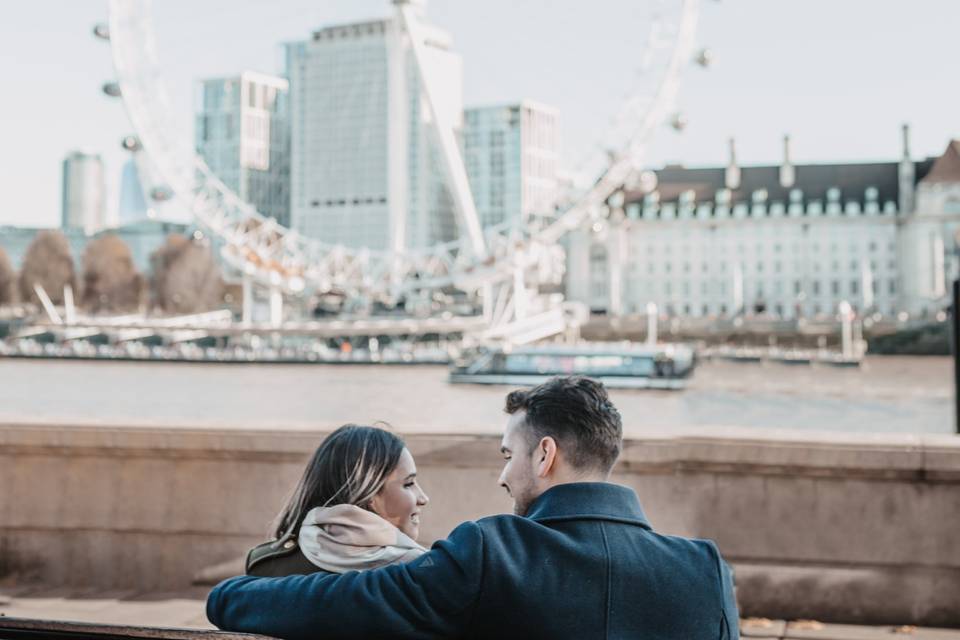 Hanging out with your love in the city is so much fun, because there are endless amounts of date ideas in London to choose from.
Whether you live in the capital and want London date ideas to do locally, or you're planning a little getaway and need plenty of fun date ideas in London to keep you busy - we can guarantee you've come to the right place.
Date night ideas in London are not hard to comedy, as the nightlife here is one of the best in the country, but there are also lots of date day ideas in London that'll keep you and your partner busier than ever.
And the best bit? It doesn't have to cost the Earth. Dating shouldn't have to be something that costs a fortune every time you want to spend time together, and that's why we've included plenty of free date ideas in this article, too.
Date Ideas in London: 40 of the Best London Date Ideas for Every Budget
Because you're all busy people, and you don't have hours to spend searching for a London date idea that's truly different from other things you've done together, we've put together an edit of 40 of the best London date ideas to suit every kind of couple, and every size of budget.
From completely free exhibitions and date days out, to restaurants with a Champagne button and a deep fried roast, we've got you covered in the London date ideas department, and we're sure there'll be plenty of dates on this list you never even knew existed.
Free Date Ideas in London
London has a rep for being a bit on the spenny side, and don't get us wrong, you can splash some serious cash in the big city, but there are also plenty of free date ideas in London that won't cost you a penny - except your travel there, obvs.
1. Walk Through the Park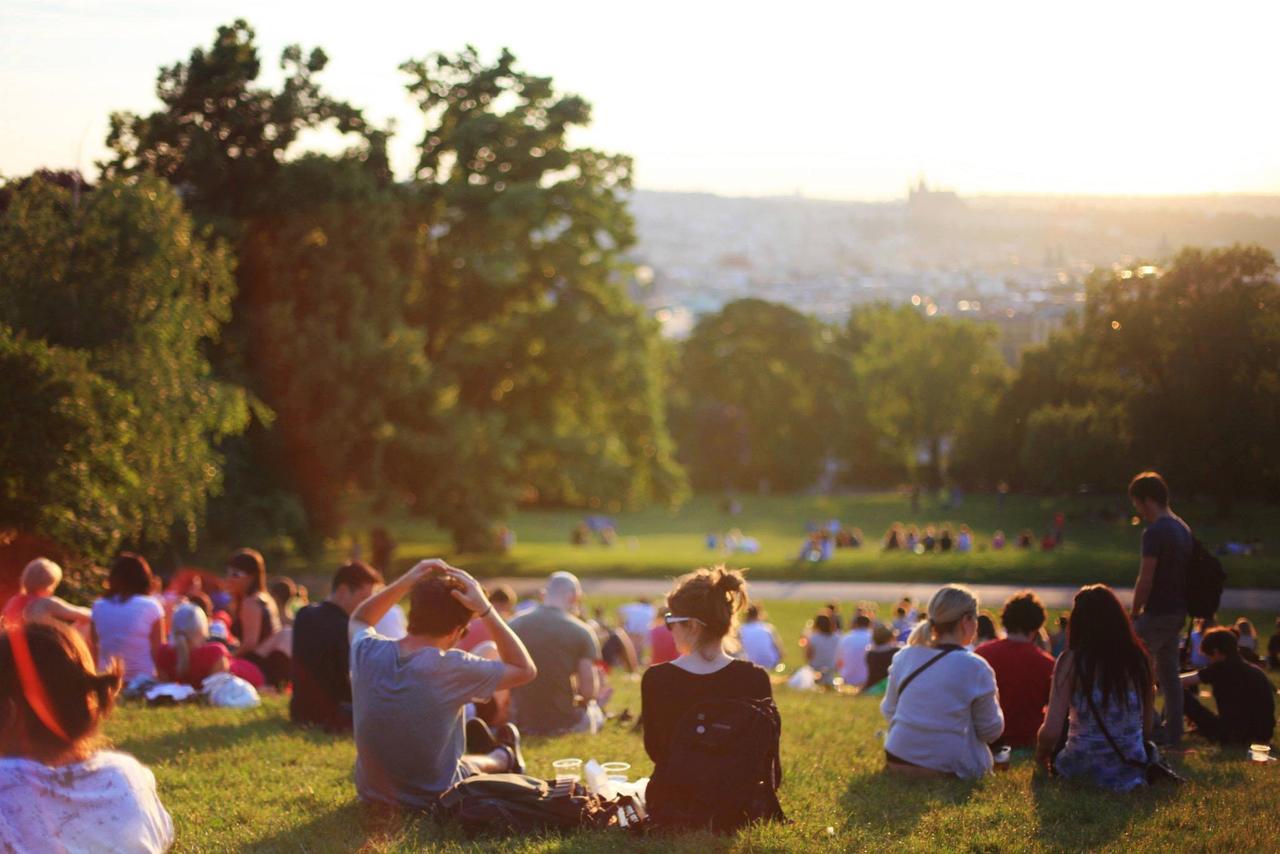 You'd be surprised just how many green spaces there are to explore in London, including a number of royal London parks. Right in the city centre, you have have famous parks like Hyde Park, Regent's Park and St James's Park, but we actually love the ones in some of the surrounding London boroughs.
In South West London, you have Richmond Park which is enormous and perfect for cyclists, as well as smaller green spaces like Tooting Common and Clapham Common which are perfect for picnics.
Traveling South East also has plenty to offer in the form of green spaces, with Brockwell Park, Greenwich Park and Crystal Palace Park all bringing plenty to the table.
2. Pet Animals at Hackney City Farm
If you're trying to impress an animal lover, a day out at Hackney City Farm is a surefire hit - it's a fun, wholesome and free date idea in London. What's not to love?
This cute East London haven is home to goats, pigs, cows, donkeys, chickens and more. It's open year-round from Tuesday to Sunday, but is best enjoyed on a sunny day, ideally followed by an Aperol in a nearby pub.
3. Get Creative at the Design Museum
If you're a creative pair, take a trip to The Design Museum. It's a brilliant place to spend your date day in London and many of the exhibitions are actually free. What's on here varies throughout the year, but you're always guaranteed a unique and interesting museum experience.
In the past, they have had exhibitions on everything from football stadiums to Amy Winehouse, and currently have ones on that are about skateboards, email and anti-furniture.
It's one of those London date ideas that'll give you plenty to talk about over dinner, that's for sure.
4. Browse the Barbican
There are so many London date ideas to be found within the walls of the Barbican building, and many of then are free! In fact, the Barbican has an entire section on their website dedicated to free things you can do there.
From art and design exhibitions, to tours of their spaces and libraries, there is so much to do here - and visiting their stunning botanical conservatory is an absolute must.
They also have a cinema and music and theatre shows on often, which you can buy tickets for.
5. Meet the Dinosaurs in Crystal Palace
We've already pitched Crystal Palace as a must-visit London park, but there's so much more you can do here than just wander around.
One of our favourite reasons to visit Crystal Palace is to view their awesome collection of dinosaur statues. The models are located within the jungle-like gardens and lakes which are perfect for a London walk with a difference.
As well as the dinosaurs, Crystal Palace Park also has a lovely cafe and bar with indoor and outdoor seating for a cute lunch, a beach volleyball pitch and electric car racing for you to watch. There is also a food market on in every Sunday from 10am - 4pm and music events every so often.
Someone who frequents this park is Hitched Deputy Editor Rima Barakeh who says, "Crystal Palace Park is one of those places which you can revisit time and time again on a London date day, and have a different experience every time.
"My partner and I have had many a date here and each time they have been completely different.
"We've experienced everything from an active date day when we did a park run together and ate at the market after, and we've also had one that was totally the opposite when we went to a The Streets gig, ate from food trucks and danced all night."
6. Window Shop at Leadenhall Market
Window shopping in a buzzing market is one of our favourite free date ideas in London, because there are plenty of markets to choose from and browsing all the weird and wonderful things they sell there is just as fun as actual shopping.
One of our favourite markets to window shop at is Leadenhall Market. The public space here is open 24 hours a day, but each of the shops have their own opening hours, so if you want to check out a particular spot, make sure it's open.
Close to underground stations Monument, Bank and Aldgate, and mainline stations London Fenchurch Street and London Cannon Street, it's super easy to get to and also has a whole host of pubs and bars for you to have a tipple afterwards and discuss what you saw.
7. See the Deer in Richmond Park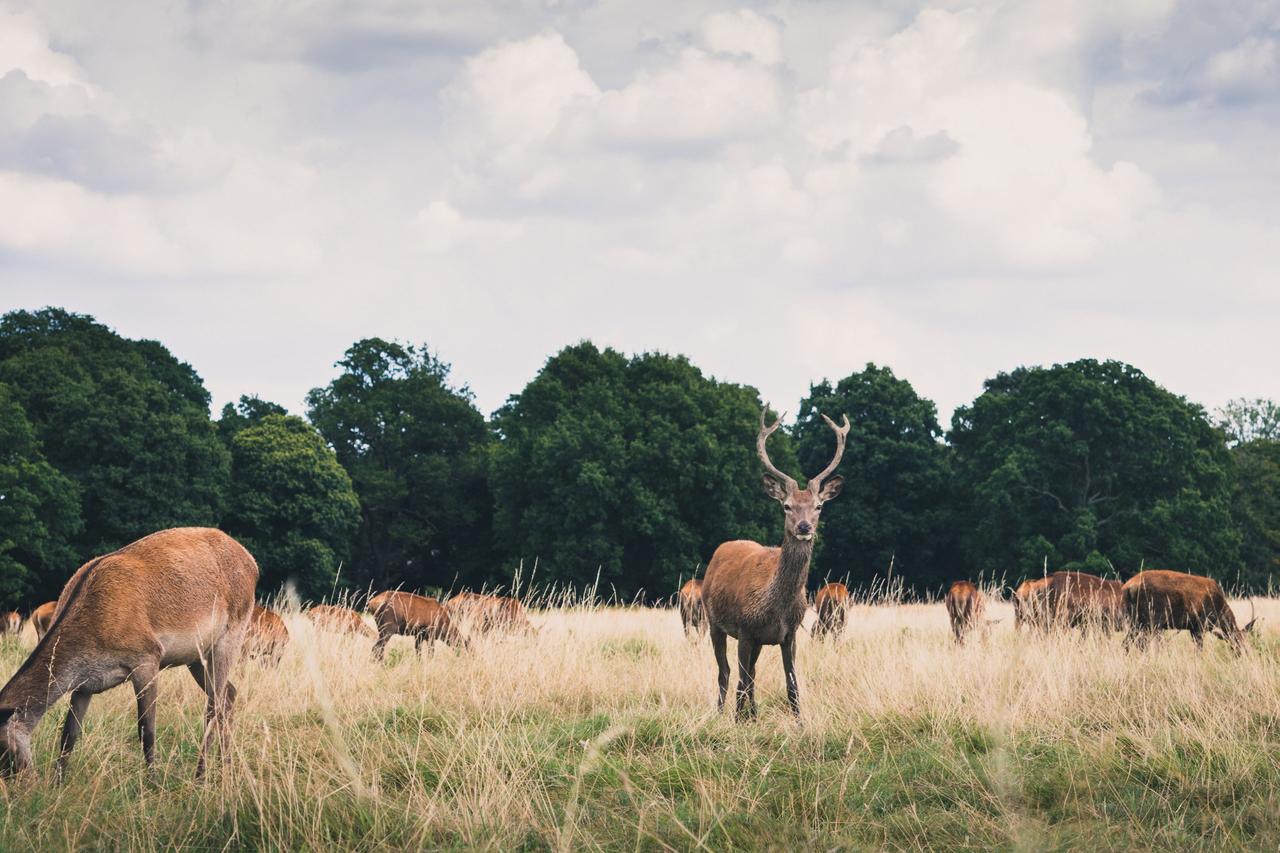 Another London park we've already mentioned is Richmond Park, but it's more than worthy of another shout out, and you're about to find out why.
As well as being excellent for cycling dates and long country walks in the city, a visit to Richmond Park is one of our favourite date ideas in London because of the wildlife.
You can see actual deer here, if you're quiet and careful enough. Within the confines of the largest Royal Park (fun fact!), you'll find yourself in the company of a 600-strong herd of red and fallow deer. This herd and its ancestors have called this park home since 1637!
8. Learn at the Bank of England Museum
If you're a cultured pair and love to learn new things, you'll love this London date idea.
The Bank of England has its very own museum where you and your partner can learn about the history of the bank and the role it plays in our economy today. It may not sound that interesting to some, but trust us when we say this place is brimming with interesting facts and information.
You can even see real bars of gold - how cool is that?
9. Become Art Critics
From bank museums, to another very cultured date idea in London - art galleries.
You won't believe how many of London's art galleries are free of charge to enter - there's a whole host of free art for you to browse, and it's a brilliant way to spend the day together - and you can keep up to date with what's on on the Galleries Now website.
Some of London's free art galleries include both Tate Britain and Tate Modern, the Photographer's Gallery, the National Portrait Gallery and more. Many galleries and museums will offer free entry to most of their displays, and charge entry for a few exhibitions that are more exclusive, so you always have the choice to upgrade.
10. Go Up the Shard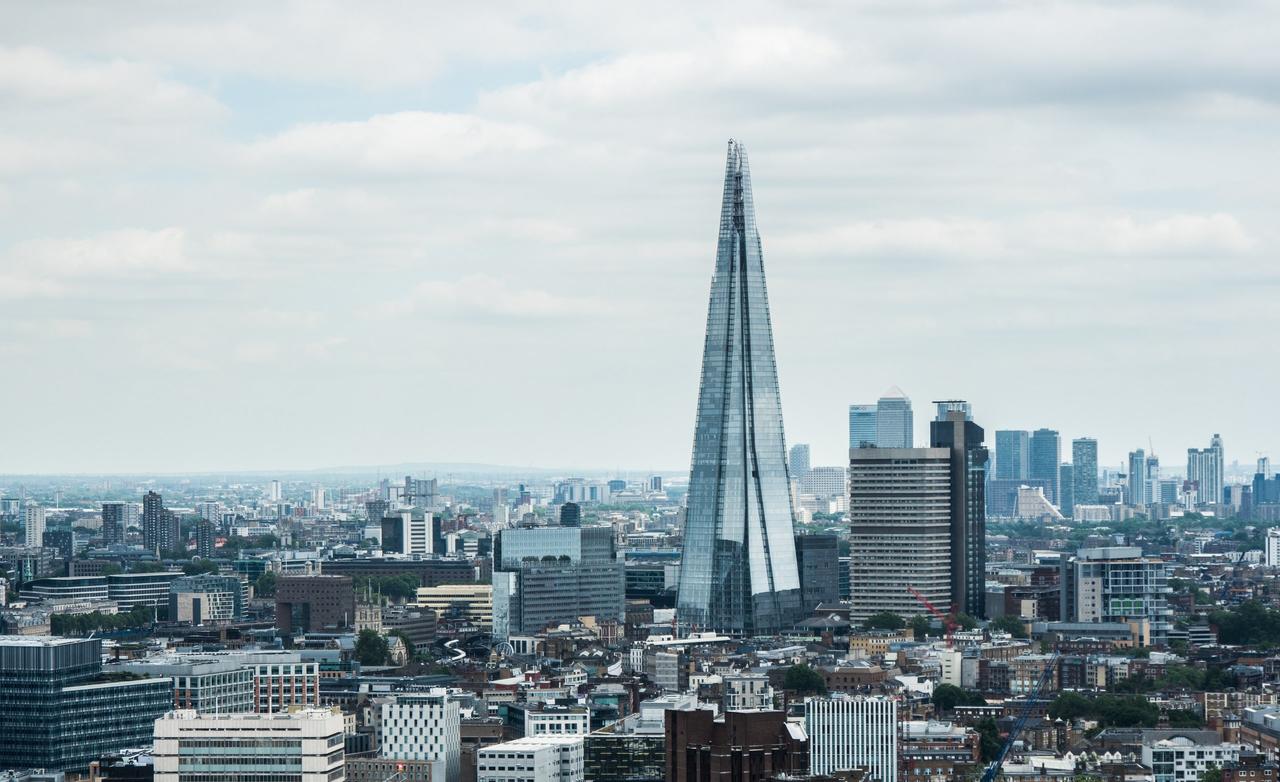 Did you know you can go up the shard for free? Whilst the restaurants and bars within The Shard can be a bit spenny (worth it, though), you can actually go all the way up to the 31st floor completely free.
Whilst going up to the viewing platform will set you back just over £20, visiting the Aqua Shard restaurant and bar on the 31st floor will cost you nothing - and once you're there, it's completely up to you if you want to grab a drink or a bite.
A couple of soft drinks could see you being set back less than a fiver whilst enjoying the view of a lifetime.
Unique & Fun Date Ideas in London
Fancy doing something totally different in the city? If so, you'll love these alternative and super fun date ideas in London.
11. Play Giant Monopoly
No, we're not joking. In London you can now play a game of giant monopoly with real-life character figurines leading you around the enormous board. You and your partner will play against other teams, completing challenges and purchase decisions using your Monopoly money.
If you love a group shindig, turn this into a couples date idea and get other lovebirds involved to create a complete team.
Hitched Editor Zoe Burke has tried this one herself and says, "Whether you absolutely love the board game or not, you'll be blown away by Giant Monopoly! It's great to do in a group or as a couple, and each square presents a new challenge, so it's a whole new way to look at the game."
12. See a Classic Movie at the Prince Charles Cinema
The Prince Charles Cinema is the only independent cinema in the West End, tucked away just behind the bustle of Leicester Square.
In addition to the usual latest releases, it regularly screens old classics, runs singalong sessions for your favourite musicals and even hosts the odd movie marathon - all eight Harry Potter movies in one night, anyone?
This is one of those London date ideas that takes a simple activity like going to the cinema, and gives it a really unique feel, doing it in such a historic building.
13. Visit Wilton's Music Hall
Speaking of cinemas and shows, if you're after fun date ideas in London, it's well worth considering a visit to Wilton's Music Hall. The history of this music hall dates back to the 1690s.
The initial aim of opening Wilton's was to provide West End glamour and brilliant entertainment to the working people in the East End, and it's still providing top-tier entertainment today!
From drag performances of Margaret Thatcher Queen of Soho to renditions of The Merchant Venice 1936, the breadth of entertainment here is vast.
Rima adds, "I had a lovely London date night here watching a screening of one of my favourite Charlie Chaplin films.
"There are not many places in London which celebrate period shows and entertainment the way that Wilton's does, and the bar and restaurant downstairs means you can spend hours here pre-empting what you're about to see, or discussing the show afterwards with a glass of wine and a snack. Ideal."
14. Rent a Hot Tug on the River Thames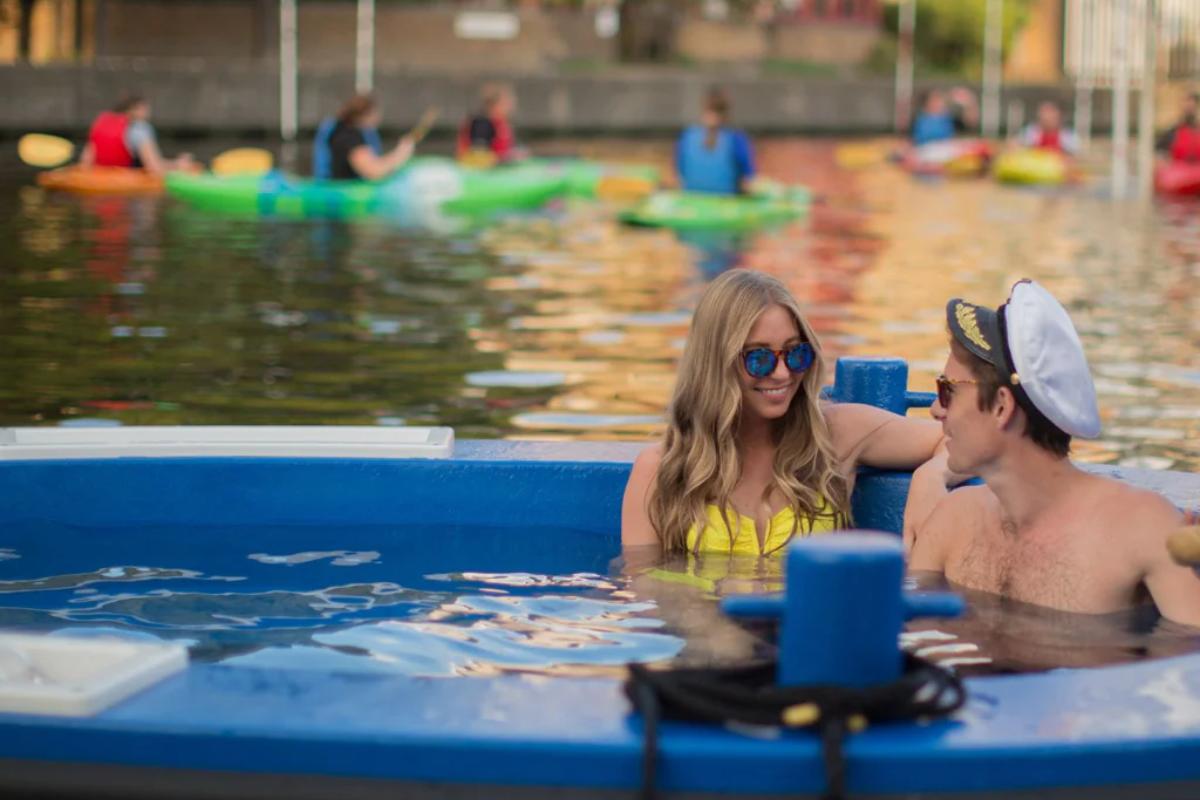 These hot tub boats are a favourite for parties and hen dos, but for something a little more romantic, go private and rent one just the two of you. Bring swimwear, a towel and your sense of adventure – or if you'd rather stay on dry land, try the BBQ boat, where you supply your own food and drinks and grill the day away onboard.
15. Practise Your Aim at Flight Club
Never played darts before? All the more reason to get on board with this sports-themed London date idea.
It doesn't matter if you're new to it – the team at Flight Club will show you both how, with fun multiplayer games to keep you on your toes.
The Insta-worthy locations (in Bloomsbury, Islington, Shoreditch and Victoria) make a great first impression, while the extensive drinks range and tasty sharing plates will make you want to stick around for round two.
16. Try Your Hand at Axe Throwing
In the middle of Oxford Circus, you'll find a seriously high-octane activity for you and your beloved to try in the form of Whistlepunks axe-throwing studio - it's safer than it sounds, we swear!
As a duo, you'll likely be paired with other guests, but after a few practises your session is played tournament style, so it's all part of the fun.
But if you do want something more private for your fun London date, there are options to hire an exclusive lane for just you two, although you can have up to 10 people in your lane so quintuple dates are totally doable.
17. Make Your Own Candles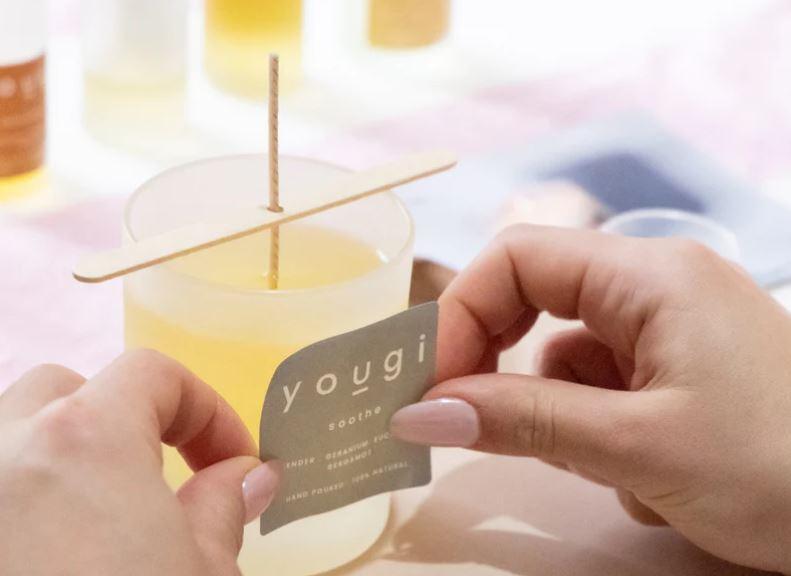 Love lighting a candle in the evening and enjoy a sweet-smelling home? If so, why not spend a romantic date night making candles together?
Yougi Botanicals offer a candle making workshop where you and your partner can create beautifully-smelling candles together, but the company also sells at-home kits, so you can recreate this London date night in the comfort of your own home.
The workshops start from £49 and you can choose from the aromatherapy, bespoke, crystal, Christmas or wax-making option based on your personal preferences.
18. Learn a New Game at The London Shuffle Club
Described as 'a mash-up between ten-pin bowling and curling', shuffleboard is making a comeback, and we couldn't write about London date ideas and not recommend The London Shuffle Club as somewhere to go.
You can play on the floor or scale it back with the table version in the basement – or, if the weather is kind, head into the great outdoors and learn the ways of biscuits and kitchens in the sunshine.
19. Ride the Mail Rail at The Postal Museum
Kind of quirky? A little. Worth doing? Absolutely!
The Mail Rail is a date idea in London that you and your partner will never forget. It whizzes you around on a tour of the 100-year-old Post Office railway through all of the original tunnels, and the staff put on a theatrical show as you go.
It only takes 15 minutes, so extend your visit by touring the museum itself, and grabbing a bite to eat at the nearby Bourne & Hollingsworth Buildings.
20. Slide Down the ArcelorMittal Orbit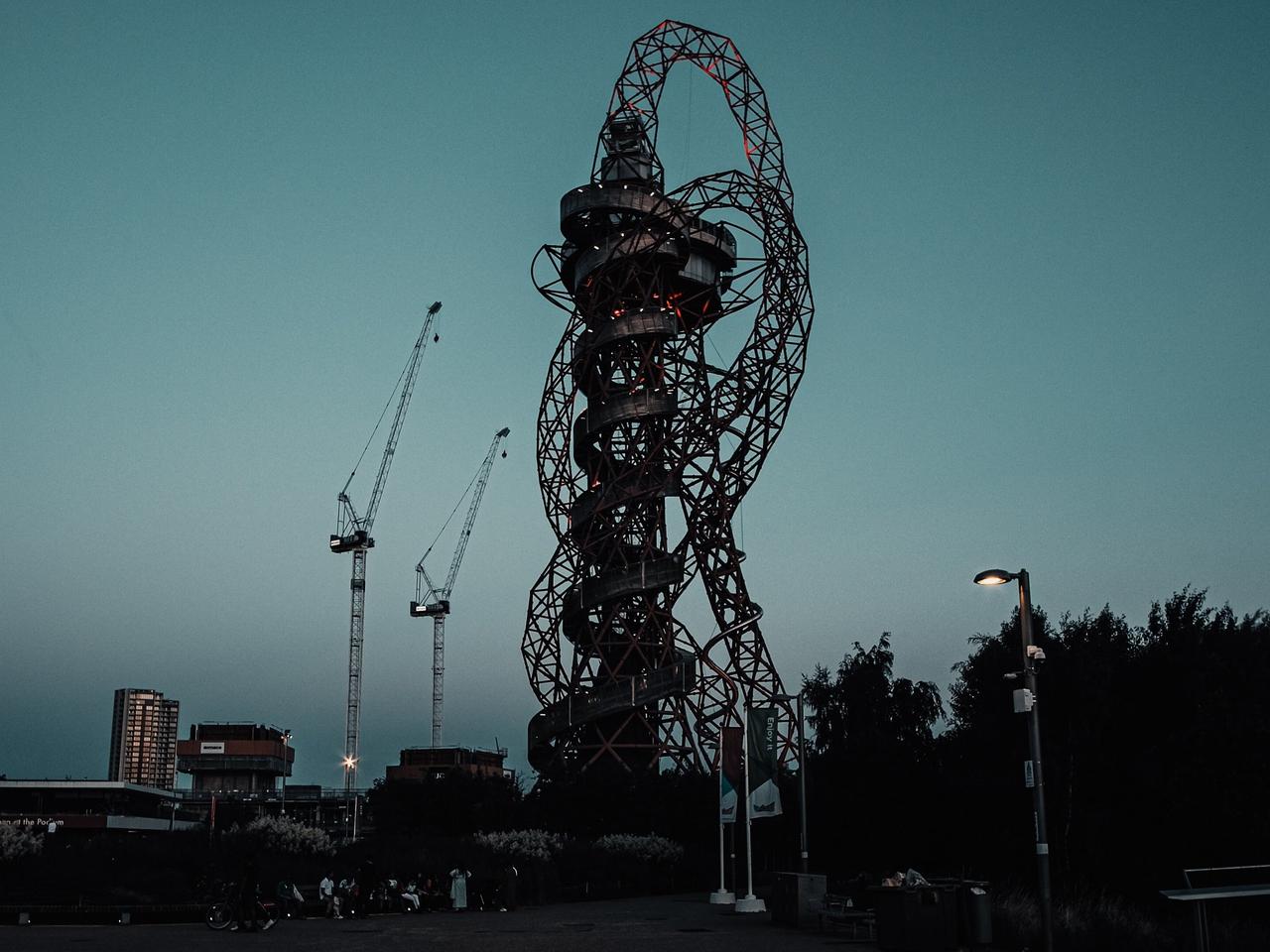 Another short but sweet experience to try on your next London date day, this one is definitely for couples who aren't afraid of heights.
The towering ArcelorMittal Orbit is the world's tallest and longest tunnel slide and boasts incredible panoramic views over the Queen Elizabeth Olympic Park, which you can also wander once your feet hit the ground.
What's more, from date day ideas in London to a date night - the ABBA Voyage arena is just minutes from the ArcelorMittal Orbit - two for one?
21. See the Circus at The Aeronaut
Hop onto the tube and head to East London to enjoy Acton's Aeronaut – it's a pub, but definitely not as you know it.
As well as the usual quizzes, comedy and games night, The Aeronaut hosts circus nights that will have your jaws hitting the floor. They only take place every few weeks, so check the calendar and book well in advance to secure your spot.
22. Play Classic Board Games at Draughts
One of the best London date ideas is actually based on a pretty simple concept, and that's board games.
Masters of Monopoly, unite; Draughts cafés, which can be found in Waterloo and Hackney, are home to more than 1,000 brilliant board games that are ideal for whiling away a lazy Sunday afternoon.
Reserve a table (it gets busy), stock up on beer and tacos, and let the games begin.
23. Take in the Lights at God's Own Junkyard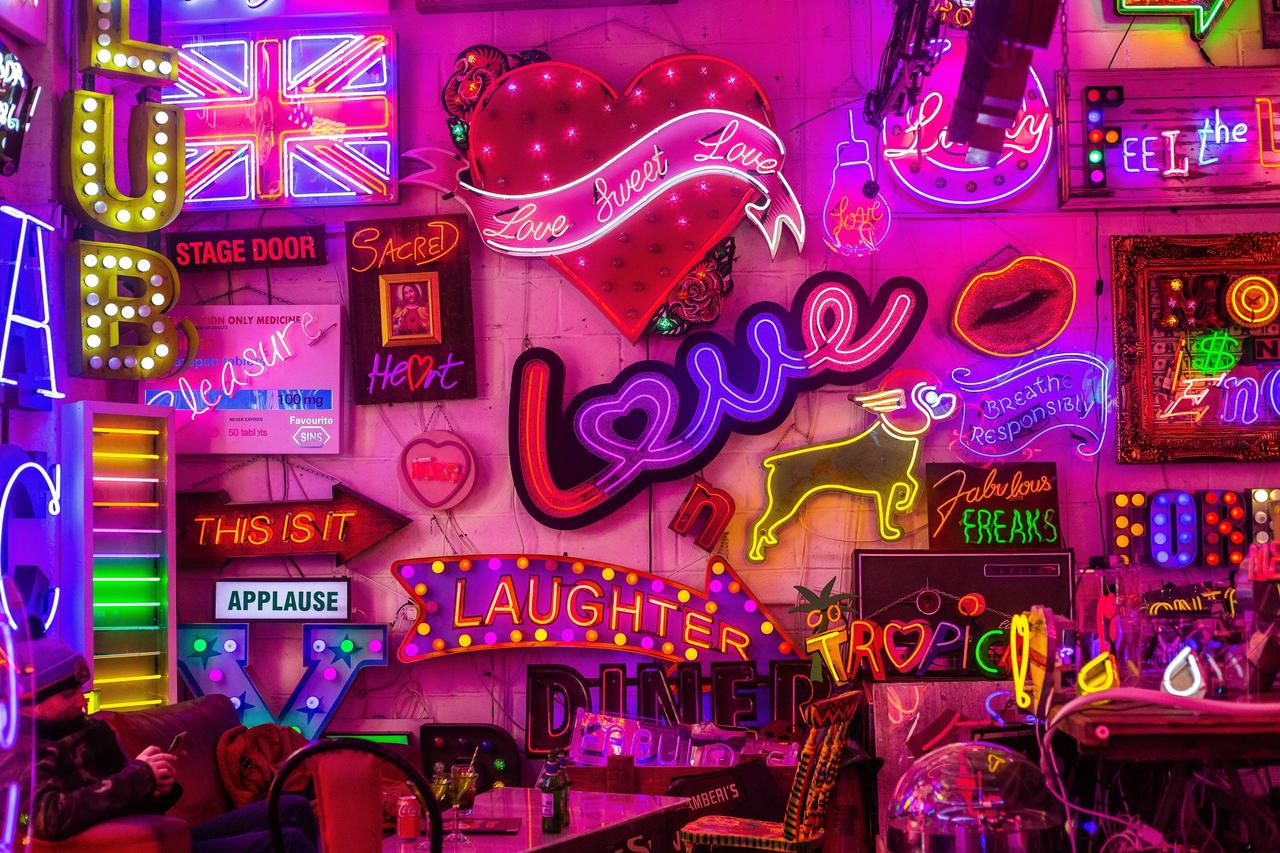 If you're on the hunt for fun date night ideas in London that will look good on the gram, this one's for you as photo ops don't get much better than this...
Ride the Victoria line to the end to hit Walthamstow Central to discover God's Own Junkyard and its amazing gallery of neon lights, where you don't even have to pay an entrance fee.
Owner Chris has been collecting them for almost 40 years, and also makes his own; enjoy a stroll through the collection, and then stop for a snack in its Rolling Scones café.
24. Skate, Dine and Bowl in One Place at Queens
Where can you find bowling, ice skating, curling, karting and beer pong in one place, we hear you ask?
Queens, near Queensway station in West London, offers all this and much more; it's like the arcades of your childhood times 1,000.
And whatever you do on this unique London date, don't leave without visiting the photobooth, or ordering a burger – they're provided by MeatLiquor so you know they're going to be good.
25. Play Competitive Ping Pong at Bounce
Bats at the ready; in case you hadn't heard, ping pong is officially cool again, and a lot of that is down to Bounce, where couples can go and get their ping pong on.
At any of their three equally trendy, neon-lit branches, situated in Farringdon, Old Street and the newly opened Battersea Power Station branch, you can book a table to play a competitive game of ping pong or even beer pong with your partner.
Loser gets the cocktails and pizza after the showdown, and you can even do a drag bottomless brunch here.
Bounce fanatic Rima says, "In my opinion, bounce is one of the best date ideas in London. I'd recommend paying for one of the interactive tables so you and your partner can play all the games. It's perfect for couples who are newly dating, as it gives you plenty to do, as well as ones who have been together for years and are looking for a fun night out."
26. Scribble on the Walls at Doodle Bar
If you prefer your creative pursuits to be a little less structured, head to the Doodle Bar in Bermondsey, where you can do what your parents always told you not to: draw all over the walls.
There are also ping pong tables in situ should you fancy a game, and burgers and rosemary fries on offer for any mid-date hunger pangs.
Food & Drink Date Ideas in London
All that talk of rosemary fries has us craving some snacks, so here are our favourite date ideas in London for couples who love to eat and drink the day or night away.
From giant croissants to (arguably!) the city's best roast, this section is guaranteed to make you hungry for a London date night.
27. Visit a Food Market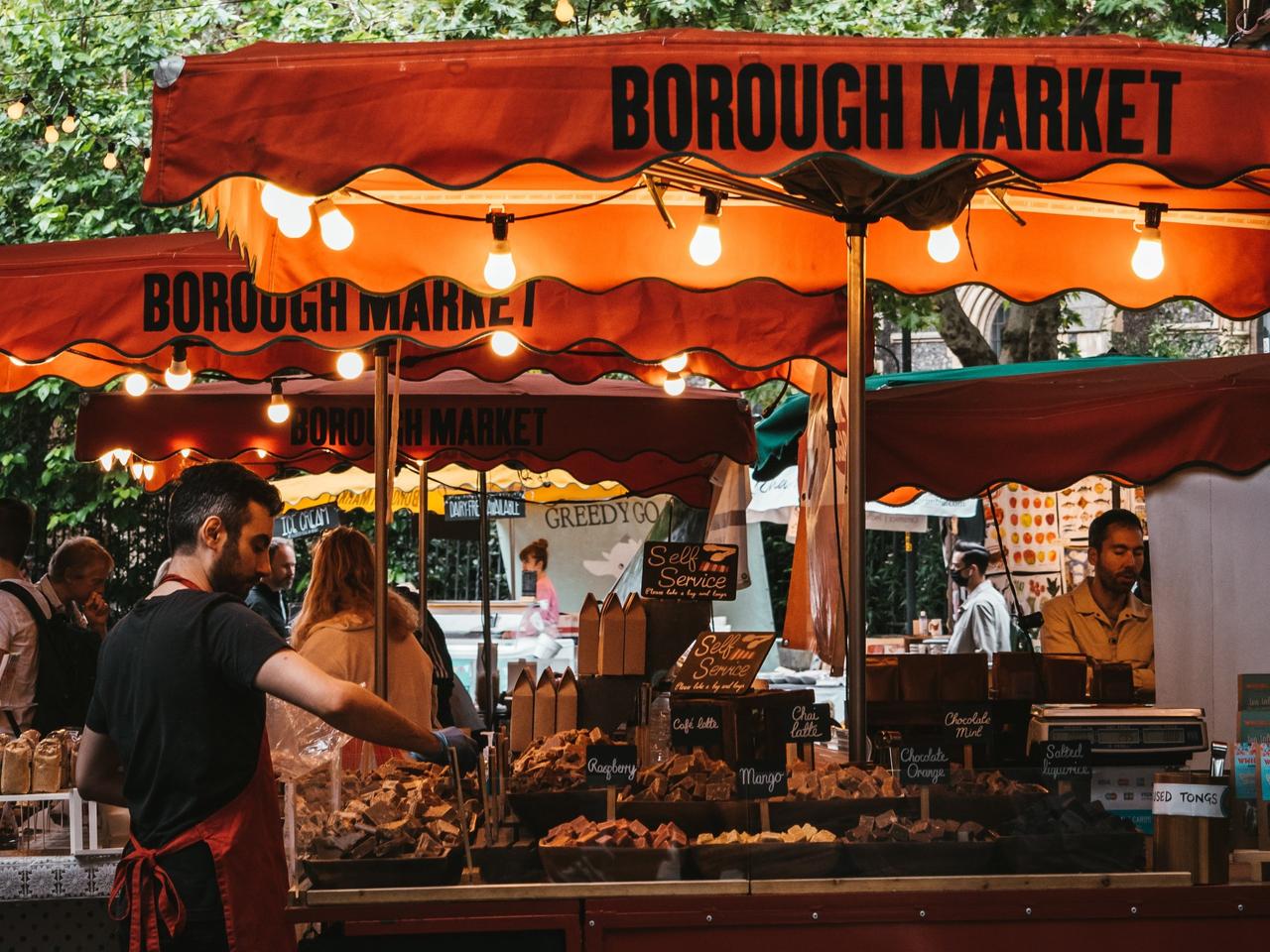 London is absolutely bursting with legendary food markets. In fact, we'd go as far as to say the city is pretty famous for its street food offering.
If visiting a food market is one of your ideal date ideas in London, here are some we recommend trying it.
Borough Market is probably the city's most famous food market, and its convenient London Bridge location makes it really easy to travel to from most places both in and outside of London. Here, you'll find a huge variety of choice. Most of the restaurants are walk-in only, so don't bank on reservations, but they're well worth the wait if there is one.
Another food market in London that we love is the Duke of York Square one located outside the Saatchi Gallery in Sloane Square. It's smaller than others, but the quality of the food on the stalls is just perfect, and the next-to-the-gallery location makes it ideal for a cultured London date day finished with some authentic street food.
And for our final recommendation, we can't say enough good things about the offerings at Tooting Market. Located in South West London, and conveniently situated on the Southern end of the Northern Line, this market is brimming with unique and authentic food stalls, as well as offering live music and entertainment at the weekends.
28. Press for Champagne at Bob Bob Ricard
We couldn't talk about unique food experiences and date ideas in London without mentioning Bob Bob Ricard - a classic British and French restaurant with two branches in London.
Bob Bob Ricard serves delicious food in an exquisitely designed setting, but the main reason it's a must-visit for dating couples is the unique 'Press for Champagne' buttons that can be found at each table.
That's right, you literally press a button and you'll be met with a glass of Champagne. The restaurant also made the game-changing decision a few years ago to cap the mark-up on fine wine at £75, no matter how expensive the bottle is, meaning you can enjoy fine wine and Champagne at seriously competitive prices.
29. Embrace Taiwanese Cuisine at Daddy Bao
If you're tempted by a trip to South West London, we highly recommend a visit to Taiwanese restaurant Daddy Bao in Tooting.
The restaurant offers authentic Taiwanese dishes which celebrate flavour and the idea of sharing.
Rima explains, "Of all the restaurants I've been to on dates with my partner, Daddy Bao has to be one of our absolute favourites. The atmosphere is really cosy and romantic, whilst feeling laid-back at the same time.
"We love the bar seats where you can watch the chefs prepare the food and the bar staff mix cocktails - it feels like you're at your very own chef's table - but the booths are equally as fun to sit at.
"We have some classic dishes we always order, including the Szechuan cucumber and sesame aubergine, but the Taiwanese-style fried chicken is the hero for me. And don't get me started on the bao - it's legendary and so flavoursome.
"But as well as the classic must-haves, we love that each week there are new specials on offer for us to try. We've had everything from sweet potato bao and tuna tartare to a delicious lychee martini."
30. Embrace the Sunday Roast at Blacklock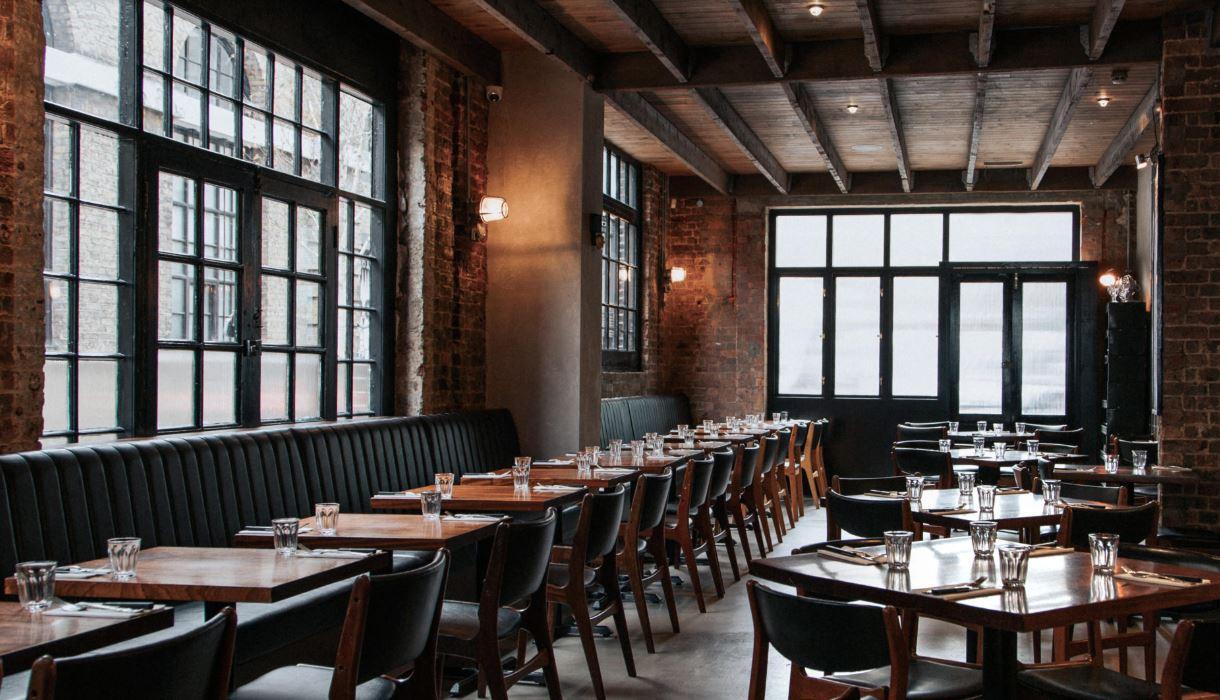 From traditional Taiwanese to classically British - here comes another one of our favourite couple date ideas in London.
The Blacklock restaurants (located in Soho, the City, Covent Garden, Shoreditch and Canary Wharf) are famous for their delicious meat and their even tastier gravy, making them the perfect spot to head for a Sunday roast with your love.
Their Sunday roast offering includes beef rump, lamb leg, pork loin and celeriac roast. The dishes come with all the trimmings, and we mean all of them, and start from just £16, making them incredibly reasonable, too.
They also have an 'all in' option which includes a heady mix of all the meats for just £25 per person.
Any visit to Blacklock is guaranteed to be a good one - we'd go purely for the gravy they pour on everything - but make sure you save space for puds as their white chocolate cheesecake is easily one of the best we've ever had, and the serving sizes are more than generous.
31. Tackle Bottomless Steak at KöD
While we're on the topic of meat, it was only right that we drew your attention to the restaurant KöD. The name itself means 'meat' in Danish, and pretty much sums up what the restaurant is all about.
The team here work to create a dining experience based on the simplicity of enjoying perfectly cooked steaks, sipping high-quality wine and enjoying an atmosphere which makes you want to return. Who wouldn't want that?
And their bottomless brunch menu is perfect when it comes to date ideas in London.
For just £60 per person, you can enjoy an all you can eat, and all you can drink KöD menu for two whole hours. The food menu includes their tri-tip steak, tomato salad, garlic chilli fries, Madagascar pepper sauce and waffles with ice cream, and their bottomless drinks include Prosecco, white and red wine, beer and soft drinks.
32. Eat Local Produce at Fern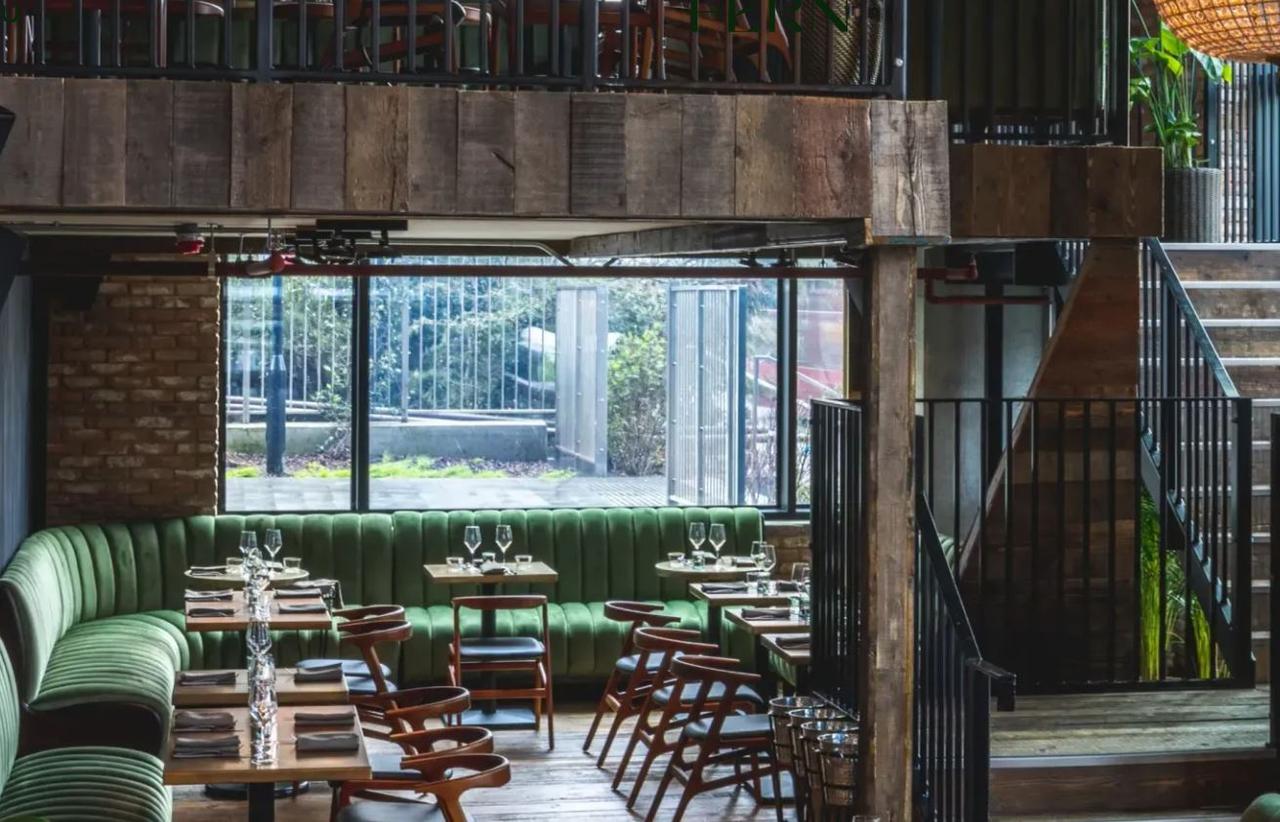 Fern is a newly-opened neighbourhood restaurant in East Croydon in South London which puts sharing plates and local produce at the forefront of everything they do.
Rima visited and loved the vibe: "I'd recommend date nights at Fern because the restaurant is so versatile. You can go here for a full dinner and drinks, pop in for a few picky bits and a drink, or simply sip on delightful cocktails at the bar.
"The team here have been so clever with the space that it's fit for a range of dating styles and needs, but if you're planning to dive into the food here (I'd recommend you do!), there a few dishes you just have to try.
"The creamy parmesan polenta was something else - the texture was light and fluffy and beautifully juxtaposed by the crispy chickpeas on top. I also loved the harissa chicken - the meat was so succulent and the flavour travelled all the way through.
"But the real star of the show, and a dish I'd eat again and again, was the braised short rib which was accompanied by carrot puree, chipotle sauce and crispy onions. It really was heaven."
33. Go Back to the '40s at Cahoots
From the moment you step in the door of Cahoots, in Soho's Kingly Court, you're transported back to the roaring 40s; everyone from the staff who greet you to the waitresses who bring you their inventive array of cocktails are fully in character.
It's one of those date ideas in London that completely immerses you in the theme, and for the most immersive experience, book a carriage in the Underground, which is decked out as a post-war tube station, and tuck into the signature Squiffy Picnic.
34. Dine in the Dark at Dans Le Noir
This is one for a very special occasion as it's it's a London date idea neither of you will ever forget. At Dans Le Noir (yes, the one from the movie About Time), lunch or dinner served in the pitch black, encouraging you to rethink your sense of taste.
It's a unusual but wonderful sensory experience and one that's worthy of a spot on any dating bucket list.
35. Get Into the Spirit at BYOC
That's bring your own cocktails, and yes, it's as genius as it sounds. For a cute couple date night, take along a bottle of your favourite booze – think vodka, gin or rum – and the mixologists at prohibition-themed BYOC in Camden will shake up five creative cocktails centred on that spirit to sip through your two-hour seating.
36. Tuck Into a Whole Fry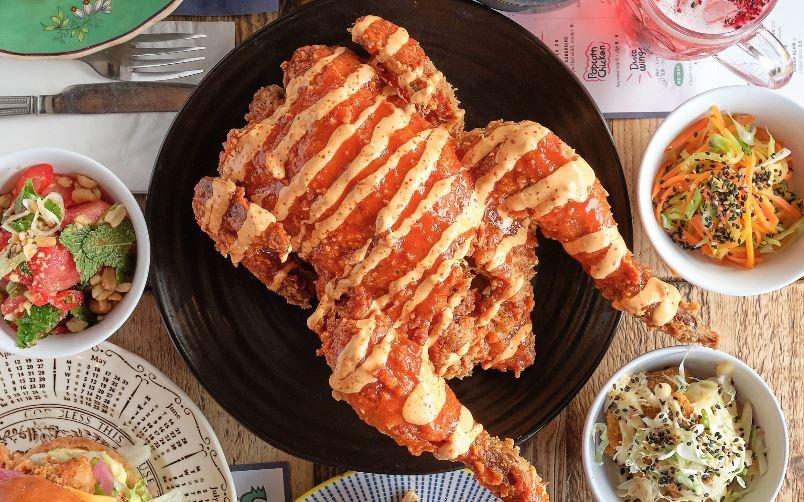 Going for a delicious Sunday roast dinner one of those classic London date ideas, and, much like the offering at Blacklock, there are plenty of delicious ones to choose from.
But if you want to add something a little unique to your Sunday date in London, check out the whole fry at Chick'n'Sours. They take roast chicken to a whole new level by deep frying the entire thing in their famous batter.
Deputy Editor Rima says, "I've been a fan of Chick'n'Sours for a long time now and frequent the Seven Dials restaurant when date night comes around. The batter they use for their fried chicken is one of a kind, and the fact they've used it to fry an entire roasted chicken is pure genius. Well. Done. Them."
37. Have Dinner at the First Dates Restaurant
Love watching Channel 4's First Dates with your significant other? Surprise them with a booking at the actual restaurant where it's filmed, Paternoster Chop House in St Pauls.
We can't guarantee Fred will be there to see you to your table, but we'll keep our fingers crossed for you. Top tip: go for the Sunday roast and you can get bottomless red wine with your meal.
38. Take Tipsy Tea at Mr Fogg's Gin Parlour
Every Saturday and Sunday, Mr Fogg's takes afternoon tea to the next level in its fabulously-themed Mayfair residence.
Sweet treats including scones, cakes and macaroons are served in a vine-wrapped birdcage, but the star of the show is the drink – champagne and gin cocktails served from teapots for fabulously Mad Hatter's party vibes.
39. Satisfy Your Sweet Tooth at Basement Sate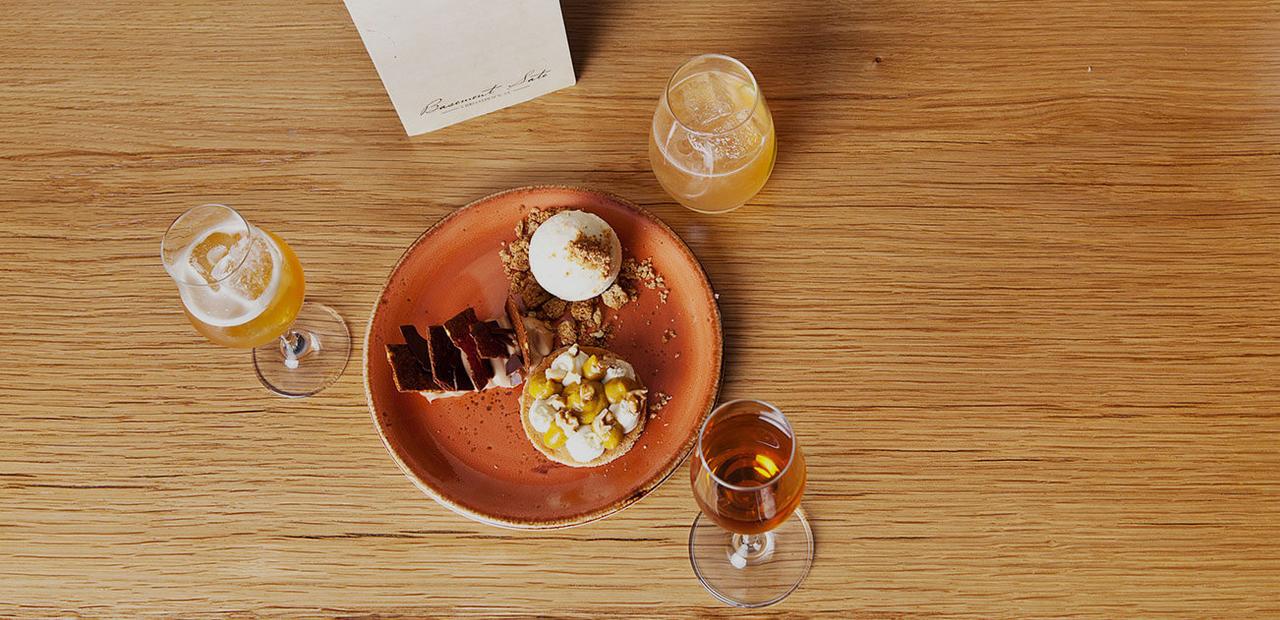 Basement Sate on Broadwick Street is a cocktail bar, but it also specialises in truly decadent desserts, perfect for a date day in London.
The dimly-lit interior sets the mood, and booze plus smoked chocolate cigars, cheesecake popsicles or s'mores with marshmallow ice cream = a recipe for date success, if you ask us.
40. Eat Brunch on a Boat at Darcie & May Green
If your search for unusual dates in London takes you anywhere near Paddington station, we highly recommend capitalising on this with a visit to Darcie & May Green.
These bright and beautiful canal boats were designed by Sir Peter Blake, and serve relaxed Antipodean-inspired dishes all day long. You won't regret ordering the 'nduja folded eggs.
Think London sounds like a good location for a hen or stag? You'd be right there! To start planning, check out our guide to planning a stag do in London, and our favourite London hen party ideas.