If you're approaching your fourth wedding anniversary and are in need of some gift inspiration, you can relax. We've done all the hard work for you and sourced the best presents available to buy right now, for a range of budgets.
The traditional gifts for the fourth year of marriage are based around flowers and fruit, a theme that's surprisingly easy to adapt to suit your other half's tastes. From vibrantly fruity gin (yes, please) to gifts that will keep your partner busy in the garden, there are plenty of ideas here to suit everyone.
If you're just not feeling the fruity, floral vibes, you can go for the more modern approach to fourth anniversary gifting and splash out on some appliances or stick with UK tradition and gift something made from linen. Alternatively, you can surprise your SO with something made from the fourth anniversary gemstone, blue topaz.
Whichever tradition you choose to go for, each and every one of these fourth anniversary gift ideas is guaranteed to earn you some serious brownie points. You can thank us after you've added them to your basket!
NB: We have included third party products to help you navigate and enjoy life's biggest moments. Purchases made through links on this page may earn us a commission.
Fruit and Flower Gifts
Our friends across the pond generally keep to the tradition of fruit and floral gifts for the fourth wedding anniversary, with many calling it 'the flower anniversary'. As fruit and flower-themed gifts make for pretty awesome presents, plenty of people here in the UK like to stick with this too, and we predict our picks will have you seriously tempted.
Raspberry Gin – £35, Manchester Gin
It's safe to say that gin is having a moment and the more we become obsessed with the stuff, the more clever creators distill unique flavours and combinations. This raspberry gin from Manchester Gin will not only look stylish on your bar cart, it will also go down very nicely indeed on a summer evening together.
Grow Your Own Blueberry Jam – £44, The Gluttonous Gardener
Fruit represents how much your marriage has grown and developed by the fourth year, kind of like how fruit ripens. If you plan to give your partner a present with a fruity twist, take a look at this jam making kit from The Gluttonous Gardner. You'll get easy-to-grow blueberry bushes and a recipe for a delicious jam, so you can enjoy the fruits of your fruit for months to come – yum!
Floral Tote Bag – £25, Hitched Shop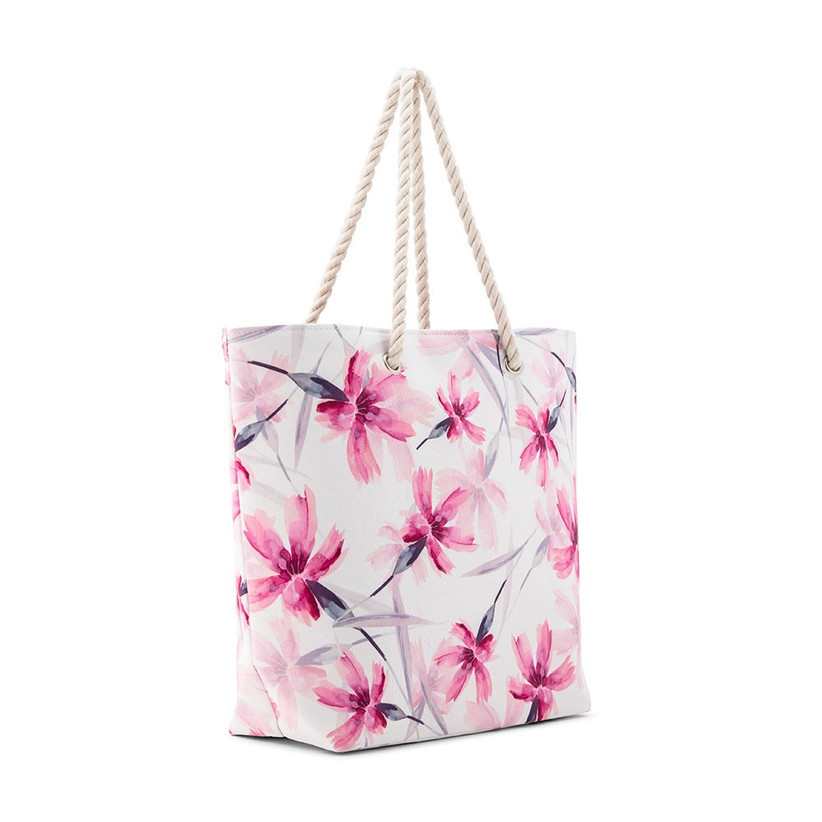 This floral tote bag is as practical as it is pretty and would make the ideal gift for a partner who is always on the go. With soft rope straps and a fabulous watercolour floral pattern we're sure it'll be their new everyday bag. Plus, it can even be personalised with your loved ones name.
The Collection Flowers – from £30, Marks & Spencer
Flowers never fail to put a smile on the face of the receiver and we expect that smile to be that bit wider when the flowers in question come from The Collection at Marks & Spencer. These luxury bouquets stand out from the rest in terms of design and quality adding an opulent twist to the always-appreciated gift of flowers.
Grow Your Own Passion Flowers – £11.50, Plants From Seed
Striking and exotic, this beautiful passion flower would make a fab gift for the green-fingered folk out there. Available from Not on The High Street, this unusual looking mauve and white climber is a great alternative if your partner is not so keen on traditional blooms. Plus, it grows happily outside without much attention which is ideal if you both struggle to keep plants alive (honestly, we feel you).
Milk Fruit Nut Slab - £5.50, Coco Chemistry
Look, if it were us, you literally couldn't go wrong with a slab of the good stuff from Coco Chemistry. Stick on a movie, pour the wine and try to get your partner to share this beauty with you!
Orchid Champagne Bucket – £302, Amara
Ok, so this is a bit of a splurge but its sure to go down a treat with your SO, especially when paired with a bottle of bubbles to go inside it. Head to Amara if you're feeling spendy and want to treat your partner to something seriously luxe.
Fresh Fig & Cassis Townhouse Candle – £90, Jo Malone
A Jo Malone candle is a fail-safe gifting classic and something that just about anyone would appreciate. Why not use this wild fig and cassis scented candle to light up your table as you share a romantic home-cooked anniversary meal?
READ MORE: Anniversary Gifts for Him: 50 Unique Ideas Your Husband Will Love
Personalised Sunflower Kit – £10, BEEcycle
Sunflowers symbolise love, adoration and joy, so what could be a better gift for your fourth wedding anniversary than this personalised grow your own sunflower kit. It would be even more perfect if your big day included sunflower floral arrangements.
Floral Satin Robe – £40, Hitched Shop
This gorgeous satin gown is the perfect fourth anniversary gift for your partner – especially accompanied by breakfast in bed! It comes in seven floral designs and can be personalised with you loved one's name on the front.
Cottage Garden Flower Seeds Set – £12.50, Border in a Box
Let your love continue to grow with this sweet seed set from Border In A Box. Featuring Lavender, Lupin and Forget-Me-Not seeds, your partner will able to jazz up anything from a garden patch to the window box of your flat.
Fruit Print – £24, Green Lily Productions
You certainly can't go wrong with a romantic quote print, but if this is not really your style then this fun print from Green Lily Productions would make a fantastic fruit-inspired gift! Guests won't be able to take their eyes off this joyfully fruity print once they clock it on your wall.
Blush Pink Planter – £14, Dunelm
Quirky pots containing succulents and trees dotted around the house are seriously trendy right now. This pale pink beauty from Dunelm is giving us cool '70s vibes that will fit in anywhere from the bathroom to the bedroom!
Floral Silver Jewellery Box – £50, Hitched Shop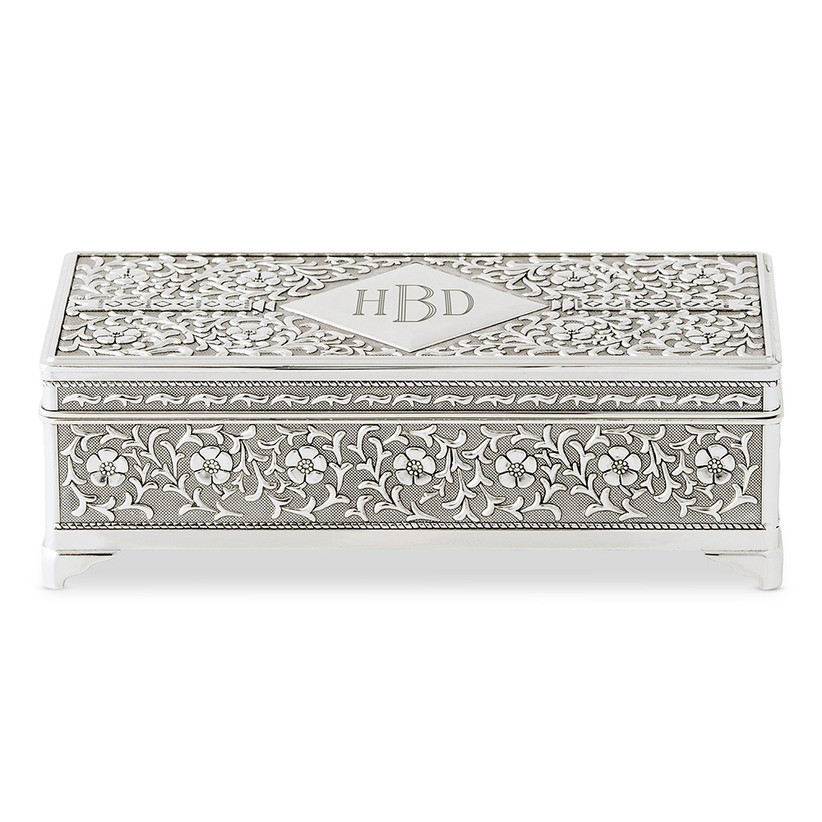 If in your many years as a couple you've gifted your other half a lot of jewellery, the fourth wedding anniversary might be the time to give them a jewellery box to keep it all safe. We love this floral engraved silver box - it'll be a lovely keepsake for years to come.
Floral Bath Bombs – £18.50, Quintessentially English
Surprise your love with some candles, a glass of wine and a hot bubble bath filled with these floral beauties. This adorable gift is packaged in a pretty box and the sweet-smelling bombs are decorated with a variety of pressed flowers too.
Fruity Coffee Subscription – £90, Letter Box Hamper
This coffee lovers' three-month subscription box is a modern nod to the traditional gift of fruit. If your partner can't function before coffee in the morning, they'll adore these fruity blends, which come straight through your letter box with a personalised note each month. It also comes with chocolate and shortbread for that extra special touch of YUM.
Love You Like Blue Sky Dried Baked Blossom Bunch – £32, The Happy Blossoms
For beautiful blooms that will last a lifetime, look no further than Happy Blossoms who offer on trend dried bouquets. This gorgeous lilac arrangement is aptly named 'love you like blue sky', making it perfect for a wedding anniversary. Inspired by wanders through a wild flower meadow, it'll brighten up any room.
Macramé Plant Hanger – £19.99, H&M Home
We're back to the '70s décor vibes with this fabulous macrame hanging plant pot holder from H&M Home. We think this would look amazing in your bathroom or kitchen with some trailing greenery or as a quirky addition to your bedroom décor.
Pineapple Ornament – £24.95, Cerulien
Whether your big day had a tropical wedding theme or you're both just crazy about pineapple décor, this pineapple ornament would make a fab gift for your home. It's a modern spin on the traditional fourth wedding anniversary fruit gift and is available in gold, silver, white and black.
Personalised Birthflower Bracelet – £21, Bloom Boutique
We've got a soft spot for these cute bracelets from Bloom Boutique. Each bracelet comes with a unique flower charm for the month of your partner's birth, set with a piece of their birthstone. This personal gift is guaranteed to hit your partner right in the feels.
Lemon Keyring – £8.50, Old English Co.
For a small but meaningful gift for your fourth year of marriage, how about this bright and zesty lemon keyring? It may seem a tiny thing but your partner will literally look at it every day and when they do, they'll instantly think of you. Awww.
Alessi Mediterraneo Mirror Fruit Bowl – £100, Amara
This modern take on the traditional fruit bowl from Amara would make a wonderful gift if your other half always has their five a day (or if they need a bit of healthy encouragement!). Stylish and contemporary, it would look right at home in the centre of your dining table.
READ MORE: Anniversary Poems: The Best Poems to Write in Anniversary Cards
Linen, Topaz and Appliance 4th Wedding Anniversary Gifts
In the UK, the traditional fourth wedding anniversary gift is to give items made from linen or featuring blue topaz, the gemstone that represents the fourth wedding anniversary. If you fancy going ultra-modern, you can always choose an appliance gift, another popular pick from the USA.
Nespresso Machine – from £79, John Lewis
Appliances are a modern gift choice for the fourth wedding anniversary and while they may not scream 'romance' they'll still be gratefully received. A Nespresso machine from John Lewis is a guaranteed hit, who doesn't want barista-style coffee in their own home every day?
Wood Pellet Pizza Over– £249, Ooni
Personally, we've been looking for an excuse to buy a pizza oven and if it were our fourth wedding anniversary, we'd definitely be taking advantage! This pizza oven from Ooni is sure to be a hit with your summer BBQ guests.
Kenwood kMix – £369.99, John Lewis
If your other half is destined for the final of Bake Off, then they'll really appreciate this stand mixer from John Lewis. The Kenwood kMix takes all the hard work out of mixing and folding and is the perfect partner for anyone who loves baking a sponge or whipping up a soufflé.
Floral Cushion – £29.50, Marks & Spencer
Combining the tradition of florals with the idea of gifting linen on your fourth wedding anniversary, this stylish scatter cushion from Marks & Spencer ticks all the boxes. Chuck it on your bed or sofa for an instant decorative refresher.
Lemon Bedding – from £25, Marks & Spencer
There's no better feeling than slipping into fresh bedsheets and so new bed linen is a total winner when it comes to fourth wedding anniversary gifting. There's something very cheerful about this lemon-print bedding from Marks & Spencer, plus it also gives a hint of the traditional fruity gift!
Personalised Napa Linen Makeup Bag – £11, Hitched Shop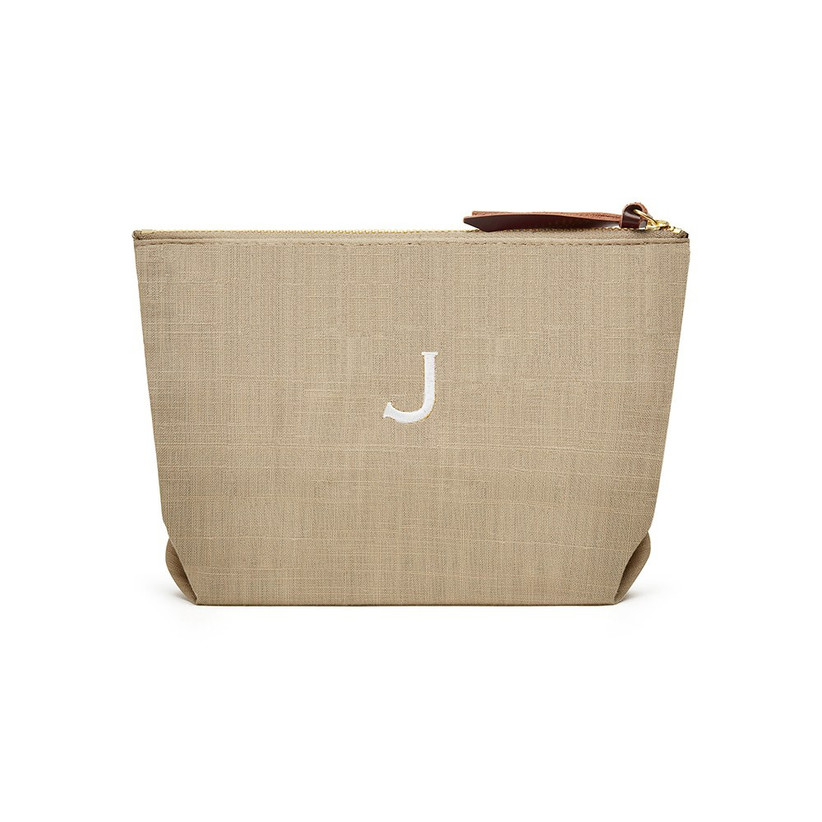 Simple, chic and sleek, linen is a lovely fabric for someone who loves minimalistic and contemporary design. This personalised napa linen makeup bag will not only be a great place to store products, it'll look lovely sitting on a dressing table or bathroom side too.
READ MORE: The Most Thoughtful Wedding Anniversary Gifts for Couples
Sky Blue Topaz Twig Statement Ring – £295, Brandts Jewellery
With a twig setting, this gorgeous ring gives a nod to the traditional fourth anniversary floral theme while showing off a stunning blue topaz. We reckon your partner will be wowed!
Blue Topaz and Silver Pendant Necklace – £20, Tigerlily Jewellery
Delicate but undeniably beautiful, this gorgeous necklace is the perfect gift for your sparkle-loving spouse. Featuring a silver chain and settings, it's a timeless piece that we reckon your partner will wear for many anniversaries to come.
Blue Topaz Stud Earrings – £169, QP Jewellers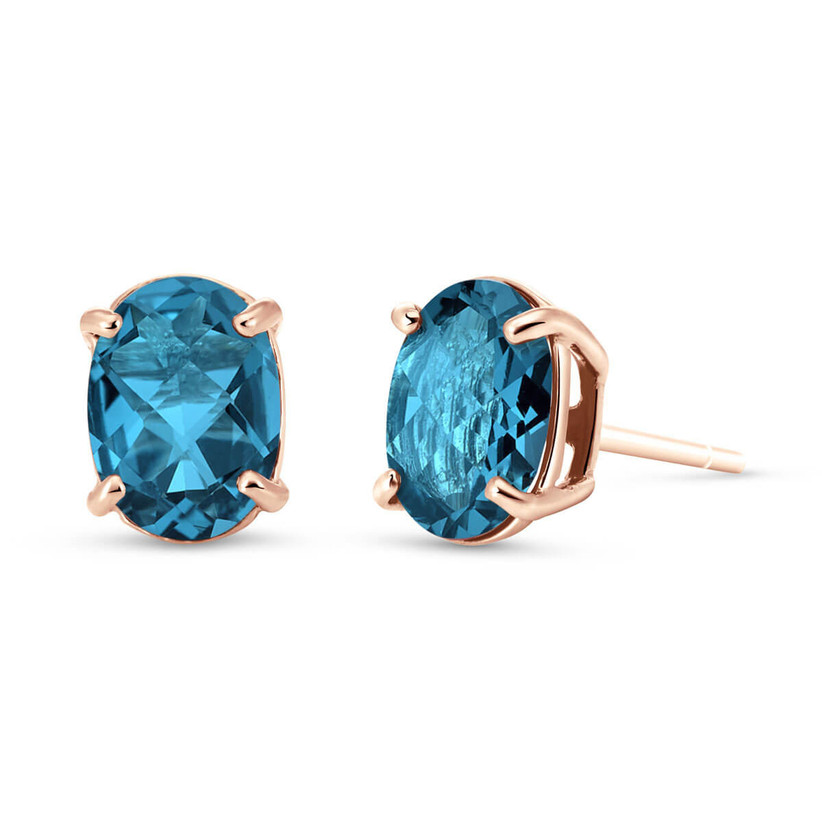 You can't go wrong with a pair of simple studs and these gorgeous blue topaz and 9ct rose gold earrings are a fail-safe option no matter what your partner's jewellery preference is. They can even be delivered the next day so they might be your saviour!
Now you've got your fourth wedding anniversary gifts sorted, get super organised and start planning your next one with our fifth wedding anniversary gift guide.