20 of the Best Wedding Venues in Warwickshire
From barns and stately homes to charming castles, these Warwickshire wedding venues really do have it all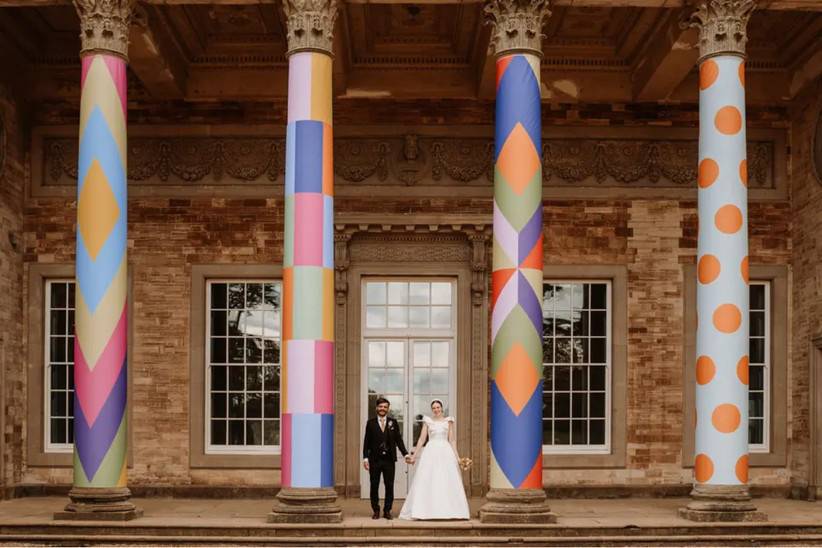 You might know Warwickshire in the West Midlands as the birthplace of William Shakespeare, the home to Warwick castle or perhaps for its beautiful, rolling countryside - but it's wedding venues in Warwickshire that we're here to talk about.
Whether you want an intimate celebration, or a wedding in an unusual wedding venue, Warwickshire's historic and rustic allure is what makes it so appealing as a location for a wedding venue. Located within travelling distance of Birmingham, you'll get all the benefits of being near a city centre while still enjoying the tranquillity that comes from this rural setting.
There's just so much on offer when it comes to Warwickshire wedding venues, you'll be spoilt for choice. No matter the size of your wedding budget or the length of your guest list, you're bound to find a fabulous wedding venue in Warwickshire that will make your dream day a reality.
The Best Wedding Venues in Warwickshire
In order to help you pick the perfect place, we've narrowed it down to 20 of our favourite Warwickshire wedding venues. From gothic mansions and grand castles to rustic barns and festival-ready fields, there's something for every couple in this edit - it truly is the best that weddings in Warwickshire has to offer!
1. Shustoke Farm Barns - Birmingham
When it comes to a fabulous wedding venue in Warwickshire, the devil really is in the detail, and Shustoke Farm Barns in the heart of the county's countryside has ticked every box.
From the gothic timber and glass arched doors to the copper topped bar and their state-of-the-art lighting system, it's perfect if you're planning the rustic wedding of the year.
No matter what time it is there will be an enchanting ambience to your wedding. You can illuminate the room with candles and fairy lights in the day, spotlight tables during dinner and switch on colour changing LED lights for the dancefloor when the party starts.
Pricing: £POA
Capacity: Up to 250
2. Bourton Hall - Princethorpe
With a wealth of character and history, Bourton Hall is a gorgeous Italianate-style mansion set in the heart of Shakespeare Country.
This wedding venue in Warwickshire has a a number of elegant spaces on offer for your big day, including the grand Banqueting Hall, striking Vault Disco Bar and spectacular Former-Catholic chapel with its ornate wood and gold leaf ceiling.
With ample wedding venue accommodation on site, you and your guests can stay the night in one of their 21 luxurious rooms. Complete with contemporary en suites, crystal chandeliers and four poster beds, you're bound to feel like royalty - which is exactly how it should be!
Deals: Late availability wedding package from £5,720 on offer for remaining 2023 wedding dates.
Pricing: Menus from £100
Capacity: Up to 120
3. Weston Hall Hotel - Coventry
It doesn't get more romantic and whimsical than getting married in a foliage-adorned 16th century Manor House, and Weston Hall Hotel is one of those Warwickshire wedding venues that offers that and more.
The hotel has four fabulous function rooms, including the decadent Dubarry Suite and the contemporary Middlemarch Suite. However, if you're planning a larger wedding of up to 300 guests, the garden marquee is ideal.
With three pre-set wedding packages available, this venue takes the stress of planning off your shoulders so you can enjoy every step of your journey. We think this venue would be a magical space to host a winter wedding - just look at those enchanting table decorations.
Deals: Special offer for remaining 2023 dates with wedding packages from £3,500.
Pricing: Menus from £65
Capacity: Up to 300
4. Warwick House - Southam
Warwick House is a versatile wedding venue that gives you the space to create the day of your dreams, no matter what your theme or taste.
Surrounded by beautiful cherry blossoms, fabulous feathery pines and a landscaped terrace, the location is the ideal balance between being homely and elegant - ensuring you and your wedding party will feel comfortable throughout your celebrations.
At the end of the day you and your partner can retire to the luxury honeymoon suite to enjoy your first night as newlyweds. With a lavish four poster bed, jacuzzi bath and walk in shower, you'll be relaxing in style.
Deals: Midweek wedding packages from £3,995 for remaining 2023 wedding dates. Plan your Christmas wedding here from £4,995.
Pricing: Menus from £80
Capacity: Up to 150
5. Swallows Nest Barn - Warwick
Couples looking for a barn wedding venue in Warwickshire will love this gem of a find. Swallows Nest Barn is a charming wedding venue nestled within a generous plot of Warwickshire countryside, with views of a seemingly endless countryside. The venue offers privacy and exclusivity, making it feel like a home away from home for the duration of your wedding.
The lovingly-restored 19th century barn has all the character you'd want from a rustic wedding venue, paired perfectly with modern details such as the glass barn extension, sweet fairy lights and a chic courtyard.
The venue can host seated breakfasts and ceremonies for up to 120 guests, and up to 150 of your nearest and dearest for an evening do.
Pricing: From £3,500
Capacity: Up to 150
6. The Meadow Barn at Stratford Park - Stratford Upon Avon
Warwickshire is home to picture perfect countryside and a barn wedding venue like The Meadow Barn at Stratford Park really makes the most of this wonderfully rustic and rural setting.
The Elizabethan barn provides a warm and romantic ceremony setting, and once that's done, you and your guests can then make your way to the courtyard and terrace for drinks while your banquet is being carefully prepared.
As for what's on the menu, if you have a specific dish or meal you would love to enjoy on your special day, the chefs are happy to accommodate using a delicious range of local products. Perfect for foodie couples who want to add bespoke dishes to their wedding menu.
Pricing: Menus from £60
Capacity: Up to 150
7. Ragley Hall - Alcester
Ragley Hall is a historic wedding venue that'll make an ideal location for your wedding day if you're after grand interiors and picturesque grounds.
The décor here at this luxury Warwickshire wedding venue is breath-taking. The illustrative South Staircase features beautiful paintings of exotic animals, locations and portraits, making it the perfect backdrop for your drinks reception. Plus, it'll make a brilliant statement in photographs and act as a great conversation starter for guests.
Outside, you'll find 26 acres of formal gardens designed by landscaper Robert Marnock. If you have a larger guest list and are looking for large capacity wedding venues in Warwickshire, fear not as a marquee can be set up in the grounds to accommodate.
Pricing: From £5,260
Capacity: Up to 1,000
8. Ettington Park Hotel - Stratford Upon Avon
One of the most impressive wedding venues in Warwickshire, Ettington Park Hotel is a neo-gothic mansion that's as enchanting and romantic on the inside as it looks from the outside.
Boasting grand and decedent décor throughout, you can marry in the intimate Library room surrounded by an array of historic literature or in the spacious Hathaway Suite overlooking the Norman Chapel.
If you're planning an outside ceremony, the stunning Orangery situated in the wedding venue's gardens won't disappoint. With the River Stour and ancient Bell Tower as your backdrop, it will be a truly magical space to say your vows.
Deals: New Year's Eve wedding package from £18,000 for exclusive use, 70 adults and 35 bedrooms. Intimate wedding packages for 10 guests available from £1,750.
Pricing: Menus from £85
Capacity: Up to 120
9. Ashton Lodge Country House - Princethorpe
From elegant and sleek ceremonies with chandeliers and white décor, to playful and bright marquee receptions with fairy lights, Ashton Lodge Country House is a luxury wedding venue that can cater for all themes whatever you have in mind for your big day.
The picturesque Edwardian property combines grand period features with state-of-the-art modern touches creating a beautiful yet functional backdrop.
We adore the three acres of gardens that truly make the most of the Warwickshire countryside - you'll have views of gorgeous greenery and rolling hills throughout your special day.
Deals: Get £1,000 off any remaining 2023 wedding date. New bookings get free evening food for additional evening guests.
Pricing: Menus from £52
Capacity: Up to 200
10. Sheepy Meadows - Atherstone
Cool and conscious couples will love getting married at Sheepy Meadows - this Warwickshire wedding venue is committed to environmentally-friendly practices, including a zero-waste-to-landfill policy.
Set on 150 acres of historical land (once thought to be the last campsite of Richard III's army before the battle of Bosworth), you'll have access to three large kapta tipis and one kungs tipi for your wedding day.
Once the night falls, this festival wedding venue only gets better. Celebrate and dance with friends, family and your loved one under twinkling fairy lights, keeping warm next to flickering fire pits.
Deals: £500 off Monday - Thursday and £1,000 off Friday - Sunday tipi wedding books for all remaining 2023 wedding dates.
Pricing: £POA
Capacity: Up to 150
11. The British Motor Museum - Gaydon
Car lovers look no further, we think we've found your perfect sporting wedding venue - The British Motor Museum.
This impressive space ensures an unforgettable day, boasting expansive windows and skylights allowing natural light to stream in as you exchange your vows in the rooftop Sky Suite. With panoramic views of the Warwickshire countryside, it'll be as romantic as it is dynamic.
Filled with historic British cars, you and your partner can pose next to some fascinating artefacts, and guests can explore the museum during a drinks reception.
A celebration hosted here won't be forgotten in a hurry - it's perfect for memorable weddings in Warwickshire, and can house a staggering 400 guests!
Pricing: Menus from £85
Capacity: Up to 400
12. Brandon Hall Hotel & Spa - Warwick
If you're looking for a modern-meets-traditional wedding venue in Warwickshire to get hitched in, Brandon Hall Hotel & Spa is a fabulous choice.
From the moment you walk in, you and your guests can expect elegant décor, excellent attention to detail and spectacular contemporary rooms.
You'll have a dedicated wedding planner on hand so you can have your dream day with none of the stress.
With chic fittings in the bedrooms and an award-winning spa you won't ever want to leave - hello couples spa weekend...
Pricing: Menus from £90
Capacity: Up to 200
13. Ardencote - Warwick
Tranquil, idyllic and picturesque are the three words that best describe Warwickshire wedding venue Ardencote.
Not only is this hotel wedding venue nestled within 83 acres of gorgeous grounds, it features a stunning lake with a waterside wedding pavilion that can be used for ceremonies between April and October.
They offer a brilliant wedding package that includes a romantic stay in the Bridal Suite on the night of your wedding reception, plus a delicious full English breakfast the next morning.
And if that isn't enough, how does a red carpet, Champagne and flaked chocolate truffles on arrival sound?
Pricing: £POA
Capacity: Up to 150
14. Compton Verney - Warwick
Art loving couples rejoice, renowned gallery Compton Verney has opened its doors as a unique setting for your wedding day, allowing you to get married among an impressive collection of world class art.
The Grade I Georgian Mansion is also surrounded by 120 acres of picturesque Warwickshire parkland so there'll be beauty no matter where you look.
The best bit? When you book your wedding at Compton Verney you will receive a 12 month membership to enter the parkland and galleries, giving you the opportunity to visit this fabulous venue time and time again.
Deals: Weekday wedding packages receive up to £2,000 off their venue hire fee in 2023.
Pricing: Menus from £1,000
Capacity: Up to 120
15. Coombe Abbey Hotel - Warwick
Couples seeking a truly special Warwick wedding venue will absolutely adore Coombe Abbey Hotel - it's elegant, luxurious and regal in equal measures and really has the wow-factor you want from a wedding venue.
The luxury hotel is located on a plot of more than 500 acres of picturesque parkland, and you have to cross a bridge to access it - talk about a grand entrance!
Once you're inside, you and your guests are bound to be impressed with the timeless décor and exquisite finishings. Every room from the banquet halls to the bedrooms are perfectly decorated to match the grandeur of the building itself.
Pricing: Menus from £80
Capacity: Up to 500
16. Blackwell Grange - Ilmington
Blackwell Grange is a farm wedding venue in Warwickshire that we've been swooning over for a while now. The original building and plot dates back 400 years, but the team here have been running weddings since 2016 when Blackwell was transformed from a family home to a chic wedding venue.
The food here is highly regarded, with the talented team of chefs curating menus which include wood-fired pizzas, live food stations, barbecues and whatever else you desire.
The barn is equipped for wedding ceremonies but if you would prefer a religious wedding, there are a number of picturesque churches in the surrounding villages for you to choose from.
Pricing: From £2,420
Capacity: Up to 150
17. Stoneleigh Abbey - Stoneleigh
If you're into your history, this Warwickshire wedding venue will be right up your street. Stoneleigh Abbey was founded in 1154 by the Cistercians, and has seen several famous historic figures grace its grounds, from William Shakespeare and Jane Austen to Queen Victoria and King Charles I - and you could be next!
The venue has a number of spaces to host your wedding, including the Saloon which houses 120 seated guests and boasts ornate, grand décor that very much lives up to the buildings reputation.
Pricing: From £10,000
Capacity: Up to 280
18. Warwick Castle - Warwick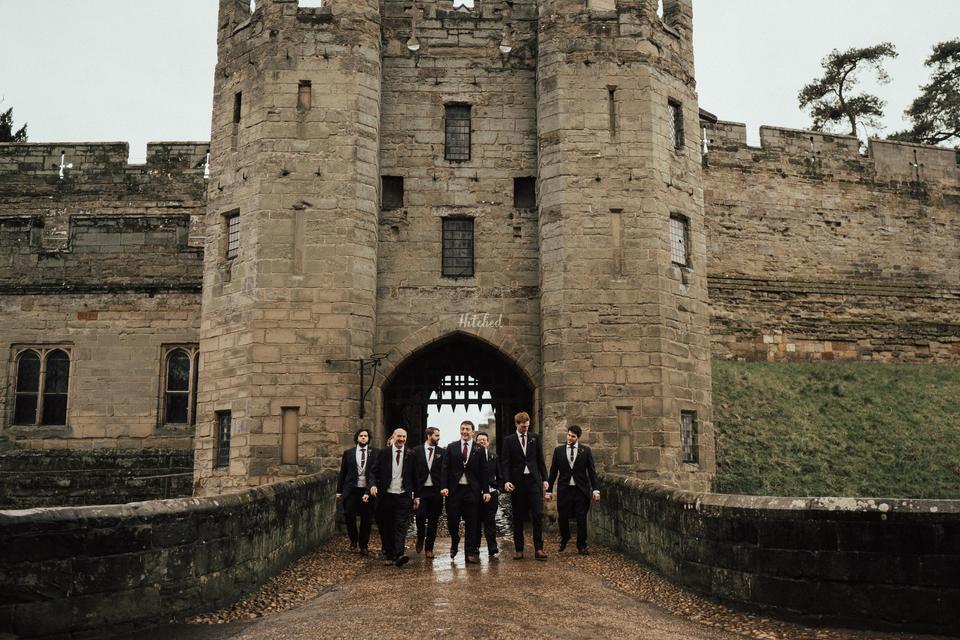 We couldn't do a roundup of the best Warwickshire wedding venues without adding Warwick Castle now could we?
Regal and romantic, ceremonies can take place in the castle itself or outdoors in the beautiful gardens.
After you've exchanged vows, you and up to 120 guests can feast on a delicious banquet in the Great Hall before retiring to one of their Tower Suites for an overnight stay.
If you'd rather a more intimate affair, the State Rooms are an ideal setting. Think gold framed oil paintings, grand fireplaces and crystal chandeliers. It truly is one of a kind!
Deals: Winter weekday wedding packages available between October 2023 and March 2024 from £11,200 for 50 guests.
Pricing: From £7,200
Capacity: Up to 120
19. Billesley Manor Hotel - Alcester
If you're after a wedding venue in Warwickshire that's a little more traditional, Billesley Manor Hotel is a Grade II listed Elizabethan manor that will take your breath away.
There are three fabulous function rooms, including the Great Hall that can hold up to 110 guests.
As well as exquisite interiors, this wedding venue also boasts a 100-year-old topiary garden. Its landscaped flower beds and manicured hedges make the perfect place for you and your partner to take stunning wedding photographs.
Plus, there are are a whopping 72 bedrooms available for overnight stays, so all your loved ones can lay their heads in luxury.
Deals: Nearest and dearest wedding package for up to 40 guests from £3,000.
Pricing: Menus from £135
Capacity: Up to 110
20. Twycross Zoo - Atherstone
When you tell your guests you're getting hitched at a zoo they might not believe you, but thanks to Twycross Zoo in Atherstone, Warwickshire, you actually can!
As you take a walk down the aisle, you'll be walking on the wild side too, sharing your special day with over 800 animals. You can even take a private tour or have a personal animal encounter.
This wedding venue has a whole host of unique locations for drinks and your evening reception including the Gibbon Forest enclosure and the Himalaya with views of the snow leopards. Your wedding day won't get more memorable than that!
Pricing: Menus from £115
Capacity: Up to 100
Want to expand your search? Check out the best wedding venues the West Midlands has to offer.