Will You Be My Bridesmaid? 42 Creative Ways to Pop The Question
Proposing to your best mates needn't be nerve racking – we've got 'will you be my bridesmaid' ideas aplenty, from candles to custom yoga mats to the cutest proposal cards you've ever seen…
We have included third party products to help you navigate and enjoy life's biggest moments. Purchases made through links on this page may earn us a commission.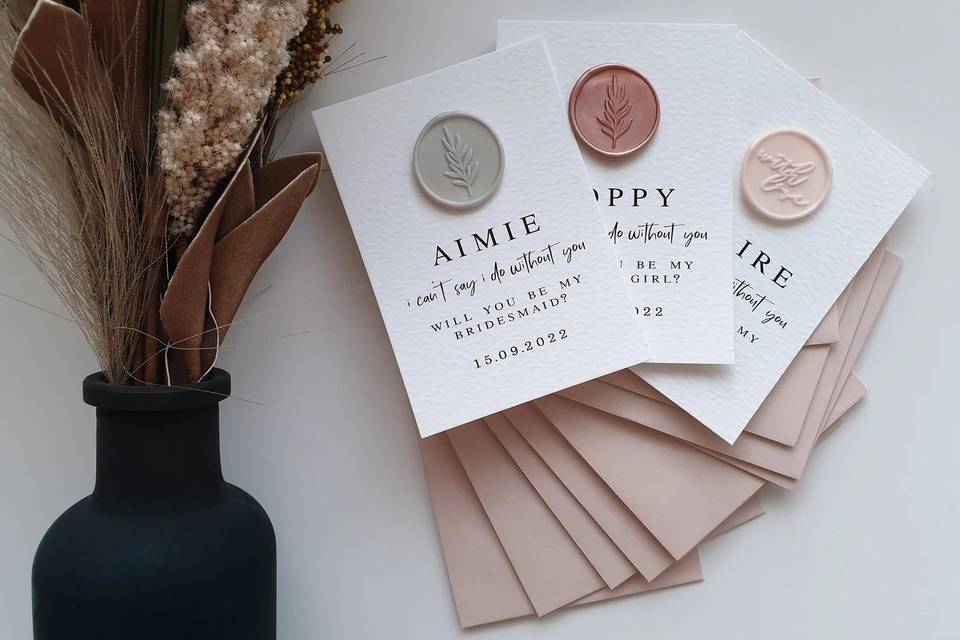 It might be that you've known precisely who your bridesmaids would be since your nursery days, or perhaps you've spent weeks or months agonising over the decision since getting engaged. Either way, once you've decided which of your pals you want to walk with you down the aisle on your wedding day, we're here to make asking the 'will you be my bridesmaid?' question extra special.
Whether you get the message across with a simple personalised card, edible proposal treat or a meaningful keepsake, there's no shortage of ways to show how much your bridesmaid-to-be means to you. You could keep it classic with stationery, tasty by way of monogrammed iced biscuits or arty with a hand-painted vase. There's something for everyone in our 'be my bridesmaid' ideas edit, so get browsing and pick the perfect bridesmaid proposal method for your mates.
'Will You Be My Bridesmaid?' Gifts
1. Bridesmaid Knot Earrings – £18, Wue
Both literal and sentimental, these 'tie the knot' earrings are subtle enough to be to every bridesmaids' taste and are as apt for the office as they are the aisle. They are available in various sizes and can be dipped in gold if that is more to their jewellery taste.
Pros & Cons: Make sure to check that your bridesmaids have their ears pierced for this gift. If not, a 'will you be my bridesmaid?' bracelet will work just as well.
2. Pink Alphabet Travel Jewellery Box – £14.50, Oliver Bonas
A monogrammed home for earrings and trinkets that'll travel beautifully to the hen do, wedding and beyond – she can't say no to this. The colours are super vibrant and it's a gift that she will really appreciate as it is so practical.
Pros & Cons: As this gift doesn't directly ask 'will you be my bridesmaid?' we recommend popping a bridesmaid proposal card in with it to so there's no confusion. Add this jewellery box to your basket pronto to avoid the initials you need selling out.
3. Pink Alphabet Travel Jewellery Box – £14.50, Chips & Sprinkles
This message in a bottle is a fun way to pop the question. You can send it directly to the recipient so it'll arrive at their door for a special surprise. It's a really quirky way to ask your bridesmaids if you are looking for something different.
Pros & Cons: Be careful when storing this gift as it is made from glass, however it comes in a nifty gift box so it won't break in transit.
4. Will You Be My Bridesmaid Candle – £15.99, Kindred Fires
Beautiful calligraphy isn't the only means by which to personalise this soy-based candle – you can pick from 12 scents, ranging from zingy pink grapefruit and basil to the very chill sounding 'tranquillity'. The apothecary style jar makes for brilliant makeup brush storage once the candle has burned down too.
Pros & Cons: The candle is crafted from natural soy wax making it suitable for vegans. It has a burn time of 24 hours so although it will eventually burn out, they'll get plenty of use out of it.
5. Personalised Pull Out Photo Album – £16, Sophia Victoria Joy
This cute pull-out photo album includes a secret message hidden in the bottom of the box which, along with a reel of artfully selected photos of you both, will get your proposal intentions across loud and clear. It's the ideal size to fit in a bag or pocket.
Pros & Cons: To make this gift extra sentimental we recommend picking out photos that mean a lot to you and your bridesmaids - if you've been friends for years, old memories are a great idea. This will take a little longer than just choosing your most recent snaps, but it'll be well worth it when you see their reaction.
READ MORE: Bridesmaid Gifts to Suit Every Budget
6. Personalised Blue and White Mandala Round Beach Towel – £32, Hitched Shop
Whether your photo album features beach pics or not, this statement monogrammed round beach towel will inspire you to create some! If you and your pal are beach bums (or you're planning a beach wedding), this will make the perfect bridesmaid proposal gift.
Pros & Cons: This towel comes in nine different designs - we love the idea of mixing and matching if you are having a few bridesmaids. One review stated that it was larger than expected so it could also be used as a bath towel.
7. Hidden Message Mug – £16, The Letter Loft
Invite your best friends over for tea and biscuits and see who is the first to finish their drink and unveil the special message hidden at the bottom of the mug. Good luck containing yourself if they're slow drinkers.
Pros & Cons: The mug has a plain design but this makes the surprise of a hidden message even more unexpected. It'll also easily fit into their current mug collection!
8. Personalised Rosé Wine With Spotify Playlist – £25, Mix Pixie
If you and your mate love nothing more than a catch-up over a bottle of crisp rosé, bringing along this bespoke labelled French cuvée to your next dinner or picnic date will impress her no end. A tailored Spotify code is also included so that you can 'propose' to a soundtrack of your choosing.
Pros & Cons: This is an easy-drinking rosé with an aroma of crushed berries and a burst of fruit. For an additional fee, a personalised song can be added to the playlist.
9. Infinity Knot Bangle Botanical Bridesmaid Gift – £16, Junk Jewels
Not only is this a super-sweet message, the Junk Jewels at Not on the High Street bangle makes for a great on-the-day accessory for your 'maids to rock. We adore the pun and bet your bridesmaids won't be able to stop smiling when you gift them this.
Pros & Cons: You can choose from rose or yellow gold, or silver to suit your bridesmaids jewellery colour preferences. The bangle is adjustable in size but be gentle when re-sizing.
10. Dalmatian Dot Personalised Makeup Bag – £12, Hitched Shop
Very likely to become an everyday day staple for your BFFs, this dotty zipped makeup pouch can be personalised with a rainbow of colours or metallic thread. It'll take pride of place on her dressing table and remind her of you every time she whips out her mascara of a morning.
Pros & Cons: This bag is best suited for storing makeup as it might be a little small for larger toiletries.
11. Bridesmaid Perfect Pouch – £17.99, Katie Loxton
Whether used as a clutch or jewellery pouch, this roomy bag can be personalised with each bridesmaids' initials and is also available in several other shades if you want to match your wedding colour palette.
Pros & Cons: Katie Loxton is an affordable yet luxe brand - your bridesmaids will be very impressed with these. Reviews state that they come very nicely packaged.
12. Bridesmaid Foiled Notebook – £13.95, Martha Brook
Pick from six pastel hues and three tones of metallic foiling to make this bridesmaid notebook even more personal – why not pop the question on the very first page as a personalised message can be added for free.
Pros & Cons: You can choose from lined or blank pages. A gift wrapping service is also available for an additional fee.
13. Will You Be My Bridesmaid? Personalised Papercut – £22, The Portland Co
Another way to say it with paper, this time with a framed leafy artwork featuring your bridesmaid's name and the date that you asked her to walk with you down the aisle (or perhaps featuring your wedding date if that's already in the diary).
Pros & Cons: This gift is not only unique, it will make a gorgeous addition to her home. It will cost extra to have it framed but it will ensure the delicate paper doesn't get damaged.
14. Personalised Satin Pyjama Sleepwear Set – £31, Hitched Shop
A silky, roomy shortie PJ set that she'll wear again and again, not to mention on your wedding morning. You can choose from different colours and prints and initials can be sewn on in a huge array of shades to truly tailor each set to the maid in question. Discover more bridesmaid pyjamas here.
Pros & Cons: As this set comes with short, they can be worn overnight as your maids won't get too warm. If you want an oversized fit, we recommend sizing up.
15. Custom Yoga Mat with Floral Monogram – £35, Hitched Shop
Cushy, monogrammed and non-slip, this classic yoga mat will go down a treat if your bridesmaid-to-be loves her daily flow. Perhaps incorporate a yoga class into your 'will you be my bridesmaid' proposal plans and roll it out beforehand for a nifty surprise. She'll think of you every time she salutes the sun.
Pros & Cons: This yoga mat is conveniently foldable but is best suited to be given to your bridesmaids when you don't have too far to travel as it won't fit inside a small bag.
16. Personalised Glass Tea Infuser Travel Mug – £41, Hitched Shop
Present this personalised infuser mug full of her favourite brew and ask her to be your bridesmaid over a cuppa – it'll be a tea break that you both remember for life, that's for sure. The flask is double insulated to keep tea hot or cool, as she prefers.
Pros & Cons: The steeper is stainless steel and re-usable making it much better for the environment than alternatives. Hand-wash this mug to ensure the monogram stays in perfect condition.
17. Personalised Wedding Letterbox Biscuits – £25, Biscuiteers
Accompany a steaming mug of tea with some decorative bespoke biscuits. If you don't leave near your bestie but still want to make their bridesmaid proposal special, these biscuits can be delivered through their letterbox.
Pros & Cons: These are technically intended to be an engagement gift but given that you're essentially proposing to your mate, the vibe applies.
18. The Hadley Dried Flower Bouquet – £38, Bloom & Wild
A celebratory dried flower bouquet that'll last, this gorgeous bunch combines spray roses, poppy seed heads, lavender and linum to joyful effect. You could even use it as inspo for your bridesmaid bouquets as you plot with your BFs.
Pros & Cons: Every stem is unique so sometimes colours vary or they'll need to use a substitution but this means you'll get the best bouquet that is completely custom.
19. Girl Power Vase – £42.99, Trouva
Flower power, but make it feminist. This vase is available in a variety of skin tones and will look striking whether it's presenting a single bloom or a delicate bunch. If you'd like to make a statement when asking your best pal to be by your side on your wedding day, this will fit the bit nicely.
Pros & Cons: Wrap this gift up carefully while travelling - it's made from fragile hand painted ceramic. It's a stunning symbol of love and strength.
20. Large Personalised Colour Block Canvas Fabric Tote Bag - £25 , Hitched Shop
Chic, roomy and handy for everything from supermarket trips to girls holidays, this neat bag will be appreciated almost as much as you doing the asking in the first place. Slip a bottle of fizz in there beforehand to up the ante.
Pros & Cons: The monochrome design is ideal for minimalistic bridesmaids. The bag doesn't have a sturdy base, but this means it can easily be folded and taken on trips.
21. Organic Cotton Hanky: It's You + Me Babe – £16, Nicola Rowlands
Mop up those post-proposal tears of joy with this extremely cool embroidered hanky. She can chuck it in the wash and have it ready for your wedding day too – let's be real, at least one of you is going to need it.
Pros & Cons: For best results they recommend air-drying but if you are in a rush they can be popped inside a tumble dryer.
22. Pink Champagne Truffles – £10, Hotel Chocolat
Pop the question with these milk chocolate and Marc de Champagne truffles for a sweet way to let your feelings be known. They are an indulgent flavour that is perfect for a special occasion and the hammered rose gold tin is a keeper too.
Pros & Cons: You can't go wrong with chocolates and although this gift is likely not to last long, we don't think your bridesmaids will mind.
READ MORE: Creative Ways to Announce Your Engagement
23. Personalised Prosecco – from £22.99, Getting Personal
Because she'll need something to wash down the chocolates with, right? It may as well be this personalised prosecco from Getting Personal. It's a fail-safe option that is super thoughtful too as they can keep the bottle and open on a special occasion. We're thinking of the hen party...
Pros & Cons: The label is scratch-resistant so you don't have to worry about the message fading or getting damaged. There is a luxury gift box option available which we recommend for a safe arrival.
'Will You Be My Bridesmaid?' Cards
Funny 'Will You Be My Bridesmaid?' Cards
24. 'You'd Look Good in a Frock' Card – £4.25, Wordplay Designs
Colourful and tongue in cheek, this simple card gets the message across with a smile. It is printed on pearlescent card giving it a luxury and high quality finish.
Pros & Cons: You can buy these in packs which will save money if you are asking several bridesmaids. This card is best suited for bridesmaids with a dry sense of humour.
25. 'Now Act Surprised' Card – £2.30, Etsy
Beautiful calligraphy with a to the point tone, if your bridesmaid's not one to beat about the bush, she'll love this card. This is an ideal card if you know your bridesmaids are expecting you to ask, but you still want to make the proposal special.
Pros & Cons: This card gives you the option to choose between many titles, including bridesman, maid of honour and chief bridesmaid.
26. 'Pinterest Board' Proposal Card – £5.60, Etsy
If you've been planning and pinning your wedding day for years, asking your best Pinterest pals to be your bridesmaids makes total sense. This card from Etsy is ideal for you.
Pros & Cons: The rustic look to this card is perfect for laid-back and relaxed brides. It's one of the more expensive picks but the quality is five-star.
READ MORE: 13 Things That Happen to Every Couple After Getting Engaged
Stylish 'Will You Be My Bridesmaid?' Cards
27. 'Will You Be My Bridesmaid?' Calligraphy Card – £2, Etsy
We adore this stylish 'will you be my bridesmaid?' card. The simple, elegant design is available in a range of colours so you can pick a shade to suit your big day. You can also pick from different envelopes, including soft pink, metallic silver and pearlescent.
Pros & Cons: This minimalistic design is super versatile but if it's a little too plain for your taste, it can easily be customised at home with pens, ribbons and glitter.
28. Bridesmaid Scratch Card – from £4.03, Etsy
Take your gals to dinner, present them with this fun card and see who scratches off their message first. This card is certainly stylish with the gorgeous floral design but the scratch element keeps it playful. The suspense...
Pros & Cons: We adore the level of detail that has gone into the floral illustrations and love the matching envelope.
Personalised 'Will You Be My Bridesmaid?' Cards
29. 'Will You Be My Bridesmaid' Card – £3.95, Farrah & Eve Paper Co
There will be no mistaking who this card is for – the huge loopy script ensures that this card (and your proposal) is all about her. It's a sophisticated and chic design that is a fail-safe option if you can't decide which card to go for.
Pros & Cons: There is only the option to go for rose gold but we think this is a great choice and rose gold is totally on trend at the moment.
30. Bridesmaid Proposal Card with Wax Seal – from £3.20, Etsy
An individual wax sealed card feels so regal - choose from five shades of wax and customise everything from names, to dates, to the role of the recipient. This card is a best-seller for a reason!
Pros & Cons: Everything about this card feels special - from the wax seals to the textured card and luxe-looking lettering. One review stated that they are slightly smaller than expected, but this makes them ideal for slipping into a pocket or bag.
31. Illustrated Bridesmaid Proposal Card – from £2.95, Etsy
A picture paints a thousand words but this illustrated depiction of you and your best mate combines both to meaningful, magical effect. Include details of hair colour and style, skin tone, accessories, and even robe colours, alongside a unique message, and sit back and wait to receive your masterpiece.
Pros & Cons: This card is a really thoughtful option - your bridesmaids could even have them framed and put in their home. If you want to save money, have this sent as PDF file and print them yourself.
'Will You Be My Bridesmaid?' Box
32. Will You Be My Bridesmaid Personalised Gift Set – £30, Team Hen
An affordable bridesmaid proposal set that goes to town on pink, this kit will afford your maid some hen party planning time in the run-up to the hen do. A notebook and 'diamond' pen are perfect for relaxed evenings spent planning while a beautiful bridesmaid candle will remind her of you every time she lights it. Discover more bridesmaid proposal boxes here.
Pros & Cons: You don't want your bridesmaids to feel stressed with hen party planning when they open this gift, so remind that your looking forward to the planning without putting on pressure.
33. Rose Gold Surprise Box Set – £12.95, Etsy
Start your bestie's bridesmaid journey off with a bang with this adorable rose gold balloon message box. The set features white satin ribbon, three confetti pouches, and pre-filled surprises, plus blank cards so you can customise your mischievous gift box as you please.
Pros & Cons: This is a really unique way to propose to your bridesmaids that we bet they won't be expecting. It might make a rather loud bang when popped so we would pre-warn those around us!
34. Bridesmaid and Maid of Honour Gift Box – £30, Studio Hop
There's no better way to start off your wedding experience than making your bridal party feel special. This bridesmaid proposal box has a number of customisable gifts, including an eye-catching set of hair slides and a charming knot bracelet. You have the option to choose from a bridesmaid or a maid of honour proposal box.
Pros & Cons: Each box contains a variety of gifts that will suit all personalities which is great as you can't swap any items out. For example, if they don't wear makeup and the sponge won't be their thing, they may like the notebook or compact mirror.
35. Bridesmaid Proposal Gift Box – £12.50, Etsy
Almost too pretty to unpack, this bridesmaid proposal box from All Bits Printed can be filled with gorgeous treats that are guaranteed to get a 'yes' from your girls. You can choose from a range of lettering colours and job role, including maid of honour, bridesmaid and flower girl. Start collecting lovely things like a diamond ring-inspired pen, a bottle of sparkling wine and cute flip flops, so they'll be ready for any situation!
Pros & Cons: This proposal box might take a little longer to create but it'll be well worth it in the end as you can customise it with gifts that are completely personal to your loved ones.
READ MORE: Bridesmaid Duties Explained
36. Bridesmaid Proposal Box – from £9.99, Etsy
Looking for a cute way to propose to your bridesmaids? A present wrapped in this box is sure to make them feel special! Choose from a large or a medium box and a number of titles, including chief bridesmaid, mother of the bride or groom and matron of honour.
Pros & Cons: This is a brilliant bridesmaid proposal box idea if you are looking to stick to a tight budget. You don't have to fill it with expensive items, a few thoughtful gifts will be really appreciated. It is a simple style that will suit all tastes.
37. Personalised 'Will You Be My Bridesmaid?' Proposal Gift Set – £26.99, Etsy
How gorgeous is this personalised bridesmaid proposal box from Just Beautiful Gifts at Etsy? Featuring everything your 'maid will need for a relaxing pre-wedding pamper, she can indulge with bath fizzers, chocolates, hand cream and lip balm. Plus, she can pop on the badge for both the hen do and the morning of the wedding and she won't need to worry about buying confetti!
Pros & Cons: If you are planning a big sleepover with your bridesmaids, this is the ideal box to give them. It's a great price for the amount of lovely gifts they'll receive.
READ MORE: What Does a Maid of Honour Do?
38. 'Will You Be My Bridesmaid?' Gift Box – £24.99, Etsy
Your bridesmaids deserve to be pampered, and this luxurious gift box is a good place to start! It features a face mask, bath salts, wax melts and some sweet treats for your crew to enjoy an indulgent night in. It even includes a bridesmaid sash that they can don to your hen party!
Pros & Cons: All beauty products included in this box are natural and made from organic ingredients. The chocolate bar is Galaxy so might not meet all dietary requirements - if this is the case it is super simple to swap it out!
39. Personalised Wooden Bridesmaid Proposal Gift Box – £25, Hitched Shop
Just like our mates, we're sure sometimes the only way to your girls' hearts is through a nice glass of rosé. Throw in a keepsake box and a personalised glass from the Hitched Shop and they'll be all yours!
Pros & Cons: This box comes empty so you can really cater it towards any budget - whether you're going all out with a bottle of bubbles or sticking to what you and your friends know and love!
40. Personalised Bridesmaid's Hamper – £32, Mix Pixie
For something a bit different, why not gift your bridal party a stunning bouquet of dried flowers? This luxurious gift box features a bottle of Champagne and a sweet-smelling candle with personalised labels for an elegant touch. You can also opt for a full-sized of mini bottle of prosecco to keep costs down.
Pros & Cons: Your bridesmaids will be able to keep the dried flowers as a lovely keepsake of this special moment. They could even bring them along to the wedding day!
41. Personalised 'Will You Be My Bridesmaid?' Gift Box – £32.99, Etsy
Who wouldn't love this scented candle, prosecco glass, bracelet and makeup bag set? Each item in the box from Monkey Business at Etsy can be personalised with the name of your bridesmaid, making them perfect keepsakes.
Pros & Cons: This box doesn't contain anything that is perishable so you can buy them well in advance. If you like to be organised, it is the perfect pick!
42. Personalised Luxury Will You Be My Bridesmaid Gift Box – £39.95, Martha Brook
Martha Brook are well-known for their luxurious and gorgeous wedding accessories, gifts and more. This gift box is filled with a personalised notebook, trinket dish, card and pen. The box itself is also fabulous, and sturdy enough that every item will stay in tip-top condition.
Pros & Cons: This is one of the more pricey bridesmaid proposal box ideas but it's well worth every penny for how special it is. If you are only having a few bridesmaids, it's a great choice.
How to Ask 'Will You Be My Bridesmaid?'
'Proposing' to your bridesmaids can be as out-there or a relaxed as you like - if you don't want it to be a huge event, or you are sticking to a budget, giving your loved ones a small gift or a card is a sentimental and thoughtful gesture. We love the idea of inviting them over for a night-in or going out to dinner and then asking.
Bridesmaid proposal boxes are also a popular choice as all the hard work is done for you and there are so many options to choose from. You'll find boxes filled with personalised stationery, pampering products and even bottles of fizz. However you ask 'will you be my bridesmaid?', your pals are bound to be so excited!
How Soon Should You Ask Someone to Be Your Bridesmaid?
There are no rules when it comes to when you should ask someone to be your bridesmaid, but we recommend between a year and eight months before the wedding as you'll want to give them time if they are planning a hen do. It is also nice for them to know before you go wedding outfit shopping.
As soon as you know who the special people are that you want to ask, there's no harm in letting them know and the chances are they might already suspect the news is coming.
Browse even more bridesmaid gifts or start looking for your perfect bridesmaid dresses in our bridalwear section