26 Incredible Black Wedding Cake Makers You Need to Follow
Warning: this article will make you want cake *immediately*. We've rounded up the best Black wedding cake makers across the country and their jaw-dropping designs - prepare to become obsessed.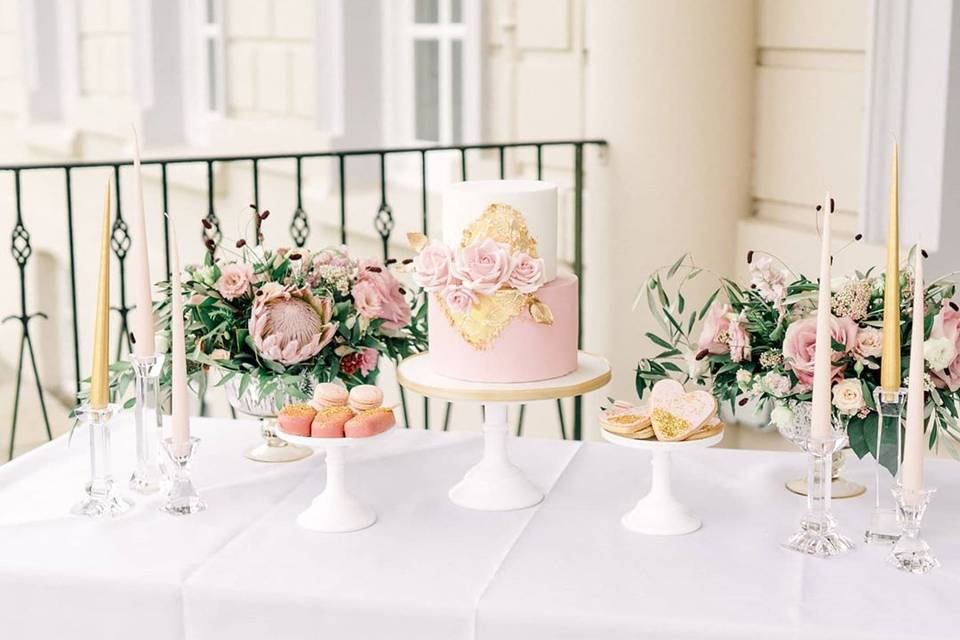 Whether you go simple or showstopping, classically elegant or contemporary cool, every couple needs a delicious wedding cake on their big day. Cutting the cake is one of the most cherished traditions and you'll want a beautiful cake that looks as good as it tastes.
Shaking up the cake world with innovative flavours, intricate designs and romantic arrangements are these incredible Black cake makers from across the UK. We've rounded up our pick of the most talented bakers, with a flair for flavour and an eye for detail.
With weddings currently restricted to 15 people, you'll find they're just as amazing at making bijou cakes as they are at grand creations. Follow these cake makers on Instagram (we've linked their pages by their names) or click on the photo to go through to their websites. You can order cake tasters (the best part of wedding planning) straight to your door and browse all their glorious designs. Enjoy!
READ MORE:
With three Michelin star training, you know your wedding cake by Dinah is going to be a bespoke original with a luxury, creative finish. If you're looking for a cake which will also be a breathtaking part of the décor, look no further. And don't stop at the cake either - how about her macarons, cake pops, mini cupcakes, truffles, sugar lollipops or iced biscuits as favours?
The Hitched team can personally attest to Fen's delicious, elegant and modern, flavour-first bespoke cakes. She prides herself in making your vision come true and does not disappoint! Don't miss the amazing patisserie too, perfect as part of a dessert table.
Want a striking design that's almost too pretty to eat? Chrystal and Patrick create architectural masterpieces with stand-out colours and sharp edges. We're obsessed with their original flavours like pink peppercorn and raspberry, and tropical carrot cake.
If you want to brighten up your Instagram, immediately go and look at these couture floral wedding cakes. Adorned with vibrant blooms, sugar flowers, hand painted florals and textured buttercream, you won't want to cut into these incredibly beautiful designs (but they taste so good, you won't be able to stop yourself!).
READ MORE: 21 Small Wedding Cakes for Intimate Celebrations
Sewa is already full booked up until February 2021 which should tell you how in-demand her stunning creations are. Whether you want a vibrant, colourful design or an elegant, metallic-inspired cake, she's your go-to in London, Kent and Essex.
We're in love with luxury Cotswold cake maker Pia's gorgeous buttercream and semi-naked cakes which scream out for a chic, rustic barn wedding. She tops them with everything from edible flowers and herbs to 24ct gold leaf and pearls for an Instagram-worthy look.
Raspberry ripple; Biscoff buttercream and chocolate; red velvet and Oreo – mouthwatering contemporary cakes is the name of the game. Her marbling is second to none and you'd be foolish not to get Abigail's personalised marble fondant biscuits as favours too.
8. Den Bake Shop - @denbakeshop
Described as "buttercream cakes inspired by British flavours with a little Jamaican flex", Maxine is a one-woman team making stylish, organic, high-quality and seasonal cakes. Her flavours include drunken carrot cake, coconut and lime, and pistachio, almond and mango curd with everything made from scratch in her home kitchen. We're obsessed with her modern, square designs.
Founded by banker-turned-luxury-cake-maker Toyin, this multi-award-winning wedding cake company prioritises flavour and texture alongside spectacular design and incredible floral sugar work for truly romantic creations. Whatever size your celebration, Tees Bakery rises to the challenge.
Beyond luxury cakes, Krystle conjures amazing dessert table displays, with cookies, doughnuts and cupcakes that guests won't want to walk away from. Her aim is to create elevated versions of the delicious homemade cakes your mum made, bringing back a taste of childhood and the love that went into making them.
Owner Autumn's talents don't just extend to cake, but stationery and jewellery design too. It's why there's so much creativity in her design-led and delectable creations which feature plenty of colour and personality.
This family-owned, East London bakery truly enjoy making cakes, meaning your bespoke wedding cake will be created with love. Their team includes a graphic designer who will draw up innovative, showstopping designs according to your style and taste, and help bring your cake fantasy to life.
READ MORE: The 14 Best Vegan Wedding Cakes in London
Cake queen Elizabeth is a world renowned sugarcraft teacher so you can just imagine what her regal creations look like. As a preferred supplier to some of the best venues in the world, you can expect a jaw-dropping aesthetic (including edible jewels and pearls) combined with delicious flavour.
14. Delights by Cynthia - @delights_by_cynthia
A true cake artist, Cynthia makes jaw-droppingly creative designs with delicate sugar work, tempered chocolate, painted buttercream and even cool pomegranate geodes. Whether modern or classic, her cakes oozes style and personality.
Esther makes chic, refined cakes and is equally as talented with soft, pastel palettes as bold jewel tones, like emerald, sapphire and ruby. Her cakesicles, iced biscuits and macarons are perfect for extravagant dessert tables and favours.
Whether you want simple or grand and sophisticated, Adeniké knows how to make a showstopper. Her cakes will make a serious impact on your guests and she's at her best when working with vibrant colours and on-trend techniques. As well as fruity flavours, she has some delicious chocolate signature flavours, like Ferrero Rocher, white chocolate and raspberry, and chocolate orange.
17. The Small Slice Bakery - @thesmallslice
Harleigh set up her home bakery business in 2017 and creates classic and contemporary visually-stunning cakes. She's as adept at making galaxy and hot pink leopard print cakes as she is impressive drip wedding cakes, so go to her for sweet treats for your hen and engagement parties as well as your wedding day.
Luxury cake designer Alice is a wizard at making tall creations that burst with contemporary elegance. She also has a special talent for ombre cakes and we adore her stunning black and gold drip cakes that every guest will be Instagramming.
Award-winning London cake makers who make incredible marble designs - both in decoration and the delicious chocolate and vanilla swirled marbled cake inside! Their flavours are elevated classics, from rum fruit cake and banana cake to lemon curd and a chocoholic chocolate cake. True crowd pleasers.
Gorgeous, flavour-led wedding cakes with intricate floral and gold decorations. Mimi's cakes are romantic and eye-catching and perfect for a large wedding where they can take centre stage on a dessert table.
READ MORE: 63 Incredible Wedding Cakes to Inspire You
21. The Indulgent Sugar Plum – @ms_sugar_plum
A "cake architect" handcrafting modern, abstract, bold designs that inspire conversation. With vibrant colours, cool techniques, and work of art "concept" cakes, these are a one-of-a-kind luxury.
Elegant or whimsical, Jasmine can whip you up a gorgeous wedding cake and pretty sweet treats to accompany it. She names each of the cakes she has the honour of baking and you can choose from classic flavours or her secret garden specials for exotic, unique flavours.
Toyin offers breathtaking suspended wedding cake displays that hang from flower-adorned frames and create a real taking point! Her stunning marble cakes and precise icing handiwork make for centrepiece-worthy cakes.
If you want a dessert table, Pam's your lady for decadent macarons, cupcakes, patisserie, chocolates, cheesecake and, of course, eye-catching wedding cakes. We adore her all her styles, but the romantic pink pastel look is our favourite.
READ MORE: 18 Amazing Dessert Table Ideas
25. Sugar Tables London - @sugartableslondon
The team behind Sugar Tables design tantalising treat tables and customise candy and favours. If you want macarons, biscuits, meringue kisses, cupcakes, truffles and more with your wedding date on and in a spectacular display, this is where to look. They do an amazing vegan selection too so no-one will be left out.
26. Effie's Cakes - @effies_cakes
With current limits on guest numbers, you might be looking for a smaller wedding cake, and Effie excels with her stunning bijou designs. Her single tier cakes are buttercream-dressed beauties!
After more cake inspiration? Here's 55 fun and unique wedding cake flavours that your guest won't forget.