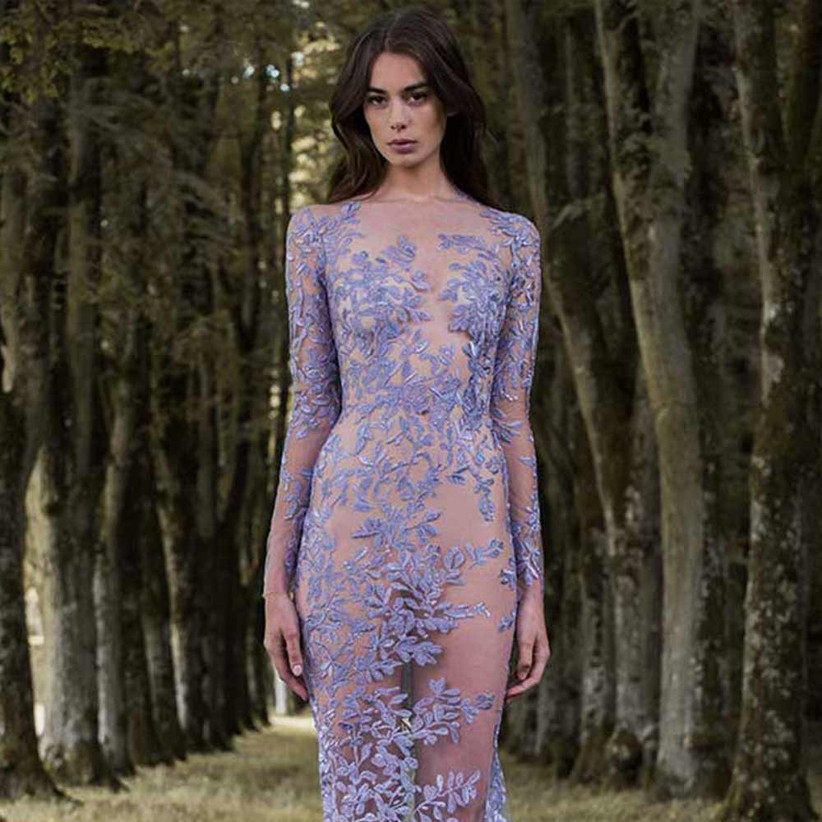 Brides want to look a lot of things on their wedding day: beautiful, elegant, classy, and also sexy.
Sexy bridal looks range from sheer material to short wedding dresses and plunging necklines that are to die for and we have the ultimate selection that will get your heart well and truly racing.
Will you dare to bare all?
Paolo Sebastian
Paolo Sebastian's Gilded Wings collection hit us by a storm and we couldn't help but share this design with you. The plunge neckline is incredibly sexy and a perfect addition to what is a beautifully elegant gold wedding dress. We love the cape aspect and the glamour that oozes from the dress as a whole.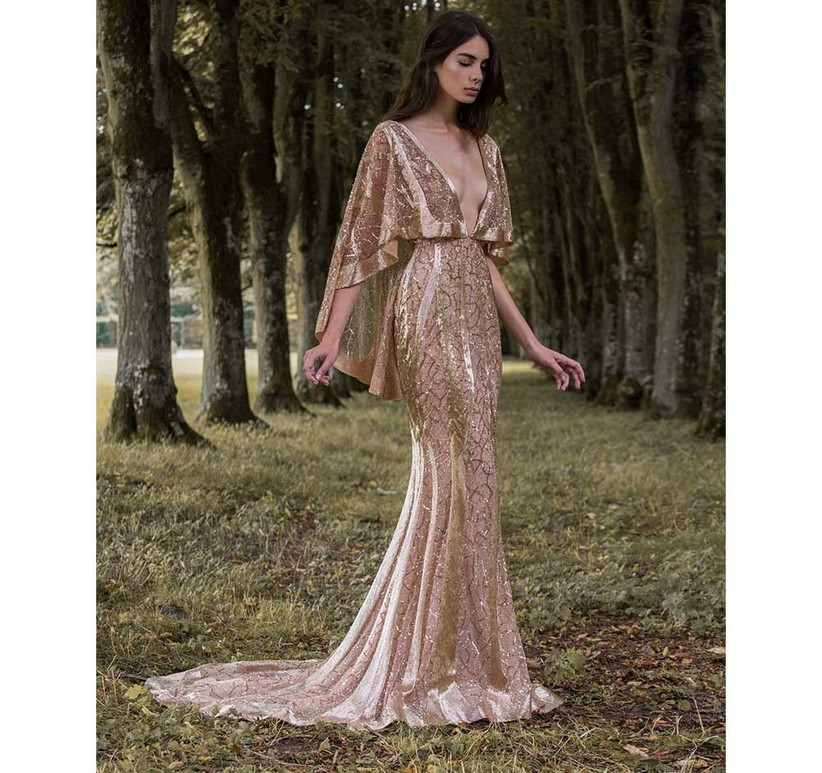 Photographer – Simon Cecere
Mira Zwilinger – Iris
Mira Zwilinger has created the ultimate winter wedding dress. The deep V-neckline is so racy and sexy – we just can't get enough of it. It takes a bride with real confidence to wear a style like this and we absolutely love the crisp colour.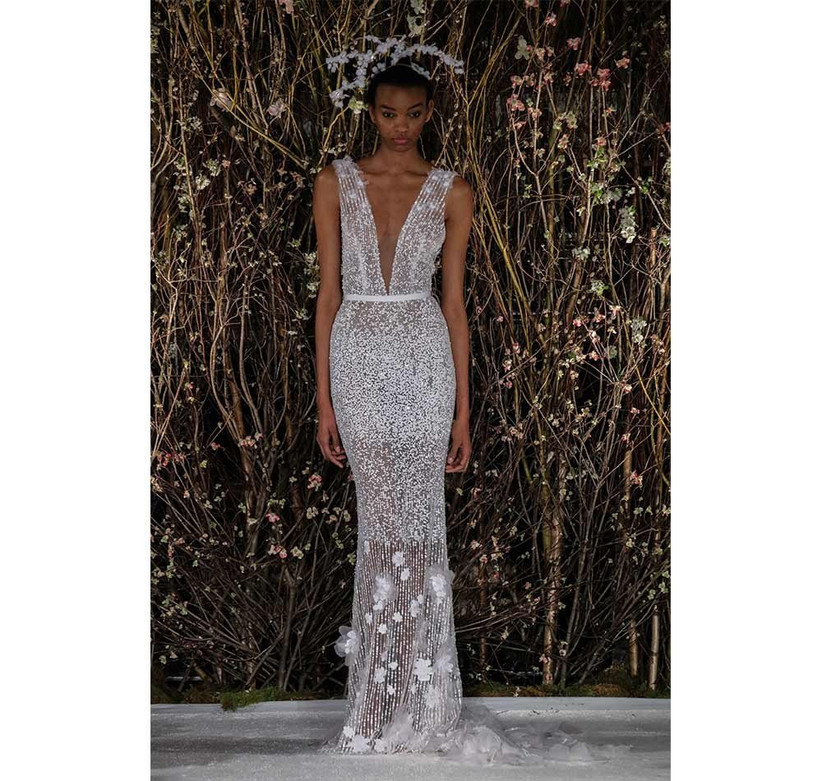 Elio Abou Fayssal
Being edgy in bridal isn't common, but it really should be. This couture wedding dress designed by Elio Abou Fayssal has a classic bridal shape, with a sheer front cut-out. The cross-hatch pattern and lace applique keep the modesty whilst still allowing the dress to stay sexy and different.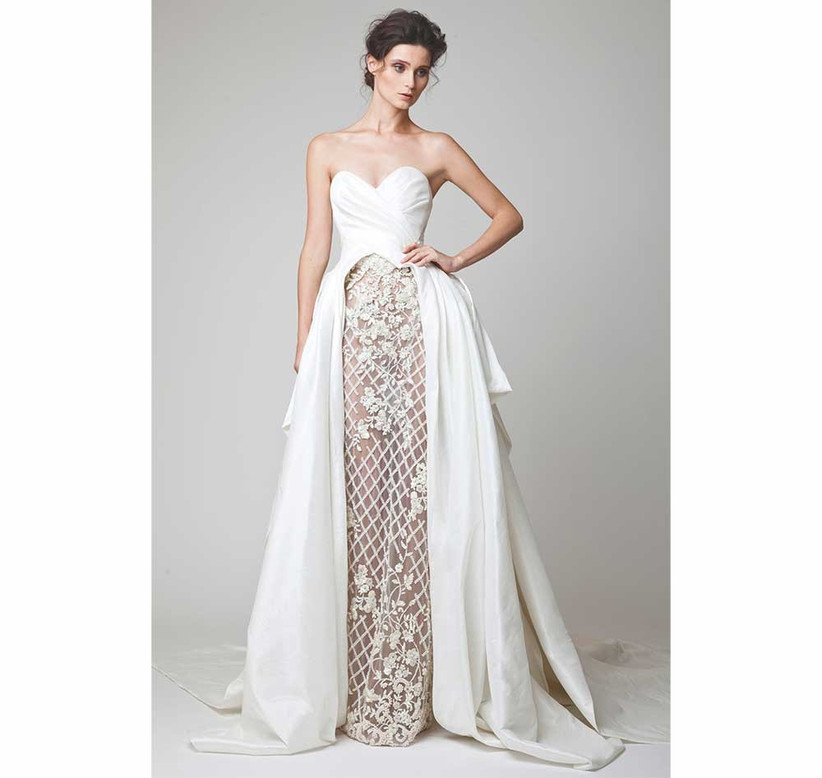 Francesca Miranda – Yoko
If you're looking for a wedding dress that will give you an enchanting midsummer night's look on your special day, Yoko by Francesca Miranda is your answer. The leafy sheer bodice is racy, yet pretty, and the organza skirt shines brighter than the sun.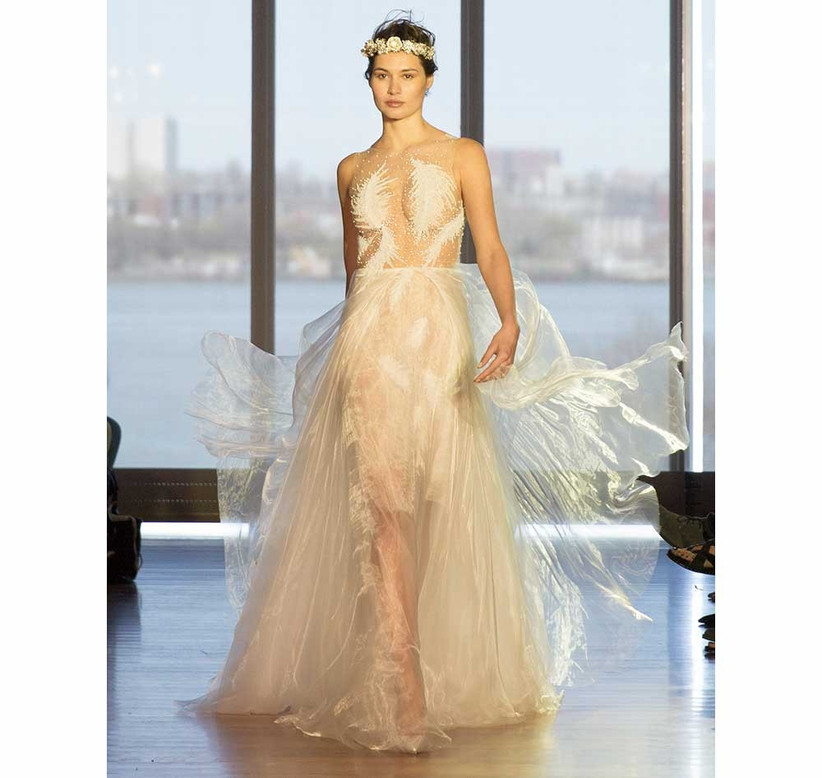 Claire Pettibone – Olvera
Brides who want to add a bit of colour to their wedding dress will fall head over heels for Claire Pettibone's design, Olvera. The bright flowers and low criss-cross back make it a sultry design that is still playful and feminine.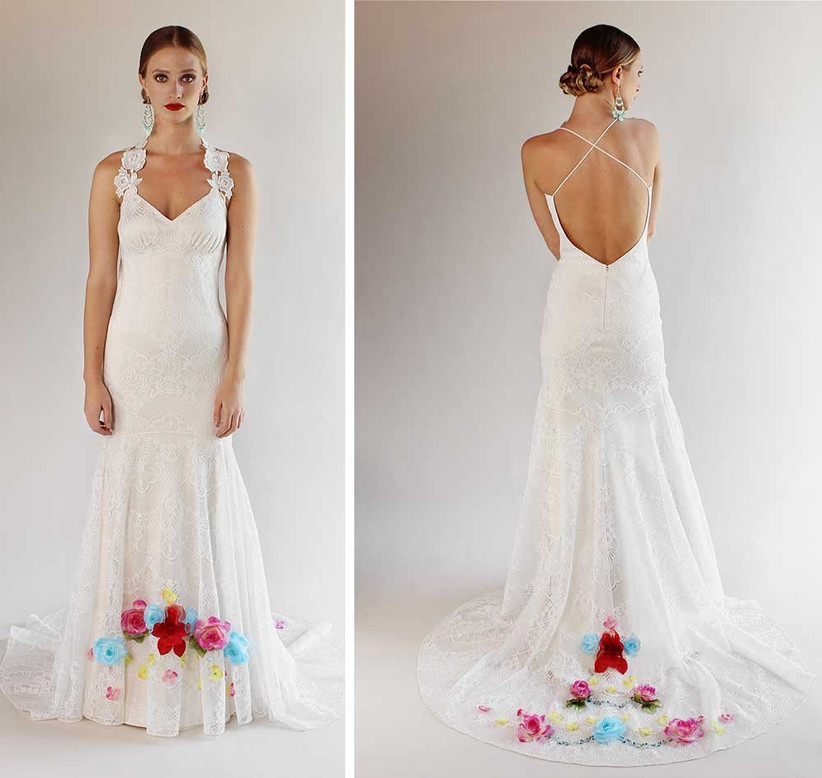 Mira Zwilinger – Betony
This floral wedding dress is made so feminine with the summery detail on it. The girly pattern is stunning yet super sexy as it is based upon a sheer body of material. It is seriously stunning and the strapless detail leaves a gorgeous amount of open chest for plenty of accessorising.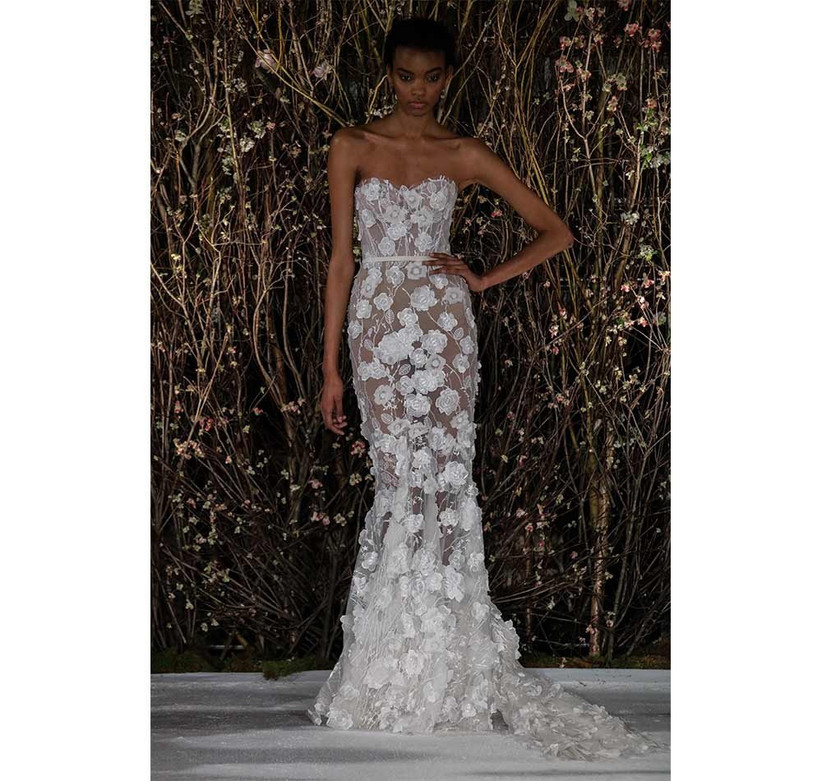 Ines Di Santo
It's all about the plunge with this mermaid wedding dress designed by Ines Di Santo. The sheer lace is a courageous style to wear, but it looks so stunning. The figure hugging design will have hearts racing on your wedding day for sure.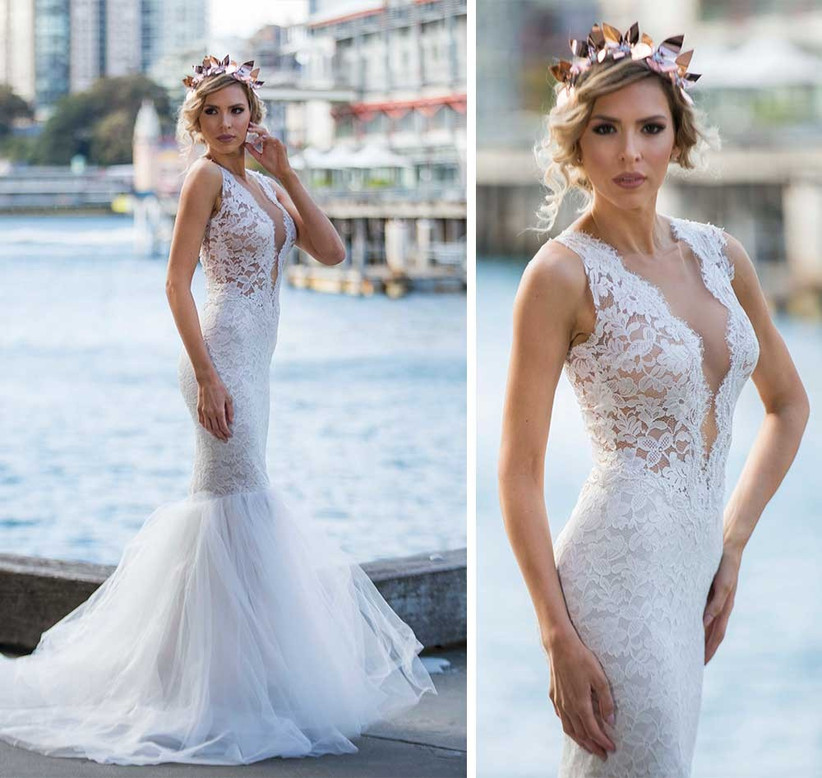 Paloma Blanca – Style 4714
What a stunning satin number we have here. Paloma Blanca has designed something that is worthy of a Hollywood bride and it's a beauty. Glamorous weddings are the perfect home for a dress like this and we would recommend dramatic makeup, red lipstick and a sleek wedding up-do to complete the look to perfection.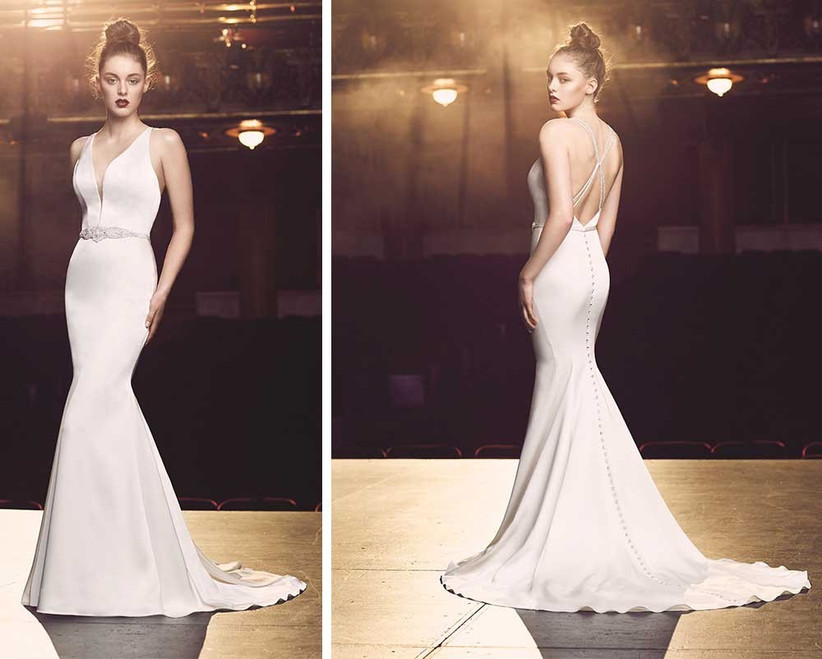 Paolo Sebastian
Fishtail wedding dresses always give off a really sultry shape that is so flattering, and this is a great example of that happening. The glamorous design is sported by a seriously daring neckline that adds so much to the dress. Your bridal look will go down in history if you grace your wedding day in this gorgeous gown.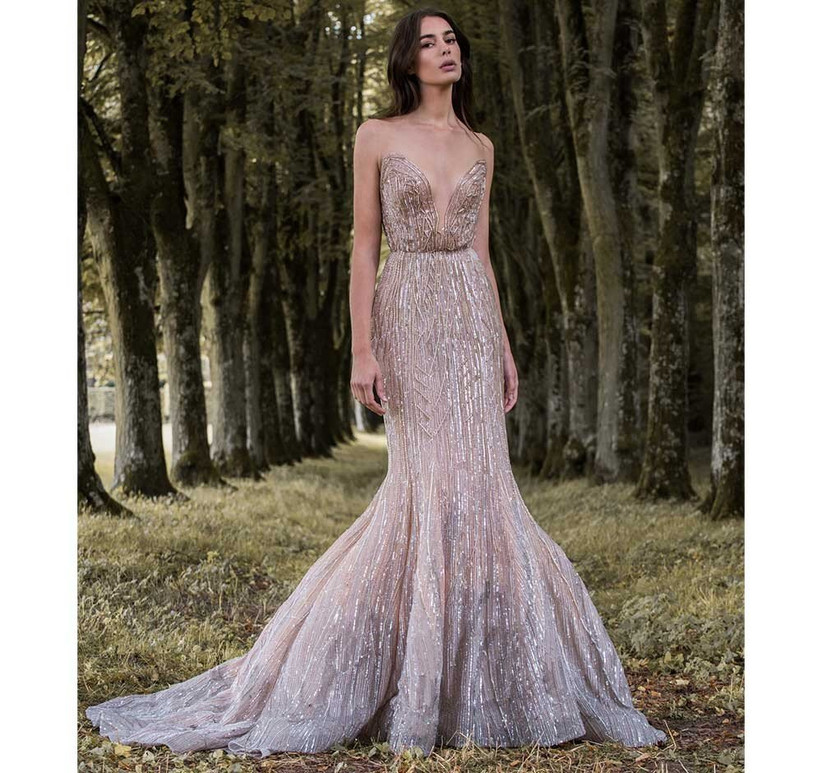 Photographer – Simon Cecere
Martina Liana – Style 773
Brides who love the look of thick lace will adore this beautiful gown by Martina Liana. The dense pattern mixed with a insanely pretty plunging neckline come together and result in a very appealing wedding dress that any bride would be lucky to own.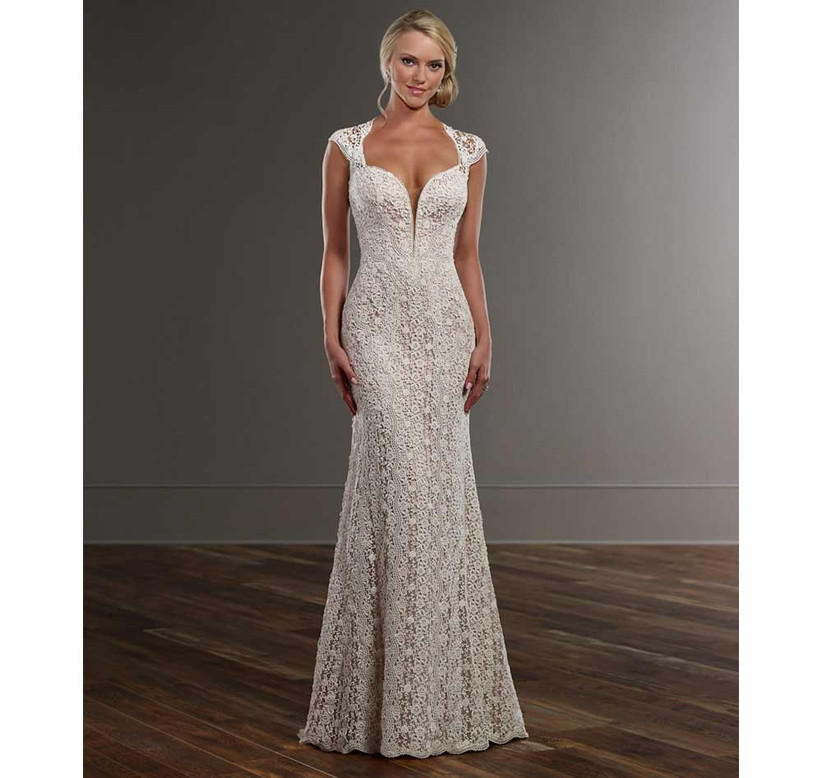 Mira Zwilinger – Annie
Fashion-loving brides who know style when they see it will know just how incredible this design is. The sheer dress is short, fun and funky in every single way. We love the high turtle neck and A-line shape – it's so chic.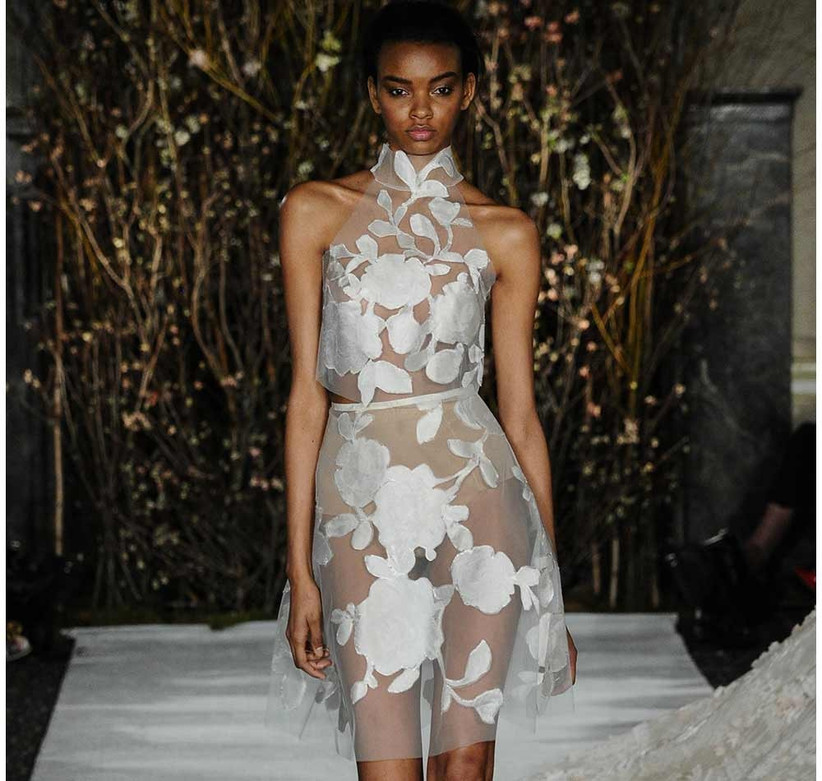 Elio Abou Fayssal
Short wedding dresses have the ability to be very sexy, and this stunning design does just that, but remains classy at the same time. We are obsessed with the jaggered hem and all over lace fabric – it is just stunning.
Ines Di Santo
Tulle, glorious tulle! The skirt on this wedding dress is full of volume and romance, and it is combined with a sheer lace plunge bodice that is daring and intricate. The beauty of this dress lies in the delicacy of the bodice, and the fact that it is matched with such a volume-filled skirt – we just love it.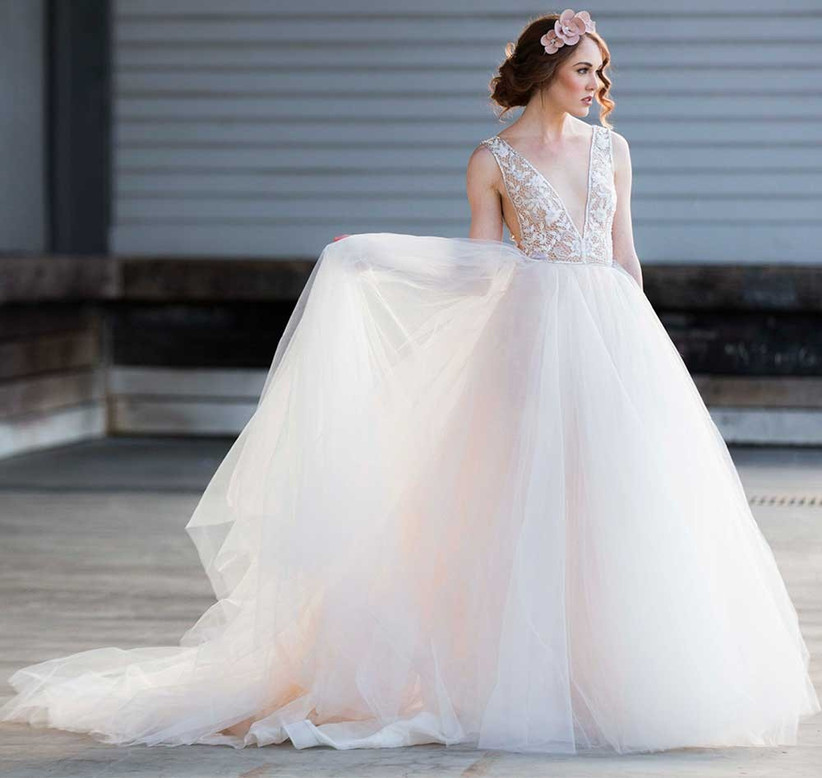 Paolo Sebastian
Will you dare to bare on your wedding day? If so, this coloured wedding dress by Paolo Sebastian could be the one for you. The wintery shade of blue gives it a magical feel and the waterfall sleeves are also a stunning addition.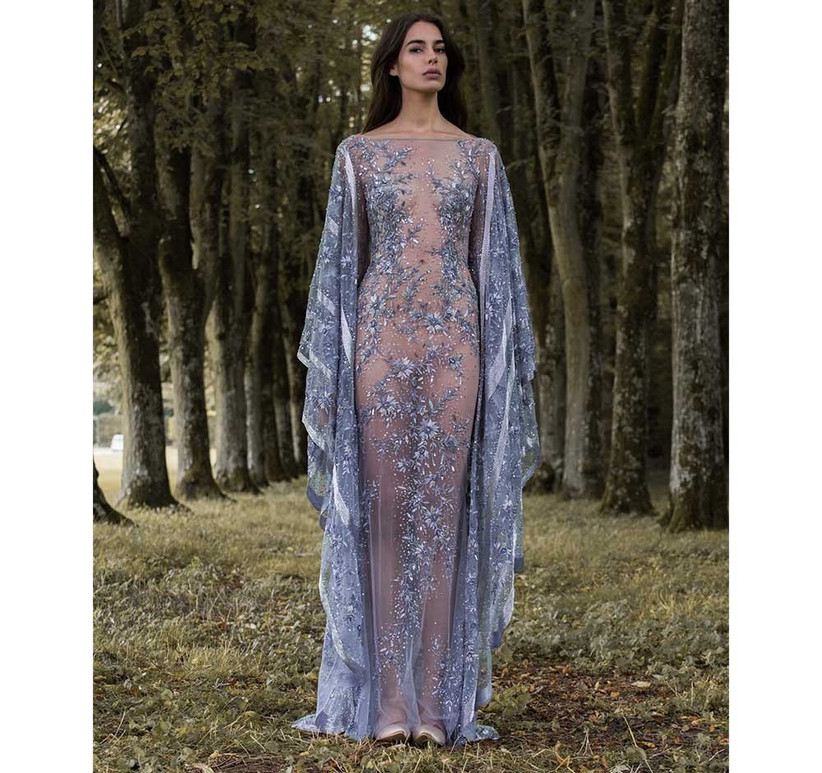 Photographer – Simon Cecere
Paloma Blanca – Style 4709
Sometimes less is more, and in this case, less is definitely more. The simplicity of this satin wedding dress is where its beauty lies. The lack of detail lets the shape to all of the talking and it is talking! Spaghetti straps are a delicate detail and help make this slinky, sleek dress as sexty as it could possibly be.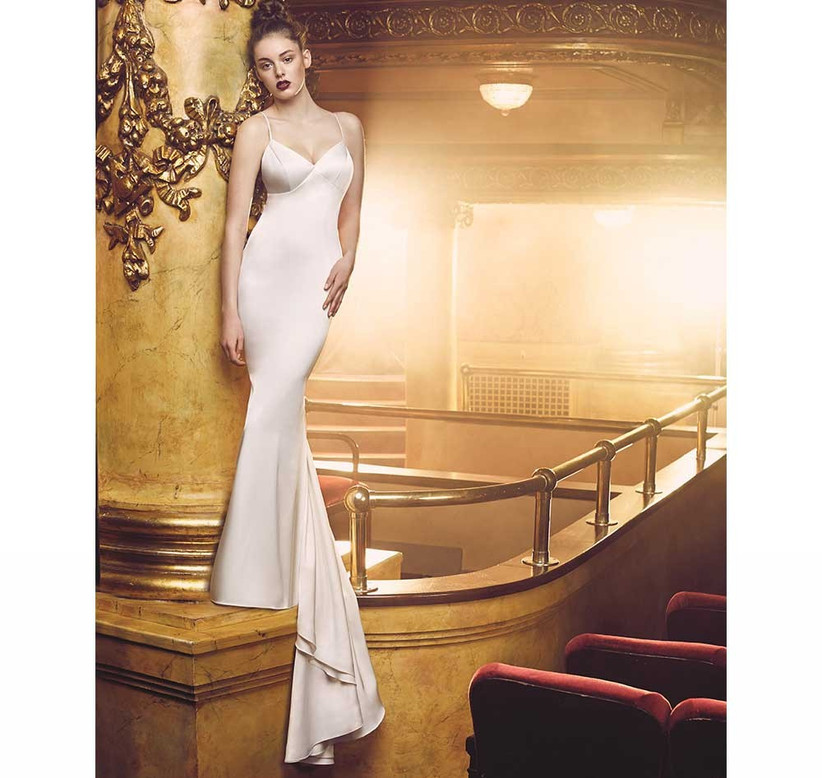 Mira Zwilinger – Calla
If you want enchanting, magical and feminne vibes from your wedding dress, this design could quite possibly be the one. The earthy detail in such a crisp white colour is so stunning and the sheerness gives it a desirable look like no other dress we've seen before.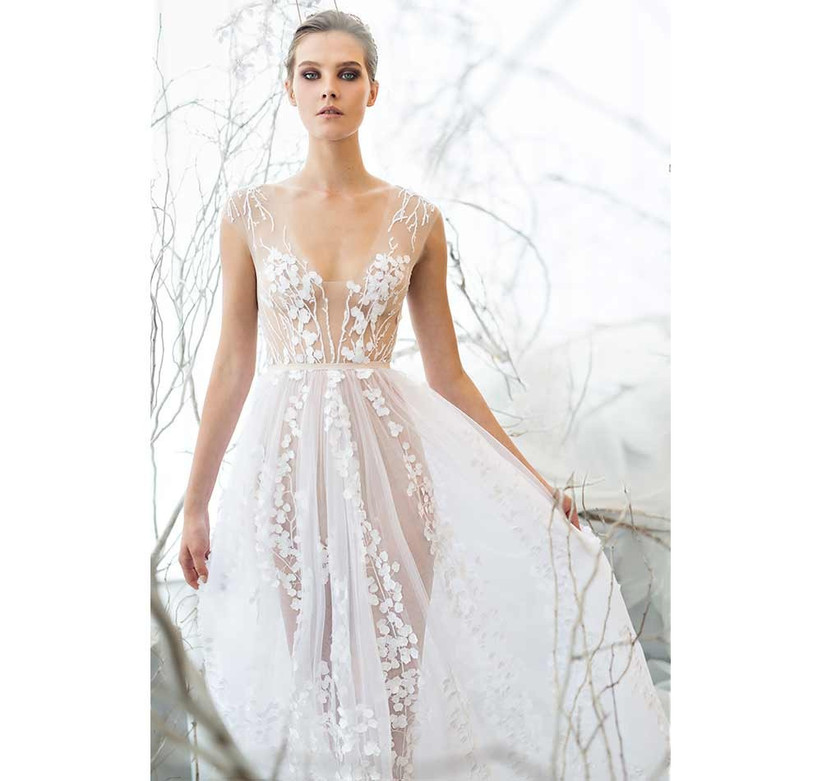 Elio Abou Fayssal
A huge trend in fashion this year has been body suits worn with sheer overlay, and we are so happy to be bringing it into this article. The silver and grey combo is stunning and no one can beat the sparkly hem detail. This is an outfit for brides who really are daring, and dream of a sexy wedding day look.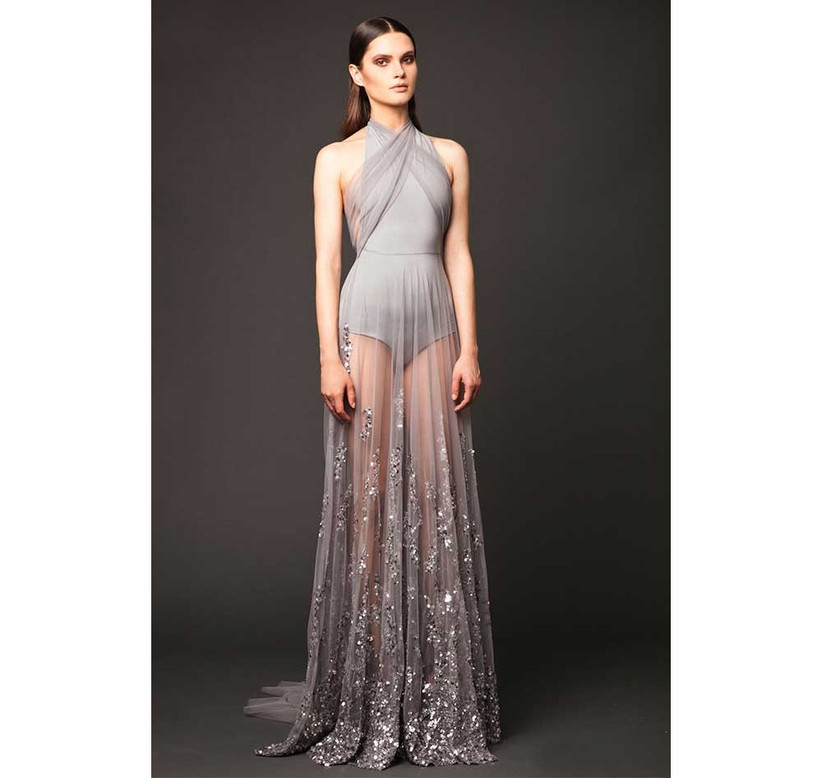 Claire Pettibone – Santa Monica
Lace wedding dresses have a certain elegance to them, and Santa Monica by Claire Pettibone is no exception. The stunning sheer lace back detail is out of this world and the fitted shape paired with a plunge neckline keep it sexy and sophisticated.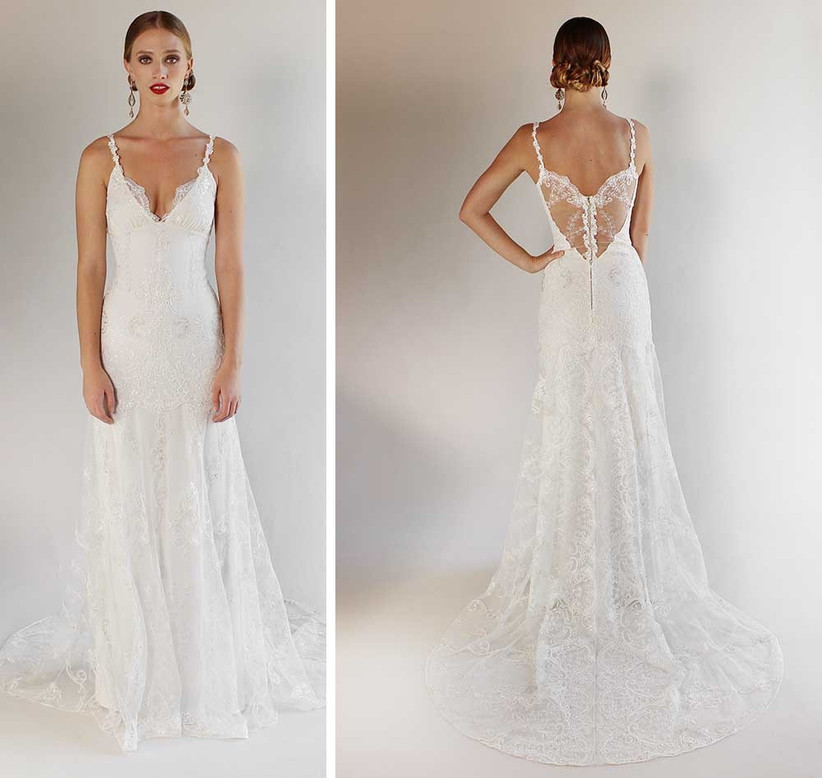 Paolo Sebastian
This sheer purple design really does push all of the boundaries when it comes to bridal wear and that is one of the many reasons why we are so in love with it. It oozes vibes of high fashion and feminine feels, especially with the leafy applique pattern which adorns the entire dress.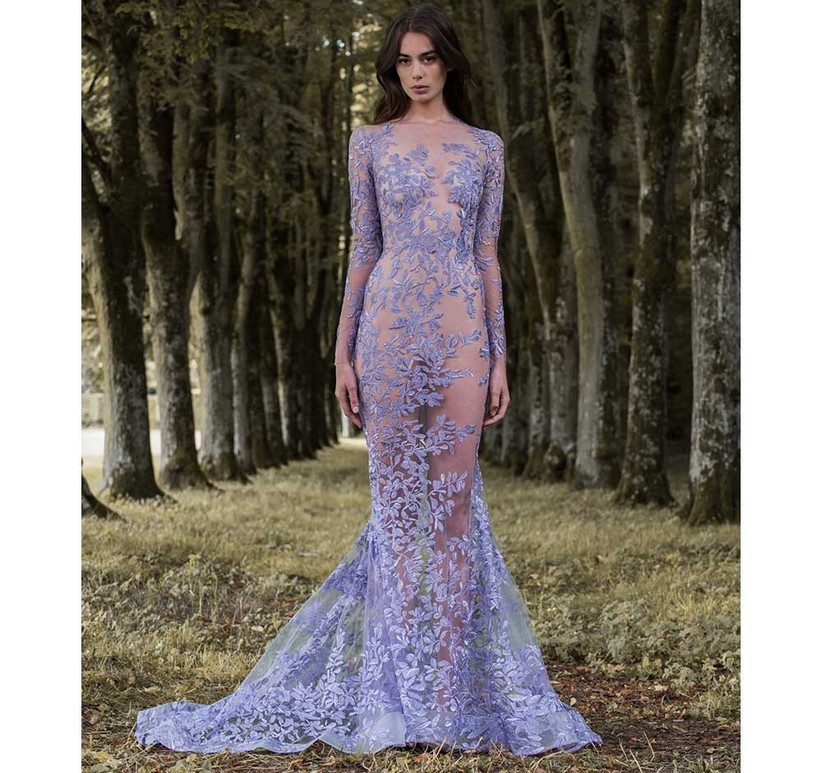 Photographer – Simon Cecere
Rosa Clara – Nestor
Here at Hitched we love a simple wedding dress. With dresses like this Rosa Clara design, the beauty lies in the little details, like the sophisticated slit up the leg, the shoulder slits and the beautiful V-neckline. It really is a piece of heaven and we envy any bride who gets to walk down the aisle in this.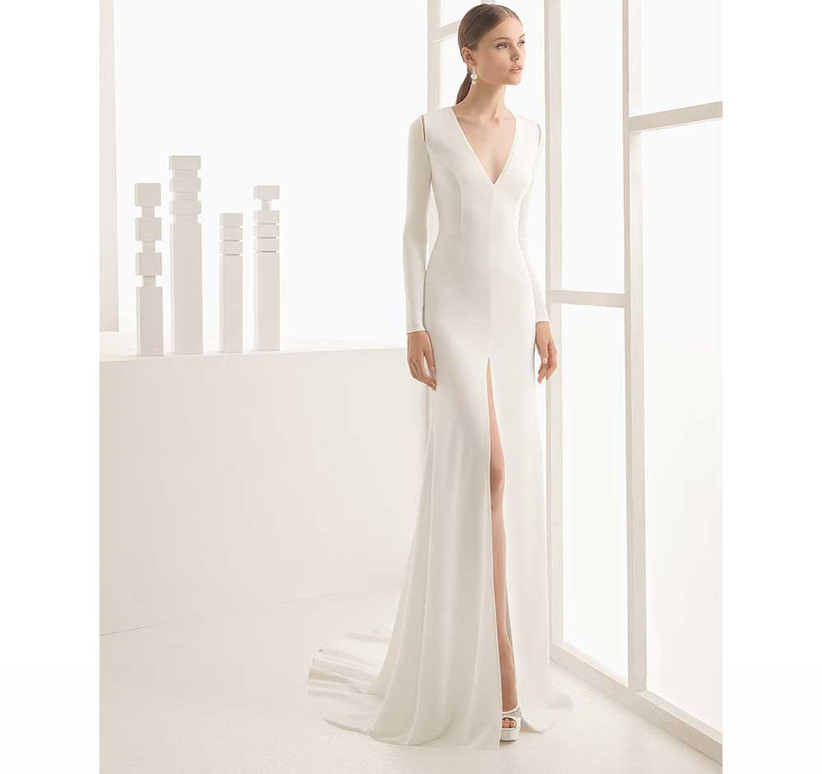 Photo Credit: Designer Loft Bridal
This dress is available at Designer Loft. 
Elio Abou Fayssal
Being sexy on your wedding day doesn't always mean wearing a dress. This two piece trouser outfit is made for the modern brides of today who dare to be different. The silky drop-hem top is as elegant as it could be, and the outfit is spiced up with beautifully made sheer lace trousers with just enough detail to make you stand out from the crowd.
Ines di Santo
This dress is all about the romance. The column skirt will flow so beautifully as you walk down the aisle and the intricate detailing on the bodice is girly and feminine. The sheer aspect is made for brides who are daring and want to create a statement – but seriously, who could say no to that scoop neckline!?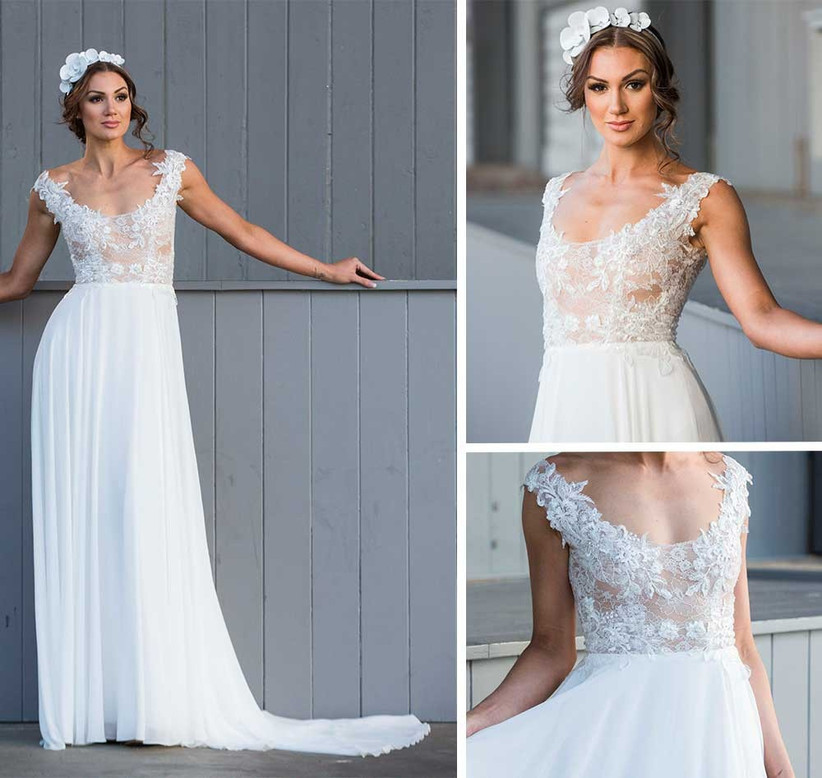 Lillian West – Style 6441
Lillian West has brought to us a lace wedding separates set which most brides dream of. The illusion neckline and racy crop detail takes it into a whole other realm of beauty that we adore. This is the perfect wedding outfit for a festival or summer wedding where you can style it up with floral headpieces and strappy wedding shoes.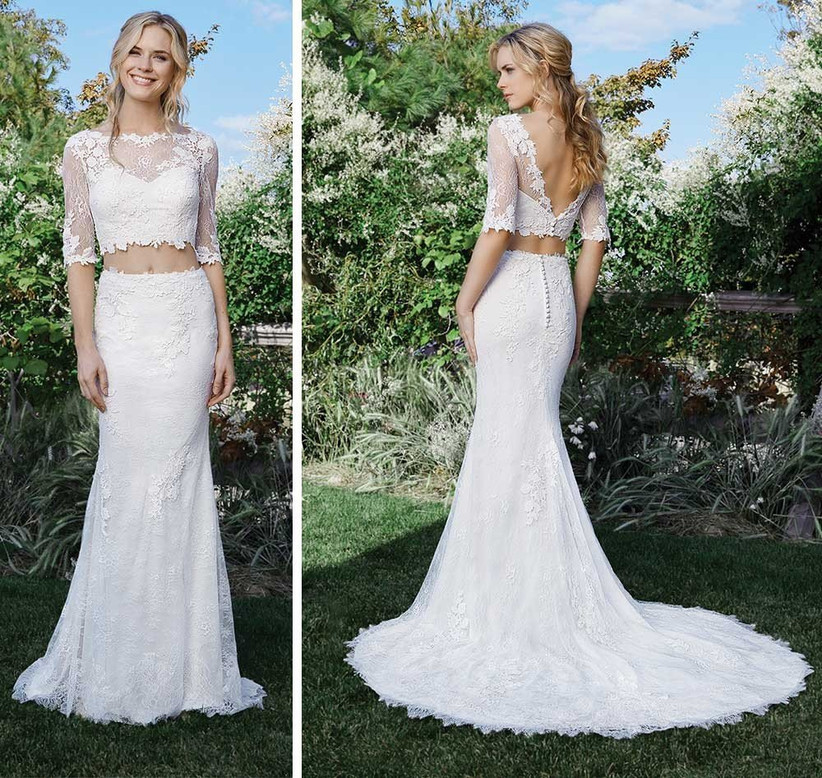 Mira Zwilinger – Elia
The shape of this gorgeous white wedding dress is insane. It falls so elegantly and the see-through material is racy and incredibly sexy. If you're having a festive wedding, we really think this stunner could rise to the occasion.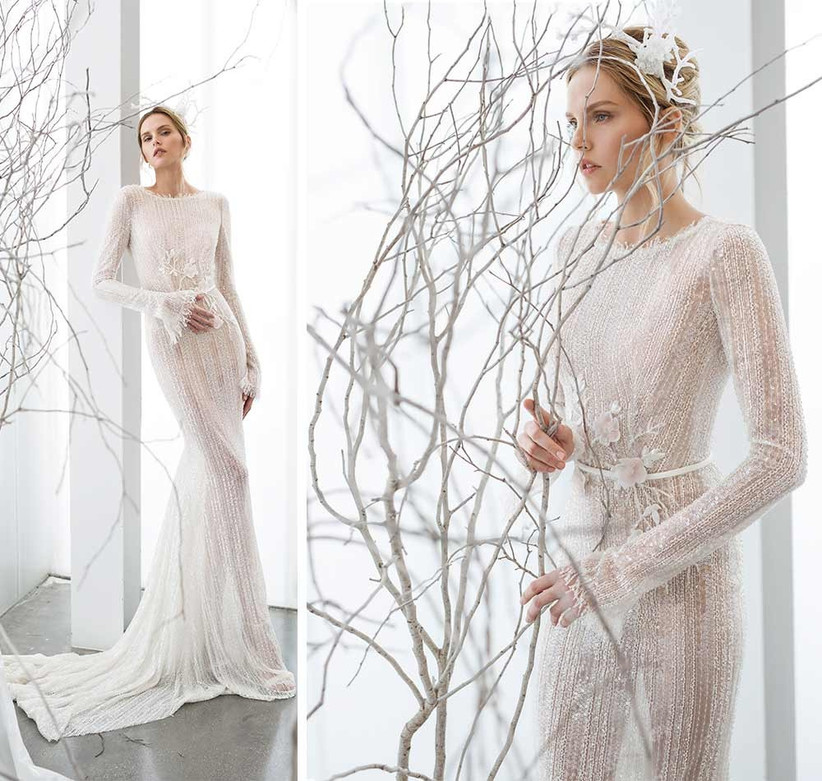 Paolo Sebastian
You can still be extremely sexy on your wedding day without bearing all, and this beautiful champagne coloured design proves that. The shape is beyond stunning and so flattering to the figure. The dress boasts a deep V-neckline which still holds so much class and the floral adornment keeps it feminine and elegant.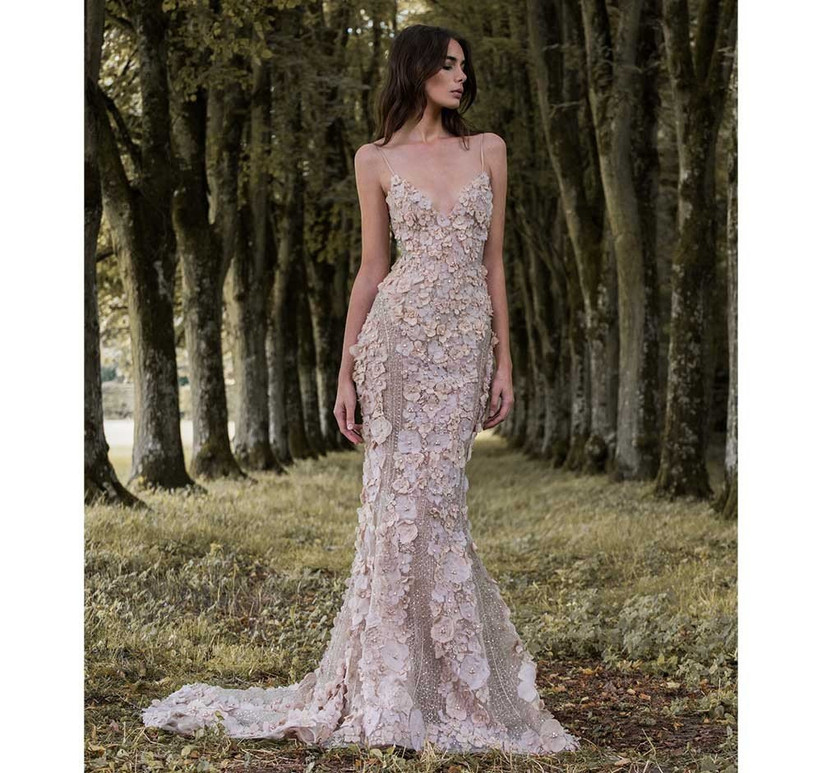 Photographer – Simon Cecere
Elio Abou Fayssal
This dress is the epitome of 'one in a million' and if you want to be remembered forever for your bridal look, this is the road to go down. The puff sleeves give it a historical fashion feel, whilst the sheer material keeps it fresh and unique. We love the long stream of buttons – they really are the perfect finishing touch to this amazing design.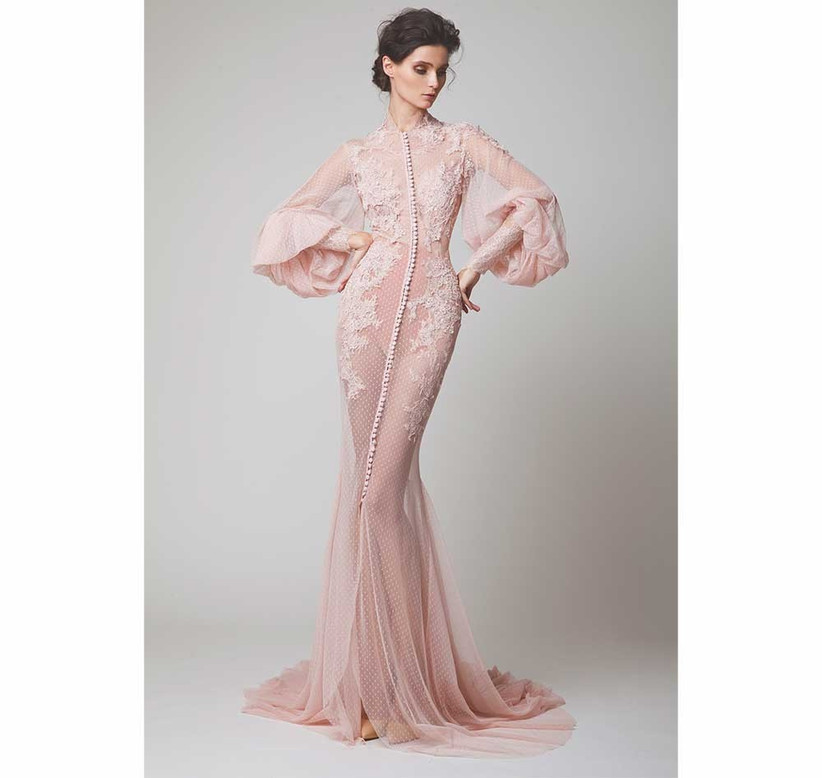 Elena Zavozina – Viola
This short wedding dress designed by Elena Zavozina is flitted and fabulous. The lace illusion neckline and long sleeves keep it modest, whilst the tight structure and flirty length give it an edge which modern brides will love. If you like breaking the wedding rules, opt for this bridal mini.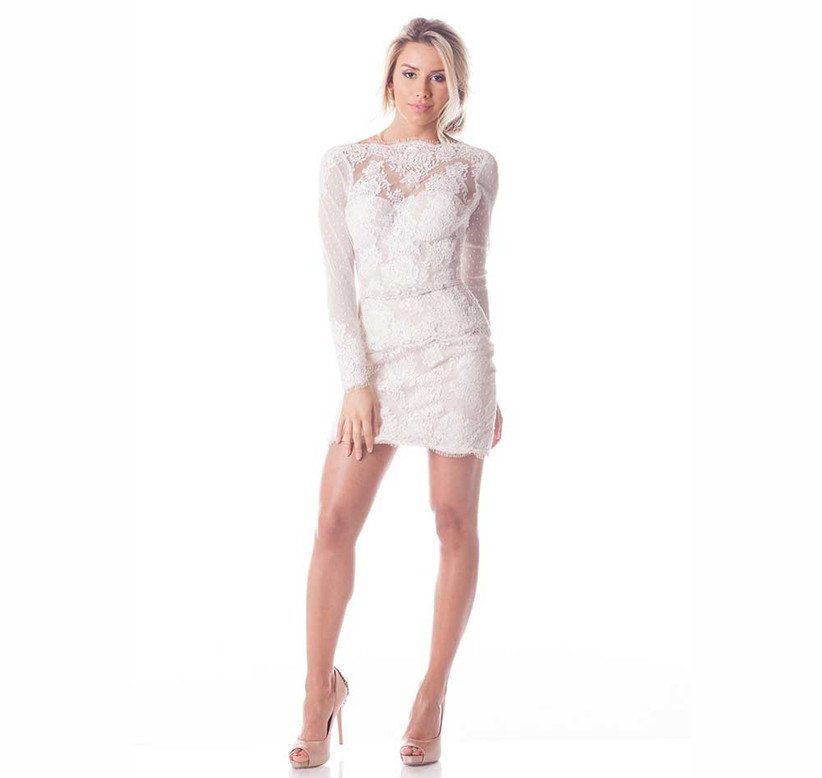 Paolo Sebastian
Keeping it sexy, this coloured wedding dress really does everything it needs to. It looks stunning, it sparkles in the light and it keeps all modesty in a bride all whilst still being a desirable shape with lots of sexy aspects. The high neck and long sleeves are so on trend right now, modern brides you need this dress!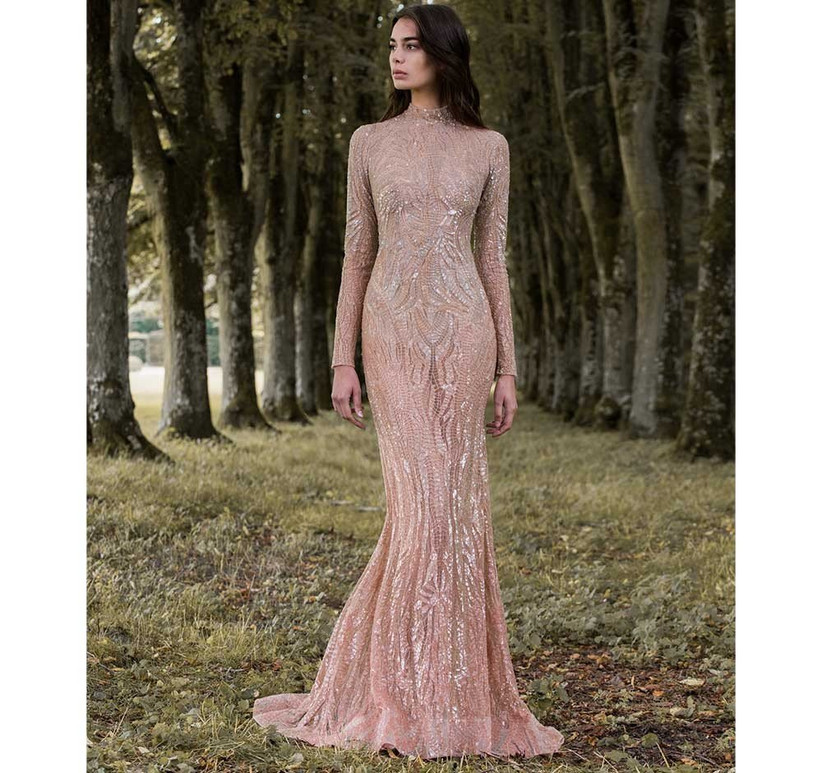 Photographer – Simon Cecere 
Paloma Blanca – Style 4710
Strapless and stunning, this lace wedding dress is a picture of perfection. The sweetheart plunging neckline leaves the chest open for accessorising and the shape is to-die-for. This dress doesn't need much apart from confidence and a bride who will rock it with attitude.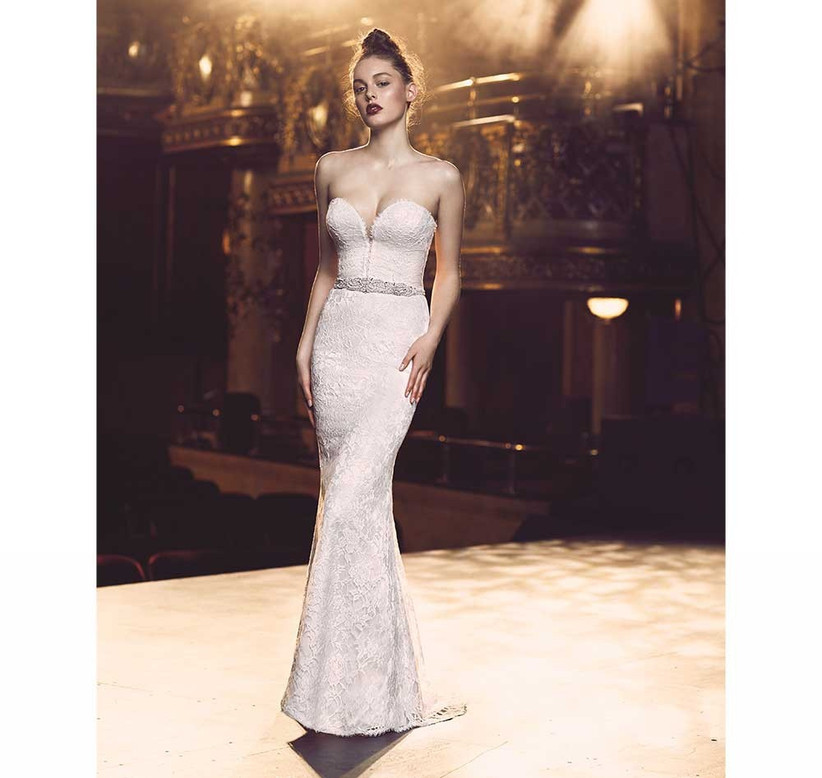 Elio Abou Fayssal
This pink wedding dress dares to bare all, and we love every inch of it. The feathered skirt gives it drama and makes a true statement. It is also the perfect balance for the top half of the skirt which is sheer and insanely sexy.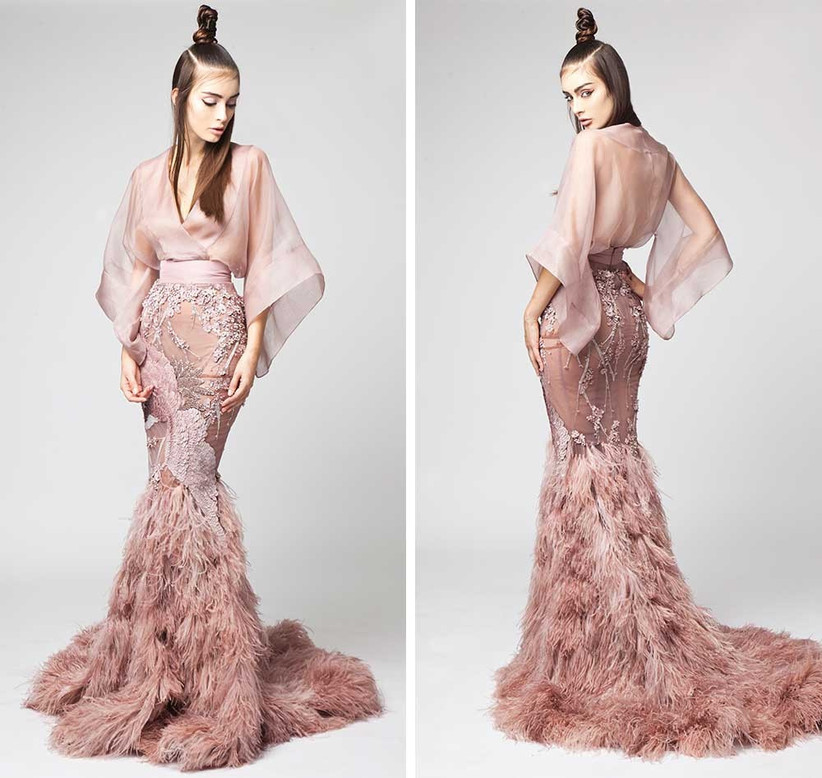 Paolo Sebastian
Your winter wedding won't know what's hit it when it sees this crisp design coming its way. The caged detail and semi-sheer skirt are out of this world and we love all of the intricate detail and cross-hatching that has come together to create such a masterpiece.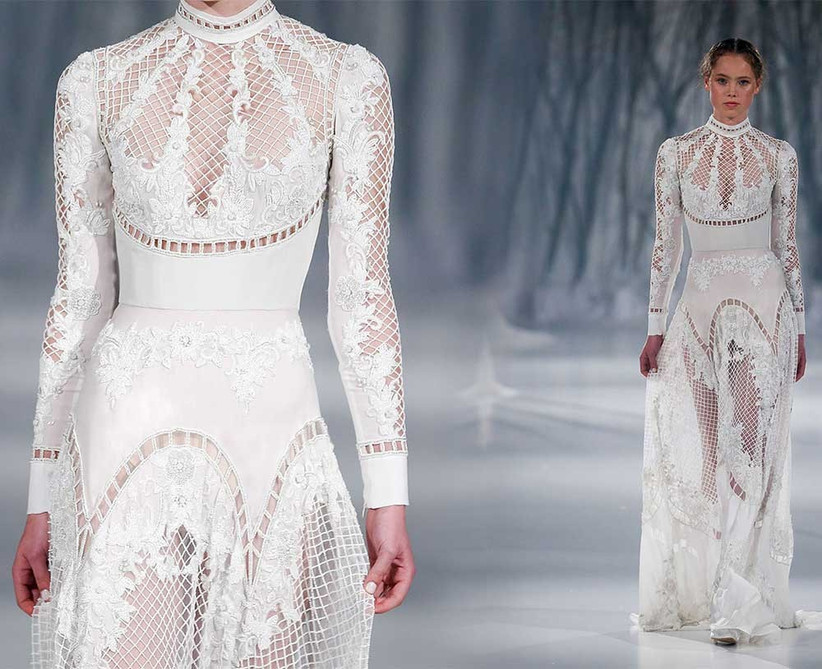 Ines Di Santo
Bridal jumpsuits are growing ever popular as the modern woman takes over wedding fashion and this is an example of a super stunning one. The lace is sheer and gorgeous as ever, and we absolutely love the fact that it still has a train. It's major selling point to the dress and creates such a unique and diverse look that we can't get enough of.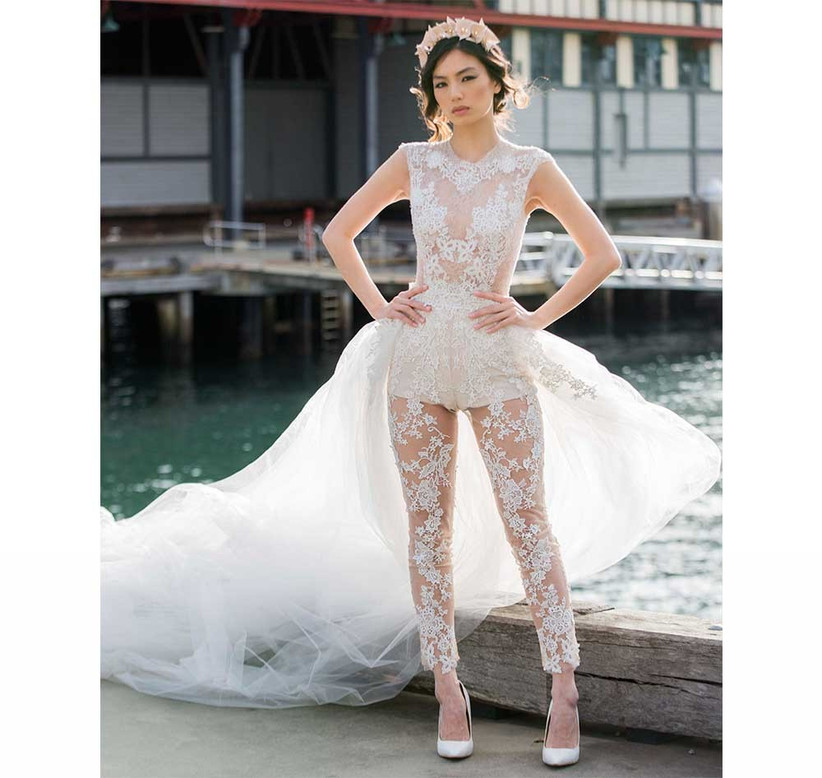 Mira Zwilinger – Willow
Here she comes, Willow, the sexy wedding dress of all sexy wedding dresses. This may not be every bride's first choice to walk down the aisle in but no one can deny its beauty. This design truly is in a world of its own and it simply took our breathe away when we set eyes on it. This is a design that we will remember forever.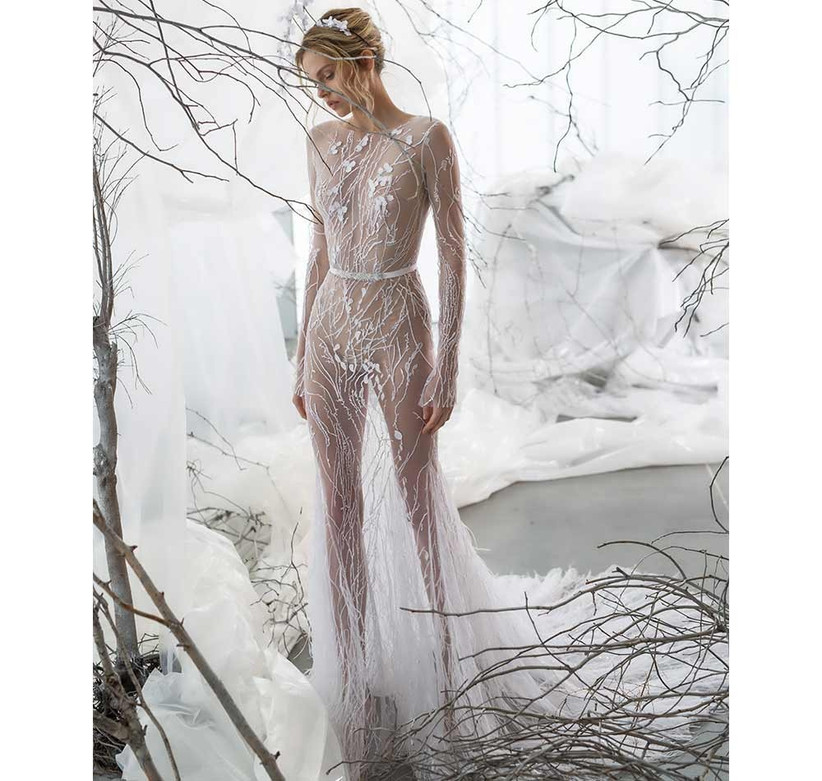 If you're still on the hunt for a beautifully unusual wedding dress and are a sucker for detail, why not check out our selection of wedding dresses with amazing backs, you won't regret it!