Colourful Wedding Dresses: 30 Stunning Designs That Prove You Don't Have to Wear White
Don't let tradition limit your wedding dress choice to ivory and white. These colourful wedding dresses will ensure you stand out from the crowd for all the right reasons
We have included third party products to help you navigate and enjoy life's biggest moments. Purchases made through links on this page may earn us a commission.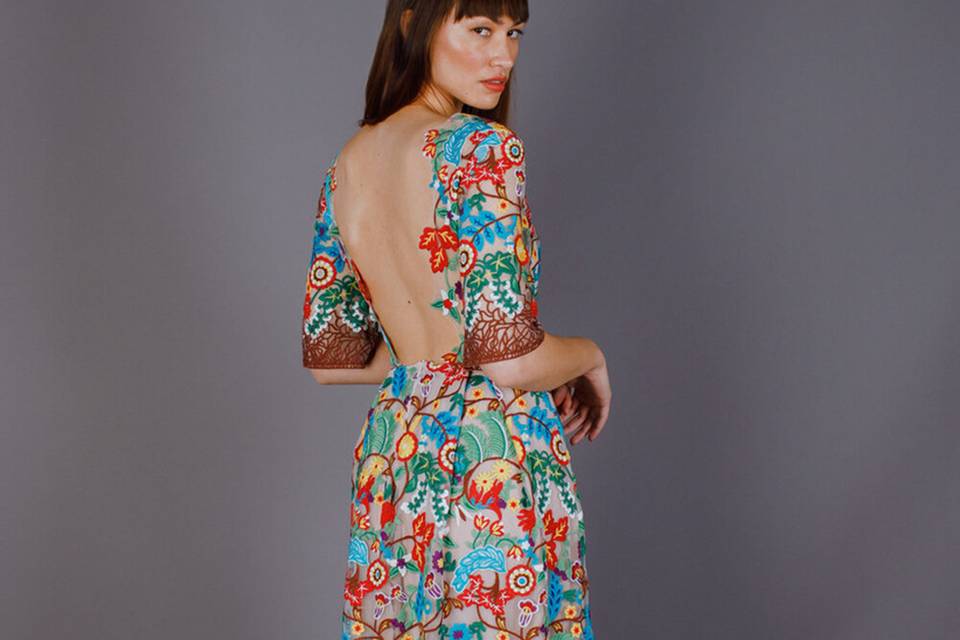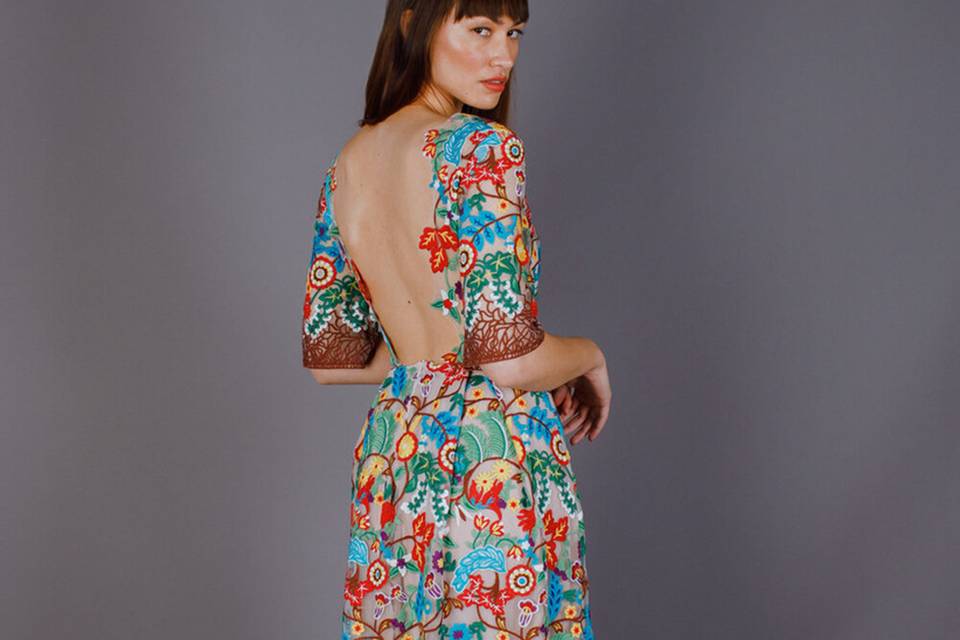 Picking out a white, cream or ivory wedding dress will be a lifelong dream come true for many – but coloured wedding dresses are becoming ever more popular, and can be just as stunning as a traditional design.
From delicate pastel shades to bold statement wedding dresses in punchy shades of red, emerald green or deep purple, there's no end of the rainbow you can't dive into for inspiration for a colourful wedding dress, and whichever hue you choose, you'll be in good company. Celebrities including Jessica Biel, Gwen Stefani and even Hollywood legends like Elizabeth Taylor have tied the knot in colour, and looked every inch the beautiful bride in the process.
More recently, we've been wowed by examples like Christine Quinn's dramatic gothic black gown and Mandy Moore's baby pink tulle dress, which prove that you can go as dark and mysterious or frilly and feminine as you like and still make an incredible statement.
So whether you're just browsing for now or already fully committed to a colourful wedding dress in all of its glory, here are 30 of the most gorgeous options we've found so far. We challenge you to get to the end of the list without falling in love with at least one of them...
NB: We have included third party products to help you navigate and enjoy life's biggest moments. Purchases made through links on this page may earn us a commission.
READ MORE: How to Choose a Wedding Dress
1. Celestina Floral Dress - Ronald Joyce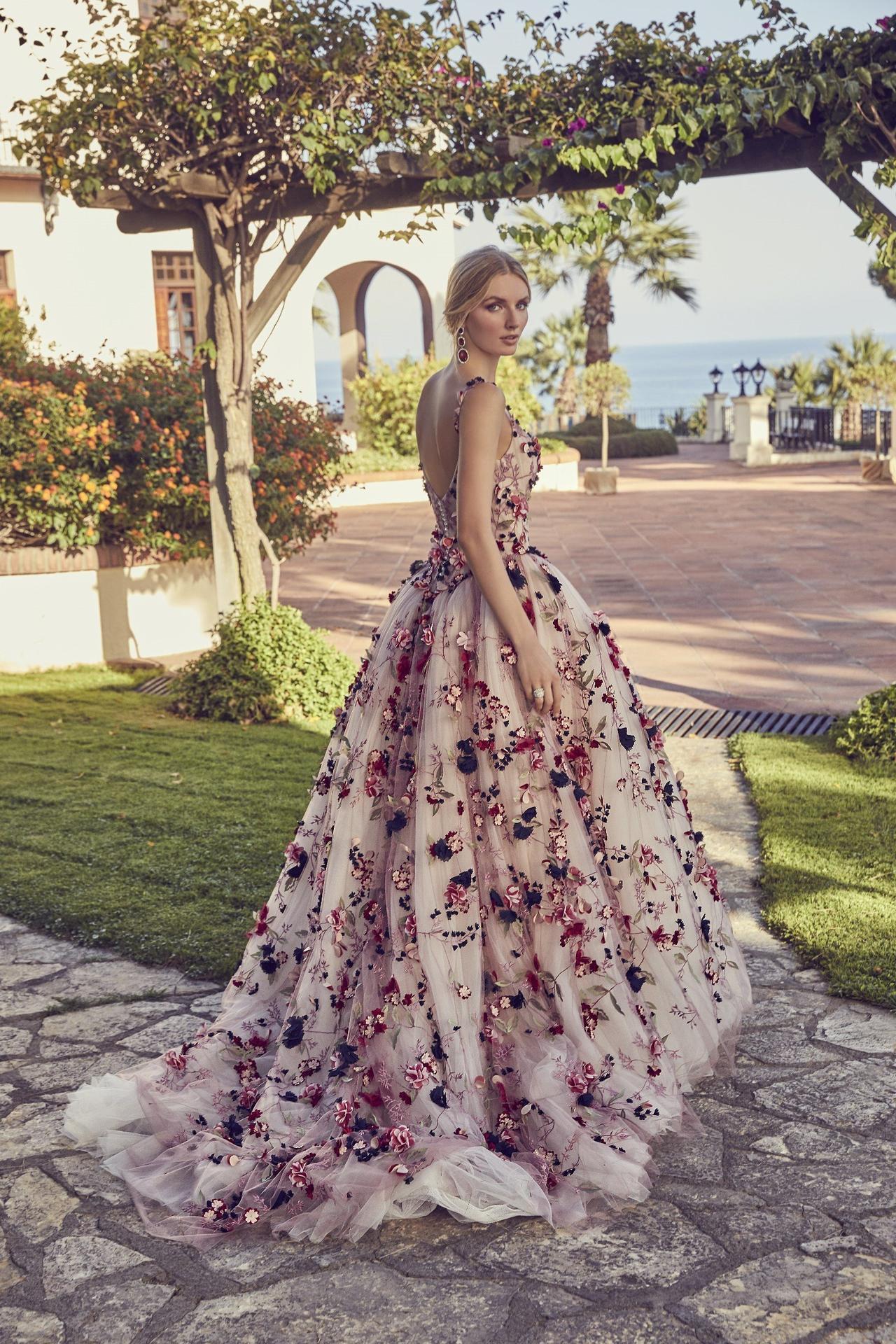 How awesome is the tulle Celestina dress by Ronald Joyce? Floral embroidery dances over the entirety of the skirt and bodice ensuring you'll be the centre of everybody's attention.
This dress also has a sweetheart neckline, full skirt and delicately embroidered spaghetti straps. There really is so much to love.
READ MORE: 23 Pairs of Designer Wedding Shoes That Are Worth Blowing the Budget For
2. Botanica Collection Dress - Victoria Sanders Studio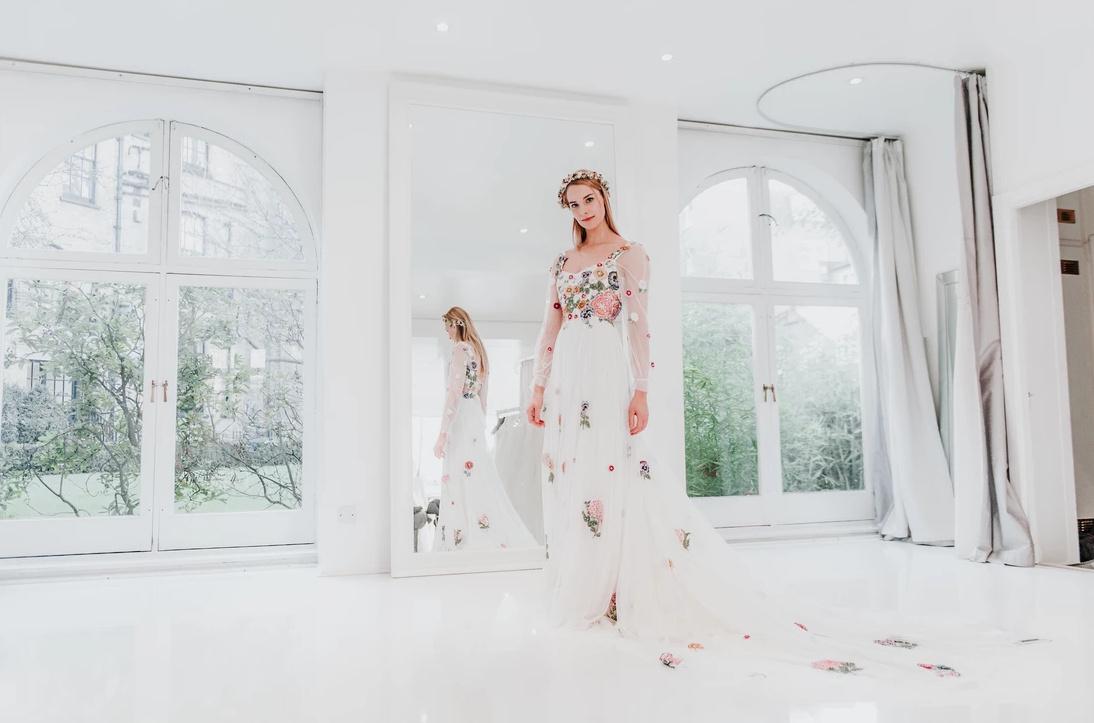 Victoria Sanders worked as a designer for Matthew Williamson before launching her eponymous fashion label just a couple of years ago. This collection, 'Botanica', is inspired by the British countryside, and features numerous bridal gowns which would be perfect for your outdoor wedding.
We're obsessed with her bold and beautiful long sleeved wedding dress from the collection. The base colour might be white, but since it's adorned in multi-coloured floral embroidery, we couldn't not include it. Pair with a flower crown for a wonderfully bohemian look.
READ MORE: 30 Stunning Tiaras Perfect for a Fairytale Wedding
3. Anais Sequin Gown - Needle & Thread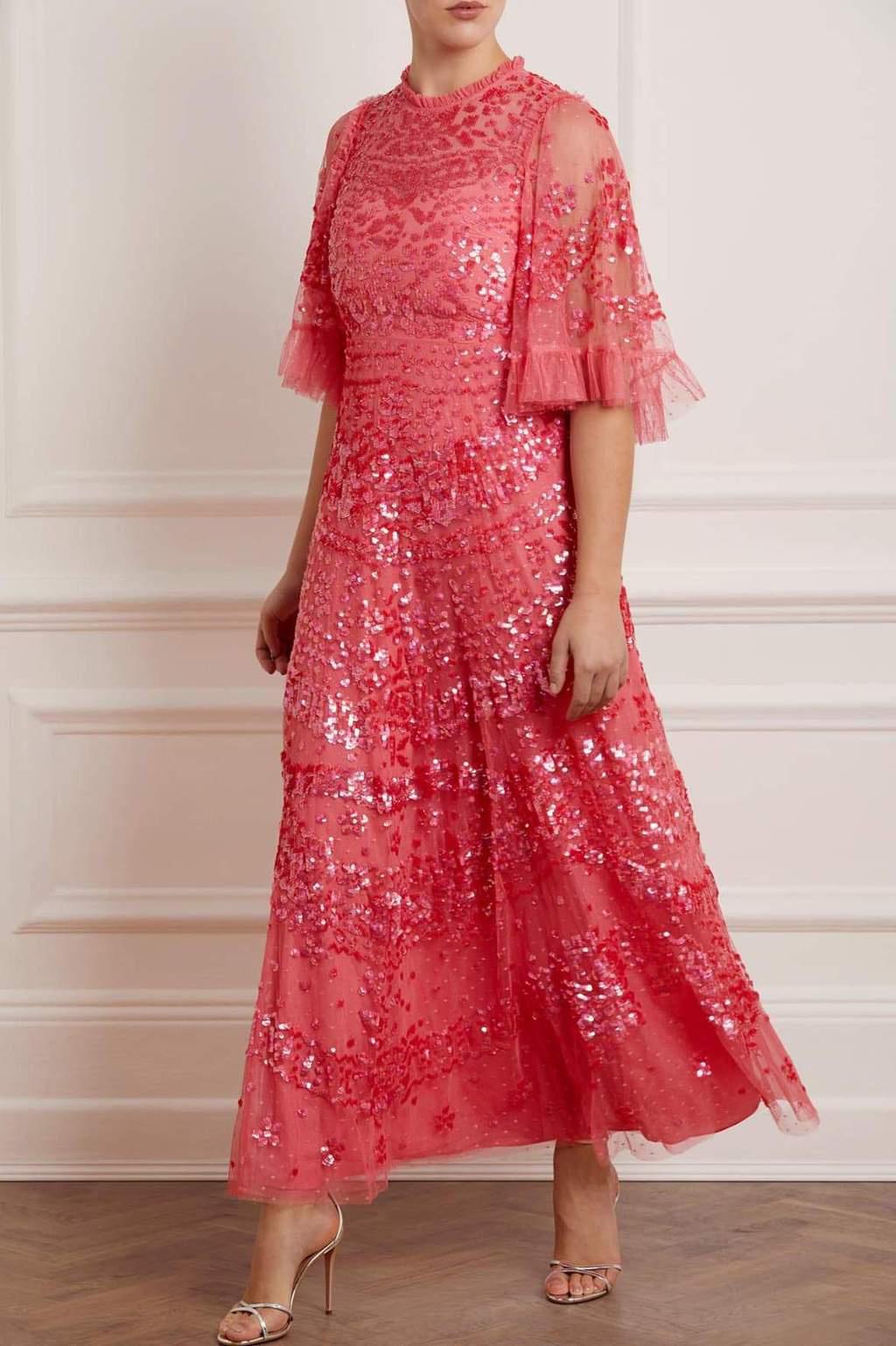 Needle & Thread's Anais gown is the perfect example of a gown that totally defies all typical expectations of what a wedding dress should look like, but is still spectacular enough to make you feel as special as you deserve to as you walk down the aisle.
We're obsessed with this vibrant watermelon shade, but it comes in black, blush pink and a baby blue colour way too.
4. Snowdrop Gown - Needle & Thread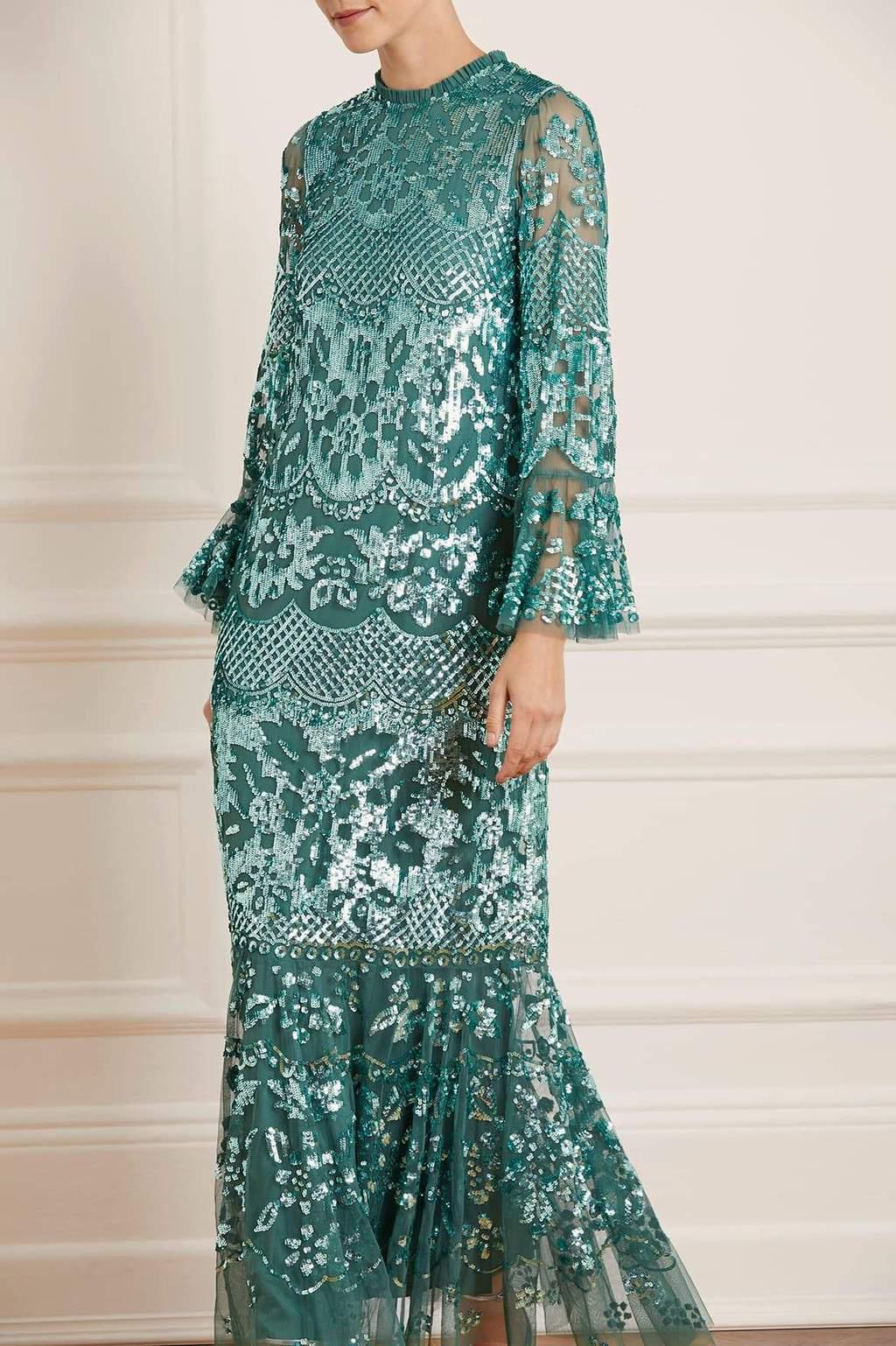 For a longer-sleeved, floor-sweeping showstopper of a dress, we also love Needle & Thread's Snowdrop design.
The bottle green would be especially charming for a Christmas wedding, but frankly it's a winner in our books for any time of year. Every inch of the tulle is adorned with tonal sequins, leading to seriously enviable bridal sparkle from the second you step into the room.
5. Montpellier - Eliza Jane Howell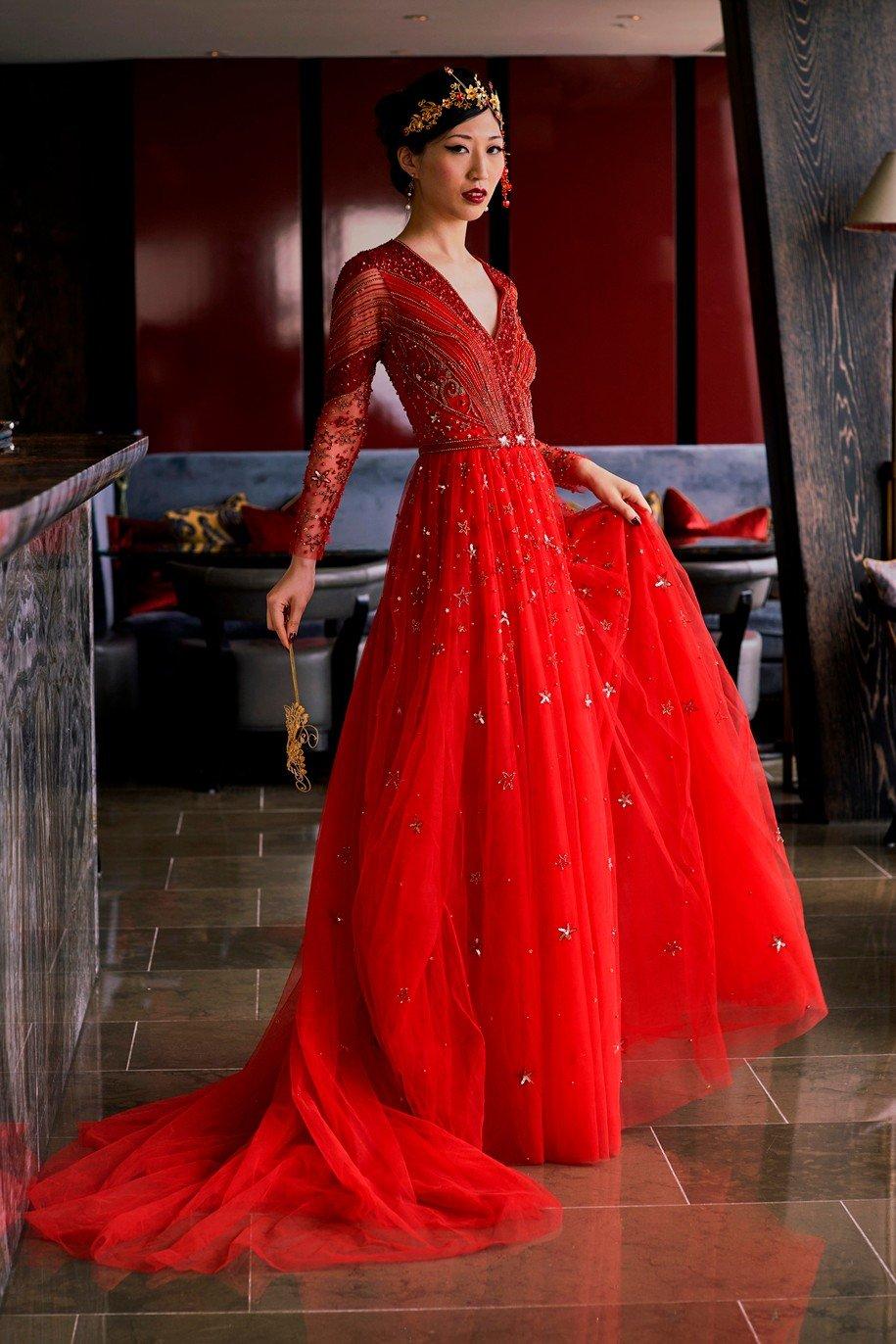 From Eliza Jane Howell's evening wear collection comes the Montpellier gown, a red wedding dress which oozes glamour and sophistication.
Perfect for a winter wedding, this bold and striking dress has long sheer sleeves, an embellished waistband and tulle skirt. Pair with simple accessories for a bridal look that your wedding guests will remember forever.
6. Eloise Gown - Claire Pettibone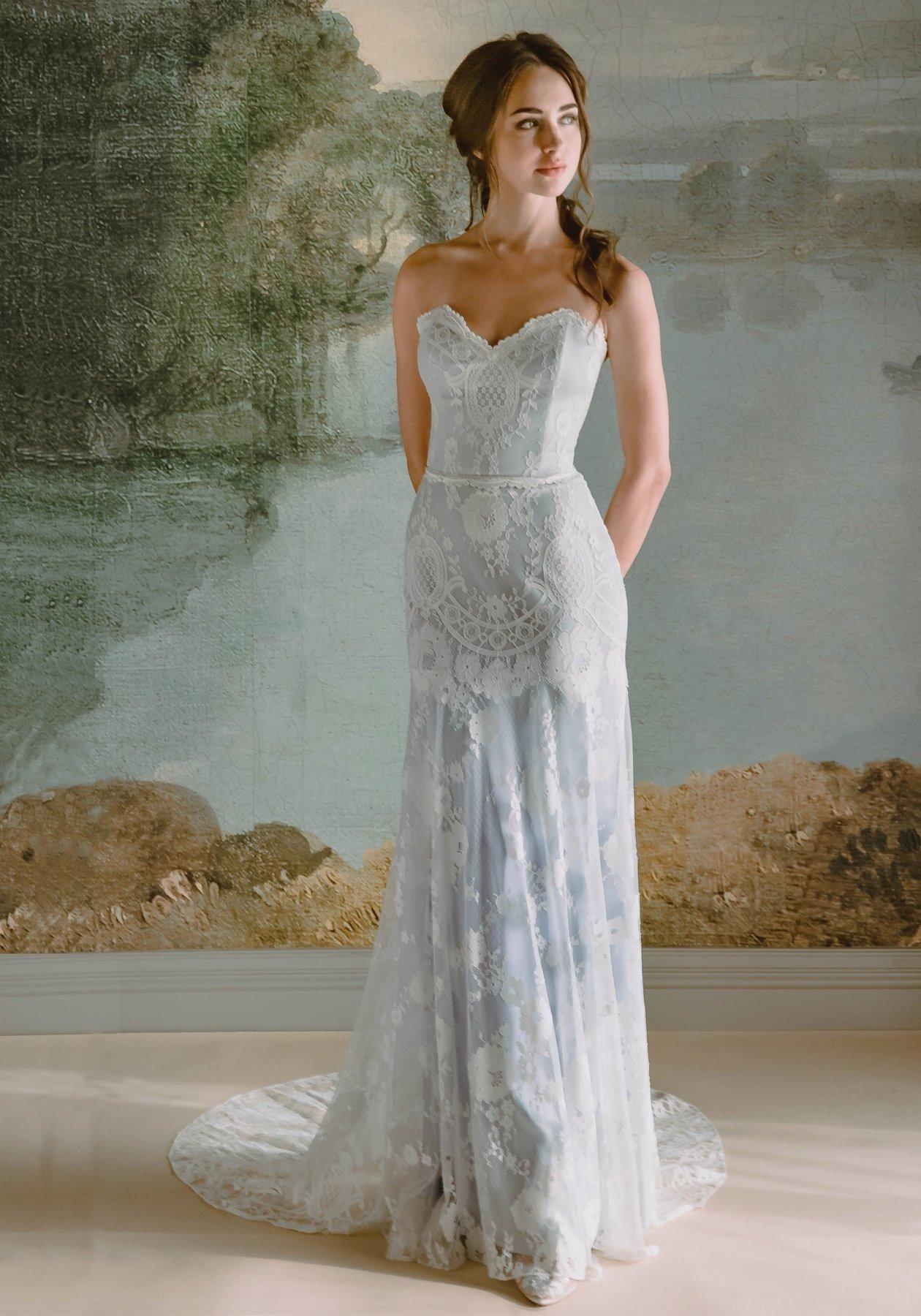 For your something blue, new and strikingly beautiful, choose the Eloise gown by LA-based Claire Pettibone.
This gown is both timeless and romantic, with intricate ivory lace, florals and a vintage-inspired cameo motif. Pale blue silk lines the strapless sheath for a welcome touch of colour. This dress can be made with classic ivory (or any other silk lining colour option) if you decide blue isn't the shade for you.
READ MORE: 15 Things We Bet You Never Knew About Weddings
7. EW119021 Dress - Ellie Wilde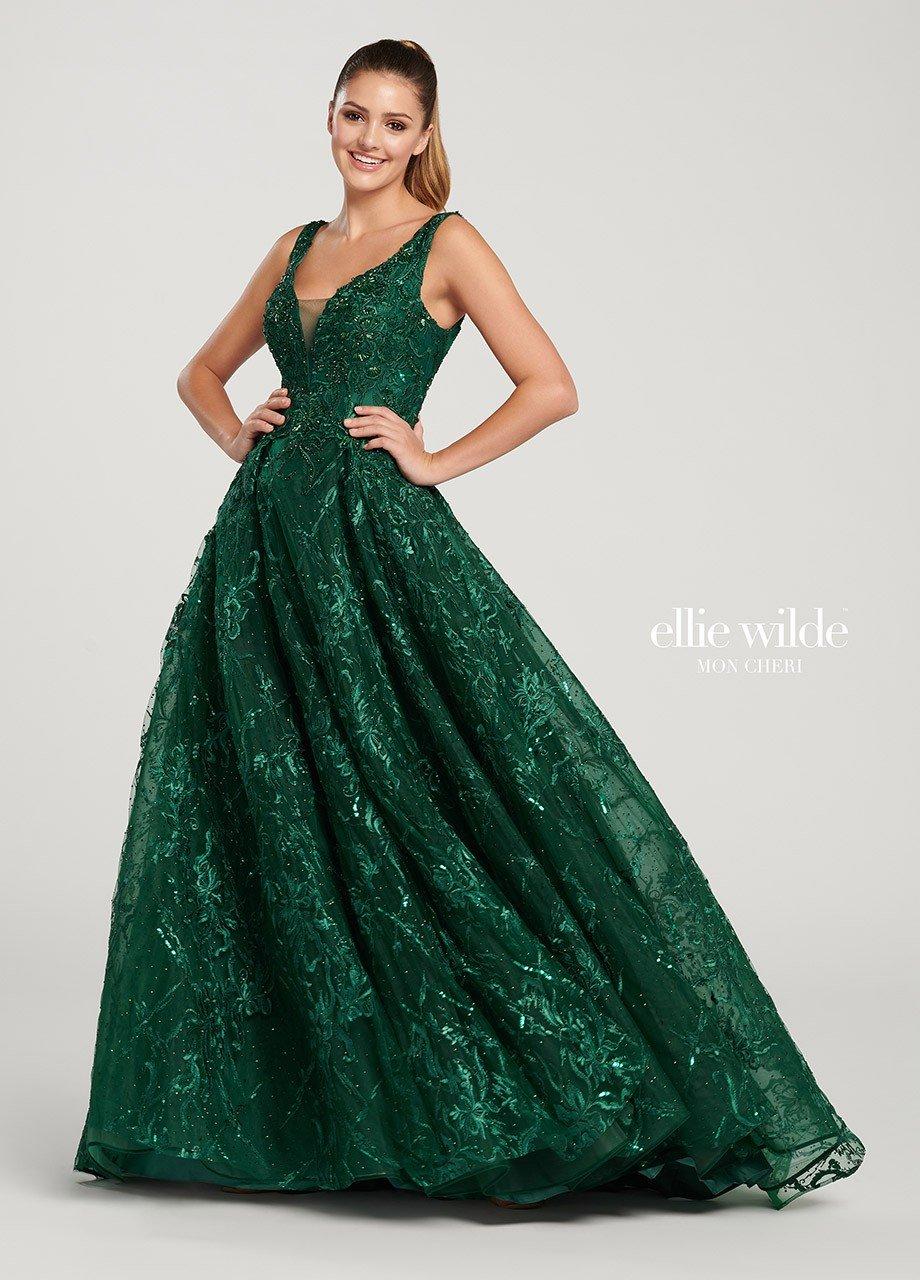 Say hello to this stunning emerald green gown by Ellie Wilde – a design which would be no less than perfect on your wedding day.
Complementary to your woodland wedding theme, it is cut in a ball gown style and boasts beaded accents, a deep V-neckline with illusion panel and a box pleat skirt with pockets. No, you're swooning.
8. Raven Gown - Claire Pettibone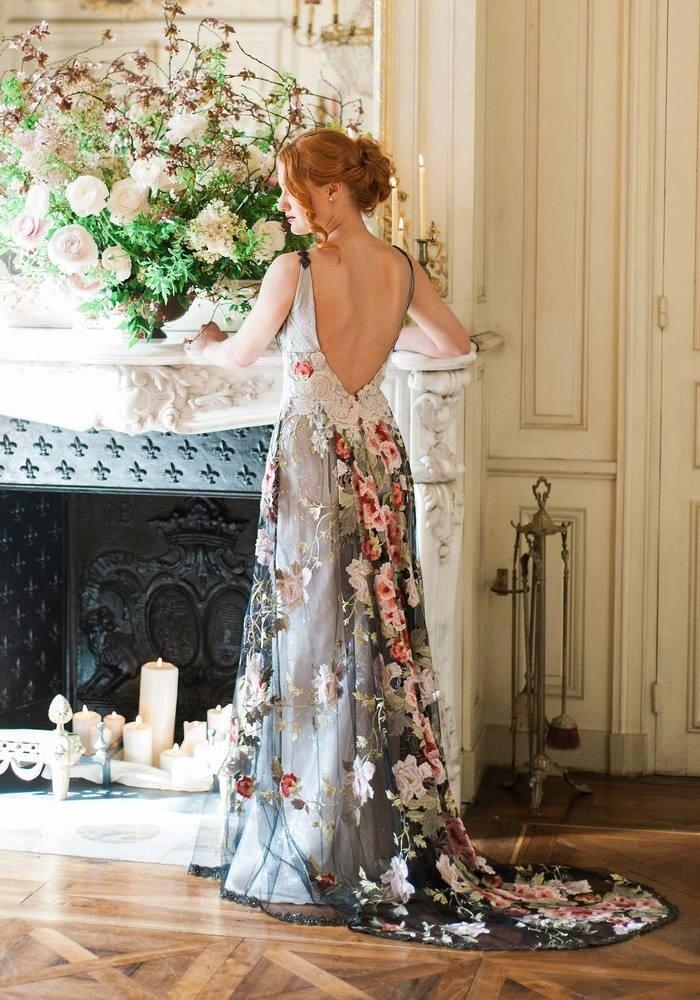 This unique gown by Claire Pettibone is crafted from shimmering sequin silver lace that is tempered by an overlay of elaborately embroidered tulle.
An open back is enhanced by floral accents while pink and red roses dance along the front of the skirt and down the back. If that wasn't enough, the cathedral-length train and V-neckline will ensure you're a work of bridal art.
READ MORE: 42 of the Best Bridesmaid Dresses
9. EW119007 Dress - Ellie Wilde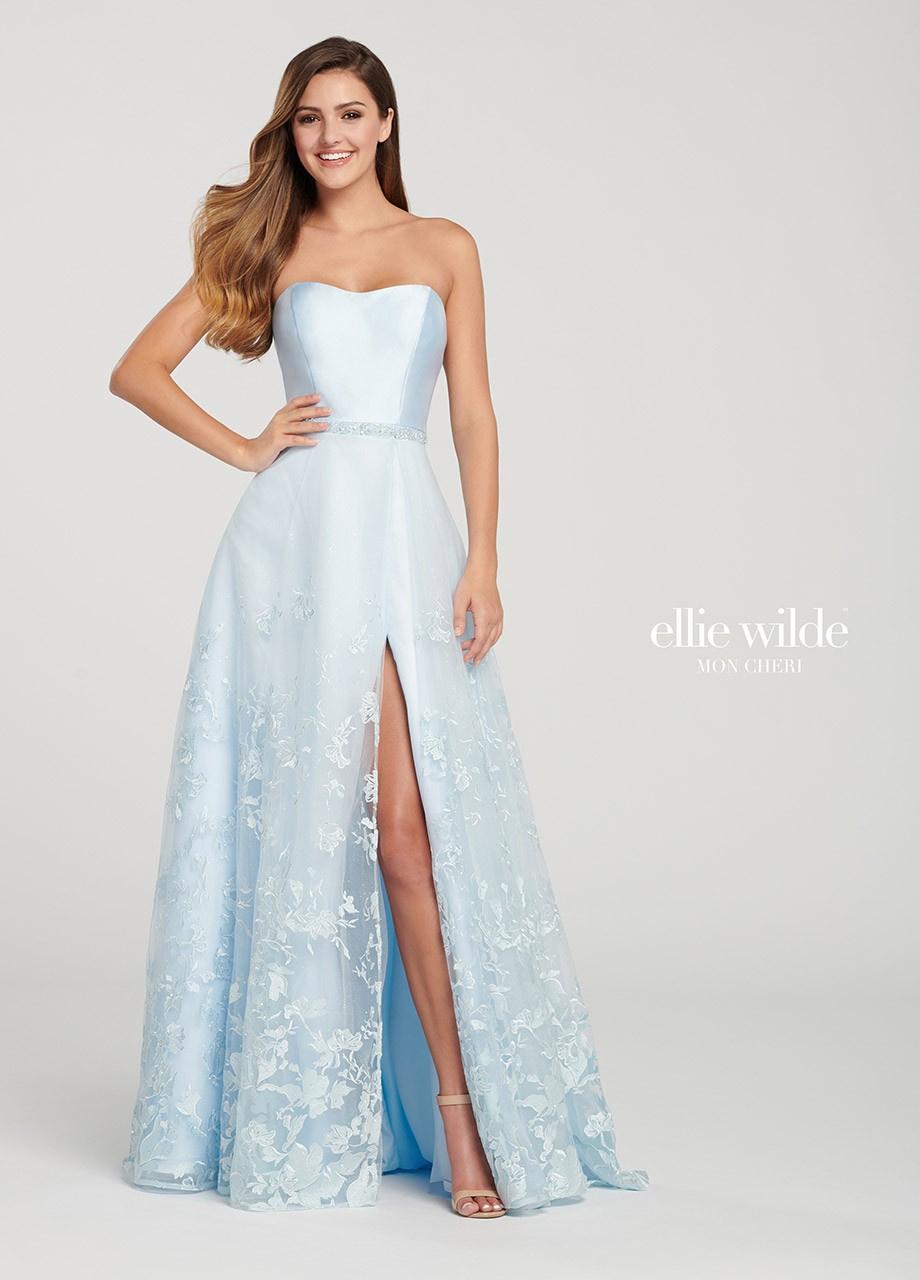 Up next is another statement gown by Ellie Wilde, this time in the form of their pretty pastel blue A-line gown.
It features a soft sweetheart neckline with a beaded waist and lace embroidered tulle skirt. Oh, and can we talk about that thigh split? It'll add the perfect amount of movement to the dress as you make your way down the aisle.
READ MORE: The Best Country House Wedding Venues
10. Cape-Effect Cutout Crepe Gown - Marchesa Notte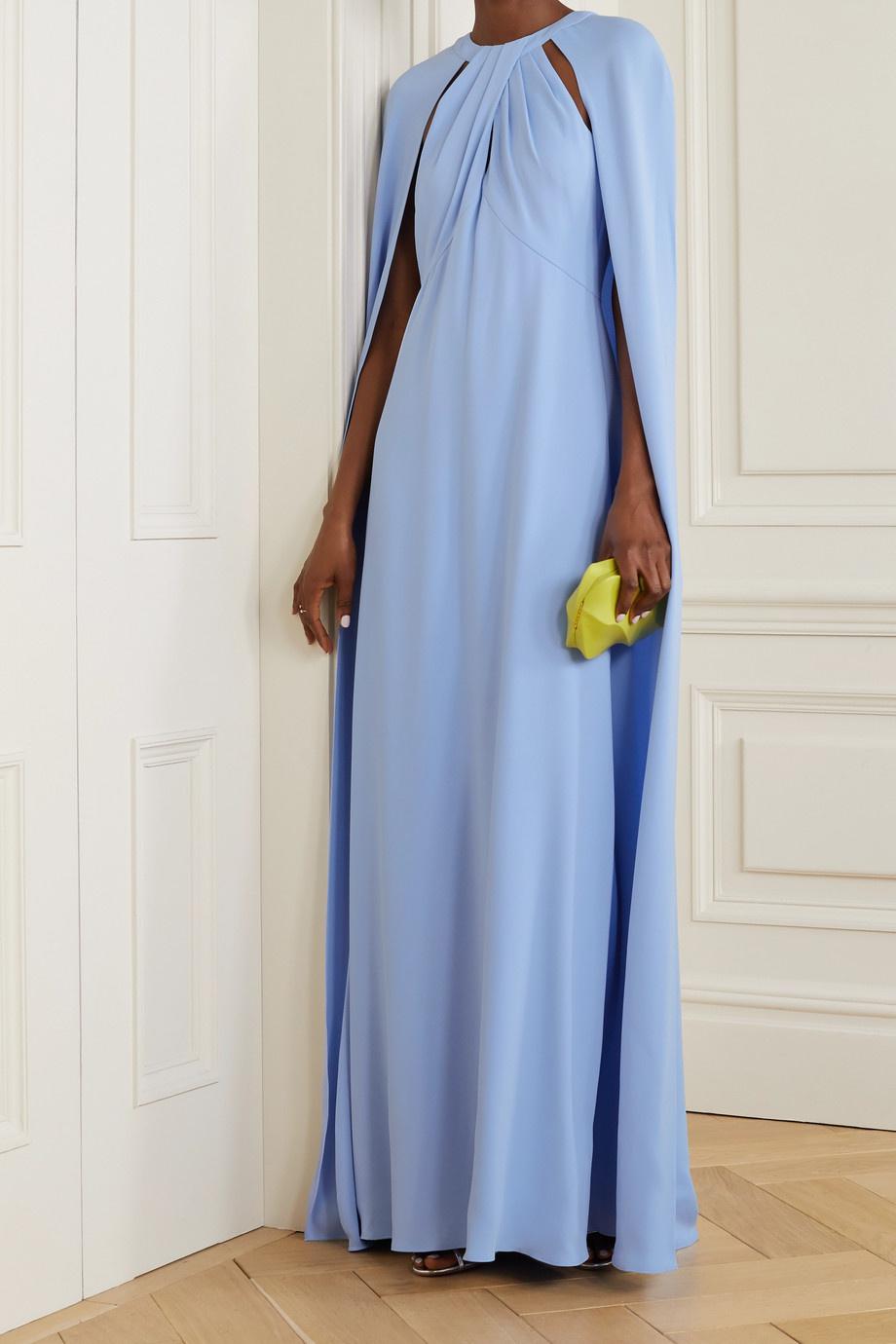 Not every bride will want glitz and embellishments on their colourful wedding dress – if that sounds like you, take a look at this sleek Marchesa Notte dress instead.
From the keyhole cutout at the front to the truly jaw dropping cape, this gown is elegance personified – you'll barely even need a bouquet.
11. TPE SS 2021 - Pronovias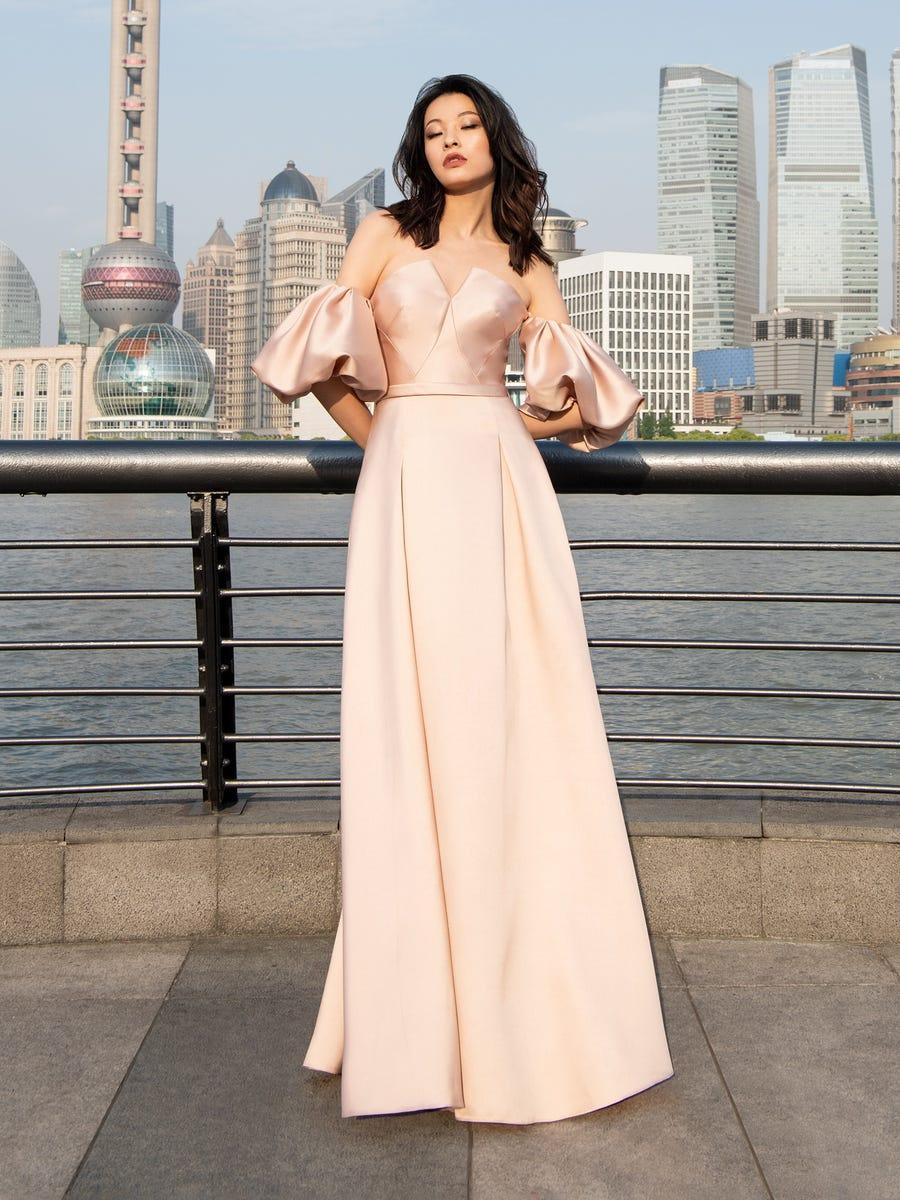 Soft blush pink is a great option if you're keen to dabble in the world of colour but don't want to steer too far away from the conventional palette.
We're obsessed with the unique sweetheart neckline and open back on this Pronovias number – those puffed sleeves are also detachable, so it's essentially two looks for the price of one.
12. Shangri-La Gown - Claire Pettibone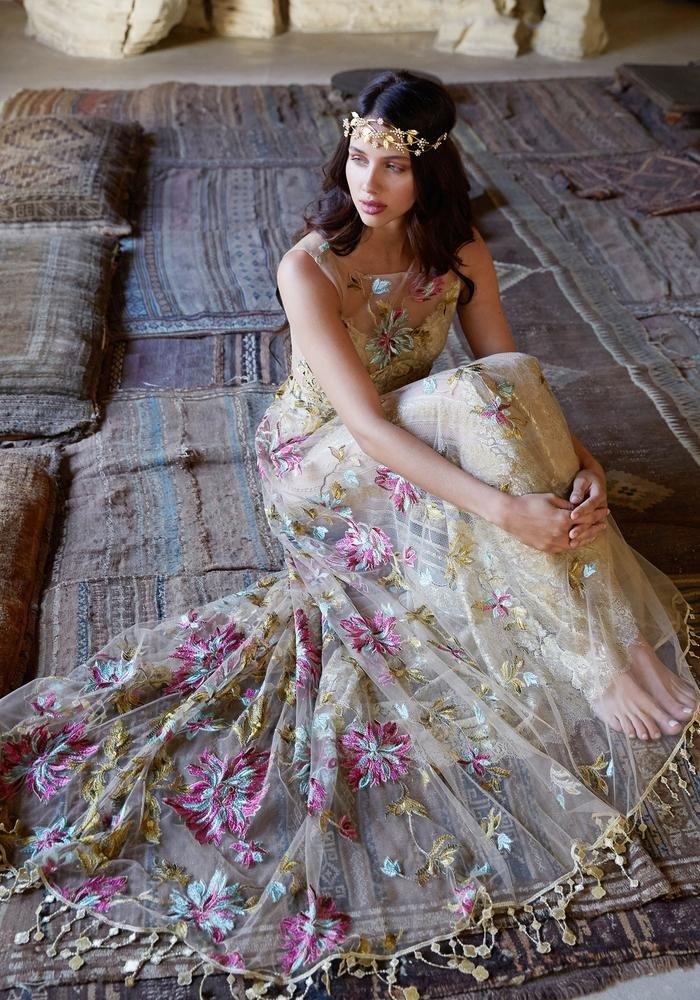 OMG. This might just be our favourite coloured wedding dress of the beautiful bunch.
Multi-coloured embroidery is layered over gold lace to create something totally mesmerising. The dress has an illusion neckline, fitted waist and full, flowing skirt which is finished off with beautiful fringed lace. We couldn't dream up a better dress for your festival wedding if we tried.
READ MORE: 50 Simple Wedding Dresses for Modern Brides
13. Calla Top & Skirt - Leanne Marshall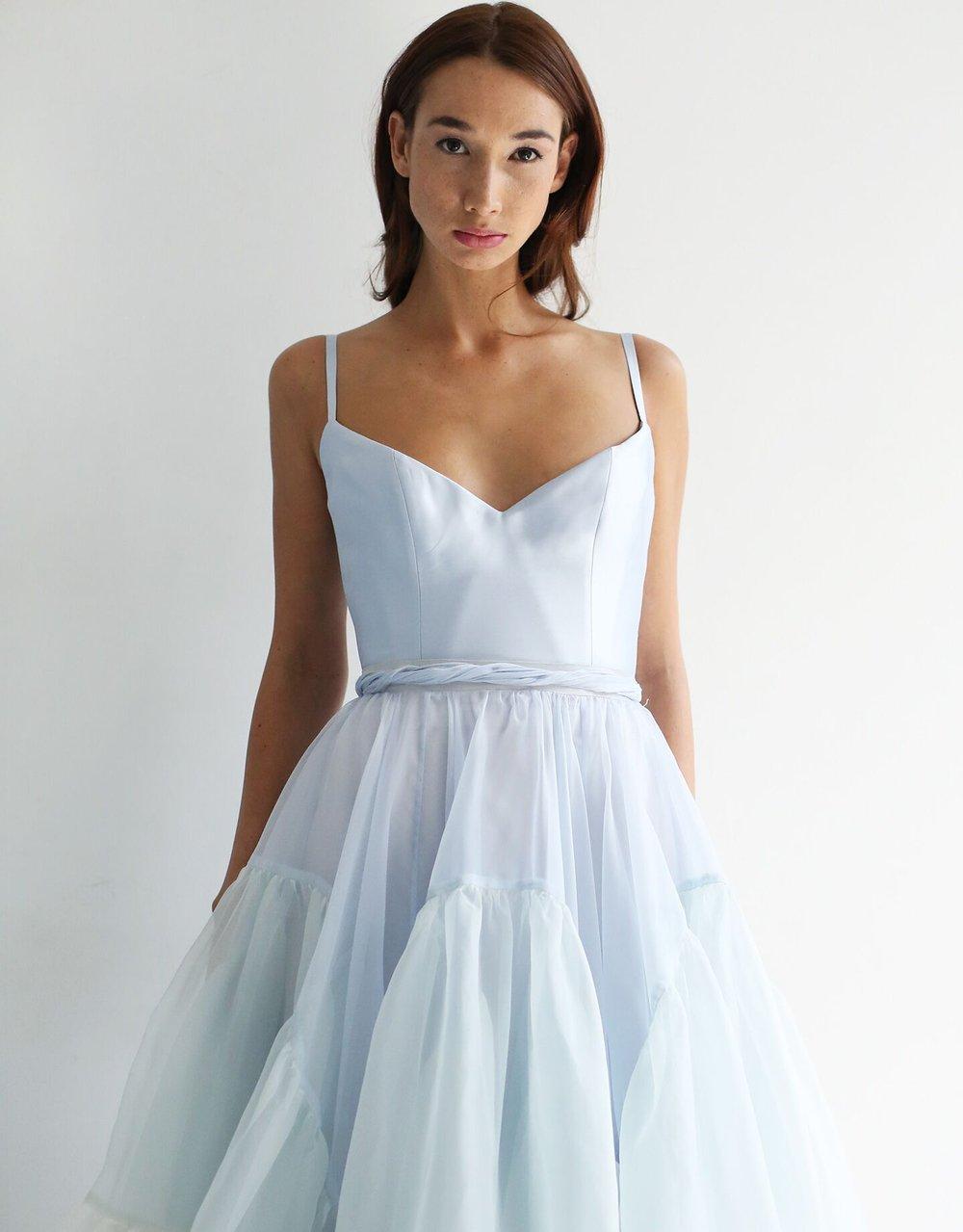 If thoughts of wearing a dress on your wedding day aren't filling you with excitement, why not opt for a top and skirt combo? This set by Leanna Marshall is a super stylish choice for the modern bride.
The 'Raincloud Silver' fabric adds a subtle and totally welcome pop of colour to your bridal get-up. You'll feel a million dollars from start to finish.
READ MORE: 21 Bridal Jumpsuits for Stylish Brides
14. Cecily Dress - Eliza Jane Howell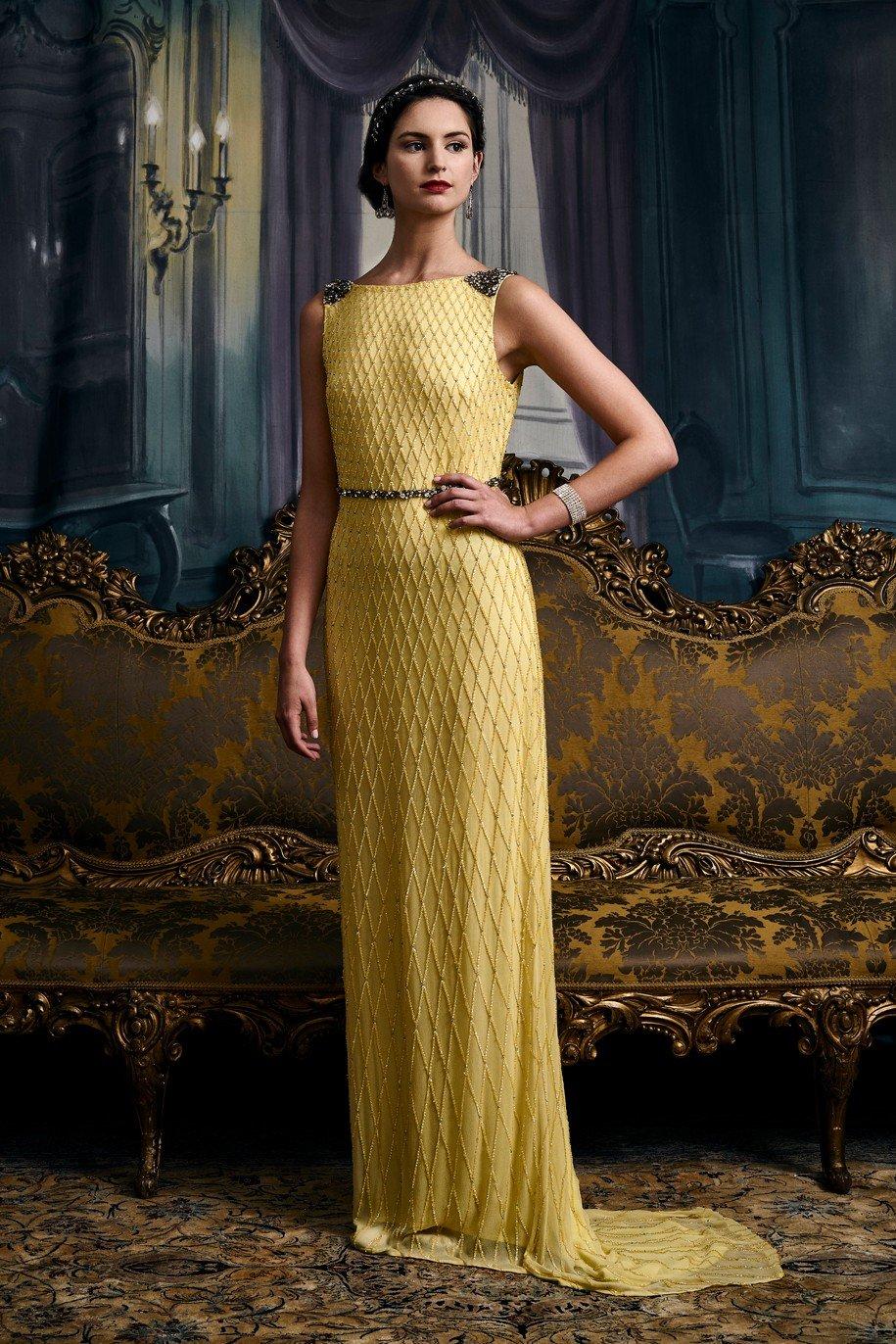 Yellow isn't so mellow when it comes to the Cecily gown by Eliza Jane Howell - and we mean that as a compliment of the highest order.
Perfect for your vintage-inspired wedding, it features all-over geometric beading and a boat neckline. The fitted shape is both timeless and classic.
15. Grace Dress - Eliza Jane Howell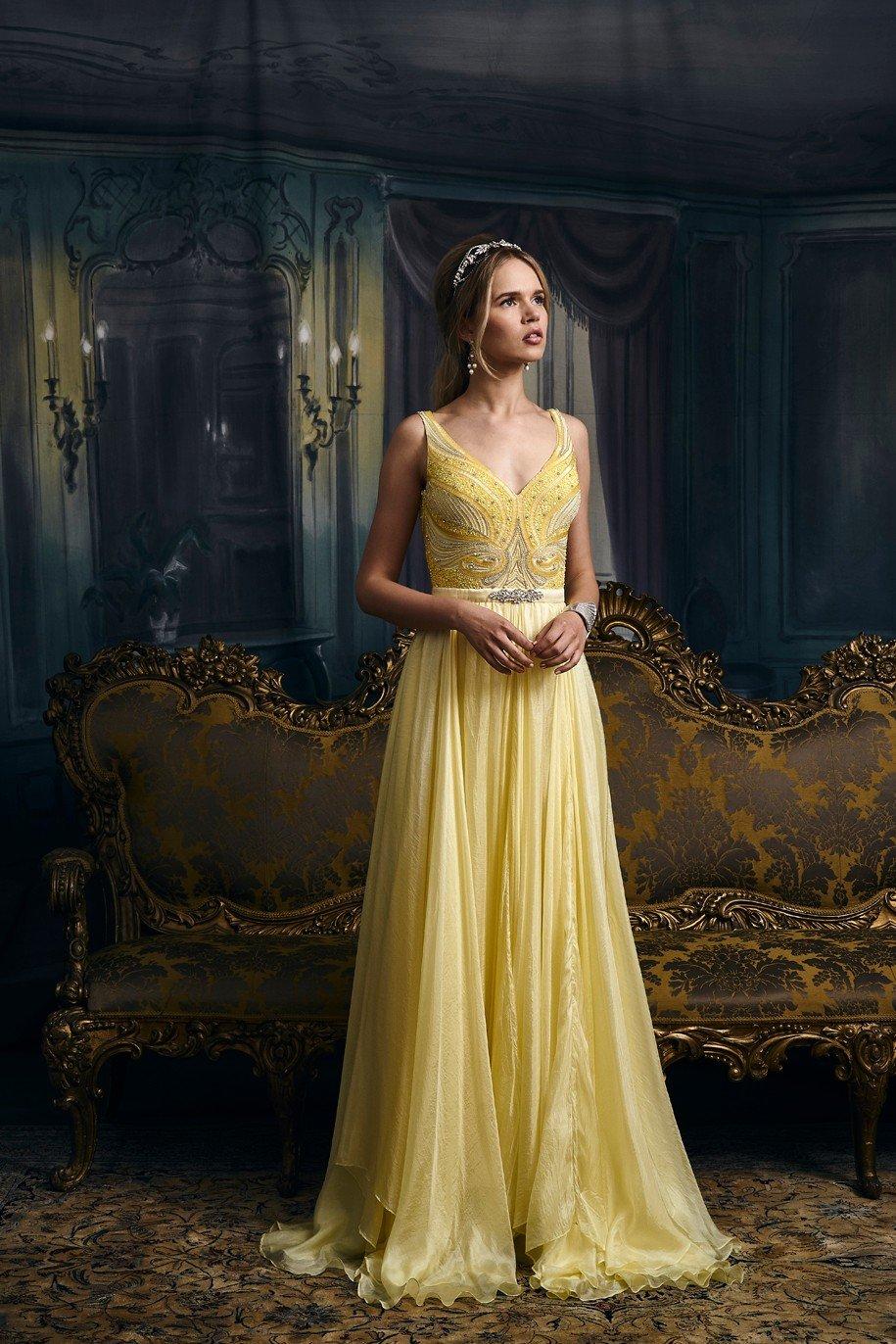 Alternatively, how about the equally as beautiful Grace dress which has been crafted in a beautiful lemon yellow?
Fit for royalty, this gown is endlessly romantic and features an embellished waistband with V-neckline and floaty skirt.
16. Gold Dust - Jenny Packham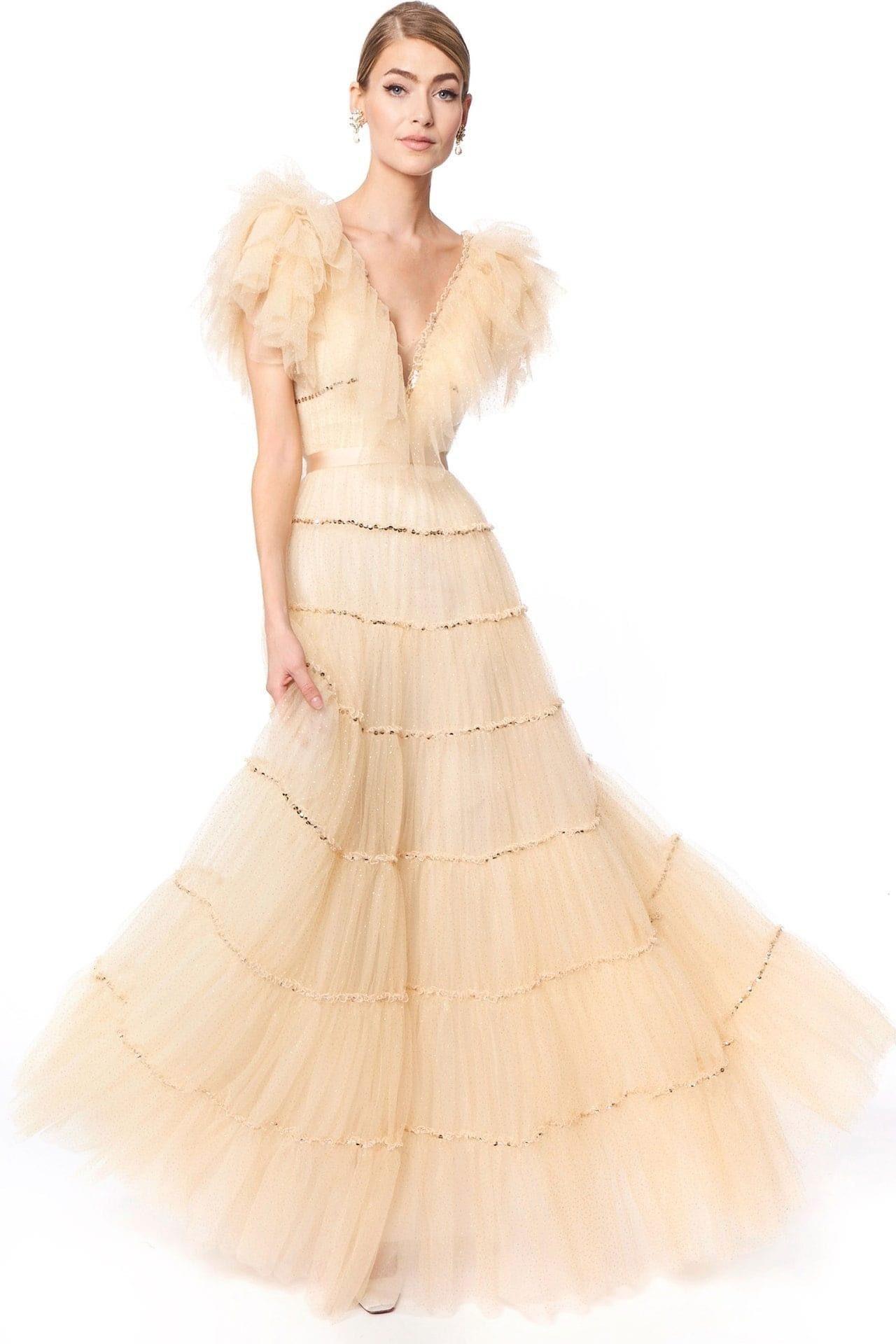 Don't fancy full-on golden yellow? How about actual gold? Jenny Packham's Gold Dust gown embodies everything we love about colourful wedding dresses – it's fun, fabulous and totally unexpected.
Between each frothy layer of tulle there's a circle of sequin embellishment to make it even more eye-catching – it's like a fairytale fantasy brought to life.
17.
TE STYLE 151 -

Pronovias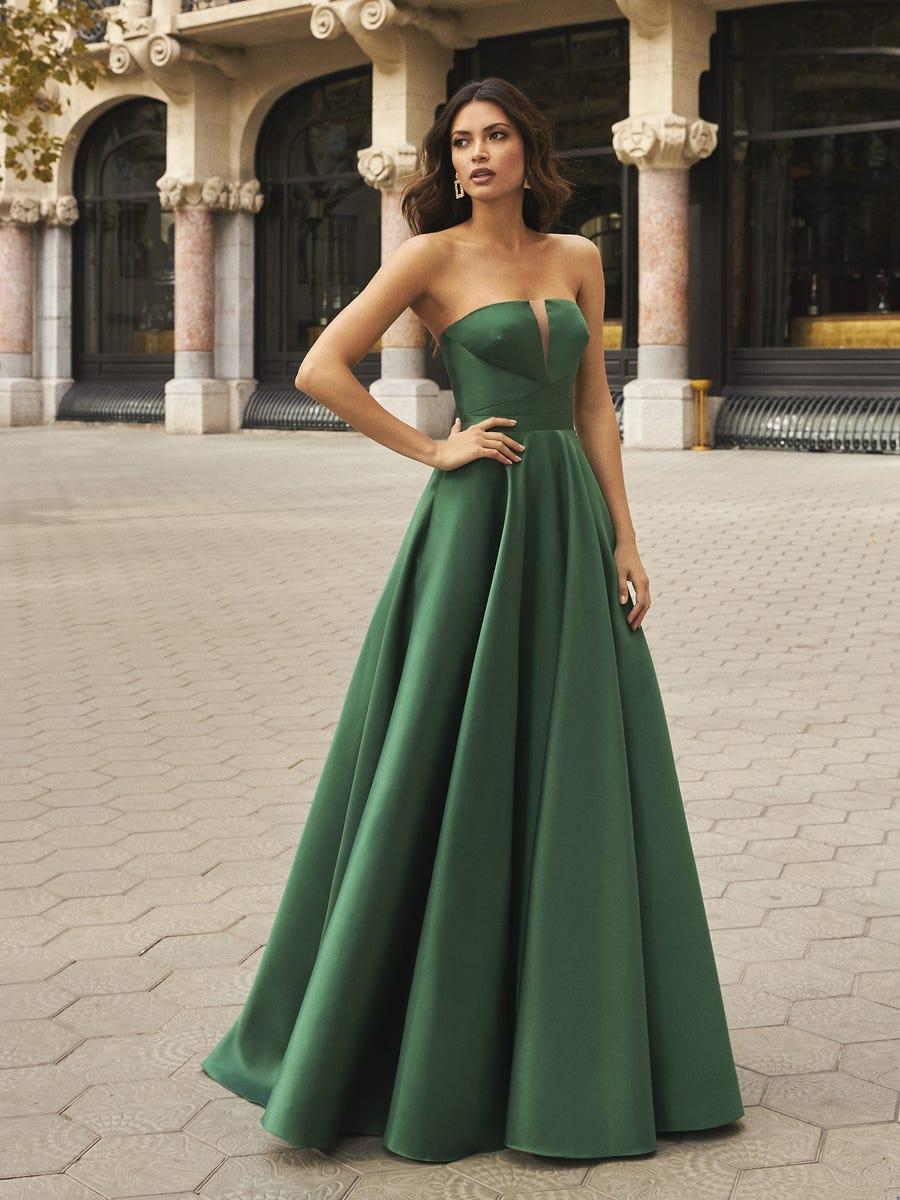 This Pronovias dress will make you feel every inch the green goddess – it's a minimalist look, but one that will still have an amazing impact with the right styling.

Our favourite part is the full circle skirt, which will add just the right amount of drama as you walk down the aisle and sweep across the dance floor for your first dance – utterly captivating stuff.
READ MORE: 17 Beautiful Vintage-Inspired Wedding Dresses
18. Raven Dress - Sophia Tolli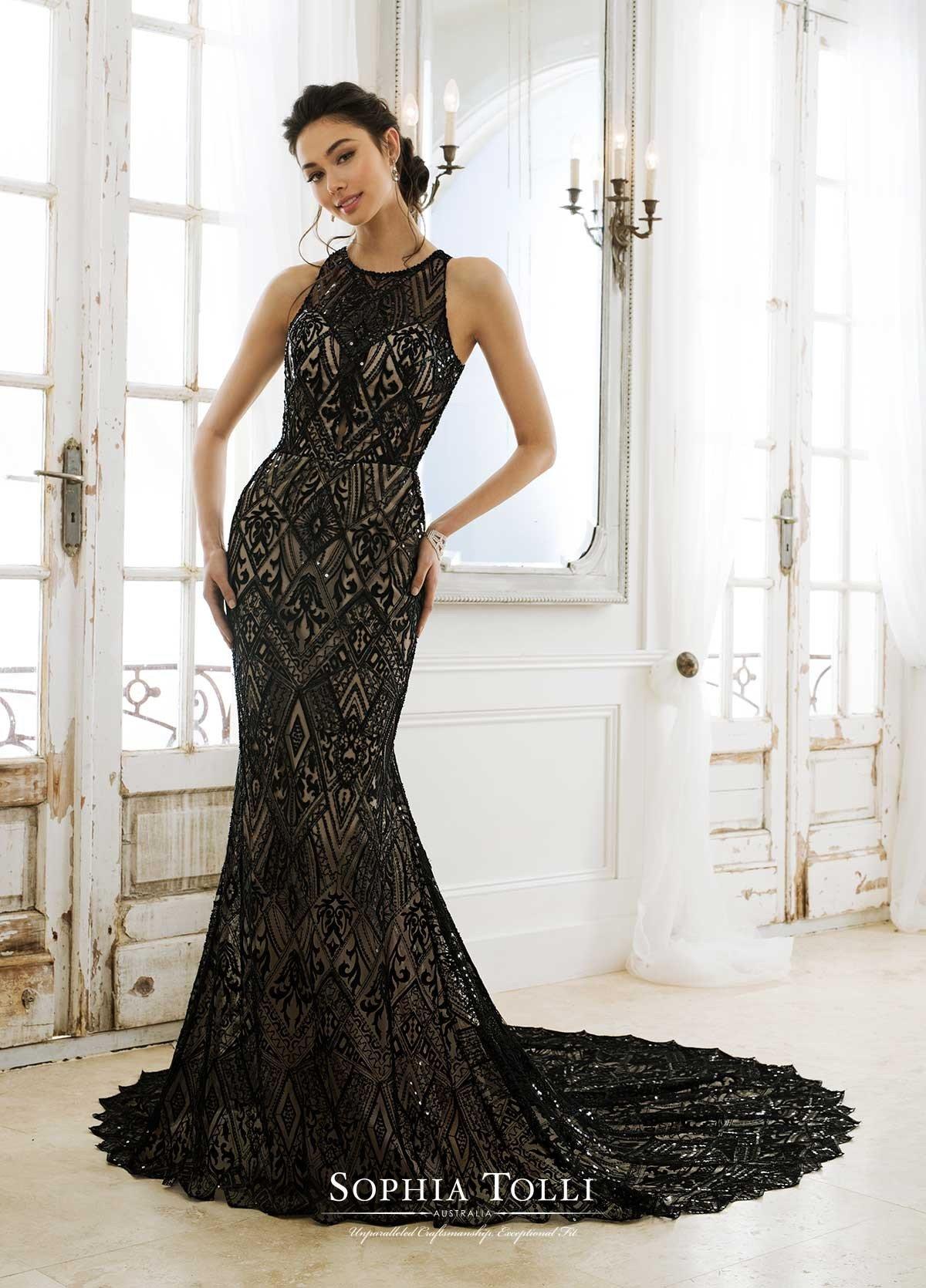 Do you have dreams of walking down the aisle in a black wedding dress? This gown by Sophia Tolli is one of the most beautiful we've ever seen.
Perfect for a gothic-themed wedding, this dress is made of sequin-adorned mesh which falls over a nude underlay. It's another one that will sparkle and shine as you twirl around the dance floor!
READ MORE: 16 Fabulous Black Wedding Dresses for Alternative Brides
19. Marnie Dress - Sophia Tolli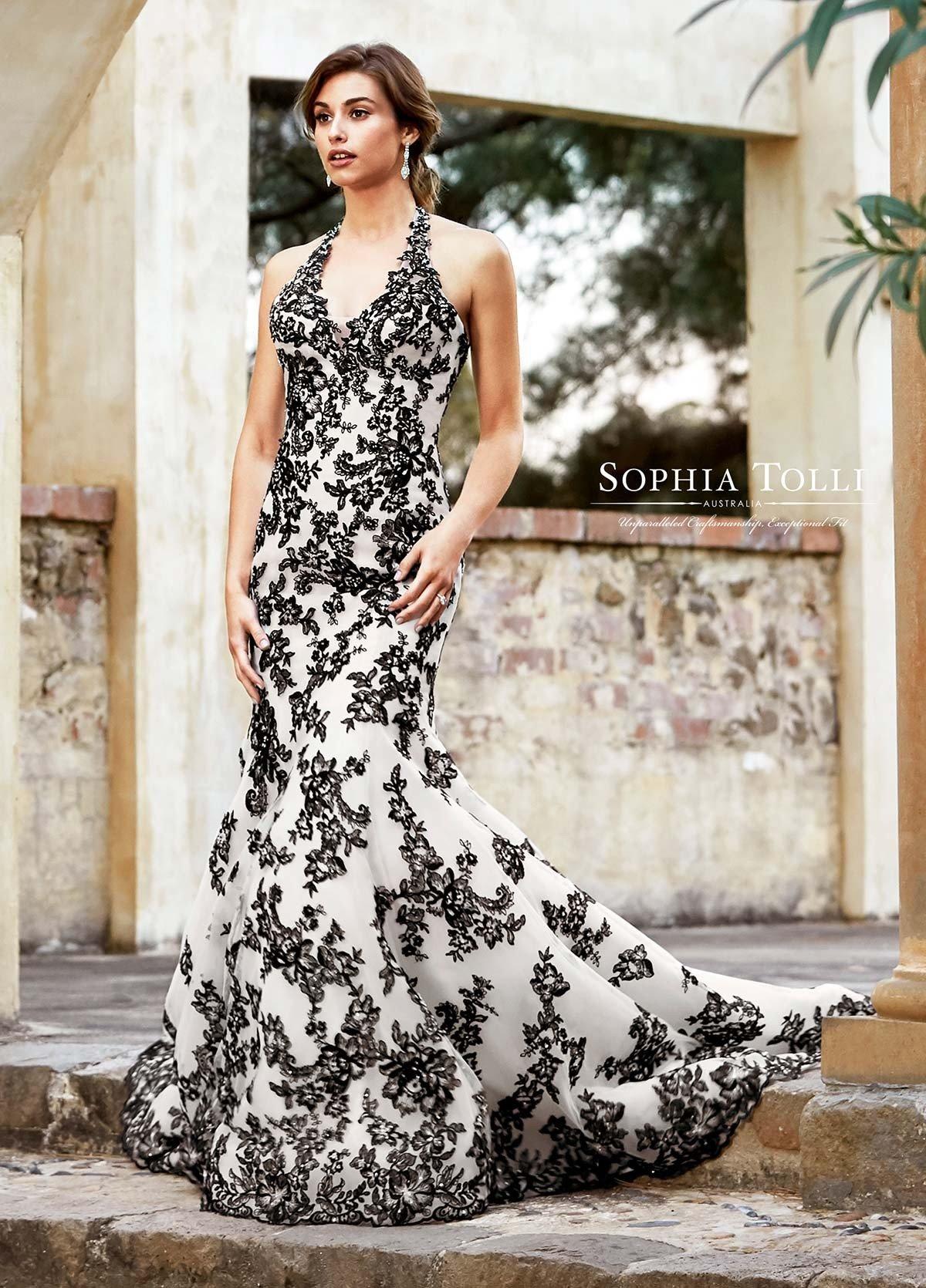 Or if you like the idea of including black in your wedding dress but don't want something too overpowering, why not opt for a monochrome wedding dress?
This gown, also by Sophia Tolli, is a totally beautiful choice. It boasts a full skirt, flattering halterneck and fitted silhouette. We're huge fans!
20. Single Shoulder Gown - Badgley Mischka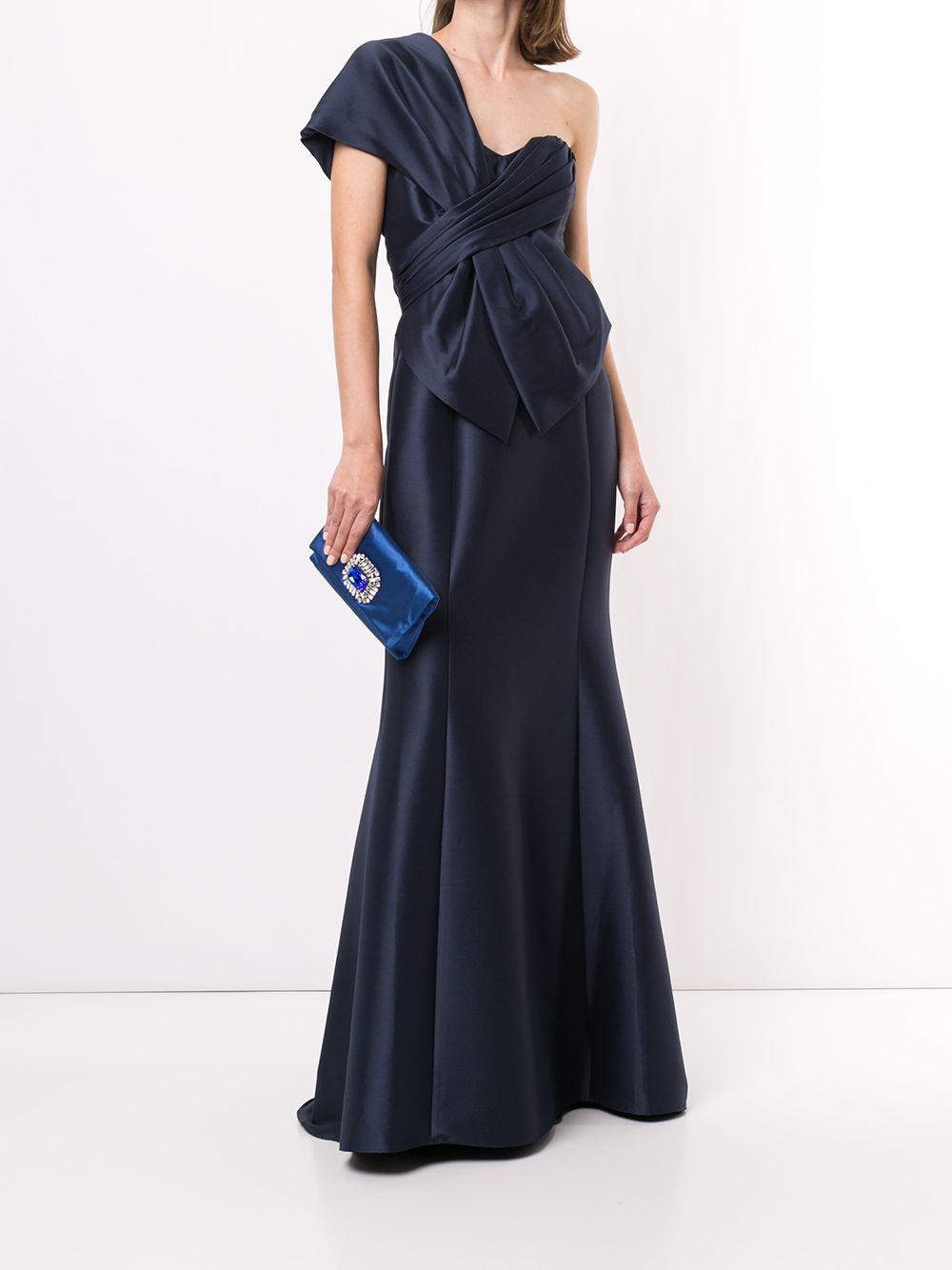 You don't often see a navy wedding dress, but this exquisite Badgley Mischka dress has us wondering why not – it's a totally unique option that you can be sure you won't spot in anyone else's wedding pictures!
And if you think that knotted shoulder detail is good from the front, just wait til you see how beautifully it drapes down the back.
21. Debbie Dress - Eliza Jane Howell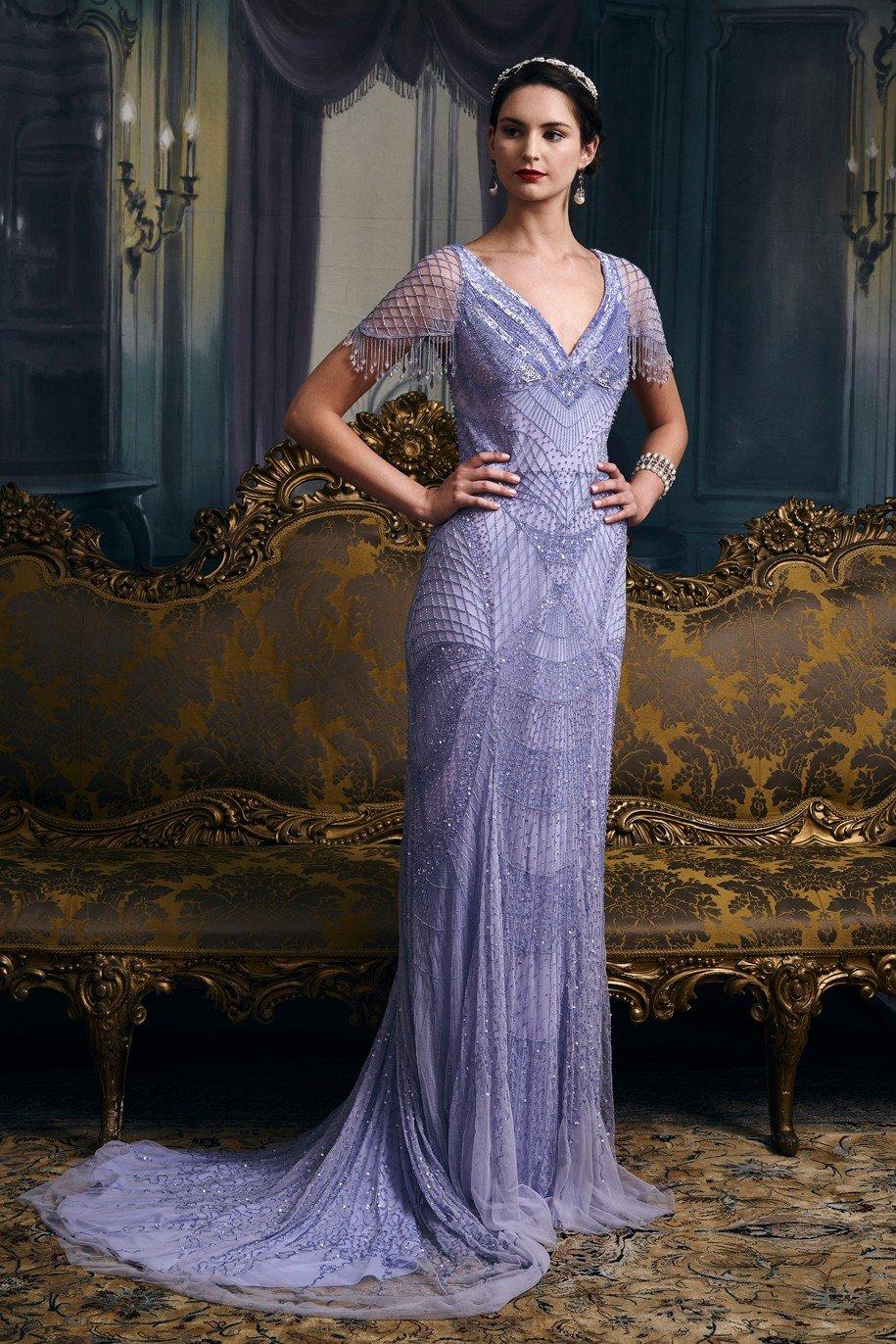 Brides dreaming up a pastel-coloured wedding will adore the lilac Debbie dress by Eliza Jane Howell.
If the stunning colour of this gown wasn't enough to have you sold, we're pretty sure the beaded capped-sleeves and all-over embellishment will be.
22. Style 6712 JEM - Hayley Paige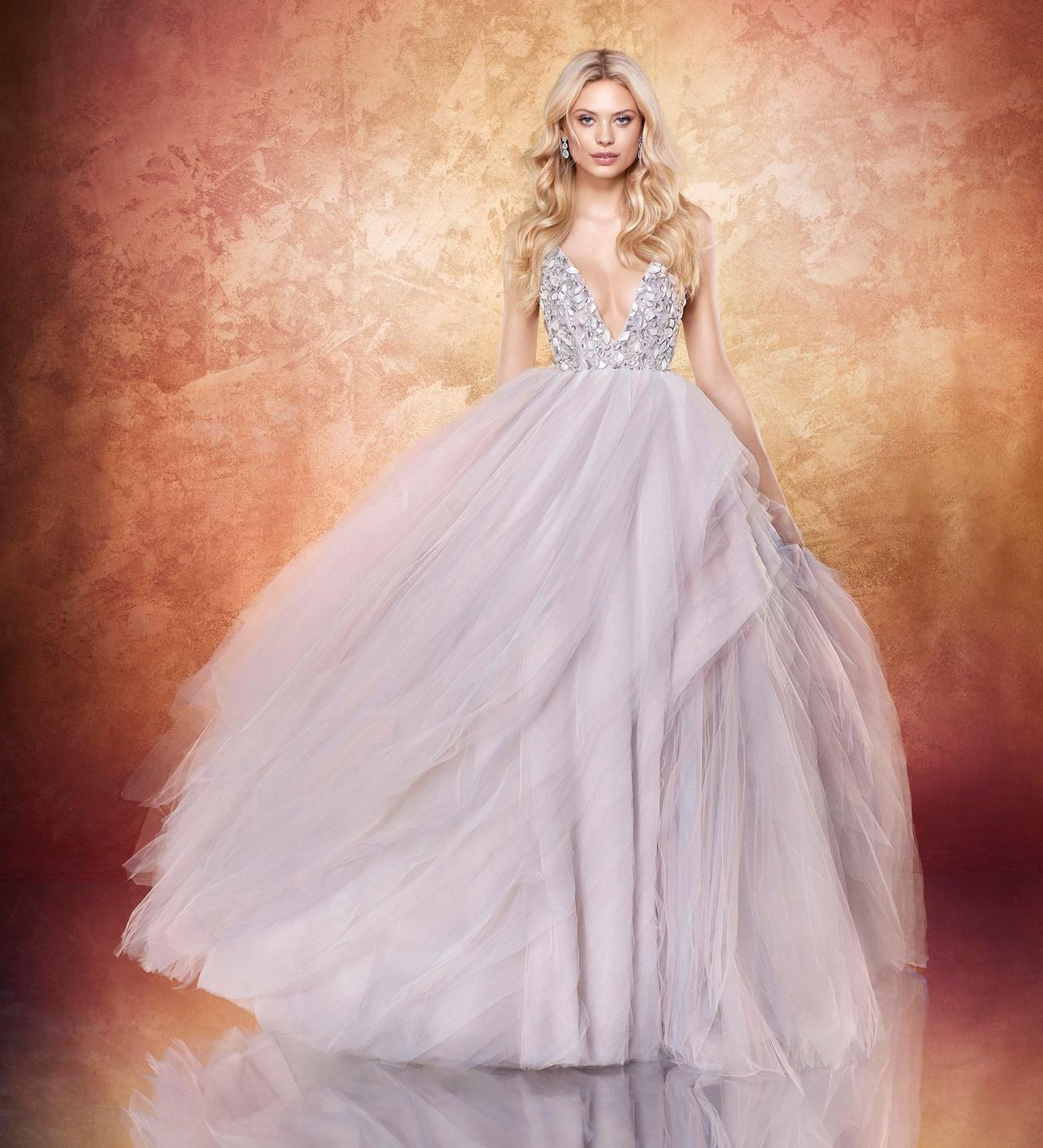 You'll feel like nothing less than a princess on your wedding day in Hayley Paige's 6712 wedding dress.
This bridal ball gown is designed in rock candy fabric with an embellished bodice, deep V-neckline and nude side cut-out. If that wasn't enough, the back has a flattering keyhole detail. This dress is also available in ivory.
23. Style 6700 LUMI - Hayley Paige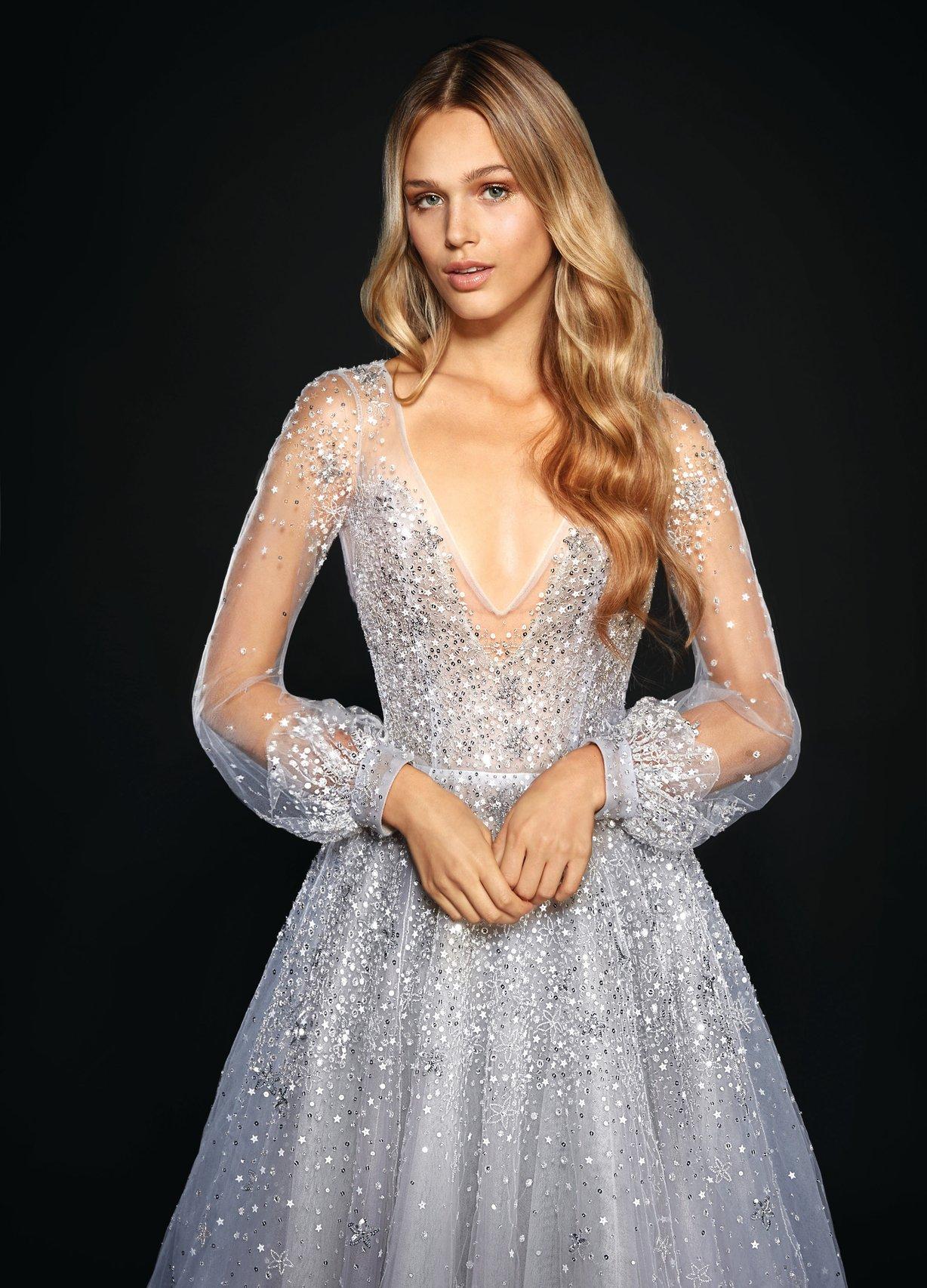 If you're hosting a celestial-themed wedding, this sparkly grey wedding dress by Hayley Paige would be the perfect gown to nod to your star-studded theme.
Thanks to its dream catcher sleeves, open keyhole back and sprinkled star embellishment, it will have you feeling quite literally out of this world. It's the perfect coloured wedding dress for brides who still want to keep things understated.
24. Anita Long Silk-Blend Dress - Temperley London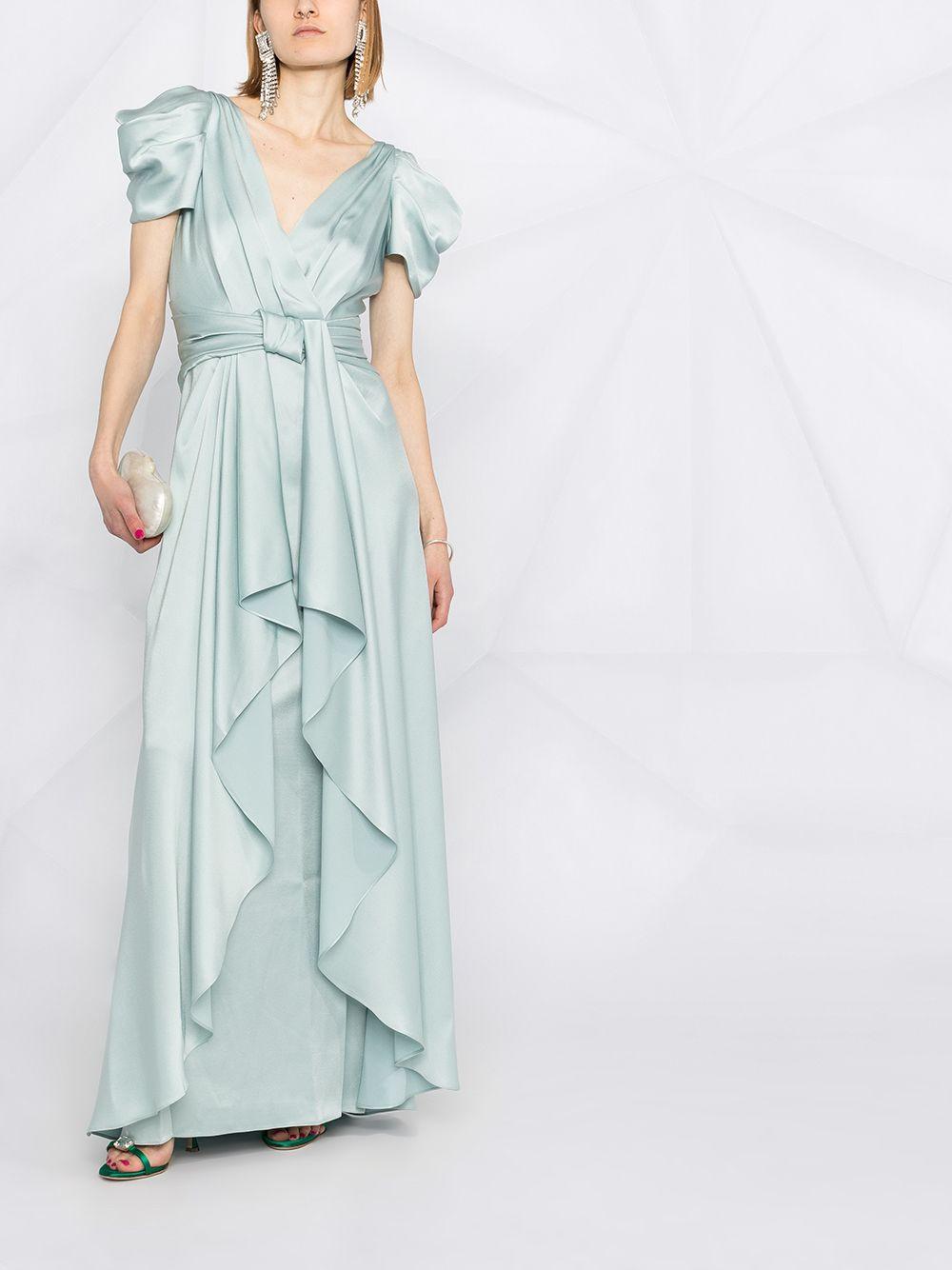 The ruffles, the puff sleeves, the sweeping floor length skirt – this Temperley London dress is one of the prettiest colourful options we've seen in a very long time.
The powder blue hue would look amazing paired with pearls or dripping silver accessories for ultimate ice queen chic.
READ MORE: 47 Unbelievably Unusual Wedding Dresses
25. La Robe Camargue - Jacquemus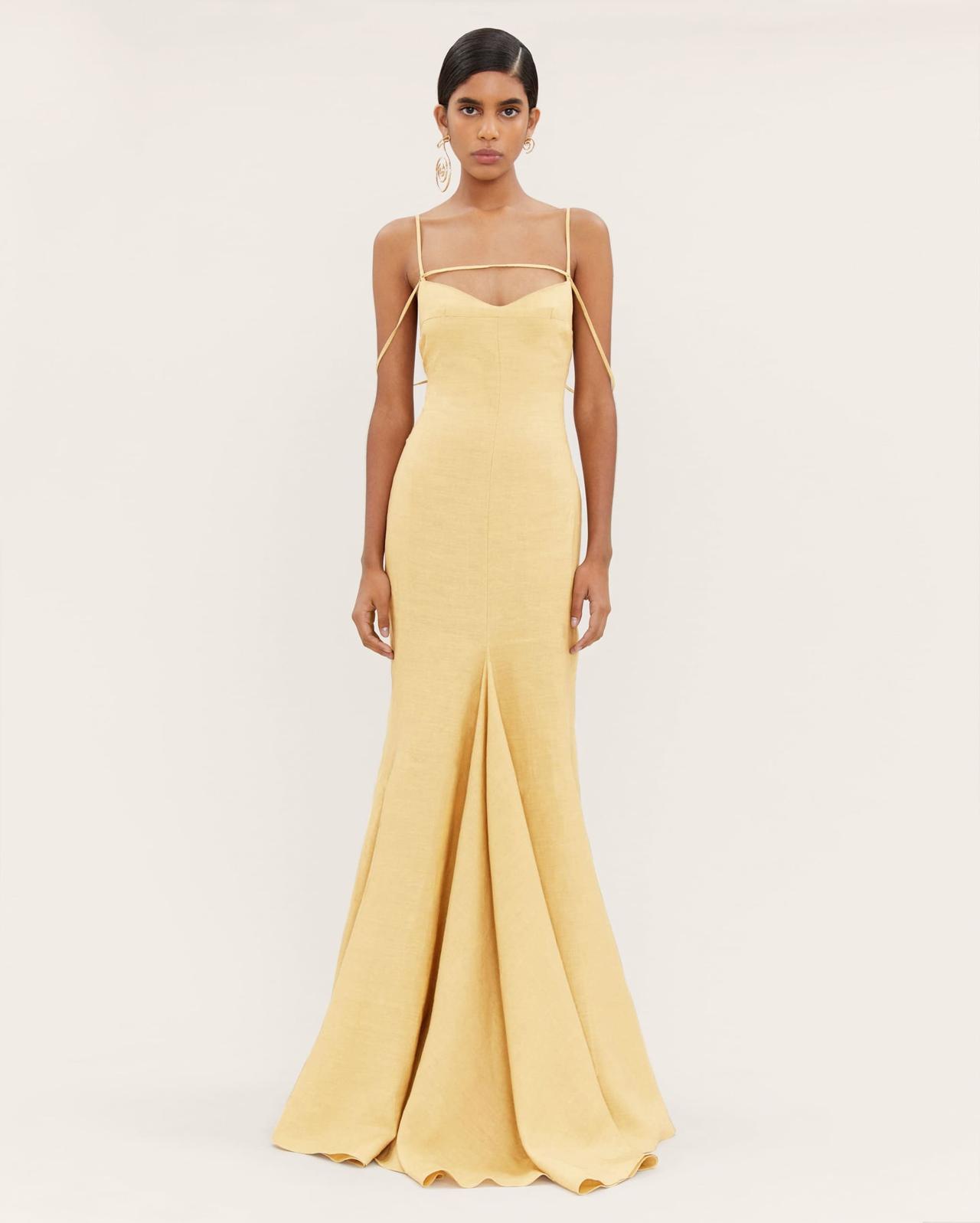 If the name Jacquemus rings a bell for you, it might be because Bella Mackie wore one of their pieces to wed Radio 1's Greg James a couple of years ago.
We're taking inspiration from her with this intricately strappy floorlength fishtail gown in the colour 'yellow sand' – sounds ideal for a beach wedding or summer celebration, if you ask us.
26. Cameron Dress - Reformation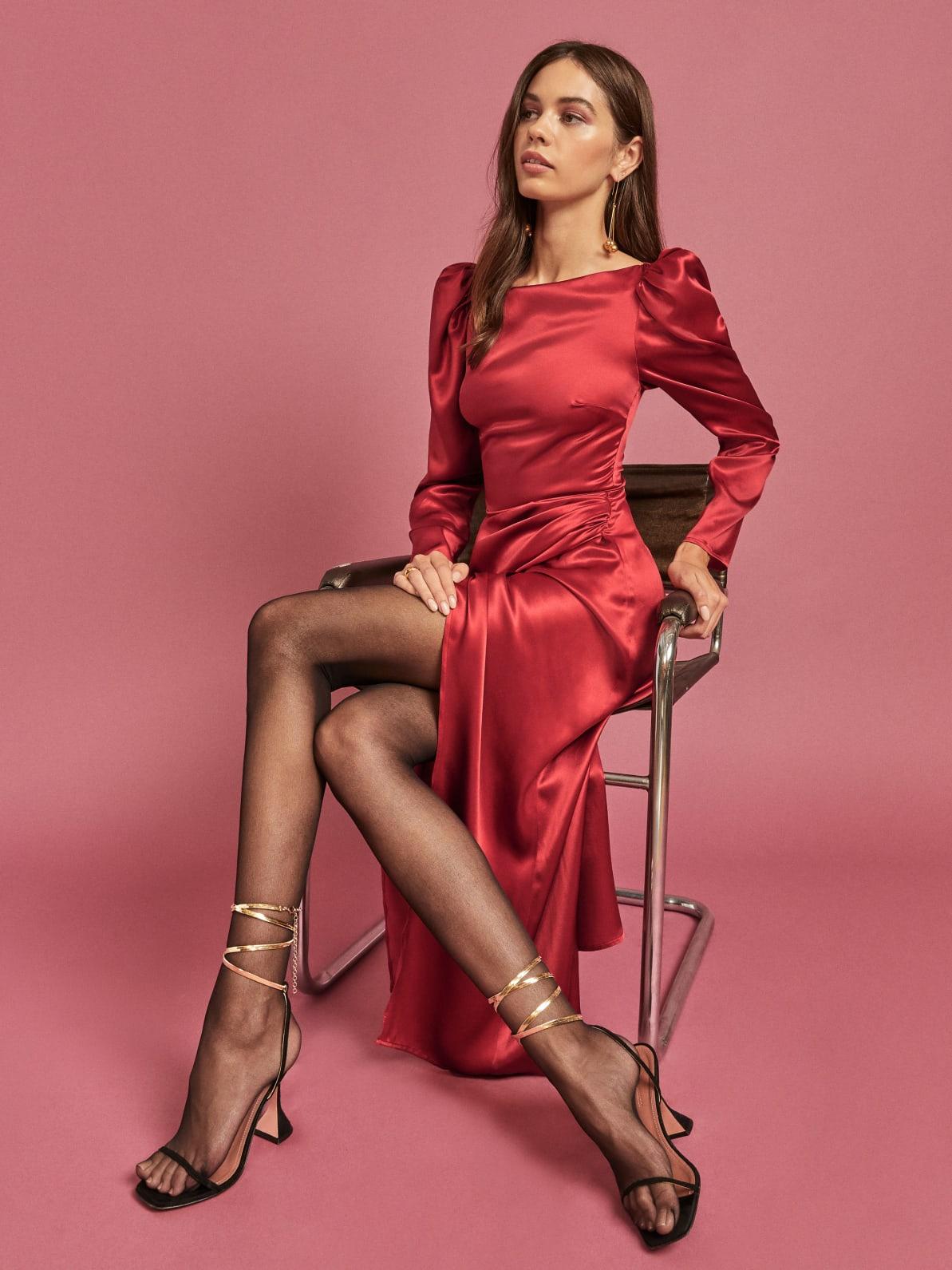 For a bride on a budget, we'd recommend an extensive scroll through Reformation's pretty epic selection of frocks, which come in around the £300 mark.
While their earmarked 'bridal' range is all white and ivory, their full dress section has dozens of designs that look far more expensive than they actually are – the cool, contemporary Cameron dress is our top pick, but we'd highly suggest you take a look at the whole jewel-toned range.
27. Harlow Dress - Vera Wang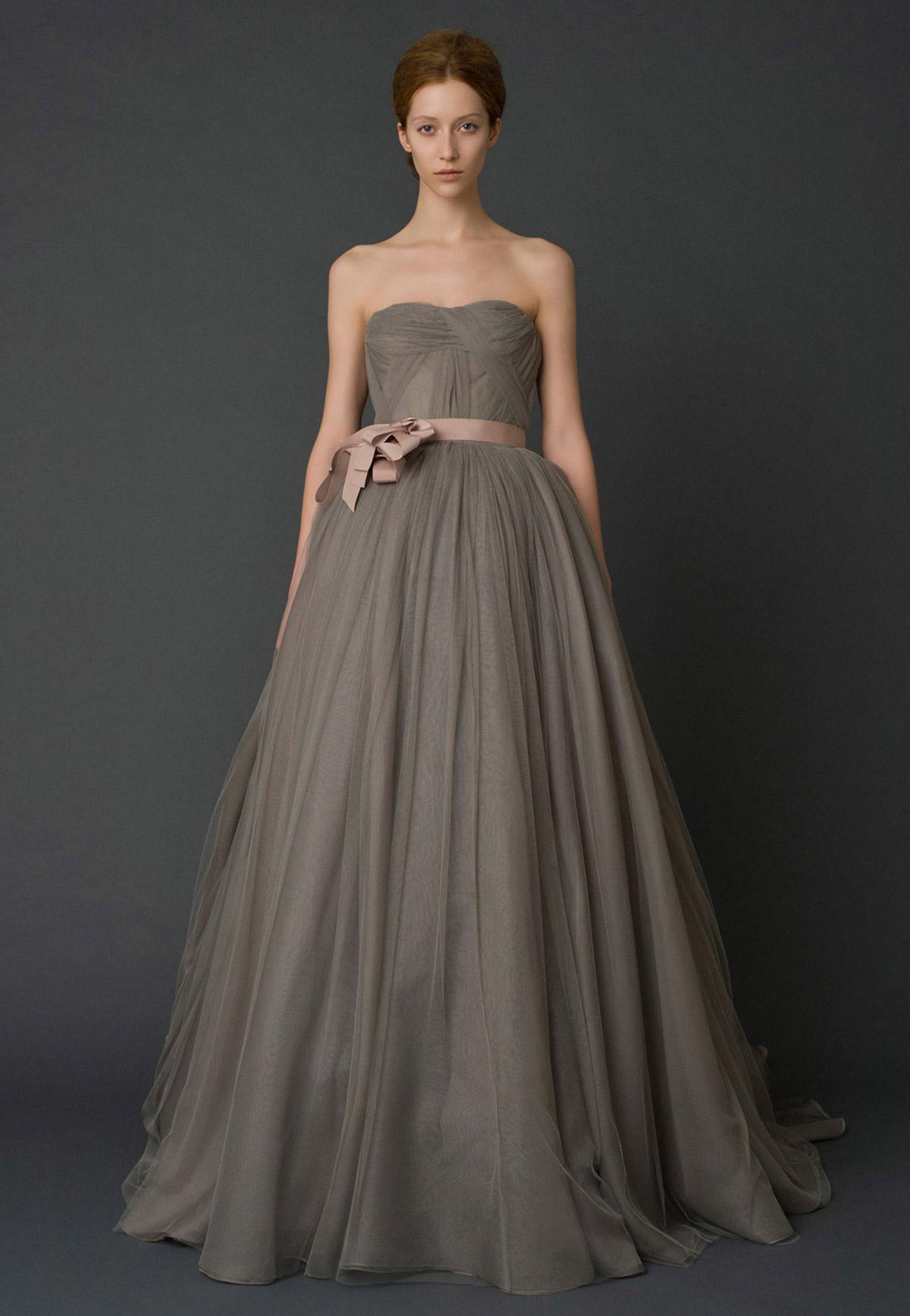 Charcoal grey and dusty rose are such an exquisite combination in this Vera Wang Harlow dress.
It ticks all of the boxes for traditional bride – a strapless sweetheart neckline, ballerina ballgown skirt – but with a subtly colourful twist. We adore.
28. Amora Dress - Suzanne Neville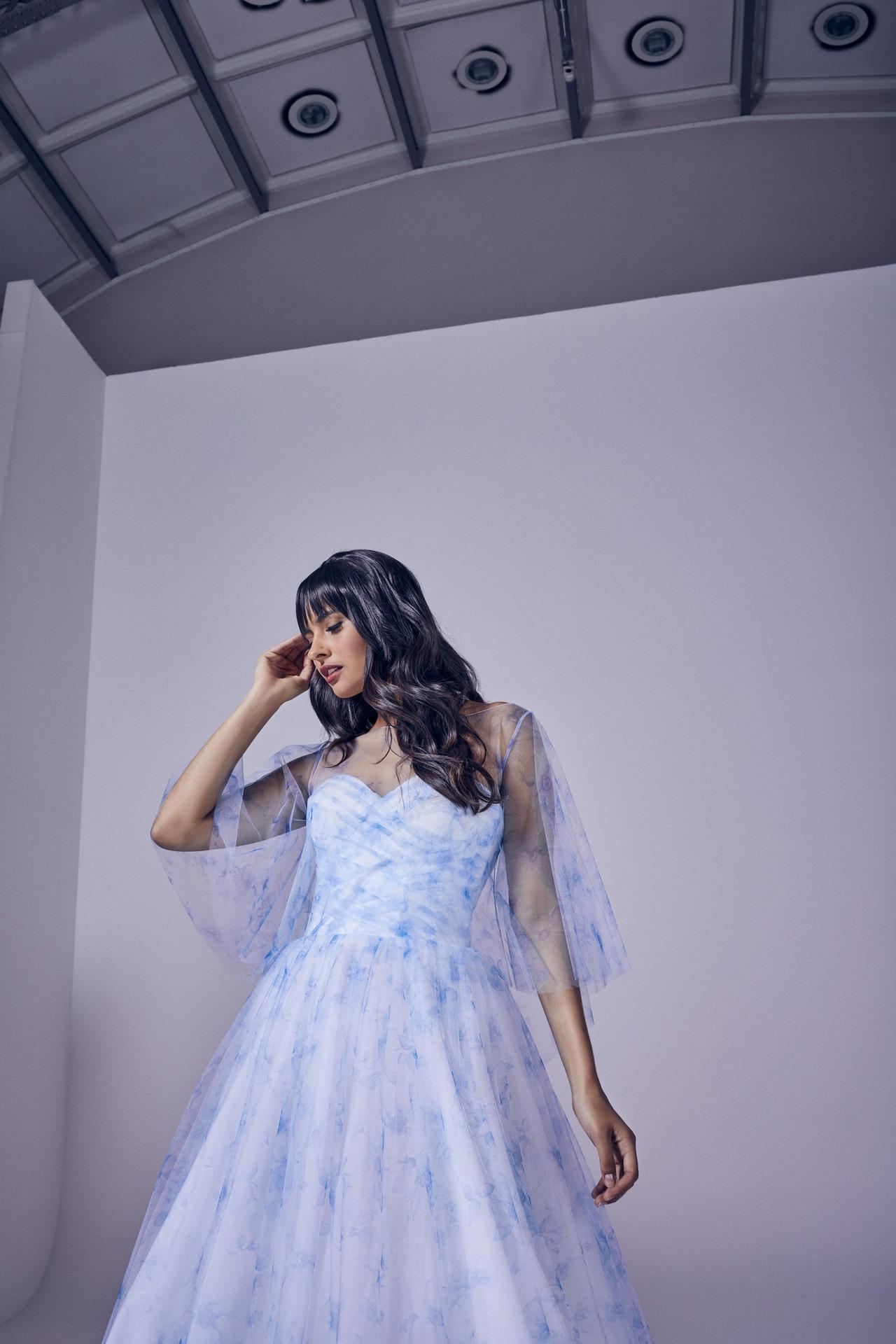 The Amora dress is from Suzanne Neville's 2021 'Modern Love' collection, and it really does feel like a fresh, exciting take on bridal dressing.
It sticks to the conventional with a white underlay, but is topped off with sheer blue fabric that gives it a completely ethereal, out of the ordinary finish. There's also a strapless version without the oversized sleeves, if you prefer.
29. Frida Dress - E&W Couture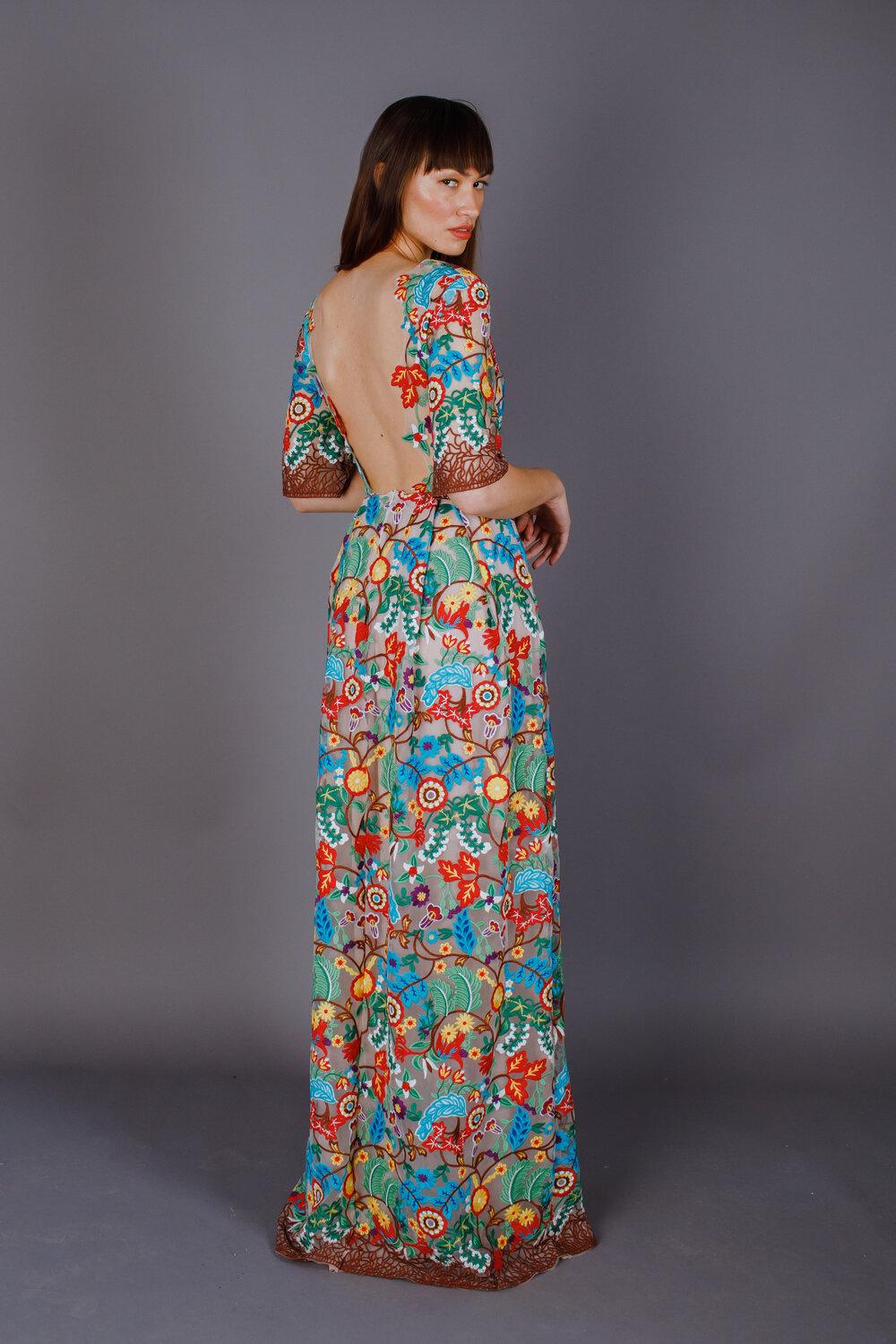 Welsh bridal couture brand E&W believe in breaking bridal stereotypes, and as such their collection is a treasure trove for brides seeking something completely unexpected and glorious.
Their Frida dress is the most lively and colourful of them all, which is exactly what earned it a spot on our list.
30. Amabel Gown - Rachel Gilbert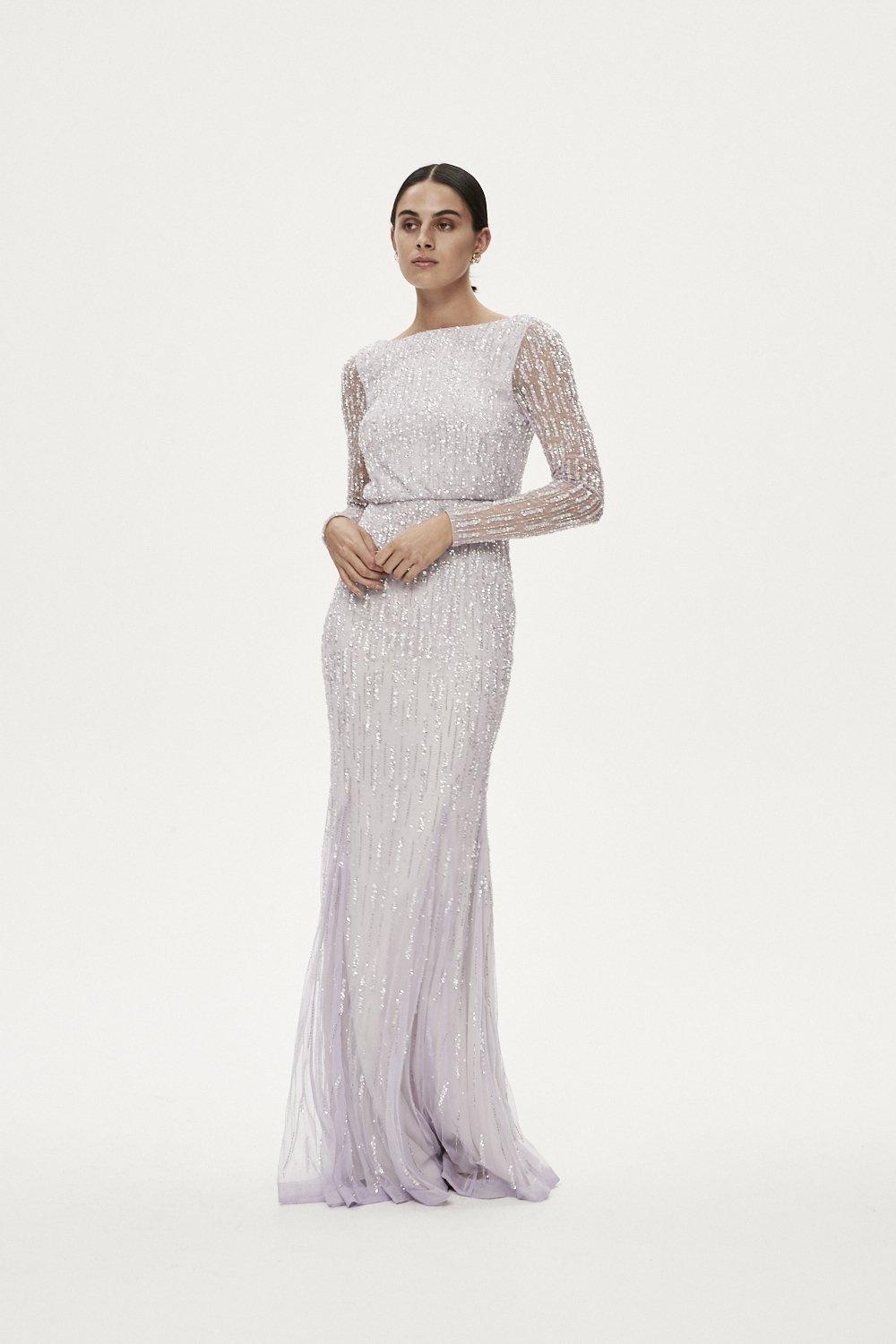 Last but absolutely not least, feast your eyes on the Rachel Gilbert Amabel gown, which comes in the most bewitching shade of lilac.
The ombre beading is all hand embellished and the silhouette is totally timeless. There isn't a venue we can think of where this wouldn't be a wonderful pick.
READ MORE: The Best Pink Wedding Dresses
If these colourful wedding dresses have got you feeling daring, take a look at our round-up of the most alternative wedding dresses of the moment for further inspo.