Wedding Dress Styles: 22 Shapes and Necklines You Need to Know
Discover which design works best for your body type and which to avoid with our ultimate guide to wedding dress styles and necklines!
We have included third party products to help you navigate and enjoy life's biggest moments. Purchases made through links on this page may earn us a commission.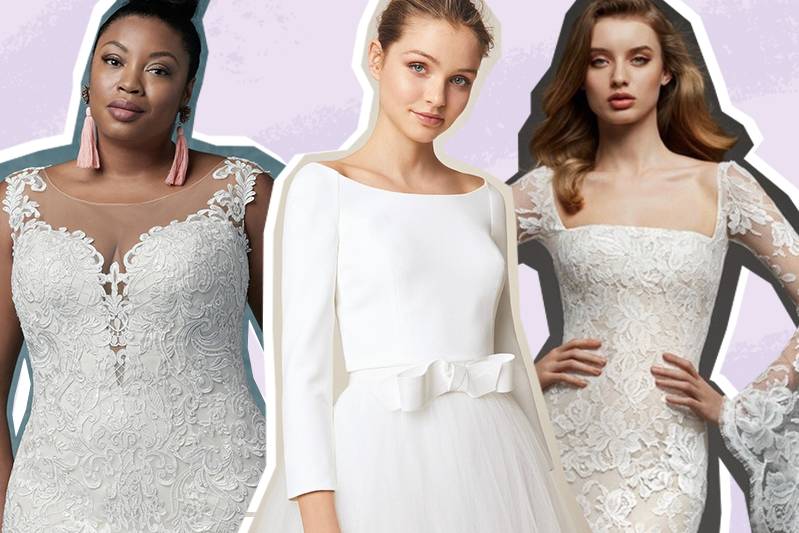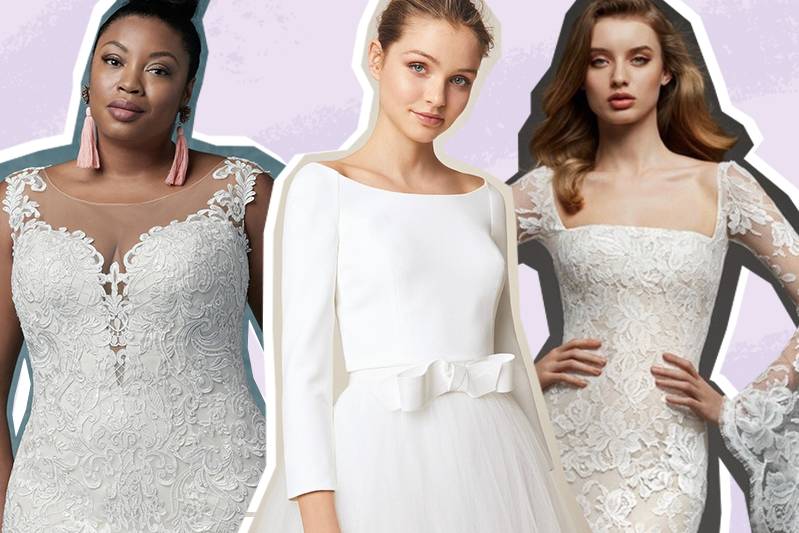 Enter a bridal boutique and you'll be faced with rows and rows of dresses. Where the heck do you start? The key is figuring out the right silhouette for your body type and that comes a little knowledge of wedding dress styles.
Below you'll find a guide to the traditional wedding dress styles and necklines. You'll find the most modern takes on these among our list of the biggest wedding dress trends of 2021 – whatever the new fashion is, you can guarantee at its heart will be one of these styles.
You want to feel your absolute best on your way wedding day, so start with looking in your wardrobe at the dresses you already have that you feel confident and beautiful in. You'll be better able to explain to the boutique assistant what shape works for you when you arrive for your appointment. Knowledge is power, after all!
Then look at these examples and see if there's any similar styles you like and think could work with your shape. We've added which styles works best for which body type to help you out.
The 10 Key Wedding Dress Styles
1. A-Line
Best for: All body types
An A-line dress is so called because it resembles the letter A: a fitted bodice through to the waist and then it gets fuller from the waist to the hem. It's like the little sister of the ballgown, the main difference is the skirt is less pouffy and widens more gradually.
Pear shaped brides are particularly well suited to this style. The A-line shape skims over the hips, making the waist seem smaller and leading the eye to the bust. Petite brides can use it to elongate the body if they avoid strapless styles.
2. Ballgown
Best for: All body types, but not very petite frames
A ballgown is that traditional 'princess' style, which pairs a fitted bodice with a dramatic, full skirt. It's a very flattering look for those with a big bust or broader shoulders as it evens out your top and bottom half. However, you need to be careful if you're petite as the dress can overwhelm you.
This style exudes glamour and is perfect for brides who dream of a classic fairytale wedding. Combining a lace-up bodice and a full, pleated or gathered ballgown skirt will really nip you in at the waist.
READ MORE: 42 Beautiful Boho Wedding Dresses
3. Basque
Best for: Slender bodies or short torsos
Basque dresses have a fitted bodice that sits just below the natural waistline and have a gentle v-shape at the front of the bodice. This style elongates the torso but draws attention to the waist so don't wear if you're self-conscious of your stomach.
4. Column/Sheath
Best for: Athletic figures
A slim-cut style that drapes straight down from the neck to the hem. It looks fantastic on tall or short lean figures but it can be very unforgiving as the fabric often has little stretch. A column or sheath dress follows the body's natural shape so is a fantastic choice if you want to show off a willowy figure but should be avoided if you're conscious of your hips.
5. Drop Waist
Best for: Smaller hips and longer torsos
On a drop waist dress, the waist falls below the natural line to the mid-hip. It can be difficult to pull off as it adds length to the top half, meaning it can make petite women's legs look shorter. An exaggerated drop waist is typically seen on mermaid and trumpet dresses where the waist line is at mid-thigh or below the knee.
READ MORE: 37 of the Best Short Wedding Dresses
6. Empire
Best for: Apple shapes looking to cover their waist or athletic figures to create a bigger bust
Empire silhouettes have a high waistline that starts just under the bust on a fitted bodice. The skirt is normally long and flowing, which skims the body, emphasises the bust over the waist and helps lengthen the body.
Empire line dresses are perfect for slim brides with a small bust, and for petite brides who want to appear taller. It's forgiving around the legs and hips and is also great for apple shaped brides, with a little extra weight in the middle, bringing attention upwards and smoothing-out the middle.
7. Fishtail/Mermaid
Best for: Hourglass figures
Fishtail or mermaid dresses are fitted down the bride's body and flare out at or below the knee. This creates a sleek "mermaid" tail shape and is fantastic for emphasising curves. The key difference between a mermaid and trumpet dress (below) is where the flare begins. For the trumpet/fit-and-flare dress it's mid-thigh, whereas a mermaid dress flares dramatically below the knee.
Choosing lace as your main material will detract from any lumps and bumps and make this figure-hugging style more forgiving. It also benefits from a little added height, so add a pair of comfy heels you can wear all day.
8. Fit-and-Flare/Trumpet
Best for: Hourglass and pear figures
A fit-and-flare or trumpet dress comes somewhere between an A-line dress and a fishtail dress. The fabric is fitted to the body from the bodice down to mid-thigh where it flares out to the floor in a "trumpet" shape. All these names are often used interchangeably by dress designers so make sure you look clearly at where the flare begins on the dress you try on. Trumpet dresses are easier to move in as the flare comes above the knee.
READ MORE: 30 of the Best Pink Wedding Dresses
9. Princess
Best for: All body types
Princess line dresses are not the same as ballgowns. A princess line dress uses princess seams which go from the top of the dress to the hem and are long and curved, meaning there is no defined waist. The seams hug tightly to a woman's curves, giving a tailored look that is very flattering on bigger busts as it slims the torso and gives more room in the chest area – but looks universally good.
10. Short/Tea-Length
Best for: Petite brides or destination weddings
These are quite simply dresses with a shorter hemline. A tea-length dress will sit between mid-calf to just above the ankles, while a mini dress will be mid-thigh. Floor-length dresses can swamp short brides to a higher hemline may look better; simply heavy layers may not work on a hot beach but a floaty tea-length dress will.
The 12 Key Wedding Dress Necklines
1. Asymmetric/One-Shoulder
An asymmetric neckline will have a strap on just one side, showing off a little shoulder and bust but remaining modest. Asymmetric necklines don't need to have any straps at all and can be structured instead, but a strap on one-shoulder is most common. If you have broader shoulder, asymmetric necklines can exaggerate this.
READ MORE: 21 Floral Wedding Dresses
2. Bardot
Named after actress Brigitte, the Bardot neckline sits off the shoulder, looking as if someone has moved your straps down from your shoulders to the top of your arms. It's a flattering cut that's great for showing off necklaces, but again, should be avoided by those with broader arms as you can cut you off at the widest part.
3. Bateau/Boat
Popularised by Meghan Markle's wedding dress, a bateau neckline is cut in a straight line from shoulder to shoulder following the collarbone. It's high at the back and the front so is a great modest neckline that looks fantastic with or without sleeves.
4. Halterneck
A halterneck dress is a sleeveless gown that either has two straps from the bodice that meet at the back of the neck or a high neckline with deep armholes and a backless design. It's a popular alternative to a strapless dress for modern brides that shows off the shoulders and upper arms.
READ MORE: 21 Gorgeous Registry Office Wedding Dresses
5. High Neck
A high neck is popular among the Victoriana trend where the neckline comes up to their mid-neck or underneath the chin. It's a modest neckline that longs brilliant on those with long torsos.
6. Illusion
An illusion neckline is usually a strapless dress with a sheer panel of fabric from the top of the bodice to the neckline. The sheer panel is often made of lace, net, tulle or organza and may have embellishment on it. It gives the impression of a bare décolletage while being covered up. You'll often find illusion backs on dresses too.
7. Scoop
A scoop neckline is low-cut and in a rounded U-shape. As it's deep and wide, it's flattering on most body types as it draws the eye down to lengthen your neck and drawing attention to your collarbones. If you've got a large bust, it can be a good way of showing off your cleavage without displaying too much.
READ MORE: 17 Beautiful Vintage-Inspired Dresses
8. Spaghetti Strap
Thin straps (resembling spaghetti) are all that holds up the dress on a spaghetti strap gown. These delicate, floss-thin straps give the look of bare shoulders while providing a little bit of support. If you have a large bust, it's best to avoid as they won't give you peace of mind.
9. Square
Square neck dresses have an angular shape created by three straight lines. This neckline will downplay a round face and help to give the shoulders a broader look.
10. Strapless
With no straps attached to the neckline, a strapless dress sits snugly across the bust and under the arms, fastening securely at the back. It's essential to get a strapless dress properly fitted as anything too tight can lead to spillage by the armpits and back regardless of how petite you are. It's a classic look and shows off a statement necklace or jewellery.
READ MORE: The Best Alternative Wedding Dresses
11. Sweetheart
This wedding dress style is loved by brides for its feminine and romantic look. A sweetheart neckline forms a natural heart shape across the bust and can either have straps or not. It works with larger busts, showing a hint of cleavage. This is also a great neckline if you have an angular face as the curves and contours add softness and balance.
12. V-neck/Plunge
A V-neckline is formed by two diagonal lines from the shoulder that meet on the chest, the plunging 'V-shape' exposes the neck and décolletage. The depth of the plunge will vary for a little notch to down to your navel, so be wary of how much cleavage you want to show. However, V-necks create the impression of height and are particularly good for apple shapes.
Need more advice? David Emanuel reveals his dos and don'ts of wedding dress shopping.