34 Hen Do Outfit Ideas: From White Dresses to Classy Co-Ords
Whether you're the bride, bridesmaid or a guest, these hen do outfit ideas will have you covered from dinner to the dancefloor
We have included third party products to help you navigate and enjoy life's biggest moments. Purchases made through links on this page may earn us a commission.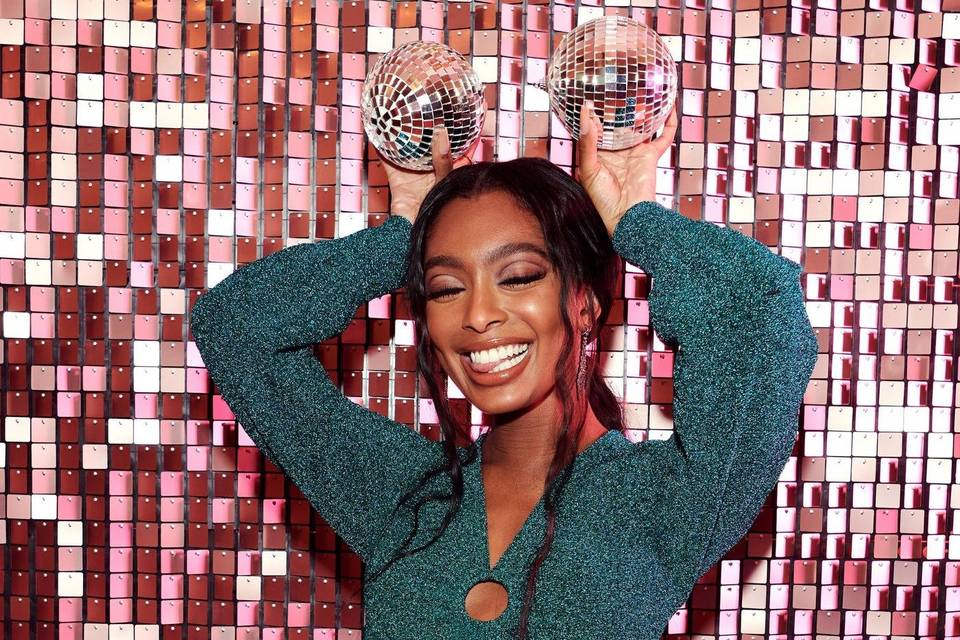 Whether you're in charge of planning a hen do or you're attending one, this upcoming event is the perfect excuse for ordering a new outfit (like we needed one). If the hen party calls for fancy dress we have an amazing guide to the best hen party themes, but if you've been given free reign on what you can wear we've got you covered with 34 gorgeous hen do outfit ideas - from white hen do outfits for the bride, to classy hen do outfits for the rest of the group.
Start by considering what type of hen do it'll be - will you be dancing on tables all night, or is an at home pyjama party more the vibe? Lots of hen parties are an all day affair and if that's the case you'll need a classy hen party outfit that works just as well sitting down at brunch as it does ordering drinks at the bar.
Once you've got the theme down the real work begins - outfit hunting! To make this task a little less overwhelming we've compiled an edit with the best outfits for a hen do available to buy on the high street now. We've even sectioned them into categories depending on the occasion, so if you're unsure what to wear to an activity hen do, are searching for hen do outfits for the bride, or you're looking for the perfect 'jeans and a nice top' combo you've come to the right place.
Hen Do Outfits for the Bride: White Hen Do Dresses & Outfits
Your bride hen party dress is the second most exciting dress you'll buy so it has got to be an epic one and your hen do provides the perfect occasion to dress 'bridal' even before the big day. We love the idea of focusing on pretty shades of white or ivory and including fun features such as feathers and sequins. You are the star of the show after all, so you need a classy hen party outfit to match!
1. Margot White Blazer & Trousers - £315 & £235, Nadine Merabi
Fashion-forward brides-to-be might want to wear a chic suit to celebrate in and while this dreamy feather trimmed Nadine Merabi outfit might be an investment, it's one we are fully on board with. You might even consider wearing it as your wedding reception dress as well as the hen.
2. Luxe Mini Dress - £130, ASOS
This ASOS dress is a real showstopper and an outfit that is perfect for a party-ready bride. The gorgeous ruffles will shimmer and shine when you move and look fabulous when photographed.
3. Lace Mini Dress - £34.99, Quiz
For a classy hen party outfit that has a traditional bridal look, consider Quiz's lace dress. The fabric is gorgeous, as is the intricate open back and ruffled sleeves.
4. Desiree Linen Dress - £218, Reformation
How cute is the Desiree linen dress? This best-selling style from trend-forward brand Reformation will be perfect if you are your hens are jetting off to sunnier climes for the hen party.
5. Sequin Bodycon Dress - £129, Coast
The sequin panelling on this Coast dress creates a clever silhouette that will flatter all body types. Pop an oversized blazer across your shoulders and your look is complete.
READ MORE: The 30 Best Hen Party Games
6. Off The Shoulder Dress - £39.99, H&M
Your bride hen party dress doesn't have to include sequins, feathers and all the extras, in fact a simple dress like this H&M number can have just as much of an impact. You'll be wearing this dress for seasons to come.
7. Sequined Halter Neck Dress - £59.99, Mango
We're obsessed with this jazzy dress from Mango. Perfect for a glamorous bride who wants all the glitz, it's giving us major designer vibes for less than £60!
8. Jayda Sequin Cowl Dress - £85, Pretty Lavish
This long sleeved mini dress design from Pretty Lavish is a really flattering pick for all body types. The tie belt will cinch you in at the waist and the smattering of white sequins will ensure all eyes are on you.
Boho Hen Party Outfits
Boho hen party outfits are perfect if you are throwing the bride a fun festival hen do. Better yet, they are typically really comfortable to wear thanks to loose fitting silhouettes so they are great option for all-day celebrations.
9. Tassel Wrap Printed Chiffon Dress - £109, Coast
Keep things comfortable with this wrap over dress from Coast. It'll look just as gorgeous paired with trainers as it would with killer heels so will work for any kinds of hen party.
10. Bali Citrus Skies One-Piece - £128, Free People
Free People are our go-to brand for boho styles - the Bali dress is seriously spectacular and is available in sizes XL-XS. Pair with lace up sandals for an even more laid-back feel.
READ MORE: 38 Best Boho Wedding Dresses
11. Tie-Dye Kimono Dress - £239, Karen Millen
Tie dye was all over the catwalks this season and we adore this pretty blue dress from Karen Millen. It remains loose and comfortable but the sequined shoulders and ruffled sleeves keep the outfit hen party appropriate.
12. Tassel Beaded Halterneck Top - £89, Nasty Gal
Not a fan of wearing dresses? This tassel top from Nasty Gal has just the right amount of sparkle to make it hen night out ready without being too much. It'll look amazing worn with leather trousers or jeans.
Plus Size Hen Do Outfits
With stylish brands such as Coast and New Look offering up size inclusive collections, it's never been easier to shop for plus size hen do outfits. You'll find a 'fit to suit all body types and tastes, including jumpsuits, skirts and dresses.
13. Brown Swirl Ring Jumpsuit - £32.99, New Look
If you're predicting your hen do might get a little wild, avoid any outfit slip-ups by opting for a pretty yet practical jumpsuit. This patterned New Look number is from Gemma Collins' new collection!
14. Halter Satin Midi Dress - £79, Coast
You can't go wrong with a simple satin slip dress and this midi one with a halter neck from Coast has a gorgeous metallic sheen to it and is available in sizes 18-26.
15. Zoe Skirt - £150, Reformation
We love how this model has paired this satin skirt from Reformation with a pretty polka dot top - if you're attending a day-to-night hen do it's an ideal transitional outfit that'll work for both.
16. Fringe Slip Mini Dress - £75, River Island
You'll be sure to stand out from the crowd in River Island's fringed green beauty! We love how the model has worn a clashing pair of vibrant orange heels with this style.
What to Wear to an Activity Hen Do
If there are lots of practical activities planned for the hen do (whether that means you'll be taking part in an obstacle course or trying to find your way out of an escape room), it goes without saying you'll need a practical outfit that you'll be able to move in. That doesn't mean you've got to rock up in something plain - there are lots of beautiful options below.
17. Striped Shirt & Trousers - £49.99 & £49.99, Mango
Matching co-ord sets are an easy way to look stylish without having to put a lot of effort in. This striped print trouser and shirt set from Mango is seriously cool and the vertical stripes will elongate your legs.
18. Eva Playsuit - £45, Nobody's Child
You wouldn't think it at first glance but this floral number from Nobody's Child is actually shorts and not a skirt. It's ideal if you'd rather wear something a little more dressy but you don't want to worry about pulling your skirt down all day.
19. Jett Asymmetric Blouse - £52, Pretty Lavish
The Jett blouse from Pretty Lavish has a unique, asymmetric neckline with one sleeve that falls off the shoulder in the most beautiful way. Simply pop on a pair of jeans, grab your clutch and you're good to go!
What to Wear to a Brunch Hen Do
A brunch hen party calls for a chic yet comfy outfit - remember you might be sitting down for a large portion of the day so you might not want anything too tight or short. Opt for an easy throw-on style dress with a playful print, or a beautiful top that you can pair with your favourite jeans so you won't have to worry about tweaking your outfit and you can focus on more important matters (like getting your full money's worth of bottomless boozing!)
20. Floral Plunge Puff Sleeve Blouse - £35, Nasty Gal
The outfit saviour everyone needs in their wardrobe - the 'jeans and a nice top' combo. If you already have your favourite pair of jeans ready, all that's left is to find the perfect top and this floral blouse from Nasty Gal is a great contender. We're wearing ours with barely-there heels and a chic blazer.
READ MORE: 20 of the Best UK Airbnbs for a Hen Party
21. Leopard Print Midi Dress - £25.99, New Look
Leopard print lovers we think we've just found you the perfect dress. Boasting a flattering shirred waist and a fit-and-flare design, this New Look dress will make a statement without the need for accessorising. Simply pop on a pair of chunky boots and you're good to go.
22. Printed Cowl Neck Maxi Dress - £89, Coast
If you're looking for summer in an outfit, we think we've found it in this Coast dress. It'll also double up as a beautiful wedding guest dress as well as your hen party outfit.
23. Floral Mini Blazer Dress - £80, River Island
We're picturing this fabulous River Island dress being worn to a beautiful brunch or afternoon tea hen do. Cut from jacquard and complete with pretty rhinestone buttons it's so elegant and sophisticated.
24. Floral Keyhole Split Midi Dress - £27.99, New Look
Featuring a puff sleeves, flattering ruching and a pretty pattern, you might wanna pick this New Look dress up pronto as we're predicting a sell-out! It was simply made for a hen do brunch as it's the perfect combination of sophisticated, stylish and fun.
25. Pale Yellow Blazer & Trousers - £35.99 & £25.99, New Look
New Look have an array of suits in pretty pastel shades that are perfect for a brunch hen party. We adore this lemon number but it's also available in lilac and green.
What to Wear to a Night Out Hen Do
Hitting the town for a big night out? Whether you're going with just your friends or opting for a sten do with everyone, what you need is a gorgeous outfit that'll look and make you feel amazing all evening. The key is to go for something that you'll be the most confident in, whether that's a sparkling mini dress, a skirt or jeans!
26. Bottle Green Glitter Playsuit - £36.99, Quiz
Quiz's party collection is full of fabulous pieces that will work wonderfully for a night out hen do. This glittery playsuit is ideal for hens who love to party as it creates the illusion of a dress while ensuring you won't be at risk of flashing.
27. Colour Block Ruffle Mini Dress - £55, Nasty Gal
Orange and pink is a colour-clashing combo made in heaven and this satin mini dress from Nasty Gal is going straight in our baskets. Nasty Gal often offer their collections at a discounted rate so you can likely get this bangin' outfit for a fraction of the original price.
28. Black Animal Print Sequin Mini Dress - £85, River Island
Don't be afraid to wear something a little (or a lot) out there - this is your besties hen do after all! Featuring sequins, bows and zebra print, this shimmering dress from River Island is a real showstopper.
READ MORE: The 30 Best Hen Party Games
29. Effie Frill Sleeve Slip Dress - £315, Rixo
If you've had your heart set on owning a Rixo dress for a while, now's your time to dive in. The Effie frill sleeve slip dress is a magical design that you can dress up or down with matching accessories depending on your taste.
30. Ciara Midi Dress - £75, Nobody's Child
Statement sleeved dresses are seriously trendy and this pale pink option from Nobody's Child is one of the best ones we've seen. We bet it will have the whole hen do asking you where you got your outfit from.
31. Satin Knot Front Dress - £40, River Island
A fail-safe option for any hen do celebration is a chic, black wrap dress. It'll flatter all body shapes and can be paired with all kinds of accessories, from monochrome to bright and even metallic.
What to Wear to an At-Home Hen Do
Maybe you've got a relaxed(ish) night in planned, or maybe you're hosting an at-home hen do. Either way, cosy clothes are a must! Think luxe matching pyjamas, easy t-shirts and comfy sets that'll make movie watching and face mask applying a breeze.
32. Personalised Satin Pyjama Set - £50, Hitched Shop
It's only right that you wear matching outfits at some point of the hen do and we think co-ordinating pyjamas is a brilliant call. Better yet, why not opt for these personalised pairs from the Hitched Shop so you can all have your names stitched onto the pocket? They'll make a lovely keepsake to wear long after the wedding.
READ MORE: The 23 Best Hen Party Houses in the UK
33. Bride Squad Heart Top & Legging Set - £20, Boohoo
You'll be able to grab the whole hen party these 'bride squad' pyjamas as they're only £20 each from Boohoo. At that price it doesn't matter how many drinks get spilt down the front of them!
34. Darcie Pink Pyjamas - £150, Nadine Merabi
Treating your girls to these Nadine Merabi pyjamas will be sure to put a smile on their faces. The feathered trim and soft pink hue will look so cute on your crew and the bride can wear the white version.
What to Wear to a Hen Do?
The key to picking a hen do outfit is choosing clothes that you will feel comfortable in and are appropriate for the type of activities you will be doing. If you have an activity planned, the last thing you want to be worrying about is pulling your dress down so the classic 'jeans and a nice top' combo is ideal. Heading on a night out? A fun dress will look amazing in photographs, just make sure you don't opt for something that will steal the bride's thunder.
It's also important to remember that many hen parties are day to night celebrations so ensure you have an outfit that will work for both or can be transitioned into the evening. A oversized blazer is the perfect transitional piece to keep you warm while still looking stylish.
What Does the Bride Wear to a Hen Do?
A really popular choice for hen do outfits for the bride is to wear clothing that is typically 'bridal' and white. This is your chance to wear something really fun and playful, so think sequins, feathers and everything in between!
Not your vibe? If you are looking for an extra special outfit for your hen party that isn't too out there, a gorgeous slip dress or jumpsuit will look amazing.
Does Your Hen Party Sash Need to Match Your Hen Do Outfit?
Your hen party sash will make sure everyone knows you're a bride-to-be so having it match to your hen do outfit isn't a must, in fact, we say the bolder the better!
Having said that, there are some really pretty hen party sash designs available on the Hitched Shop that will look lovely with all kinds of outfits.
Can I Wear White to a Hen Do?
Typically, white is reserved for the bride at a hen do so we recommend running it past her beforehand or steering clear of this colour.
If you're still undecided about what to wear, take a look at what TOWIE star Jess Wright wore to her Ibiza hen do!