24 Stunning Wedding Tiaras For a Fairy Tale Wedding
These gorgeous wedding hair accessories will make you feel like royalty for the day. We've found our 24 favourites from classic styles to vintage glamour!
We have included third party products to help you navigate and enjoy life's biggest moments. Purchases made through links on this page may earn us a commission.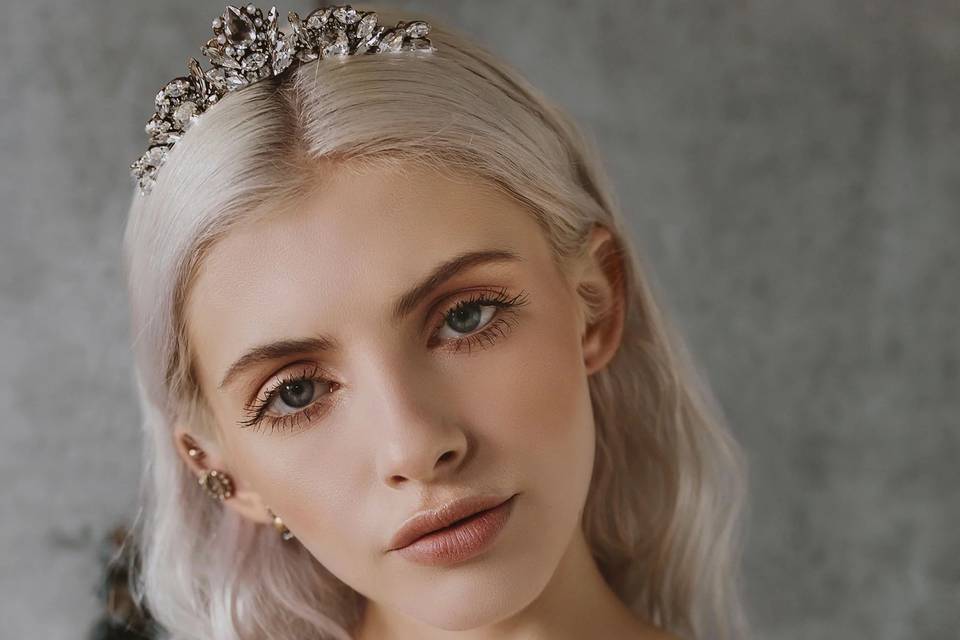 A key part of your big day hairstyle will be your wedding hair accessories and there's nothing we love more than wedding tiaras. Tiaras are incredibly versatile: they work on both long and short hair, up and down dos, and with or without a wedding veil. If you're a magpie like us and love all things shiny, you can't do much better.
Nicola Ball, Managing Director at Halo & Co explains that when it comes to styling your wedding tiara there are no rules!
"A tiara should be styled in the look you are trying to achieve, but on our own photoshoots, we have been known to flip a tiara upside down, and wear it at the back of the hair! After all, what are rules? It's about looking fabulous in something beautiful and if it makes you feel good then wear it! Large statement, blingy, or subtle, the tiara can be anything you want it to be," says Nicola.
Enjoy our round-up of the 24 best wedding tiaras - we've got a mixture of subtle and showstopper tiaras, lots of different sizes, and plenty of vintage and modern designs: you only have to go for the royal look if you want to!
Classic Wedding Tiaras
These tiaras are probably similar to the first thing that pops into your head when you hear the word: eye-catching, encrusted with diamonds or pearls, and worthy of a fairy tale wedding.
1. Lovers Knot Crystal and Pearl Tiara – £350, Eden Luxe Bridal
This US-based brand specialise in tiaras and have a beautiful range. We love the Lovers Knot tiara which is based upon one of Princess Diana's favourites. This romantic, classic look is made with Swarovski crystals and rhodium plating for the ultimate sparkle.
2. Imperial Beauty Tiara – £165, Ivory & Co.
The perfect complement to a romantic gown, the Imperial Beauty tiara features columns of solitaire cut stones set above a leaf motif. It has height and drama, and works beautifully with a wedding up-do. This is the darker antique silver rhodium plating, but it's also available in gold and silver depending on your colouring.
3. Clio Raised Diamante Pearl Tiara – £45, Jon Richard
This elegant tiara is curved upwards in the centre, giving it more height. Wear it against a modern bouffant style to make it stand out, or against a high bun.
4. Sophia Bead Statement Tiara – £60, Jon Richard
Chosen as a bridal 'must-have' by renowned hair influencers, this statement tiara will earn you a lot of compliments on your wedding day! It gets the gold seal of approval from Hitched too.
5. Emma Headpiece – £360, Halo & Co
The Emma headpiece is a mesmerising tiara that manages to be both subtle and breath-taking. Halo & Co suggest flipping it upside down and fixing it to the back of your head for a completely different look for the evening.
READ MORE: 23 Half Up Half Down Wedding Hairstyles
6. Aurora Headband – £535, Tilly Thomas Lux
Channelling Greek goddess vibes, this Aurora headband is a showstopper. It's adorned with an eclectic array of stars made from Swarovski silver shade, jet hematite, crystal, rose gold, mother of pearl star, black diamond and a scattering of pearls. Tilly Thomas Lux has been worn by the likes of Millie Mackintosh on her wedding day – it's your go-to for cool, modern luxury.
7. Bardot Tiara – £125, Olivier Laudus
At just over £100, this bestselling tiara is excellent value but beautiful enough quality to be passed down as a family heirloom. This striking tiara features a ribbon band design with square and round cut stones designed to capture light at every angle.
Unusual Wedding Tiaras
Tiaras come in so many different styles – perhaps these alternative wedding tiara designs might be just what you're looking for.
8. Gertrude Headband – £285, Halo & Co
A fanfare of golden leaves and delicate daisies, each flower on the Gertrude tiara has a tiny Swarovski crystal centre that will shimmer and shine when photographed. It'll add a modern edge to your wedding day look.
9. Oceania Crown – £510, Tilly Thomas Lux
For those who don't shy from commanding the room, this mermaid-style Oceania crown from Tilly Thomas Lux will be their crowning jewel. Plated in pale 18 carat gold, and topped with pearls and Swarovski crystals, this really dazzles.
10. Grecian Dream Enamelled Tiara – £145, Lace & Favour
Perfect for an autumn or destination wedding, this Grecian-style tiara with bronze leaves, sprigs of freshwater pearls and cascading crystals will unleash your inner goddess. Team with a boho wedding dress.
READ MORE: The Best Statement Wedding Dresses for Alternative Brides
11. Gold Star Crown – £159, Etsy
Add a clean, contemporary bridal veil to this tiara to highlight the modern, beaten gold look. It comes in gold and silver, with matching star earrings, for a simple but striking finish.
12. Feather Headpiece – £348, Etsy
Do you like making a real entrance? Agnes Hart has designed this statement headdress just for you. Featuring a sculptural fan of ivory feather and arc of brash feathers. Each are handmade and you tell her your hair colour and she matches the shade to what suits it best – magical.
13. Enchanted Vine – £270, Halo & Co
Take a leaf out of Halo & Co's book by mixing up the placement of your wedding tiara. This enchanted vine will look gorgeous when worn at the back of the head as you walk down the aisle.
14. Wedding Dried Flower Crown – £49, Not On The High Street
Luna and Wild make the most spectacular dried flower crowns and this cream creation is a lovely alternative to a classic wedding tiara. If you're having a neutral and relaxed wedding theme, this one's for you.
15. Sunbeam Pearl Bridal Halo Crown – £135, Not On The High Street
A magical way to incorporate stars into a celestial wedding day is by adorning your wedding tiara with them! The sunbeam halo crown is perfect for fashion-forward brides who want an edgy accessory.
READ MORE: The Best Celestial Wedding Dresses
Vintage Wedding Tiaras
We've been lucky enough to witness lots of royal weddings and there's not one where the bride hasn't worn a beautiful tiara. Lots of these tiaras have been vintage and passed down generations, but if you don't have one waiting in your closet, we've picked out the best vintage-feeling tiaras that'll work with your vintage theme.
16. Nightingale Tiara – £190, Ivory & Co
This garland of pave solitaire cut stones is simple and eye-catching. It's designed in the style of 1920s jewellery to look like delicate feathers. We adore the Nightingale tiara for formal ceremonies to add a touch of elegance.
17. Emma Tiara – £335, Not On The High Street
The Emma tiara is a beautiful, feminine floral design made from ivory pearls and crystals. Because of its 'flower power' vibe, it would look amazing at a 60s or 70s vintage themed wedding, but is dainty enough to add elegance to any boho style day.
18. Gold Vintage Style Wedding Tiara - £236, Etsy
Inspired by 1930s style, this tiara is made from a row of gold shell-shaped fans and crystals, all handmade to order. Featured in Vogue Bride in Italy, this stunning headpiece looks straight out the royal wedding archives when worn underneath a veil.
19. Art Noveau Gaia Crown – £239, Etsy
Part of jewellery designer Agnes Hart's May Queen collection, the name Gaia represent Mother Earth, spring and new beginnings. The halo effect and traditional bridal flower, lily of the valley, are nods to romantic paintings and antique styles.
20. Margaretta Tiara – £129.95, Not On The High Street
Want to get really vintage? This Ivory & Co tiara is influenced by the jewels made for the Romanovs - the Russian royal family of the 19th century. It's simple, classical and incredibly impressive.
READ MORE: 36 Vintage Wedding Decor Ideas
21. Gatsby Beauty Tiara – £88, Glitzy Secrets
The Gatsby Beauty tiara is an Art Deco masterpiece that gives a modern take on the tiara. The vintage cut crystals have a gorgeous '20s feel to them – this is one for Gatsby lovers and flapper fiends. Wear it on the forehead or pushed back as a tiara with a 1920s wedding dress.
22. Golden Ivy On Alice – £215, Liberty In Love
Golden leaves and glistening centre gems look ethereal on this side tiara. It would suit a polished Grecian goddess look, and comes in shiny or matte silver and rose gold too.
23. Crystal Flower Side Tiara – £252.95, Etsy
Add real glamour to your day with this headband that can also be worn forward as a brow band for a bohemian 1920s look. This delicate look is made from freshwater pearls and Swarovski crystals to help you sparkle.
24. The Victoria Bridal Headpiece – £79, Not On The High Street
Speaking of pearls, we can't get enough of the Victoria bridal headpiece by Lily Maud. Woven together using luxurious glass pearls, it's a brilliant by at less than £80.
Royal Wedding Tiaras
What Tiara Did Princess Diana Wear at Her Wedding?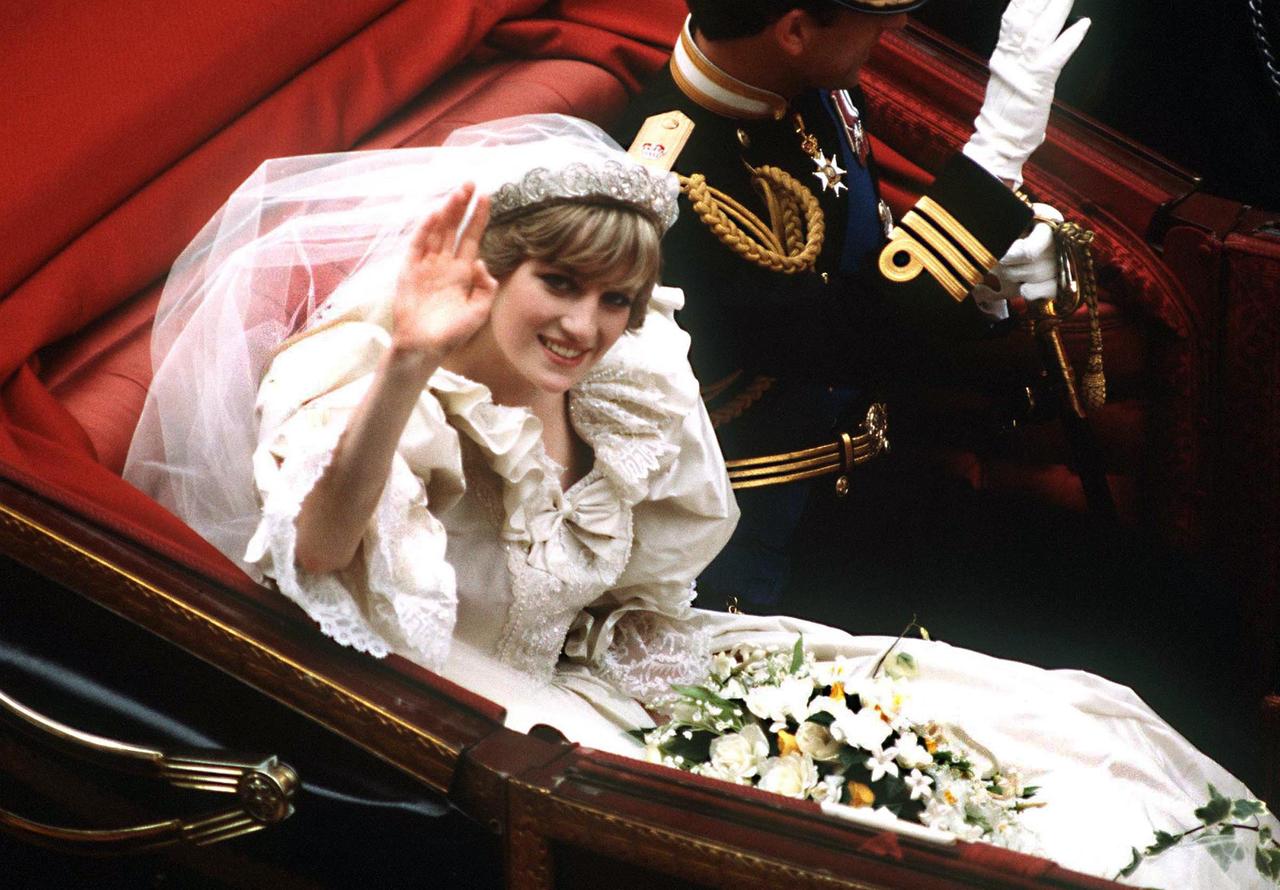 Instead of donning her mother-in-law the Queen's Lover's Knot tiara as is tradition, Princess Diana chose to wear a Spencer family heirloom when she married Prince Charles in 1981. Comprised of different family jewels, the central part of the diamond bandeau tiara was a wedding gift from Lady Sarah Spencer to Diana's grandmother.
What Tiara Did Sophie Rhys-Jones Wear at Her Wedding?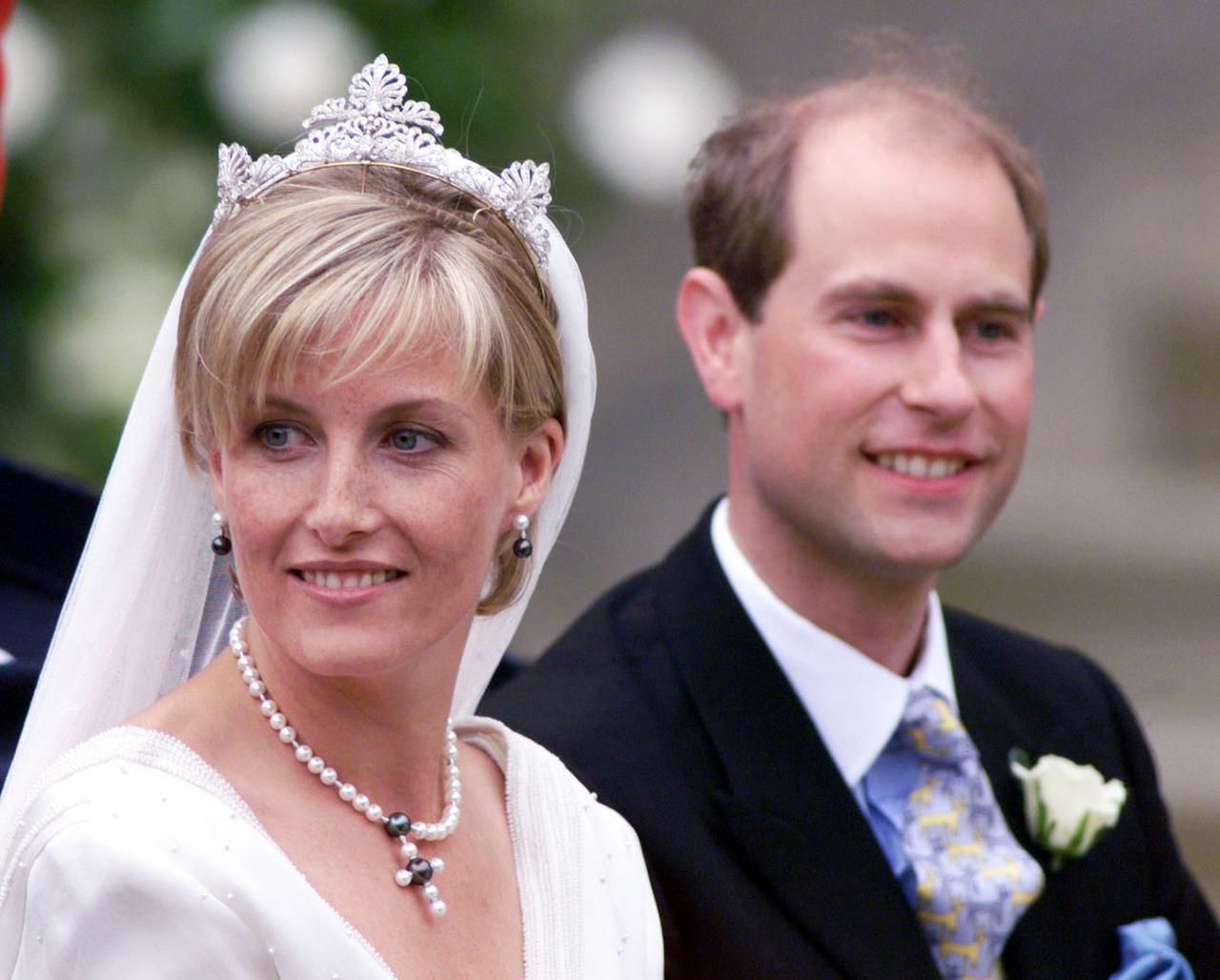 In 1999 when Sophie, the Countess of Wessex, wed the Queen's youngest son Prince Edward, she wore a breath-taking tiara that is said to have been custom-made using four different pieces from one of Queen Victoria's crowns. She still wears it to events to this day and we don't blame her!
What Tiara Did Kate Middleton Wear at Her Wedding?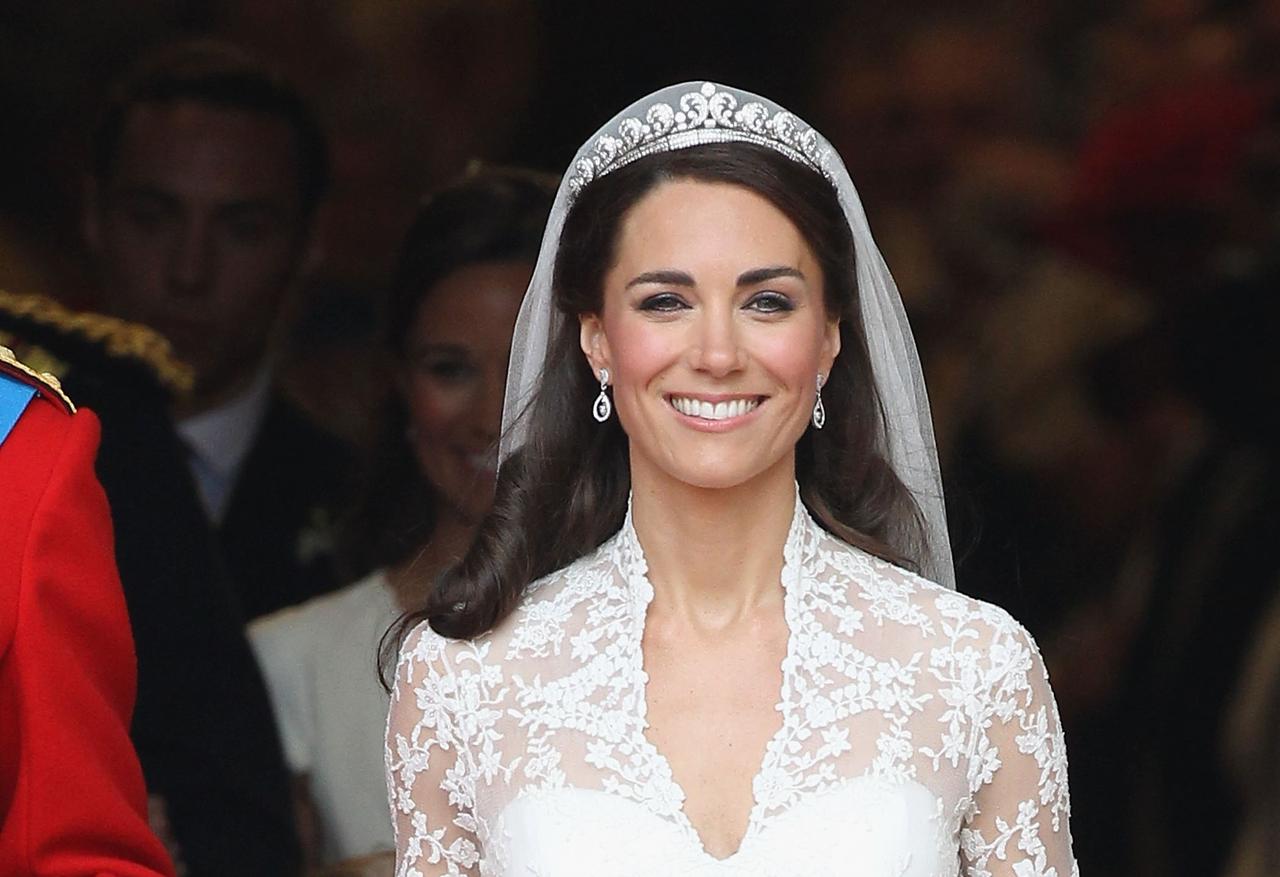 For her highly-anticipated wedding to Prince William in 2011, Kate Middleton wore a stunning Cartier halo tiara, which she borrowed from Queen Elizabeth II, who was originally gifted it on her 18th birthday. One of the most iconic royal wedding tiaras in memory, the delicate diamond and platinum piece is yet to be worn again publicly by her.
What Tiara Did Zara Phillips Wear at Her Wedding?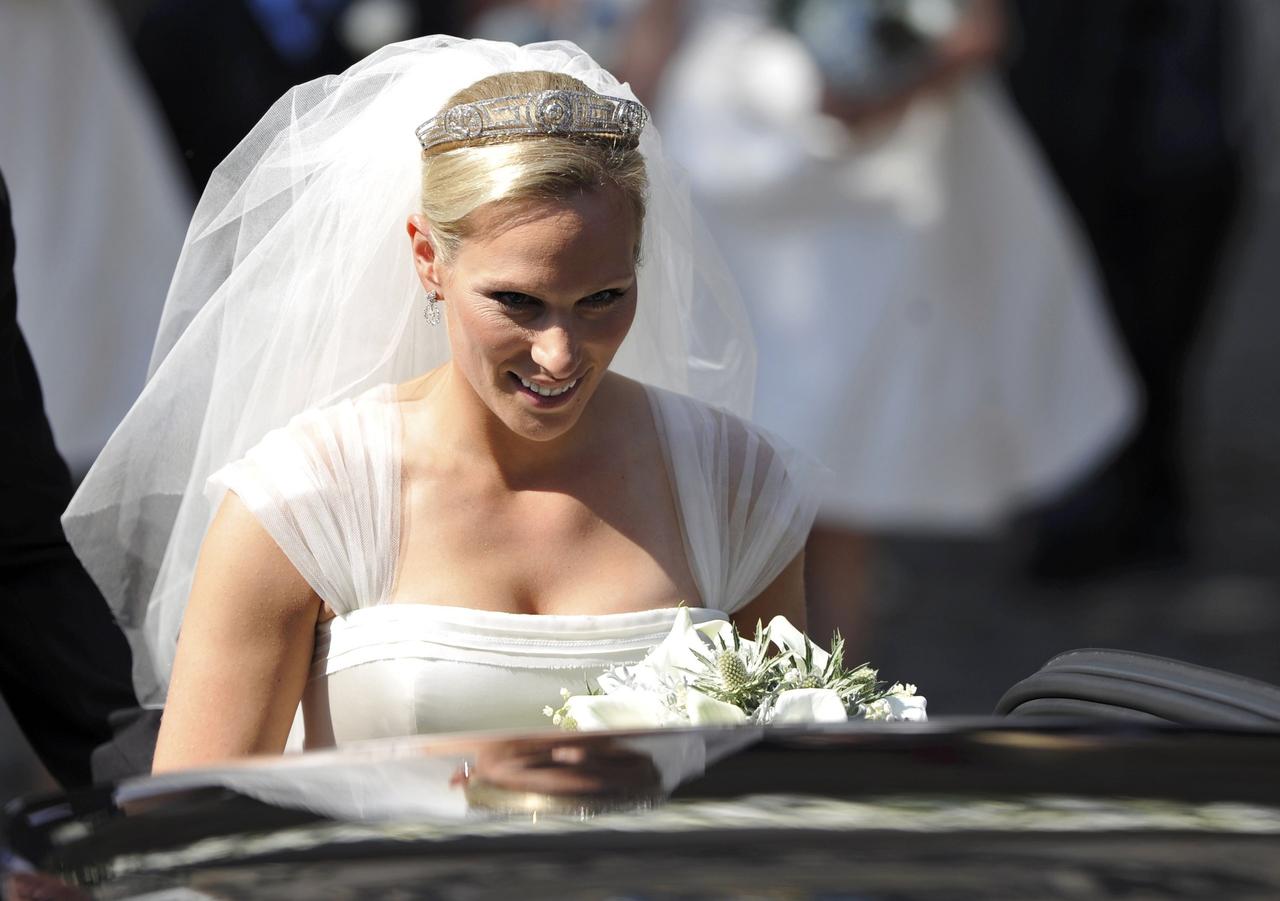 On her wedding day to Mike Tindall in 2011, Zara wore The Meander tiara - a key-patterned bandeau from Princess Anne's collection that is said to be worth £4 million. That's one flashy 'something borrowed'!
What Tiara Did Meghan Markle Wear at Her Wedding?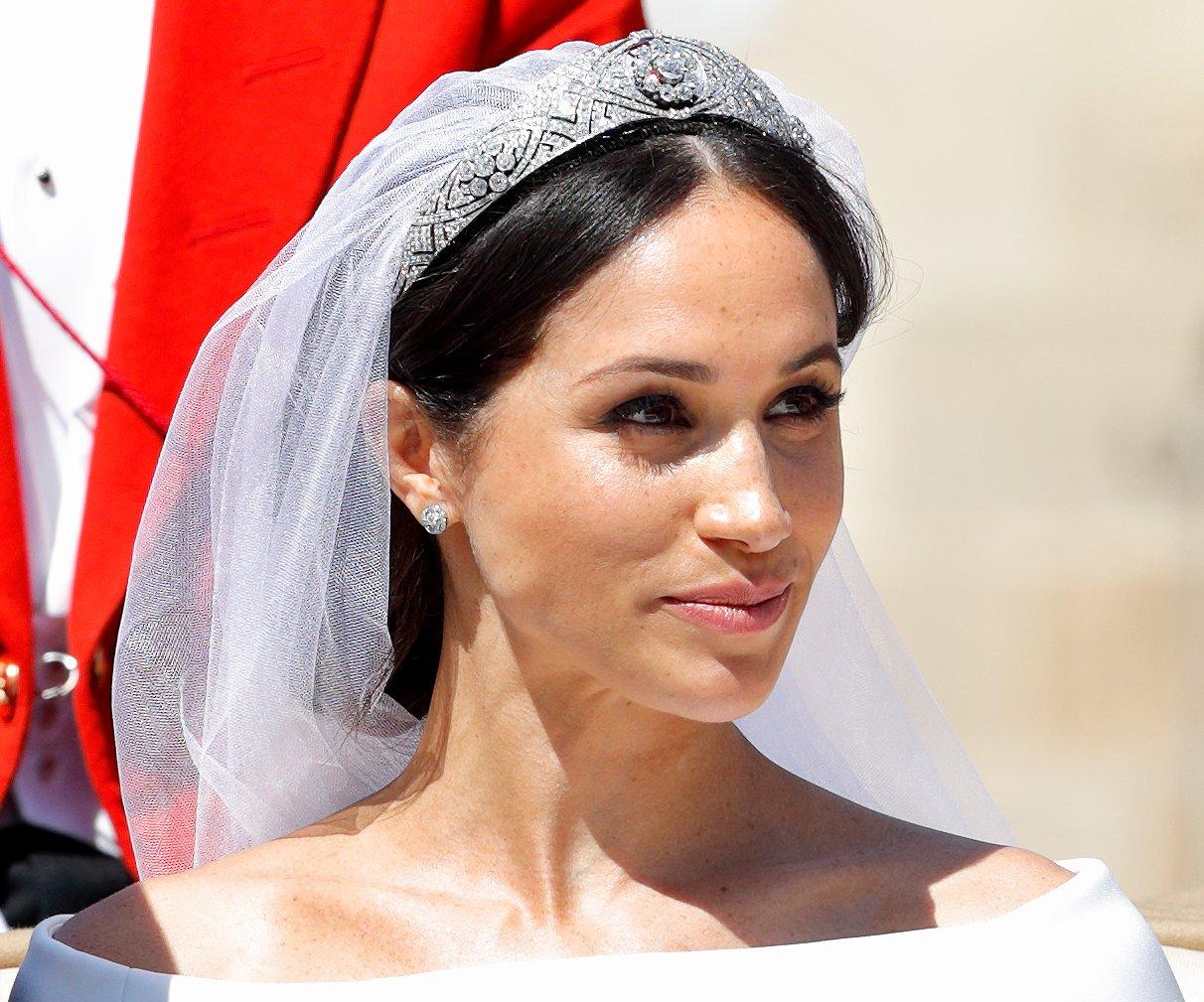 Meghan wore the stunning Queen Mary's (the Queen's grandmother) bandeau tiara on her wedding day in 2018. The centre brooch features 10 diamonds and Meghan reportedly picked out the tiara with Queen Elizabeth at Buckingham Palace. Good choice!
What Tiara Did Princess Eugenie Wear at Her Wedding?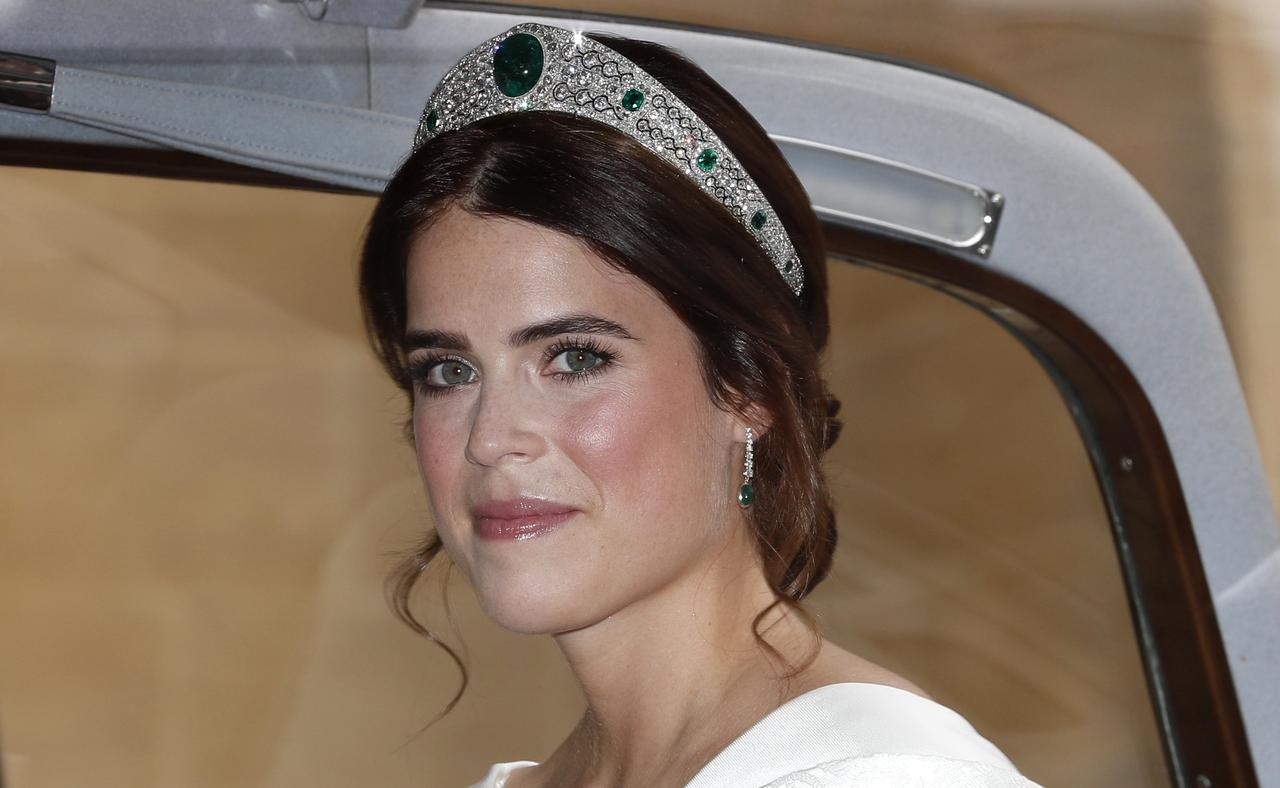 For her autumn wedding in 2018, Princess Eugenie opted for the very striking Greville Emerald tiara, which features sparkling emeralds, including a 93.70 carat centre stone.
What Tiara Did Princess Beatrice Wear at Her Wedding?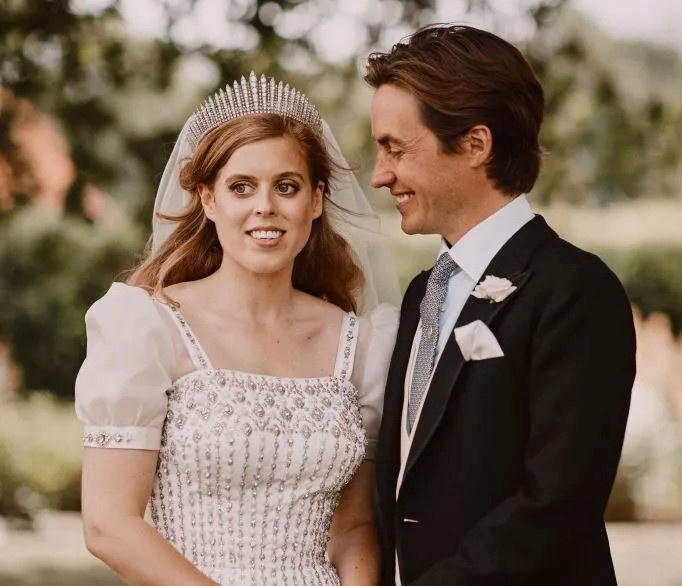 As well as borrowing one of her grandmother's gowns as her royal wedding dress in 2020, Princess Beatrice also wore a spectacular tiara from the Queen - the Queen Mary Russian Fringe tiara.
How To Wear a Tiara FAQs
Is it Tacky to Wear a Wedding Tiara?
A wedding tiara is an elegant accessory - would you ever call the Queen tacky?! But if you're a very low-key person, consider an understated, pared-back piece. You'll find lots of dainty designs that will add a sophisticated finish to your overall look.
How to Choose a Wedding Tiara?
"Choosing your wedding tiara is about you - it's a personal statement," says Nicola Ball, Managing Director at Halo & Co. "Your accessories help complement your personality and your outfit, for example a simple plain wedding dress could be paired with a traditional pearl piece or a statement tiara. Or, if you want an edgy vibe, your tiara can reflect this."
Consider how you will be wearing your hair as you'll want to select a tiara that will feel comfortable and secure throughout the whole day.
READ MORE: 45 Beautiful Bridal Hairstyles to Suit All
What Does a Wedding Tiara Symbolise?
"The tiara has its roots in history and was seen as the loss of innocence to the crowning of love. Royalty and aristocracy are about doing what has always been done and conforming to tradition, the formal dress, jewellery, and tiaras are just part of this," explains Nicola.
"This isn't what a tiara symbolizes now. It's about your own identity and we have tiaras encompassing many different looks from rock'n'roll to classics. Halo & Co is known for its wedding headpieces and brings new looks and styles to the market. It gives women the opportunity to be whatever they want to be. The tiara for us now symbolizes freedom and choice."
Do People Wear Tiaras On Their Wedding Day?
It's not just royalty that wear tiaras on their wedding day you know! A wedding tiara is a really popular choice with brides as they can elevate your look to a whole new level of elegance and sophistication.
We've got all the best hair and make-up artists in your area in our directory – find your dream style now