Kourtney Kardashian & Travis Barker Are Married (Again!) See Their Italian Wedding Here
Kourtney Kardashian and Travis Barker have tied the knot. See the first pictures from their gothic Italian ceremony here, along with their engagement story and THAT Vegas wedding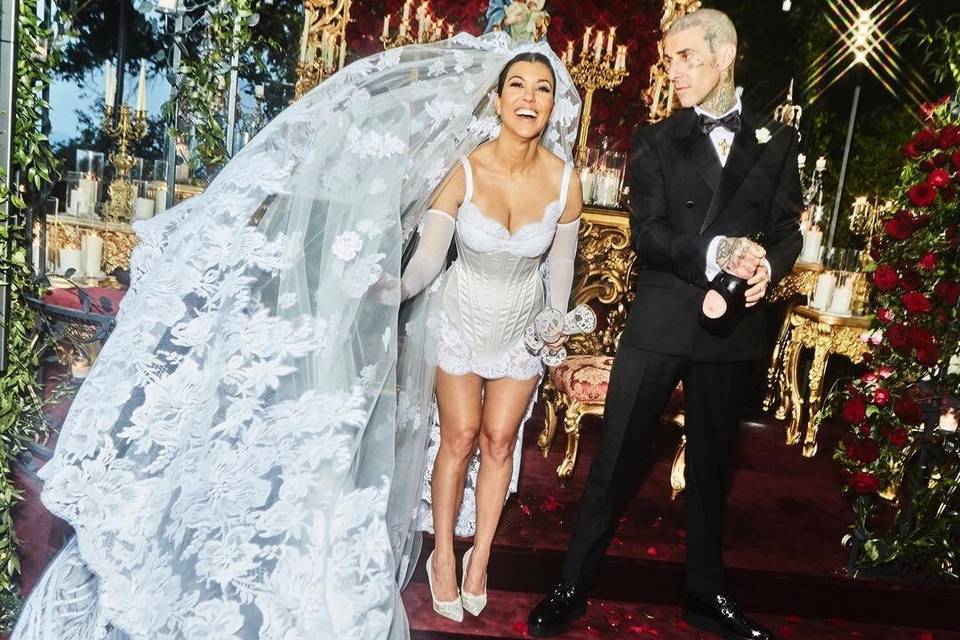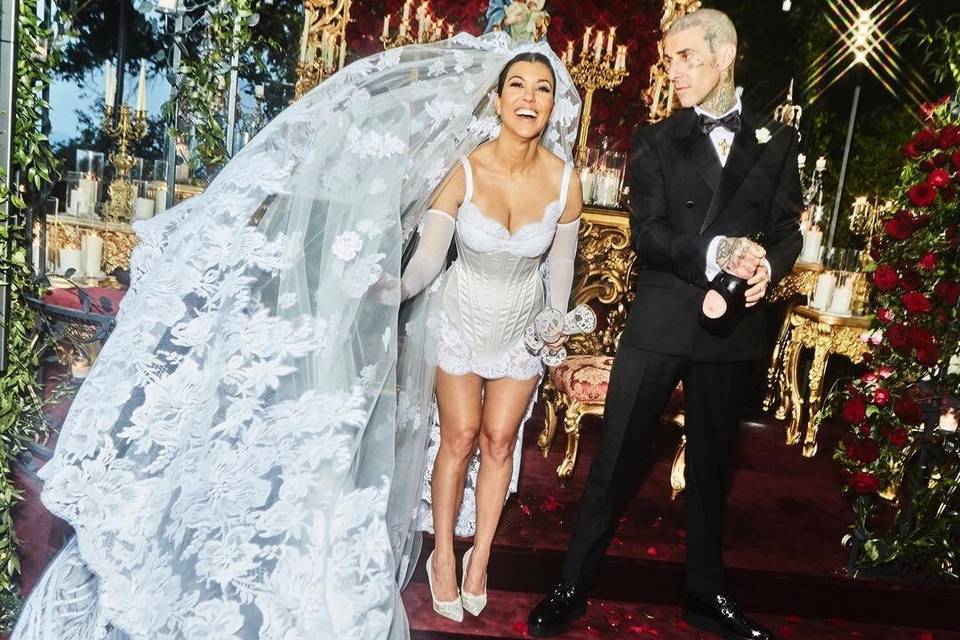 It felt like it was only a matter of time, due to their countless PDAs, numerous loved-up posts, and various celeb friends hyping up their relationship that Kourtney Kardashian and Travis Barker would get married, and they had us all obsessed with that fake Vegas wedding. But now the pair have actually got hitched for real! We explore everything we know about their Italian ceremony, their courthouse wedding, that Vegas ceremony, their proposal story and that oval engagement ring...
Read on for everything you need to know about Kravis...
Did Kourtney Kardashian and Travis Barker Get Married in Italy?
View this post on Instagram
The couple walked down the aisle for the third (and allegedly final) time on Sunday 22nd May at a stunning ceremony held in Portofino, Italy. Kourtney and Travis exchanged vows in a Roman castle called Castello Brown, surrounded by an intimate guest list which including all six of their children from previous relationships and the Kardashian/Jenner sisters.
Kourtney's ex-partner Scott Disick was not in attendance however celebrity faces such as Machine Gun Kelly and Megan Fox were spotted. Having being sponsored by Dolce and Gabbana, the décor at the ceremony exuded gothic romance with red roses, intricate gold details and lush velvet.
The family then celebrated at an incredible wedding reception with Kourtney and Travis wearing matching leather jackets stitched with 'Mrs Barker' and 'Mr Barker' on the back. Kylie Jenner revealed on her Instagram that guests each had their own floral and sacred heart name card and dined on pasta, plus, they had gorgeous three-tiered white wedding cake was adorned with icing which sat on a bed of red rose petals.
Wedding celebrations began over the weekend as multiple members of the Kardashian clan began arriving in the picturesque location, with Kourtney making a statement in a black Dolce and Gabbana mini dress and blue lace trimmed veil. The wedding party enjoyed a lavish pre-nuptial lunch inside the Abbey of San Fruttuoso, sitting down to tables draped in blue tablecloths, white flowers and fragrant lemons.
Who Made Kourtney Kardashian's Wedding Dress?
Kourtney opted for a white corset mini dress by Dolce and Gabbana, with a long lace veil featuring intricate embroidery and fingerless gloves, while Travis donned a custom black suit and bow-tie by the same Italian luxury fashion house. It was a very similar look to Kourtney's courthouse wedding outfit, which was also by Dolce and Gabbana.
Are Kourtney Kardashian and Travis Barker Married?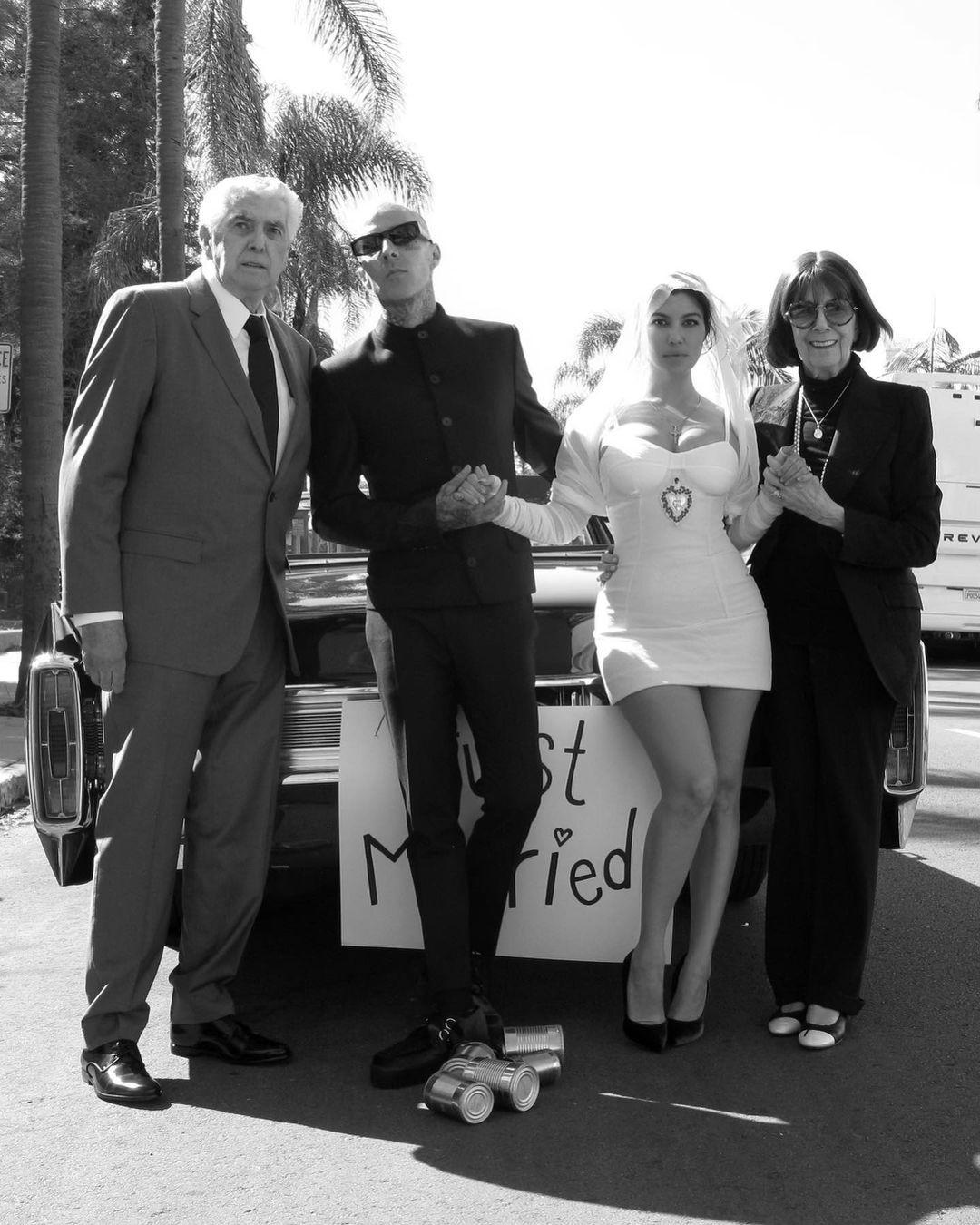 Kourtney Kardashian and Travis Barker are now legally married! The couple got married at a downtown courthouse in Santa Barbara on Sunday 15th May.
The couple kept their wedding ceremony very simple - the witnesses were Kourtney's grandmother, Mary Jo "MJ" Campbell, and Travis Barker's dad, Randy Barker. The rest of the Kardashian and Barker clans were noticeably absent. The couple left the ceremony in an open top car following a mini photo shoot, which Kourtney shared to her Instagram with the caption: 'Till death do us part'
It's believed that this simple ceremony is the prelude to a much larger wedding in Italy.
View this post on Instagram
What was Kourtney Kardashian's Wedding Dress Like?
Kourtney opted for an untraditional short wedding dress. She wore a Dolce & Gabbana mini dress worth $1,850 complete with a crystal heart embellishment, similar to this one. Travis Barker wore a dark suit, and the pair had matching burgundy shoes. She paired her dress with a hooded style veil complete with sheer sleeves, also by Dolce & Gabbana.
Did Kourtney Kardashian and Travis Barker Get Married in Vegas?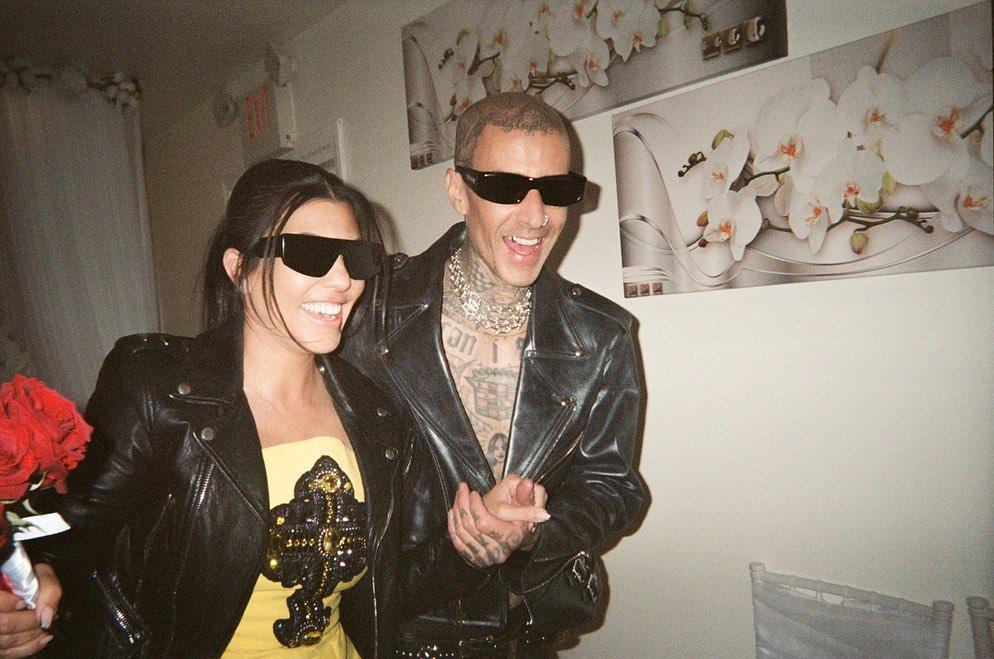 The couple had an unofficial wedding ceremony without a marriage licence in Las Vegas in April. Heading to a Las Vegas chapel shortly after the Blink-182 drummer performed at the Grammy Awards, Kourtney took to her Instagram and shared the following caption:
"Once upon a time in a land, far, far away (Las Vegas) at 2am, after an epic night and a little tequila, a queen and her handsome king ventured out to the only open chapel with an Elvis and got married (with no licence). Practice makes perfect."
View this post on Instagram
Is Kourtney Kardashian Engaged?
View this post on Instagram
On the 18th October, 2021, Kourtney Kardashian announced her engagement to Blink 182 drummer Travis Barker by posting a photo of an elaborate beach proposal set up to her Instagram, with the caption 'forever @travisbarker'.
Who is Kourtney Kardashian Married To?
Kourtney is now engaged to Travis Barker, the heavily-tattooed drummer of punk-rock band Blink 182. He proposed to the reality TV star on a beach in California, decorating it with a heart-shaped arrangement of red roses and candles.
The couple went public with their relationship on Valentine's Day in 2021 with an Instagram post showing them holding hands, after being friends for years.
View this post on Instagram
Has Kourtney Kardashian Been Engaged Before?
Kourtney hasn't been engaged before! She was with Scott Disick for many years, and the couple share three children together - Mason, Penelope and Reign - however, she turned down his proposal.
What is Kourtney Kardashian's Engagement Ring Like?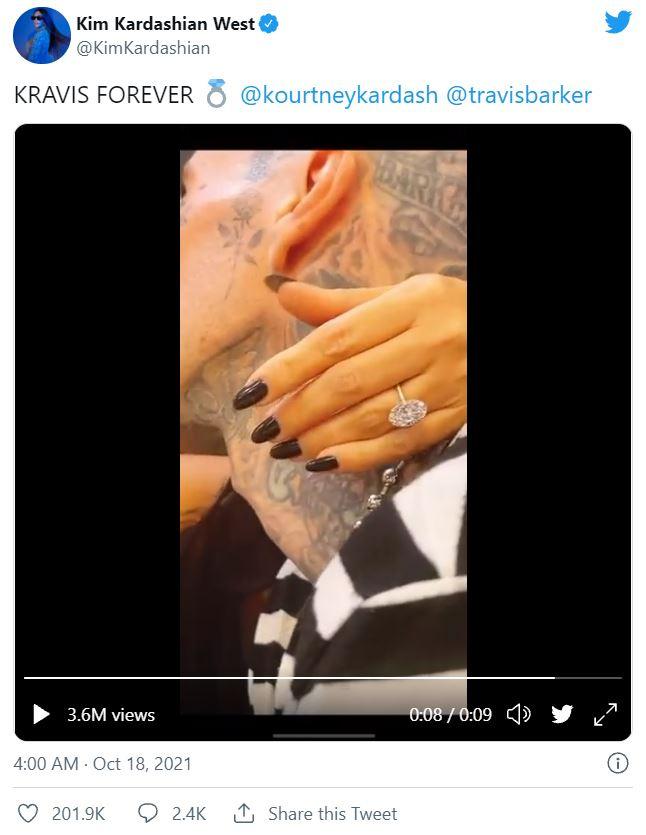 Kourtney Kardashian is now sporting a stunning oval engagement ring, and the diamond is believed to be between 10-12 carats. Kathryn Money, who is Senior Vice President of Merchandising and Retail at Brilliant Earth, told Insider Magazine that the ring's value is 'probably over $1 million.'
You can see the whopping oval diamond in the video shared by Kourtney's sister, Kim Kardashian, on Twitter.
Oval engagement rings are 2021's most popular shape of ring, with 29,500 searches for the classic style this year alone. She's not the only celebrity to rock this style, either, as Shaun Powell, gifting specialist at Find Me A Gift, points out: "With high profile celebrities such as Hailey Baldwin, Blake Lively and of course Kourtney Kardashian showing off stunning oval-shaped engagement ring diamonds, it's no surprise searches for them have surged this year."
Has Travis Barker Been Married Before?
Travis Barker has actually been married twice before - once to former Miss USA, Shanna Moakler. He shares two children with her.
Responses to Kourtney Kardashian and Travis Barker's Engagement
It's fair to say that the couple's families are thrilled! After the engagement, the couple dined with their families to celebrate - Kris Jenner and Khloe Kardashian were visible in footage of the celebratory dinner taken by Kylie Jenner. Kim Kardashian also posted on Twitter about the proposal, giving us one of our first glimpses of Kourtney's amazing engagement ring.
Travis's children also posted about the engagement, with his daughter, Alabama Luella Barker sharing a picture of Kourtney and Travis (and that diamond!) on her Instagram story, with the caption: "So happy for you guys! I love u both!", and Travis's 18 year old son Landon also shared this cute video on his TikTok channel:
If you want to be dazzled by even more diamonds, make sure you check out our round up of the best celebrity engagement rings!