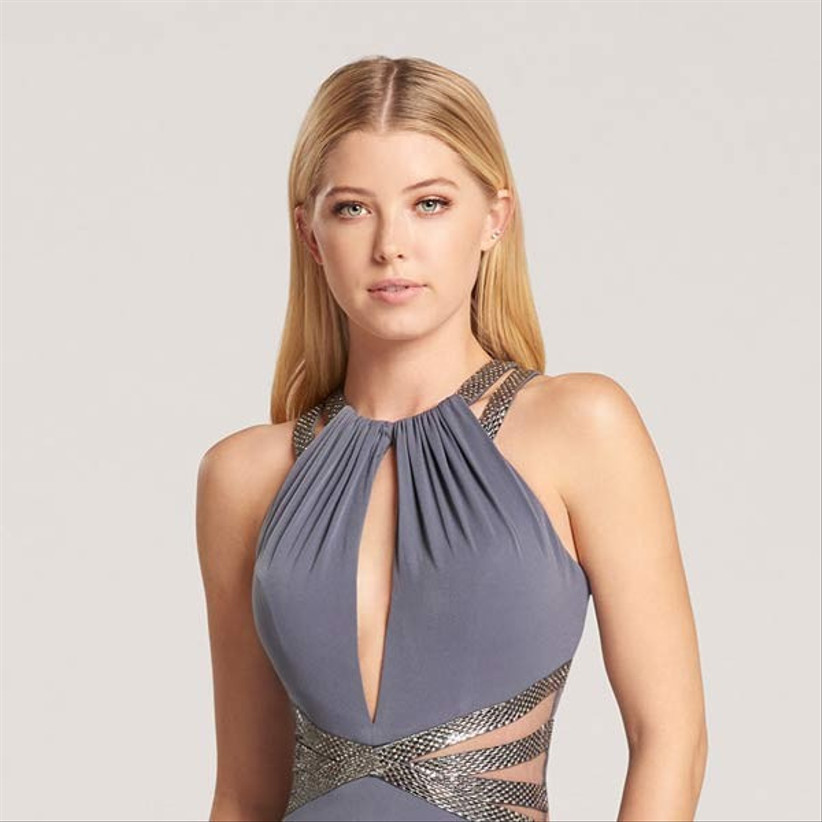 It's fair to say that grey bridesmaids dresses are certainly having a moment, and it's easy to see why.
Not only is a grey bridesmaid dress a flattering colour for all of your girls, but it's a stunning shade guaranteed to go with most wedding styles and wedding dress shades.
With so many gorgeous styles around, looking for a grey bridesmaid dress can start to feel a tad overwhelming. That's why we've rounded-up an amazing selection of elegant and glamorous grey bridesmaid dresses so you can easily find your fave! 
Belsoie – L204008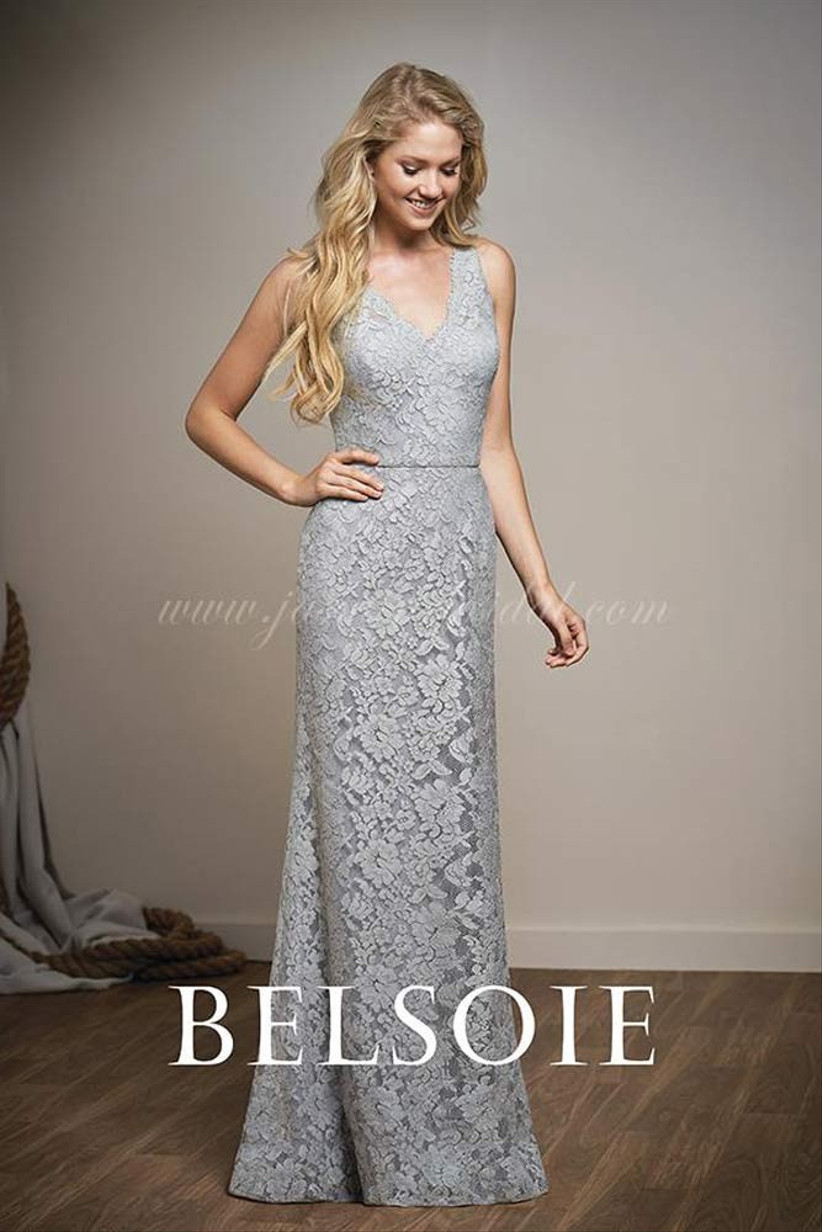 There won't be any complaints from bridesmaids over this Belsoie design as it's simple, elegant and flattering on every shape. With a fit-and-flare hem and a classic V-neck cut, this is a crowd-pleaser that will look great on your big day.
White By Vera Wang – VW360261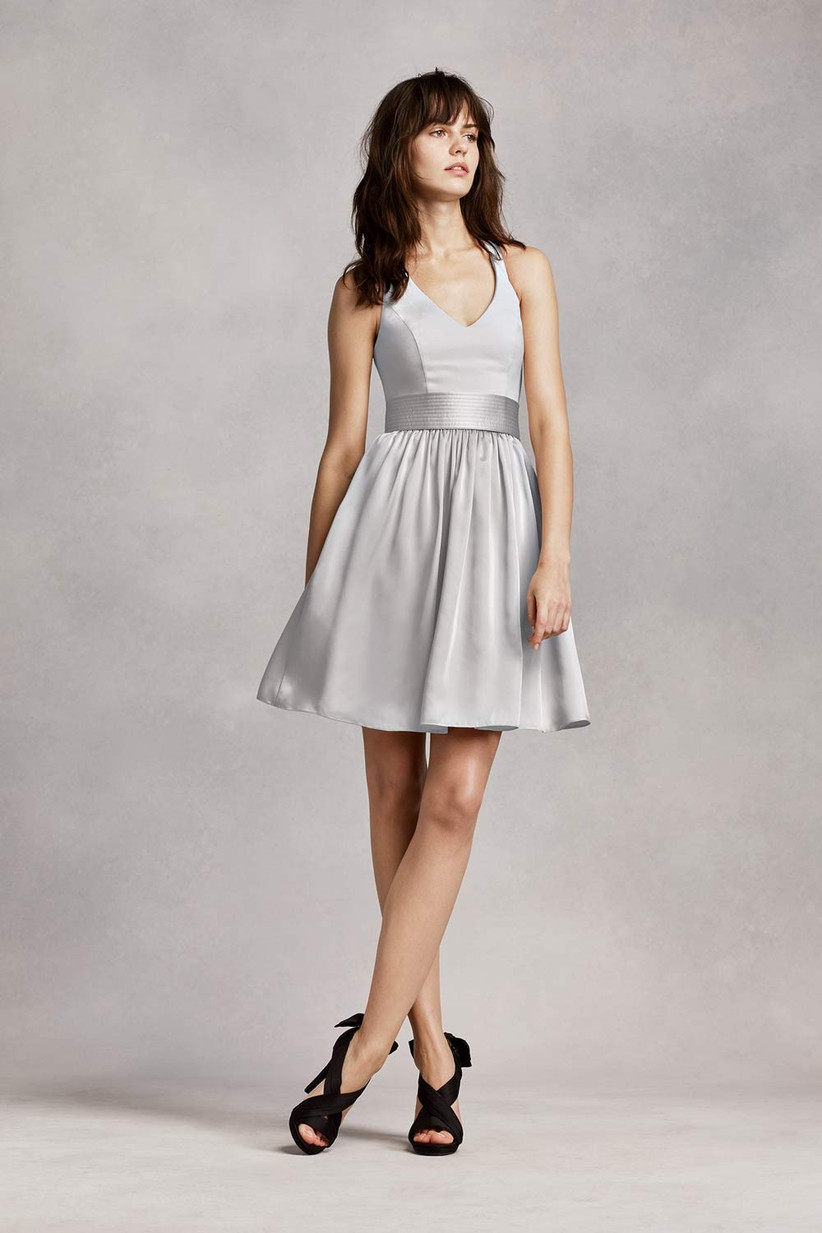 This chic silver dress from Vera Wang's exclusive range for David's Bridal can be re-worn for any occasion but makes a fabulous bridesmaid dress. Knee-length is a great choice for spring and summer weddings or for petite bridesmaids who may not suit a maxi dress. This gown has some cute bow details at the back which your girls will love.
Jasmine Bridesmaids – P206001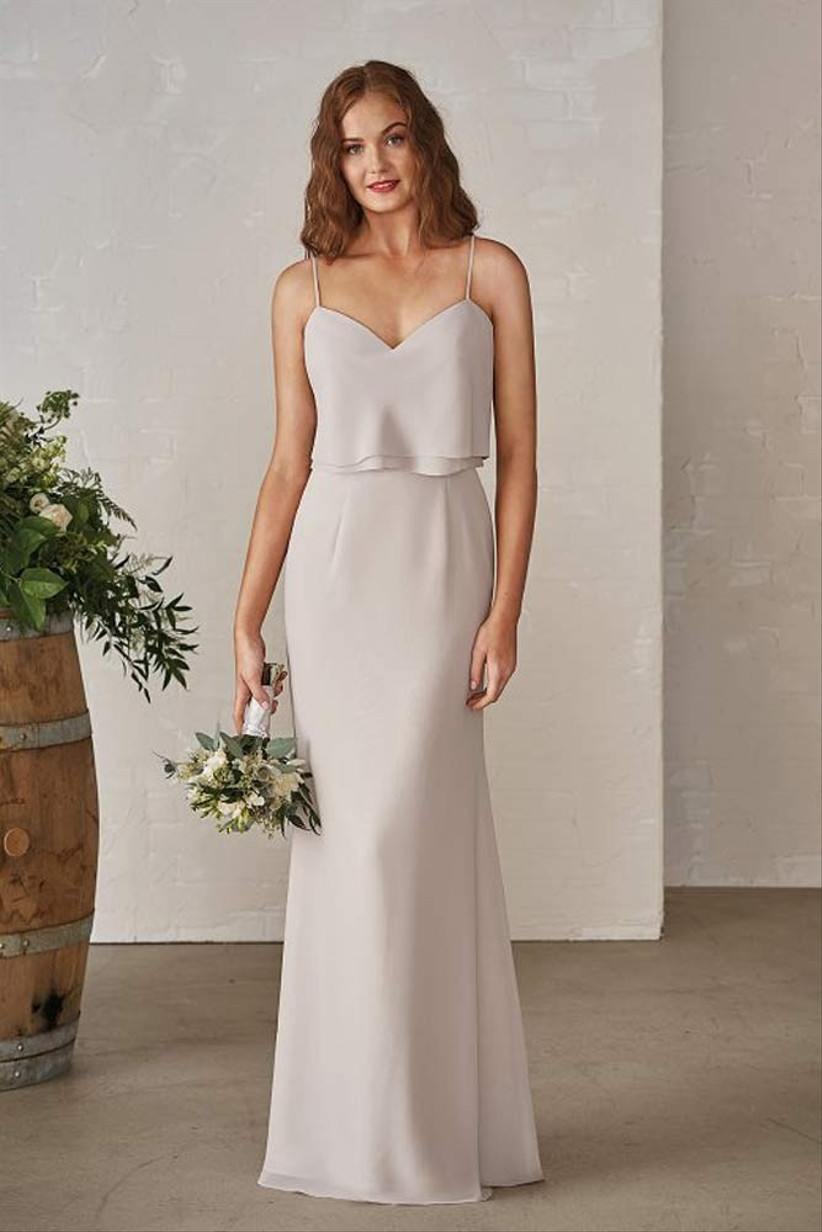 The georgette fit-and-flair style on this Jasmine Bridesmaid dress is incredibly flattering, while the overlay on the bodice – with delicate spaghetti straps – complements both busty and not bridesmaid figures. This simple style can really be dressed up; let the accessories do the talking – whether it's a floral crown, amazing bouquet or a statement necklace.
Quiz Sequin Maxi Dress – £89.99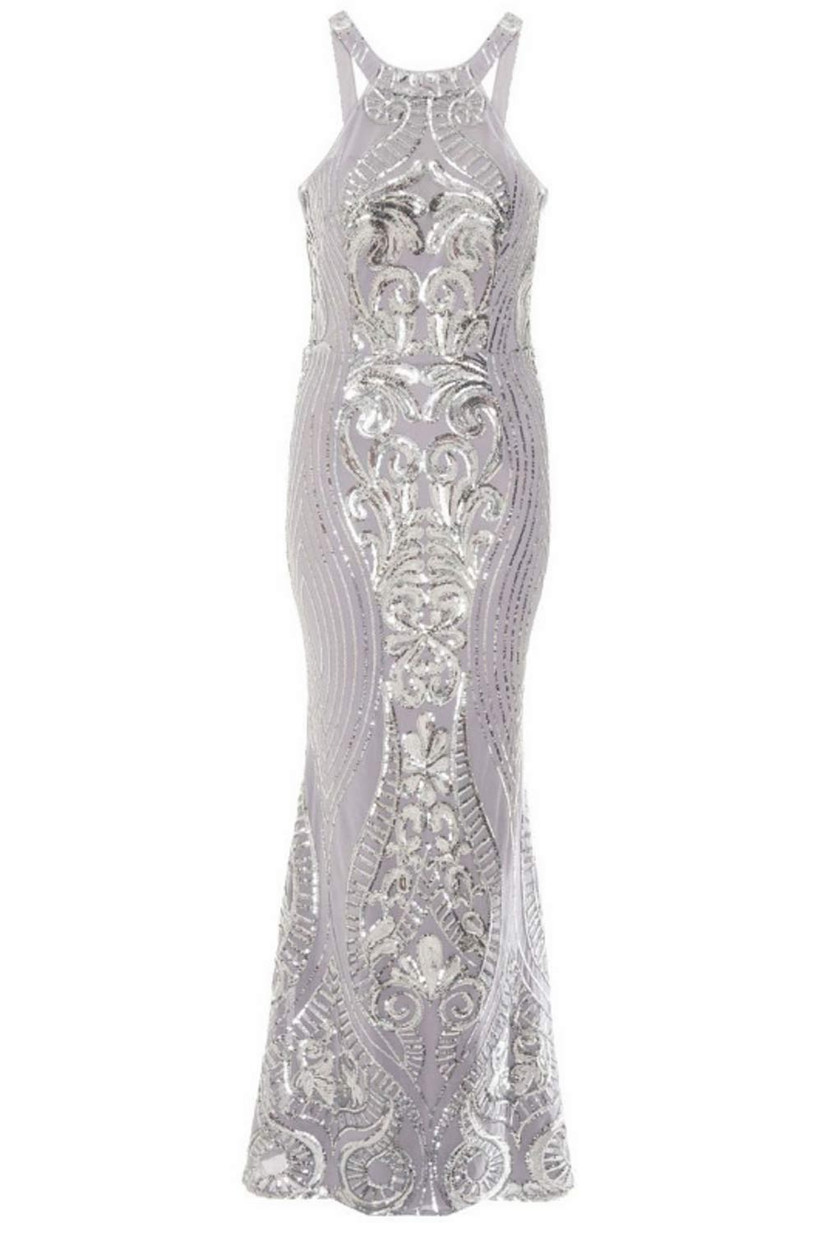 All-over sequins and a sexy fishtail silhouette mean this metallic bridesmaid dress from Quiz is sure to stand-out! Ideal for a glamorous wedding, these dresses will really shine in your wedding photos and light up the dance floor. But you'd need to be a bride who doesn't mind sharing the limelight!
READ MORE: Beautiful Bridesmaid Dresses Under £100
Monsoon Helena Embellished Maxi Dress – £169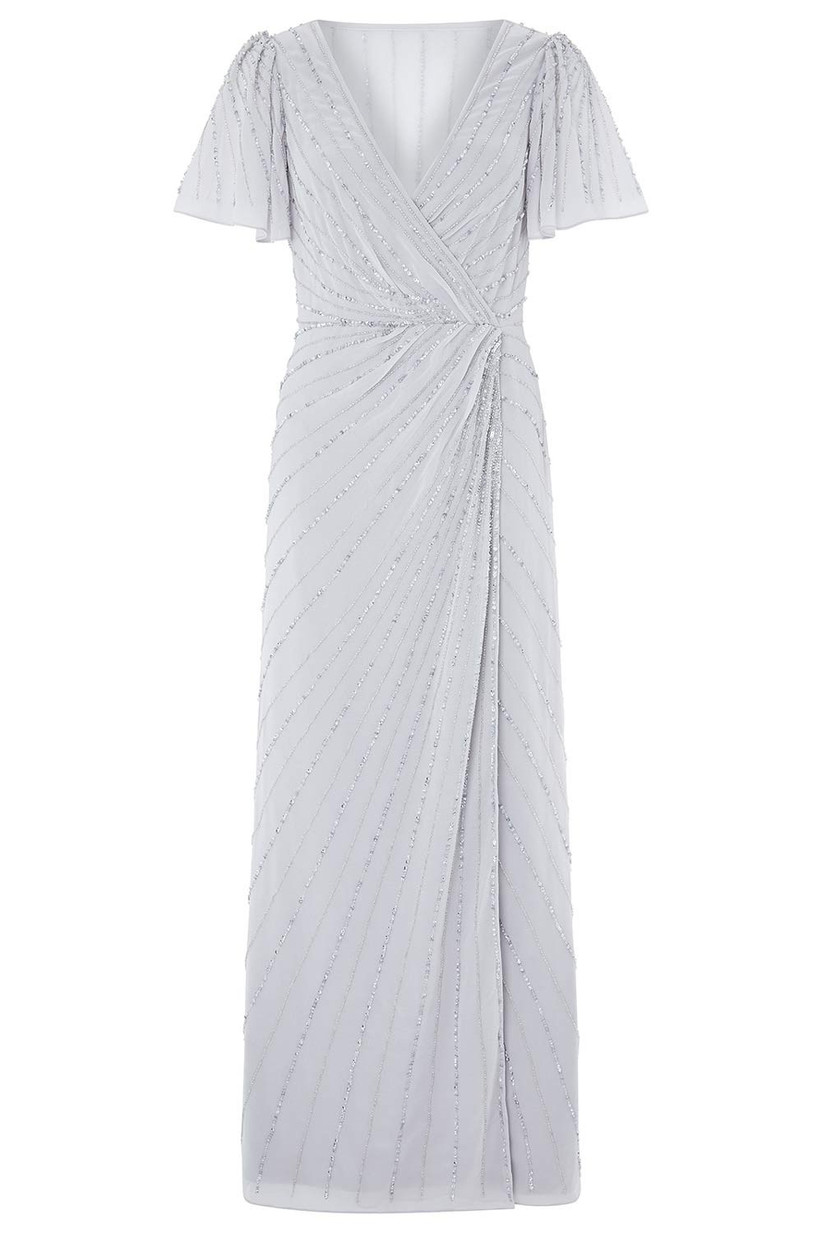 Adorned with rows of hand-placed beads, this sparkling gown is a real star. With a nod towards vintage glamour and cute angel sleeves, Monsoon have made a metallic wonder that suits all seasons. Be aware it has a deep V-neck though: busty bridesmaids may want to wear a cami underneath.
Oasis Amy Slinky Cowl Neck Maxi – £85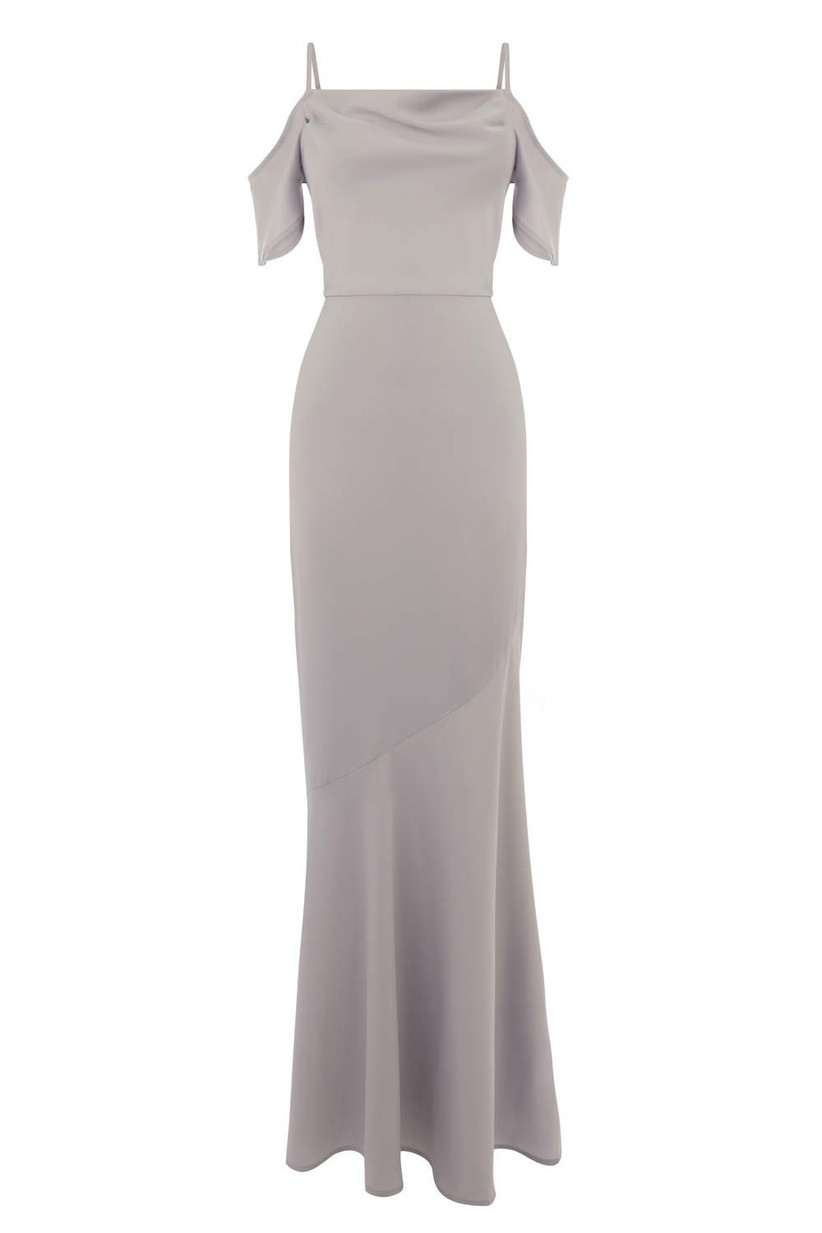 The cold-shoulder cut of this pale grey bridesmaid gown from Oasis is totally on-trend. The slinky fabric, fabulous cowl neck and gorgeous silhouette make it ideal for a vintage-themed wedding. With a bouquet of elegant calla lilies, this would make a perfect stylish spring bridesmaid dress.
David's Bridal – F19578M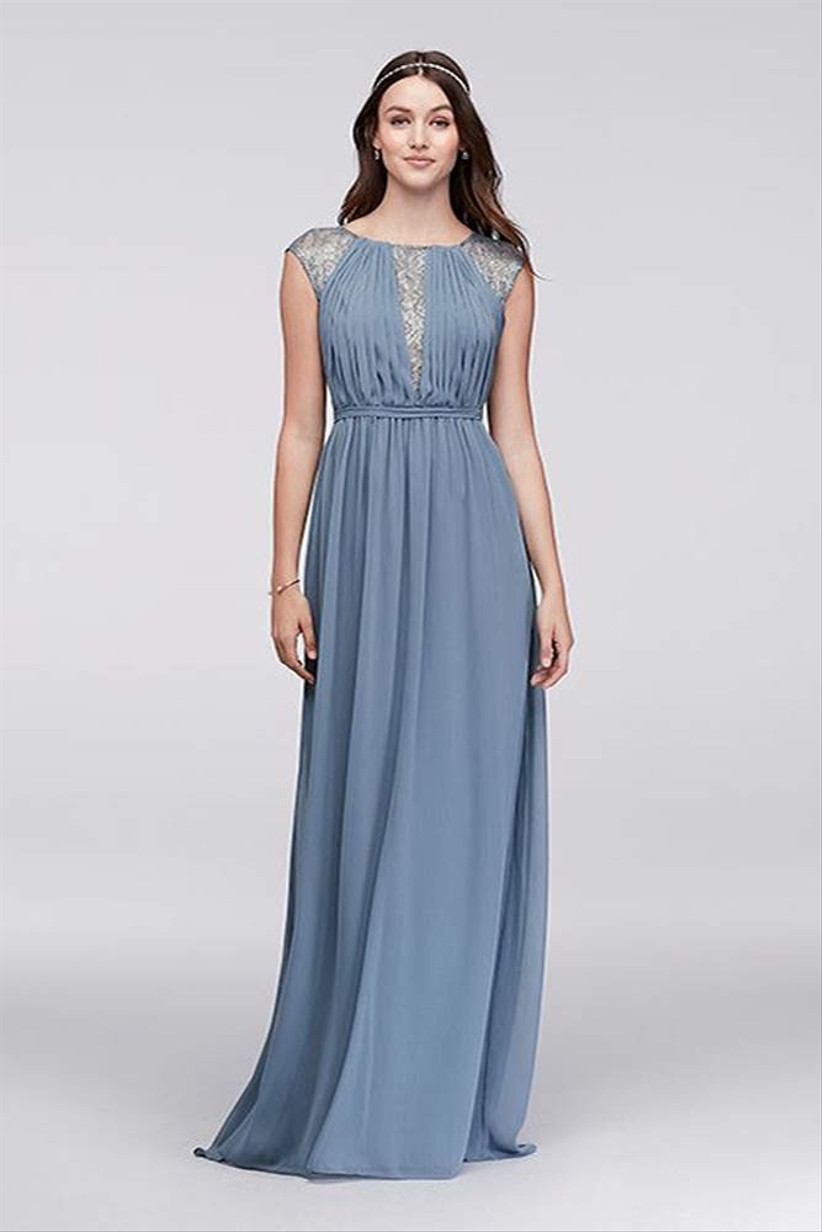 Icy blue-grey is a really striking colour for a bridesmaid gown. With its illusion plunge neckline, this David's Bridal gown is the perfect choice for for a flirty and romantic dress look. This colour works equally well on porcelain skin as it does on black skin.  
Kelsey Rose – 50164T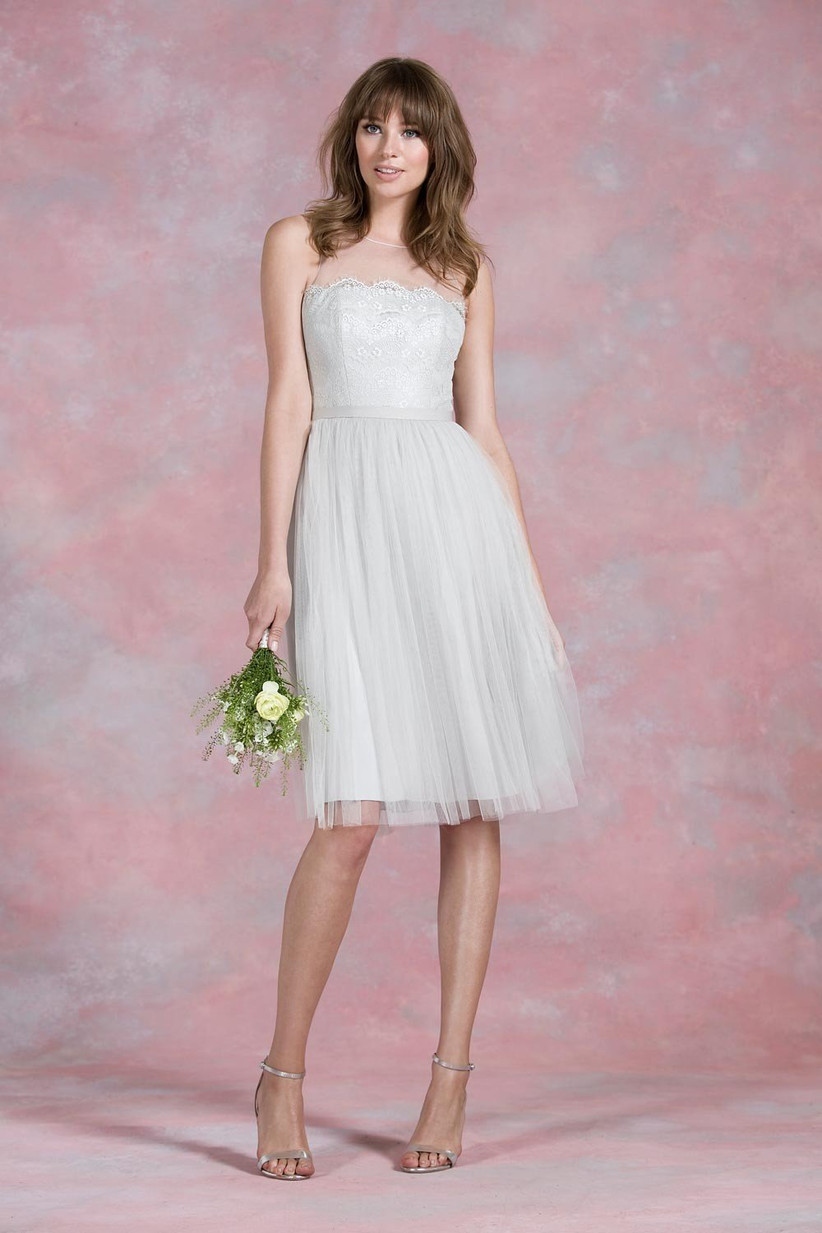 This knee-length bridesmaid dress from Kelsey Rose is short and sweet! The soft dove grey shade of the dress would work beautifully at a summer wedding, but would also look striking against burgundy accessories on a winter's day. If the bride is wearing a lace wedding dress, then a nod to lace in the bridesmaid dresses – like on this bodice – can be a lovely touch. 
Ellie Wilde – EW118137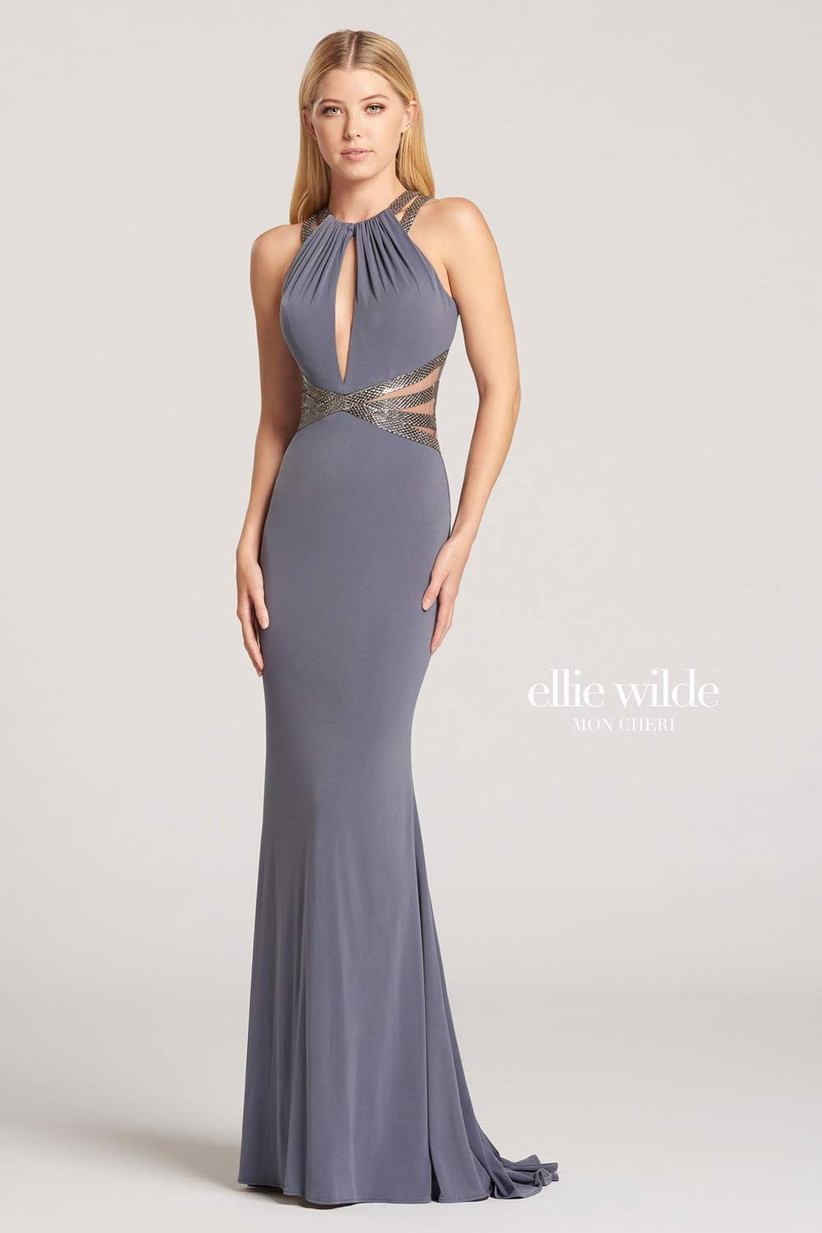 Seriously sexy is the name of the game for this gown. The bejewelled ruched neckline, keyhole front and illusion cut-outs at the side all highlight the cleaveage and hug the hips but, boy, does it deliver on the wow factor! This dark pewter colour adds real refinement to this Ellie Wilde dress.
READ MORE: All The Must-Have Pieces From The ASOS Bridal Range
Quiz Chiffon Cap Sleeve Maxi Dress – £79.99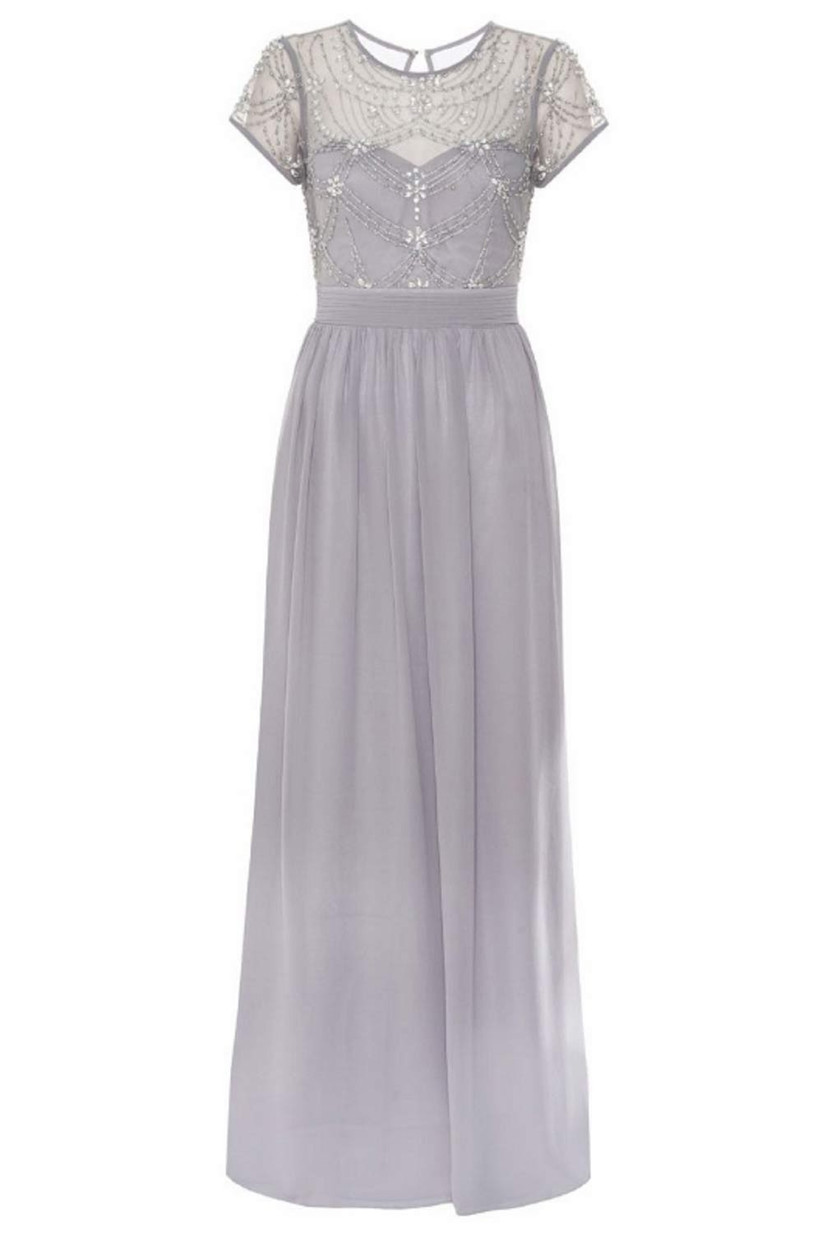 The beaded bodice on this Quiz maxi dress has a fabulous 1920s flapper feel and the cap sleeves make it a great look for bridesmaids who might not want a strapless or halterneck style. This is floaty, feminine and incredibly romantic – a grey bridesmaid dress winner in our books.
Coast Jocelyn Jumpsuit – £139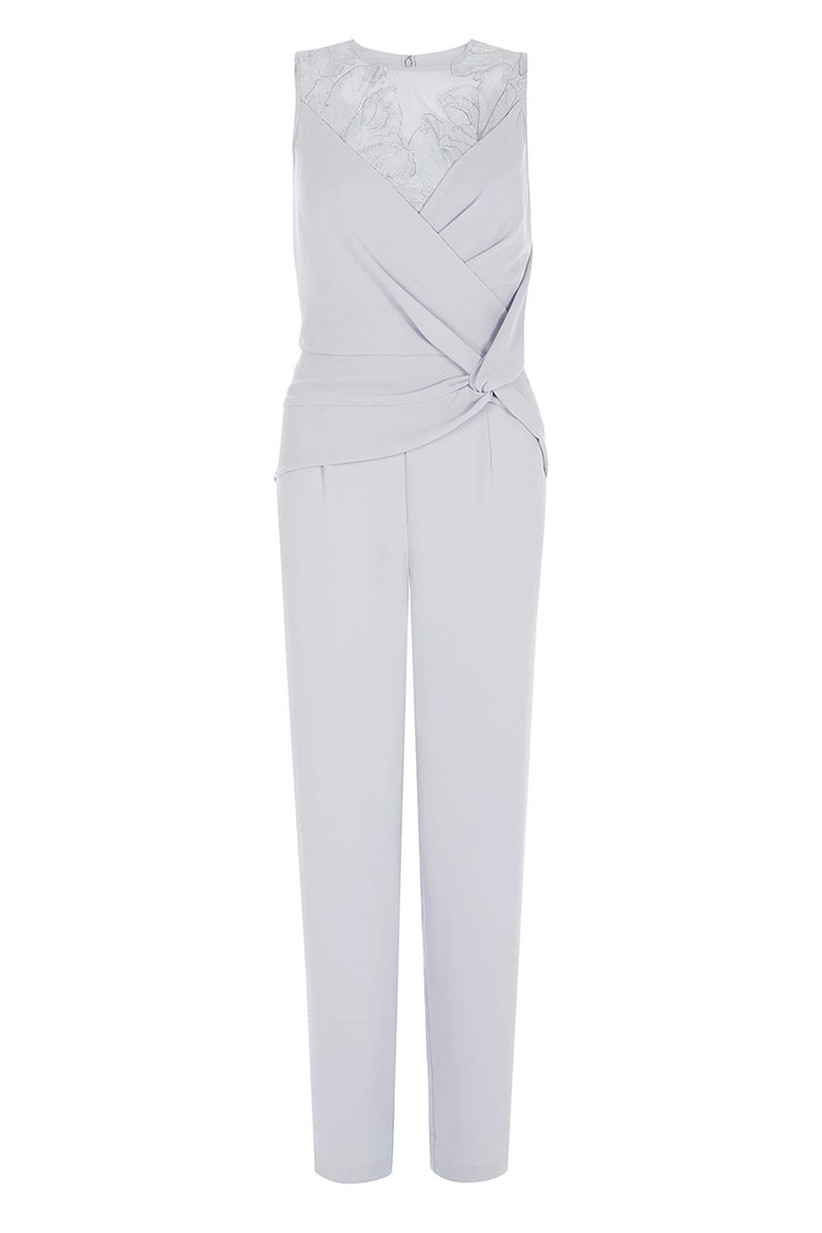 Yes, we know this is bridesmaid dresses, but sometimes you want something a little different for your girls. Enter this effortlessly chic jumpsuit from Coast. In the lightest of dove grey shades, this features a beautiful twist wrap at the front and lace detailing that ramps it up to wedding-worthy. If you're after a bridesmaid dress alternative, this ticks all the boxes. (Currently on sale in March 2018 at £89.)
Jacques Vert Deanna Sequin Back Dress – £179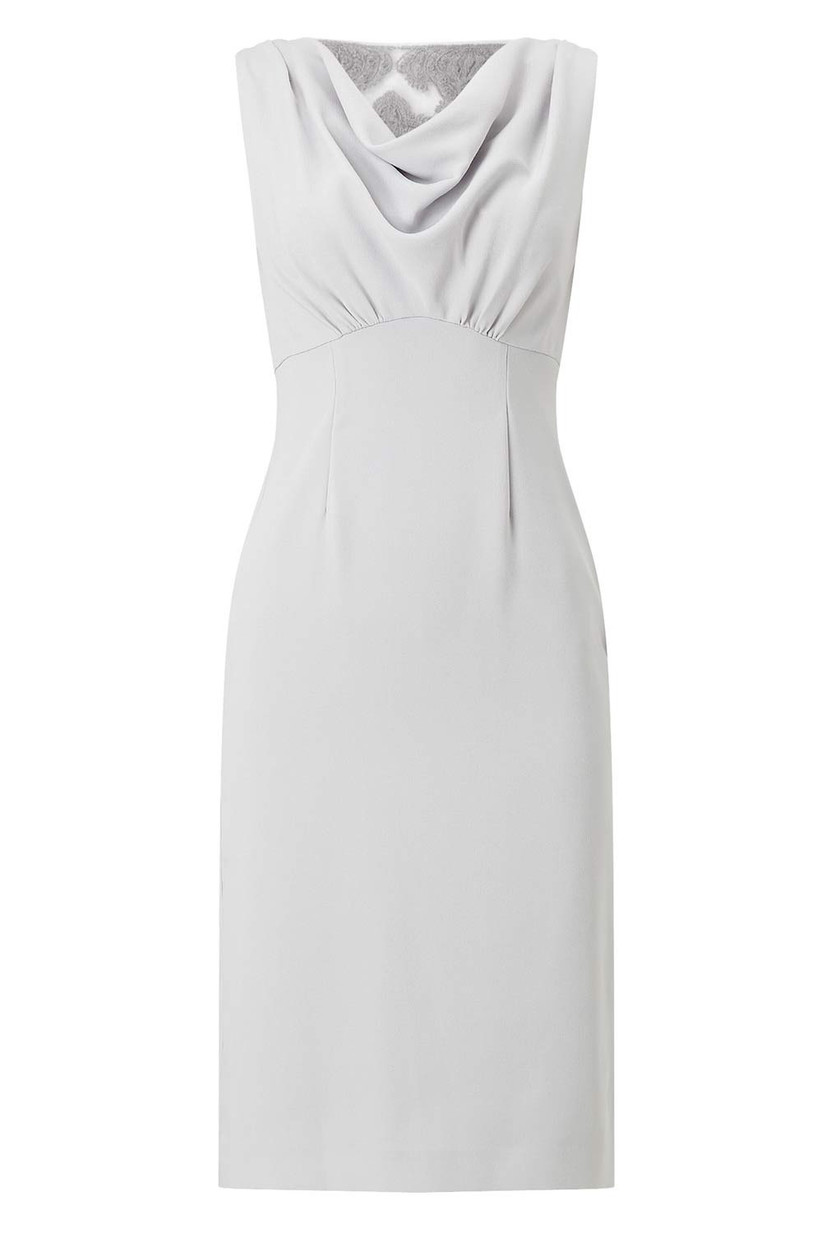 This elegant knee-length dress from Jacques Vert features a gorgeous draped cowl neckline at the front and a sequin-lace insert at the back for brides who want a classic look with just a hint of sparkle at their wedding. (Currently on sale in March 2018 for £99.)
Romantica – Becky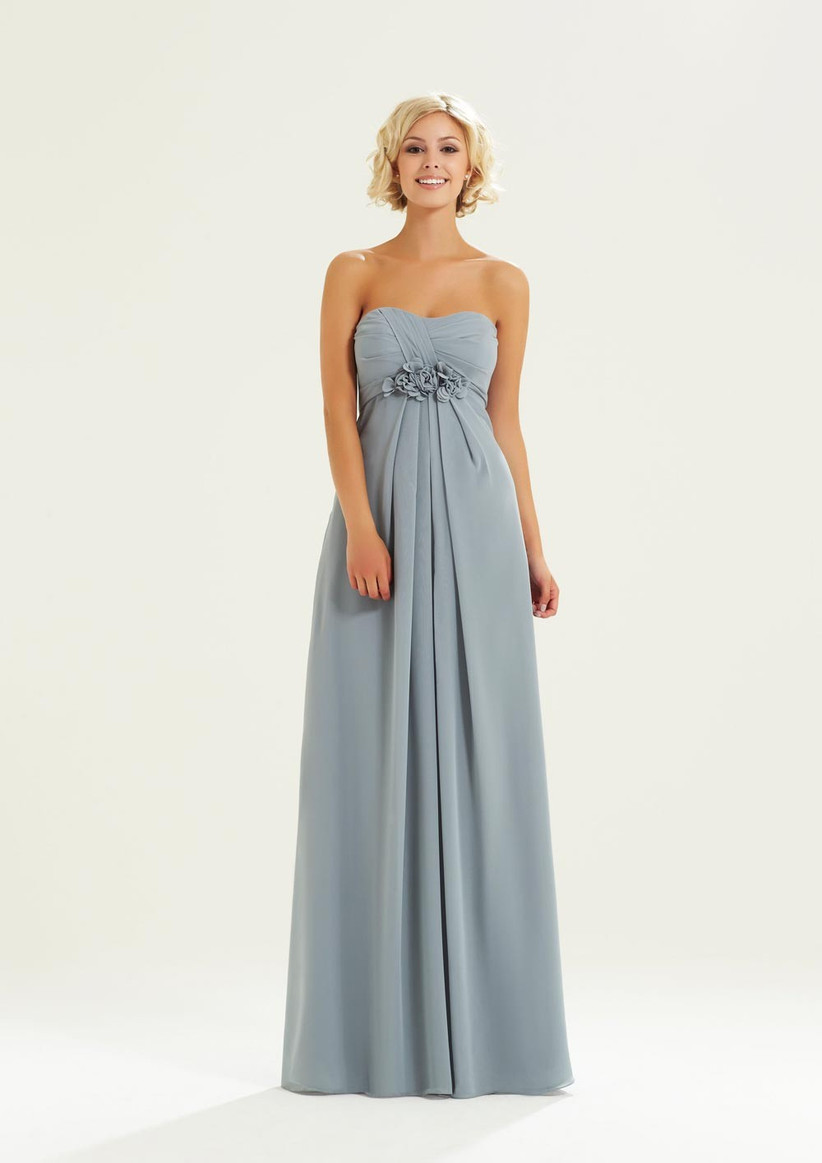 The Becky dress from Romantica comes in a soft shade of blue-grey and has pretty feminine petal detailing under the bust. Pick this bridesmaid dress if you're planning a summer wedding – it'll look lovely in outdoor pictures!
Kelsey Rose – 50164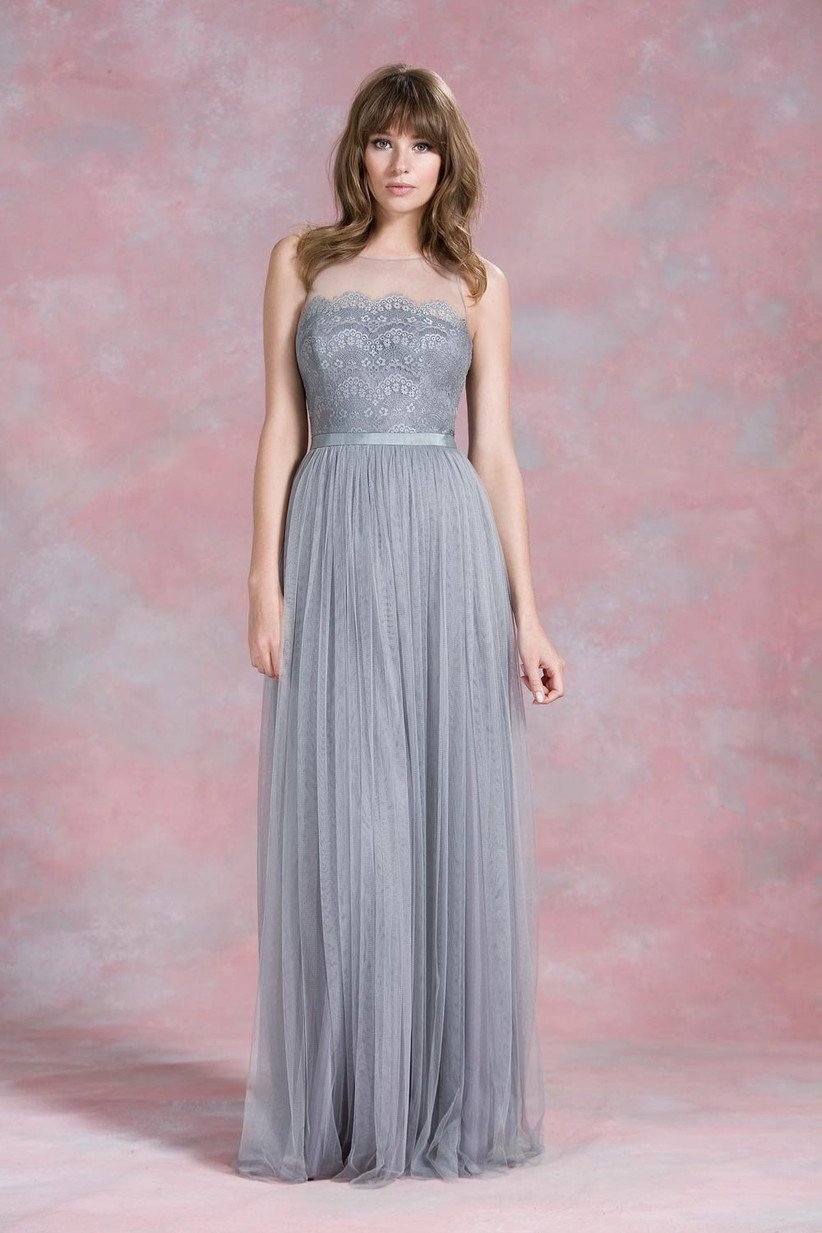 This Kelsey Rose design would look lovely at a spring wedding – the soft grey shade will work with a pastel colour palette and the tulle skirt and lace bodice would work perfectly with a vintage inspired wedding theme.
READ MORE: Cute Ways To Pop The Bridesmaid Question
B2 – B183007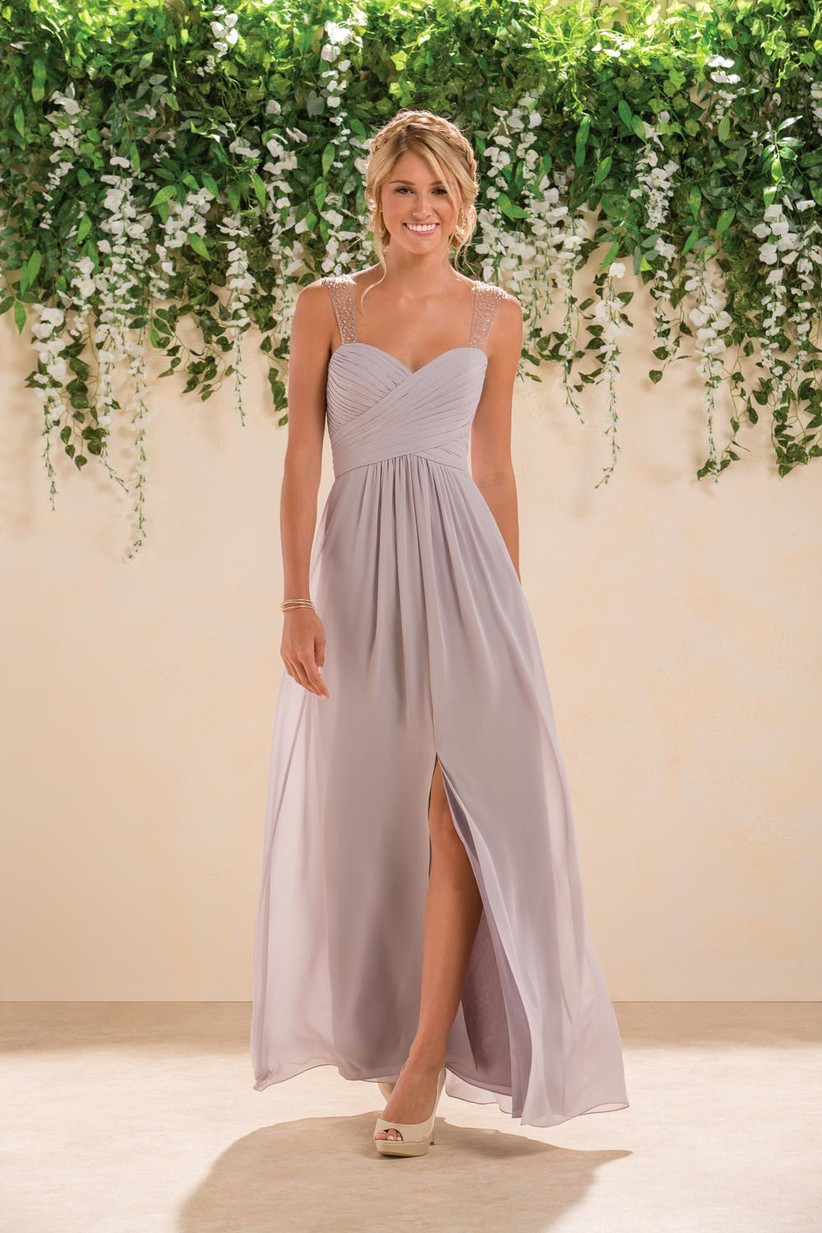 If you just want to dip your toe into the grey trend, consider this pretty gown from B2. The warm shade of grey almost borders on lilac, and the soft, floating shape would look amazing paired with a floral crown. The embellished straps are a fab finishing touch.
Belsoie – L194056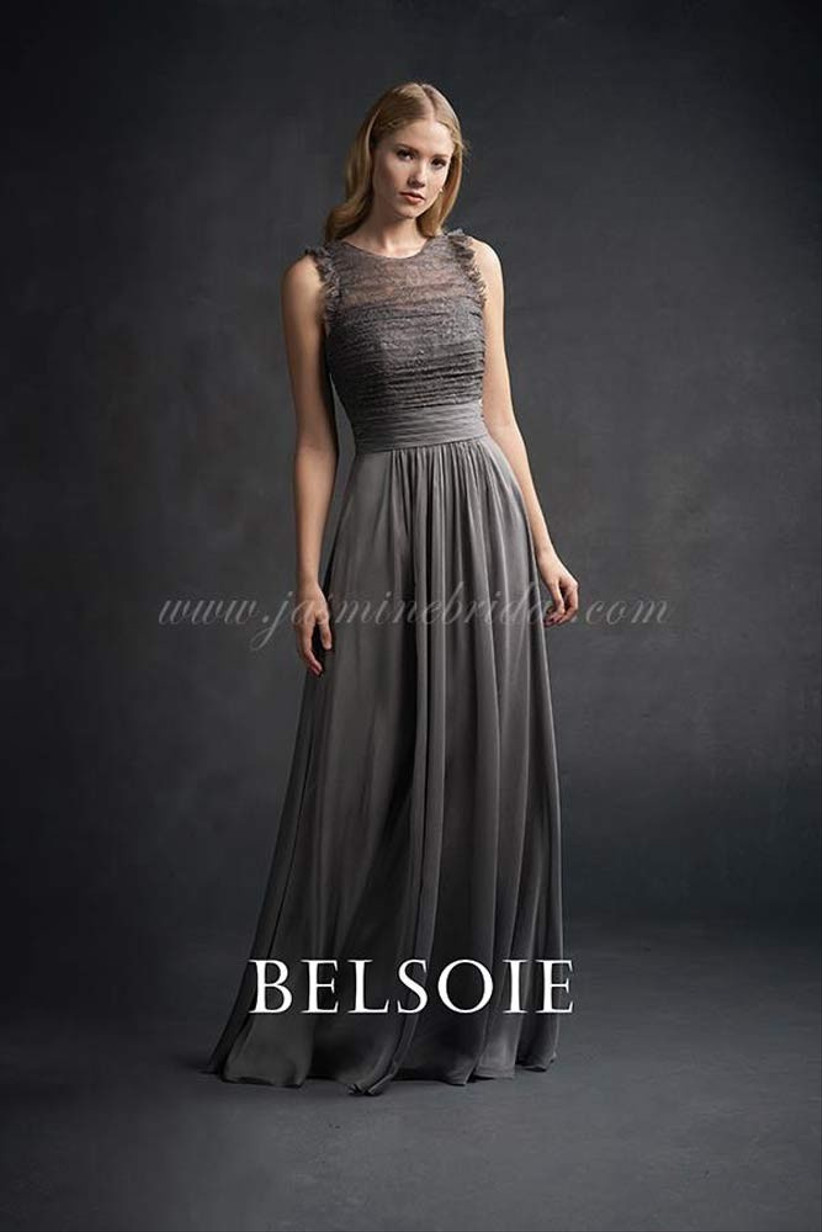 At the other end of the spectrum is this graphite coloured bridesmaid dress from Belsoie. Dark, dressy and very sophisticated, this colour screams chic autumn or winter wedding. The ruffled lace trim on the shoulder is a fun touch.
Coast Jasmine Soft Tiered Dress – £99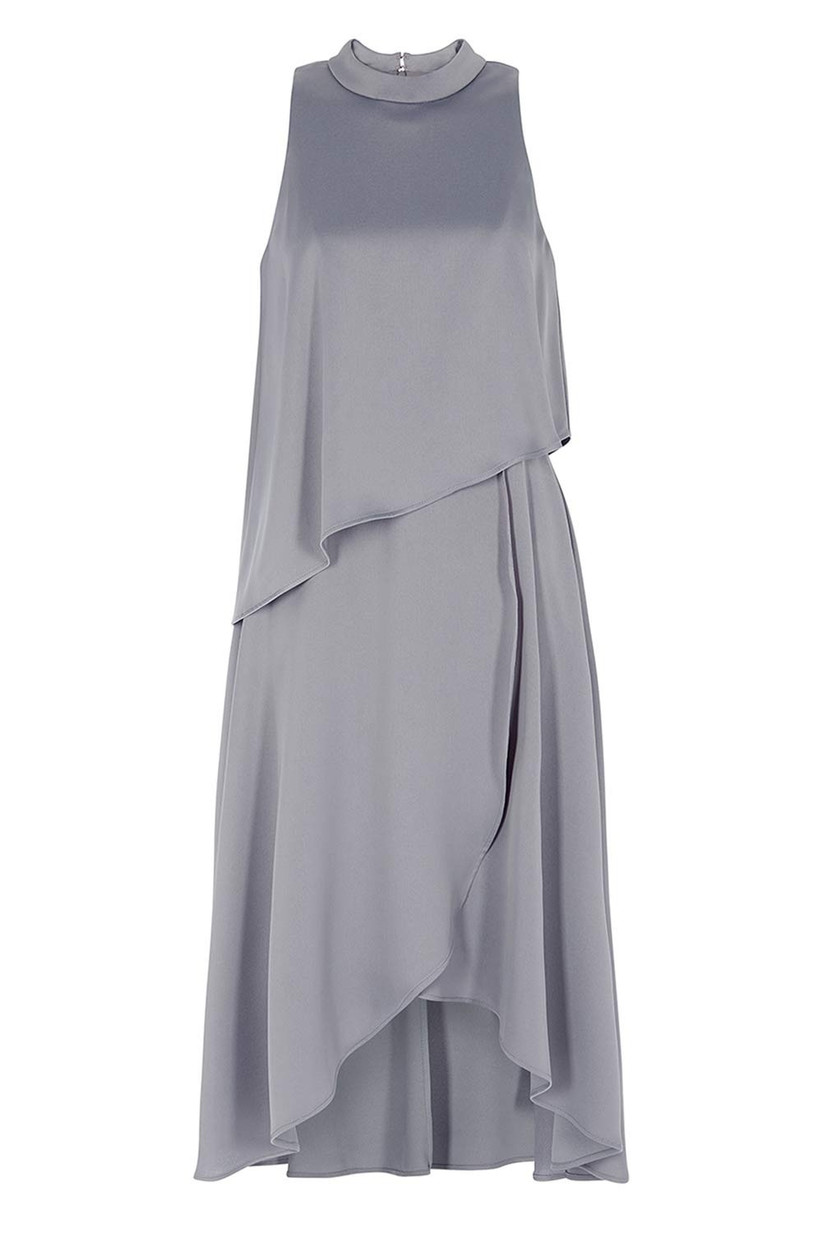 If you're looking for an easy-to-wear dress with a smooth, soft drape, this is for you. The gentle layers on this mercury grey bridesmaid dress from Coast add a wonderful swing so it's ideal for dancing the night away, while the high neckline makes it look totally refined. (Currently on sale in March 2018 at £69.)
READ MORE: The Best Hen Party Games For You and Your Girls
Jacques Vert Nora Sequin Prom Maxi – £349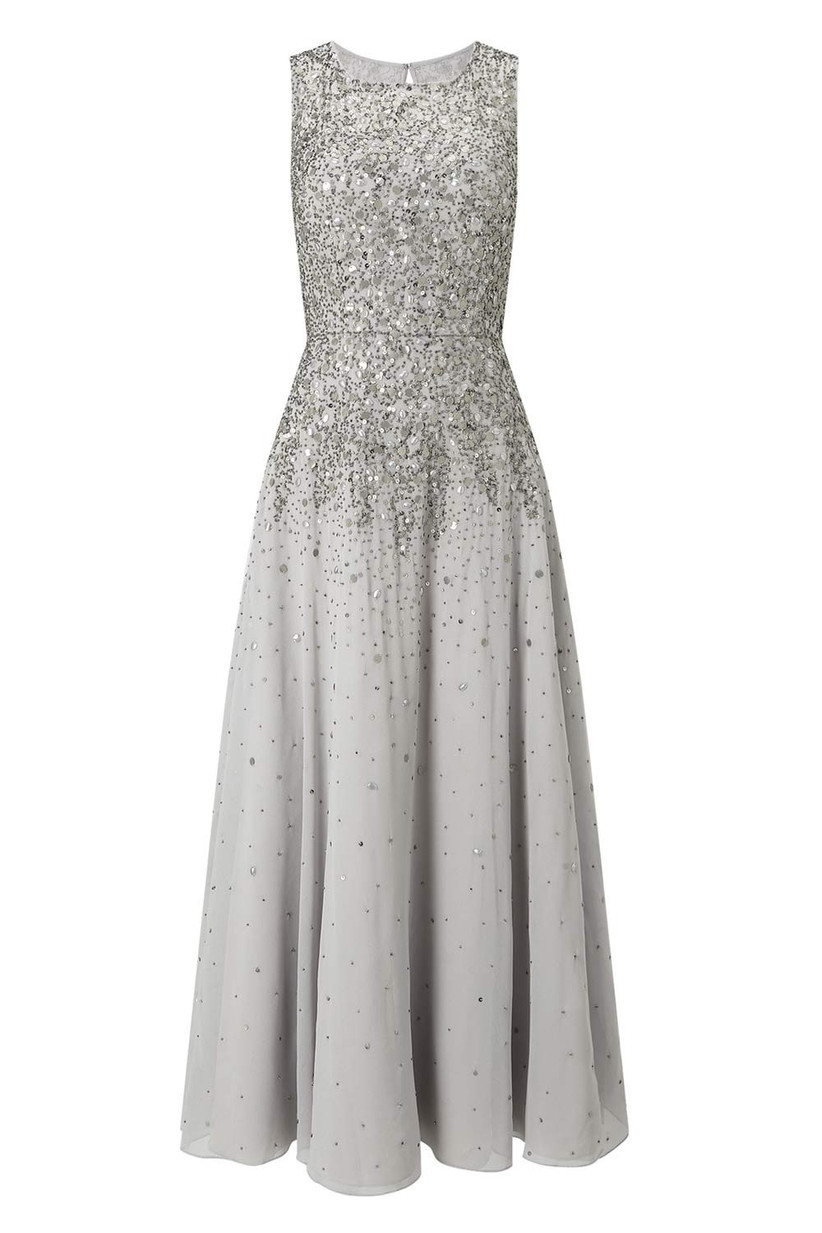 The volume, the sequins, the beads: this Jacques Vert dress is gorgeous! The design of the embellishment creates an illusion of an elongated torso for a super flattering fit on all body shapes. (Currently on sale in March 2018 for £179.)
Ellie Wilde – EW21735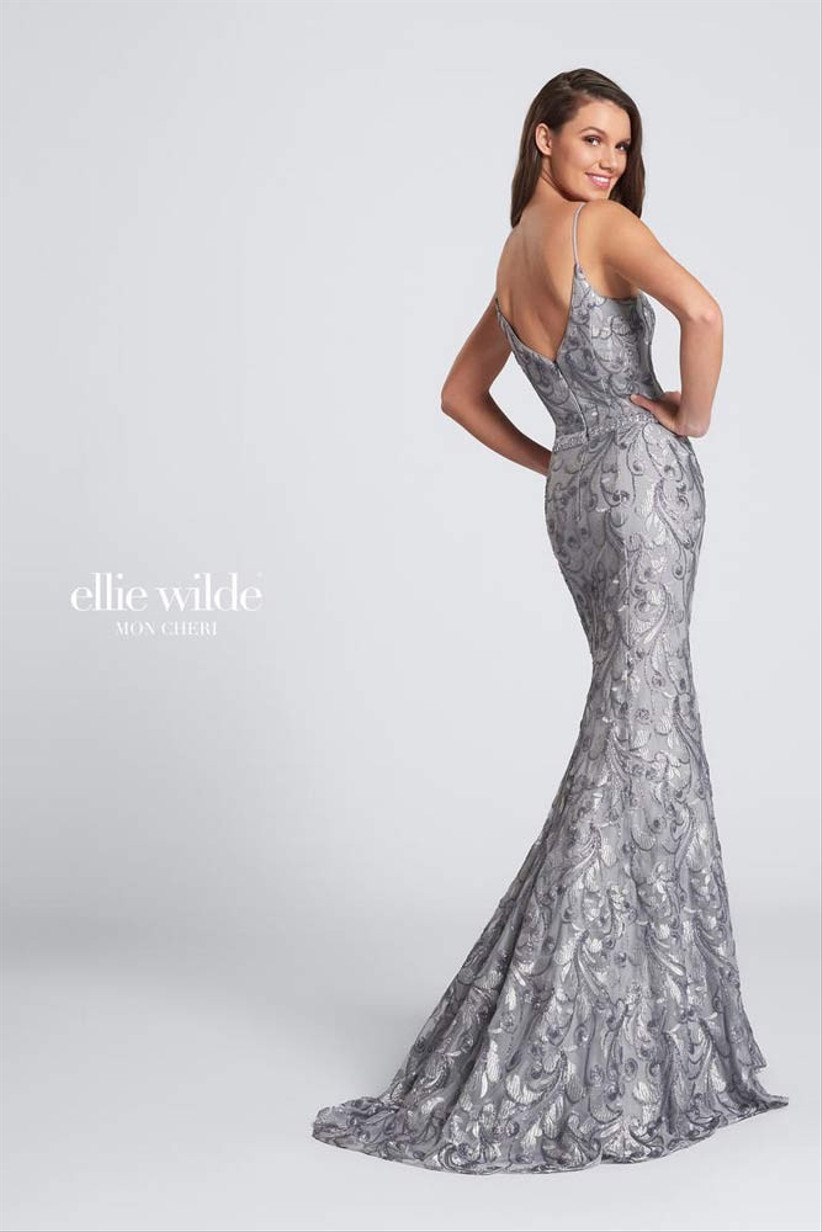 If the bride is having a long train, then the short flare on this silver Ellie Wilde gown is a nice complement. The shape is completely figure-hugging, but the beaded waitband will nip you to create a stunning hourglass figure. If your bridesmaids have bottoms to rival Pippa Middleton's, this is the dress for them.
Kelsey Rose – 50170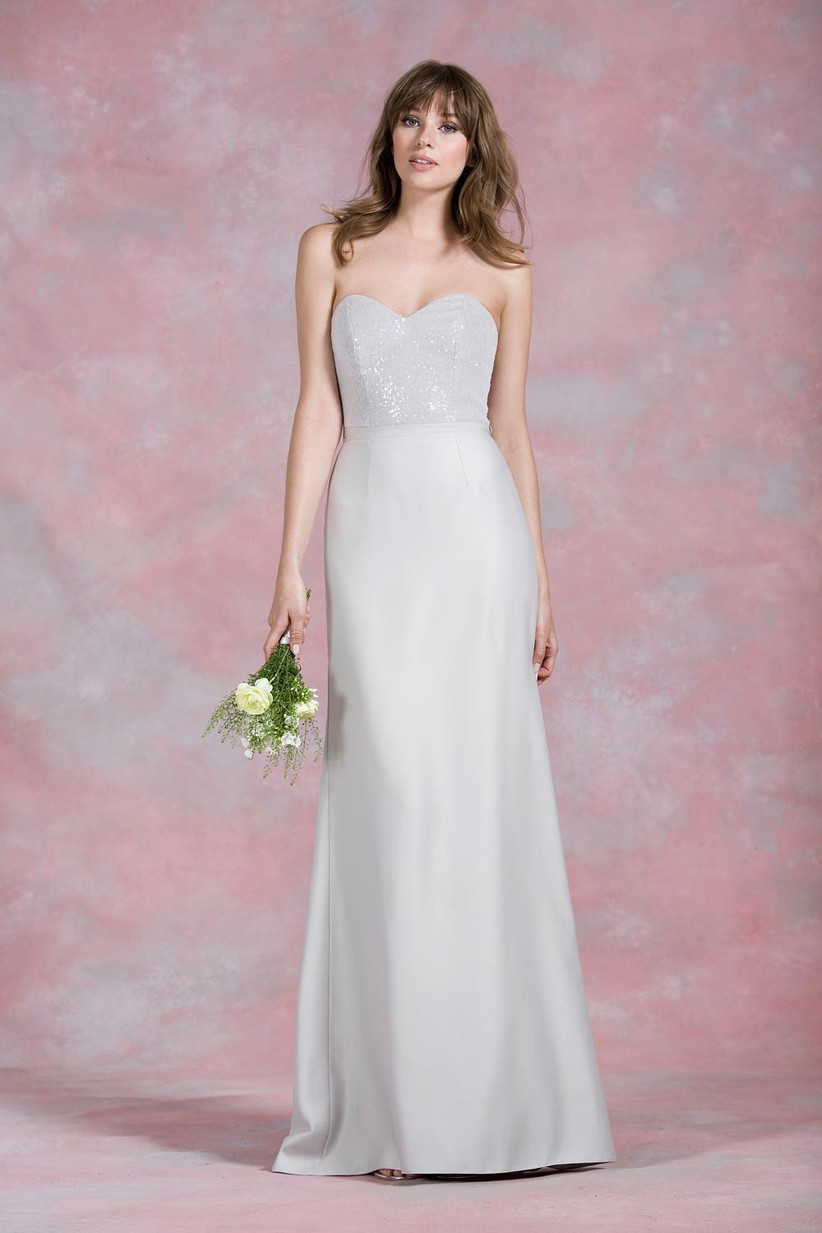 Who can resist the sparkle of sequins? This soft grey bridesmaid gown from Kelsey Rose features a bodice with just the right level of shimmer if you'd rather go subtle than all-out bling. The pale shade would work well for a spring or summer soiree, but the glitter detail means it's also perfect for autumn or winter. This is a truly versatile gown.
Belsoie – L194060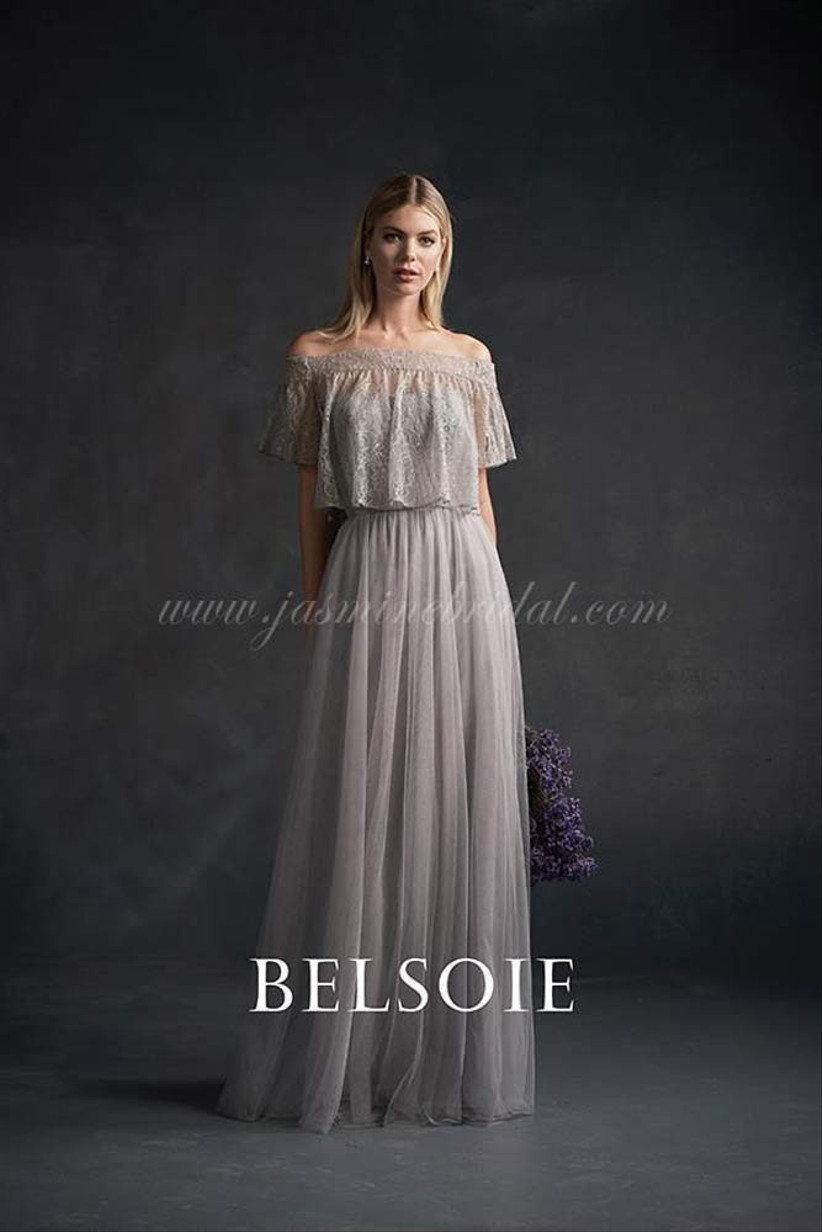 The boho look of this Belsoie dress actually comes from the matching off-the-shoulder lace jacket. Underneath is a strapless, sweetheart dress that's elevated to ethereal level by the jacket on top. This gives you two options for photos and adds a little extra layer if your outdoor or barn wedding goes long into the night.
READ MORE:The Best Bargain Bridesmaids Dresses For £50 or Less
Belsoie – L184002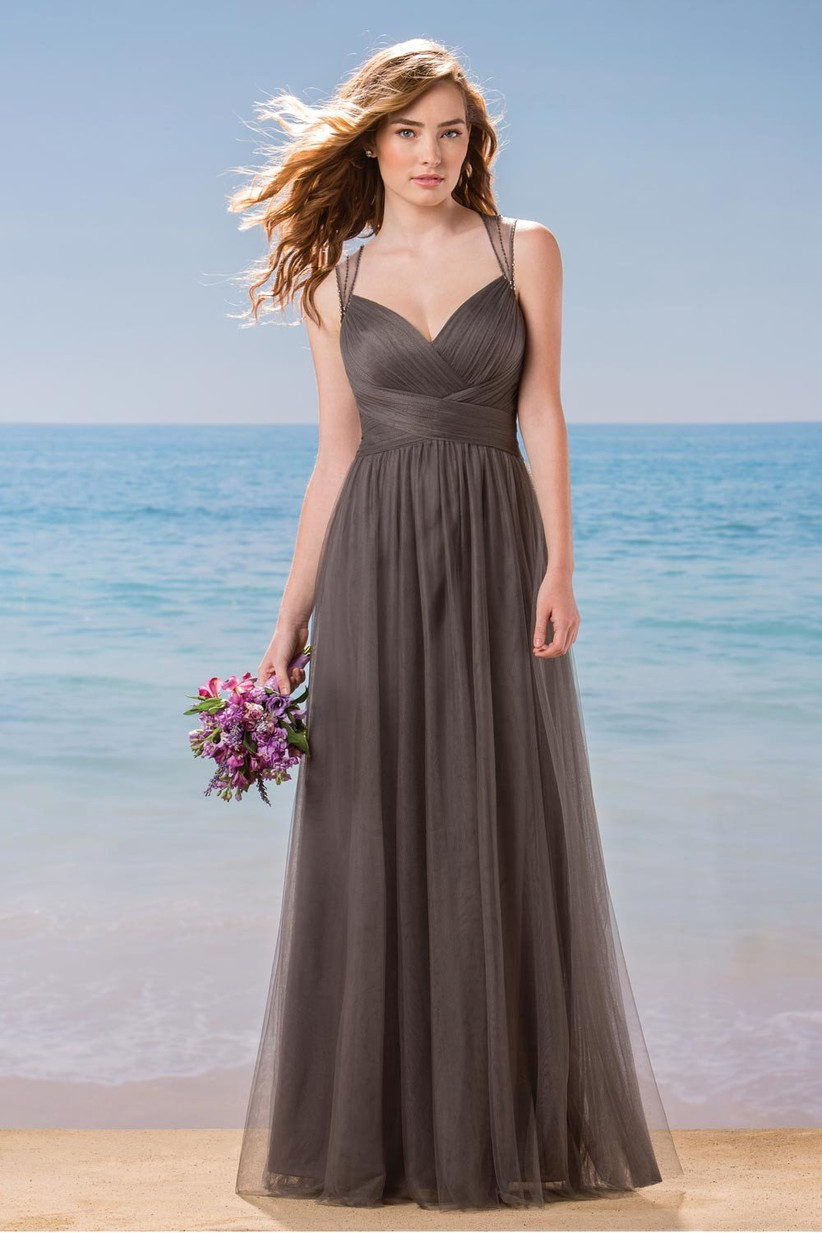 Make a statement by dressing your bridesmaids in this striking dark grey gown from Belsoie. The bodice couldn't be more flattering – it offers support at the bust and wraps around the waist to define it. Those that hate strapless will also love the embellished straps. 
Quiz Chiffon Bardot Maxi Dress – £79.99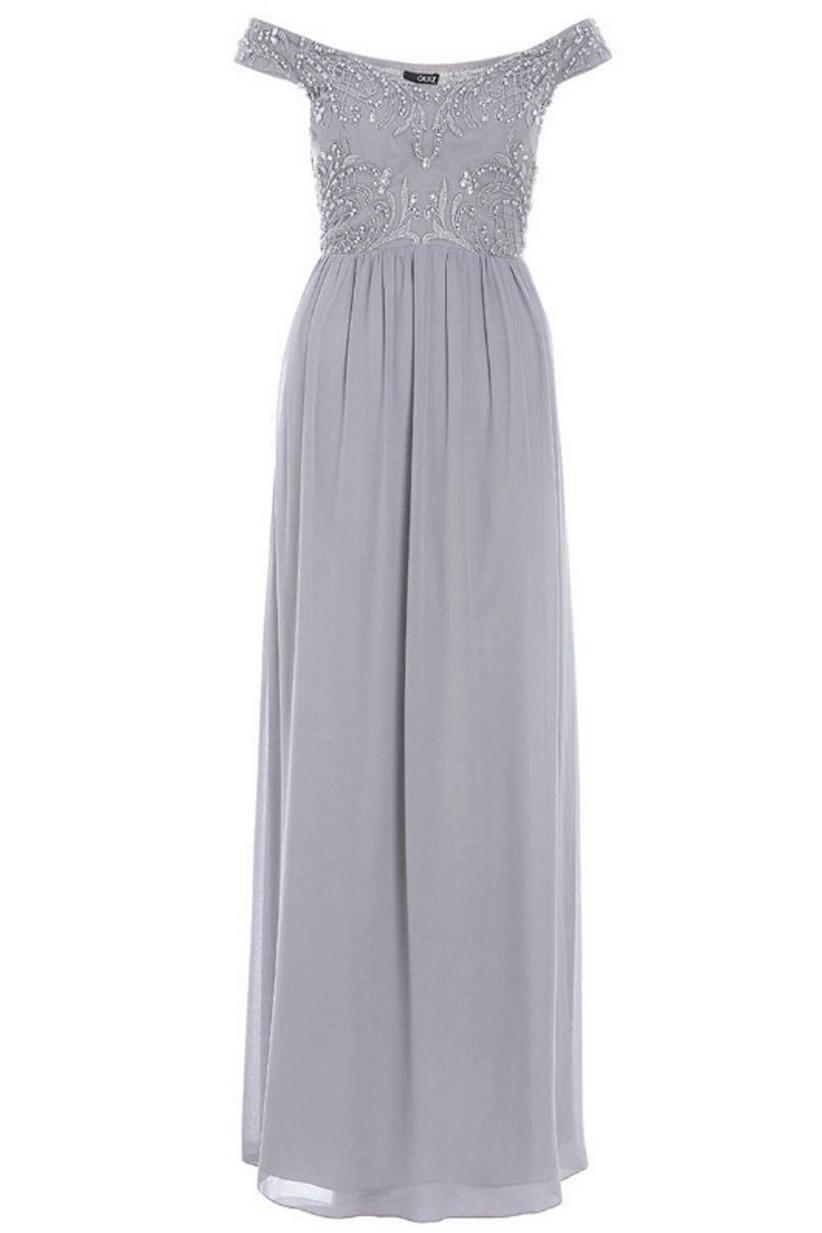 We adore this Bardot neckline! The off-the-shoulder look is on-trend, universally flattering and easy to wear. Here it's teamed with jewels and embroidery, plus a flowing chiffon skirt, for that winning mix of stylish yet sexy. This Quiz dress is flashing a little flesh at a wedding done right.
Monsoon Rosetta Embellished Maxi Dress – £99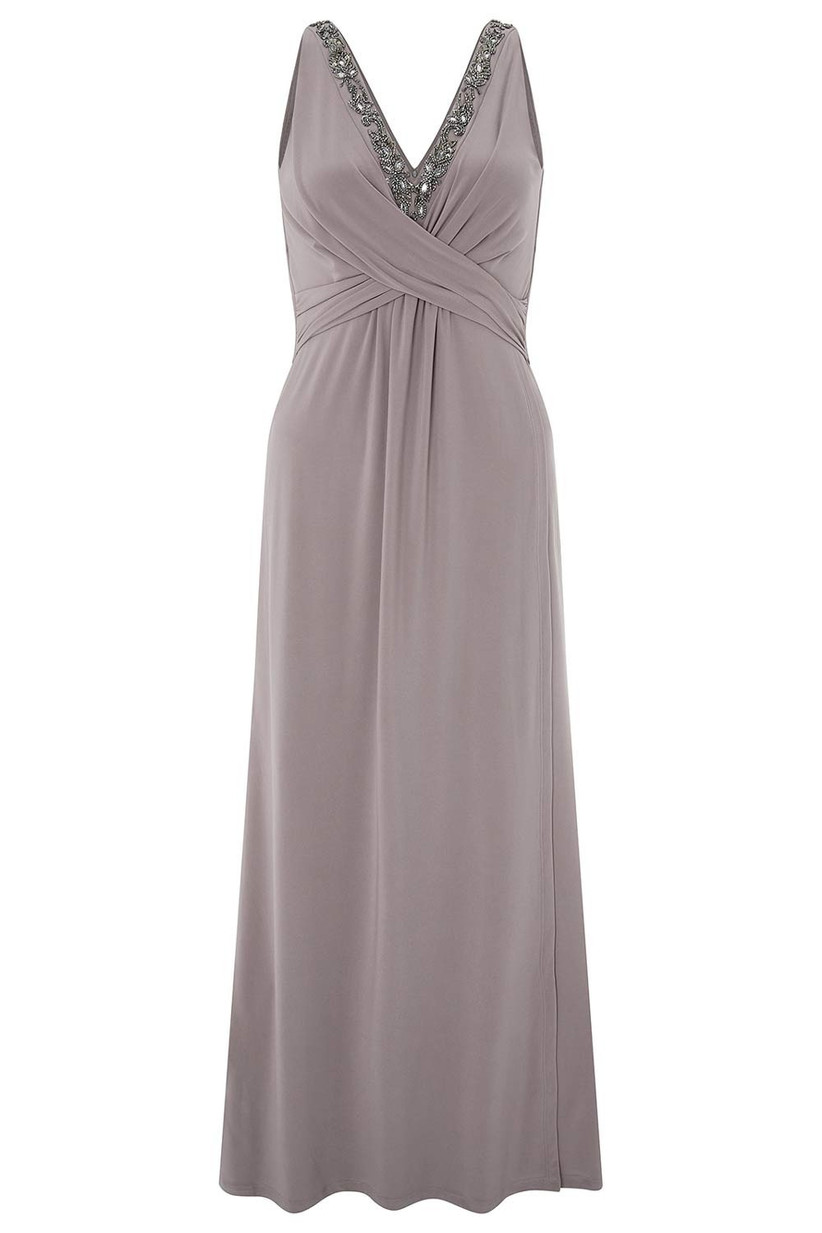 A cross-over bodice and sweeping skirt add a little Grecian flair to this soft grey bridesmaid dress from Monsoon. A hint of sparkle around the neckline makes this maxi a great choice for an elegant winter wedding dress.
ASOS Tonal Tulle Midi Dress – £65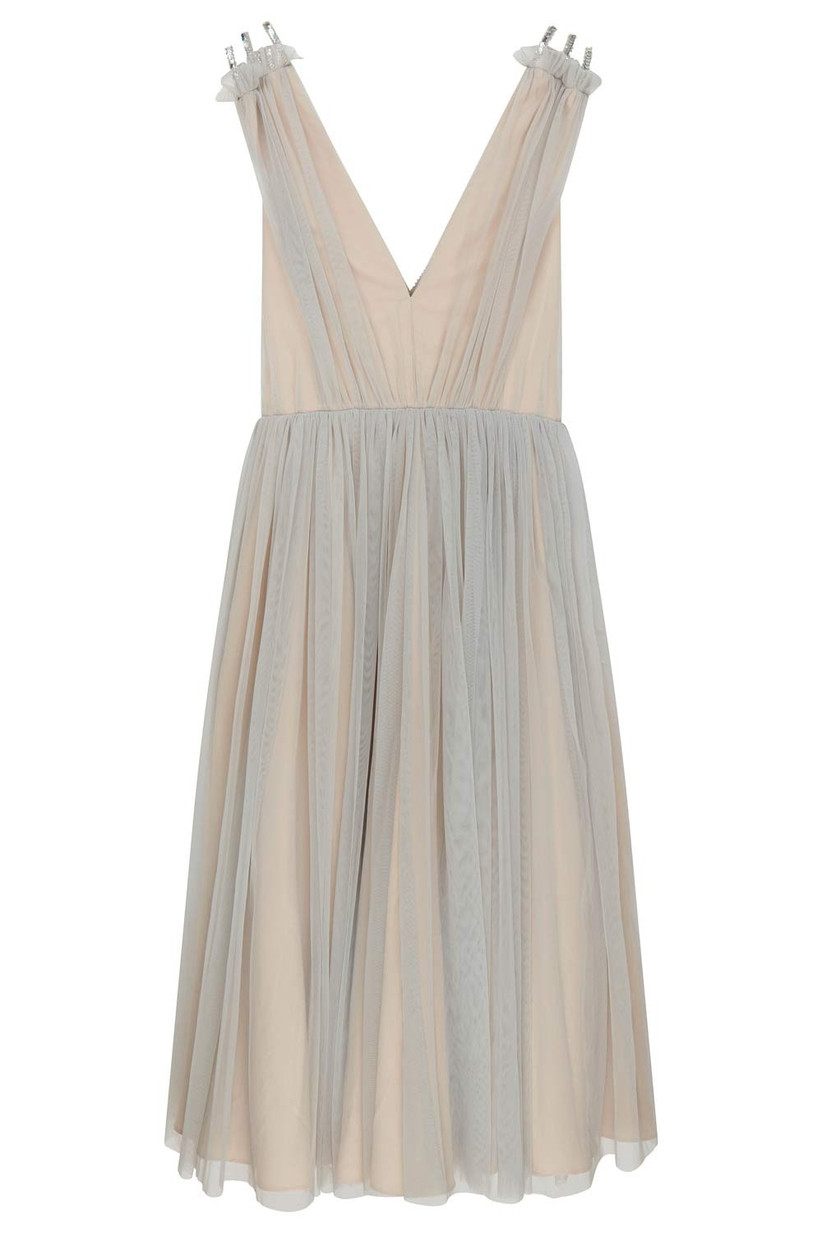 The gorgeous secret of this ASOS dress is the beaded criss-cross straps at the back. A simple, floaty design from the front, the embellished details at the back really pack a punch and will catch everyone's eye as your bridesmaids walk down the aisle behind the bride. This is a great party dress that can be worn again!
READ MORE: Amazing Wedding Dresses Under £1,000
Jacques Vert Thalia Beaded Top Maxi – £299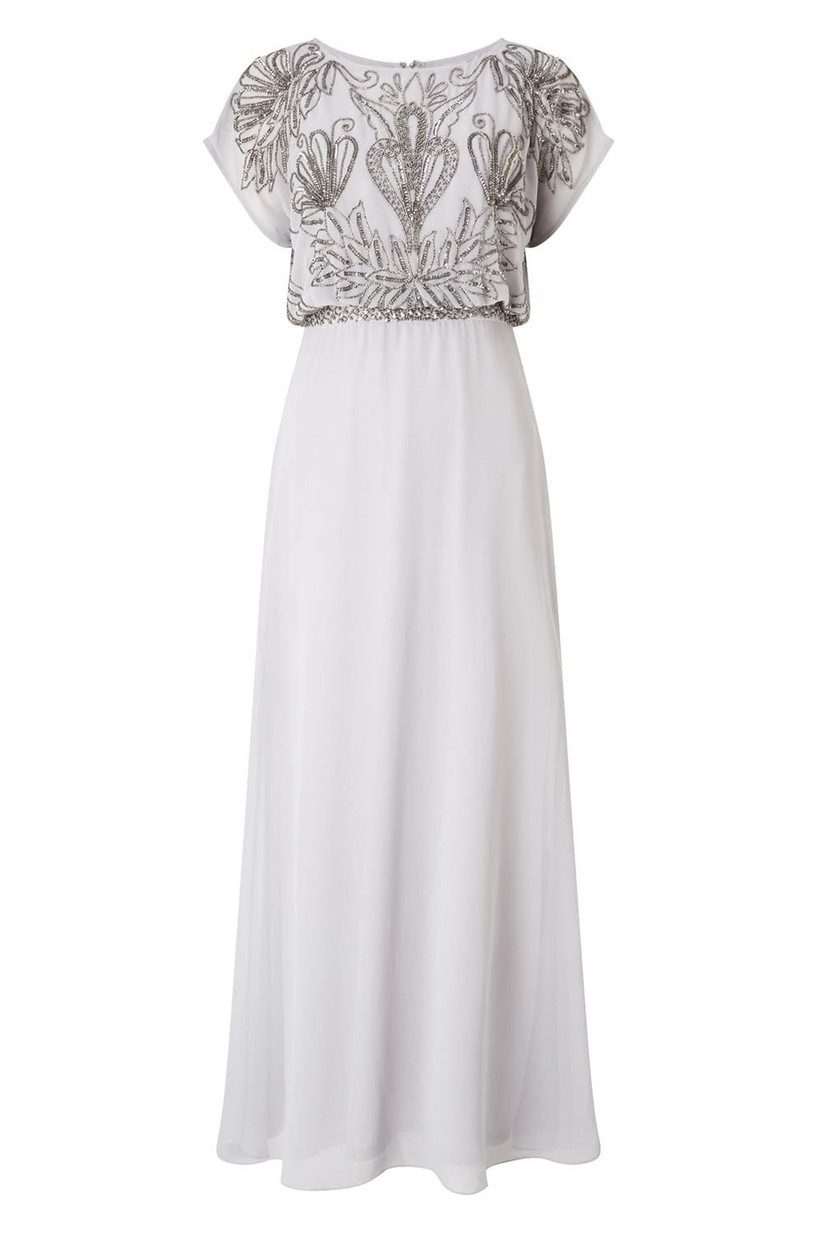 There's something a little art deco in the beaded bodice on this Jacques Vert dress that we love and would work brilliantly at a wedding with a Great Gatsby, roaring '20s theme. Any bridesmaids who love a look from a bygone era will fall for this immediately. (Currently on sale in March 2018 for £149.)
Once you've picked out the perfect bridesmaid dresses, why not think about what thank you gifts to get for your bridesmaids?