25 Satin Bridesmaids Dresses That Your Girls Will Adore
Considering satin bridesmaids dresses? The slinky fabric lights up every skin tone and wedding colour palette. Read on for satin styling tips and the best satin bridesmaids dresses to buy now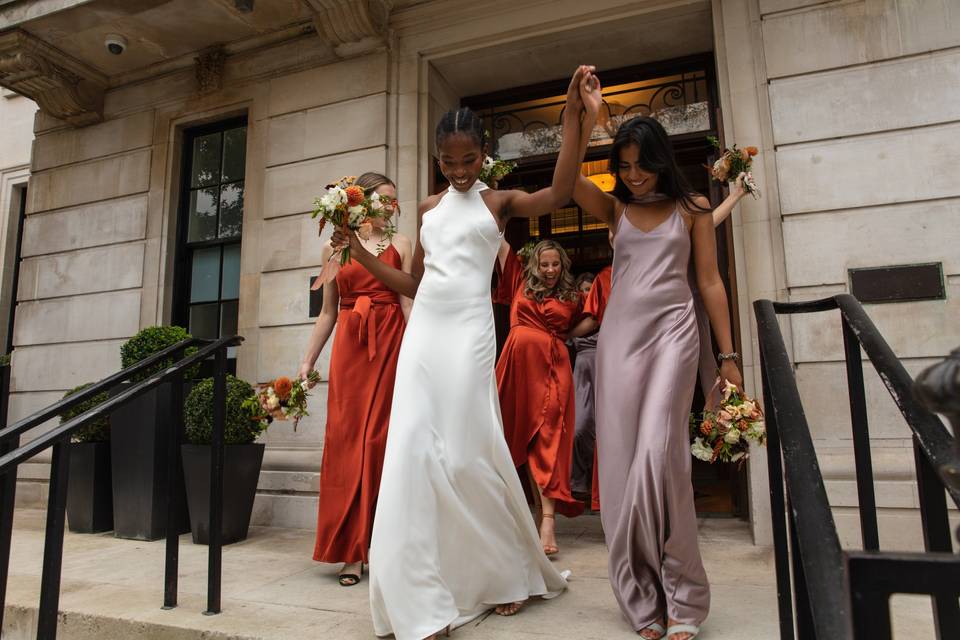 With rich, jewel-like colour payoff and radiance to rival pricy silk, it's no wonder that satin is such a sought-after fabric for chic, sleek bridesmaids dresses. Satin feels like heaven to wear, glows in photos (not to mention making your best women shine IRL) and falls beautifully, so you can see why everyone is falling for satin bridesmaid dresses.
Just make sure you've got satin-appropriate underwear to hand, caution the satin-loving founders of bridesmaid dress specialists Rewritten, Katie Arnott and Frances Cookson. We asked Katie and Frances why satin is ever-popular among brides and their bridesmaids, how best to wear and care for satin plus they shared styling tips to elevate satin dresses to a whole new level. But first, feast your eyes on 25 of our favourite satin bridesmaids dresses – they'll add polish to every style of wedding.
READ MORE:
25 Of The Best Satin Bridesmaids Dresses to Buy Now
1. Florence Waterfall Dress in Burnt Orange Satin – £160, Rewritten
For bridesmaids dresses that are truly lit, look no further than one of Arnott and Cookson's newest Rewritten designs. The fiery shade creates instant impact, the wrap style and wide sleeves suit everyone and the soft waterfall hem is a beautiful touch.
2. Ivy Satin Lace Maxi Dress in Navy Blue – £110, Monsoon
Elegant and classic, this button down satin bridesmaids dress features a romantic scalloped v-neckline and a draped lace waist for definition. It's also available in a pale mint green that would suit summer weddings down to the ground.
3. Amelia Maxi Bridesmaids Dress in Matte Cinnamon – £85, Pretty Lavish
A statuesque adjustable one shoulder satin bridesmaids dress that's stunning in its simplicity, this cinnamon shade is halfway between a statement shade and a neutral. Order a swatch first to ensure it ties in with your wedding colour theme.
4. Dakota Eco Satin Dress in Steele – £110, Grace Loves Lace
Made with 97% recycled materials, this eco satin dress is bias cut with a low back for 90s vibes. Add bright accessories or bouquets for contrast or keep things tonal with metallics.
READ MORE: The Best Silver Bridesmaid Dresses for Your 'Maids
5. Riviera Cami Slip Midi Dress in Fuchsia Pink – £55, Omnes
Another sustainable silky bridesmaids dress option, this vibrant fuchsia slip is made from 100% recycled satin polyester, with labels fashioned from plastic bottles. The midi length, cowl neck and juicy shade also evoke a whole lot of sartorial nostalgia.
6. Ezadora Midi Tea Dress – £100, Aligne
Another nostalgic shape, this time with a prim 50s feel. The dusty pink shade of this satin bridesmaids dress is timeless and the puff sleeves, twisted neck and keyhole front give it a modern spin.
7. Flutter Sleeve Satin Maxi Bridesmaids Dress – £80, ASOS Edition
A lustrous olive showstopper, this fluted sleeve satin dress sets itself apart from the crowd thanks to side button details, a gorgeous diagonal cut, a draped open back with a delicate tie and a subtly fluted hem. Very little accessorising required – just add a simple heel and a foliage-heavy bouquet for full Grecian goddess effect.
READ MORE: Our Favourite Budget-Friendly Bridesmaid Dresses
8. Curve Satin Finish Drape Maxi Dress In Green – £88, Chi Chi London
A rich, forest green satin maxi that'd be a dreamy choice for an autumn or winter wedding. The tie waist and side split skirt dial up the glamour. Sizes run from a 6-26 so you should find the perfect fit straight off the peg too.
READ MORE: 34 Plus Size Bridesmaid Dresses Your Besties Will Love
9. Satin Bridesmaids Dress in Light Turquoise – £49.99, H&M
Affordable, easy breezy and chic, this satin wrap dress is the ideal blank canvas for bridesmaids on your wedding day. You can tie the wrap waist at the front or the back of the dress to mix things up.
10. Marguerite Dress in Flambe, £300 – Reformation
Zingy and structured thanks to ruched panelling at the back of the dress, Marguerite is a sizzling satin bridesmaids dress choice. She's just the ticket for a hot weather destination wedding.
11. Jolie Plunge-Neck Satin Midi Dress – £89, Amy Lynn
And now for something a little more springlike. This lilac tie waist satin dress has unusual flared panelling, delicate straps and a cool bar over the low V-neckline, plus you can guarantee that each bridesmaid will wear it again and again as soon as warm weather hits.
12. Cream Satin Frill Wrap Bridesmaid Maxi Dress – £58, Little Mistress
If you envisage bridesmaids in cream, this frilled cold shoulder satin dress will make your pals look heavenly. The slightly dipped hem at the back looks especially ethereal.
13. Mallory Cowl Midi Dress in Black – £46, Urban Outfitters
We're on a monochrome roll – this slick black satin slip dress is perfect for non-traditional brides and maids alike. It'll become a go-to LBD and can be dressed up or down to suit everything from swish dinners to sashaying down the aisle. Seriously versatile. See more black bridesmaid dresses here.
14. Esmee Maxi Bridesmaids Dress – £85, Pretty Lavish
From black to gold, Esmee glows like candlelight. The under-bust ruching and v back create shape and definition on every figure.
15. Satin Square Neck Maxi Dress with Side Split in Wine – £95, ASOS Edition
Square necked wedding gowns are in demand so why not go square when it comes to bridesmaids dresses too? This rich burgundy satin bridesmaids dress has plenty of sweet extra details, from the crossover straps and satin ribbon tie back to the plush wrap skirt. That graphic neckline would look even more sharp teamed with short hair or an updo. Browse more bridesmaid hairstyle ideas.
16. Sylvie Cowl-Neck Satin Gown – £315, Jenny Yoo
Glossy and minimalist with a sleek cut, Sylvie's fine spaghetti straps and muted green satin whisper 'luxury'. She'd fit right in at everything from a lush garden wedding to a cool city do.
READ MORE: The Best Bride & Bridesmaid Dressing Gowns & Pyjamas for Your Wedding Morning
17. Samuel Dress – £285, Reformation
Mini skirts and dresses stormed spring/summer 2022 catwalks and they'll look pretty slick accompanying you down the aisle too. This fresh light blue satin minidress harks back to the 60s with its puffed shoulders and ruched fitted bodice. If you're planning a summer of love, look to Samuel.
18. Layered Satin Midi With Flutter Sleeves in Khaki – £58, Goddiva
On the subject of short bridesmaids dresses, this flamenco-esque dress may technically qualify as a midi but the tiered ruffled skirt and flutter sleeves make it feel as carefree and dancefloor ready as any party mini. The khaki colour would add rustic to lustre next to a boho wedding dress in particular.
19. Alexia Satin Maxi Dress in Silver – £195, Ghost
Slinky silver satin in a column shape that'll make your best women look statuesque – this metallic bridesmaids dress is striking in its simplicity.
READ MORE: 21 Stunning Silver Bridesmaid Dresses Your Ladies Will Love
20. Cowl Neck Satin Slip Maxi Dress in Orange – £88, Chi Chi London
A draped front and back, a split at the calves and slim shoulder straps combine to make a red (*orange) carpet worthy satin gown that's perfect for a black tie wedding.
21. Phoebe Bustier Dress in Sage – £548, Galvan London
If your budget extends to something truly boujis, this aquatic green satin number is nothing short of sensational. Inspired by a similar dress created for actress and writer Phoebe Waller-Bridge to wear to the Golden Globes, the thick, luxurious satin ripples like water and the bodice has a built in bra for structure and support.
22. Anya Eco Satin Dress in Moonshine – £260, Grace Loves Lace
This recycled satin dress has an otherworldly quality. The ivory shade shimmers in the light, the ultra fine straps look ethereal and the satin waist tie can be tied in any way and position you wish. The waist is elasticated too for definition.
23. Brooklyn Dress in Olive Green Satin – £150, Rewritten
As soon as your bridesmaids lock eyes on Brooklyn, we guarantee they'll be lovestruck. There's the crossover spaghetti straps, optional waist tie, flowing length and lush, leafy colour to consider, plus the style is available in a range of shades to mix things up.
24. Maternity Wrap Tie Satin Midaxi Dress in Oyster Grey – £55, Little Mistress
If one or more of your bridesmaids is expecting, this warm toned grey wrap dress is versatile enough to fit growing bumps while the cool satin fabric is as comfy as it is chic. It'd also be a great fit for new mums who are nursing.
READ MORE: What to Wear to a Wedding When You're Pregnant
25. Fox Dress in Navy/Teal – £295, Sister by Halfpenny London
UK bridal designer Kate Halfpenny's Sister bridesmaids line is unsurprisingly just as cool as her wedding dress collections and there are silky satin dresses aplenty. Fox is a particular standout – a little bit flamenco and with "epic swish" according to Halfpenny, the contrast flounce hem brings movement and fun to the party. There are even secret poppers inside the dress to add customisable sleeves. Genius.
Now over to Rewritten's in-house experts Katie Arnott and Frances Cookson for the ultimate guide to styling out satin bridesmaid dresses.
Why is Satin Such a Popular Choice for Bridesmaids Dresses?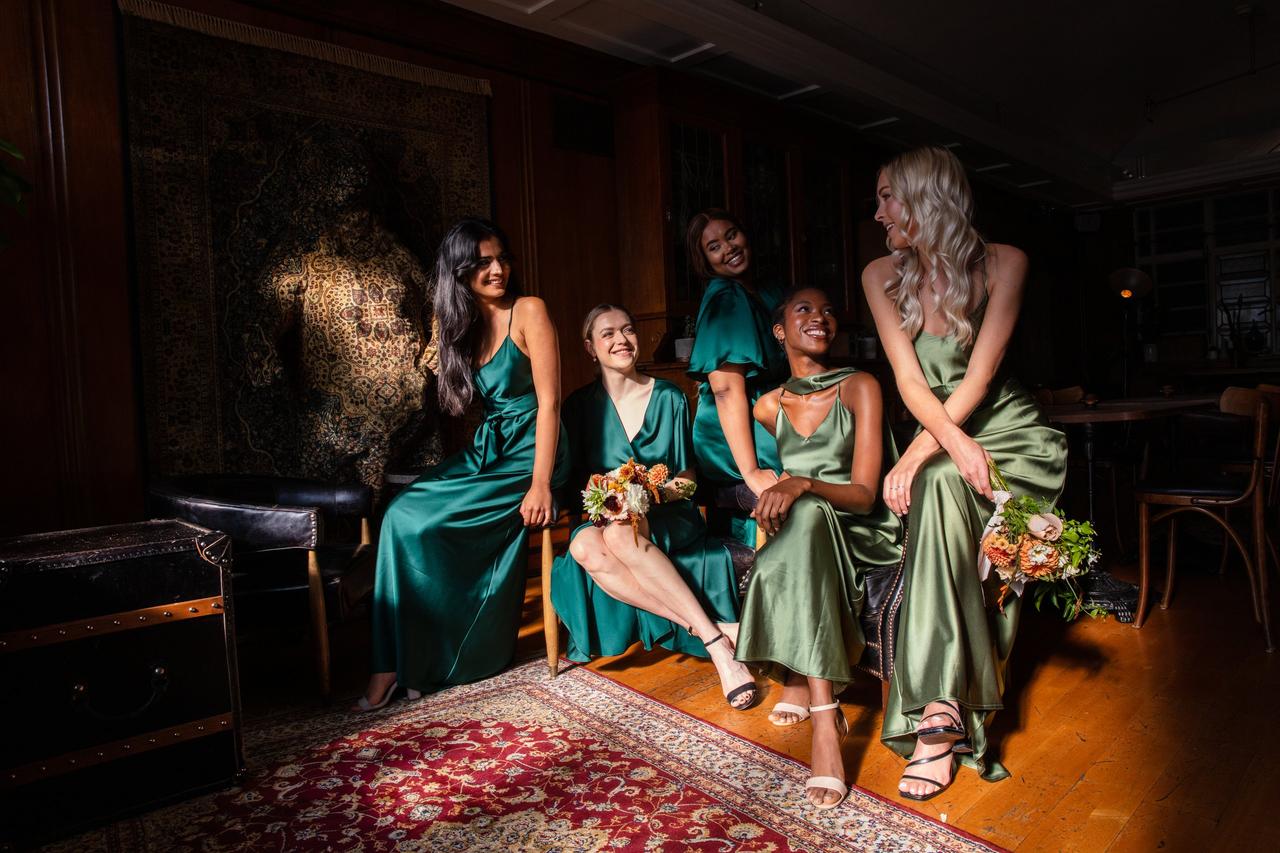 "After almost two years or so of sitting on our sofas, everyone wants an excuse to dress up and satins are the perfect answer!" Say Katie and Frances. "As a result, we have been developing our satin collections so much more. Sky blue, sage green and rose pink are launching any day soon."
"The satin bridesmaids trend really isn't showing any signs of stopping – we've been amazed by its popularity. Our brides can't get enough of gorgeous shades of silky satin, from rich autumnal burnt orange to olive green hues." In short, satin is vibrant, opulent and there's a cut and shade to suit every woman. Plus, it's more affordable than silk but achieves an almost identical feel and effect.
How Should I Style a Satin Bridesmaids Dress?
Contrasting materials create an especially luxe look according to Katie and Frances. "We love styling all of our satin designs with a nude strappy sandal in suede or leather, gold jewellery and a cute pearl beaded bag (our favourite is this Pearl Bucket Bag by Six Stories)."
"The matte finish of the shoes works really well with the sheen of the dress. We prefer this to a metallic shoe but metallics are definitely an option if you're looking to make a bolder statement."
Browse nude wedding shoe options here.
How Should I Care for a Satin Dress?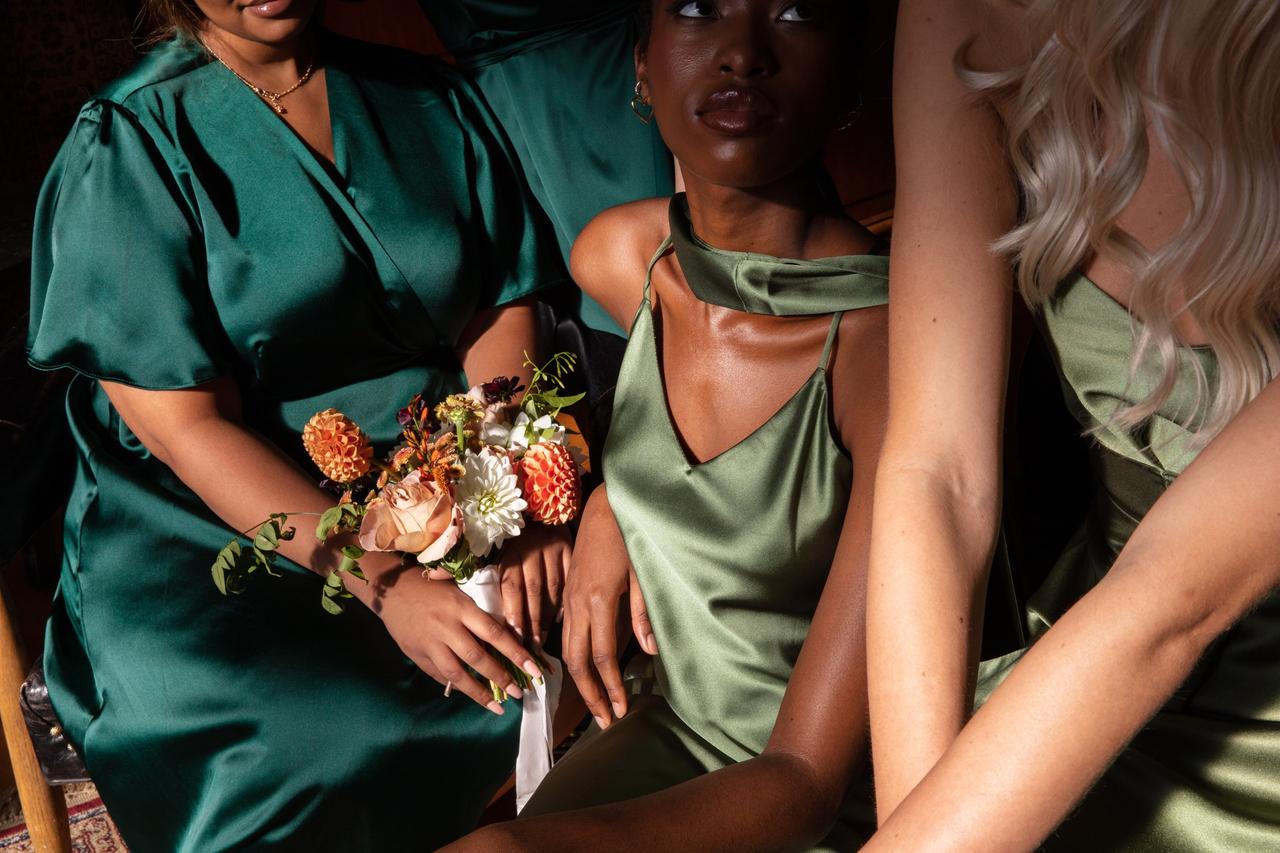 Katie and Frances have some niche but golden advice when it comes to wearing satin. "Satin dresses are really easy to take care of if you know what to do with them - if there's one thing to remember when wearing satin on the big day, don't sit on the dry stone wall outside the church as this will leave you with fabric pulls on the dress!"
Noted. Otherwise, it's happy days. "Keep creases at bay by steaming your satin dress on the morning of the wedding. We recommend buying a hand held steamer, which you can get from any homeware shop," say Katie and Frances. "All of our satin dresses are machine washable so they're super easy to wash at the end of the wedding day (especially if you spill some wine down the front). And it goes without saying that all of our dresses are designed to be the most comfortable bridesmaids dresses you can get your hands on!"
What Underwear is Best To Wear with a Satin Dress?
Ah, the underwear dilemma. "When it comes to choosing the right underwear to go under a satin dress, just remember that the smoother and more seam-free, the better", advise Katie and Frances. "We recommend going for a 'no VPL' panty and a soft touch bra. This does depend on what style of dress you're wearing though – you may need a strapless bra if you're wearing a delicate strappy style".
Wondering what to wear underneath your wedding dress for that matter? Discover the 27 best wedding lingerie sets (and our top tips for bridal underwear shopping).