30 Gorgeous Garden Wedding Dresses Perfect for Outdoor Celebrations
We've handpicked the 30 best garden wedding dresses out there that are ideal for botanical celebrations on balmy summer days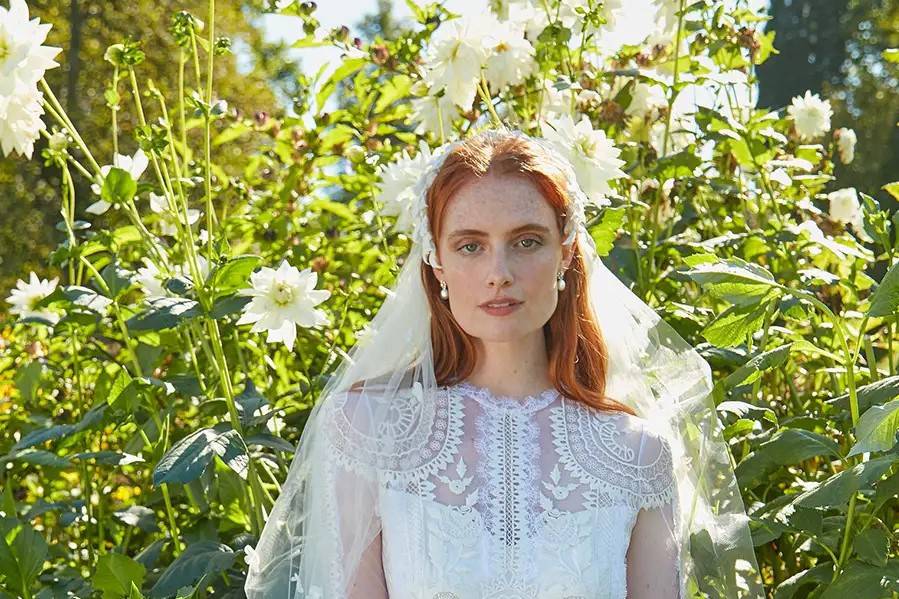 Simple nuptials held outside in a pretty garden wedding venue are so romantic and can be just as special and unforgettable as a lavish celebration. As well as picking your outside décor, you might want to choose a gorgeous garden wedding dress that'll keep you comfortable and complement the natural setting.
From shorter mini dresses adorned with 3D florals to floaty gowns with soft ruffles, these 30 garden themed wedding dresses are the coolest options out there right now. We've included looks for all budgets, from high street numbers from the likes of ASOS, Little Mistress and H&M, to mid-range options from Whistles and Reformation, as well as designer brands such as Galvan and Needle and Thread.
More over, we spoke to Cat Chambers, Head of Ecommerce and Digital Marketing at Little Mistress who gave us her top styling tips on how to dress for a garden wedding. Pass us the Pimm's!
30 Wedding Editor Approved Garden Wedding Dresses
1. Gabbie Dress - £605, Reformation
A loose-fitting design which will work perfectly for hot summer weddings out in the back garden. Reformation's number is casual yet elegant and the gorgeous fitted bodice makes it extra appealing.
2. Lace Slip Dress - £59.99, H&M
With a stunning satin finish, this is elegance in a gown. The true star of this dress is the lace detail florals, as well as the strappy back. And at under £60, it's a great purse-friendly option.
3. Emmy Lace Cami Wedding Dress - £80, ASOS
A short wedding dress is ideal for a garden celebration - this beauty from ASOS might be simple but we guarantee it'll impress and you'll feel comfortable in it all day.
4. Posy Blossom Corset Ankle Gown - £525, Needle & Thread
Any dress called posy blossom is asking to be worn to a garden wedding! We adore the playful pops of blue and pink florals on this dress from Needle & Thread, as well as the pretty ruffles.
READ MORE: 30 Floral Wedding Dresses
5. Shimmer Ditsy Long Sleeve Gown - £400, Needle & Thread
A beautifully romantic design, this dress features champagne tulle, a flattering silhouette, and sheer long sleeves. The floral motifs give the dress a unique look.
6. Elizabeth Corset Ankle Gown - £500, Needle & Thread
Needle & Thread's Elizabeth dress is soft and carefree, perfect for a pretty back garden affair. The strapless style, tulle ruffles, and off-white colouring all make the design super on-trend.
7. Amaliah Lace Wedding Jumpsuit - £259, Phase Eight
Thinking of having outdoor wedding games? Ensure you win with this activity-ready wedding jumpsuit from Phase Eight. It'll look amazing at your ceremony but serve you equally as well when you're getting involved in all the fun!
8. Flutter Sleeve Backless Bridal Dress - £210, Chi Chi London
This stunning dress with a floral mesh overlay and angel sleeves is the understated wedding ensemble we've been waiting for. Wear it with a wedding updo to really show off the low back.
9. Ivory Blossom Sequin Tiered Midi Dress - £380, Self-Portrait
This strappy design is fun, playful and cute, yet still works as a bridal gown. The lightweight tulle fabric gives a magical, ethereal feel, while the floral detailing adds a extra romantic edge.
10. Azra 3D Floral Detail Mini Dress - £499, Rowley Hesselballe London
A gorgeous design for the warmer seasons, the Azra dress has a breathtaking shoulder detail that will mirror any gorgeous blooms in your surroundings. Available in XL - XS, it'll suit all body types.
READ MORE: 34 Boho Wedding Hairstyles
11. Beatrix Dress - £POA, Temperley London
Quintessentially romantic, the Beatrix dress is decorated with embroidery inspired by Victorian lace motifs and framed with a Chantilly lace trim. We adore the illusion long sleeves!
12. Jaime Bridal Maxi Dress - £95, Little Mistress
The combination of the frills and casual silhouette make for a great back garden bridal gown. It's the perfect middle ground between a super laid back design and something formal.
13. Lesley Bridal Dress - £160, Little Mistress
If you're after something super subtle and yet very pretty, this gown could be the right choice for you. It's timeless yet modern and the floral beading adds a special finishing touch.
14. Sandrine Bridal Dress - £75, Little Mistress
This stunning gown would look beautiful with a wildflower bouquet in peak summertime. The bardot bodice, cinched-in waist and lightweight fabric all make this an extremely special high street buy.
15. Olivia Dress - £POA, Love and Liberty
With a scattering of 3D petals delicately falling down this dress from Love and Liberty it'll fit right in at a garden setting. We're obsessed!
READ MORE: 44 of the Best Long Sleeve Wedding Dresses
16. Olive Top & Mini Riri Skirt - £POA, Halfpenny London
It's short, it's chic, and it's stylish; this is the option for fashion-forward brides holding their big day outside. If you want to show off your pins, you can't go wrong with this incredible piece.
17. Embroidered Maxi Dress - £169, Coast
Pleated skirts are universally flattering so they make a great choice for a wedding dress. This frock from Coast is understated while still letting you take centre stage.
18. Embroidered Border Organza Mini Dress - £159, Coast
If you're having a vintage wedding, you need this Coast dress in your life! Inspired by the 1960s it is playful in shape and style with billowing sleeves and a short hemline.
19. Ruffle Sleeve Satin Dress - £159, Coast
For an alternative wedding dress look no further than this dress from Coast. The shoulder details remind us of botanical leaves which would be so fitting if you're getting married in a tropical garden setting.
20. Ruffled Silk Satin Midi Dress - £1,445, Alessandra Rich at Net A Porter
From the romantic ruffles to the sultry low neckline, this vintage inspired dress is as quirky and cool as it is beautiful. And given its versatile style, you'll wear it over and over again if you want to.
READ MORE: 60 Affordable High Street Wedding Dresses
21. Regan Dress - £1,900, Catherine Deane
Bohemian brides we bet you'll love Catherine Deane's Reagan dress. Pair with tousled hair and a cool bridal jacket if the evening gets a little colder.
22. Peaches Pearl - £1,600, Grace Loves Lace
The Peaches Pearl dress from Grace Loves Lace is crafted from 100% recycled materials, receiving international recognition and GRS certification so you can feel good while looking good! Ideal for couples planning an eco-friendly wedding.
23. Audrey Embellished Cape Bridal Dress - £349, Monsoon
If you love the idea of a bridal cape, this beauty from Monsoon has one fitted in for you! The Audrey dress finished just below the knee so it is perfect if you want a mid-length wedding dress.
24. Embellished Long Sleeve Maxi Dress - £195, Dorothy Perkins
A relaxed setting doesn't mean you can't opt for a wedding dress covered in sequins. This design from Dorothy Perkins will look glorious twinkling under fairy lights when the sun starts to set.
25. Pandora Silk-Satin Halterneck Midi Dress - £895, Galvan at Net A Porter

We are head over heels for this glossy pearlescent design, which has a gorgeous satin fabric and intricate neckline. It's the perfect mid-way dress between something very casual and something extremely formal and 'bridal'.
26. Gatsby Dress - £505, Reformation

From the deep neckline to the high split and floaty material, this is the perfect level of smart-casual for cute outside nuptials. Carry a bouquet of simple eucalyptus leaves to make the dress pop even more.
27. Genova Beaded Wedding Dress - £350, Phase Eight
This may look like a traditional wedding dress, but a few features make it a little different and suitable for your garden wedding. For one, the shorter length means it won't drag, and the cute beads give this Phase Eight design a modern twist.
28 . Lace Detail Off Shoulder Wedding Dress - £500, Self-Portrait
Are you a true boho bride? Then Self Portrait's off-the-shoulder design may be the right pick for you. It has a draped trapeze shape, as well as romantic layers of lace on the neckline. Wear with a spectacular bouquet of wild flowers or even a flower crown.
29. Lace Sweetheart Wedding Dress - £195, Chi Chi London
A back garden wedding doesn't mean you have to go super simple. We love this chiffon-sleeved, embroidered maxi dress with a boho, Bardot-style neckline and a feminine silhouette.
30. Rose Wedding Dress - £599, Whistles
We love this formal design, which has certain features that make it perfect for a garden ceremony surrounded by tons of beautiful blooms. The bardot neckline and A-line silhouette are particularly appealing.
What Type of Wedding Dress Works Best for an Outdoor Wedding?
If you're tying the knot at an outdoor wedding venue there a few considerations you'll have to take into account but you can still opt for a seriously special dress!
"We recommend going for something soft and flowy such as a lightweight fabric like chiffon and letting the wind add a bit of drama as you walk down the aisle," says Cat Chambers, Head of Ecommerce & Digital Marketing at Little Mistress. "Also, go for shorter hemlines to avoid grass stains and tripping - you want your wedding dress to last and even a little bit of dewy grass can leave a lasting mark! Going for a shorter hemline, doesn't mean you have to forgo a maxi dress look, but getting it hemmed just a little bit (to about the height of your ankle) can make a difference."
How Do I Accessorise and Style a Garden Wedding Dress?
The great thing about marrying in a gorgeous flower-filled garden is that you can let the setting do a lot of the hard work for you. "Keep it simple and take inspiration from nature. Maybe you want to pick a dress with floral embellishments or you can incorporate it into your accessories like tiaras, hair clips, and jewellery," recommends Cat.
As for your wedding shoes? "You may want to go with a chunkier heel or even a flat sandal especially if you are walking on grass or softer ground. But if you've found the perfect shoe, just get a clear heel protector to stop you from sinking in grass," explains Cat.
What Should I Consider When Choosing a Garden Wedding Dress?
First things first, you might want to check whether it is going to rain on your wedding day. "As weather can be very unpredictable, especially in the UK, you'll want to have an option for cover in case the day is a bit chillier. A bridal cape is a great on-trend option to add a bit of glamour to enhance your overall wedding look and keep you warm," suggests Cat.
"Umbrellas could also be a cute accessory along with the typical bouquet arrangement. It's not only handy in case of an un-forecasted sprinkle, but also helps block out the sun on particularly hot days. It's a win-win accessory that could make for some great wedding photos as well," says Cat.
Avoid your heels getting stuck in the grass on your big day with our edit of the best flat wedding shoes!