David Emanuel Reveals His Dos and Don'ts of Wedding Dress Shopping
As the new series of Say Yes to the Dress returns to TLC, we chat to David Emanuel about how to shop for the most important gown of your life.
We have included third party products to help you navigate and enjoy life's biggest moments. Purchases made through links on this page may earn us a commission.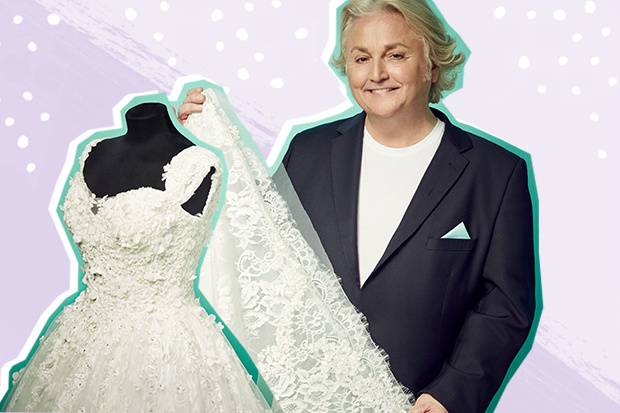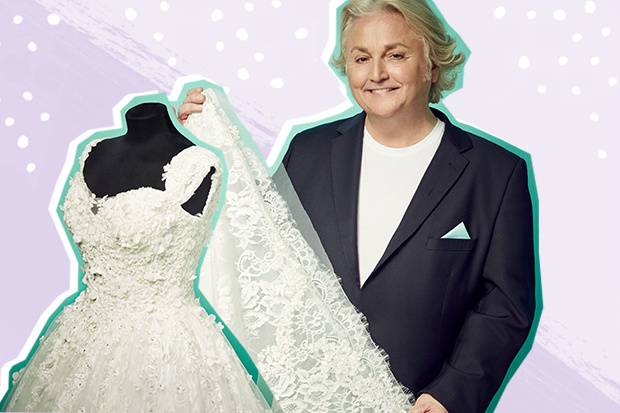 Buying a wedding dress can be a bit of an overwhelming experience. With a whole host of styles, fabrics and designers to choose from, it's often difficult to know where to start.
Which style will be best for your body shape? How do you match your dress to your venue style? Can you get a beautiful dress for under £1,000?
One person who knows the answers to all of these questions and more is David Emanuel: fashion designer and presenter of TLC's Say Yes to the Dress.
He's best known for designing Princess Diana's 1981 wedding gown, and with more than 35 years' worth of industry experience, there's no-one better to help stressed out brides avoid the mistakes they often make when choosing their dream dress.
"When it comes to wedding dress shopping, I'm very open minded", David told us. "I dress brides according to their body shape and style. The dress needs to fit the figure of the bride and the location."
What's the biggest stumbling block most brides face when they're wedding dress shopping, we asked? "I think the biggest stumbling block a bride can give me is lack of confidence. They could be in the dressing room and love the gown, then go outside to show the entourage, and because they pull it to bits, the bride doesn't like it anymore.
"I say: 'What happened between the dressing room and coming out onto the shop floor?' I put it down to lack of confidence, and that's a shame."
READ MORE: Gok Wan Reveals How to Find Your Perfect Dress Style
Image: TLC
Before it was time for David to reveal his top tips for newbies to the wedding dress shopping scene, we were keen to find out what we can expect from the brand new series of Say Yes to the Dress.
"One of my favourite moments of Say Yes to the Dress this season is Angela: she's very glamorous; 54. This is her third time getting married and she wants to push the boat out", David explains.
"She wants gold, and of course, if we can find it, we will. Needless to say, the friends and entourage are horrified! That's a fun one – if you catch that show, you're in for a winner." We'll make sure we tune in.
Here, David reveals the dos and don'ts that he's learned during his time on Say Yes to the Dress.
READ MORE: How to Choose a Wedding Dress
Do: Keep an Open Mind
"My first do is please, please, please to try and keep an open mind. Try to be objective", David told us.
"Have a long hard look in the mirror and be very honest with yourself. That's a big do."
Don't: Be Swayed by Your Entourage
"Don't be swayed by your entourage. It could be your mother, it could be your bridesmaids, it could be your best friend – it could even be your future mother in law. Be real and don't be swayed."
Do: Take Inspiration
"Another do is take pictures from magazines", suggested David. "Take something that inspires you, and try to give your bridal consultant an idea of what you think you're looking for.
"Don't be surprised if you come out with the complete opposite!"
Don't: Choose a Gown Just Because It's On-Trend
Style-savvy brides, listen up!
David said: "Don't choose a gown because it's in vogue or it's a hot little number and it's very fashionable. Be realistic. Have a look and ask yourself 'does it really suit me?'".
READ MORE: The Hottest Wedding Dress Trends of 2020
Don't: Forget About Your Venue
Considering a destination wedding or a coastal wedding in the UK? This one's for you.
"Don't go looking for a heavy gown if you're having a beach wedding. You want something light and airy", David said.
"A church wedding is very different – you've got to think about covering up."
And what if you're getting married in the town or city? "Well, you can wear anything you like!"
Do: Remember Your Budget
"Another do is to have a firm budget. Be realistic and have your budget in mind.
"Remember, you're not only buying your wedding gown but you're possibly buying the veil and you're buying the shoes – it's the complete look."
READ MORE: The Hitched Wedding Budget Planner
Don't: Rush Your Appointment
"Don't rush your bridal appointment", David warned.
"Go through the gowns, be honest with your consultant and if you're uncertain, go back the next day. There's no rush – you want to make sure you have the right gown for the right event and you want to wake up on your wedding day feeling like you can't wait to put it on." We don't need to be told twice.
Do: Be Honest With Yourself
"My final do is: be honest with yourself and be honest with the consultant.
"Remember, the bridal consultant has been trained and she's probably dressed hundreds of brides before. Also, listen to yourself, not your entourage."
Don't: Wear Black Underwear to Your Appointment
"Don't wear black or coloured underwear to your appointment. Remember, you're trying on bridal gowns and you don't want a red brazier showing through, so wear nude or white."
READ MORE: The Ultimate Guide to Bridal Lingerie
Keen to hear more from David? The new series of Say Yes To The Dress UK airs weekdays at 7pm exclusively on TLC.