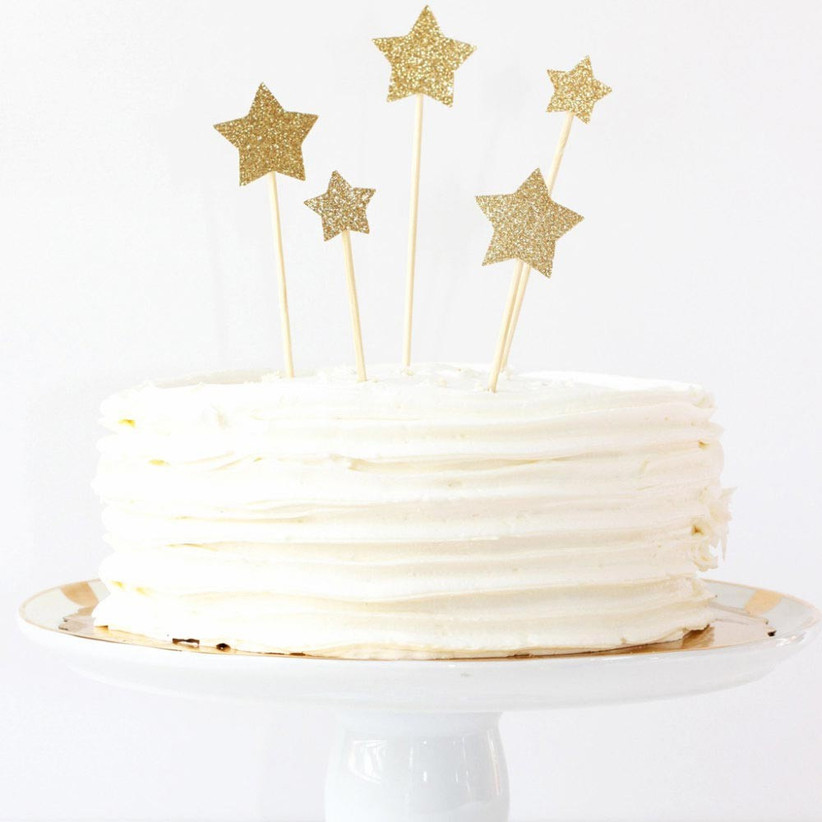 The Hitched editorial team is basically made up of magpies – we're addicted to anything glittery, sparkly or shiny! So we decided to compile a list of our favourite glitter wedding ideas to inspire couples planning a glamorous wedding who want lots of sparkle, from glittery wedding invitations to gold leaf cakes – we've got it all here. Sunglasses at the ready – you're going to be dazzled!
Glittery Wedding Dress
Let's start with the obvious – a sparkling wedding dress is a great way to include more glitter in your day. This gown from Allure Bridals is adorned with sparkly embellishment.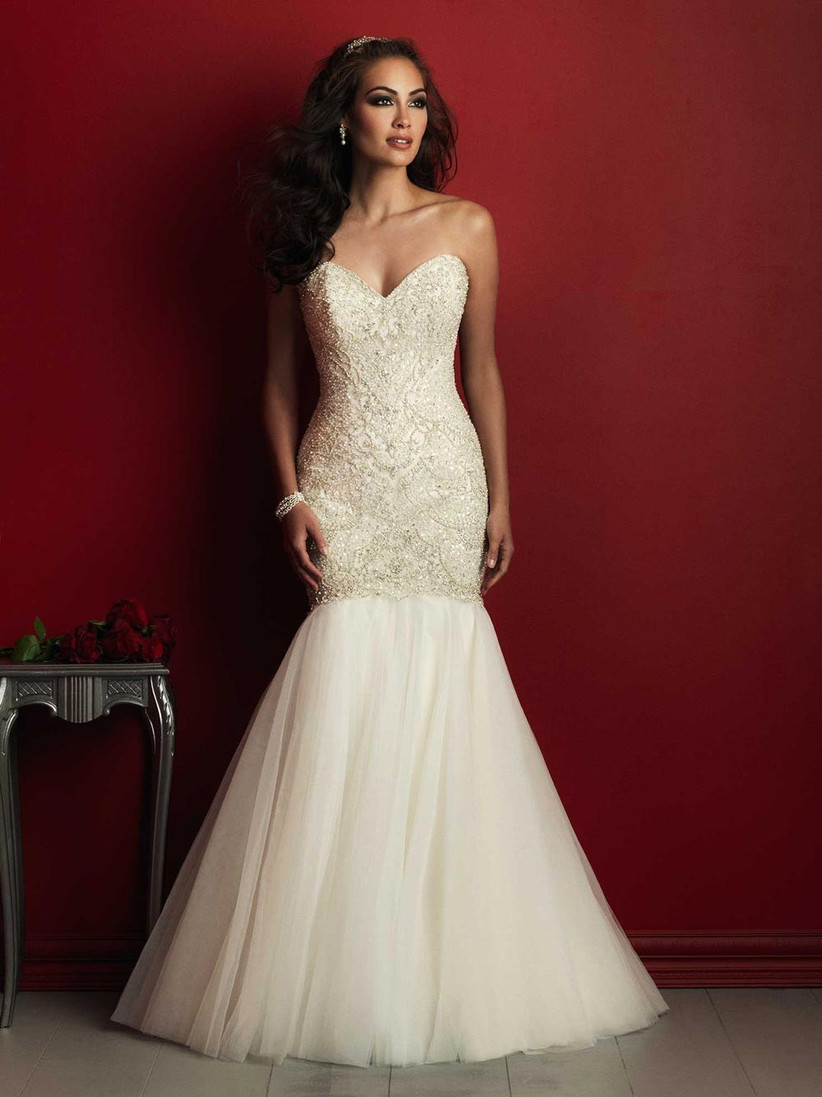 Sparkly Wedding Shoes
If a glittery gown isn't enough, pair your wedding dress with some sparkly heels! Whether you want to splash out on luxury shoes or you'd rather look on the high street, there are plenty of glittery wedding shoes to choose from.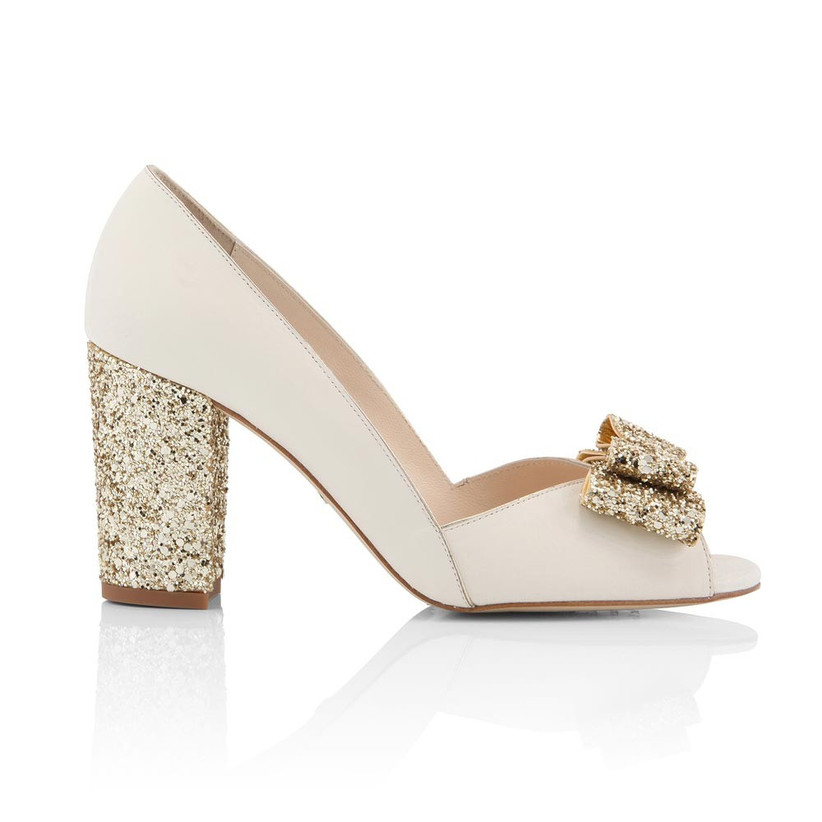 Image credit: Charlotte Mills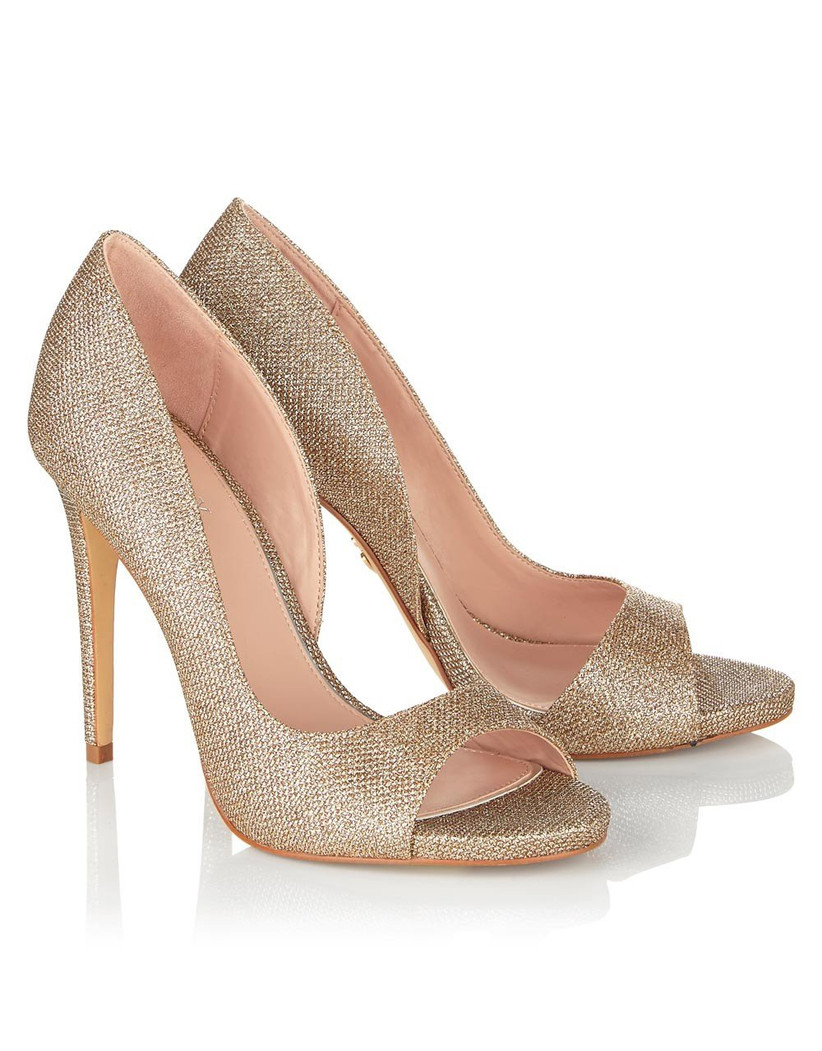 Image credit: Lipsy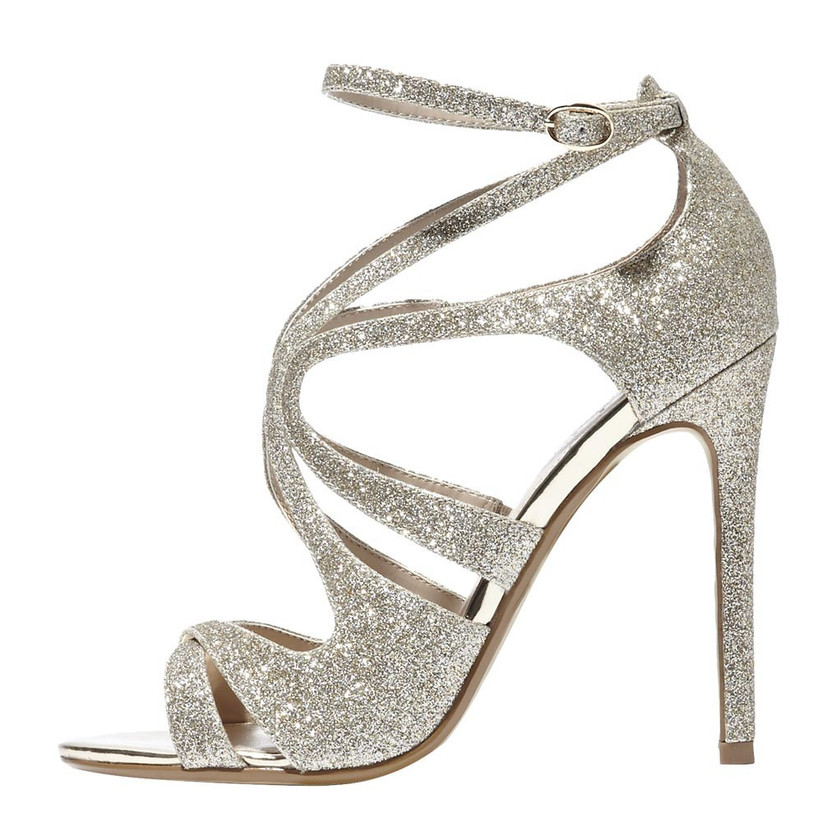 Image credit: Office
If the thought of glittery shoes has made you sit up a little straighter, make sure you check out our feature on silver bridesmaid shoes.
Evening Wedding Dress
Perhaps you want a more simple wedding dress for the day, but like the idea of dressing in something more glittery and glamorous for the evening reception? If so, consider this sequin adorned dress from Phase Eight.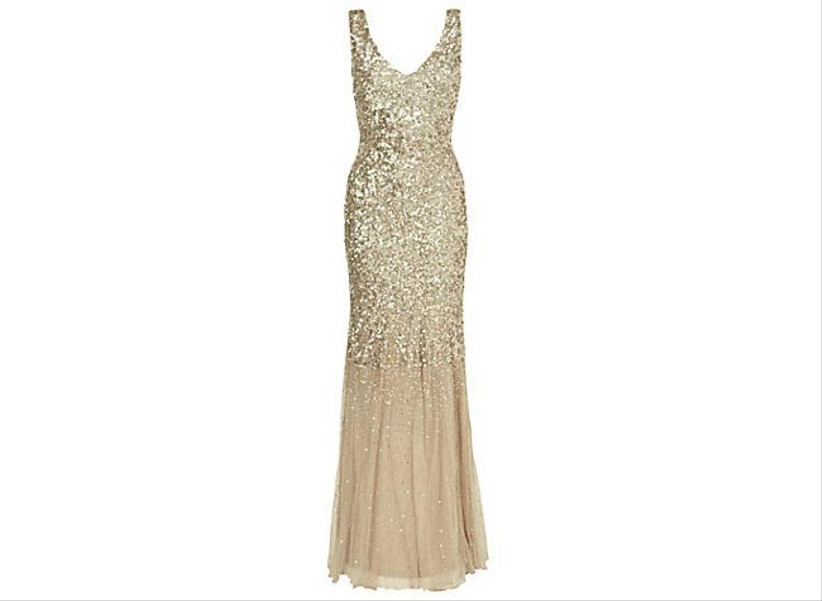 Sequin Bridesmaid Dresses
Glam up your girls with gold bridesmaid dresses. This sequinned gown from Sorella Vita is a must-have!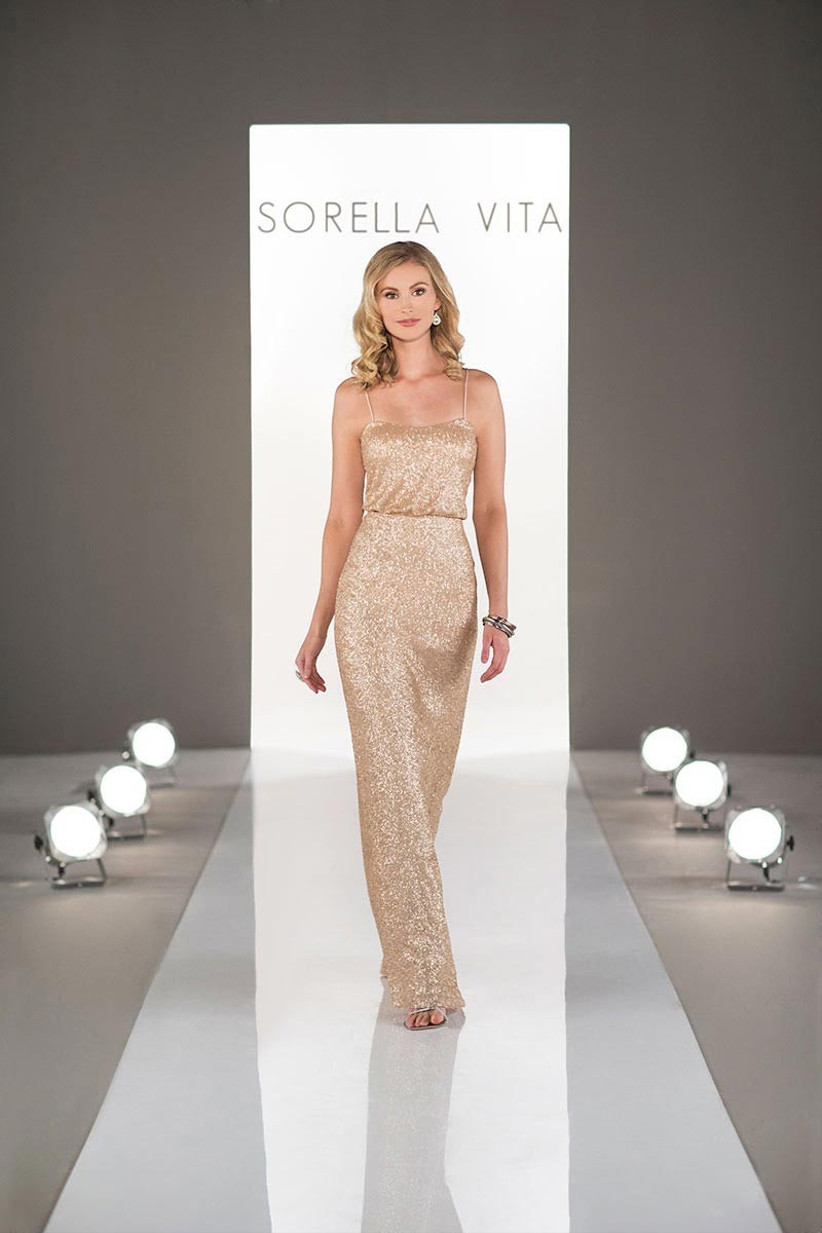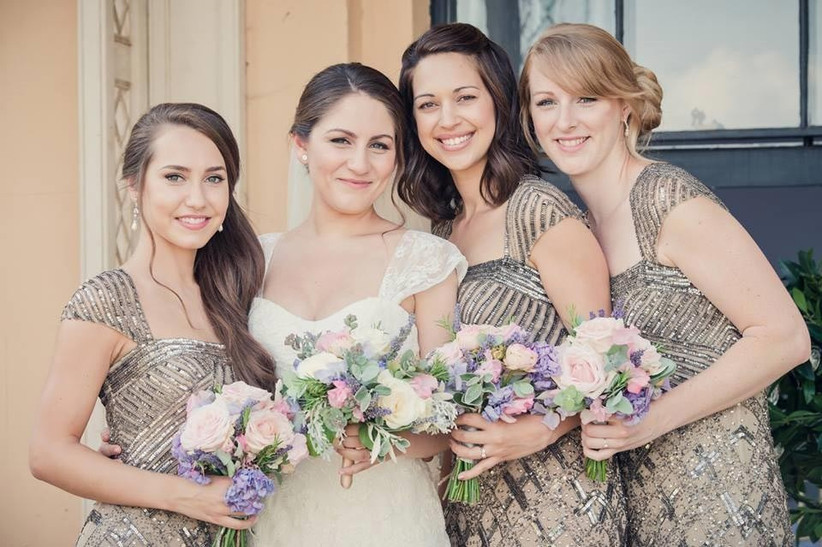 Image credit: Starr Beauty
Diamond Necklace
A diamond necklace, like this beautiful creation from 77 Diamonds, will add sparkle to your look.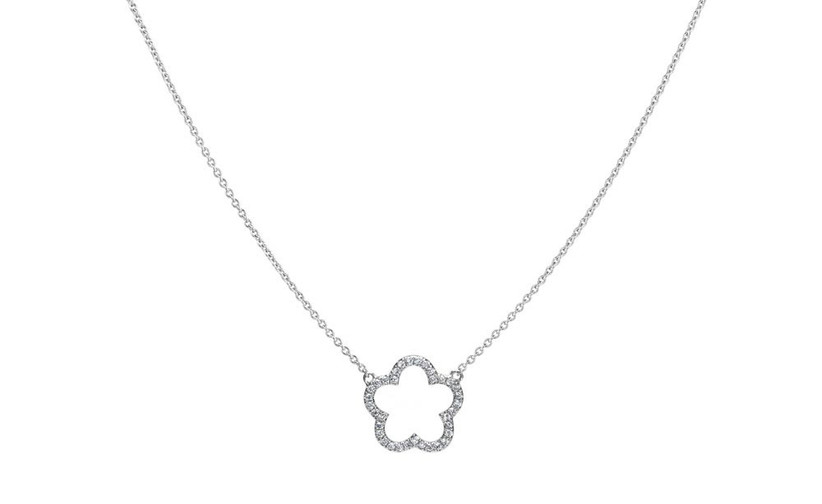 Diamante Hair Slide
If you've already decided on your wedding hair, why not glam it up with a sparkly hair accessory? This vintage style hair slide from Glitzy Secrets will look amazing with a 1920s style wedding dress.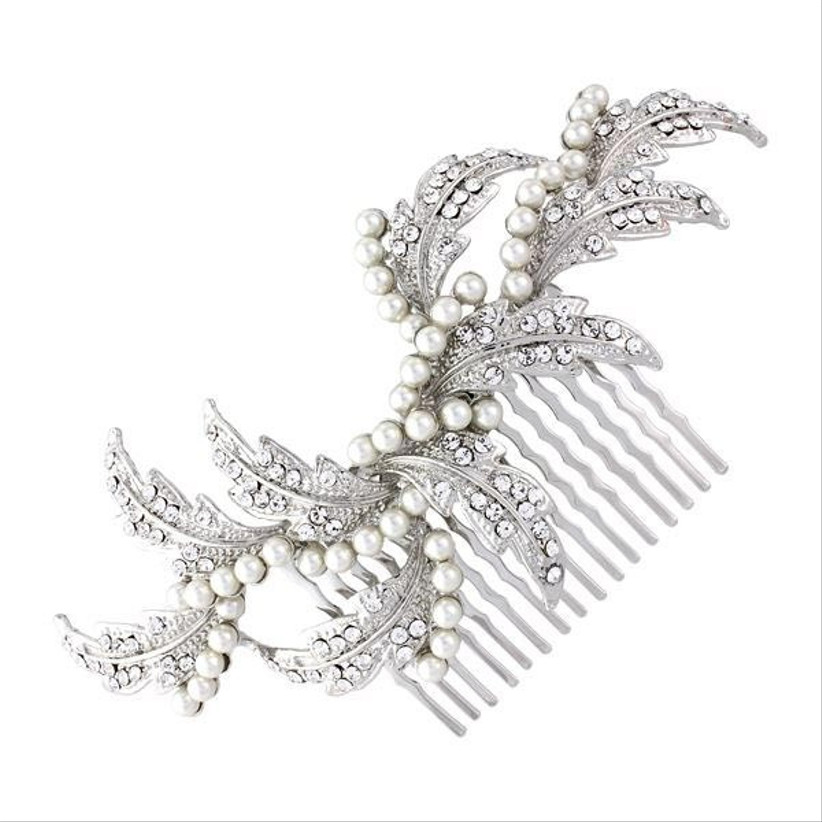 Glittering Tiara
For some brides, a hair slide isn't enough. If you want to feel like a sparkly princess on your wedding day invest in a tiara – the Caroline tiara from Aye Do Wedding Accessories is stunning!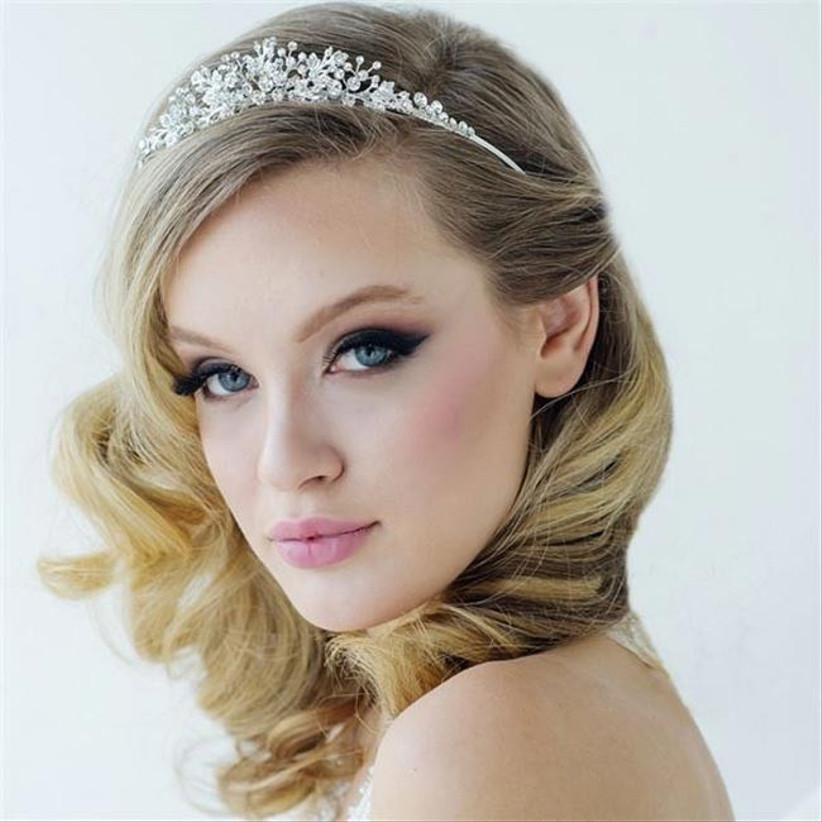 Sparkly Nail Varnish
Your nails will be in a lot of your wedding pictures – displaying your ring, holding your bouquet and more. Get creative with your wedding nail art and pick something super sparkly!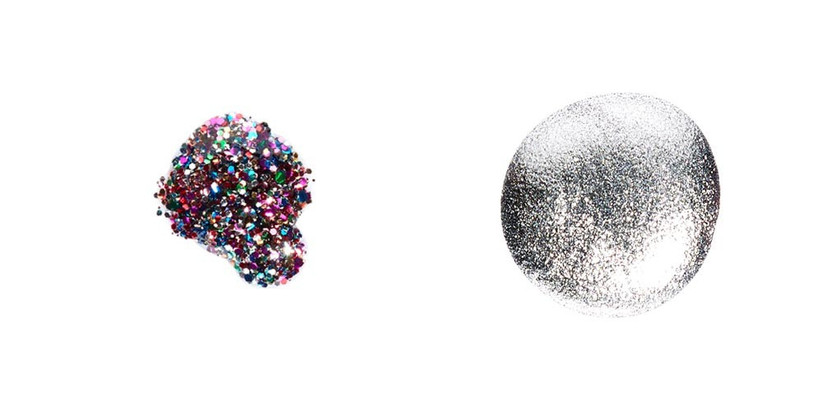 Image credit: New Look
Glitter Eye Shadow
Whether you're doing your own wedding makeup or you're hiring a makeup artist, introduce some subtle sparkle to your look with a glitter eye shadow. Choose silvery tones for blue eyes and gold/copper tones for brown or green eyes.
Brooch Bouquet
Swap the traditional wedding bouquet for a glittering brooch bouquet! Make your own from vintage brooches and trinkets you've collected, or buy one ready-made like the gorgeous creation below from Brooch Bride.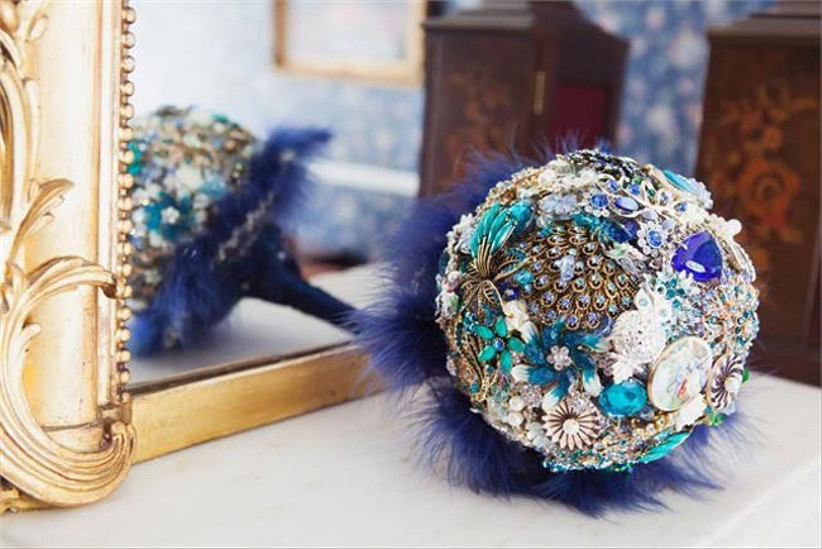 Gold Bow Tie
If you're looking your glitteriest (yes, that is a word), don't leave the groom out! What about a glittery bow tie, like this one from SunKissedByElle on Etsy.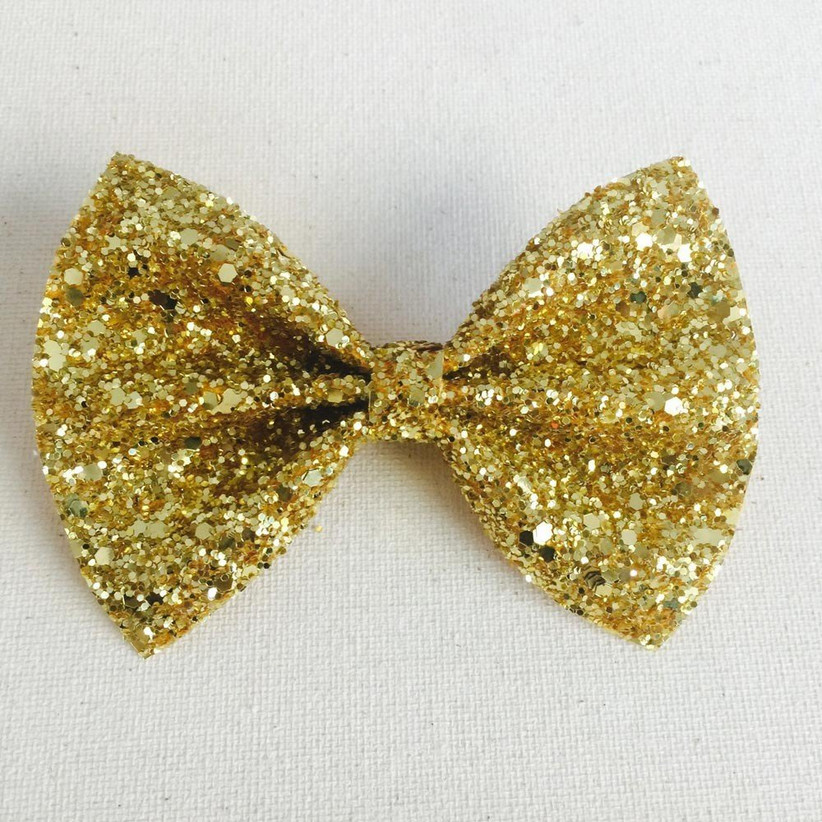 Rose Gold Buttonhole
The groom can also glam up his look with an alternative buttonhole – we love this rose gold one from PointlessPrettyEtsy on Etsy.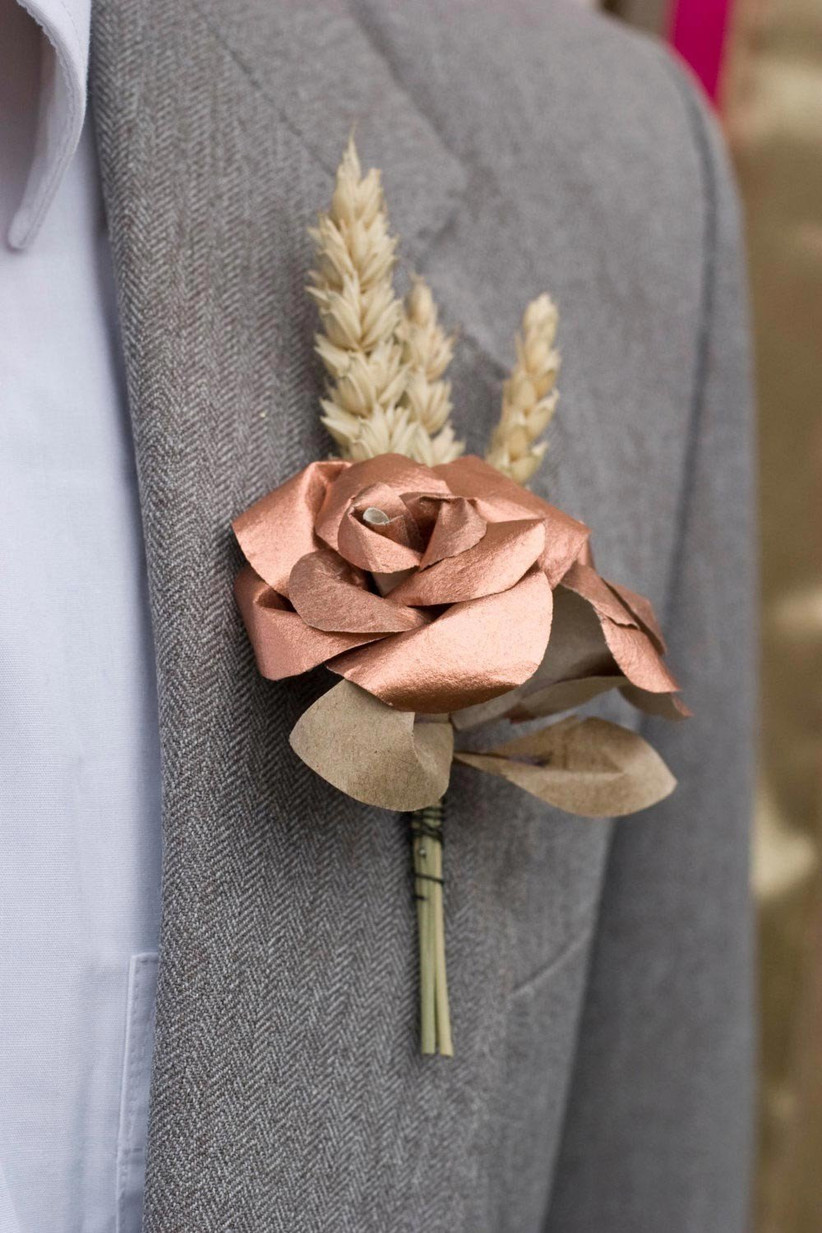 Sparkly Ballet Flats
If the pictures of the glittery heels at the start of your article made your feet hurt just by looking at them, then get some sparkly ballet flats to change into! We love these Anabel shoes from Charlotte Mills. There's no shame in having flat wedding shoes when they're as pretty as this.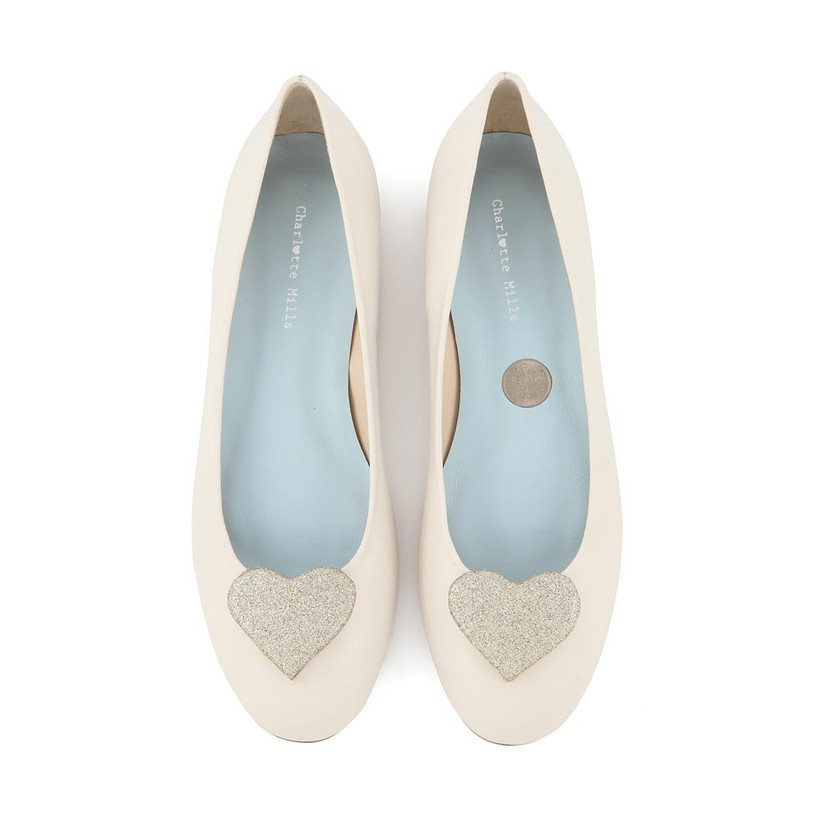 Glamorous Wedding Cake
Your wedding cake is the prettiest and tastiest way to add glitter to your wedding! And if you don't fancy a super creative wedding cake, why not just glam up your wedding cake stand instead?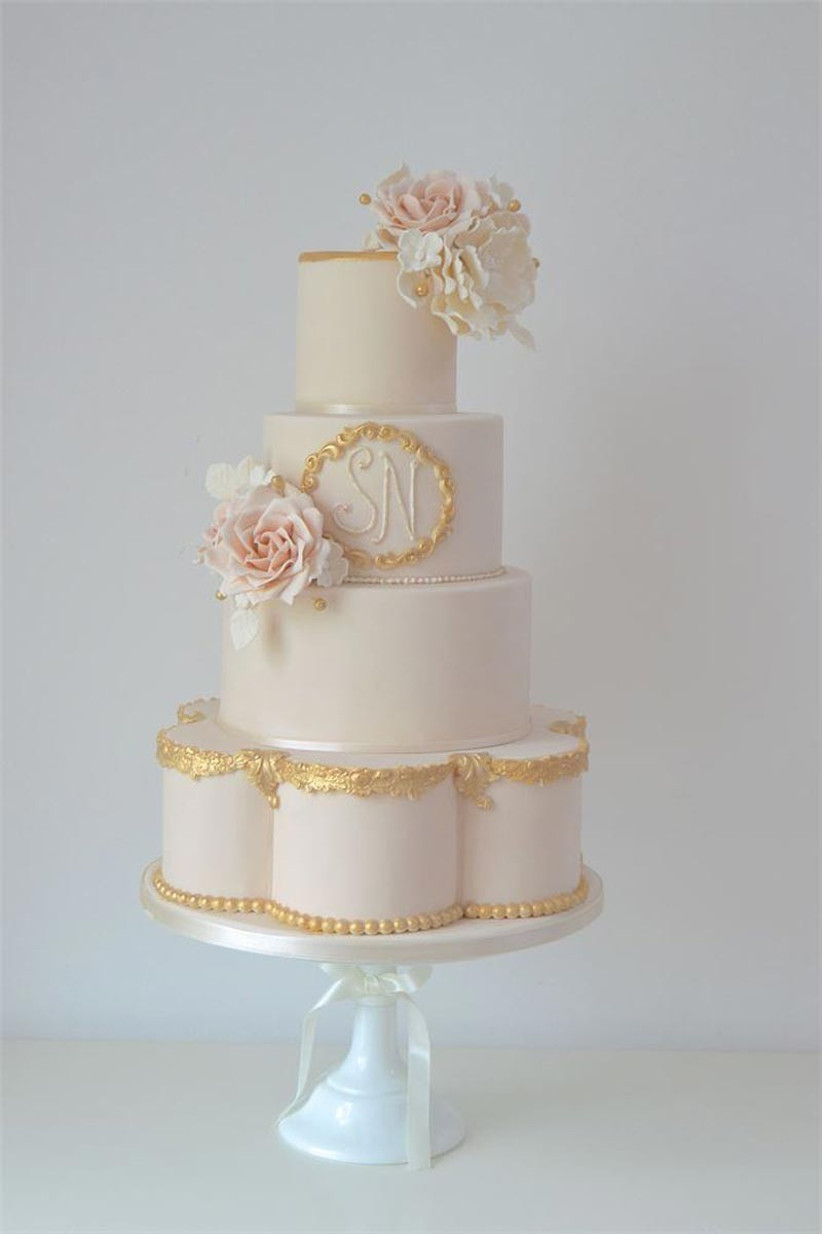 Image credit: Pink Frosting Cake Company
Image credit: Designer Cakes by Elle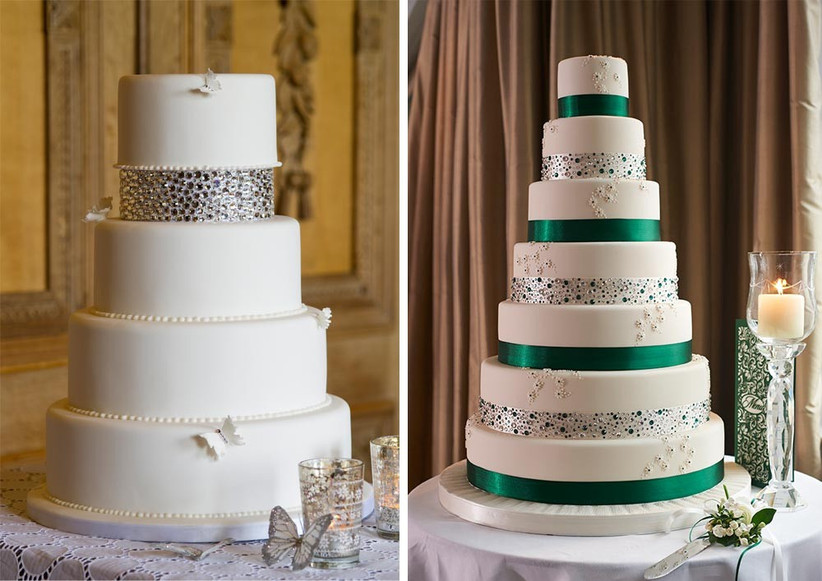 Image credit: GC Couture
Glittery Wedding Invitations
Give your guests a sparkly thrill by sending them glittery wedding invitations so they know what to expect. This stationery suite from Paper Grace is one of our favourites!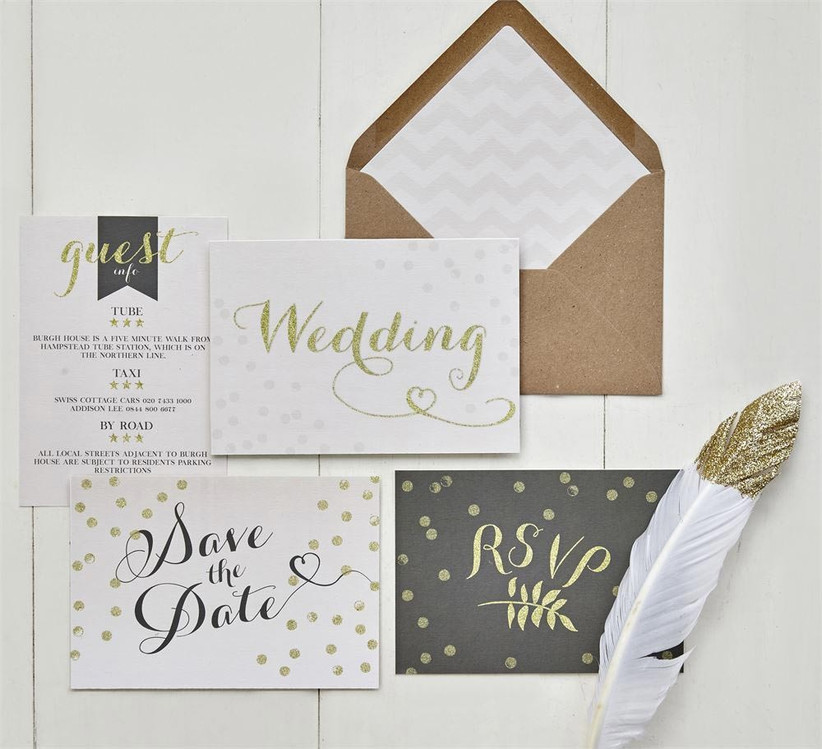 Sparkling Centrepieces
Glam up your wedding with glittering wedding centrepieces. Metallic votives and glittery jars are a great way to add sparkle.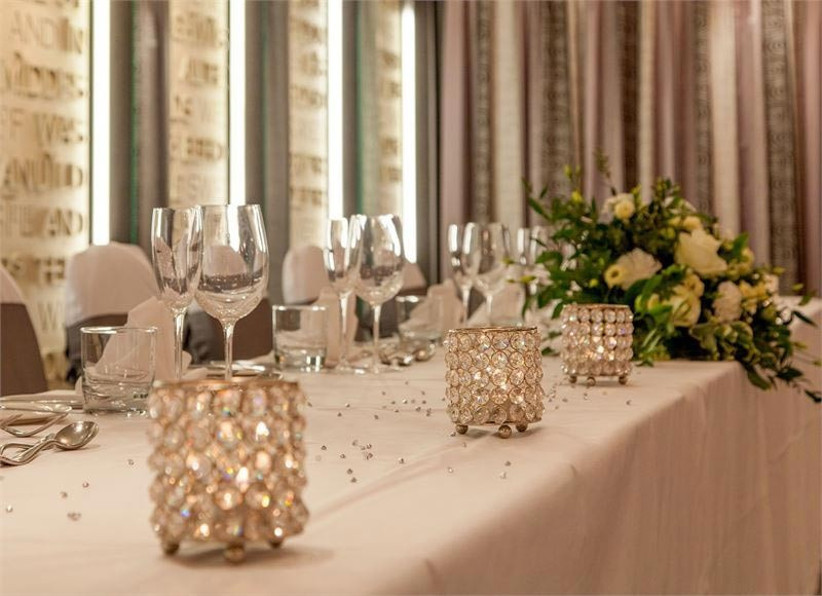 Image credit: Winchester Hotel & Spa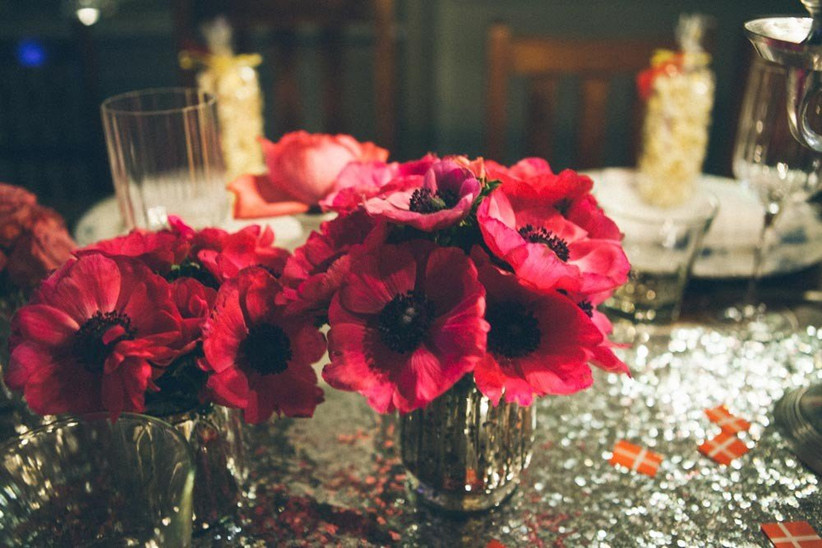 Image credit: Blue Sky Flowers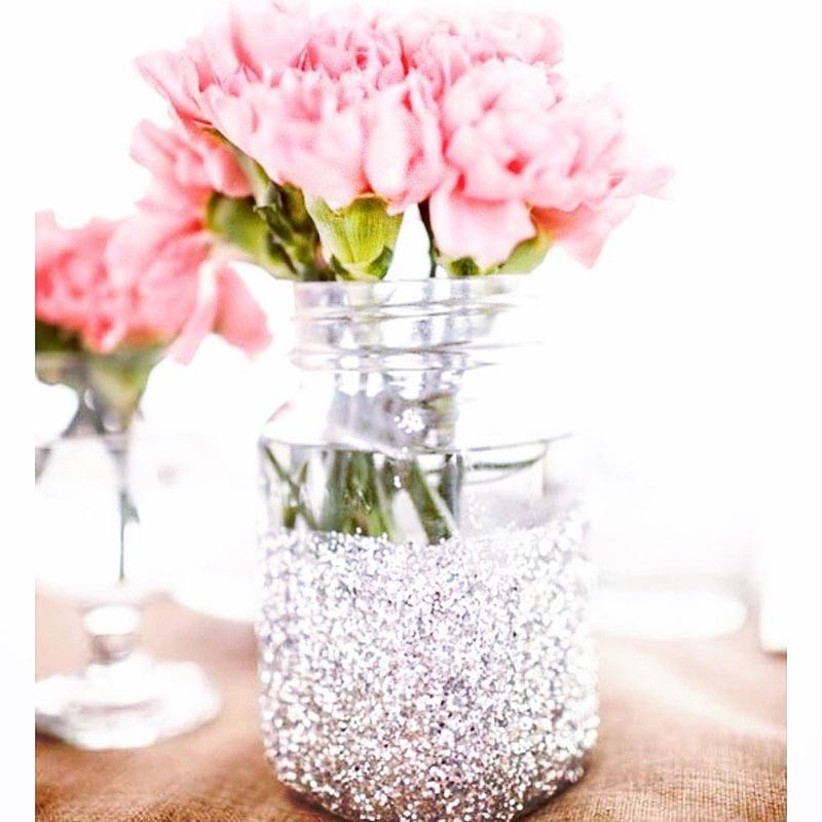 Image credit: SerendipityandChance on Etsy
Glitter Envelope Liners
Add even more sparkle to your wedding stationery by lining your envelopes with glitter liners!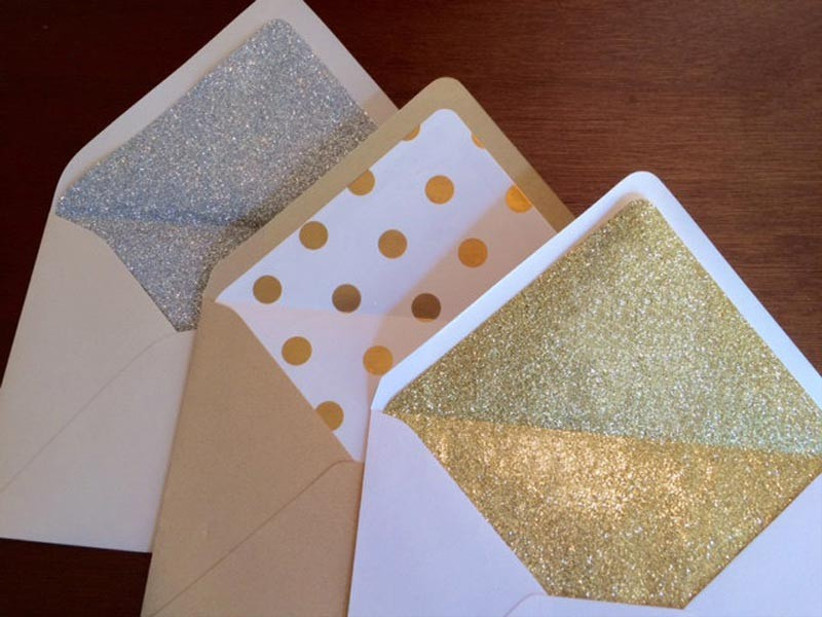 Image credit: OhSoChicDesigns on Etsy
Sequin Table Cloths
We are obsessed with sequin table cloths (in fact we're wondering if we can just put them on our desks at work…). They're a great way to fill your venue with glitter – or opt for glittery table runners or a single sparkly table (for the top table or the cake table) for impact.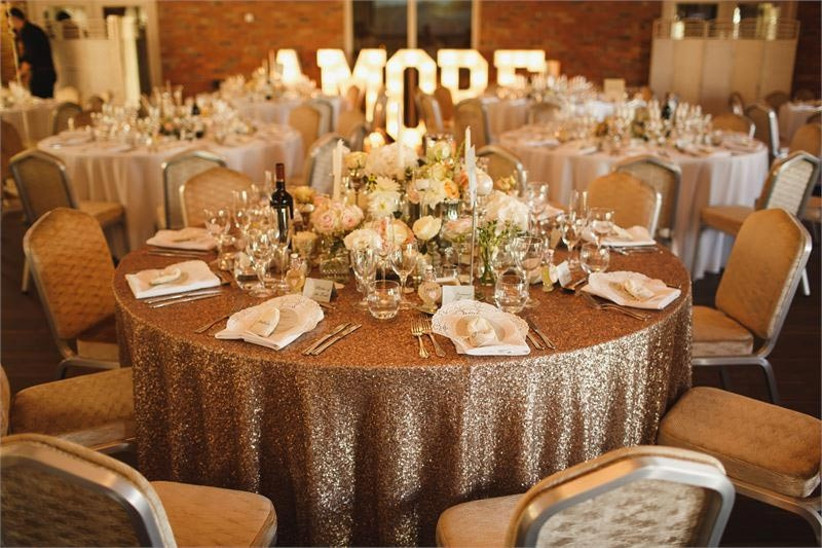 Image credit: Colshaw Hall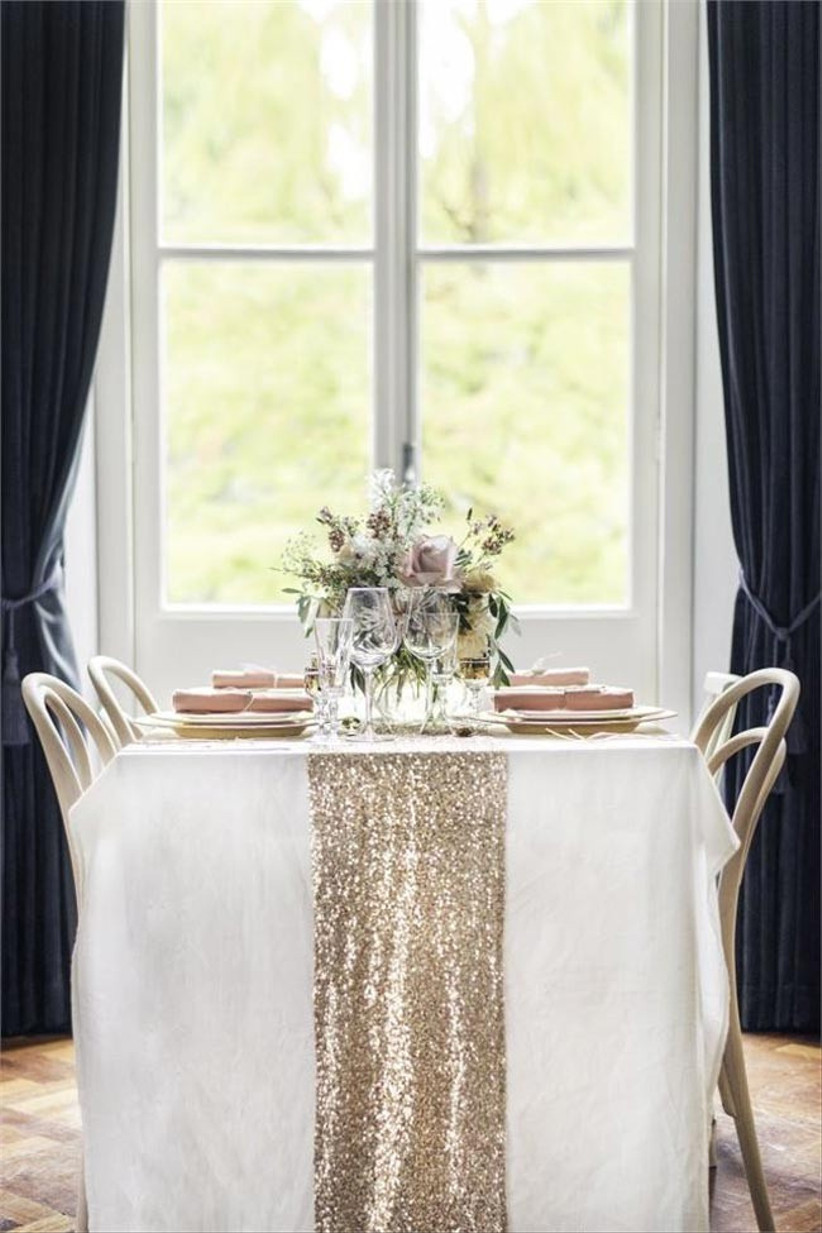 Image credit: Gilded Linens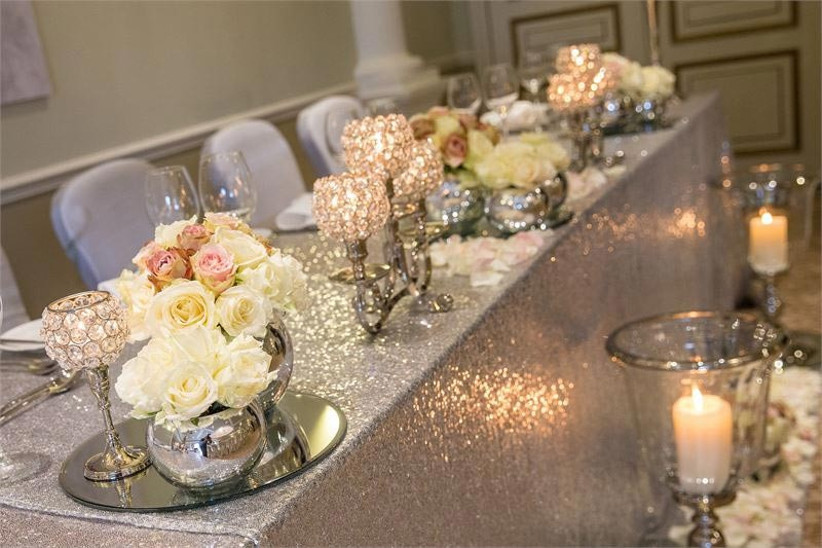 Image credit: Highbullen Hotel Golf & Country Club
Glittery Cake Toppers
A creative cake topper is a great way to add some personality to your wedding cake. We love the sparkly cake toppers below, both found on Etsy.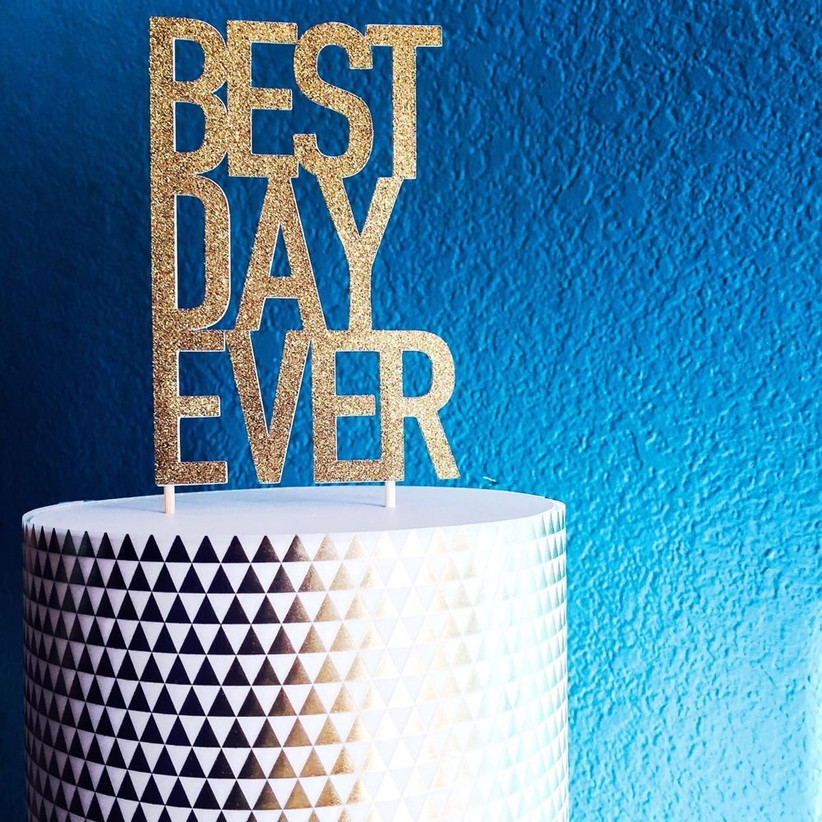 Image credit: CloverandBloomCo on Etsy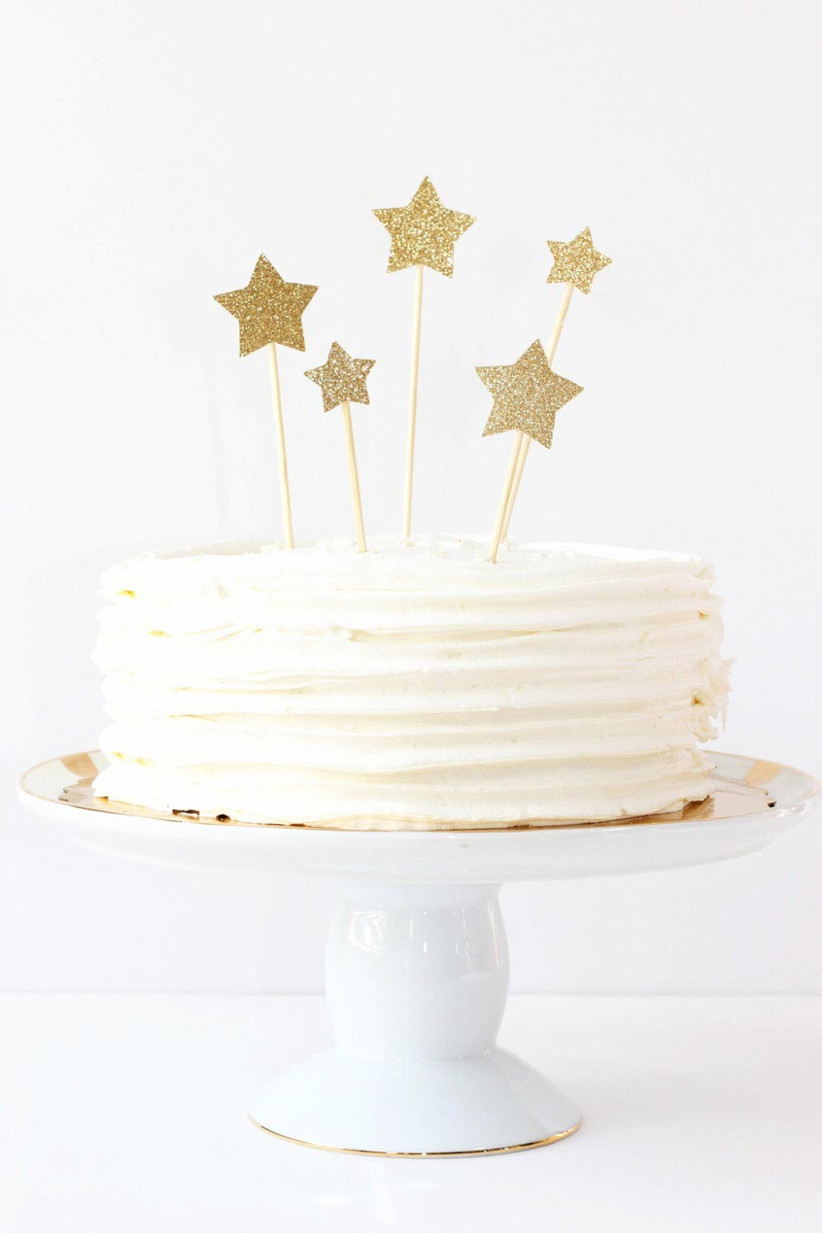 Image credit: WhenItRainsShop on Etsy
Sparkly Photo Booth Props
Make your wedding photo booth even more glamorous by only allowing your guests to pose with glittery props. It's a totally reasonable wedding rule.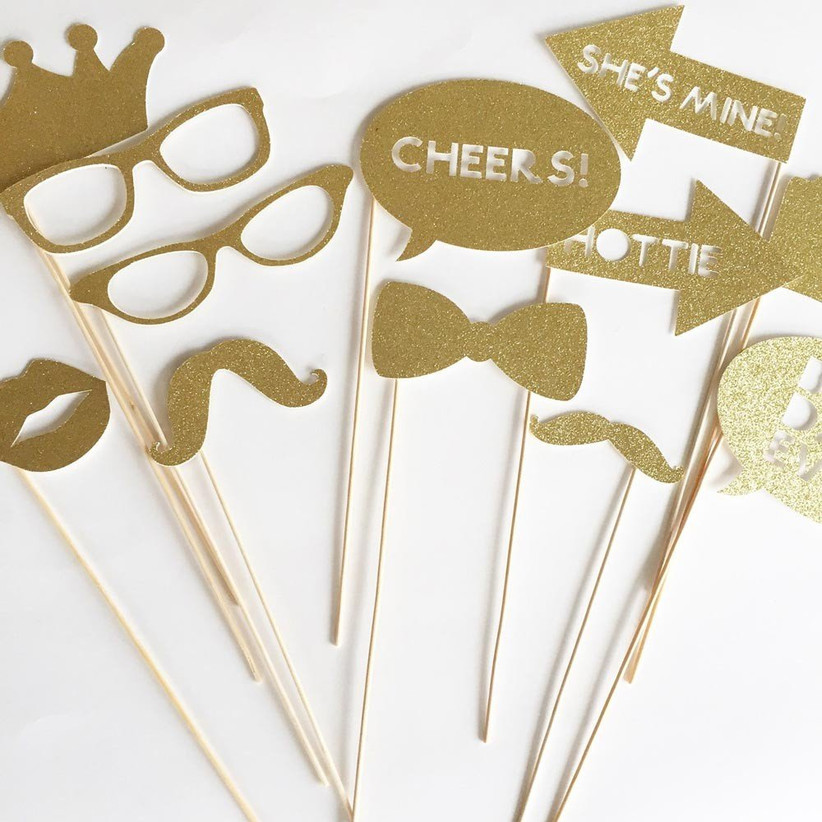 Image credit: BlessedBlondies on Etsy
Sparkler Wedding Favours
Choose sparklers as amazing wedding favours and get everyone outside at the end of the night for an amazing photo opportunity.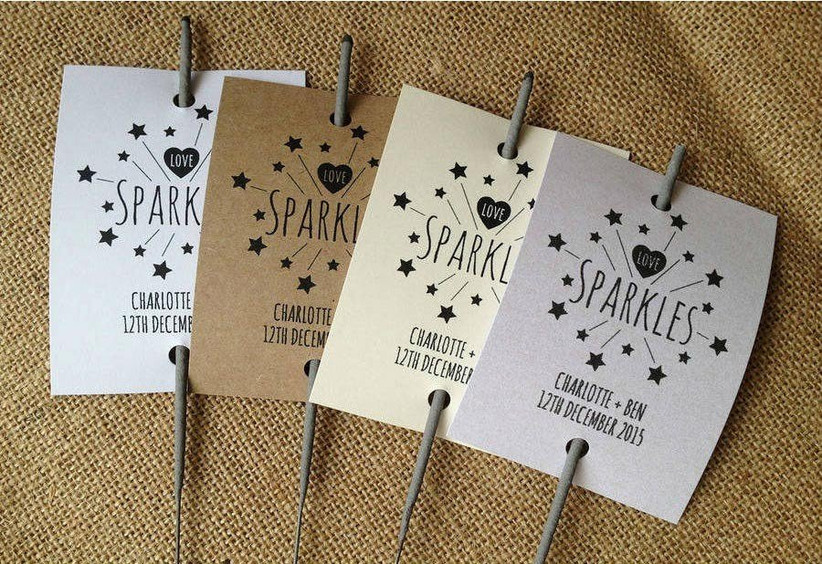 Image credit: Sixpence Paperie at Not on the High Street
Glittery Bolero
If you're having a winter wedding and you want an extra layer, or you just want to add more sparkle to your look, opt for a glittery bolero or cover up like this one from Gibson Bespoke.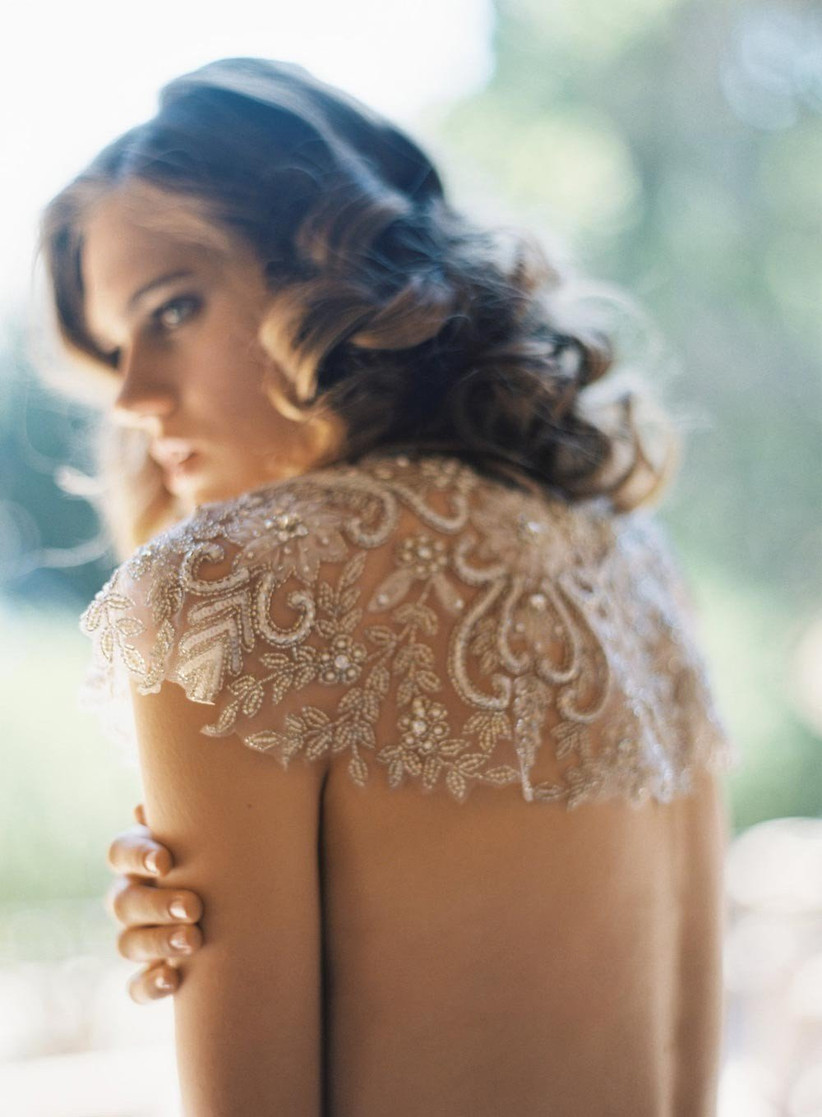 Metallic Table Plan
A table plan displayed on a gold or silver frame, or adorned with lots of glitter, is a stylish and sparkly way to show your guests where they're sitting.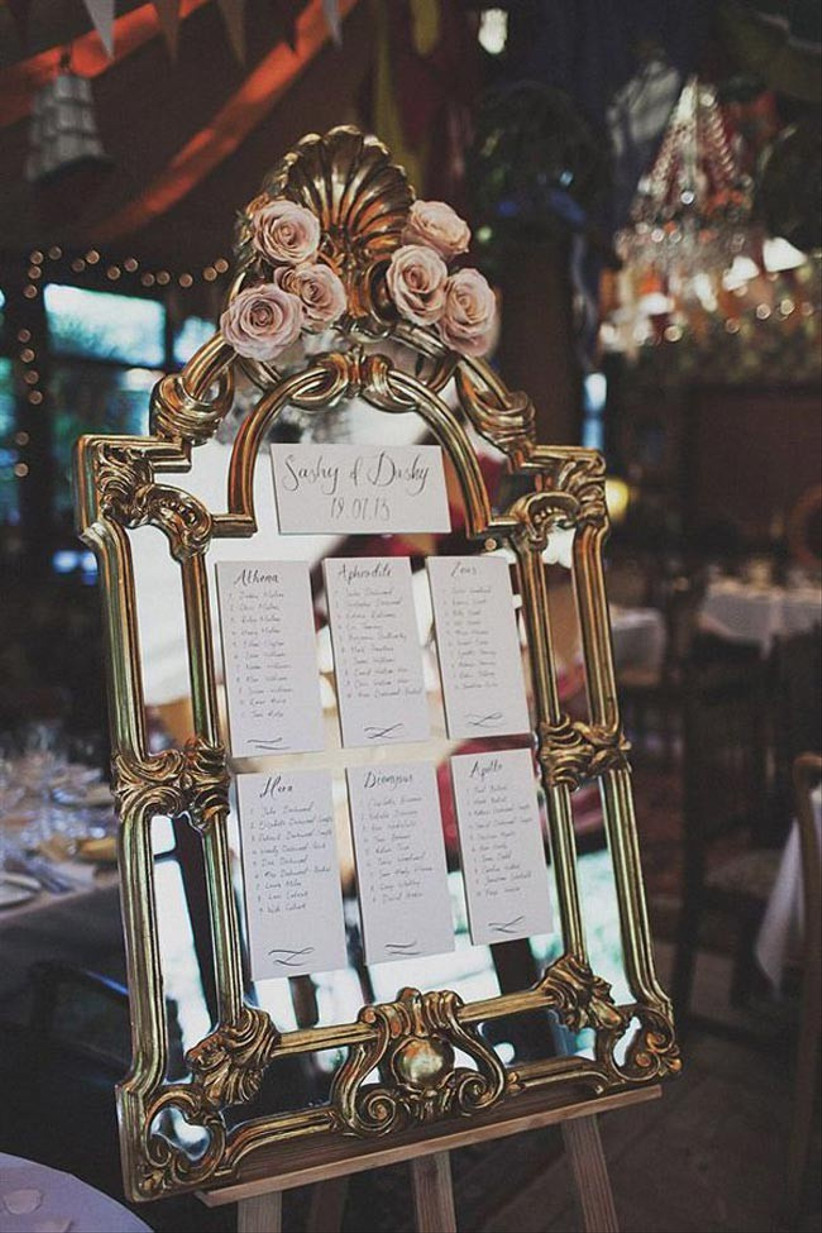 Image credit: Angels Creations
Sparkly Table Numbers
Once you've dazzled your guests with your table plan continue to dazzle them with glitter covered table numbers too.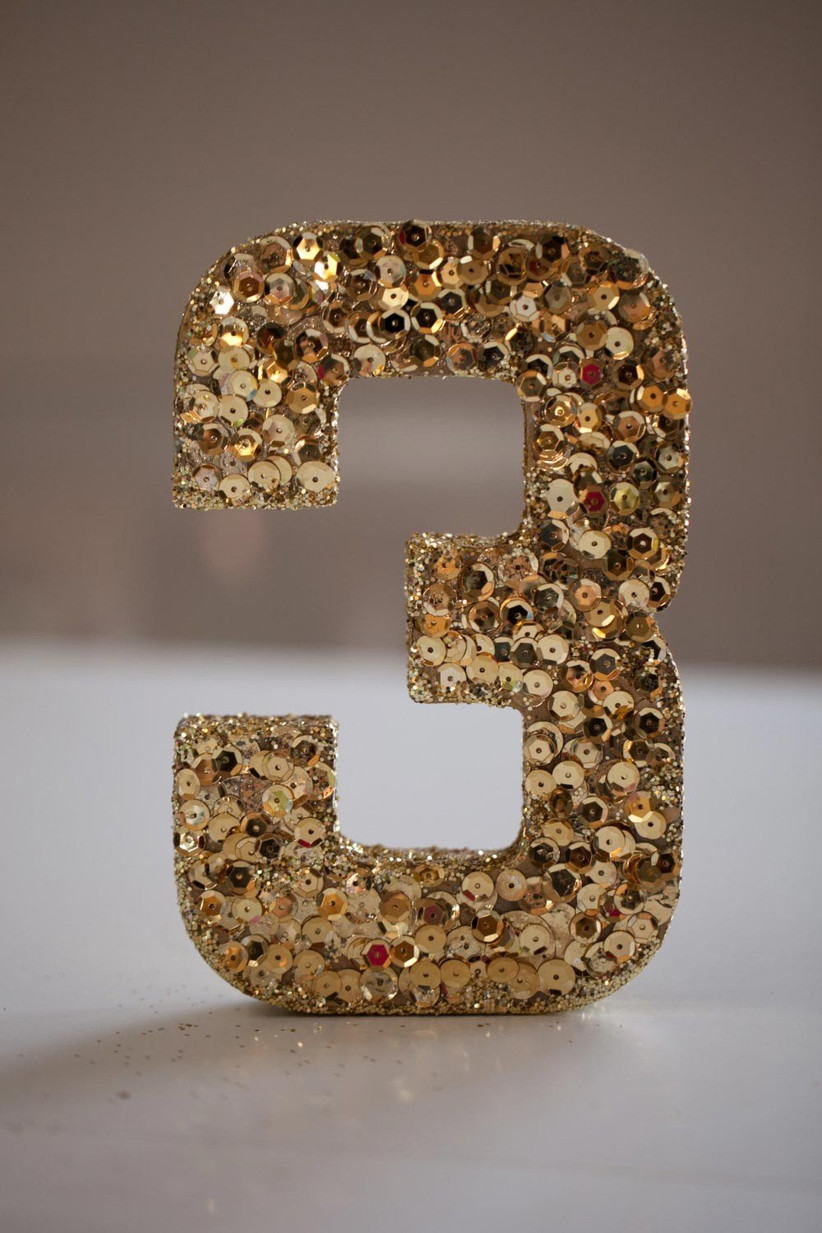 Image credit: ChasingBlissDesign on Etsy
Bridal Clutch Bag
Stash your bridal emergency kit in a sparkly clutch bag to add more glitter to your look, or give them to your bridesmaids instead of flowers to hold!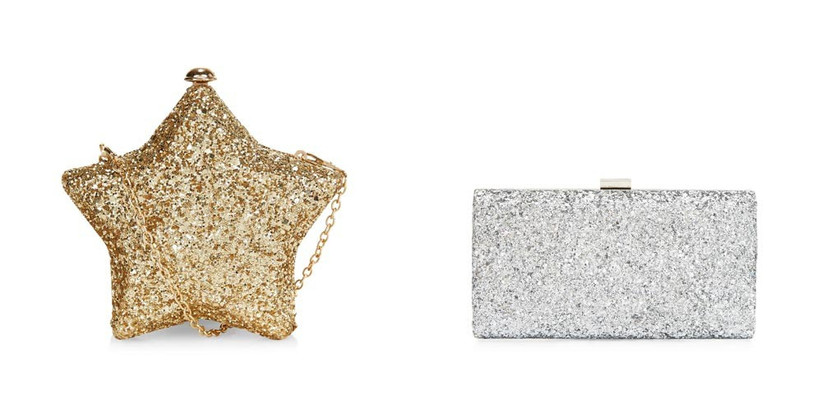 Image credit: New Look
Glittery Confetti
Make your confetti shot even prettier by using glittery confetti – or if you can't throw confetti at your venue, scatter it across the tables instead.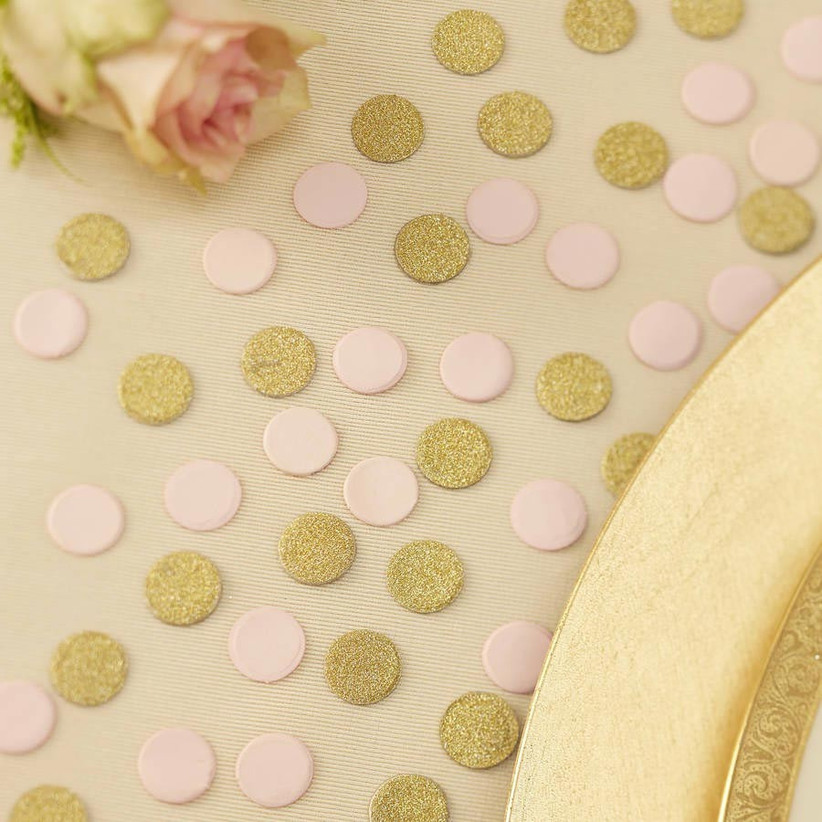 Image credit: Ginger Ray at Not on the High Street
Sparkly Bunting
If you love the glitter confetti from Ginger Ray above, check out their glittery 'Just Married' bunting too – it's so cute!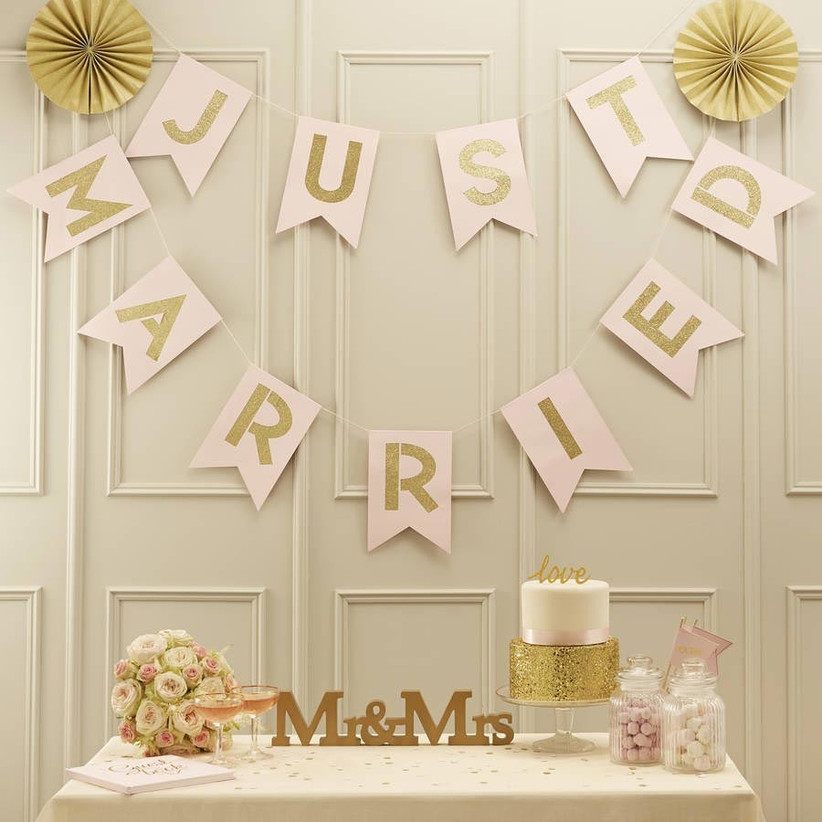 Edible Glitter
Dust your champagne glasses with edible glitter to make your champagne even more glamorous!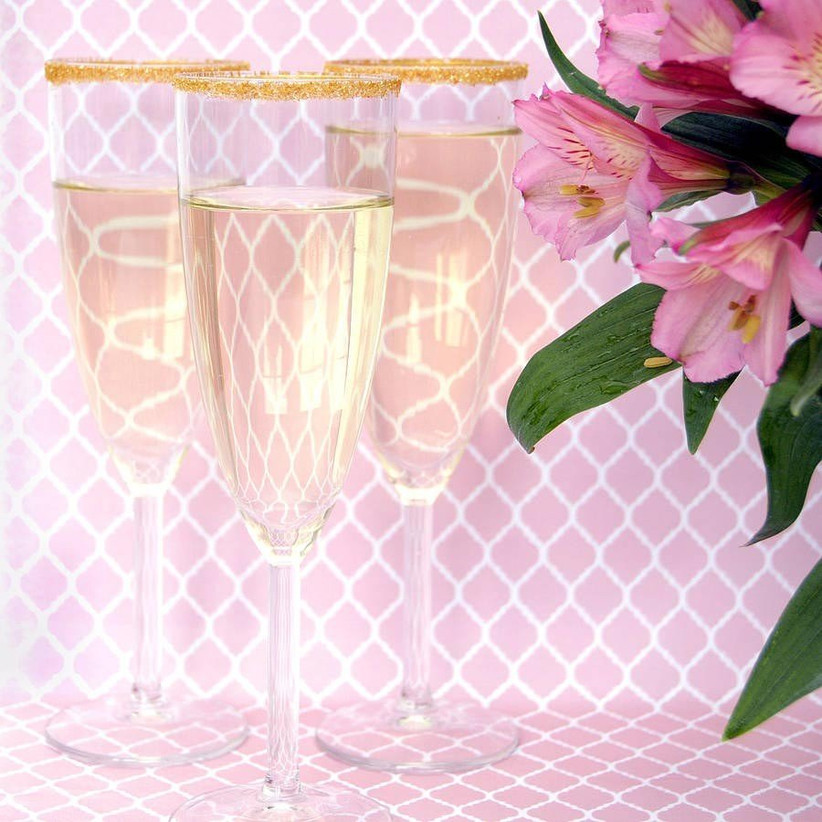 Image credit: Peach Blossom at Not on the High Street
Chair Covers
Add a twist to the traditional chair cover by choosing to adorn your wedding chairs with glittery covers.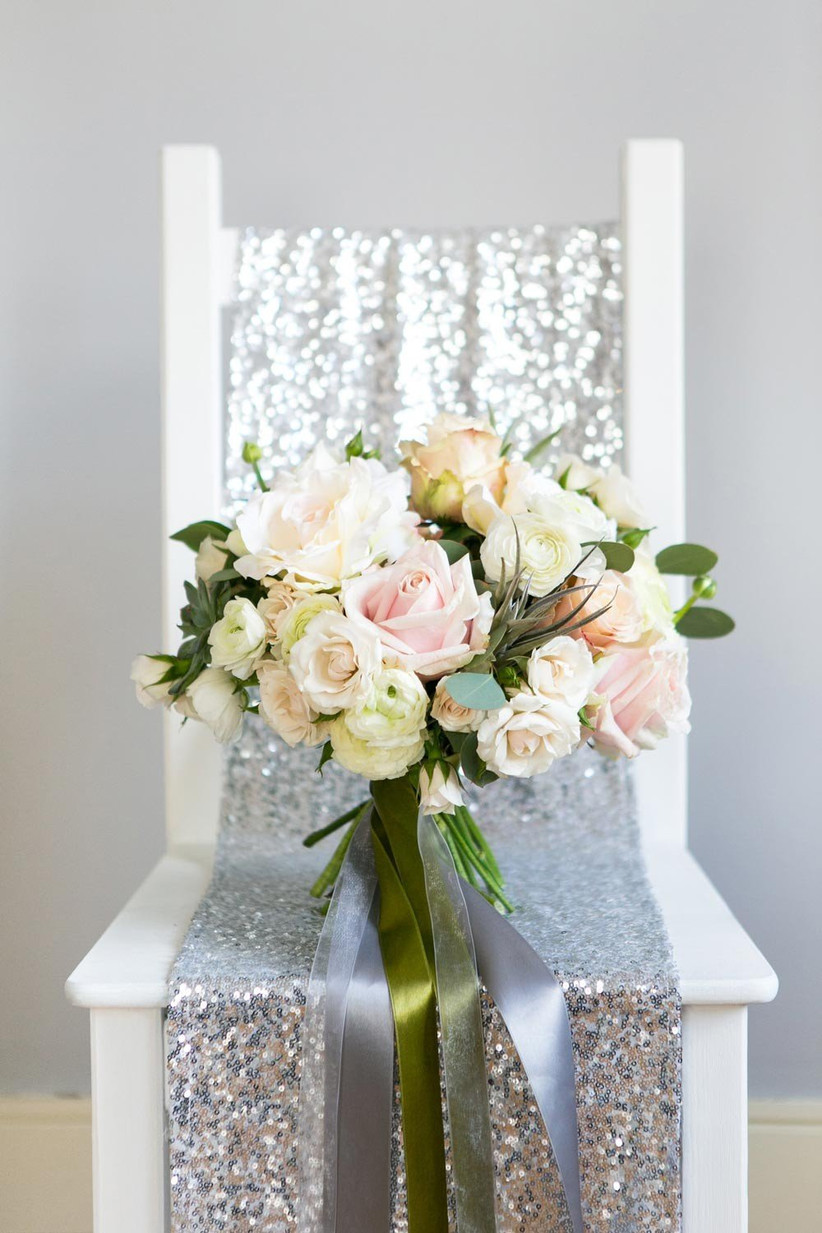 Image credit: Blue Sky Flowers
Image credit: MagpieLinens on Etsy
Glittery Chocolates
Give your guests chocolates adorned with edible gold leaf as amazing wedding favours. These colourful truffles from the Whimsical Cake Company at Not on the High Street are a good choice!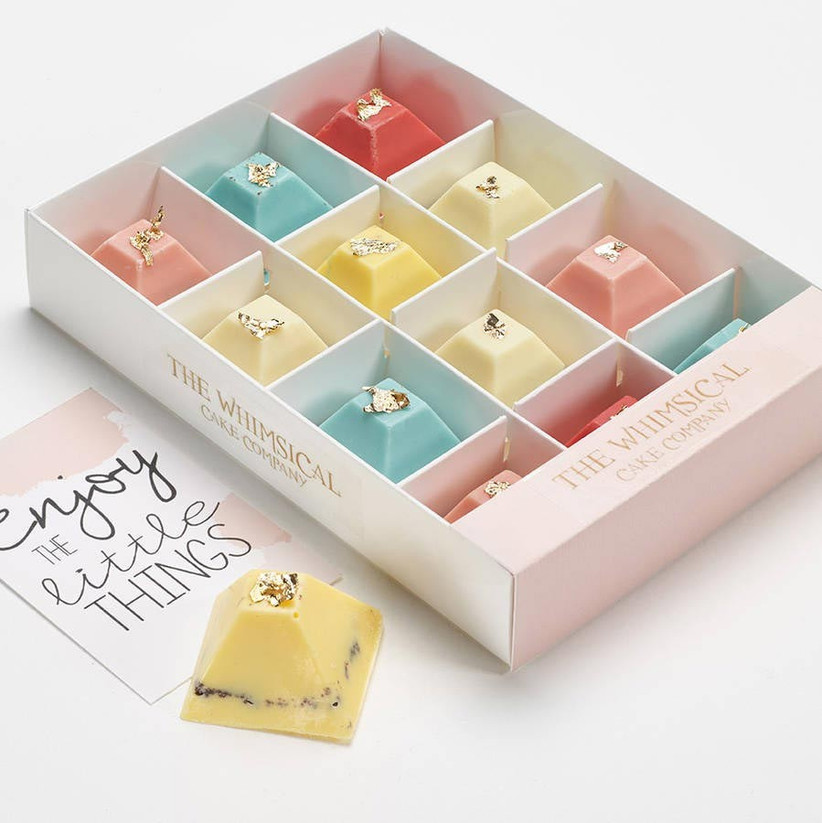 Or just give out edible gold – it can be dropped into drinks for a sparkly twist.
Image credit: Marvling Bros at Not on the High Street
Sparkly Backdrops
Choose a sequin backdrop for your photo booth or pick a wall of gold-hued flowers (Kim and Kanye style!) to go behind your top table.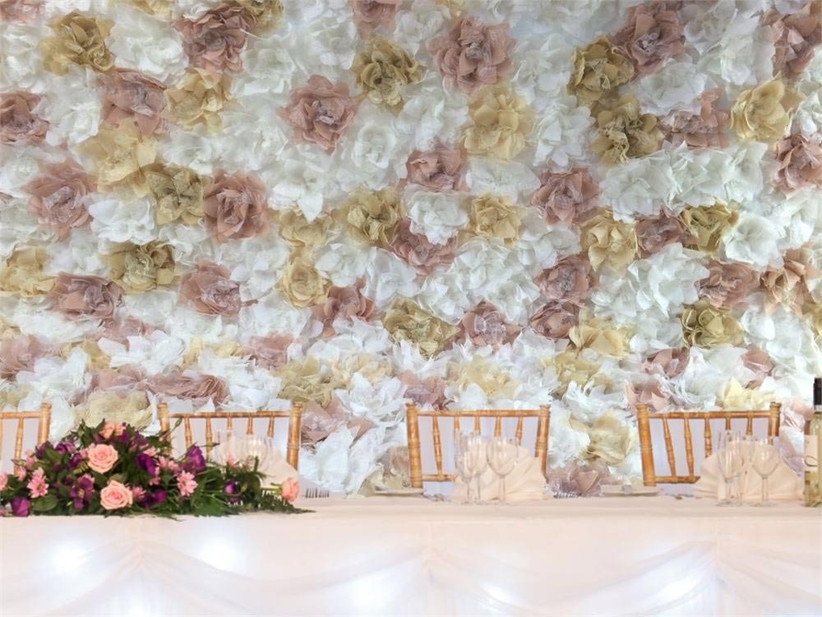 Image credit: Laceys Event Services
Glitter Feathers
These feathers can be used throughout your décor – at the place settings, in your flowers, even in your hair!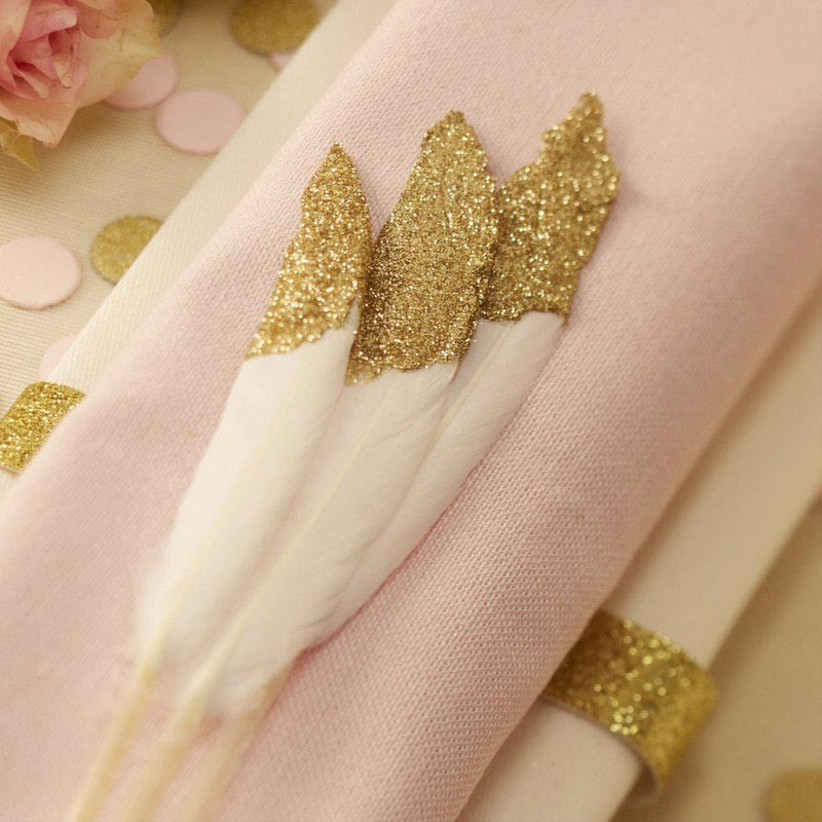 Image credit: VeryVintageBoutique on Etsy
Bridesmaid Accessories
If you're looking for bridesmaid gift ideas then consider the sparkly hair ties. We love how these hair ties from LoveMiaKids on Etsy are displayed.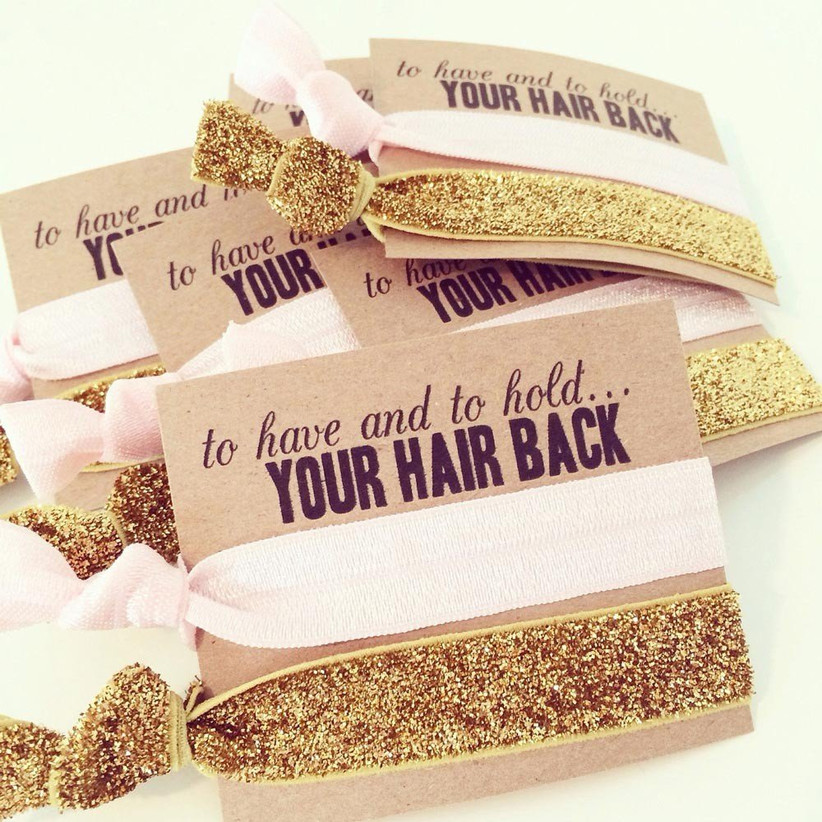 If these glittery wedding ideas have got you seriously exciting about adding sparkle to your wedding, why not check out our glamorous inspiration gallery for even more ideas?