Bridesmaid Shoes: The Best High Heels, Mid Heels and Low Heels
Browse our collection of the best bridesmaid shoes - there is something to suit every type of maid!
We have included third party products to help you navigate and enjoy life's biggest moments. Purchases made through links on this page may earn us a commission.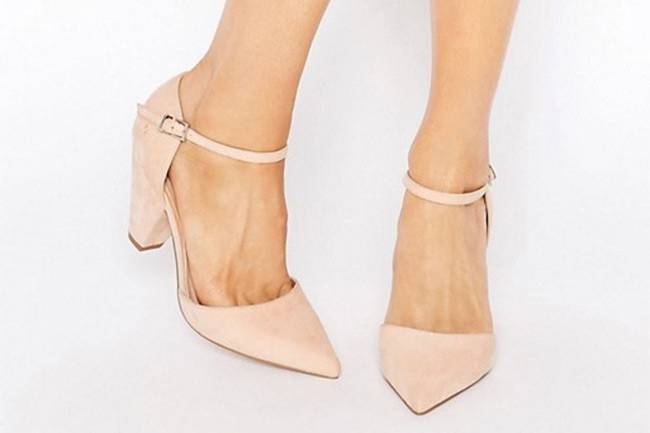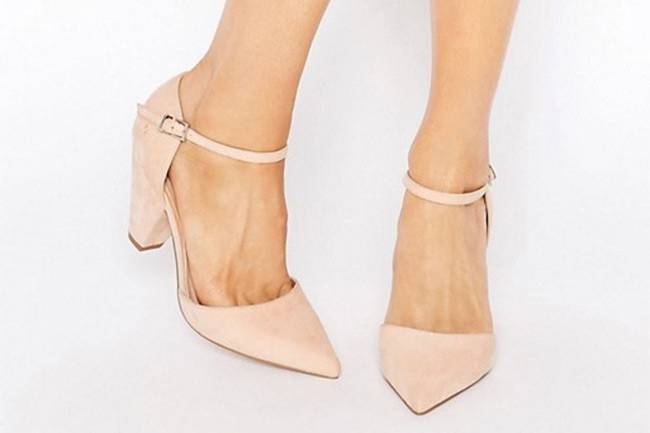 You have chosen the most beautiful bridesmaid dresses and now it's time to find the perfect shoes to go with them.
Whether you are looking for matching shoes for your bridesmaids or you're on your own bridesmaid shoe search, take a look at some of our favourite styles – including ultra-glam high heeled wedding shoes, gorgeous mid-height heels and bridesmaid flats you are sure to love.
Don't miss the end of this article where we also answer your bridesmaid shoe FAQs.
NB: We have included third party products to help you navigate and enjoy life's biggest moments. Purchases made through links on this page may earn us a commission.
Low Heel and Flat Bridesmaid Shoes
If you know that some of your bridesmaids just aren't good in heels then a low heeled or flat bridesmaid shoe would be the best option. After all you want your best girls to feel comfortable in the day and be dancing all night long!
READ MORE: The Comfiest Bridal Flats Ever
Bridesmaid Court Shoe – Oasis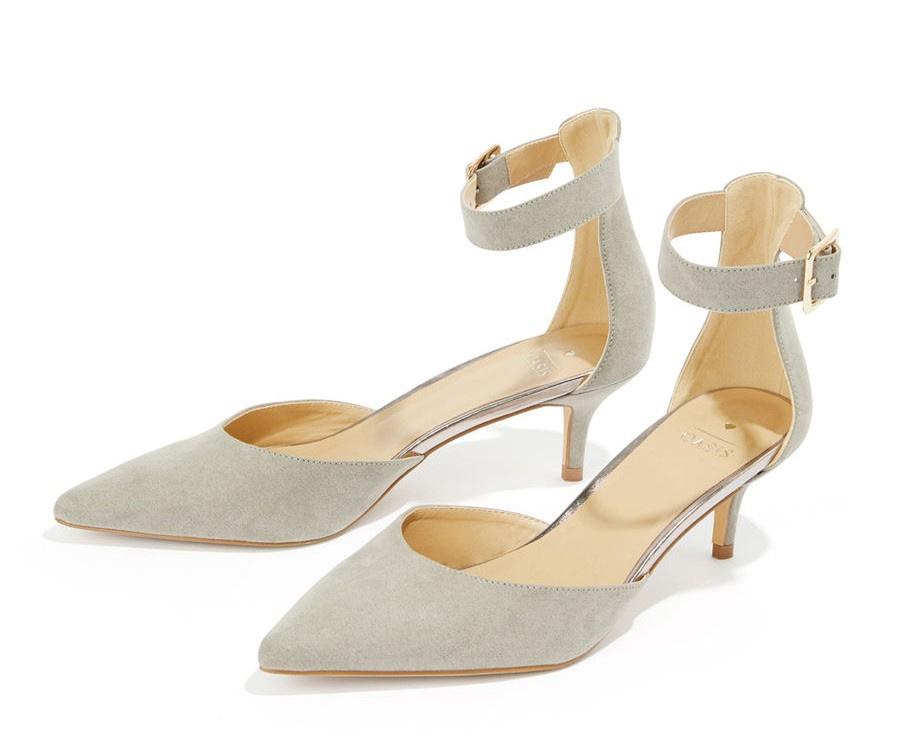 Did you know that high street favourite Oasis have their own bridesmaid collection? As well as dresses and accessories they also have a gorgeous range of bridesmaid shoes in neutral dusky tones. This low heeled bridesmaid court shoe is elegant, stylish and most importantly comfy enough for your bridesmaids to wear all day long.
White Studded Sandals – New Look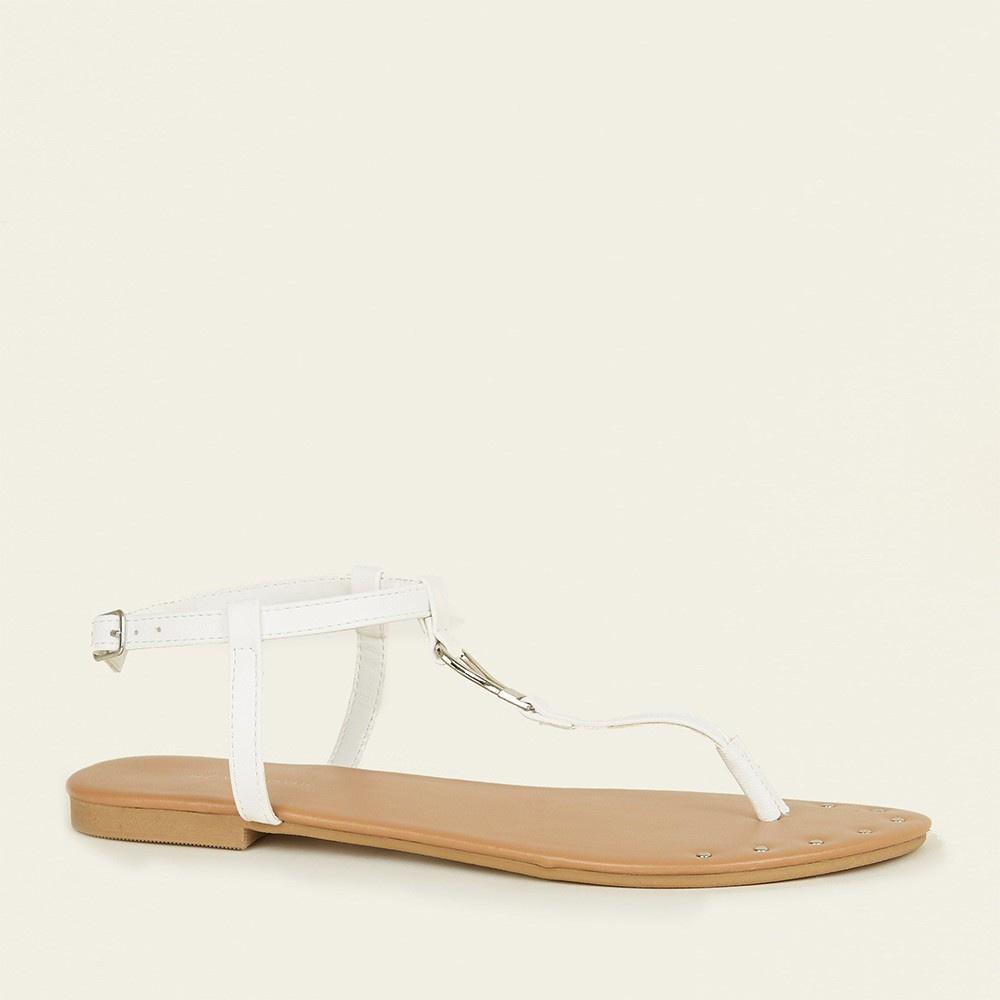 If your maids want a completely flat shoe or they are wearing full length bridesmaid dresses then a glittering flat sandal from New Look would be a pretty option. Priced at less than £10, you could always buy these for your bridesmaids (and yourself!) to change into in the evening if their feet are feeling tired.
Bow Ballerina Pumps – Next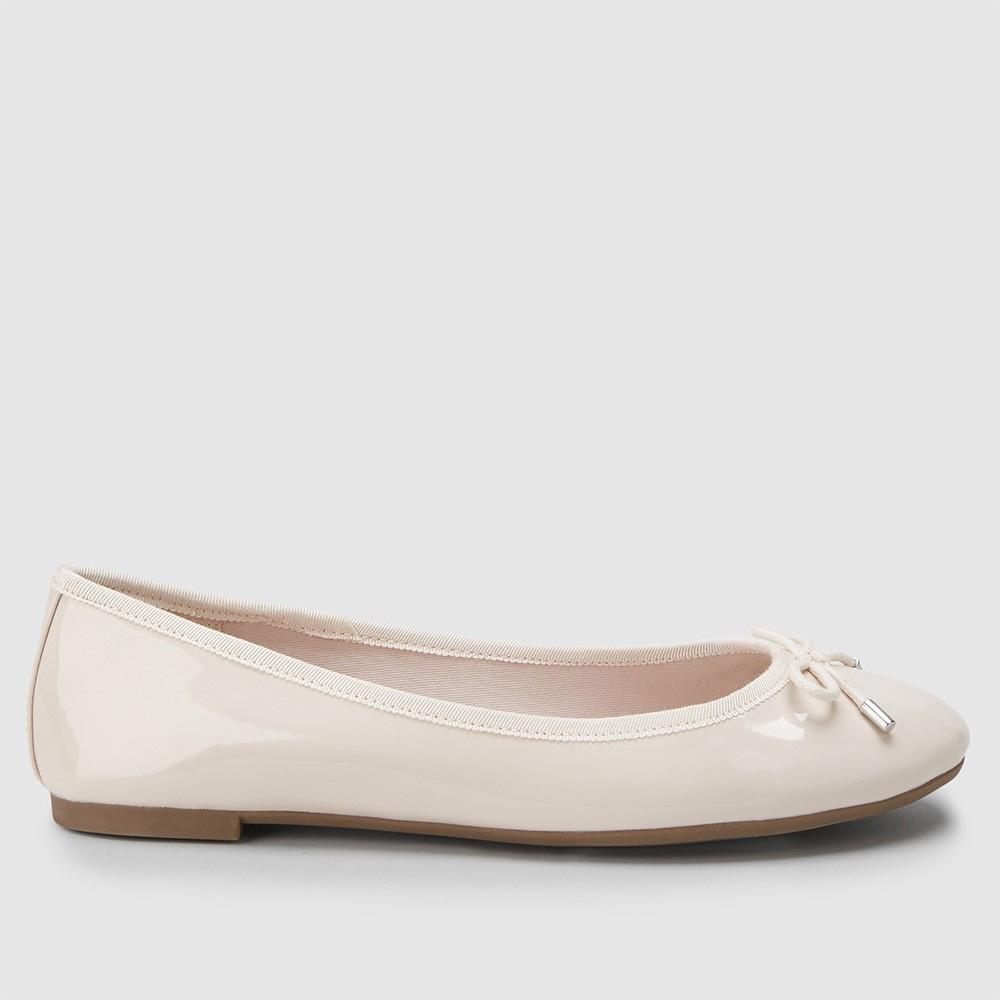 These pretty ballerina style pumps from Next will be lightweight, neutral and come in a variety of shades. From subtle nude, pink and ivory tones right through to snakeskin! If you are having mismatched bridesmaid dresses then consider mismatched shoes too.
Embellished Heel Sandal – ASOS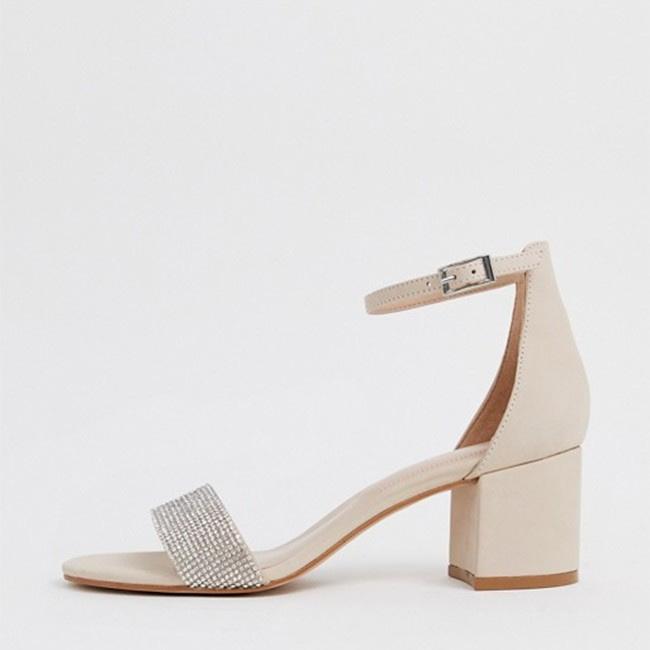 If your bridesmaids don't feel comfortable in high heels but you still want them to have a little bit of height then a block heel could be the answer. These ivory embellished block heels from ASOS should be steady enough for even the most amateur high heel wearer.
Block Heel Bridesmaid Shoes – Amazon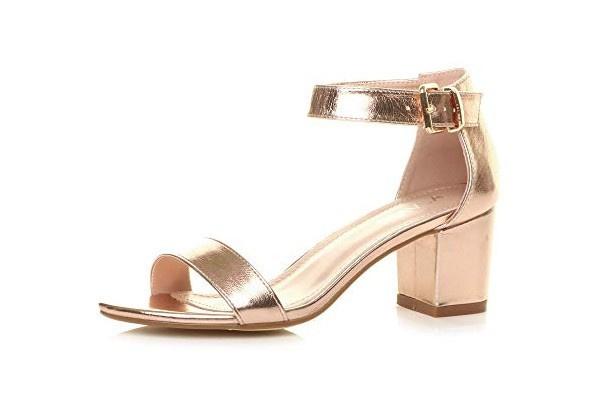 This rose gold block heel bridesmaid shoes from Amazon come in an unbelievable 22 different colour choices, from dreamy metallic tones to vibrant shades and pretty pastels. The low block heel also means they will be confortable and stable all day long.
Mid Heel Bridesmaid Shoes
A mid-heel bridesmaid shoe is often the most popular choice – giving a good balance of height and comfort. Take a look at some of our favourite mid-heel bridesmaid shoes.
Magdalena – Dune London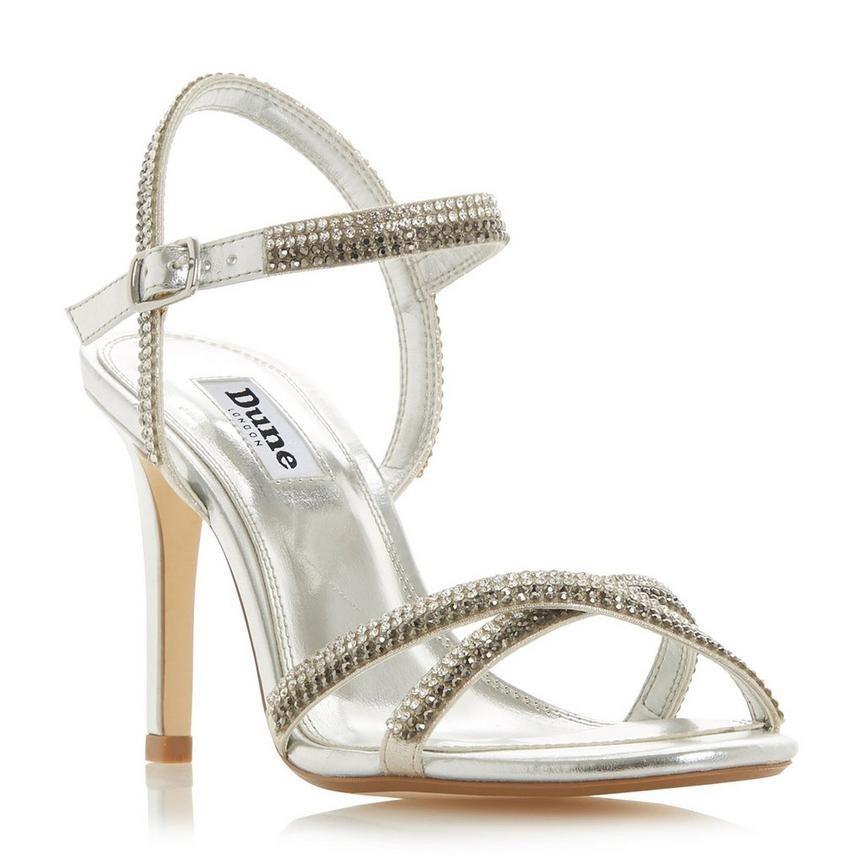 These shoes from Dune London will add some serious sparkle to any bridesmaid look. Silver bridesmaid shoes are always a popular choice and your best girls are going to adore these glittering beauties.
READ MORE: 13 Stunning Silver Bridesmaid Shoes
Stiletto Heel Court Shoes – Marks & Spencer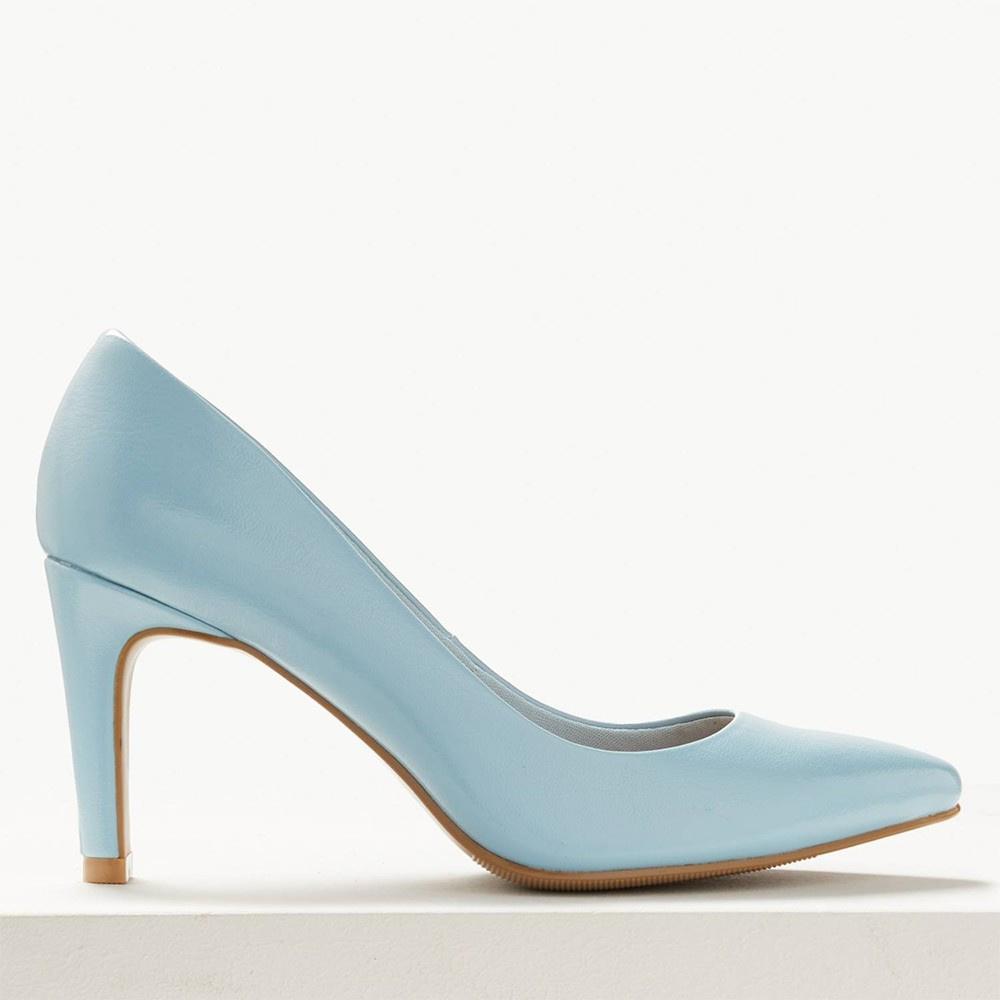 Why not have your bridesmaids be your something blue? These pale blue court shoes from Marks & Spencer would be ideal for a summer wedding. With M&S you will also get the benefit of half sizes and wide fittings to please even the fussiest bridesmaid!
Leather Court Shoes – Next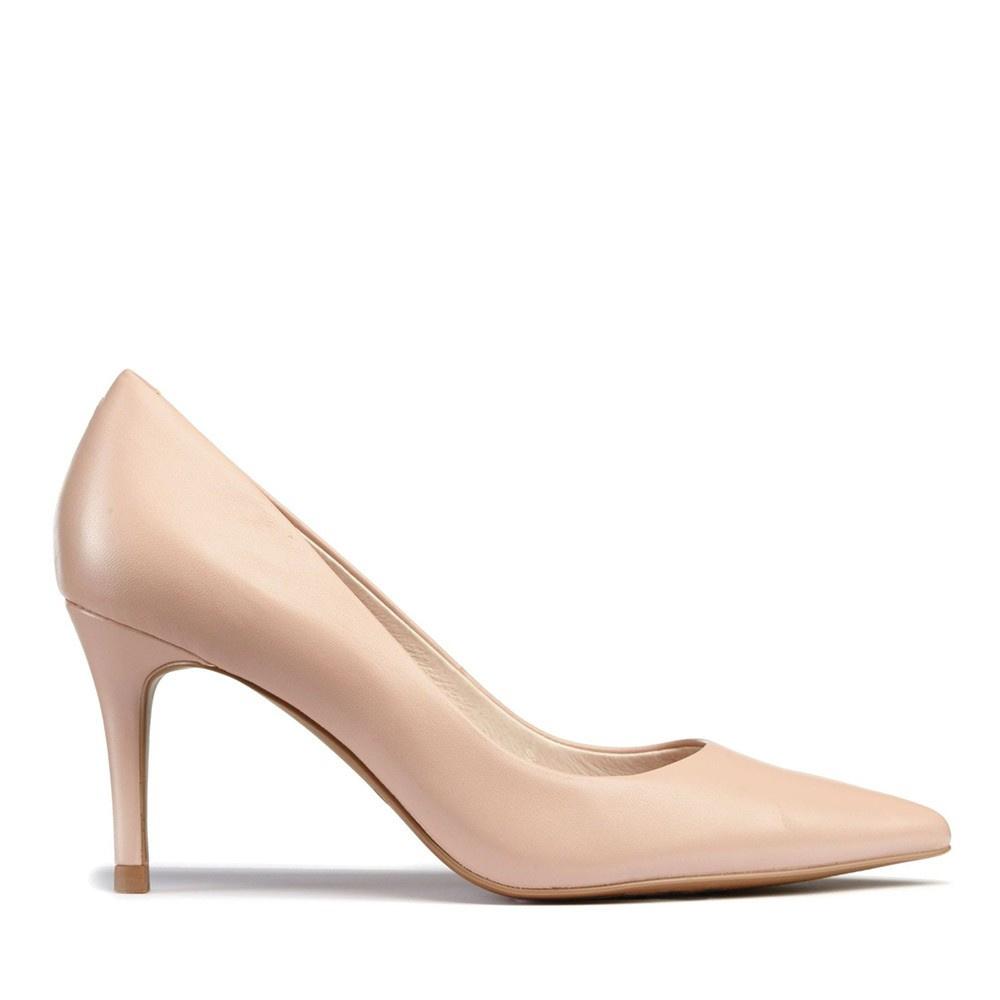 Who doesn't need a nude leather court shoe in their life? The bonus of these shoes from Next is that they go with pretty much any type of bridesmaid dresses – so now matter how colourful or patterned you have gone, these shoes will be your saviour.
Two Part Block Heel – Oasis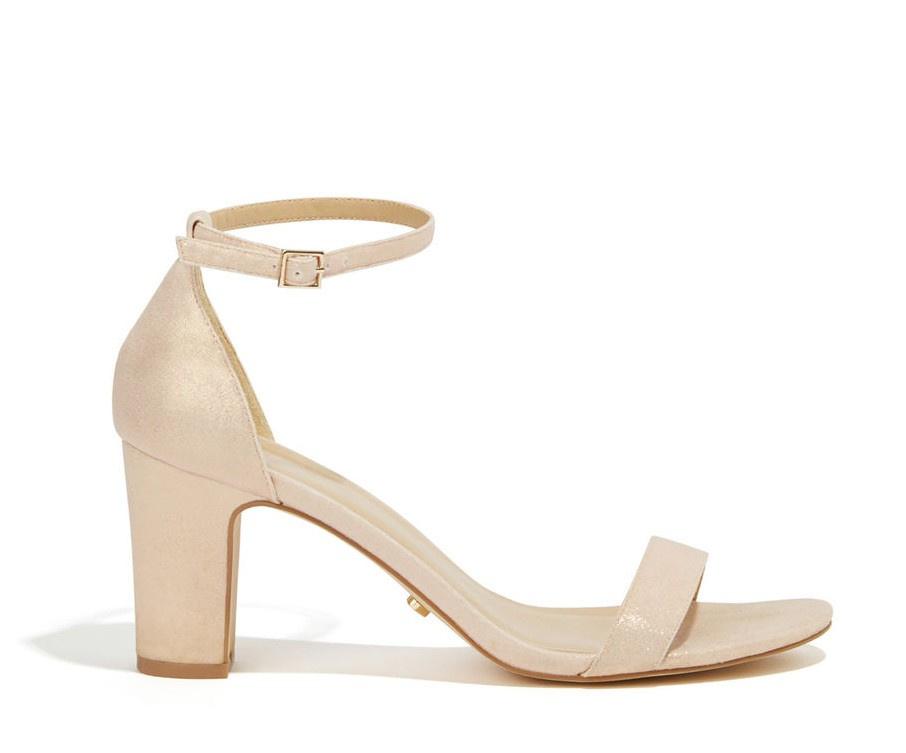 For a mid heel with a bit more stability this two part block heel from Oasis will feel like a dream. We love the pretty rose gold tone of this shoe but it is also available in silver if your bridesmaid dress is better suited to cooler tones.
Speaker Heel – ASOS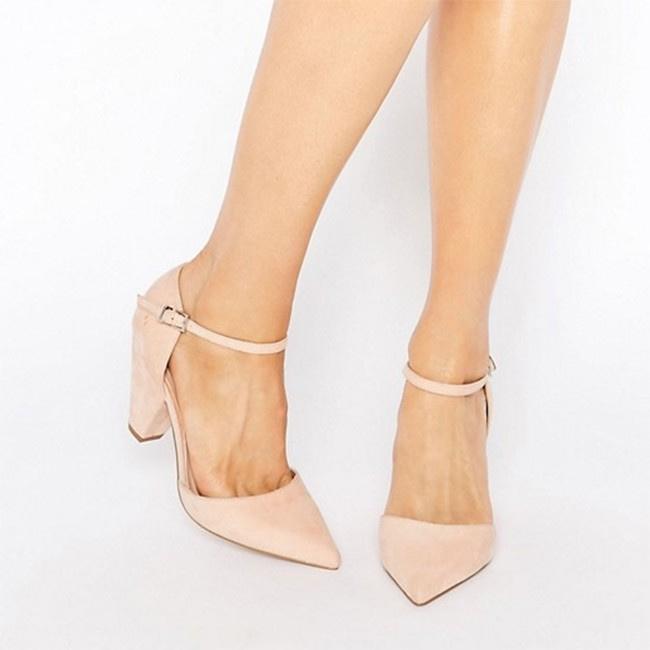 If you're looking for a quirky but comfortable bridesmaid shoe then these chunky heel baby pink sandals from ASOS are beautiful. They would add a real 50s vibe if your maids were dressed in mid-length A-line dresses.
Metallic Bridesmaid Shoes – Amazon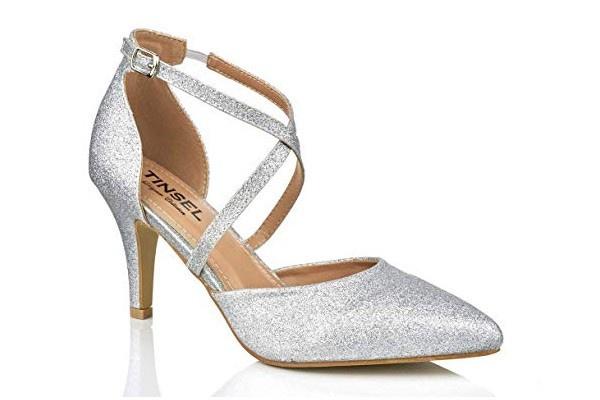 Add lots of sparkle to your wedding day with these silver glitter court shoes from Amazon. They are available in seven different shades – including silver, gold, ivory and in a glitter, leather or satin finish.
High Heel Bridesmaid Shoes
If you know that your bridesmaids are more go high or go home types of girls then take a look at some of our favourite skyscraper heels for bridesmaids.
Bellevue Court Shoes – Dune London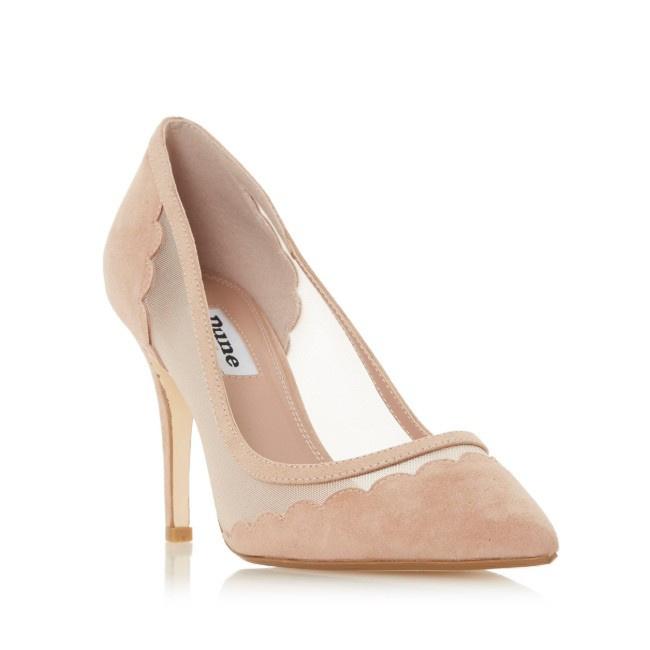 These soft pink suede shoes from Dune London are so pretty and will most definitely be worn again and again after the wedding day!
Floret Shoe – LK Bennett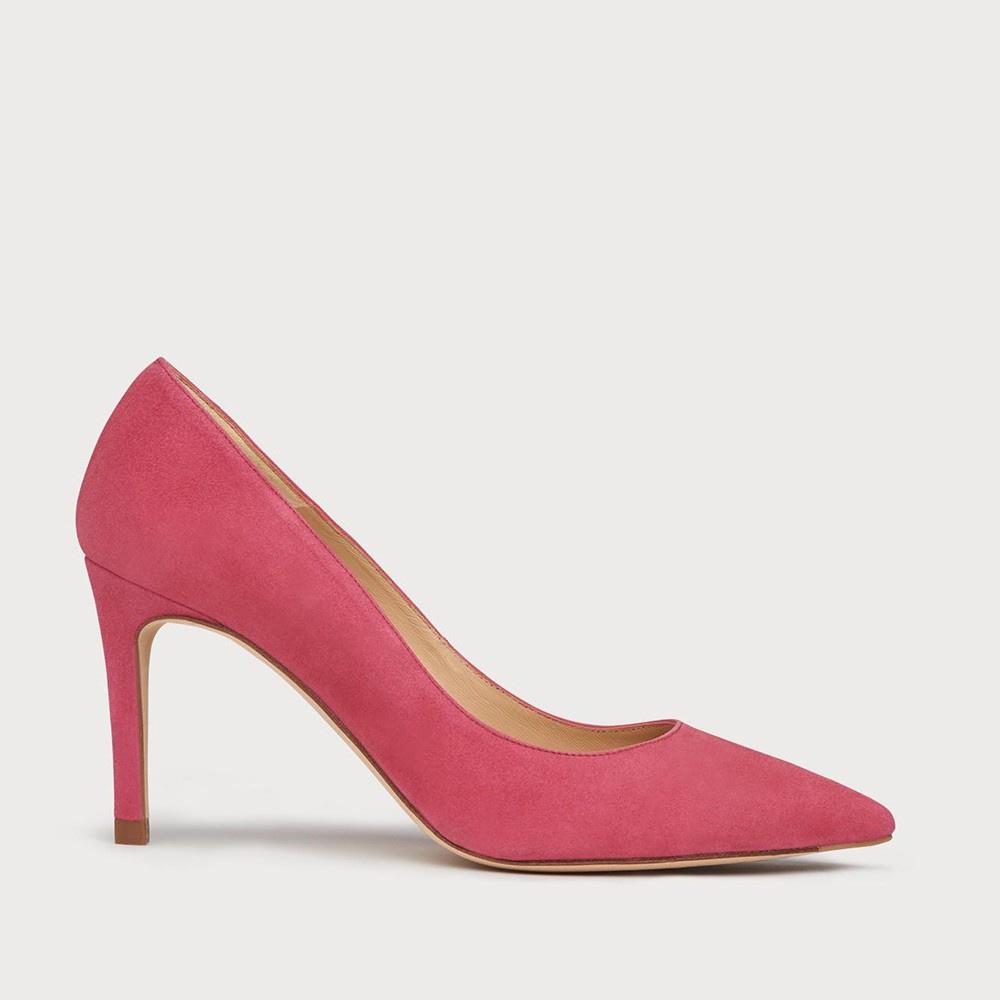 Who said bridesmaid shoes need to be neutral? Why not add a pop of colour with LK Bennett Floret shoe? It has a suede finish and is available in a variety of vibrant shades.
Catelynn Studded Court Shoe – Dune London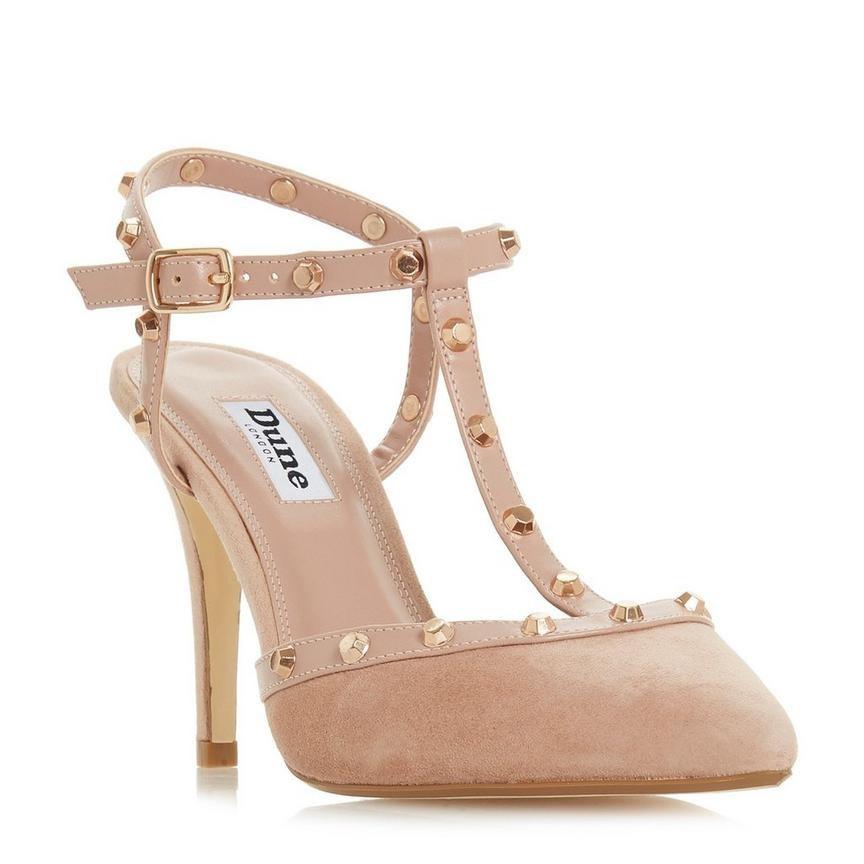 These studded court shoes from Dune London have a serious Valentino feel about them and would be perfect for bridesmaids that want to make a style statement.
Lark Shoe – Kurt Geiger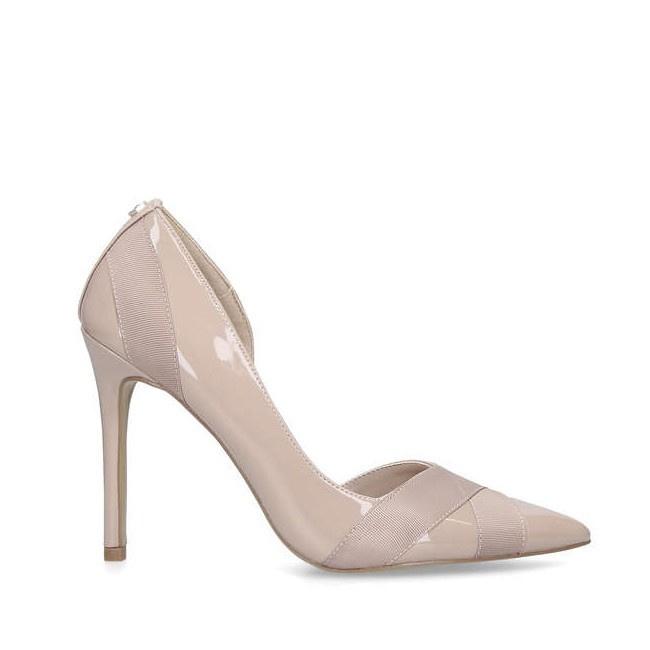 Never underestimate the elegance of a simple and well made shoe – this is exactly what you get with this stylish nude court shoe form Kurt Geiger.
Eden Ombre Shoes – Dorothy Perkins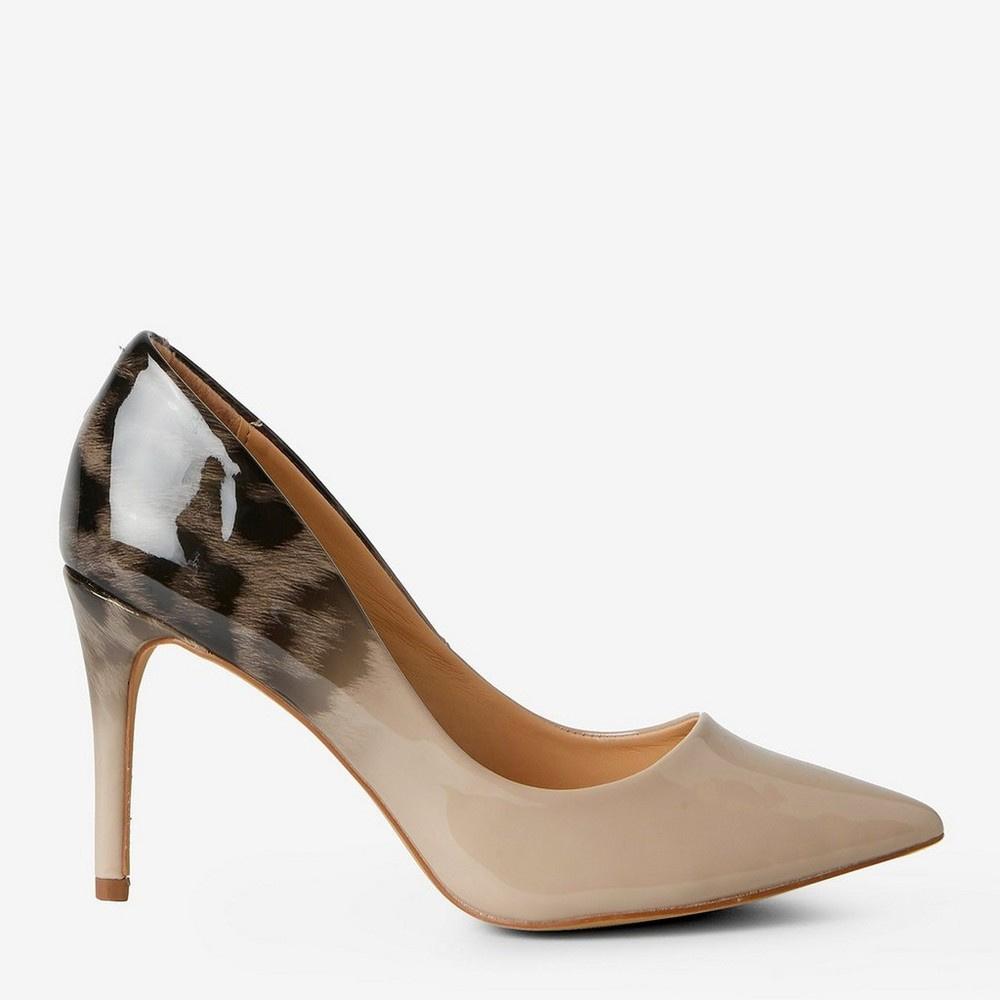 It was only a matter of time before the animal print trend trickled into the wedding market and here it is! The Eden shoe from Dorothy Perkins adds just a subtle hint of leopard print to make your wedding day feel seriously on trend.
Are you still looking for your bridesmaid shoes? Don't miss our list of the most frequent bridesmaid shoe questions!
Do All the Bridesmaids Need to Wear the Same Shoes?
We think no! You can get a little carried away with going too matchy-matchy and if you have bridesmaids with varying needs and requests then you may find it quite a challenge to keep everyone happy with one style. Instead think of styles, colours and designs that blend well together.
Do I – the Bride – Pay for the Bridesmaid Shoes?
This one is really up to you – we tend to believe that if you are being a little bit diva about the type of shoes your maids wear (which is perfectly fine!), then you should foot the bill. However, if you are being a little more relaxed and just want to give them a colour or theme to stick to then it's ok to ask them to provide their own shoes.
Can I Force My Bridesmaids to Wear Heels?
Well…probably not! If you have your heart set on heels then see if you can reach a compromise with an especially glitzy flat sandal or a block heel, but forcing your BFF's to do what you want is never really the right answer! If you're worried about them not looking uniform then consider long bridesmaid dresses and you won't see their shoes anyway!
Having bridesmaid dilemma? Don't miss our guide on how to deal with an unruly bridesmaid.