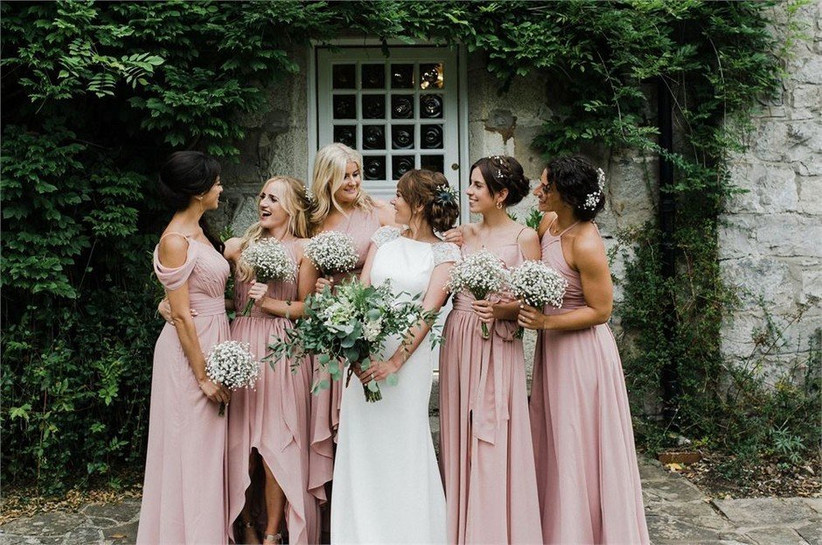 So you've asked your best girls, 'Will you be my bridesmaid?', have been bridesmaid dress shopping and now they're busy working on hen party ideas. It's just down to you to put together the final details, such as the bridesmaid hairstyles.
Of course it should be a mutual discussion about how they want their hair, especially if they've all got different hair. But looking for bridesmaid hair inspiration to show them what sort of style you like is a great place to start.
With so many possible hairstyle options for the big day, you'll have to whittle it down to a few that you adore and will suit your bridesmaids – which, of course, is all dependent on whether they have long, short or mid-length hair.
Here, we've pulled together some inspiration for you, from ponytails and buns to creative half up dos. There's 32 great ways for your girls to wear their hair, which will look showstopping in the photos. Plus, we also spoke to bridal specialist Victoria Ralph from award-winning salon Windle London to give us some extra hair advice.
Bridesmaid Hair Updos
1. A Power Pony
Let your bridesmaid show that they mean business with this sleek power ponytail. Victoria said: "A playful ponytail is a great option for the bride or bridesmaids. It's a modern look that can be worn sleek and chic or textured and undone. For a sleek look, take a centre parting and tie in at the nape of the neck. Cover the band by wrapping hair around it. This look pairs well with statement earrings."
2. Wavy Ponytail
If your bridesmaids love the pony look but want more volume, then curl the hair first, gathering it into a high pony, and add some hairspray to keep it in place.
3. Playful Ponytail
We love this super cute look that plays around with pretty clips and has the hair in a low ponytail.
4. Low Chignon
This classic style will work with a variety of bridesmaid dress styles and looks seriously elegant. It suits almost everyone and will work for your best girls, providing their hair is long enough. Victoria added: "A chignon is an absolute classic and one of my most requested styles. It's beautifully versatile. It can be worn high, low, sleek or soft.  It's perfect for a timeless look that keeps the hair away and in place all day."
5. Fishtail Braids
Love a fishtail braid? Why not give your bridesmaids two. These long braids look great, especially with wisps of hair falling down at the front and pretty pearl band used to gather the hair at the ends.
6. Side Bun
We love the idea of pairing a side bun with a braid – giving a classic look a little twist. Ask your hairstylist to style the bridesmaids' hair so the bun is messy, with strands of hair falling out at the front.
7. Short-Haired Bun
If some, or all of your bridesmaids have short hair they can still have a classic hairstyle.  Gather the back of their hair into a bun and clip the rest in place behind.
8. Messy Flower Bun
This messy boho look would work for your girls if you're having a flower crown or a rustic style wedding. Let some of the hair fall down around the face for an undone look.
9. Braided Updo
Braids are so on-trend, and this look is beyond pretty. The braid has been wrapped around the whole head and flowers are entwined into the braid to give it an authentic look. Victoria said: "Wearing your hair in braids is a great option for brides and bridesmaids alike. It works particularly well on blonde hair where you can see more of the detail. If the fabric of the dress is minimal, braids in the hair complement this well."
10. Braided Pony
If you want your bridesmaids to have their hair up, but keep the length, this is the ideal look for them. Gather your locks at the back and braid them into place, then carry on the plait down the length of your back. Add some pretty clips and pins for an extra decorative look.
11. Accessorised Bun
Jazzing up the classic bun is easy with pretty headbands, like these from Evelyn and Rose. Each one is unique, but we love this blue one with jewels and colourful detail.
12. The Classic Bun
If the side bun is too quirky for you, consider the classic bun as a way to keep hair out of your bridesmaids' faces. It looks so sophisticated and adds volume to the updo look.
13. Messy Loose Updo
Half twisted and half braids, heap the hair together by clipping it at the back to give it a messy look. Add some similar flowers to the bridal bouquet to match your bridesmaids with the theme for the day.
Half Up Half Down Bridesmaid Hair
14. Rope Braid
We love this half-up style with tight curls. The rope braids, which start from the top of the head, really make the look.
15. Accessorised Waves
Adding decoration like a bow to a small tied back section looks great against gently waved hair.
16. Top Bow
If you prefer your bows to be less discreet, ask for the ponytail to be higher on your bridesmaids. Opt for a big bow like this one on the top of their heads and, if you're feeling adventurous, use colourful ones.
17. Half Knot
This wavy knot look is spot on. Instead of just pinning the hair, twist it into a knot at the back, wrapping hair around it. Entwine some flowers around the twists, giving it a natural look.
18. Flower Crown Twist
You can wear a flower crown on its own, but we love this half-up flower crown design. The half-up style acts as a place for the flower crown to sit, accentuating the boho style.
19. Rapunzel Look
We love the style of the small plaits, which sit at the back of the head, keeping the half-up hair design is place and adding loads of texture. Add in some foliage or flowers to match their dresses.
20. Braided Curls
If you prefer bigger plaits, then this style is perfect for your girls. Starting at the front, take a chunk of the hair and plait it round to the back, drawing in smaller sections as you go. Finish by clipping it round to the other side of the head and curling hair below.
21. Twists and Curls
Instead of a huge plait, this look has been twisted and then clipped into place by pretty floral pins. If the girls like volume in their hair ask for height in their half-up style.
22. Beachy Curls
We love this beach waves look: brush out tonged hair and keep the front strands loose. Gather the sides of the hair and twist or plait together, pinning it to the head.
Bridesmaids Hair Down Dos
23. Volume and Slides
This voluminous look will get your bridesmaids excited about the day. Ask the stylist for bouncy waves and finish with some quirky clips to keep it behind the ear on one side.
24. Foliage Crown
This quirky look is great for an outdoor wedding. Simply clip some foliage into wavy hair and you have a boho wedding look. It's a pared back version of a flower crown and would work really well if the bride was wearing a spectacular crown and wanted a style to tie in the bridesmaids' hair.
25. Pearl Headbands
If your bridesmaids have long hair and want to wear it down simply ask the stylist to create some waves. Then add a pearl headband, or several of them, for a glam finish.
26. Quirky Clips
Whether your bridesmaids have their hair straight or curly, adding clips will give it some character. Experiment with quirky clips, letting them choose the ones they love, or that go with their dresses.
27. 1920s Vintage Look
The old school glam Hollywood look is so chic and looks perfect on long or short hair. Tong the hair then brush it, using a spritz of hairspray to keep it in place.
28. Flower Vine
Just because you're wearing your hair down, it doesn't mean to say you can't give it character. This long hair vine can be woven through waves, matching the design and colour to the bridesmaids' dresses.
29. Barely-There Waves
These barely-there waves, with a flower clip pinning back some of the hair, is underrated. The simple look will give your bridal party a sleek look, without looking overdone.
30. Loose Plaits
This messy look, with a loose plait right at the front held in place with a pretty jewelled clip, is gorgeous. Curl the hair with a large tong, brushing it out for a beach wave effect.
31. Big and Bouncy
This big and bouncy look is great on short and long hair – giving your girls some volume and texture. Ask them to add some bling earrings and jewellery and they'll look great on your big day. It's got both a modern and vintage-Mad Men feel depending on how you accessorise.
32. Cute Hairband
Who needs a fancy updo when you're wearing one of these gorgeous hair bands? These detailed bands, with jewels and pearls on them, are perfect if you want to keep your bridesmaids hair simple but still wow your guests.
If you're still searching for bridesmaid hair inspiration, why not check out our edit of wedding guest hairstyles? There are so many styles to explore you'll be sure to find something that would work for you and your bridesmaids – it's ideal if you want a lower-maintenance look that your bridesmaids can easily achieve themselves.