37 Bridesmaid Hairstyle Ideas Your Girls Will Love
If you're on the lookout for cool, modern bridesmaid hairstyles, we've got ideas for every hair type and wedding style. Send this to your best mates before the big day to narrow down the search…
We have included third party products to help you navigate and enjoy life's biggest moments. Purchases made through links on this page may earn us a commission.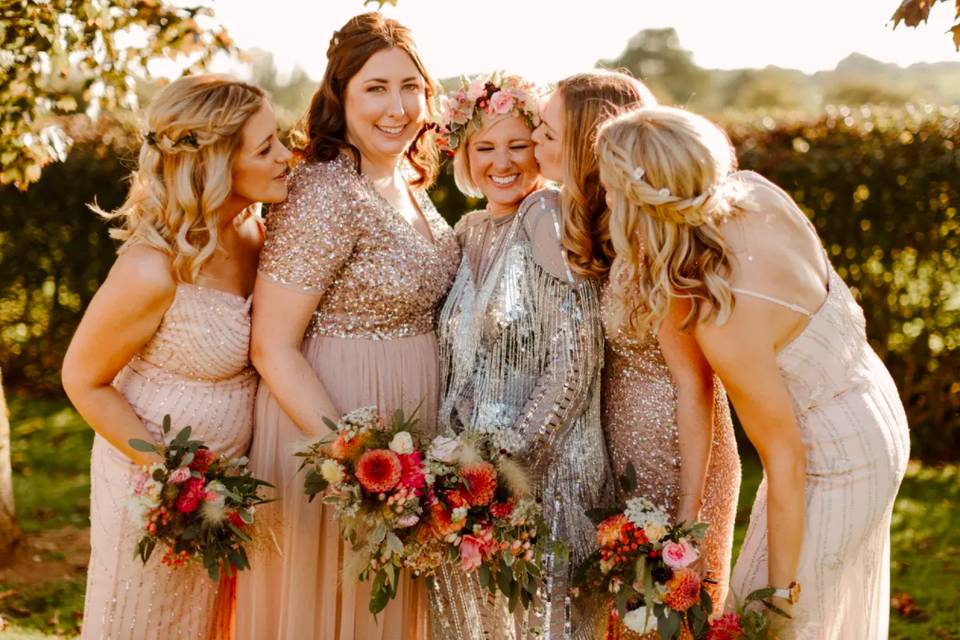 Chances are you started to envisage your own wedding hair from the moment you picked your wedding dress, but have you considered bridesmaid hairstyles yet?
Whether you're keeping things small with just one bridesmaid, or you've recruited a whole group of your besties, it's important to make sure your bridesmaid/s feel totally comfortable on the day. It will ensure they feel their very best and are more than happy to strike a pose for those all-important wedding photos.
While it may seem like another job to add to your wedding planning checklist, we've done most of the hard work for you by gathering the most beautiful bridesmaid hairstyles we've seen for your scrolling pleasure.
Below we've rounded-up a range of styles for everything from chic city celebrations to boho beach weddings for all hair types and textures. All you need to do is gather your girls and flip through our edit – screenshotting your faves as you go to show your stylist or reference yourself later.
We'd also recommend reading through our bridesmaid hairstyle FAQs answered by wedding hair expert Emma of Hair by Emma C – spoiler alert: no, your 'maids do not need to match.
Still need to track down your perfect hairstylist? We've got plenty of wedding makeup and hairstylists for you to browse!
The Best Bridesmaid Hairstyle Ideas to Suit Every Woman (and Wedding)
1. Beachy Bun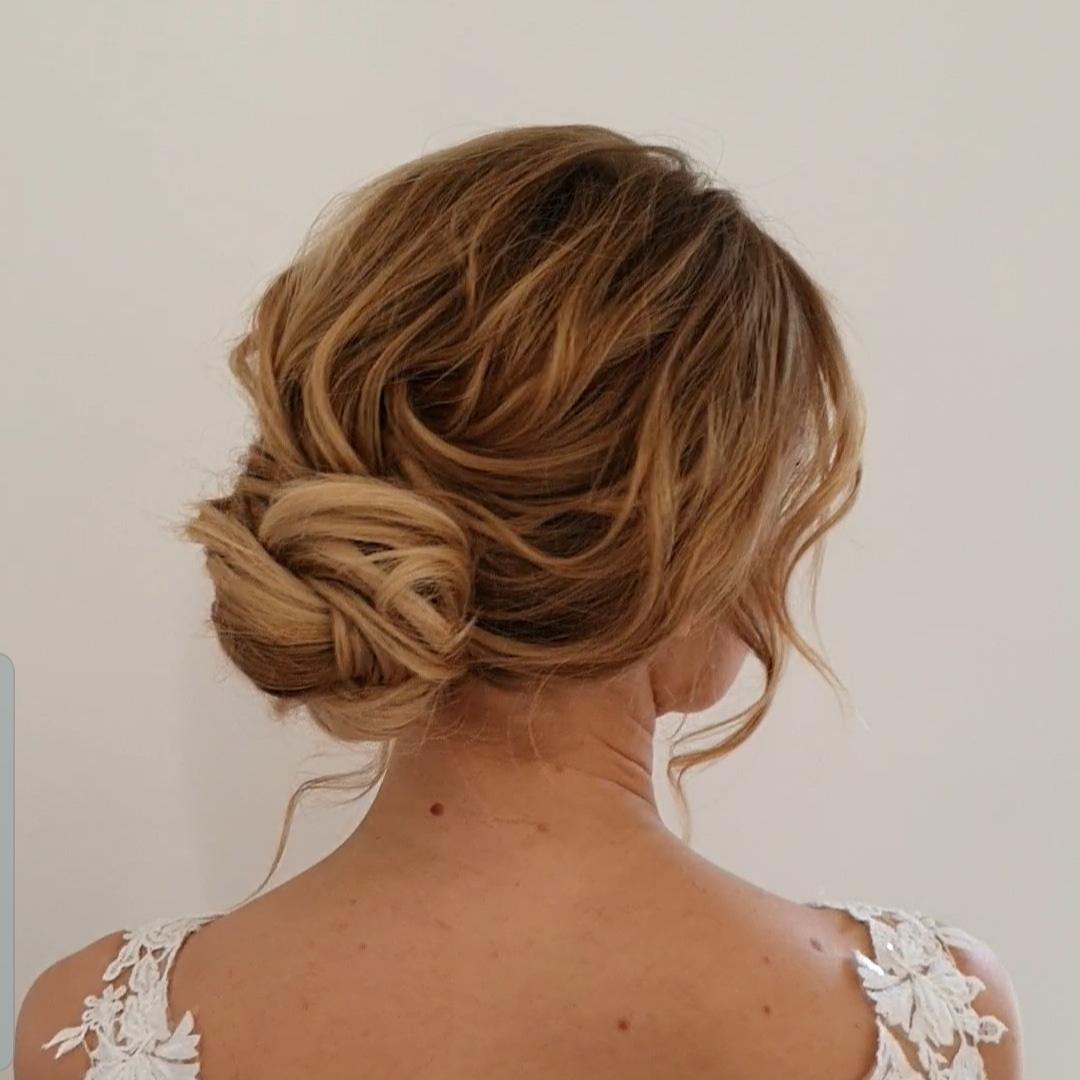 A loose, messy bun showcases back detail beautifully and looks timeless and elegant. You can dress it up with a hair vine or big wedding-worthy earrings or keep it simple with just softly curled tendrils framing the face.
2. Coordinated Headbands
You're always best off working with the natural texture of each bridesmaid's hair rather than trying to force one particular style on the whole group. Throwing in a matching accessory can give a sense of cohesion without each 'maid's hair having to match exactly. Wedding headbands are a major trend that we can't see going anywhere soon, so they'd be a great accessory pick for your girls.
3. Celestial Sparkles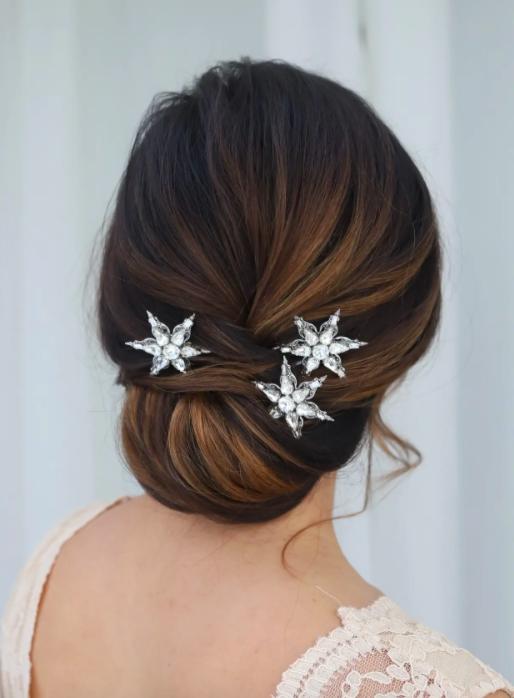 Speaking of trends, celestial wedding dresses and accessories are having a moment right now and we're loving the shimmering alternative to florals. Add a starry barrette, headband or individual hair pins to nail the trend. We love the three pins sitting against the model's brunette hair like stars in a night sky in the creation above.
4. Knotted Half-Up Half-Down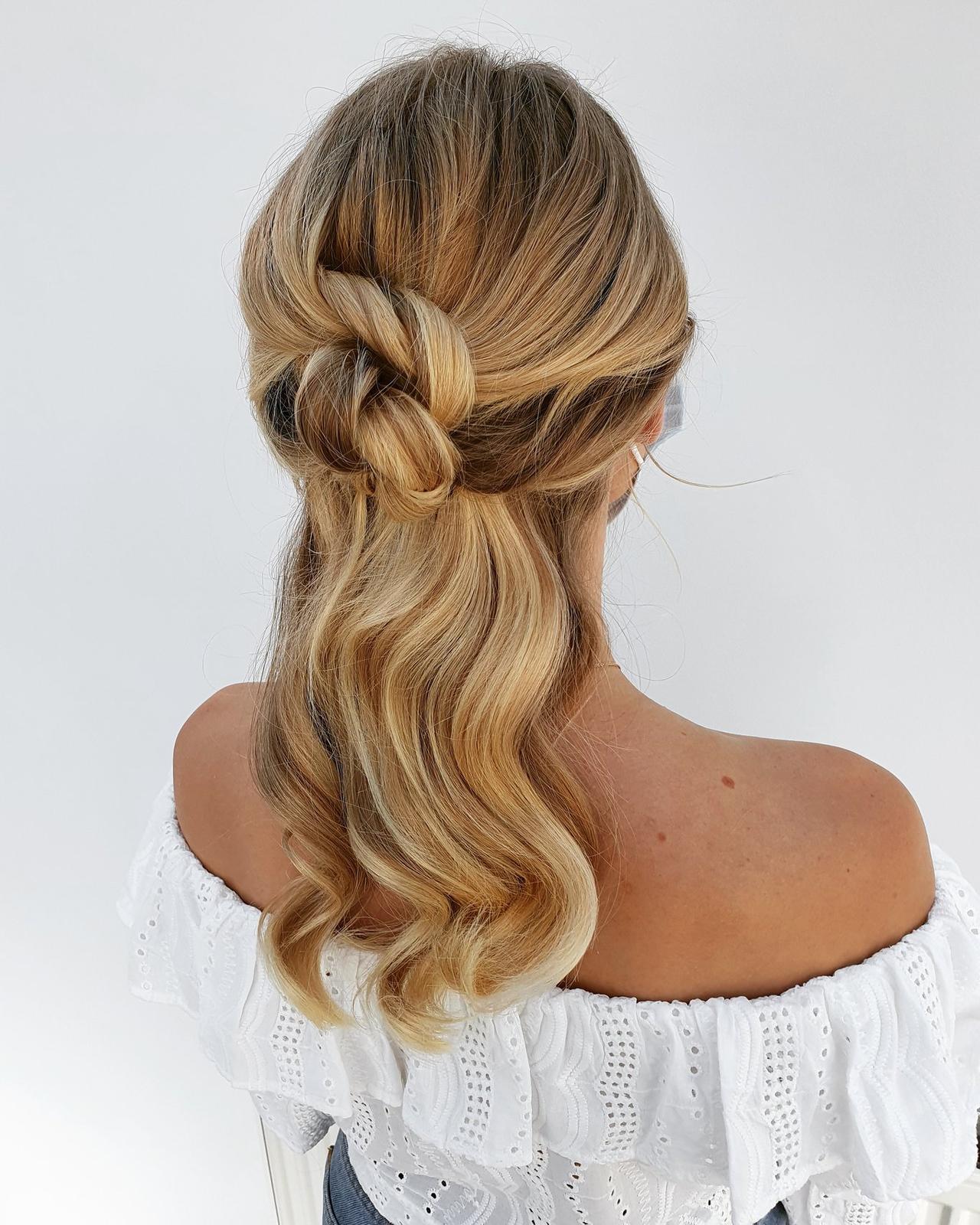 A half-up half-down hairstyle is a wedding day classic, not just for the bride but for their bridesmaids too. We love this modern knotted take on the style with soft waves and texture giving it a relaxed vibe.
5. Voluminous Glamour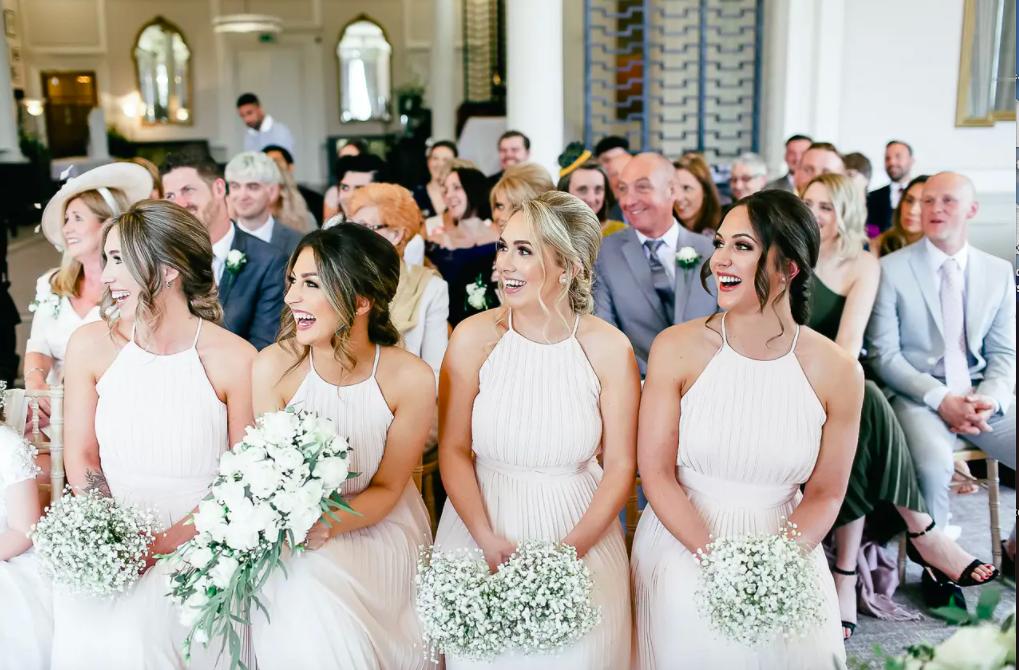 Added height at the crown paired with a classic low chignon will give a glamorous feel to your 'maid's hair. Add curled tendrils at the front to keep it from looking too harsh and pair with glam makeup.
READ MORE: Bridesmaid Makeup Ideas & How to Do Your Own
6. Unfussy Flower Crown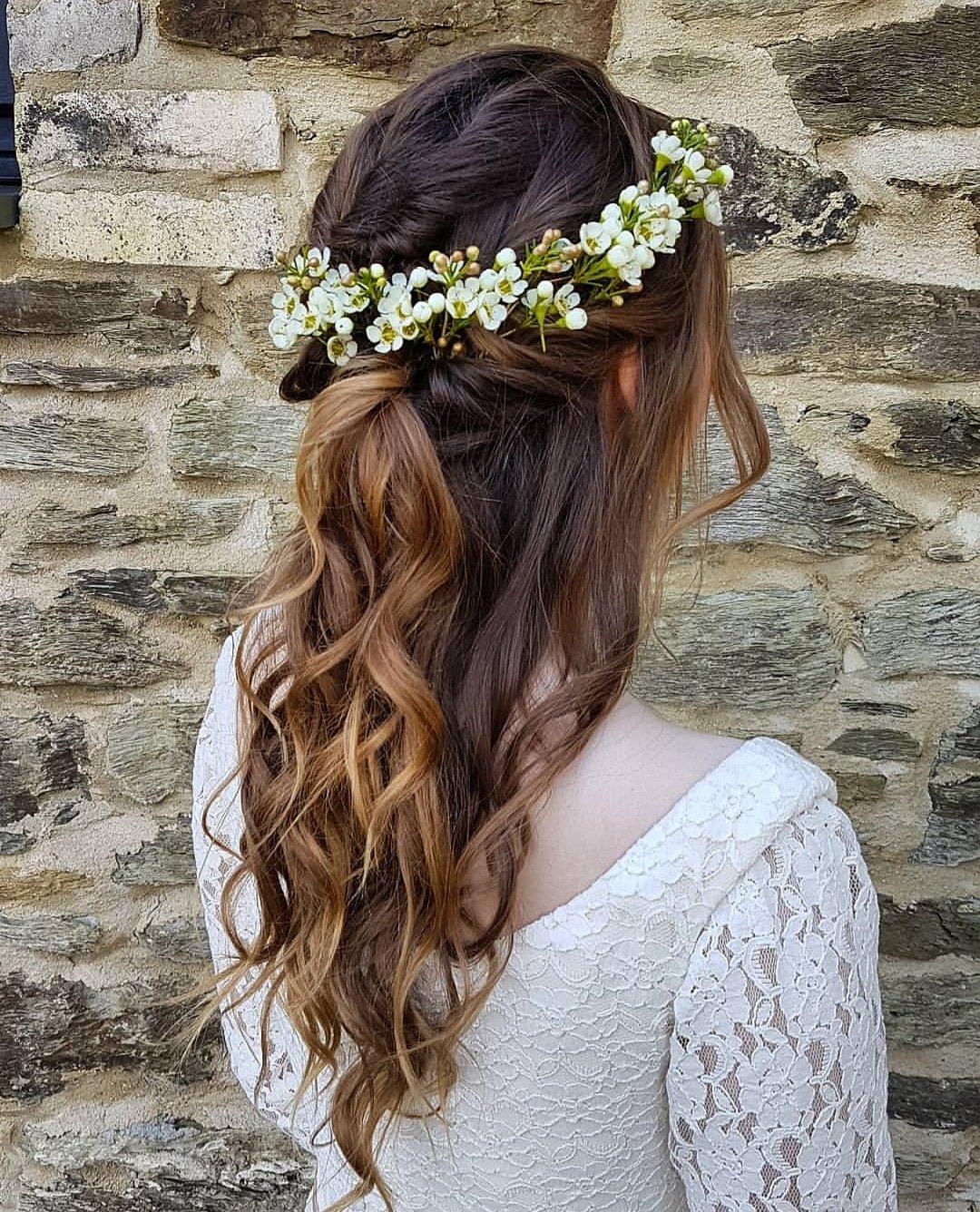 Don't get us wrong, we love a rose or gypsophila flower crown but some occasions call for something a little different. Wax flowers like the ones above can be crafted into a crown for a relaxed boho vibe that feels totally effortless. Team flower crowns like this with undone curls to nail the look.
READ MORE: 34 Boho Wedding Hairstyles for Every Bride
7. Double Fishtail Plait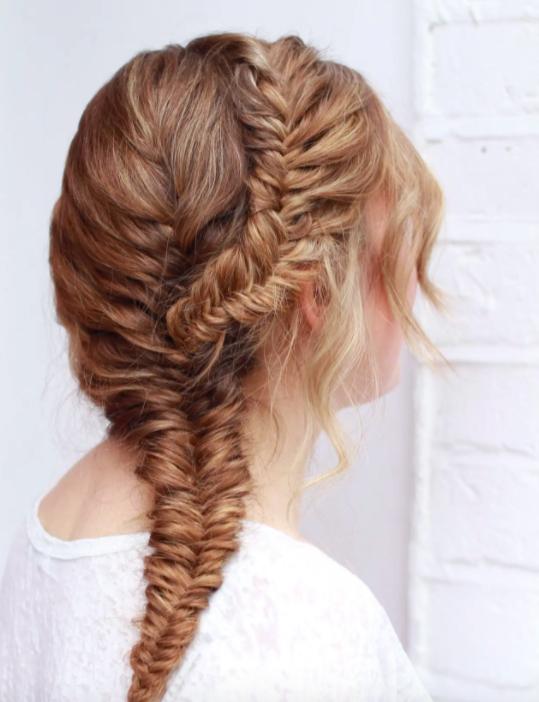 Beautifully boho, the fishtail plait looks intricate yet effortless, especially when kept loose and textured, and we adore this double plait take. Pull out some pieces at the front for a face framing effect.
READ MORE: Beautiful Braided Up-do Ideas
8. Sleek and Chic Ponytails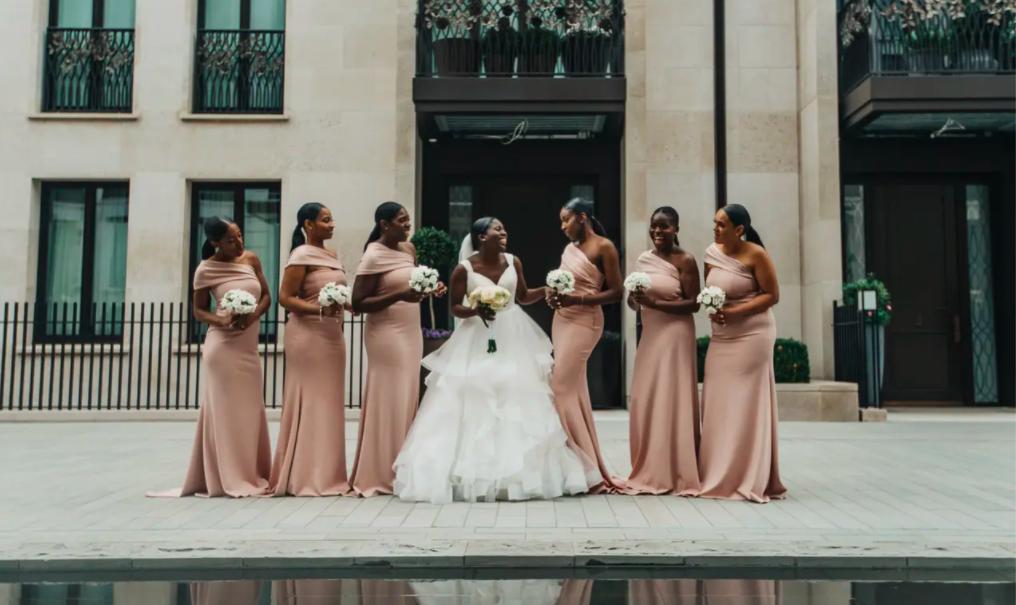 City weddings call for sleek hairstyles and there's nothing quite as chic as a slicked back low ponytail. Allow each 'maid to choose the parting she feels most comfortable with and add serum for extra shine.
9. Curtain Bangs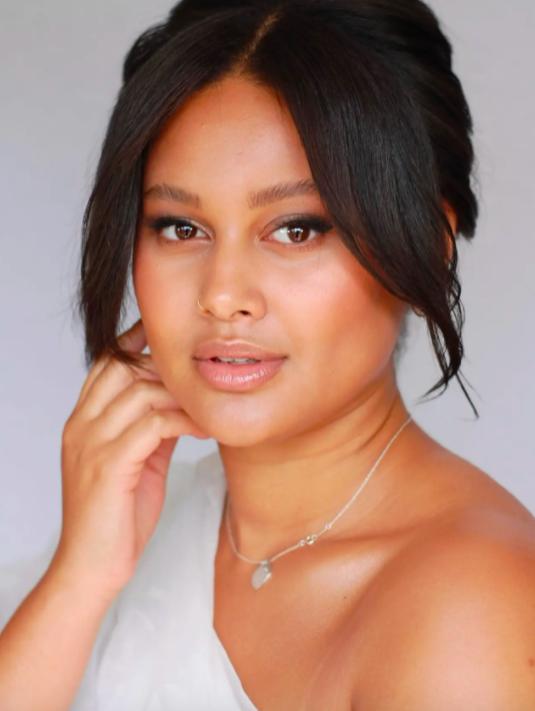 Curtain bangs are everywhere right now and, thanks to their flattering face framing effect, we can totally see why. Keep the back simple with a subtle chignon or low bun and softly curl the ends of the bangs.
10. Clipped Back Braids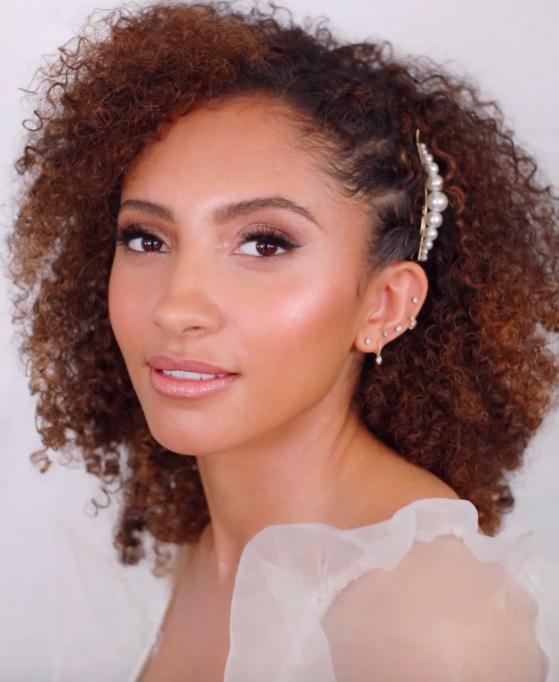 We love this small section of braided hair clipped back with a pearl barrette allowing the natural curls to shine while showcasing glowy makeup and sparkling ear accessories.
READ MORE: The Prettiest Pairs of Wedding Earrings to Shop Now
11. Wildflower Touches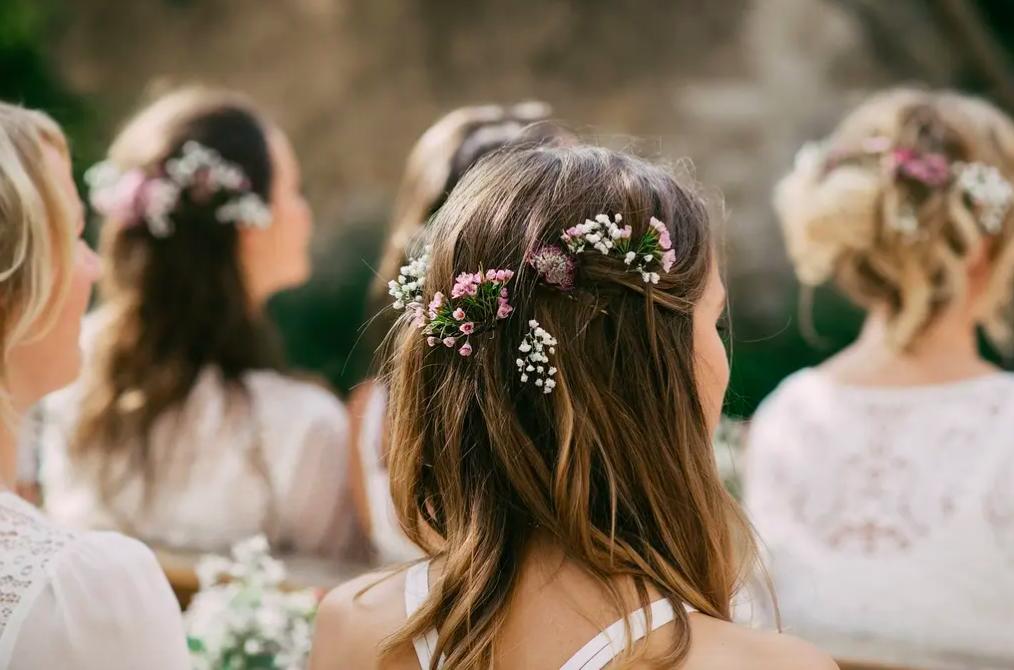 Does a flower crown feel a little too much? Ask your florist to pluck some sprigs of gypsophila, heather or wax flowers from their off-cuts and use bobby pins to secure them in the hair of your bridesmaids. Whether you add them to an up-do, half-up half-down or simply slide one behind the ear, they'll look gorgeously carefree and bohemian.
12. Colour Pop Florals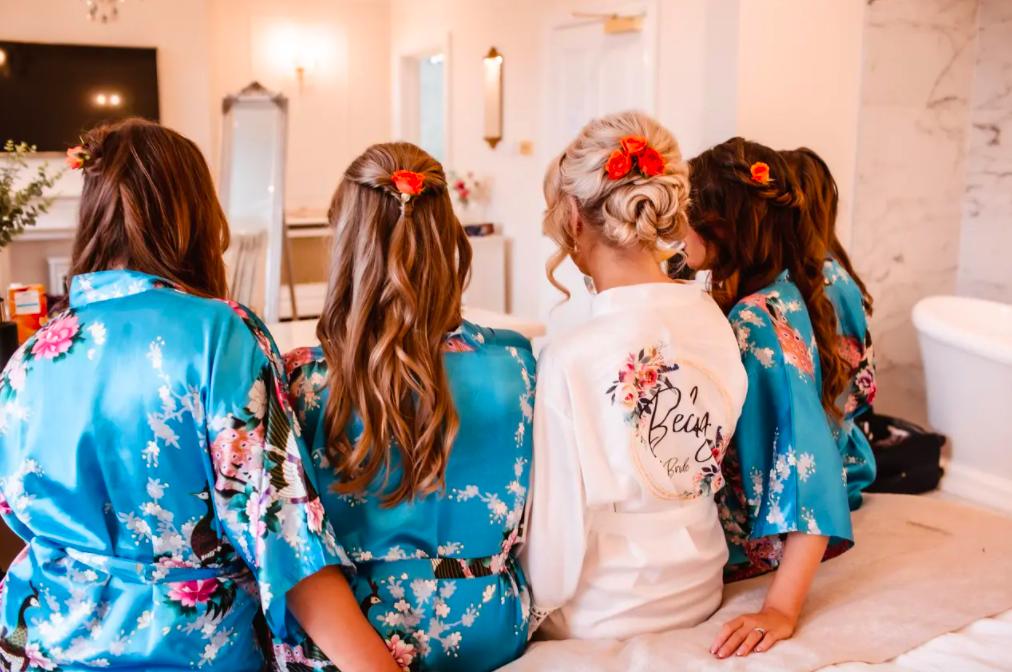 A pop of colour can be coordinated everywhere from the bridesmaids' hairstyles to the bouquets and the buttonholes worn by the rest of the wedding party. We love how the bride above wears three roses while each of her bridesmaids wear a more pared back single bloom.
13. Loosely Pinned Curls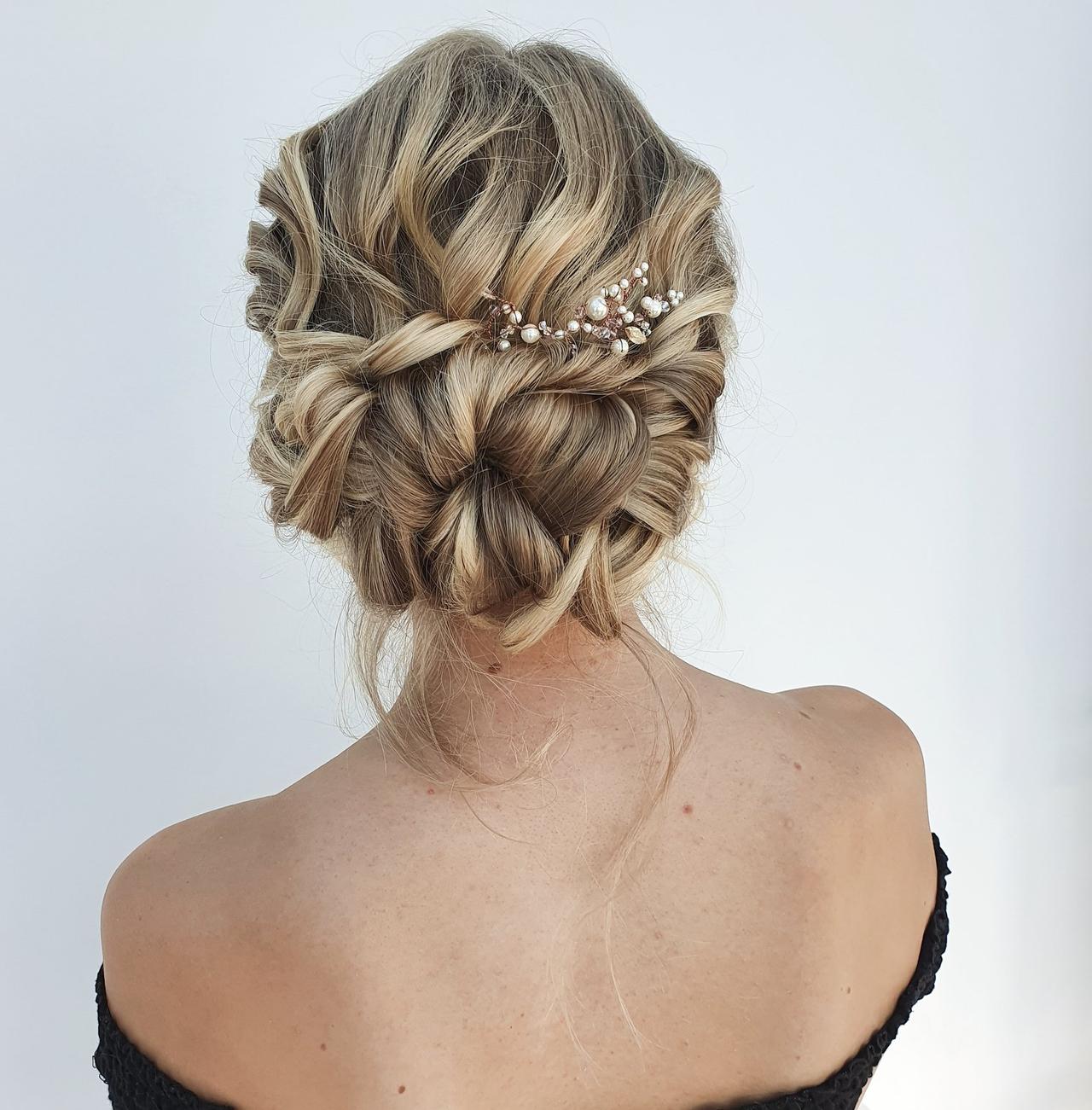 We love how laidback yet glam these pinned up curls look. Pull out some strands for more of an undone feel and nestle some pearl slides or a hair vine in the centre for a touch of sparkle.
14. Loose Waves and Pinned Plaits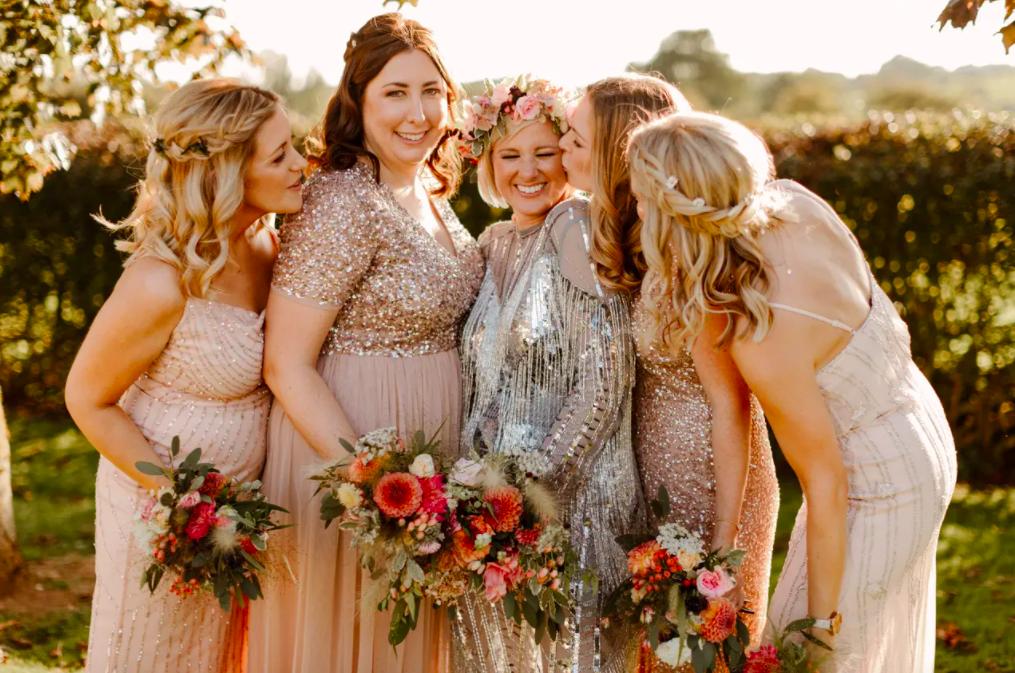 Loosely curled waves suit all hair lengths and can be dressed up with plaited sections. We love the added daisies and wildflowers on the plaits above.
READ MORE: How to Master Mismatched Bridesmaid Dresses
15. Beachy Bunches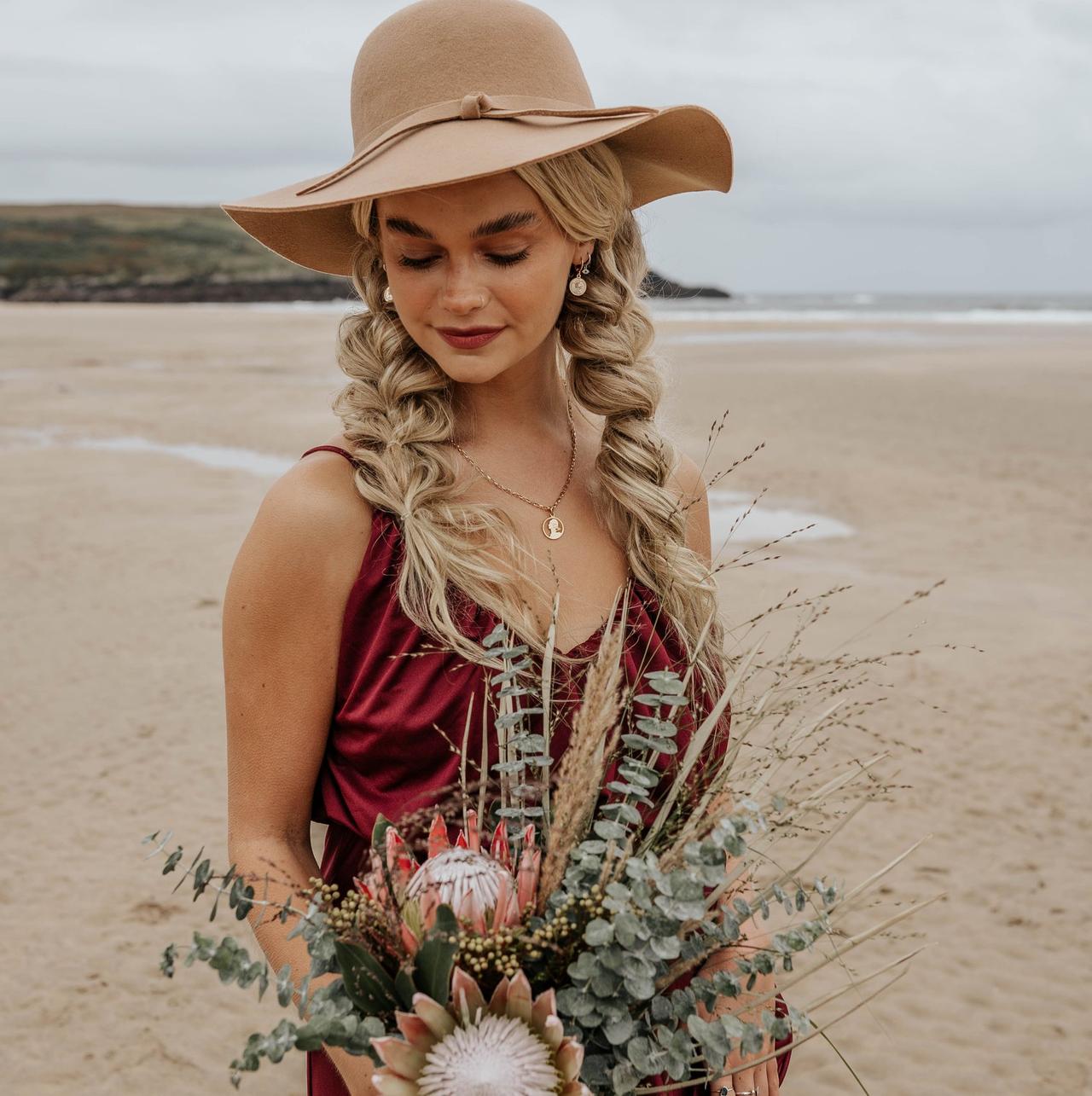 While you and your girls may not have worn bunches or double plaits since your school days, we think they make a fun and whimsical 'do for your big day. Undone and effortless, this look from Hairbyemmac can be kept simple or worn alongside a hat, headband, pearl clips or floral sprigs.
16. Piled High Curls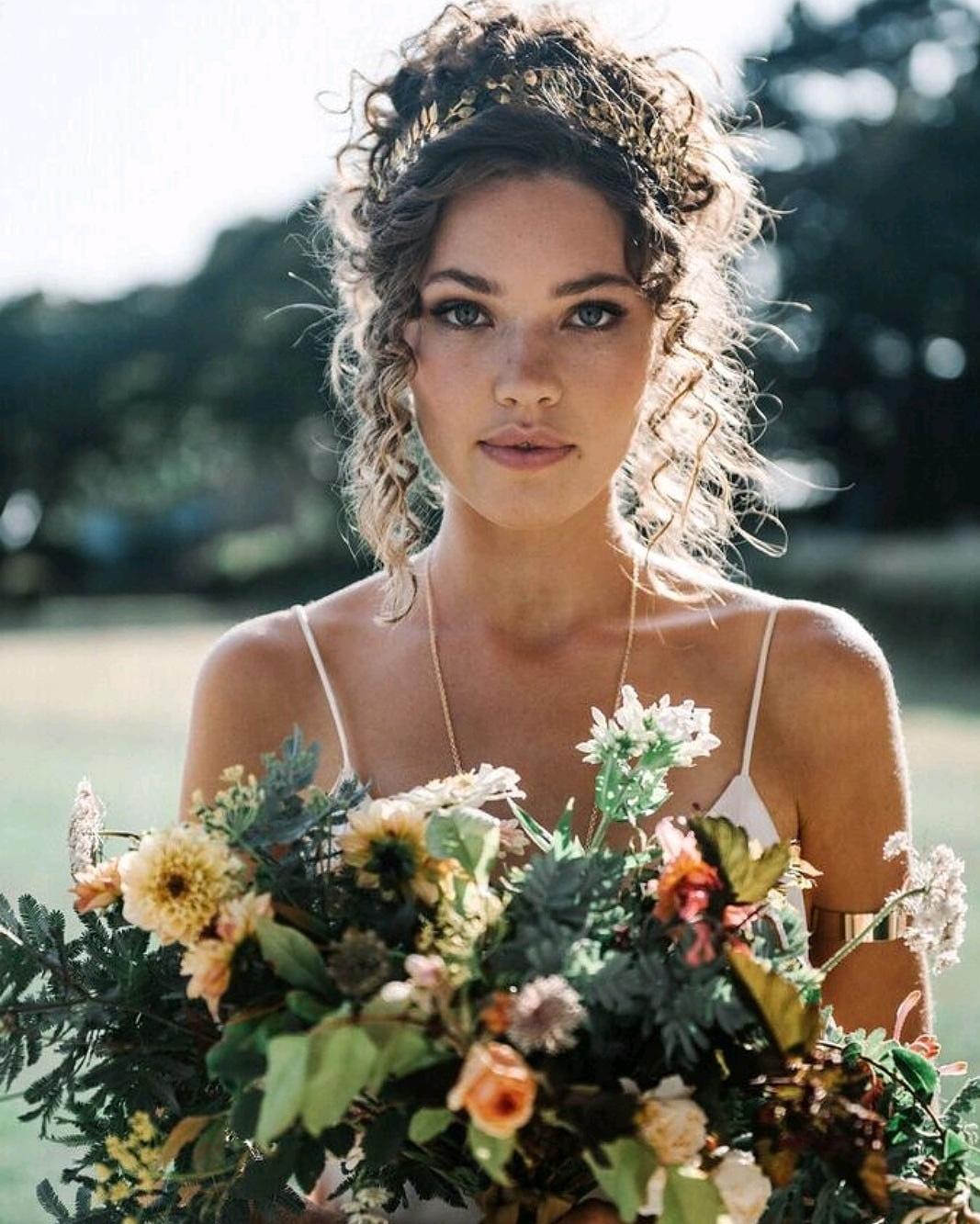 Another gorgeous creation from Hairbyemmac, we love the curls piled high on the head with plenty of face-framing loose tendrils. Check out that halo effect from the light coming in behind the curls - stunning!
17. Pearl Speckled Low Ponytail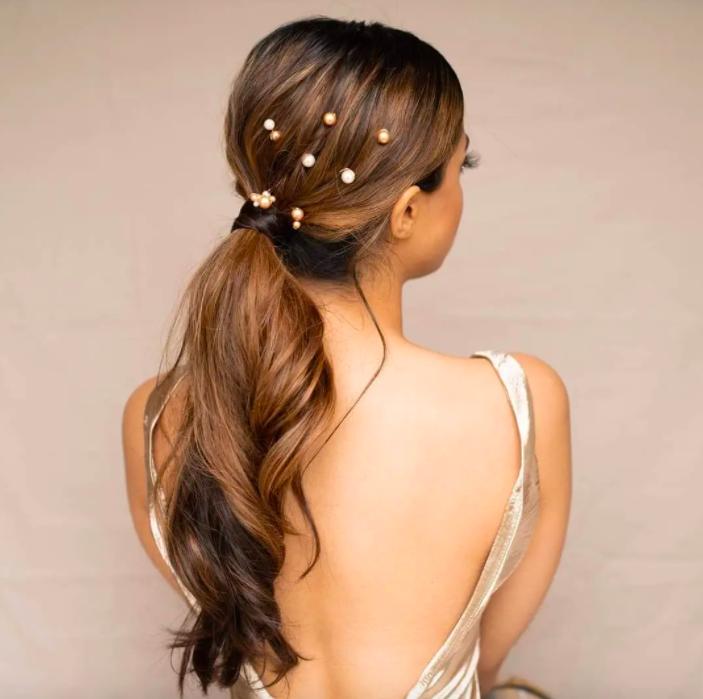 Think a ponytail is too lowkey for a wedding? Think again! This loosely curled low ponytail is dressed up with individual pearl pins that add a touch of classic glamour.
READ MORE: The Ultimate Wedding Hair Accessories Guide
18. Rock and Roll Dutch Braids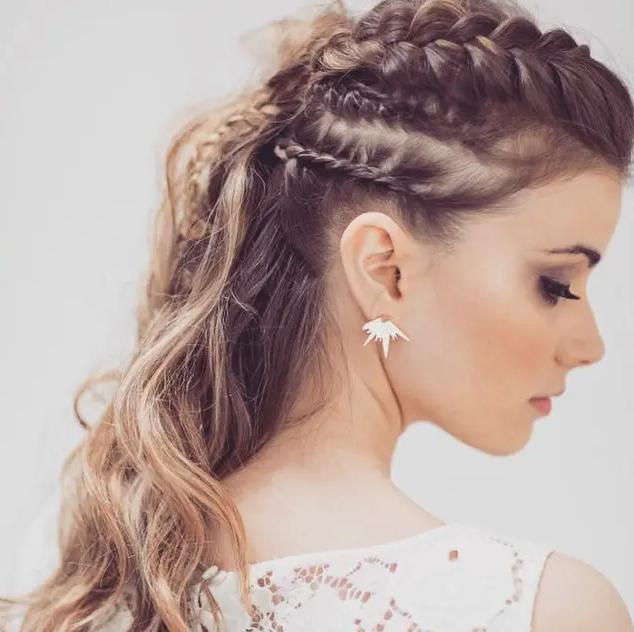 Bridesmaid's hairstyles don't need to be soft and romantic, you know - at least not entirely. We love this mohican effect braided style with loose messy curls. Add some punchy earrings for a thoroughly rock 'n' roll feel.
19. Mix and Match Manes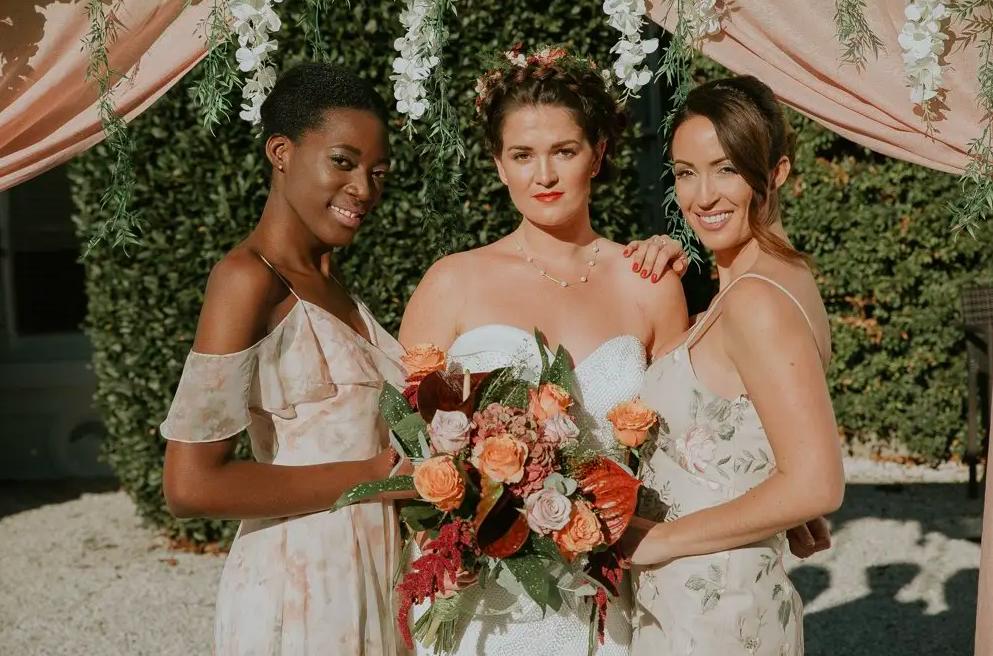 We've said it before and we'll say it again: embrace the individual texture of each bridesmaid's hair. Introduce a matching element – such as wearing hair up – but work with your girls and your stylist to decide on how best to style their respective hair types. We love how coordinated yet individual these 'maids look with their up-dos.
20. Twisted Tresses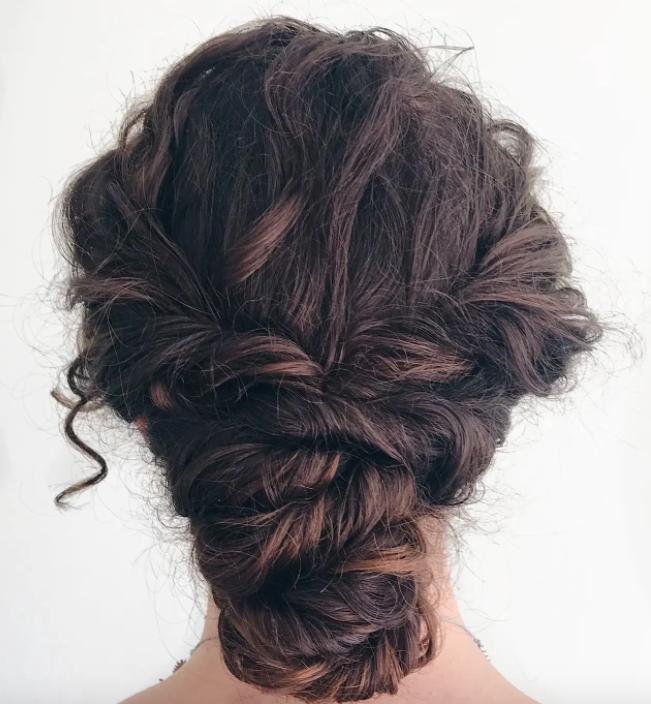 Not a fan of braids? Try a twist instead. Twisted sections of hair can be knotted together to create a unique take on a low bun or chignon – just make sure there's plenty of texture in the hair before taking on the twist.
21. Braid Duo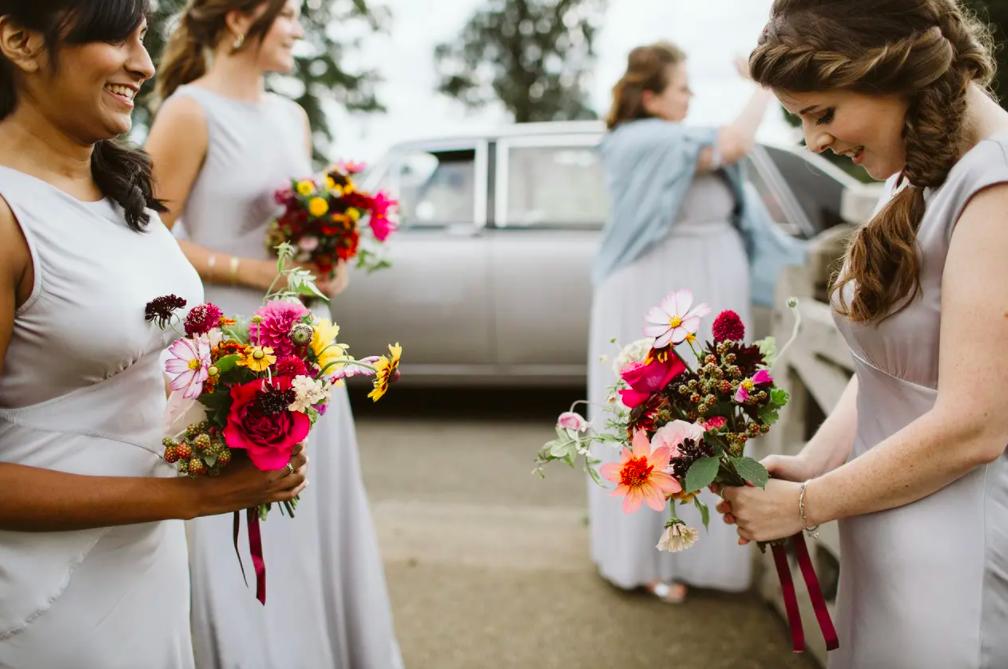 Can't decide between a fishtail or a regular plait? Combine the two! How beautiful does this face-framing plait look with a fishtail braid at the bottom?
22. Simple Waves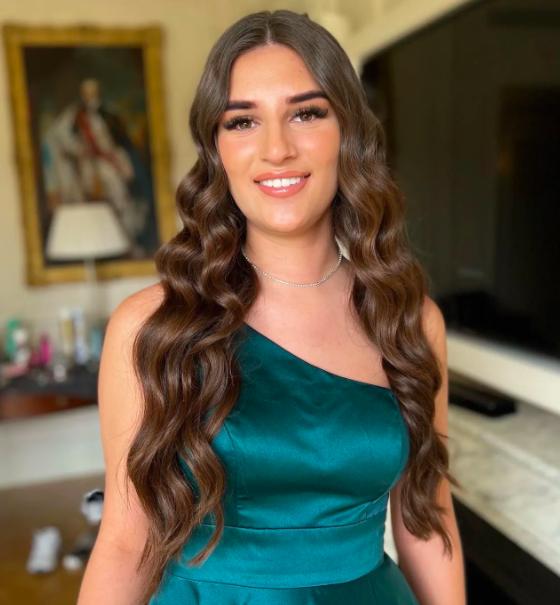 If one or more of your 'maids have long, luscious locks let their hair do the talking. Swap complicated styles and attention-grabbing accessories for long and loose waves finished with a shine spray for a look that's both glamorous and effortless.
READ MORE: Beautifully Natural Wedding Makeup Ideas
23. Curled Ends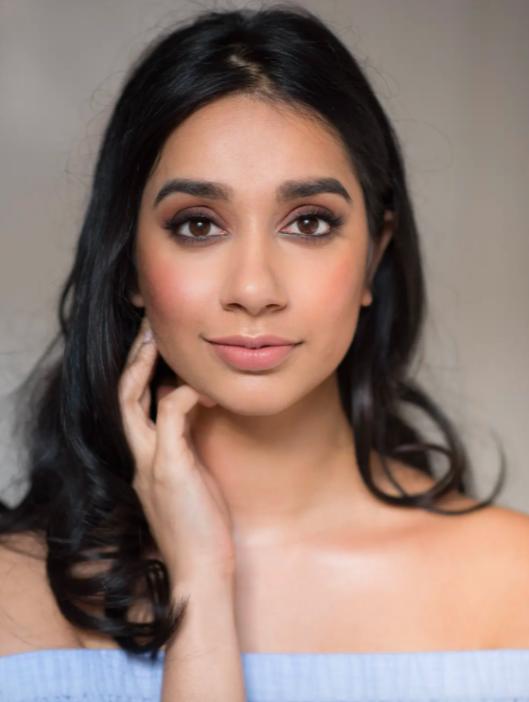 While curls from root to tip may take too much length from medium length and short styles, softly curling the ends of the hair can give softness and glamour without drastically altering where the hair falls. We love the messy parting of this style along with the softly smoky eyes that complement the curls perfectly.
24. Ribbon Tie Flower Crowns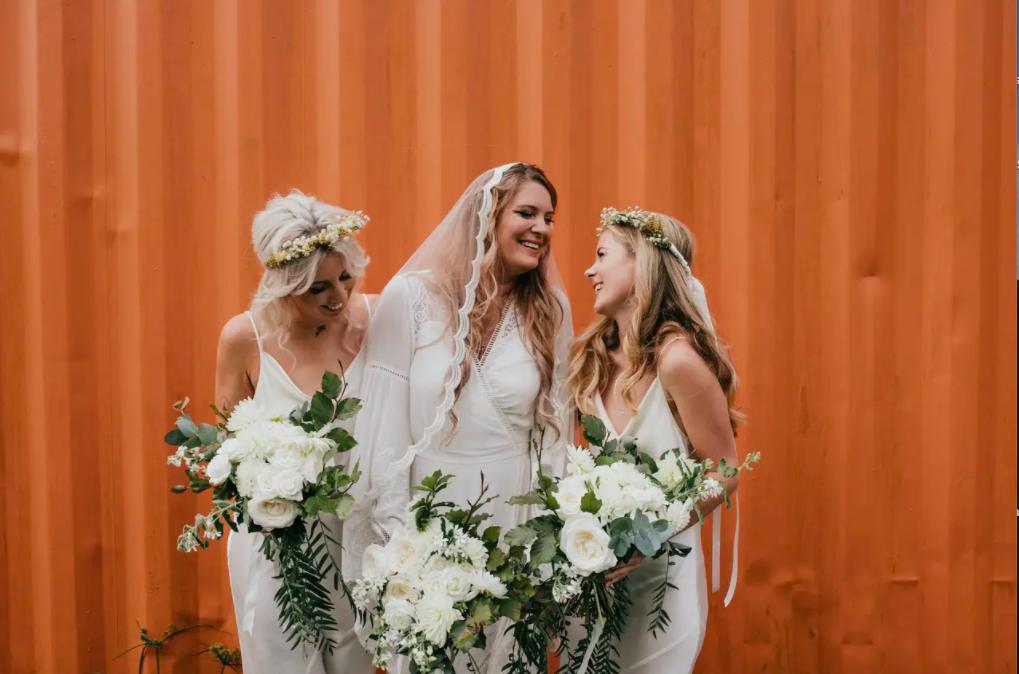 Flower crowns tied with a long ribbon at the back can add a whimsical feel to the look. Match the ribbons to the gowns or pick out a shade you'd like to highlight from their bouquets.
READ MORE: 29 Wildflower Bouquet Ideas for Whimsical Brides
25. Textured Ballerina Bun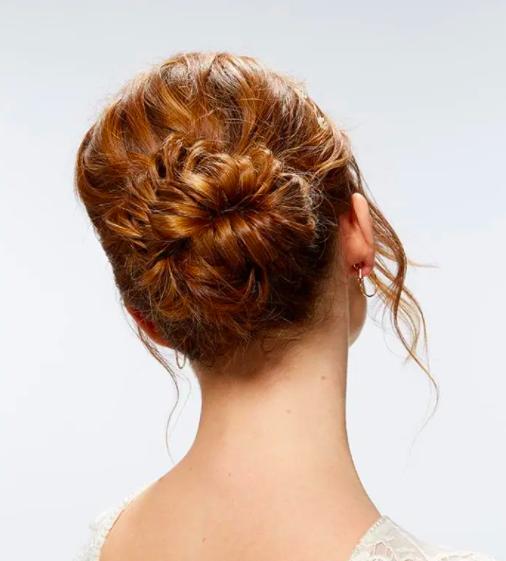 A traditional ballerina bun may be sleek and tidy but that doesn't mean you can't create a textured take on the look. We love the soft waves running through this bun and the loosely curled wisps at the front.
26. Twisted and Textured Ponytail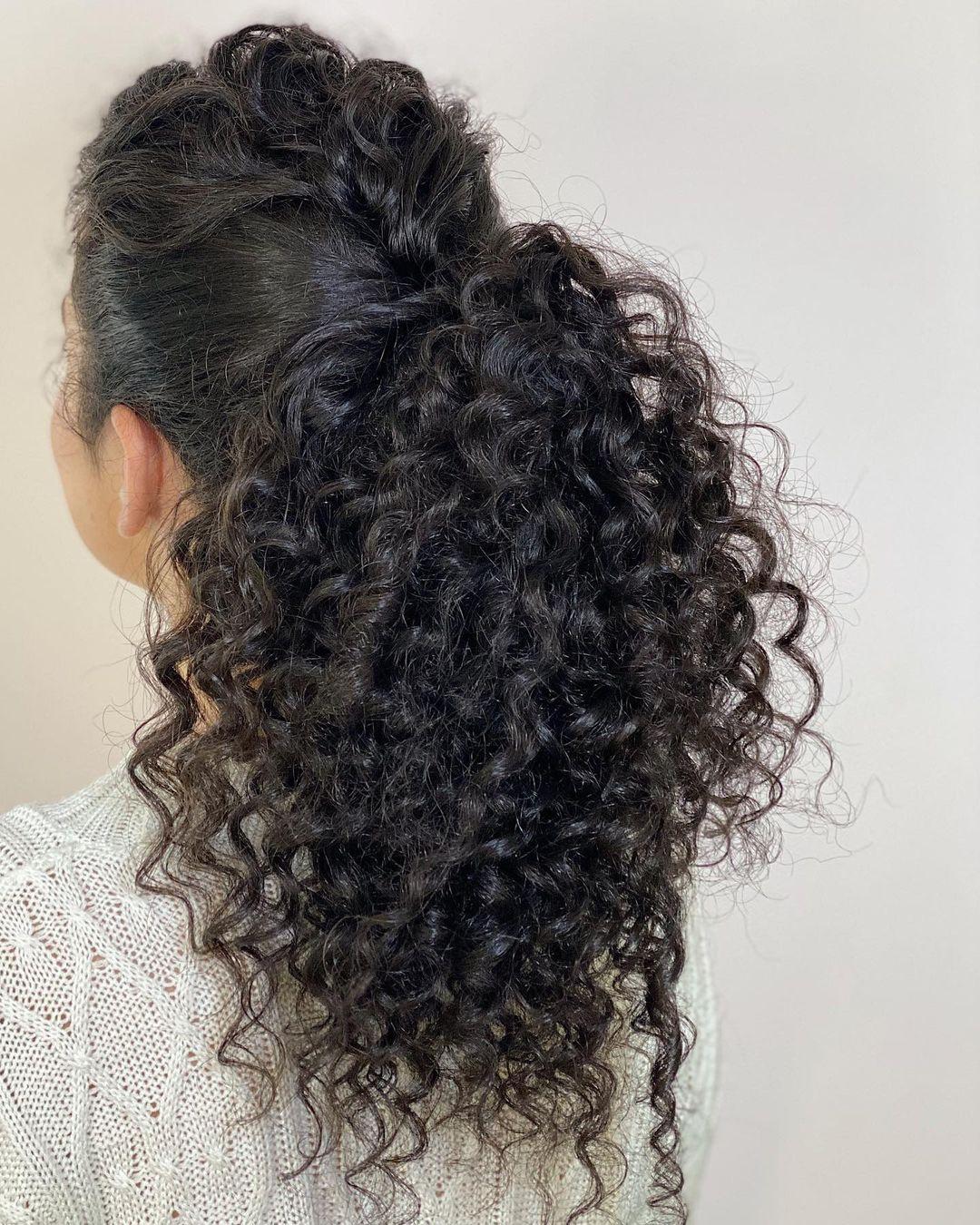 Show off your natural hair texture and add interest to the front with a twisted ponytail. Twisting and lifting top sections while pulling the rest of the hair taut to the back creates height and drama.
27. Braided Bun and Stand-Out Accessories
We love the braids piled high on the head in a bun in this show-stopping look. We're also obsessed with the pearl LOVE clips – imagine how cool they would look as your girls walk down the aisle? We found some similar ones here.
READ MORE: The Best Pearl Wedding Dresses
28. Supermodel Bun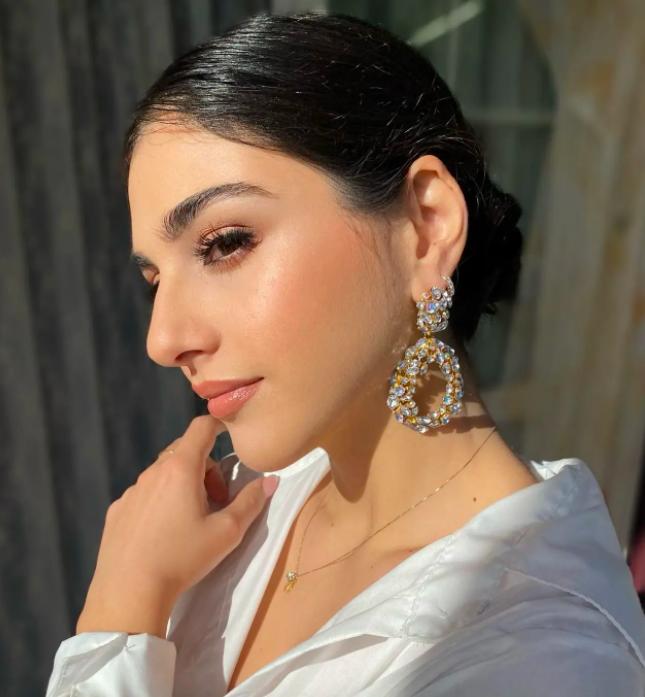 Kendall, Hailey, Bella and Gigi have all been seen sporting the sleek 'supermodel bun' and we think this off-duty model look totally translates into bridal and bridesmaid hair too. Pair the look with some statement earrings for an elegant and high fashion feel.
29. Curled and Carefree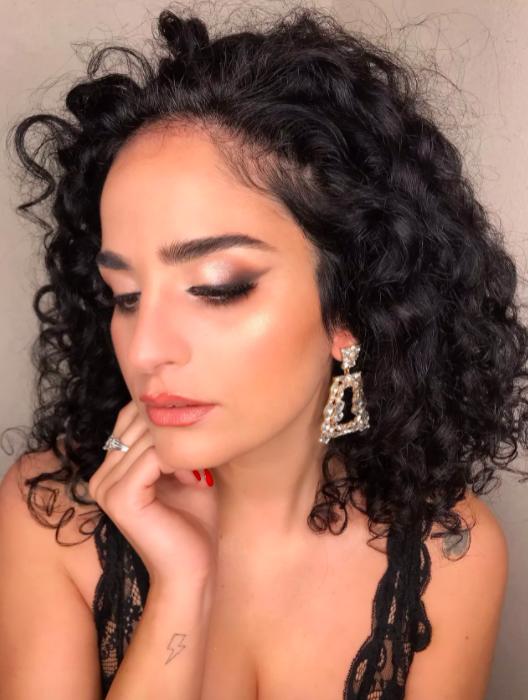 Sometimes it's best to just keep the hair loose and natural. Resist the temptation to smooth flyways too much and play with combing your fingers through the hair and flipping the parting for extra volume.
30. Polished Waves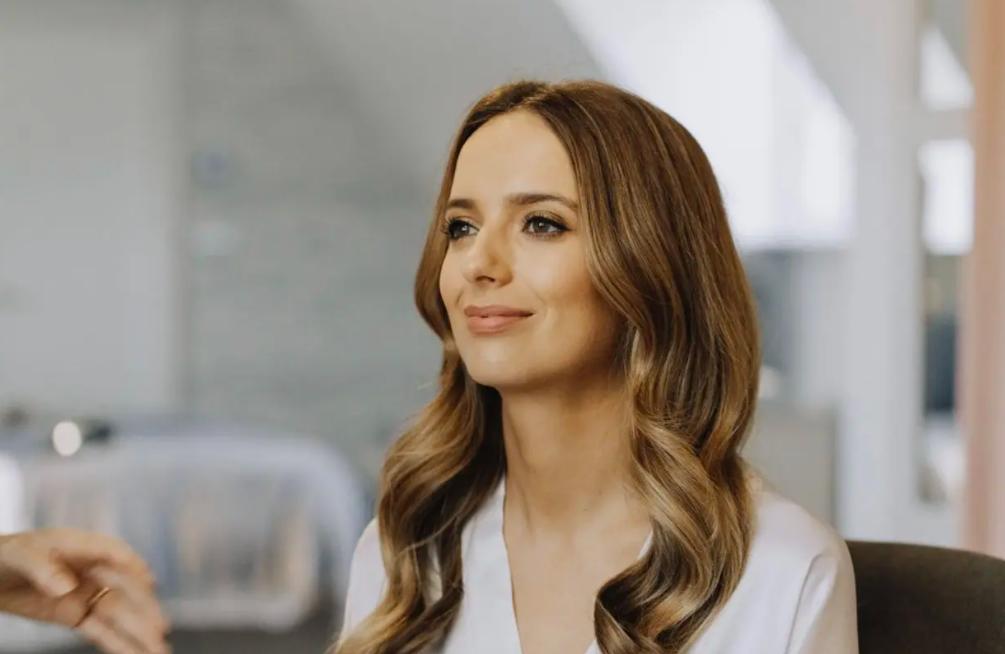 Turn the aisle into the red carpet with sleek and polished loose waves. Add some shine spray for an extra luxe look.
31. Wavy Bob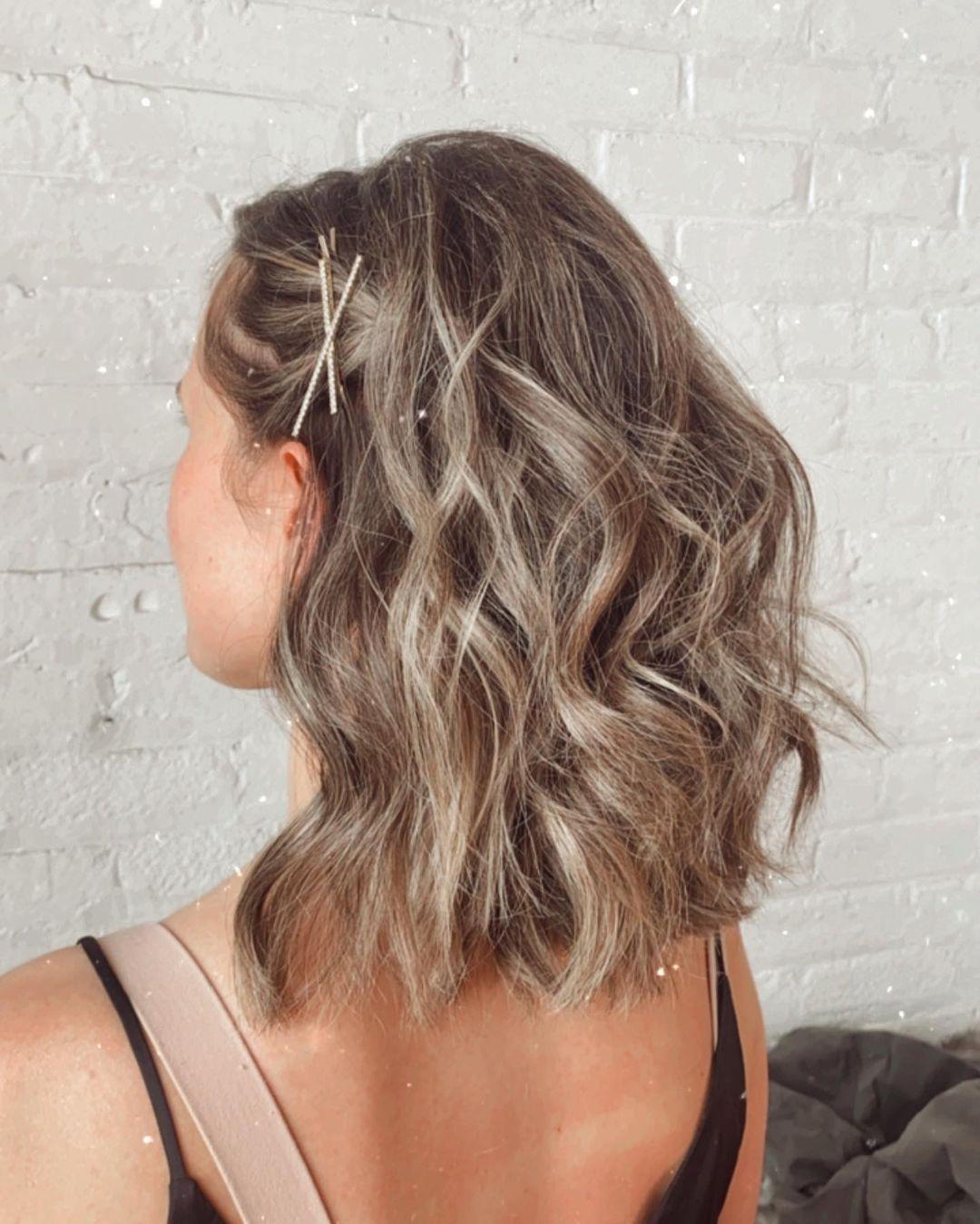 Add loose waves to a bob and mist on texture spray for an undone feel. Finish with some pearl or sparkling hair grips to sweep hair from the face and add interest.
32. Half-Up Ponytail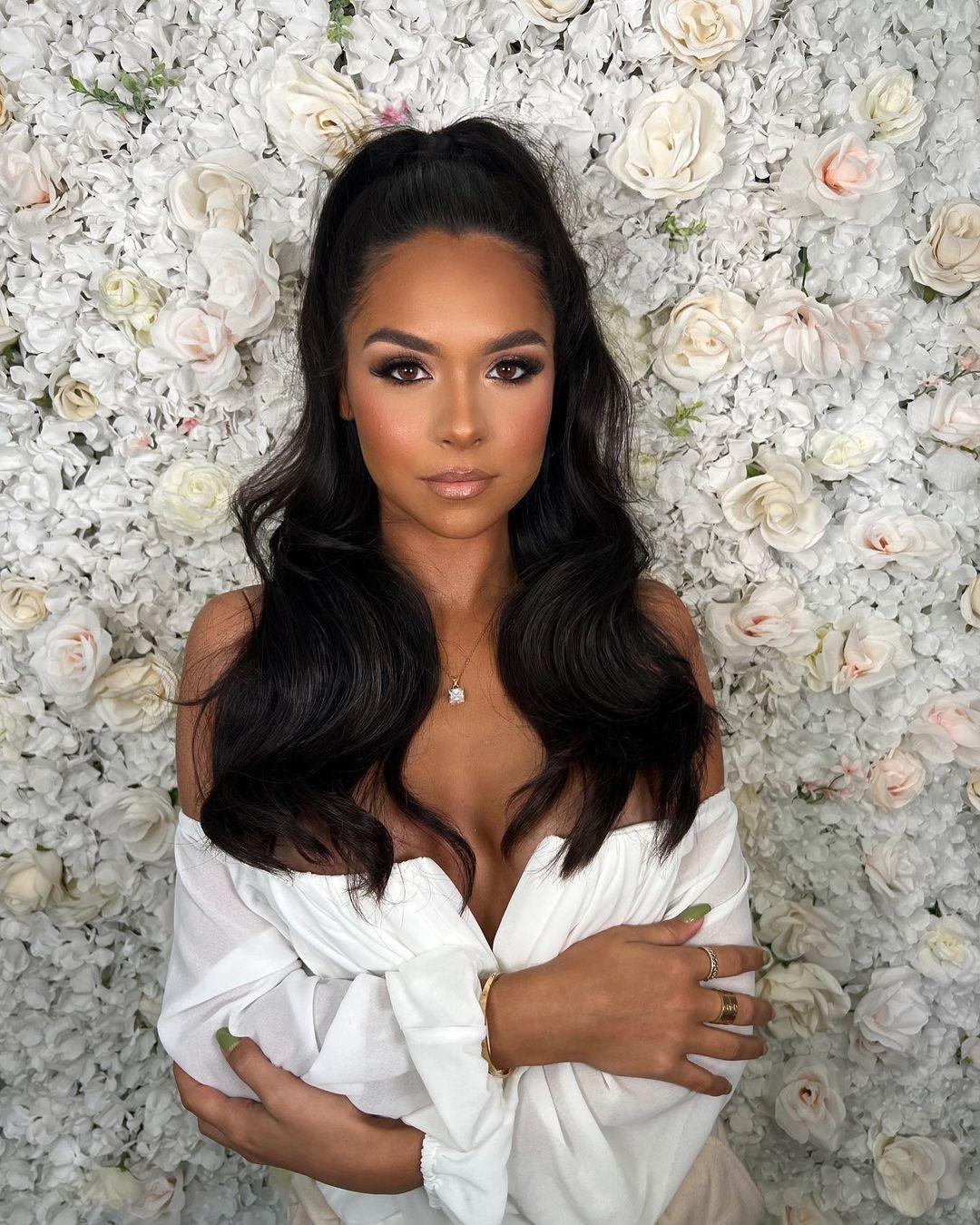 A modern and youthful look that will flatter most face shapes complete with loosely curled hair. Keep it as it is or pull some tendrils to the front to soften the look and add a sparkling hair band to up the glamour.
33. Voluminous Ponytail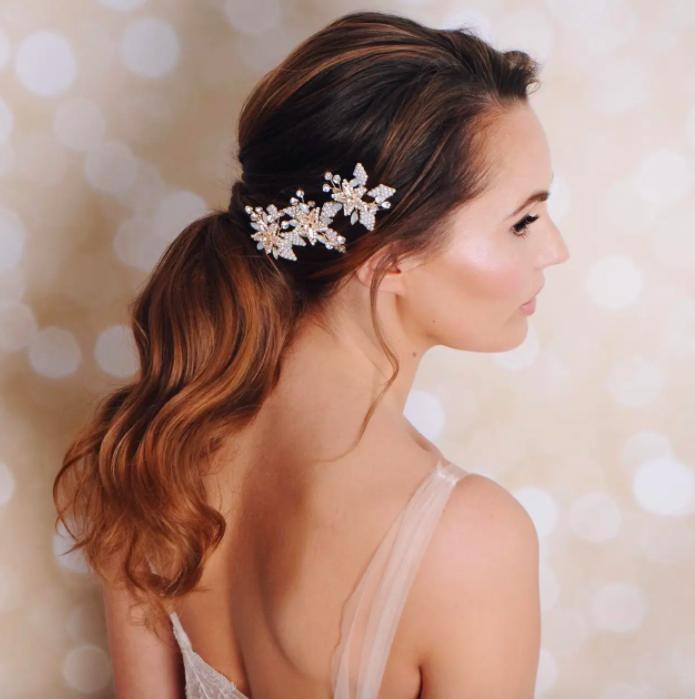 The humble ponytail can be glamorous, you know. Add some height to the crown with volumising powder and a little backcombing and curl the ends. Once the ends have set, brush through to create a soft wave and finish the look with a sparkling accessory.
34. Side Ponytail With Curtain Bangs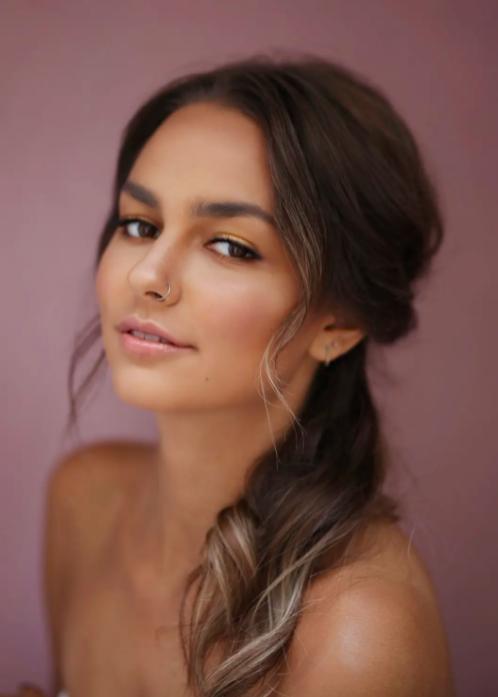 Have your girls wear their ponytails to one side and sweep the softly curled ends over one shoulder for a romantic vibe. Curtain bangs aren't essential – so there's no need to book a pre-wedding haircut! – but we think any bangs or shorter layers at the front can be kept hanging forwards and shaped to create loose spirals.
35. Boho Half-Up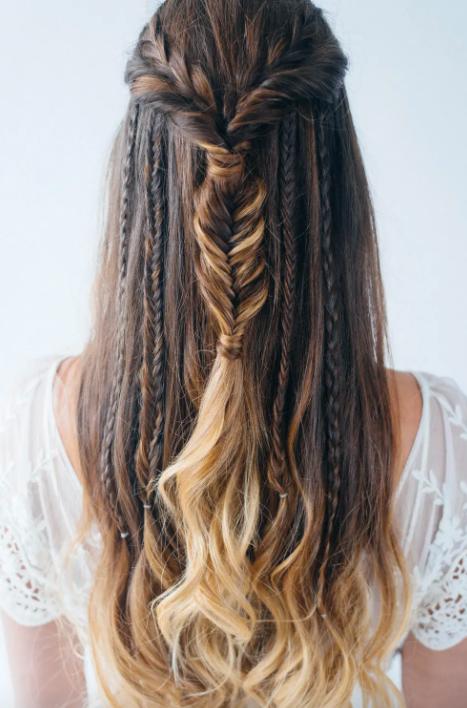 Calling all boho brides! Get your 'maids in on the look with this gorgeous plaited half-up style. We love the fishtail braid as the main feature with tiny plaits woven through the rest of the hair. This is a particularly good choice for bridesmaids with highlighted locks as it really brings out the multi-tonal colour.
36. The Braided Braid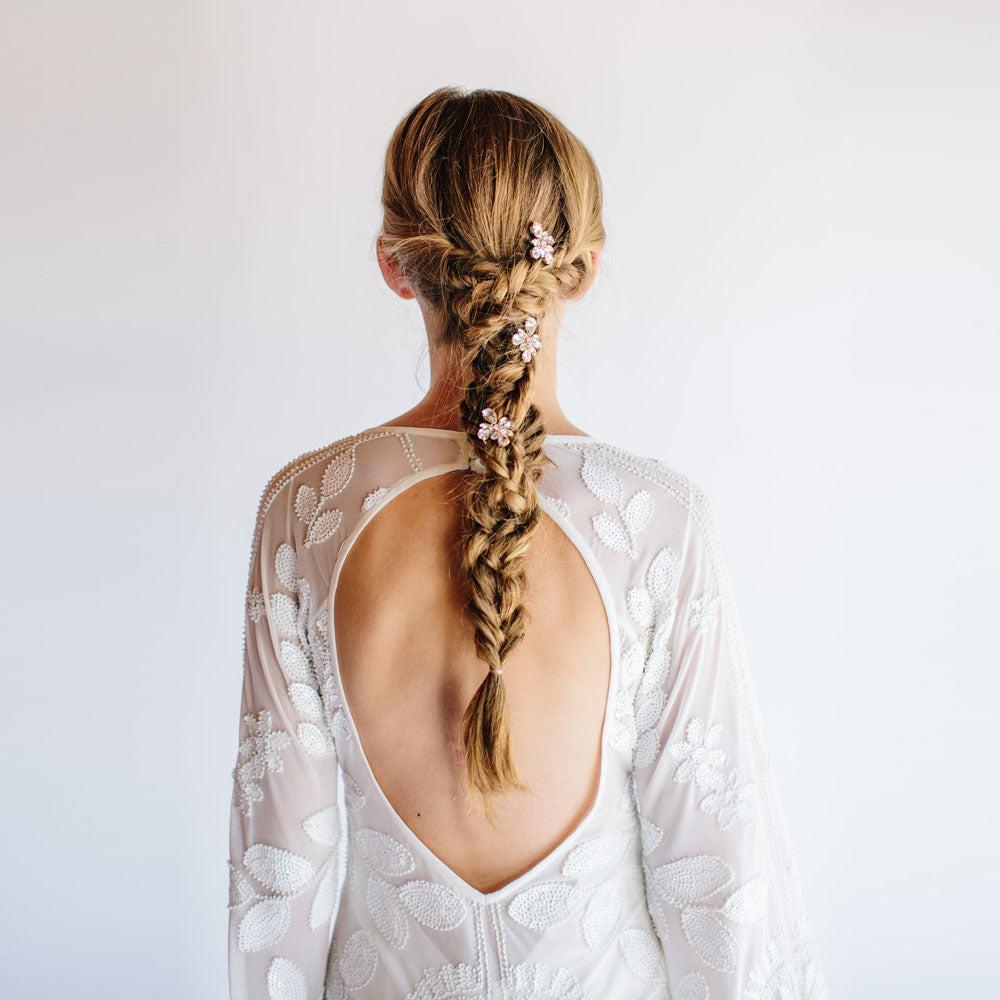 Simple to do yet seriously intricate and impactful, the braided braid is a great choice for those looking to DIY. Simply part hair into two sections and plait it before pulling both plaits back and twisting them around each other to create one beautifully boho braid. Add some crystals flowers or real blooms as the final flourish.
37. Sleek Blow Dry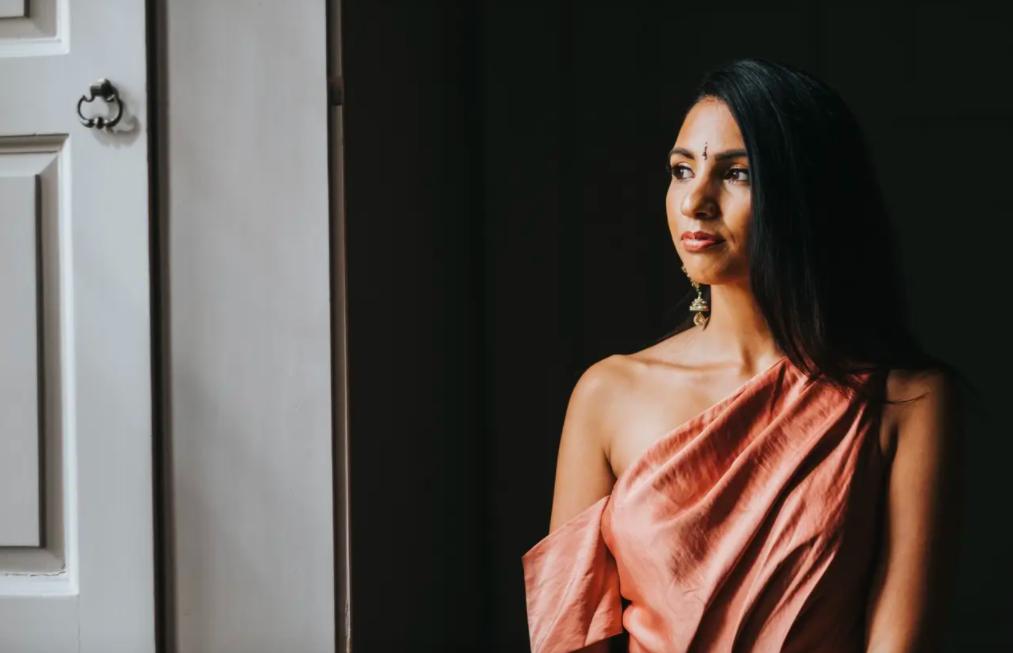 From Kim K to Zendaya, liquid hair – silky, glossy straight hair – has been seen on the heads of some of the most influential stars. Treat your girls to a moisture-infusing hair treatment followed by a sleek blow dry to achieve this glossy, polished w-day look.
Your Bridesmaid Hairstyle Questions Answered
Wedding hair expert, Emma, of Hair by Emma C, answered the top bridesmaid hairstyle FAQs.
Do Bridesmaids All Need to Have the Same Hairstyle?
"No bridesmaids don't all need the same hairstyle, everyone's hair type and colour is different, so even if you pick a hairstyle and ask the hairstylist to create it it would look different on each person.
"It's important your bridesmaids feel comfortable or it may show on your photos. If some bridesmaids want their hair down and some want it up then you can always try to make an even number. Really talk through with your bridesmaids once you have purchased the dresses on how they want their hair and come up with several inspiration ideas that they may feel comfortable with for all different hair types and try to keep an open mind."
How Do I Choose Bridesmaid Hairstyles?
"You can look at hairstyles on Pinterest, Google or Instagram. Have a look at the hairstylist's Instagram/website and pick a few ideas from them. You also need to think if you would like anything to go in your bridesmaids' hair too with regards to accessories or flowers."
What Are the Most Popular Bridesmaid Hairstyles You're Seeing Right Now?
"The more relaxed style is on trend at the moment: loose waves, half-up half-down or low up-dos. Nothing too structured."
Looking to grow your hair longer before your big day? Don't skip these 11 tips for growing hair faster for your wedding day.