46 Bridesmaid Hairstyle Ideas Your Girls Will Love
If you're on the lookout for cool, modern bridesmaid hairdos, we've got ideas for every hair type and wedding style. Send this to your best mates before the big day to narrow down the search…
We have included third party products to help you navigate and enjoy life's biggest moments. Purchases made through links on this page may earn us a commission.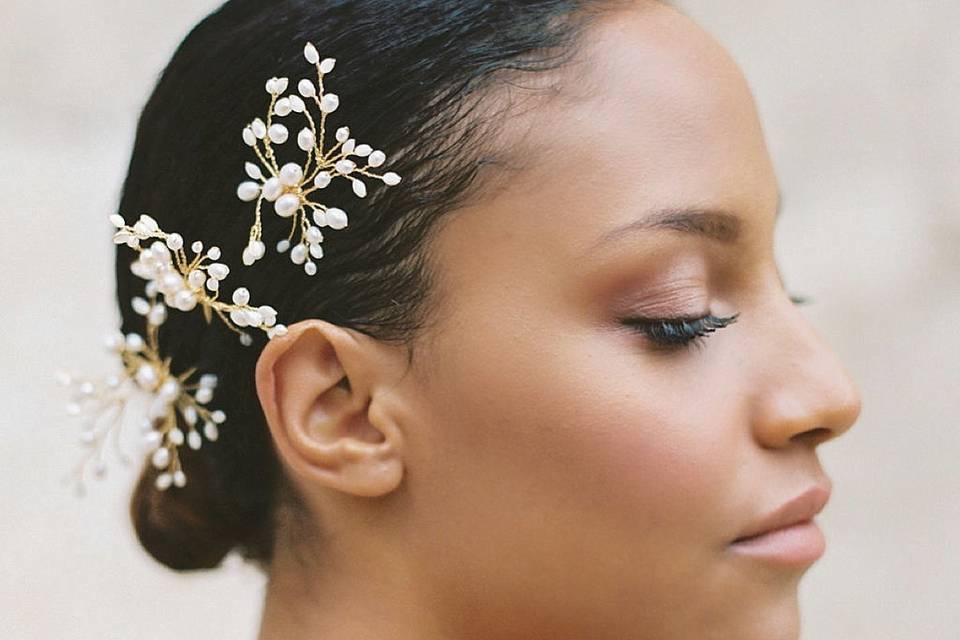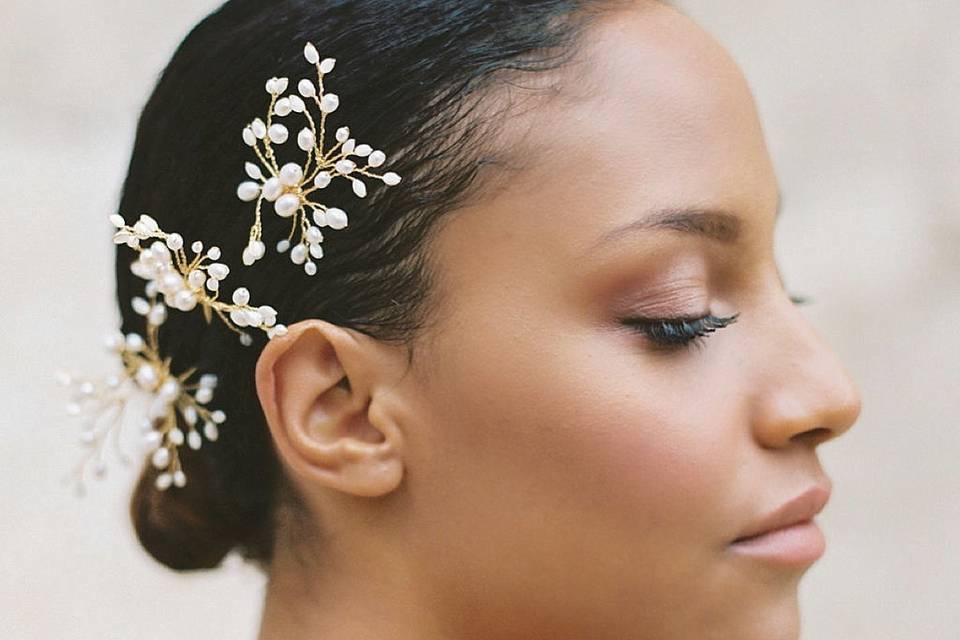 There's probably no other occasion that you'd have the single decisive verdict on how your best pal wears their hair, but chances are that your bridesmaids would love a steer when it comes to hairstyle ideas for your wedding day.
Clearly the hairstyle that you both opt for depends on hair type, length and personal taste, but your bridesmaids may also want to take into account the style, season and vibe of your wedding. As such we've got bridesmaid hairstyle inspiration aplenty, whether you're planning a beach wedding, a city do or flower-adorned spring nuptials.
Given that you all have a lot on your plate with wedding and hen party planning, this bridesmaid hairstyle hitlist should make deciding on a style easy and stress-free, while intel from bridal hair specialist Victoria Ralph will make hairdos simple to recreate, even if your bridesmaids are going down the DIY route. Ready to choose the perfect bridesmaid hair looks with your best mates? Scroll on…
READ MORE:
The Best Bridesmaid Hairstyle Ideas to Suit Every Woman (and Wedding)
1. Beachy Bun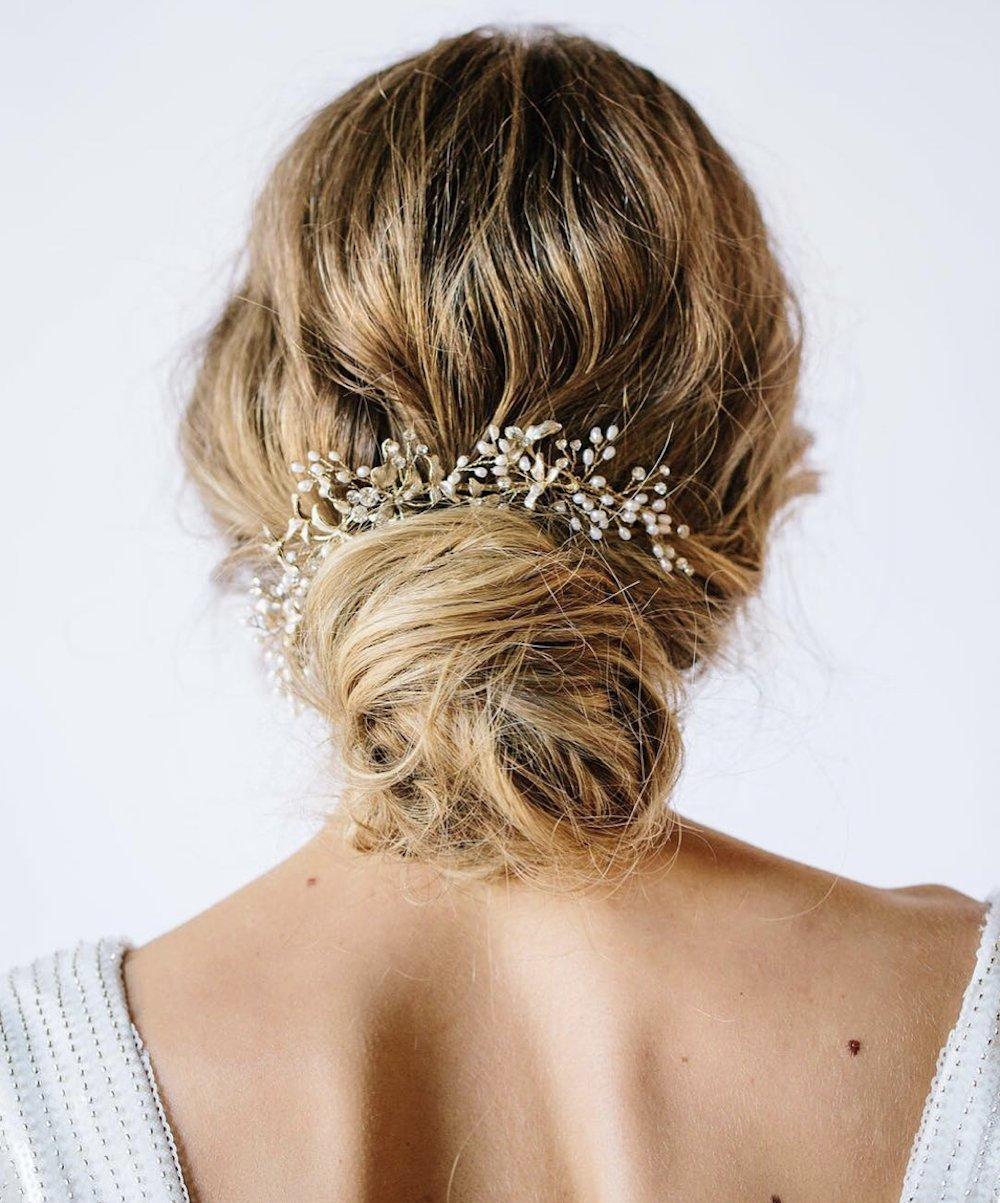 A loose, messy bun showcases back detail beautifully – dress it up with a hair vine or big earrings or keep it simple and swept back
2. Baby's Breath Halo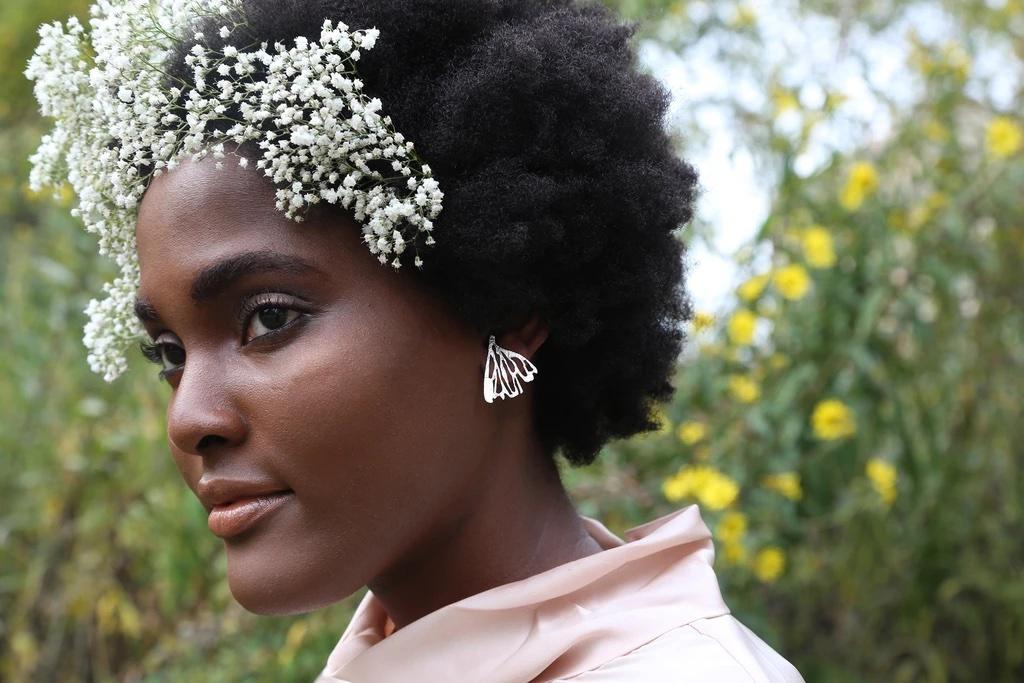 A face-framing garland of gypsophila (commonly known as baby's breath) will suit every bridesmaid and can be woven throughout your wedding styling, from your bridal bouquet to your centrepiece.
3. Casual Low Bun for Short Hair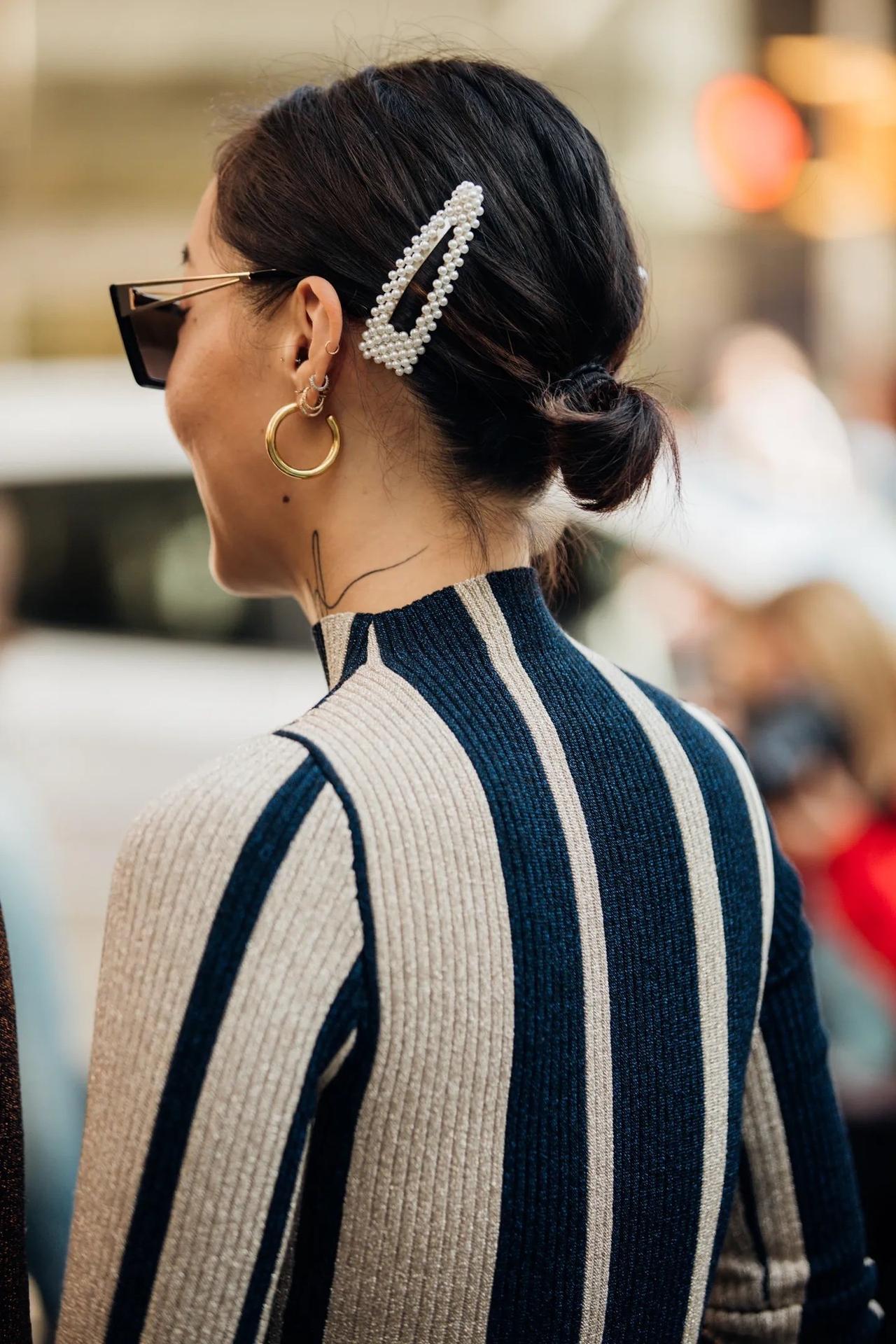 A DIY low bun idea that's elevated by a statement pearl clip. You could also consider dressing up this everyday hairstyle idea with a luxe headband, bejewelled barette of a scattering of flowers depending on the style of your wedding.
4. Clips and Curls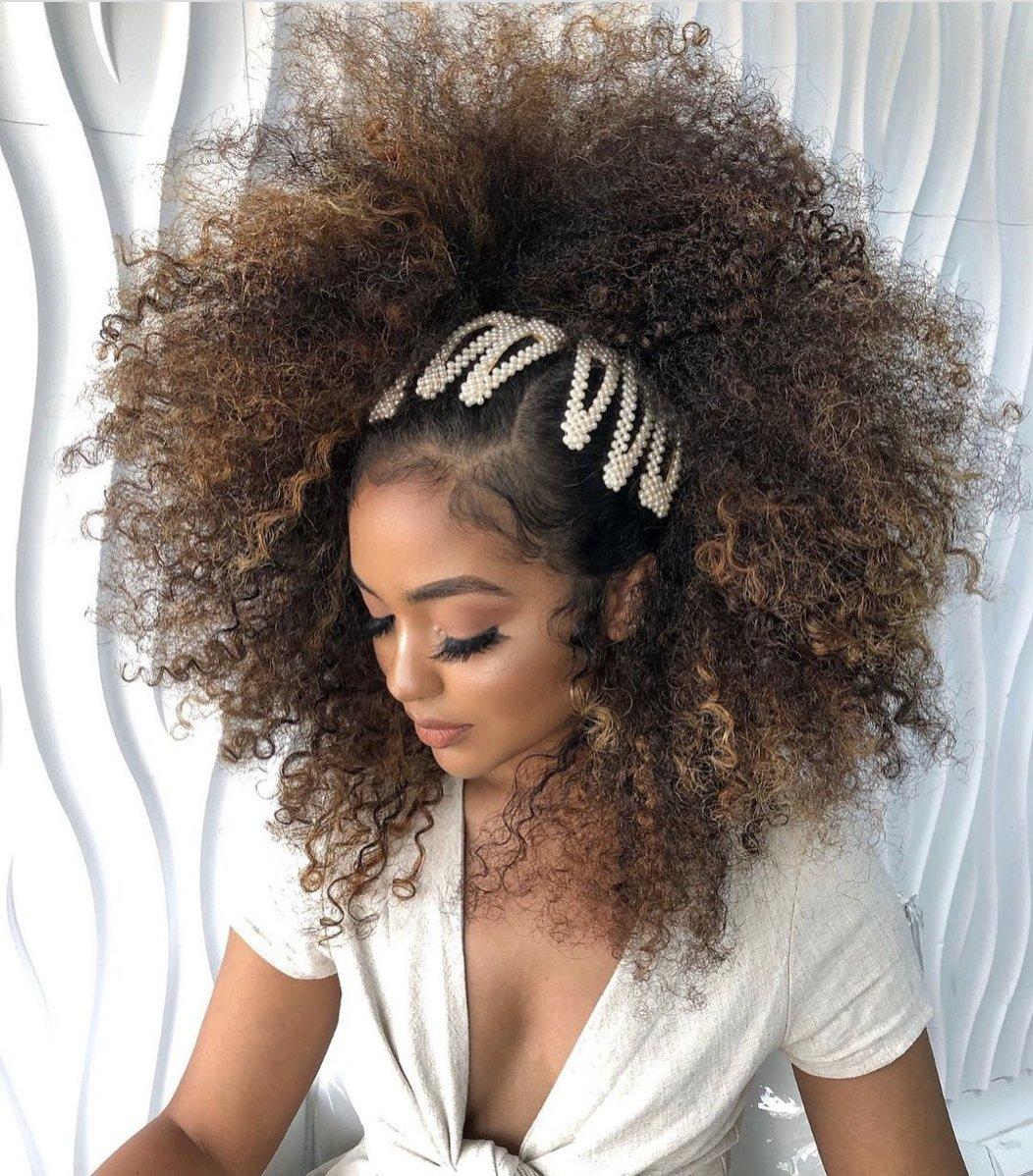 Why limit yourself to one pearl clip when you could adorn your hairline with half a dozen? This maximalist bridesmaid hairdo idea bigs up curls while clips keep the hairline low volume for contrast.
5. Updo and a Hairpiece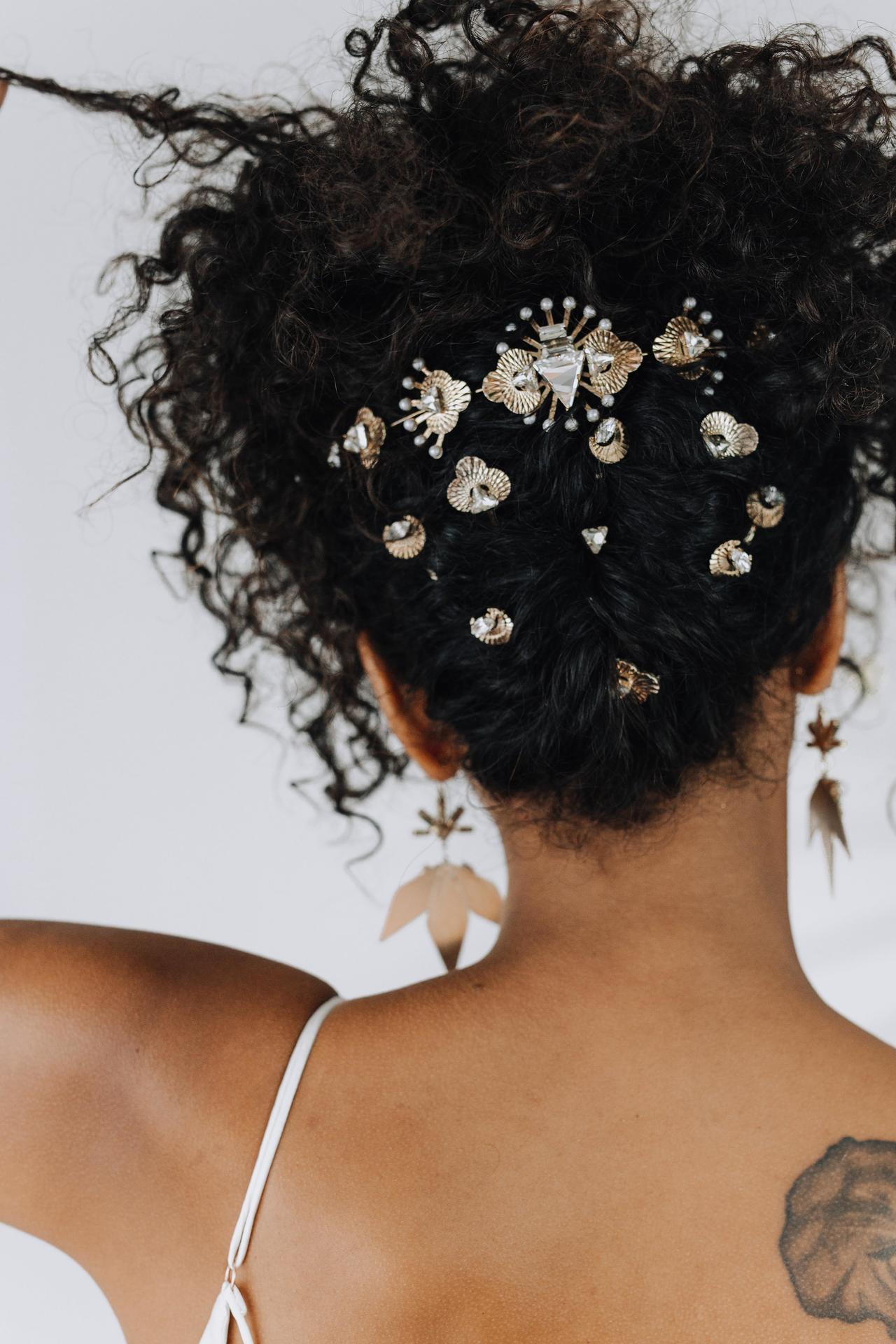 Prefer accessory drama at the back? A striking hairpiece worn below a tumbling updo makes for an unexpected yet achingly cool bridesmaid hairdo idea.
6. Baby's Breath Braid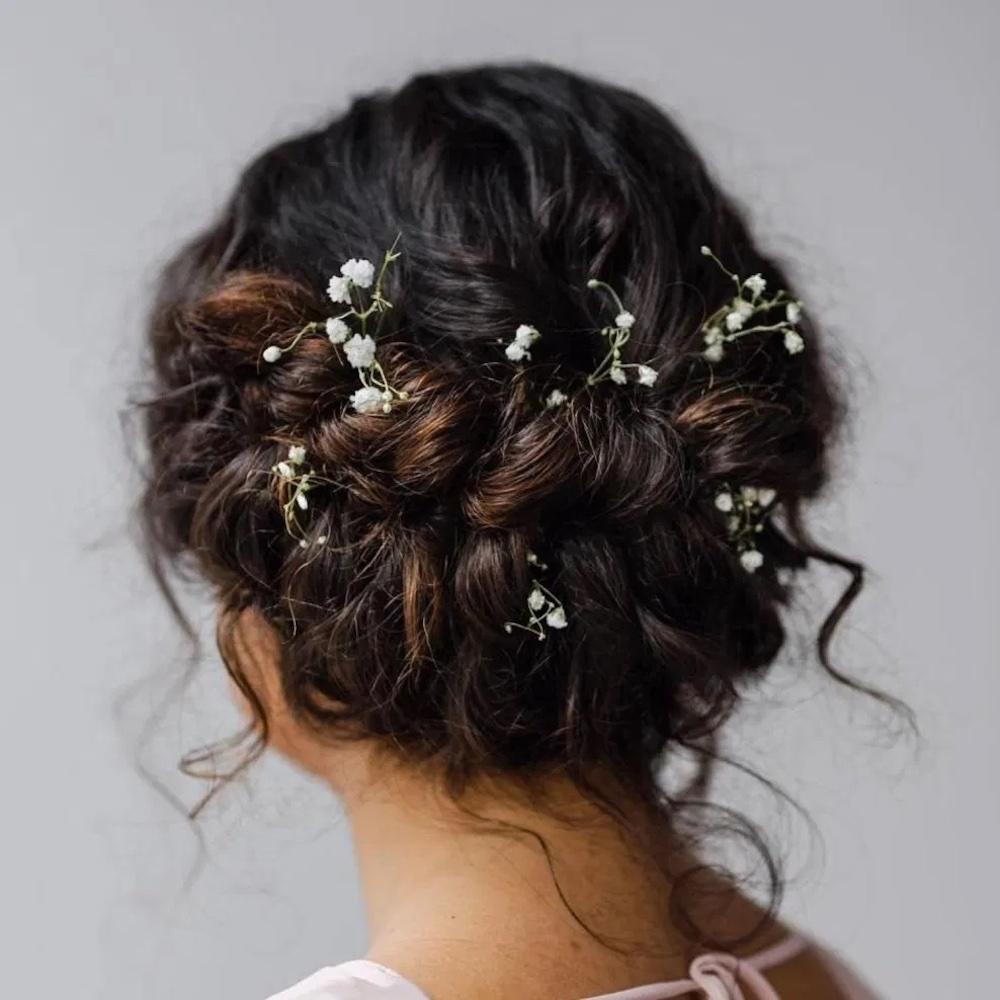 Speaking of baby's breath, this braided updo style uses just a few sprigs of the delicate flower to a dreamy effect. Pulling a few curls loose makes the style feel even more wild and free.
7. Messy Halo Braid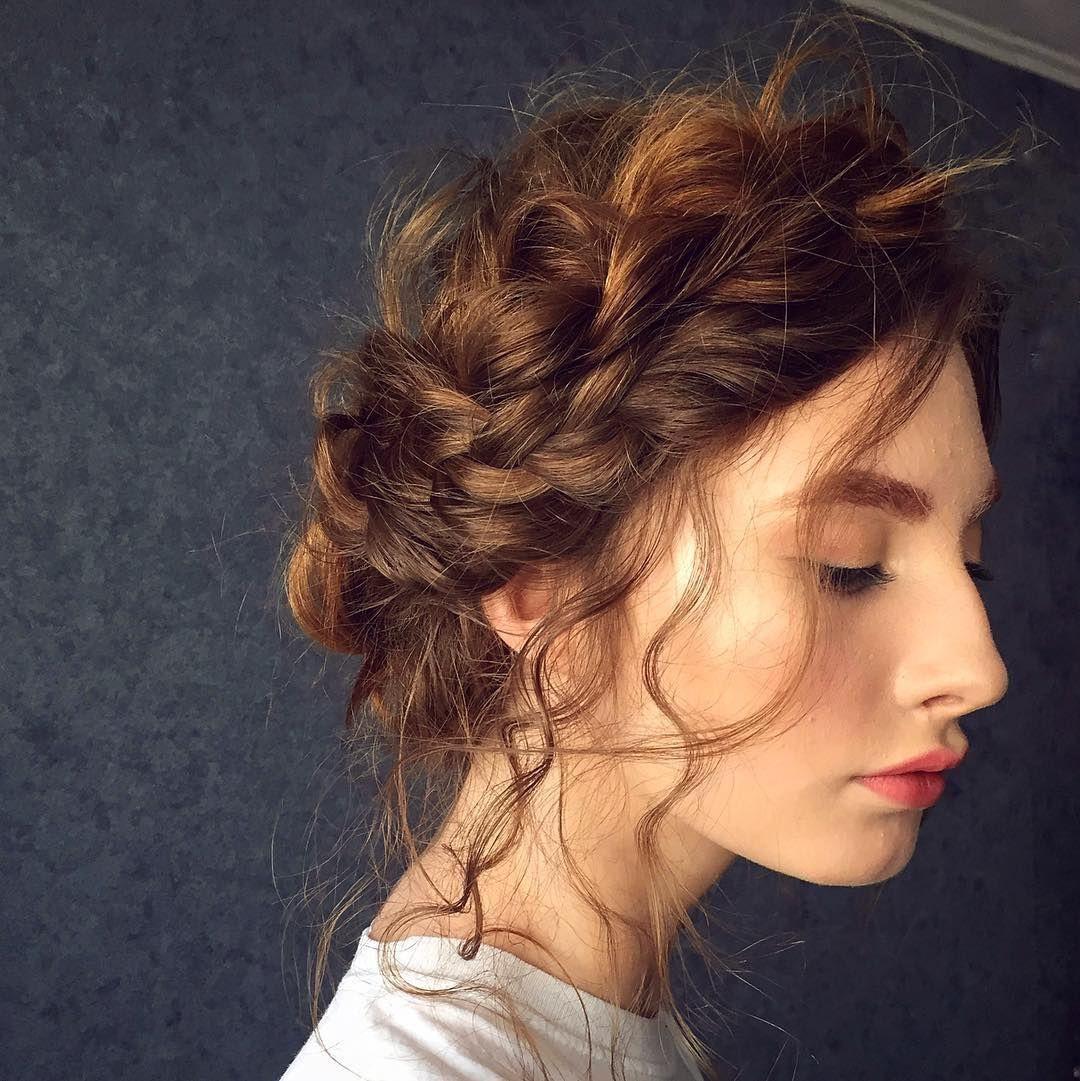 A romantic, undone halo braid with loose tendrils is a gorgeous look for brides and bridesmaids alike. Your maids could consider adding hair extensions if they need a little more length to play with.
READ MORE: 31 Beautiful Braided Updo Ideas
8. Low Bun for Short Hair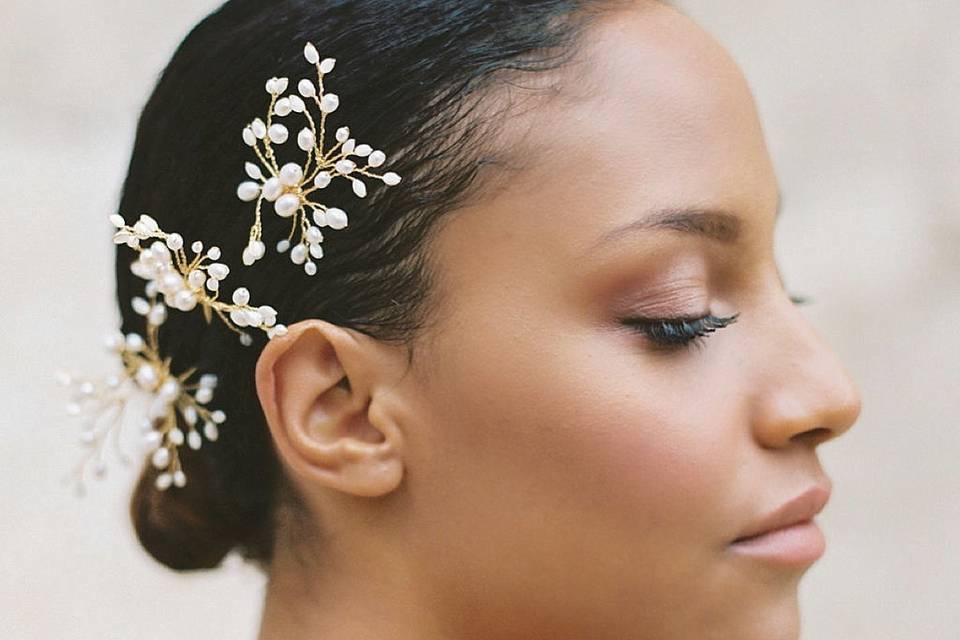 A mini-bun worn at the nape of the neck looks all the more elegant when teamed with an ethereal hair accessory.
9. 'Headband' Braid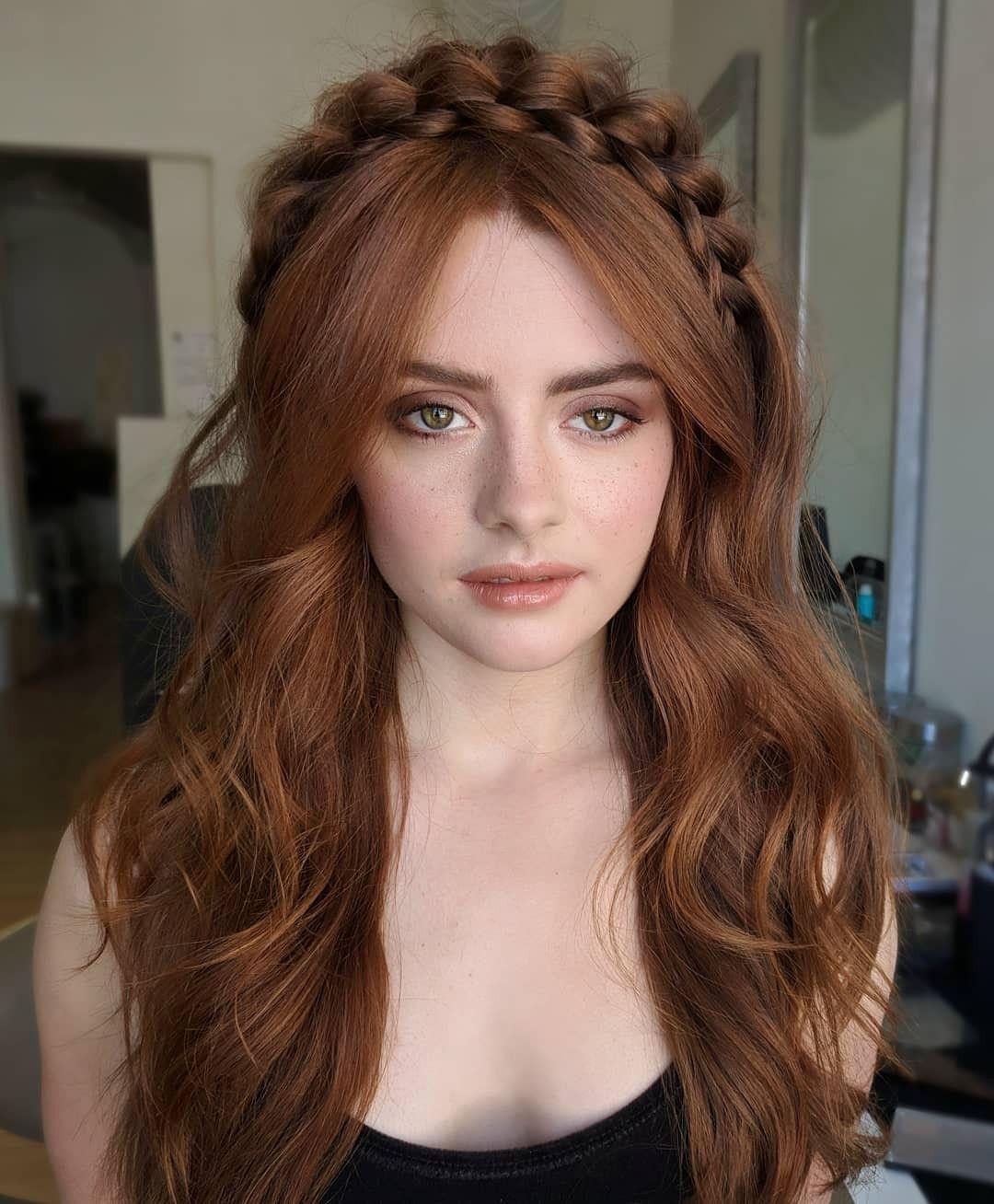 Crown waved lengths with a 'headband' braid for a whimsical bridesmaid hairstyle idea that'd suit a summer wedding down to the ground. If your bridesmaids have short hair consider colour matching a faux-headband braid before the big day for an easy breezy DIY hairdo option.
10. Double Dutch Braid and a Bun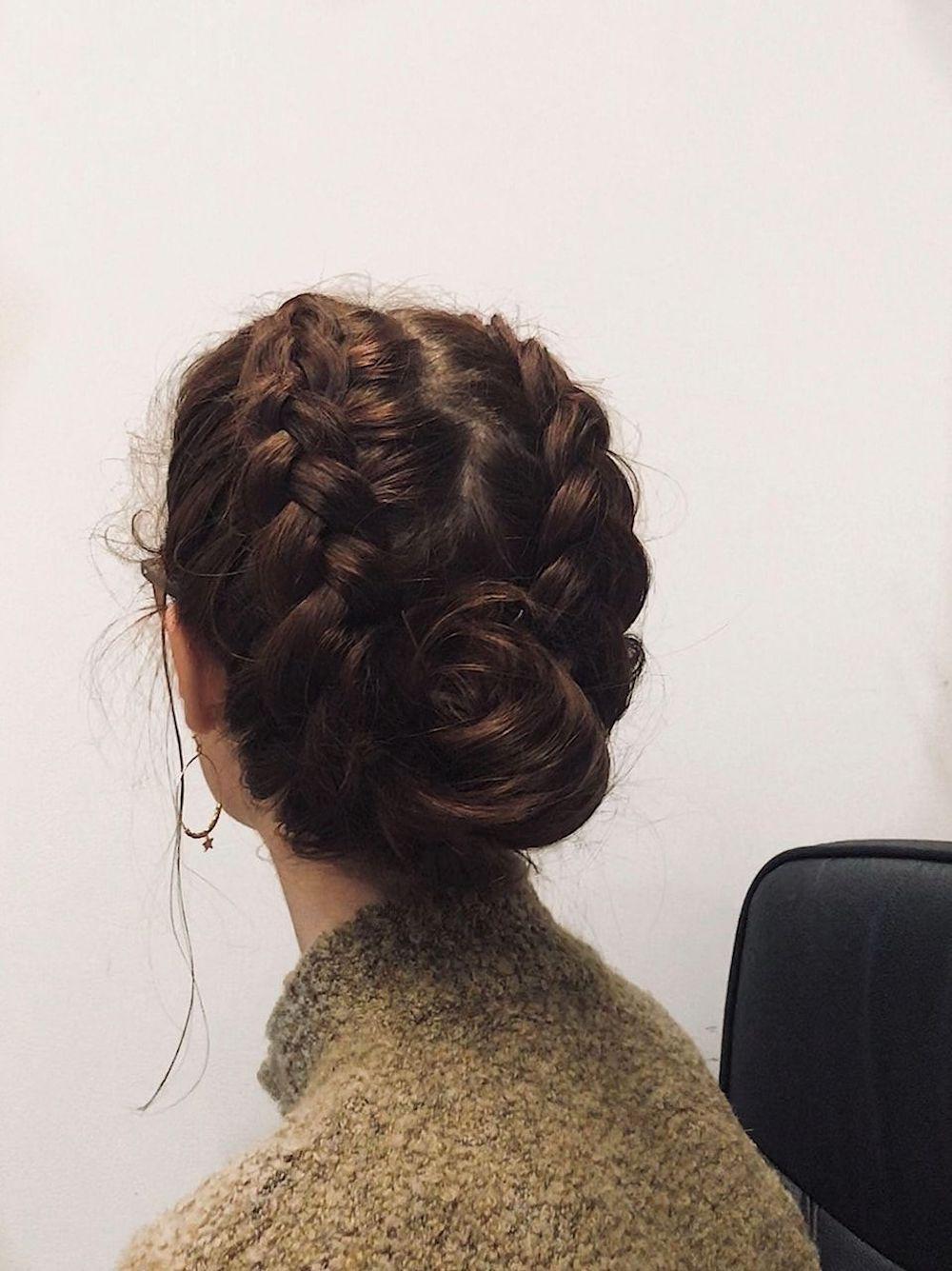 A Dutch braid brings more volume to a bridesmaid updo than a French braid – tuck lengths into a loose, swirled bun for an extra chic finish.
11. Quadruple Dutch Braids
Double not enough? Bridesmaids with thick, long hair will love this quadruple dutch braid style. Leave a few curled tendrils around the face and secure with a band, clasp or luxe silk scrunchie that matches your bridesmaids dresses or wedding colour palette. If you thought that scrunchies weren't special occasion appropriate, think again. Speaking of which…
12. Half-Up Half-Down with a Silk Scrunchie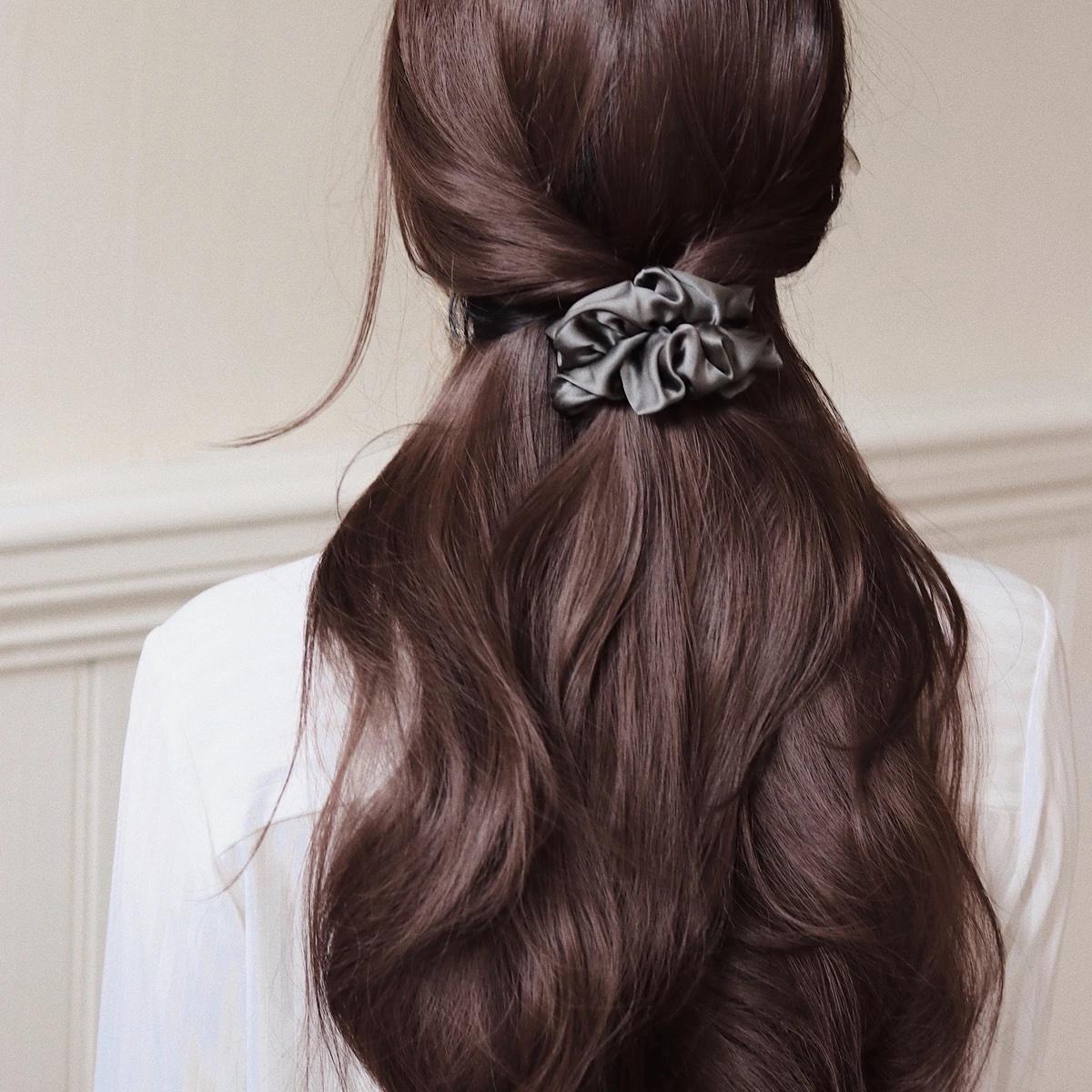 Securing an elegant half-up half-down twist with a silk, velvet, satin or lace scrunchie is a low key bridesmaids hairstyle that'd look especially cool at a city wedding, plus it suits every hair length.
13. Low Loop with a Silk Scrunchie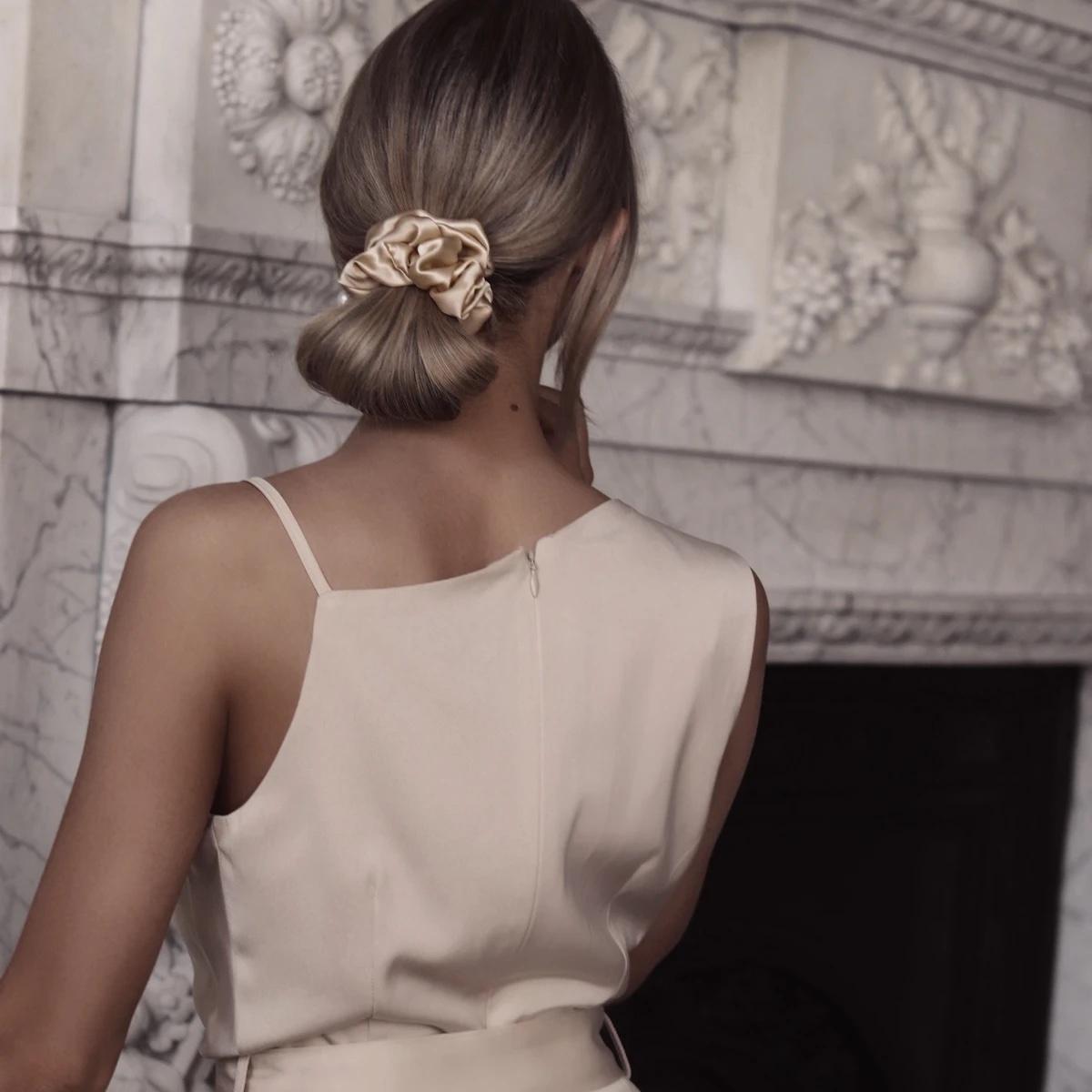 A low looped bun tied with an opulent scrunchie (an oxymoron if there ever was one) is also an understated bridal hairstyle mood. You could even dye silk hair ties to match your bridesmaids dresses for an inexpensive but seriously effective finished ensemble.
14. Oversized Bow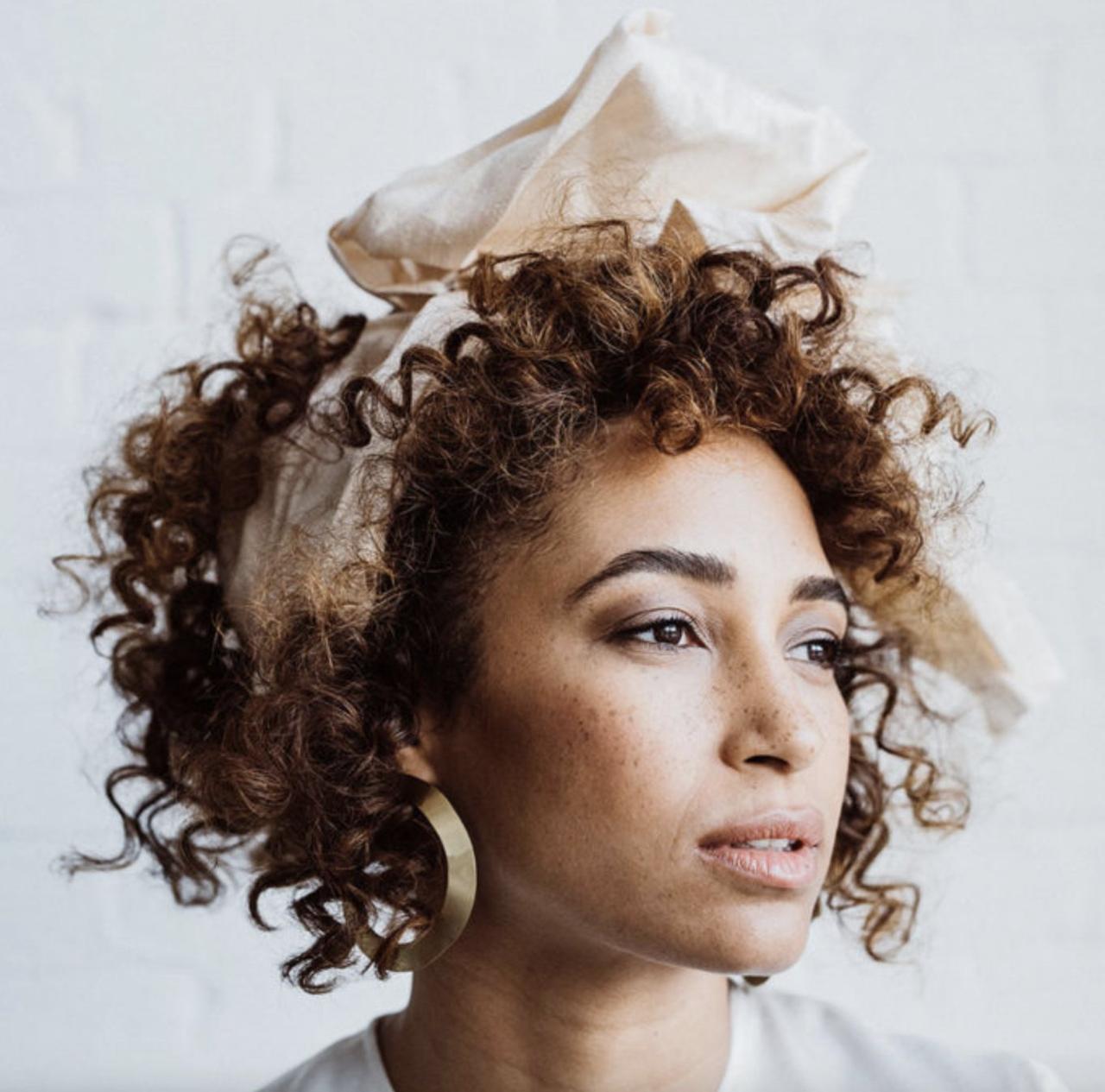 From scrunchies to bows, a giant ribbon is a brilliantly flamboyant hair idea for bridesmaids, plus it's simple to pull off on the wedding morning. Opt for organza or grosgrain for hold and combine with simple, minimalist styling.
15. Half-Up Half-Down Bow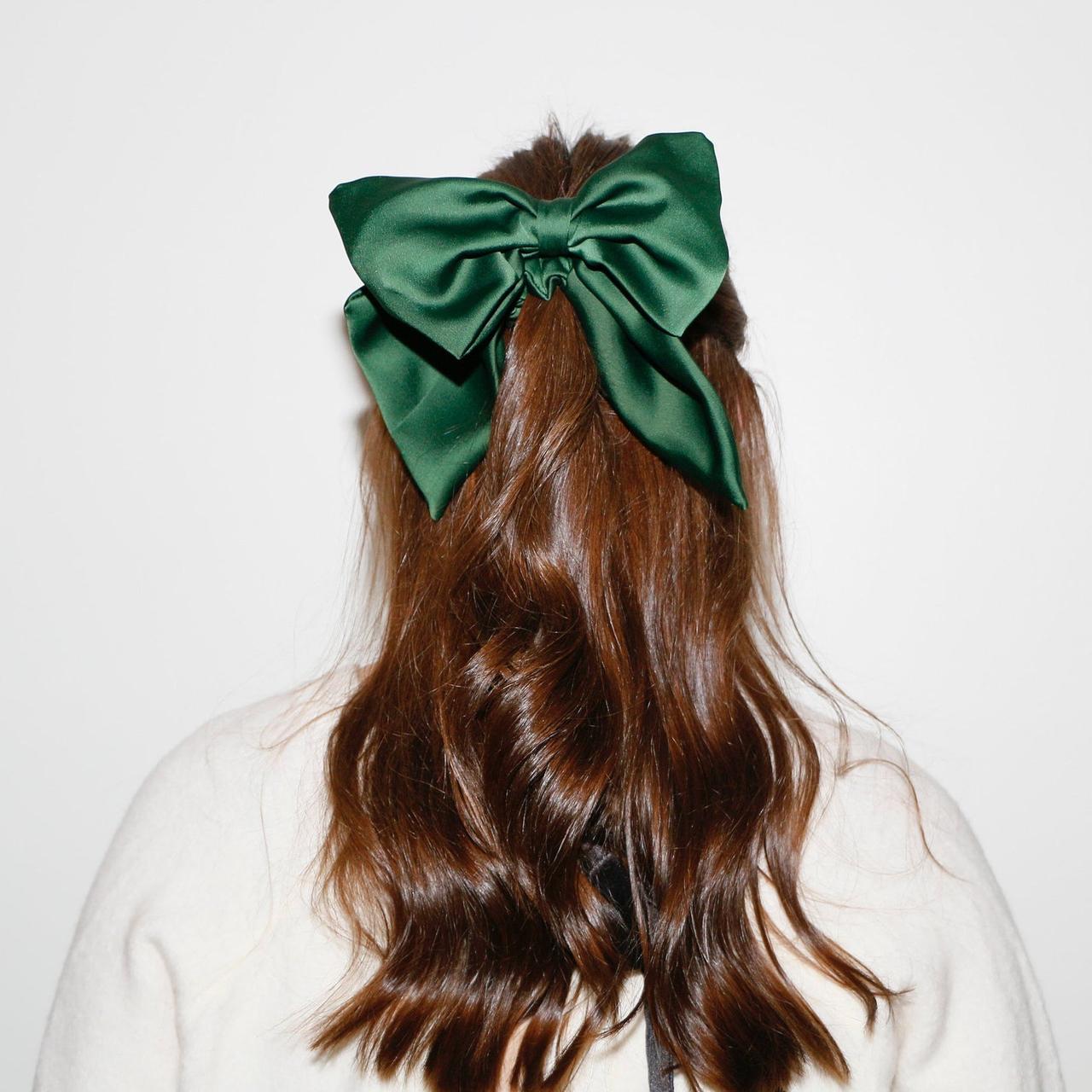 A jewel-toned bow is a bold addition to a classic half-up half-down hairstyle. Go matchy-matchy or have each bridesmaid choose her own shade for a more eclectic edge.
16. Dried Flower Crown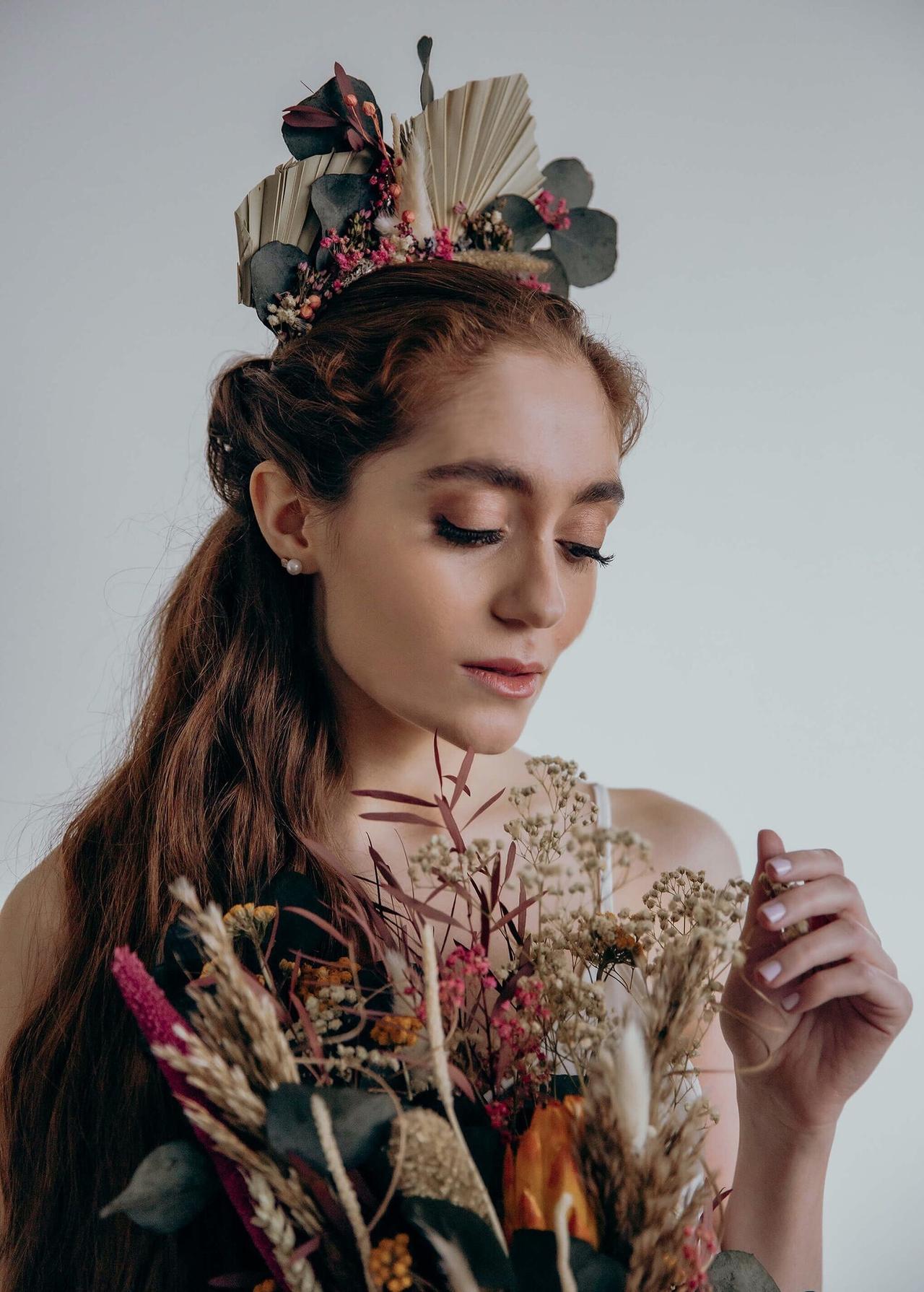 Dried flowers are having a real moment and work especially well to create a durable, long-lasting flower crown ahead of time. Book a day of bridesmaid flower crown crafting ahead of your wedding day so that your pals can design and tailor their own or work with your florist to come up with your ideal crowning glory.
READ MORE: Why Dried Wedding Flowers Make The Coolest Wedding Décor
17. Giant Sequin Headband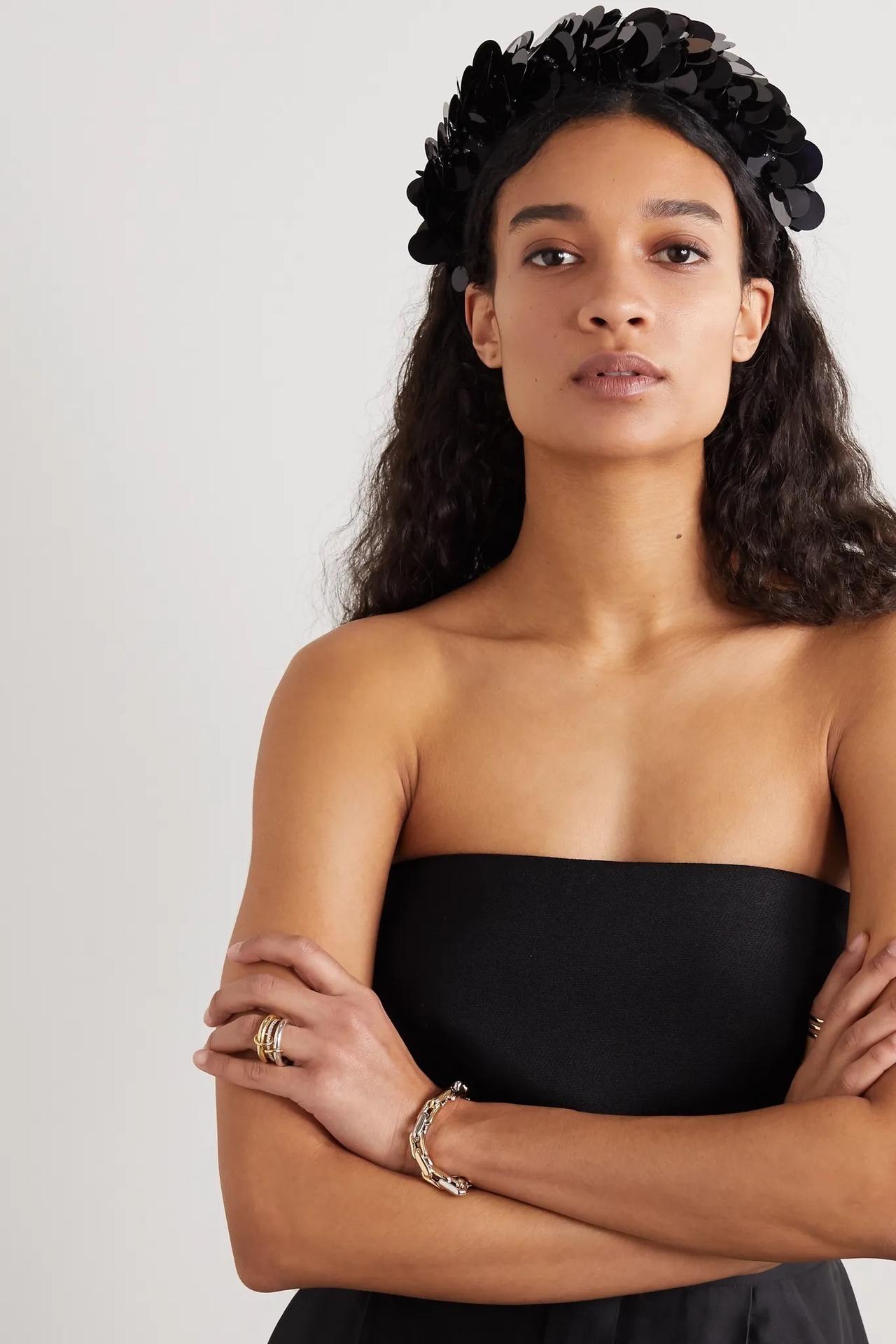 Bringing the party to your wedding party, a statement headband suits everyone and can be whipped out again and again.
18. Bauble Low Ponytail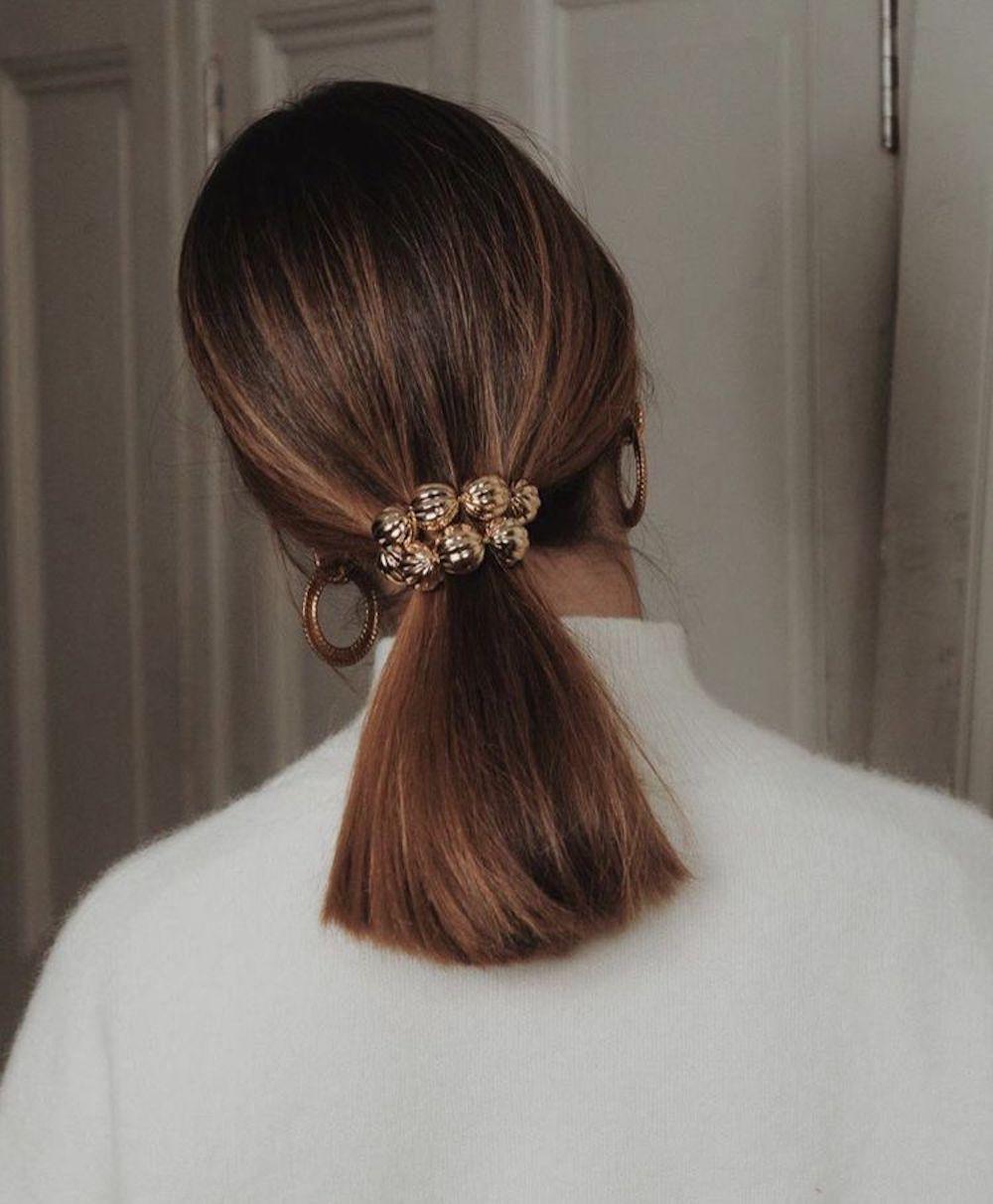 If you're planning a festive wedding, these golden baubles will add a sense of fun. Keep styling super simple to max out their impact.
19. Gilded Topknot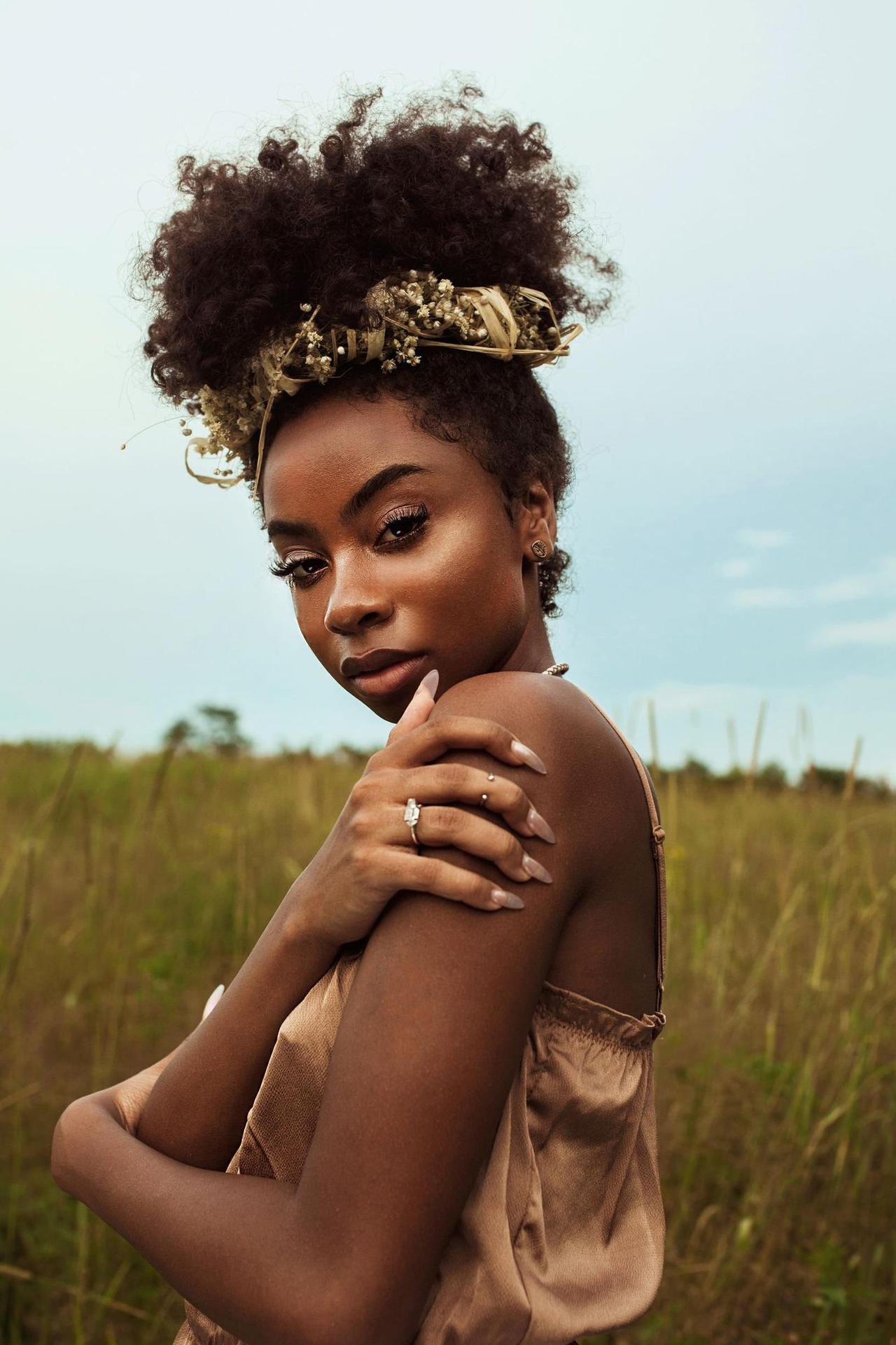 Equally festive, embellishing an undone topknot with a gold wreath is just the thing for winter weddings. It'll look even more alluring by candlelight too.
20. Loose Plait with a Hair Vine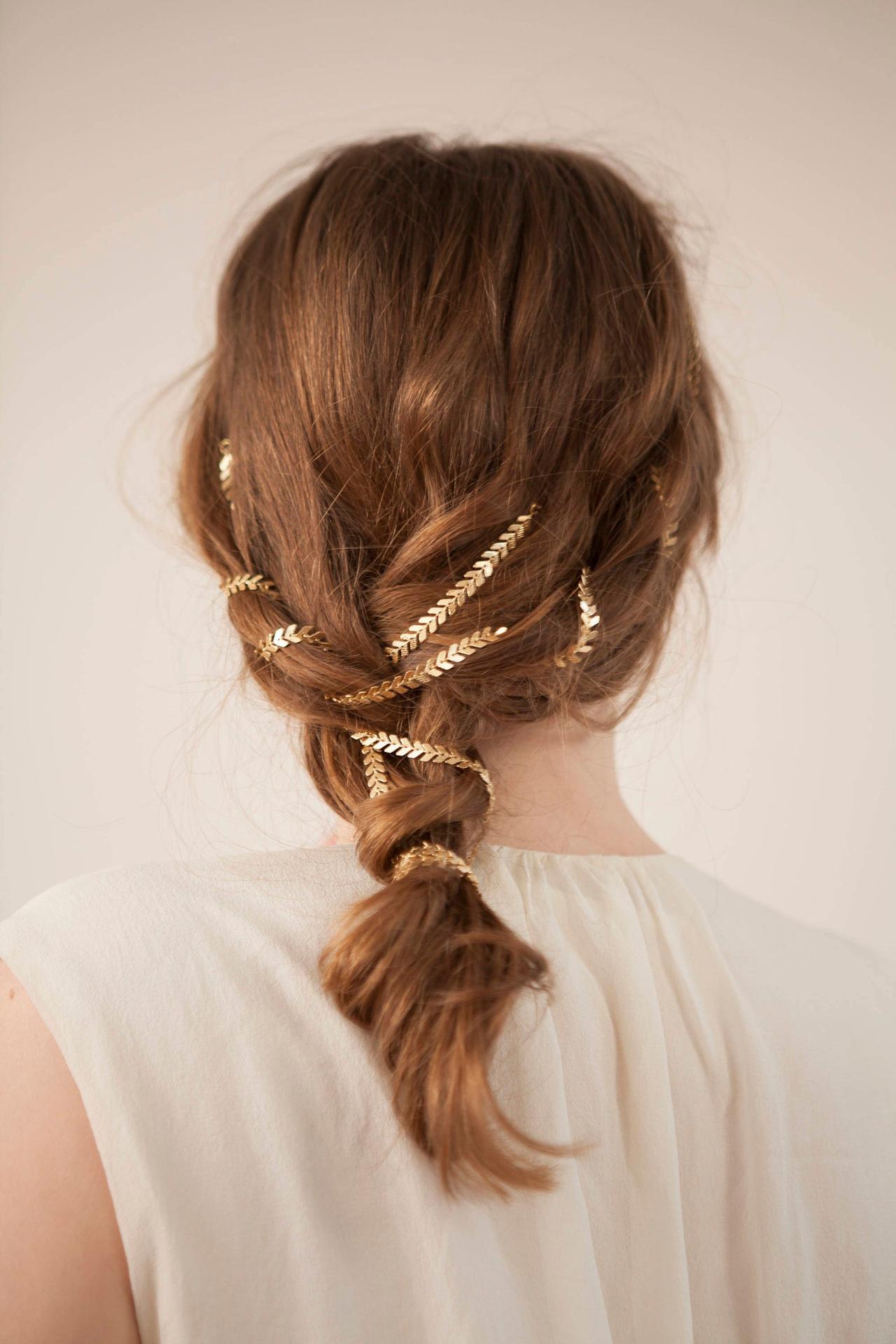 From a gold wreath to gold leaf. A golden hair vine threaded through a pulled-out plait will lend a Grecian vibe to your wedding day. Consider weaving it through different hairstyles to suit each bridesmaid.
21. Braided Bun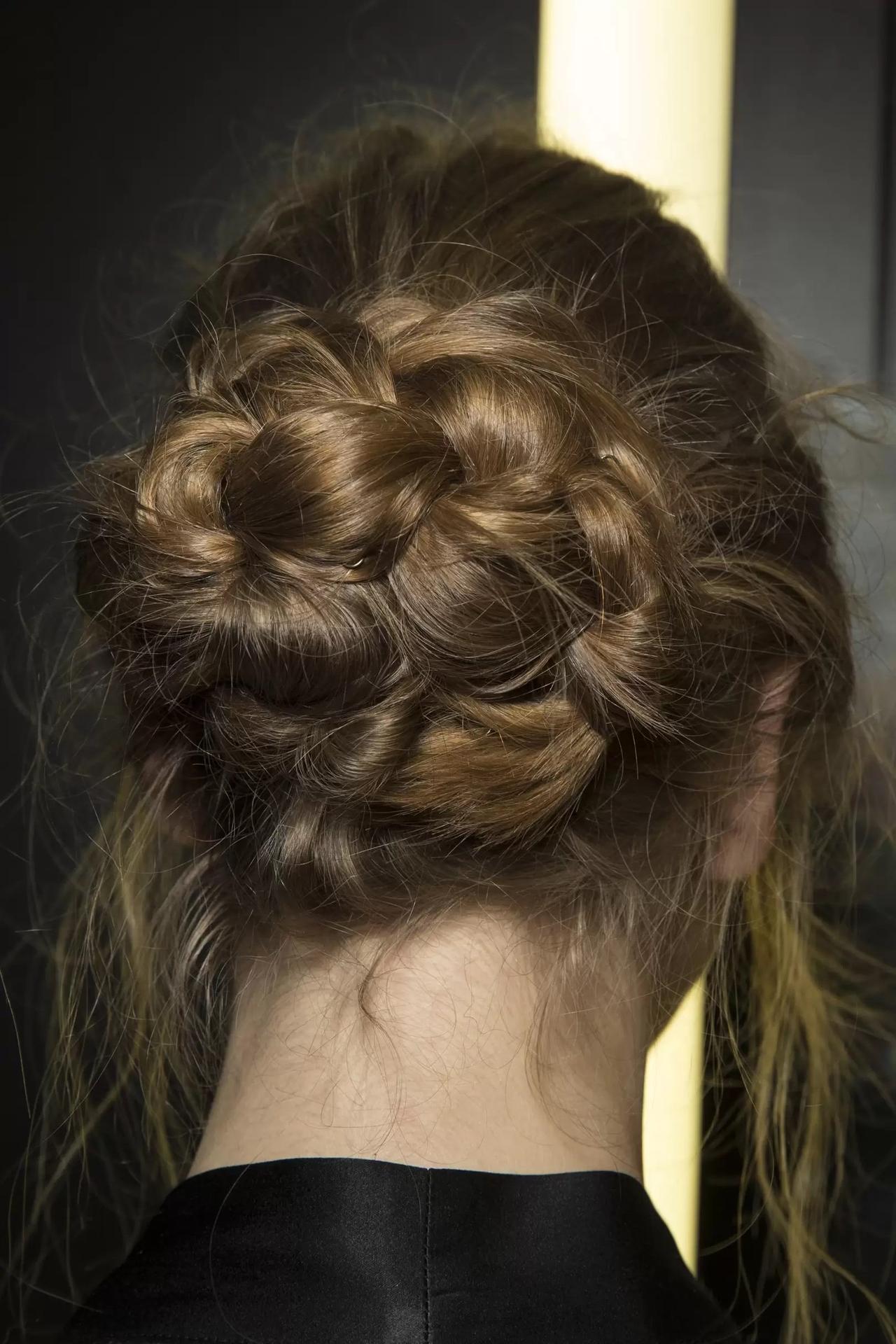 Plait the body of the bun for a boho ballerina effect, leaving strands free around the face so that it doesn't look too polished. Victoria highlights that this look "works especially well if you have blonde tones in your hair as the shape and detail of the braids means they'll catch the light."
22. Low Ponytail with Tendrils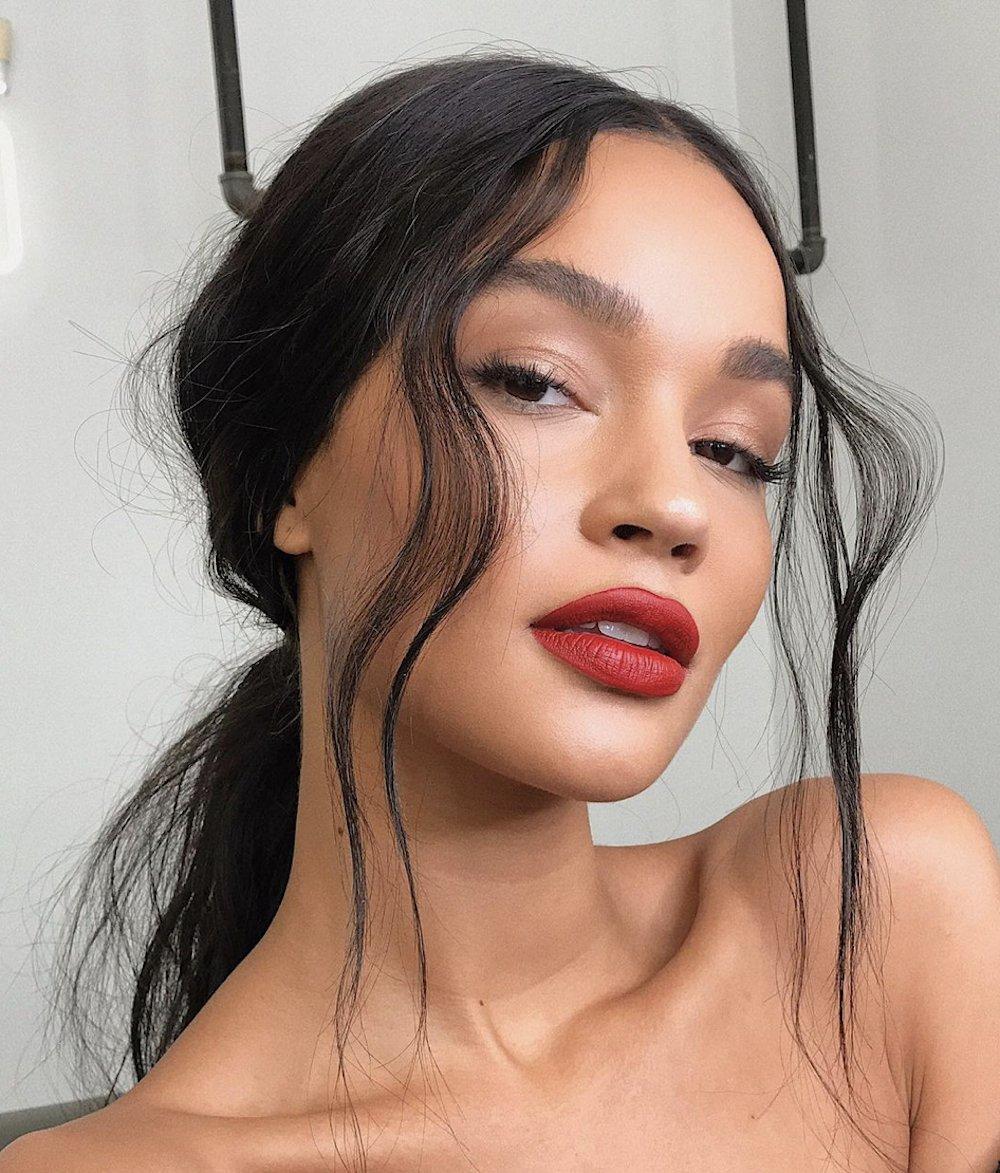 Ponytails are one of the most versatile bridesmaid hairstyle options there is according to Victoria:
"It's a modern look that can be worn sleek and chic or textured and undone. For a sleek look, take a centre parting and tie in at the nape of the neck. Cover the band by wrapping hair around it. This look pairs well with statement earrings."
Or in this case, offset a low pony with a bold red lip and brushed up brows.
READ MORE: 17 Beautiful Natural Wedding Makeup Ideas
23. Chunky Braided Ponytail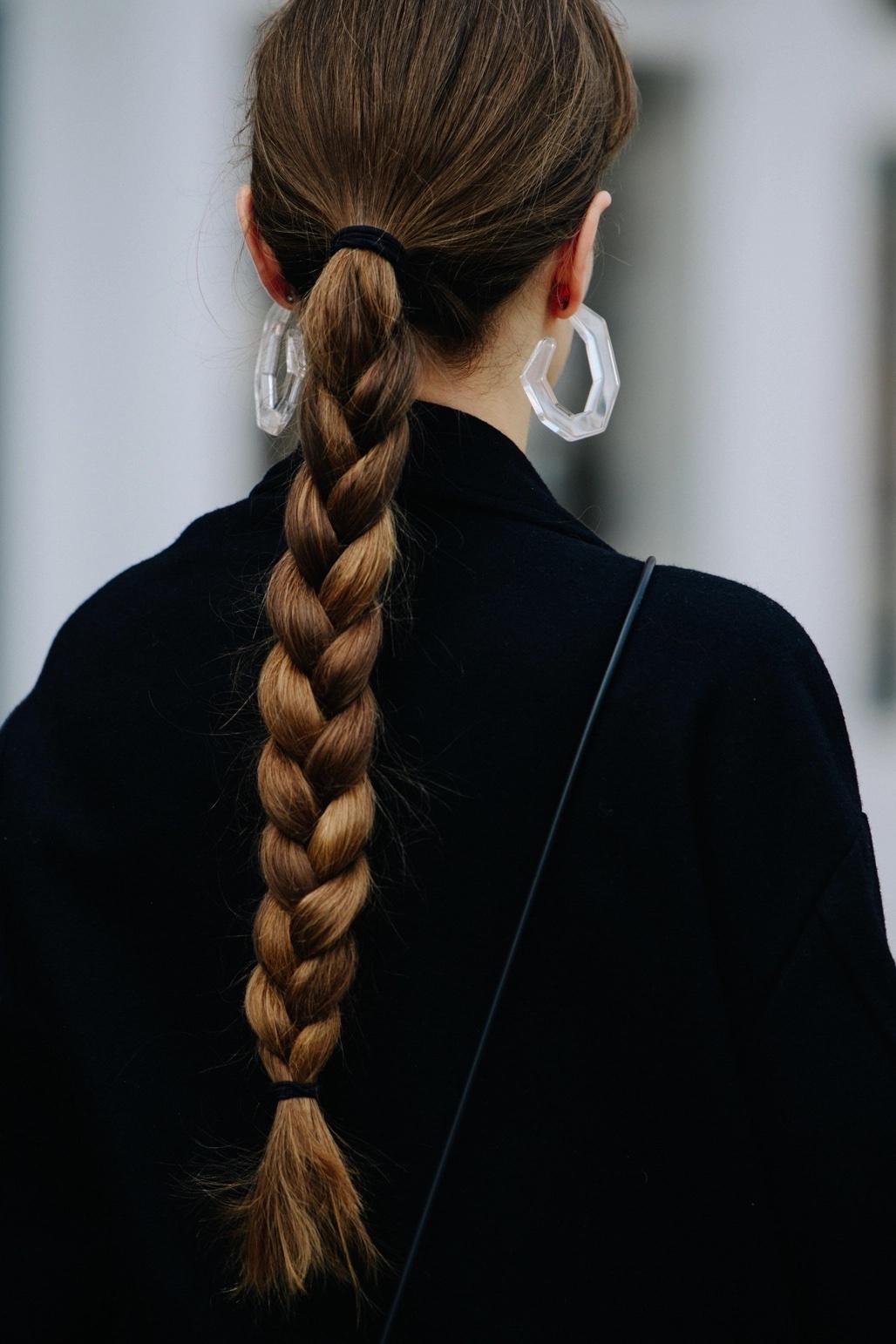 Enhance a low ponytail by plaiting lengths. Chunky earrings optional.
24. Simple Cornrows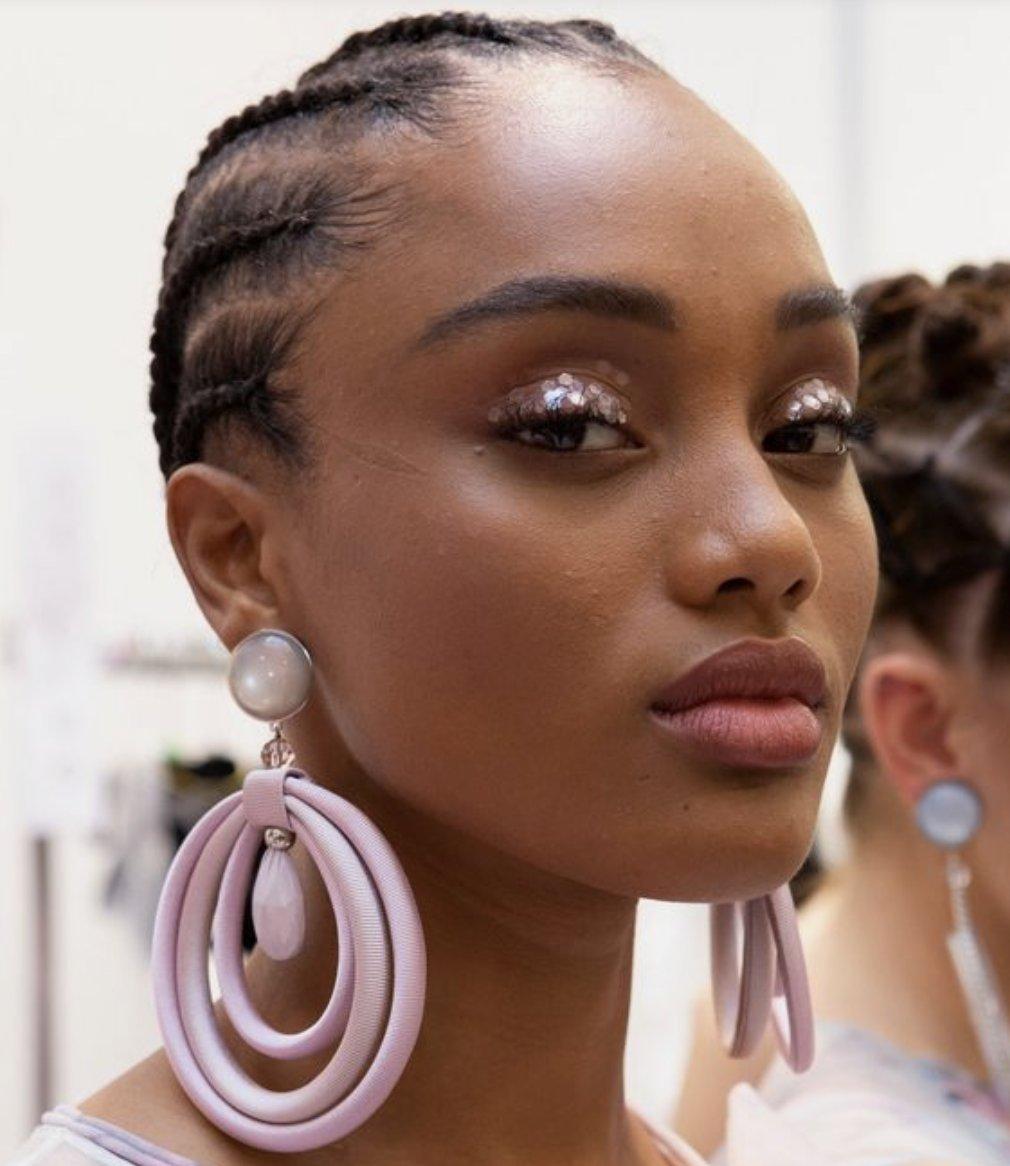 Speaking of chunky earrings (with added glitter), they're the perfect partner for classic cornrows. A statement padded headband would work just as well.
25. Chignon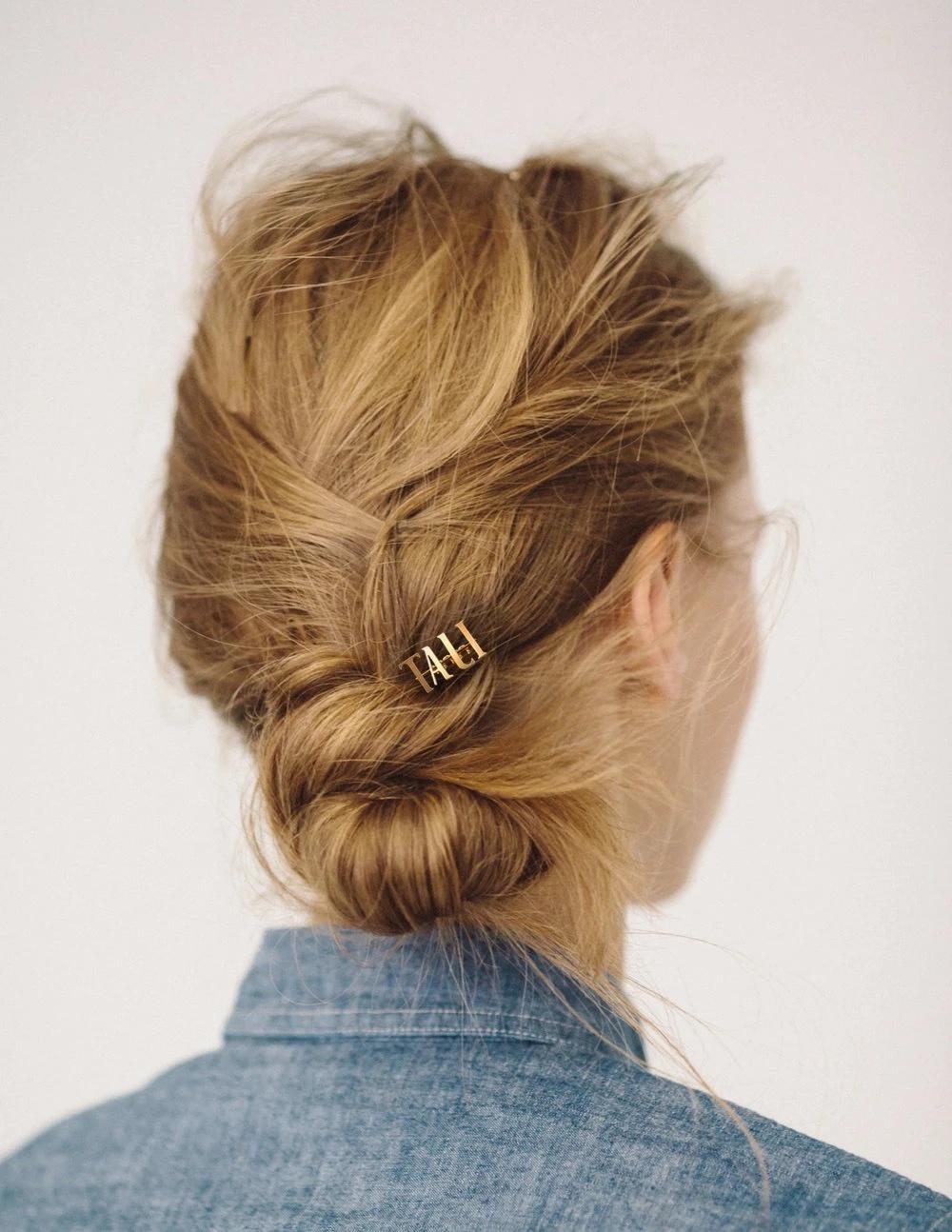 Victoria assures us that you can't go wrong with a chignon:
"A chignon is an absolute classic and one of my most requested styles. It's beautifully versatile – it can be worn high, low, sleek or soft. It's perfect for a timeless look that keeps the hair away and in place all day."
Add a customised slide to take things up a notch.
26. Half Chignon with Pearls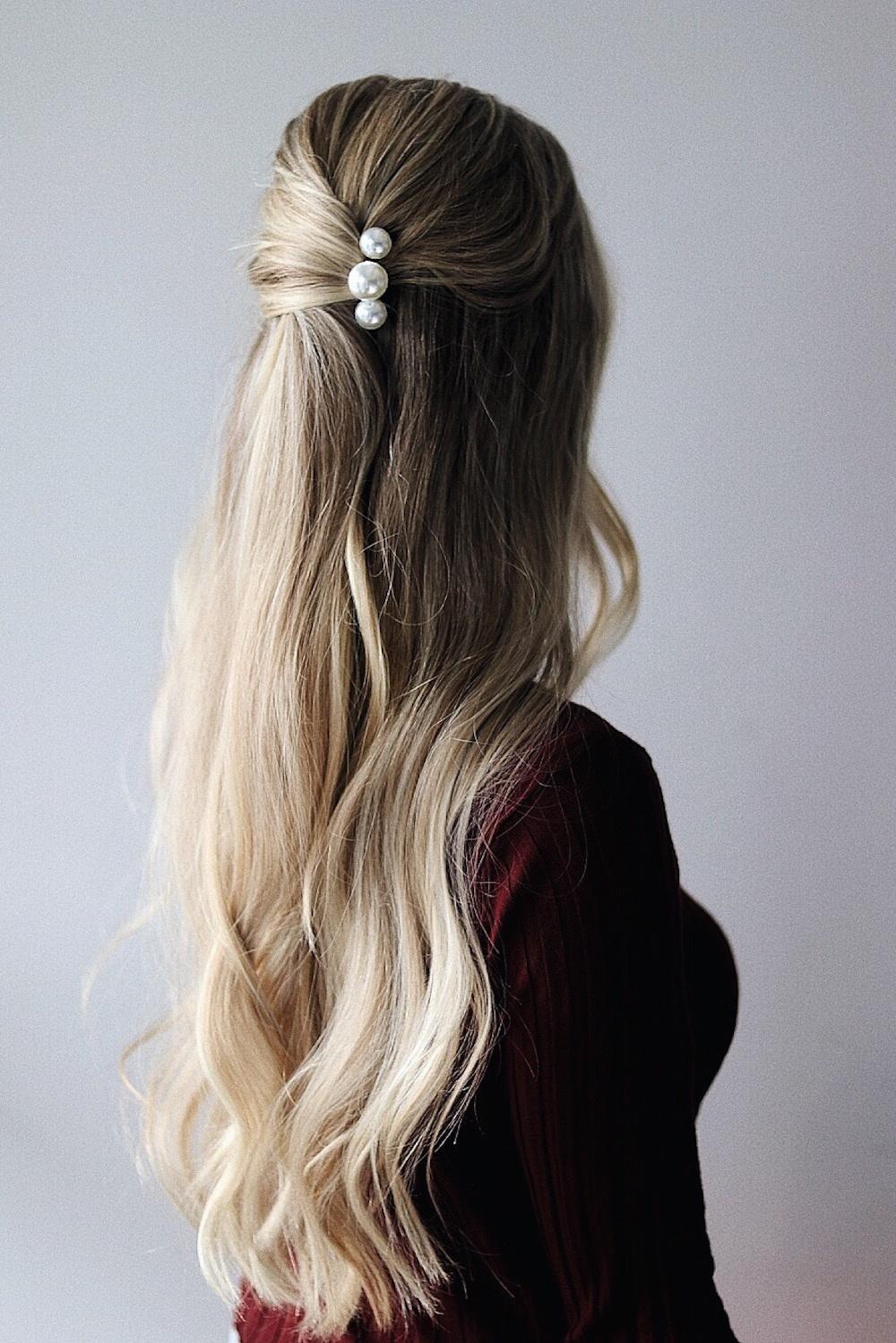 A half-up half-down chignon is elegant worn 'plain' or secured with a few pearls, plus a 'mini chignon' can be adapted to suit a wide variety of hair lengths.
27. Messy 'Gucci' Half Bun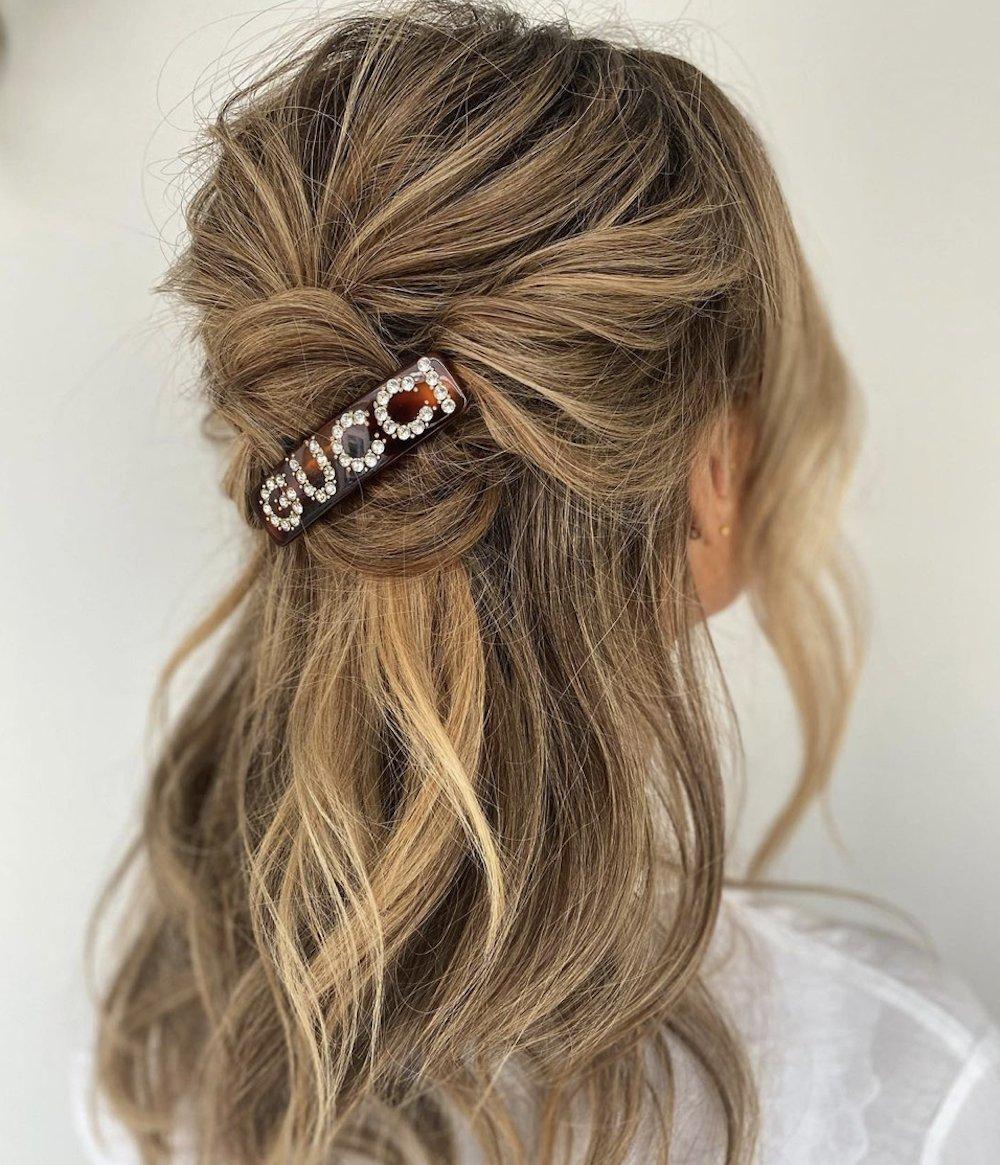 We couldn't resist – a designer clasp is the quickest way to add a whole lot of luxury to an otherwise undone hairstyle. Try vintage barrettes or bejewelled clasps for a similar contrast.
READ MORE: The Ultimate Wedding Hair Accessories Guide: 53 Gorgeous Ideas
28. Slide Party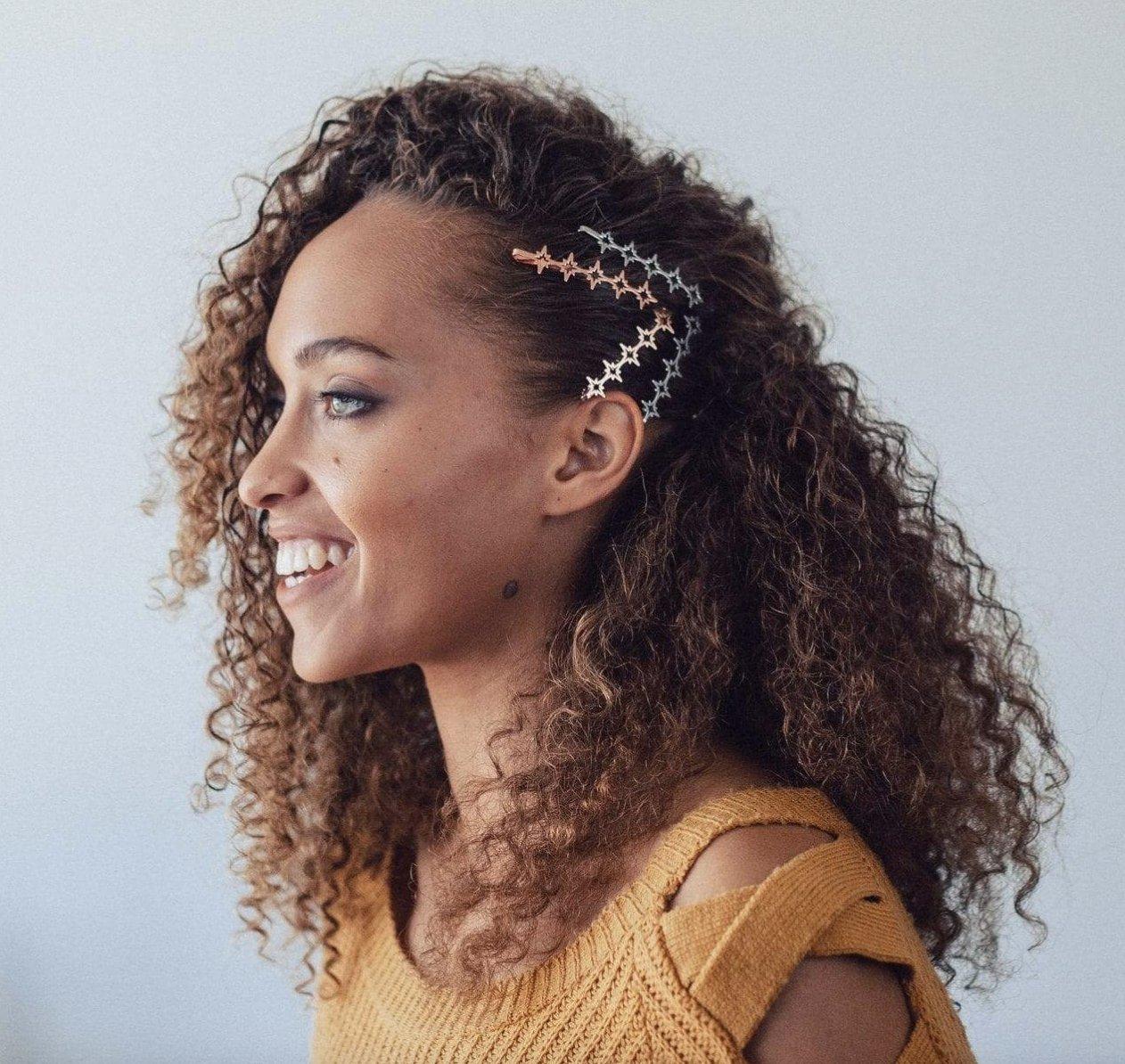 Statement slides angled around the ear transform a hair down style. These rainbow star clips would suit a colourful wedding palette, or go for slick metallics if your wedding colours are more muted.
29. Beach Waves and Slides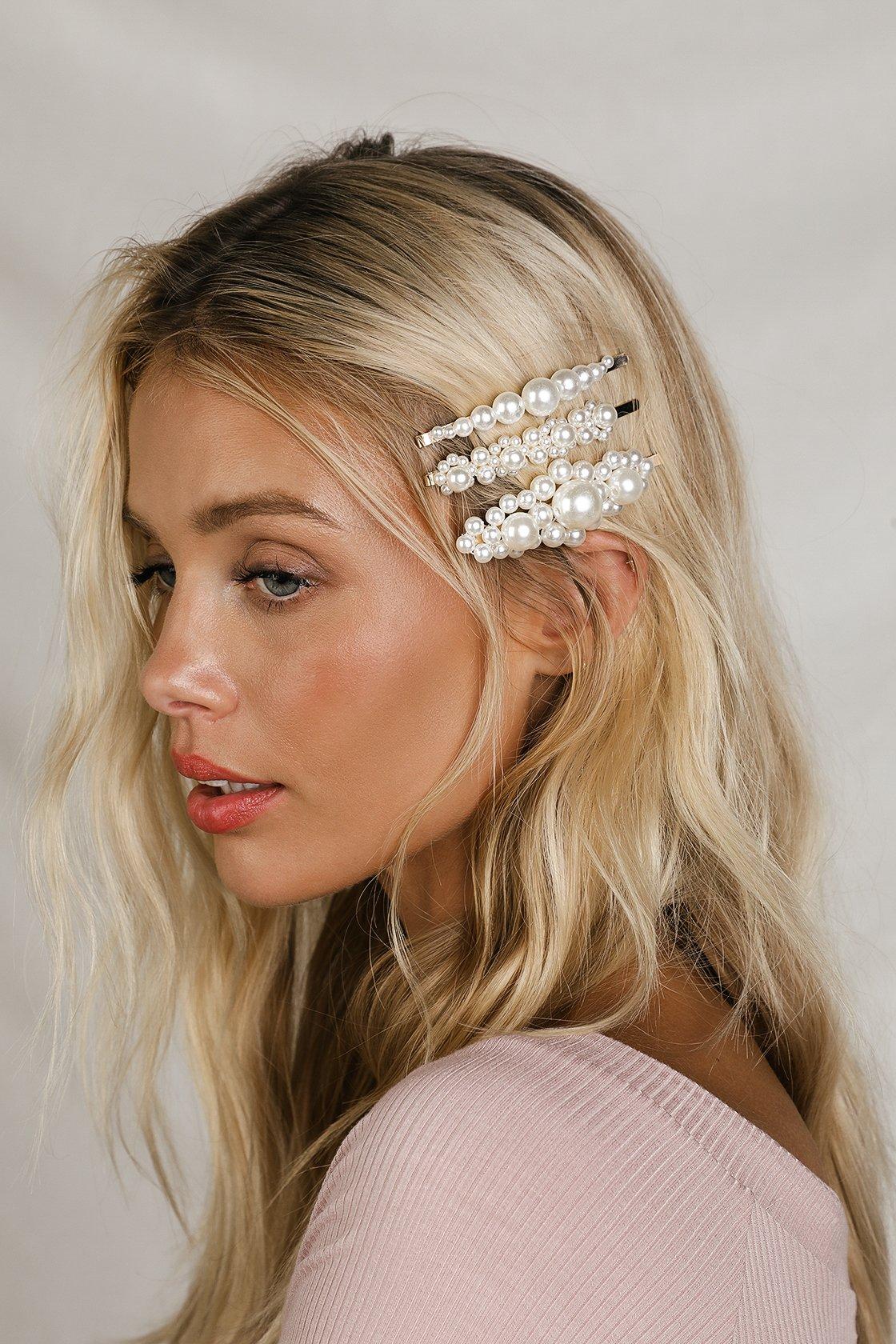 Tousled waves gain a formal edge thanks to a lineup of chunky pearl slides – the more the merrier.
30. Chunky Bun and a Barrette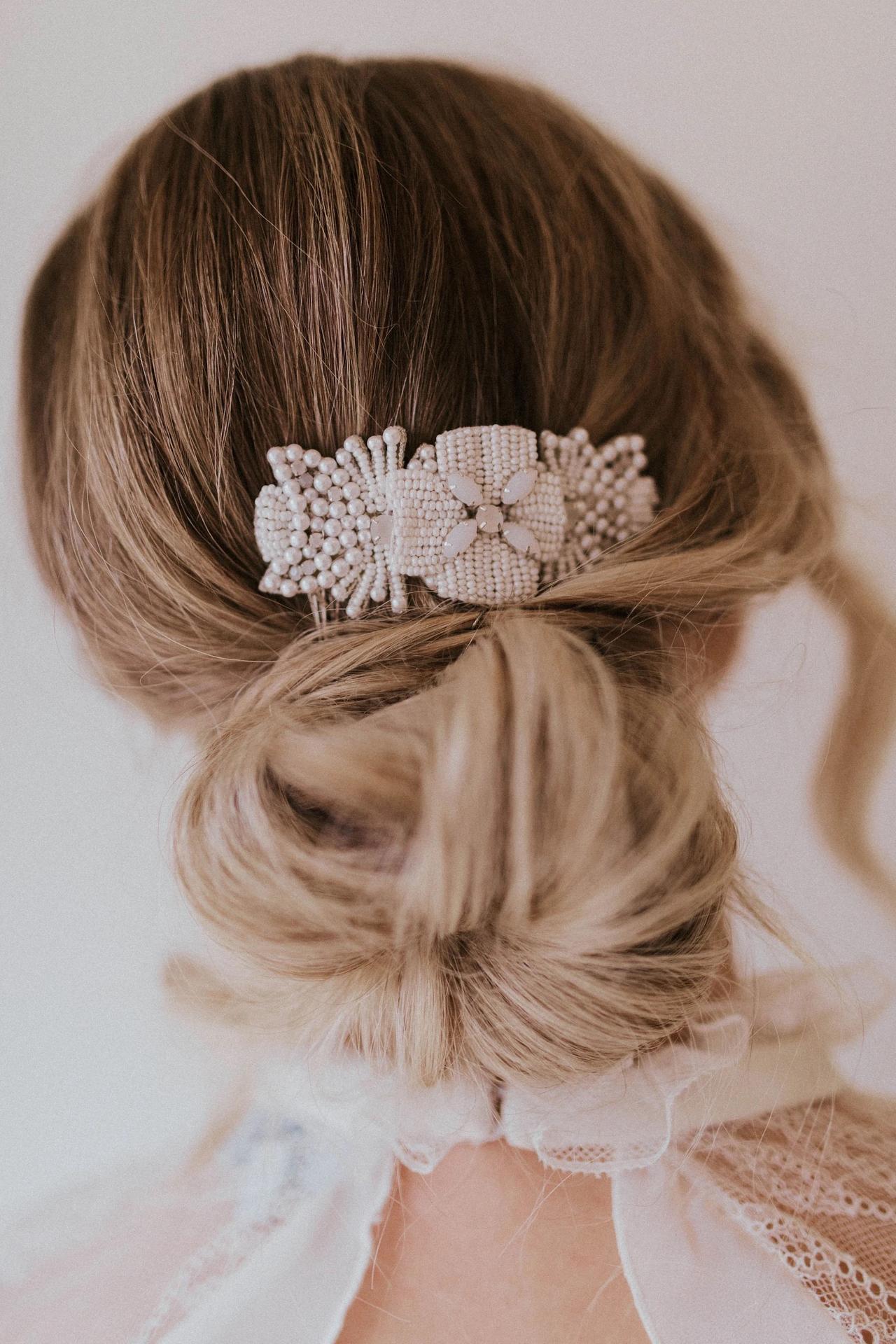 A textured bun paired with an asymmetric beaded barrette is a beautiful nod to 20s styling. Switch up the clip to suit each maid.
31. Romantic Twists and Foliage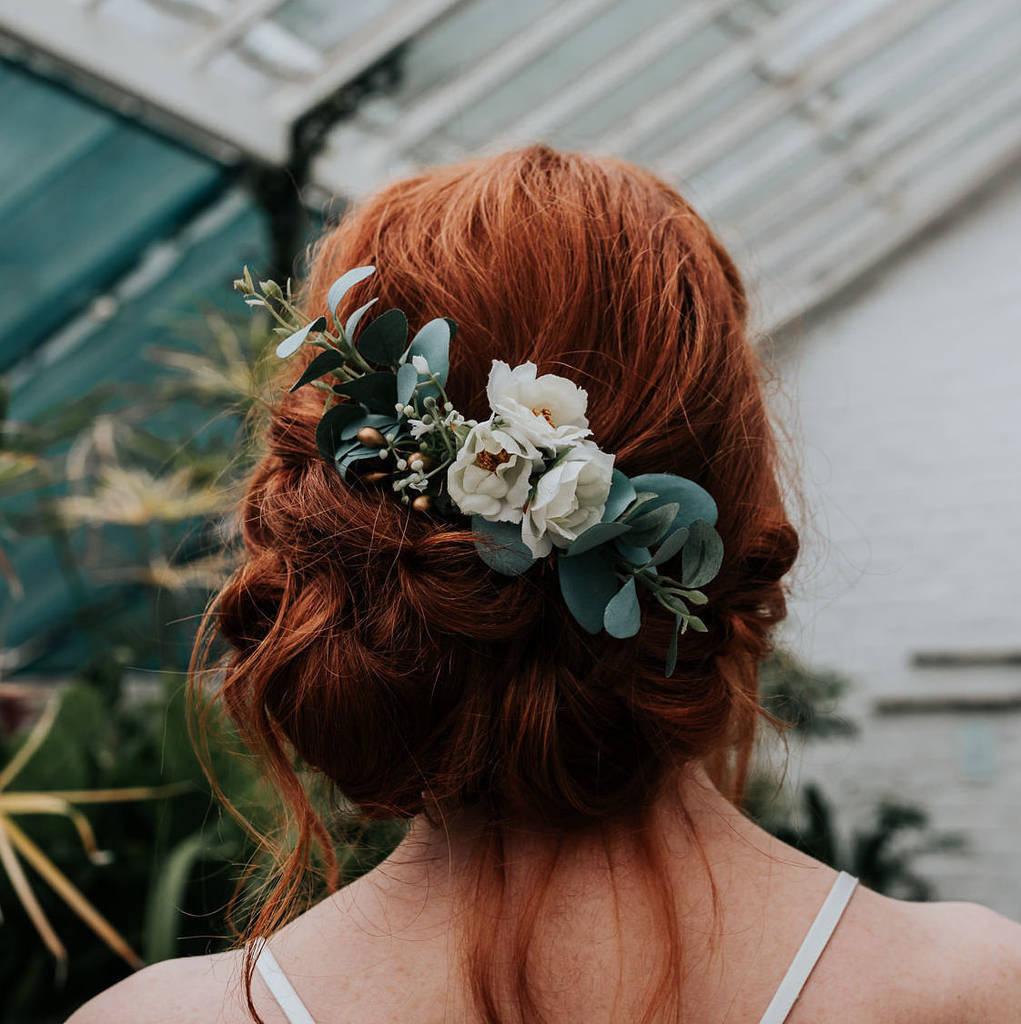 A loosely secured updo with flyaways, foliage and some neutral hued blooms is ideal for a wild and whimsical feeling wedding. Tailor flowers and leaves to reflect the style and season of your day.
32. Sleek Ballerina Bun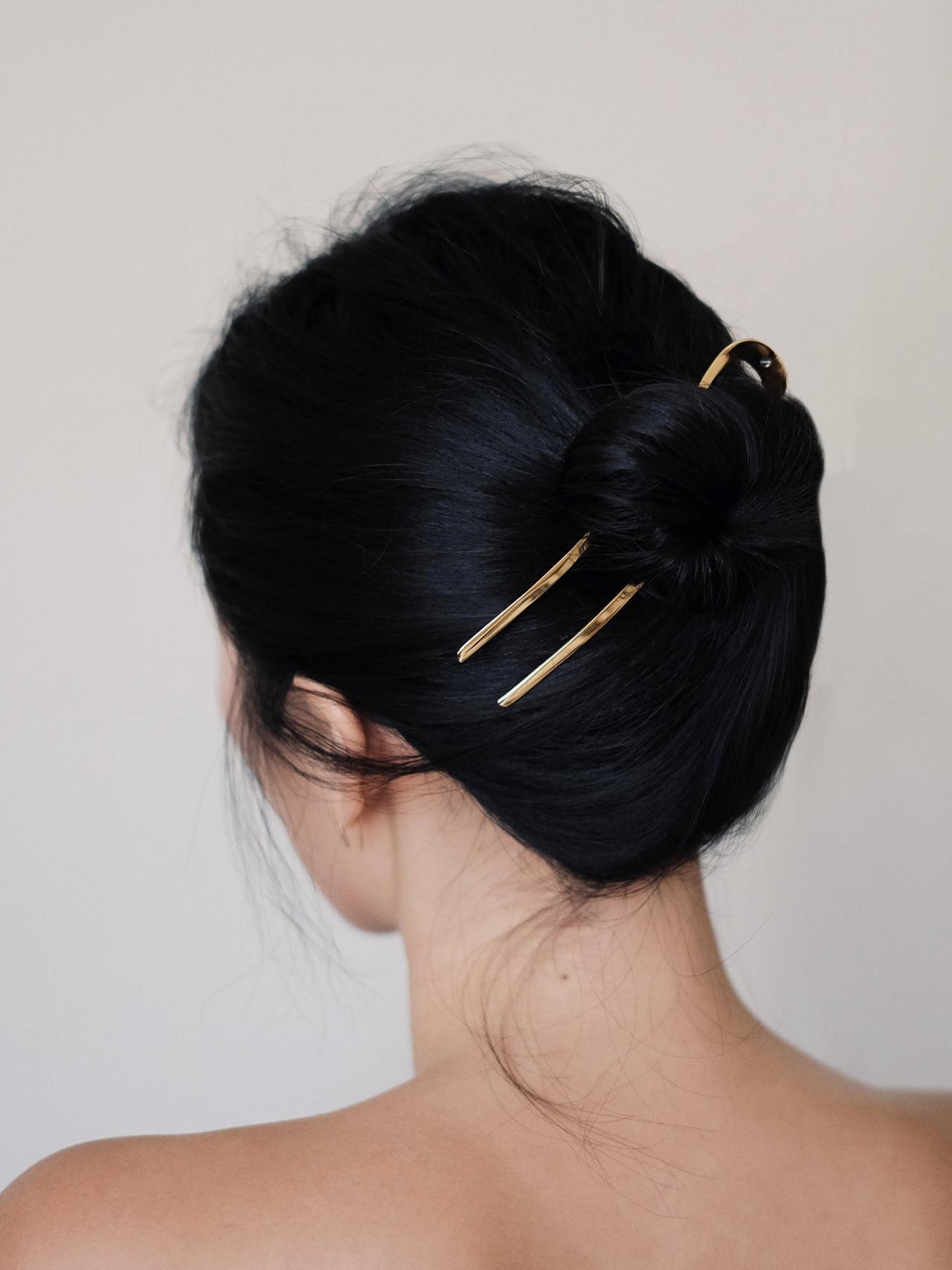 After a more streamlined style? A sleek 'midi' bun secured with an angular pin is oh so chic.
33. Half-Up Half-Down Ballerina Bun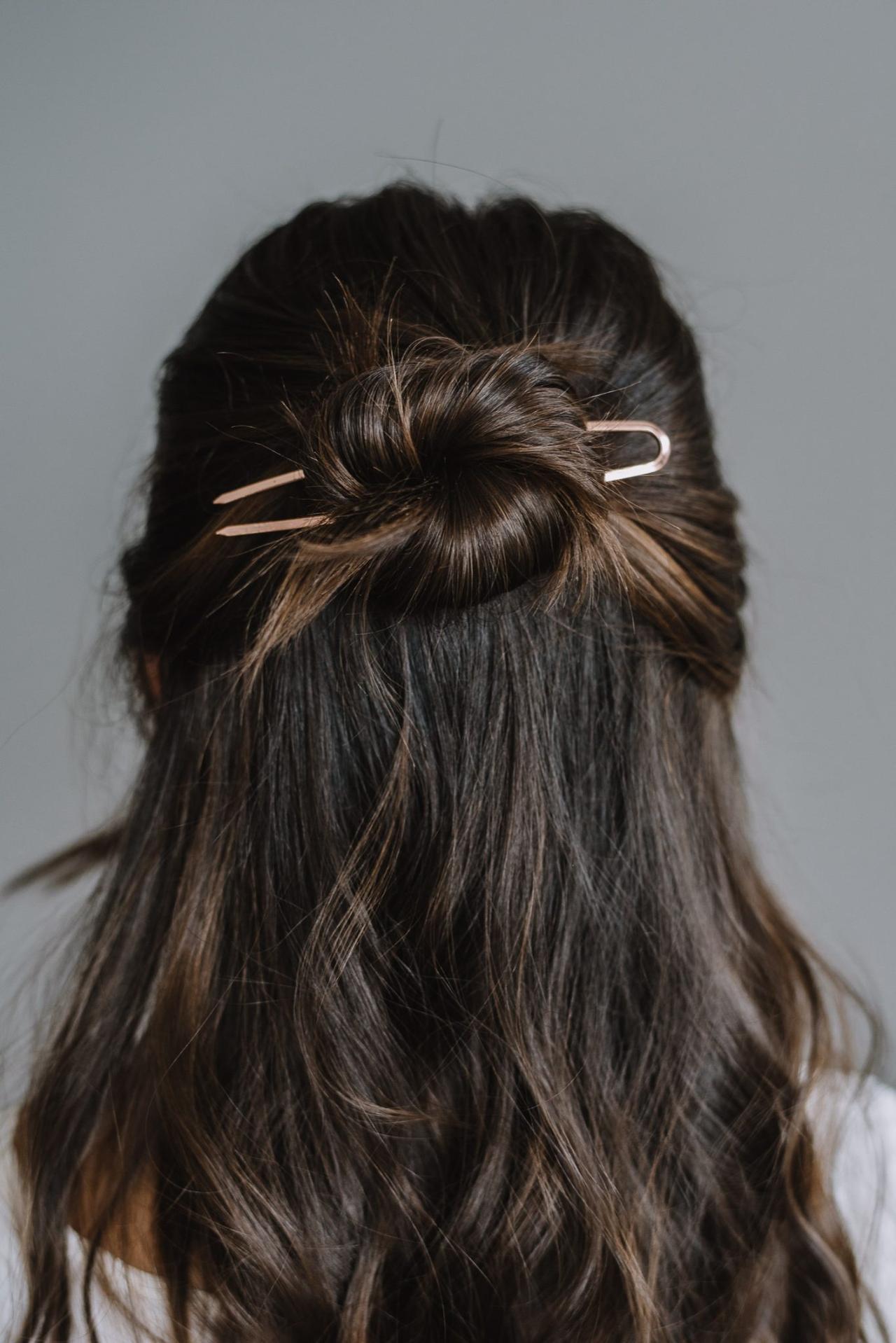 Same idea but leaving lengths free – perhaps mix up full and half buns depending on your bridesmaids' hair length and type.
READ MORE: Half Up Half Down Wedding Hairstyles: 33 Inspirational Ideas
34. Scarf Bun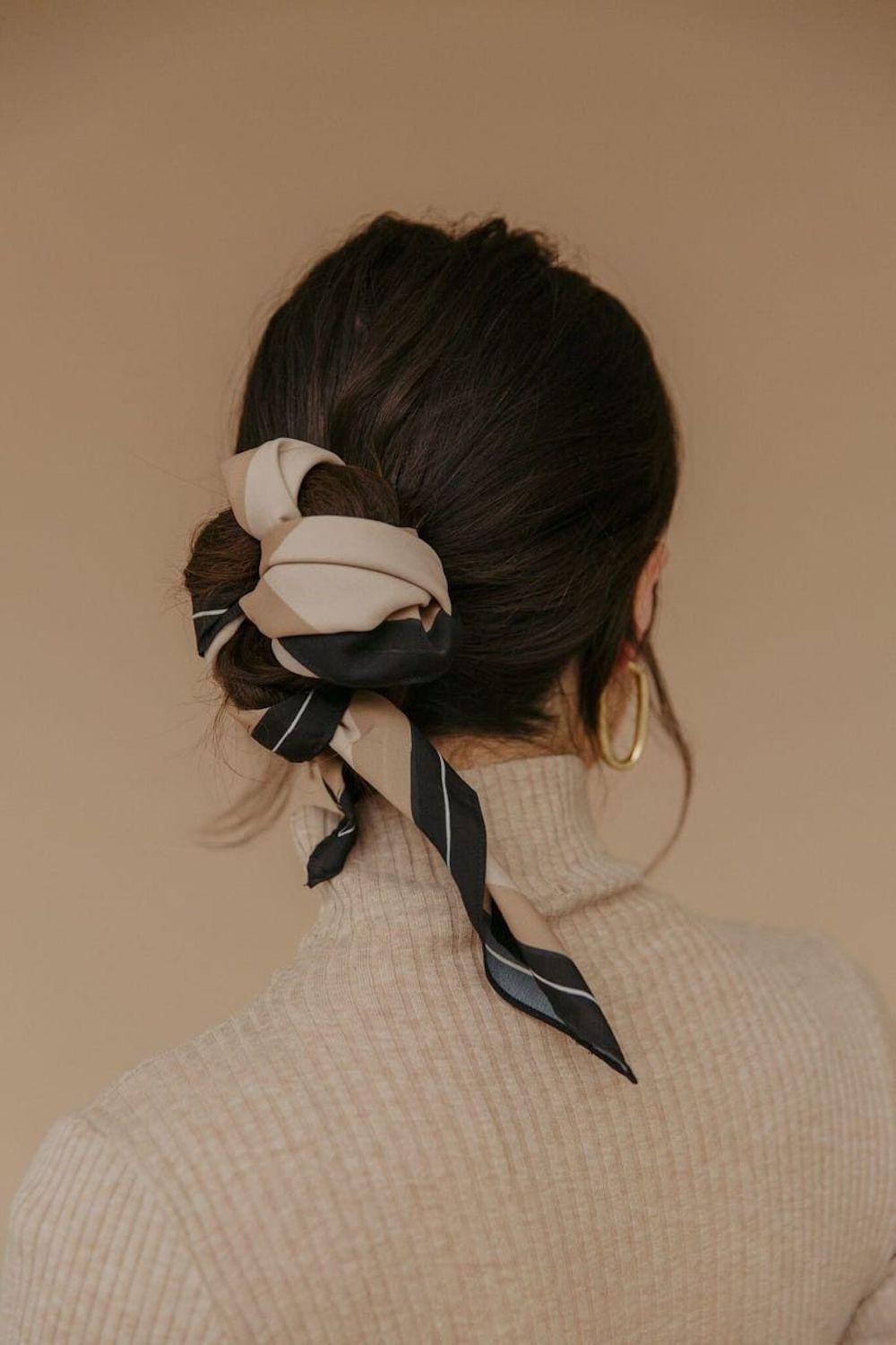 Whether it's a patterned scarf, ribbon or another piece of fabric that conveys your wedding aesthetic, incorporating a bold hue or print into an otherwise uncomplicated bridesmaid hairstyle makes for a stylish talking point.
35. Knotted Printed Headband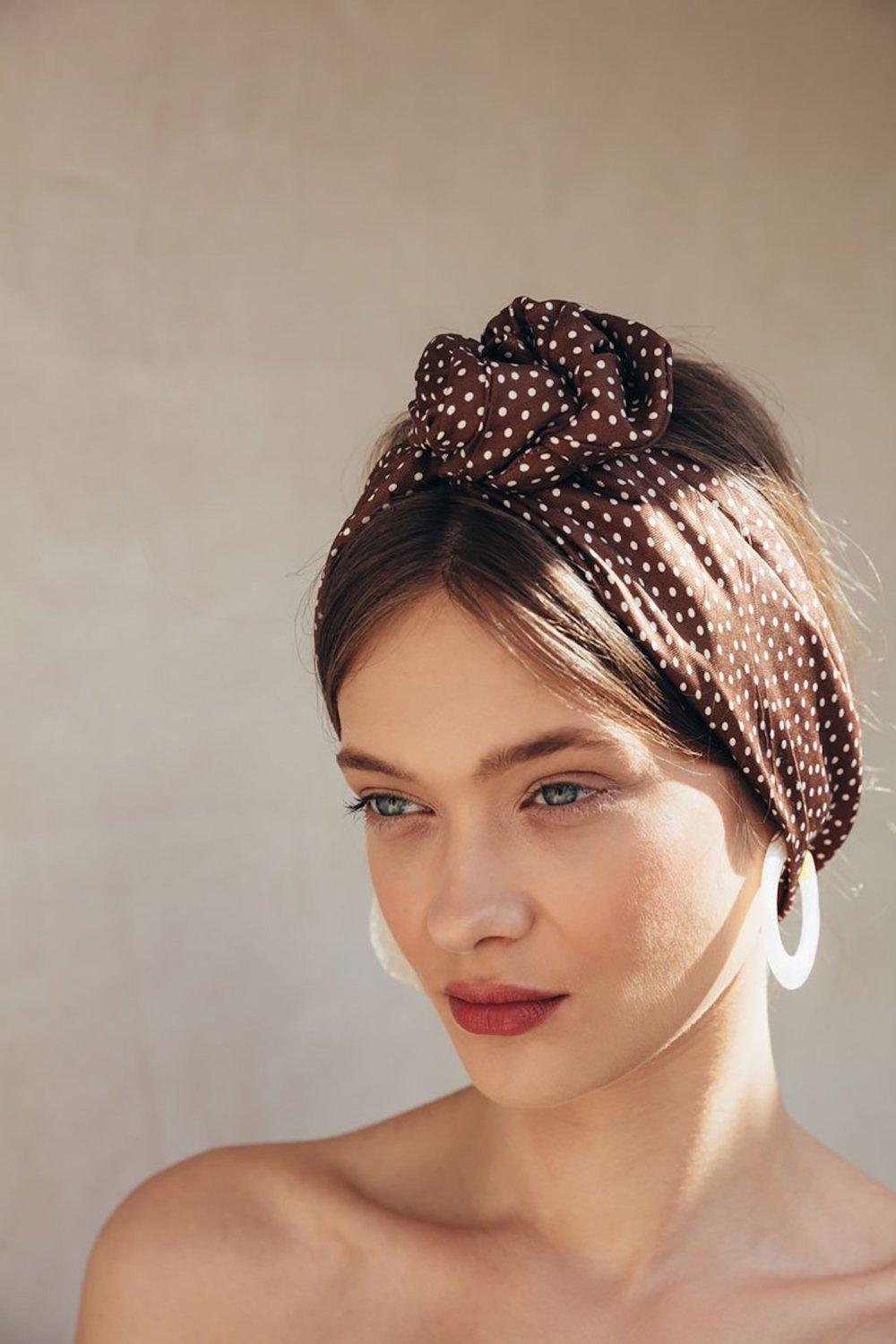 Speaking of patterns and textiles, why not have headbands made up to match (or contrast with) your bridesmaids dresses? They could double up as bridesmaids gifts too.
36. Halo Headband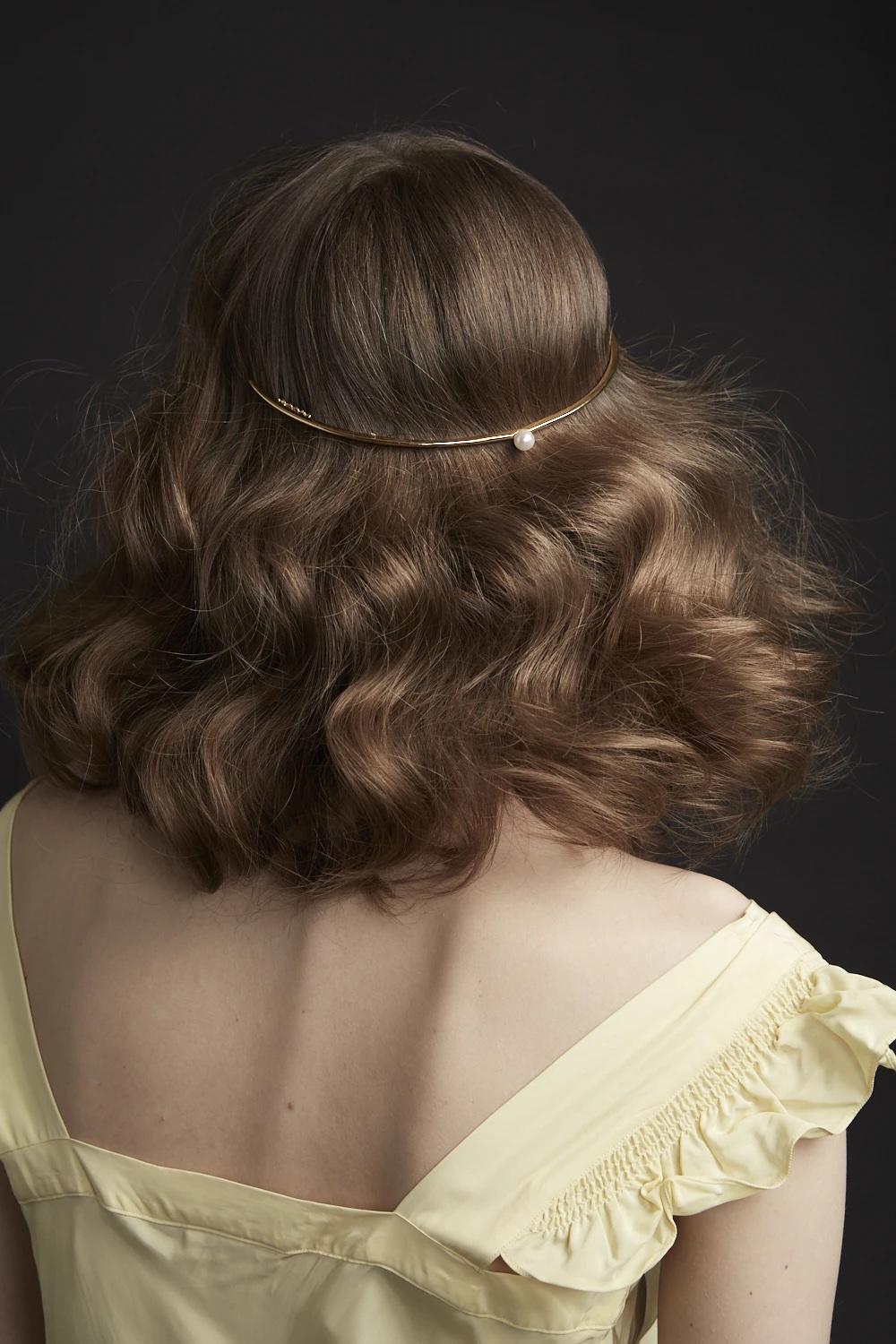 A slim headband worn 'backwards' looks angelic, especially in gold and showcasing a single pearl. It also works for all hair types – just bend the band to fit each bridesmaid's head and keep it in place all day (and night).
37. Tuckunder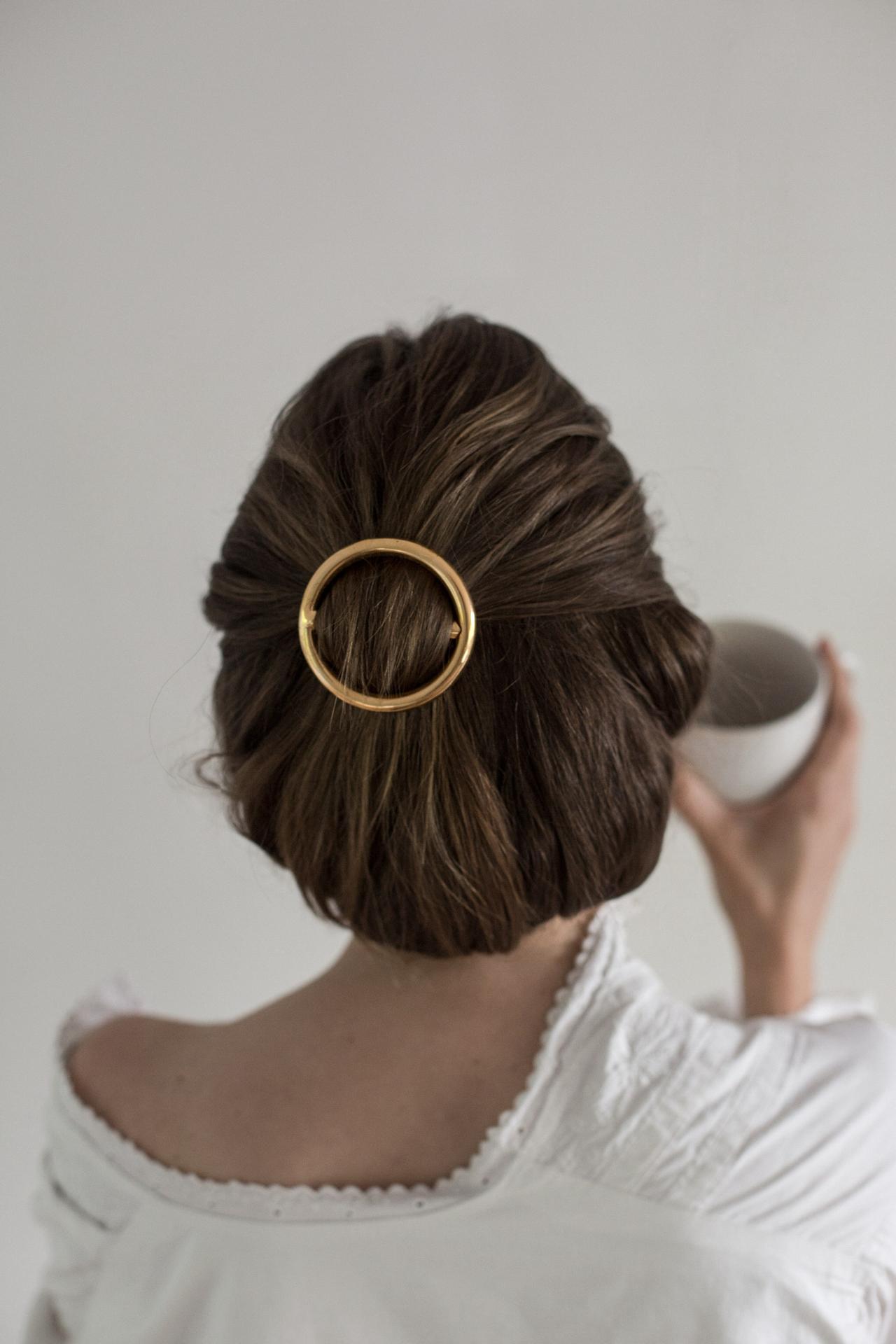 Create an instant bob by tucking lengths under. A bold geometric clasp makes this look even more modern.
38. Finger Waves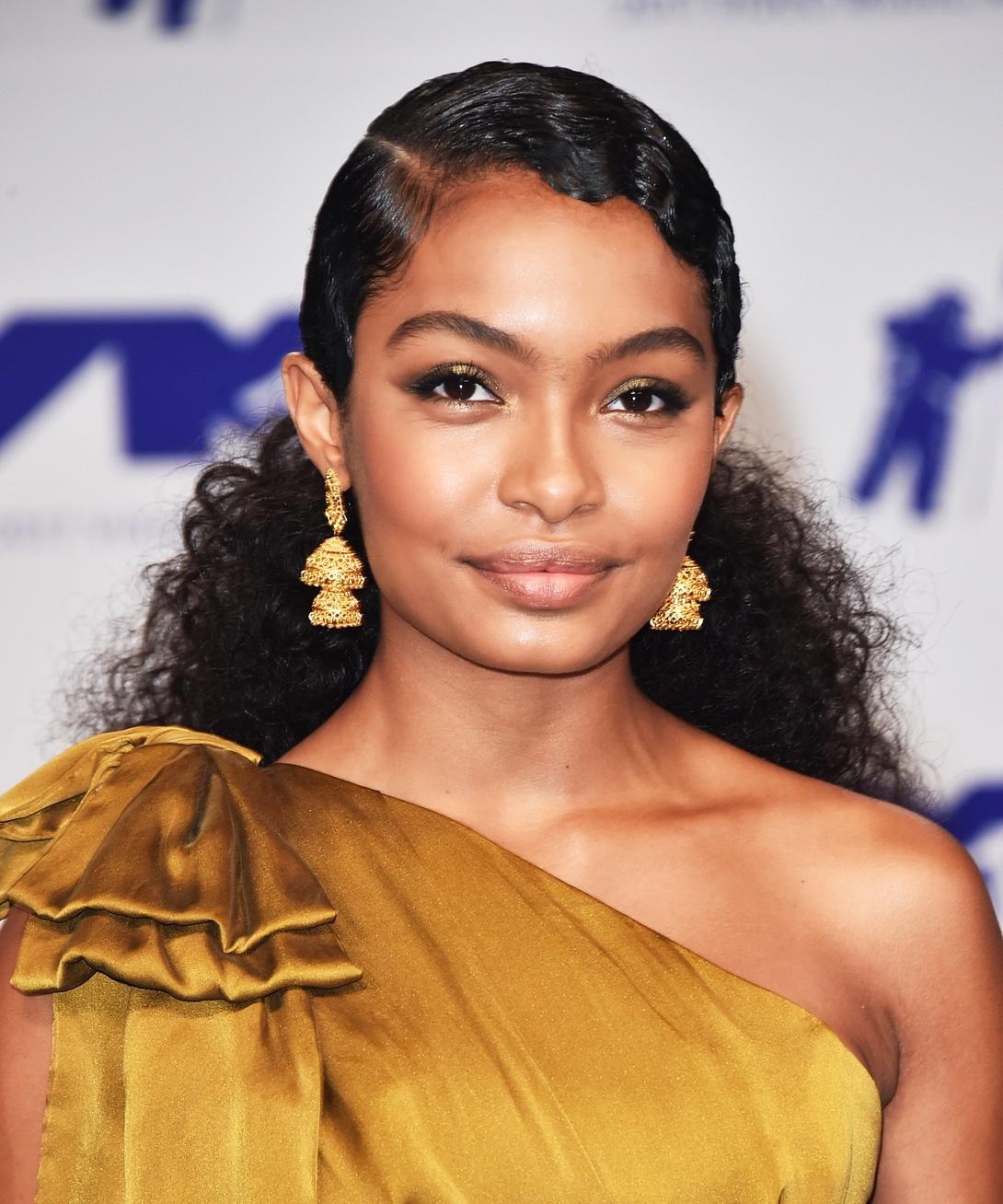 From modern to retro, this low pony with finger waves at the root has dramatic old Hollywood appeal. If you envisage your reception along the lines of a Studio 54 era party, this hairdo will capture the spirit.
39. Star-Studded Braids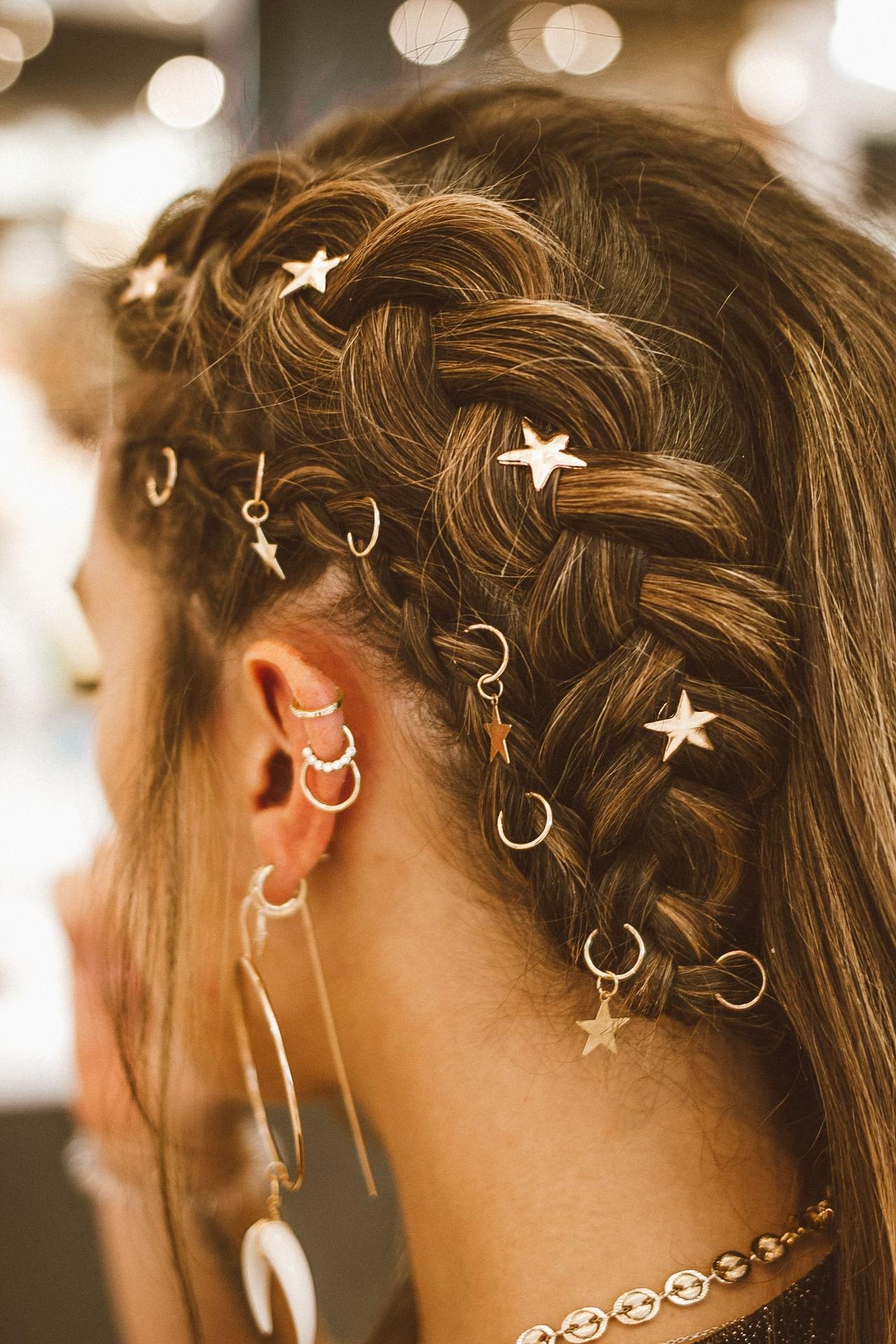 Speaking of starry styles, this star and hoop adorned Dutch planned is seriously rock and roll.
40. Fishtail Braids and a Bun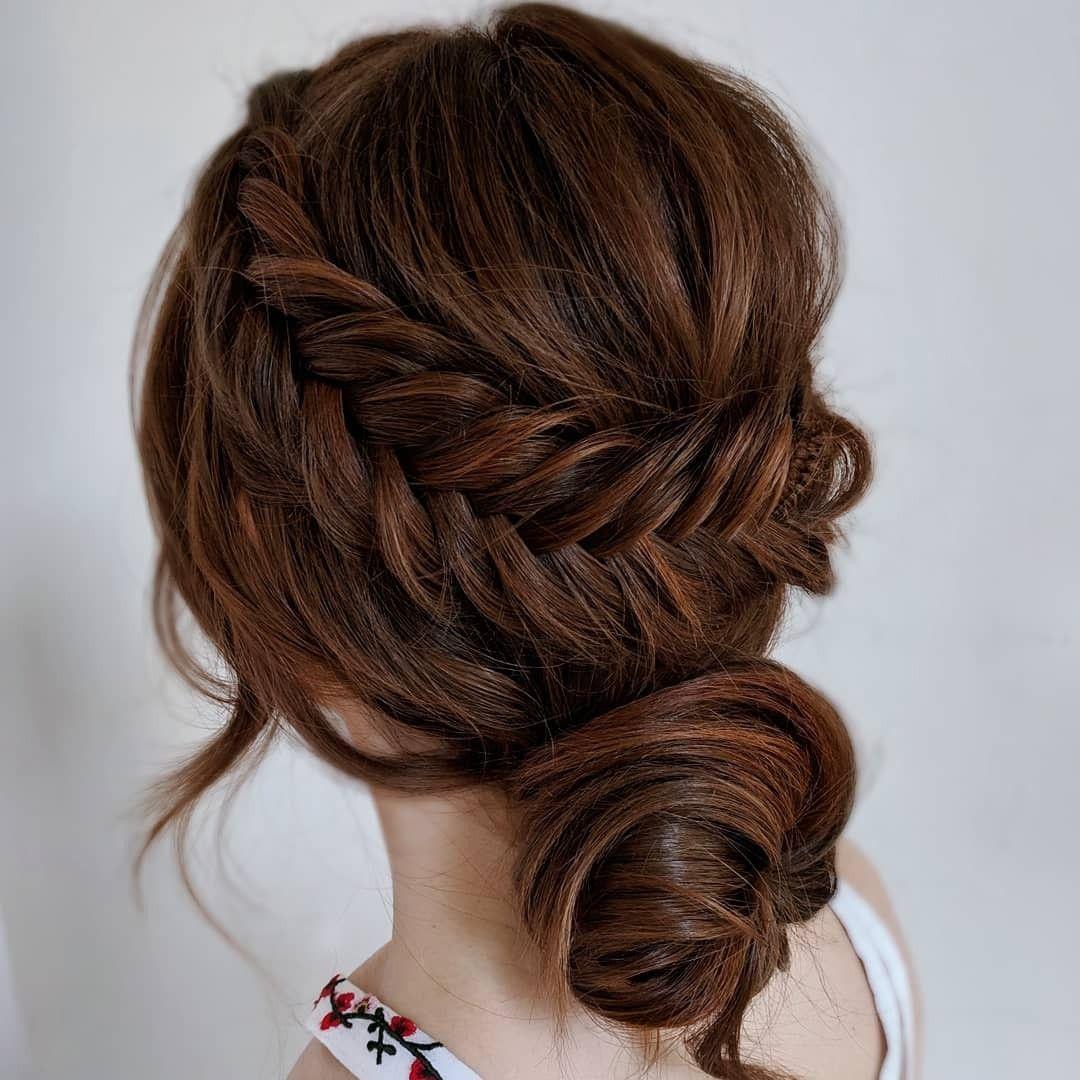 A fishtail braid encircling the head is the perfect look for a boho bridesmaid – add a mini fishtail into the main braid for good measure and secure lengths in a low bun.
41. Flyaway Chignon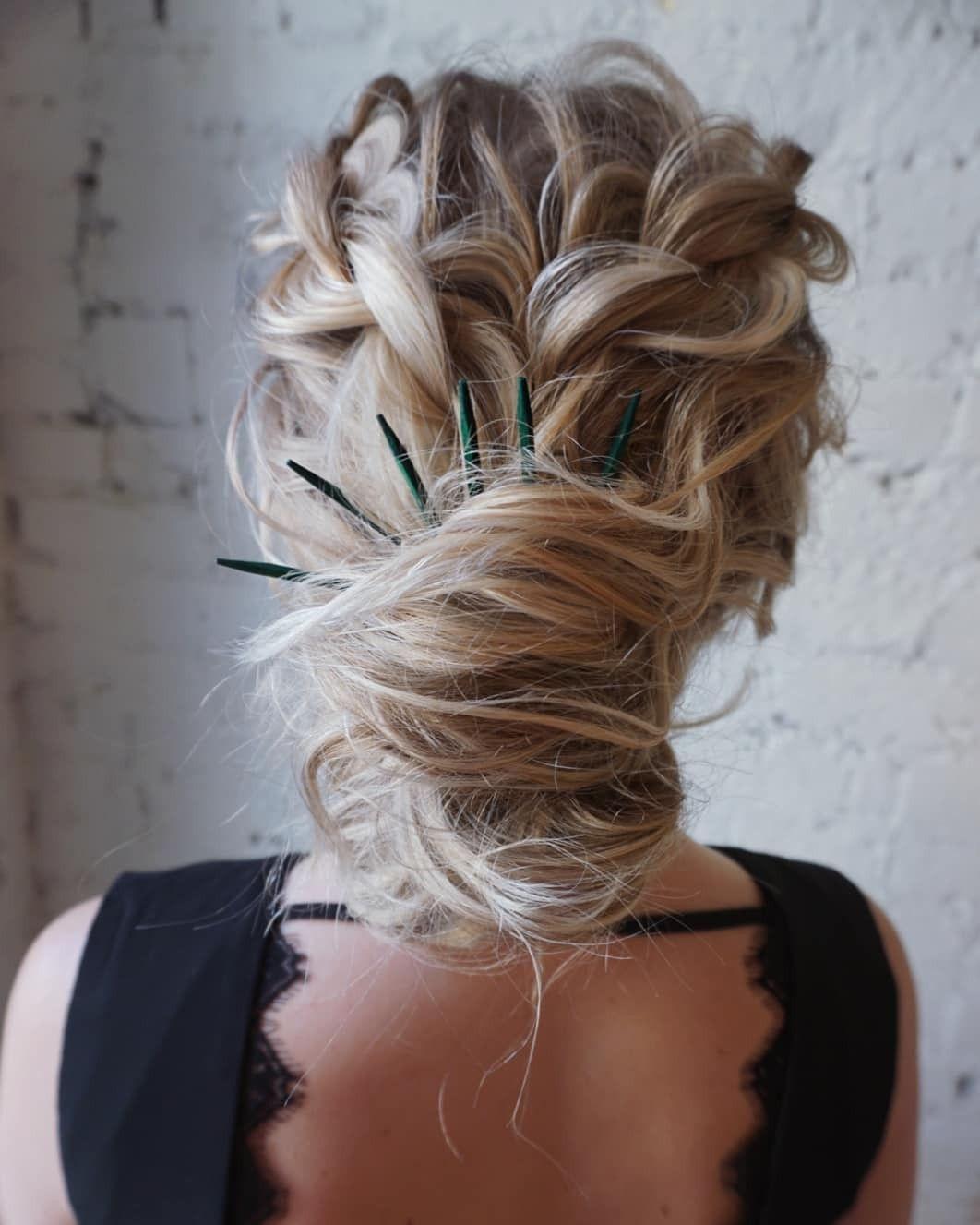 Two loose French braids meet in a messy chignon with sculptural hair accessories to add structure.
42. Tousled Ponytail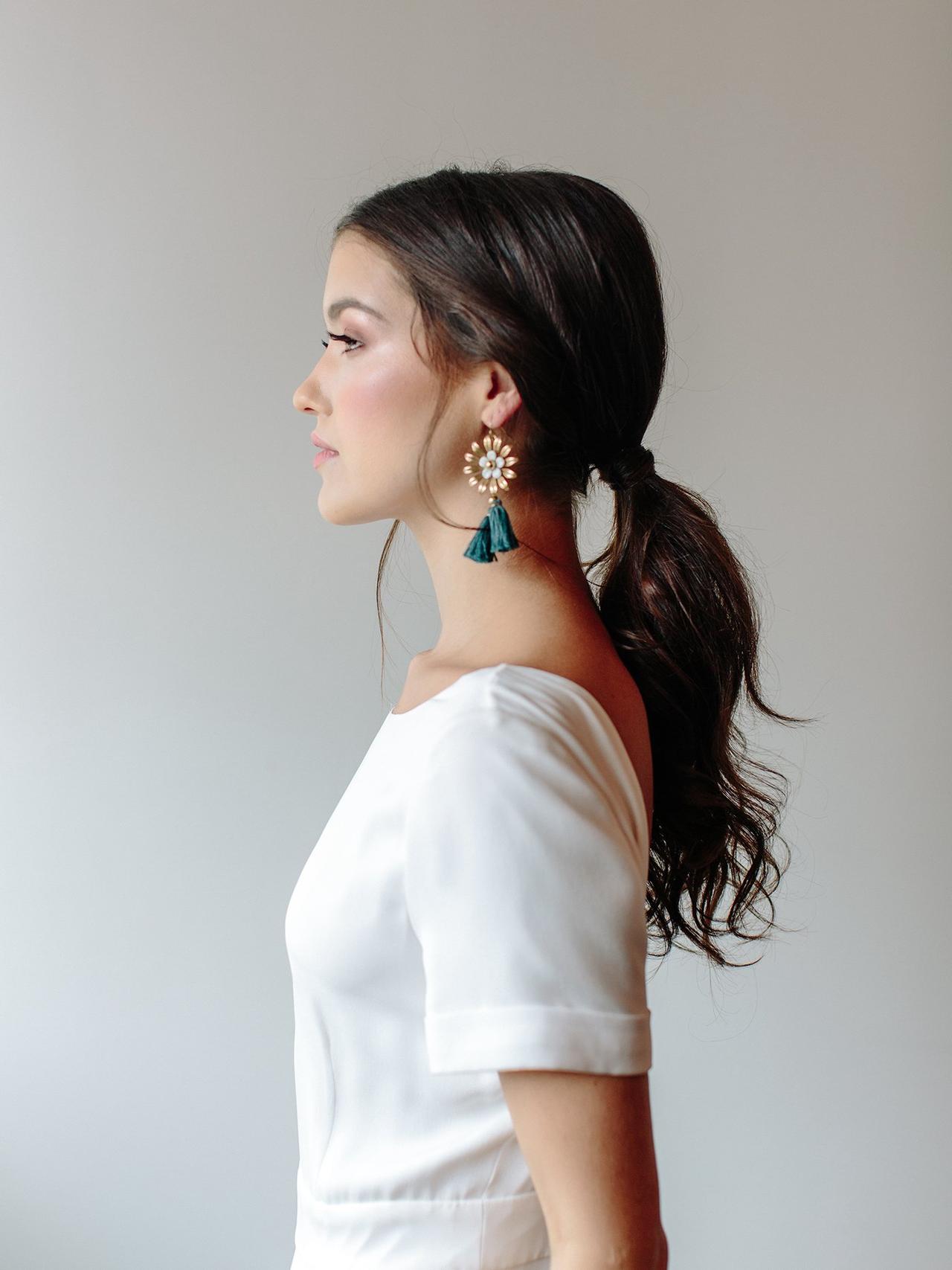 Tousled ends make this ponytail more wedding than classroom appropriate while wrapping lengths around the band gives a more organic feel.
43. Luxe Ponytail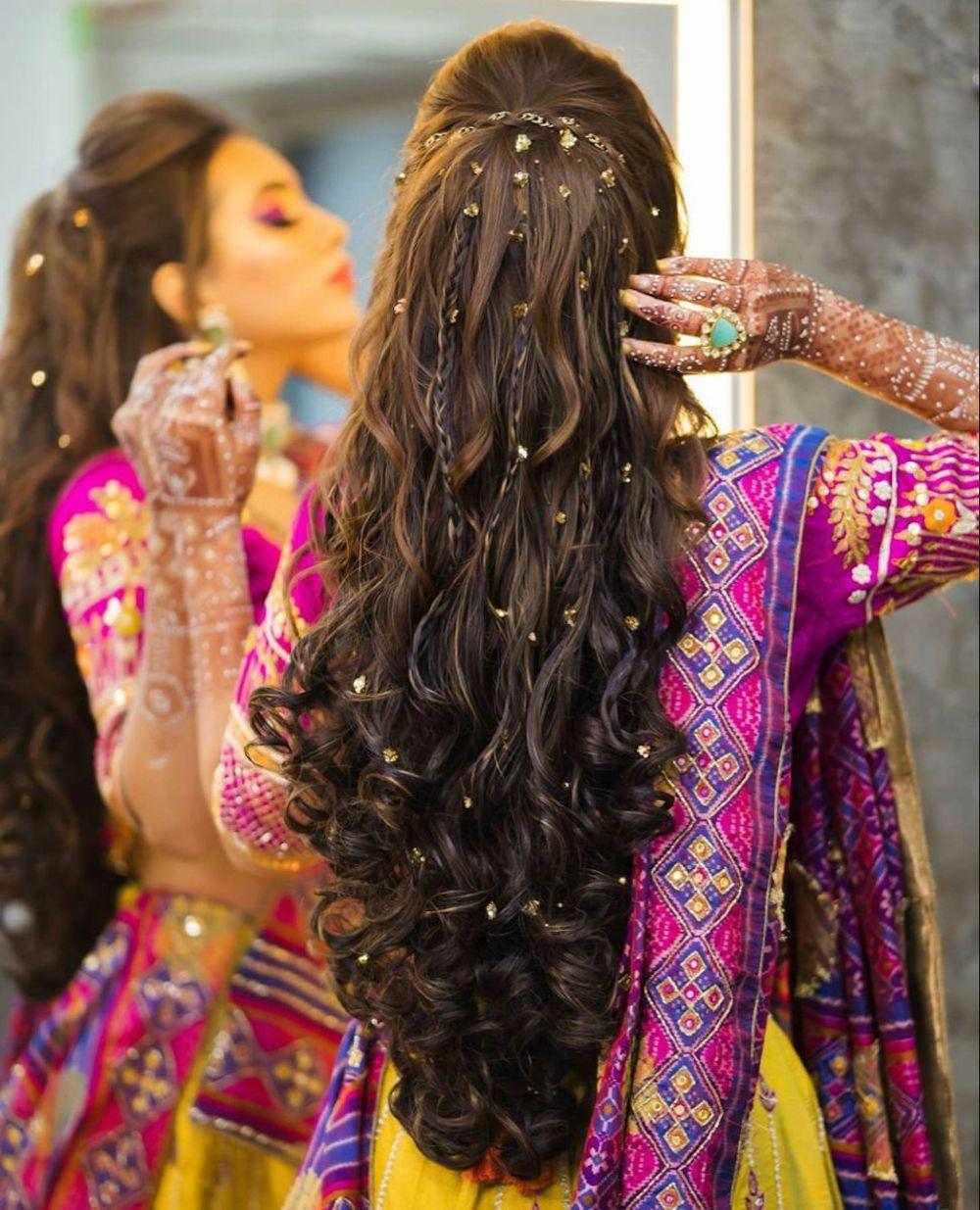 If more is more, bring in extensions, gems, gold thread and a higher placement for drama.
44. Plaited Braids with Maxi Clips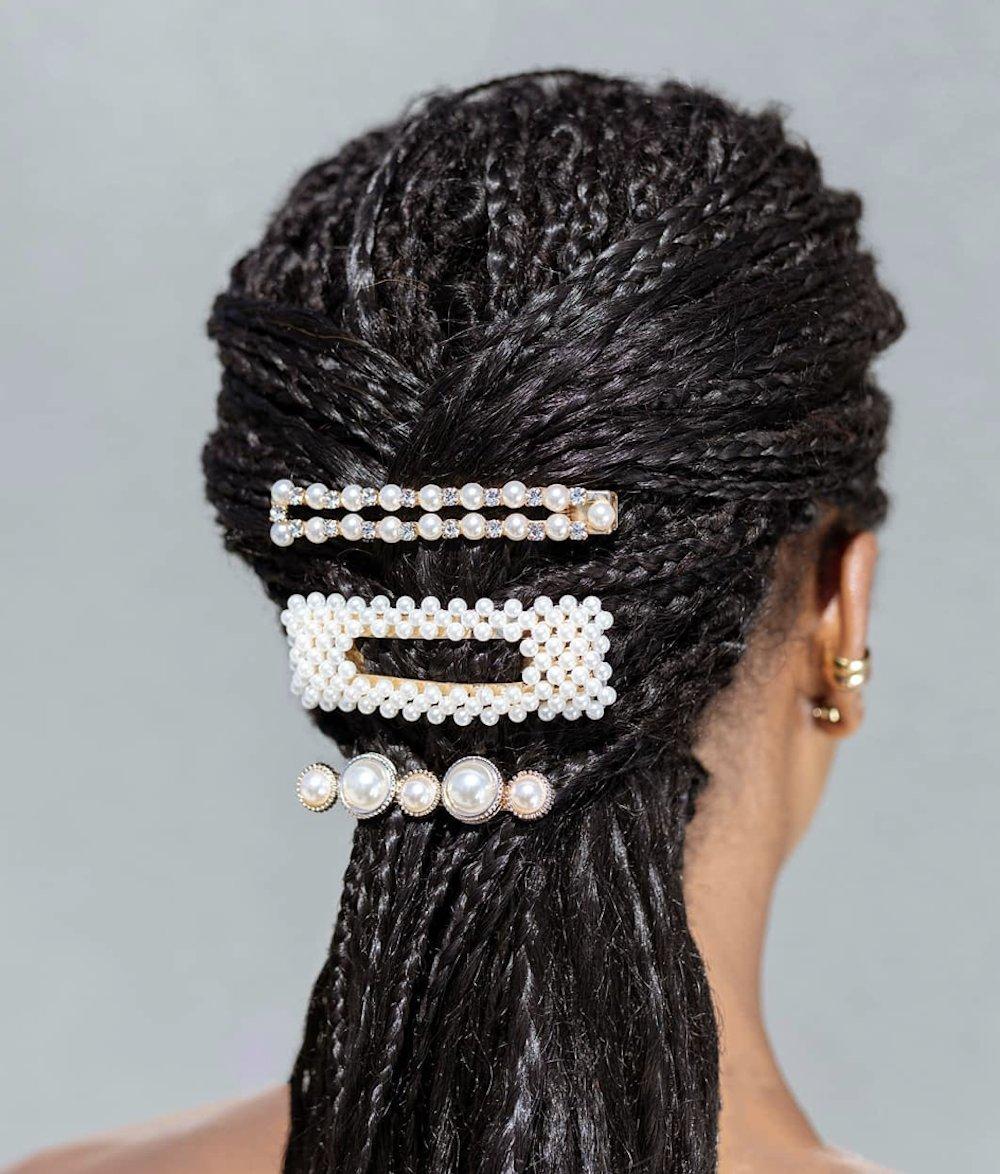 Whether fine or chunky, plait braids away from the face and add mismatched clips to make it even cooler. Better still, ask bridesmaids to choose their own slides so that each style is truly unique.
45. High Volume Blow Dry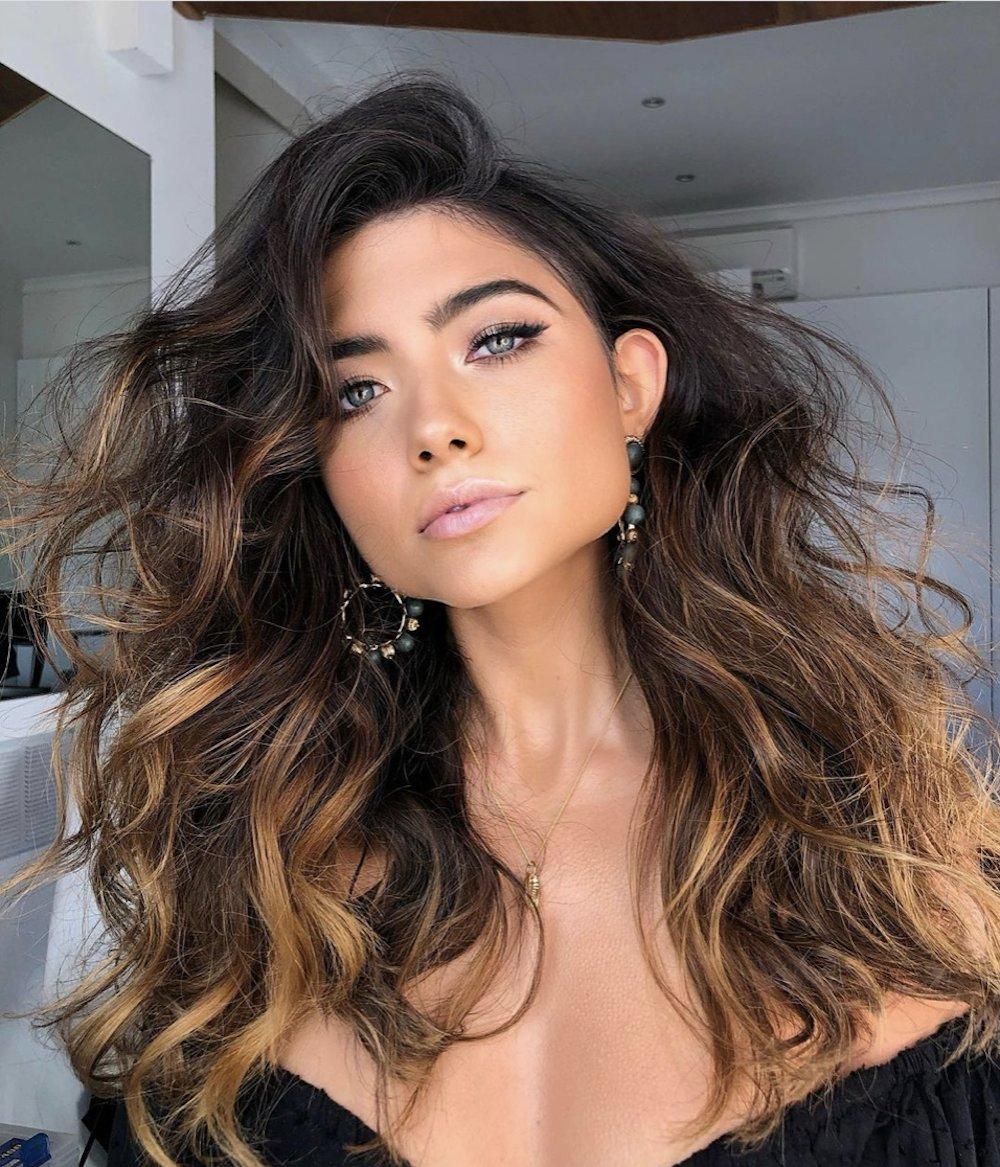 Rollers and a jumbo barrel tong are your friends here. Just be aware that your bridesmaids might not be able to hear you over the volume of their hair.
46. Teased Out and Natural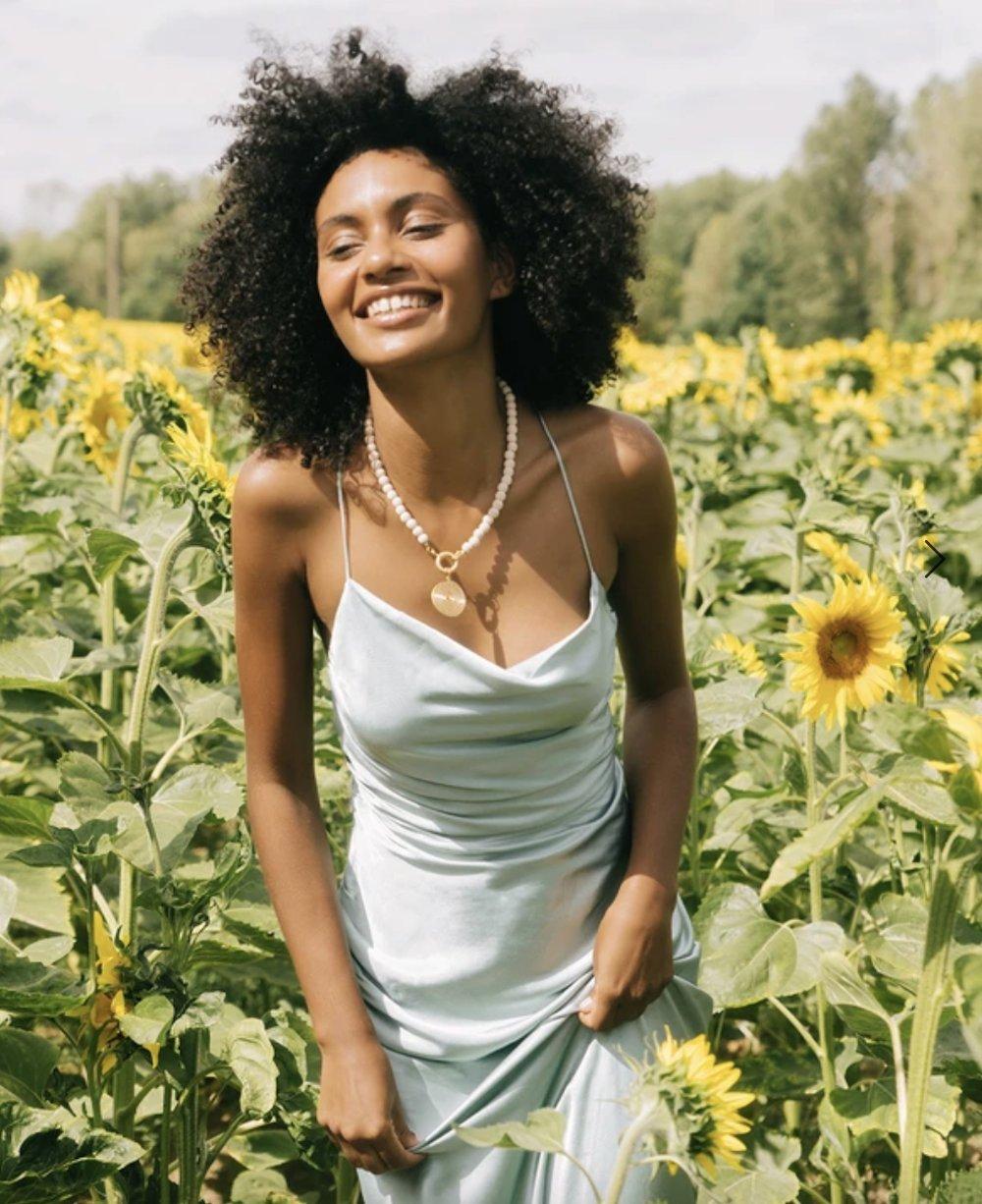 Let your bridesmaids' hair do its thing – teased out and free is the most beautiful look of all.
Looking to grow your hair longer before your big day? Don't skip these 11 tips for growing hair faster for your wedding day.