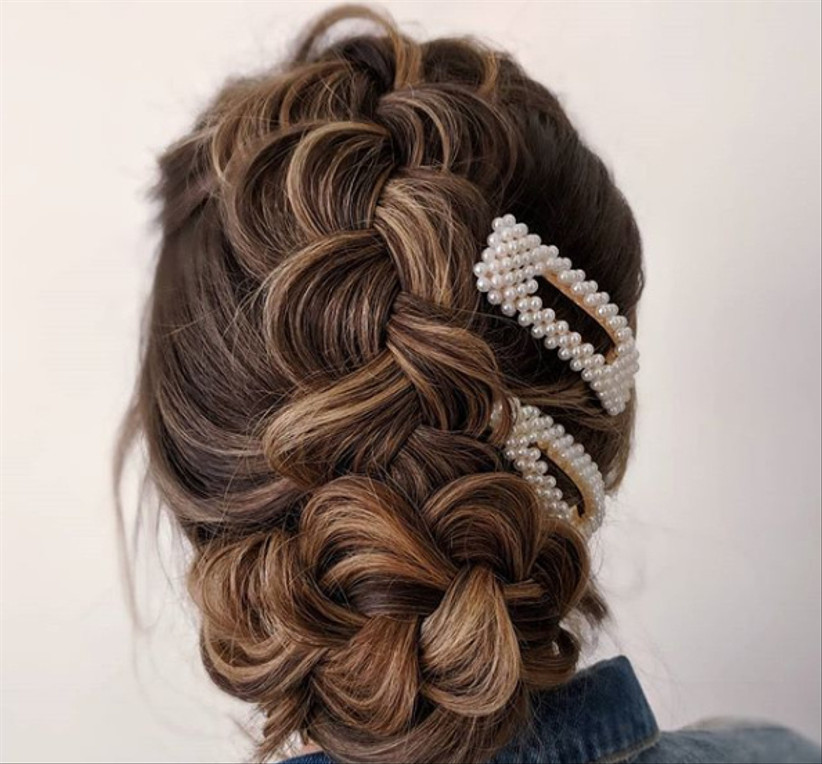 Hoorah! Wedding season is officially upon us. You've RSVP'd to those wedding invitations that dropped through the post and treated yourself to a couple of wedding guest dresses which fit the bill.
Now, it's time to focus on the finishing touches to your wedding guest get-up ahead of the big day, and at the top of your list of priorities should be deciding on your wedding guest hairstyle. Weddings are such special days, so you'll want a hairstyle which is just as beautiful.
If you're a bit like us, your daily hair routine will consist of a top knot and the occasional bit of straightening, so the prospect of doing something fancy to your hair might be a little daunting. But fear not! We've scoured Instagram for the prettiest (and easiest) wedding guest hairstyles which will look effortlessly chic in those all-important selfies with the newlyweds.
READ MORE: The Best Wedding Guest Dresses for the Summer
Top Tips for Wedding Guest Hair Styling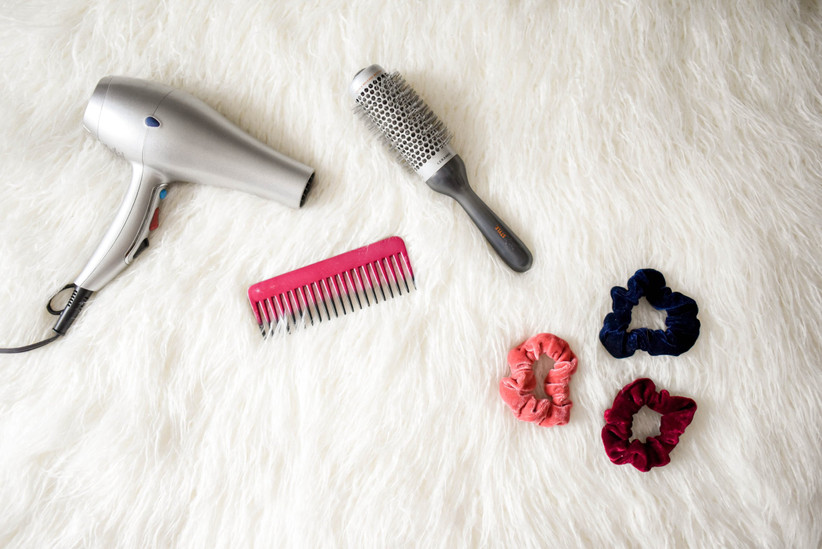 Take time to do your research and choose something which will suit your outfit and the overall look you're going for. A tousled updo might not suit a strong trouser suit but it would suit a floaty floral dress.
Practice your wedding guest hairstyle before the big day! There's nothing worse than getting stressed, hot and flustered while you're trying to get ready because things just aren't going right. Avoid that problem altogether by practicing the style a couple of times in the run-up.
Wash your hair the day before the wedding as opposed to the day of. Super clean hair is slippy and hard to style, but day old hair will be more responsive when you're twisting and pinning it. Trust us.
Don't go too over the top. Just like you wouldn't wear a white dress or a sparkly ballgown for fear of showing up the bride, steer away from bridal hairstyles which might take away from the star of the show.
Invest in a good hairspray. It'll keep your wedding guest hairstyle in place all day, even while you're dancing!
READ MORE: The 17 Things Guests Hate the Most about Weddings
The Best Wedding Guest Hairstyles
1. Elegant 'Down Do'
How gorgeous is this elegant 'down do'? Not only will it be super simple to achieve but it looks chic and features the hair trend of the moment: hair grips.
Use a pair of heated tongues to wave the hair before spritzing with lots of texturising spray.
2) Half-Up Half-Down Messy Bun
We're totally obsessed with this modern half-up half-down wedding guest hairstyle which will suit a whole host of outfits.
Use hair straighteners to achieve rough waves before brushing through the hair, scraping the top section back and spritzing with lots of texturising spray.
READ MORE: The Best Half-Up Half-Down Wedding Hairstyles
3) Braided Updo
How about some beautiful braids?
This updo would be perfect at a spring wedding.
4) Braids and a Low Bun
If the first braided updo wasn't quite your cup of tea, perhaps something a little subtler will be.
Two braids have been twisted around the base of a low bun for a chic yet pretty look.
READ MORE: 47 Bridal Hairstyles Which Are Easy to Master
5) Waved Ponytail
You can't go wrong with a waved ponytail, and this style is particularly pretty.
We love how a small strand of hair has been twisted around the base of the ponytail to hide the hair band. Leave a couple of tendrils of hair loose to frame the face.
6) Clipped Ponytail
If thoughts of a plain and simple ponytail make you yawn, get your hands on some golden hair pieces and clip that thing up.
The staggered additions of hair into this ponytail make for a really great effect.
READ MORE: 18 Rules All Wedding Guests Should Follow
7) Statement Hair Clips
Embrace summer's hottest hair trend wholeheartedly and get your hands on some jazzy, brightly-coloured hair grips.
Either rock a centre parting and pop one each side, or do as blogger Megan Ellaby has done and pin back one half of your hair.
We love Megan's pearl and personalised hair grips. They'd work just as well with a plain wedding guest dress as they would with a patterned number.
8) More Statement Hair Clips
Statement hair clips aren't just for simple 'down dos'! They work just as well in a braided updo, too.
Give your hairstyle a bit of added pizzazz and pop some pearly hair grips in the back.
9) Statement Bow
If you're attending a woodland-themed wedding, a whimsical bow like this one would have you blending right in with your surroundings.
Tie it round a messy, low pony and leave a few tendrils of hair loose to frame your face.
READ MORE: The Prettiest Wedding Guest Dresses for the Winter
10) Beautiful Beach Waves
Use a curling wand to create beautiful beach waves before braiding the front two sections of your hair and creating a half-up half-down style.
The addition of a sparkly hair piece here really brings the look to life.
11) Summer Scarf Weave
Here at Hitched HQ, we're all for a statement hair accessory.
Weave your printed hair scarf through a braided updo for a look that is totally unique.
12) Cool-As-Anything Quiff
If you're a wedding guest with short hair, a subtle quiff will look beautiful.
Use your hair straighteners to create soft waves and set in place with a tried and trusted hairspray. A pretty hair clip will be a gorgeous finishing touch.
13) Pearly Queen
This hairstyle by blogger Carmen de la Cruz is totally wedding guest-appropriate.
The simple low bun is endlessly chic and a statement pearl headband is a great alternative to a hat or fascinator.
14) Chic Updo
This tousled updo is super pretty and will look totally effortless at a summer wedding.
Lightly curl the strands of hair which are left loose for a pretty, face-framing finish.
READ MORE: The Things Guests *Really* Hate About Weddings
15) Messy Updo
This wedding guest makes messy-chic look seriously good. Don't worry about your hairstyle looking too perfect – the joy of this updo is its imperfections!
A generous spritz of hairspray will ensure your style stays in place all day.
16) Fishtail Braid
This sophisticated fish-tail braid is perfect for rustic or coastal weddings.
If you've got shorter hair, consider temporary extensions to give your hair that added length and volume you've been dreaming of.
READ MORE: Everything You Need to Know About Hair Extensions
17) Or Something Slightly Looser…
If a full fishtail braid seems a little too much to take on, simply braid the top section of your hair and let the rest hang loose.
With your hair scraped back, you'll want a showstopping makeup look to match.
READ MORE: The Best Foundations That'll Last All Day
18) Braided Updo with Floral Sprigs
If your mid-length hair is stubborn when it comes to styling, take inspiration from the French braids you rocked back in primary school and twist two plaits around each other for a pretty updo.
This style doesn't have to be perfect, which makes it all-the-more easy to achieve.
19) Angelic Halo Braid
Pretty floral embellishments are not only reserved for brides, and you can't go wrong with a halo braid, particularly at a barn wedding venue.
This look would work just as well for bridesmaids.
READ MORE: The Prettiest Bridesmaid Updos That Your Girls Will Love
20) Simple Slide
For a super formal wedding consider defined curls like these. You'll be able to achieve them with most curling tongs.
Pinning the top section of your hair back with a simple hair clip will keep your hair off your face and allow you to show off your dazzling statement earrings.
21) Slicked-Back Bun
A slicked back low-bun is the perfect way to add a modern touch to your wedding day look.
This is a great example of a hairstyle which will be endlessly easier to achieve on day two hair. Straighten your hair before styling and set with plenty of hairspray.
22) Something Vintage
Vintage waves like these will be perfect for a Great Gatbsy-themed wedding.
They'll look sleek and sophisticated at the ceremony while still appearing fun and upbeat at the reception.
READ MORE: The Coolest 1920s Wedding Dresses
23) Sleek 'n' Smooth
If you've got long, luscious locks but want a hairstyle which is different from the usual tousled curls you usually rock, take inspo from Lily Collins and slick the whole lot back.
A high ponytail which sits at the crown will elongate the face and make your cheekbones appear higher. We just hope those baby hairs behave…
24) Top Knot with Bangs
Got bangs? Simply scrape the rest of your hair into a messy top-knot leaving your fringe and a couple of tendrils free to roam.
Set the look with a finishing spray and you'll be good to party.
READ MORE: Real Brides Reveal the Worst Wedding Guest Behaviour They've Ever Seen
25) Knotted Updo
That black-tie wedding you've been invited to is just screaming out for a sleek, chignon updo.
This look is both romantic and classic, and if you've got balayage or highlights, will show off all the different tones in your hair beautifully.
26) Tousled Curls
Enhance your natural curls with a curling wand and leave them loose for a destination wedding.
A hair oil will tame any unwanted frizz that appears in the heat.
READ MORE: Our Favourite Ever Celebrity Wedding Guests
27) Something Different
If the dress code is semi-formal, you can have a little more fun with your wedding guest hairstyle.
This statement ponytail is very bold but looks endlessly cool. Not one for the faint-hearted.
28) Bubble Braid
Embrace your inner 90s kid with a fun and statement bubble braid.
Pair this look with fuss-free eye makeup and a statement lip and you'll be turning heads all day long.
READ MORE: 8 Annoying Things Guests Do at Every Wedding
29) Classic Chignon
A classic chignon is a beautiful hairstyle which always wins during wedding season.
They're slightly trickier to achieve than some other styles because you can't pass off a little imperfection as the "look you were going for". That said, they look super elegant and will rake in the compliments.
30) High Pony With a Head Band
Do you have ultra-curly hair? There are plenty of ways to style it for a wedding, but scraping it back and letting all of those curls do the talking has got to be one of our favourite looks.
Team with a pretty headband if you want to add a little more interest.
READ MORE: The Best Wedding Guest Dresses for Every Budget
31) Faux-Hawk
How cool is this wedding guest hairstyle?
Section your hair, scrape it back and secure with stretchy hair elastics. A gel styling product will slick back any coarser baby hairs.
32) Wrapped Ponytail
Accentuate a dramatic wedding guest dress with a twisted pony tail.
Achieve waves with a curling wand or hair straighteners, tie your hair up leaving the right-hand top section loose and then twist it over and around the base of the pony. Don't worry about things looking too neat.
READ MORE: Is it Ever OK to Uninvite Guests From Your Wedding?
33) Beautiful Bob
This beautiful bob would fit right in at any wedding.
Curl sections of your hair very quickly with a flat iron styling tool – just make sure you keep the ends straight to avoid excess volume.
34) Super Simple Down-Do
Simple mermaid waves are a beautiful and elegant hairstyle and always a safe choice.
Curl your hair with any curling wand, brush out the waves to create something softer and keep things smooth with a hair oil.
35) Half-Up Half-Down
This beautiful style will always work wonders with mid-length hair.
Pin the top section up before covering your hair elastic with two pretty hair slides. We love these sparkly numbers.
READ MORE: 50 of the Best Spas in the UK
Now you've sorted your hairstyle, you'll want to perfect your makeup application technique ahead of the big day.
Take a look at our 39 beauty hacks which will change your life forever.